Madrid may not get the same love from backpackers as Barcelona but visitors quickly see it's a vibrant city that takes its nightlight seriously. Madrid is also a city with a healthy stock of great hostels at affordable prices. In fact, there are over 100 hostels in Madrid but only a few truly rise to the top. So, without further ado, here's our list of the best hostels in Madrid.
The Average Madrid Hostel Price
Hostels in Madrid are fairly affordable, particularly by Western European standards. However, prices are often more expensive on Friday and Saturday nights because of the city's nightlife scene.
A bed in a highly-rated hostel will cost anywhere from about €20-€35/night with an average of around €26/night. The cheapest hostel you'll find will cost around €15/night.
Check Hostelworld to get exact prices for your dates.
---
Quick Facts About Madrid Hostels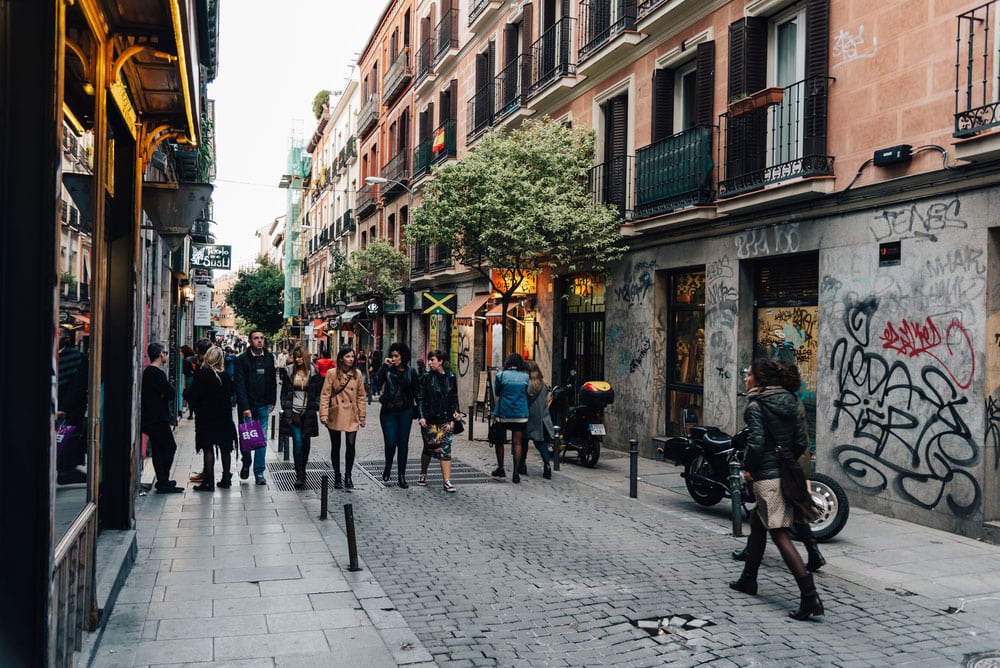 Cheap Beds & Good Hostels Go Early: Madrid's hostel prices are fairly standardized (there are a few outliers) but the quality can vary quite a bit. The best options do get booked up quickly (especially in the summer).
Weekend Pricing: Madrid is a big nightlife destination so people come to party — which means there is an influx of visitors on the weekend. Hostels know this so they raise the prices to meet demand. So a hostel that's €18/night on Thursday might be €38/night on a Friday or Saturday night.
Location Matters: Most hostels in Madrid are centrally located but there are a few located outside the city.
Hostel Vibe: Every hostel has its own vibe (quiet, social, party, etc.) so I recommend finding a vibe that matches your travel style.
Check-In Times and Cleaning Times: Many hostels have late check-in times (around 2 pm-4 pm) but nearly all will let you store your bags if you arrive before check-in.
New To Hostels? Check out our Hostels 101 Guide to learn everything you need to know about finding the perfect hostel.
---
Best Hostels in Madrid: The Top Picks
---
Sungate One Hostel
Sungate One Hostel is one of the best hostels in Europe (it was voted the best small hostel in the world… so yeah, you can't go wrong staying here). First, it's centrally located in a great neighborhood. The staff go above and beyond to make you feel welcome and are happy to share their knowledge.
The hostel has a super welcoming atmosphere and they put on all kinds of activities (free dinners & drinks, walking tours, etc.) to bring people together — you're guaranteed to make friends. Also, no bunk beds! The showers/facilities are clean, the beds are comfortable, and…. well, you should just stay here if you can.
---
Bastardo Hostel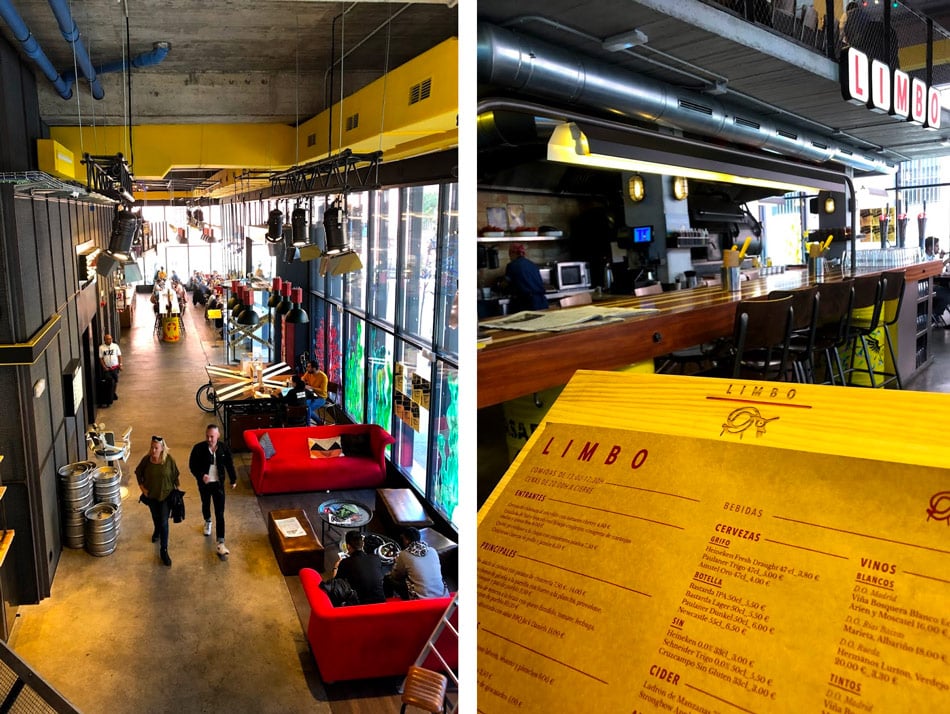 The Bastardo Hostel is a newly-opened hostel in one of the coolest neighborhoods in Madrid. Everything about Bastardo is modern so it has that cool boutique hotel feel with a hostel vibe.
Despite being a large property, they keep a social vibe thanks to their bar and large lounge space. They also host frequent events and performers like comedians, musicians, tango lessons, and yoga classes.
They don't offer a free breakfast but they have a solid restaurant with tasty breakfast, lunch, and dinner.
---
The Hat Madrid Hostel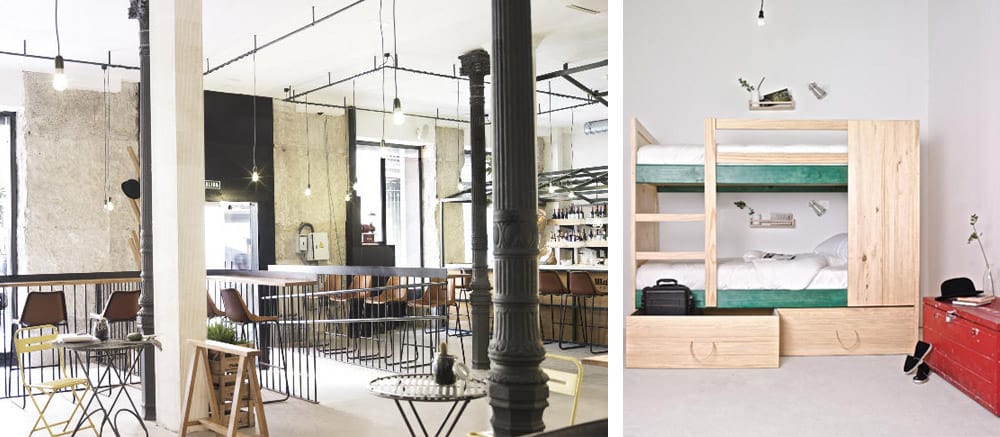 The Hat Madrid is a brand new hostel that's already winning awards and getting a lot of love from travelers. They call it a boutique hostel so it has a hip "design-y" and upscale vibe — plus it has an outdoor terrace, rooftop bar, solarium, and lots of common space.
The location is perfect, the beds are comfortable, the hostel is clean, and the staff is super helpful. The vibe of the hostel is lively and welcoming but it's not a party hostel. You can't really go wrong here.
---
Ok Hostel Madrid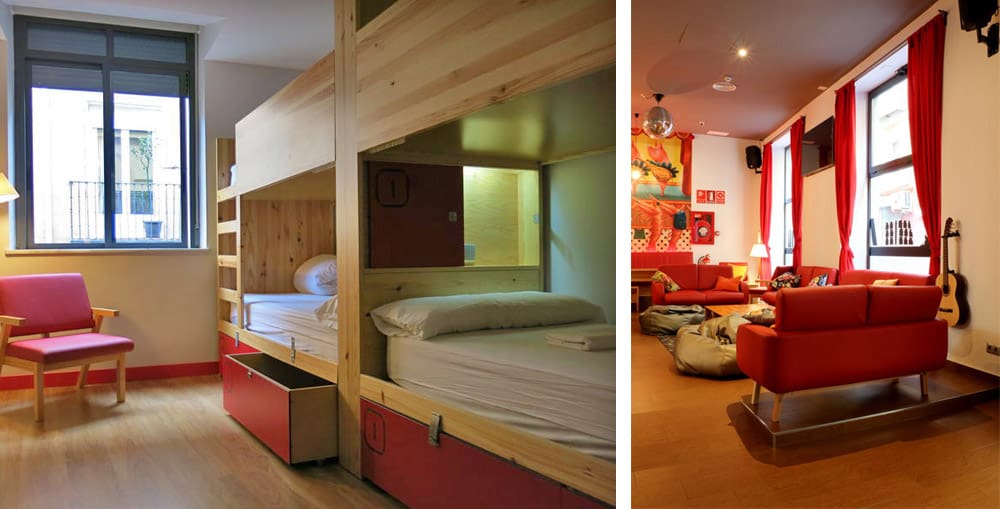 OK Hostel Madrid is another excellent award-winning hostel that travelers love. These guys know how to run a hostel. The location is great so you're close to everything and you're right by the metro. The staff is friendly and they do a good job keeping the hostel clean. The beds are comfortable and the rooms are nice.
The hostel has a very friendly and lively atmosphere. They organize an excellent €10 group dinner where you can meet tons of people — they also organize nightly pub crawls. There is a bar and plenty of common space so that helps add to the social atmosphere.
---
Way Hostel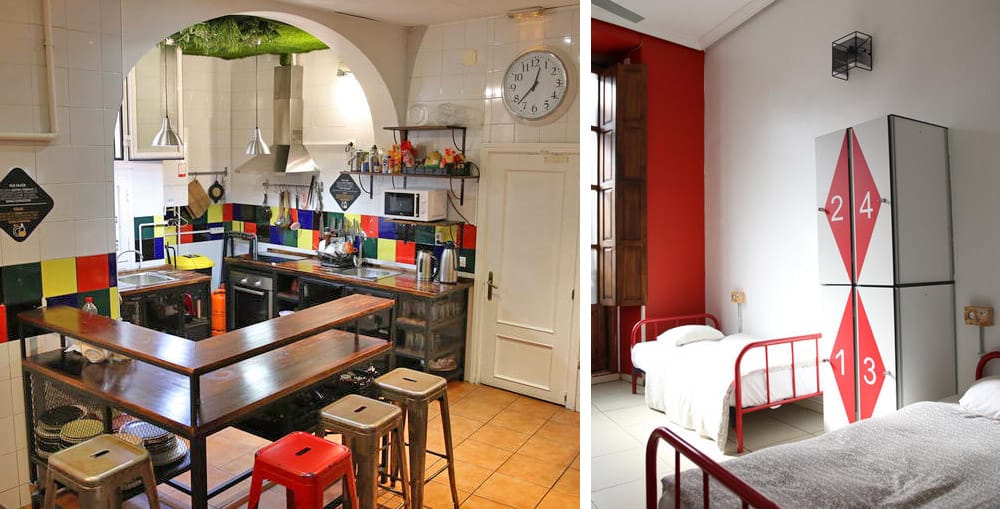 Way Hostel is another fantastic award-winning hostel in Madrid. It's located in the heart of the city so you're never far from the sights. The hostel is well-designed and it has a great atmosphere so you'll meet lots of people — especially during sangria night and other group activities they put on. It has a large and fully equipped kitchen. There is ample common space and the rooms are nice, comfortable, and clean
---
Room007 Chueca Hostel
Room007 Chueca is located right in the heart of the city in a hip neighborhood full of bars and close to lots of shopping. There is a bar and a good amount of common space, but Room007 Chueca is a laid-back and quiet hostel — so don't expect a party vibe (for better or worse) and it can be tough to meet people. However, they do organize pub crawls with their sister hostel.
There is a small kitchen, an open-air rooftop terrace, a cheap breakfast, and the staff does a good job keeping the hostel clean. All in all, this is a solid hostel.
Its sister hostel Room007 Ventura has the same vibe and it is priced the same.
---
Mad4you Hostel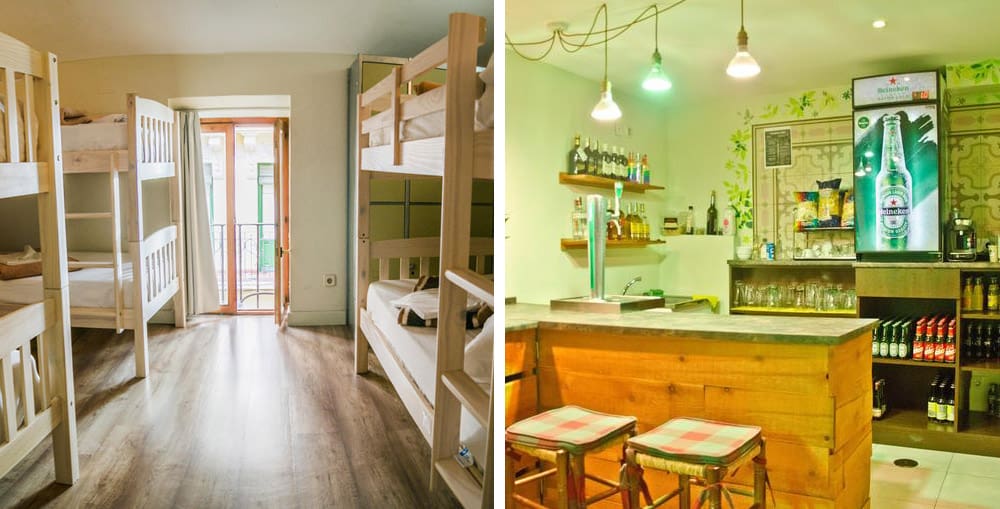 Mad4you Hostel is located in a great part of the city — it's near a university so the neighborhood is fun and youthful. The hostel has a nice courtyard, a small bar, a large kitchen, and free breakfast. The atmosphere is about average so it might not be the best choice for a solo traveler looking to meet people. But it is quiet, clean, and the beds are comfortable.
---
TOC Hostel Madrid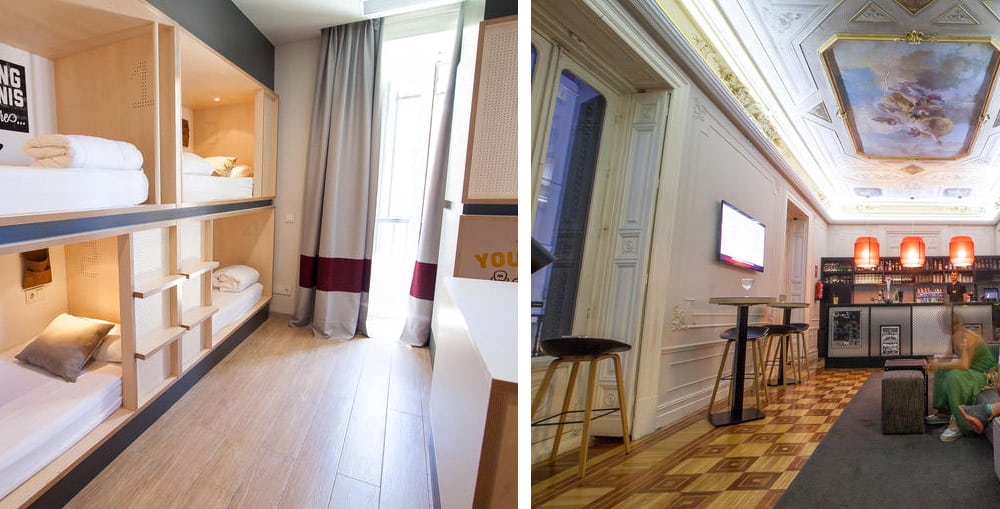 TOC Hostel Madrid is another solid choice. It has a boutique hotel vibe so it's hip-looking but it also lacks a social atmosphere. This is a hostel for people who want a quiet, clean, and comfortable place to sleep that's located close to everything Madrid has to offer — it's not the best place to meet new people.
---
Safestay Madrid Hostel
Safestay Madrid has nice facilities, comfortable large beds, spacious rooms, friendly staff, and cheap breakfast. It's located in a fun neighborhood that's slightly outside the center of town. There is a small kitchen and a bar. It's not an overly social hostel but they do organize a city walking tour.
---
Packing Advice For Hostel Travel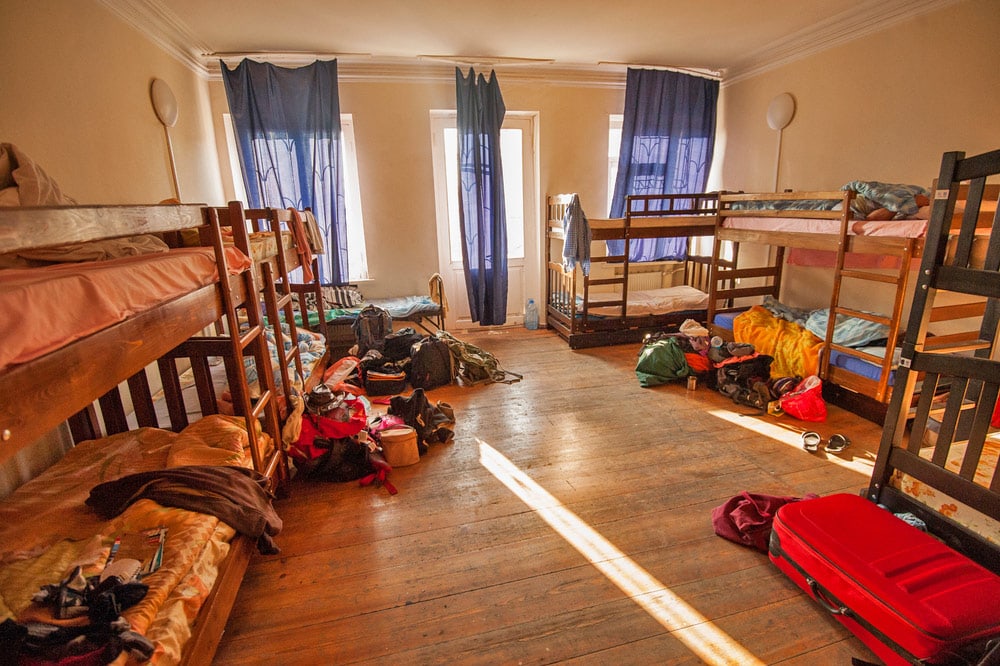 Staying in hostels poses a few unique packing challenges so I'm here to help by recommending a few of my must-have items. Check out my Hostel Packing List for the full list but below are the absolute necessities:
---
MORE HELPFUL TRAVEL ADVICE
Here are some helpful links to articles that we think you'll find interesting if you're staying in hostels and traveling around Europe on a budget.
LEARN MORE ABOUT MADRID
Visit our Madrid Destination Guide for more tips about visiting Madrid!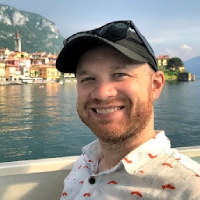 Latest posts by James Feess
(see all)
No Funny Business
The Savvy Backpacker is reader-supported. That means when you buy product/services through links on the site, I may earn an affiliate commission — it doesn't cost you anything extra and it helps support the site.
Thanks For Reading! — James
Questions? Learn more about our Strict Advertising Policy and How To Support Us.