Spain is well-connected by rail so you can easily get just about anywhere quickly and fairly inexpensively. Luckily for travelers, Spain's rail network has improved immensely over the past few years and its high-speed AVE trains now connect Spain's major cities at speeds over 180mph. But, of course, it still has a few quirks. In this Spain Train Guide, we'll tell you everything you need to know about taking the train in Spain—from navigating the system to buying train tickets in Spain for the cheapest price.
---
Electronic Train Tickets and High-Speed Data in Spain
Most train tickets in Spain (and much of Europe) are now electronic so you'll want reliable high-speed data for your phone—personally, I wouldn't rely on free wifi or your domestic provider's international service as it's often slow/unreliable.
Luckily, getting high-speed data in Spain is fairly simple and affordable. Here are a few articles I've written to help you get set up:
---
How To Buy Train Tickets in Spain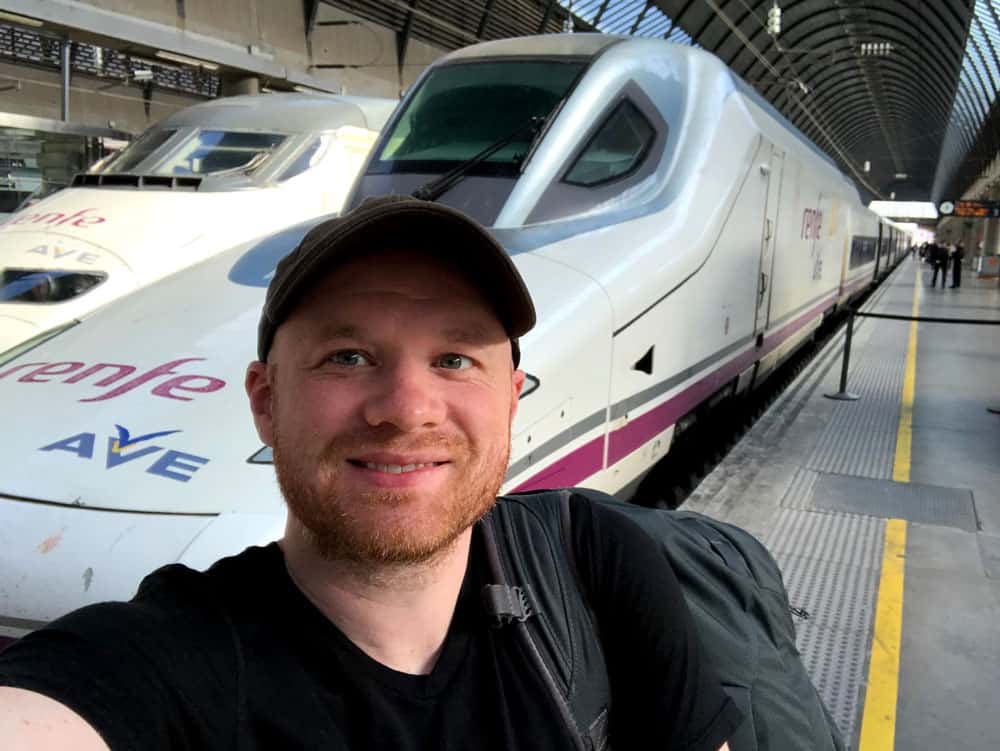 There are a number of ways to buy Spanish train tickets but it's not always super straightforward. Keep reading and we'll walk you through the process.
Let's first take look at where and when to buy tickets for the best price…
Where To Buy Spain Train Tickets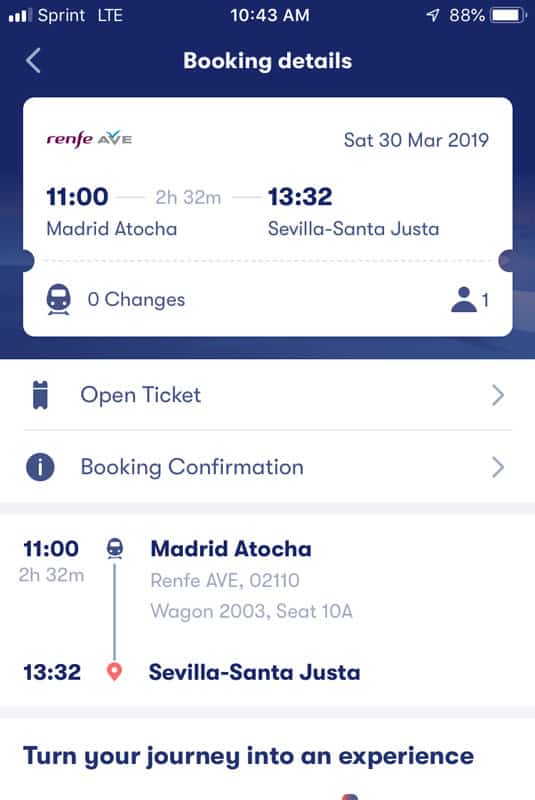 Below are the various ways to buy train tickets for Spain and we've tried to call out the common quirks of each method.
Omio: Omio is a search engine that lets you compare and book trains (plus buses & flights) anywhere in Europe. It lets you easily book tickets with your credit card at essentially the same prices as Spain's Railways website. Additionally, Omio searches routes for multiple rail services across Europe so it's great for international trips (since it can easily combine rail journeys of multiple countries). Omio also gives you the option to print your own tickets or have eTickets sent to the Omio App.
TrainLine: TrainLine is a third-party booking site that connects directly to Spain's National Rail Network (renfe.com) and other European networks. Trainline also accepts international credit card payments and lets you print your own tickets or have eTickets sent to the Tranline App.
RENFE (Spanish Railways): The National Spanish Railway system is called RENFE and anyone is allowed to buy tickets from renfe.com. Like most national rail sites, renfe.com suffers from weird translation issues and sometimes it won't accept foreign credit cards. When I tried booking I found that the website was only partially translated into English and it would randomly switch to Spanish. Additionally, it's confusing when you enter your billing address because it's in the Spanish format. So, I suggest sticking to the other methods outlined above.
Types Of Train Tickets

There are three main types of ticket fares available — each ticket class is available for both first-class (Turista Plus) and second class (Turista) tickets. There is also a Preferente class that's first-class + a meal.
Promo: Promo is the cheapest ticket available but it's also non-refundable — so you're out of luck if you miss your train or need to cancel your ticket.
Promo+: Promo+ is semi-flexible so it's a bit more expensive but you'll get a 70% refund if you need to cancel tickets.
Flexible: Flexible is the most expensive ticket but you get a 95% refund should you need to cancel.
Group (Mesa) Ticket Discount
AVE and long-distance trains often offer up to a 60% discount for groups who buy four seats together — this is called a Mesa fare (Mesa means table in Spanish). You have to buy the entire set of four seats but this is usually even a good deal for groups of three since the group still saves money by purchasing the block of four seats.
HOW TO COLLECT YOUR TICKETS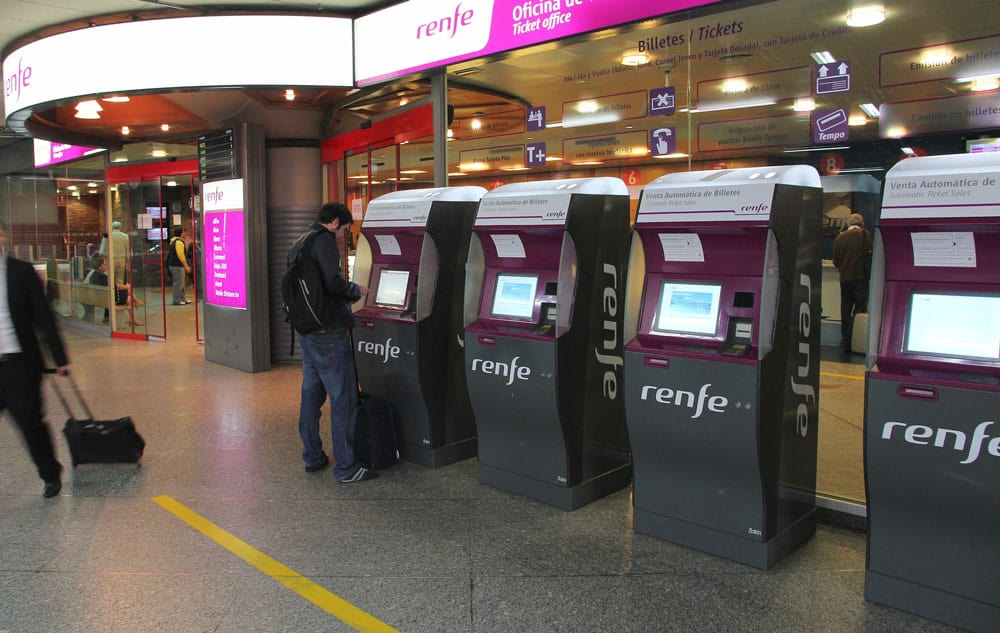 Tickets purchased online can be collected in a few different ways. Most of the time you're given multiple methods of collecting your tickets but double check as things seem to randomly change.
Print-At-Home Tickets: You'll often be sent a PDF that you print at home and show to the conductor on the train when he checks tickets.
Smartphone: You can save the PDF ticket to your phone and they can scan it from there. We recommend saving it to your iPhone's Passbook app.
Pick Up At Station: Use your booking confirmation number to collect your tickets at the train station. This isn't always an option.
DO I NEED TO BUY SPANISH TRAIN TICKETS IN ADVANCE?
Short answer — Yes. It's best to book early if you want to save money on your train tickets. This mainly applies to Spain's AVE (Alta Velocidad Española) high-speed trains and most medium/long-distance trains. You're able to book tickets about two to three months before the departure date — it randomly fluctuates so check back in a few days if you're not finding many/any results. The longer you wait the more you'll pay—a ticket purchased on the day of travel will cost around 3x a ticket purchased two months early.
However, local/short-distance trains don't need to be booked early as the prices are fixed.
Late Train Arrival Refunds
One interesting thing that Renfe offers is compensation for delayed/late arrivals on all high speed and long-distance trains—and it doesn't matter what caused the delay. Each train service has different refund policies but the high-speed AVE trains will refund 50% if the train is over 15 minutes late and 100% if the train is over 30 minutes late.
You can collect your refund at the train station or you can trade in your credit + receive a 20% bonus if you purchase a future ticket.
---
Using Your Spain Train Tickets
Unlike most of Europe, there is never a need to validate your Spanish train tickets — regardless of what kind of ticket it is. On high-speed trains, your ticket is only good for the specific time printed on your ticket. You'll also be given an assigned seat. On slower trains, you'll just show the conductor your ticket when they check tickets on the train.
We recommend getting to the train station about 20 minutes before the train departs so you can find your platform. On high-speed trains, you'll need to go through security but it should only add an extra few minutes to your journey.
---
Rail Passes For Spain
The cheapest way to travel via train in Spain is by purchasing advanced tickets. In virtually every situation this will be more cost-effective than using a Eurail pass.
However, tickets are expensive if you buy them only a few days in advance so it usually makes more sense, both financial and practical, to use a rail pass if you're a spontaneous traveler—especially when using high-speed trains.
Check out Eurail.com to see their rail passes.
HOW TO MAKE RAIL PASS RESERVATIONS
High-speed and long-distance trains in Spain require a reservation when using a Eurail pass — the reservation will cost €10-€15/seat. Tip: Always look to see the price of a normal ticket costs because on some routes a normal ticket will cost less than the Eurail reservation fee.
Also, You must make the reservation before you get on the train and some routes limit the number of rail pass holders so it's wise to book your reservation early. Most of the time you need to make the reservation a minimum of one hour before departure but we suggest doing it as early as you can.
There are a few ways to make reservations:
RailEurope.com lets you book your reservation online through their platform. Simply look for a button that says "I Have A Railpass" and follow the prompts.
At The Train Station: You can simply go to the train station and book your reservation from the customer service desk or self-service kiosks. You can book it weeks in advance or you can do it the day you depart. We suggest using the kiosks because the ticket window can take forever.
---
MORE TIPS FOR RIDING SPAIN TRAINS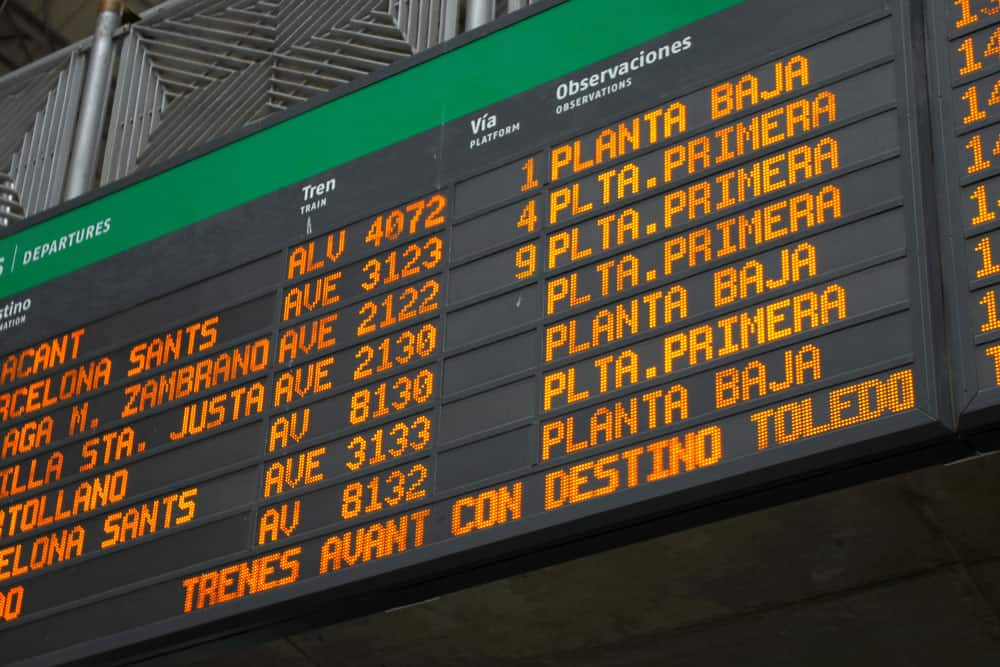 The Departures Board: You'll find your train platform via the departure board at the train station. Don't worry if you don't see your train because they often only display trains departing within the next 10-20 minutes.
Security Screening: In Spain, all high-speed trains require you to screen your bags via x-ray. It normally only takes a few minutes.
Self-Service Machines Are In English: Don't worry if you don't speak Spanish because the ticket machines (and train station signs) are all in English.
Download The Rail Planner App: There are a number of rail apps but we like the Eurail App — it essentially has the timetables/info for every train in Europe and it doesn't require an internet connection.
Cheap Tickets Are Non-Refundable: One downside to cheap tickets is that they're non-refundable and they can't be changed.
Pack A Picnic: You're allowed to bring your own food and alcohol on trains. It's great for those long train rides.
Luggage: There aren't any weight limits on luggage and you can bring as much as you want (well, as much as you can carry). Simply bring it on and store it above your head, behind your seat, or in the luggage racks in each car.
Making Connections: Your trip might require you to change trains along the journey. Don't worry if there isn't much time between trains as switching trains are usually fairly quick and easy (it's not like flying).
Get To The Train Station Early: Train stations are usually fairly easy to navigate but they can be a little confusing.
Know Train Station Names: Most large cities have multiple train stations (Madrid and Barcelona both have two) so this often creates confusion. Double-check to make sure you have the right station — especially when booking your ticket.
LEARN MORE ABOUT TRAVELING IN SPAIN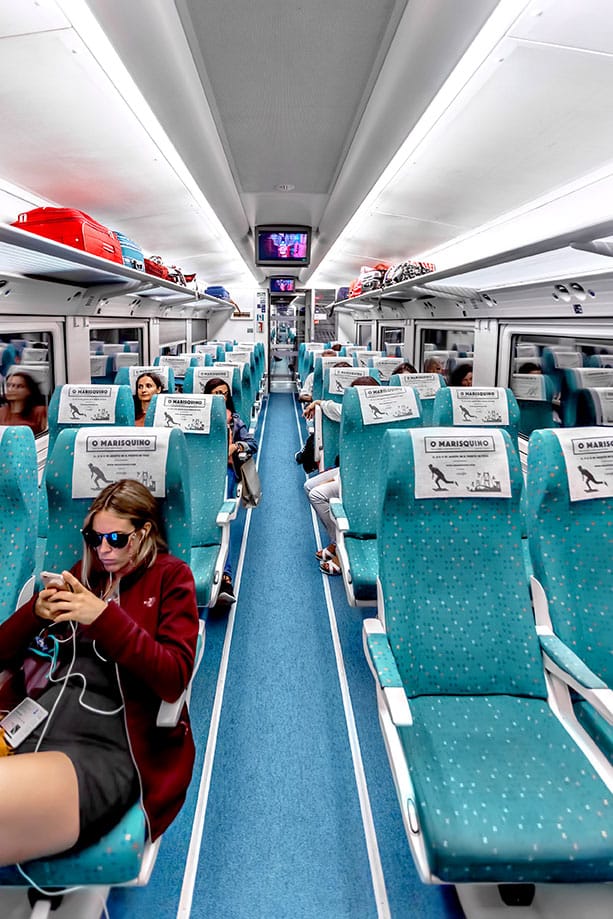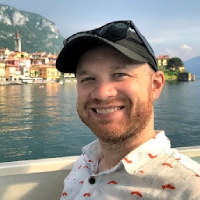 Latest posts by James Feess
(see all)
No Funny Business
The Savvy Backpacker is reader-supported. That means when you buy product/services through links on the site, I may earn an affiliate commission — it doesn't cost you anything extra and it helps support the site.
Thanks For Reading! — James
Questions? Learn more about our Strict Advertising Policy and How To Support Us.