If you're a budget backpacker, you'll probably hear about Ryanair sooner or later. Ryanair has become one of the most successful and notorious airlines in Europe. They're known for no-frills service with rock-bottom prices, but they're also known for excessive fees and questionable customer service. However, if you know how to play the game, Ryanair can be a great way to travel for really cheap. The real key to flying cheap is knowing all their rules and regulations. This guide will cover everything you need to know about surviving Europe's most notorious airline.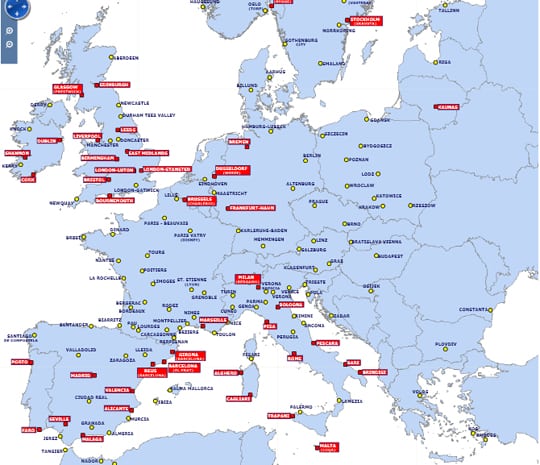 Quick And Dirty Explanation Of Ryanair
Ryanair is Europe's leading low-cost airline and they routinely offer extremely cheap airline tickets. The average one-way ticket costs about 44€ ($60), but they have frequent sales where you can get a ticket for 1€-10€. However, you have to be careful because they charge extra fees for just about everything you can imagine, so the price of your tickets can quickly rise if you're not careful (and that is what they're counting on). They also have all sorts of rules, regulations, and quirks that will be described further down.
Important Things To Remember When Flying Ryanair
Check In On Time & Online: It is now required that you check in online—there is no checking in at the airport anymore. (You can actually "check in" at the airport but it will cost 40€ per ticket). You MUST check-in at least 4 hours before your flight departs. You'll have to pay the 40€ if you're late. You also have to pay 5€ for the privilege of checking in online (even though you don't have a choice).
You should be at the boarding gate at least 30 minutes prior to departure. Boarding closes 20 minutes prior to departure. You'll not be allowed on the flight if you're late (and no refunds).
Print Your Own Boarding Pass: You also MUST print your own boarding pass at home—I believe they'll charge you a 40€ "boarding pass re-issue fee" if they print it for you. This is a bit of a hassle because it isn't always easy to find a printer while traveling. Check with your hostel if they have a printer or know where the nearest internet cafe is located.
Check Bags On Time: The bag-check desk closes STRICTLY 40 minutes before the flight leaves. It is smart to check your bag in online (4+ hours before the flight is scheduled to leave). You are charged 15€ if you check your bags in online or 35€ if you do it at the airport.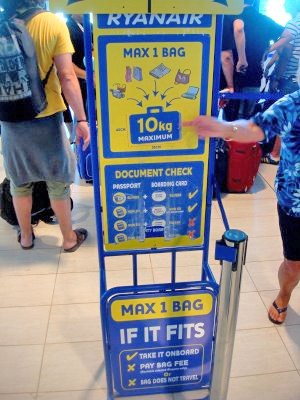 Weigh & Measure Your Bags: Ryanair enforces strict weight & size limits on all checked and carry-on luggage. They will make you prove that your bag fits their guidelines — get ready to watch everyone try to shove their bag into the box with all their might. Going over the limit will result in big fees.
Carry-On Bag: Maximum weight per bag is 10kg (22lbs) and maximum dimensions are 55cm x 40cm x 20cm.

If you go over the weight limit, you're forced to check your bag (35€ fee) or you can throw away extra stuff (or you can put on a bunch of clothes until you get under the weight limit).

Checked Luggage: Maximum weight per bag is 15kg (33lbs) and maximum dimensions are 81cm x 119cm x 119cm.

The first checked bag cost 15€ and the second costs 35€ (the fees raise to 35€ and 70€ if you check the bags in at the airport!).
20€/per kilo (2.2lbs) extra charge if you go over the weight limit.
Single Carry-On: You get ONE carry-on. A purse, a backpack, a laptop bag, a shopping bag, a fanny pack—each of these is considered one bag. I was able to carry-on my 50L backpack because I packed light, but it was a very tight fit. I think my bag weighed in at 9.9kg (the check-in person seemed angry that I was under the weight limit). This is why it is important that your daybag fits inside your main backpack (assuming you want to carry-on all your luggage).
Point-To-Point Only: Ryanair only does point-to-point flights, so don't count on them if you're making connecting flights. If they are late and you miss your connecting flight, they aren't responsible for your missed connecting flight (whether your connecting flight is with Ryanair or not).
Secondary Airports: Most Ryanair flights operate out of secondary airports. This means that the airport really isn't in the city it claims to be. For example, they fly to "Paris," but you really fly into Beauvais (a city that is about a 90-minute bus ride from Paris). This is the same with Frankfurt-Hahn—it takes almost two hours by bus to get there. Don't forget that you have to pay for the bus ride too. Just be sure to research where the airport actually is before you book your ticket.
Poor Customer Service: There are many stories about Ryanair employees who really don't care too much about their customers. I don't know if this is true, but don't expect them to give you any leeway when it comes to the rules.
Free-For-All Seating: There are no assigned seats. It is a combo of first come, first serve, and a cattle-call. You can get priority boarding for an additional fee (but this isn't necessary). However, if you have a backpack, I suggest getting toward the front of the line because it can be a hassle finding an overhead bin for your bag if you're at the end of the line.
No-Frills: There are no free drinks, no free snacks, and they try to sell you lottery tickets. The seats are smaller so they can fit more people on the plane. There has even been talk about charging for the toilets sometime in the future.
Ugliest Website Ever: They have the ugliest website on the Internet, and it isn't super user-friendly. This really isn't a huge deal, but it is worth pointing out.
Full Explanation Of Fees (READ CAREFULLY!)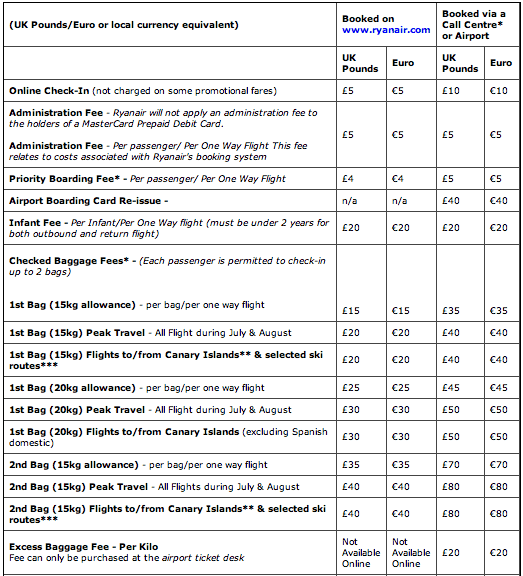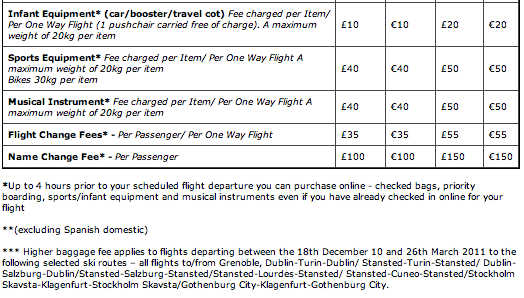 How To Get The Best Deals On Ryanair Flights
Book In Advance: Prices start to rise about two weeks before the departure date, so you should book early.
Check For Special Deals: Ryanair has special sales every few weeks. I suggest signing up for their newsletter so you'll be aware of the newest deals. The cheap seats also sell out quickly, so don't wait too long.
Be Flexible: The best fares are on the early and late flights on Tuesday-Thursday. You might have to search a little to find the best price.
Travel Light: Don't check any of your luggage and you'll save a ton of money.
Know The Fees: Make sure you understand all the fees and terms so you avoid making costly mistakes.
Fun Infographic About Europe's Low-Cost Airlines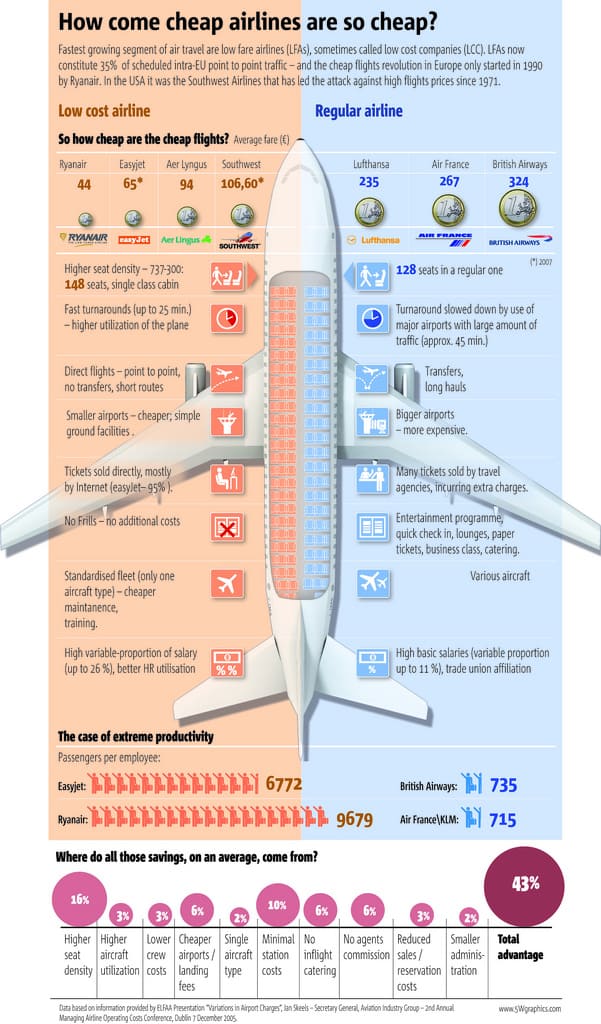 Source: 5wgraphics.com
Final Word About Ryanair
I've flown with them about 6-7 times and never had a problem (that wasn't my own fault). For long distances, it is going to be your cheapest form of transportation. As long as you don't expect anything other than bare-bones service, you won't be disappointed. Just follow this guide and you shouldn't have any surprises.
Be sure to check out our guide to air travel in Europe for more information about air travel in general.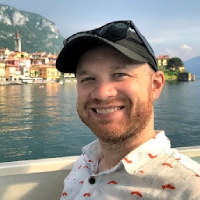 Latest posts by James Feess
(see all)
No Funny Business
The Savvy Backpacker is reader-supported. That means when you buy product/services through links on the site, I may earn an affiliate commission — it doesn't cost you anything extra and it helps support the site.
Thanks For Reading! — James
Questions? Learn more about our Strict Advertising Policy and How To Support Us.