When one thinks of the ways to travel Europe, the bus is rarely on the top of the list. Yet, it is a popular choice for many budget travelers. It can be one of the cheapest ways to travel through Europe, but it often lacks in comfort, speed, convenience, and the schedules can often be fairly confusing.
Buses generally arrive/depart from bus stations (duh). European bus stations can run the gamut from nice to pretty seedy, so that might be something to consider if you're arriving late at night (bus stations seem to attract "interesting" characters once the sun goes down). Bus stations are generally located in the center of the city, but they can sometimes be located near the edge of town.
Most carriers operate modern bus fleets, but the quality/cleanliness will differ by company. Most have reclining seats and restrooms. Buses drive on the same road as everyone else so you're at the mercy of traffic. While not a huge problem on the motorways, traffic is often very bad in large cities. Be prepared for lots of stop-and-go driving so bring medicine if you easily get motion sickness. Also, most buses don't usually allow food or alcohol.
Be aware that bus schedules can be sporadic and unpredictable in some countries (especially southeastern Europe).
Note: There are many bus companies in Europe, and I am not an expert in this area. I've only taken a handful of buses (mainly in the UK and Ireland). Be sure to ask the hostel staff for recommendations, because they'll have the best local knowledge. The list below represents the most popular European bus companies and bus services that I (and my travel buddies) have personally taken.
The largest and most popular bus company in Europe is Eurolines. They offer multiple routes to 40+ cities throughout Europe and they're usually a pretty cheap way to travel. You can purchase point-to-point tickets, but they also offer travel passes (similar to rail passes) for 15 or 30 days of unlimited travel. You'll get the best price on point-to-point tickets if you buy ahead.
Busabout is a "hop-on, hop-off" bus service geared toward backpackers/younger people. I would describe it as a predetermined circuit tour for the independent traveler. They stop in 41 cities covering 11 countries. Busabout offers different routes, called loops, that cater to different areas of Europe (Western Europe, Southern Europe, Northern Europe, and a lot of other options). Each "loop" has a number of designated cities where the bus stops. For example, the Northern Loop goes through Paris, Bruges, Amsterdam, Berlin, Dresden, Prague, Cesky Krumlov, Vienna, Salzburg, Munich, Stuttgart, and back to Paris (there might be an extra small town or two in that list). The nice thing is that you can stay in each city as long as you want and you can stay in whatever hostel/hotel/whatever you want. They also have designated places to stay if you don't feel like finding your own lodging and the bus drops you off at the front door. Once you're ready to leave you can simply hop on the next bus and be on your way to the next city.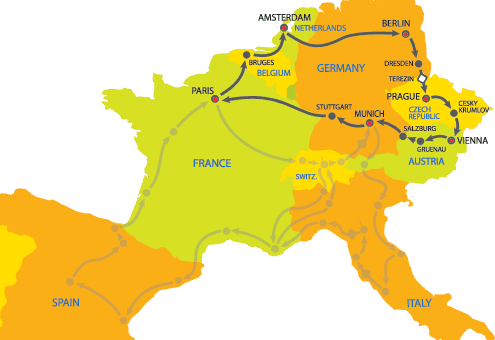 You can't buy point-to-point tickets and you have to travel in the direction of the tour (i.e. no backtracking). Busabout does limit your flexibility/freedom, but they do stop at a lot of the places you'd probably visit anyways. Check the Busabout website for all their travel itineraries. This could be an option for someone who might be a little intimidated by European train/plane/bus travel (it is pretty easy though). You're also going to be surrounded by other young travelers (usually Americans, Australians, and Kiwis) so that makes it easy to meet new friends. Busabout only runs from May to late October so be sure to take that into consideration.
Meagbus is a low cost carrier within the United Kingdom. They offer service to most cities in the UK and have some really cheap deals. It is fairly common to find $2 fares if you book early. When I studied abroad in Leeds I took Megabus from Leeds to London (4.5 hour journey), and I think I paid about $10 (and this was when the exchange rate was super high). I just did a search and you can get a £1.5 ($2.40) ticket from London to Edinburgh (about a 10 hour journey) if you book more than a month ahead — although 10 hours on a bus might not be super comfortable.  They're also starting to outfit their buses with free wifi. Megabus also operates in the US /Canada and works on the same cheap tickets business model.
National Express is Great Britain's largest bus network with over 1000 destinations. Like Megabus, they also offer some super cheap seats to those who book early. They also sell travel passes for unlimited travel within a set time period (7, 14, 28 days) but it might make more sense to just buy point-to-point tickets as needed.
Student Agency Bus [Prague, Budapest & around E. Europe]:
Student Agency Bus connects many Eastern/Northern Europe cities with Budapest and Prague. I have friends who've used them and said everything went great (don't be scared away by their ugly website).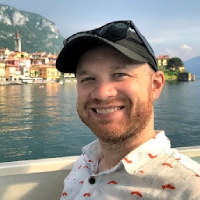 Latest posts by James Feess
(see all)
No Funny Business
The Savvy Backpacker is reader-supported. That means when you buy product/services through links on the site, I may earn an affiliate commission — it doesn't cost you anything extra and it helps support the site.
Thanks For Reading! — James
Questions? Learn more about our Strict Advertising Policy and How To Support Us.