Home of the European Union, Brussels is one of those cities that everyone has heard about but not many people really know much about the city. But we'll be honest, Brussels has a reputation of being kind of boring and it's probably justly earned that reputation. However, the city is starting to attract more of a creative class so it's slowly shaking off its stodgy image — but you'll actively have to work to find those gems. And if nothing else, you'll have a steady supply of amazing beer. And chocolate. And fries. And waffles. And beer. And chocolate. And beer.
[We've also written travel guides for Amsterdam, Barcelona, Berlin, London, Paris, Rome and multiple other cities.]
What You'll Find In This Brussels Travel Guide:
How Much To Budget To Visit Brussels
How Long To Visit Brussels
The Good And Not-So-Good Things About Brussels
Brussels's Must-See Sights and Attractions
Cheap Eats in Brussels
Best Beer in Brussels
Best Brussels Hostels
Brussels Nightlife
More Resources To Help You Plan Your Visit On A Budget
Public Transportation
And More
How Much To Budget To Visit Brussels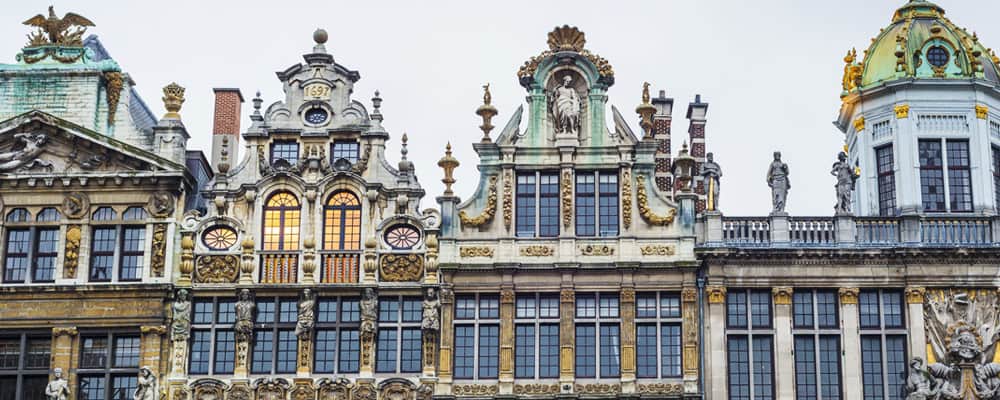 Brussels is one of the more expensive cities in Europe because it's the home of the EU parliament and it's a major business hub — which means there is a steady supply of extremely wealthy people coming and going on a daily basis.  Attractions are also on the expensive side, and everyday items like transportation and food can be a bit pricy. So if you do visit, you might only want to stay for a day or two (which is fine since that's all you really need anyway).
We recommend budgeting €50-€75/day for travelers on a backpacker's budget — you can easily spend more and you might be able to spend less, but this is a good range for planning purposes. You can read our Brussels Daily Price Guide for more in depth cost details.
How Long To Visit Brussels: 1-2 Days
You can see the highlights of Brussels in one or two days… and honestly, I wouldn't spend more than two days here. Most travelers agree that you should spend more time visiting the smaller towns like Ghent, Bruges, and Antwerp.
When To Visit Brussels + Weather
Brussels has a reputation for kind of crappy weather so expect wet and cloudy weather all year long.
Summers in Brussels are fairly temperate so the highs average in the mid 70s. It's also the busiest time of the year — just like everywhere in Europe.
Winter temperatures average around the mid 40s and it sometimes dips below freezing. Snow is rare but the dampness makes it feel colder than it is.
We'd recommend visiting late March-May and September-October as temperatures are a comfortable 55°F-65°F and the tourists crowds are much more manageable.
The Good And Not-So-Good Things About Brussels: A Quick Overview
Brussels has plenty of things you'll love and hate. We've listed a few of our favorite and least favorite things about Brussels.
The Good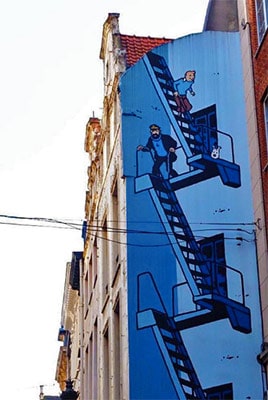 Fries, Mussels, Beer, and Chocolate. Assuming you can afford it, you won't go hungry in Brussels. Belgium is home to many of the world's best beers so sampling those was one of my favorite things. And there's chocolate everywhere. And the amazing fries. Mussel lovers will also rejoice.
Architecture. Brussels' Grand Place features stunning architecture and it's an amazing place to enjoy Belgium's famous beers while sitting at a sidewalk cafe.
Comic Book Street Art. Brussels has a long history of making great comic book characters — most notably is Tintin. You'll find comic book characters painted on buildings throughout the city.
A Few Good Museums. For being a fairly small city, Brussels does have a few solid museums — especially for military and natural history buffs.
Connections to Other Cities. Belgium has a handful of amazing cities like Ghent, Antwerp and Bruges — and each is well connected to Brussels via train. It also has great train connections to other cities like Amsterdam and Paris. This is way many people use Brussels as their travel hub for exploring the surrounding region.
The Not-So-Good
A Bit Overrated. Personally, I find Brussels to be a little overrated. It's one of those European cities that everyone has heard about so they assume it must be a great place to visit… but it's a little boring (compared to all the amazing cities in the region). So, if you do go, we recommend staying for a day or two.
Expensive. Brussels is expensive. It's a business and political hub so it attracts plenty of wealthy people.
Brussels's Must-See Sights And Attractions
Brussels certainly has enough sights to keep you busy for a few days. Below are a few of our favorites.
Grand Place
The Grand Place is historic and cultural center of Brussels. This giant square features amazing opulent and intricate architecture that deserves to be admired. The square has multiple outdoor cafes that are overpriced but the views make up for the prices.
Belgian Comic Strip Center

Belgium has a long history of producing excellent comic books — including Tintin, Lucky Luke and the Smurfs. It's a fun visit even if you're not familiar with Belgian — and who knows, maybe you'll find a new favorite. Admission: €10. Visit Website.
Royal Museum of Fine Arts of Belgium and the Magritte Museum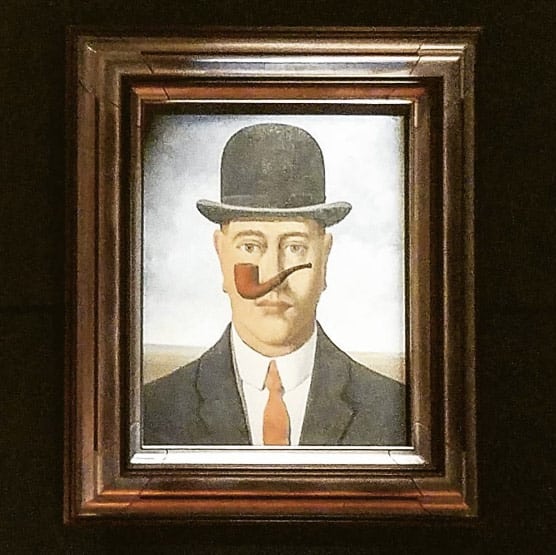 The Royal Museums of Fine Arts has an impressive collection of both ancient and modern works. Admission €8: Visit Website. Connected to the museum is the Magritte Museum — which focuses on surrealist master René Magritte. Admission: €8. Visit Website. Note — you can buy a combined ticket for €13.
Cinquantenaire Museum (Musée du Cinquantenaire)
This history museum, which is one of the largest in Europe, has artifacts from prehistoric times to the 20th century. The top attractions are the Egyptian sarcophagi and Greek vases, the great mosaic floor from Apamea and the model of Ancient Rome. There is even a colossal statue from Easter Island and a number of Art Nouveau pieces. Admission :€8. Visit Website.
Museum of Natural Sciences (Musée des Sciences Naturelles)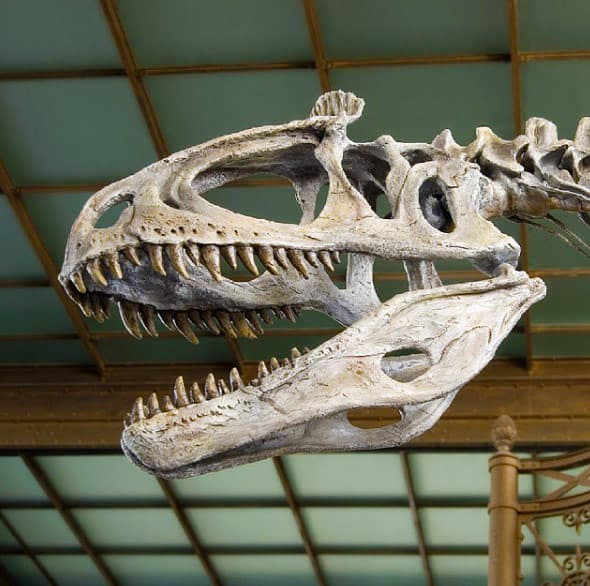 Interested in learning more about animals? Then you'll love this museum. It also has the largest Dinosaur Gallery in Europe so it's a great place to see a lot of dino bones. Admission: €7. Visit Website.
Royal Army and Military History Museum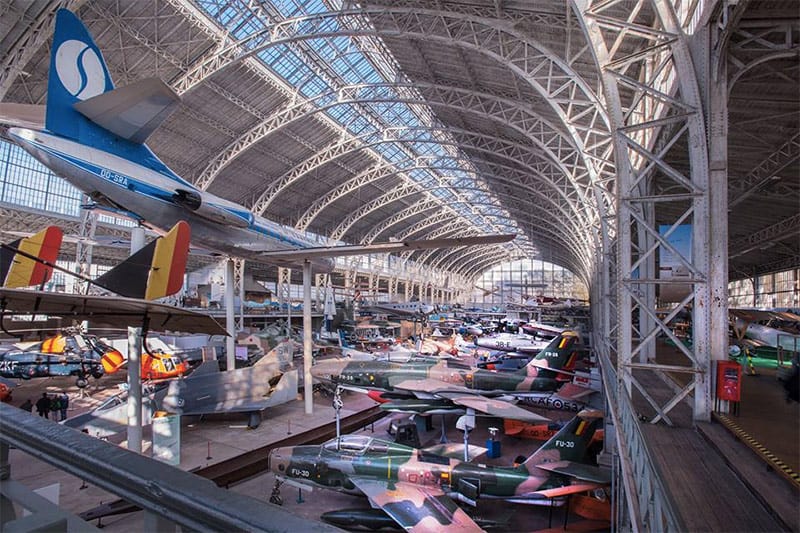 Military buffs will love wandering through the weapons and military artifacts of this massive museum. The highlight of the museum is the aviation hall — which is full of military aircraft. Admission: Free. Visit Website.
Cathedral of St. Michael and St. Gudula
This Roman Catholic church is the finest in Brussels. If you're lucky you'll get to hear its impressive organ. Admission is free.
Manneken-Pis
Brussels most famous citizen is a little statue of a boy that pees. Ohh yeah, they dress him up in different outfits. It's kind of dumb so spend five minutes looking at it and move on.
Parc Leopold and Square Marie Louise Plein
The two best places to escape the craziness of the city are Parc Leopold and Square Marie Louise Plein. They're both nice places to have a quiet picnic.
Take a (Free) Walking Tour
Walking tours great ways to explore and learn more about the city you're visiting. I like to take one on my first day in a new city as I find it's an excellent way to get my bearings and it gives me an idea of where I want to revisit.
The free walking tours are great for overviews. However, you'll have to pay if you want a better quality guide or more specialized information (food tours, etc.).
Below is a list of the free walking tours:
If you're looking for a paid tour we recommend checking out Trip Advisor to find reviews.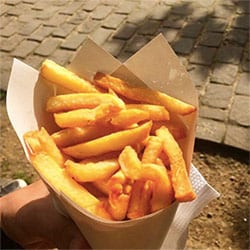 Food & Cheap Eats in Brussels
In general, the food near the city center is expensive, so you'll have to actively seek out the best deals.
Belgium is known around the world for its fries, waffles, and chocolate. Other traditional meals include grilled sandwiches (croquets), carbonade falamande (beef and beer stew), and moules frites (mussels and fries). The Grand-Place in Brussels' city center has a number of eateries and cafés offering chocolate, beer, and other fare.
Brasseries are basically a combination pub and restaurant, offering traditional fare alongside domestic and imported draught beer. You can also find cheap and filling food from department store cafeterias, such as Galeria Kaufhof, for a good price.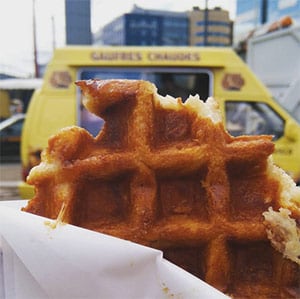 We've gathered some of our favorite online resources and food bloggers:
Brussels Nightlife and Beer
Belgium officially has over 1000 different kinds of beer and Brussels has a few of bars that stock well over two thousand beers from around the world.
Brussels' Best Bars for Great Beer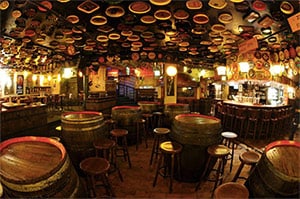 Délirium Café. Délirium is probably one of the most popular and most well-known bars — thanks to its selection of more than 2000 types of beer.
Poechenellekelder. It's a bit touristy because it's located next to that pissing statue people flock to see — but Poechenellekelder is a quirky bar that has an extensive beer menu. It also has some outdoor seating. Ohh, and it's decorated with puppets.
La Porte Noire. This cozy bar is housed in a vaulted 16th-century cellar and has over 100 beers. They also have live music.
À la Mort Subite. Dating back from the early 1900s, this bar retains a ton of charm because it probably hasn't been updated since opening. The beer list isn't as extensive as other bars but the beers that do have are all excellent.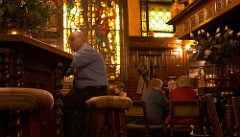 Au Bon Vieux Temp. This bar hidden-away bar has been around for a few hundred years so it's oozing with charming atmosphere. You'll find a good mix of locals and tourists — both of whom come to experience the old-world charm, stained-glass windows and quality beer selection.  Also, if you're a beer snob, you'll love that this one of the few places you can often find Westvleteren.
Want more options? Here is a Google Map with a huge listing of the best bars in Brussels.
Music, Clubs, and Other Nightlife
Want to hear some amazing jazz? Then you need to check out The Music Village. This cozy jazz bar is one of the best anywhere. You'll want to make reservations. Also, skip the food — it's nothing special.
I'll be the first to admit that I don't have my finger on the pulse of the best nightclubs. However, I'm Not On The Guest List is an excellent resource on Brussel's nightlife — be sure to check them out.
Brussels Hostels and Accommodation
You should budget about 25€/night per person for a decent hostel — although many hostels raise their prices on the weekend. I've always used Hostel World or Booking.com to book our hostels so you'll want to poke around there to find the perfect hostel.
Here are a few of the city's best-rated hostels:
Traveling Around Brussels
Transit fares are slightly more expensive when purchased inside the metro, tram, or bus. All transit systems run on the same ticket. MOBIB or MOBIB basic cards are chipped plastic cards, purchased from vending machines or on transit. Single-fare tickets can also be purchased.
(Note: Purchasing JUMP tickets by fare grants access to the entire STIB, or transit, system – excluding the Bourget-Brussels Airport. A separate journey ticket must be purchased for the airline line, for €4.50, or a 24/48/72-hour unlimited JUMP ticket must be used.)
The Brussels Card includes unlimited transportation and entrance to multiple sights and museums for 24/48/72 hours (€22/€29/€35).
Single fare (for one hour):
1 JUMP fare (outside vehicle): €2.10
1 JUMP fare (inside vehicle): €2.50
5 JUMP fares: €8.00
10 JUMP fares: €14.00
Unlimited tickets:
24-hour JUMP fare: €7.50
48-hour JUMP fare: €14.00
72-hour JUMP fare: €18.00
Getting To The Airport
Airport transport, 1 journey ticket (purchased outside the vehicle): €4.50
Airport transport, 1 journey ticket (purchased inside the vehicle): €6.00
Taxi from Brussels city center to airport: Around €45
Bicycle rental from Villo!: €1.60/day, €7.65/week
Brussels Day Trips
Belgium is a small country so visiting its many great cities is quick and easy. So please, don't spend all your time in Brussels (actually, spend more time outside of Brussels).
Antwerp
Antwerp is cool and youthful. It's quaint, yet lively. It's known for its music and fashion scene. But, like most large port cities, it's also a bit seedy (which isn't necessarily a bad thing). Travel time from Brussels to Antwerp: 45-60 minutes via train.
Bruges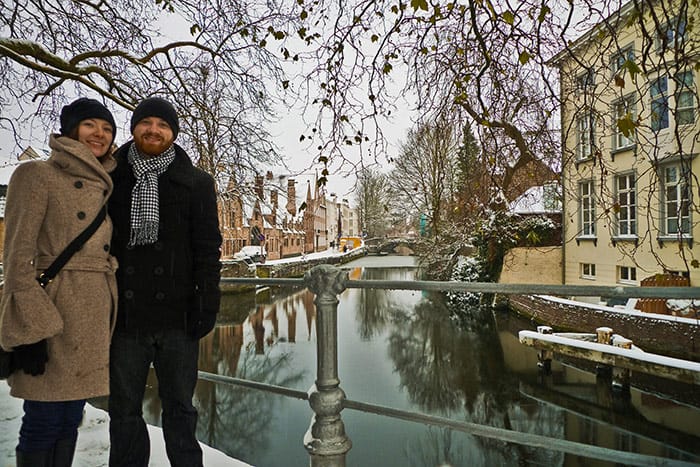 Bruges may be the most well-preserved medieval town in Europe. It seriously feels like you're living in a fairytale. Yes, it is touristy but it's one of those cities that you have to visit. Bruges is small enough that you can see everything in about two days (you probably don't want to stay much longer than that anyway). Travel time from Brussels to Bruges: 60 minutes via train.
Ghent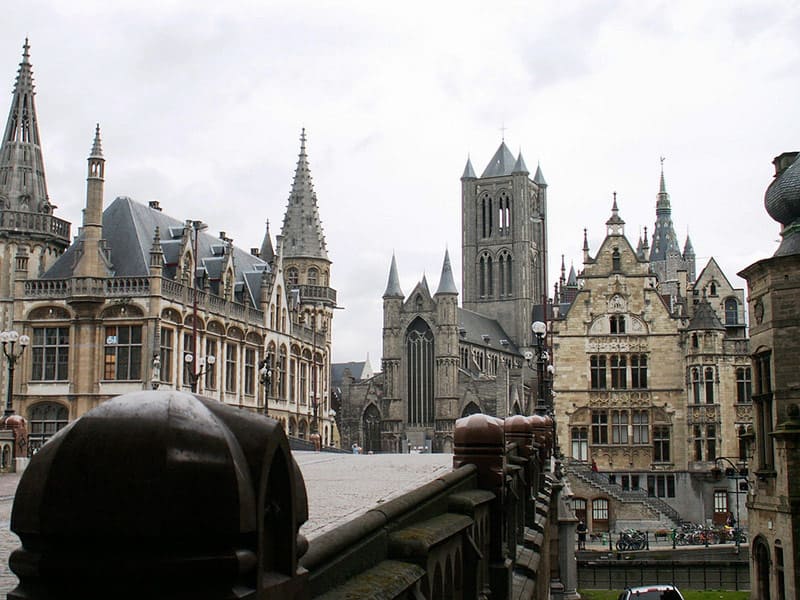 Many people consider Ghent to be Belgium's best kept secret and it remains a bit off the tourists' trail. It's small enough to feel quaint and it's medieval architecture keeps it charming, but don't be mistaken — it's a living city that's still gritty and slightly industrial. You'll find plenty of cool cafes, restaurants, and shops. Travel time from Brussels to Ghent: around 30 minutes via train.
Lille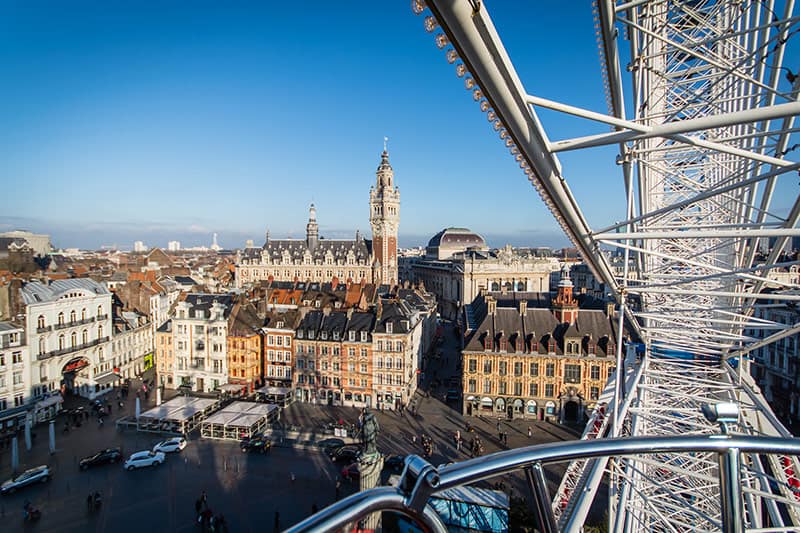 The French city of Lille is on the border of France and Belgium, and it certainly isn't on the tourist path. This once industrial city has transformed itself into a great city of culture, museums, restaurants, fun bars and a lively nightlife scenes thanks to its large student population. Travel time from Brussels to Lille: around 40 minutes via train.
Other Random Practical Travel Tips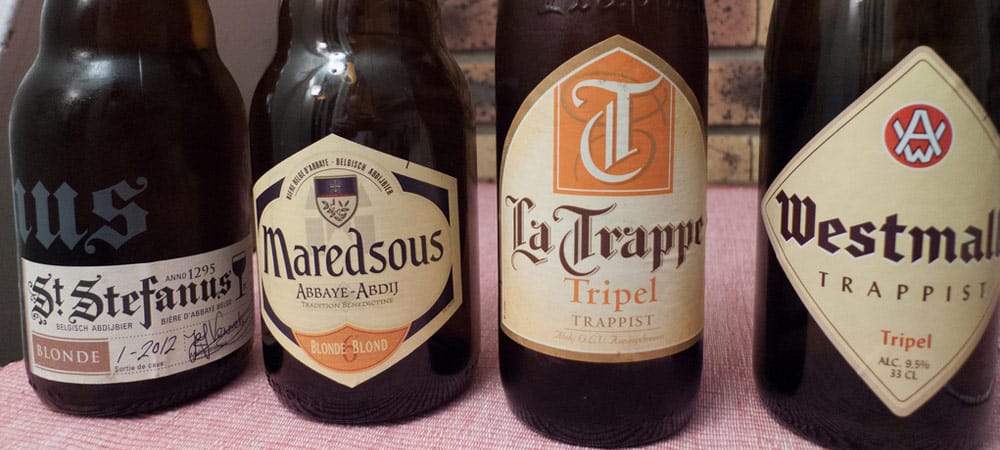 Most grocery stores carry an excellent selection of hard-to-find beer for reasonable prices.
Brussels is a very international city so you will have little to no trouble if you only speak English.
Pack for rain. All year.
Brussels has three main train stations. Make sure you know which one you're traveling to/from.
Brussels does have a Tourist Card that might be worth checking out if you plan on seeing a lot. It comes in three versions —24 hr (€24), 48 hr (€36) and 72 hr (€43).
Belgian beer often has a high alcohol content (8%-12% ABV) so take it easy if you're used to drinking PBR.
Watch out for restaurants targeting tourists because many are poor quality. It's not uncommon for some places to overcharge tourists so do some research first or you could end up paying a lot for bad food.
The areas around all the train stations can be a shady — especially around the Brussels Midi-Zuid. Be vigilant and don't wander around at night. The train stations also attract pickpockets so keep an eye on all your belongings.
Brussels is officially bilingual so pretty much every metro station and street signs will be in both French and Flemish — which can get confusing.
More Resources To Help You Plan Your Brussels Visit On A Budget
I'm still a fan of ol' fashion guidebooks as they give you a quick, easy and curated way to research your destination. If nothing else, head to the library or bookstore and spend an hour or so thumbing though a guidebook — it's worth it. We've also listed a few websites/blogs that will help with your planning.
Packing Help + What To Wear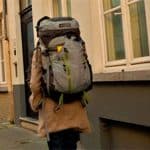 Packing your bag and knowing what clothes to bring shouldn't be a huge hassle. That's why we created our packing guides:
Backpacking Europe Packing List For Women – Our famous packing list that's specifically for the ladies.
Backpacking Europe Packing List For Men – Our famous packing list that's specifically for the dudes.
Best Travel Backpacks For Europe – We review our favorite travel backpacks, luggage and other packing aides.
No Funny Business
The Savvy Backpacker is reader-supported. That means when you buy product/services through links on the site, I may earn an affiliate commission — it doesn't cost you anything extra and it helps support the site.
Thanks For Reading! — James
Questions? Learn more about our Strict Advertising Policy and How To Support Us.