They call Budapest the Paris of the East and we certainly think it lives up to its reputation. It has elegant boulevards. It has so much beautiful architecture. But it has much more grit and edge thanks to its years under communist rule. Walking its streets you can quickly tell that Budapest is a dynamic and living city.
One thing that makes Budapest so dynamic is its mix of Western and Eastern Europe. The city is still transitioning, so more and more young Hungarians are breathing new and youthful life into this great city. It's still a little rough around the edges but that just adds to its charm.
[We've also written travel guides for Amsterdam, Barcelona, Berlin, London, Paris, Rome and multiple other cities.]
What You'll Find In This Budapest Travel Guide:
How Much To Budget To Visit Budapest
How Long To Visit Budapest
The Good And Not-So-Good Things About Budapest
Budapest's Must-See Sights and Attractions
Cheap Eats and Drinks
Best Budapest Hostels
Budapest Nightlife
More Resources To Help You Plan Your Visit On A Budget
Public Transportation
And More
How Much To Budget For Visiting Budapest
Budapest is a very affordable destination for budget travelers — and the dollar keeps getting stronger so it keeps getting cheaper.
We recommend budgeting $20-$45/day if you're on a backpacker's budget — you can easily spend more and you might be able to spend less, but this is a good range for planning purposes. You can view our Budapest Daily Price Guide for more in-depth cost details.
How Long To Visit Budapest: 3-5 Days
Want to hit the highlights? We recommend a minimum of three days. Don't want to feel rushed? Try to stretch your time to four or five days.
When To Visit Budapest & Weather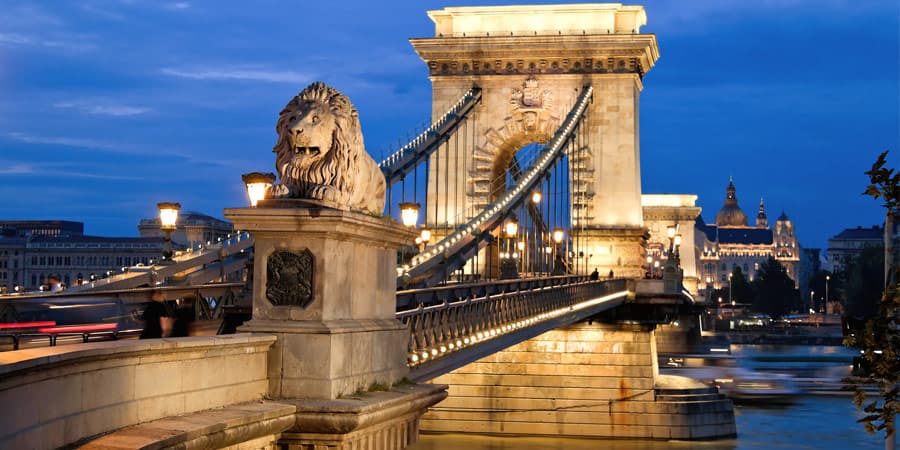 Summers tend to be nice with temperatures averaging in the high 60s to low 70s — but there are a handful of days in the 90s. Summer is obviously the high time for tourism — however, Budapest doesn't get overrun with tourists so summer is still a great time to visit.
Spring and Fall both tend to be nice as well. In fact, September and into October have average temperatures in the low 70s. April and into May both tend to be nice with temperatures in the mid-60s.
Budapest winters are cold. December average high temperatures hover around freezing and nighttime lows are in the single digits. And it's gloomy and snowy, so this might not be the best time to visit.
The Good And Not-So-Good Things About Budapest: A Quick Overview
The Good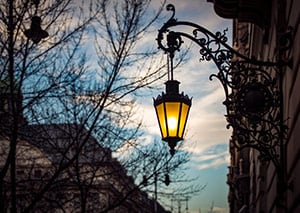 Castle Hill and Architecture. You'll love walking the streets while you're admiring Budapest's Art Noveau and other style buildings.
Danube River. The banks of the Danube are listed as a Unesco World Heritage site so it's a joy to take a stroll along the Danube (especially at night when everything is lit up).
The Thermal Baths. Budapest is world famous for their natural thermal baths and they've been attracting visitors since the Roman times. They're still a popular draw for both tourists and locals alike.
Nightlife. Parties love Budapest — especially for the unique Ruin Bars (which we talk about more in depth later on) and the club scene.
The Not-So-Good
The Language Ain't Easy. Hungarian is a tough language and while the alphabet looks similar to English, the letters are pronounced much differently — so don't expect to read many signs or menus.
Crooked Taxi Drivers. Taxi drivers have a reputation for ripping off tourists so beware when using taxis. Always use real taxis and insist they use the meter.
Scams and Pickpockets. There are a handful of common scams popular in Budapest. One scam is for a beautiful to invite tourists into a bar and ask them to buy her drinks — however, the drinks end up costing hundreds of dollars. Then the bouncers escort you to the ATM. And of course, there are the usual pickpockets that you have to watch out for.
Budapest's Must-See Sights And Attractions
Danube Promenade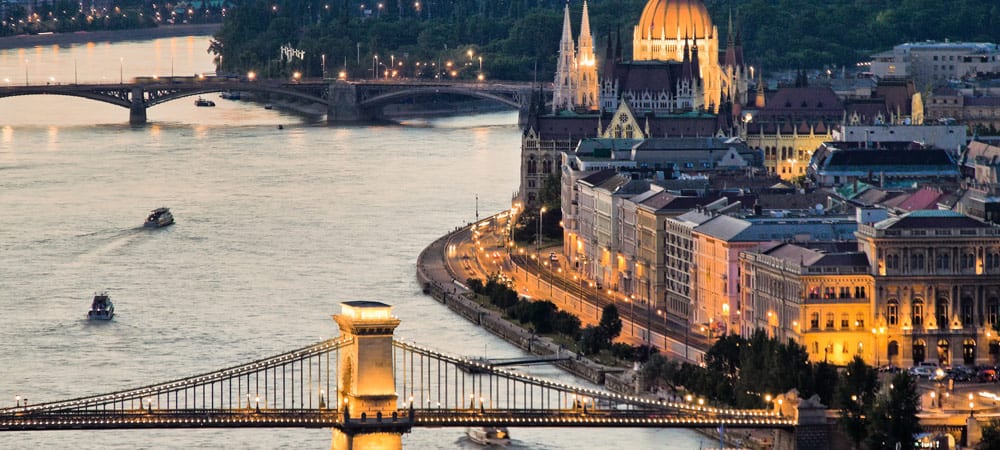 The banks of the Danube river are listed as a UNESCO World Heritage Site so you should spend some time visiting the Danube Promenade. It's also a great place to see many of Budapest's best sights.
Castle Hill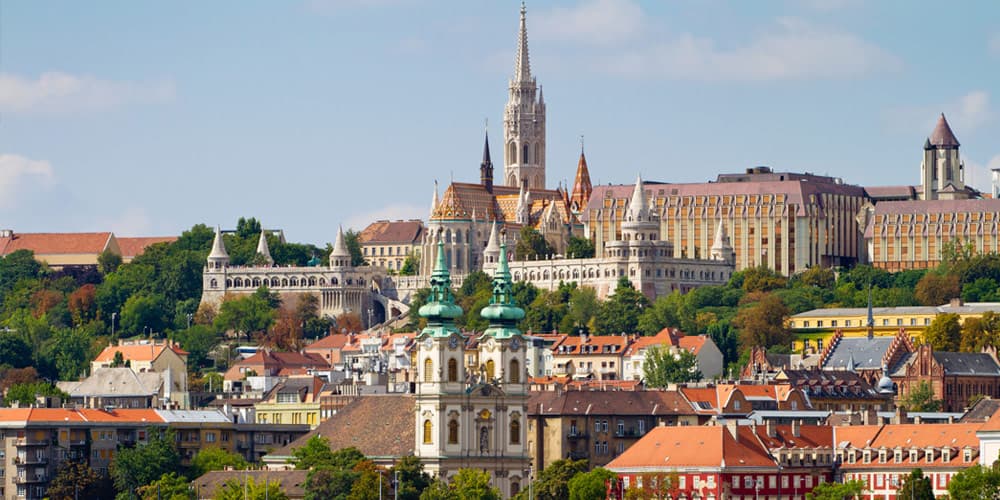 Perched above the city, Castle Hill is a must-visit neighborhood of Budapest. Some of the buildings date back to 14th and 15th centuries. Set aside a day to discover its winding cobble stone streets. The area also contains many of Budapest's top attractions like Trinity Square, Matthias Church (Mátyás templom), Fishermen's Bastion (Halászbástya), and Buda Castle.
Great Market Hall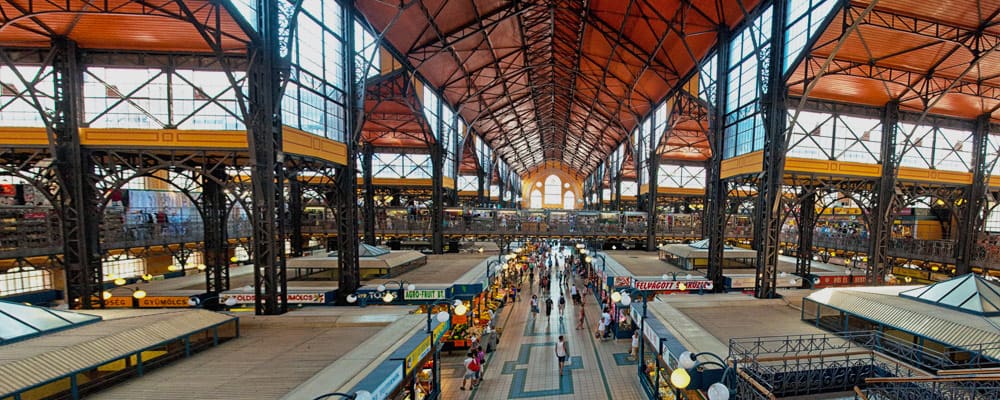 Built in 1894, this massive indoor market draws a major crowd looking for  fruits, vegetables, prepared foods, and random souvenirs. It is a bit of a tourist trap as the prices are a lot higher than what you'd find over on the Buda side of the city. However, it's a nice place to go for small bites and to look at the architecture of the hall.
Great Synagogue
The Great Synagogue is not only a beautiful structure, it's also the world's second largest synagogue. Visit Website.
House of Terror
The House of Terror is a museum detailing Budapest's time under Nazi and communist rule — specially it focuses of the secret police of both parties. It's housed in the secret police's former headquarters (which was also their torture site). It's a very interesting museum and it's one of the cities most visited attractions. Visit Website.
Hungarian Parliament
This iconic building is the largest building in Hungary and it's the third largest parliament in the world. It's a treat to admire from the outside but you can also admire the inside by taking one of the daily tours (in English) for around $14.
Memento Park
The communist loved building statues and monuments so Budapest was full of them during their years behind the Iron Curtain. Once communism in Budapest ended the people tore down almost all these statues and put them in a park in the outskirts of town. Now it's a fun place to go visit and get selfies with Stalin. It's a bit of a pain to reach via public transport so a tour might be easier. Visit Website.
City Park
City Park is where people of Budapest go to escape the city (it's also where you'll find the Széchenyi Baths). In this 302 acres park, you'll also find a zoo and a replica Transylvanian Vajdahunyad Castle. It's a fun place to explore on a nice day.
Heroes' Square
The largest square in Hungary and it celebrates the thousandth anniversary of Hungary. It also marks the entrance of City Park so you're sure to come across this monument.
Hungarian State Opera House
This neo-Renaissance opera house is one of the finest in the world. Better yet, you can actually score some cheap tickets to see an opera if you're into that. If nothing else, you can also take a tour if the inside. View Website.
Andrássy Út (Andrássy Avenue)
This grand tree-lined boulevard runs through Budapest is a UNESCO Heritage Site and is best explored on foot. It connects the Opera House and City Park, and it runs by many of the city's most expensive real-estate.
Saint Stephen's Basilica (St. István's Basilica)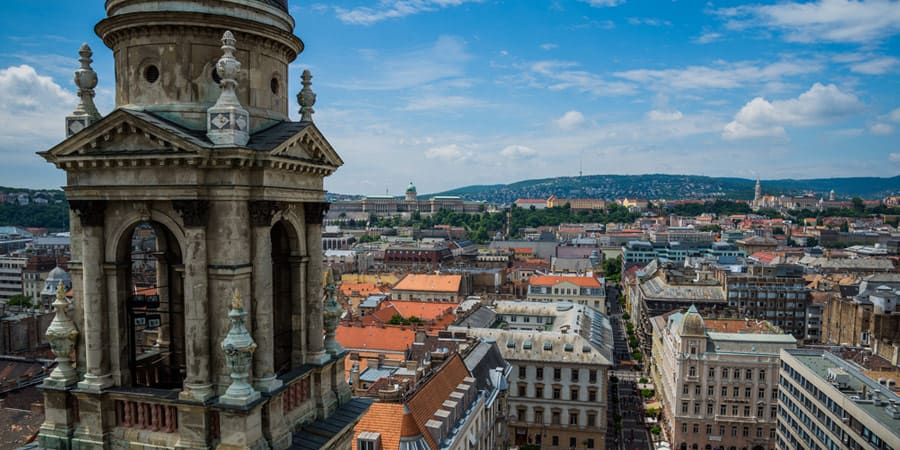 Not only is Saint Stephen's Basilica the largest church in Budapest but it also contains St. Stephen's mummified right hand. Possibly more impressive are the views from the top of the church as it also offers the highest 360-degree views of the city.
Margaret Island
This 2.5km long island in the middle of the Danube is a nice landscaped park and it's a popular recreation spot.
Ecseri Flea Market
This is one of the biggest flea markets in Central Europe and it sells just about everything you can imagine. It's a good place to pick up a unique souvenir. It is located about 40 minutes outside the city but it is easily reached via public transportation.
Take a (Free) Walking Tour
You've got to take a walking tour of Budapest. They're a great way to explore and learn more about the city from the POV of a local. I like to take one on my first day in a new city as I find it's an excellent way to get my bearings and it gives me an idea of where I want to revisit.
The free walking tours are great for overviews. You'll probably have to pay for a tour if you want a better quality guide or more specialized information (food tours, etc.).
Below is a list of the free walking tours:
If you're looking for other free and paid tours we recommend checking out Trip Advisor.
Thermal Baths
Budapest is known for its natural thermal baths — in fact, even the Romans enjoyed the city's thermal baths. Some say the thermal springs which fill these baths have healing powers. I have no idea if there is any scientific evidence to back up there claims but I do know that they sure are relaxing — which is why you'll find people of all ages enjoying these warm waters.
Budapest has a handful of different thermal bathhouses — some are barebones and others are quite opulent. Most all have multiple small pools, each with different temperature water (some can be quite hot so be careful).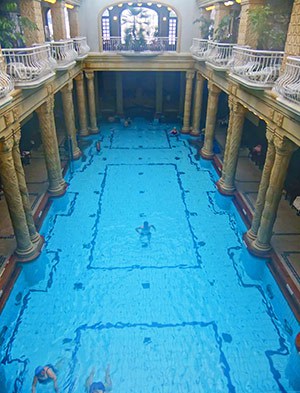 The two most famous thermal baths are SZÉCHENYI SPA are GELLÉRT SPA. 
Széchenyi, built in 1913, is probably the most popular and it's a beautiful neo-baroque bath complex that consists of 11 medicinal pools and eight swimming pools. It's also one of the largest spas in Europe. A ticket (including a cabin or locker) will cost around $15-$20.
Gellért is another popular option. Built in 1918, this opulent thermal bath complex features four thermal-medicinal pools, six other indoor pools, and two outdoor pools. Expect to pay around $20 for entrance and a cabin or locker rental.
The best source for more information about Budapest's baths is BathsBudapest.com — here you'll find locations, hours, prices, and other helpful information. 
Helpful Information:
Be sure to bring your own bathing suit and towel. Some places will rent you a towel but some won't, so you'll want to check.
None of the spas we've visited seem to be very organized and the staff is grumpy. Buying tickets is confusing and a little complicated… it's all obviously catered toward locals. But hey, whatever. It's all part of the fun.
Remove your jewelry. The sulfur in the water can damage or discolor certain metals.
Most places give you a wristband when you buy your entrance ticket. You scan the wristband on the entrance turnstile to gain entry.
Pay for a changing cabin if you want extra privacy.
Cheap Eats in Budapest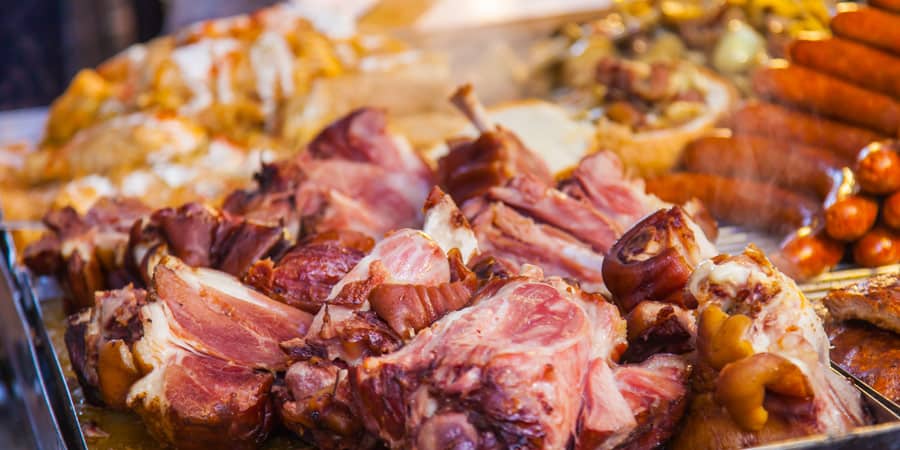 Budapest is an international city so you can find just about anything but we recommend trying some traditional Hungarian food. Even better, you can still find plenty of cheap, yet quality, lunches for under $5 and a dinner for under $10 if you know where to look. Hungarian food is often hardy and contains pork, beef, veal, or poultry. Paprika is a national treasure so expect to find it in most dishes.
Looking for something traditional? Check out these dishes:
Gulyásleves – goulash soup with meat and vegetables.
Pörkölt – meat stew in a paprika sauce.
Kolbice – grilled Kolbász sausages in a wheat-bread cone.
Lecsó – vegetable stew.
Paprikás Csirke – creamy chicken paprikash with paprika and a chicken leg.
Coffee is also very popular and cafe culture is similar to what you'd find in Vienna, Austria. Budapest does have a handful of famous (i.e. expensive) coffeehouses that are beautiful places to enjoy coffee and read a book.
Of course, avoid restaurants in the tourist centers, especially Váci utca, because you're almost guaranteed an overpriced and low quality meal (they're also known to add all kinds of weird charges to rip tourists off).
When it comes to finding the best budget restaurants I always guide out guides written by locals. Here are a few of our favorite guides and online resources: 
Budapest Nightlife and Drinking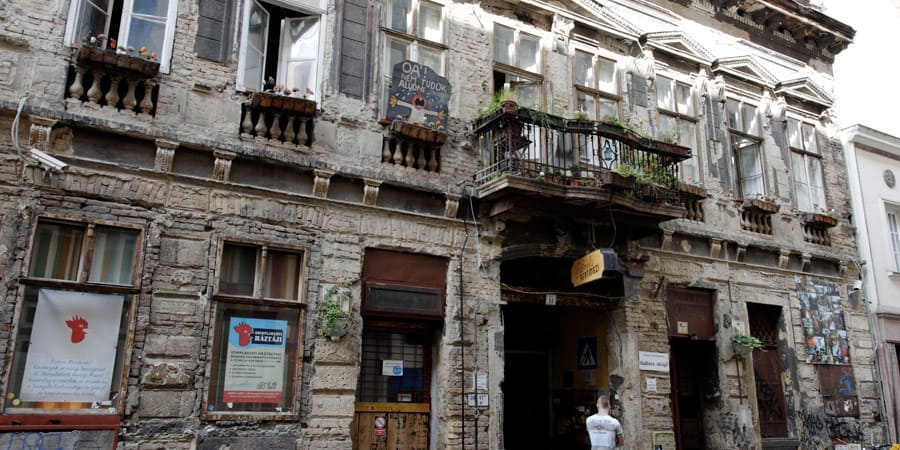 Budapest has that great combination of being a large youthful city that also has plenty of cheap alcohol and lots of large, cheap buildings — which is why this is one of the best cities for nightlife in the world.
Budapest is most famous for its Ruin Pubs… which are exactly what they sound like — pubs built in abandoned/ruined buildings. Basically, after WWII many of Budapest's buildings in the Jewish neighborhood were destroyed. Years later people moved into (i.e. squatted) these buildings and turned them into secret underground pubs and bars. Many of these bars still exist and they each have their own vibe. The three main ruin pubs are Szimpla Kert, Instant and Fogas Ház
Check out RuinPubs.com for the most updated information on Budapest's ruin pubs.
Budapest also has a ton of great nightclubs if that's something you're into checking out. Club Studio and Club Dokk are three of the most popular clubs. These can be a little expensive (by Budapest standards) so you may want to pre-party before heading out.  
Budapest Hostels and Accommodation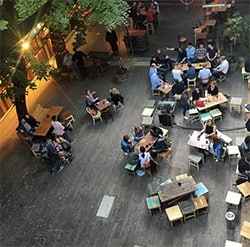 Budapest, much like many eastern European cities, has a lot of great (and cheap) hostels.
Most hostels in Budapest cost around $9-$22/night per person for a decent hostel — although many hostels raise their prices on the weekend or during holidays. Remember, these prices are for bed in a shared dorm room. If you want a private room expect to pay $40-$70.
Note: Some hostels are known for being "party" hostels so be sure to read the reviews before you book to find the hostel that best fits your travel style. 
I've always used Hostel World to book our hostels so you'll want to poke around there to find the perfect hostel. Here are a few of the best-rated hostels:
Traveling Around Budapest
Budapest has a good network of trams, buses, and subways. They're all affordable but be sure you always validate your ticket because they do check tickets often (you don't want to get fined — which is $30-$60).
Download the SmartCity Public Transportation app for your smartphone as it gives you offline maps/routes for all the public trans in Budapest.
Single Ticket: 350 HUF ($1.30)
Book of 10 Single Tickets: 3,000 HUF ($11)
Unlimited Day Pass: 1,650 HUF ($6.15)
Train Ticket Between Airport and City: 400 HUF ($1.50)
Other Random Practical Travel Tips
Take a ride on Tram #2 for a ride with amazing views along the Danube and a number of Budapest's major sights. In fact, taking any tram around the city is a nice way to see the city.
Head to the river at night to get beautiful views of the city lights.
Keleti Train Station is fairly sketchy and is a popular spot for pickpockets and crooked taxi drivers. I don't recommend hanging around there any longer than needed.
More Resources To Help You Plan Your Visit On A Budget
I'm still a fan of ol' fashion guidebooks as it gives you a quick and easy way to research your destination. If nothing else, head to the library or bookstore and spend an hour or so thumbing through a guidebook — it's worth it. We've also listed a few websites/blogs that will help with your planning.
Packing Help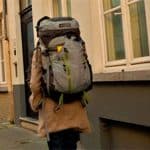 Need some packing help? Check out these helpful articles that we wrote for tips and advice for packing for your trip.
No Funny Business
The Savvy Backpacker is reader-supported. That means when you buy product/services through links on the site, I may earn an affiliate commission — it doesn't cost you anything extra and it helps support the site.
Thanks For Reading! — James
Questions? Learn more about our Strict Advertising Policy and How To Support Us.