You don't need to visit Copenhagen for more than a few hours to realize why the Danes are some of the happiest people in the world. The city has so many things going for it — a mix beautiful old and state-of-the-art architecture, a great food scene, plenty of sights and museums, tons of coffee shops, a lively craft beer scene, plenty of culture, lots of shopping, an excellent biking culture, and friendly locals (who all seem to speak excellent English). In this Copenhagen Travel Guide, we'll cover everything you need to know about visiting this lovely Scandinavian city.
Daily Costs To Visit Copenhagen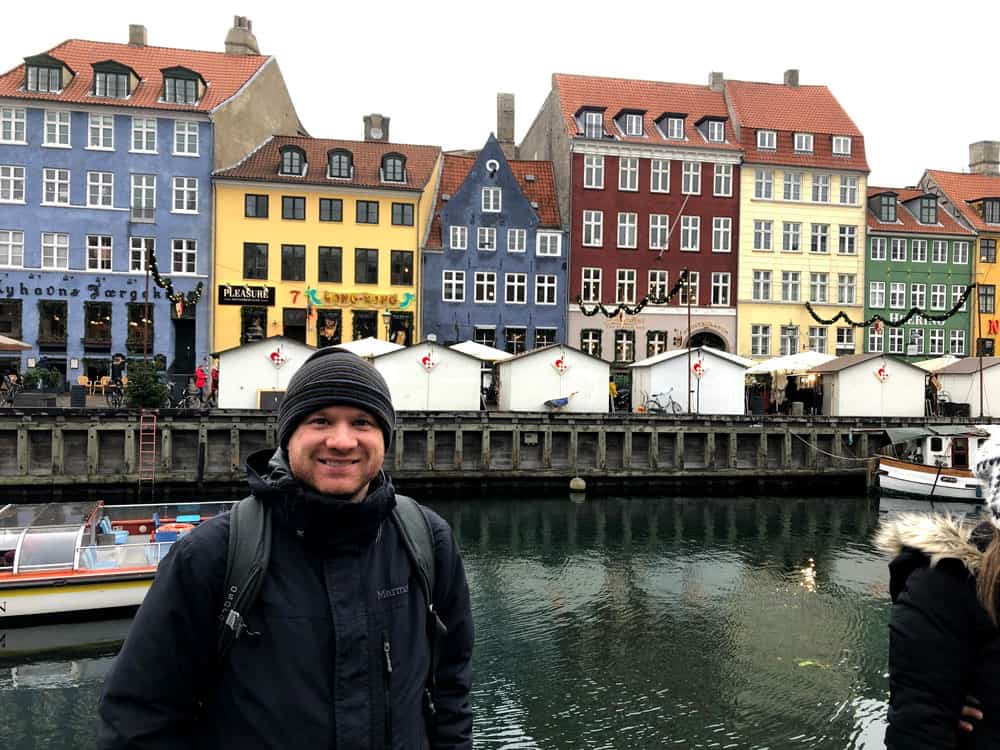 The bad news is that Copenhagen (along with all of Scandinavia) is expensive. It's easy to drop a ton of cash if you're not careful — especially on food, alcohol, and accommodation. From our estimates, budget travelers will spend around $60-$100/day (395DKK- 655DKK) but you can easily spend a lot more if you stay in a hotel, have a nice meal, or knock back a few beers/cocktails. Throughout this guide, we'll suggest some budget-friendly recommendations but you should still plan on spending more than you might in other parts of Europe. You can view our Copenhagen Daily Price Guide for more in-depth cost details.
---
How Long to Visit Copenhagen: 3-4 Days

We suggest spending at least three full days in Copenhagen — but it's also a great city for a weekend getaway if you're short on time. That said, we felt that three or four full days is enough time to get a taste of the city but you might want to add a few days if you want to do a few of Copenhagen's popular day trips.
---
Copenhagen: The Good & Not-So-Good
We always like pointing out the things you'll really love about the city and a few of the things you might not like so you have a better idea of what to expect when visiting Copenhagen.
The Good
Compact City: Copenhagen is compact so it's a very manageable city — especially if you're comfortable on a bike. There is also a pretty good metro system (that's currently being expanded but the completion date keeps being pushed back). That said, we walked just about everywhere without any issues.
Hygge: You can't visit Copenhagen without hearing about Hygge — which is a Danish word that roughly translates into feeling cozy. The word is actually more nuanced than that but so much about Copenhagen is cozy (lots of candles, dim lighting, comfortable chairs, warm blankets, spending time with friends, etc.)
Bike Friendly: There are more bikes than people in Copenhagen so just about everyone who lives in the city rides a bike almost daily. It's fun to rent a bike as it lets you explore a ton of ground quickly — plus, just about every road has dedicated bike lanes so riding is easy.
Great Food: Copenhagen has been a hotbed of foodie culture for a few years. In fact, it has 15 Michelin Star restaurants. And while you might not be able to afford a Michelin Star meal, this foodie culture has spawned a number of trendy and affordable restaurants.
Hip Neighborhoods: We love that Copenhagen has a few super trendy and up-and-coming neighborhoods that are full of great restaurants, excellent bars, and cool independent shops — and they're all within walking distance of the city center. So do yourself a favor Kødbyen (Meatpacking District), Vesterbro and Norrebro districts.
Craft Beer Scene: Copenhagen is arguably Europe's craft beer capital. The most famous microbrewery is Mikkeller and you can find multiple bars around town that serve an everchanging selection of 20-40 Mikkeller beer on tap (and even more in bottles/cans). There are also plenty of other smaller local microbreweries so you won't go thirsty.
Great Summers: While the winters in Copenhagen might be long and rainy, the summers can't be beaten. Once the sun comes out and the temperatures rise up all the locals come out in full force to enjoy the weather. The parks are full of people enjoying a few beers and the locals flock to the canals to enjoy the water — don't be surprised to see people skinny dipping.
English Speaking Locals: The Danish people are some of the best-educated people in Europe and just about everyone speaks English fluently.
The Water: The canals and beaches of Copenhagen are much loved by its citizens so lots of leisurely activities revolve around the water. You can rent a boat during the summer, take a water cruise, take a dip in the canals, or head to the beach.
Coffee Culture: Copenhagen has a great coffee culture so you'll find cozy coffee shops serving up excellent quality joe all around the city (we list a few of our favorites later in this article).
Drinking Outside: You're free to drink alcohol in public so grab a beer from a convenience and head to any park, square, or canal to enjoy your brewskis al fresco.
The Not-So-Good Good
Expensive: Copenhagen is expensive. There really isn't any way to avoid that.
Aggressive Cyclists: Cycling is a way of life for the Danes and they take it very seriously — don't get in their way or you'll get an earful. So pay attention to the bikes lanes because it's easy to unknowingly wander into them.
Cold, Rainy, & Dark Winters: The winters in Copenhagen can be pretty bleak, overcast, and rainy. The days are short so it gets dark around 4 pm. That said, the city does have a lot of Christmas markets so it's a festive place around the holidays.
---
When To Visit Copenhagen

Summer
Other than the crowds and increased accommodation prices, it's hard to find anything negative about visiting Copenhagen in the summer. The temperatures are nice, people flock to the city's multiple parks, canals, and beaches, and the sidewalk cafes are full of people enjoying life. Plus, the days are long during the summer so it doesn't get dark until around 10 pm.
Winter
Copenhagen doesn't get much snow in the winter but it does tend to be overcast and drizzly. Temperatures are generally in the mid-30s or low-40s — so it doesn't get super cold but it's pretty damp and windy. The days are short so it's dark around 4 pm.
But the city also reaches peak Hygge so everyone heads to the bars and restaurants to get extra cozy. The city is also very festive and decorated for Christmas. There are a handful of Christmas markets and the Tivoli Gardens Amusement Park is completely decorated for the holidays.
Be sure to dress properly. Check out these handy articles:
Fall / Spring
Copenhagen starts coming out of its slumber from late-March to May. The temperatures tend to be in the low 40s to high 50s so it won't be warm but it's a comfortable temp for exploring the city. Rain is still common but March and April tend to be some of the least rainy months of the year.
The weather starts cooling down in later September and October but it can still be a nice time to visit as the tourist crowds start thinning out.
---
Copenhagen's Neighborhoods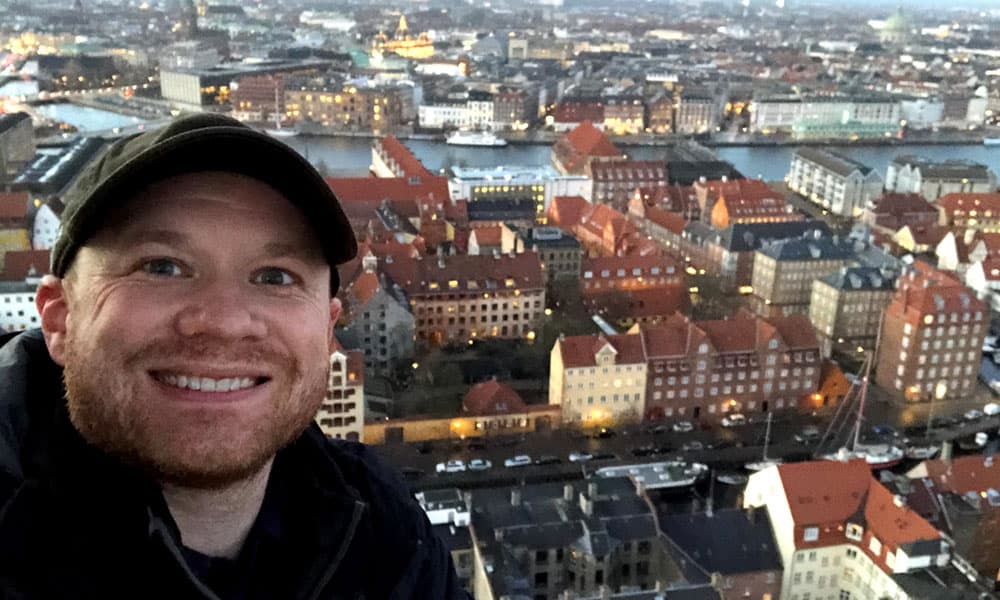 Copenhagen has a number of distinct neighborhoods that we well-worth checking out. In this section, we'll give a brief overview of the most popular neighborhoods to give you a general vibe of the area.
Copenhagen City Center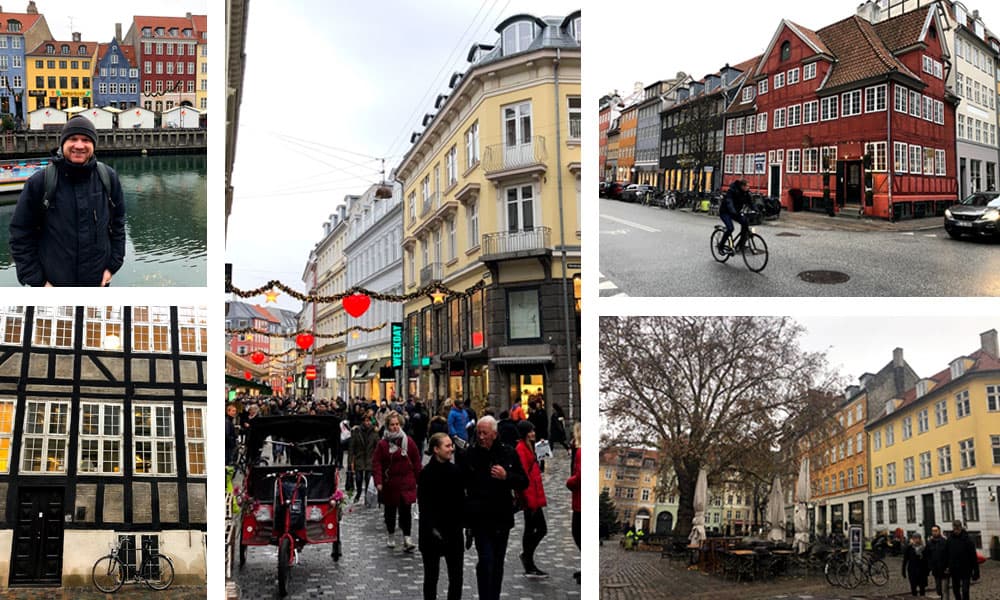 Also called Indre By (Inner City), Copenhagen's city center is where you'll find a lot of the city's main sights and museums (Tivoli Gardens, Nyhavn, etc), tons of restaurants, bakeries, the Strøget pedestrian-only shopping streets (with all the major stores/shops), and more. Naturally, this is where most of the visitors stay/visit so you'll have to deal with the tourist crowds but you're super close to just about everything.
Vesterbro / Meatpacking District (Kødbyen)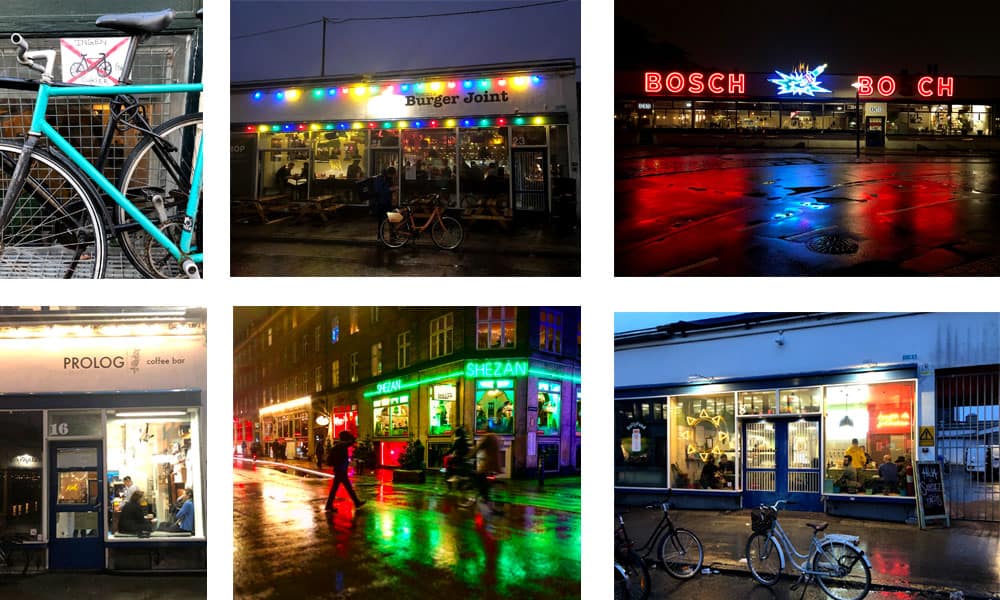 The Vesterbro neighborhood has traditionally been a slightly seedy area and home of Copenhagen's red light district. These days, you'll still see a handful of strip clubs, adult stores, and maybe a few prostitutes but you'll also find lots of super cool bars, pubs, restaurants, craft beer bars, cocktail bars, and boutique shops. Yes, gentrification has set in so the area is perfectly safe.
The Kødbyen (aka the Meatpacking District) is also located in the middle of the Vesterbro. Over the past few years, the warehouses of the Meatpacking district have been converted into a cluster of some of the hippest and most-loved bars, restaurants, coffee shops, and nightclubs in Copenhagen. It's a major spot for nightlife so during the summer you'll find tons of people out and about.
You'll find mainly trendy locals and in-the-know tourists in this neighborhood so this is the place to stay if you want to rub elbows with Copenhagen's young and hip crowd.
Nørrebro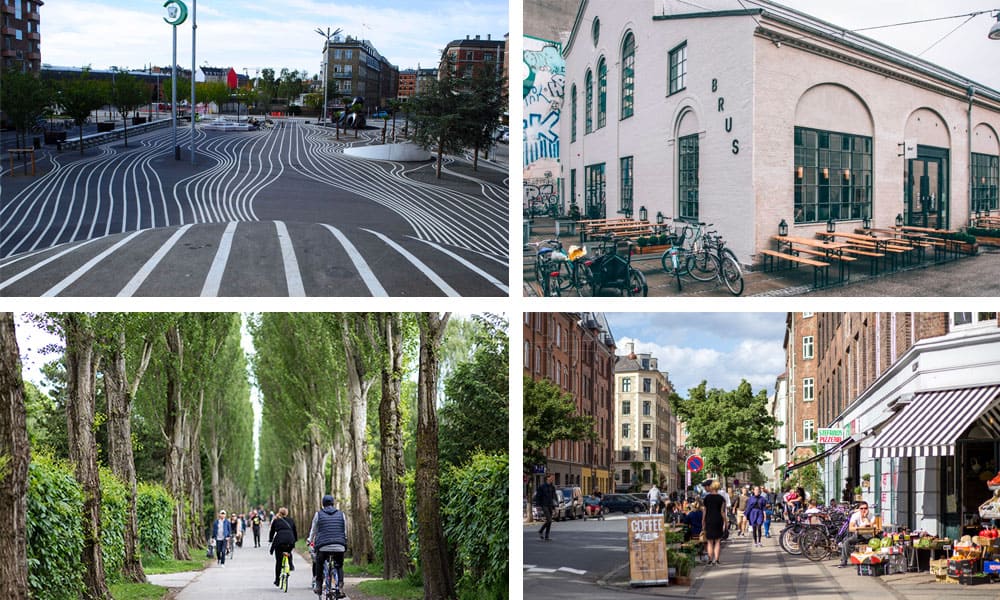 The Norrebro neighborhood has traditionally been home to many of Copenhagen's immigrant and working-class population but it's now home to artists, students, working professionals, and people attracted to the excellent nightlife, independent shops, craft beer scene, top-notch coffee, and the area's youthful energy. Not a lot of tourists venture into the neighborhood so it's a nice place to stay if you want to get a bit more authentic local and culturally diverse vibe.
Christianshavn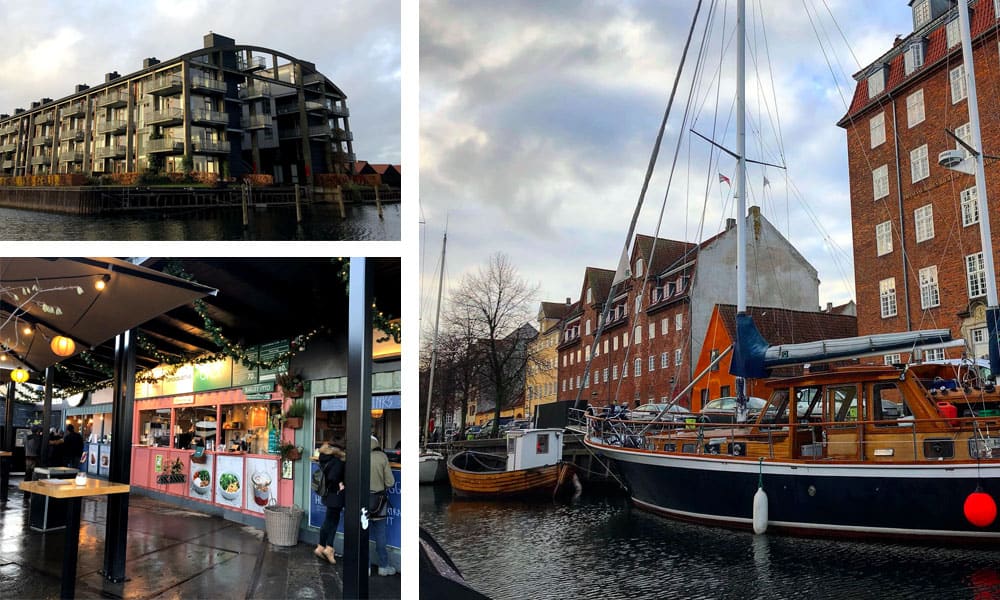 Christianshavn is a neighborhood made up of a few small islands and houseboat-lined canals (it has a bit of an Amsterdam vibe). It's a trendy part of the city and home to a few of the city's best (and most expensive) restaurants and the impressive new opera house.
The Freetown Christiania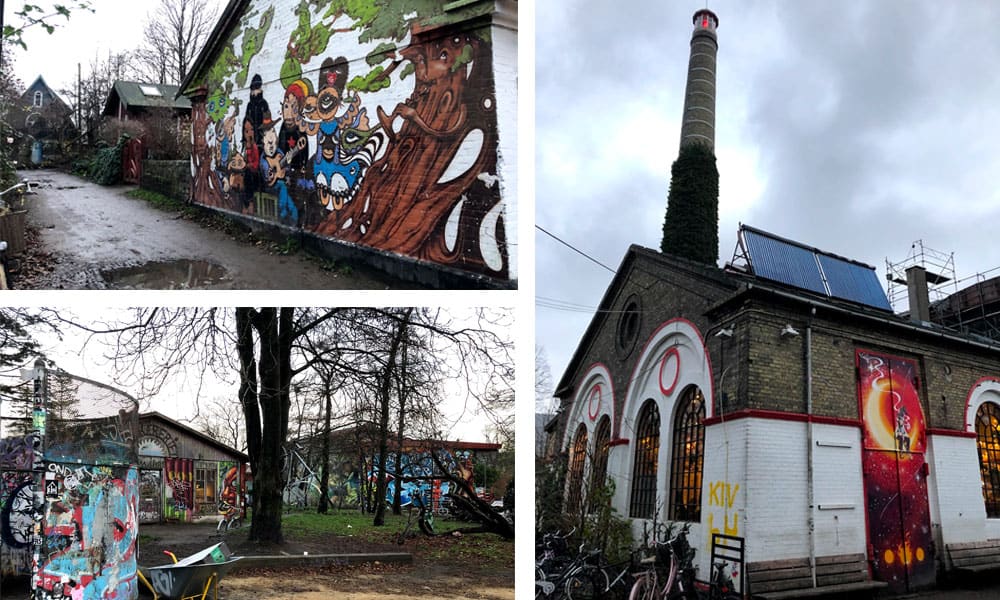 Within Christianshavn you'll find the small hippy town/commune called Freetown Christiania. It's home to around 1,000 residents who live and work in their own insular community that started as a squatted military barracks back in 1971. The town is technically under Danish law but they still self-government themselves and have their own rules/laws.
Christiania is most famous for it's "Pusher Street" — a street where pot is sold openly and freely (the police turn a blind eye). It's a bit of a strange sight but you'll be surrounded by people freely smoking pot because Christiania attracts over 500,000 visitors each year (which makes it Copenhagen's fourth most popular tourist attraction).
In addition to the pot, you'll also find bars, restaurants/cafes, food stands, art galleries, coffee shops, concert venues, and tons of graffiti to check out. The people are generally welcoming but just don't take photos on Pusher Street as the dealers don't like that.
Other Neighborhoods
Frederiksberg: This is where Copenhagen's upper-class lives so it caters to a lot of upscale clientele. Here you'll find high-end shopping, classy restaurants, and old-school architecture. Foodies should check out Parisian-inspired Værnedamsvej street. Other attractions include the Copenhagen Zoo and Frederiksberg Palace/gardens. See On Google Maps.
Østerbro: Østerbro is another quiet high-end neighborhood that's very popular with families. See On Google Maps.
---
Best Hostels & Hotels in Copenhagen
Copenhagen has around 20 hostels and a bed in the most popular/best hostels will cost anywhere from about 200 DKK-350 DKK/night ($30-$55/night) during the summer. Below is a list our top hostel picks but check out our guide to the best hostels in Copenhagen if you want a more in-depth look at the city's hostel options.
Looking for a budget hotel? We recommend Booking.com as they have the best selection of European hotels.
---
Things To Do In Copenhagen

Copenhagen has a number of great museums, attractions, activities, and neighborhoods to keep you busy for days. In this section, we'll cover the top-sights that you might want to check out when visiting Copenhagen.
Note: The Copenhagen Card covers just about every attraction in Copenhagen (museums, canal tours, bus tour, etc.) and public transportation so you might consider picking one up if you plan on doing a lot of sightseeing.
Museums
Copenhagen has a handful of large top-notch museums and multiple other smaller museums so you shouldn't have any trouble finding something to fit your tastes.
Note: This list doesn't include every museum in Copenhagen — just our favorites. Here is a good list of all the city's museums.
Note Two: Most museums are closed on Monday.
Ny Carlsberg Glyptotek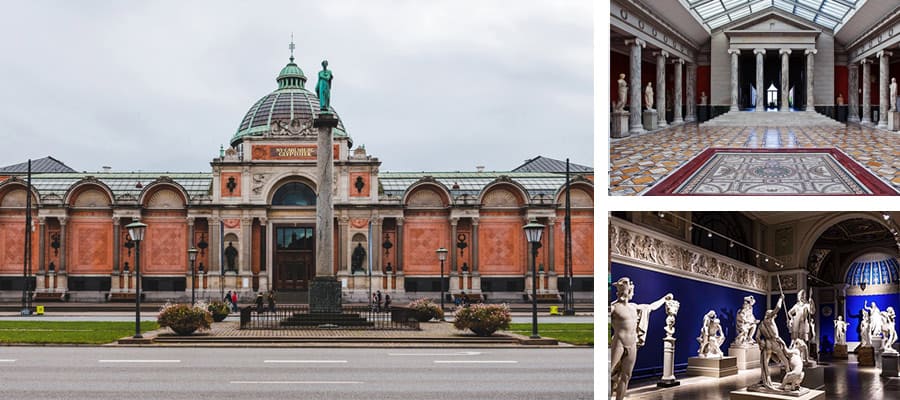 The grand Ny Carlsberg Glyptotek museum is an excellent museum that was built around the personal art collection of billionaire Carl Jacobsen (heir to the Carlsberg Brewery). The main focus of the museum are sculptures from ancient Egypt, Rome, and Greece. There are also a number of modern sculptures — notably from Rodin and Degas.
Additionally, the collection also includes an impressive number of paintings from French impressionists and Post-impressionists like Monet, Degas, Renoir, Van Gogh, etc.
And equally impressive is the gorgeous building and indoor Winter Garden that features palm trees and sculptures.
Statens Museum for Kunst (National Gallery of Denmark)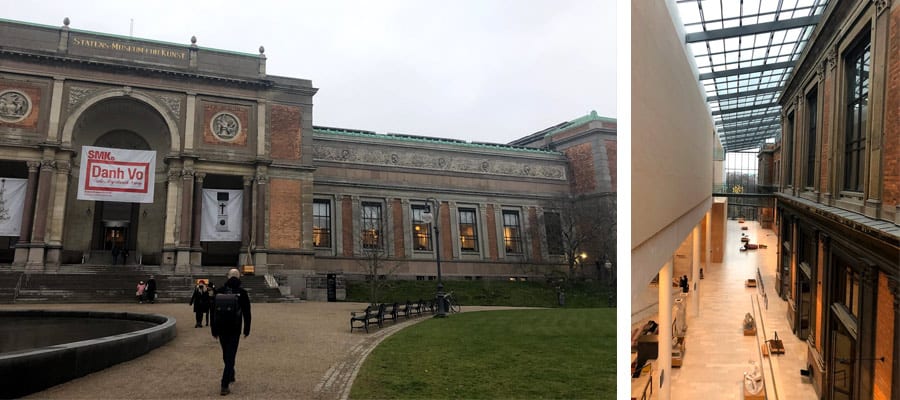 The National Gallery of Denmark is Denmark's largest art museum and it features over 700 years from both Danish and international art. Naturally, given the length of time covered, this museum has a has a bit of everything.
The David Samling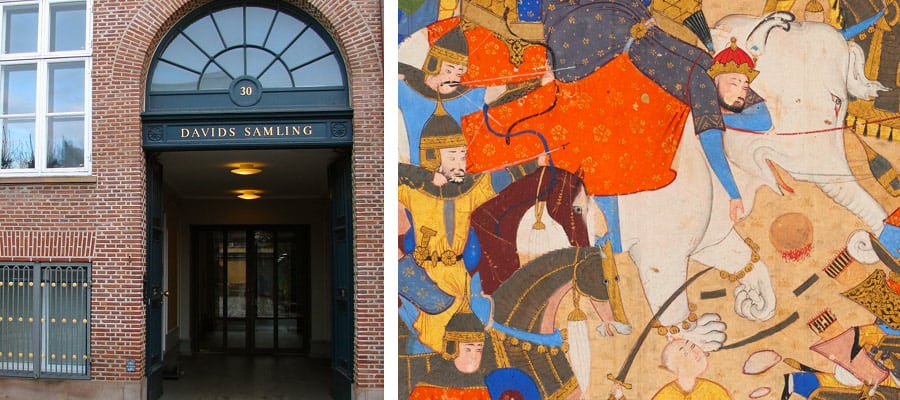 The David Samling is built around the private collections of lawyer, businessman, and art collector Christian Ludvig David (it's also housed in his former residence). While it has a collection of European 18th-century fine art and Danish Early Modern Art, its claim to fame is being Scandinavia's largest collection of Islamic Art.
Danish Museum of Art & Design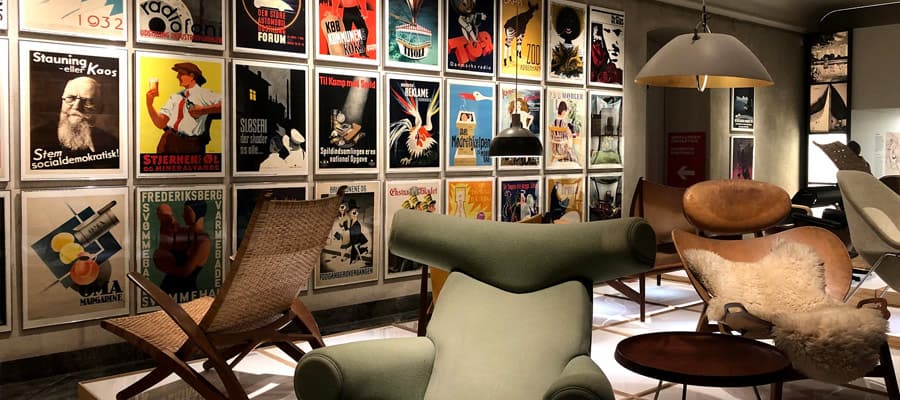 Denmark is famous for its decorative art, crafts, and industrial designs — most notably posters, chairs, fashion, jewelry, and household items. This is a fairly small but still great museum if you're into design.
Nationalmuseet (National Museum of Denmark)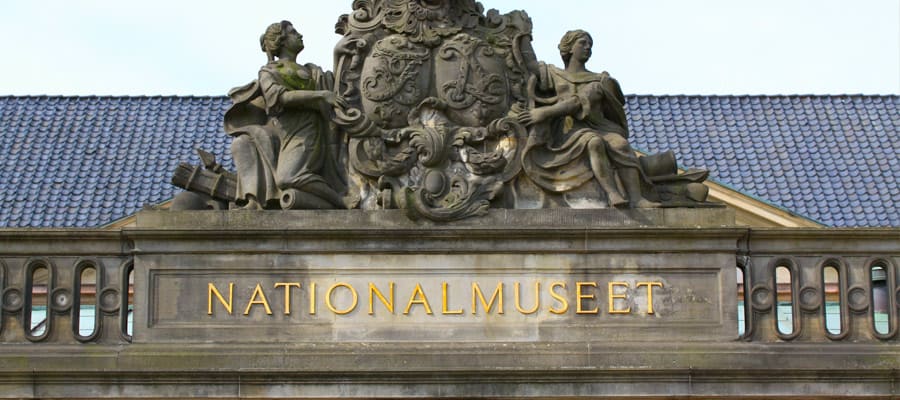 The National Museum of Denmark covers the history of Denmark from the Stone Age, Viking Age, Middle Ages, Renaissance, and Modern History. So if you want to learn more about the history of Denmark then you'll want to check this out.
Danish War Museum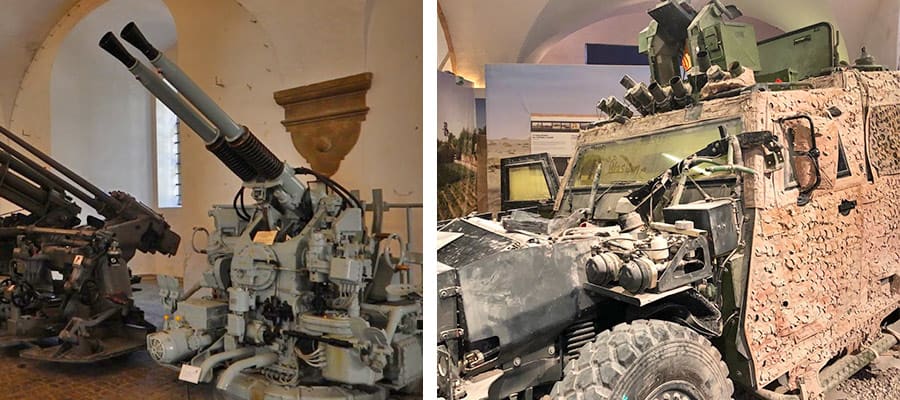 Denmark has a long history of warfare and this museum covers from the 1500s until today. There are tons of weapons, cannons, uniforms, model ships, and more on display. It also has a large special exhibit that recreates a Danish military camp in Afghanistan — including authentic remains of a military truck struck by a land mine.
Sights & Attractions
Nyhavn (New Harbor)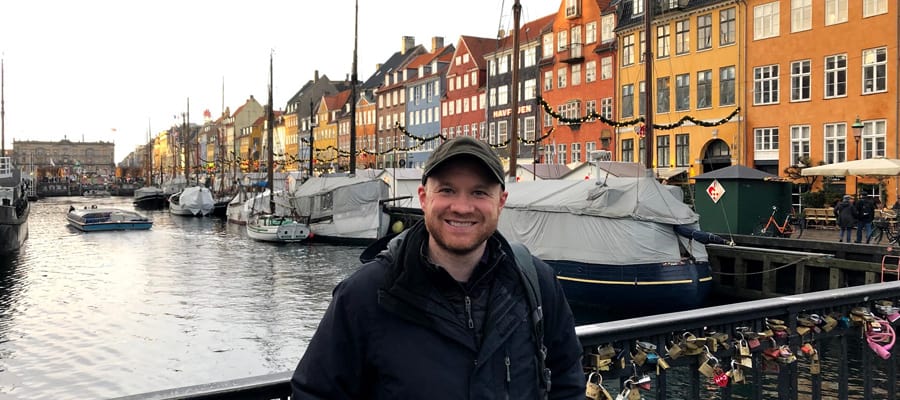 Nyhavn is Copenhagen's iconic 17th-century harbor lined with colorful buildings — it's basically the spot everyone goes to take photos. Even though it's a major tourist attraction, Nyhavn still has some quality restaurants and bars. Alternatively, you can do like the locals and bring your own beer to the canal and drink outside.
Tivoli Gardens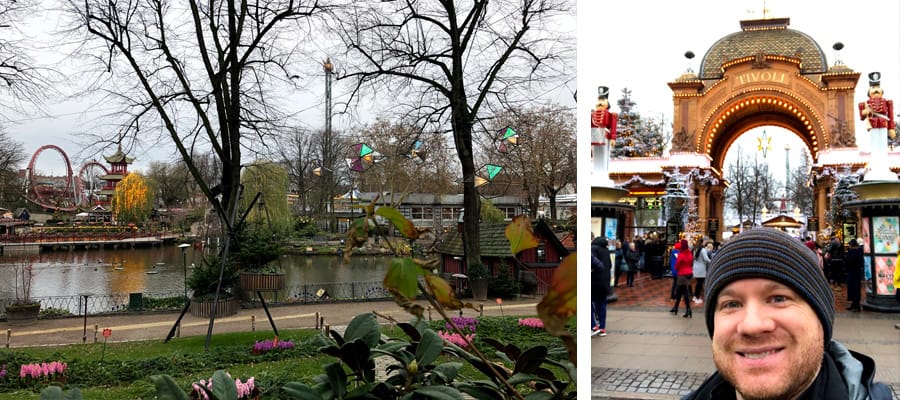 The Tivoli Gardens is an amusement park located in the middle of Copenhagen and it opened way back in 1843 (it's the second oldest amusement park in the world). It's not a huge park but it has a number of nostalgic rides (like a wooden Roller Coaster from 1914) and a handful of modern rides for real thrill seekers. Even if you're not into rides, it still a fun place to walk around and enjoy the scenery. Note: You pay to enter and then pay for each ride.
Church of our Saviour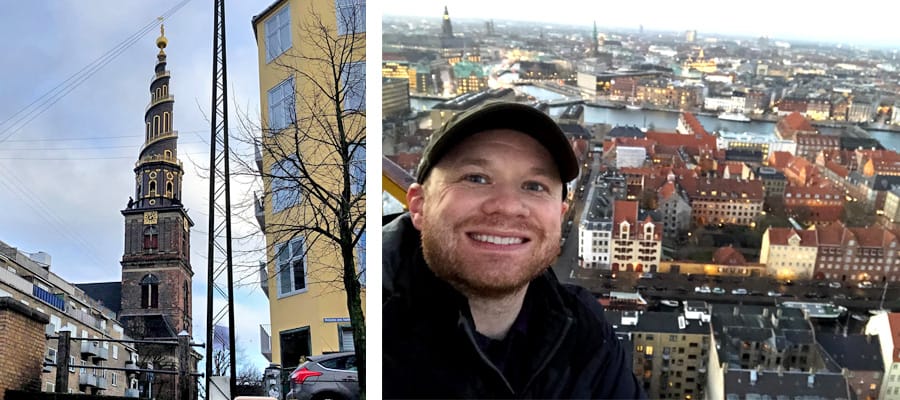 The Church of Our Saviour is a beautiful church but it's most famous for its towering 300-foot spire that's wrapped in an external staircase that can be climbed to give amazing views of Copenhagen. It's a bit of a walk to the top so pace yourself.
Rundetaarn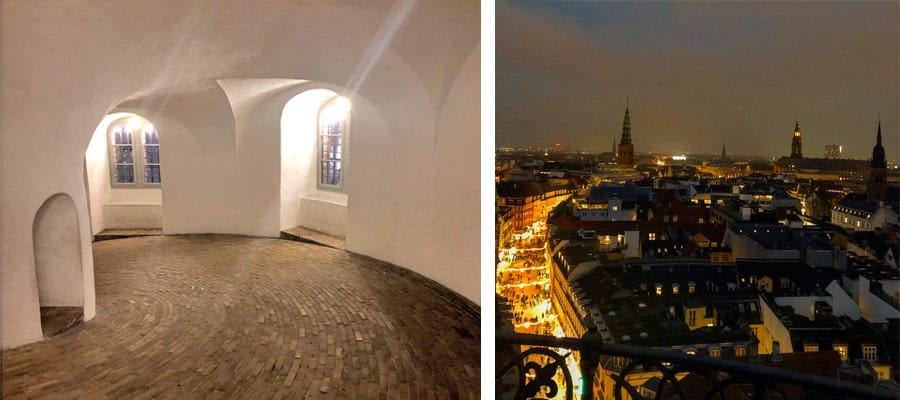 The Rundetaarn, a 17th-century tower/observatory in the heart of the city, is another great place to get a great view of Copenhagen. In fact, it's Europe's oldest operating observatory and one of Copenhagen's top sights.
Christiansborg Palace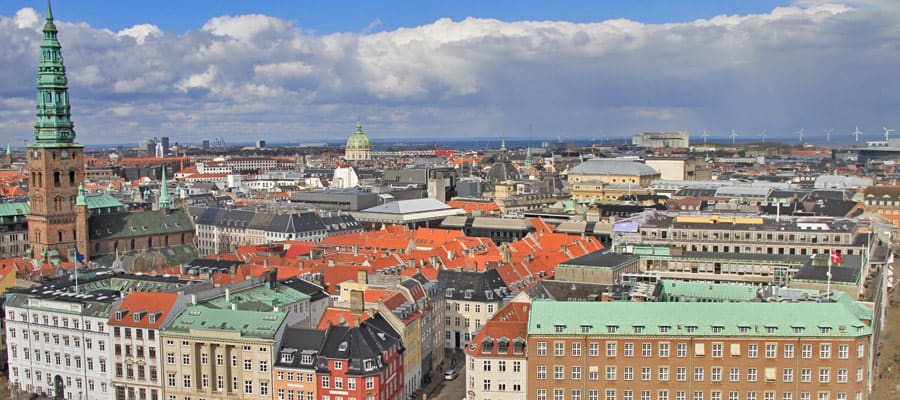 Take a tour of this royal palace, which is still used by the Danish Royal family, and check out more than a dozen impressive different rooms — including the lavish Royal Reception Rooms and Throne Room. Then make your way to the Royal Stables to say hay to the Royal horses.
Don't forget to visit the Christiansborg Palace Tower (the tallest tower in the city) which offers some of the best panoramic views of Copenhagen — ohh, and the tower is free to visit.
Rosenborg Castle, Treasury, & Gardens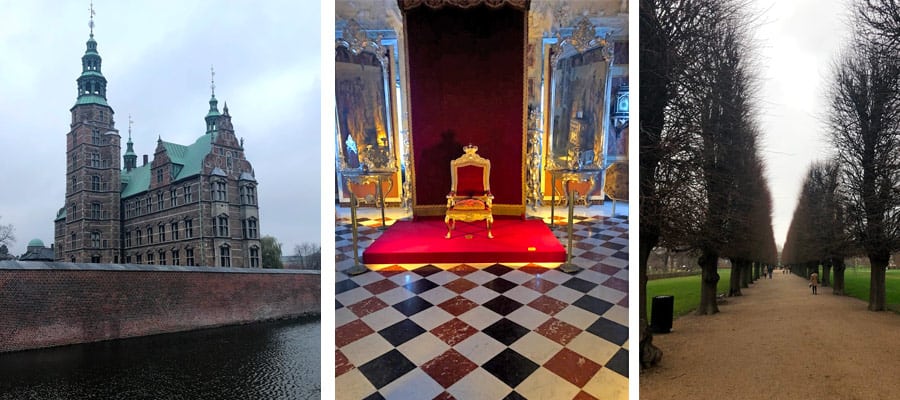 The Rosenborg Castle is a modest-sized but beautiful 17th-century Dutch Rennisance castle that's located within the city. This former country summerhouse of King Christian IV has a well-preserved interior so it's fun to explore and experience how royalty used to live.
In the basement of the castle, you'll find the treasury which houses some military memorabilia (muskets, swords, etc.) and Denmark's crown jewels.
Furthermore, the castle is located on very impressive grounds with must-visit gardens (the grounds are free to visit).
Copenhagen Botanical Garden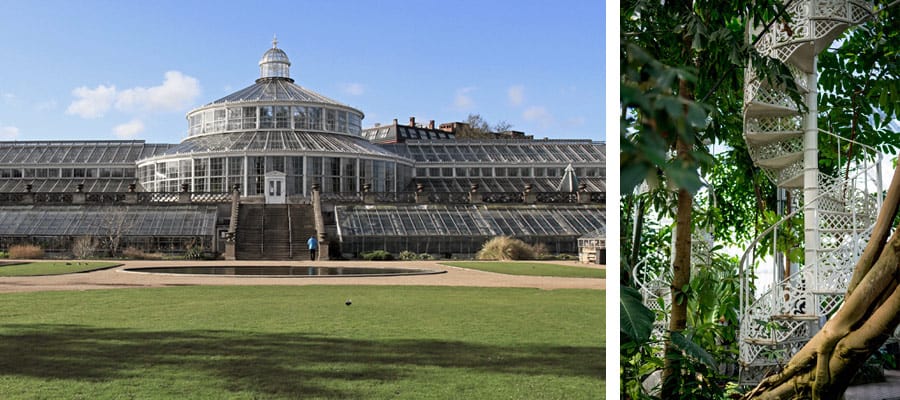 This expansive botanical garden is housed in a beautiful glasshouse built in 1874 and features an impressive array of rare and exotic plants and a newly-opened butterfly house.
Amalienborg
Amalienborg is the full-time residence of the Danish Royal Family — you might even see some of the royal family out and about. You can tour the Amalienborg Museum to see a few rooms used by former members of the royal family. But most people visit to see the daily changing of the guard at noon.
Opera House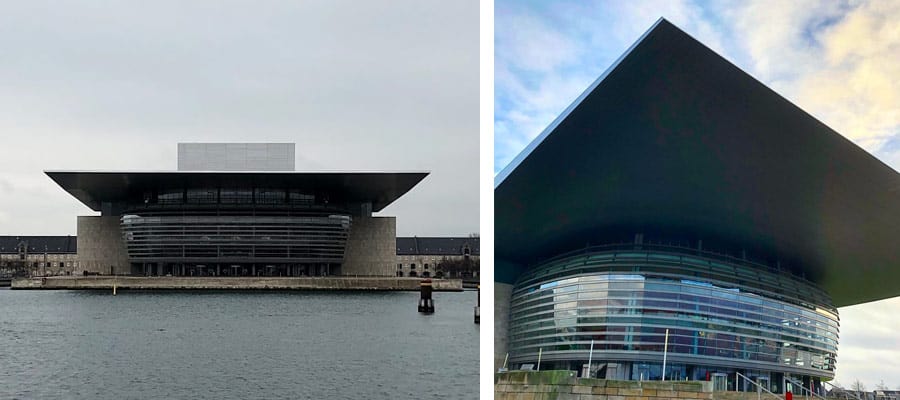 The newly-constructed Copenhagen Opera House had an eye-watering price tag of $500 million and was fully financed by the owner of the Maersk Shipping empire as a gift to the city. It's an impressive structure that's worth checking out even if you don't see an opera there.
Kastellet
Kastellet is an old star-shaped military fortress/Citadel build back in the mid-1600s. It's still a functioning military barracks and offices but it's also a public park open to anyone. Take a walk around the ramparts and enjoy the green space.
Other Things To Do
Torvehallerne Food Hall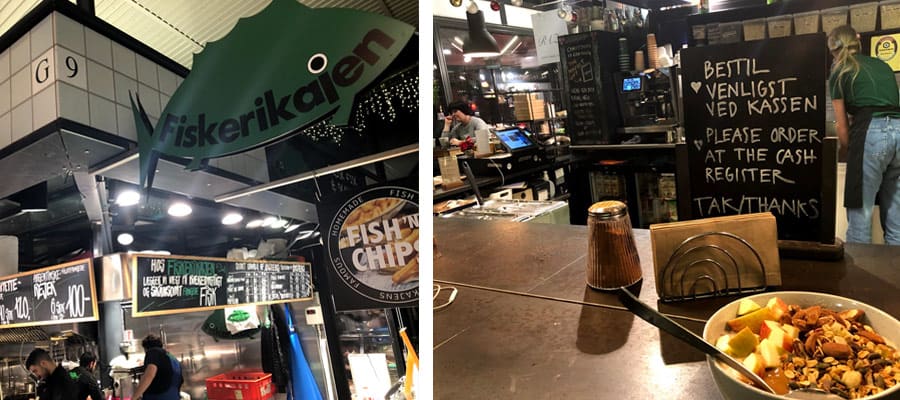 The Torvehallerne Food Hall has become one of Copenhagen's must-visit destinations. Built inside two glass buildings, this food hall contains over 60 food stands selling everything from fresh produce to prepared food, coffee, and dessert.
We recommend checking out the following food stands:
Fiskerikajen: Excellent fish and chips.
Ma Poule: Get the famous duck sandwich.
GRØD: Must-try porridge. Seriously.
Coffee Collective: Excellent coffee.
Hija de Sanches: Amazing taco food truck (summer only).
Gorm's Pizza: Thin-crust pizza.
Mikkeller & Friends Bottle Shop: Bottle shop with a handful of craft beers from Mikkeller and a few other craft breweries.
Strøget Shopping Area
Strøget is a long car-free shopping area that cuts through the center of town. It's probably the most touristy part of town so it's where you'll find all the international chain stores and a few smaller shops. You'll find smaller, independent shops and restaurants on the side streets that intersect/surround Strøget.
Canal Tour With Hey Captain
Taking a tour of Copenhagen via a canal cruise is a unique way to experience the city. There are a handful of canal boat tour companies but we recommend Hey Captain if you want a small, intimate tour with a friendly and knowledgeable guide.
Hit The Water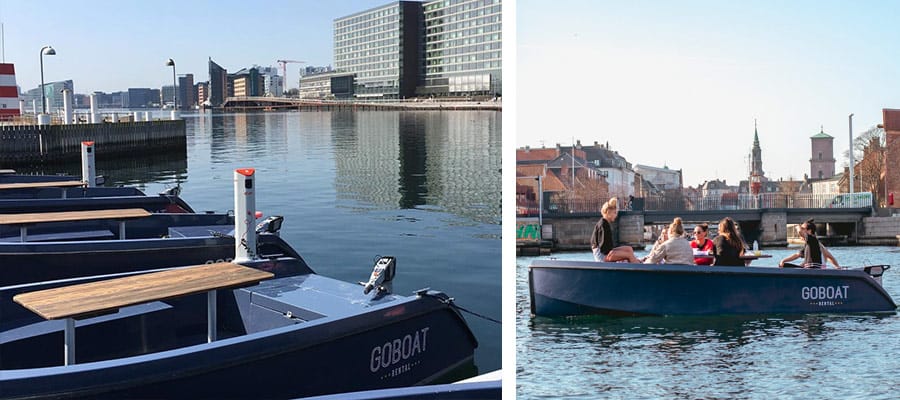 Life in Copenhagen revolves the water — especially in the summer. So do like the locals do and spend a day on the water. We recommend renting a GoBoat — which is a solar-powered boat with a picnic table in the middle and doesn't require any license to drive.
Or take a dip to cool off! Copenhagen has a number of urban beaches and waterfront swimming spots — in fact, Copenhagen was named one of the best cities for swimming. A local favorite is the outdoor Islands Brygge Harbour Bath.
Sauna It Up
Scandinavians love a good sauna and the Danes are no different. There is a cool company called CopenHot which has everything from shared barrel hot tubs with city views to a Sailing Spa Boat.
Want a truly local pool and spa? Check out Frederiksberg Swimming Pool & Spa — this old-school spot has swimming pools, steam bath, saunas, and saltwater pools. It's affordable. You're also guaranteed to see lots of naked old Danish people.
Freetown Christiania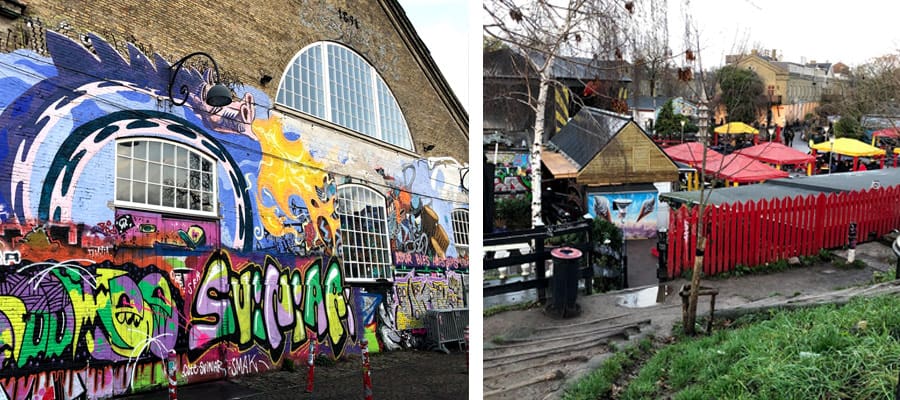 View this post on Instagram
Freetown Christiania is a small hippie enclave/commune within Copenhagen. It's home to around 1,000 residents who live and work within this alternative community. Just about every inch is covered in graffiti so it's a fun place to explore. But Freetown Christiania is probably best known for its "Pusher Street" — where weed is openly sold by dealers. It might feel slightly seedy but it's ones of Copenhagen's top tourist attractions so no need to worry.
But don't stop at Pusher Street — explore the other parts as well.
Walking Tour
Want to learn more about Copenhagen? Take a walking tour. We usually stick with free tours (guides work on tips) but there are also a handful of paid tours if you want a more in-depth or personalized guide. For free tours, we recommend checking out either Copenhagen Free Walking Tours or Sandmans New Europe Walking Tours — both offer tours daily.
Black Diamond Library
Stop into the beautiful Royal Danish Library, commonly called the Black Diamond Library, to admire the modern architecture. It's open to the public so feel free go inside to look around. Furthermore, you can visit the roof terrace for some nice city views.
Assistens Cemetery
Want some peace and quiet? Head to the green oasis and final resting place to many famous Danes. Lots of locals head there for a run or for a summer picnic.
Little Mermaid Statue
Maybe the most overrated attraction in Copenhagen but you're probably going to see it anyways.
Amager Bakke / Copenhill (Artificial Ski Slope)
Here's a weird one… Copenhagen built one of the world's longest all-year artificial ski slopes on top of its new ultra-green power plant located on the outskirts of the city. It's scheduled to open sometime in December 2018 so it's still super new. Check out Copenhill's Instagram to learn more.
Attractions Outside The City

Frederiksborg Castle
Located about 45-minutes via train from of Copenhagen, Frederiksborg Castle is an impressive early 17th-century former royal residence of King Christian IV. After you tour the palatial rooms, take a stroll outside to admire the expansive castle grounds and ornately manicured gardens.
Louisiana Museum of Art Denmark
Located about 45-minutes via train from of Copenhagen, the Louisiana Museum of Art showcases modern works from 1945 to today. The museum has been named one of the most beautiful museums in the world and it's perched on a stunning coastal sculpture garden. The grounds provide a great place to relax on a nice summer day.
Kronborg Castle
Located about 60-minutes via train from of Copenhagen, Kronborg Castle is an impressive 16th-century castle that was the home of William Shakespeare's Hamlet. The castle offers gorgeous, sweeping ocean views and in the summer you might catch actors putting on a performance of Hamlet.
---
Hip & Cool Copenhagen
Looking to experience the hip side of Copenhagen? Check out a few of the city's most-loved hipster favorite spots:
Jægersborggade: Head to the Nørrebro neighborhood to find Jægersborggade — one of the hippest streets in Copenhagen. This once dodgy street is now jam-packed with excellent coffee shops (Coffee Collective), bakeries (Meyers Bakery), ice cream (Istid) restaurants (Grød), second-hand shops, and independent boutiques. Also check out the neighboring area for more trendy shopping and cafes, bars, and shopping. See On Google Maps.
Meatpacking District: Head to the Vesterbro neighborhood and go directly to the Meatpacking district is a series of former warehouses that have been converted into some of the city's must-visit bars, restaurants, and nightlife destinations. You'll find yourself going back every night to try everything from burgers and tacos to BBQ and craft beer. There are also a handful of small art galleries and coffee shops to check out. If you head there on a Friday or Saturday night you'll find tons of people bar-hopping between all the different hotspots. See On Google Maps.
Vesterbro and Istedgade: The Meatpacking District isn't the only highlight of the Vesterbro neighborhood. We recommend heading to Istedgade street and the surrounding area. In addition to strip clubs and adult stores, it's also home to excellent bars, restaurants, and plenty of independent boutiques. See On Google Maps.
Reffen Street Food: Foodies should head out to Reffen Street Food — a new waterfront street food market located on an old industrial island on the edge of the city. There are over 30 food and drink stalls serving up food from all over the world. See on Google Maps.
Dronning Louises Bridge: On a nice day or warm night the locals head to this beautiful bridge to hang out and drink with friends. So buy some brews from a local convenience store and enjoy some completely legal outdoor drinking. See On Google Maps.
Want more information on Copenhagen's nightlife? We found this local's guide to Copenhagen's nightlife to be super helpful.
---
Food, Alcohol, and Coffee in Copenhagen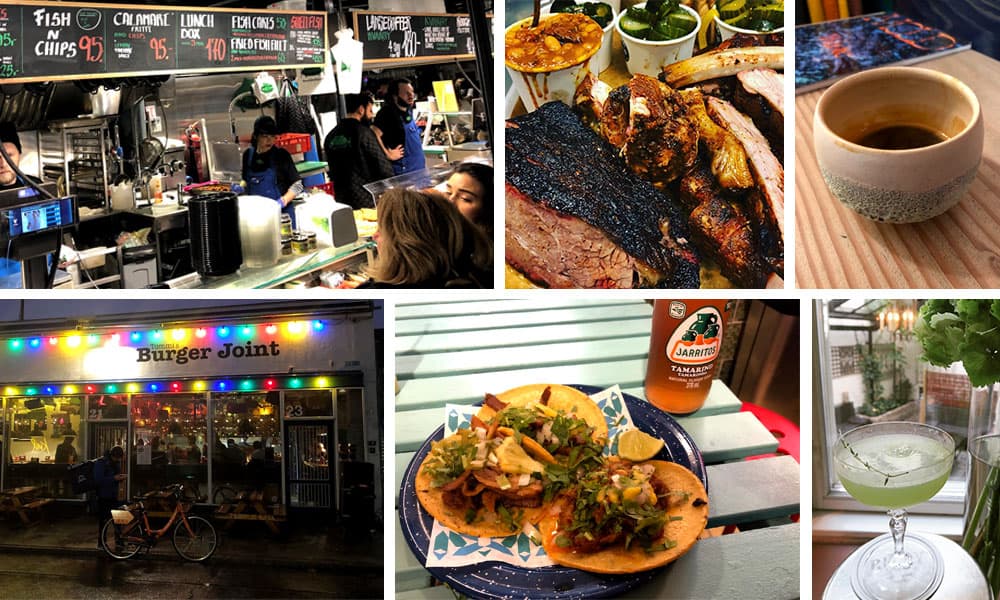 It's true that Copenhagen is home 19 Michelin Stars (15 restaurants) so it's no surprise that the foodie culture is strong in Copenhagen. In this section, we'll cover some of the most-loved places to eat and drink without spending a fortune. That said, even the "budget-friendly" places can be a little pricey so prepare your wallet if you eat out often.
Quick Look At Food & Drink Prices:
Restaurants

Copenhagen has a number of quality budget-friendly(ish) and mid-range places to get a nice meal but there aren't many truly "cheap" restaurants in Copenhagen. Here are a few of our favorite restaurants:
GRØD: Multiple locals told us about GRØD and we're glad I took their advice. They serve delicious porridge for breakfast and have savory options later in the day. That said, you have to try their breakfast porridge with salted caramel, apples, and toasted almonds. So good, very filling, and reasonably priced! They have a handful of locations throughout Copenhagen. See on Google Maps.
Gasoline Grill: Excellent takeaway burger place that was recommended by multiple locals. The original is located at a gas station but they've recently opened a second location. See on Google Maps.
Tommi's Burger Joint: Another super popular spot serving excellent burgers, fries, and beer. Located in a hip meatpacking district. Some outdoor seating for the summer. See on Google Maps.
Sporvejen: These guys have been serving up meaty burgers for over 20 years. Pretty no-frills place but the prices are fair. See on Google Maps.
John's Hotdog Deli: An excellent and much-loved homemade hotdog place in the Meatpacking neighborhood (Anthony Bourdain favorite). Lots of indoor and outdoor seating. See on Google Maps.
DOP (Den Okologiske Polsemand): You'll find hotdog stands all over Copenhagen but we liked DOP. They have two food carts in central Copenhagen and they serve up affordable (35DKK) organic hotdogs all day. See on Google Maps.
Hija de Sanchez: Yes, you can find excellent Mexican food in Copenhagen. This delicious restaurant was started by a Noma-trained Mexican-American chef and has been featured on Netflix's Ugly Delicious and multiple other foodie publications. They operate a food truck at the Torvehallerne Food Market (summers only) and a small year-round restaurant in the Meatpacking neighborhood.
Restaurant Klubben: This is the place to go for big portions of classic homemade Danish food at a good price. It's a bit outside the normal tourist area and it's especially ideal during the summer when you can eat in their beautiful garden. See on Google Maps.
Dalle Valle: Dalle Valle is a chain all-you-can-eat buffet restaurant with solid prices and decent food. However, they often offer 2-for-1 deals which make eating there very affordable. Download their app to get access to the deals. See on Google Maps.
Pizzeria La Fiorita: High-quality takeaway pizza shop with cheap prices. See on Google Maps.
Gorm's Pizza: Thin, crispy crust pizza in a super cute location. It's not the cheapest pizza but they have a discount during lunch. See on Google Maps.
District Tonkin: Very good Vietnamese food at reasonable prices. See on Google Maps.
Slice of San Francisco: The place to go for large tasty burritos and American-style cheesecake. Prices are decent by Copenhagen standards. See on Google Maps.
Isted Grill: Do yourself a favor and order the heavenly flæskestegssandwich — which is a fried pork sandwich. This iconic takeaway joint has been a local favorite since 1975 (especially with late night partiers). See on Google Maps.
Kødbyens Høker: This slightly hidden place (which is an order-window and a few picnic tables) serves a solid burger but the locals know to order the much-loved pork sandwich. They also have a nice breakfast and brunch. See on Google Maps.
Kebab Spots: The kebab is a classic budget-friendly meal. You can find kebab places throughout Copenhagen but a few of the local favorites are See on Google Maps, See on Google Maps, See on Google Maps, See on Google Maps, See on Google Maps, and See on Google Maps.
Torvehallerne Food Hall: With over 60 stands, the Torvehallerne Food Hall is a fairly new indoor food hall that has taken Copenhagen by storm and it's become one of Copenhagen's top attractions. In addition to fresh meat, produce and flowers, there are a handful of food stalls selling prepared food. Note: Lunch is very busy go early or later in the afternoon to avoid the biggest rush. See on Google Maps.
Below are a few popular stalls you might want to check out at the Torvehallerne Food Hall:
Fiskerikajen: Excellent fish and chips.
Ma Poule: Get the famous duck sandwich.
GRØD: Must-try porridge. Seriously.
Coffee Collective: Excellent coffee.
Hija de Sanches: Amazing taco food truck (summer only).
Gorm's Pizza: Thin-crust pizza.
Mikkeller & Friends Bottle Shop: Bottle shop with a handful of craft beers from Mikkeller and a few other craft breweries.
Reffen Street Food: Reffen is a new waterfront street food market that's located on the edge of the city in an old industrial area. There are over 30 food and drink stalls serving up food from all over the world. And while it's a bit outside the center, it's still only a 10-minute bike ride from the Nyhavn (New Harbor) or there are frequent harbor busses (bus #991 or #992). See on Google Maps.
Beer and Cocktails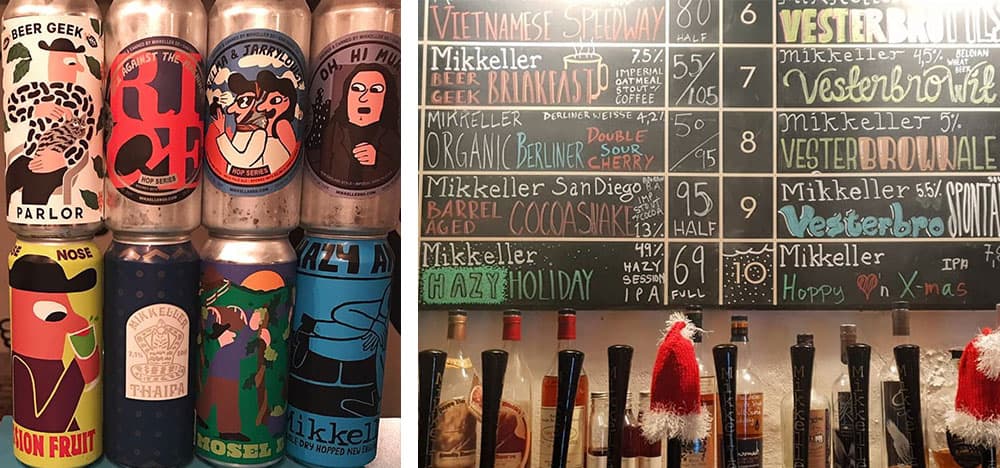 Copenhagen has a healthy craft beer scene, some great bars, and a number of places to get a solid cocktail. Here are a few of favorites:
Mikkeller
Mikkeller is the most popular craft microbrewery in Copenhagen — they're famous for partnering with other breweries across the globe so they're always coming up with new stuff. Within Copenhagen, they've expanded/partnered with a few restaurants so you can find their beer at a few different places. Their beers are a bit pricey.
Mikkeller Bar: The original and most popular Mikkeller location and a haven for beer geeks. They usually have around 20 beers on tap and a few others in cans/bottles. It's a pretty small bar but the employees are nice. Good mix of tourists and locals. See on Google Maps.
Mikkeller & Friends: Another low-key minimalist bar with 40 beers on tap and some outdoor seating. Hip neighborhood. See on Google Maps.
Mikkeller & Friends Bottle Shop: This little bar stand is located in the Torvehallerne Food Hall. They have a pretty good selection of beer (not cold) and a few beers in a refrigerator. There isn't really any area to drink as it's more of a grab-n-go kinda place. See on Google Maps.
Mikropolis: Mikkeller beers and cocktails in a small but friendly setting. See on Google Maps.
Dive/Cheap Bars
There are still a handful of bars where you can get cheap beer but some can be pretty janky and crowded. Also, smoking is still allowed in many of these bars so keep that in mind.
Mesteren & Lærlingen: This dive bar is located in the hip Meatpacking neighborhood is very chill and low key. They have cool music, a good amount of outdoor space, and affordable drinks. See on Google Maps.
Eiffel Bar: This working-class dive bar has been around since the early 1700s. Lots of locals from the neighborhood. Beer is cheap. See on Google Maps
Billy Booze: Cheapest alcohol in Copenhagen with drinks starting at 10 DKK. That said, they keep the terrible music super loud and the place is a bit trashy… but at least it's cheap. See on Google Maps
Studenterhuset: This is a popular bar/cafe with the local students and it's located right in the middle of town. It's a big space with lots of tables full of students typing away at their laptops or meeting with friends. It's a chill place during the day and it's a bit more of a laidback bar scene at night. Local students get discounts but the prices are still reasonable for everyone else. See on Google Maps
McKluud: Who doesn't love a Wild West themed bar? The interior basically hasn't changed in 40 years. That said, it's popular with local students and young folk — probably because the beers are cheap. See on Google Maps
Bo-Bi Bar: This cozy red-wallpapered tavern has welcomed a mixed crowd of locals (young and old) since WWI. Cool old-school feel. Super smokey. Beer is cheap. See on Google Maps
Café Sommersted: This pub is a Copenhagen institution that's popular with the locals — the regulars even nominated the owner, Cindy, for the title as "Copenhagener of the year". Drinks are reasonable but they're best known for their Irish coffee. See on Google Maps
Other Beer Spots
Looking for something a little more exotic than the standard Danish microbrews like Carlsberg, Tuborg, and Jacobsen? We got you covered… but prepare to pay a little extra.
Cocktails
Fancy a well-made cocktail? Copenhagen has a handful of great cocktail bars but you should expect to pay a premium.
Coffee Shops and Bakeries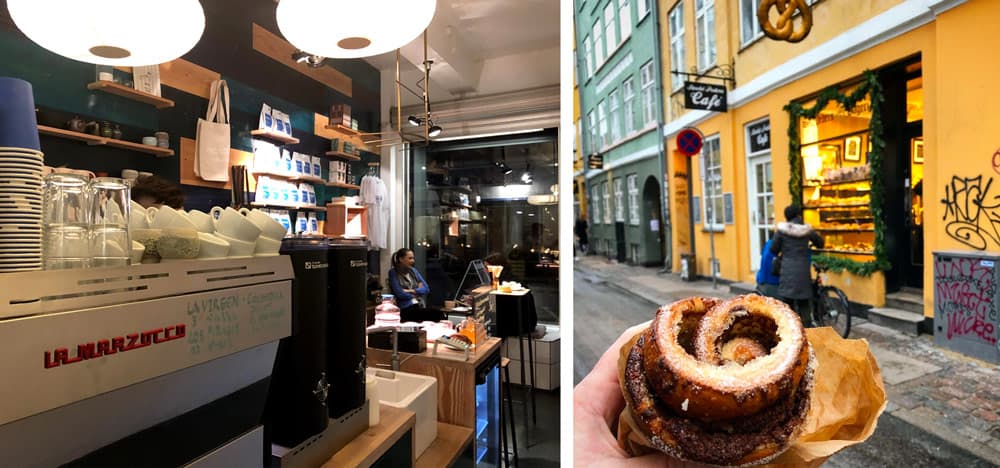 The Danes love being cozy so you'll find plenty of bakeries and a wide range of excellent coffee shops that are perfect for chilling out. Here's a list of our top picks:
Bakeries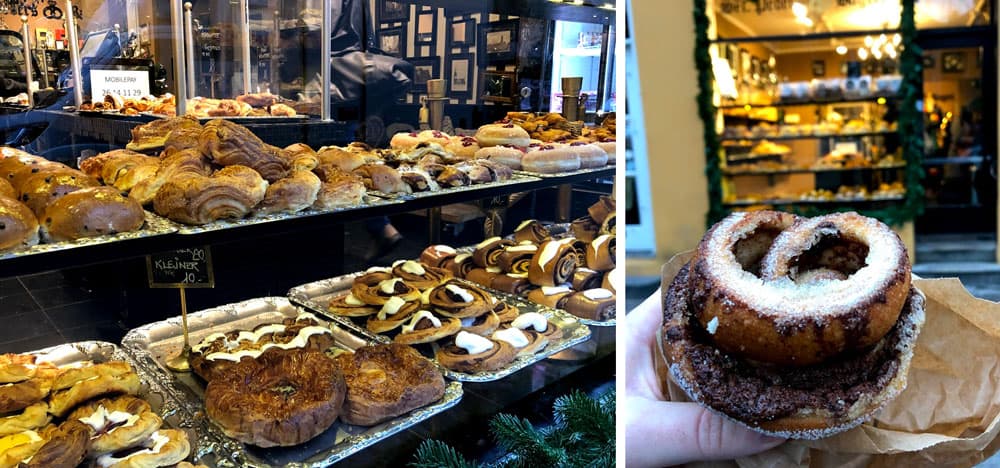 Sankt Peders Straede Bageri: This popular bakery was established in 1652 and they're famous for their cinnamon buns. Tip: Visit Wednesday for half-price cinnamon buns but get there early for the fresh, warm ones. See on Google Maps.
Meyers Bageri: Another popular multi-location bakery with excellent baked goods. See on Google Maps.
Andersen Bakery: This bakery is located a bit outside the center of Copenhagen but they have amazing pastries and great coffee. See on Google Maps.
Landbageriet: The best place to go for all your vegan and gluten-free travelers. See on Google Maps.
Lagkagehuset: Lagkagehuset is a chain bakery but they still have solid baked goods and coffee. See on Google Maps.
Coffee Shops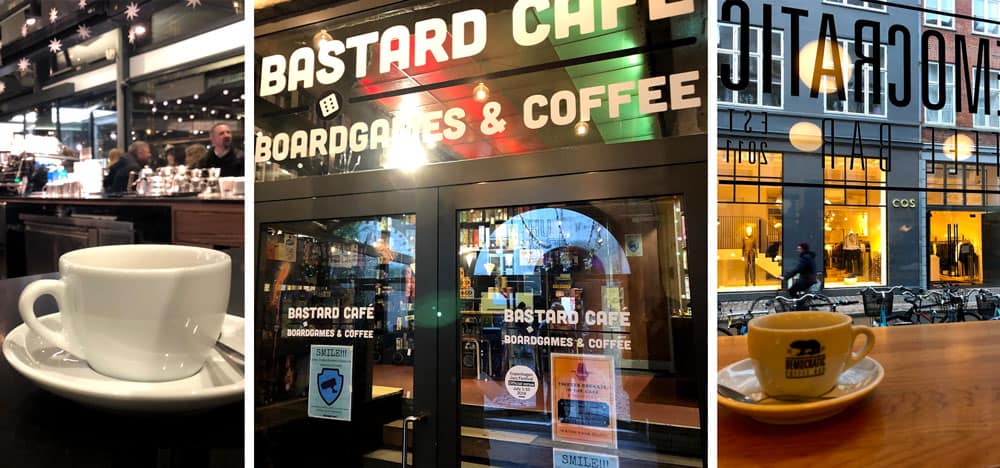 Bastard Café: Bastard Cafe has pretty good coffee but they're famous for all their board games. It's a huge space with over 1000 boardgames (some free and others you rent). It's a great place for groups since there is a lot of room. See on Google Maps.
Black Coffee & Vinyl: Music lovers should check out Black Coffee & Vinyl as it's a cozy coffee shop that's also a small music store that plays some nice tunes. See on Google Maps.
The Coffee Collective: The Coffee Collective is a must-visit for all you coffee nerds. The award-winning coffee is fresh roasted and baristas are world-class. They have four locations in Copenhagen. See on Google Maps.
Democratic Coffee: Another top spot in Copenhagen for coffee and pastries. It's next to a public library so you'll find lots of people buried in a book while enjoying their joe and the chilled out music. See on Google Maps.
Risteriet Coffee Studio: This is a small coffee shop but the coffee is high quality and the atmosphere is great for relaxing. See on Google Maps.
The Living Room: Snuggle up on one of the couches or leather chairs in this hip, cozy, and quiet cafe. The coffee is nice and so are the smoothies and light cafe fare. They also stay open late and serve solid cocktails and play hip music. See on Google Maps.
CUB Coffee Bar Boldhusgade: This hip and cozy coffee shop is a bit hidden away but it's worth seeking out. They roast their own beans and make a mean cup of joe. They have great locally-made pastries as well. See on Google Maps.
Prolog Coffee Bar: This small coffee shop is located in the hip meatpacking district. The coffee is top-notch and the baristas know what they're doing. They also have some solid hot chocolate and nice baked goods. See on Google Maps.
Cupenhague: This relative newcomer to the Copenhagen coffee scene makes a great cup of coffee. The atmosphere is comfortable, quiet, and welcoming. See on Google Maps.
---
Biking In Copenhagen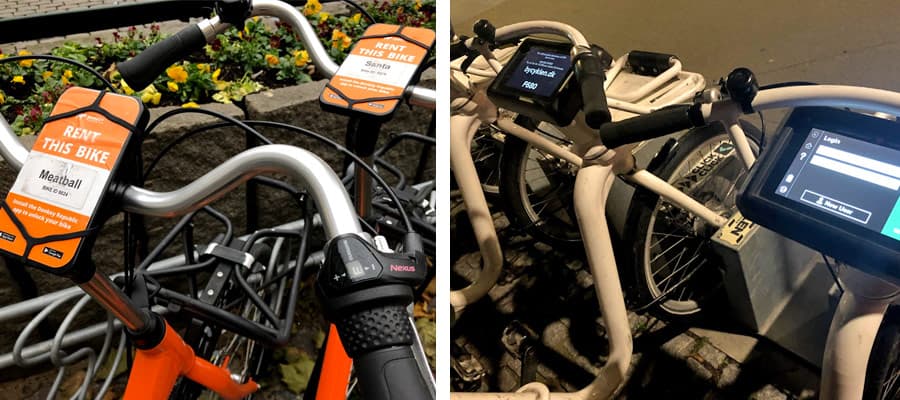 The best way to explore Copenhagen is by bike. The city is super bike friendly so don't be afraid of trying it yourself. However, the locals are very serious about biking so read up on proper hand signals.
Multiple businesses throughout the city rent bikes — these are a good option if you want to rent them for multiple days. Just want a bike for a short amount of time? Check out See on Google Maps — Copenhagen's City Bike bike-sharing program (the bikes even have GPS!). There are bike stations everywhere so checking in and checking out bikes is easy.
Additionally, you'll also see bright orange bikes throughout the city from a company called Donkey Republic — you use a smartphone app to unlock the bikes. These bikes are everywhere and it's an affordable way to ride bikes.
---
Getting Around Copenhagen
Copenhagen's public transportation runs consists of metro, rail, buses, and waterbuses — all of which operate on the same ticket.
Copenhagen transportation is easy to use. Ticket prices are based on zones but a standard ticket covers two zones — which essentially covers all of central Copenhagen. A single-ride ticket costs DKK 24 (for 2 zones). Note: the airport is located in Zone 3 so that ticket will cost a little extra. A 24-hour ticket costs DKK 150.
That said, Copenhagen is a compact city so you may not find yourself using public transportation very often. We only used it when going from the airport to the city.
NOTE: Copenhagen's public transportation has no turnstiles but there are random ticket inspectors who will fine you DKK 750 ($115) if you don't have a valid ticket.
We found that Google Maps did a pretty good job of helping us navigate public transportation so we suggest using that.
Metro
The Metro consists of two lines (M1 and M2) and runs 24/7. During rush hour, trains come about every three minutes and a little less frequently during the rest of the day. There is limited service after midnight but it's still fairly frequent.
Copenhagen is currently expanding its Metro service with multiple new stops but it's been plagued with delays. As of now, constructions is planned to be completed in mid/late 2019.
Bus
Most visitors probably won't use the bus but there is an extensive network to get you around the city. Within the city, buses arrive around every 5-10 minutes and less frequently after midnight. The easiest way to figure out the bus schedules is via their online Journey Planner.
Ferry/Waterbus
There is also a ferry that makes six stops along the water. The ferry runs from 7 am to 8 pm on weekdays and 10 am to 8 pm on weekends.
Airport To City Center
However, for most people, the only time they'll use public transportation is getting from to/from the airport. Luckily, the airport is easily connected by both Metro and train. The ticket for both journeys costs DKK 38 and both journeys only take around 15 minutes.
Via Train: Take the train if you want to go to Copenhagen Central Station.
Via Metro: If your destination isn't near the train station then you should take the Metro and get off at the stop nearest your accommodation.
Via Bus: The bus takes a lot longer so we recommend sticking with the train or metro.
Via Taxi: Taxis are expensive so they'll run you about 300 DKK for a ride into central Copenhagen.
---
More Helpful Travel Resources
No Funny Business
The Savvy Backpacker is reader-supported. That means when you buy product/services through links on the site, I may earn an affiliate commission — it doesn't cost you anything extra and it helps support the site.
Thanks For Reading! — James
Questions? Learn more about our Strict Advertising Policy and How To Support Us.