Florence is the capital of Italy's Tuscany region and birthplace of the Renaissance — so it's seeping in masterpieces of art and architecture. Unsurprisingly, Florence is a must-see for most travelers and it's consistently one of the most popular cities for study abroad students. The city is also a little more affordable than Rome or Venice and it serves as a great spot for exploring the Tuscan countryside.
[We've also written travel guides for Amsterdam, Barcelona, Berlin, London, Paris, Rome and More]
---
What You'll Find In This Florence Travel Guide:
How Much To Budget To Visit Florence
How Long To visit Florence
The Good And Not-So-Good Things about Florence
Florence's Must-See Sights and Attractions
Cheap Eats and Drinks
Best Florence Hostels
Florence Nightlife
More Resources To Help You Plan Your Visit On A Budget
Public Transportation
And More
---
How Much To Budget To Visit Florence
Florence is an average priced city by European standards, so it's not particularly cheap but it isn't expensive either.
We recommend budgeting €45-€75/day if you're on a backpacker's budget — you can easily spend more and you might be able to spend less, but this is a good range for planning purposes. You can view our Florence Daily Price Guide for more in-depth cost details.
---
How Long To Visit Florence: 3-4 Days
Florence deserves at least three or four days but you can always add a few more days if you wish. Also, you may consider adding a few days if you plan on spending some time in the other hill towns scattered across the Tuscan countryside.
However, if you're in a rush, you can see Florence's highlights in two jam-packed days.
---
When To Visit Florence
Florence seems to always be busy so you won't be able to completely escape the tourist hoards. Most people agree that spring (May to March) and fall (September to mid-November) are the nicest times to visit Florence since the temperatures mild (the mid-60s to 70s), and the tourist herds are thinned a bit.
Summers bring hot temperatures (85-degree average) and a huge amount of visitors.
Winters are the least crowded but the weather is obviously the least ideal.
---
The Good And Not-So-Good Things About Florence: A Quick Overview
Florence offers so many wonderful things to visitors but it also has a few negative aspects that you should know before visiting.
The Good
Iconic Architecture and Statues. The city feels like you're walking through a museum.
The Art and Museums. Florence is loaded with Renaissance art and museums so you'll be sure to get your fill of masterpieces.
Gelato. Need I say more?
Good Food. There is a lot of great food in Florence but you will have to seek it out because there are many restaurants that cater to tourists — which usually means low quality and high prices.
The Not-So-Good
Tourists Everywhere. Florence gets about the same number of visitors as Rome but it is a fraction of the size. That means you're going to have to deal with crowded streets, accommodation shortages, and long lines for just about everything (try to book ahead whenever possible).
Pickpockets. Florence is another one of the European cities that has a problem with pickpockets so watch your stuff.
Not Cheap. Florence can be a bit expensive when it comes to accommodation and food since it attracts so many visitors. So be sure to seek out the good deals if you're on a budget.
---
Florence's Must-See Sights And Attractions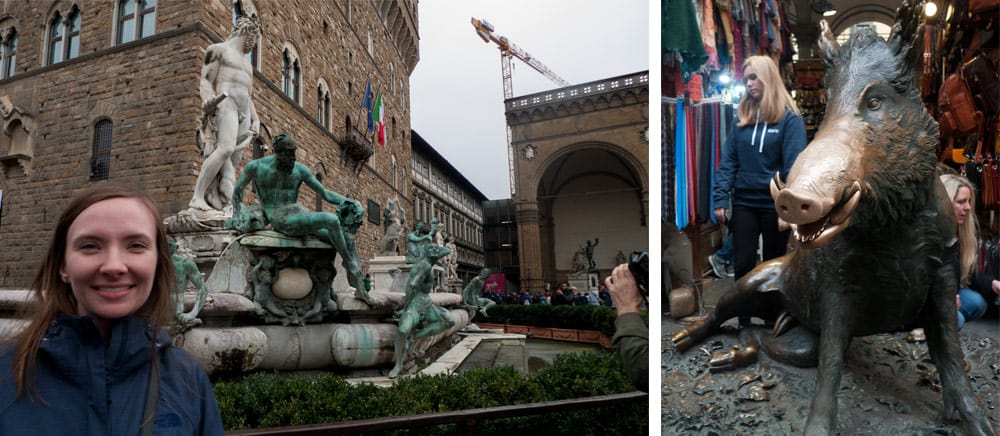 First all, we recommend looking into purchasing a Firenze Card as it will get you into most of the major attractions — but most importantly it lets you skip the lines (which can easily reach 3-4 hours).
Il Duomo di Firenze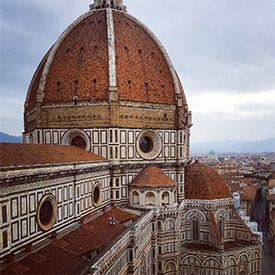 The first must-see sight in Florence is literally unmissable — the Il Duomo di Firenze (also called Santa Maria del Fiore). The Basilica and its dome are viewable from nearly every part of the city. Simply admiring the exterior beauty is an experience — I'm not even going to attempt trying to explain its beauty so you'll have to see if yourself. The interior of the church is comparatively modest when compared to the exterior. It's free to view but expect a long line.
The real treat is climbing the nearly 500 steps to the top of the dome for breathtaking views of the city — this isn't free, unfortunately. You can buy an OPA Pass for €15 which gives you access to all 5 monuments in Piazza Duomo (dome, bell tower, baptistery, crypt below cathedral, and Opera del Duomo Museum).
Uffizi Gallery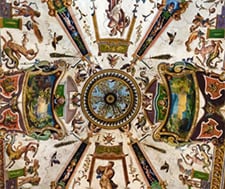 The Uffizi Gallary is the best museum for Italian paintings in existence — even people who aren't into Italian art love this museum. However, the Uffizi Gallary is on EVERYONE'S agenda so 2-5 hours lines are very common. You can book tickets online or call the museum to book your tickets (they speak English)… you're a fool if you don't book in advance.
Bargello Museum
The Bargello is another excellent sculpture museum with works from Donatello, Della Robbia, Cellini, Giambologna, and Michelangelo. You can book your tickets online but the lines aren't nearly as bad as other museums.
Accademia Gallery
The Galleria dell'Accademia (Accademia Gallery) is the premier sculpture gallery in Florence and it's most famous for its sculptures by Michelangelo — most notably is his David statue (there are many replica David statues in Florence but this is the real one). It's a can't miss. Again, book tickets online in advance.
More Museums
Want more art? Check out the Museum of San Marco (an ancient Dominican monastery that houses the largest collection of Fra Angelico works), Galileo Science Museum (a collection of 15th/16th century artifacts, scientific instruments, and other interesting items), and Pitti Palace (a vast 15th century palace + Boboli Gardens that now houses an impressive collection of Italian works). Basilica di Santa Croce (Not actually a museum but it houses the tombs of Michelangelo and Galileo. It also features impressive frescos).
Have A Wander
Florence is undoubtedly a beautiful town so it's a great place to simply wander around. We've listed a few of our favorite places you need to spend some time checking out.
Piazzale Michelangelo. This ornate square overlooks the city of Florence and offers some of its best views — so it's a must-visit (just ignore all the tacky souvenir vendors).
Piazza della Signoria. This piazza is filled with sculptures as well as a free open-air museum called Loggia dei Lanzi.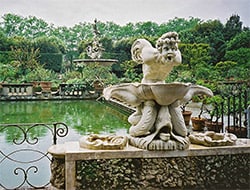 Boboli Gardens. When you head out to the Pitti Palace be sure to stop by its impressive and extremely vast Boboli Gardens.
Ponte Vecchio. This Medieval stone bridge is a popular spot for visitors. It is well-known for the numerous shops built into the bridge.
River Arno. Spend some time walking along the river — it's beautiful. We suggest grabbing some gelato first.
Street Performers. Florence is full of street performers so there are basically free shows everywhere you go (just watch out for pickpockets).
San Lorenzo Market and Il Mercato Centrale – The San Lorenzo Market has all kinds of souvenirs, leather goods, scarves, clothing, etc. Don't be afraid of bargaining. Nearby is the Il Mercato Centrale, which is an excellent indoor food market that has great food (meats, cheese, wine, produce, prepared food, and just about anything else you'd like).
Loggia del Mercato Nuovo. This market was built in the 16th century as a market for fine goods. Now it's a popular area for tourists thanks to its many souvenir stalls.
Take a (Free) Walking Tour
I've said it a million time… but I love walking/bike tours. They're simply a great way to explore and learn more about the city you're visiting. Florence Free Tour is the only free walking tour I've found in Florence but there are a handful of paid tours. The highest rates paid walking tours are WalkAbout Florence, Florence Pass Tours, Florence Custom Tours, and Walks of Italy.
---
Cheap Eats And Drinks in Florence
Florence has plenty of amazing restaurants — you'll find some of the best food in Italy in Florence and the Tuscany region. However, since Florence attracts a lot of visitors it has its share of overpriced/low-quality restaurants. We recommend checking out a few of the articles and Florence food bloggers below as they're on top of the food scene.
Online Resources and Food Bloggers:
Gelato
You simply can't visit Florence without eating your weight in gelato — especially since Florence is said to be the birthplace of this amazing dessert. You'll literally find it everywhere… which means there is a ton of sub-par gelato out there. This is one area where you want to do your homework because it's easy to get tricked into buying junk. Luckily, Florence-based blogger, The Curious Appetite has written up a great article talking about her favorite gelato places. The tour company Walks of Italy have also written up a great guide on their favorite gelato in Florence.
Aperitivo
An aperitivo is basically the Italian version of happy hour and it runs from around 7-9pm. Most restaurants will give away free snacks/small plates of food (meats, cheese, focaccia, etc.) as a way to entice you to stick around and buy more alcohol. Try visiting different bars because each will put out a different snack.
Coffee
Italy is the mecca for coffee. For the best price, cozy up to the bar and have it there. By the way, standard coffee (Caffè) in Italy is expresso. If you want something else (Cappuccino, latte macchiato, Caffè macchiato, etc.) you'll have to ask specifically.
Food Markets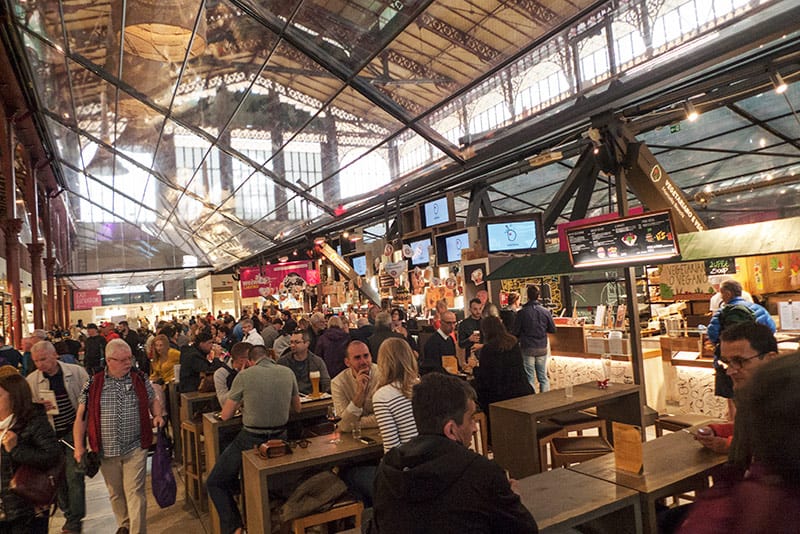 The most famous market in Florence is Il Mercato Centrale. This excellent indoor food market is a joy to walk around. Upstairs has a bunch of great prepared food options (the pizza restaurant was super good and a pizza only cost €8). Downstairs is a traditional market with high-quality meats, cheese, wine, and fresh produce, and prepared foods.
For a more low-key market, check out the Mercato Sant'Ambrogio.
---
Florence Nightlife
Honestly, Florence isn't the place to go for all-night clubbing. This city is much more laid back so it's better enjoyed at a sidewalk cafe and a bottle of wine.
---
Best Florence Hostels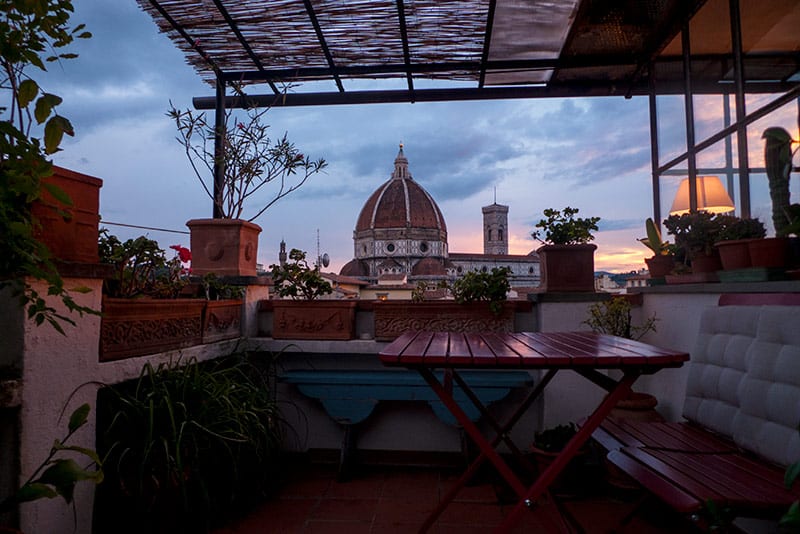 You should budget about €25-€35/night per person for a decent hostel — although many hostels raise their prices on the weekend. Remember, these prices are for bed in a shared dorm room. If you want a private room you should expect to pay €50-€80.
I've always used Hostelworld to book our hostels so you'll want to poke around there to find the perfect hostel.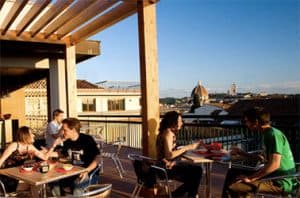 Below is a list of the best-rated hostels that won't break your budget:
---
Traveling Around Florence
Florence has a network of buses and trams that makes getting to all those museums quite easy. Don't forget to stamp your ticket before you get on the tram or you could get fined. However, Florence is very compact so you may find yourself walking most of the time. For reference, we walked everywhere.
Single ticket: €1.20 (€2 if purchased from the driver)
4-ride ticket: €4.70
Bus (Vola in Bus) from the airport to city: €6 one-way, €10 round-trip
Taxi from airport to city: €20 flat rate (+ baggage fee, night, and/or holiday supplements)
Consider renting a bike if you want to cover more ground and explore the city in a different way. Expect to pay €12-€20/day for a bike rental.
---
Practical Travel Tips
Skip The Lines. The Firenze Card is a 72-hour pass that gives you access to around 30 museums (most of which you can skip the lines) and public transport. It costs €72 per person. You can also reserve tickets (online or phone) and skip the line to most of the popular museums — this is highly recommended
City Bike. The city has a cheap bike rental service — check it out if you want to explore Florence on two wheels.
Pickpockets. Just watch your stuff.
The Best Local Artisan Shopping. Get away from the tourist/souvenir shopping areas by heading to Florence's Oltrarno neighborhood (cross at the Ponte Vecchio or Ponte Trinità bridges) — which is home of generations of local artists.
Best Restaurant Neighborhood. Head to the Santa Croce district for higher quality food that isn't catered towards tourists.
Explore The Rest of Tuscany. No tour of Florence is complete without exploring a few of the other towns in Tuscany. Popular day trips are Pisa, Lucca, San Gimignano, Arezzo, Fiesole, Lucignano, Siena, and Chianti. We went on a Vespa tour that left from Florence and went through Tuscany — we highly recommend it!
Save On Train Tickets: The cheapest way to buy train tickets to Italy's other major cities is via ItaliaRail. Book early to get the best prices.
---
More Resources To Help You Plan Your Visit On A Budget
I'm still a fan of ol' fashion guidebooks as it gives you a quick and easy way to research your destination. If nothing else, head to the library or bookstore and spend an hour or so thumbing through a guidebook — it's worth it.
---
Packing Help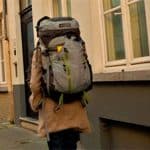 Need some packing help? Check out these helpful articles that we wrote for tips and advice for packing for your trip.
Backpacking Europe Packing List For Women – Our famous packing list that's specifically for the ladies.
Backpacking Europe Packing List For Men – Our famous packing list that's specifically for the dudes.
Best Travel Backpacks For Europe – We review our favorite travel backpacks, luggage, and other packing aides.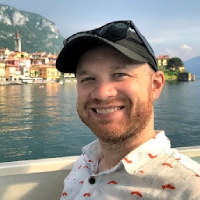 Latest posts by James Feess
(see all)
No Funny Business
The Savvy Backpacker is reader-supported. That means when you buy product/services through links on the site, I may earn an affiliate commission — it doesn't cost you anything extra and it helps support the site.
Thanks For Reading! — James
Questions? Learn more about our Strict Advertising Policy and How To Support Us.