Hamburg often gets overshadowed by the tourism behemoths of Berlin and Munich but this welcoming city has quietly become one of Europe's must-visit cities for in-the-know travelers. It's ultra-modern and socially progressive while sticking to its old-world roots. It's home to some of Germany's (and Europe's) best bars, restaurants, and nightlife. It's no wonder why it's considered Germany's most livable city.
In this Hamburg Travel Guide, we'll cover everything you need to know about visiting this bustling port city — including what to see, where to eat and drink, and how to experience the best that Hamburg has to offer.
I wanted to thank the Come To Hamburg project for inviting me to visit this great city and for the great and budget-friendly Heikotel am Stadtpark for hosting me while I visited.
Daily Costs To Visit Hamburg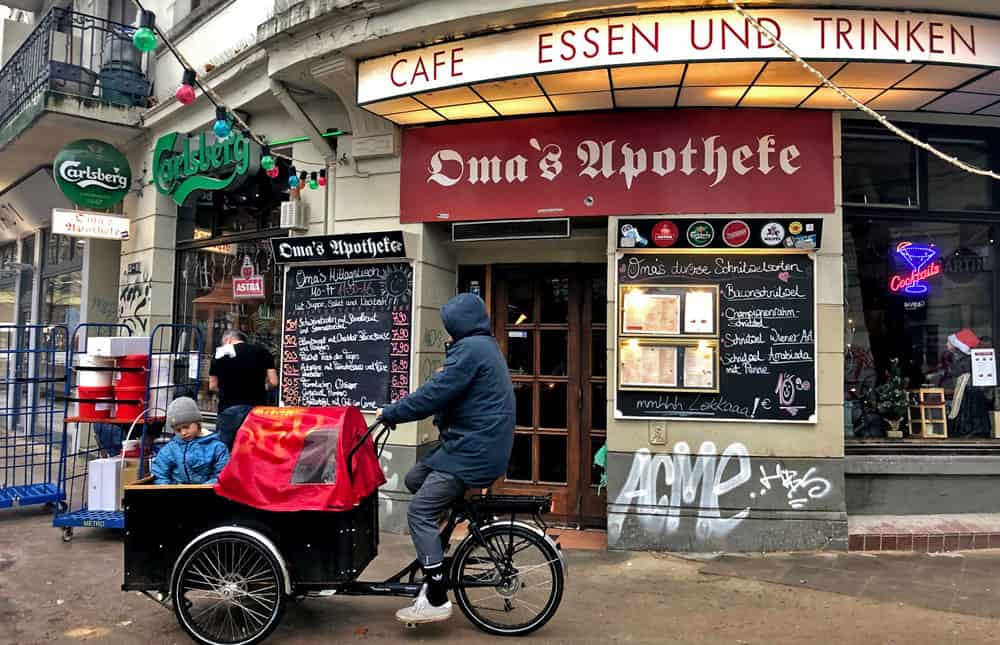 Hamburg is one of Germany's most expensive cities so budget travelers will have to watch their wallet — but there are plenty of ways visit on a budget. We estimate that budget travelers will spend an average of €40-€70/day. That said, you can easily spend a little less or quite a bit more depending on your travel style. Check out our Hamburg Price Guide to get a better estimate of travel costs.
In general, your biggest expenses will be accommodation, food, and alcohol. Luckily, there are a decent number of budget-friendly restaurants and the beer tends to be fairly cheap if you know where to look.
---
How Long To Visit Hamburg: 2-4 Days
Hamburg isn't chock-full of "must see" tourist sights so you can see the highlights in about two days. However, the real charm of Hamburg comes from exploring the city's neighborhoods, experiencing its famous nightlife, and sampling the city's diverse cuisine that's a result of Hamburg's long history of being one of Europe's busiest port cities.
Don't forget that Hamburg is a good home base for multiple day trips to cute neighboring towns and villages.
---
Hamburg: The Good & Not-So-Good
Every city has both good and not-so-good things about it. Below are a few things that stood out to us.
Good
Nightlife: Berlin may be world-famous for its nightlife but many Germans argue that the country's real nightlife champion is Hamburg. Either way, it's easy to find a party if you're looking for one.
Not Touristy: Hamburg's international visitors are rising in numbers but it's still largely off the well-trodden tourist trail.
Germany's Capital of Cool: There seems to be an ongoing battle about which city is Germany's "Capital of Cool" — some say Berlin, some say it's Leipzig, and others say it's Hamburg. There may never be a consensus but it's safe to say that Hamburg oozes that cool factor.
The Water: Whether it's the massive port, the multiple canals (and its 2000+ bridges) or the city's two lakes, it's no doubt that Hamburg's entire history has revolved around the water. This comes very clear when the weather warms up and the locals flock to the water.
Greenspace: Hamburg has numerous parks and other green spaces so it's easy to escape the bustle of the city.
Public Transportation: Public transportation is excellent in Hamburg so traveling around is a breeze. Furthermore, the airport is well-connected to the city center so you don't have to worry about taking an expensive taxi.
Diversity: Historically, port cities tend to be more diverse since there is a constant influx of new people coming and going — and Hamburg is no different. The people of Hamburg embrace this sense of diversity so they're very welcoming to different cultures, ideas, lifestyles, and the LGBT community.
Architecture: Hamburg was essentially leveled during WWII. When it came time to rebuild, the city embraced both classic German and modern architecture so it's common to see all-glass buildings next to old-looking brick buildings.
Not Your Stereotypical Germany: Hamburg feels a bit more like Scandinavia than "traditional" Germany so it's a nice change of pace if you're doing a tour of Germany.
Bike Friendly: While it's no Copenhagen or Amsterdam, Hamburg is regularly ranked one of the top 20 most bike-friendly cities. There is a successful bike share program or there are multiple ways to easily rent bikes.
Not-So-Good
Prices: Hamburg isn't as expensive as Scandinavia but it ain't exactly cheap either.
Cold and Rainy Winters: Winters in Hamburg tend to be grey, wet, and windy thanks it's proximity to the North Sea. Snow isn't super common but it often gets cold enough for the Elbe river and the city's lakes to freeze.
Aggressive Prostitutes: Hamburg is famous for its Red Light District. In fact, it's one of the city's most visited areas and it's also a hub for bars, clubs, and nightlife (it's also a generally safe area thanks to the heavy police presence). There are parts of the RLD where prostitution is legal after 8 pm so you will get approached by these ladies and they can get aggressively grabby — which might make some people uncomfortable.
---
Hamburg's Weather and Seasons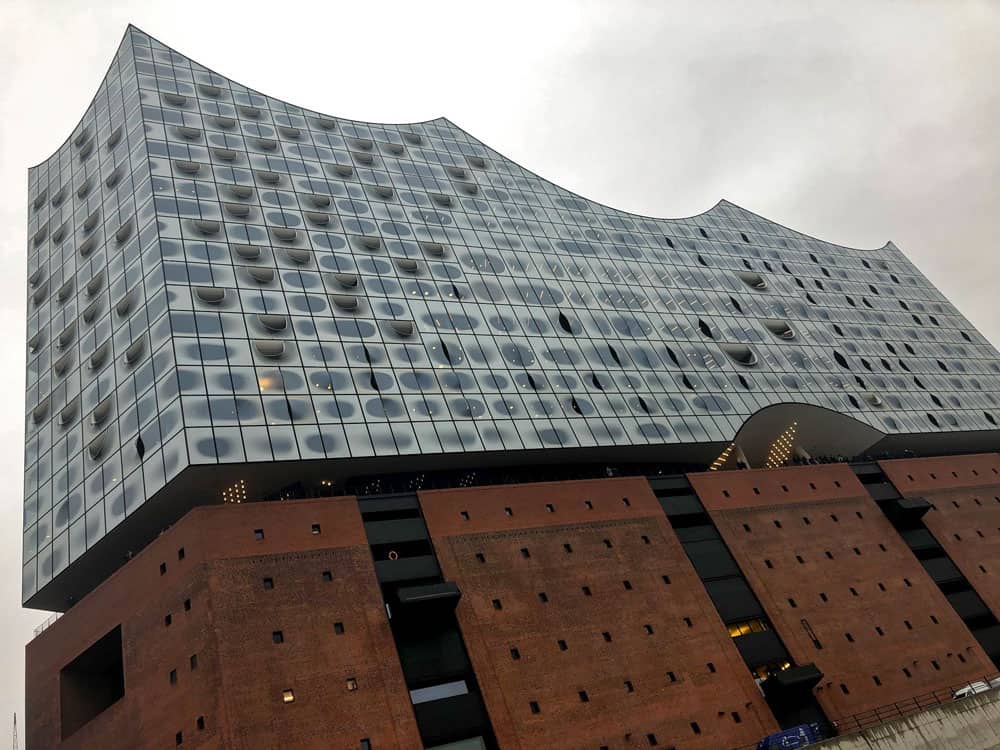 Hamburg tends to be fairly rainy all year with an average of about 10 days of rain each month. The city has a mild climate so summer's high temperatures average in the mid-70s (but there are usually a few hot days). Winter temperatures also rarely dip below freezing.
Spring
Late Spring is a great time to visit because the city's parks come to life with blooming flowers and Germans ready to break out of the long winter funk — don't miss the Cherry Blossom Festival in May. The temperatures are also comfortable. Tourism doesn't really pick up until summer so flight and accommodation prices will be a bit lower.
Summer
Summers in Hamburg are nice but can still be a bit rainy. Temperatures are usually in the 70s but a few 85+ degree days aren't uncommon — you should also expect a bit of rain. The city's parks, gardens, sidewalk cafes, beer gardens, and water/beaches will be full of people enjoying the nice weather. This is also the height of the tourist season but it's not too bad.
Fall & Winter
The temperatures start dropping in October but it's a joy to watch the leaves change colors. Temperatures aren't too bad in the early fall but start getting cold and gloomy toward the second half of the season. You can find some cheap flights to Hamburg during this time since it's not a super popular time for international visitors.
The winter is a bit rainy, gloomy, and windy but it's also very festive thanks to all the Christmas markets and decorations. Tourism drops after the holidays so you can have the city to yourself. You can also find cheaper accommodation and flights.
Be sure to dress properly. Check out these handy articles:
---
Hamburg's Neighborhoods

Hamburg has a few distinct neighborhoods and each has its own vibe. In this section, we'll cover some of the most popular areas of the city that you might want to explore.
Altstadt and Neustadt Neighborhoods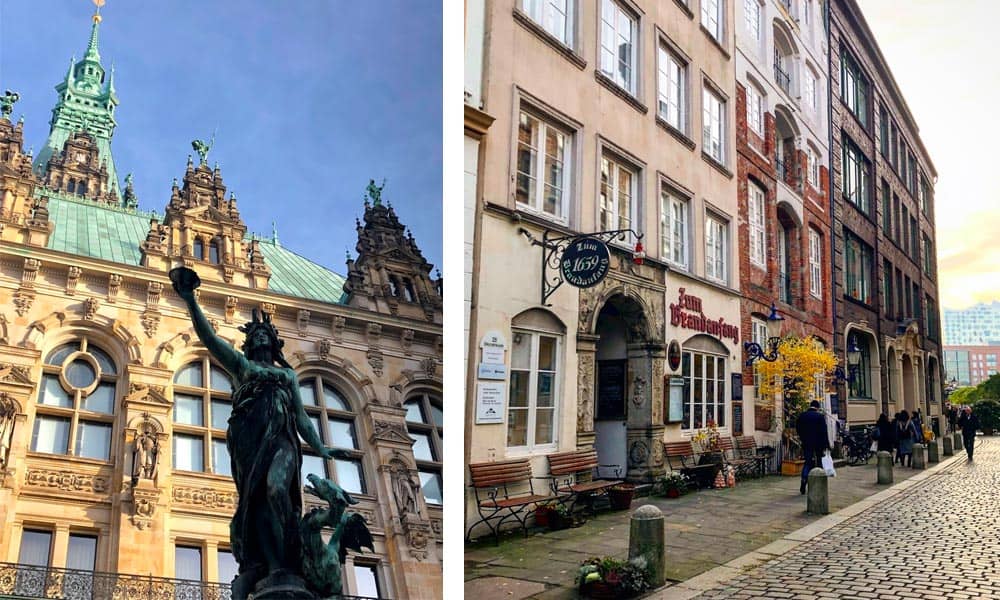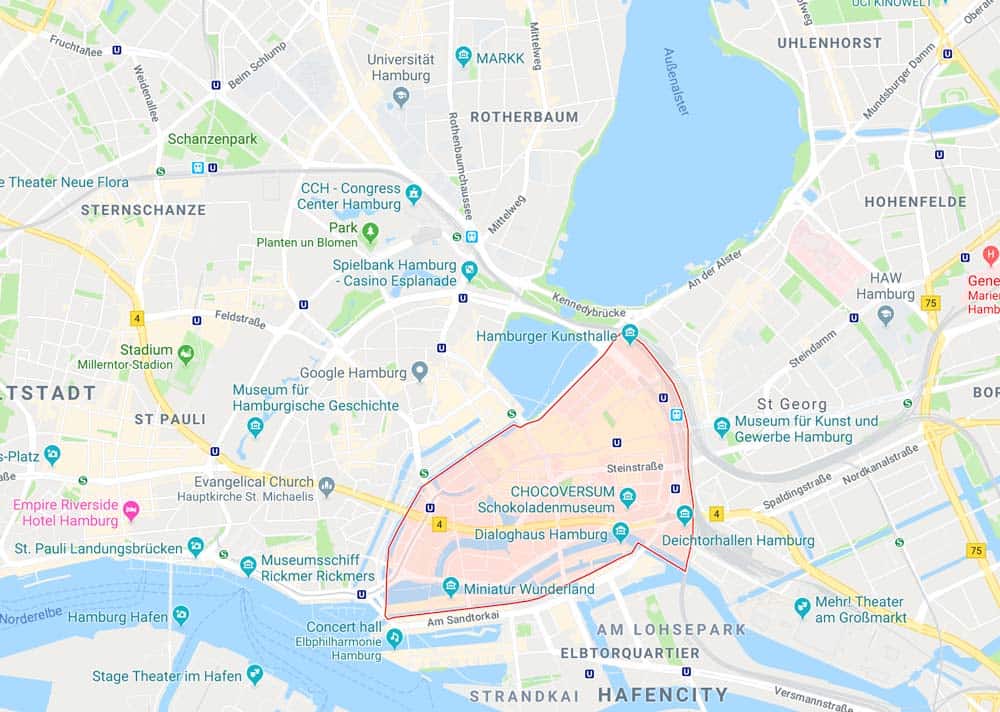 Altstadt (Old Town) and Neustadt (New Town) would be considered the "city center" and this is where you'll find Hamburg's impressive City Hall (one of the few buildings that survived WWII) and a few impressive churches. In Altstadt you'll also find Deichstraße street — the oldest street that survived the great fire of 1848.
Neustadt (New Town) is the main shopping area of town so you'll find lots of international chain stores as well as
Speicherstadt & HafenCity Neighborhoods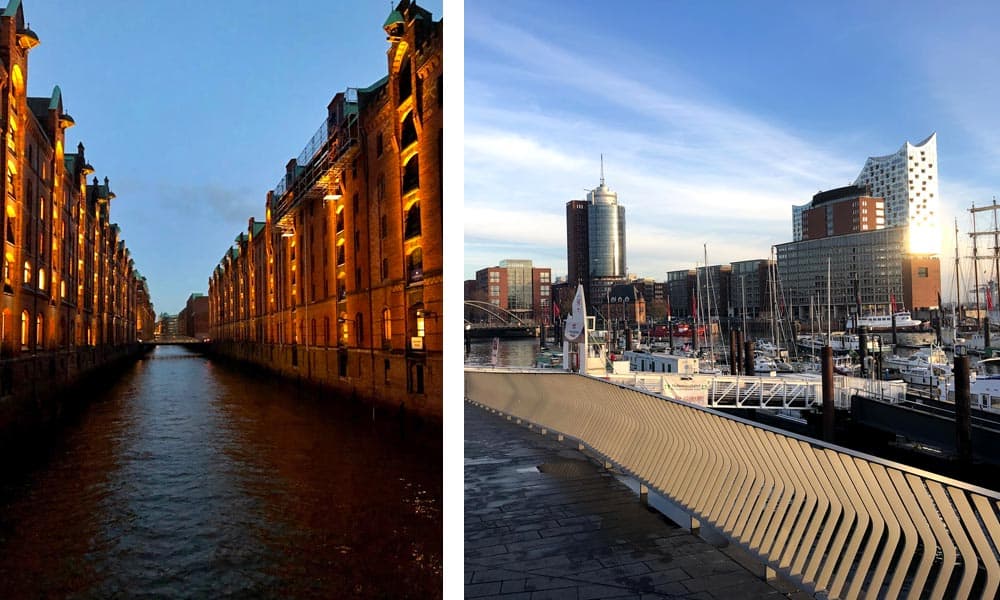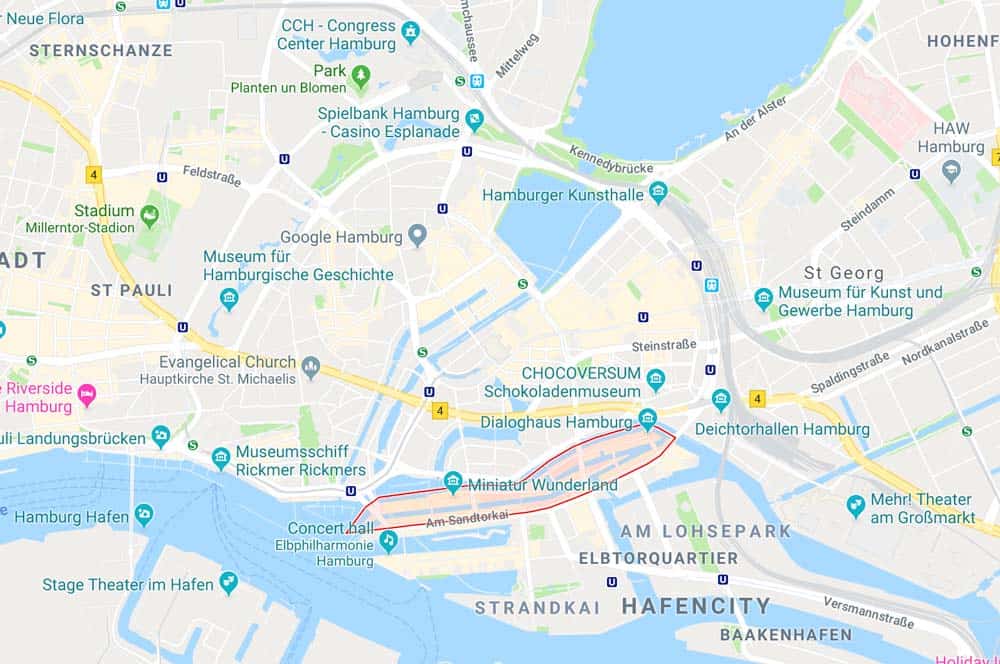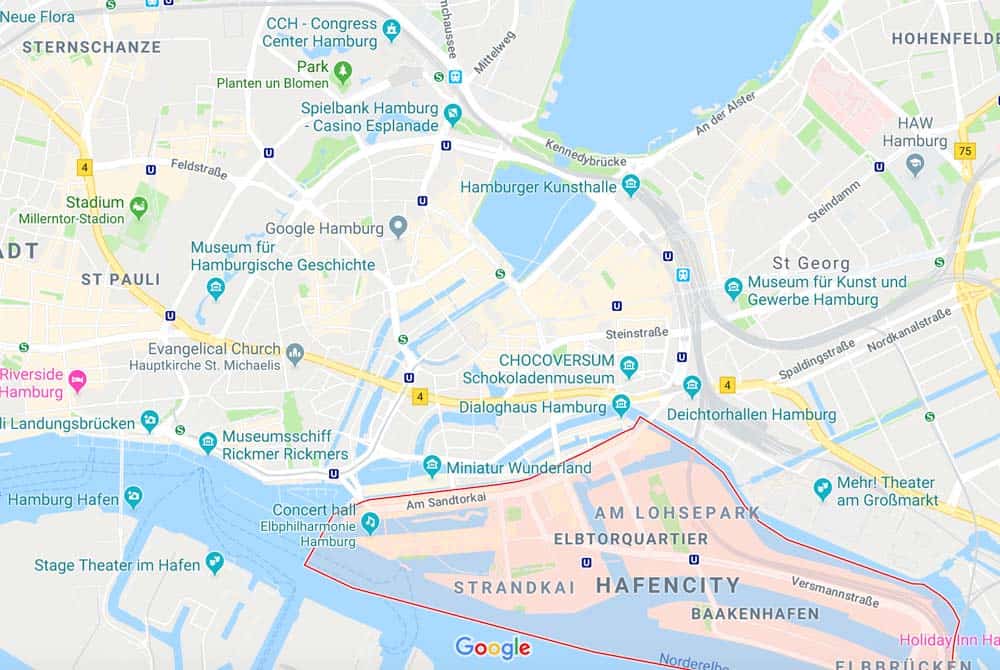 Speicherstadt is the Hamburg's warehouse district. These beautiful red-brick buildings were built on a series of canals from 1883 to 1927 and it's the biggest warehouse complex in the world. It's a nice area to walk around it's also home to Hamburg's crown jewel — the Elbphilharmonie concert hall.
Next to Speicherstadt, you'll find HafenCity — which is Europe's largest inner-city development project. It's been called "a utopian cityscape built into the Elbe river" and it's a series of ultra-modern architecture. Some locals think its a soulless neighborhood for wealthy people. Either way, it's a fun area to walk through and stop for a drink in a hip coffee shop.
St Pauli Neighborhood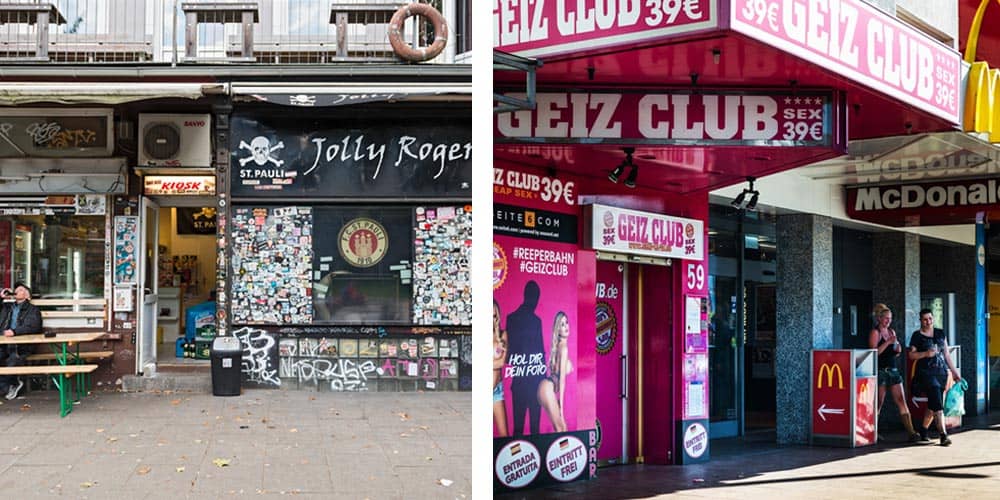 One of Hamburg's biggest attractions is the St. Pauli neighborhood — which is also home to the city's Red Light District (it's also where the Beatles got their start). The main drag of the Red Light District is the Reeperbahn street. Surrounding the Reeperbahn you'll find tons of bars, clubs, restaurants, strip clubs, adult stores, brothels, and prostitutes. Where else can you find a McDonald's next to a brothel?
The entire area isn't XXX-themed so you'll also find some excellent bars and nightlife spots that have nothing to do with the Red Light District. Furthermore, the area is safe and there is a heavy police presence (including its own police station) since it's such a tourist draw. They even have their own Christmas market!
Also, be sure to catch a soccer match at FC St. Pauli — if you can actually get a ticket. This local team is famous for their passionate and politically progressive fans who fight for the rights of the LGBT community.
Sternschanze & Karolinenviertel Neighborhoods
Sternschanze (or Schanze it's known locally) is a super hip and youthful area full of excellent bars, restaurants, coffee shops, and independent shopping. Basically, it's a major nightlife destination for people who don't want the craziness of St. Pauli. Furthermore, it's a popular spot for locals so it's a great place to experience real Hamburg (as opposed to most of St. Pauli). It's also home to graffiti-covered Rote Flora — a former theater that's been a squat since 1989.
Karolinenviertel is a small neighborhood which borders Sternschanze (it's essentially the buffer between Pauli and Sternschanze). It's a trendy but calm area that feels slightly rough because of the abundance of street art but it's full of coffee shops, second-hand stores, and boutique shops.
Other Neighborhoods
St Georg: St Georg is Hamburg's gay neighborhood and it's home to plenty of hip bars, restaurants, and art galleries. The locals call the neighborhood a "global village" since it's home to multiple international cultures and people from diverse background. It's located directly to the North/East of the train station.
Eppendorf: This upscale neighborhood was once the suburb to Hamburg's wealthy residents. It's a nice place to explore if you're visiting Hamburg for an extended amount of time. Be sure to check out the walk along the Isbek Canal if the weather is nice.
---
Hostels & Hotels in Hamburg
Hamburg has a number of solid hostels. That said, the city does attract a party crowd so some hostels have a reputation of being a bit rowdy (which may or may not be something you're looking for). So be sure to read reviews to get an idea of the hostel's vibe.
My Hotel – Heikotel am Stadtpark

During this trip to Hamburg, I was hosted by the nice folks at Heikotel am Stadtpark. It's a clean, comfortable, quiet, and spacious hotel that's also budget-friendly.
---
Best Things To Do In Hamburg
Hamburg has plenty of things to keep you busy. In this section, we've divided this section into multiple subsections to give you a better idea about the best of Hamburg.
Museums
Kunsthalle Hamburg

Kunsthalle is one of the largest and most important museums in Germany. One interesting thing about the Kunsthalle is that it has European art spanning seven centuries — from the old masters to contemporary art. Additionally, the museum's cafe at the top of the building offers some of the best city views of Hamburg.
International Maritime Museum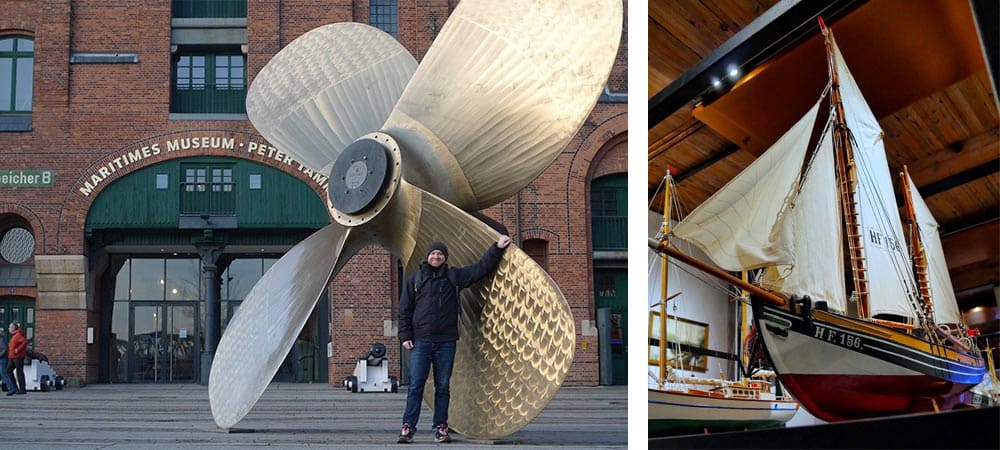 Hamburg has been one of Europe's most important ports and this museum pays 3,000+ years of maritime history. Here you'll find a huge collection of model ships, art, uniforms & photographs that came from Peter Tamm. This is an extensive collection that's spread out over something like nine floors so set aside a few hours if you visit.
Museum of Arts and Crafts (Museum für Kunst und Gewerbe)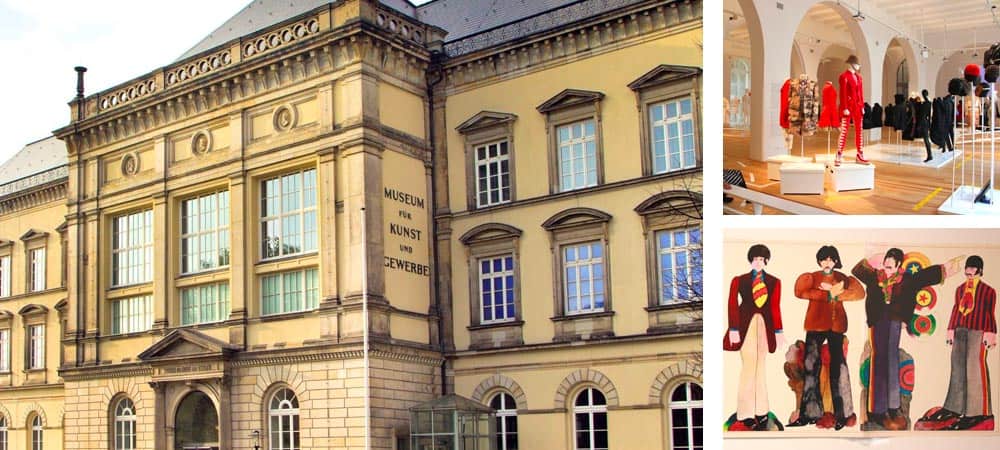 The Museum of Arts and Crafts is one of the largest of its kind in Europe and it covers fine, applied and decorative arts from the past 4,000 years. The exhibits everything from fashion (Coco Chanel, Alexander McQueen, etc.), textiles, and jewelry to photography, poster art, and graphic design.
Sights & Attractions
Miniatur Wunderland
The Miniatur Wunderland is not only the largest model railway in the world, but it's also the most popular tourist attraction in Germany. Before going we thought it would be a bit kitschy (and it is) but it's actually a lot of fun. They've built multiple massive scenes that are modeled around different parts of the world (and they're adding more every year).
But the real joy is taking the time to admire all the details and easter eggs of each scene. And yes, some of the little figurines are a bit naughty.
Hamburg's Street Art

Hamburg has some excellent street art and graffiti. While you can find street art just about everywhere in the city, the best examples can be found covering every inch of the neighborhoods of St. Pauli, Sternschanze, and Karolinenviertel. We suggest taking a few hours to walk around these areas to see what you discover.
Elbtunnel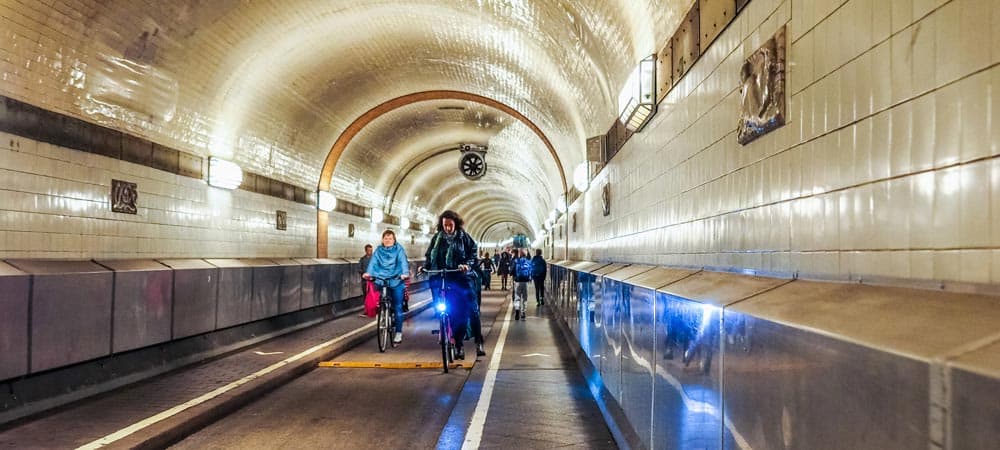 The Elbtunnel, sometimes called St. Pauli Elbtunnel, is a long tunnel that runs under the Elbe River and connects the city center with the harbor in the south of the city. Completed over 100 years ago, it's become a point of pride for the people of Hamburg. It's open 24/7 to pedestrian traffic and it's a popular tourist attraction.
City Views From St. Michael's Church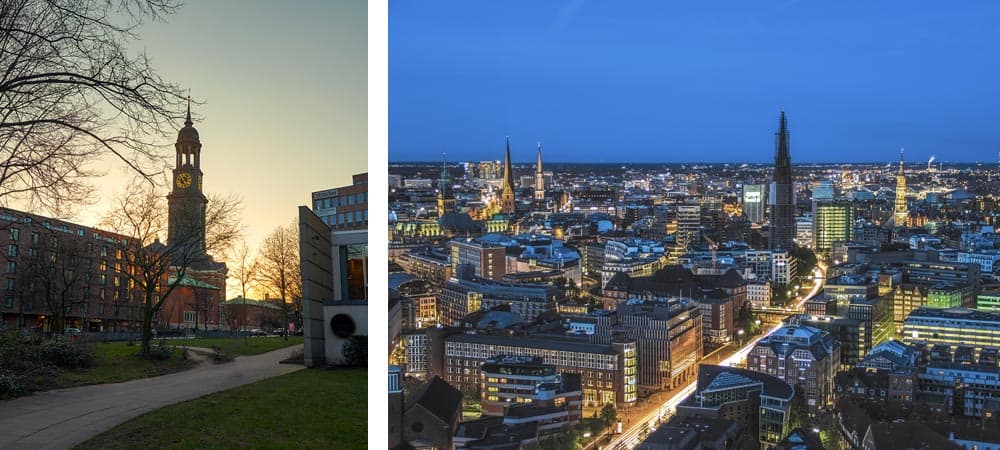 For some of the best views of Copenhagen we recommend heading to St. Michael's Church and taking the elevator up to the top of its 132-meter high Baroque spire. The church is free to enter but it costs around €5 to visit the tower.
Planten un Blomen & Stadtpark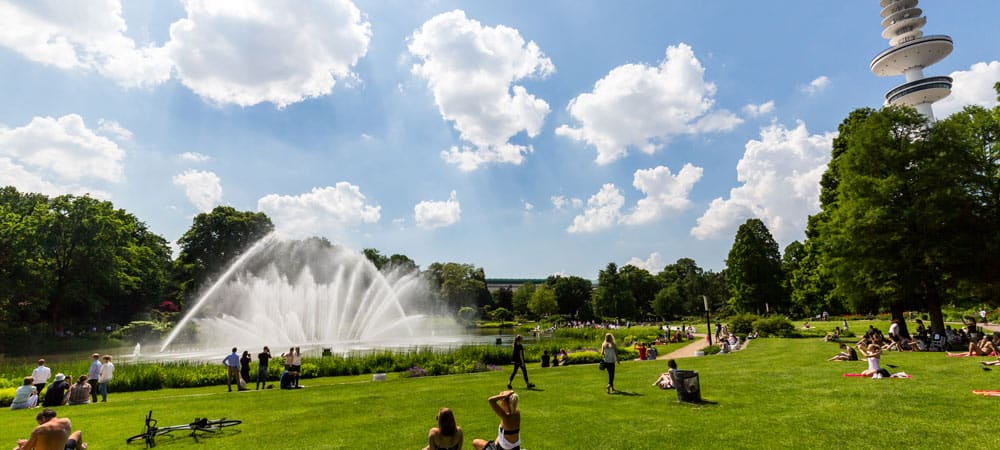 Planten un Blomen, which roughly translates to "Plants and Flowers", is a large urban park in the middle of Hamburg. It's an excellent escape on a nice day so pack a picnic and some adult beverages and enjoy nature. It's also famous for having Europe largest Japanese garden and an impressive tropical greenhouse complex. There are also a number of playgrounds and other attractions for the kiddos.
Stadtpark, often called the "Green Heart" of Hamburg, is a huge park in the northern part of the city that locals flock to during the nice weather. The park features dozens of statues, a lake, playgrounds, a large lawn, and wooded areas.
Elbphilharmonie

The recently opened Elbphilharmonie Concert Hall is the largest and acoustically most advanced concert halls in the world. This €870 million jewel of the Hamburg skyline is made to look like the ocean waves. Concert tickets are tough to score (and they're not cheap) but you can visit the 360-degree view observation decks for €2 (you canbook tickets online to skip the line).
Jungfernstieg
No visit to Hamburg is complete without visiting Jungfernstieg — a picturesque promenade that runs along Lake Binnenalster. It's understandably touristy and the shops/restaurants there are expensive but it's worth checking out.
Harbor and Ships

Hamburg is a port city so be sure to head down to the harbor to have a look around. Specifically, check out the two old merchant ships — the Rickmer Rickmers and Cap San Diego. Each has been turned into a museum so you can walk through them or just admire them from afar.
Furthermore, you can also tour the interior of the old Soviet-era U-434 Submarine that's docked in the harbor.
Activities
Free Walking Tours

One of the best ways to get a nice overview of Hamburg is through a free walking tour. We ended up taking two great free walking tours from Robin And The Tourguides. Their Historic City Center tour gave a nice overview of Hamburg's history and you see a lot of the classic sights like St Michael's Church, the Rathaus, Nikolaifleet (the old canal). The next day we took the Harbour, St. Pauli & Reeperbahn tour — which covers some of the seedier parts of the city's past. We recommend both.
Another interesting option is to request to get shown around town by local volunteer greeters via Hamburg Greeter. This is a volunteer organization so you need to request a greeter at least two weeks in advance.
Harbour Boat Tour

Fans of nautical engineering or people who want a nice view of Hamburg should consider taking a harbor boat tour. I took a tour with Barkassen-Meyer. It was interesting to learn more about Hamburg's port and to get a super up-close view of the massive ocean cargo freighters and views the city. They have limited tours in English but also have an app with an English audio tour.
Speicherstadt Warehouse District

The Speicherstadt district of Hamburg is an impressive complex of brick warehouses, canals, and bridges. It's a fun place to walk around for an hour or two. The area also has a handful of coffee shops and cafes in the area if you want to rest for a bit. We recommend visiting at night to see the buildings illuminated.
Flohschanze Flea Market
Looking to pick up some unique souvenirs? Check out the Flohschanze Flea Market that's located in the Sternschanze neighborhood. This is the biggest flea market in Hamburg and you find all kinds of vintage clothing, trinkets, and other random things. It's held every Saturday.
Explore On Bike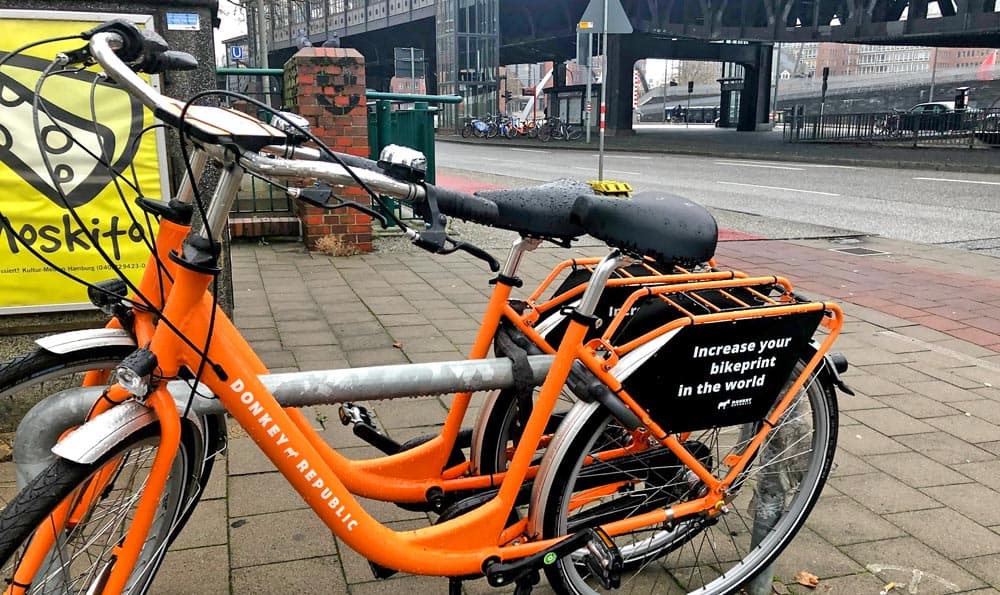 While Hamburg might not be as bike-friendly as its Scandinavian neighbors, bikes are still a popular form of transportation and there is a decent number of dedicated bike lanes. Like most cities in Europe, Hamburg has its own bike sharing program (StadtRAD) where you can check out bikes from automated stations throughout the city. You'll need to first create an account on StradtRAD — the first 30-minutes is free and then rentals cost 8 cents per minute with a maximum fee of €12 per day.
In addition to private businesses that rent bikes, you'll also see bright orange bikes scattered throughout the city from a company called Donkey Republic — you use a smartphone app to find and unlock the bikes. Prices start at 1.25 for 30 minutes and you just park the bike wherever you like when finished.
Ferry 62 Harbor Ride
Just because you're on a budget it doesn't mean you can't see Hamburg from the water. Check out Ferry 62 which uses a normal public transportation ticket. Learn more here.
Hop-on-hop-off Bus Tour
A great way to get a quick overview of any city is through a hop-on-hop-off bus tour. Check out Hamburg-citytours.de to see their bus tour which takes 1h40m to see all of Hamburg's highlights.
Other Interesting Attractions
Deichtorhallen: This is one of the largest art centers for contemporary art and photography in Europe.
St. Pauli Football Stadium: Catch a match at FC St. Pauli stadium. It's a great atmosphere but tickets can be tough to get.
Tierpark Hagenbeck: Hamburg's Zoo.
PROTOTYP Automobile Museum: Car fans might want to check out the small but interesting PROTOTYP AutoMuseum — which features a selection of around 50 cars spanning 80 years.
Lübeck Day Trip: Old German town and Unesco as a World Heritage site that's a short train ride from Hamburg.
---
Food, Alcohol, and Coffee in Hamburg

Hamburg has plenty of great restaurants, coffee shops, bars, cocktail bars, and beer gardens at a range of price points. Furthermore, Hamburg's history of being a port city means it has been exposed to multiple cultures (and their cuisine) so you'll find more than just schnitzel and currywurst in Hamburg.
Note: Most of our food recommendations will skew towards budget-friendly/good value options since The Savvy Backpacker is all about budget travel so this list won't include every "best" restaurant — just the best value.
Restaurants

Erika's Eck: Ericka's Eck has been a local favorite for over 40 years. Where else can you get a huge schnitzel for around €10, and an excellent selection of local beers in a no-nonsense, old-school atmosphere? This place fills up just about every night so you might want to make reservations. Furthermore, Ericka's Eck is open all night so it's a popular spot to get that 3:30 am post-party schnitzel fix. Neighborhood: Sternschanze/Karolinenviertel. See On Google Maps.
Otto's Burger: Otto's is a hip burger place that has three locations in Hamburg (we recommend the super-cool Sternschanze location). The burgers are excellent and they're fairly affordable at €9-€13. Neighborhood: Sternschanze/Karolinenviertel. See On Google Maps.
Better Burger Company: If you're in the main shopping area and want a quick bite then you should check out Better Burger Company. The burgers are organic and the prices are fair. Neighborhood: Altstadt (Old Town). See On Google Maps.
Frank und Frei: Frank und Frei is another no-nonsense local favorite that serves up classic German food and beer at budget-friendly prices. It's particularly popular for its weekend breakfast/brunch that's served from 9:00 am to 3 pm. It's a fairly large location so it's a nice spot for groups. Neighborhood: Sternschanze. See On Google Maps.
Frau Möller: This cozy and rustic looking restaurant serves up large portions of Northern German food, burgers, and beer for a fair price. Neighborhood: Altstadt (Old Town). See On Google Maps.
Zum Spätzle: This small family run restaurant specialized in homemade Spätzle. Prices are reasonable. Neighborhood: Neustadt. See On Google Maps.
Omas Apotheke: Another budget-friendly restaurant serving up simple yet tasty Germany fare — from breakfast to dinner. Neighborhood: Sternschanze. See On Google Maps.
Gaststätte Fisch Imbiss: This small but popular fish restaurant is a favorite with locals so expect a crowd. Prices are reasonable and the fish is fresh. Neighborhood: Sternschanze. See On Google Maps.
BAN CANTEEN: BAN CANTEEN is a hip, modern, and minimalist Vietnamese restaurant that serves up fresh dishes like bao burgers, pho, and other authentic options in large portions. Neighborhood: Sternschanze. See On Google Maps.
Quan Do Hauptbahnhof: When it comes to cheap, tasty, & authentic Vietnamese Pho then you should head to Quan Do Hauptbahnhof. It's located across from the train station. It's a small and often-busy restaurant but the service is quick. Cash only. Neighborhood: Altstadt (Old Town). See On Google Maps.
SO NA MU: This small and modest restaurant serves up authentic, tasty, and budget-friendly Korean food. Portions are generous. See On Google Maps.
Mö-Grill: Mö-Grill is a popular snack bar/food stand that serves up brats and sausage but they're most famous for their currywurst. Prices are cheap and service is fast. This is an outdoor food stand so there isn't much space to eat other than a few stand up tables. Neighborhood: Altstadt (Old Town). See On Google Maps.
Eppendorfer Grill-Station: This modest and unassuming restaurant is another local favorite that most visitors might pass by. The prices are low, the food is tasty (particularly the fried chicken and currywurst), and the portions are filling. There are a few seats inside and out but it's mostly a takeaway joint. See On Google Maps.
Schmitt Foxy Food: Our tour guide told us about this no-frills spot serving up tasty sausage and fries at low prices. It's a popular spot to visit after consuming a few drinks. Neighborhood: Sternschanze. See On Google Maps.
Kiez Curry: One of the most popular currywurst spots in St. Pauli is Kiez Curry and it's a must-visit after a long night of drinking and partying. Neighborhood: St. Pauli. See On Google Maps.
Souperia: Sometimes there is nothing better than a nice bowl of soup to warm you up. Souperia serves up healthy and tasty soup at affordable prices. This is mainly a takeaway restaurant because there is very little space to eat in. Neighborhood: Sternschanze. See On Google Maps.
Azeitona: This budget-friendly middle eastern restaurant serves up some of the best falafel in Hamburg and plenty of other dishes. Great for vegetarians. Neighborhood: Sternschanze/Karolinenviertel. See On Google Maps.
Kleine Pause: This cheap restaurant is a local favorite thanks to their no-nonsense food and large portions — including hamburgers, currywurst, and lots of other options. It's open late and it's located in the party-central St. Pauli neighborhood so it's popular after a night of drinking. Neighborhood: St. Pauli. See On Google Maps.
Luigi's: Arguably the best pizza in Hamburg is found at Luigi's. It's fresh, home-made, and authentic Italian. It's not "cheap" but it's a good value since their pizzas are large. Neighborhood: Neustadt. See On Google Maps.
Restaurante Español Picasso: For authentic Spanish tapas look no further than Restaurante Español Picasso. The atmosphere is nice and the food is great quality. That said, it's not a cheap restaurant but its a good value for the quality. Reservations are suggested. Neighborhood: Altstadt (Old Town). See On Google Maps.
Hobenköök: Hobenköök is a new "food market" restaurant that's found in the HafenCity neighborhood. It's a more upscale dining experience but the food is fresh & very local. Neighborhood: HafenCity. See On Google Maps.
The Fish Market: Every Sunday morning from 5.30-9.30am partygoers stumble to the fish market located along the Elbe river to continue the party with live rock, jazz music, and dancing. The locals chow down on a few traditional fried fish sandwiches so check that out. See On Google Maps.
Coffee and Bakeries

Pastelaria Transmontana: Hamburg has one of Europe's largest Portuguese populations and Pastelaria Transmontana is one of the city's most-loved and oldest Portuguese cafes. Try the Galão (Portuguese coffee) and Pasteis de Nata (traditional egg tart pastries). Neighborhood: Sternschanze. See On Google Maps.
Café MAY: A hip, cozy, and cash-only cafe that serves up a solid breakfast and brunch for reasonable prices. There are multiple locations in Hamburg but the most centrally located one is in St. Pauli. They also serve drinks later in the day/night so it's a nice place to chill out and escape the craziness of the Red Light District. Neighborhood: St. Pauli. See On Google Maps.
elbgold Röstkaffee: Excellent coffee shop in a hip industrial vibe. Top quality coffee. Friendly staff. Tons of space. Neighborhood: Sternschanze. See On Google Maps.
kopiba Kaffeerösterei & Bar: This uber-cool coffee shop is located in the equally cool Karolinenviertel neighborhood. The coffee is really nice and there are some solid breakfast/brunch options. The atmosphere is hip and welcoming. There is also some nice outdoor seating. We found the barista to be a bit cold but the overall experience was still positive. Neighborhood: Sternschanze/Karolinenviertel. See On Google Maps.
Tōrnqvist: Another excellent little coffee shop in the Sternschanze/Karolinenviertel neighborhood and its owner takes his coffee seriously. They also have some nice pastries. And you'll dig the stunning minimalistic interior. Neighborhood: Sternschanze/Karolinenviertel. See On Google Maps.
ZEIT Café: Good coffee. Modern decor. Nice music. Cozy. And wifi. Nuff said. Neighborhood: Altstadt (Old Town). See On Google Maps.
Speicherstadt Kaffeerösterei: This large coffee shop is located in Hamburg's warehouse district. The coffee is solid and the industrial chic decor is welcoming. There are a lot of tables but this place is located in a touristy part of town so it can get a bit crowded at times. Neighborhood: Speicherstadt (Warehouse District). See On Google Maps.
Die Rösterei Coffeum: Cozy little coffee shop serving up quality coffee and baked goods. Neighborhood: Altstadt (Old Town). See On Google Maps.
Hermetic Coffee Roasters: Another great hip and cozy third wave coffee shop with a range of top quality coffee and a few snack options. Small inside but plenty of outdoor seating in the summer. Neighborhood: Sternschanze/Karolinenviertel. See On Google Maps.
Milch: This minimalist and quiet third wave coffee shop is located near the harbor and serves up high-quality coffee. They also have a small selection of goodies to eat. Neighborhood: Neustadt/Harbor. See On Google Maps.
Playground Coffee: Located on the edge of the Red Light District of St. Pauli, Playground Coffee is a cozy little coffee shop with a hip atmosphere and good music. Excellent coffee. Friendly staff. Neighborhood: St. Pauli. See On Google Maps.
Die kleine Konditorei: This bakery's few locations might be a bit outside the city center but people still flock there for their delicious baked goods. We suggest the cinnamon or chocolate franzbrötchen pastry but just about everything is great. See On Google Maps.
Biokonditorei Eichel: Excellent bakery for vegan and gluten-free pastries. See On Google Maps.
Beer, Bars, Pubs & Cocktails

The most popular nightlife destinations for young people is St. Pauli/The Red Light District (for a wild night out) and Sternschanze & Karolinenviertel (for a hip but more chilled out and "local" experience). There are plenty of great placed outside these areas but most suggestions on this guide will be in these areas. By the way, Astra is a famous beer brewed in Hamburg so it's usually pretty cheap.
Clockers: This super stylish and hidden speakeasy doesn't have a sign outside (you have to ring the buzzer to get inside) but inside you'll find excellent cocktails and a DJ playing nice tunes. They also make their own house-distilled gin so many of their drinks revolve around gin. Drinks are expensive but the quality is top notch. Neighborhood: St. Pauli. See On Google Maps.
Le Lion Bar de Paris: Another classic cocktail bar serving up well-crafted cocktails. Swanky and sexy atmosphere. Again, drinks are expensive but expertly made. Neighborhood: Altstadt (Old Town). See On Google Maps.
Boilerman: The Boilerman is another great cocktail bar and the prices are a little more reasonable than the other cocktail bars on this list. Two locations. Neighborhood: HafenCity. See On Google Maps.
20Up Skyline Bar: This bar is expensive but the views from the 20th floor of this fancy high-rise hotel are the best in the city. So treat yo self to a nice drink and some killer views before continuing on with you budget travel lifestyle. Neighborhood: St. Pauli: See On Google Maps.
Braugasthaus Altes Mädchen: This is a great brew house that offers a huge selection of craft beers and good pub food. The atmosphere is excellent (log fire in the winter and a large bustling nice beer garden in the summer) but it can get a bit crowded during the weekend. The prices are a bit high for Hamburg but it's still a solid place to enjoy a drink or two. Neighborhood: Sternschanze. See On Google Maps.
Ratsherrn: If you're a beer snob then you should check out the local Ratsherrn microbrewery. They always have an interesting selection of beers available to drink onsite. They also have tours available. Neighborhood: Sternschanze. See On Google Maps.
Zum Silbersack: Old-school and down-to-Earth neighborhood pub in St. Pauli. Mixed crowd of young and old, locals and tourists. Affordable drinks. You can smoke inside. Neighborhood: St. Pauli. See On Google Maps.
3 Zimmer Wohnung: This chilled bar looks like a German living room from the 1970s/1980s — couches, ugly but charming wallpaper, etc. The drinks are affordable and the place is super cozy and a nice break from the craziness of the St. Pauli neighborhood. Neighborhood: St. Pauli. See On Google Maps.
David Quelle: Classic and quaint neighborhood pub in St. Pauli. A mix of locals and tourists. Reasonable prices and friendly staff. Neighborhood: St. Pauli. See On Google Maps.
Barbarabar: Cheap beer and shots. A cool/kitschy atmosphere with great music — but can get crowded on the weekends. Neighborhood: St. Pauli. See On Google Maps.
Albers Bar: A bit of a hidden gem hid among the seedier and party-focused bars normally found on the Reeperbahn. A laidback atmosphere so good for a chilled evening. Pretty good craft beer menu and affordable cocktails. Neighborhood: St. Pauli. See On Google Maps.
Bar 99 Cent: Every drink costs 99 cents… but don't expect much more. In the Red Light District. Neighborhood: St. Pauli. See On Google Maps.
Lehmitz: Typical neighborhood pub/dive with live rock music. Drink are affordable. Neighborhood: St. Pauli. See On Google Maps.
Zoë 2 Sofa Bar: A unique and cozy dive bar that's filled with shabby-chic sofas. The atmosphere is chill and the drinks are reasonably priced. Neighborhood: Sternschanze. See On Google Maps.
Dschungel: Dive bar with a friendly and chilled atmosphere. Affordable prices. Neighborhood: Sternschanze. See On Google Maps.
Katze: Laid-back locals bar. Nice for an affordable drink. There are tables outside so it's nice in the summer. Neighborhood: Sternschanze. See On Google Maps.
Goldfischglas: Another laidback bar popular with the locals — many of whom use this bar as a first stop before heading out of the night. Neighborhood: Sternschanze. See On Google Maps.
---
Hamburg's Public Transportation

Hamburg has an excellent public transportation network so getting around is quick and easy. I used the Hamburg Card — which gave me unlimited public transportation and a few small discounts at some attractions.
Getting Into Hamburg
The Airport to Hamburg City Center: There is a commuter train the connects the Hamburg Airport to the City Center/Central Train Station. From there you can transfer to the subway. It's an easy 30-minute ride and uses a standard public transportation ticket.
Hamburg Central Train Station (Hamburg Hauptbahnhof): Hamburg's Central Station is located in the heart of the city. The train station has connections to four railways (S-Bahn) and six subway platforms (U-Bahn). Note: Hamburg has five train stations so make sure you don't accidentally get off at the wrong station — Hamburg Hauptbahnhof will almost always be the last stop for most routes.
ZOB Long-Distance Bus Station: Hamburg has a centrally located bus depot that's located right next to the central train station (most cities put their bus station on the outskirts of town). See more here.
Getting Around Hamburg
The commuter train, subway, buses, and ferries all use the same ticket. The standard ticket covers essentially all the parts of the city you'll want to see (including the airport) so stick with that ticket unless you plan on adventuring out into the suburbs. Visit the official public transportation website site at hvv.de for more details and a trip planner.
Standard Ticket Prices (Within The City):
Single Ticket: €3.30
All-Day Ticket: €7.80
All-Day Ticket (After 9 am): €6.50
As you can see, in most cases it makes sense to just buy an all-day ticket.
S-Bahn and U-Bahn
The main city-wide transport options are the U-Bahn (underground lines) and S-Bahn (suburban lines). These two trains will get you everywhere you need to go. Both run 4:30 a.m. to 1:00 a.m. the next morning and 24 hours on weekends.
And while there aren't any ticket turnstiles in the stations, you must still have a valid ticket to ride these trains. Train often randomly come check tickets and there is a big fine for not riding with a valid ticket.
Ferry
Most visitors more than likely won't need to use the ferry to get around but there are six lines that will take you different stops along the water. That said, Ferry 61 offers some great views of the city for the cost of a single ticket. It's a good sightseeing option for travelers on a budget.
Bus
Most visitors won't use the bus but Hamburg has an extensive bus network with frequent service. Buses run 24/7. We suggest downloading a bus route app or use Google Maps to help you navigate the bus.
---
More Trip Planning Resources
Here are a few other websites you might want to check out as you plan your trip to Hamburg.
---
More Travel Tips From Us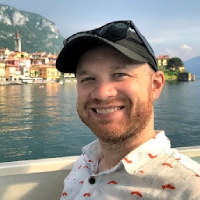 Latest posts by James Feess
(see all)
No Funny Business
The Savvy Backpacker is reader-supported. That means when you buy product/services through links on the site, I may earn an affiliate commission — it doesn't cost you anything extra and it helps support the site.
Thanks For Reading! — James
Questions? Learn more about our Strict Advertising Policy and How To Support Us.