Iceland has exploded in popularity over the past few years but it certainly isn't the most budget-friendly destination in Europe. And, unfortunately, the hostels are some of the most expensive in Europe. That said, all the hostels in Reykjavik are high quality so in this guide we'll help you find the best hostels in Reykjavik for your travel style.
Reykjavik Hostels: Quick Facts
Reykjavik has fewer than ten hostels so you're fairly limited when it comes to choice. Luckily, they're all well-rated (most are also fairly new) so you can't really go wrong with booking any of them. That said, each hostel has its own vibe (which we'll cover further on in this review) so for the best time, we recommend booking a hostel that matches your travel style.
Reykjavik Hostel Prices
Note: Iceland uses the Icelandic Króna but we've converted these prices to USD for simplicity's sake.
During the high season, the average price for a hostel in Reykjavik starts between $40-$65/night. If you don't mind visiting in the winter (which can be a little rough and there isn't much sunlight), you'll find some better hostel prices.
Check Hostelworld to get prices for your exact dates.
More Tips About Hostels in Reykjavik
Book Early For Best Prices: Reykjavik has a fairly small inventory of hostel beds so the best hostels get booked up quickly. If you want to snag the cheapest beds in the best hostels then you'll want to book somewhat early — especially during the busy season.
Dorm Room Bed Configuration: Expect hostel dorm rooms to have anywhere from 4 to 12+ beds. In general, the cheapest beds are in the rooms with the most beds.  
Private Rooms: Most hostels will have a couple of private rooms. These can be for two people (either a single bed or two beds) but some private rooms have three-five beds (for groups traveling together). Private rooms are a little expensive but it's a nice option if you want a little more privacy. 
Female-Only Dorms: Most hostels have at least one female-only dorm room but those get booked quickly as well. 
Hostel Location: Reykjavik is small so location really isn't a concern. 
Look For Extras: Some hostels offer free breakfast, some have self-catering kitchens, some organize walking tours or other events, etc. These little extra things can truly add to the overall experience so keep those in mind when booking.
Check-In Times and Cleaning Times: Most hostels have late check-in times (around 2 p.m. – 4 p.m.) but nearly all will let you store your bags if you arrive before check-in.
New To Hostels? Check out our Guide To Hostels in Europe to learn everything you need to know about finding the perfect hostel.
The Best Hostels in Reykjavik: Our Top Picks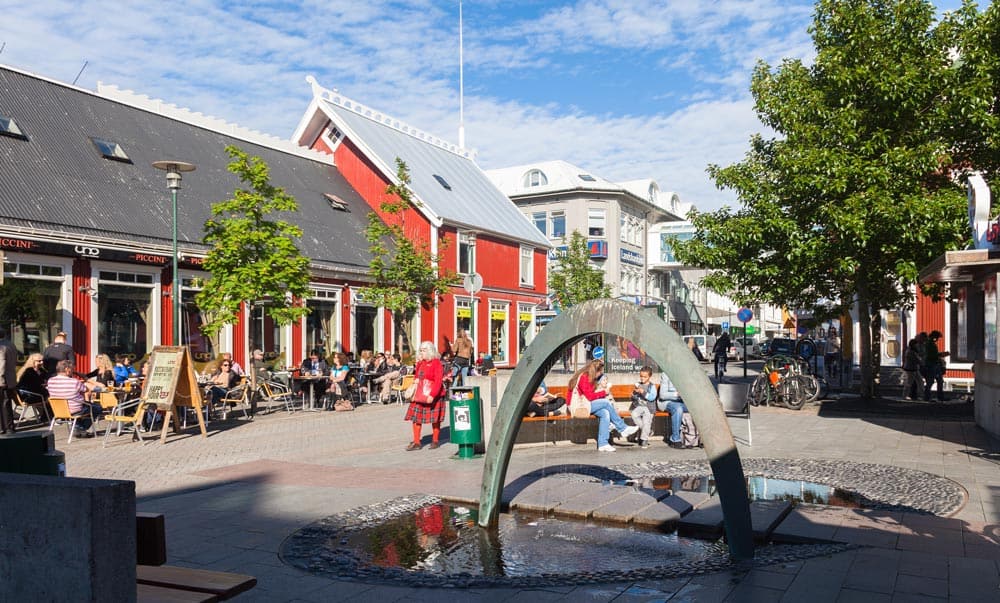 We've stayed in a lot of hostels over the years so we know all the little things that separate bad hostels from good hostels and good hostels from great hostels.
How We Rank Hostels
Overall Quality: We try taking a holistic look at the hostel to see the positives and negatives. Our goal is to find amazing hostels that are still affordable.
Location: We try pointing out if the hostel is located in a cool part of town and how close it is to the city's highlights.
Price: We try to filter out the super expensive hostels to help find the best price to quality ratio.
Vibe/Atmosphere: Every hostel has a personality. Some are party hostels and some are quiet. We try to note the atmosphere so you can find a place to stay that matches your travel style.
Past Guest Reviews: Every guest has a different experience so we look at the good and the bad. We suggest you take a few minutes to read prior reviews.
We encourage you to check out Hostelworld to do a bit of searching for yourself.
Reykjavik – Loft HI Hostel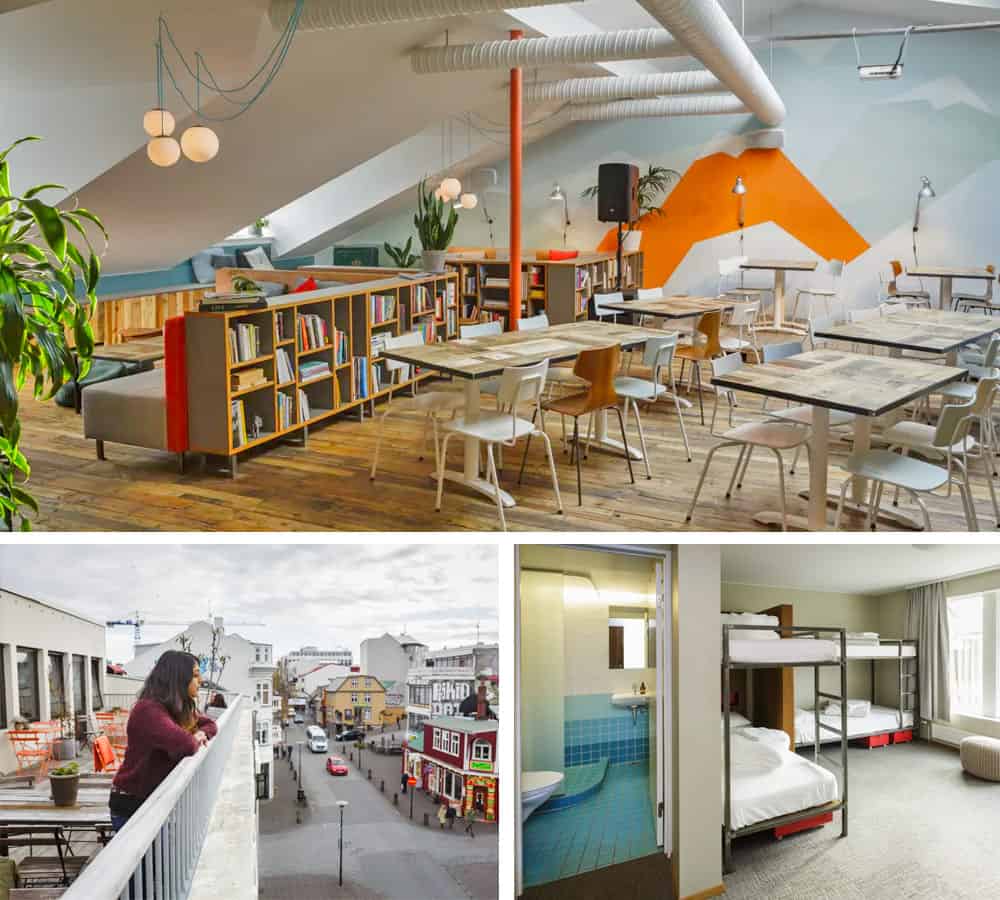 Reykjavik – Loft HI Hostel is a recently-opened hostel and it has been voted the best hostel in Iceland for multiple years in a row. It's located right in the middle of town so it is surrounded by shopping, restaurants, and nightlife. The beds are comfortable, the rooms are spacious, and the friendly staff does a great job of keeping the place clean. The hostel has a bar/rooftop patio that's also popular with locals so solo travelers shouldn't have too much trouble meeting people. Some past guests have made comments that the bar next door can be loud at night so light sleepers might want earplugs.
---
Hlemmur Square Hostel xx
Hlemmur Square is a modern hostel with super comfortable beds but it has a hotel vibe so it isn't the best choice for solo travelers or if you're wanting a social atmosphere. However, there is a bar (with happy hour), chill-out lounges, and two kitchens. The hostel is located in a nice part of town so you're very close to transportation, bars, and attractions.
But best of all, Hlemmur Square is one of the cheapest hostels in town so it's a great choice if you want a clean, quiet, comfortable, and affordable-ish place to stay for a few days.
---
KEX Hostel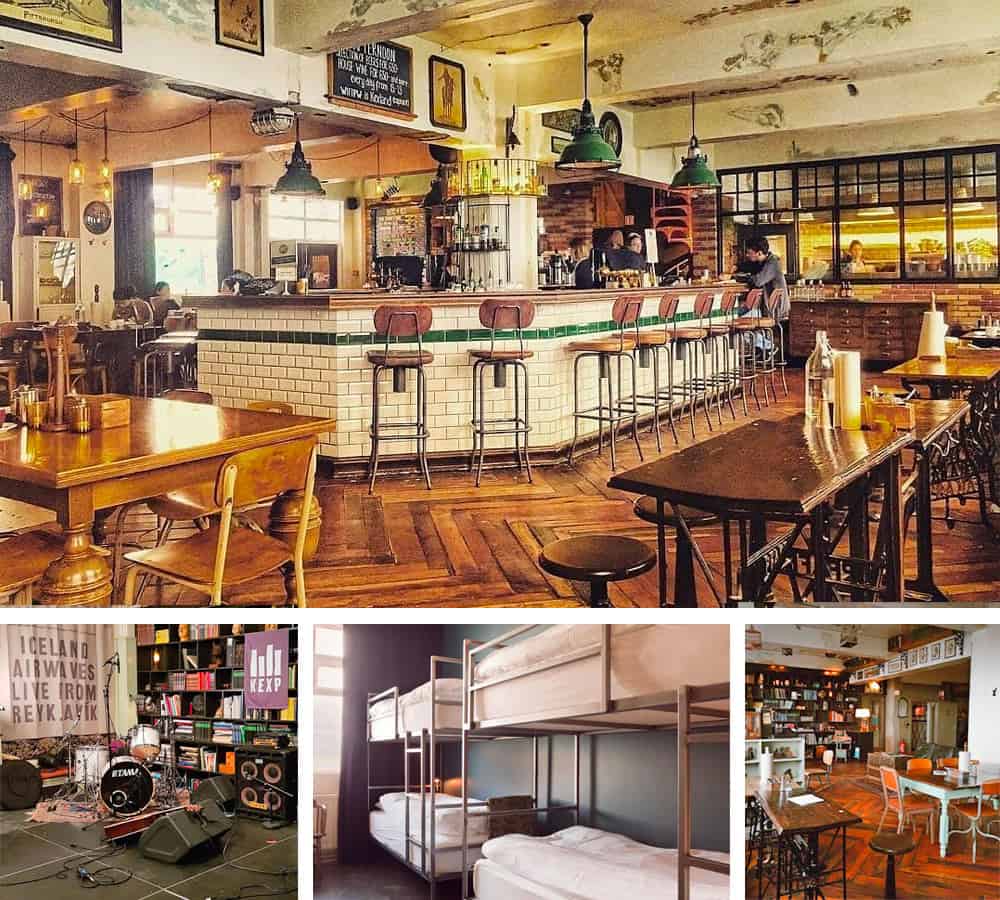 KEX Hostel is a hip hostel with a super cool design aesthetic and a fun and friendly atmosphere. It isn't a party hostel but it is lively thanks to its bar with frequent live bands and other activities (the bar closes at 11 pm so the hostel is quiet at night).
The hostel also overlooks the water and mountains, and it's only a few minutes walk to all the restaurants, museums, bars, and other things in the city center. It also has a large self-catering kitchen so that's a good way to save a little money.
---
Reykjavik Downtown HI Hostel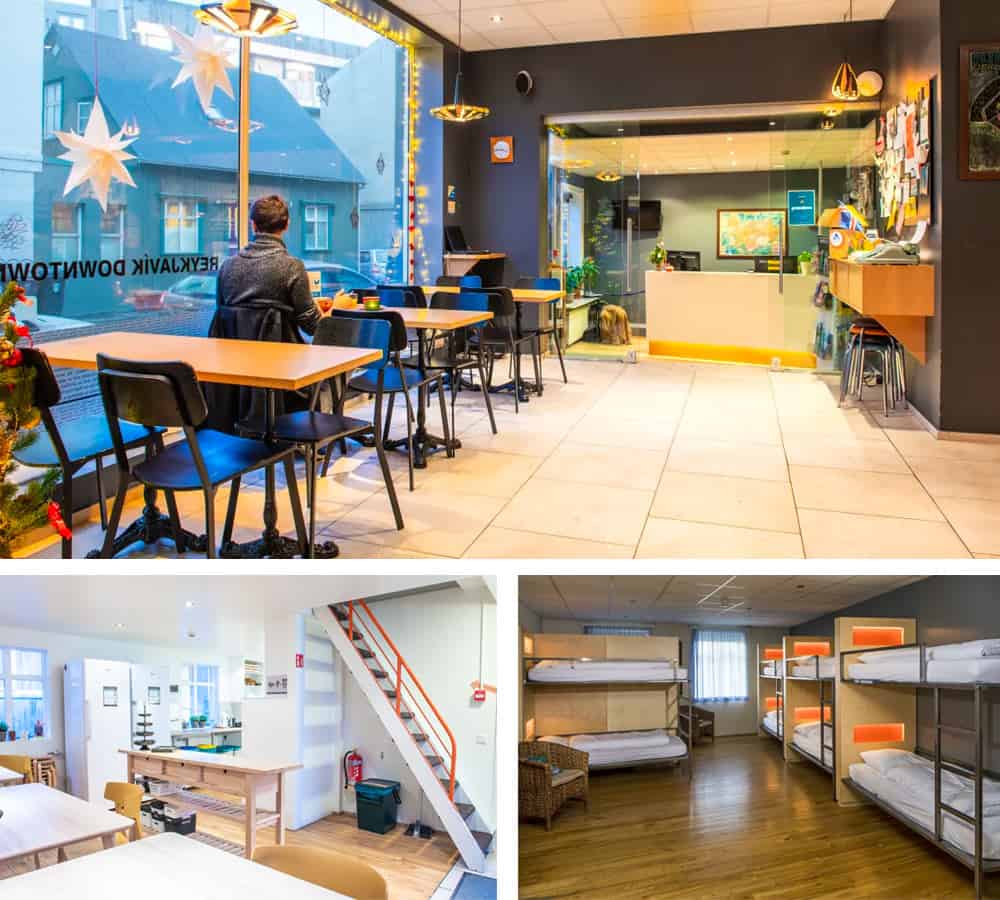 Reykjavik Downtown HI Hostel is the sister hostel of the nearby Loft HI Hostel. The Downtown HI Hostel is a much quieter hostel with a less social atmosphere but you'll probably get a better night's sleep (you're still welcome to visit the bar at the Loft HI Hostel.
The hostel has comfortable beds, the rooms are spacious, and the hostel is kept very clean. They also have a self-catering kitchen so you can make your own meals.
---
Reykjavik City HI Hostel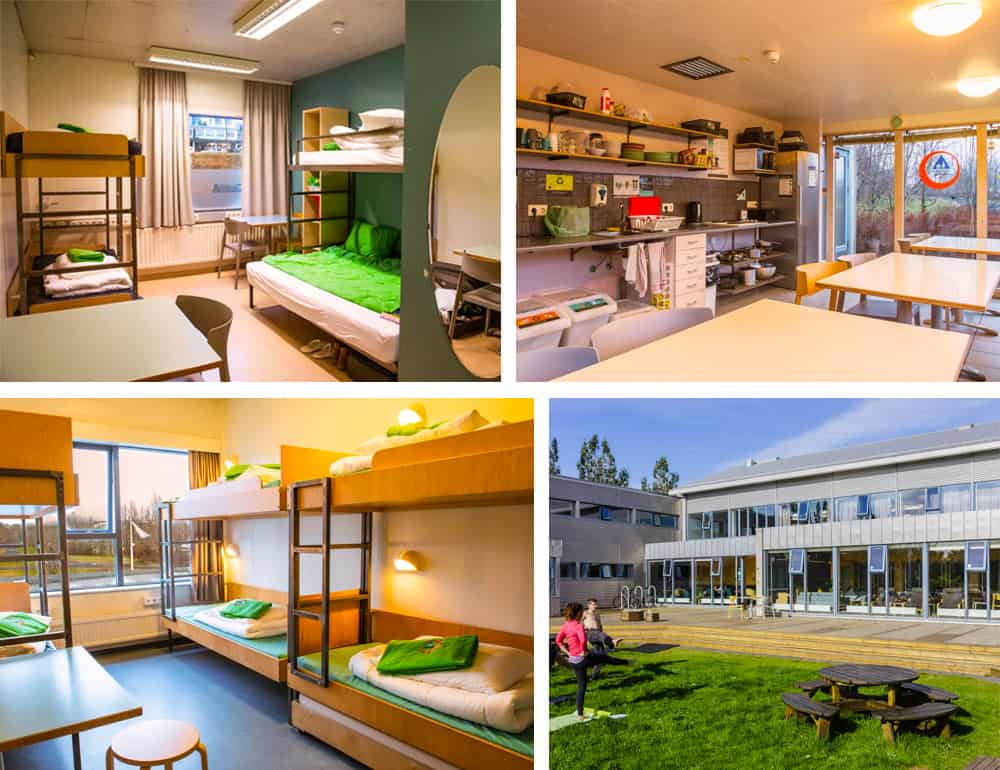 Reykjavik City HI Hostel is located about a 20 to 30-minute walk from the city center so it's not the best place if you're looking to be in the heart of the city. Reykjavik City HI Hostel is a fairly large hostel so it is popular for large groups so it certainly wouldn't be our top choice for meeting other travelers. That said, it is still a clean, comfortable, and spacious hostel that's located near a park and swimming pool.
---
Galaxy Pod Hostel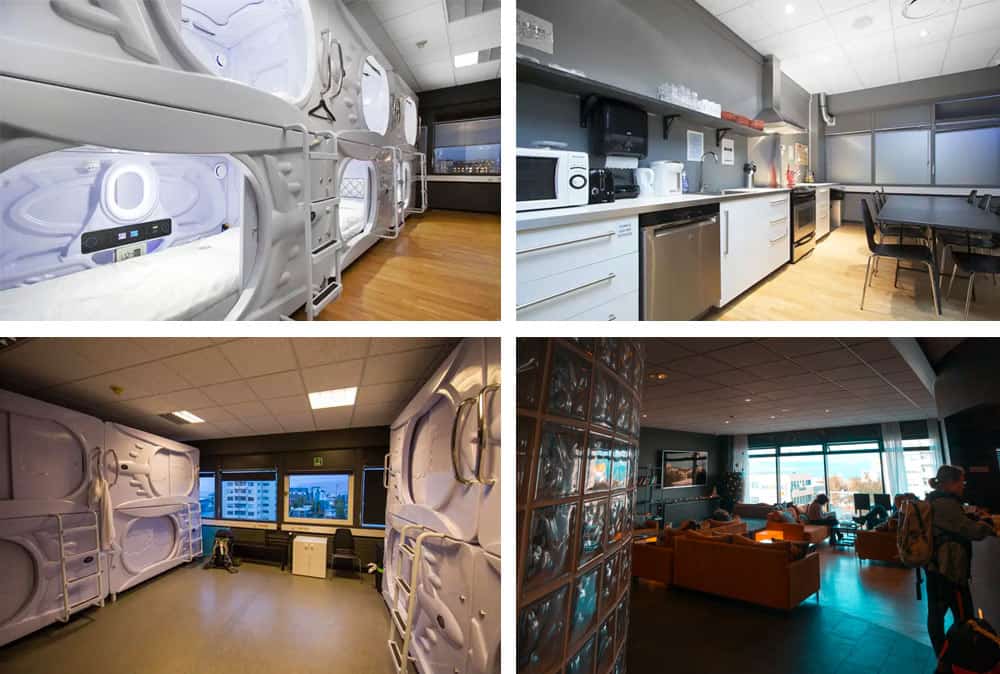 If you've ever wanted to live in a spaceship then you might want to check out the Galaxy Pod Hostel. Their sleeping pods have comfortable mattresses and they provide plenty of privacy. There is a bar, lounge, and self-service kitchen—all of which help keep the hostel's vibe friendly. This hostel is located a bit of a walk from the city center and it is fairly expensive so that's something to consider. 
---
Packing Advice For Hostel Travel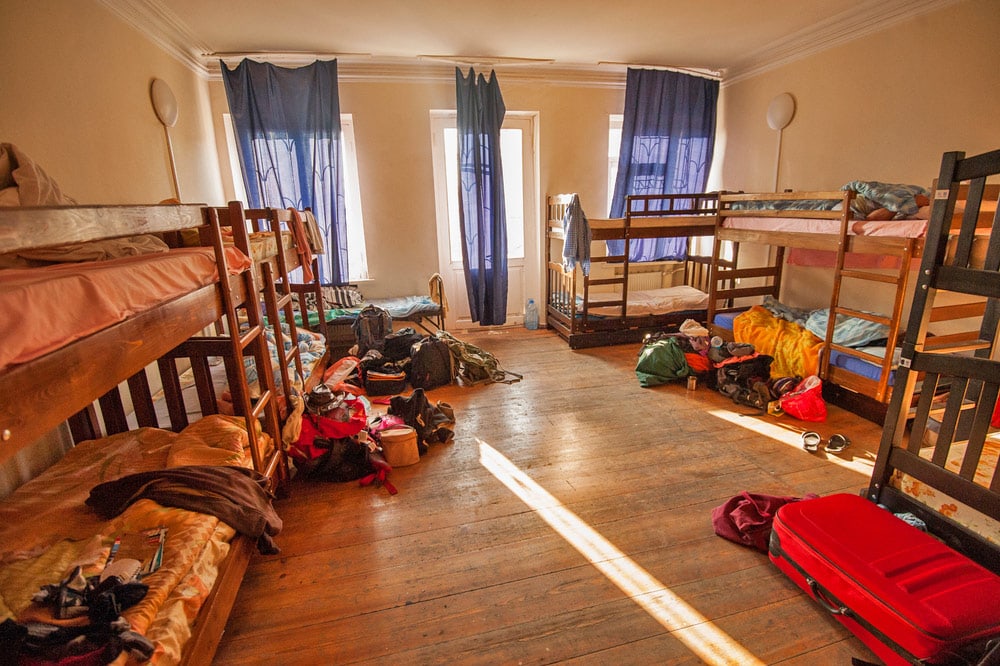 Staying in hostels poses a few unique packing challenges so I'm here to help by recommending a few of my must-have items. Check out my Hostel Packing List for the full list but below are the absolute necessities:
---
More Reykjavik Budget-Travel Tips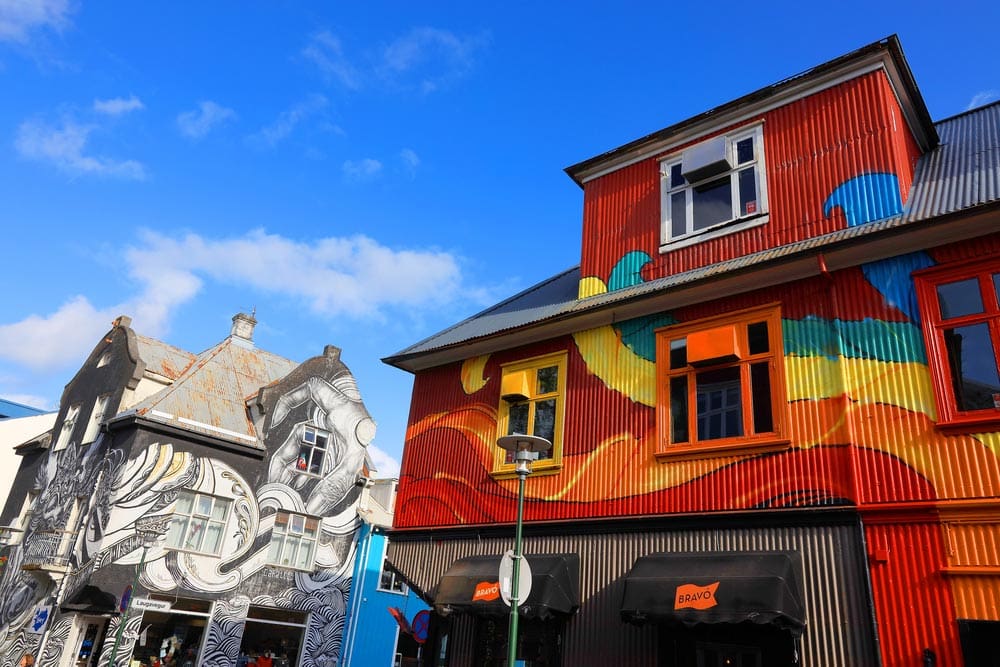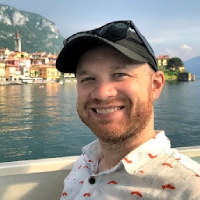 Latest posts by James Feess
(see all)
No Funny Business
The Savvy Backpacker is reader-supported. That means when you buy product/services through links on the site, I may earn an affiliate commission — it doesn't cost you anything extra and it helps support the site.
Thanks For Reading! — James
Questions? Learn more about our Strict Advertising Policy and How To Support Us.