Thanks to its cheap prices and old-world charm, Krakow has become a top destination for budget travelers looking to get a lot of value out of their travel budget. Furthermore, Krakow has some of the best hostels in Europe and they are cheap. And we're always looking for the cream of the crop so in this list we've compiled the best hostels in Krakow based on price, location, amenities, atmosphere, and overall quality.
Quick Info About Krakow Hostels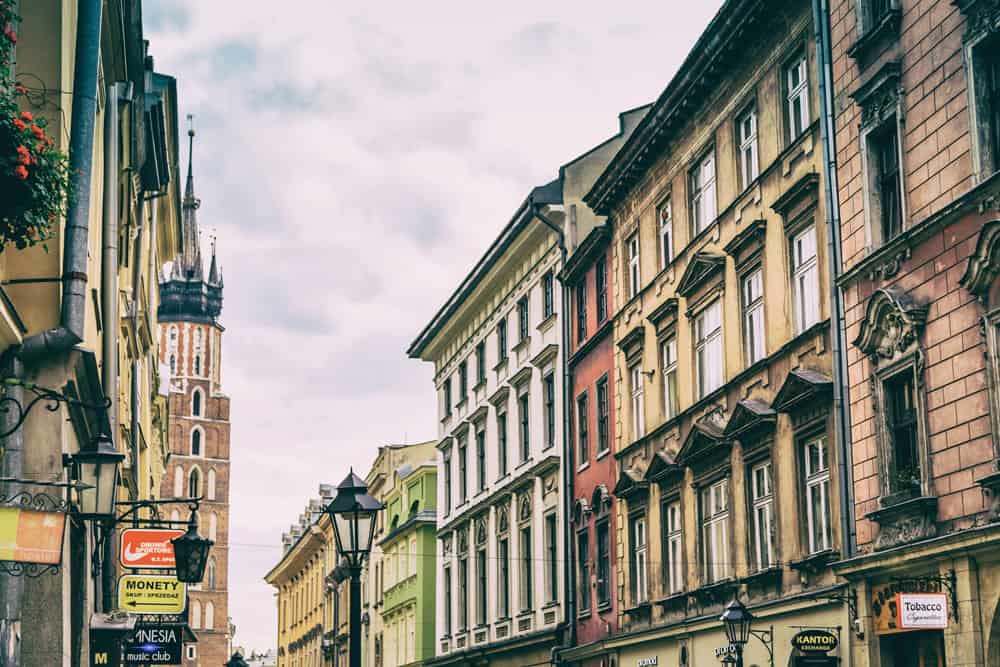 Let's take a quick look at some practical information about hostels in Krakow.
AVERAGE PRICE FOR A BED
Krakow has around 50 hostels and they seem to be adding new ones every year. A bed in a highly-rated hostel will cost anywhere from about $11-$16/night with an average around $14/night. The cheapest hostel you'll find will cost around $7/night but the quality most-likely won't be great.
NOTE: These are "high-season" prices for the cheapest bed option — off-season prices will be 20%-30% cheaper. Also, prices are often a little more expensive on Friday and Saturday nights than on weeknights.
We recommend checking HostelWorld to get exact prices for your dates.
More Krakow Hostel Information
Cheap Beds & Good Hostels Go Early: Hostel prices are fairly standardized but there are a few standout hostels. These tend to get booked up first so you might want to book early during the summer to ensure you get first pick.
Check Location: Most hostels in Krakow are centrally located (Krakow is fairly compact) but there are a few located outside the city. Just be sure to check the hostel's location before booking.
Bed Configuration: Most hostels have multiple bed configurations and that affects the price. For example, a hostel could have one room with 8 beds and another with 4 beds. In general, rooms with more beds are cheaper but you also have to deal with more people in your room.
Private Rooms: Private rooms in hostels can be expensive but they can make sense for groups, families, and couples.
Weekend Rates: Expect to pay an extra on Friday and Saturday nights.
Check-In Times and Cleaning Times: Many hostels have late check-in times (around 2 pm-4 pm) but nearly all will let you store your bags if you arrive before check-in.
New To Hostels? Check out our Hostels 101 Guide to learn everything you need to know about finding the perfect hostel.
---
The Best Hostels in Krakow | Our Top Picks
We've stayed in so many hostels that we've lost count — so we know all the little things that separate good hostels from great hostels. Below you'll see what kinds of things we look at when we rank hostels.
Overall Quality: We take a holistic look at the hostel to see the positives and negatives. Our goal is to find amazing hostels that are still affordable.
Location: Most hostels we list will be centrally located or at least close to public transportation.
Price: We try to filter out the super expensive hostels to help find the best price to quality ratio.
Vibe/Atmosphere: Every hostel has a personality. Some are party hostels and some are quiet. We try to note the atmosphere so you can find a place to stay that matches your travel style.
Past Guest Reviews: Every guest has a different experience so we look at the good and the bad. We suggest you take a few minutes to read prior reviews.
We encourage you to check out Hostelworld to do a bit of searching for yourself.
NOTE: All prices listed below are the cheapest option available during the busy (i.e. expensive) season. Prices will often be 20%+ cheaper during the slower seasons.
Greg & Tom Hostel

Greg & Tom Hostel is the most popular hostel in Krakow and their popularity has spawned several other excellent Greg and Tom hostels throughout Krakow. So what makes Greg and Tom so good? Well, first they offer a free breakfast and dinner every day. They also offer nightly pub crawls. They also don't have any bunk beds — which is a nice (and rare) touch. The staff is awesome. The location is great. The atmosphere is excellent. And they keep the hostel very clean. There is really nothing to not love.
Mosquito Hostel
Mosquito Hostel is another excellent award-winning hostel in Krakow that hard to find any faults with. We'd describe the Mosquito as a hostel with a very lively and welcoming atmosphere without verging on the "party" hostel territory — so you'll make friends but you'll still be able to sleep at night. The staff is super friendly and they do a great job of keeping the place spotless. They offer nightly social activities as well as free breakfast and nightly dinners.
The Little Havana Party Hostel
The Little Havana Party Hostel is, as the name suggest, a place to stay when you want to party. And party you will but sleep well you likely wont (there is a bar/club under the hostel as well). You're guaranteed to meet people — especially on their pub crawls. That said, the hostel is clean, the staff is super friendly, and they serve up a free breakfast to help your hangover. They also have female-only dorms if that's something you're looking for.
Pink Panther's Hostel
Pink Panther's Hostel is another party hostel that receives rave reviews and you're sure to makes lot of friends. Pink Panther is located just steps from Market Square so you're in the heart of everything. We do love that they don't accept bachelor parties since those tend to make the atmosphere of hostels much worse. They have a kitchen and chill out area as well. The staff does a great job of creating a friendly atmosphere with nightly events and they do a good job of keeping the hostel clean.
Greg & Tom Beer House Hostel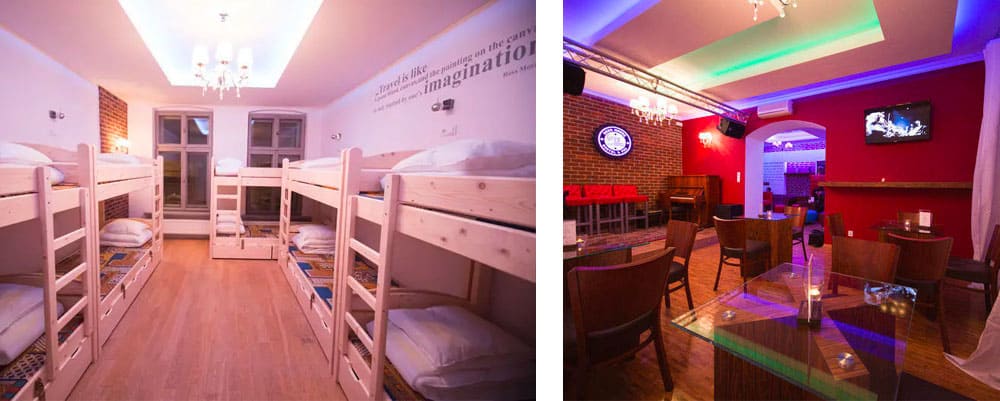 Greg & Tom Beer House Hostel is called the "beer hour" because they serve free beer every night in their pub — nice! Their restaurant has a free nightly buffet dinner, free breakfast, a club crawl, free walking tour, and more nightly events. You're just about guaranteed to have a good time at this hostel. The Beer House if located in the Old Town so you're in the heart of everything.
Greg & Tom Party Hostel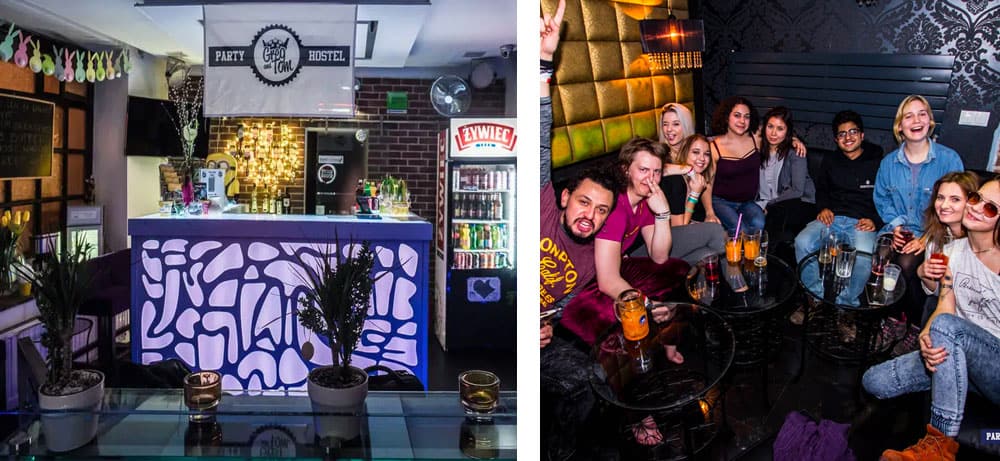 Greg & Tom Party Hostel is another excellent party hostel (there seems to be a theme here…) in Krakow that you might want to check out if you're down to party. They have a free breakfast and dinner every day and a pub crawl every night. The atmosphere is great and friendly so it's an excellent place to meet your fellow travelers. The staff is welcoming and they keep the place clean. Again, this is a party hostel so this isn't the place to stay if you're a light sleeper.
Let's Rock Hostel

Let's Rock Hostel is yet another party hostel and they have frequent vodka tastings and sangria nights as well as an on-site bar and beer garden. They also have nightly pub crawls and karaoke… so expect a few wild nights. The staff is friendly and the hostel is well-kept. They also offer a free breakfast and the location can't be beat so Let's Rock is a great place to spend a few nights.
Woodpecker Hostel
If you're looking for a great hostel that isn't a party hostel then you might want to check out Woodpecker Hostel. Woodpecker is a fairly new hostel so everything is nice and modern. But don't think this is a boring hostel — it's welcoming and is a great place to relax and meet fellow travelers. Woodpecker receives excellent receives for location, staff, cleanliness, and atmosphere.
Dizzy Daisy Downtown Hostel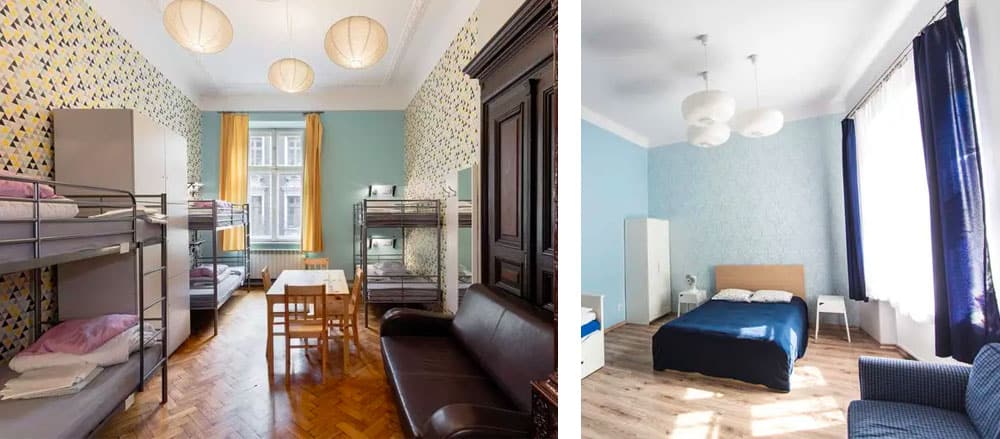 Dizzy Daisy Downtown Hostel is one of the oldest hostels in Krakow and it is housed in one the city's historical buildings. This is another non-party hostel but it still has a fun and welcoming atmosphere. The staff is friendly and the hostel is less than a 10 minute walk to the main square. This hostel is mostly private rooms so it's a good choice if you're traveling with a group or for families, but they also have two dorm rooms as well.
No Funny Business
The Savvy Backpacker is reader-supported. That means when you buy product/services through links on the site, I may earn an affiliate commission — it doesn't cost you anything extra and it helps support the site.
Thanks For Reading! — James
Questions? Learn more about our Strict Advertising Policy and How To Support Us.