Lisbon is a beautiful, hilly coastal city famous for its pastel buildings, café culture, and Fado music. It's also very friendly on the wallet when compared to other Western European cities — food and lodging are both priced reasonably and attractions are about average. But hurry because Lisbon is becoming much more popular so prices are starting to rise.
In this Lisbon travel price guide, we'll outline the estimated travel expenses for food, accommodation, attractions, alcohol, and other common costs to help you budget your trip to Lisbon.
This article is part of our City Price Guide Series — Click here to see all our city price guides.
Average Daily Costs To Visit Lisbon
For budget-minded travelers, it costs around €30-€55/day to visit Lisbon. These prices are based on what you'll need to visit the city comfortably as a budget traveler. If you want to upgrade your accommodations, add another €50-€100/night depending on your stay. These prices also don't include things like big nights out at the bar/pub, club entry fees, souvenir/clothing shopping, tours, random purchases, nicer food, etc.
Daily Cost of Budget Travel in Lisbon: €47 (Approx. $57)
Attractions: €7 (one paid attraction + any free sights)
Food: €21

Breakfast: €3
Lunch: €5
Dinner: €11
Treat (dessert/beer/wine): €2

Transportation: €1
Accommodation (Hostel): €19
Daily Cost of Frugal Travel in Lisbon: €30 (Approx. $27)
Attractions: €5 (free walking tour + visit one of the free sights)
Food: €13

Breakfast: €0 (free hostel breakfast)
Lunch: €3.5 (street food or takeaway shop fare)
Dinner: €8 (make your own meal in the hostel or grab something cheap)
Beer: €1 (chill out at the park and have a cold one)

Transportation: €0 (walk)
Accommodation (Cheap Hostel): €12
---
Lisbon Attraction and Museum Prices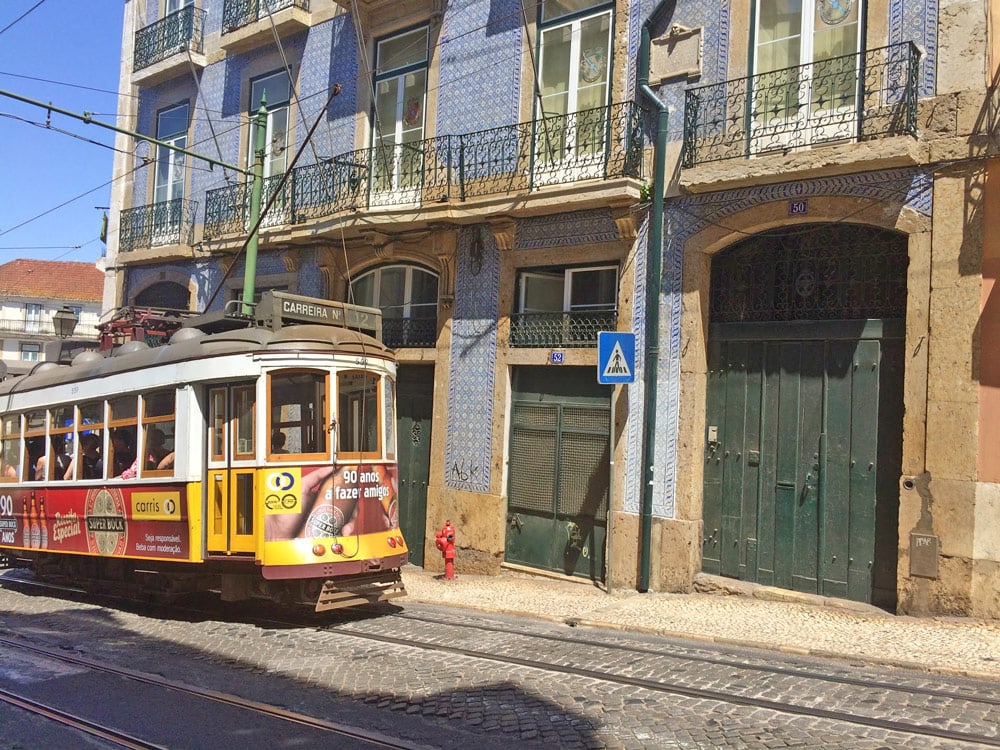 Lisbon's attractions are affordable (many are free) so you won't break the bank if you want to see a few things. Of course, the city is beautiful, so you'd be perfectly happy just walking around.
Museu Sao Roque: €2.50
Castelo de São Jorge: €8.50
Museu Colecao Berardo: Free
Torre de Belem: €6
Oceanario de Lisboa: €14-17
Museu Calouste Gulbenkian: €5
The LX Factory: Free (a repurposed textile factory that houses small cafés and eateries, art galleries, and shops)
Walking Tours: Free – €22
Lisbon's location on the coast makes it perfect for cycling tours (€30-€33) or surfing classes (€75/half-day).
---
Lisbon Food Prices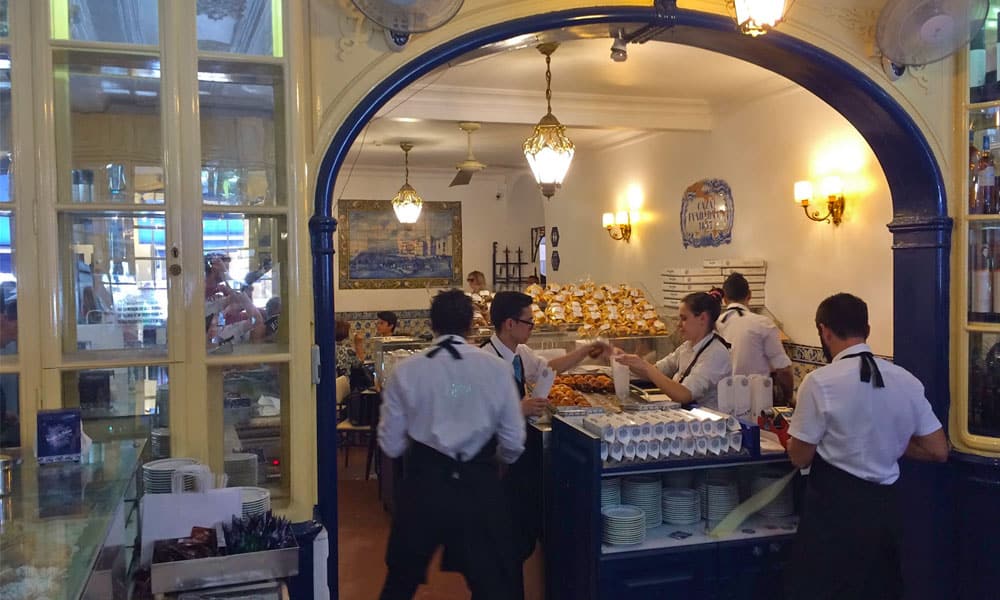 Food is actually affordable in Lisbon so eating on a budget won't be too much of a challenge. Lisbon's cuisine heavily incorporates seafood. Bacalhau (salted cod) is the Portuguese national dish and is used for scores of traditional recipes, including stew, stir-fry, and egg dishes. Read more of our strategies for Eating and Drinking in Europe on a Budget.
Budget Breakfast Prices in Lisbon: €2-€6
Many hostels will offer a free simple breakfast that normally consists of cereal, bread/croissant, and maybe milk, coffee, tea, or juice (some hostels will offer more and some less). Hotel breakfasts tend to be overpriced, so skip those in most cases.
Pasteis de Nata, a kind of custard tart, is ubiquitous – and best found at Pasteis de Belem, the original bakery to create it: €1.5-€2, another €1 for coffee.
A full breakfast runs €3.50-€5.
Torrada (traditional breakfast toast) to accompany coffee runs about €2.
Some Budget-Friendly Breakfast Places
Budget Lunch Prices in Lisbon: €3.50-€9
Super budget travelers can make a super cheap lunch of bread, cheese, and fruit from any grocery store for a few euros.
Takeaway from a kebab stand (or similar): €3.50
A local favorite, bacalhau a bras (shredded cod with onion and potatoes, a traditional Portuguese dish): €5.50-€8
Pizza or fast food: €4.50-€6.50
Pao Pao, Quijo Quijo, another local favorite for a takeaway cheap lunch: €3-5
Budget Dinner Prices in Lisbon: €6-€17
Pretty much all the options from the 'Budget Lunch' section above will also apply for dinner.
Ethnic and vegetarian fare range from €5-8 for generous portions.
Chicken Piri-Piri, a common traditional Portuguese dish, runs €8-€15 for a full dinner entrée.
Caldeirada (seafood, fish, vegetable stew) another national dish costs around €7-9.
A Few Budget-Friendly Lunch and Dinner Places:
Drinks and Alcohol Prices in Lisbon:
Beer at a bar or restaurant: €1.50-€3
Beer at a grocery runs about €1.10
A bottle of wine is around €4.50
---
Lisbon Transportation Prices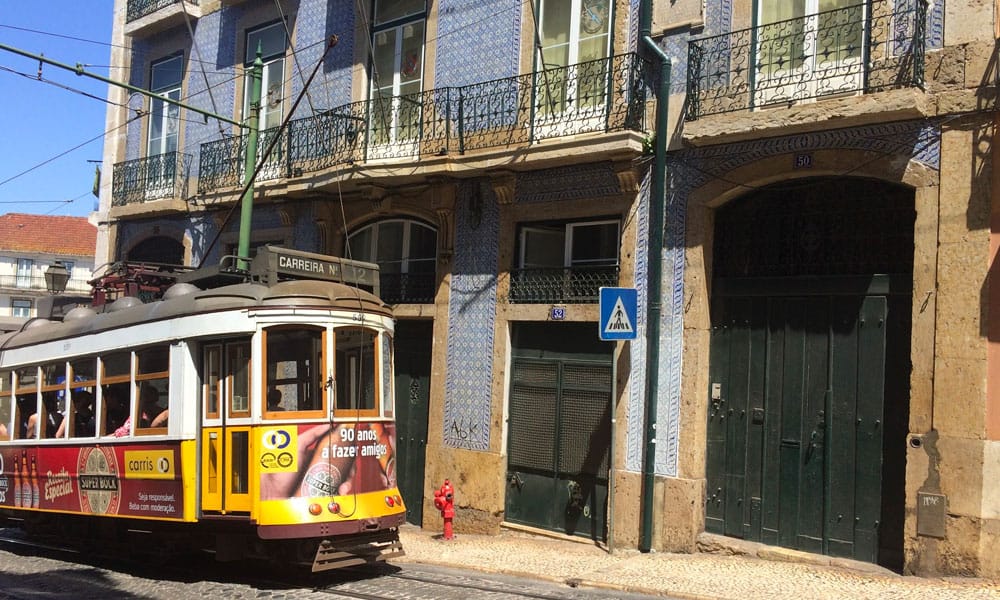 Lisbon's public transit system, CARRIS, includes buses, funiculars, and trams. The Lisbon Metro is separately maintained, but transit tickets allow access to both CARRIS and the metro with the Viva viagem card. Zapping cards allow access to multiple transit systems by storing money on the transit card. Transit fares are deducted from the card's value when used.
Visitors to Lisbon can also purchase the LisboaCard, which offers unlimited access to the transit system and to numerous museums and attractions throughout the city. LisboaCards are available in 24/48/72 hour denominations (€18.50/€31.50/€39).
Single fare:
One-time Viva viagem card purchase: €0.50
1 CARRIS/metro fare: €1.40
24-hour CARRIS/metro fare: €6
Zapping cards:
1 bus fare (1-hour): €1.25
1 Metro fare (entire network/one journey): €1.25
1 train fare (Lisbon suburban network/2-hours): €1.80
1 ferry transport (river connections on the south bank, one journey): €1.12-€2.65
Airport Transportation:
Airport transport, 1 trip (via CARRIS local bus service or metro): €1.40
Airport transport, 1 trip (via CARRIS AeroBus): €3.50
Taxi from Lisbon city center to Lisbon International Airport: About €15
Bicycle rental from Bikeiberia: €5 (1-hour)/ €10 (4-hours)/ €14 (daily)
---
Lisbon Hostel, Hotel, & Rental Apartment Prices
Hostel Prices in Lisbon: €10-€30/night
You should budget about €15-€25/night per person for a decent hostel — although many hostels raise their prices on the weekend. Remember, these prices are for a bed in a shared dorm room. If you want a private room, expect to pay €40-€85 total (for two people).
Here are a few of the best hostels in Lisbon:
Check out the latest Lisbon hostel prices for your dates at Hostelworld.
BUDGET HOTEL PRICES IN LISBON: €45-€120+/NIGHT
A decent budget hotel that is in the city center will cost around €75/night. You can find cheaper hotels if you want to stay farther away from the center of the city or if you don't mind staying in a junky place.
We suggest checking out Booking.com to see hotel prices for your dates since they're always changing.
RENTAL APARTMENT PRICES IN LISBON: €40-€100/NIGHT
Lisbon has a healthy inventory of rental apartments throughout the city. They can be a good option for large groups or travelers who want a little more space (and a kitchen). On the other hand, you may also have to deal with inconvenient check-in processes and things like extra cleaning fees and service charges. For short stays, we prefer hotels/hostels but rental apartments can be a nice option for longer stays. Be sure to check out the vibe of the neighborhood as some can be very lively (i.e. loud) at night. Airbnb is always popular but you can sometimes find cheaper/better options on our list of Airbnb Alternatives.
---
LEARN MORE ABOUT THE COST TO VISIT EUROPE
Check out our guide on How Much It Costs To Backpack Europe to learn more about budgeting your entire trip (including many more city price guides).
Be sure to check out our Lisbon Travel Guide to learn more about visiting Lisbon.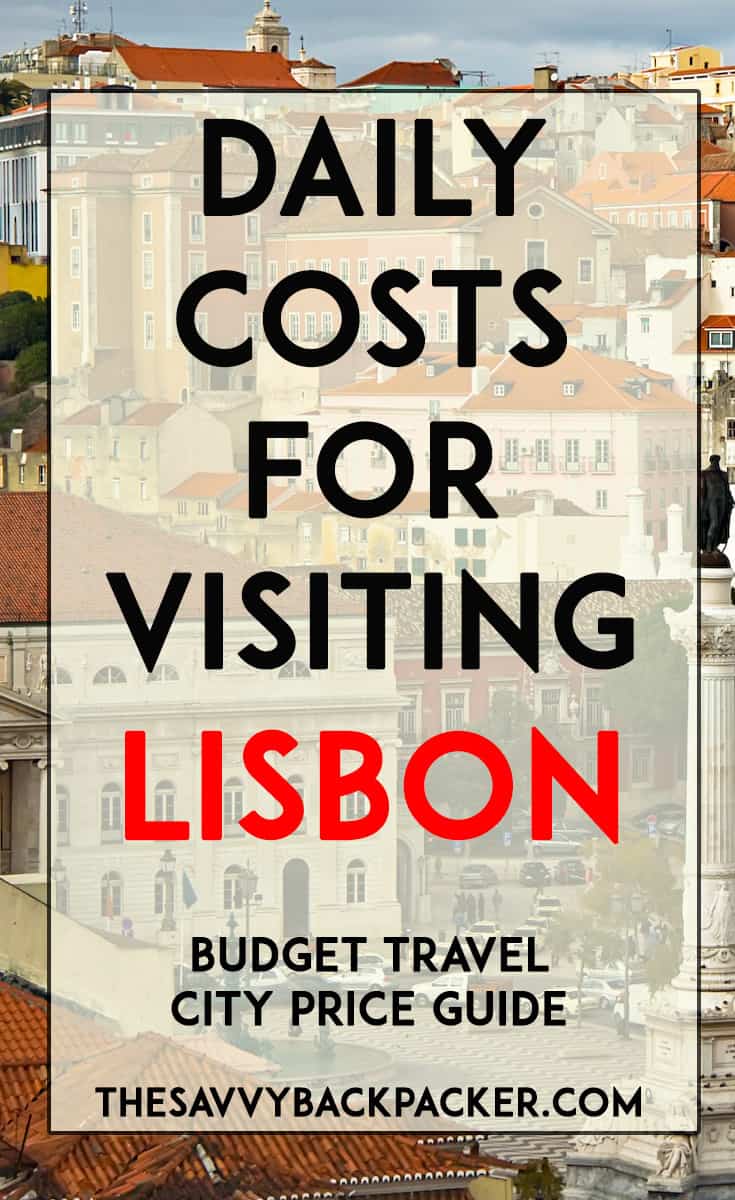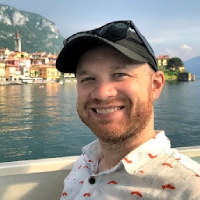 Latest posts by James Feess
(see all)
No Funny Business
The Savvy Backpacker is reader-supported. That means when you buy product/services through links on the site, I may earn an affiliate commission — it doesn't cost you anything extra and it helps support the site.
Thanks For Reading! — James
Questions? Learn more about our Strict Advertising Policy and How To Support Us.