It might be a little difficult to visit London on a budget but there are plenty of great ways to save money in London. In fact, there are actually plenty of free things in London so mixing free/cheap attractions with the more expensive paid attractions is a great way to spend less on your visit.
So, to help you stretch your London travel budget further, we've enlisted the help of some locals to share their favorite affordable restaurants, pubs, neighborhoods, shops, sights, and other attractions perfect for backpackers and other budget-savvy travelers.
---
Estimating Your Daily Costs For Visiting London on A Budget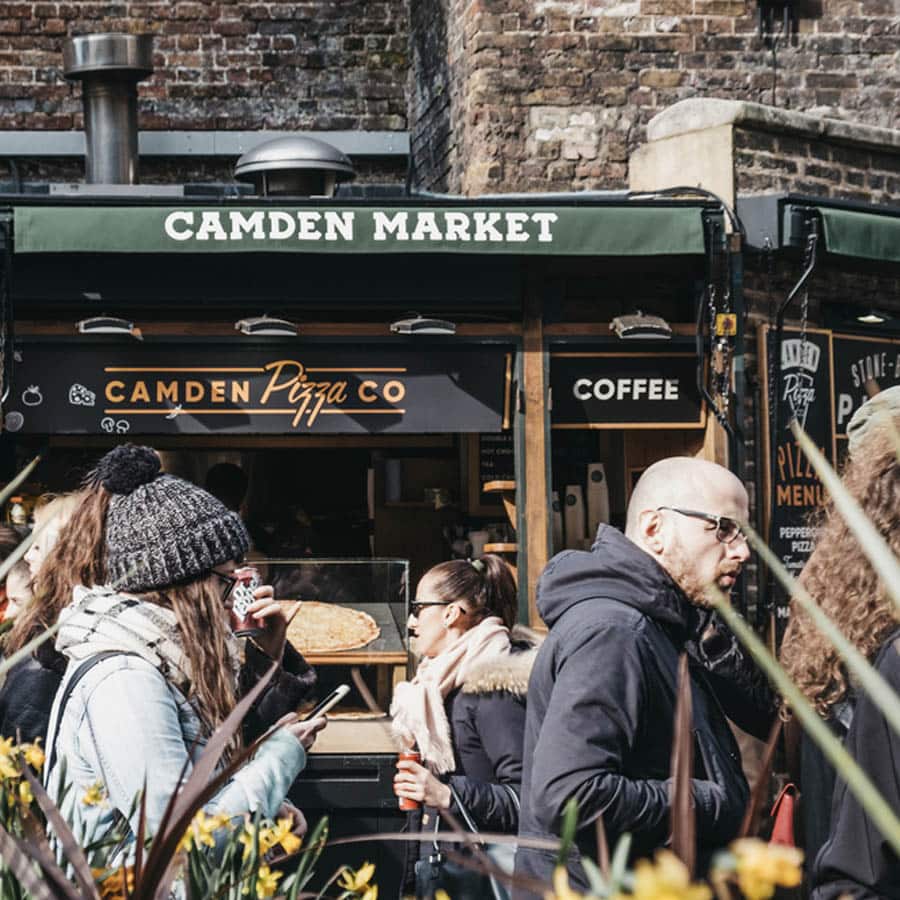 First, let's take a look at some ballpark costs to see how much it costs to visit London for an average budget-traveler.
I'll take a much deeper dive into London budget travel costs throughout this article but I wanted to provide a quick overview to get started. You can also check out my London Price Guide.
Budget-Friendly London Hotel, Hostel, and Rental Apartment Prices

Hostel Prices: £25-£55/night (for the cheapest option)
Budget Hotel Prices: €80-€120/night
Rental Apartment Prices: €150-€250/night (for an entire centrally-located studio/1br apartment)

Budget-Friendly Food and Meal Prices

Budget Breakfast: £3-£5
Budget Lunch: £6-£10
Budget Dinner: £10-£15
Treat (dessert/beer/wine): £3.50-£6

Cultural Attraction Prices

Most Museums: Free
Paid Sights: £20-£30

Public Transportation

London Tube Ride: £2.40 (w/ Oyster card)
London City Bus Ride: £1.50
Santander Cycle City Bike: £2 (30-min ride)
Pick Up an Oyster Card For The Tube & Bus
The London Underground (subway) is the fastest way to travel around London but it is expensive — especially if you buy single tickets. You'll get the best fares when you use the official Oyster Card metro card.
Another benefit to using the Oyster Card is that there is a daily cap (around £8.50) so once you hit that amount you won't pay extra for the remainder of your rides that day.
---
Cheap Things To Do In London
London is a bit of an oddity when it comes to sightseeing — the main museums are free but everything else is very expensive.
Take A Free Walking Tour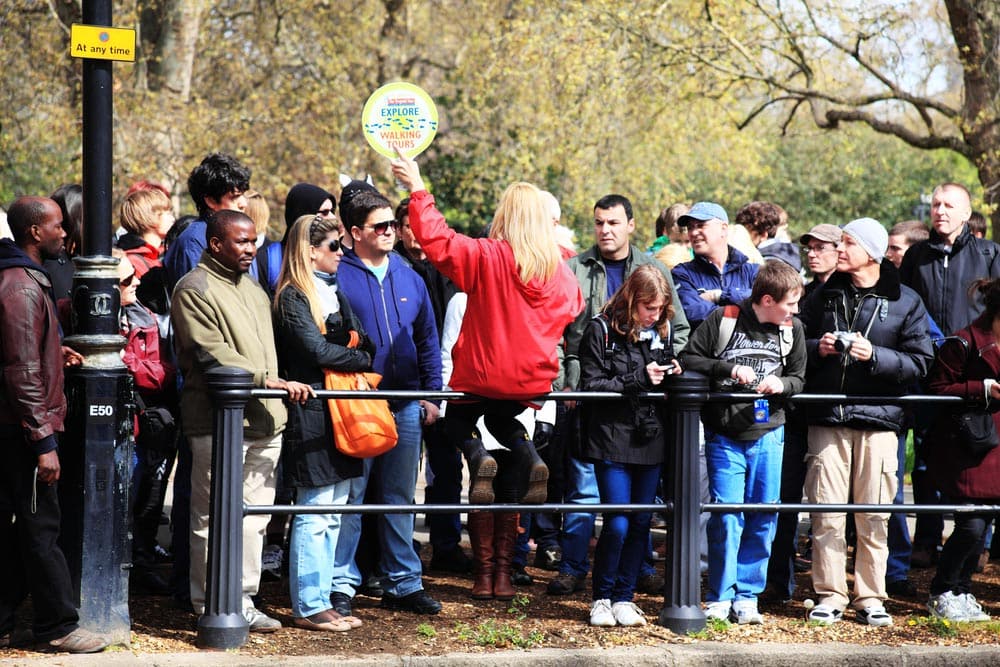 One of the things I do when I arrive in a new city is to take a free walking tour — it truly helps me get a feel for the city and the local guides usually have some good tips on places to eat and drink.
These tours are often led by university students and the tours tend to be fun/casual and general in their subject matter. Note: These guides work on tips so they're not "free" but they're cheap.
Furthermore, most of these walking tours start in the morning so it's a good excuse to get up and going.
London Walks (www.walks.com) isn't free but their highly recommended tours cost £15.
---
Take A Self-Guided Audio Walking Tour
I've always been a huge fan of Rick Steves and his travel videos, but he's also put out some excellent self-guided audio walking tours — and they're all completely free. He has a few different tours for London that cover many of the most-visited areas/sights.
---
Buy A Quality Guidebook
Yes, I still like traveling with a guidebook as it gives you a ton of helpful information at your fingertips. Most guidebooks come with travel itineraries, self-guided walking tours, and budget dining suggestions so guidebooks end up paying for themselves very quickly.
My favorite guidebooks are Lonely Planet and Rick Steves since they both focus on budget travel. That said, Amazon has a ton of London guidebooks that focus on multiple types of travel.
---
See A Lot (And Save) With The London Pass
A lot of travelers end up saving a bit of cash (and time waiting in the ticket lines) with the London Pass as it includes a lot of the most popular tourist attractions — notably the Tower of London, Westminster Abbey, St. Paul's Cathedral, Windsor Castle, View From The Shard Skyscraper, and Shakespeare's Globe Theatre Tour.
I've written up a more in-depth London Pass review to see if it's a good option for your visit.
There is also the newly released London Explorer Pass which might work for some travelers.
---
Enjoy Cheap Sightseeing Via Public Transport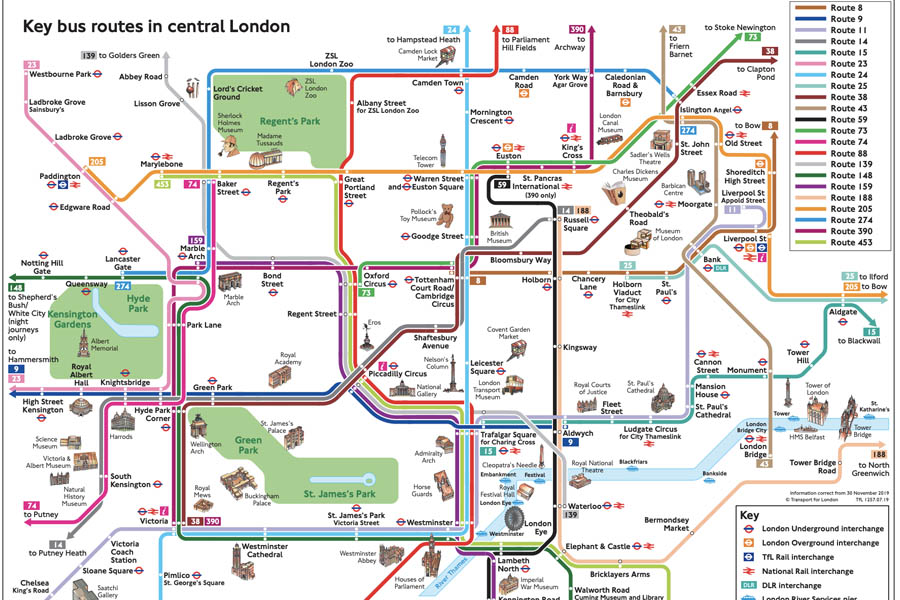 Tourist open-top buses and river cruises are a great way of seeing a city but they're expensive. Luckily, London has a few bus routes and a public ferry that will give you a decent look at popular parts of London at a cheap price.
Here's a link to the popular London Public Bus Routes PDF from above.
Route 11: The section between Liverpool Street Station and Victoria Station hits many of the city's sights like the City of London, St. Paul's Cathedral, Trafalgar Square, Westminster Abbey, and the Houses of Parliament.
Route 15: This is a great route for tourists as it passes Tower Bridge, the Tower of London, St Paul's, Blackfriar's Bridge, Fleet Street, Waterloo Bridge, the Strand, and Trafalgar Square
Route 9: You'll go by Royal Albert Hall, Hyde Park, Piccadilly, St. James's Palace, and Trafalgar Square.
The Thames Clipper is London's public water ferry that runs along the Thames.
---
Visit One Of the Free London Museums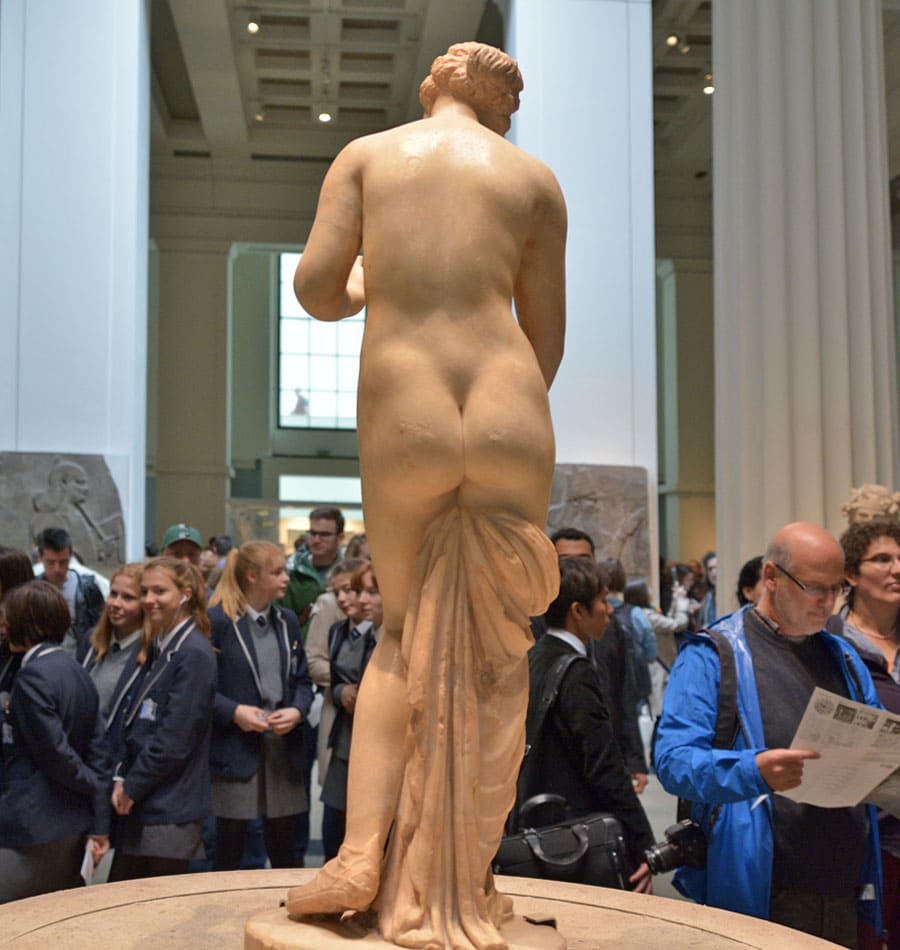 Below are London's best free museums but here's a list of all 26 free museums in London.
BRITISH MUSEUM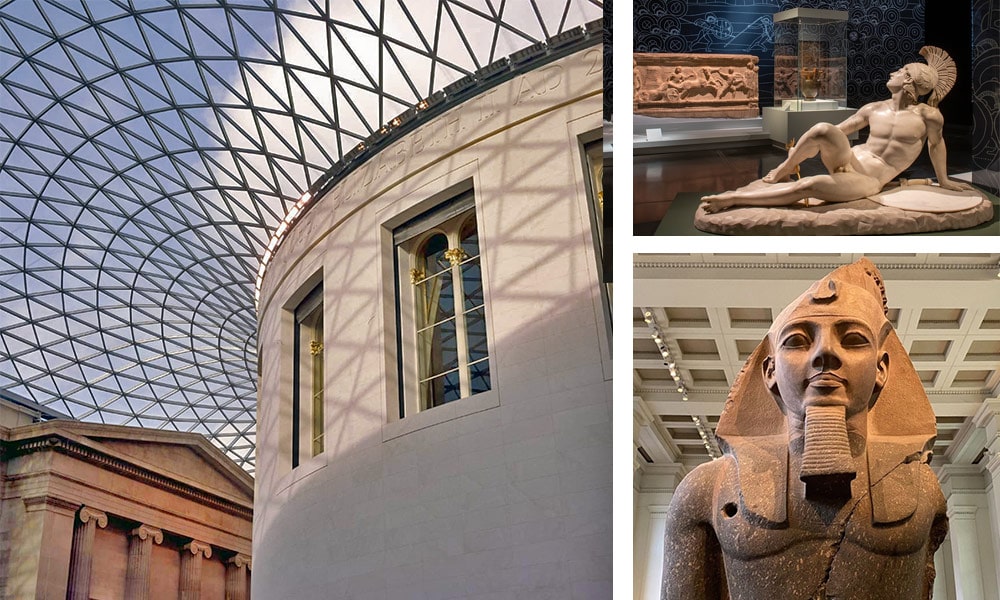 Opened in 1759, the British Museum is dedicated to two million years of human history, art, and culture — including Egyptian mummies and the Rosetta Stone. Its collection contains over eight million works so it's easily one of the largest collections in existence. It's also the most-visited attraction in Europe.
Naturally, like all museums this large, you might want to pick a few sections that interest you instead of trying to see everything. The museum also offers multiple free daily tours that focus on individual sections and last around 30 minutes.
TATE MODERN ART MUSEUM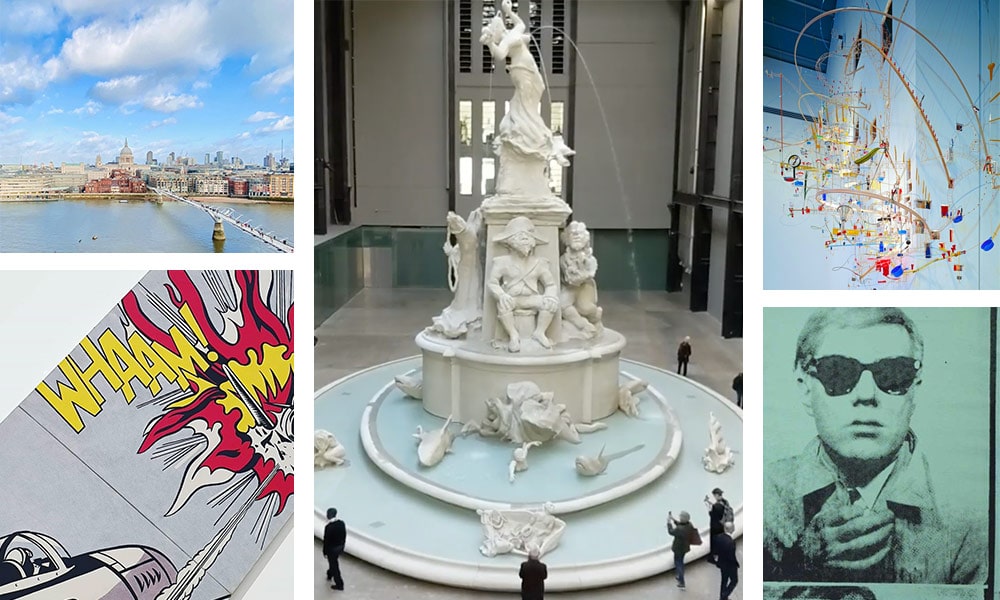 One of the world's best museums for international and modern contemporary art. The Tate Modern, which is built in a former powerplant, has more than 50,000 pieces in its collection. You can also get excellent city views from its viewing platform.
Admission: FREE
Temporary Exhibition: £13–£22
NATIONAL GALLERY
The National Gallery has one of the greatest collections of paintings in the world. The museum's 2000 works date from the mid-13th century to 1900 — with the main focus on European paintings with works from masters like Van Gogh, Rembrandt, Botticelli, and more.
SAATCHI GALLERY
This private collection of businessman/advertising giant Charles Saatchi. He opened his gallery in 1985 to show his extensive collection of contemporary art and it has grown to be one of the largest private collections in the world.
The collection features both up-and-coming and established contemporary artists so there is always something interesting/cutting-edge/bizarre to check out.
NATURAL HISTORY MUSEUM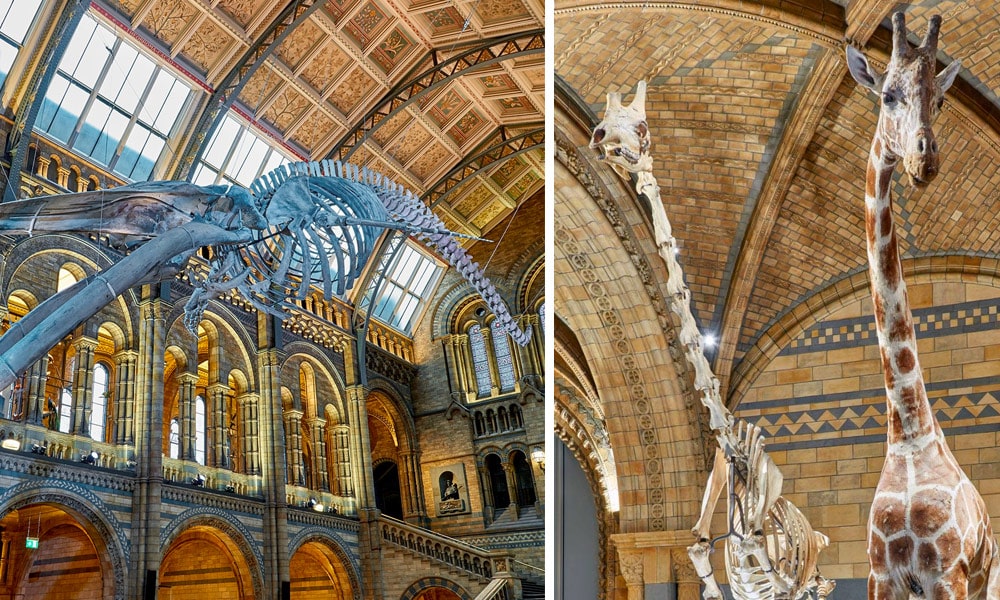 Are you into all aspects of nature? This is the place to visit. The star attraction is the giant whale skeleton and dinosaur gallery but there a plenty of other things to check out. The Natural History Museum is a favorite of children and school groups but it's still fun for adults.
VICTORIA AND ALBERT MUSEUM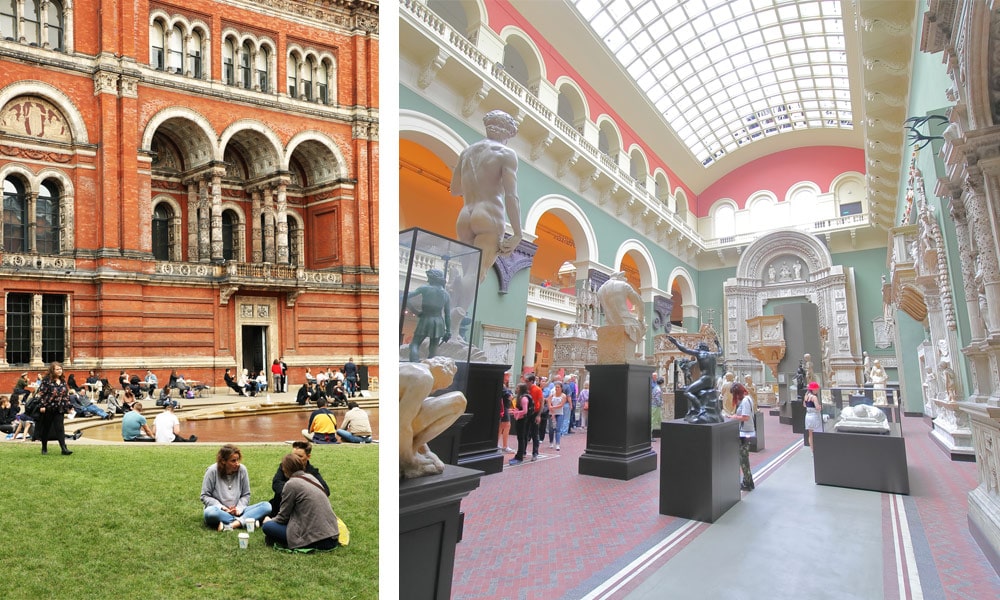 The world's largest museum of decorative arts and design — featuring ceramics, glass, textiles, costumes, silver, ironwork, jewelry, furniture, medieval objects, sculpture, and more from all across the globe.
IMPERIAL WAR MUSEUM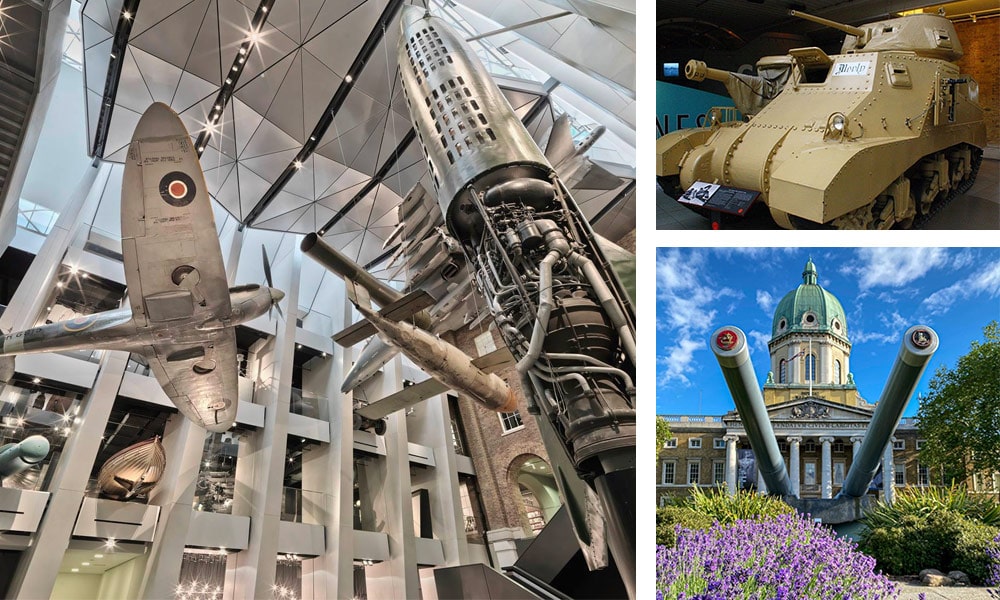 The Imperial War Museum covers war and other conflicts from WWI to the present day but its greatest emphasis is on WWII. The ground floor has tanks, trucks, planes, guns, and a range of other military equipment to explore.
There are also exhibits on the Holocaust, spies, and more.
Photographers' Gallery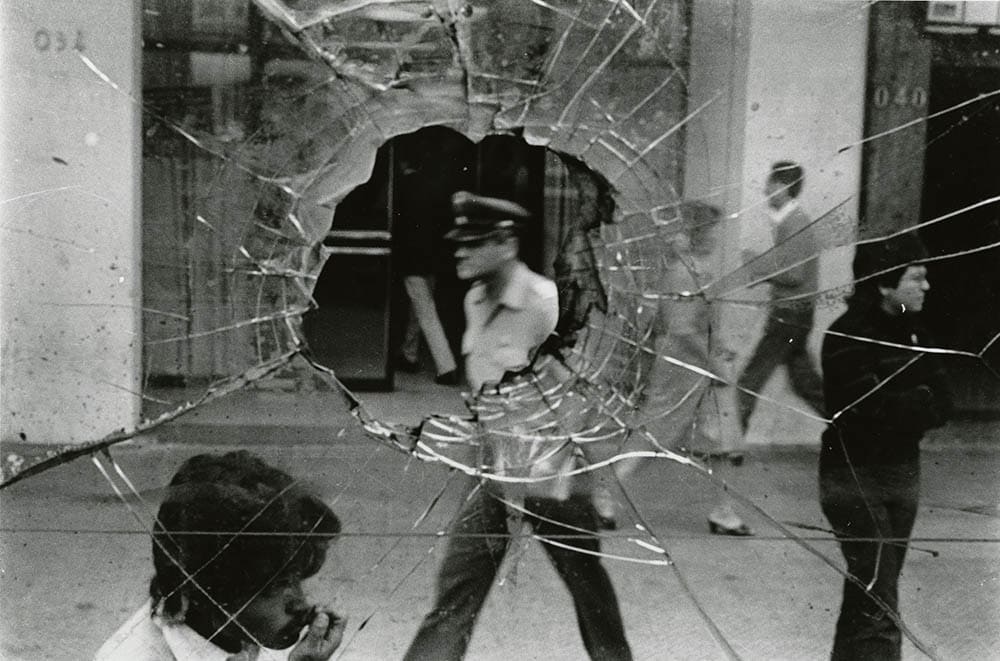 This is the first public gallery in the UK dedicated solely to photography. They put on a series of different exhibitions from international and British photographers.
Tickets are £5 but it's free after 5 pm (it closes at 6 pm) if you want to pop in. Visit Website
Tate Britain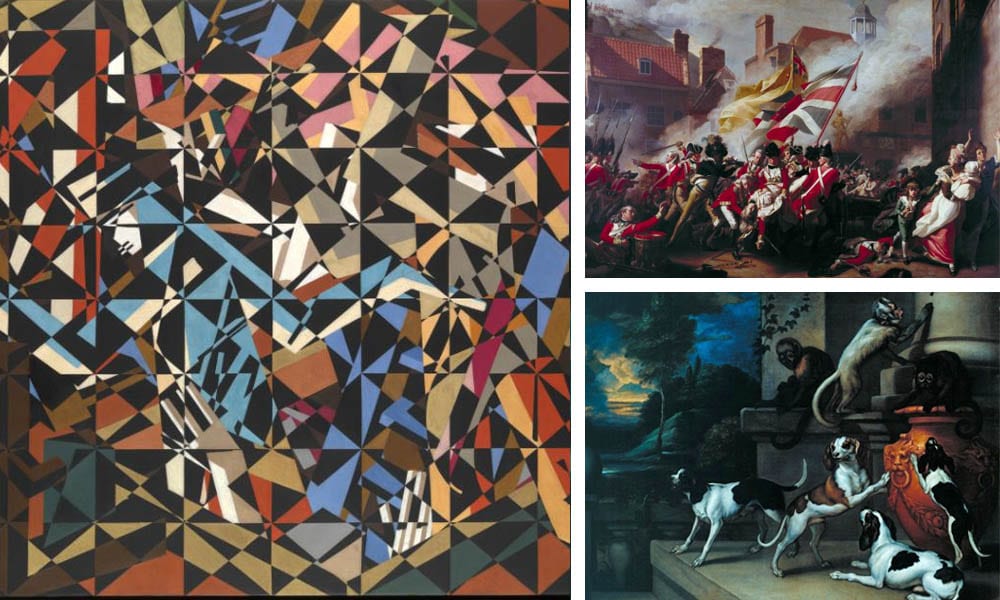 The Tate Britain features British artworks spanning from 1500 to the present day. They offer free tours nearly every hour. Be sure to check out Late at Tate Britain on the first Friday of every month — featuring half-price admission to exhibitions, live music, and performance art.
---
Take In London's Street Art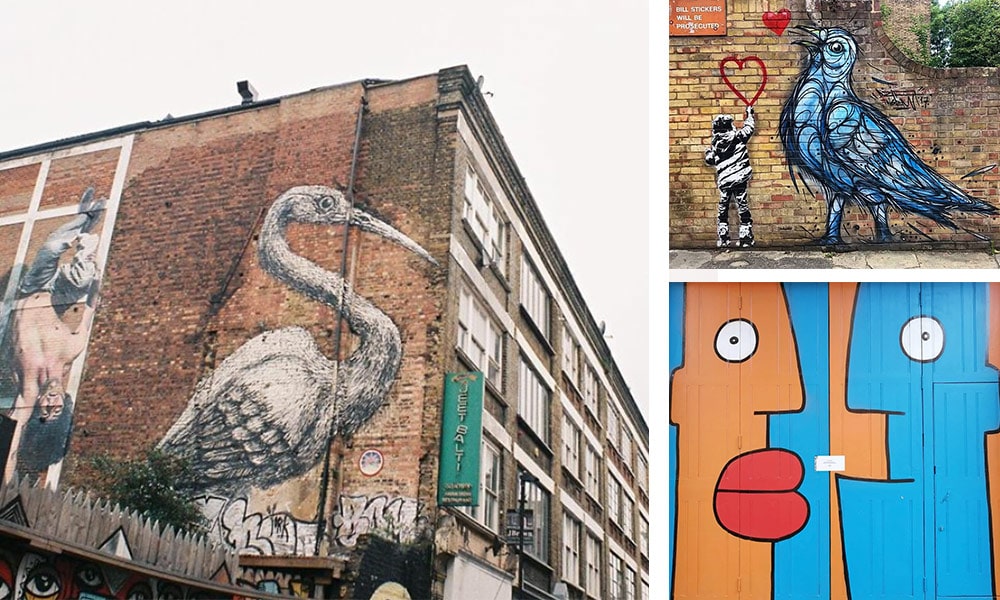 London has one of the best street art scenes in Europe and it's absolutely free to check out. You'll come across street art in most parts of the city but there are a few neighborhoods that attract the best artists.
Check out Google Arts And Culture: London Street Art and Discover Walks: London Street Art Blog Post to plan your own walk but Discover Walks also offers a guided street art walking tour that runs about £17/person.
---
Attend Service in London's Most Famous Churches For Free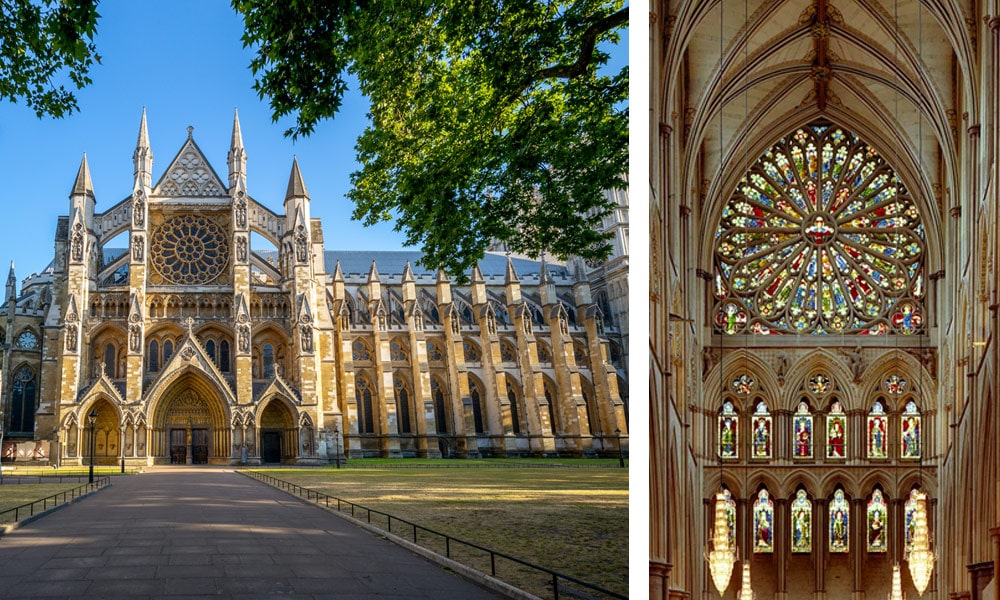 Westminster Abbey and St. Paul's Cathedral are two of London's most famous churches but you have to pay to tour them — unless you're attending service. Both churches offer multiple services daily.
---
Chill Out In London's Best Parks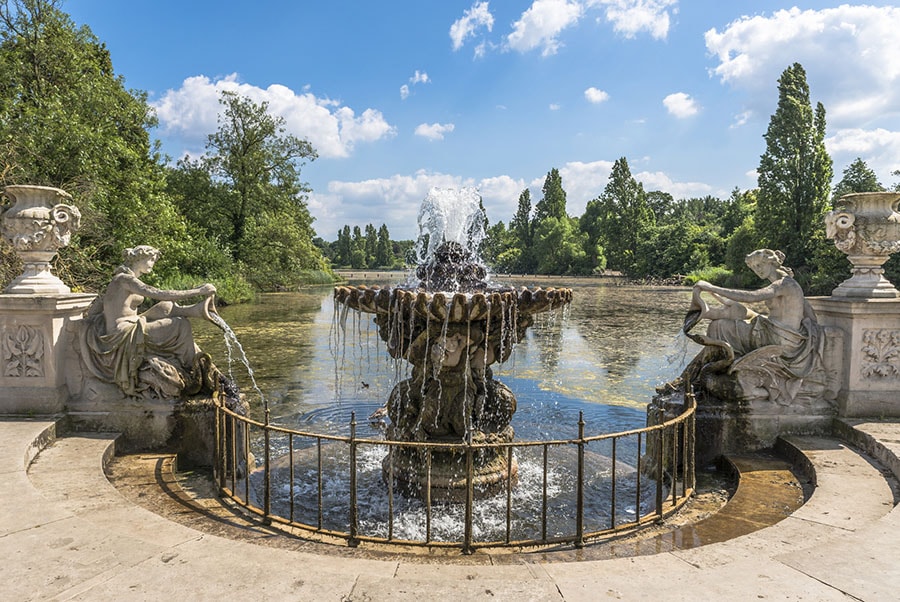 Pack a picnic or grab a takeaway kebab (or even a few beers) and head to one of London's many excellent parks. Luckily, London has a ton of parks to choose from (it is one of the greenest cities in the world) so you're never very far away from some fresh air.
HYDE PARK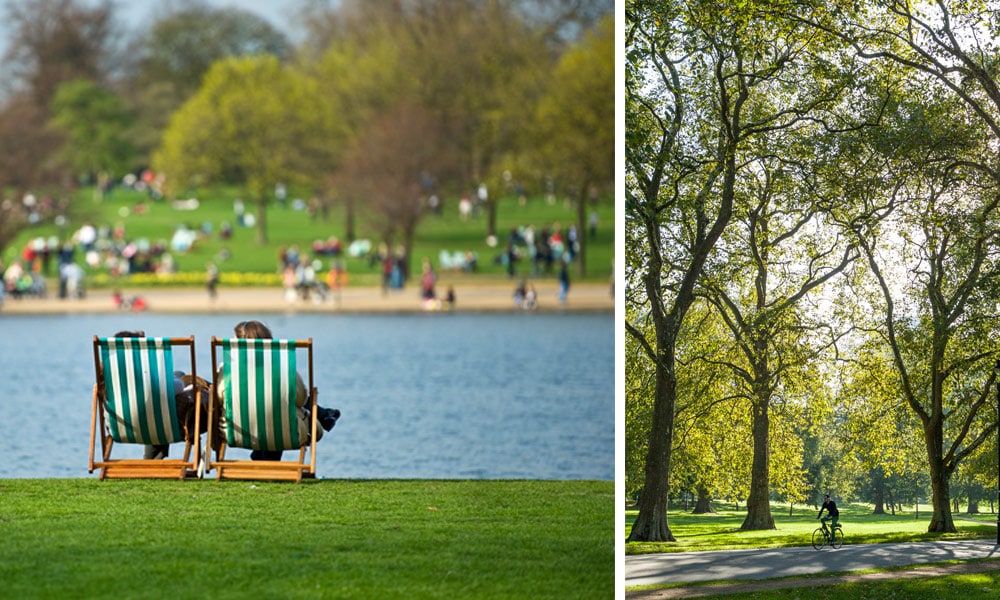 Covering over 350 acres, Hyde Park is one of the largest parks in greater London and it is the largest park in central London. It has plenty of walking/bike trails, a nice late for swimming/boating, and tons of green lawn for a picnic — you can even rent lawn chairs for about £2. It's also famous for its Speakers' Corner.
KENSINGTON GARDENS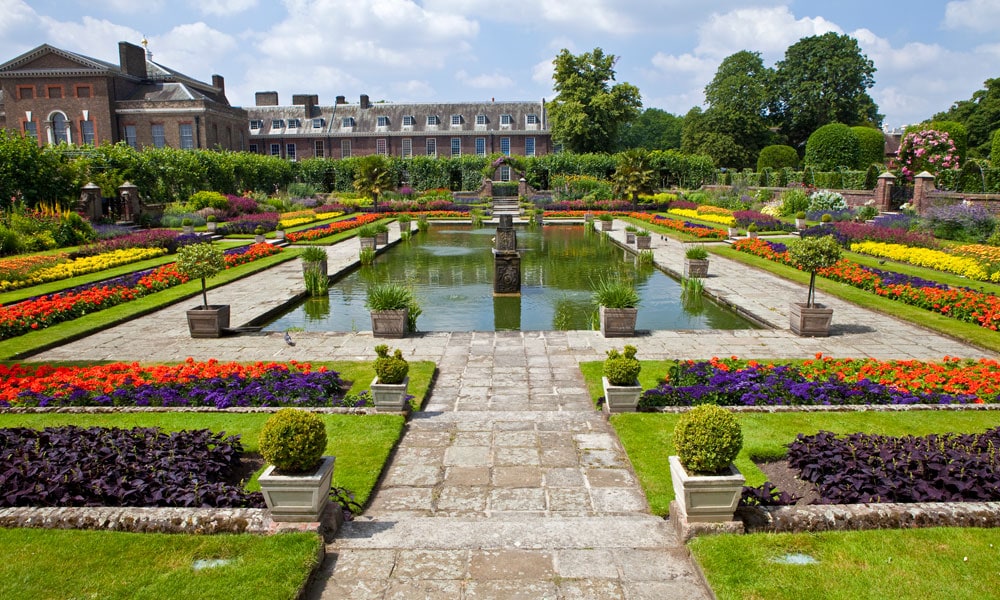 Kensington Gardens was once the private gardens of Kensington Palace but now it's open to the public. It's always full of people enjoying its green space and its large pond has lots of benches to sit on. Kensington Gardens is essentially connected to Hyde Park so it's easy to explore both locations at the same time.
REGENT'S PARK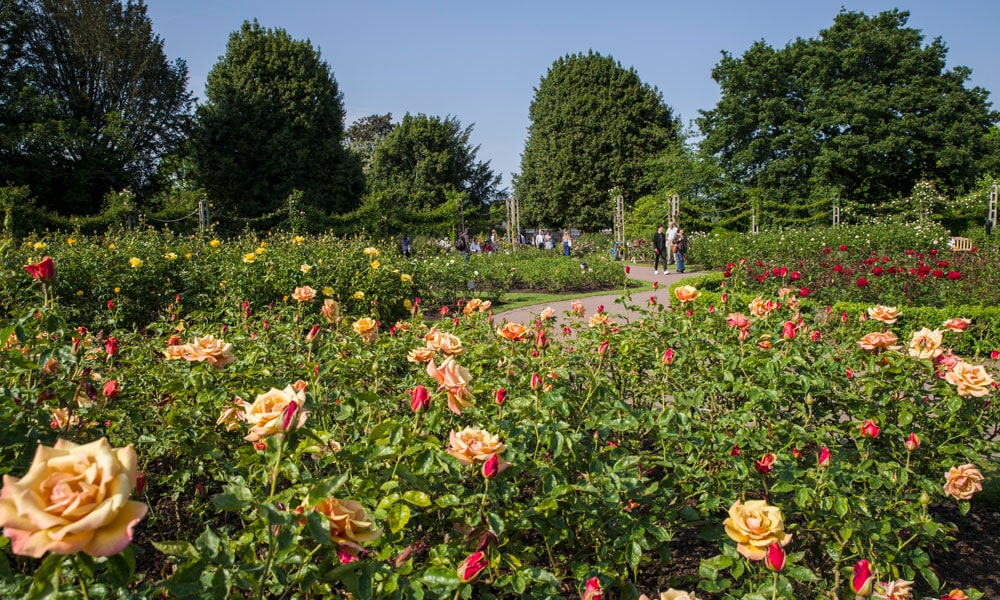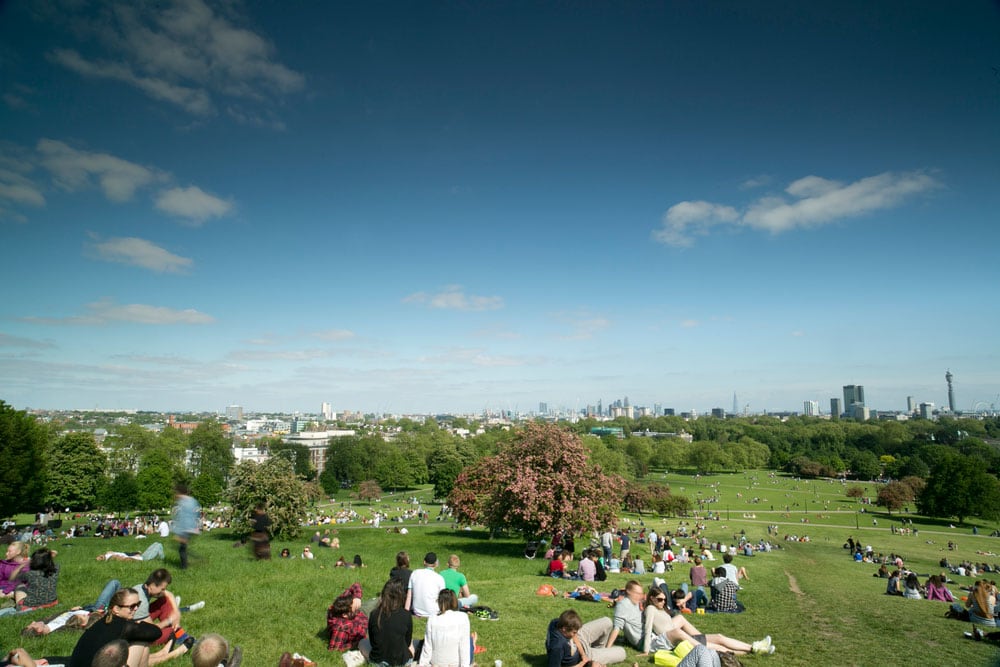 Regent's Park has the largest grass area for sports in Central London and offers a wide variety of activities, an Open Air Theatre, and Queen Mary's Rose Garden. It's also home to Regents Park Zoo, Regent's University & The London Mosque.
To the north of the Regent's Park you'll find Primrose Hill — which offers nice city views.
HAMPSTEAD HEATH
Hampstead Heath is a large, 790 acres park to the north of London that's one of the highest parts of the city so it's a great place for city views (at Parliament Hill Viewpoint).
Unlike most parks in London, Hampstead Heath is more wild and unmanicured. There are plenty of walking paths, green lawns, and ponds for swimming. You might even seem some deer wandering around.
ST. JAMES'S PARK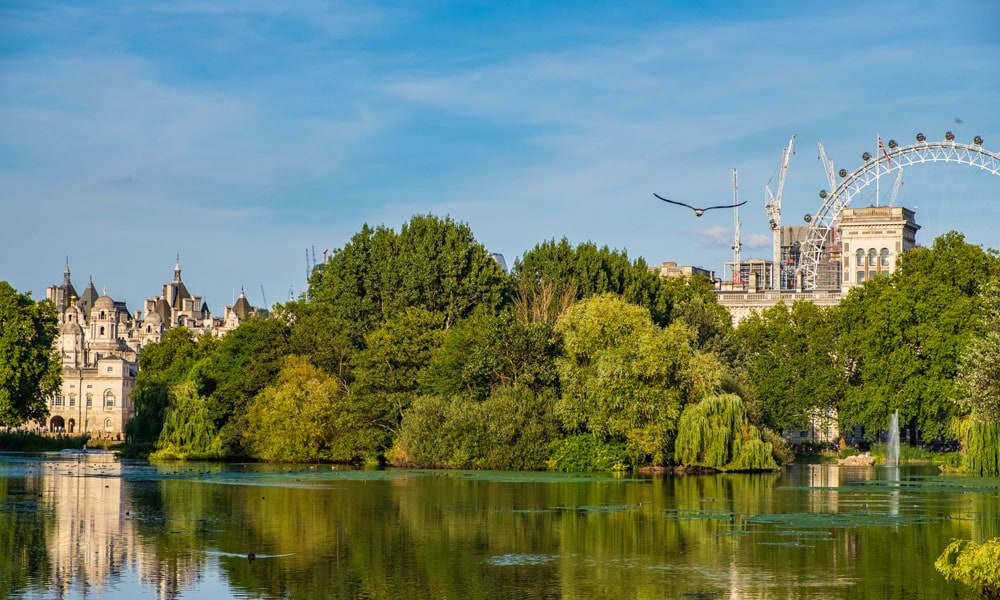 This relatively small 57-acre park in central London is located between Buckingham Palace and the House of Parliament so you'll probably come across it as you explore these two must-visit sights. It's a very beautiful park with a great pond, plenty of shady trees, and ample paths to stroll.
GREENWICH PARK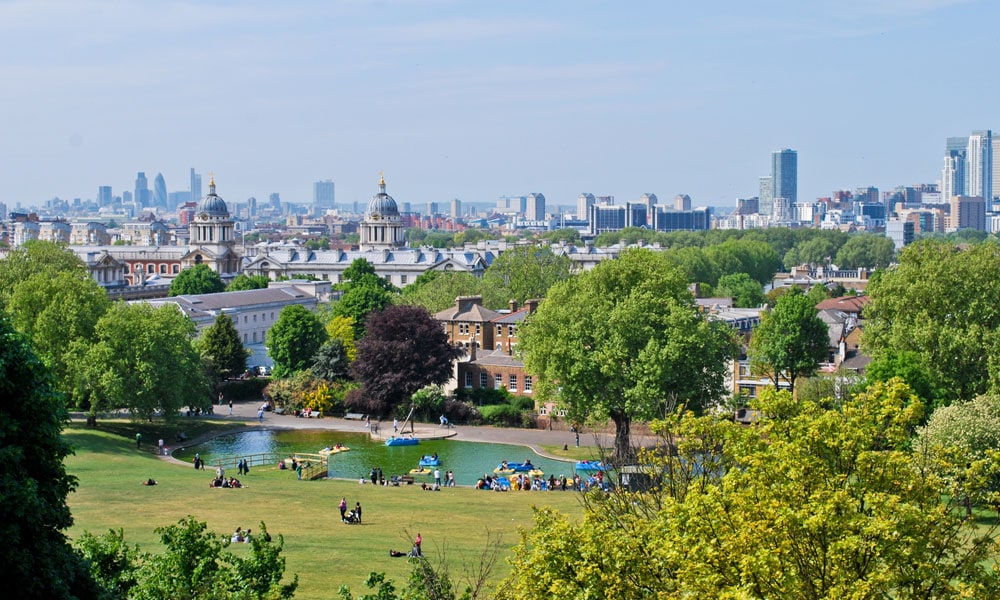 This large 183 acres park was once a royal hunting ground and now offers up excellent views of the city. It's also home to the Royal Observatory, Maritime Museum, Meridian Line, large lawns, and flower gardens.
HOLLAND PARK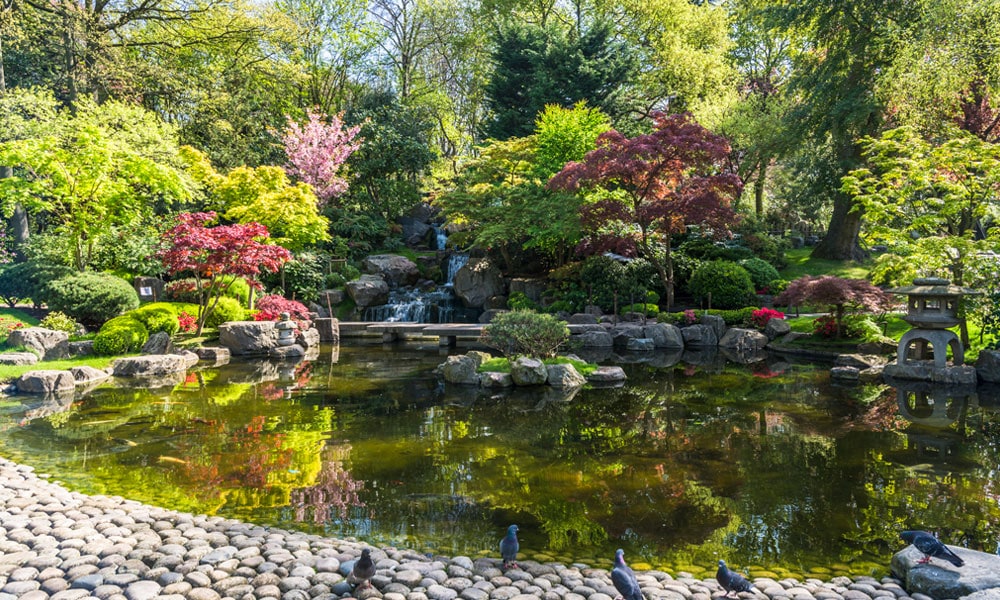 Holland Park is another nice park in central London but it's most known for its Koto Japanese Gardens.
---
Enjoy City Views of London For Free
It's hard to beat a Beautiful view of a city as beautiful as London so here are a few places to soak it all in for free.
Sky Garden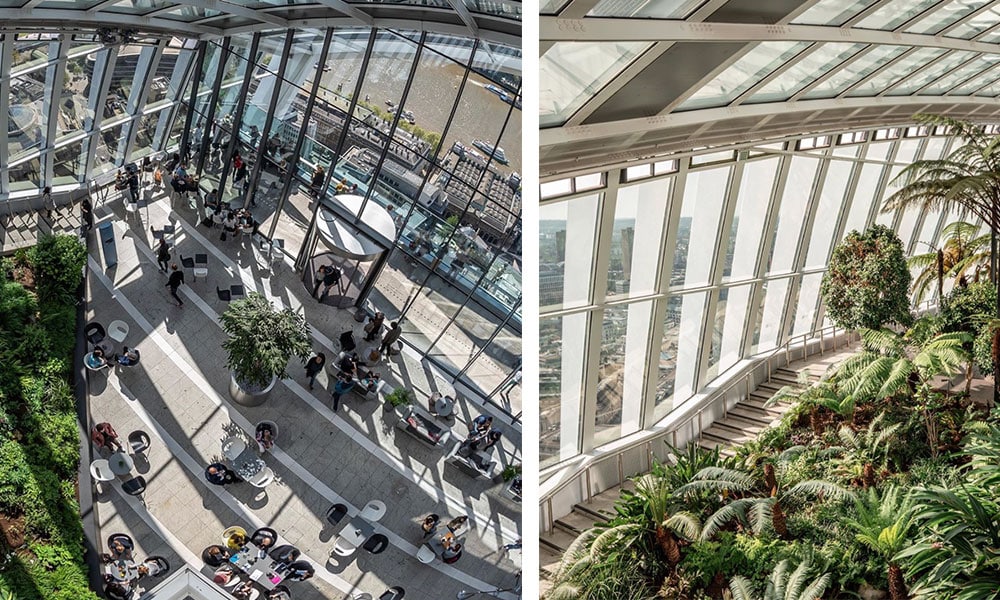 Located in the "walkie talkie" skyscraper, the Sky Garden is the highest public garden in London and it offers 360-degree views of the city's skyline. It's free to visit and you can have dinner and drinks there as well (which aren't cheap).
Tate Modern Viewing Level
The Tate Modern Museum (also free) has an excellent 360-degree observation level that sits 200-feet above London which overlooks River Thames, St Paul's Cathedral, and the rest of the city's iconic skyline.
Primrose Hill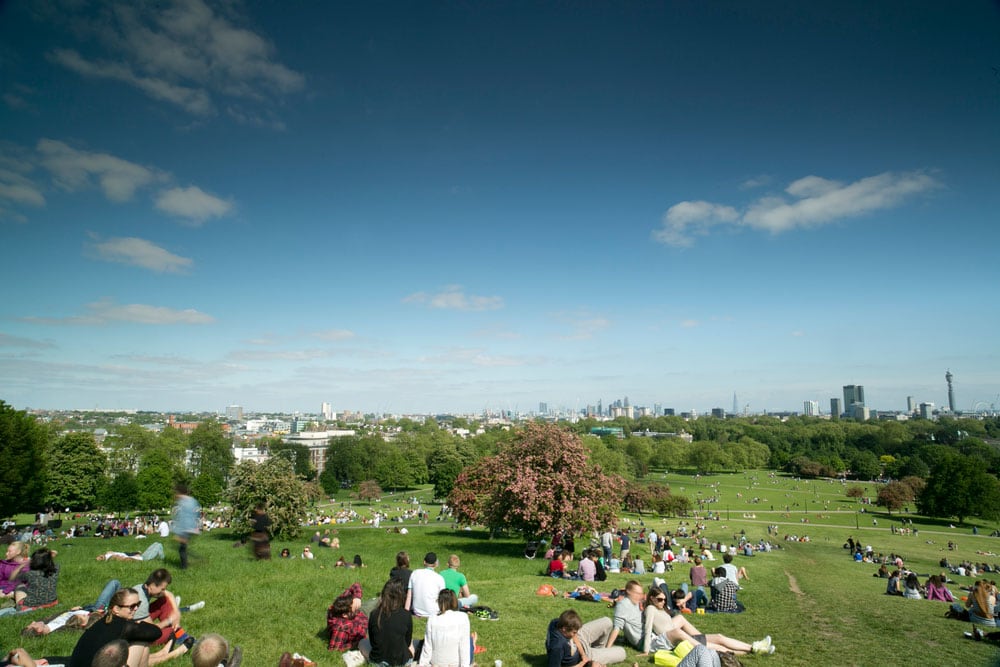 Just north of Regent's Park, you'll find Primrose Hill. Make the climb to the top to be rewarded with panoramic views over Regent's Park and the city. Walk up Regent's Park Road on your way there and stop by one of the delis for a picnic lunch.
Note: London has a few notable skyscrapers and most of them have an expensive observation deck. However, they also have bars that serve up expensive drinks, but the view is free and you get to linger for a bit.
---
Walk Along The Thames River and Its Bridges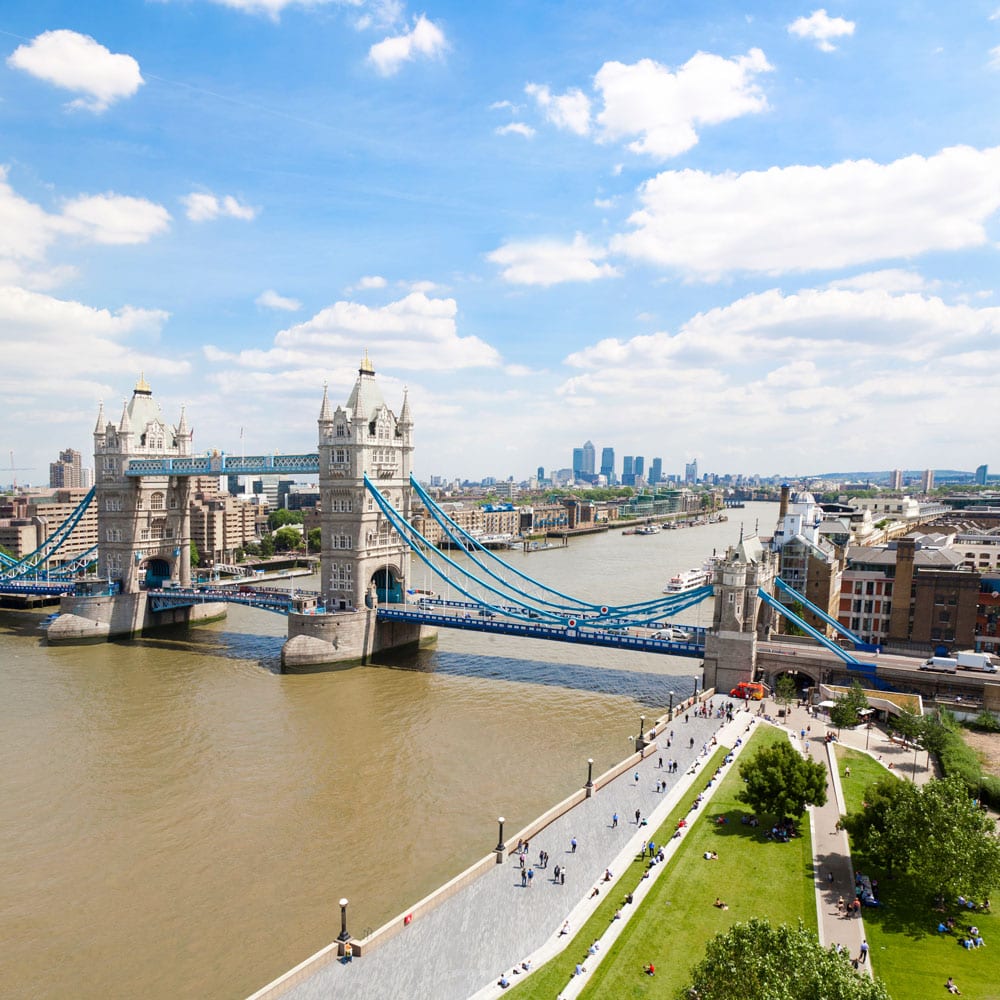 The River Thames has a beautiful walking path so it makes an excellent place to go for a stroll. Additionally, many of London's most famous buildings are situated along the river so that makes for a loverly walk.
When it comes to bridges that span the river, the most iconic bridge is Tower Bridge but Westminster Bridge (in front of Big Ben and the houses of Parliament) and Millennium Bridge (connecting St. Pauls and the Tate Modern) are two other popular attractions as well.
---
WALK ALONG REGENT'S CANAL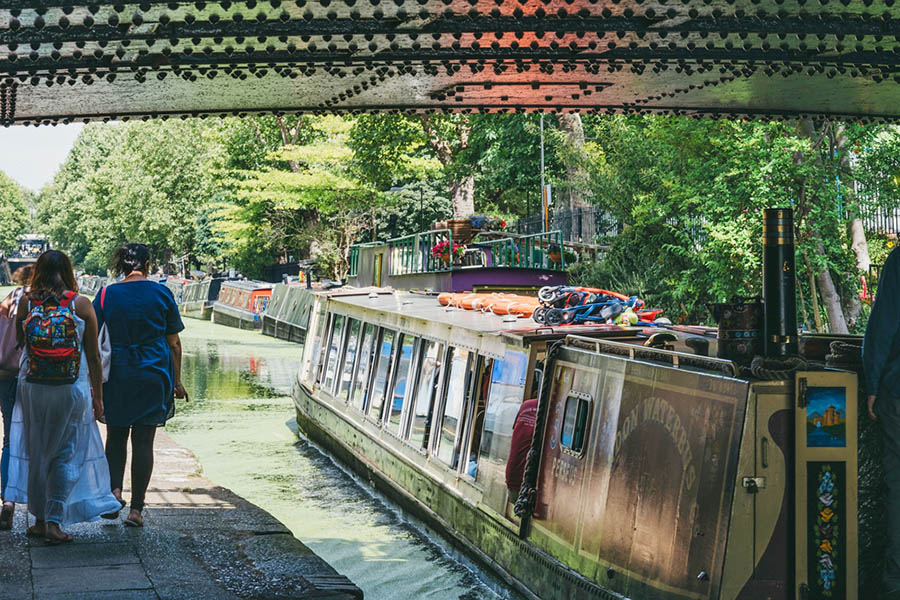 Regents' Canal is an 8.6-mile canal that runs east to west through northern London (from Little Venice and ends in Docklands). As you walk the canal you'll come across boats and cafes and cafes on boats and plenty of people enjoying the fresh air.
---
Do Some Budget-Friendly Shopping
In addition to having just about every chain store and a number of high-end shops, London is also famous for its markets which have vendors selling everything from vintage fashion and trinkets to handmade goods and artisan crafts.
The main markets are:
London also has a thriving thrift store scene where you might be able to score some second-hand clothing at a decent price (it also has plenty of high-end second-hand stores for more designer apparel).
Recommended thrift stores:
---
See A Play or Musical For Cheap
London has a thriving theater scene, and while tickets are typically expensive, there are a few ways to score some cheap tickets.
Rush Tickets: These are last-minute tickets that haven't sold and are heavily discounted. They're on sale the morning of the show at the theater or by calling.
TodayTix: These tickets go on sale a few days or a few weeks before the show.
TKTS: This booth sells tickets a few hours before the showtime.
---
Eating On A Budget in London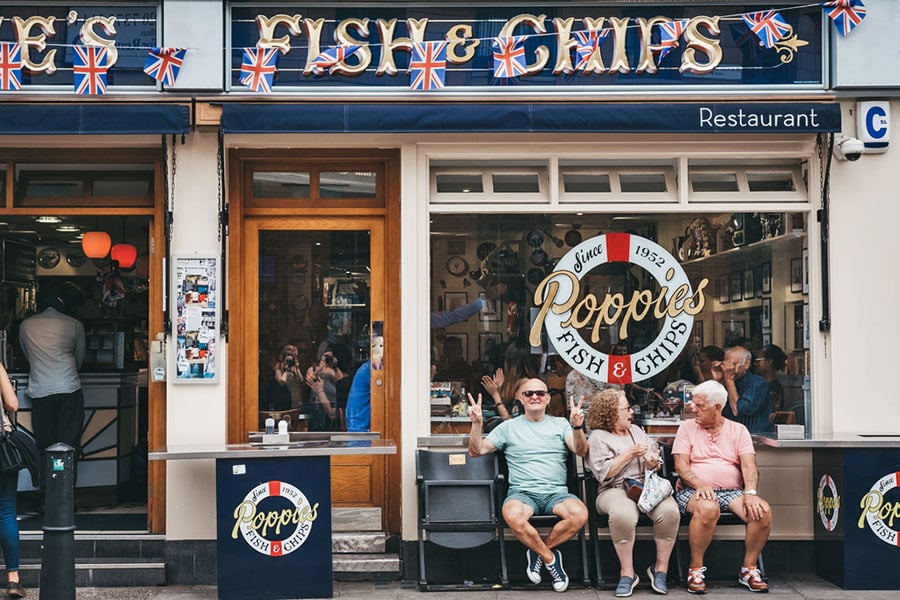 It's still possible to find fairly affordable restaurants in London but you have to know where to look. I've teamed up with a few local London folks to bring you some of their favorite places to eat without spending a lot of money. Want more suggestions — check out London Cheap Eats.
Note: I try to focus on value over rock bottom prices because I still want quality food when I'm eating on a budget.
Note: I also focused on restaurants that are fairly centrally located since that's where most visitors will spend the bulk of their time.
General Budget Dining Tips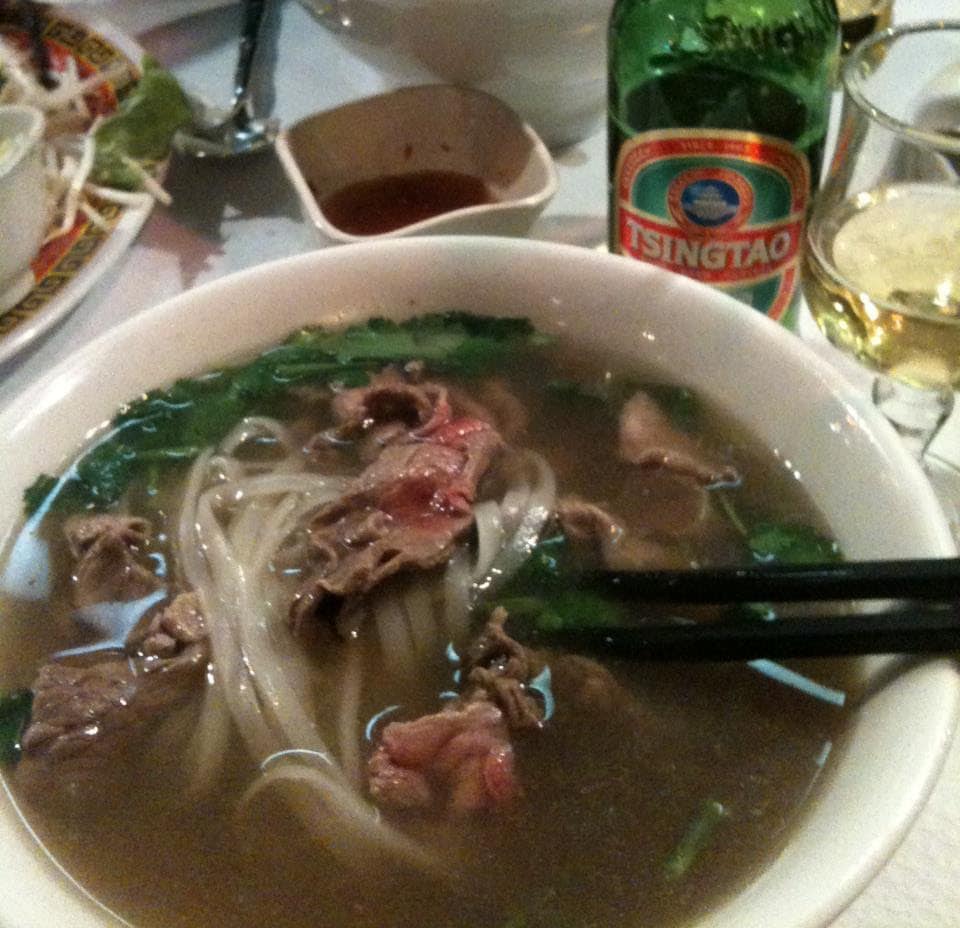 International Cuisine Is A Great Value
Chinese, Vietnamese, Turkish, Indian, Thai, and other similar international fare is some of your best bang for your buck when it comes to eating out. I've listed many of these restaurants further below in this section.
Pack A Supermarket Picnic
The cheapest way to eat is to shop at one of London's many supermarkets. The best budget-friendly grocery stores are Tesco, Sainsbury's, and Coop. If you're looking for something a little more upscale then check out Marks & Spencers and Waitrose.
Takeaway Is Cheaper
Takeaway meals are taxed at a lower rate so they're always cheaper than dining in.
Supermarkets Sell Cheap Salads and Sandwiches
Just about every supermarket will sell pre-made sandwiches and salads that are reasonably affordable. You can also stock up on cheap drinks, fruit, and snacks while you're there. Most supermarkets will have "meal deals" that consists of a sandwich, bottle of water, and some chips for around £5.
Skip The Soda
Thanks to high taxes on sugary drinks, soda ends up being super expensive.
Don't Overtip
In many cases, the service fee is already included in the bill so there is no need to tip extra. If your bill doesn't mention a service fee then 10% is fine.
Eat Your Way Through Borough Market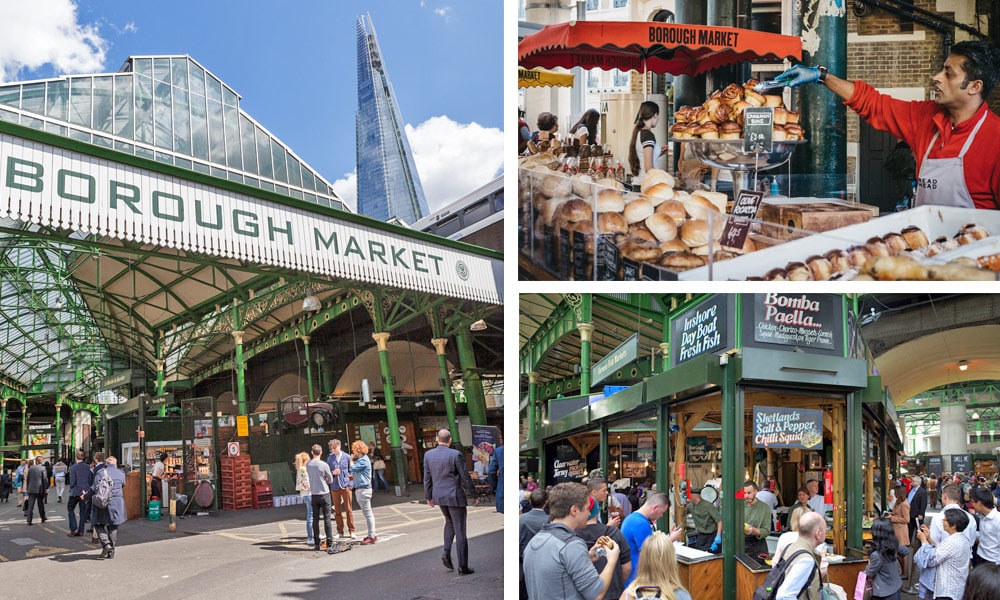 Borough Market is a wholesale and retail food market hall in Southwark, London, England. In fact, it's one of the largest and oldest food markets in London (there has been some form of a market on this site since the 12th century). There are also a number of food stalls selling prepared food or you can pick up fresh produce and baked goods.
Visit The Food Stalls At Camden Market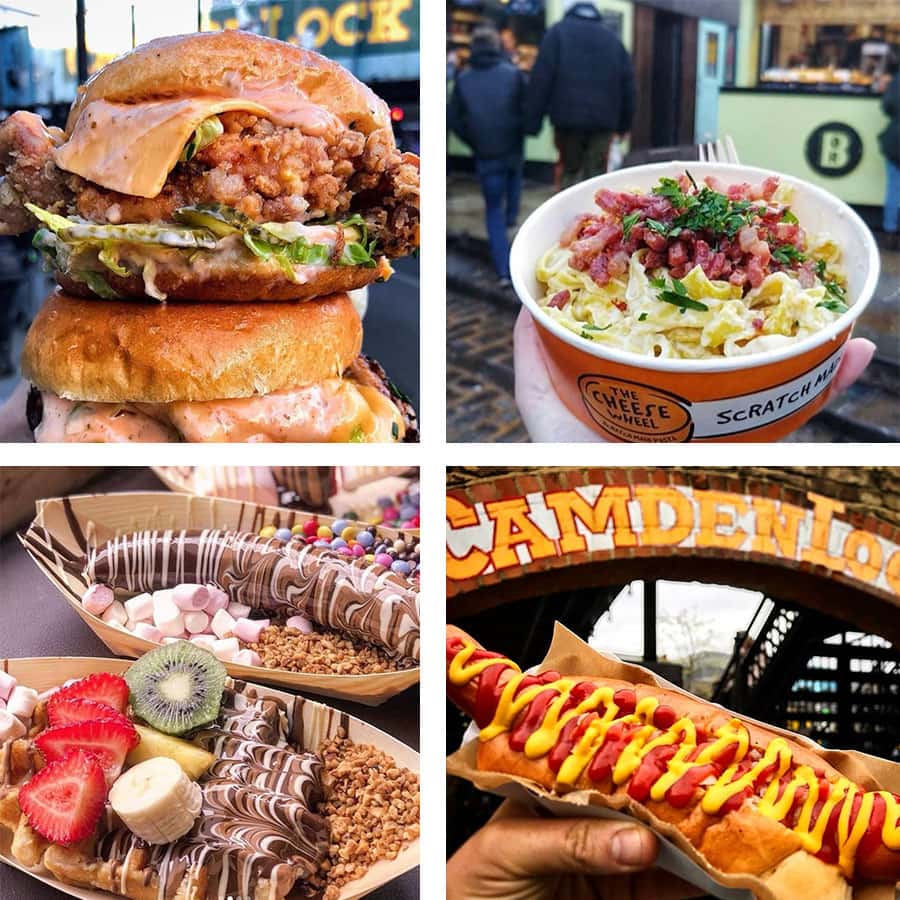 Camden Market has become one of the must-visit spots in London thanks to its 1000 shops and stalls selling clothing, music, art, and food.
It has around 100 food stalls and restaurants serving up just about everything. I'll admit that you're probably paying a bit of a premium here but it's a fun atmosphere and experience.
Visit KERB, The Hip Street Food Market
KERB is a multi-location street market located throughout London. The offerings at KERB tend to be a bit more innovative than other markets so you can find lots of interesting offerings here.
Eat At Street Feasts
Street Feasts is another street food company that runs multiple street food markets in London.
Chow Down on Fish and Chips
London has a ton of spots to get fish and chips but a majority of them are either overpriced or just not very good. This places listed here have all been pre-vetted by our locals for being a good value for the money.
Fishcotheque
This traditional hole-in-the-wall joint is tucked under a bridge and serves up generous portions for a reasonable price. They're a local favorite so it can get busy during lunch and dinner.
Order of Fish and Chips: £13
The Golden Hind Restaurant Marylebone
Another no-frills and much-loved mainstay with large portions (and long lines).
Order of Fish and Chips: £13-£16
Poppie's Fish And Chips
Poppie's is one of London's most famous and popular chippy joints so you can't really go wrong here. It's a little more expensive but its quality is top-notch.
Order of Fish and Chips: £14-£18
The Laughing Halibut
An old-school joint that's always busy and popular with both locals and tourists. Prices are very reasonable for the super central area.
Order of Fish and Chips: £11-£13
Fishers
Opened in 1982, this bustling award-winning shop serves up some of the best traditional fish and chips in London. Dine-in or takeaway.
Order of Fish and Chips: £9.50-£12
Golden Union Fish Bar
Another super popular joint right in the middle of London. Expect to wait in line for about 20-30 minutes at this no-frills spot during the busy time but it's worth the wait.
Order of Fish and Chips: £10
Gigs Fish & Chips
Opened in 1958, Gigs obviously knows what they're doing if they've survived this long in a city that seems to have a chippy everywhere you look.
Order of Fish and Chips: £8 (takeaway) – £14.50 (dine-in)
Masters Superfish
No-frills traditional joint with fresh and tasty fish and chips.
Order of Fish and Chips: £9.50-£12
Start Your Day With An English Breakfast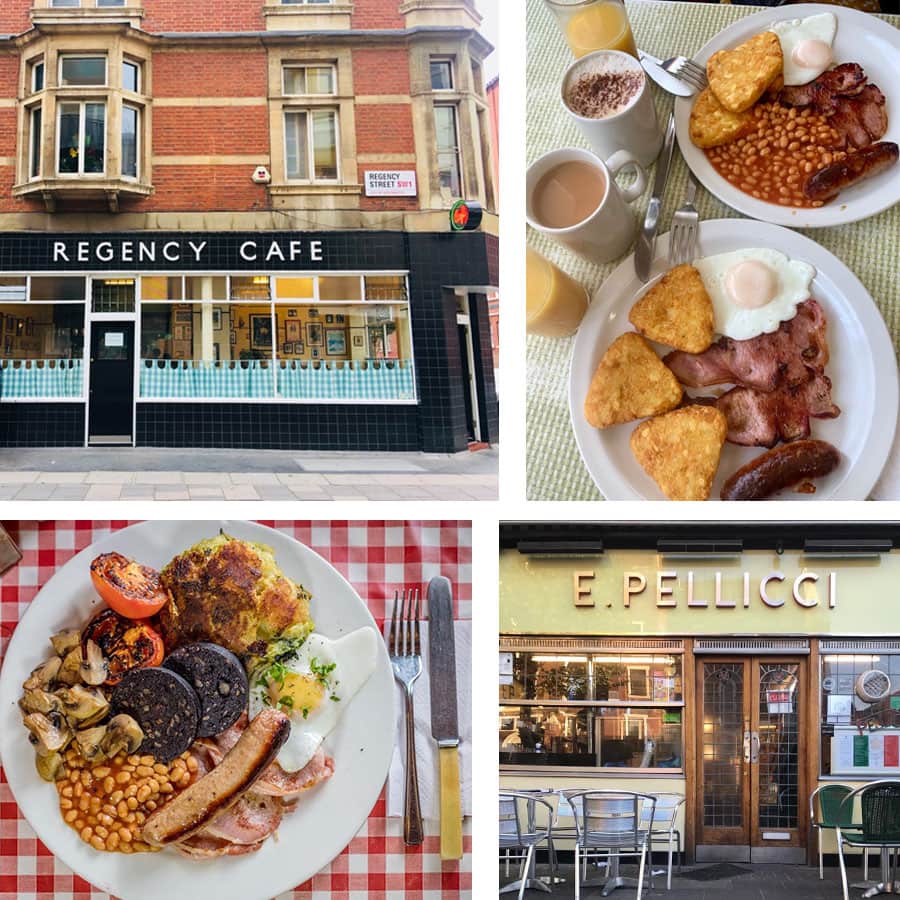 What's the best way to fuel up for a full day of sightseeing? A full English breakfast — which is traditionally a plate full of bacon, sausages, eggs, black pudding, baked beans, tomatoes and mushrooms, toast that's served with coffee or tea.
Well, it might put you in a food coma as well but this greasy fry-up won't leave you hungry. These days a full English breakfast can range from low-frills to gourmet but we're going to focus on a few local favorite spots.
Regency Cafe
Cheap, no-frills, delicious, and always busy (get there early to avoid a long wait). This authentic spot has been around since 1946 and is a local favorite.
Full English Breakfast: Starts at £6.00
E Pellicci
A cool art-deco workers' cafe that's been serving up English breakfasts to hungry folks since 1900. Another super authentic local favorite.
Full English Breakfast: Starts at £8.40
Cafe 338
Another local favorite with large portions at an affordable price.
Full English Breakfast: Starts at £5.50-£6
Terry's Cafe
Old-school, family-run cafe. Quality food for a good price. A local favorite since 1982.
Full English Breakfast: Starts at £8.50-£12
Devour London's Indian Cuisine Scene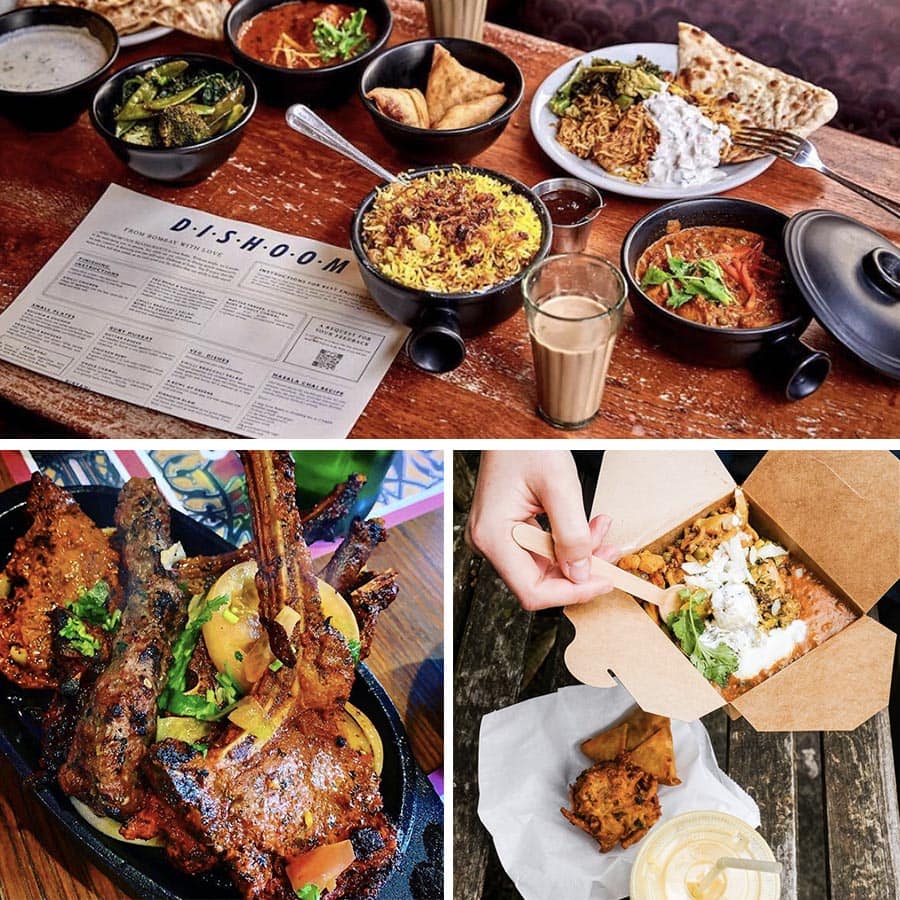 Outside of India, London is the best place to get excellent Indian food that spans multiple regions of India. London is also home to many high-end Indian restaurants but we're going to focus on more budget-friendly options.
Dishoom
Expect long lines and excellent Bombay-style comfort food at this popular restaurant. The prices are fair, the atmosphere is buzzing, and the quality of food and drinks is excellent. Many people say this is their favorite Indian restaurant in London.
Tayyabs
Opened in 1972, this no-frills Punjabi restaurant is famous for their spicy dishes. It's a popular spot so expect a wait.
Hoppers
A popular spot for family-style Sri Lankan authentic cuisine. They're also known for their cocktail menu.
Kricket SOHO
This lovely and hip Mumbai-style joint serves up modern tapas-style dishes and excellent cocktails. The staff is friendly and the prices are reasonable.
Raavi Kebab
A favorite for Pakistani-style Punjabi food. No-frills but very authentic.
Gujarati Rasoi
This popular stall in Borough Market serves up classic Indian dishes to go.
Govinda's Pure Vegetarian Restaurant
Govinda's, which is linked to the Radha Krishna Temple, serves vegetarian and vegan Indian dishes and desserts at very affordable prices.
Cafe Tiffin
This small Indian restaurant is another spot that has solid Indian dishes at a good price. It's also BYOB so that's another way to save a little cash.
Grab Some Pizza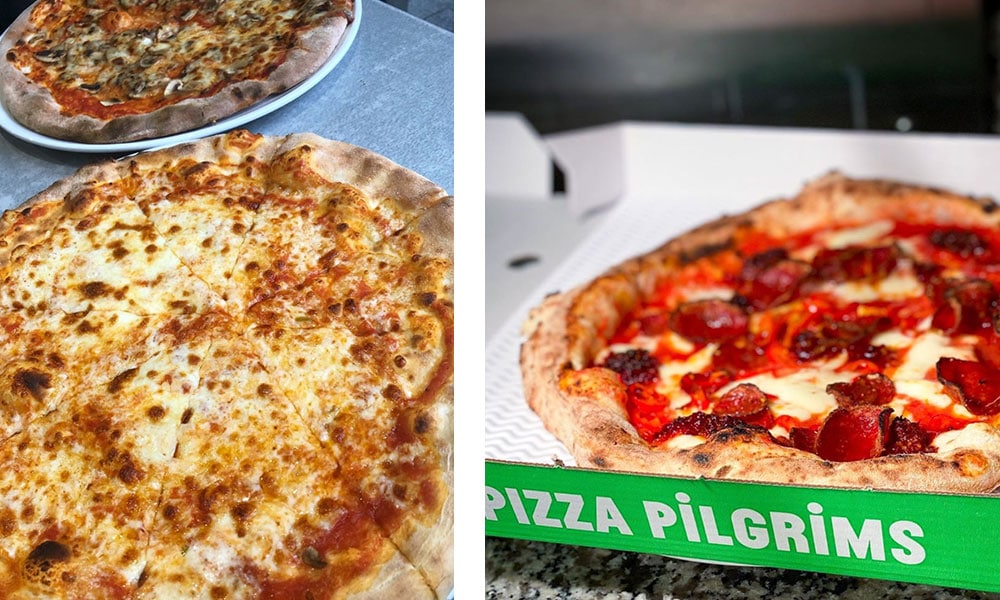 Pizza is always a good idea when you're a hungry traveler looking to save a little cash. Here are some of London's top pizza joints and many serve by the slice if you're looking for something on the go.
ICCO
Solid Italian-style pizza for a great value.
Pizza Pilgrims
Another great option for excellent pizza at a great price.
Franco Manca
Franco Manca has 50 locations in Italy and the UK and they serve up great sourdough Neapolitan pizza for a good price.
Homeslice Pizza
Homeslice a multi-location pizza joint that's most well-known for its giant 20″ pizzas and large single slices.
Prices: £4 (slice) & £20 (full pizza)
Pizza Union
Great authentic thin and crispy pizzas.
More Budget-Friendly Restaurants in London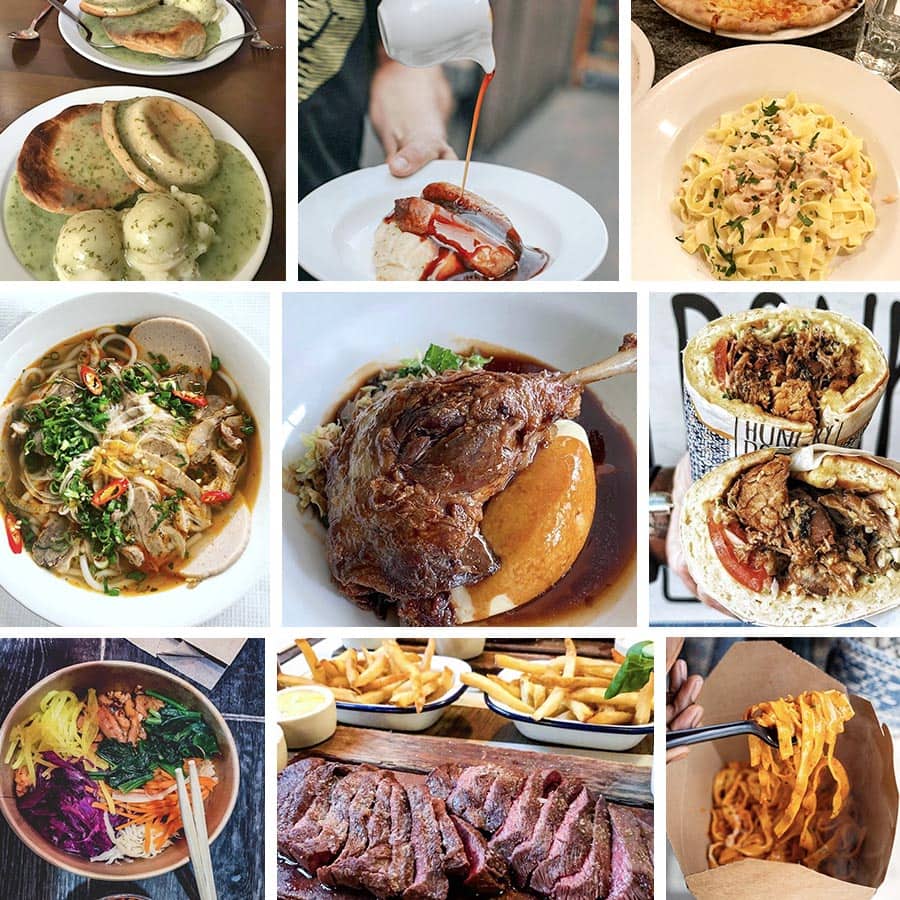 I received so many excellent recommendations for cheap places to eat in London that I had a hard time categorizing them… so I decided to place them all in this section.
That's why here you'll find everything from British and French to Italian and Thai.
Goddards at Greenwich (British)
This traditional pie mash and liquor restaurant has been around since 1890 and they serve up handmade pie & mash daily at a fair price. They have some nice traditional British desserts as well.
MotherMash (British)
This bustling cafe whips up tasty pies, sausages, and mash for a fair price. A good place to try some British comfort-food staples.
Padella (Italian/Pasta)
One of the most popular budget-friendly pasta spots in London. The pasta is all handmade in front of you and the quality is great for the price. Their takeaway pasta dishes range from around £5-£8.
Flat Iron (Steakhouse)
This popular casual chain serves up a nice flat iron steak and a salad for £12 (sides are extra).
Butchies
Super tasty NYC-style buttermilk-fried chicken sandwiches.
Chik'n
Another fried-chicken sandwich joint.
Hiba (Lebanese and Palestinian)
This family-run (the grandma is the head chef) Lebanese and Palestinian restaurant serves up excellent food for a fair price. Super friendly and welcoming. Lunch falafel/wrap deals start around £6.50.
Lahore Kebab House (Pakistani)
Super popular Pakistani restaurant that's famous for its kebabs and other grilled meats.
Sông Quê Café (Vietnamese/Pho)
Excellent Vietnamese place to get authentic beef pho at a great price. Super popular so expect a line.
Cafe East (Vietnamese)
Another super popular Vietnamese restaurant with excellent food and great prices.
Bone Daddies (Japanese/Ramen)
This multi-location joint serves up excellent ramen in an ultra-hip atmosphere and has solid cocktails.
Shoryu (Japanese/Ramen)
Another super popular multi-location Japanese joint serving handmade ramen in pork broth, plus sake and Japanese whiskies.
Koya Bar (Japanese)
Compact Japanese spot famous for their Udon noodles.
Bibimbap Soho (Korean)
A great little Korean restaurant with tasty food (bibimbap & bento boxes, etc.) and good service.
Jin's Kitchen (Korean)
This tiny budget-friendly takeaway snack bar serves up Korean fast food.
Franco Manco (Pizza)
This multi-location restaurant serves excellent wood-fired sourdough pizza at a great price.
Le Mercury (French)
It's not often you can find budget-friendly French food but that's what you'll find at Le Mercury. This neighborhood institution is always bustling thanks to its quality meals so you might want to book ahead.
La Porchetta Pollo Bar (Italian)
A longtime unpretentious and cozy Italian restaurant with great pizza and pasta.
Polop (Italian)
Excellent Venetian-style Italian cafe with small plates, good wines, and reasonable prices. Always busy for a reason.
GReat Grill House (Greek)
Simple Greek spot with great gyros and other grilled meats.
Fez Mangal (Turkish)
Tiny Turkish cafe with an open grill and excellent lamb & chicken kebabs.
Comptoir Libanais (Lebanese)
Lovely vibe, lovely food, and lovely refreshments.
Patogh (Iranian/Persian)
Unfussy Iranian joint with grilled meat and fish.
What The Pitta (Vegan)
Super popular thanks to their excellent vegan kebabs — some say they're better than non-vegan kebabs.
Mildreds (Vegan)
Very popular vegetarian restaurant with an emphasis on organic, seasonal produce.
---
Have A Pint In An Old Historic Pub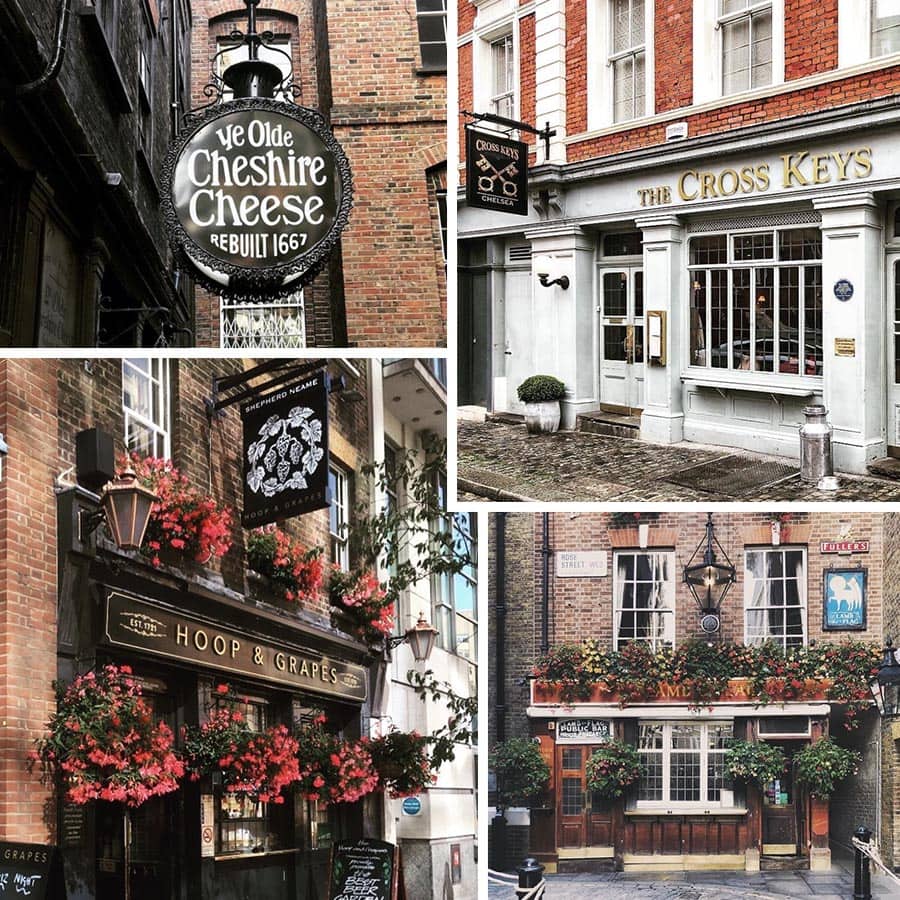 London is home to thousands of pubs and a handful of them date back to 1600-1700s. You can certainly find "cheaper" places to get a beer but the awesome atmosphere is worth the minimal extra cost. Furthermore, most of these pubs will serve up classic British "pub grub" if you want a filling meal.
Here are some of the best historic London pubs:
---
Cheap Accommodation
London can be a killer when it comes to hotels, hostels, and rental apartments.
The Best Hostels in London
London has more than 100 hostels — which makes it one of the best hostel cities in the world. Visit Hostelworld to see them all.
Well-rated hostels generally cost between £25-£50/night for the cheapest bed option but you might be able to find a few that are around £20/night. Ultra-budget travelers can find something closer to £15 but don't expect much quality. Prices do tend to be a bit more expensive on Friday and Saturday night for the weekend travel crowd.
Here are a few of the best hostel options:
Want to learn more? Read our guide to the Best Hostels in London and check out my Hostel Packing List.
Airbnb & Airbnb Alternatives
London has a healthy stock of short term rental apartments which will offer more space at a similar/cheaper price than you'll find in a hotel. In addition, an apartment can be a great option for large families or for groups traveling together.
The main rental is Airbnb so I suggest starting there.
You can expect to pay €150-€250/night for a modest studio or one-bedroom apartment in the center of London. Obviously, the prices go up if you want something nicer or with more space but you can save quite a bit if you don't mind staying outside of central London.
Check Airbnb to get an idea of current prices as they also fluctuate based on the time of year you're traveling. I've also written a guide to Airbnb alternatives if you're looking for different options.
---
Explore London On A Santander Cycle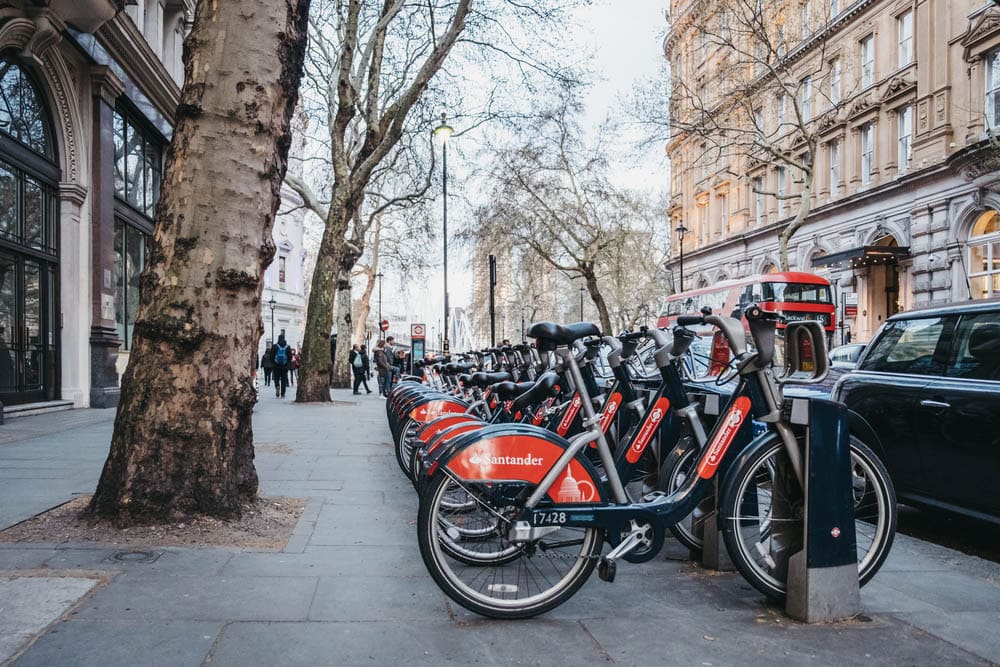 London is a bike-friendly city so you'll find plenty of protected bike lanes. And thanks to the Santander Cycle bike share system, for £2 you can get unlimited journeys up to 30 minutes, within a 24 hour period and there are stations all over the city.
---
Save Money Going To/From The Airports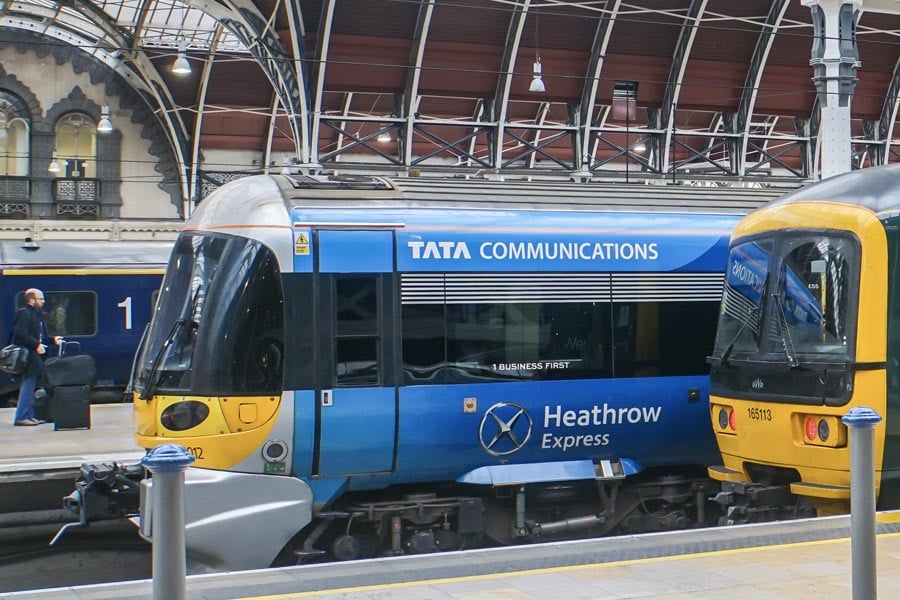 Traveling between London's multiple airports and the city center can be expensive. Here are a few of the different options for each airport.
London Heathrow Airport

You can take the London Underground between the airport and the city for around £6. The ride takes around an hour. The Heathrow Express only takes 15 minutes but it's more expensive at £22 — however, you can often pre-book well in advance and get a ticket as low as £6.
There is a National Express bus that costs £6 and takes anywhere from 40-90 minutes depending on traffic.
A taxi will set you back around £80 and will take around 45-60 minutes.
Gatwick Airport

The National Rail offers a train from Gatwick into central London which takes between 30-45 minutes and tickets run between £10-£20.
The Gatwick Express costs £20 and the trip takes 30 minutes.
The National Express bus costs £8 but can take nearly two hours because of traffic.
Luton Airport

National Rail has train service that costs £15 and it takes around 45 minutes.
There is bus service that costs £5-£10 and takes around 90 minutes.
---
General Budget Travel Tips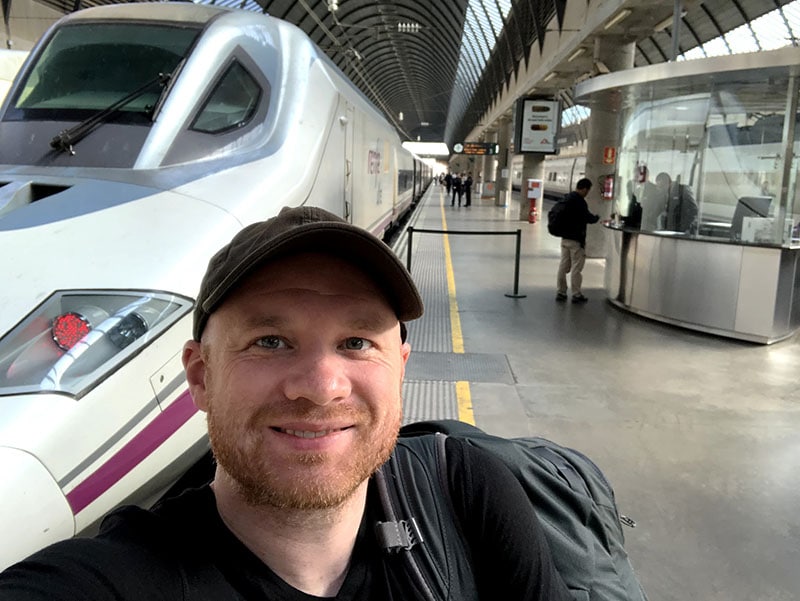 Here are a few more budget-travel related articles I've written that will help you save money while visiting London.
Get Strategic With Your Sightseeing
A little planning goes a long way when you visit London. Here are a few simple things you can do to save yourself a lot of time, money, and frustration:
Segment Sightseeing By Location: London is a large city so group your sightseeing by location so you don't waste time visiting attractions that are spread out.
Overextending Yourself: London has so much to see but you can't see it all. Unfortunately, many people try to see too much and end up getting burnt out. In my opinion, it's better to spend more time seeing less so you can actually absorb the experience… and you spend less as well.
Have An Idea Where To Eat: One of the quickest ways to bust your budget is by eating and we all tend to eat anywhere once we're hungry. So jot down a few places to eat before you head out for the day.
Research Hours: Don't forget to check the hours of the attractions you want to visit since most places are closed at least one day a week.
Skip The Tube For Short Walking Distances
Since riding the London Underground is fairly expensive, it's best to walk if the distances are reasonable. In general, if you're going less than three stops it's often faster to walk anyways (the Tube map makes distances between stations appear much further apart than they actually are).
Plus, walking lets you actually see the city.
Avoid/Limit Credit Card and Debit Card Fees
Credit card fees and ATM withdrawal fees from your bank can quickly add up to hundreds of dollars before you know it. Check out my guide on Using Money In Europe: ATMs, Credit Cards, Debit Cards, Exchange Rates
Pick Your Travel Season
If you're on a budget, you'll be able to save a good amount on your accommodation and airfare if you visit during the offseason. That said, London is a popular year-round destination and the weather is mild, so price drops aren't as large as you'd find in other cities.
Get Travel Insurance
Travel insurance helps you avoid many of those unexpected and costly things that can arise while traveling. For budget travelers, I prefer World Nomads since they're affordable and easy to work with.
Reclaim The Value Added Tax (VAT)
Most goods in the UK include a tax (VAT) of around 20% but non-citizens aren't required to pay this tax. It's kind of a pain to get the money back but if you make a few large purchases you could get a decent amount back.
To get your money back you'll have to visit the office at the airport. The process can take a few hours since a lot of people do it and the office isn't staffed with enough employees to process claims quickly.
General Ways To Save on Food and Drink
I've already covered many of the best budget restaurants in London in this article but here is a general guide about How to Eat and Drink on a Budget While Traveling in Europe
Save On Traveling England By Train
Is London just one city you'll be visiting in England? Check out my England Train Guide for ways to save money while using the UK train system.
Packing Advice and Packing Lists
What you should you pack when you visiting London (and beyond)? I got you covered.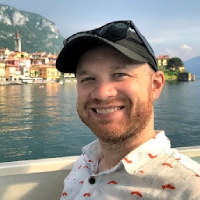 Latest posts by James Feess
(see all)
No Funny Business
The Savvy Backpacker is reader-supported. That means when you buy product/services through links on the site, I may earn an affiliate commission — it doesn't cost you anything extra and it helps support the site.
Thanks For Reading! — James
Questions? Learn more about our Strict Advertising Policy and How To Support Us.