Spain's capital and its largest city, Madrid is a top destination for many visitors. And for good reason — it's a lively city that's both affordable by Western European standards and boasts outstanding culture, architecture, art, and excellent nightlife. But it's also a fairly modern city so you'll discover that much of the architecture is from the 20th century — which can sometimes be a surprise to many visitors looking for "old" Europe. That said, it is a city overflowing with energy and old-world charm that keeps pulling visitors back year after year.
In this Madrid Travel Guide we'll cover what to do, what to see, what to eat, and everything else you need to know about exploring this great city.
[We've also written travel guides for Amsterdam, Barcelona, Berlin, London, Paris, Rome, and multiple other cities.]
---
What You'll Find In This Madrid Travel Guide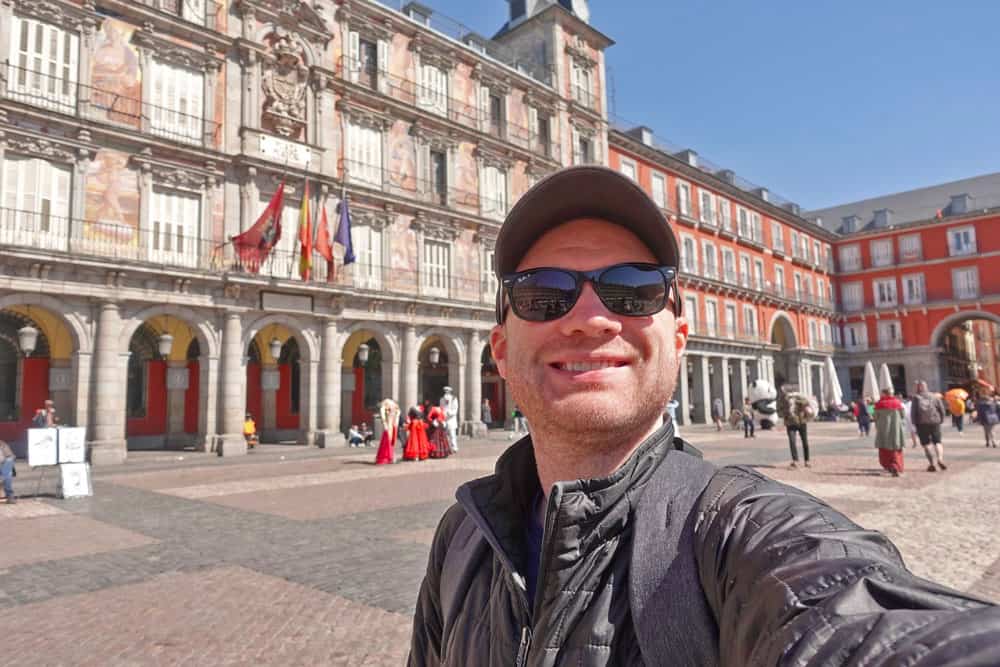 How Much To Budget To Visit Madrid
How Long To Visit Madrid
The Best Time to Visit Madrid
The Good And Not-So-Good Things About Madrid
Madrid's Must-See Sights and Attractions
Where To Eat & Drink In Madrid
Best Madrid Hostels
Madrid Nightlife
More Resources To Help You Plan Your Visit On A Budget
How To Use The Public Transportation
And More Travel Tips
---
How Much To Budget To Visit Madrid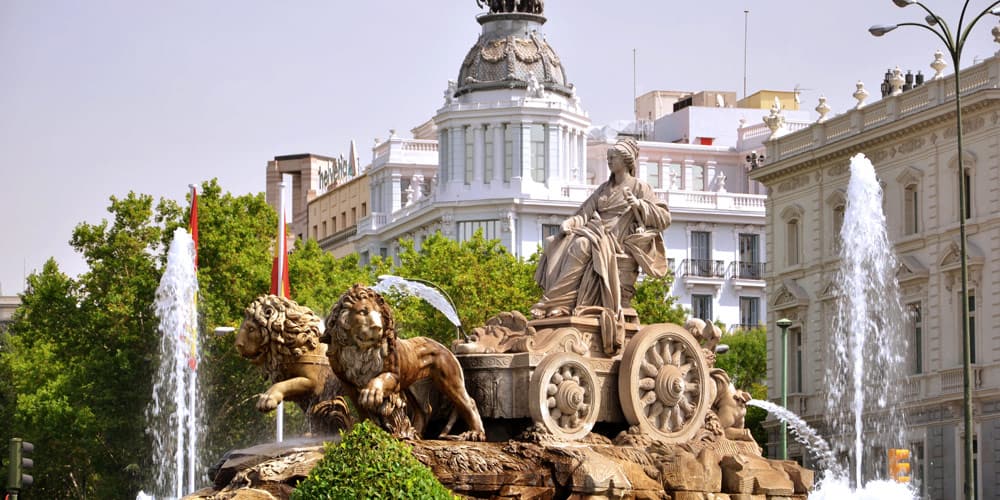 Madrid is a moderately priced city so it's not incredibly cheap but it isn't too bad either.
We recommend budgeting €30-€60/day for travelers on a backpacker's budget — you can easily spend more and you might be able to spend less, but this is a good range for planning purposes. You can read our Madrid Daily Price Guide for more in-depth cost details.
That said, in general, food and beer/wine can be very affordable and most of the major museums have free days/times.
---
How Long To Visit Madrid: 3-4+ Days
There is certainly a lot to see, do, and eat in Madrid so we recommend giving it at least three or four full days — but you can easily add an extra few days if you love spending a lot of time in museums or like to take your time as you travel. There are also a handful of great day trips from Madrid so doing a few of those could extend your stay.
---
When To Visit Madrid + Weather
Summers in Madrid are hot — expect temperatures in the upper 80's to over 100 in July and August. It's pretty brutal but at least the humidity is low.
Winters in Madrid are actually cold. Most people assume that Spain is warm all year but Madrid gets a bit of snow most years and commonly drop around the freezing mark.
We'd recommend visiting late March-Mid June and September-October as temperatures are a comfortable 65°F-85°F.
---
The Good And Not-So-Good Things About Madrid: A Quick Overview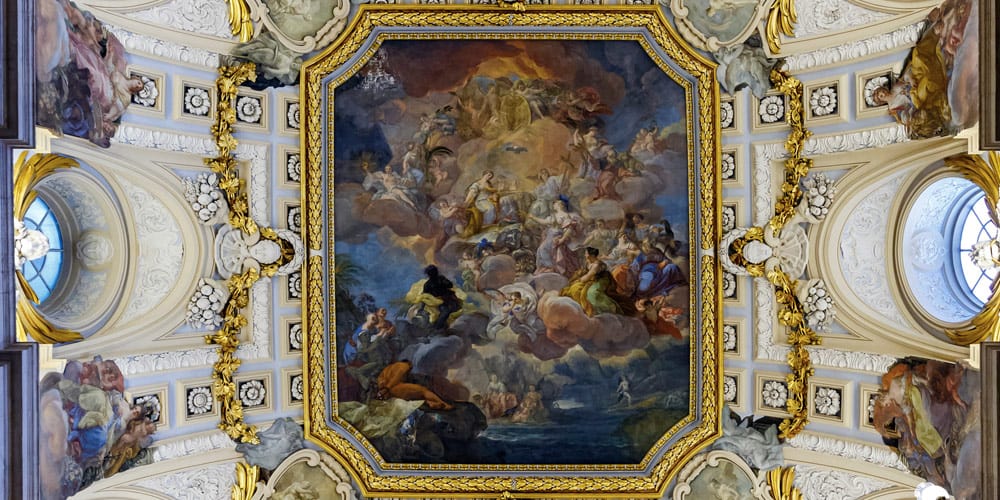 Madrid is a favorite destination for a reason, but even this city has positives and negatives that we wanted to share before you visit.
The Good
The Good Life: Madrid is a city with an electric atmosphere but somehow it remains laid back. The people of Madrid know how to live the good life.
A Cultured City: Madrid is home to some of the best museums in the world.
Free Museum Times: Most of the major museums have free times throughout the week so that's a great way to save a little cash.
Nightlife: It's amazing and there is something for every age and every style. The streets are full of life with people enjoying the city's cafes, restaurants, and bars. The action seems to never stop — except after lunch when the locals rest after their big lunches. And for the true partiers, the clubs are open until 6 am.
The Food: As long as you stay far away from the tourist traps, you can find a lot of amazing food in Madrid. Tapas and seafood are two specialties. As an added bonus, the prices are very reasonable.
Cheap and Reliable Public Transportation: You'll have no problem getting around the city and it's cheap. We ended up walking most of the time since the city is fairly compact.
Good Day Trips: There are multiple excellent towns within a one to two-hour train ride from Madrid.
The Not-So-Good
It's a "New" City: Many people are surprised that Madrid is a fairly young city by European standards — most of the buildings were built in the 20th century. This isn't necessarily a bad thing but it's something good to know.
Tourists and Tourist Traps: Just like other popular cities in Europe, Madrid sees a massive influx of tourists and that means lots of people and tourists traps. Be sure to seek out good restaurants or there's a good chance you'll have bad food.
The Weather: People automatically think that all of Spain is warm. Well, in the summer it gets really hot and in the winter it often gets below freezing. So make sure to pack for their weather.
---
Madrid Neighborhood Guide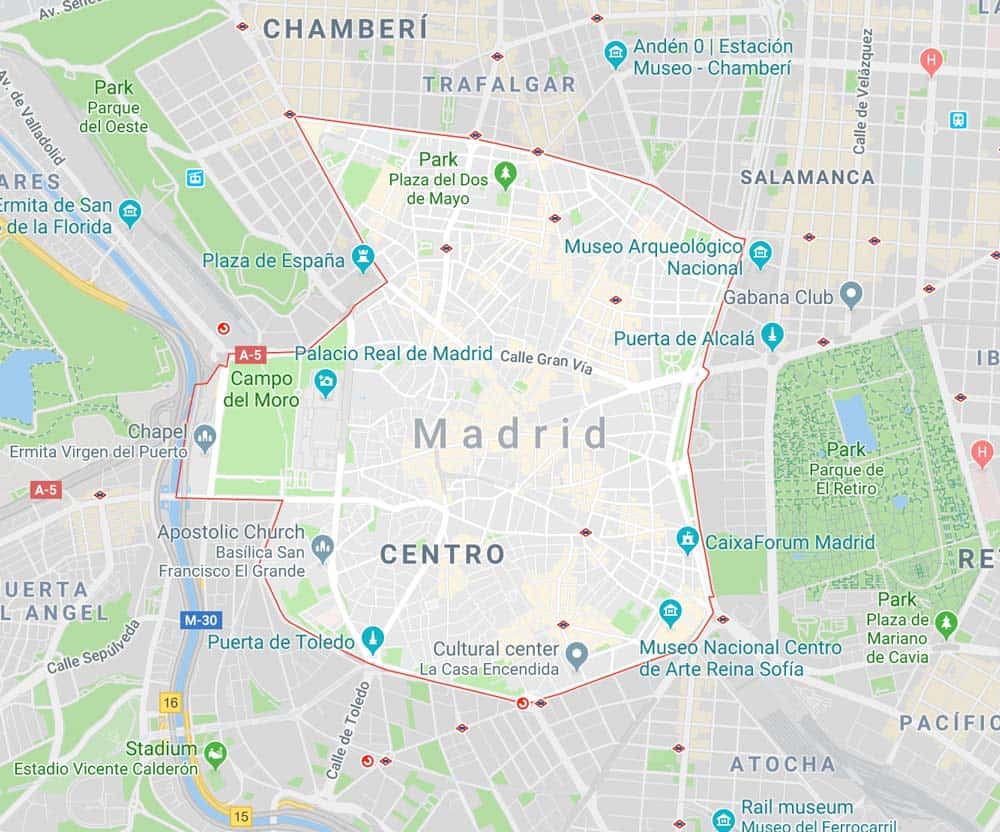 One of the great things about Madrid is how there is a neighborhood for just about every travel style and budget. Below we've outlined a general guide to Madrid's neighborhoods to help give you an overview of the city. We've also included a quick write-up and some photos to help give you an idea of each neighborhood's vibe.
Note: Madrid is a fairly compact city so you're never more than about a 30-minute walk from anything in the city center (aka Centro). You can also take the metro if you don't feel like walking.
Sol & Austrias Neighborhoods (Historic Royal Center)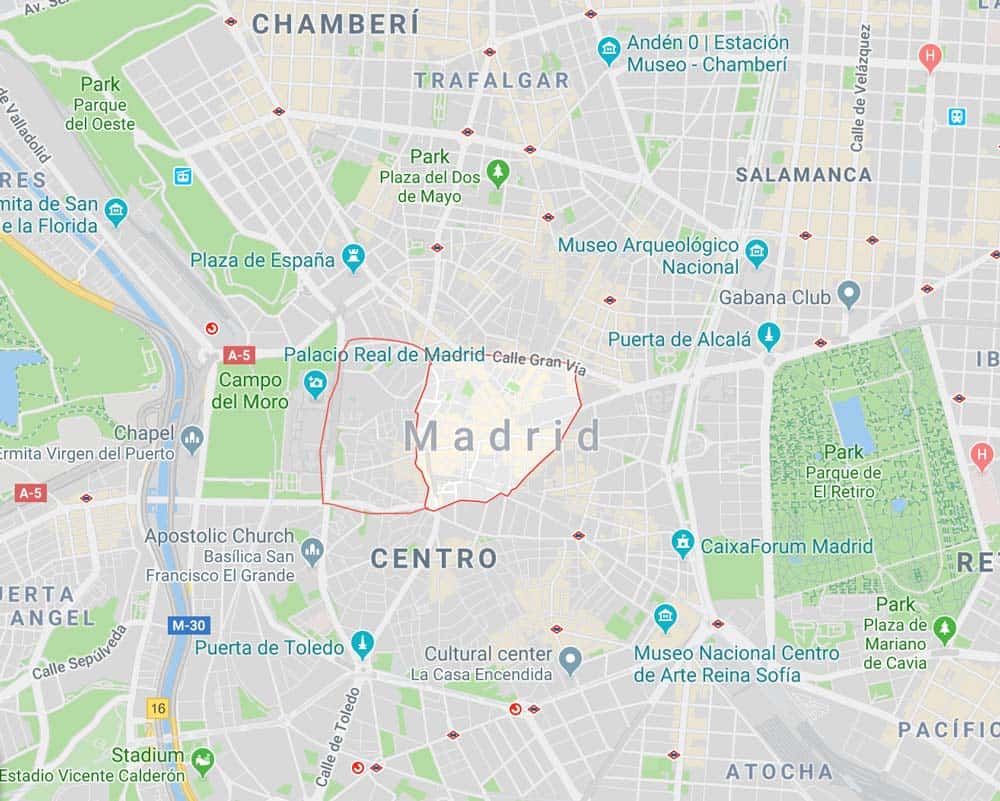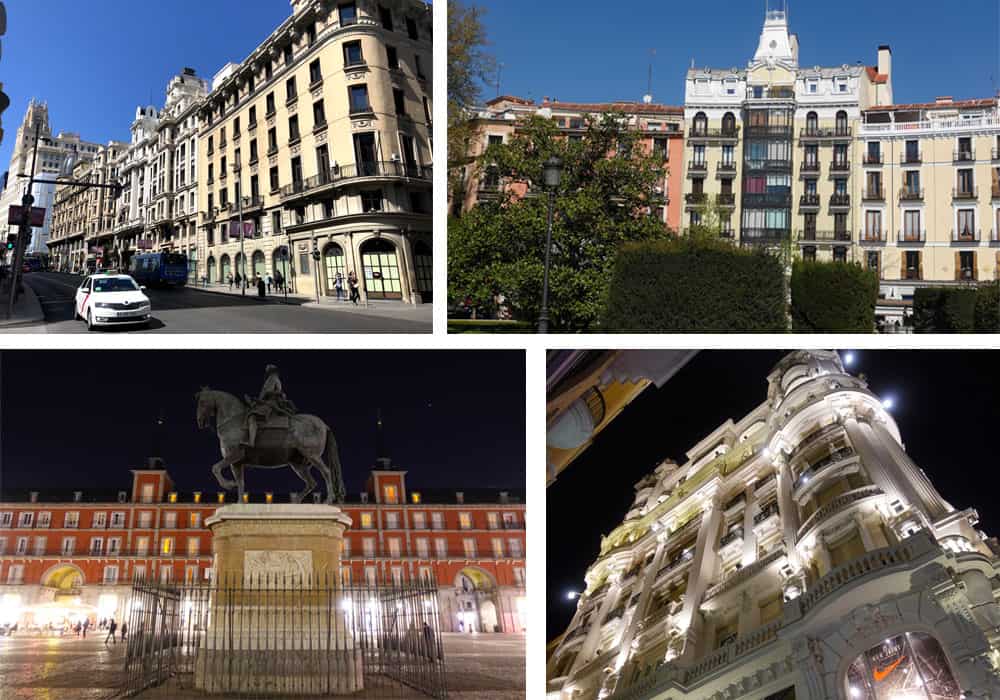 Filled with multiple grand squares (notably the Plaza Mayor), the Sol and Austrias Neighborhoods are Madrid's literal and figurative city-center. Most of the city's major attractions are located within about a 15-minute walk from these areas. It's also the most tourist-centric part of the city so you'll find lots of shopping and dining everywhere you go. And since the area is such a tourist draw, you need to be careful to avoid expensive/low-quality restaurants — so be sure to do your research before heading out to eat.
Malasaña & Chueca Neighborhoods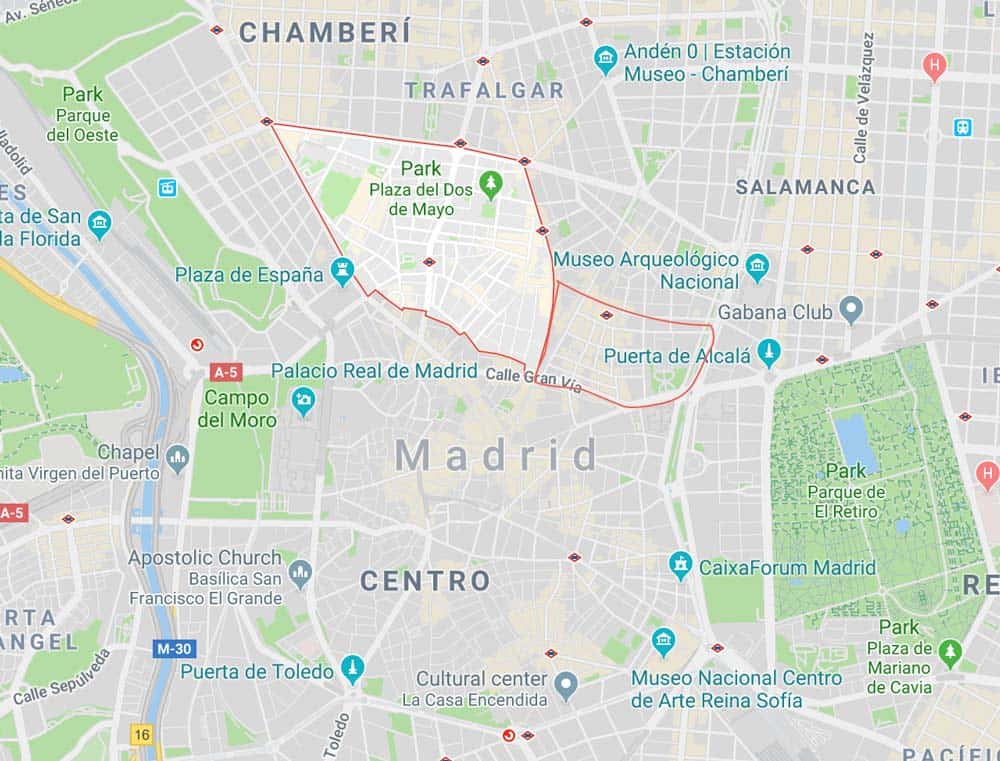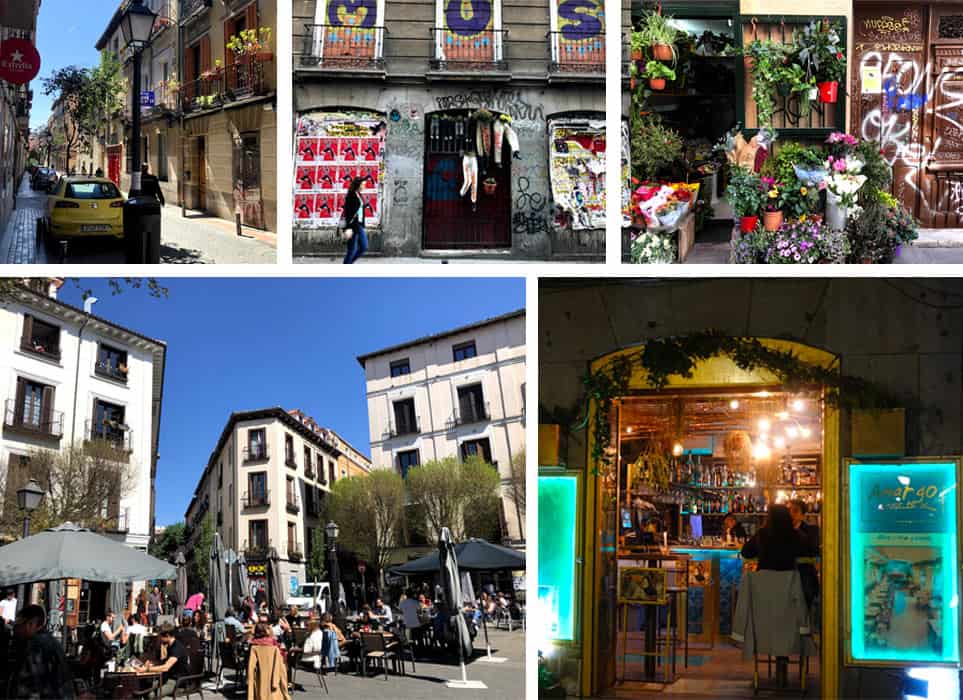 Want to experience the coolest/hipster/bohemian neighborhood in Madrid? Then head to the Malasaña neighborhood. These once seedy streets are now home to cool coffee shops (many of which turn into bars at night), diverse restaurants, outdoor cafes, hip bars, independent boutique shopping, street food markets, tons of small public squares filled with people, and all the nightlife your heart desires. It also has a large student population so you can find lots of budget-friendly bars, restaurants and vintage clothing shops. But all this nightlife means the neighborhood does tend to be fairly loud until the very early morning so it might not be the best option for light sleepers.
Traditionally Madrid's gay neighborhood, the Chueca neighborhood is a lovely part of town famous for its old buildings, laidback coffee shops, trendy restaurants, sidewalk cafes, diverse bars, cool food markets, boutique shopping, and some of the best nightlife in the city. In many ways, it's very similar to its Malasaña neighbor (they essential blend seamlessly into each other). This is another neighborhood that stays up all night so some parts will be loud well into the early morning.
Huertas Neighborhood and Retiro Park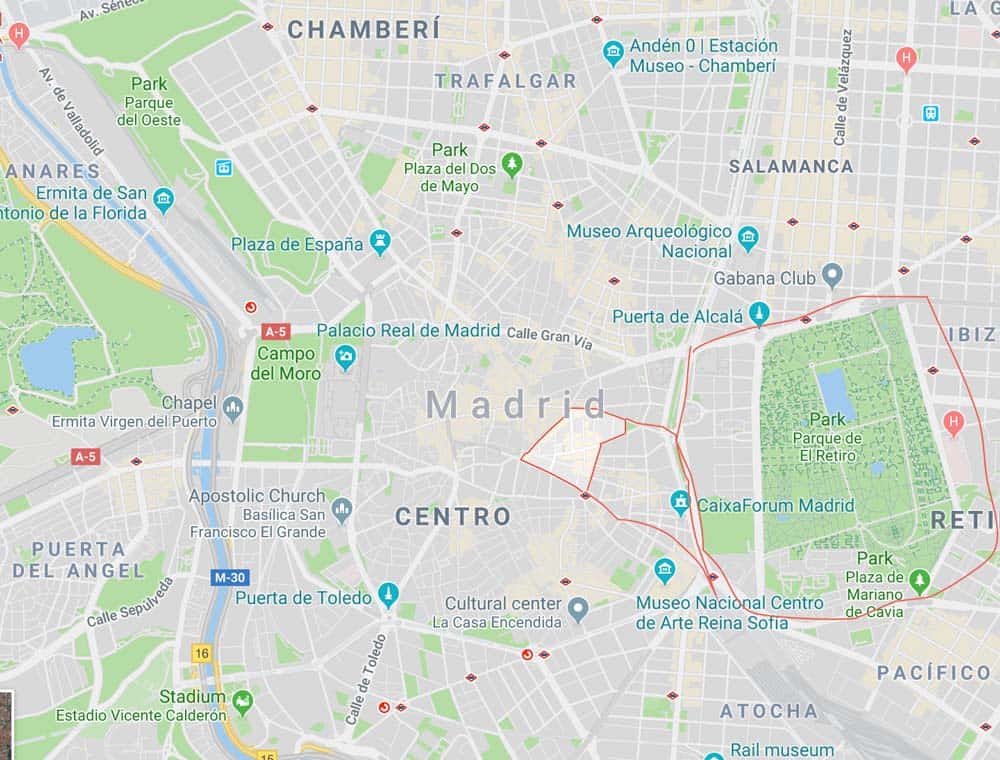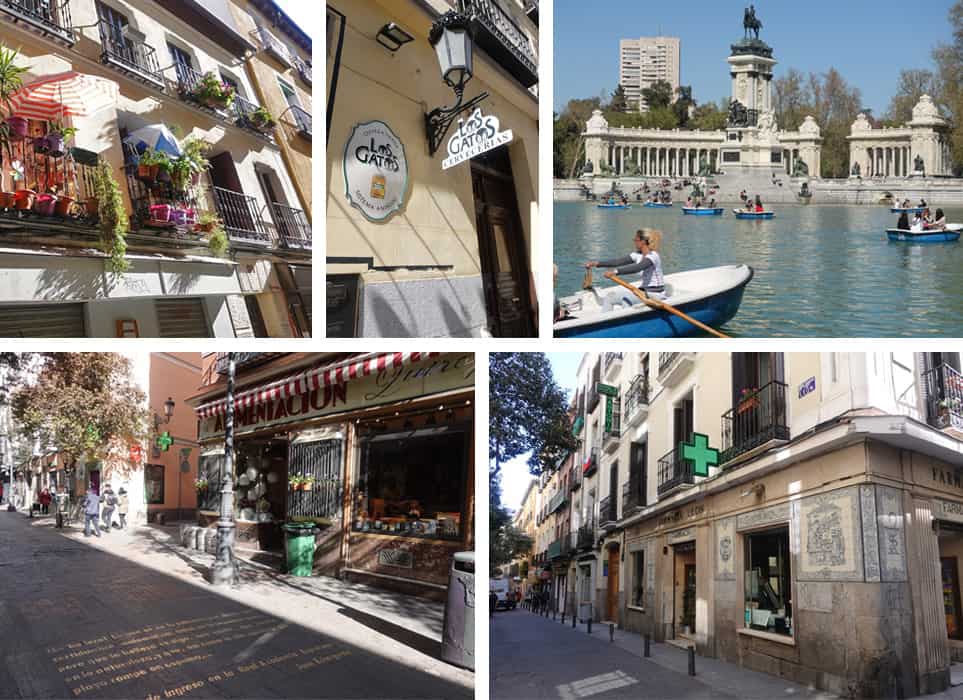 To the east of Sol is the Huertas neighborhood — which is technically called Barrio de las Letras but everyone calls it Huertas. It's also filled with plenty of boutiques, bars, and restaurants. The neighborhood is anchored by the lively Calle Huertas — a street lined with the full gambit of tapas bars, restaurants, beer houses, jazz bars, dive bars, and restaurants so there is something for everyone.
Along the eastern border of Huertas you'll find the city's largest park — El Retiro. This area is also home to three of Madrid's most famous museums: the Prado, Reina Sofía, and Thyssen-Bornemisza.
La Latina Neighborhood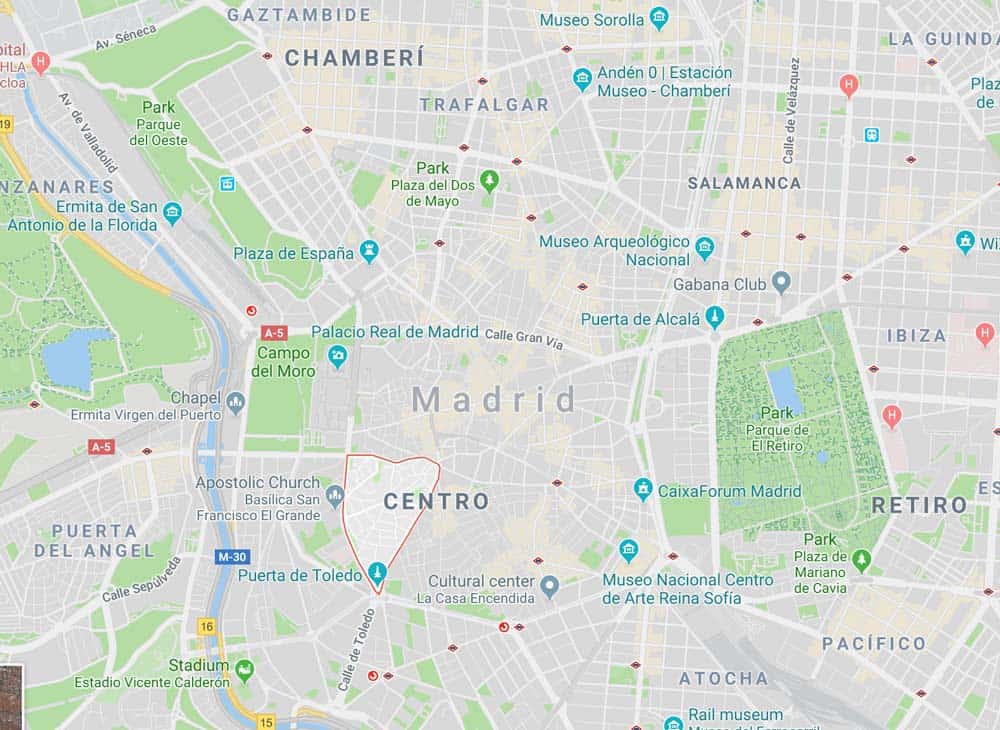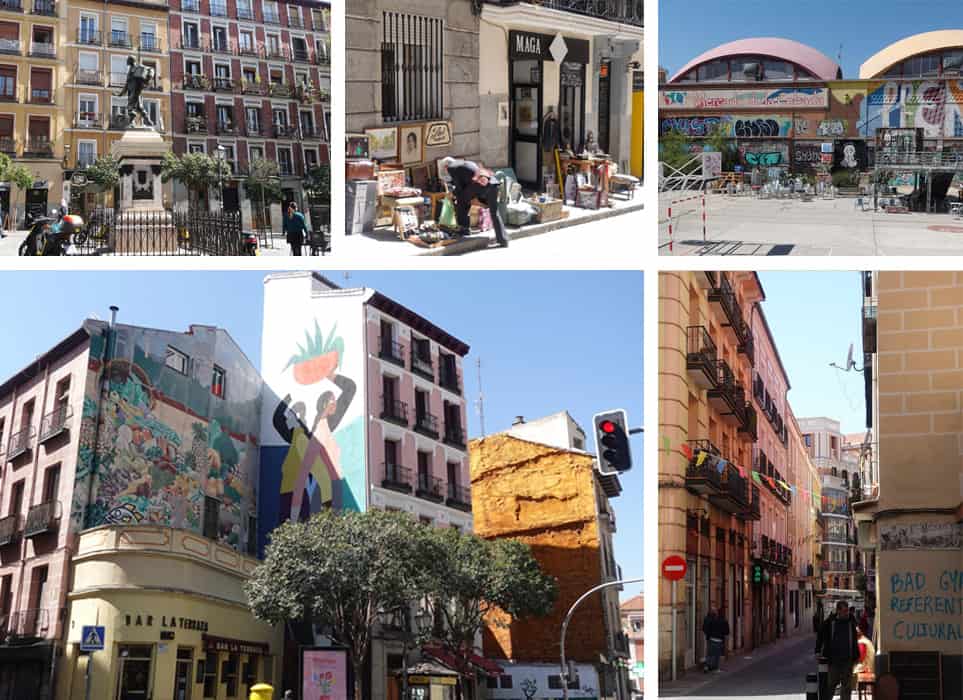 La Latina neighborhood (aka the Latin Quarter) is one of the city's oldest neighborhoods and it continues to be one be a lively and authentic part of the city — it truly comes alive around lunch and at night. You'll love getting lost in its maze of narrow medieval streets and alleyways as you hop from tapas bar to tapas bar — its most famous street is Calla Cava Baja.
La Latina is still a very authentic neighborhood so you'll find a lot more locals than tourists. Head to El Rastro Flea market every Sunday for some interesting shopping and food.
Note: The "La Latina" neighborhood is different from the neighboring "Latina" neighborhood.
Lavapiés/Embajadores Neighborhood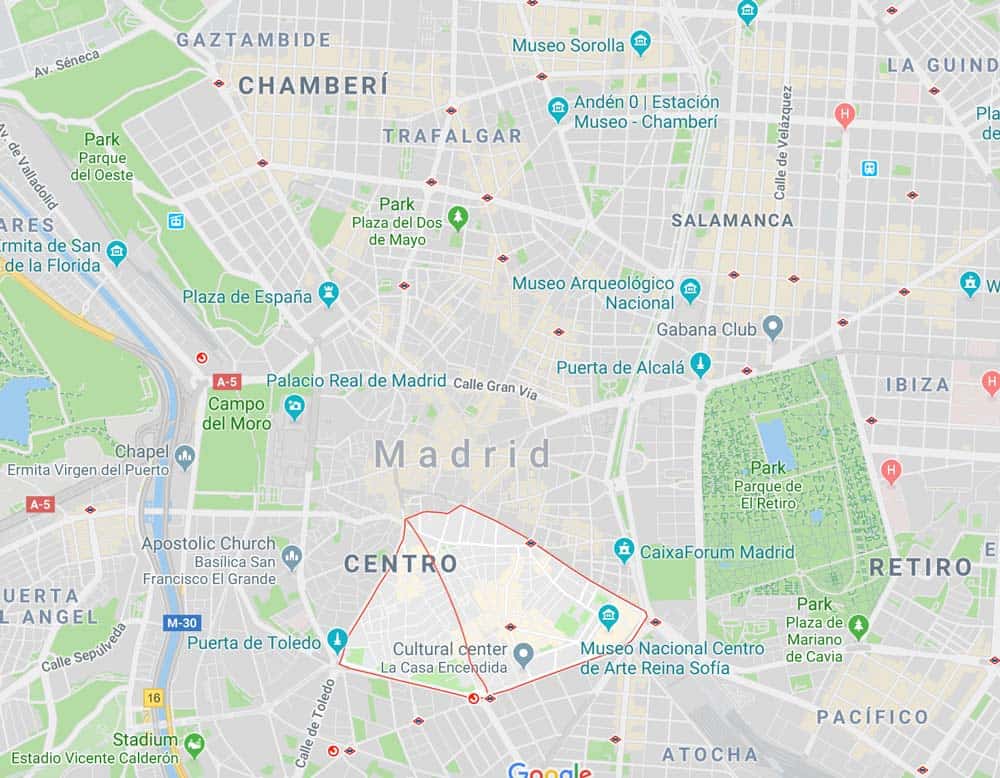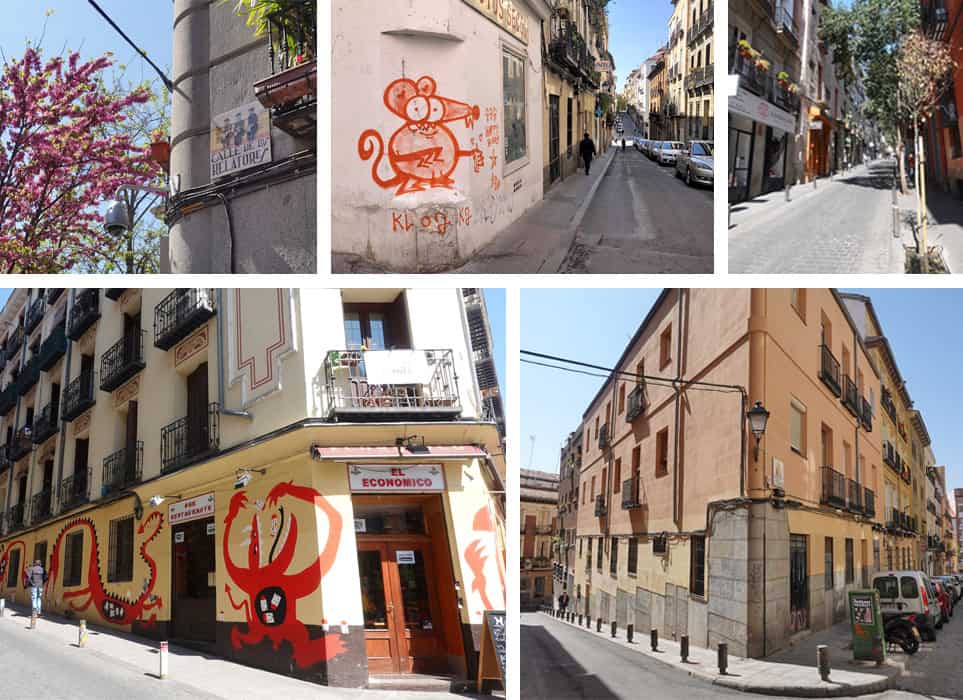 Time Out Magazine called Embajadores neighborhood (notably the Lavapiés section of the neighborhood) one of the "top 50 coolest neighborhoods in the world". This funky neighborhood has been in a constant state of change. Traditionally home to the city's poorest citizens for more than 600 years, it is now a melting pot of cultures from across to globe and locals seeking affordable rents. This quickly gentrifying neighborhood is still a little rough around the edges but it is now home to plenty of trendy bars and restaurants alongside traditional Indian, Moroccan, Lebanese, Pakistani, Chinese, and Sub-Saharan restaurants. This is another neighborhood where you won't find many tourists.
Moncloa-Arguelles Neighborhood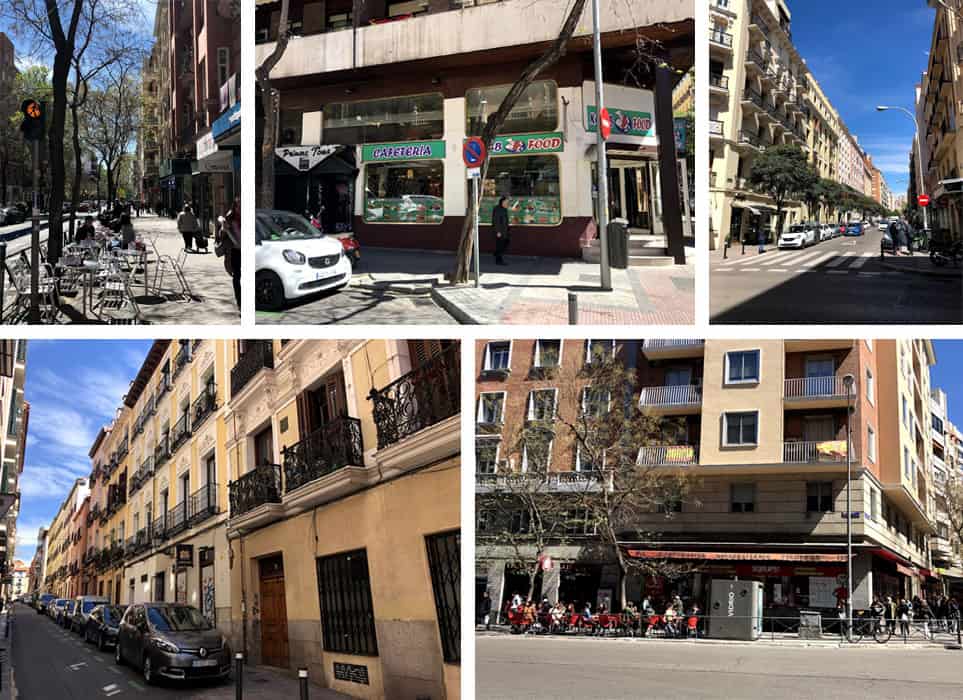 Moncloa-Arguelles is a largely residential neighborhood that is very popular with students (both local and from abroad) thanks to its multiple universities, affordable housing prices, and a short distance to Madrid's city center. It's a fairly quiet neighborhood but there are plenty of lively cafes, bars, shopping, green space, and things to do — all within walking distance.
Chamberi Neighborhood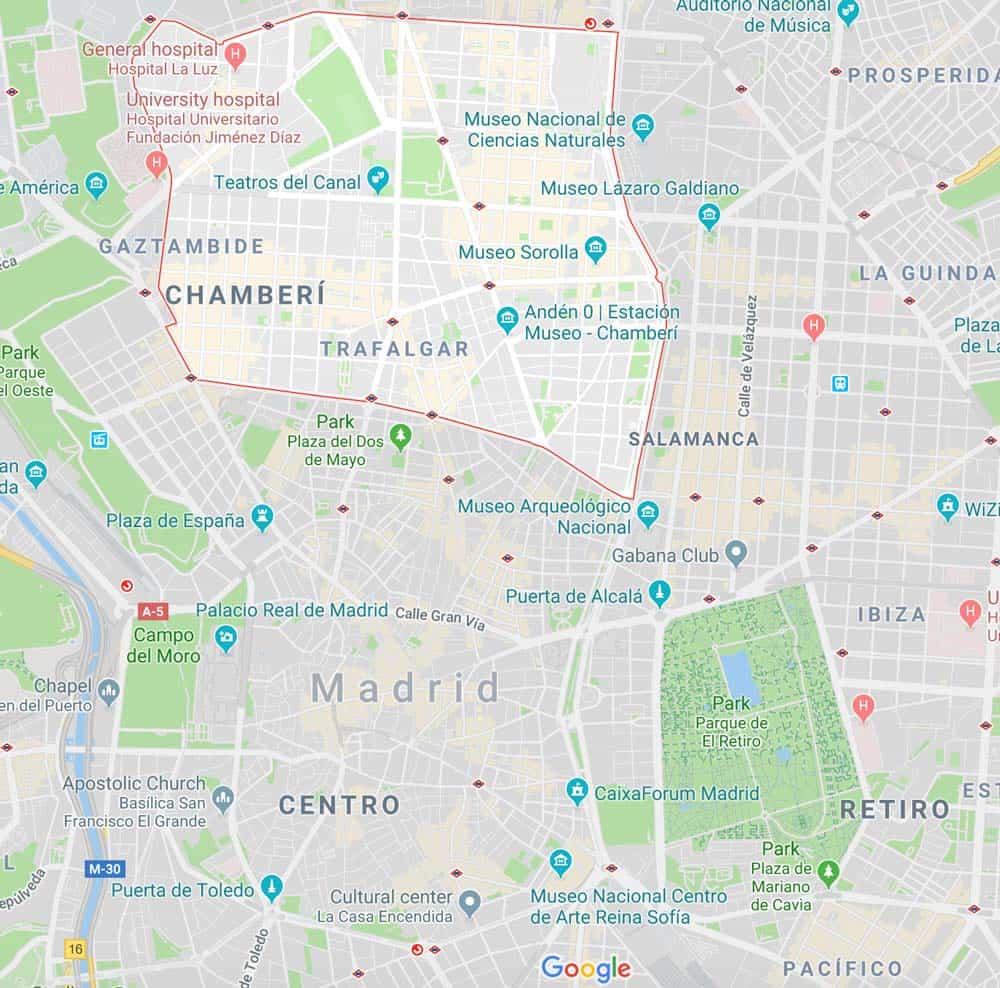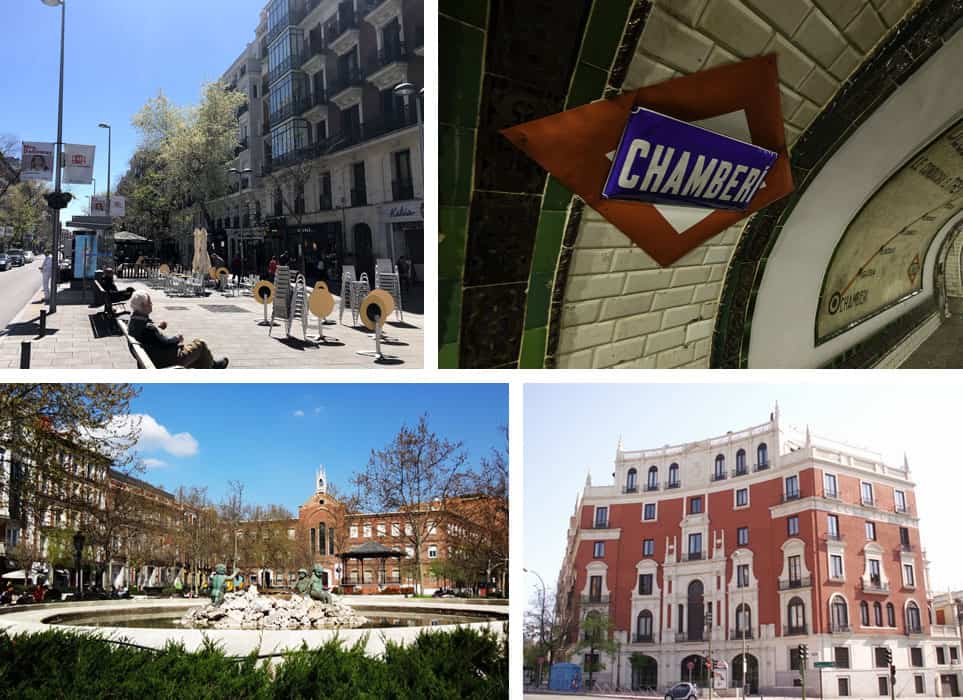 The Chamberi Neighborhood is located just a bit outside Madrid's "center" and is another authentic residential neighborhood that's full of locals enjoying life in its laidback cafes, traditional tapas restaurants, and locally-owned shops. It has a nice mixture of students, upper-class residents and everything in-between so it strikes a nice balance of being hip but not too posh.
Salamanca Neighborhood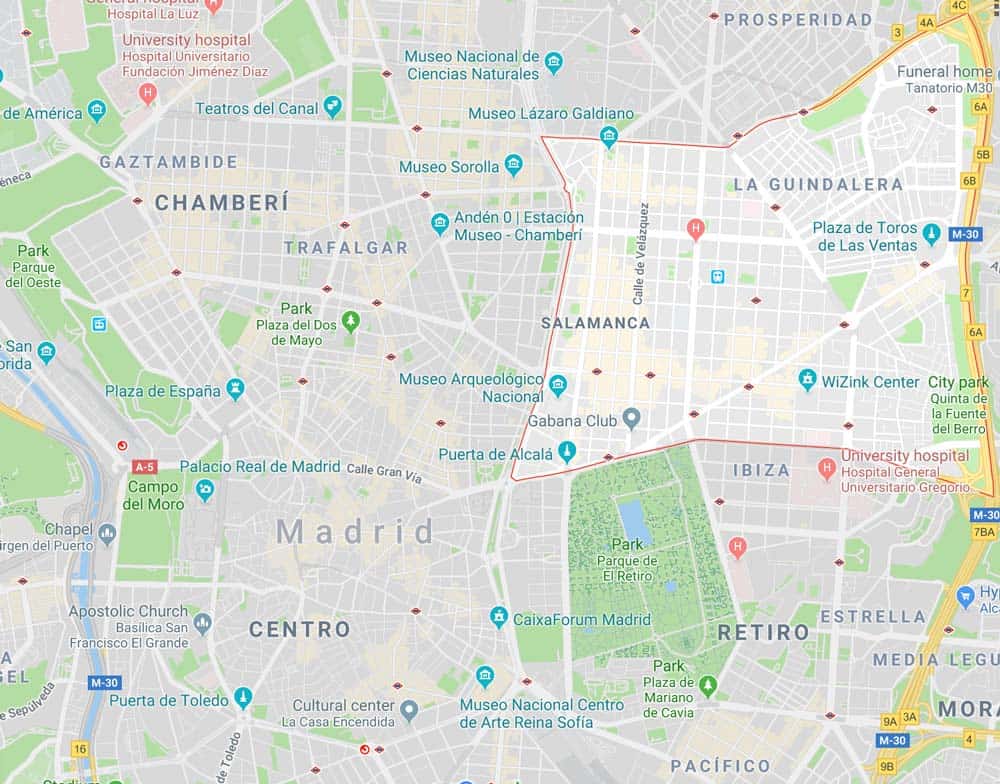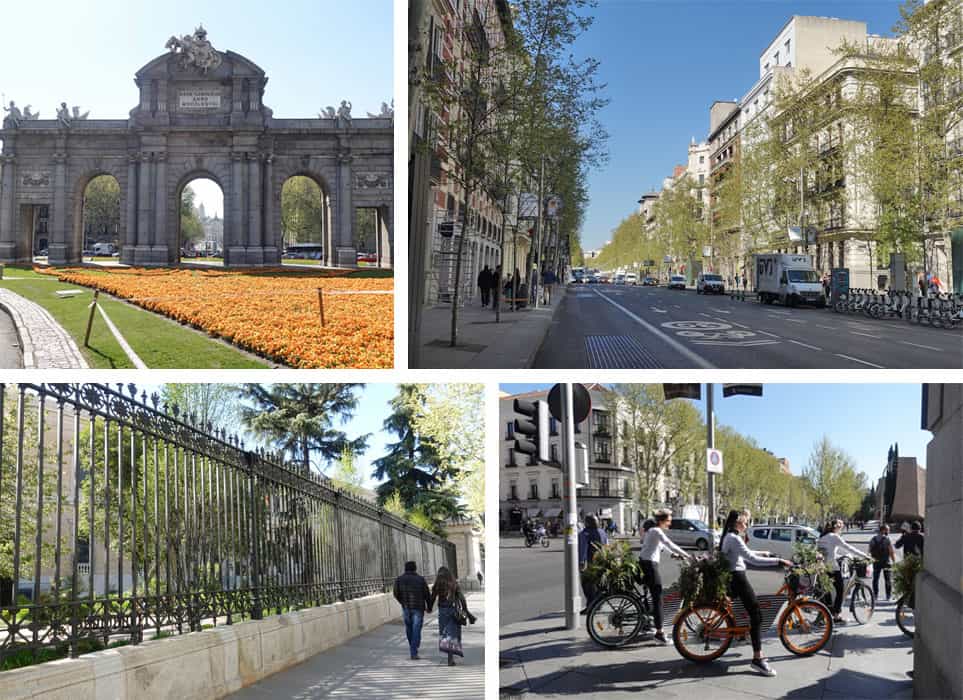 Do you only wear Gucci and Prada? Then the Salamanca Neighborhood might just be the place for you. This high-end part of Madrid is home to some of the most expensive real estate in Europe and its where you'll find the best luxury shopping in Spain. You'll also find exclusive restaurants and expensive bars. The nightlife also caters to a high-end clientele but there are a handful of options for any budget. And, if nothing else, it's a nice neighborhood to explore and admire the architecture.
---
Madrid's Top Sights & Attractions
Yes, there is more to do in Madrid than partying until 6 am.
Royal Palace (Palacio Real de Madrid)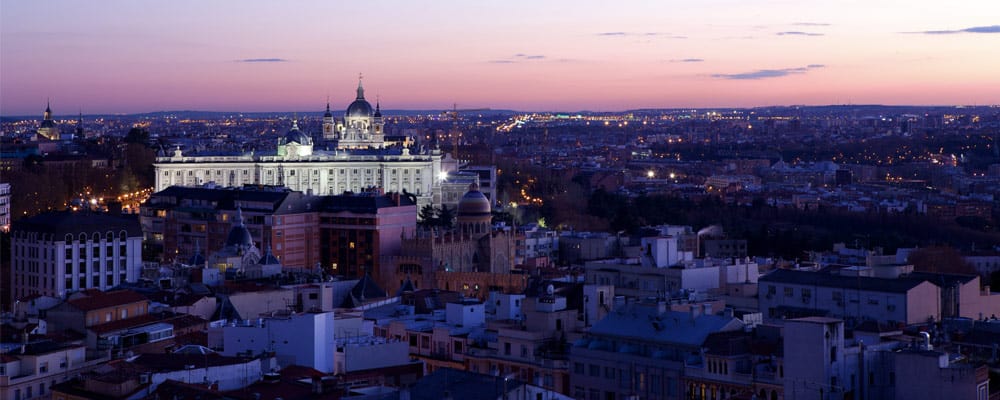 This impressive palace is the official residence of the Spanish Royal Family — but it's only used for state ceremonies. It's also the largest palace in Western Europe so set aside a few hours to visit this behemoth. By the way, lines to visit the palace can easily take over an hour to get through so get there early.
Budget Tip: There is free admission on weeknights from 6-8 pm.
Local Tip: The Almudena Cathedral is right next to the Royal Palace and offers great city views from its towers. Free admission but admission to the museum is €6.
Prado Museum (Museo Nacional Del Prado)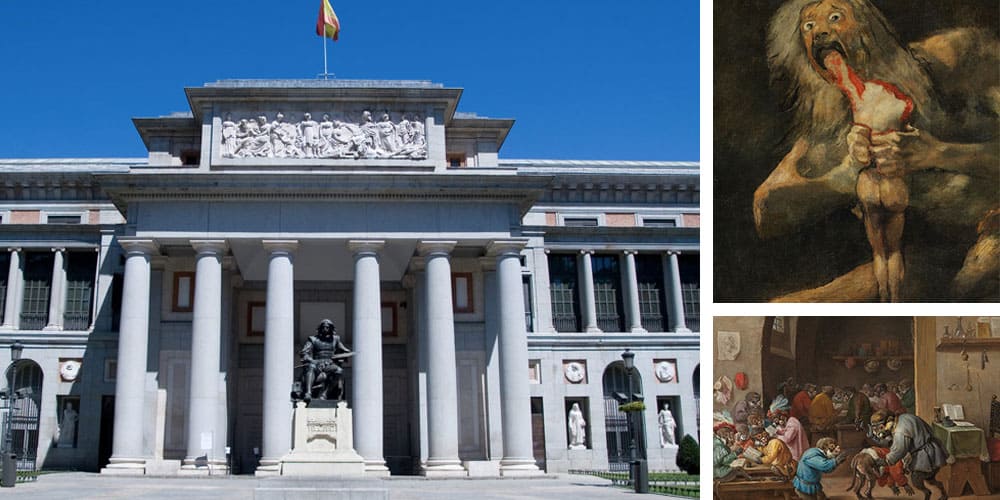 The Prado Museum is Spain's main and national and largest museum that features one of the world's premier collections of European art — which dates from the 12th century to the early 19th century. The Prado features numerous masterpieces from artists like Velázquez, Goya, Raphael, Rubens, Bosch and many more.
Budget Tip: The Prado is free Monday to Saturday from 6 pm to 8 pm and on Sunday from 5 pm to 7 pm.
The Queen Sofia Museum (Centro de Arte Reina Sofía)
The Queen Sofía Museum is Spain's national museum of 20th-century art. It features works mainly by Spanish artists — including excellent collections of Pablo Picasso and Salvador Dalí. It also has a smaller collection of international artists.
Budget Tip: Free Monday to Friday from 7 pm to 9 pm, Saturday from 2:30 pm to 9 pm, and Sunday from 10 am to 2:30 pm
Thyssen-Bornemisza Museum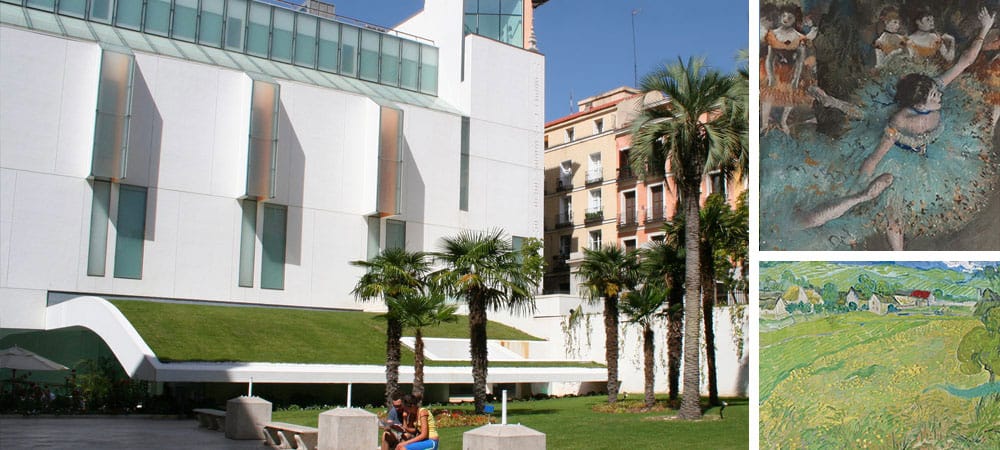 Featuring over 1000 pieces of art (mainly from the 13th century to the late 20th century), the Thyssen is one of the biggest and best private art collections in the world.
Budget Tip: Free on Monday.
CaixaForum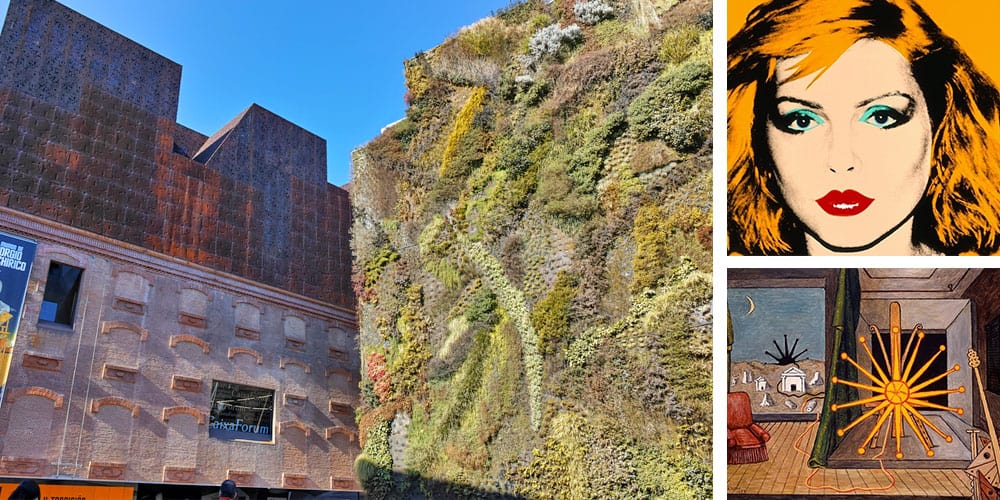 Sponsored by Spain's Caixa Bank, the Caixa Forum is a former electrical power station that was converted into one of Madrid's most interesting looking structures. It houses revolving exhibitions of modern and contemporary art, music, multimedia and more.
National Archaeological Museum (Museo Arqueológico Nacional)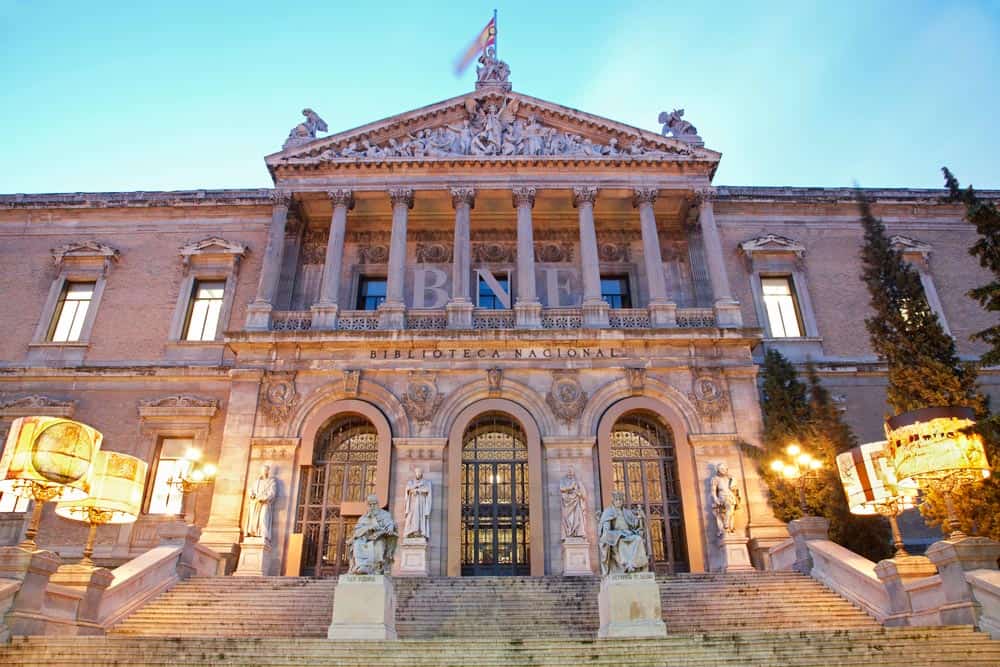 The archaeological museum features artifacts ranging from prehistoric to Renaissance times. The museum's highlight is Lady of Elx — a bust of a 5th century BC Iberian woman.
Budget Tip: Free after 2 pm on Saturday & 9.30 am to noon on Sunday.
Paseo (Paseo del Prado)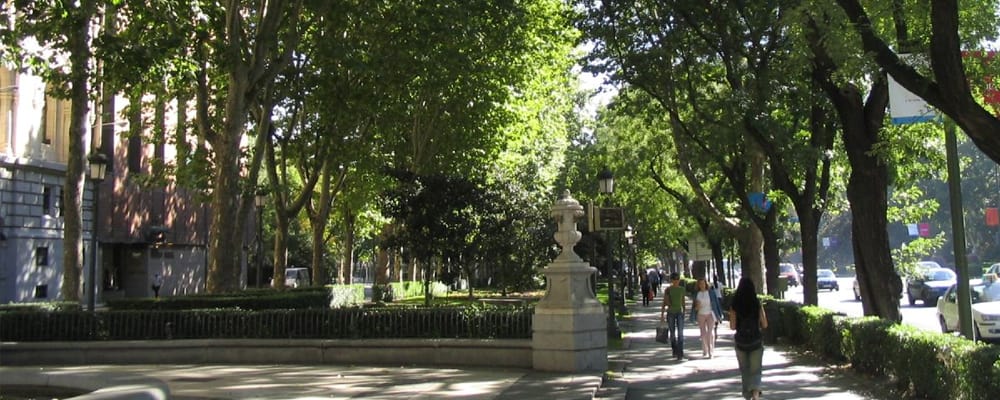 The Paseo del Prado is a grand, tree-lined boulevard that passed by many of Madrid's top attractions — including the city's most iconic museums. It's an excellent place to stroll and take in the ambiance, fountains, flowers, and architectural beauty of Madrid.
Plaza Mayor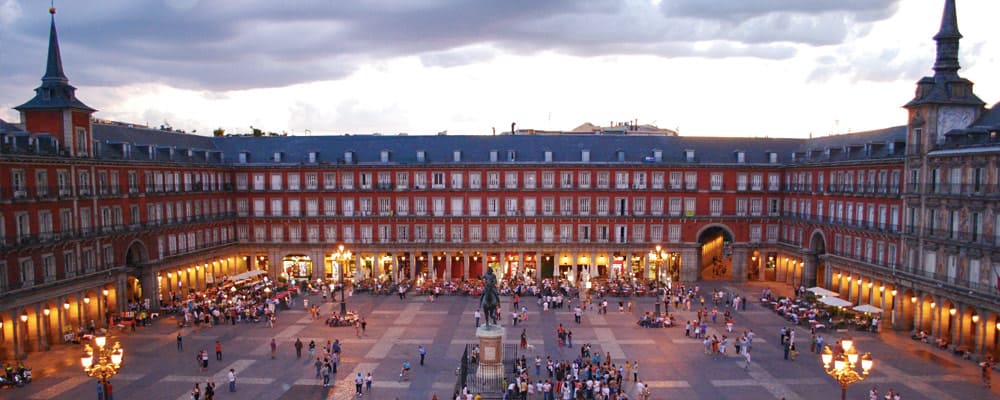 The Plaza Mayor (which means "the main square" in Spanish) is the city's grand central square and one of the most impressive squares in Spain. It's the heart of Madrid.
Local Tip: Visit the near-by Bar La Campana restaurant (see on Google Maps) to chow down on some of the best bocadillos de calamares (fried calamari sandwich) in Madrid. Don't be scared by the line as it moves quickly.
Puerta del Sol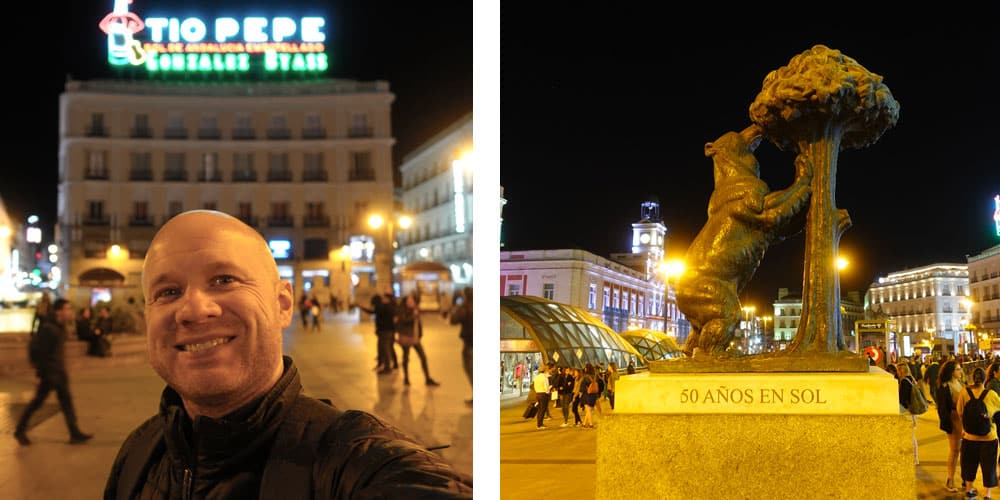 Located at the literal center of Madrid, the Puerta del Sol is a public square that's also one of the business/liveliest parts of the city since it's where most of the main roads converge. You'll find some of Madrid's most famous sights around the square so you're sure to visit a few times, but it does get overrun with tourists and pickpockets.
Local Tip: Visit the iconic and chaotic La Mallorquina pasty shop (see on Google Maps) for the excellent Napolitana con Chocolate. They also have a million other pastries (the strawberry cake is another local favorite) but there is a reason people order the Napolitana.
El Retiro Park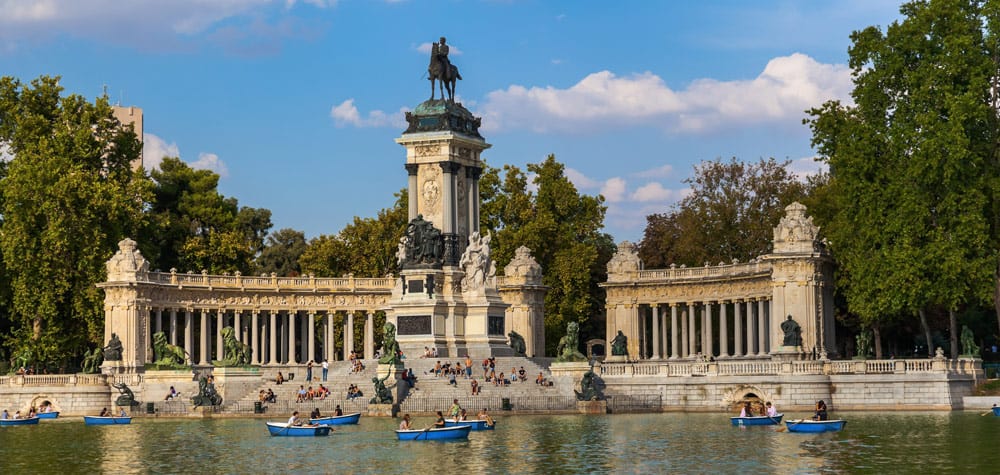 Located near many of Madrid's popular sights, Retiro Park is a large public park and it's a great place to take a stroll and rent a rowboat.
Plaza de Santa Ana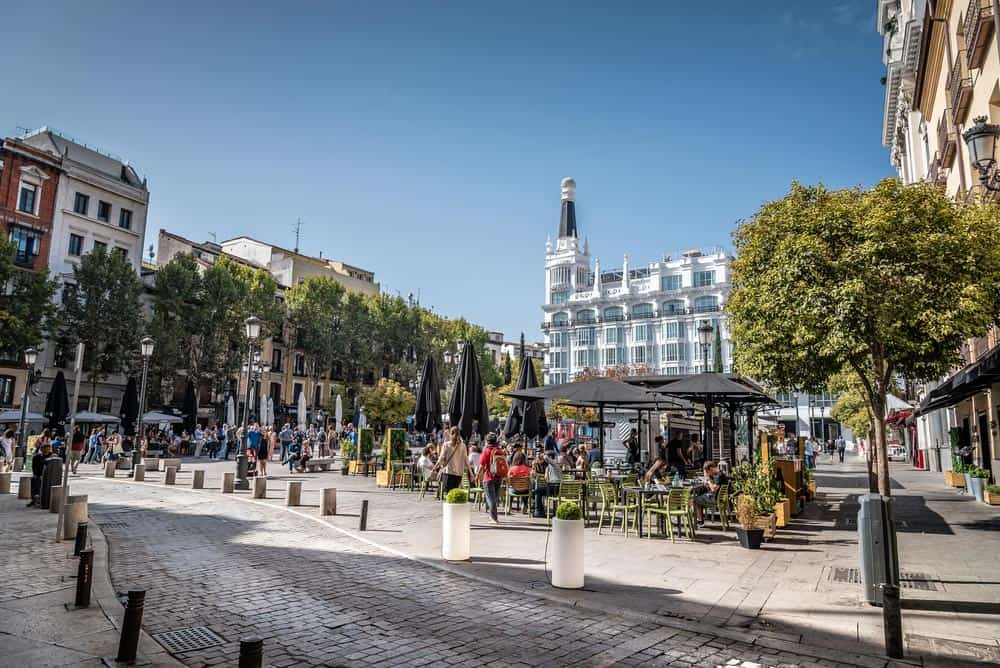 Plaza de Santa Ana is the heart of the compact Huertas neighborhood — which is one of Madrid's most vibrant areas that's with bars, restaurants, tapas bars, and cafes. This was a favorite area for Hemingway.
Local Tip: Check out Café Central Jazz (see on Google Maps) for the best jazz in Madrid.
El Rastro Flea Market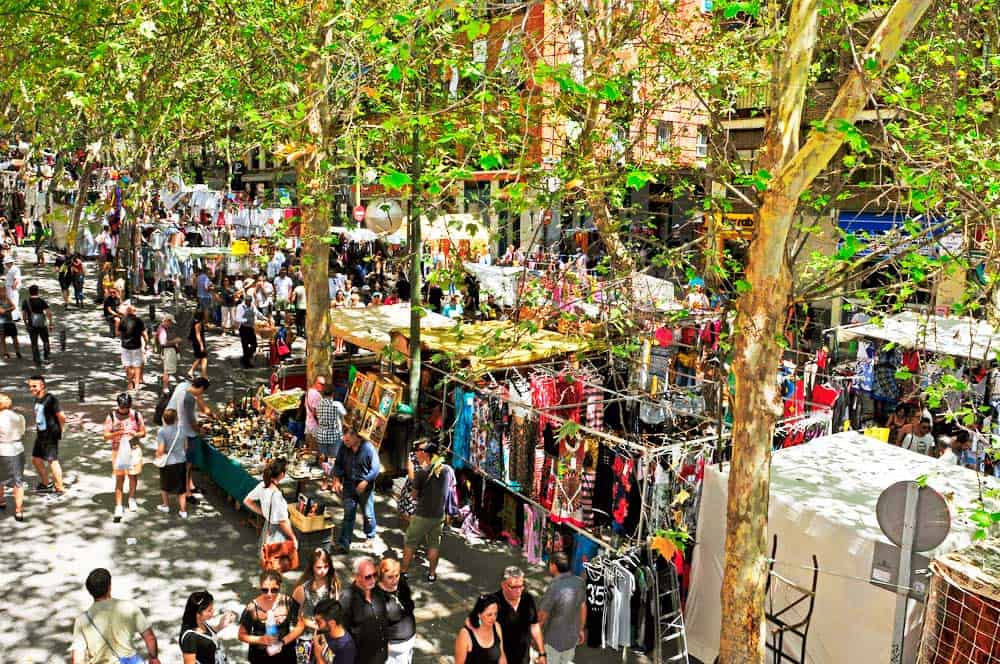 Looking for a unique souvenir? Head to El Rastro — which is Europe's largest flea market (it's been around since the Middle Ages). It has just about everything you can imagine, from junk to literal treasures (but mostly junk). There are also some nice local tapas bars in the area.
Open on Sundays from 8 am-3 pm
Local Tips: This is a hotbed for pickpockets. Arrive at/before opening to avoid the crazy crowds.
Take a (Free) Walking Tour
Walking tours great ways to explore and learn more about the city you're visiting. I like to take one on my first day in a new city as I find it's an excellent way to get my bearings and it gives me an idea of where I want to revisit.
The free walking tours are great for overviews. However, you'll have to pay if you want a better quality guide or more specialized information (food tours, etc.).
Below is a list of the free walking tours:
If you're looking for a paid tour we recommend checking out Trip Advisor to find reviews.
Other Popular Sights in Madrid
Here are a handful of other things you might want to check out if you're spending an extended amount of time in Madrid.
Las Ventas Bullfighting Ring: Into bullfighting? Well, this is the place for you. Bullfights are held from March to December. You can also take a tour of the building. Visit Website. See On Google Maps.
Casa de Campo Park: This is Madrid's largest public park and it is home to an aerial gondola, zoo, amusement park, tennis courts, restaurants & two outdoor swimming pools. See On Google Maps.
Santiago Bernabéu Stadium (Real Madrid FC Stadium): You can tour the iconic and world-famous Real Madrid FC stadium. It's also fun to catch a game if you can score tickets. Visit Website. See On Google Maps.
Temple of Debod: This Egyptian temple located in Cuartel de la Montaña Park was donated to Spain from Egypt and dates back to the 2nd century BC. It's a small temple and you can't go inside but it's cool to see if you're in the area. Visit Website. See On Google Maps.
---
The Must-Try Food in Madrid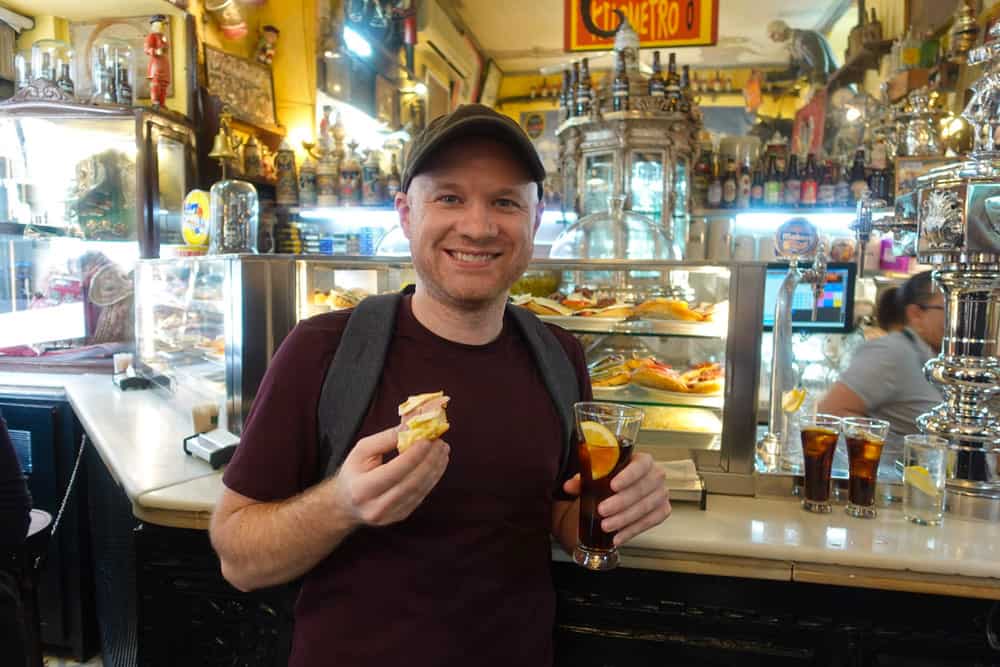 Life in Madrid seems to revolve around eating and drinking well so take a cue from the locals. In this section, we've covered the highlights about which kinds of food you should seek out.
My buddy James from the Spain Revealed Youtube channel created an awesome Madrid Travel Guide that's filled with a ton of handpicked restaurants (as well as other travel tips). The guide costs €17.95 and is worth every penny.
Traditional Breakfast in Madrid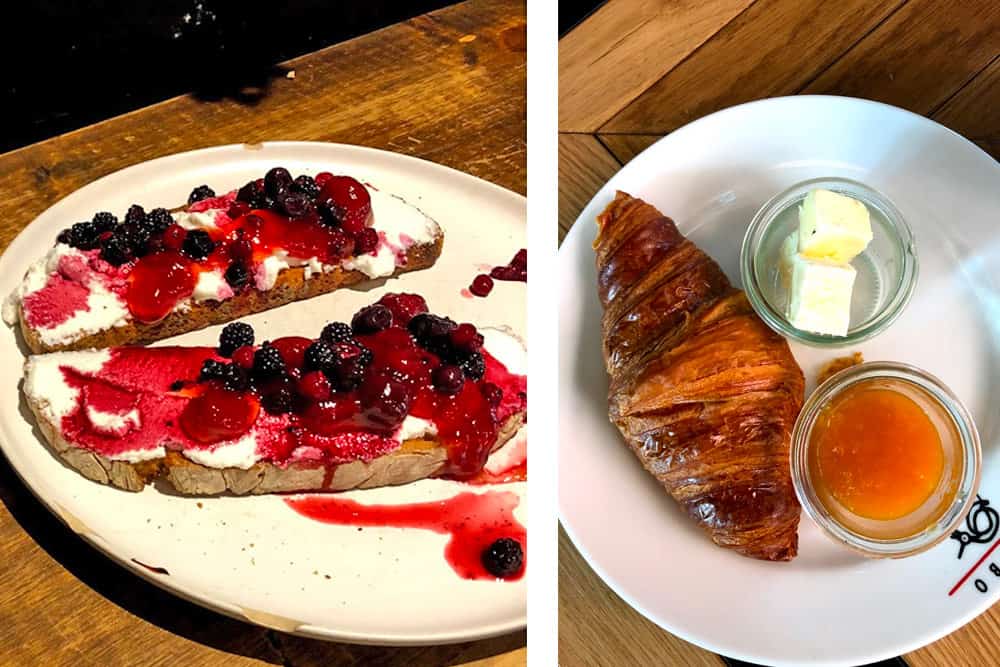 The standard breakfast in Madrid is traditionally pretty simple. A staple is tostadas — toast that is traditionally topped with crushed tomatoes but you can also get your toast topped with everything from ham and eggs to avocado and fruit. These are served just about everywhere.
Spain grows a lot of oranges so just about every place serves fresh-squeezed orange juice.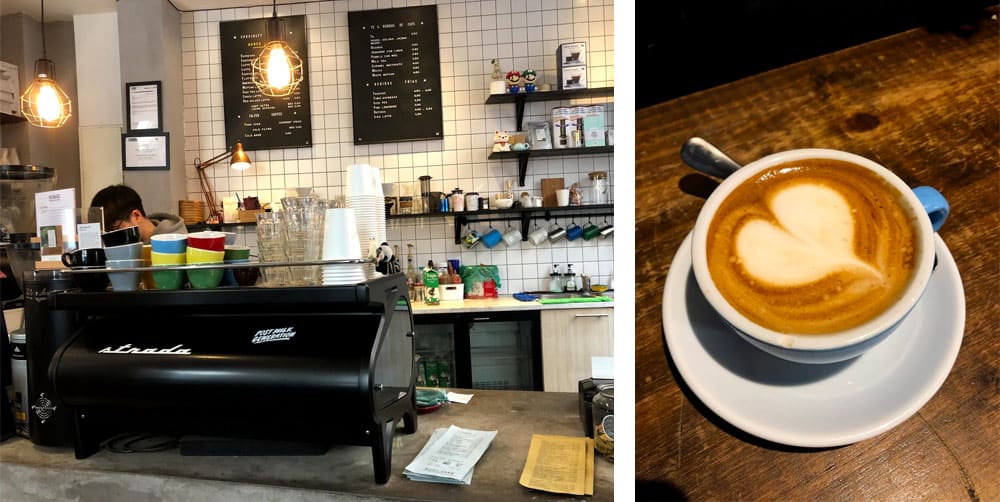 And of course, there is coffee. You can get some decent coffee at most places but Madrid has a growing specialty coffee shop scene if you're looking for higher-quality coffee (we've listed a few of our favorite coffee shops later in the article).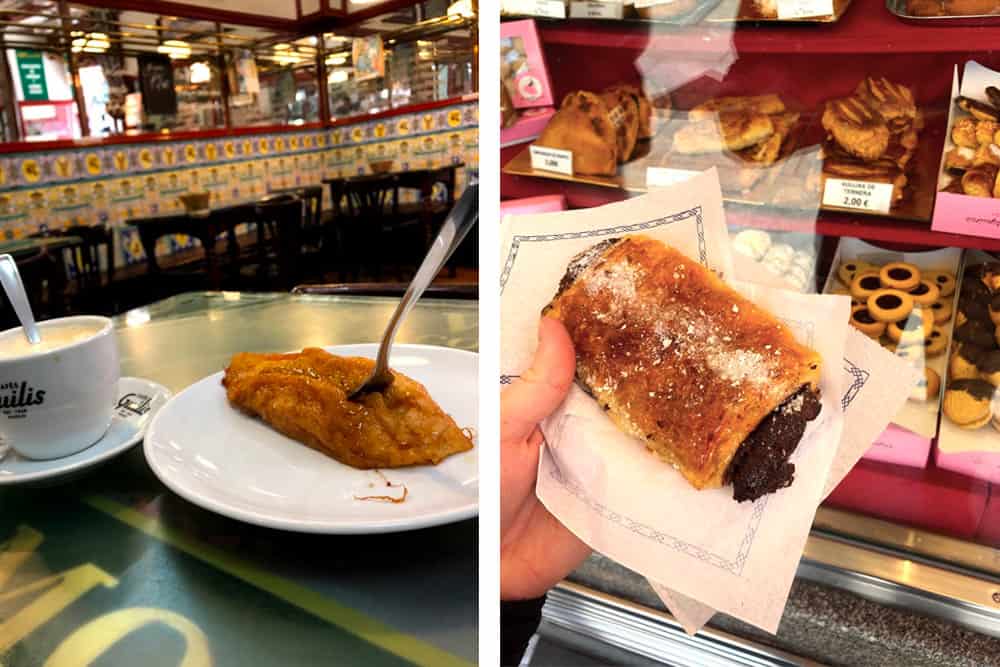 Of course, there are plenty of options for you sweet-toothed travelers. Torrijas are similar to french toast and it's super tasty. You can also find plenty of pastries that range from croissants to the excellent Napolitana con Chocolate (100% recommended).
Our Favorite Torrijas and Napolitana con Chocolate:
El Restaurante Lhardy: Lhardy, an upscale restaurant that's been open since 1839, might just have the best Torrijas in Madrid. Their restaurant is super expensive but they have a takeaway window for their baked goodies. See On Google Maps.
La Casa de las Torrijas: It's no surprise that a place called La Casa de las Torrijas is going to have some solid Torrijas. See On Google Maps.
La Mallorquina: An old-school pastry shop that's most famous for their Napolitana con Chocolate and Napolitana con Crema — which is kind of like a Spanish version of a Pain au Chocolat (the crema version is a cream instead of chocolate). These things fly off the shelves. They also have plenty of other treats — including an excellent Torrijas. It does get very busy and a little chaotic (its a bit of a free-for-all counter service) so you'll most likely take everything to go. However, there is an upstairs dining room for table service. (See On Google Maps)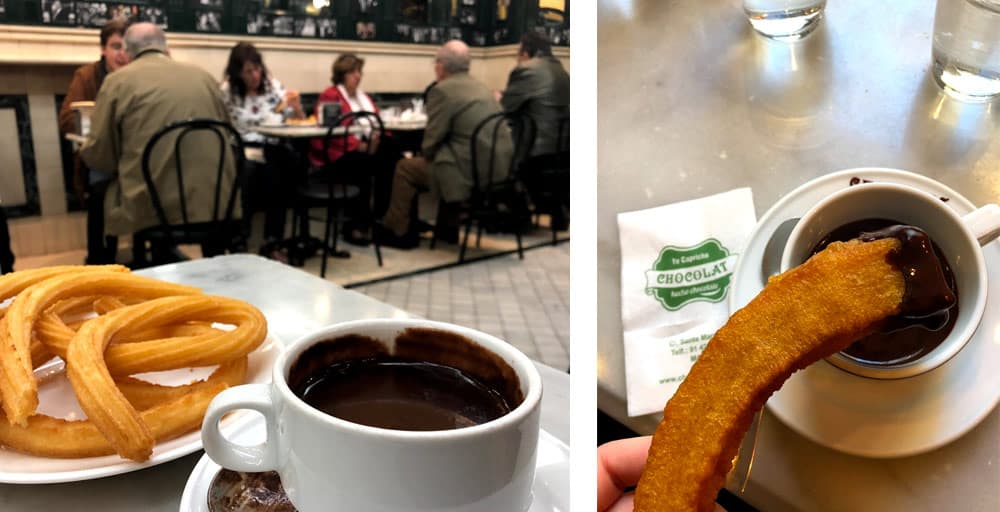 Churros and hot chocolate is another traditional breakfast that can honestly be eaten anytime (in fact, San Ginés is famous for their churros and hot chocolate and they're open 24/7). An alternative to churros are porras — which is basically a bigger version of a churro. And the hot chocolate is very thick and decadent (basically a melted chocolate bar) so it might make you want to take your siesta early.
Furthermore, Madrid is an international city so you can find just about any kind of breakfast option and the idea of "brunch" seems to be quickly catching on.
Our Favorite Hot Chocolate and Churros Spots:
Chocolatería San Ginés: The most famous place to get hot chocolate and churros — they've been open since the 1890s. Yes, it is touristy and always busy but the service is super quick. And it's open 24/7! (See On Google Maps)
El Riojano: El Riojano is another Madrid institution (opened in 1855) famous for their pastries and hot chocolate (which many people say is even better than San Ginés). They don't make churros but get your hot chocolate with soletilla (basically a Spanish ladyfinger biscuit). This is a very old-world kinda place. (See On Google Maps)
Lunch, Dinner, and Tapas in Madrid
People in Madrid tend to eat lunch from about 1:00-3:30 and then have dinner from 8:00 pm to around 11:00 pm. A number of restaurants and tapas bars will close from 4-8 pm.
Lots of people will enjoy a drink and some tapas during lunch and then again from around 5 pm to dinner time.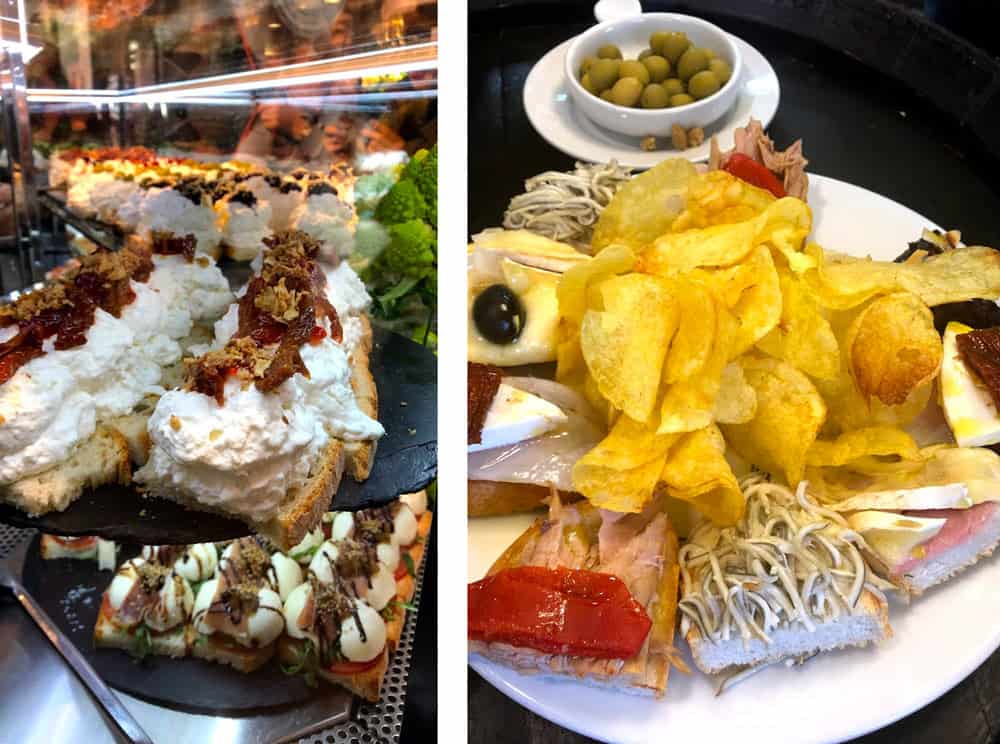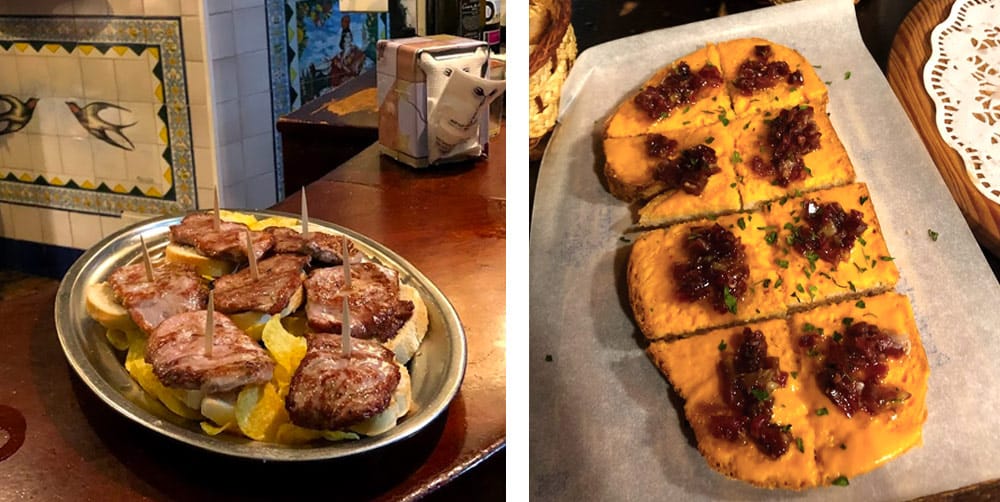 So let's start with tapas and racións since that's Madrid's most famous dish. Tapas are basically bite-sized snacks of various dishes and racións are closer to full-sized portions.
Tapas can be something as simple as olives or nuts but some places go all out and feed you enough to become a meal. Often, different restaurants will specialize in one or two different types of tapas — which is why the locals move from bar to bar trying different things.
In many tapas bars, you get free tapas as long as you are ordering a drink. In other places, you buy the tapas separately (these tend to be a little more substantial than the tapas you get free with a drink).
NOTE: We've listed a few of our favorite tapas bars further down in this article.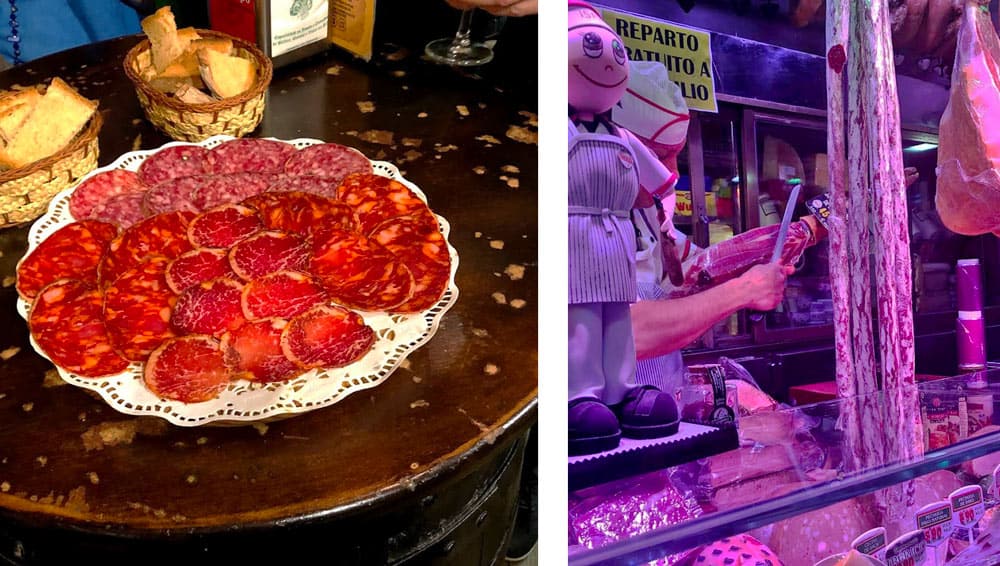 You have to try Madrid's various cured meats — specifically the thinly sliced jamon iberico (expensive and high-quality cured ham). Do yourself a favor and find some good quality meats while you're in Madrid. The "iberico" designation is the best quality ham so you gotta try some.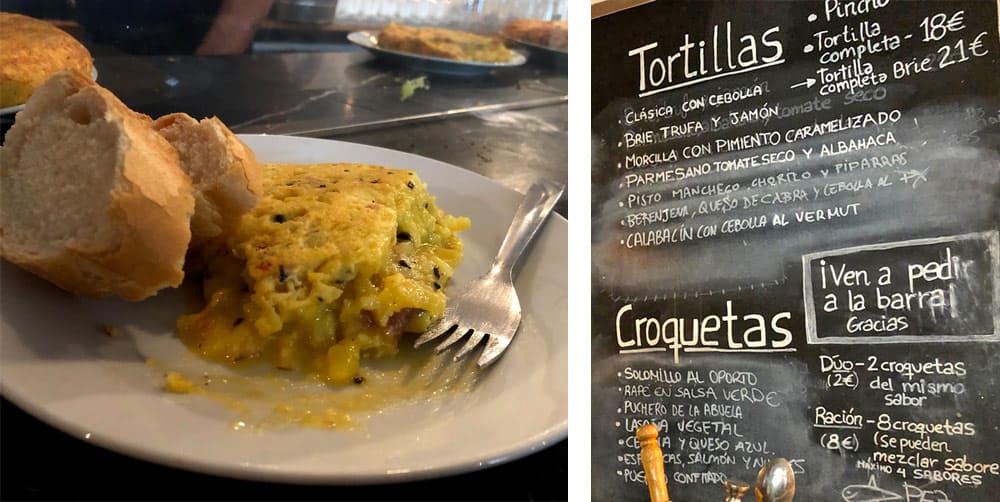 Tortillas are basically like a Spanish version of an omelet so it's nothing like a Mexican tortilla. They honestly don't look that appetizing (and they're hard to photograph well) but they're super tasty. Croquetas (fried balls of potato and other ingredients like ham, fish, veggies, etc.) is another famous dish.
Our Favorite Tortillas & Croquetas Spots:
Pez Tortilla: Local favorite with €3/slice tortilla, croquetas, and craft beer. See On Google Maps.
Casa Julio: Probably the best croquetas in Madrid — and they're affordable. See On Google Maps.
Bodega de la Ardosa: An authentic spot that's been serving up excellent tortillas, croquetas, and home-made vermouth for more than 100 years. See On Google Maps.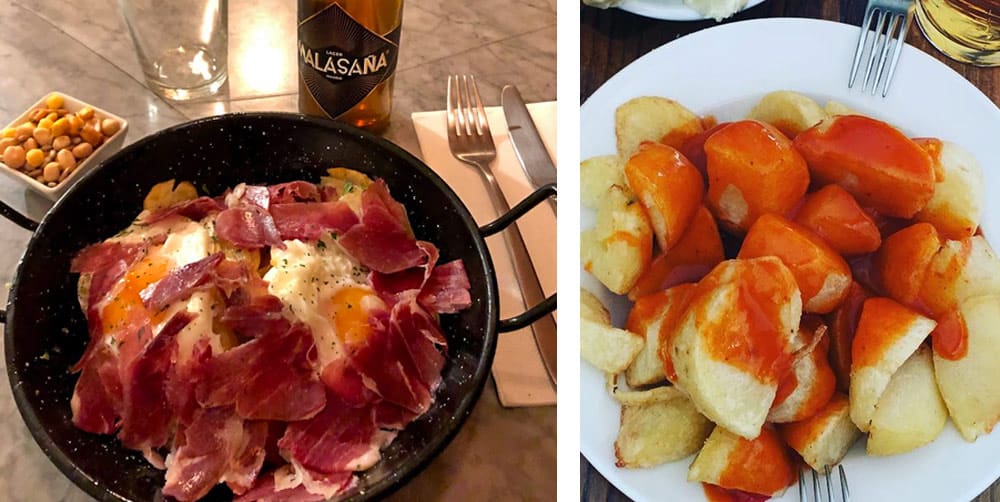 I fell in love with Huevos Rotos in Madrid. Translated as "broken eggs", Huevos Rotos is fried eggs and normally ham that is traditionally served over French fries. Another standard is Patatas Bravas — which are fried potatoes covered in a spicy tomato sauce.
Our Favorite Huevos Rotos and Patatas Bravas Spots:
Los Huevos de Lucio: Old school tavern and Madrid institution famous for their Huevos Rotos. See On Google Maps.
Antigua Huevería: Cozy neighborhood restaurant that serves up some really nice Huevos Rotos and a few local craft beers. See On Google Maps.
Docamar: The place to go for patatas bravas in Madrid but it is a bit outside the city center. See On Google Map
Las Bravas: Another excellent place to score some perfectly cooked patatas bravas. See On Google Maps.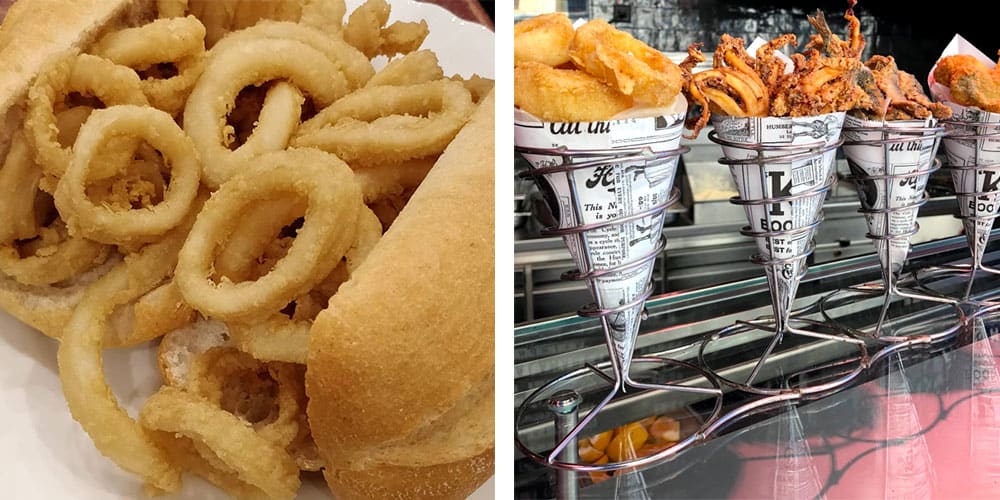 Madrid is also known for its high-quality seafood — which doesn't make a ton of sense since it's a landlocked city. However, the fresh seafood is transported in very quickly, and you'll actually often find better seafood in Madrid than you will in many of the coastal towns — but it can get a little pricy.
One of the must-eat seafood dishes in Madrid is the famous bocadillo de calamares (fried calamari sandwich). These tasty and cheap sandwiches are sold all over the city — especially near the Plaza Mayor.
You should also try bolas de bacalao frito — deep-fried balls of cod. So good.
Our Favorite Bocadillo de Calamares and Bolas de Bacalao Brito Spots:
Of all the seafood dishes in Spain, paella is the most well-known. However, Madrid is full of really bad paella. Skip any place that has signs out front that advertises with generic images of paella — all those places are total junk. Find nicer restaurants if you want authentic paella… they might be a little more expensive but it's worth it.
Some of our favorite online food resources and bloggers:
Take A Food Tour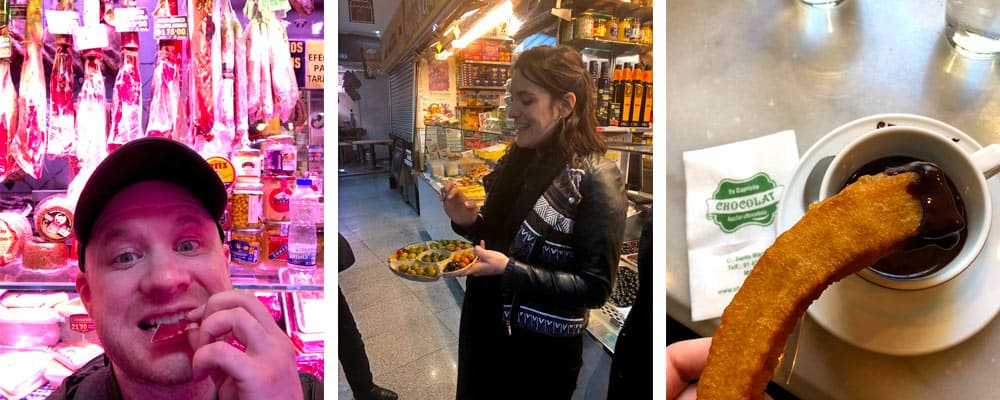 We realize that tapas bars and unfamiliar food can be a little intimidating if you're not familiar with how everything works (we know it is for us, anyway). That's why I took a food tour with Devour Tours and had a blast. You get to try a bunch of different Spanish food and they take you to multiple family-run spots that you'd probably never find on your own.
---
Where To Eat in Madrid
Alright, who is hungry? Below are some great places to eat and get some solid coffee in Madrid.
Great Coffee Shops in Madrid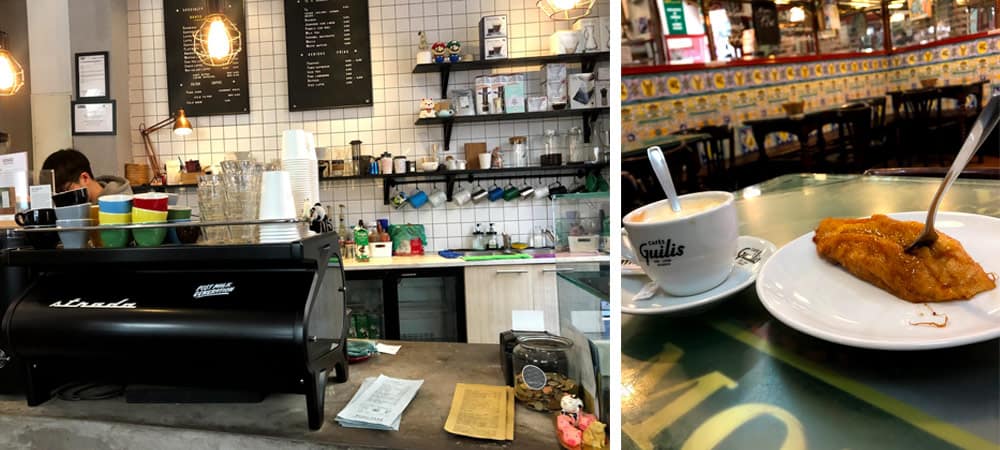 Spain hasn't traditionally been known for its coffee (especially compared to their Italian neighbors) but these days you can find plenty of nice coffee shops to get a quality caffeine fix. 
Most people order a café solo/doble (single or double shot of espresso) or a Café con Leche (equal parts espresso and milk). For a sweet treat try a café bombón (café Solo with condensed sweet milk). Or try a carajillo (espresso mixed with whiskey, rum, or brandy). And, of course, there is the Americano (café solo with water). For a more nuanced look at ordering coffee, check out this Devour Madrid Food Tour's guide to coffee in Spain.
Most coffee shops in Madrid will at least serve light breakfast options (tostadas, pastries, yogurt, cake, etc.) but some will serve a more robust breakfast or brunch offerings.
Tip: We've compiled all our recommended coffee shops into a single Google Map to help make your planning easier.
Toma Café: Hipster-esque coffee shop with a cool, cozy vibe and great coffee. This is a fairly small cafe and a local favorite so it does get busy at times. (See On Google Maps)
Bicycle Café: A very trendy and comfy cafe that serves great coffee (they have Oatly oat milk for all you oat milk junkies) and a solid breakfast/brunch/lunch. This is a fairly large cafe so it's nice for groups. Additionally, they have a few large tables with outlets that so it's a popular coworking/student hangout — which means it can also get busy at peak times. (See On Google Maps)
HanSo Café: Solid music, airy vibe with lots of natural light, and great coffee. They also have some nice breakfast/brunch options. (See On Google Maps)
Boconó Specialty Coffee: A calm coffee shop with quality and affordable coffee. They also have some nice breakfast/brunch options as well as dessert. (See On Google Maps)
Zero Point Coffee Shop: This small coffee shop is the spot for all your coffee geeks. The owner is super passionate about coffee and they have specialty beans you won't find in other parts of Madrid. There isn't much seating here but it's worth stopping by if you're in the area. (See On Google Maps)
Misión Café: This laidback cafe has a hipster Scandinavian vibe. Solid coffee and some nice breakfast/brunch options. (See On Google Maps)
Martina Cocina: Another cafe that's popular with the locals so it can be busy in the morning. They also have nice breakfast and lunch options. (See On Google Maps)
Ruda Café: This hole-in-the-wall coffee shop serves up great coffee. They also have some light food options like toast, yogurt, and cakes. (See On Google Maps)
Hola Coffee: Another cozy and shabby-chic coffee shop with great coffee and simple things to eat. (See On Google Maps)
Coffee And Kicks: Hidden little hipster coffee shop with solid coffee. (See On Google Maps)
Cafelito: Cute little espresso bar that serves a small selection of cakes, tostadas, and other breakfast options.
Santa Kafeina: A hole-in-the-wall coffee shop that's a neighborhood favorite. (See On Google Maps)
The Best Tapas Bars (Recommended By Locals)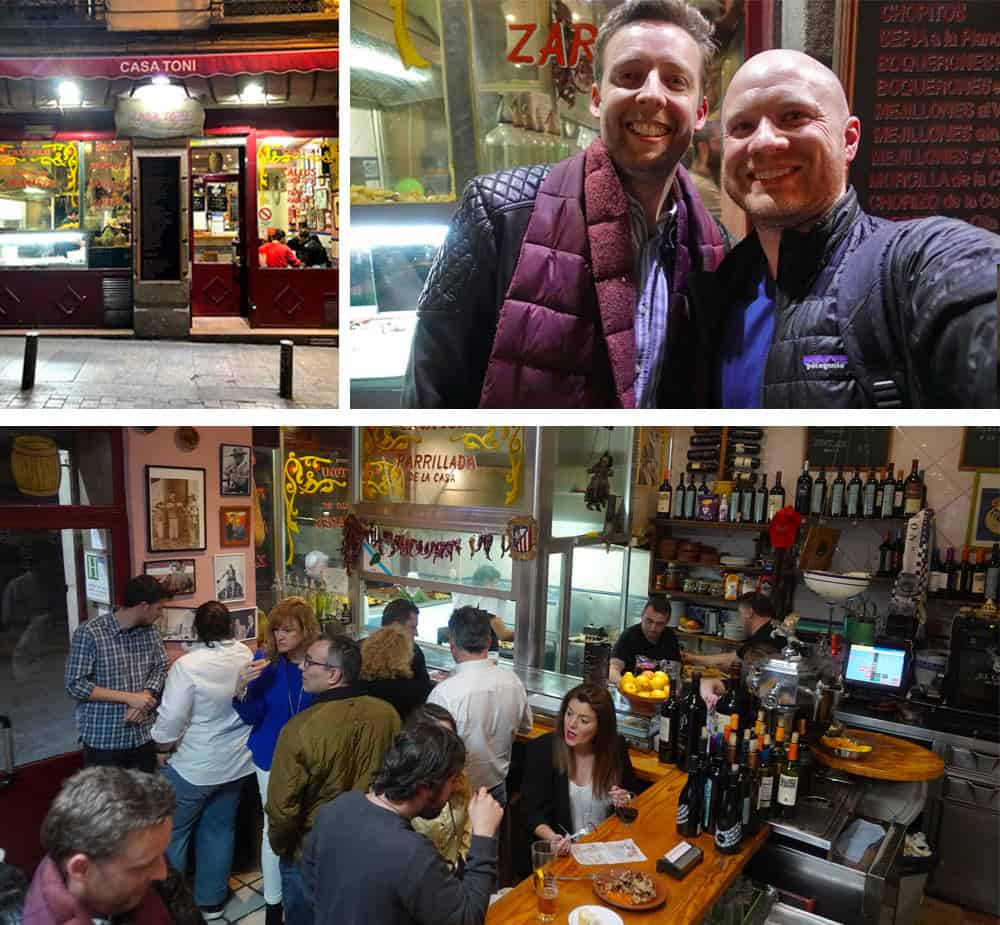 While I was in Madrid I met up with James Blick (co-founder of Devour Food Tours, the host of the excellent Spain Revealed Youtube Channel and he has a new website at Spain Revealed Website — James is seriously the best resource about food in Madrid). We enjoyed a few drinks and tapas at his go-to tapas bar, Casa Toni. James was kind enough to share five of his favorite tapas bars in Madrid.
You can also buy this awesome Madrid Travel Guide (€17.95) that's filled with a ton of handpicked restaurants (as well as other travel tips).
James Blick's Recommended Tapas Bars:
Casa Toni: It may not look like much, but this hole in the wall serves up some of the best and tastiest traditional tapas in the Puerta del Sol area. Pull up a stool at the bar and watch cocinero Carlos rock the plancha (flattop griddle). Don't miss the mollejas – lamb sweetbreads! See On Google Maps.
La Casa del Abuelo: Not the cheapest gambas al ajillo (garlic prawns) in Madrid, but far and away the best. La Casa del Abuelo opened in 1906, remains in the same family, and their Mediterranean-fresh prawns flash-fried in olive oil and garlic are life-changing. Pair it with a glass of their own sweet wine. See On Google Maps.
Diaz y Larrouy: 50 tapas bars, one street. Enough said? You have to hit Calle Cava Baja when you're in Madrid – it's the city's tapas mecca. Kick off the crawl in this well-loved wine bar where, as well as 30 vinos by the glass, they do a killer selection tasty tostas. So what are tostas? A Madrid tapas tradition that's effectively delicious things on bread. My favorite is the slow-cooked pork, roasted red peppers, and garlicky alioli. See On Google Maps.
La Lastra. Escape the tourist center and hit this hyper-local bar in the Delicias neighborhood, where everyone seems to know each other and will probably know you by the end of the night. The seafood is excellent and cheap – try the almejas (clams) or gambas (prawns) on the grill, and also grab a pate of torreznos (big, fat juicy fried pork belly). See On Google Maps.
Cerveriz: Opposite the famous Mercado San Miguel is a family-run old-school bar that almost no tourists find, but where the food is home-cooked, made with love and downright delicious. Wife Maria-Angeles tends bar while husband Carlos knocks out Madrid's best tortilla de patatas (Spanish omelet). Pair it with a caña, and lunch is sorted. See On Google Maps.
Great Tapas Bars & Traditional Spanish Restaurants in Madrid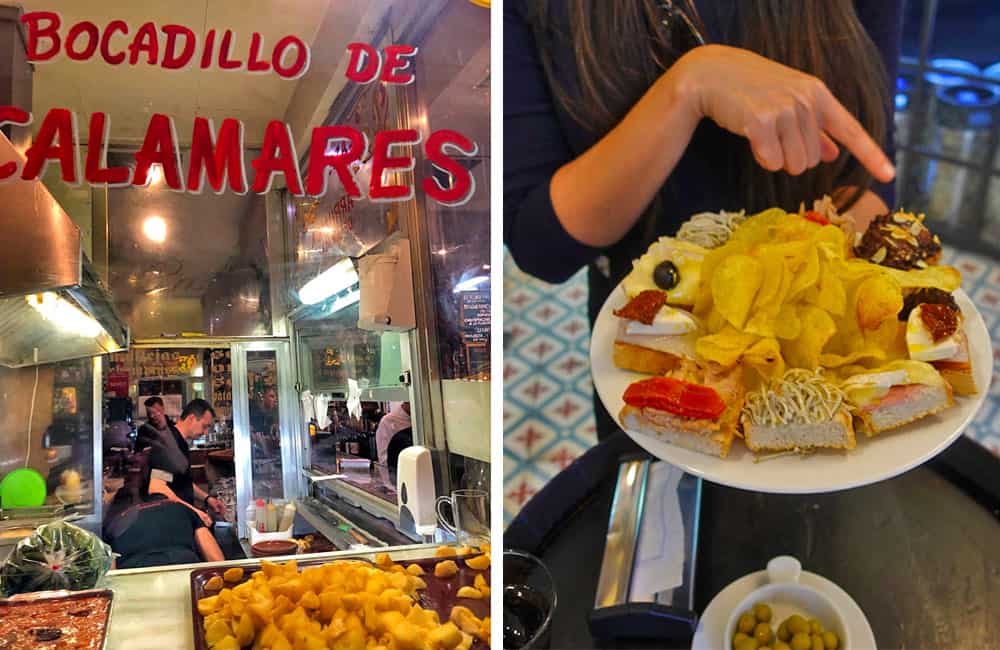 Madrid is a city that loves to eat so there are so many great places to get a solid meal. Below are a few favorite local favorite spots. Note: Our recommendations tend to skew to the budget end of the price spectrum so you're not going to find any high-end restaurants here.
Pez Tortilla: Pez Tortilla is a local favorite that's famous for their delicious yet affordable €3 Tortilla (Spanish omelet) and their croquettes are also solid. Furthermore, they have a nice craft beer menu. This place does fill up so it can be hard to score a seat during the busy times but it's worth the wait (the kitchen opens at 7 pm so it's easy to score a seat then). See On Google Maps.
Casa González: This is part tapas bar, part delicatessen that we visited on our Devour Food Tour. It's been continuously run by the same family since the early 1930s. They specialize in cured meats, excellent cheeses, and 200+ wines from Spain so it's a great place to sample some regional treats. See On Google Maps.
Casa Labra: This authentic tapas bar (which opened in 1860) has become famous for serving up the best bacalao (deep-fried cod or cod croquettes) in Madrid — which tastes amazing with an ice-cold beer. This place is always hopping with hungry locals (especially at lunch) but it is 100% worth fighting the crowds. Casa Labra is also where the Spanish Socialist Part started back in 1879 so this place is a Madrid institution. See On Google Maps.
Casa Julio: Many people say that Casa Julio has the best croquetas in Madrid so that's the thing to order. And the prices are very reasonable. It's a small place so it fills up quickly but it's not as bad during the week. See On Google Maps.
Bodega de la Ardosa: This local favorite has been around for more than 100 years — the old-school atmosphere with worth the visit alone. But they're also famous for their tortillas, croquetas, and their home-made vermouth. It also gets very crowded (especially during on the weekend) but it's still a cool place to check out for a real authentic experience. See On Google Maps.
La Colmada: A newer tapas bar that's a great place to go for wine, meat, and cheese. See On Google Maps.
Los Huevos de Lucio: This tavern is slightly more expensive than other spots but they have some of the best Huevos Rotos (ham, fried eggs and fries) in Madrid. See On Google Maps.
Antigua Huevería: We also had some excellent Huevos Rotos (ham, fried eggs and fries) at this cozy neighborhood spot. People also love their croquettes and they have a handful of local craft beers. See On Google Maps.
El Tigre Sidra Bar: You don't come to El Tigre for the quality tapas — you come for the quantity. You buy a small glass of beer and they bring you a literal plate of food… buy a bigger beer and you get even more food. This place is a dive for sure but if you want cheap this is the place to go. That said, it's a favorite hangout for students and it does get fairly busy but it's a large bar so there is usually room once you push past the crowd. See On Google Maps.
Docamar: Docamar serves classic Spanish food but their true claim to fame is their patatas bravas — they're said to serve the best in Madrid. This is another local favorite so it does get busy but it's worth it. That said, Docamar is located a bit outside the city center so it's about a 25-minute subway ride away. See On Google Map
Taberna la Carmencita: This popular tavern is the second oldest restaurant in Madrid (opened in 1854) so you feel like you're stepping back in time when eating here. The prices are slightly higher than normal but their food is of great quality. See On Google Maps.
100 Montaditos: Ok, any true tapas fan would kill us for putting 100 Montaditos on our list because it is basically the McDonalds of tapas bar… but it is cheap. This chain has something like 20 locations in Madrid (they're all over Spain). Most of their Montaditos (tapas-sized sandwiches) are €1 each (some of their "premium" ones are €1.50-€2/each) and you can get a large glass of beer for €1-€2. Plus, many locations have outdoor seating. So don't expect much but we still wanted to point this place out. Tip: You order by writing down your picks on slips of paper at each table and then hand it to the cashier. Then you pick up your order at the food window. See On Google Maps.
Great Non-Spanish Restaurants
Madrid is an international city so you can find plenty of non-Spanish dishes in case you get tired of tapas and ham. Again, most of the restaurants in this section are "budget-friendly" options.
Takos Al Pastor: This authentic Mexican restaurant has taken Madrid by storm. Their tacos are only €1/each and they're actually filling and delicious (plus, they're served up in minutes after you order). Not surprisingly, this place is super popular so we had to wait in line for about 45 minutes — but it's a great place to eat really well for cheap. See On Google Maps.
NAP Lavapies: The best place to go for authentic wood-fired Neapolitan-style pizza in Madrid. A pizza will run you about 8€. See On Google Maps. 
Goiko Grill: Popular burger spot with multiple locations. It's not super cheap but they have a decent lunch special. See On Google Maps
Hot&Smoked: Nice sandwich shop with some good beers and ciders. See On Google Maps
MEAT: Excellent burgers at a solid price. See On Google Maps.
Tierra Burrito Bar: Basically the Spanish version of Chipotle. Prices are affordable. Multiple locations. See On Google Maps
Yatai Market: An Asian street food market with multiple stalls serving up different regional dishes. See On Google Maps
Tuk Tuk: Asian street food. See On Google Maps
Wok to Walk: International chain serving up cheap and tasty stir-fried Asian cuisine. See On Google Maps
Great Markets in Madrid
These days there are two kinds of markets in Madrid — traditional ones that sell fresh produce and the new markets that are filled with stalls selling prepared food.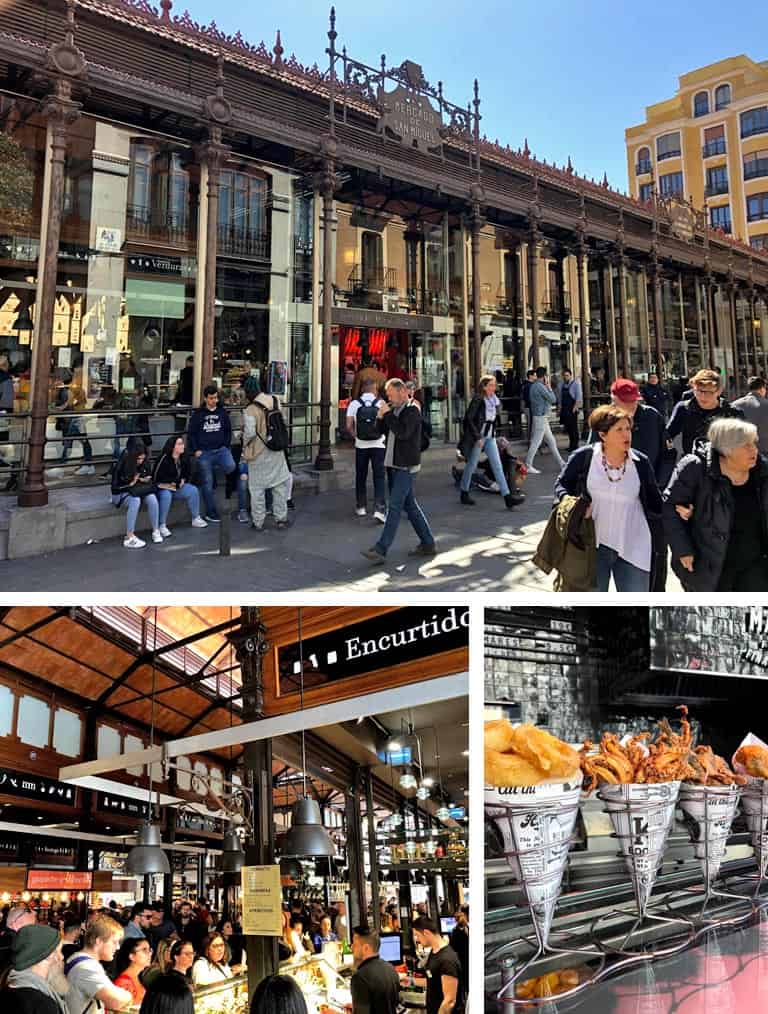 Mercado de San Miguel: San Miguel is easily the most popular market in Madrid so the place is always busy with both locals and tourists. All the vendors here sell prepared foods like various kinds of tapas, cheese, baked goods, and more. There are also vendors selling beer, wine, and vermouth. And the actually iron and glass structure (built in 1916) is fun to look at as well. See On Google Maps.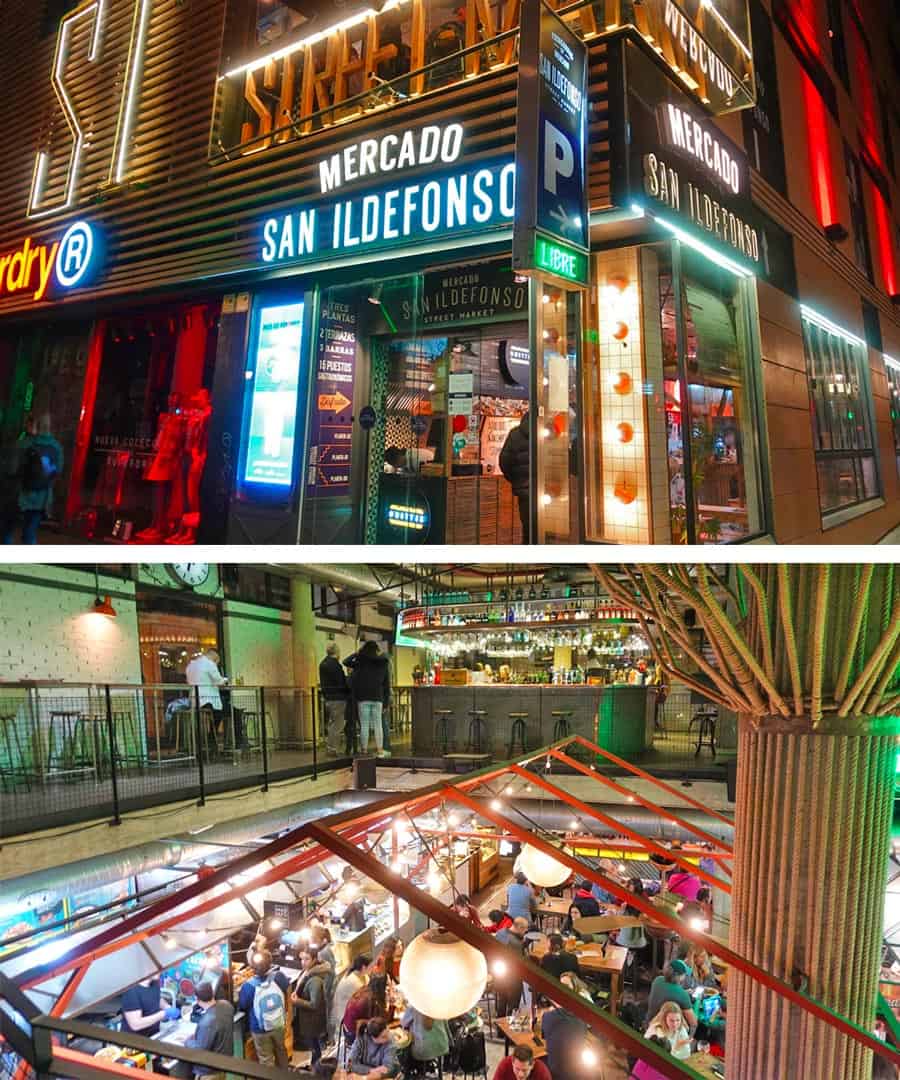 Mercado de San lldefonso: Very hip and trendy three-story street food market with 20 stalls selling international fare and three cocktail bars. See On Google Maps.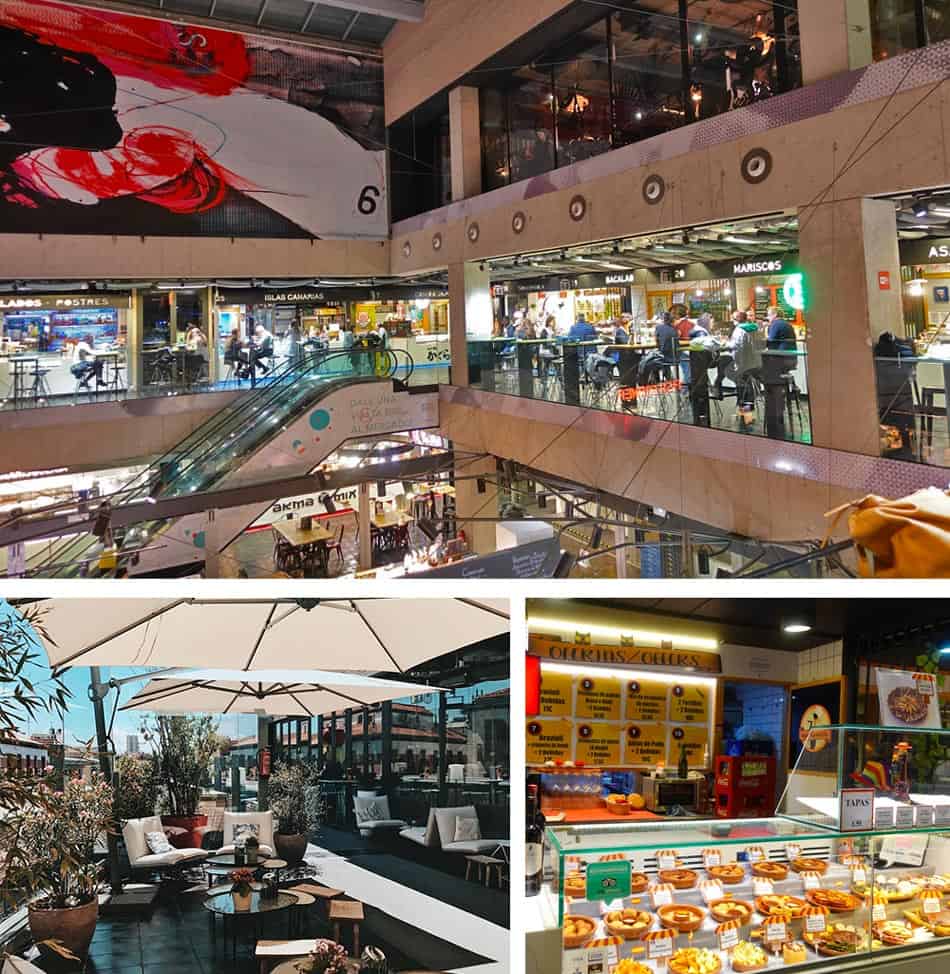 Mercado de San Antón: San Anton Market is a multi-story market that has a small traditional market on the ground floor but food stalls on the other floors (tapas, Spanish cuisine, dessert, drinks, etc.). And there is also a really nice outdoor rooftop terrace with cool city views. See On Google Maps.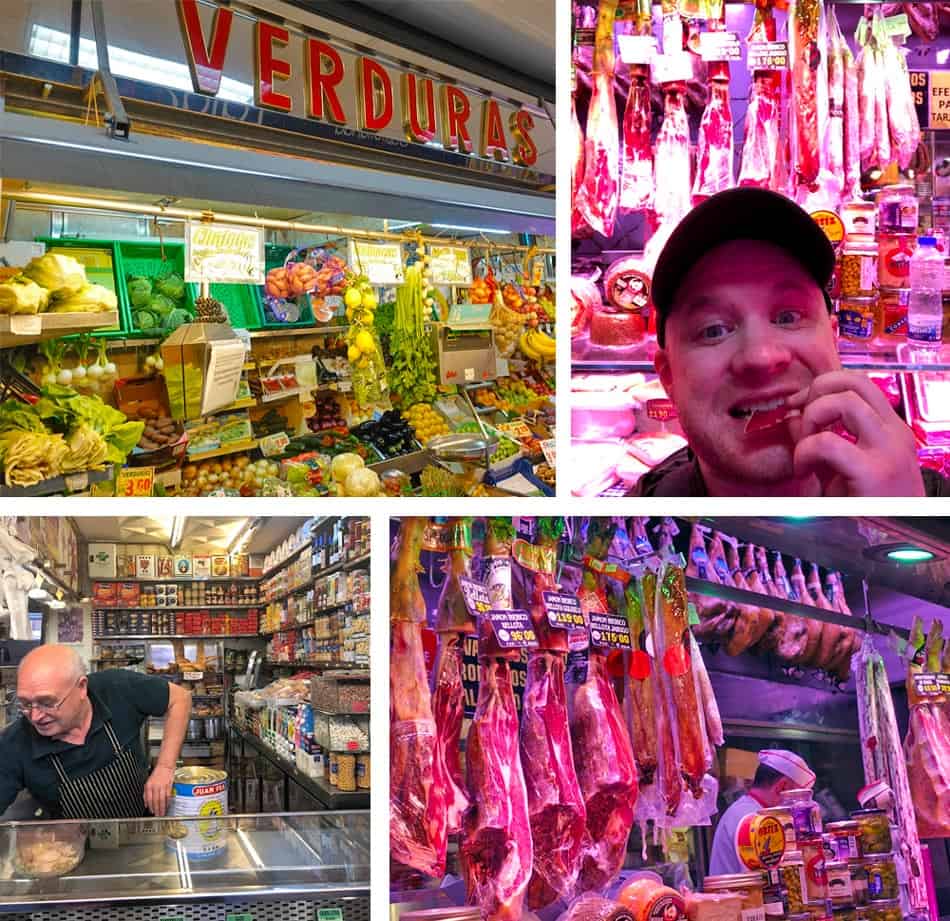 Mercado de Antón Martín: This is your real-deal traditional market with vendors selling fresh produce, meats, cheese, olive oil, and just about everything else. There are a few stalls that sell prepared food but this is mostly a place to do your shopping. See On Google Maps. 
---
Beer, Vermouth, Wine, & Other Drinks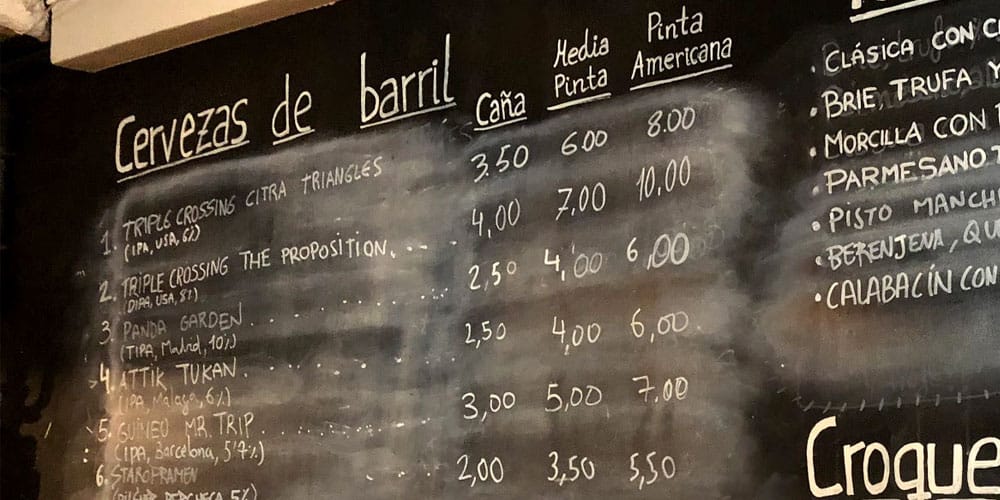 You can't talk about Madrid's tapas culture without talking about alcohol — since they go hand in hand. As mentioned before, in a lot of tapas bars you be given free tapas with every drink you order. In some places, you'll be given a ración if you order two drinks.
Popular Beer in Madrid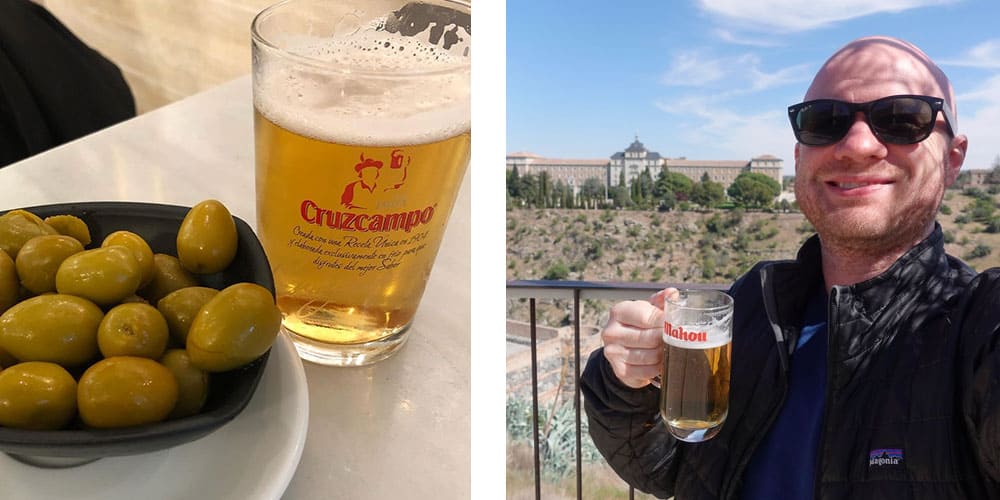 Beer in Madrid tends to be affordable. Do like the locals and order a caña — which is the small size draft beer. So why a can caña? The Spaniards like their beer extra cold so they'd rather order two or three super cold small beers than have their bigger beer get warm.
The three most popular cheap beer brands in Madrid are Mahou (brewed in Madrid since 1890), Cruzcampo (brewed in Seville since 1904), and Estrella Damm (brewed in Barcelona since 1876). You'll rarely pay more than €1.50 for a caña. Madrid also has a small but growing craft beer scene if you're looking to branch out to something a little different — two popular local craft breweries are La Virgin and La Cibeles.
Vermouth (Vermut)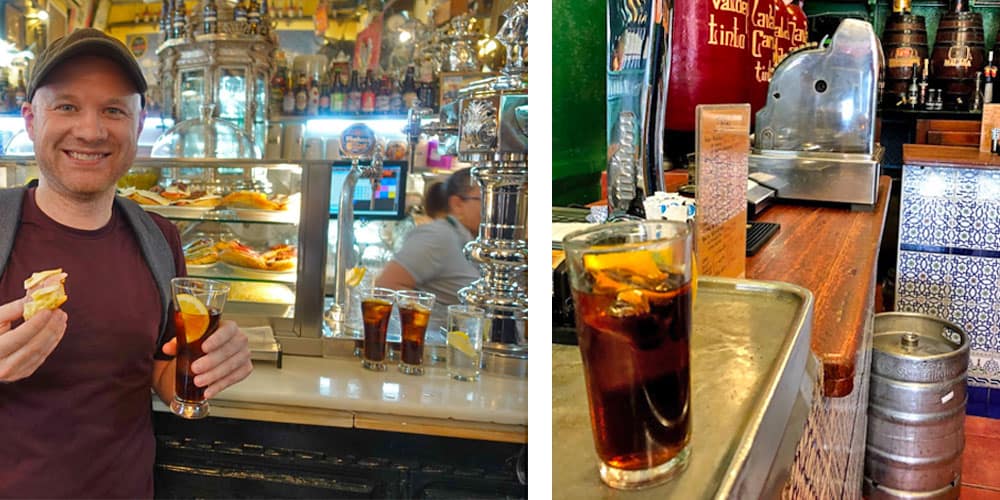 You can't visit Madrid without trying some of vermut (vermouth). I think I had a glass about every day. But vermouth in Madrid isn't the bitter fortified wine that we're used to in the US. In Spain, vermouth is a sweet white wine that's been infused with caramel and a blend of various botanicals and spices (cloves, cinnamon, cardamom, etc.). In fact, the best bars serve their own in-house vermouth on tap (so each recipe will be a bit different).
Vermouth is traditionally enjoyed as a pre-lunch aperitif. In fact, despite being seen as an "old man's drink", the tradition of the La Hora del Vermut (Vermouth Hour) is still alive and well — in fact, vermut has seen a strong resurgence over the past few years.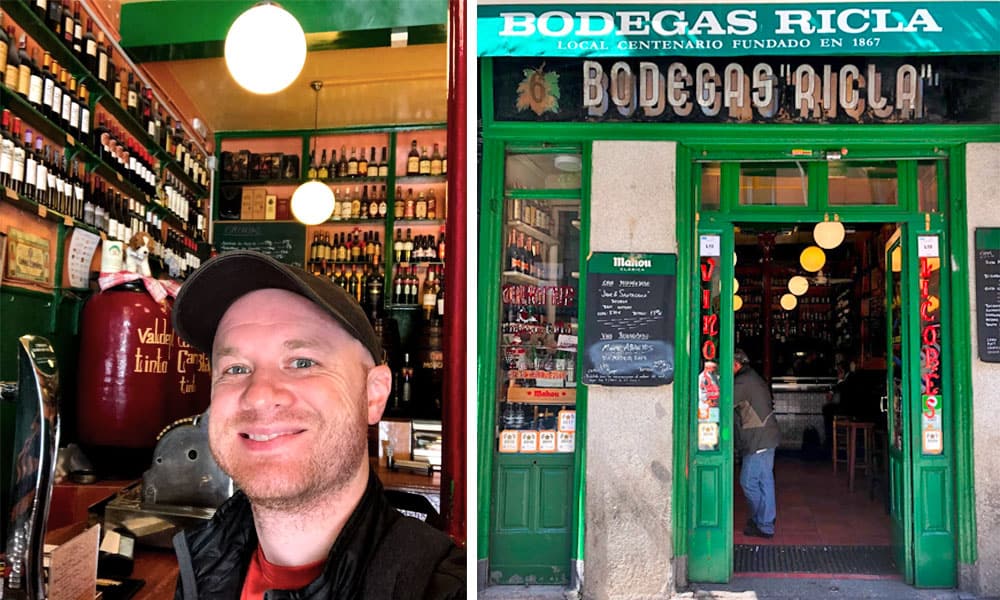 Where To Try Vermut:
Bodegas Ricla: This small family-run bar has been around since 1867 and they serve up a great house vermut (they also have great wine). See On Google Maps.
Casa Revuelta: Local favorite best known for their fried cod. They also have a nice home-made vermut. See On Google Maps.
Casa Camacho: Another old school bar with great vermut. They're also famous for their Yayo — a mixed drink with vermouth, soda, and gin. See On Google Maps
---
Madrid's Nightlife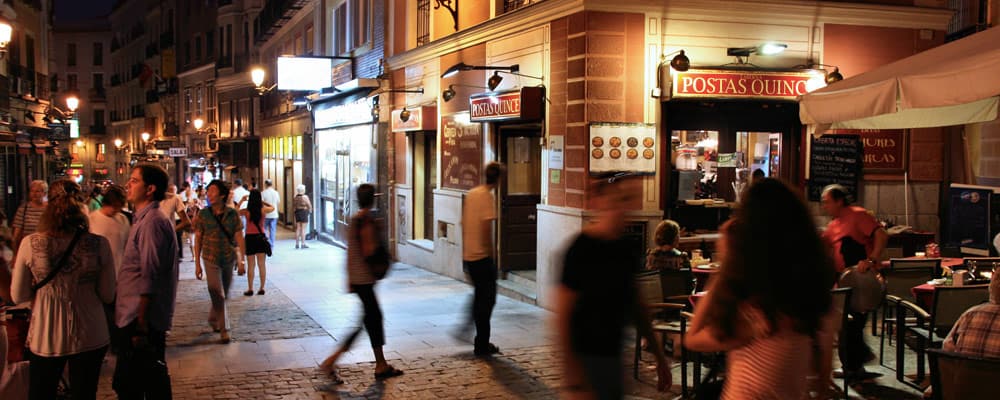 Madrid is one of the best cities for nightlife in Europe and you can find nightlife to fit just about anything you're into. You'll find people of all ages out and about until well after 10 pm on any given night.
Remember, people don't really eat dinner until after 9 p.m. and they don't head to the bars until around 10-11 pm. After the bars, people head to the clubs around midnight and they don't close down until 6 am.
As for where to go, we loved simply walking around the Malasaña & Chueca neighborhoods — there will be a ton of people out enjoying all the bars and restaurants. The Huertas neighborhood (aka Barrio de las Letras) is also full of cool places to check out.
Interested in nightclubs? Check out this guide to the best nightclubs in Madrid.
---
Madrid Hostels and Accommodation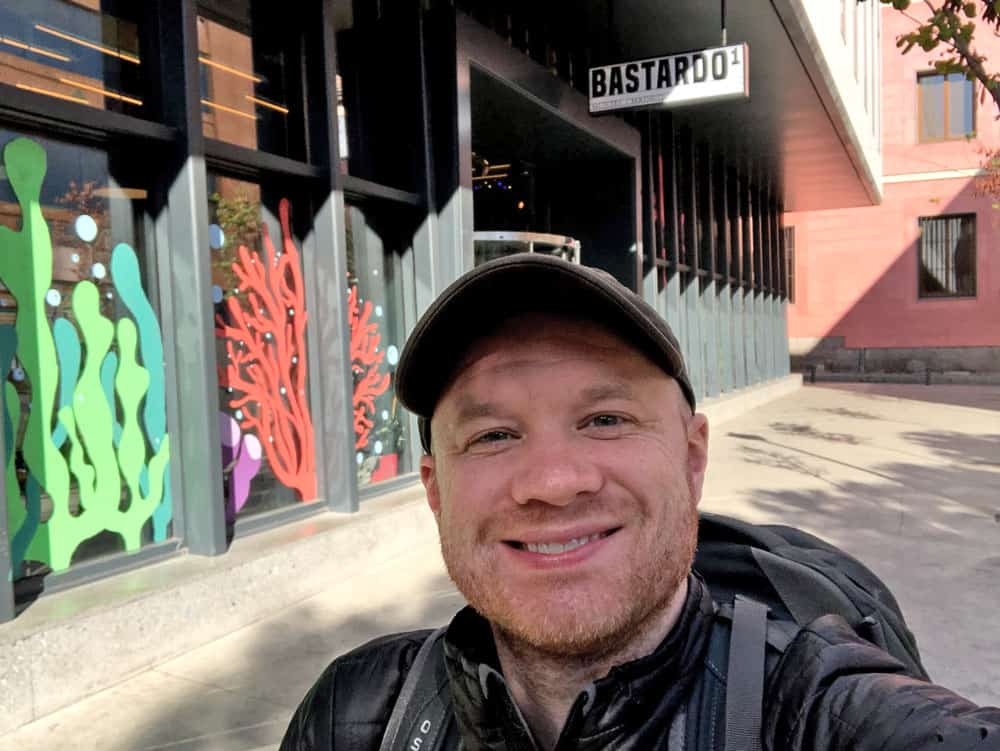 Madrid sees a huge influx of visitors during the summer and the shoulder seasons so it's recommended that you book your accommodation in advance if you want to have the most options available. That said, accommodation is generally affordable and it's usually good quality.
You should budget around €15-€30/night per person for a decent hostel — although many hostels raise their prices on the weekend or during holidays. Remember, these prices are for a bed in a shared dorm room. If you want a private room you should expect to pay €50-€100+.
I stayed in the newly-opened and very chic Bastrado Hostel (we'll have a more in-depth review soon but it was a very solid hostel in the awesome Malasaña/Chueca neighborhood).
We've always used Hostelworld to book our hostels so you'll want to poke around there to find the perfect hostel. Here are a few of the best-rated hostels:
Note: Some hostels are known for being "party" hostels — especially in Madrid — so be sure to read the reviews before you book.
By the way, Madrid recently passed a law that forbids around 95% of the Airbnb rentals in the city center so we anticipate that rental apartments will be much harder to come by.
---
Traveling Around Madrid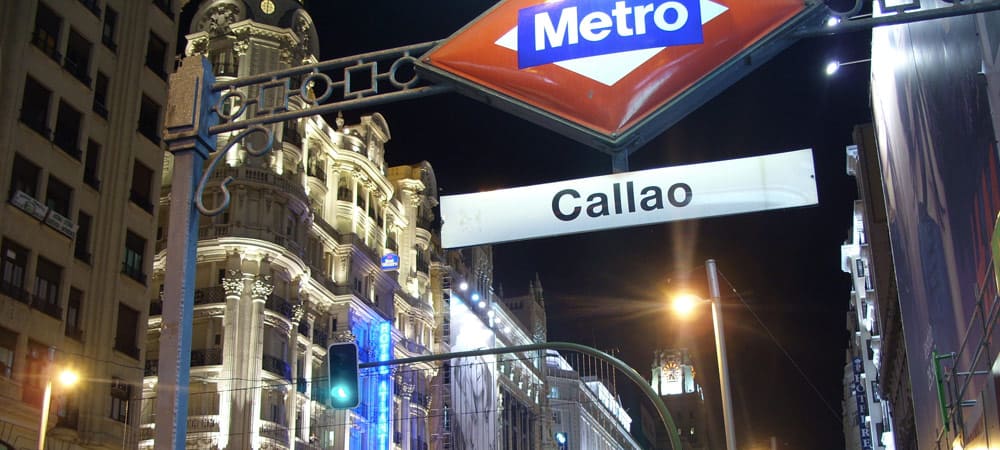 Madrid has an inexpensive and extensive network of subway and bus lines — in fact, it has the second largest underground network in Europe. That said, most of the major sights are all within about a 20-minute walk from the center of the city so you may not find yourself using public transportation too often.
Single one-way Metrobús ticket for Metro (subway) and bus: €1.50
Metrobús 10 journey ticket (valid for use on Metro and bus): €12.20
Day passes are valid for all types of public transport in Zone A.

1-day pass: €8.40
2-day pass: €14.20
3-day pass: €18.40
5-day pass: €26.80
7-day pass: €35.40

Bus from airport to city (Airport Express): €5
Taxi from airport to city: €30
---
Madrid Day Trips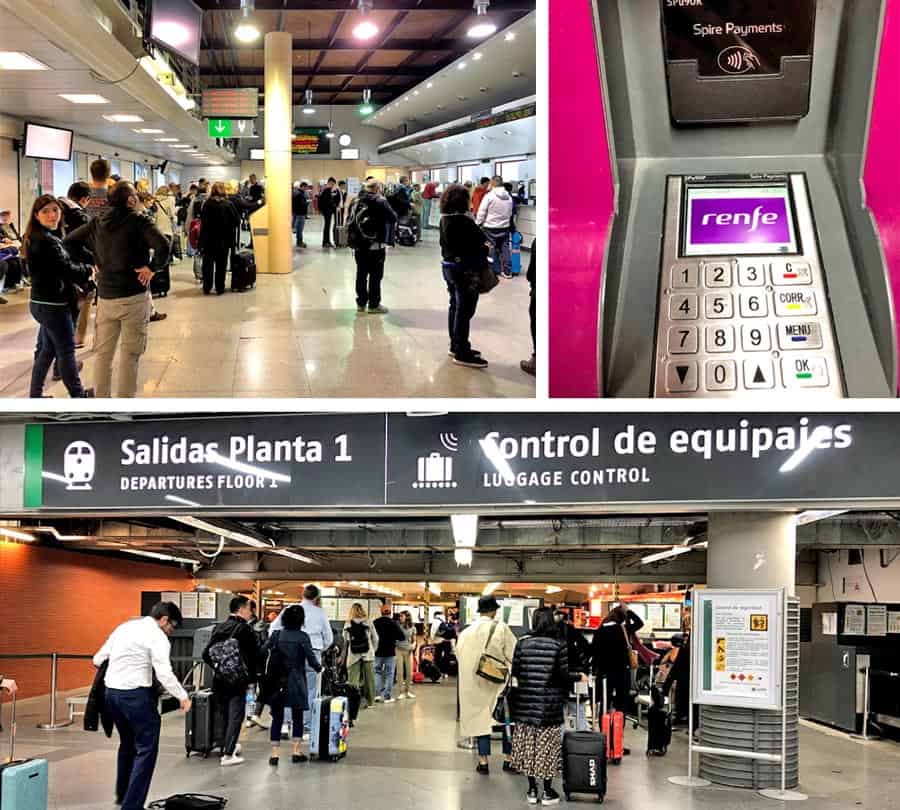 One of the great things about Madrid is its proximity to a number of smaller medieval towns that are great for spending the day exploring.
Train Travel Tip One: The trains to these locations sell out often so we highly recommend booking ahead — even if it's just by a few hours. We showed up to visit Toledo about 30 minutes before departure and all the tickets were sold out for the following two hours.
Train Travel Tip Two: The ticket lines can get pretty long and many of the automated ticket machines only accept contactless cards (which is a card that has technology embedded in it that lets you pay over a secure radio interface, much like Apple Pay — these are becoming standard in Europe). That's why we booked our tickets with the Omino Train Ticket App. (i.e. we didn't have to deal with lines or buying tickets at the station).
Train Travel Tips Three: You'll have to go through a quick security check so give yourself an extra 10-15 minutes for that.
Segovia
A little more than 30 minutes away (via train) from Madrid is Segovia. This city is full of UNESCO — including a beautiful castle, an amazing Roman aqueduct, and a huge gothic cathedral. You can see everything in a day but it's also a treat to explore at night.
There are high-speed trains between Madrid and Segovia at least every hour and the journey takes less than 30-minutes. Your ticket will be around €13 each way. You can also take a bus for around €8 each way and it will take around an hour (we recommend the train).
Toledo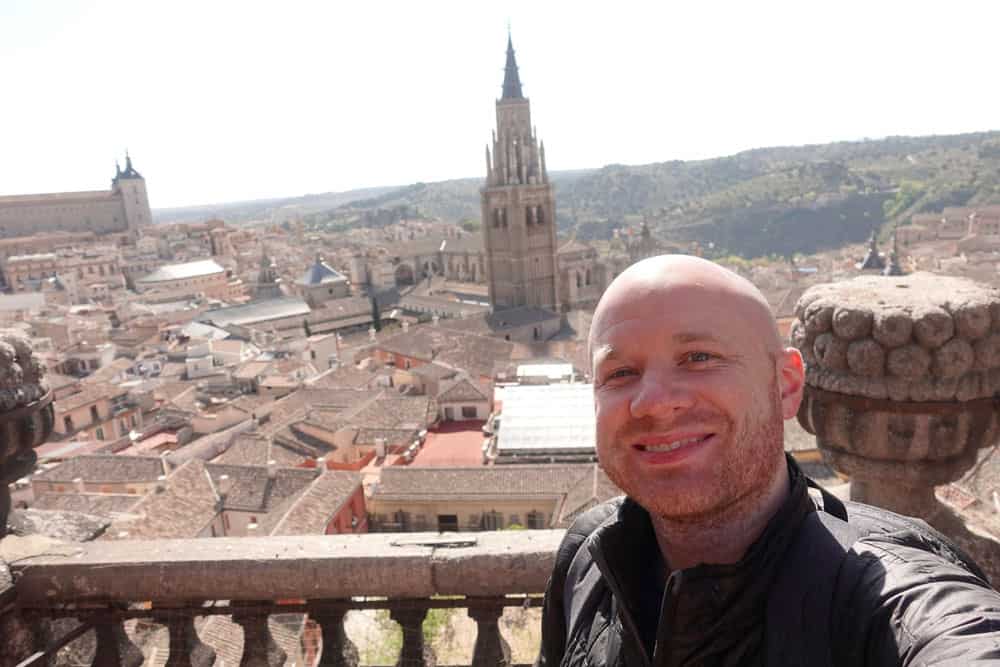 Head south on the high-speed train and you'll reach Toledo in about 30 minutes (around €12 each way). This gorgeous city is built on a hill and is topped with an Alcázar castle. Walking its winding streets as you make your way to the castle is a treat you won't want to miss — especially if you can do it at night so you won't have to deal with the day-trippers.
Toledo is probably the most popular day trip from Madrid so the trains do sell out. I bought my tickets the day before using the Omino Train Ticket App.
Ávila
Around an hour and a half away by train is the medieval city of Ávila. The city's old town is listed as a UNESCO site and it's a nice place to spend a leisurely day trip. Ávila is best known for having some of the best preserved medieval walls and watchtowers in Europe — all of which can be explored by foot.
San Lorenzo de El Escorial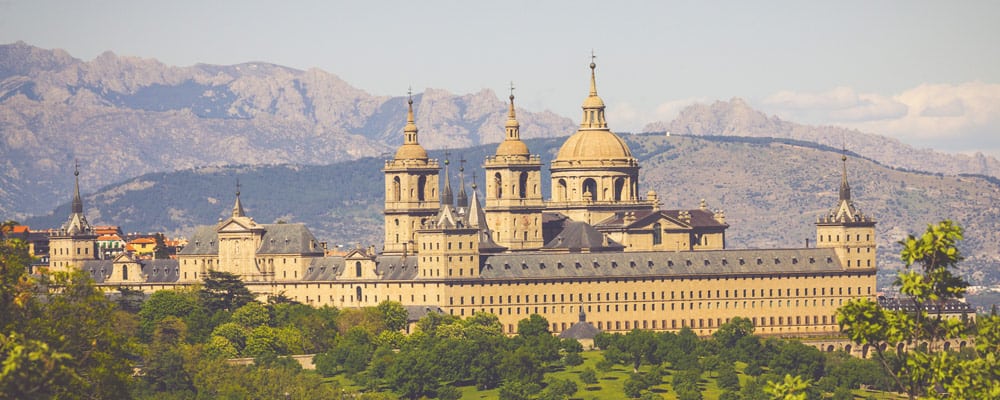 A little under an hour from Madrid is San Lorenzo de El Escorial. The main draw to this town is El Escorial —  a massive palace that contains a monastery, a church, and a college.
---
Other Random Practical Travel Tips
Fill Up On Tapas. Hit up the tapas bars for (often) free snacks while you drink wine or beer. But be aware that not every bar will have free tapas with your drinks.
Free Museum Times: Most of the major museums are free the last two hours of the day so be sure to check their schedules!
The Madrid Card. This tourist card gives you entry into 50 museums and monuments (many of which you can skip the lines). There are multiple card duration options (one, two, three, or five days) that range from €47–€77. More info here: madridcard.com
Pickpockets & Scammers. Avoid anyone who tries to get you to sign any petitions — at best they're scammers and at worst they're trying to pickpocket you. Be careful around ATMs, especially at night.
Late Dinners: People in Spain tend to eat fairly late at night so you might be the only person in the restaurant if you show up at 7 or 8 pm. That said, showing up early at tapas bars is a nice way to eat without having to fight the crowds.
---
More Resources To Help You Plan Your Madrid Visit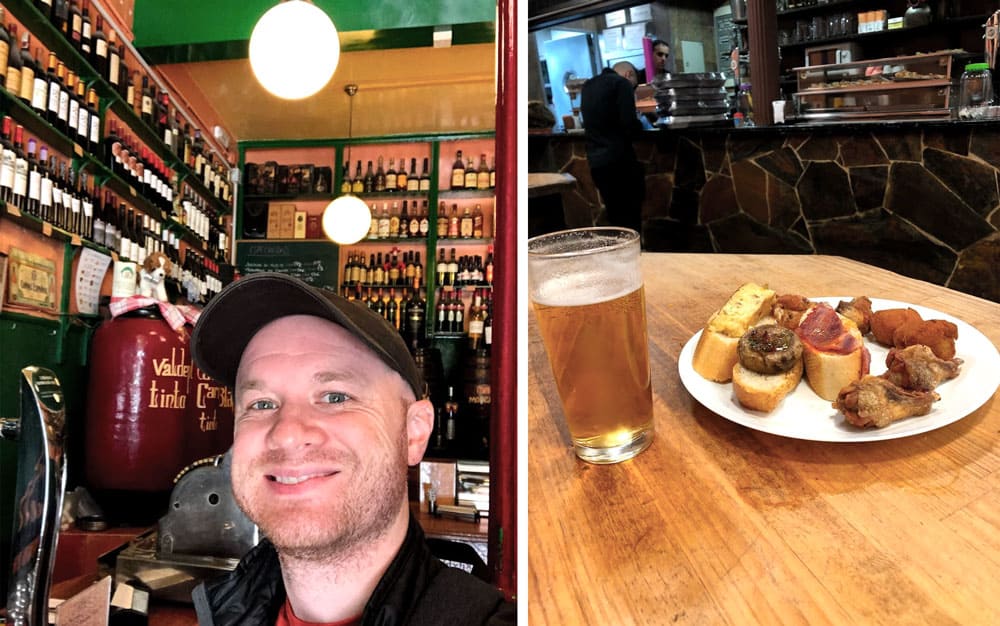 We're still fans of ol' fashion guidebooks as they give you a quick, easy and curated way to research your destination. If nothing else, head to the library or bookstore and spend a few hours thumbing through a guidebook — it's worth it. We've also listed a few websites/blogs that will help with your planning.
---
Packing Help + What To Wear
Packing your bag and knowing what clothes to bring shouldn't be a huge hassle. That's why we created our packing guides: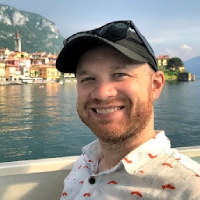 Latest posts by James Feess
(see all)
No Funny Business
The Savvy Backpacker is reader-supported. That means when you buy product/services through links on the site, I may earn an affiliate commission — it doesn't cost you anything extra and it helps support the site.
Thanks For Reading! — James
Questions? Learn more about our Strict Advertising Policy and How To Support Us.