There are so many amazing things to do in Madrid that you might feel a little overwhelmed by the choices but don't stress because we got you covered.
In this guide, we'll cover the top tourist sights, traditional food you just have to try, our favorite neighborhoods we know you'll love exploring, and plenty of local-approved spots you can't miss.
---
The Top 10 Things to Do In Madrid
Here are our top things you shouldn't miss when visiting Madrid.
Eat Tapas All Day, Every Day
Visit the Prado Museum & The Queen Sofia Museum During the Daily Free Times
Marvel At One Of The World's Largest Private Art Collection at The Thyssen-Bornemisza Museum
Explore The Super Hip Malasaña & Chueca Neighborhoods
Devour Decadent Hot Chocolate and Churros
Explore Madrid's Multiple Food Markets
Visit Plaza Mayor and Eat A Fried Calamari Sandwich
Beat The Heat With a Cold Local Beer
Get Some Fresh Air in El Retiro Park
Visit Toledo or Segovia As A Day Trip
My buddy James Blick from the Spain Revealed Youtube channel created an awesome Madrid Travel Guide that's filled with a ton of handpicked restaurants and other things to do in Madrid. The guide costs €17.95 and is worth every penny.
Visit Local-Approved Tapas Bars
Yes, Madrid has plenty of cultural sights, museums, and all that good stuff but we're starting our list off with one of the best things about Madrid — tapas!
Every night the tapas bars throughout Madrid fill with locals who come to enjoy a cold beer, a glass of wine, and some tasty bites after work or as a light dinner.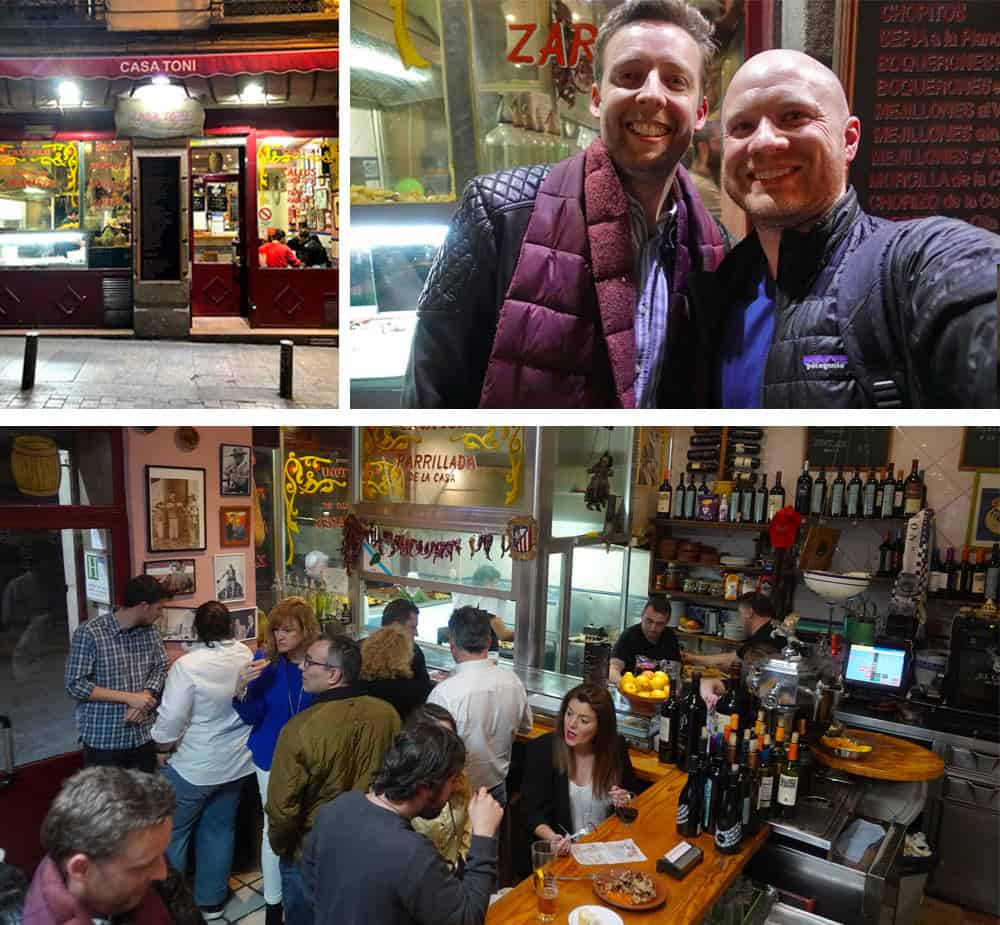 However, like any city, there are a lot of low-quality establishments that cater to the unknowing tourist crowd.
Luckily, we met up with James Blick (local Madrid tapas expert, knower-of-all-things-Spanish-food, and host of the Spain Revealed YouTube Channel) and he shared his favorite tapas bars:
Casa Toni: This is a no-frills taps bar is the kind of place you'd never walk into unless a local told you about it — which is exactly the kind of spot we love. Furthermore, it's located in the Puerta del Sol area so it's one of the few authentic spots in this largely "touristy" part of town.
Chef Carlos is super friendly and spends all night cranking out all kinds of delicious and authentic dishes (and the prices are very affordable).
Cerveriz: Just about every visitor ends up stopping by the famous Mercado San Miguel but for a more authentic tapas experience James suggests checking out the nearby Cerveriz. This is another hidden family-run gem where wife Maria-Angeles tends bar while husband Carlos knocks out Madrid's excellent tortilla de patatas (Spanish omelet).
Diaz y Larrouy: Located on Calle Cava Baja (which is a famous street lined with more than 50 tapas bars). Most of the tapas bars on Calle Cava Baja are very solid but James recommends starting at Diaz y Larrouy. This wine bar has more than 30 wines and they're well-known for their tostas (which are basically tapas served on bread). He recommends ordering the slow-cooked pork, roasted red peppers, and garlicky aioli tosta.
La Casa del Abuelo: This is James' top pick for ajillo (garlic prawns flash-fried in olive oil) in Madrid. Also, La Casa del Abuelo has been family-owned and operated since 1906 so you know they take pride in their work. They even make their own sweet wine.
La Lastra: Looking for a truly local, no-frills experience? Then check out La Lastra. While it is a bit outside the center of town, you'll be rewarded with cheap and excellent traditional dishes like almejas (clams) or gambas (prawns) on the grill, and torreznos (big, fat juicy fried pork belly).
Take A Food Tour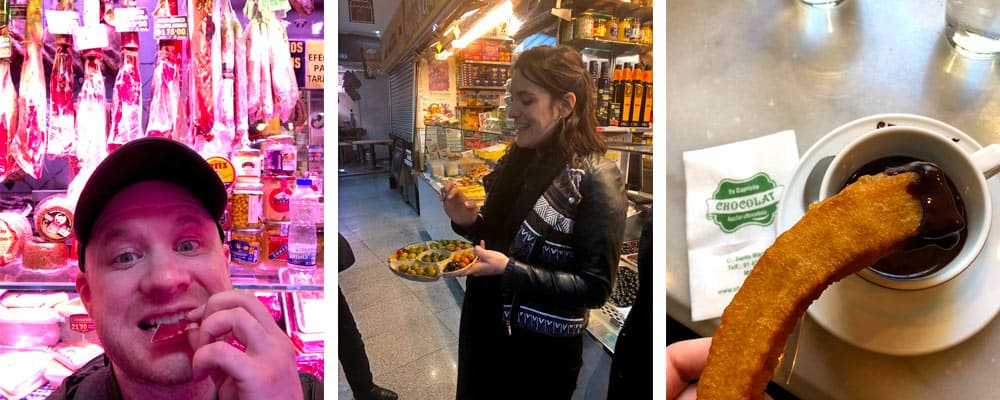 Speaking of tapas, we're big fans of taking food tours since you can learn a lot about a culture through its food. And food tours are a great way to sample local dishes and learn about great restaurants to check out later.
We took a tour from Devour Tours and had a great time.
Prado Museum (Museo Nacional Del Prado)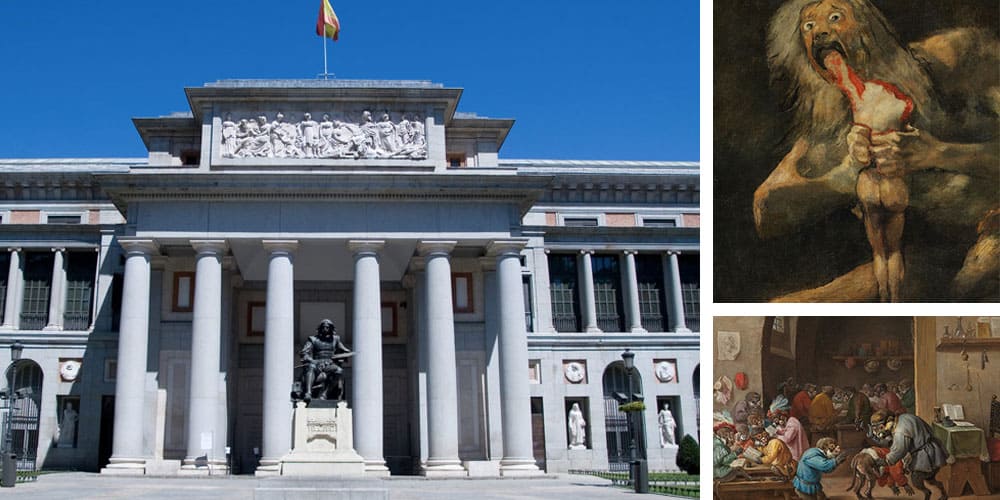 Madrid's most famous museum is the Prado Museum. The Prado has a world-class collection of European art that spans from the 12th century to the early 19th century.
As an added bonus, the Prado is free Monday to Saturday from 6 pm to 8 pm and on Sunday from 5 pm to 7 pm. We found that we were able to easily see the highlights in two hours.
The Queen Sofia Museum (Centro de Arte Reina Sofía)
The next major museum in Madrid is the Queen Sofia Museum. Here you'll see 20th-century art from mostly Spanish artists and a smaller collection from international artists. The museum's highlight is Picasso's black and white Guernica painting.
The museum is free Monday to Friday from 7 pm to 9 pm, Saturday from 2.30pm to 9 pm, and Sunday from 10 am to 2.30pm. We suggest arriving a little before the free time starts as the line tends to get long.
Plaza Mayor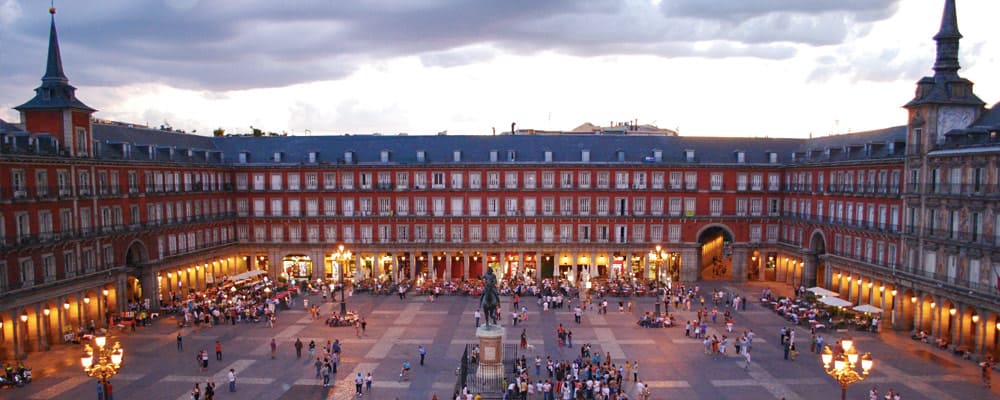 Milan's main city square is the Plaza Mayor. It's one of Spain's grandest squares so it's worth checking out. We loved visiting at night as the buildings are beautifully illuminated.
Unsurprisingly, the restaurants and cafes around the square are touristy and expensive but the area surrounding the square is known for restaurants that serve bocadillos de calamares (fried calamari sandwich). Bar La Campana (see on Google Maps) is widely considered to serve the best bocadillos de calamares in Milan.
Puerta del Sol
The Puerta del Sol is literally the center of Madrid. This public square also lies at the center of Milan's main shopping area so always bustling with both tourists and locals (ok, probably more tourists than locals). You'll undoubtedly pass through here as you explore Madrid.
Explore The Uber-Cool Malasaña & Chueca Neighborhoods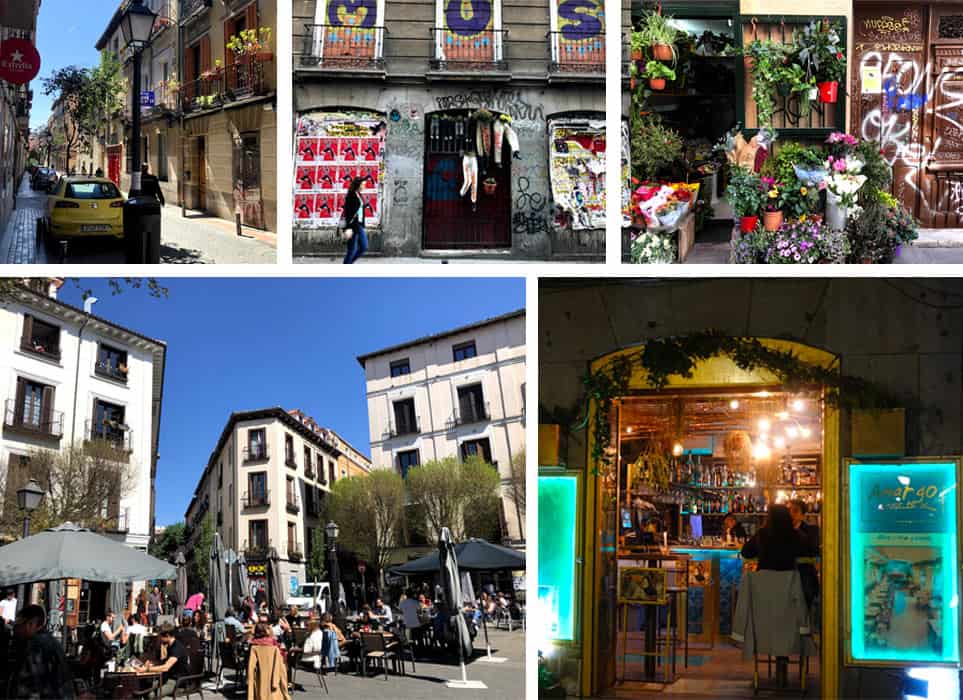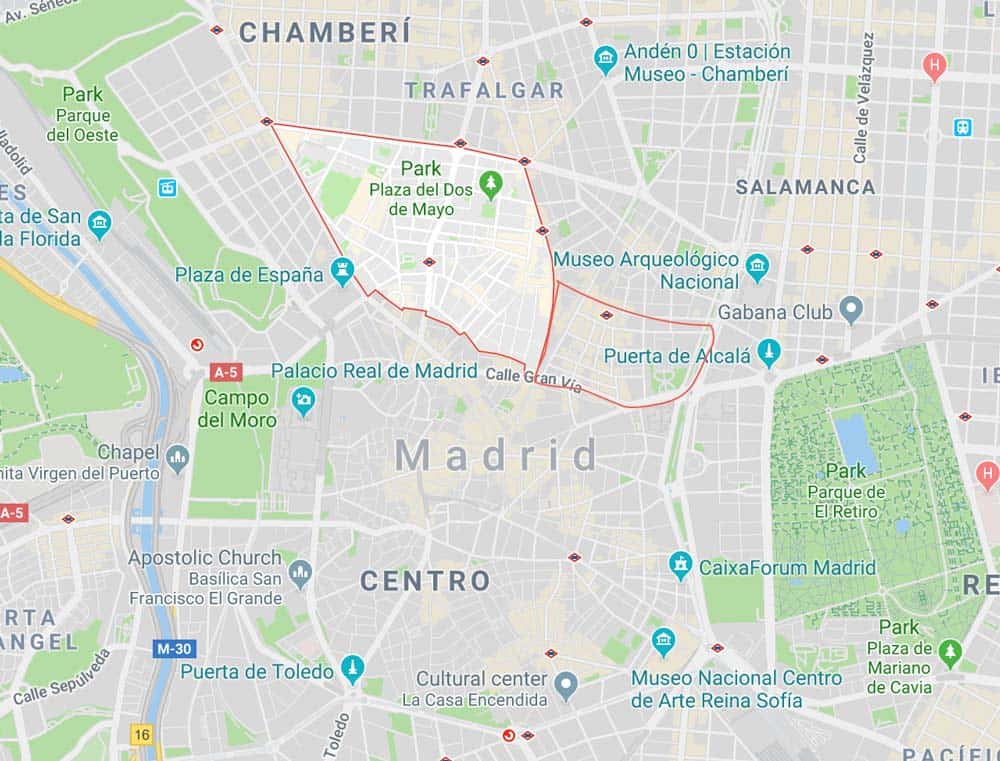 Most people who visit Madrid tend to stick to the areas around the very center of Madrid and around the museums. But just about a 15-minute walk from the Puerta del Sol are two awesome neighborhoods — Malasaña & Chueca.
Both neighborhoods are filled with cafes, restaurants, coffee shops, tapas bars, cocktail bars, boutique shops, and other international retail shopping.
But the neighborhoods truly come alive after work and at night when the locals and tourists flock to the streets. It's a vibrant atmosphere that shouldn't be missed.
Wander El Retiro Park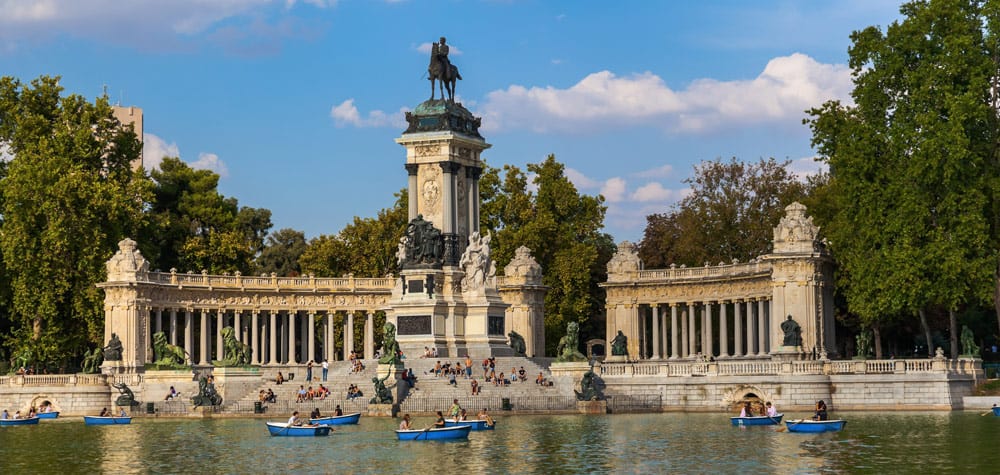 Take a break from the museums and tapas by spending a few hours at El Retiro Park. Located in central Madrid, El Retiro Park has plenty of trees, gardens, walking paths, an art deco greenhouse, and a small lake where you can rent rowboats.
Thyssen-Bornemisza Museum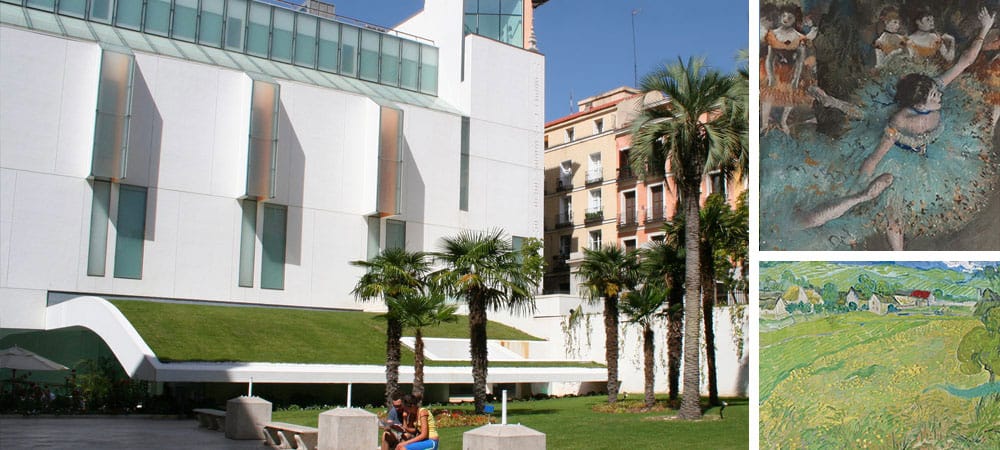 One of the world's greatest and largest private art collections is houses at the Thyssen-Bornemisza Museum. Here you'll find more than a thousand pieces of art ranging from the 13th century to the late 20th century.
The Thyssen-Bornemisza Museum is free every Monday.
Catch The Latest Exhibition At The CaixaForum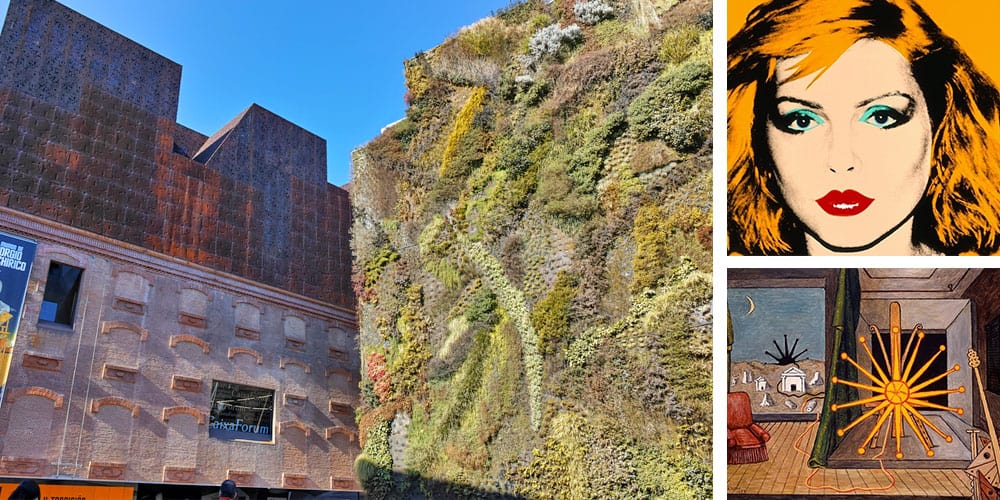 Caixa Bank, one of Spain's largest banks, converted a former electrical power station into a modern art museum/creative space that showcases revolving exhibitions of modern and contemporary art, music, multimedia and more. The works on display are always changing so you never know what kinds of things you're going to see on display.
Royal Palace (Palacio Real de Madrid)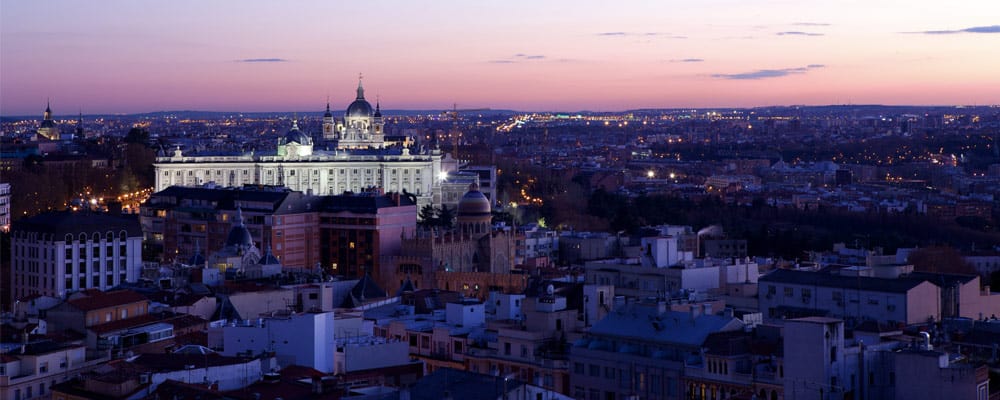 Yes, Spain still has a Royal Family but this former residence is only used only for state ceremonies these days. The Royal Palace is huge — in fact, it's the largest palace in Western Europe so visit to see how the royals used to live.
The Royal Palace is another top sight so get there early if you want to avoid the long ticket lines. By the way, admission is free on weeknights from 6-8pm.
Great Views From Almudena Cathedral
Across the street from the Royal Palace is the Almudena Cathedral. Climb to the top for nice views of the city and the Royal Palace.
Admission to the cathedral is free admission but it's €6 to visit its museum.
Take a Free or Paid Walking Tour
We always take a free walking tour when you arrive in a new city because it's an easy way to learn about the area.
Madrid has a handful of different free tour companies:
If you're looking for a more specialized tour with an experienced guide we suggest checking out Get Your Guide.
Here are a few of the most popular paid walking tours:
Score a Deal at El Rastro Flea Market
While the goods can be a little hit or miss, the El Rastro is Europe's largest flea market and folks have been selling all kinds of knickknacks there since the Middle Ages. It is a popular spot for pickpockets so watch your stuff.
The area is also a hotspot for authentic tapas bars so you'll probably find better deals behind the counter than at the market.
Catch a Real Madrid FC Match
Real Madrid FC is one of the most iconic soccer teams in the world so watching a game alongside more than 81,00 other spectators is an unforgettable experience. You can also take a tour of the stadium if you're a big fan.
Devour Hot Chocolate and Churros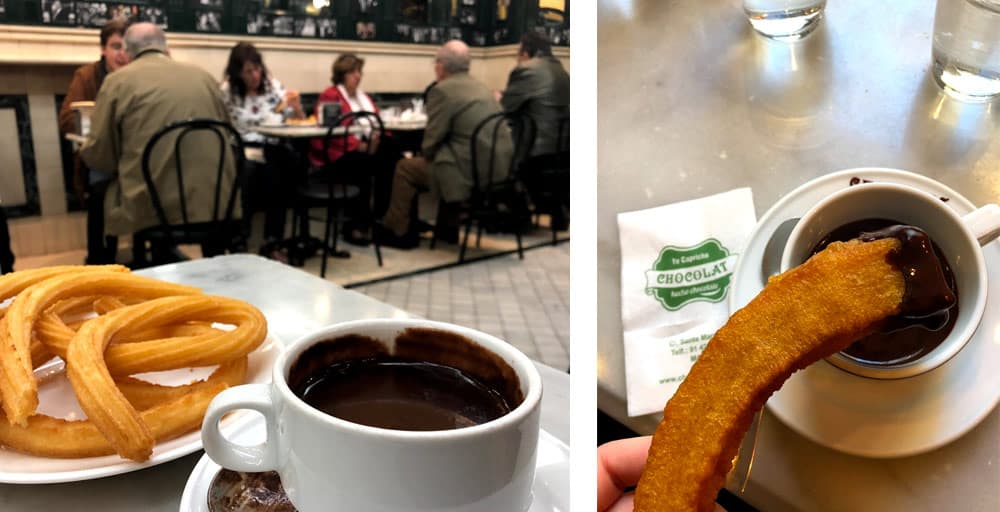 If you don't gain 10 lbs solely from melted-chocolate-bar-thick hot chocolate and churros then you're doing something wrong. Luckily, there are a few truly excellent places that craft beautiful churros, porras (essentially jumbo-sized churros), and hot chocolate.
Here are our favorite spots:
Enjoy Vermut Hour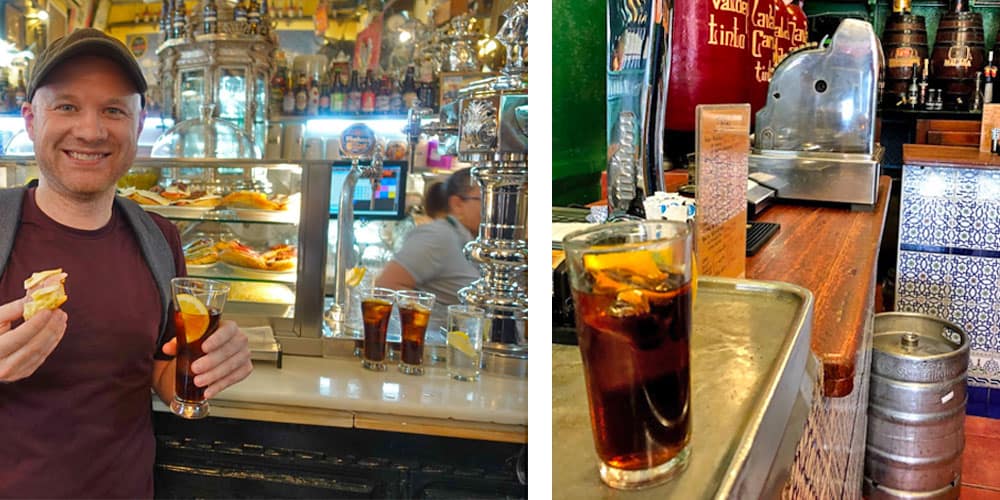 Vermut (i.e. vermouth) is a traditional drink that's experiencing a resurgence in popularity throughout Spain. By the way, Spanish vermouth isn't the bitter fortified wine that we're used to in the US. In Spain, vermouth is a sweet white wine that's been infused with caramel and a blend of various botanicals and spices (cloves, cinnamon, cardamom, etc.). It's seriously delicious.
Vermouth is traditionally enjoyed as a pre-lunch aperitif. In fact, despite being seen as an "old man's drink", the tradition of the La Hora del Vermut (Vermouth Hour) is still alive and well.
Where To Try Vermut:
Kick Back with a Frosty Caña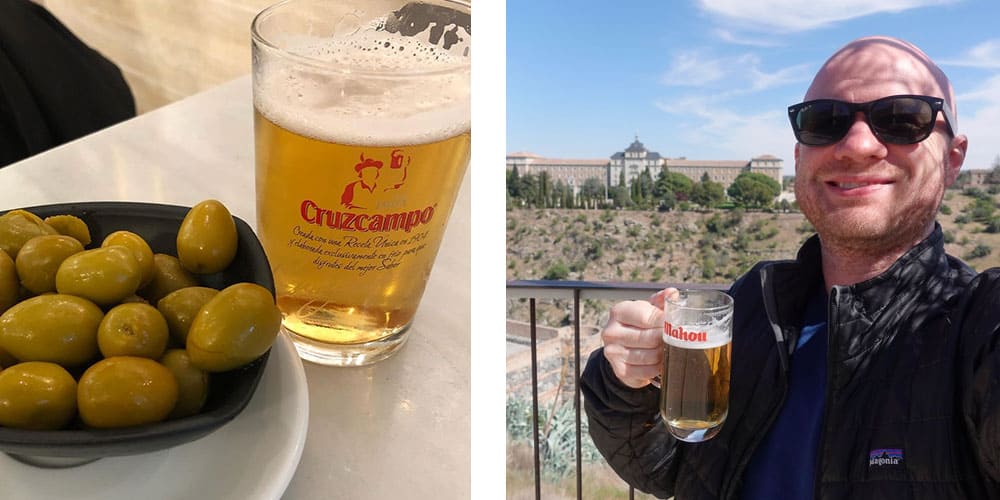 Spain tends to get hot in the summer so the locals order small glasses of beer because the big glasses get warm before it can be finishes. These small glasses are called cañas so if you're drinking a large pitcher it probably means you're at a touristy place.
Beer in Spain tends to be light and refreshing. The top three cheap beer brands in Spain are Mahou (brewed in Madrid since 1890), Cruzcampo (brewed in Seville since 1904), and Estrella Damm (brewed in Barcelona since 1876). As an added bonus, you'll rarely pay more than €1.50 for a caña if you stick to these macrobrews.
Explore Madrid's Food Markets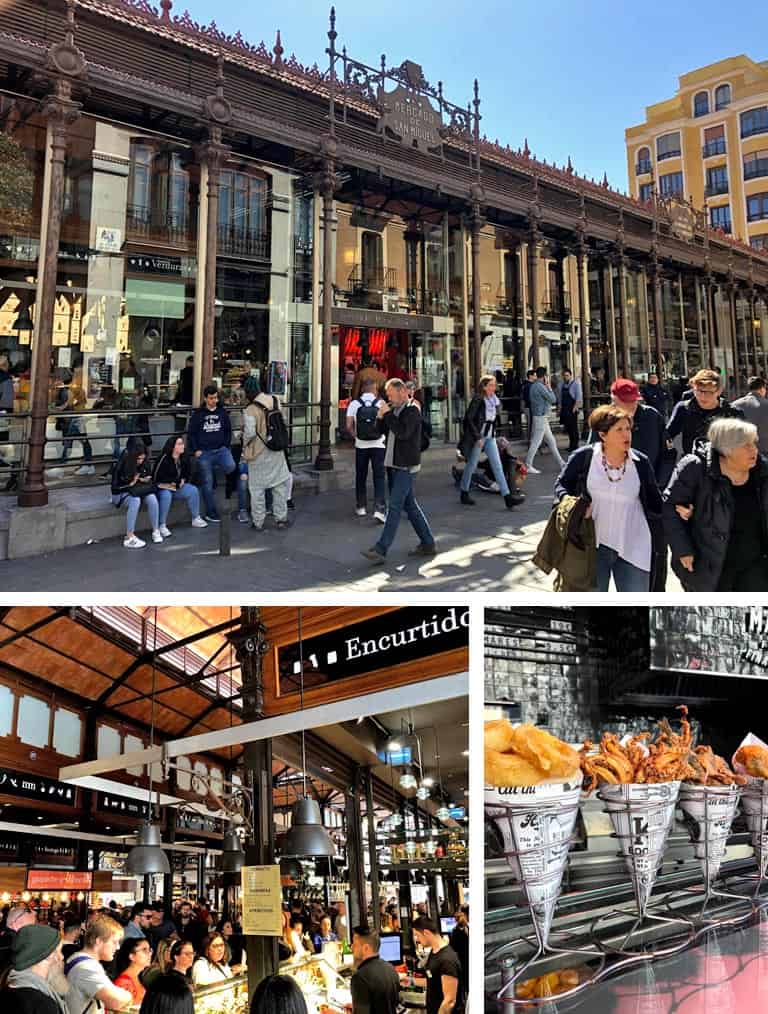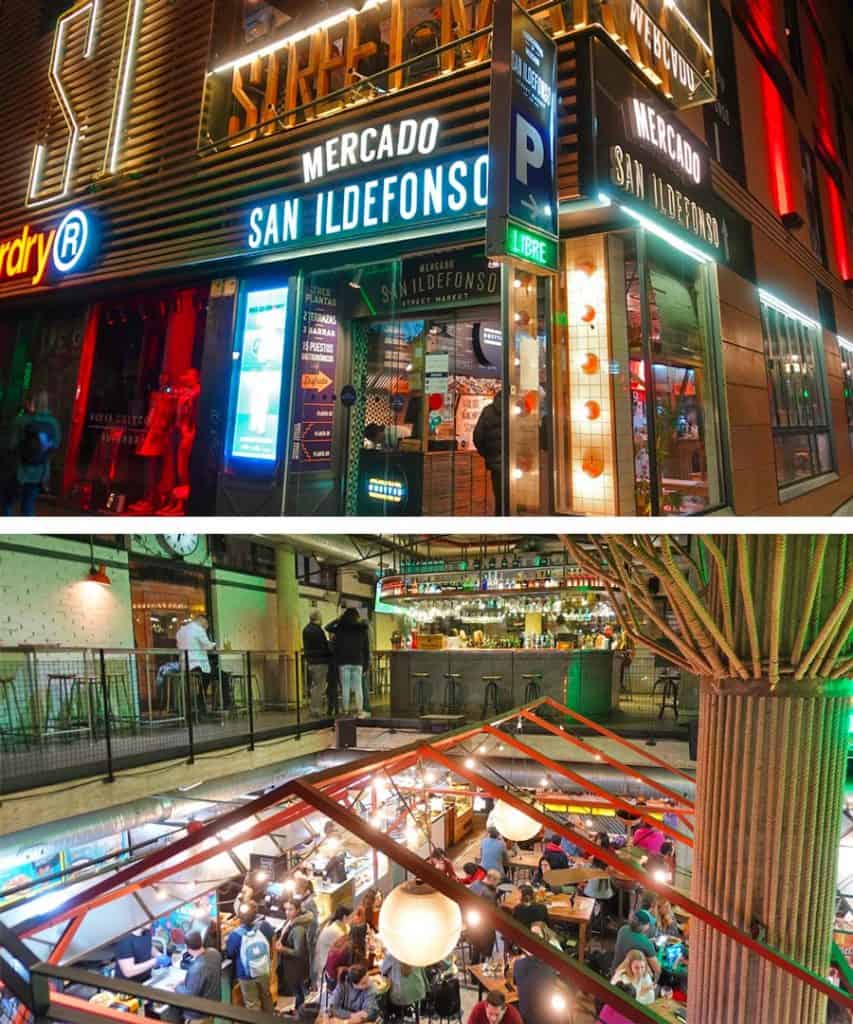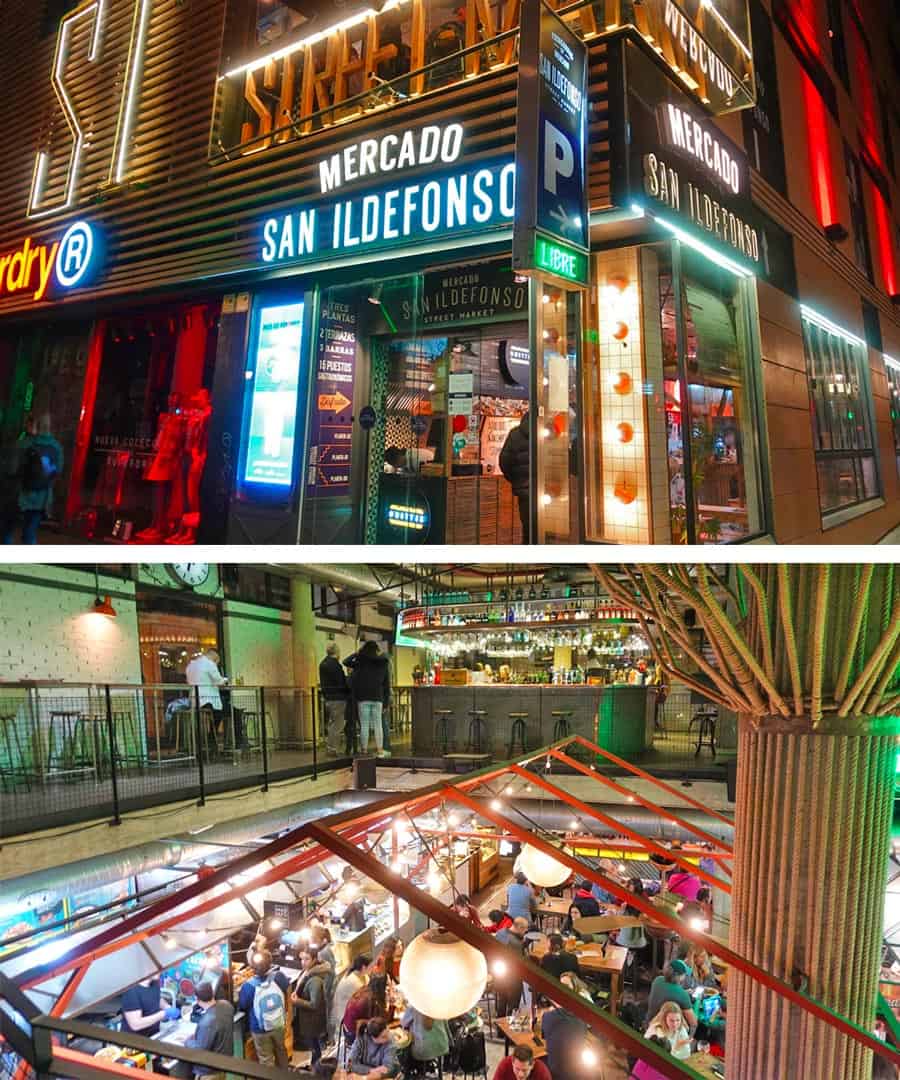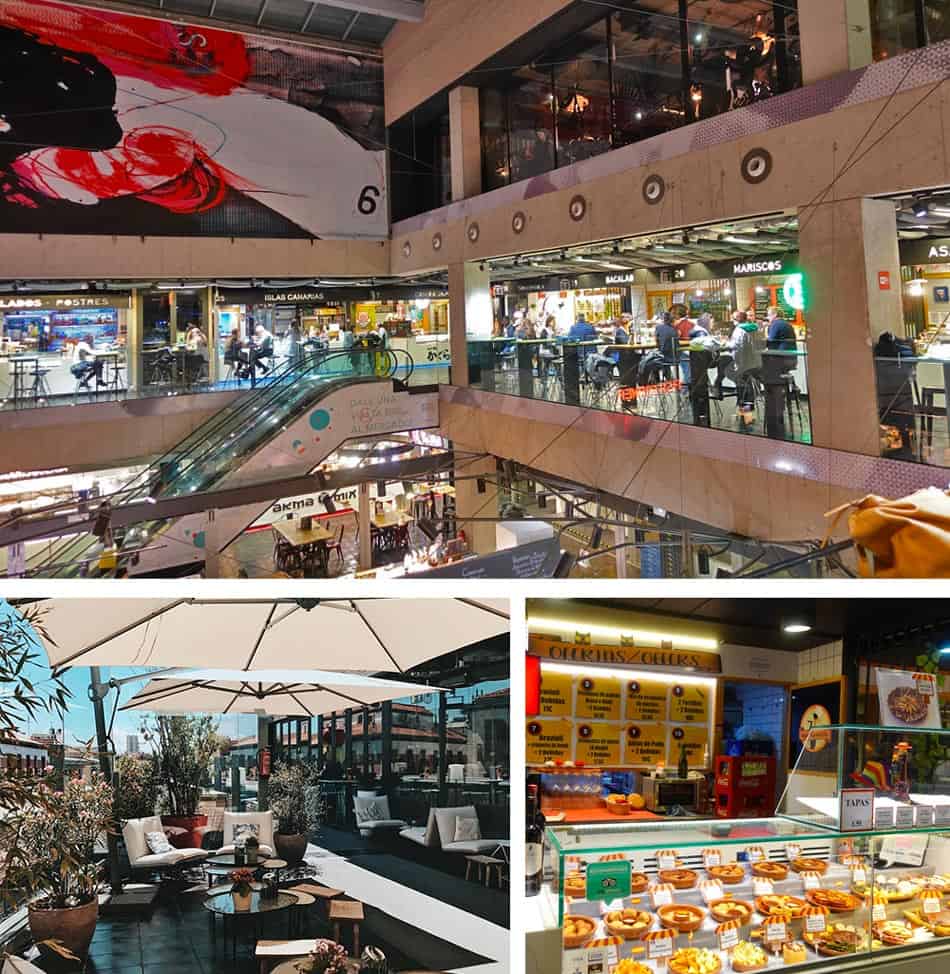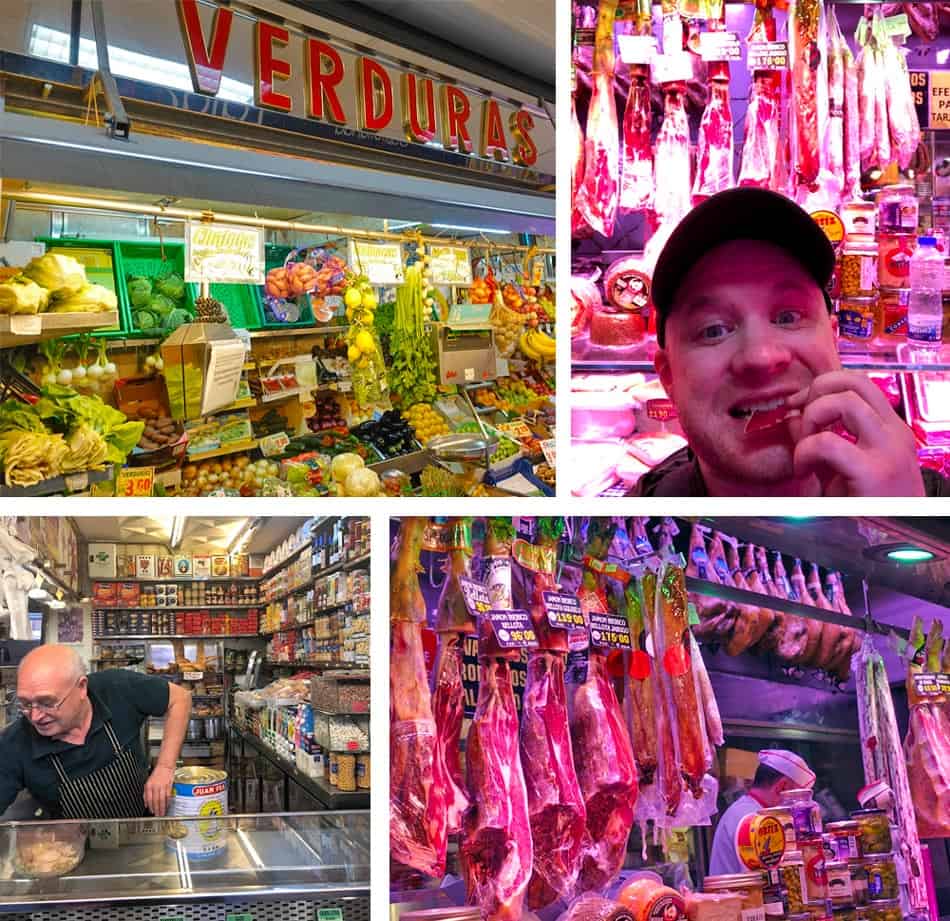 There are two main kinds of markets in Madrid — traditional farmer's markets selling fresh ingredients and trendy markets filled with vendors selling prepared foods, drinks, etc.
Take A Hop-On Hop-Off Bus Tour
Hop-On Hop-Off bus tours are always a popular way to see a lot of a city in a short amount of time. Check out Madrid City Tour as they offer a one or two day pass.
Take A Specialized Tour
Some people love diving deep into a subject so they love things like guided museum tours. Check out Get Your Guide to look into these different kinds of private tours.
Get Out of Madrid With A Day Trip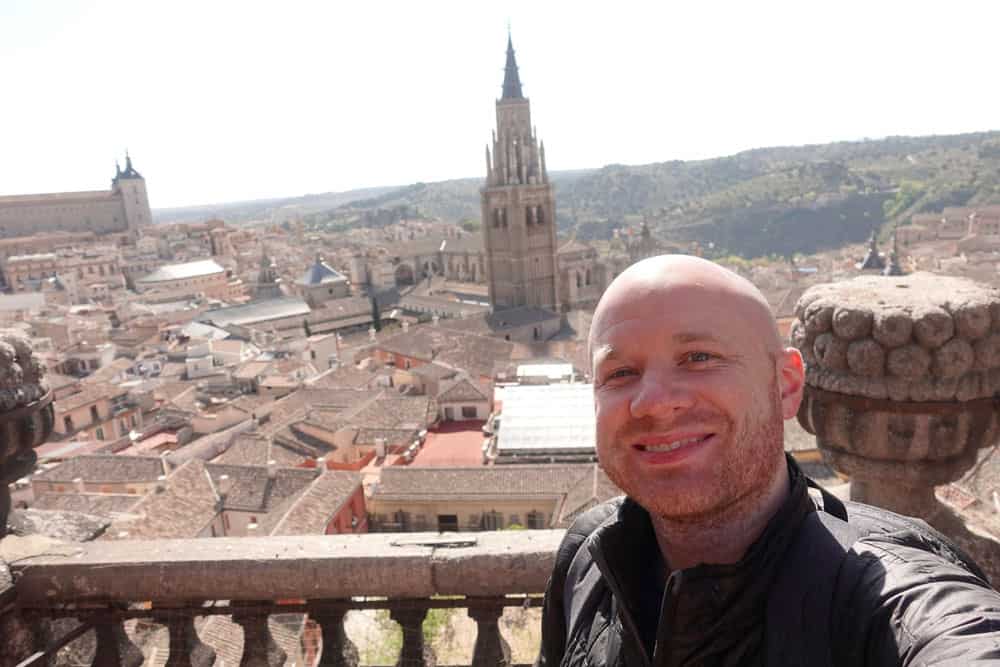 Spain has a handful of amazing cities within a one to three-hour train ride from Madrid. Here are the most popular options:
Toledo
Toledo is an easy 30 minutes train ride from Madrid and costs around €12 each way. This breathtaking hill city is topped with cathedrals and an Alcázar castle. This is a popular destination for day-trippers so it does get a bit crowded.
Segovia
Segovia is another nice Madrid day trip that's only a 30-minute train ride away and tickets are only €13 each way. Once in Segovia, you'll find a beautiful castle, an amazing Roman aqueduct, and a huge gothic cathedral.
Day Trip Tips:
More Spain Travel Tips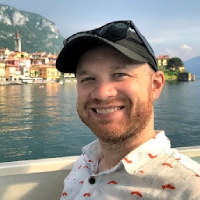 Latest posts by James Feess
(see all)
No Funny Business
The Savvy Backpacker is reader-supported. That means when you buy product/services through links on the site, I may earn an affiliate commission — it doesn't cost you anything extra and it helps support the site.
Thanks For Reading! — James
Questions? Learn more about our Strict Advertising Policy and How To Support Us.