Milan has always stood apart from other cities in Italy since it has a distinctively different vibe than the country's other most famous destinations. In fact, thanks to its geographical location, Milan has a strong Swiss influence which is reflected in their work ethic and cuisine. But don't worry because it is still a solid city — so in this Milan travel guide we've teamed up with some friendly locals to cover everything you need to know about visiting this dynamic city.
In this Milan Travel Guide we'll cover what to do, what to see, what to eat, which neighborhoods to visit, and everything else you need to know about exploring this great city.
[We've also written travel guides for Amsterdam, Barcelona, Berlin, London, Paris, Rome, and multiple other cities.]
How Much It Costs To Visit Milan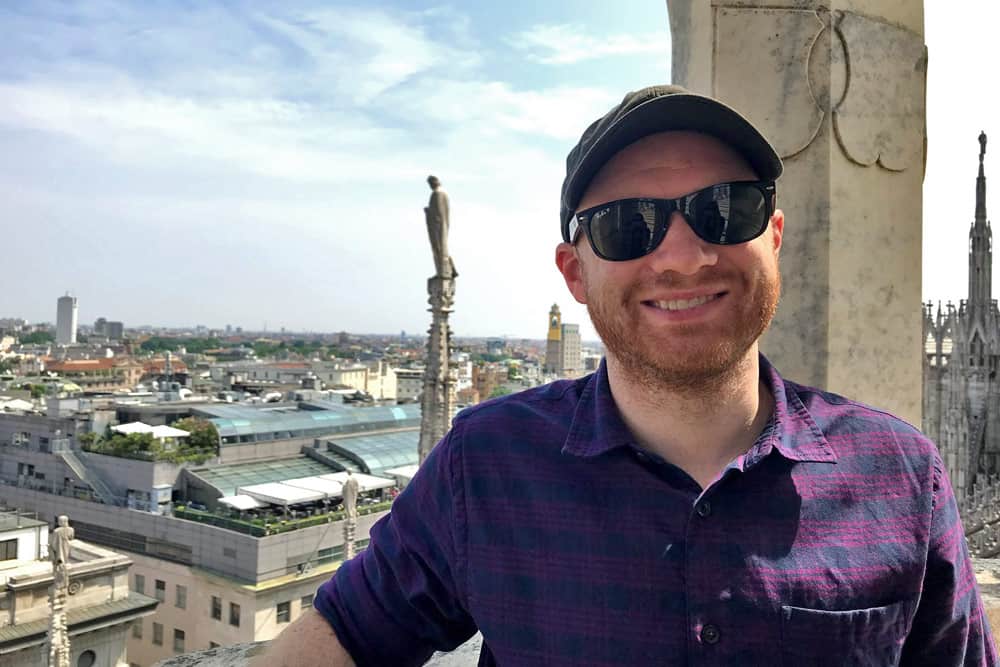 Milan is one of Italy's pricier cities since it's the country's business and fashion capital. On the other hand, Milan has a lot of cheap transatlantic flights so you might be able to offset the city's everyday travel expenses with cheap airfare.
We recommend budgeting €35-€60/day for travelers on a backpacker's budget — you can easily spend more or a bit less but this is a good estimate for your average hostel-staying traveler.
Attractions: €10 (one paid attraction + any free sights)
Food: €23/day

Breakfast: €3
Lunch: €6
Dinner: €12
Treat (dessert/beer/wine): €2

Transportation: €1.50 (but you can easily walk almost everywhere)
Accommodation (Hostel via Hostelworld): €20-28/night or check Booking.com for hotels.
These prices are based on what you'll need to visit the city comfortably — they don't include things like big nights out at the bar, club entry fees, souvenir/clothing shopping, tours, random purchases, nicer food, etc. Don't forget to budget extra for those "non-essentials."
---
How Long To Visit Milan: 2-4 Days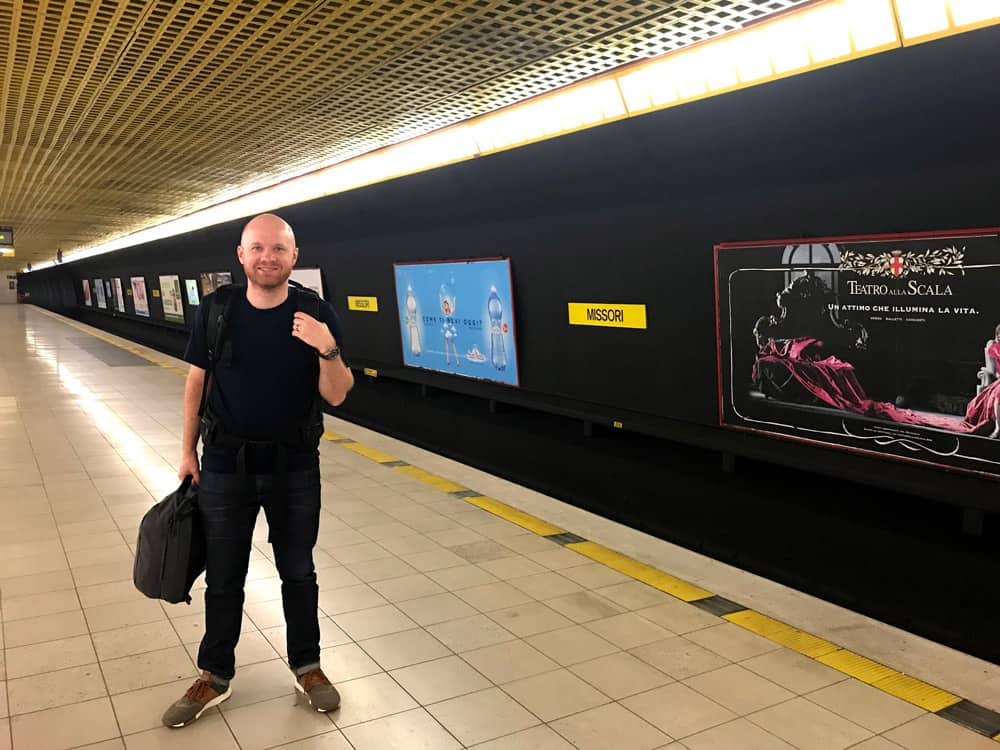 Unlike Rome, Venice, and Florence, Milan doesn't have a ton of "must see" sights so you can see all the highlights in two days. That said, Milan still has plenty to offer visitors so you can easily spend a handful of enjoyable days exploring the city. There are also plenty of nearby day trips within an hour or two from Milan via the train that are worth checking out.
Therefore, we recommend spending at least two days in Milan if you want to see the highlights and three or four days if you want to travel slower or add in a day trip.
---
When To Visit Milan + Weather

Visitors often assume that Italy is warm year-round but that's not the case as Milan can get fairly chilly in the winter. On the other hand, Milan does get hot in the summer months so we recommend visiting April-May or September-October for the best weather. That said, Salone del Mobile (Milan Furniture Fair) runs for a week in mid-April and all the hotels jack up their prices.
July and August tend to be the busiest months in terms of tourism so you'll have the fight the biggest crowds during this time. On the other hand, many locals leave the city during this time in favor of the beach-side towns.
Important Note: Milan is built on swampy land so mosquitos can be very annoying during the warm months (i.e. make sure you have AC because you can't leave your windows open).
Winters can get chilly and there might even be a day or two of snow but there is more rain than snow. That said, there are Christmas markets starting in early December which are always fun to check out. Winter is also the cheapest time to visit outside of Men's Fashion Week in January and Women's Fashion Week in February.
---
The Good and Not-So-Good Things About Milan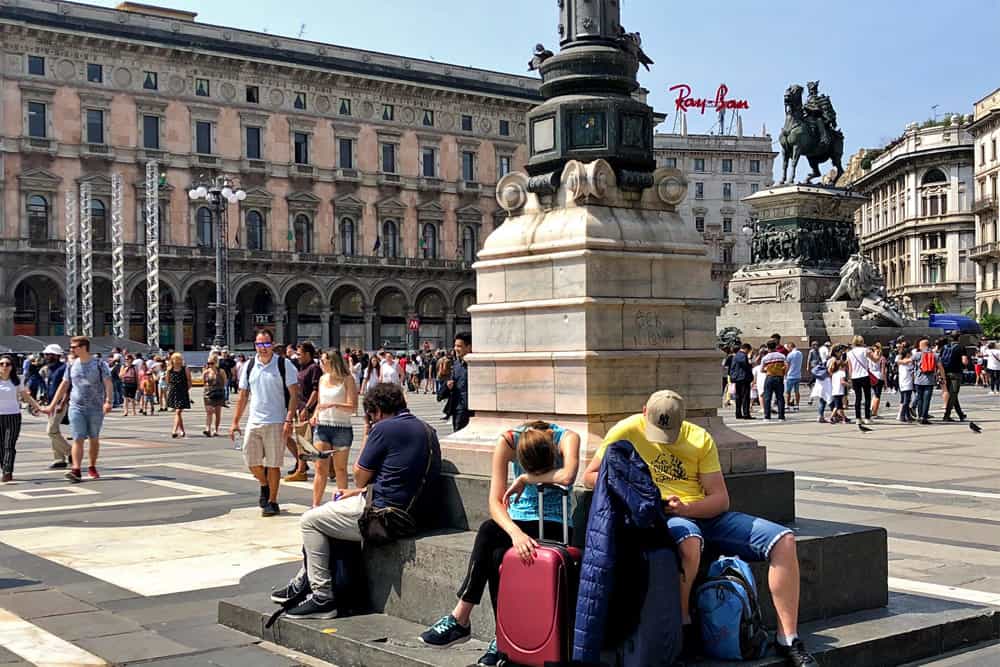 The Good
Laidback Nightlife: Milan has a few great neighborhoods that come alive at night so you'll be able to find a bar, restaurant, or club that fits your style.
The Duomo and the City Center: The center of Milan is beautiful — especially the Duomo.
Great Daytrips: Milan is well-connected to the rest of northern Italy so reaching other towns and areas is fast thanks to the train.
The Shopping: Of course there is shopping. Pretty much anything you can imagine can be found in Milan — especially luxury goods.
Cheap Flights Into Milan: Milan tends to have a lot of cheap transatlantic flights so you can often some really solid fares.
The Bad
Not a "Must-See" City: We wouldn't put Milan on a list of the "top" cities in Italy. Don't get us wrong, we liked Milan but Rome, Florence, Venice, Sienna, etc. are arguably more interesting cities to visit. So, we say keep Milan for your second trip to Italy or spend a day or two there if you're flying in/out of Milan.
Not Old-World Italy: When people picture Italy they think of ancient Rome, the hills of Tuscany, and the canals of Venice… but Milan feels a bit more like a European New York. It's not necessarily a bad thing but it takes some people by surprise.
The Prices: Milan is the business and fashion capital of Italy so you're not going to find a lot of cheap prices. Yes, there are some deals to be found (many of which we cover in this guide) but you need to seek them out.
Hot Summers and Cool Winters: It can get toasty in the middle of summer and there will be some cold days in the winter.
---
Milan's Best Neighborhoods
Milan has a number of unique neighborhoods so you can always find an area to stay that fits your travel style — from vibrant and cosmopolitan life to quiet and laid-back. Furthermore, Milan is a fairly compact city so getting from one neighborhood to another is a quick walk or easy subway/tram ride away.
Duomo & City Center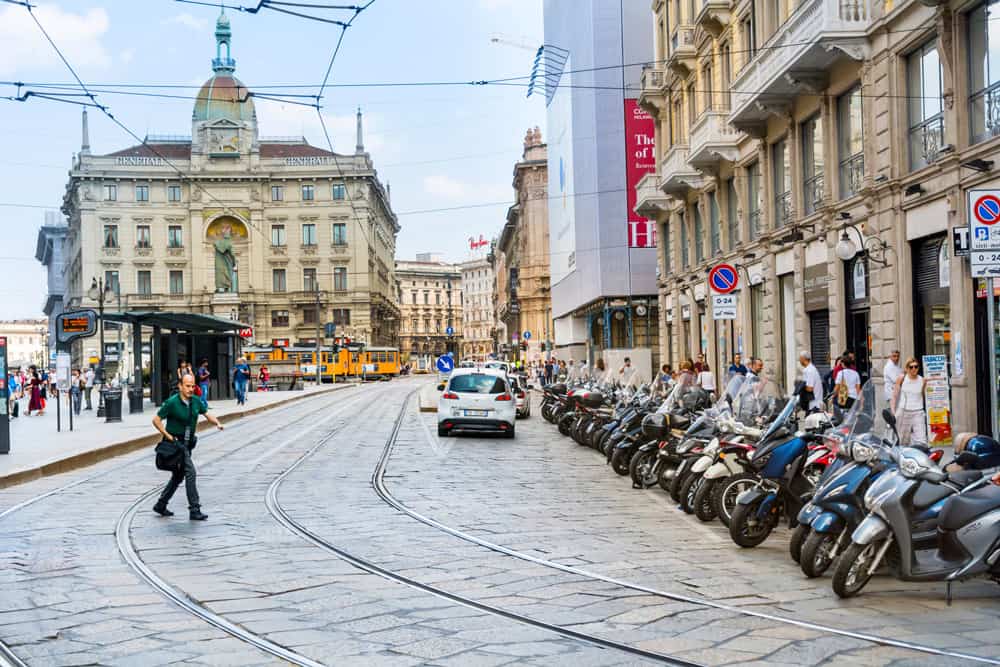 At the heart of Milan, you'll find the Duomo cathedral and we'd consider anything within close proximity to be considered the city center. Milan is fairly compact so the city center is where you'll find most of the shopping, museums, and plenty of restaurants. Naturally, it does attract a lot of visitors so prices are elevated and quality meals can be tougher to find.
Brera Neighborhood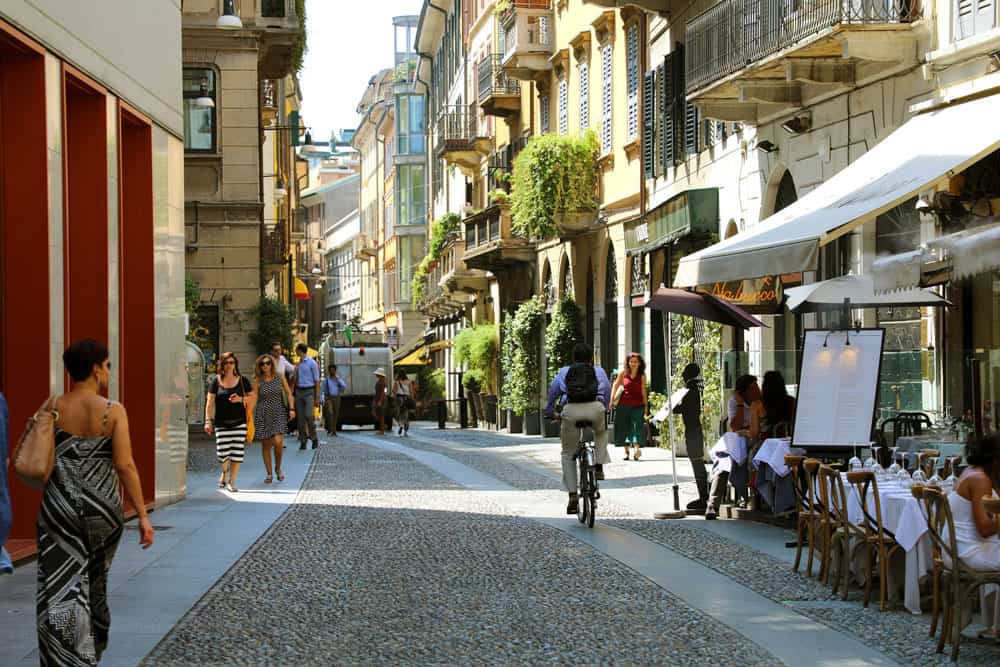 It's easy to see why people fall in love with the Brera neighborhood. It has long been the artistic heart of Milan thanks to its Renaissance-style architecture and lovely cobblestone streets. These days prices are risen (like they always do) but there are still plenty of independent boutiques, small shops, and streets lined with sidewalk cafes. It's certainly one of Milan chicest and romantic area.
Navigli Neighborhood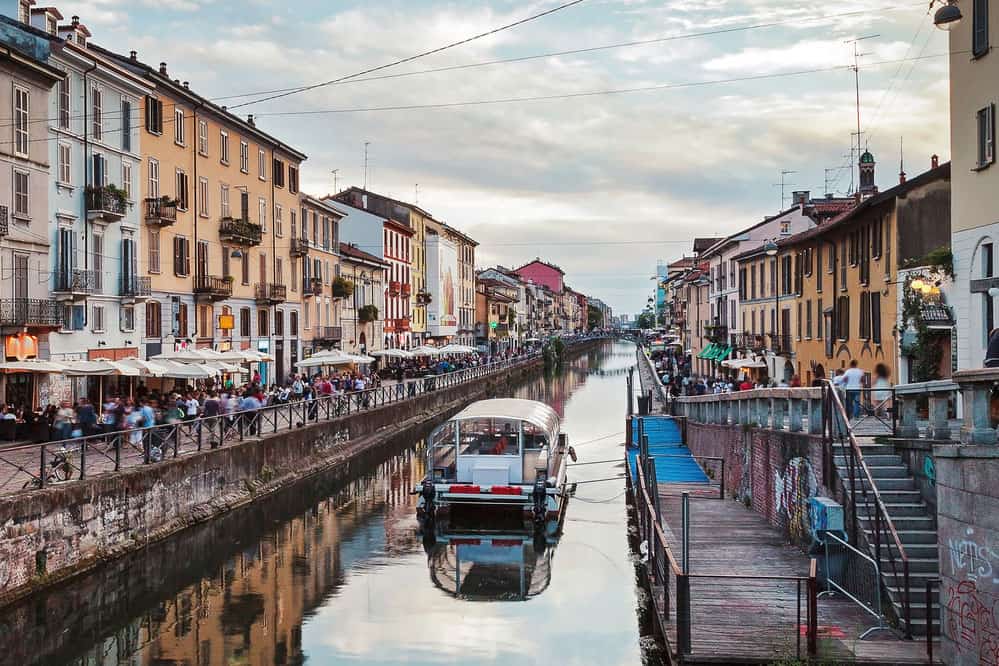 We also love the Navigli Neighborhood as it's one of the hippest and most youthful parts of Milan so you'll find plenty of great nightlife options here. The canals that run through the area are lined with bars and restaurants but some can be a little expensive. As you move inward into the neighborhood you'll find plenty of locals enjoying the area's fun shops and budget-friendly bars/restaurants. We suggest visiting on a weeknight as it's a popular spot for cool locals relaxing after work — but on the weekend it's mostly tourists.
Ticinese & Porta Romana Neighborhoods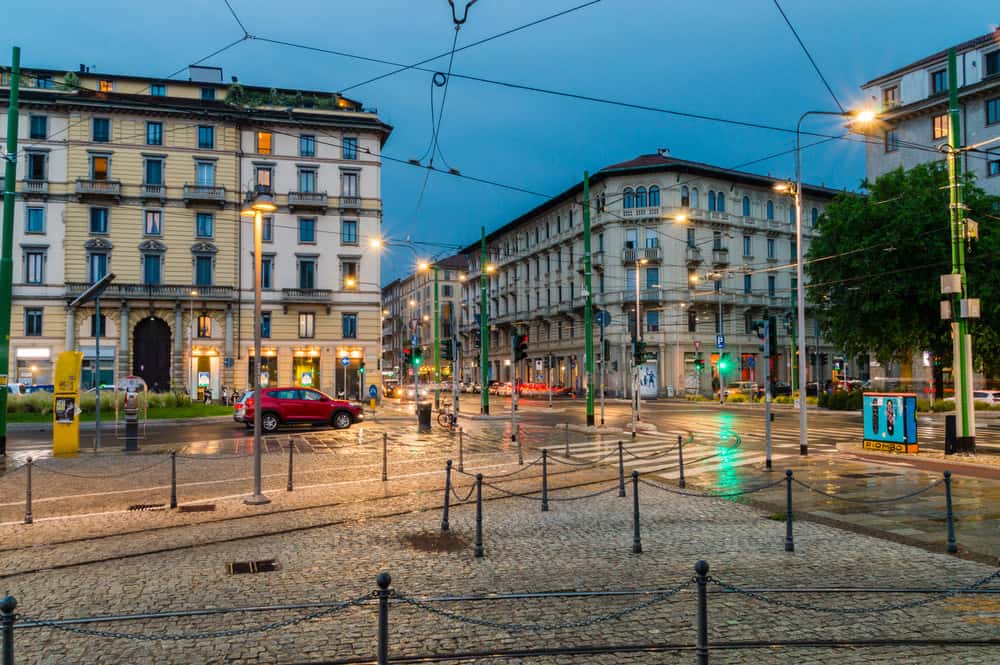 In the southern part of Milan, you'll find the residential neighborhoods of Ticinese and Porta Romana. The Ticinese has a bohemian vibe thanks to its large student population and the Porta Romana is home to many of the city's wealthiest and most fashionable residents. Both neighborhoods are fairly lowkey with a mixture of hip bars, dive bars, restaurants, vintage shops, and nightlife geared toward the locals at every income range.
Isola Neighborhood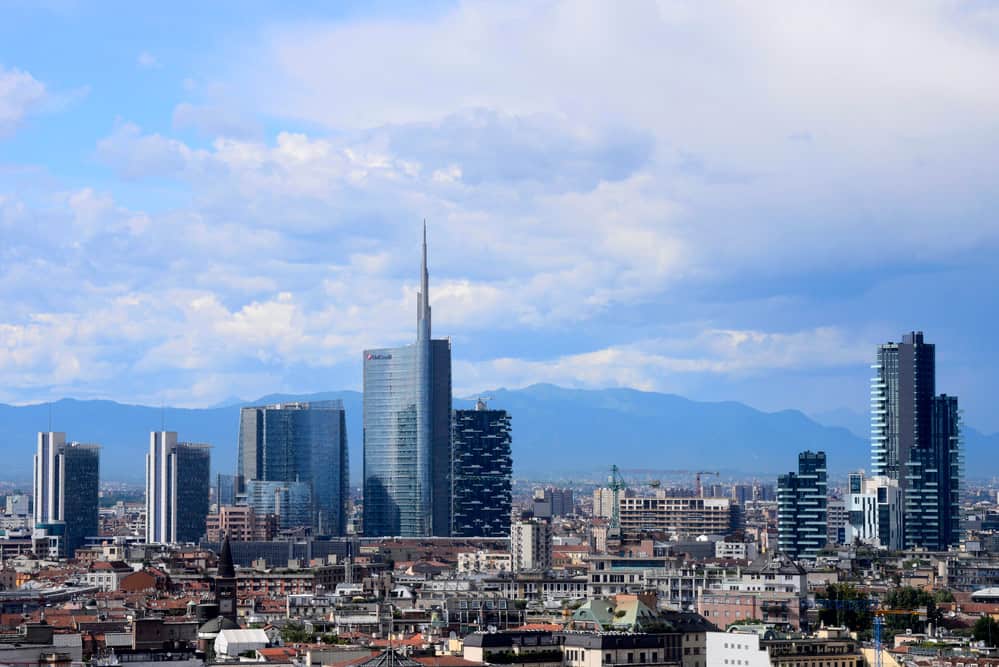 Visit the Isola neighborhood in the northern part of the city to experience the modern and futuristic Milan. Here you'll find modern skyscrapers and plenty of trendy bars, cafes, galleries, and other nightlife. It's an interesting area to check out as it was once a working-class and industrial area that is now dotted with ultramodern buildings — so it's an interesting mix. You'll also find a lot of street art in the neighborhood.
If you only visit one part of the neighborhood we recommend heading to Corso Como — which is a street that's home to some of the best nightlife in the city.
---
Milan's Top Sights and Attractions
Milan only has a handful of "must-visit" attractions but between those sights, the shopping, the fun restaurants, the neighborhoods, and day trips, there is plenty to keep you entertained. Here is a list of the best things that Milan has to offer:
Duomo Cathedral and Piazza del Duomo
The Duomo Cathedral and the Piazza del Duomo is easily the best thing to check out when you're in Milan. Located in the very center of Milan, the Duomo attracts thousands of people (and pigeons) every day.
The Piazza is beautiful and 100% worth checking out but it's always crowded with people — including lots of pickpockets so watch your stuff. We recommend visiting at night as well since the Duomo Cathedral and the surrounding building are beautifully illuminated. Most of the bars and restaurants on the square are expensive but that shouldn't be too surprising.
And, of course, you have to visit the Duomo — which is one of the world's largest cathedrals in the world (it can hold more than 11,000 people inside!) and it took over 600 years to complete. But our favorite thing about the Duomo is seeing the city from the Duomo's roof.
The standard admission to visit just the cathedral is €3.50. The ticket lines will be insanely long so expect to wait well over an hour (in full sun) if you're buying tickets at the ticket office (or you can arrive around 30 minutes before opening). However, you can skip the ticket lines by purchasing your tickets online for a specific timeslot (but we recommend buying them a bit in advance since they can sell out). Buy ticket directly from the Duomo Website.
Tickets to visit the cathedral and the rooftop are €17 (elevator to the roof) or €13 (stairs to the roof). There is also a "fast track" ticket for €25 that includes everything and it gives you access to an even faster line.
You can also visit just the rooftops for €10 (stairs), €14 (lift), or €23 (fast track ticket w/ lift access).
Galleria Vittorio Emanuele Covered Shopping Center (Galleria Vittorio Emanuele II)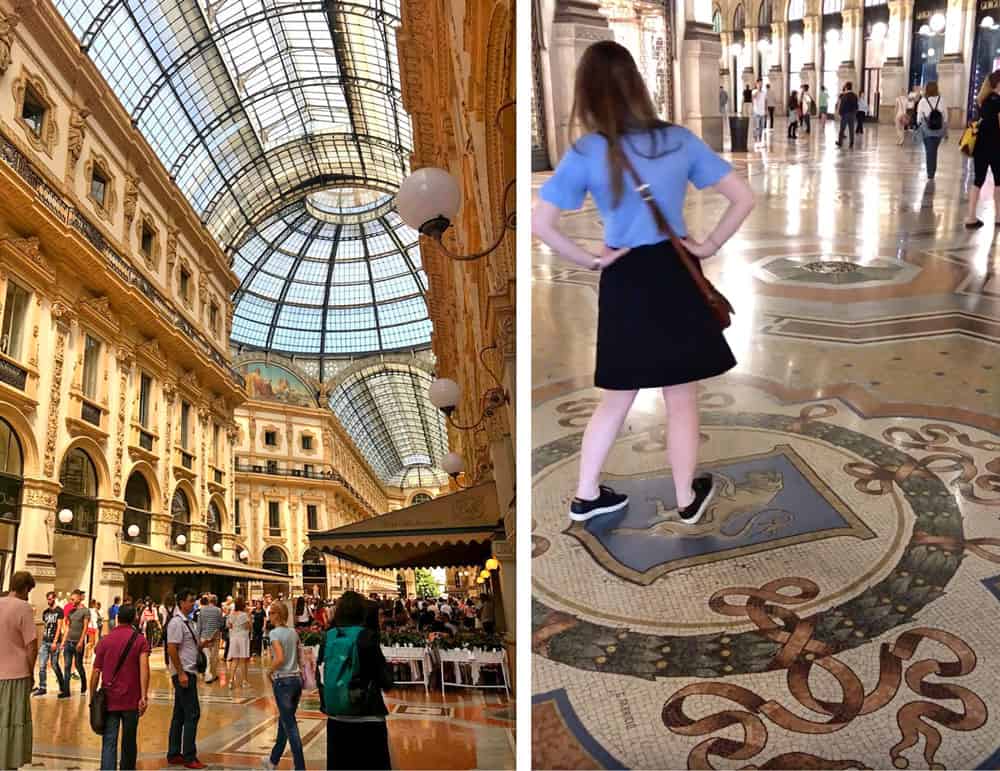 Right next to the Duomo you'll find Italy's oldest and most beautiful shopping center. Built in 1867, this impressive covered arcade now houses luxury cafés and high-end designer boutiques.
Don't have an Amex Black Card? Don't worry, the Galleria is still worth visiting for the architecture and window shopping.
Ohh and be on the lookout for a mosaic of a bull on the floor because its good luck to put your foot on the bull's testicles and spin around. You can't really miss all the people
Leonardo da Vinci's Last Supper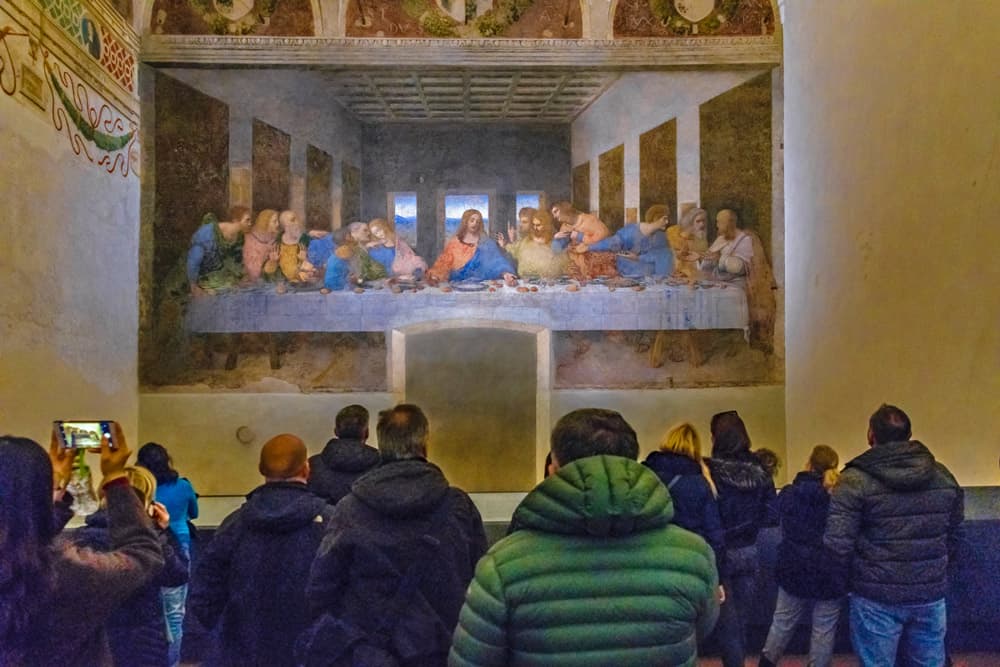 The Last Supper is one of the most famous paintings in the world and it's also one of the hardest paintings to actually see in-person. Why? Because the painting isn't in very good condition so they only allow around 1000 people a day to see it. Furthermore, tour guides and ticket resellers snatch up many of the tickets so there aren't many tickets left over for regular folks.
Tickets go on sale about three months in advance and they're often sold out within a few days of going on sale.
Full price tickets are €12 and you can buy them from the official website (they also offer a few English tours every day for a few Euros extra). You can also sometimes score last-minute walk-up tickets each morning.
The easiest way to see the Last Supper is by booking a third-party guided tour. The museum only allows licensed tour guides to give tours so that's a positive thing but tours start around $50.
The Last Supper painting is located in the Santa Maria delle Grazie church.
Museo del Novecento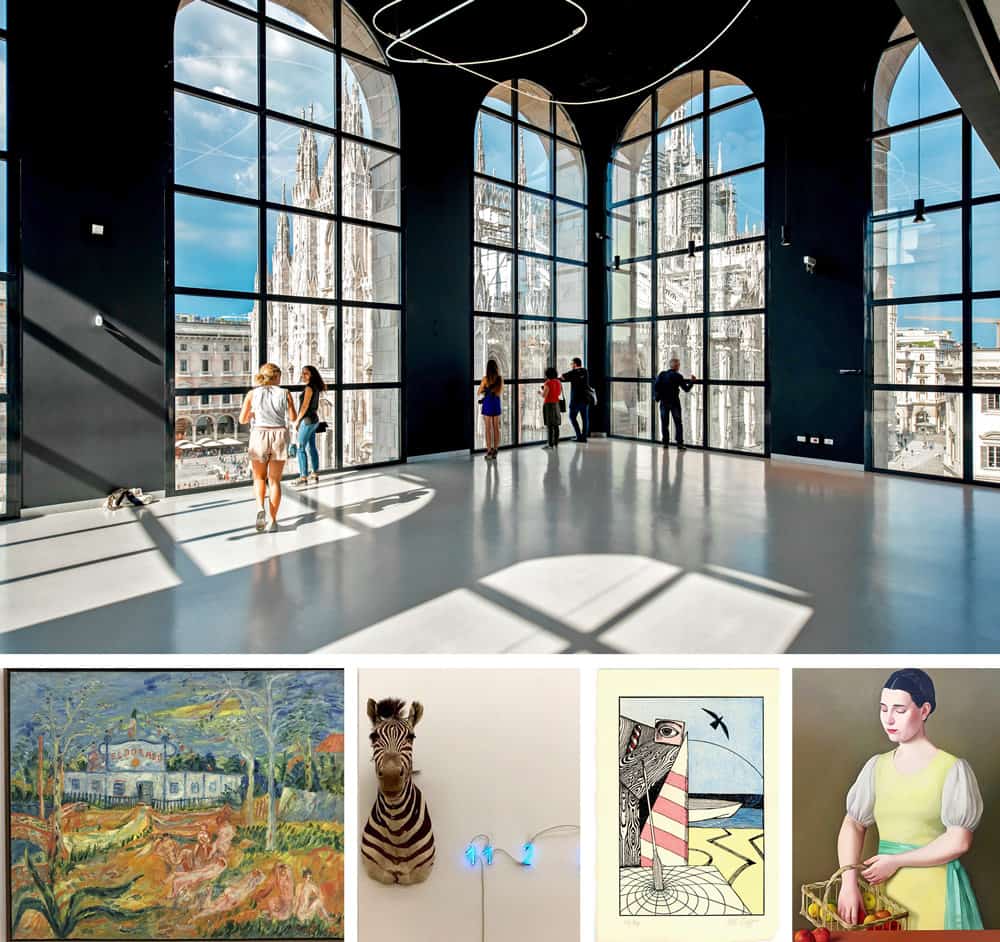 Opened in 2010, the is features around 400 pieces of twentieth-century art from mainly Italian artists but there are a few international artists there as well (Warhol, Kosuth, Lichtenstein, Buren, etc.).
As an added bonus, the museum offers some really nice views of the Duomo. Admission is €10.
Sforza Castle (Castello Sforzesco)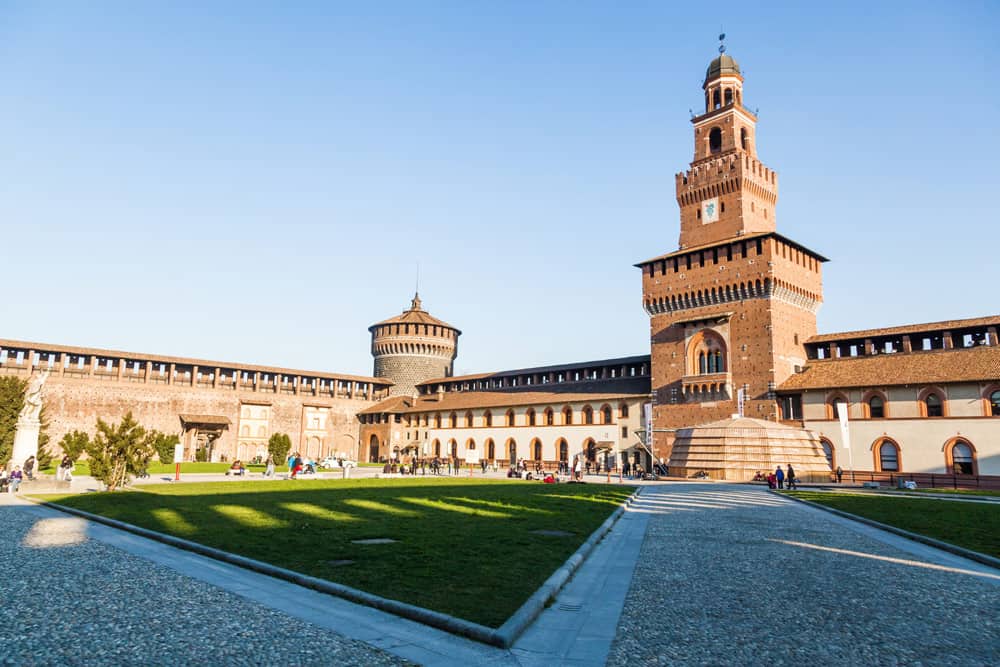 After you've spent some time exploring the area around the Duomo, make the leisurely walk to the Sforza Castle (there is lots of shopping along the way).
Originally built in the 15th century, Sforza Castle has long been one of the largest citadels in the world. These days it houses multiple smaller museums with works from Vinci and Michelangelo and a beautiful courtyard. The castle grounds are free to visit but tickets to visit the museums are €10 (you can also buy a multi-day pass if you want to take your time).
Budget Tip: There is free entry every first and third Tuesday of the month after 2 pm.
Sempione Park (Parco Sempione) and the Branca Tower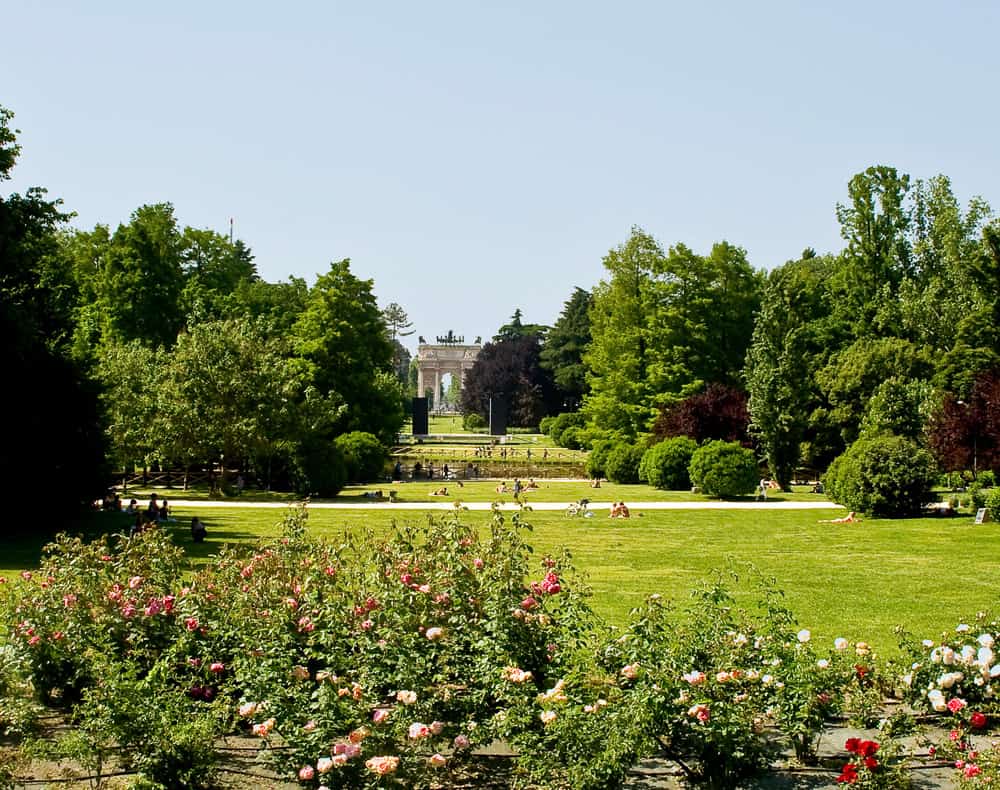 Sempione Park is the largest park in Milan and it makes a great spot to escape the heat and bustle of the city. You can find both sunny and shaded areas so it's a popular place for a nice picnic.
There is also a giant tower in the park that you can pay to go up to get panoramic views of Milan.
Leonardo da Vinci National Museum of Science & Technology
The Leonardo da Vinci National Museum of Science & Technology is the largest science and technology museum in Italy and it features exhibits that span everything from transportation and energy to Da Vinci's inventions. There are a lot of interactive exhibits so this is a nice spot for kids as well. Admission is €10.
Pinacoteca di Brera Fine Art Gallery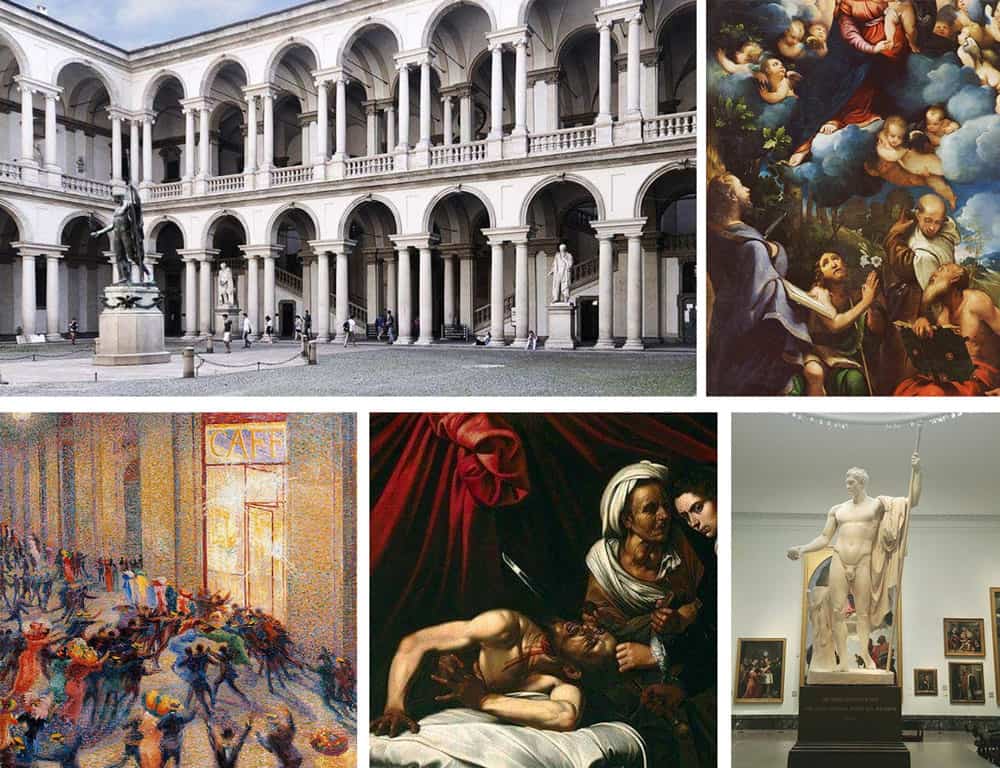 For one of the best collections of Italian paintings head to the Pinacoteca di Brera. The building, which is a work of art on its own, houses an impressive collection spanning over 36 rooms. The museum also has a beautiful garden filled with sculptures. There is also a painting restoration lab where you can see paintings being expertly restored. Admission is €12.
Scala Opera House & Piazza della Scala
The Scala Opera House is one of the most famous opera houses in the world and it has hosted some of the most well-known operas and ballets for over 200 years. So, if you're a fan of opera, you might want to catch a show. Tip: You can score 25% off last-minute tickets if you visit the box office an hour before the show starts.
We took a guided tour of the Scala and it was honestly really bad — but that might have been the fault of the guide.
Across the street from the Opera House is the Piazza della Scala and it's a nice spot for people watching.
Basilica of Sant'Ambrogio (Basilica di Sant'Ambrogio)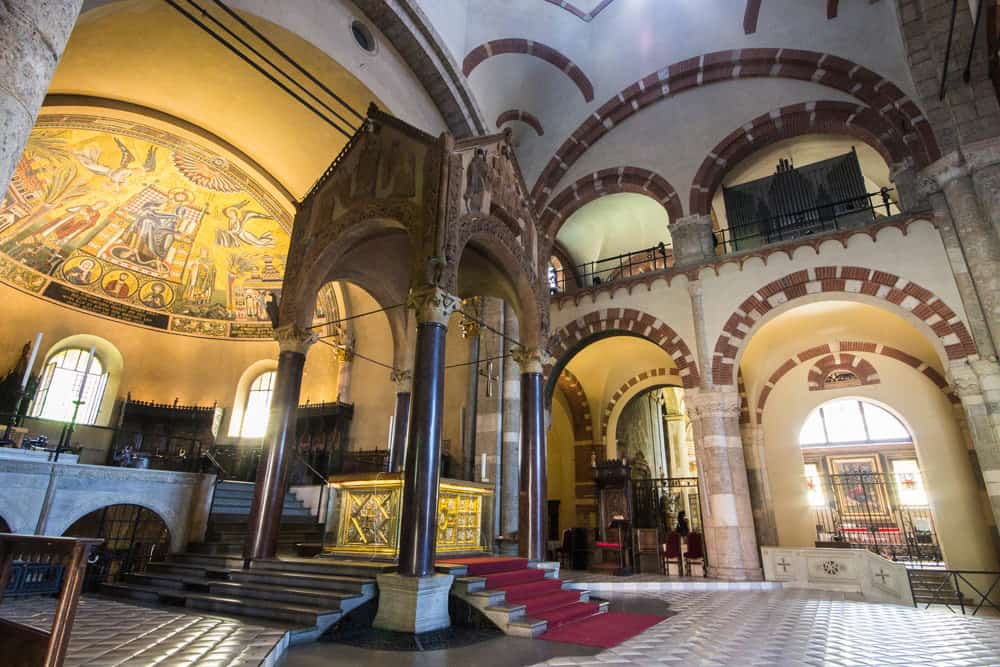 While the Duomo gets a bulk of the attention, the 4th-century Basilica of Sant'Ambrogio is still worth a visit if you're looking for something peaceful and away from the crowds.
Brera Neighborhood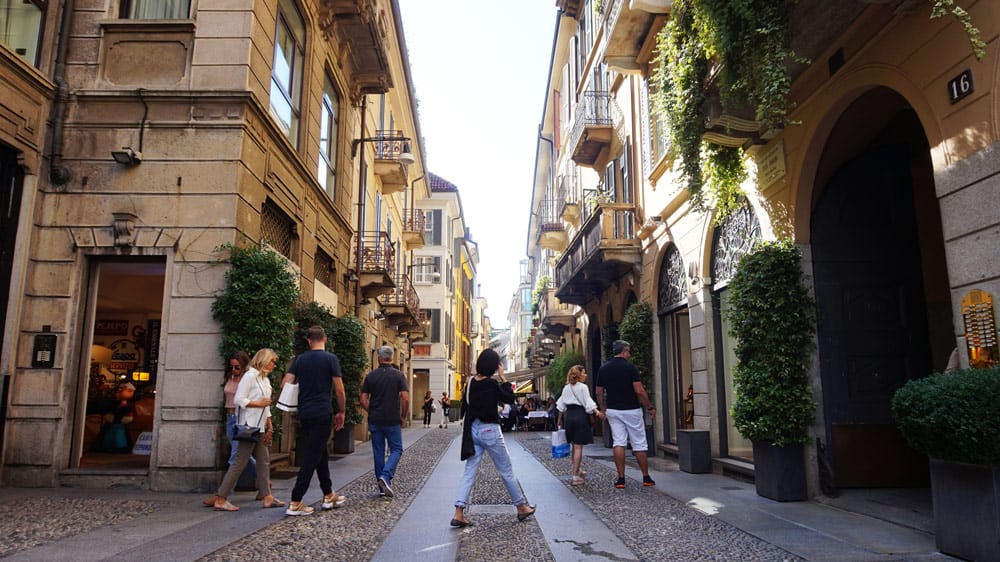 One of our favorite neighborhood in Milan is the Brera. This lovely and artistic heart of Milan is famous for its Renaissance-style architecture, cute cobblestone streets, and vibrant atmosphere. The Brera is filled with upscale shopping and dining options but it really comes to life at night when the sidewalk cafes fill up with people enjoying life. So spend some time strolling around and watch the world pass by at a sidewalk cafe.
Naviglio Grande Canal & The Navigli Neighborhood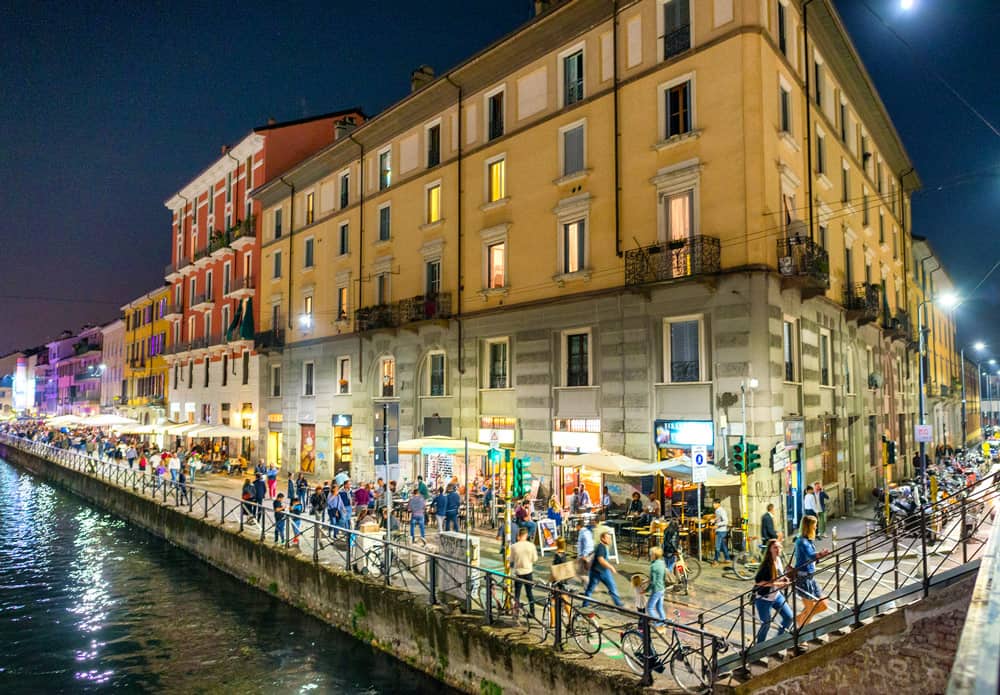 One of our favorite parts of Milan is the Navigli Neighborhood — specifically the Naviglio Grande Canal. The canal dates back hundreds of years but these days its one of the hippest spots in Milan. The canal is lined with dozens of bars and restaurants so the area gets packed with people enjoying the nightlife.
Nabbing a seat outside is always tough but it's worth the fight as its the best spot for people watching in Milan.
You can walk to the canal from central Milan but easier to take the trolly.
Milan Central Train Station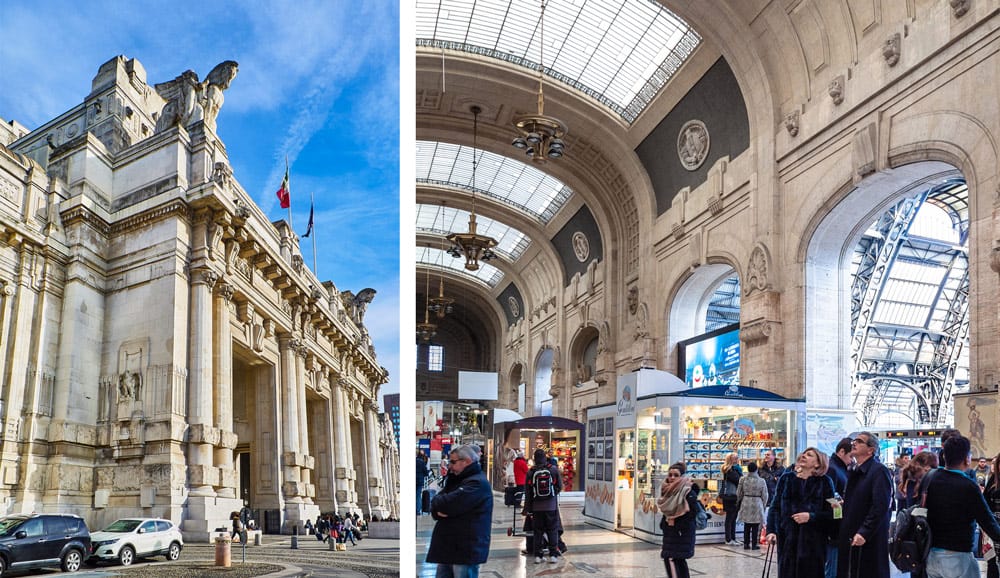 Opened in 1931, the Milan Central Train Station was commissioned by Mussolini to showcase the power of his regime. And, thanks to its towering walls, its still Europe's largest train station by volume. So, if you're traveling through the station, take a few moments to marvel at the grandiose nature of the interior and exterior of the station.
We suggest arriving early since it might take you a while to find your train simply because the station is so large. The station is also a hotspot for pickpockets.
Retail Therapy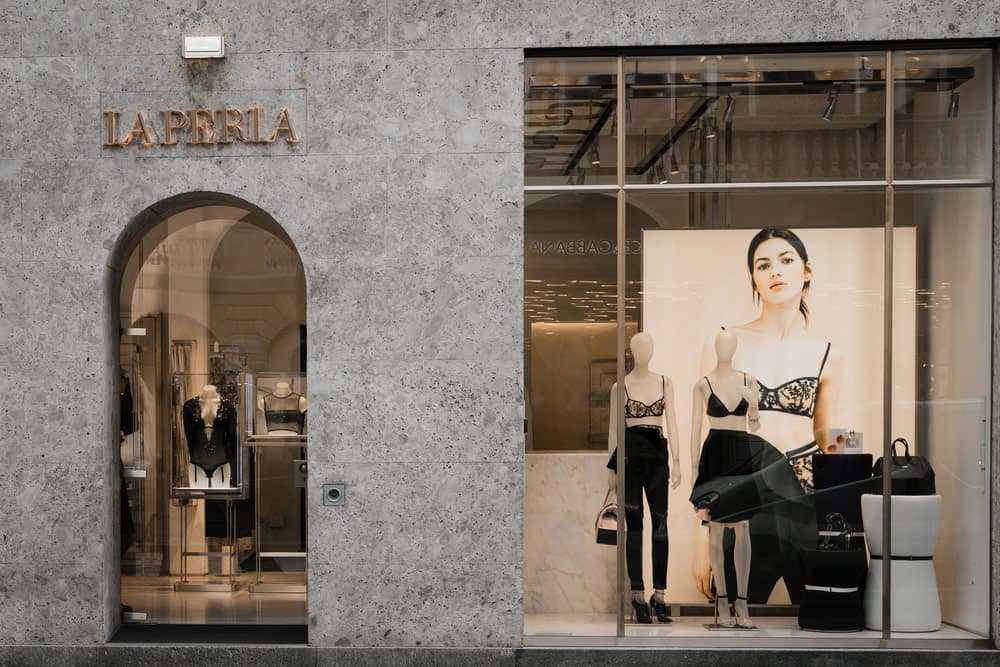 Milan arguably has the best shopping in all of Europe — especially when it comes to clothing. There are a handful of long shopping streets with international brands, small boutiques, and just about every luxury brand has shops here.
Looking to score a deal on designer brands like Prana and Fendi? Head to one of the DMAG outlet stores where you can score some solid deals on designer Italian and international brands. See Locations On Google Maps
Budget Tip: Luxury goods are often a bit cheaper in Italy than in N. America since you can get a refund on the tax if the item costs more than €155.
AC Milan San Siro Stadium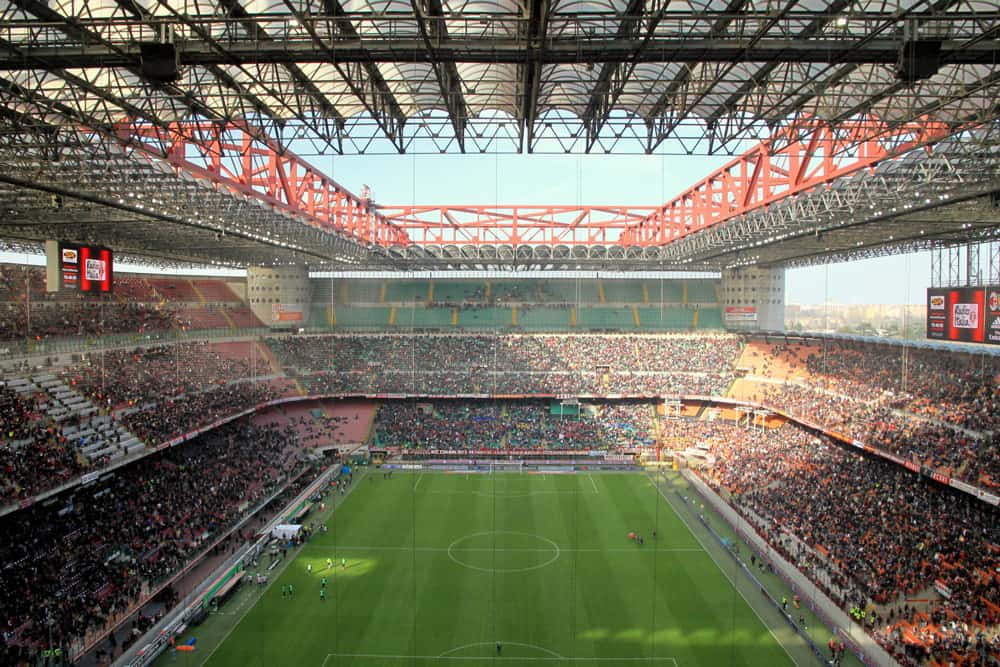 AC Milan is one of Europe's best soccer teams so seeing a game is always a fun experience. The stadium can hold more than 80,000 people so the atmosphere on gameday is truly amazing.
Ride An Old Trolly
Milan has a nice series of trolleys that let you quickly and easily cross the city. Many of the trolleys are modern but there are still a handful of older-style cars.
San Bernardino alle Ossa

This church that dates back to 1210 is famous for its small chapel decorated with numerous human skulls and bones. It's both interesting and creepy so it's worth stopping in if you're in the area.
Take A Free Walking Tour
One of the best ways to see a city is through taking a walking tour. Personally, we're fans of free (aka tip-based) tours. Here are a few popular free walking tour companies:
---
Where & What To Eat in Milan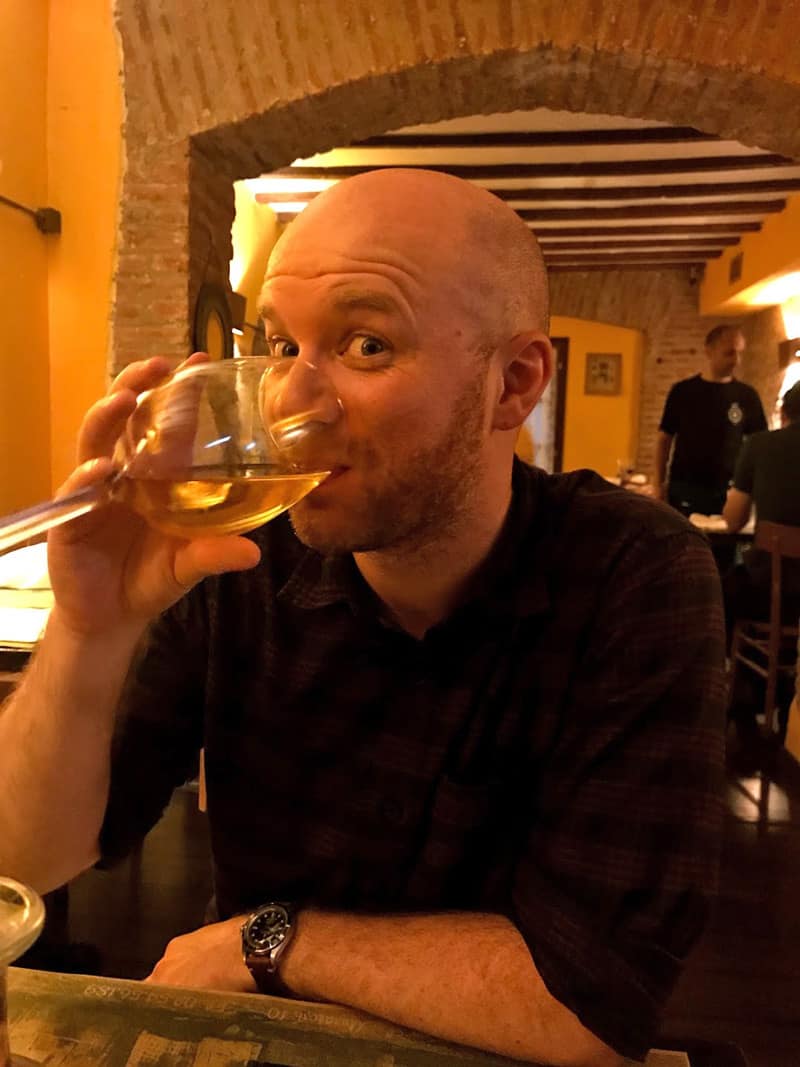 Milan has no shortage of places to eat ut in this guide we're going to focus on local favorites and budget-friendly restaurants.
But before we look at where to eat, let's take a look at local dishes that you might want to order.
Coffee: Most locals order an espresso in the morning. Some might get a cappuccino or other milk-based coffee drink. Note: Milk-based coffee is seen as a breakfast drink so you might get some weird looks if you order a cappuccino, caffé latte, caffé macchiato, etc after lunch.
Risotto: The region surrounding Milan is famous for risotto so be sure to seek out a traditional restaurant that makes risotto alla Milanese.
Polenta: Risotto may reign supreme in Milan but their polenta is also famous throughout Italy.
Ossobuco: Milan is famous for their Ossobuco — a cross-cut veal shanks braised with vegetables, white wine, and broth. It is often served with risotto alla milanese.
Cotoletta alla Milanese: The cotoletta alla Milanese is basically an Italian version of schnitzel. Very tasty.
Minestrone Milanese: Take a break from the hearty cotoletta alla Milanese and gelato with some Minestrone Milanese (i.e. vegetable soup).
Negroni Sbagliato: One of my favorite drinks it the Negroni. But in Milan they have a Negroni Sbagliato (which translates to Negroni Mistake). Legend has it that a barman in Milan mistakenly used sparkling wine instead of gin and the drink become a local hit.
Ok, let's take a look at some awesome places to eat!
Trattoria Milanese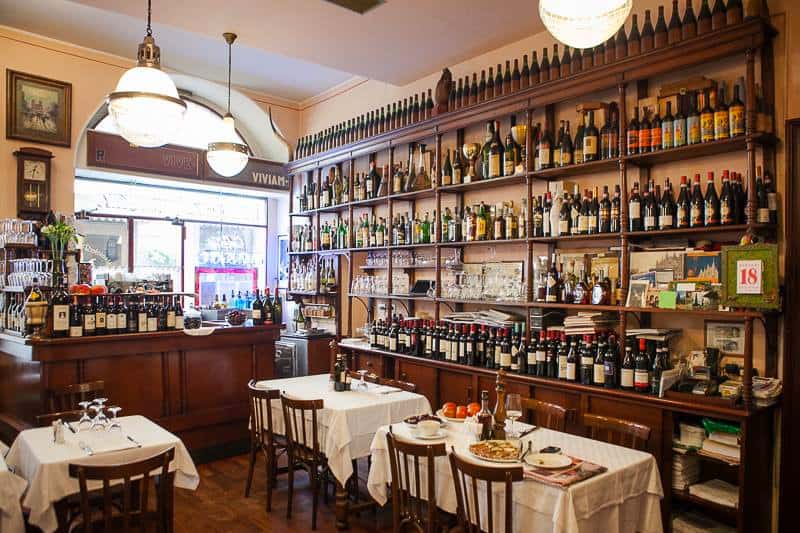 Looking for a traditional Milanese restaurant that's loved by locals? Look no further than Trattoria Milanese. This place is an old-world institution (it's opened in 1933) with great waiters and better food. Trattoria Milanese is a popular spot so expect a wait.
Luini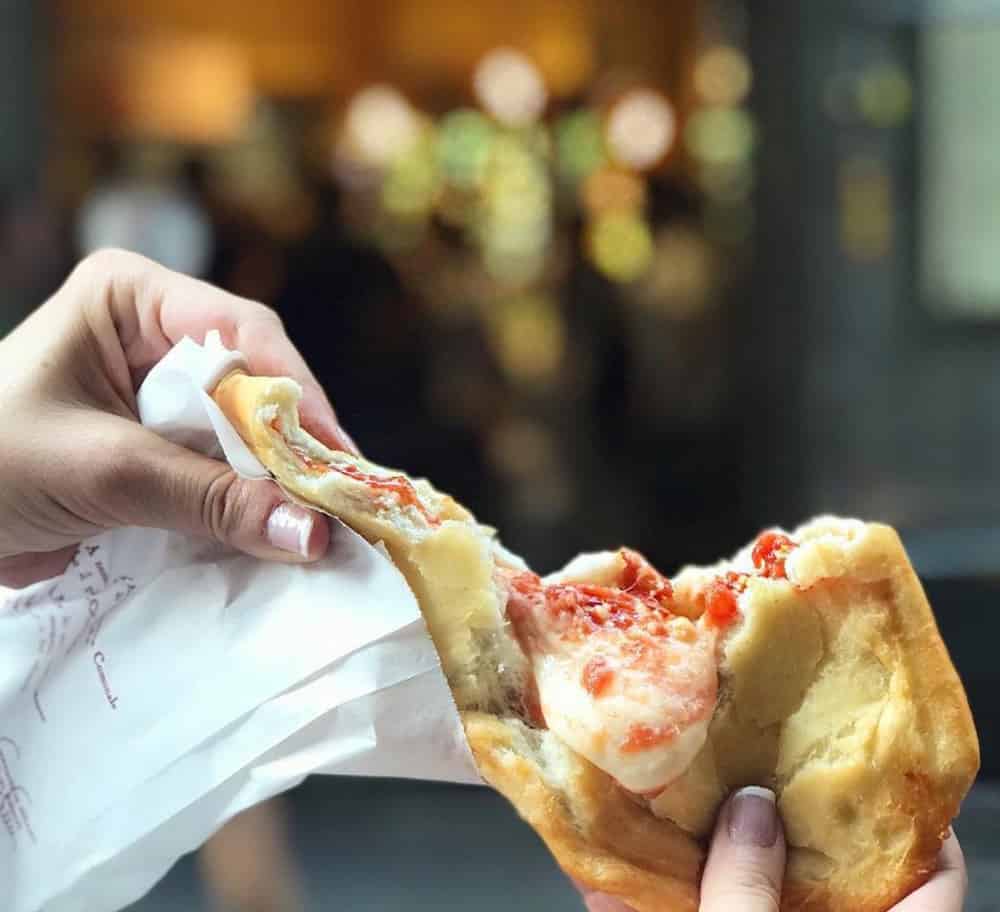 You can't visit Milan without stopping at Luini for their panzerotti — which are fluffy fried dough half-moons stuffed with tomato, mozzarella, and other fillings (they're kind of like a small calzone). And at under €3/each, it's no wonder why this place alllllways has a long line of people waiting to get their hands on these tasty treats but the line moves quickly.
De Santis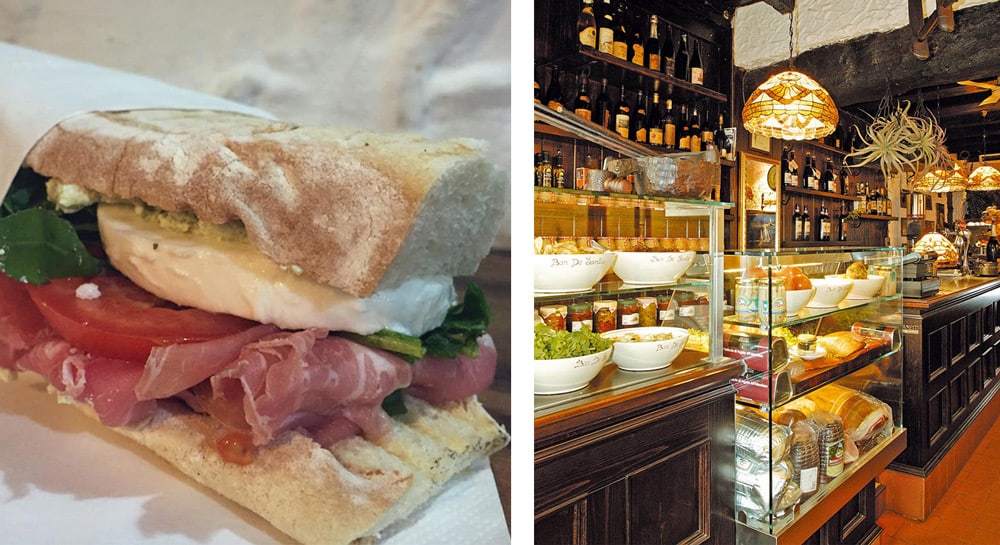 The locals know that De Santis is the place to get the best sandwiches in Milan — and the prices are very reasonable. The staff is super friendly and they have a nice selection of local beer to boot. Don't worry if there is a line as it's worth the wait. I'm getting hungry just thinking about this place.
Volemose Bene
View this post on Instagram
Here is another one of Milan's best Roma restaurants. They're known for generous servings of classic dishes — we recommend the cacio e pepe. Yumm. This spot is always busy but that's a good thing.
Miscusi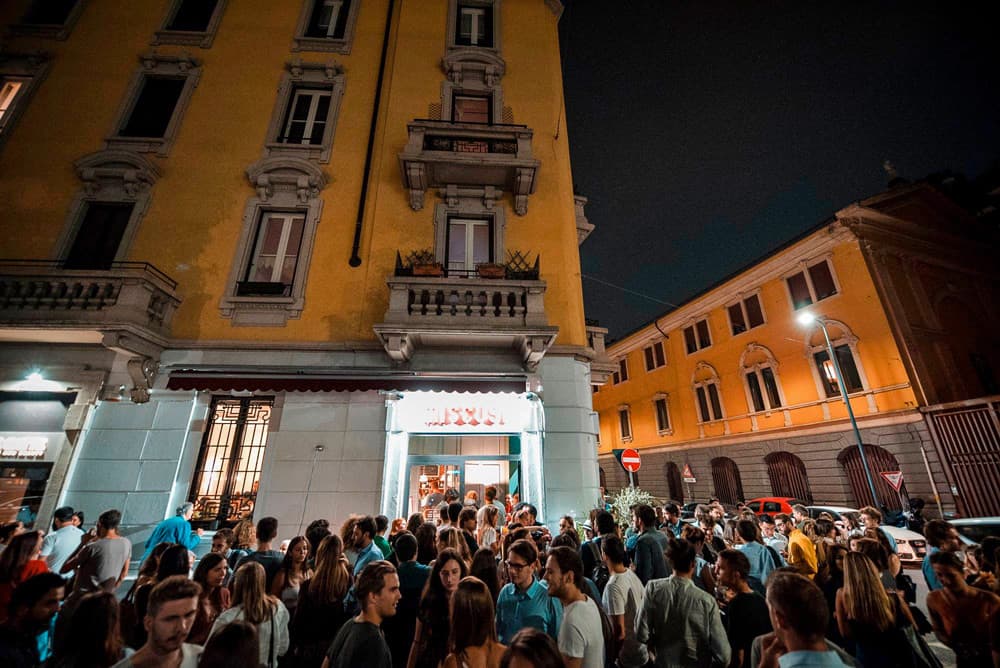 When it comes to great homemade pasta at reasonable prices, it's hard to beat Miscusi. This multi-location restaurant is one of those places where you'll be happy to eat at multiple times on your visit to Milan.
Piz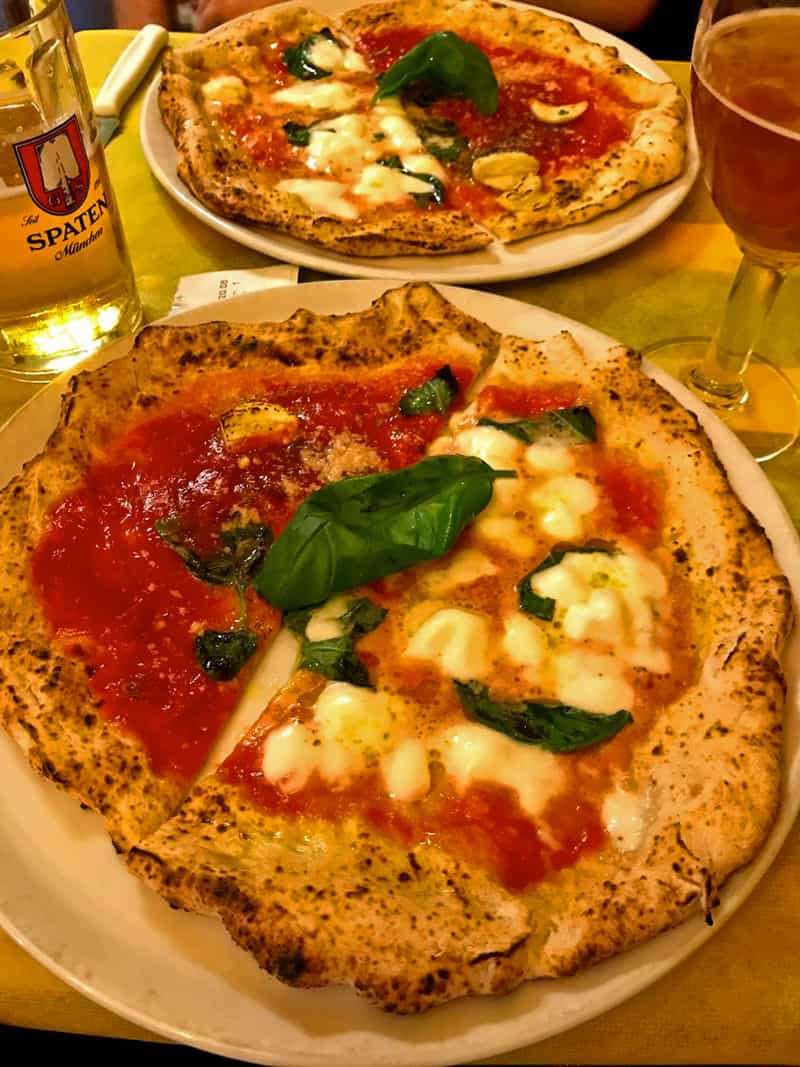 There is a reason Piz is one of the most popular restaurants in Milan — their wood-fired Neapolitan pizzas are delicious and very affordable. And they offer you a free drink and a bit to eat while you wait in line. And you'll probably be offered a free shot of something when you're leaving. Expect a bit of a wait (especially on Friday and Saturday) but it's worth it. You'll probably want to eat here twice.
Gino Sorbillo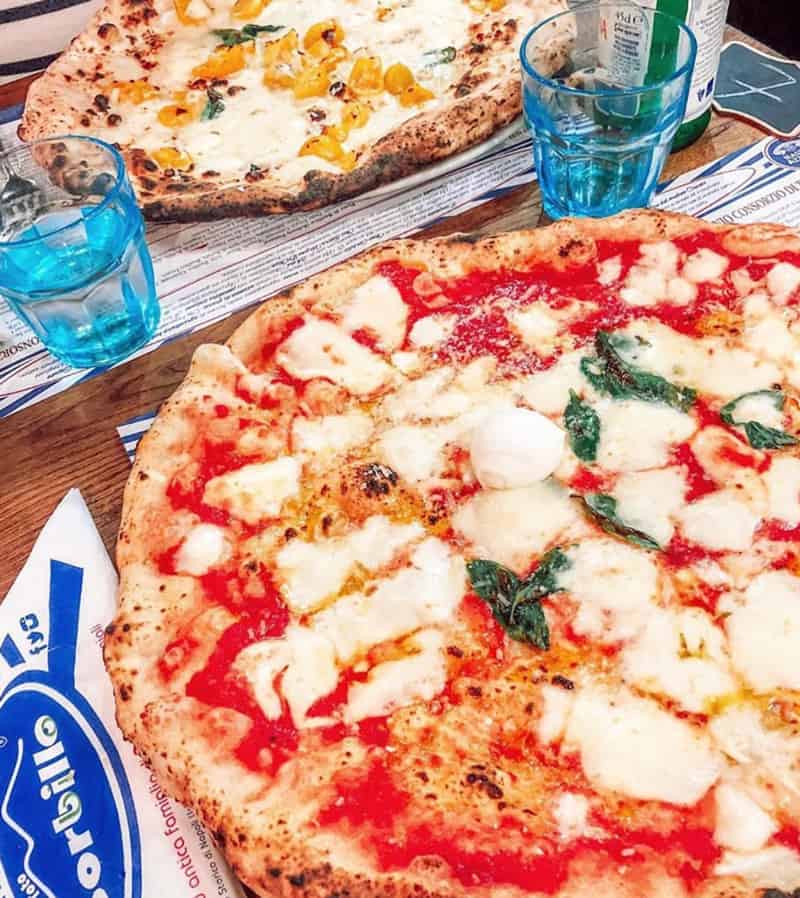 This place proves that you can get excellent pizza in Milan so this is another spot for pizza lovers to check out. It's also near the Duomo — so it bucks the trend of bad pizza places in the area.
Pizzeria Spontini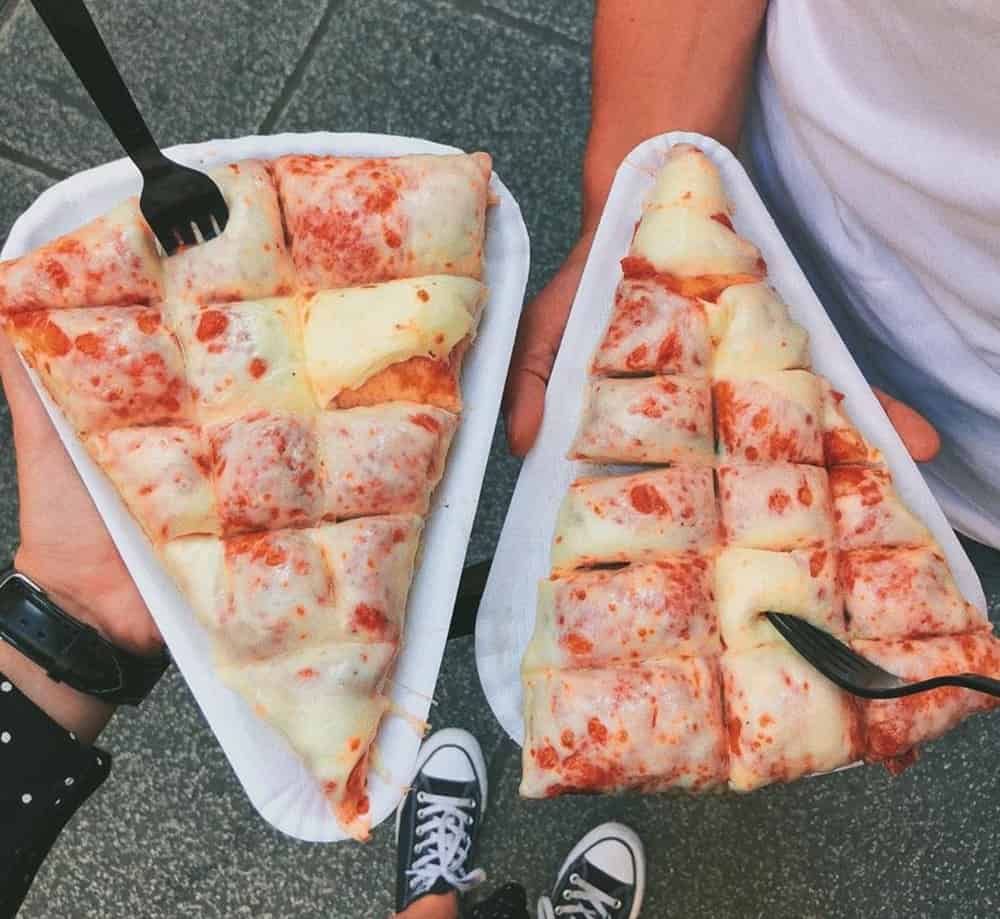 Another local favorite pizza place that's been around since 1953! Ohh yeah. However, the pizza here is served by the slice and the slices a thicker than the standard Neapolitan pizza you usually find in Italy. This is a much more casual spot so it doesn't have a ton of charm but the pizza is great. By the way, Pizzeria Spontini is located by the train station so it's a nice place to eat when you're on the move.
Pizzeria Piccola Ischia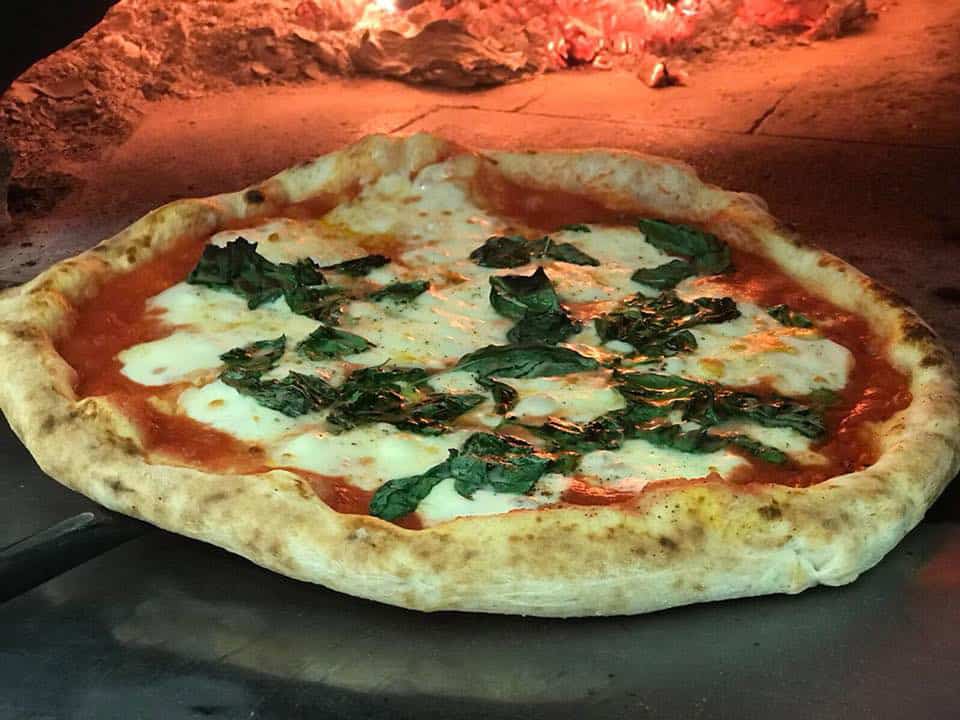 This kitchy pizza restaurant serves up tasty wood-fired, thin-crust pizza. It's a bit outside the city center but it's worth stopping in if you're in the area.
Piadineria Artigianale Pascoli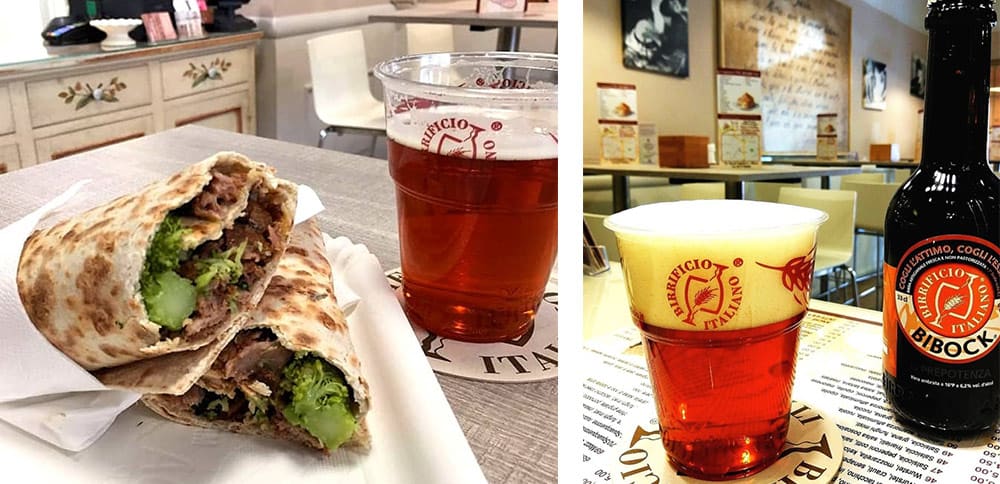 Berbere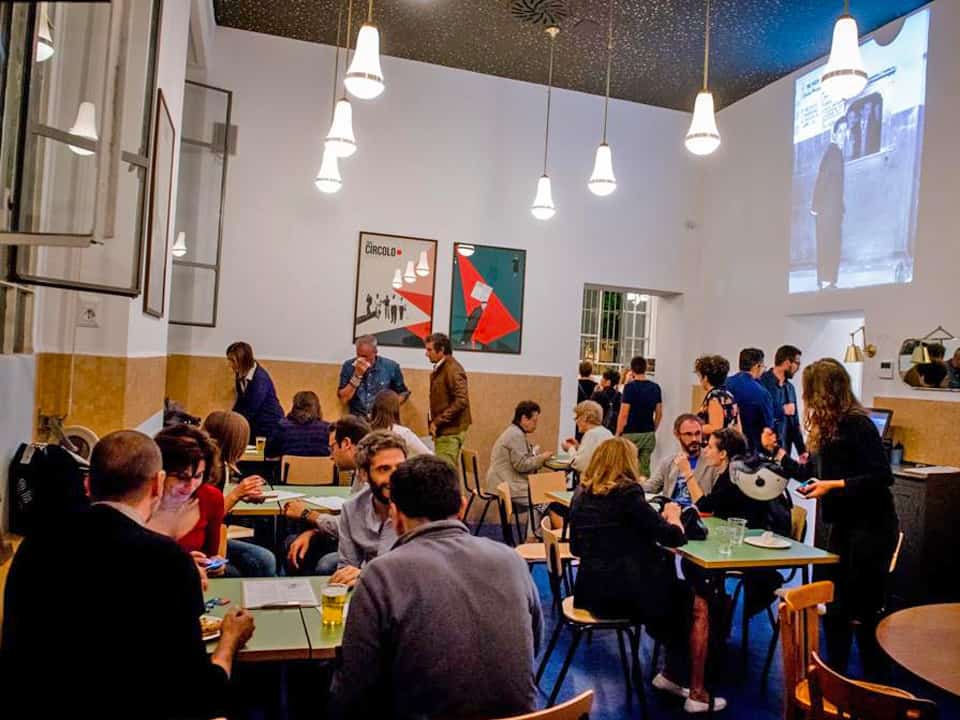 We're always seeking out the craft beer scene wherever we travel and Berbere is a nice spot to try some beer and they have quality pizza as well. They have two locations but there Isola location is a hipster favorite (so book ahead of you want to snag a table).
Giulio Pane e Ojo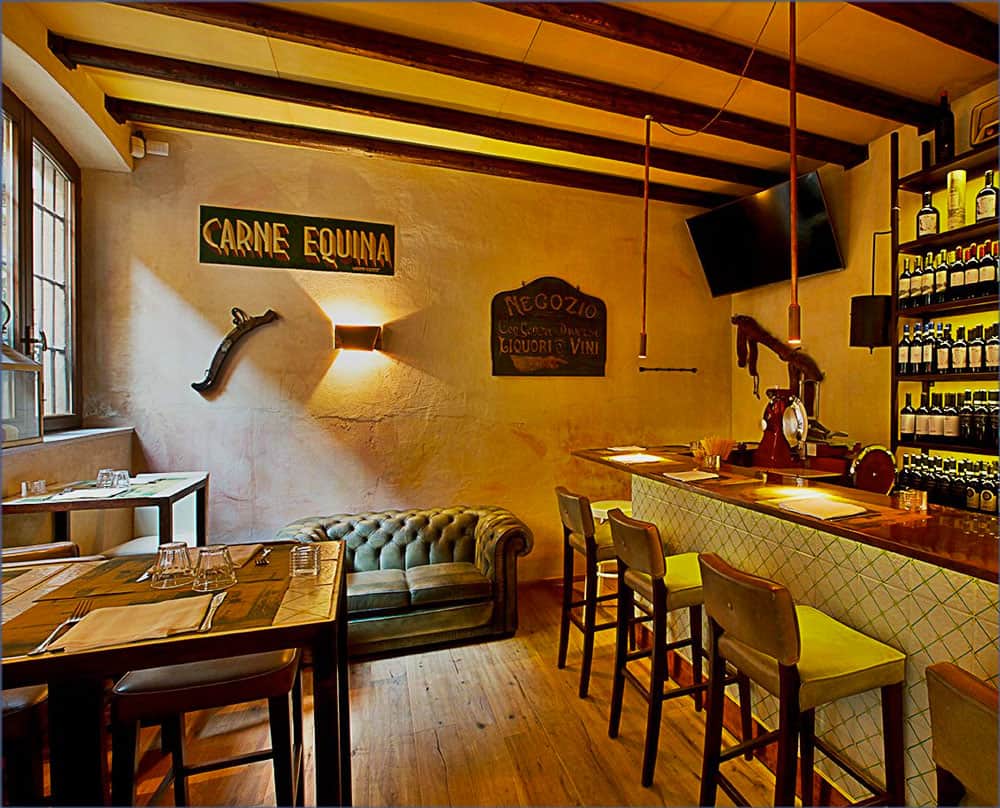 Giulio Pane e Ojo was recommended by multiple people when we visited Milan and it's a great place for traditional Roman-style Italian dishes. This place is popular with the locals and in-the-know tourists so reservations are recommended during busy times.
Il Brutto Anatroccolo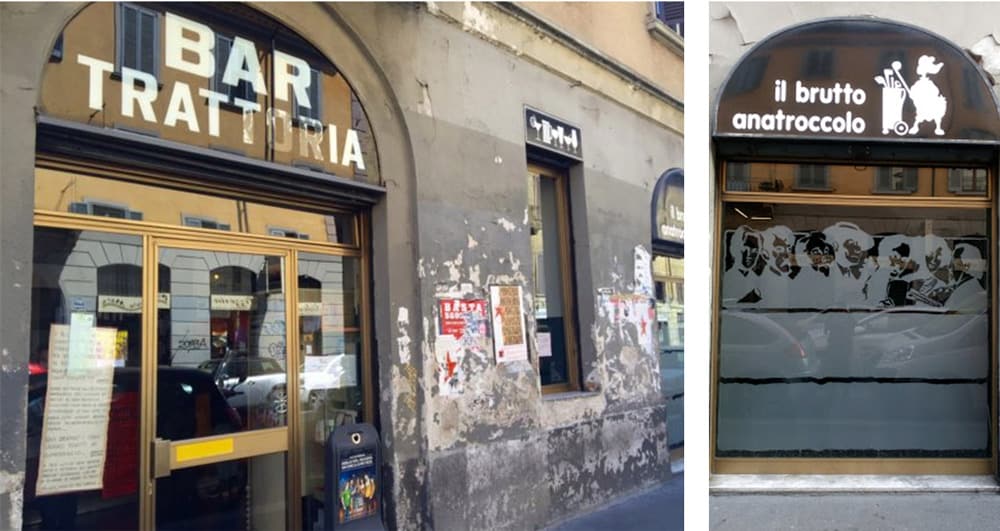 Il Brutto Anatroccolo, which translates to "The Ugly Duckling", is a local favorite that's off the well-trodden tourist path. This menu, which consists of simple yet good traditional dishes, changes almost daily so the food is always fresh. The prices are also very affordable but it's located a bit outside the center of the city.
Il Brutto Anatroccolo fills with locals daily so you might have to wait for a table.
Pasta Fresca da Giovanni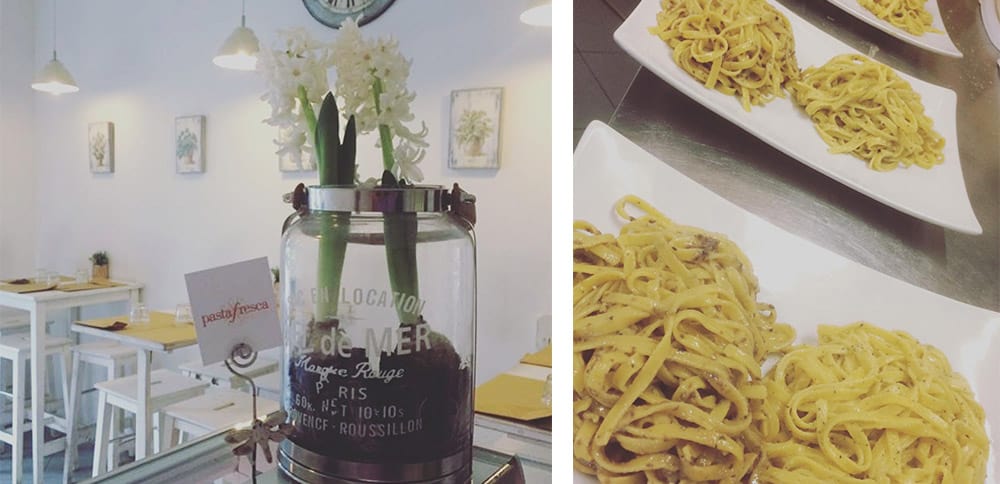 Trattoria da Pino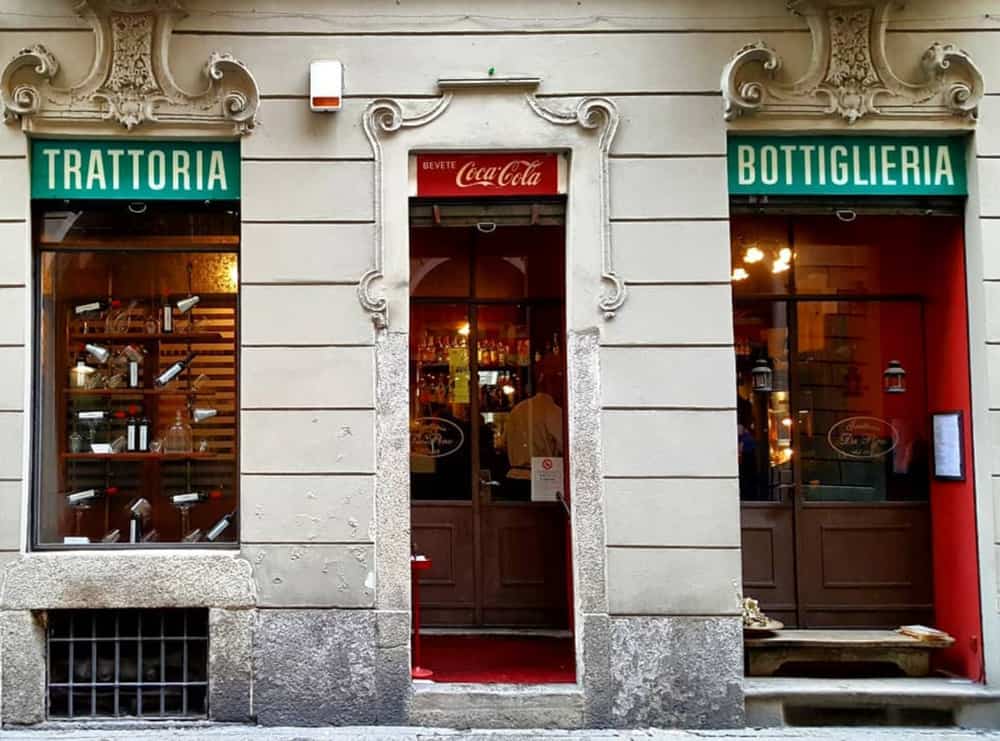 This no-nonsense trattoria might not be fancy and they might cram people in, but it's one of the few spots in the city center that serves up authentic Italian dishes at affordable prices. This place is very popular with the local lunch crowd so expect a bit of a wait for a table. Note: They're only open for lunch (12-3).
Risoelatte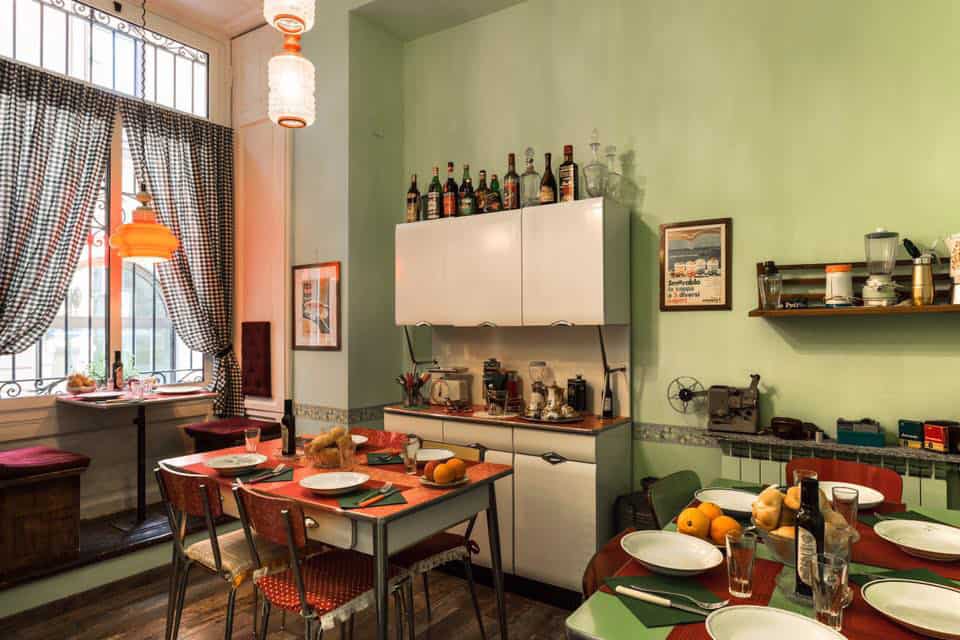 This small traditional 1960s Milan themed restaurant makes awesome pasta, has top-notch service, and is popular with the locals. It feels like you're dining in an Italian grandmother's house who hasn't updated their kitchen in over 50 years. Love it.
Bomba Niko Romito
Bombas are doughnut-like pastries filled with either sweet or savory fillings. These make a nice on-the-go breakfast or lunch option.
PaninoLab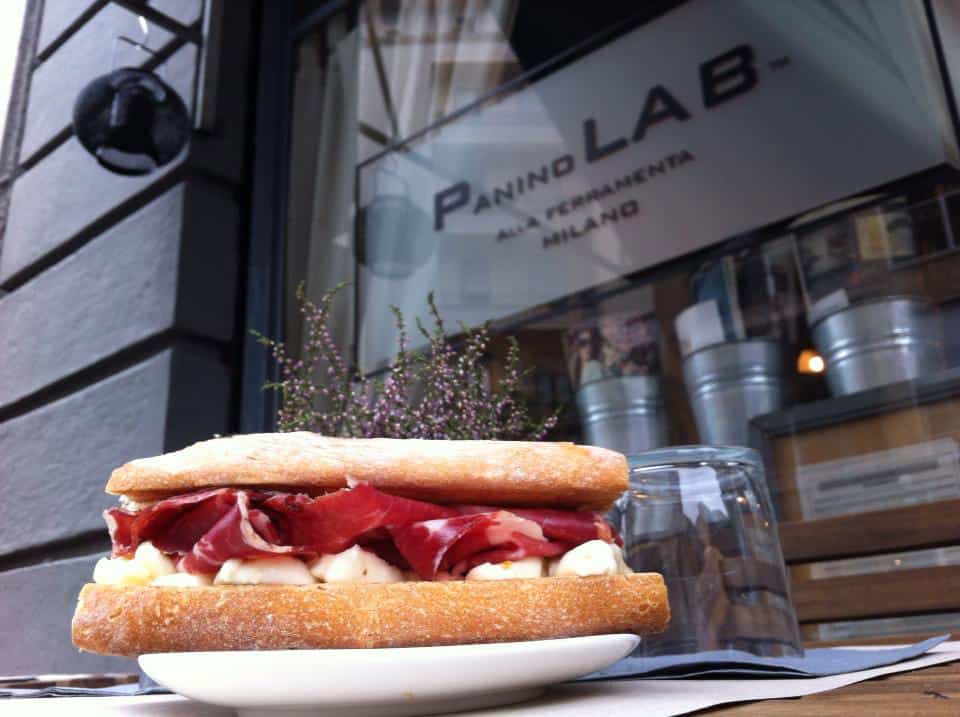 PaninoLab makes some solid panini sandwiches as well as a nice selection of wine and cocktails. They're also open late so its a nice place to grab something to eat as you're exploring the Navigli neighborhood.
La Ravioleria Sarpi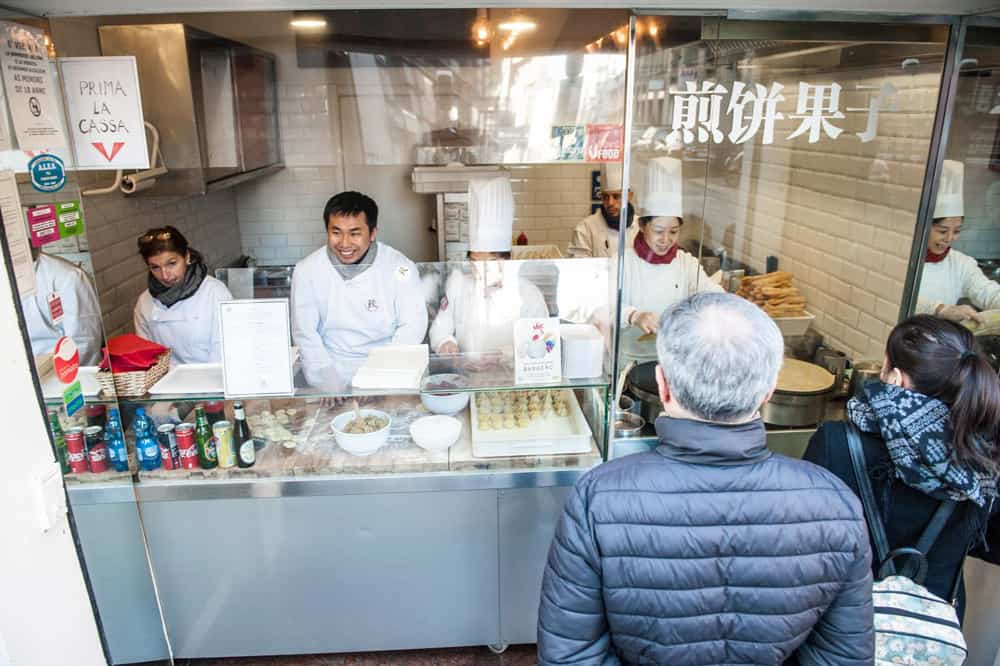 This hole-in-the-wall takeaway Chinese takeaway has Milan buzzing thanks to their handmade dumplings. And, at 4 dumplings for €3, these are very affordable. This spot attracts a crowd but the line moves quickly.
Kebab Shops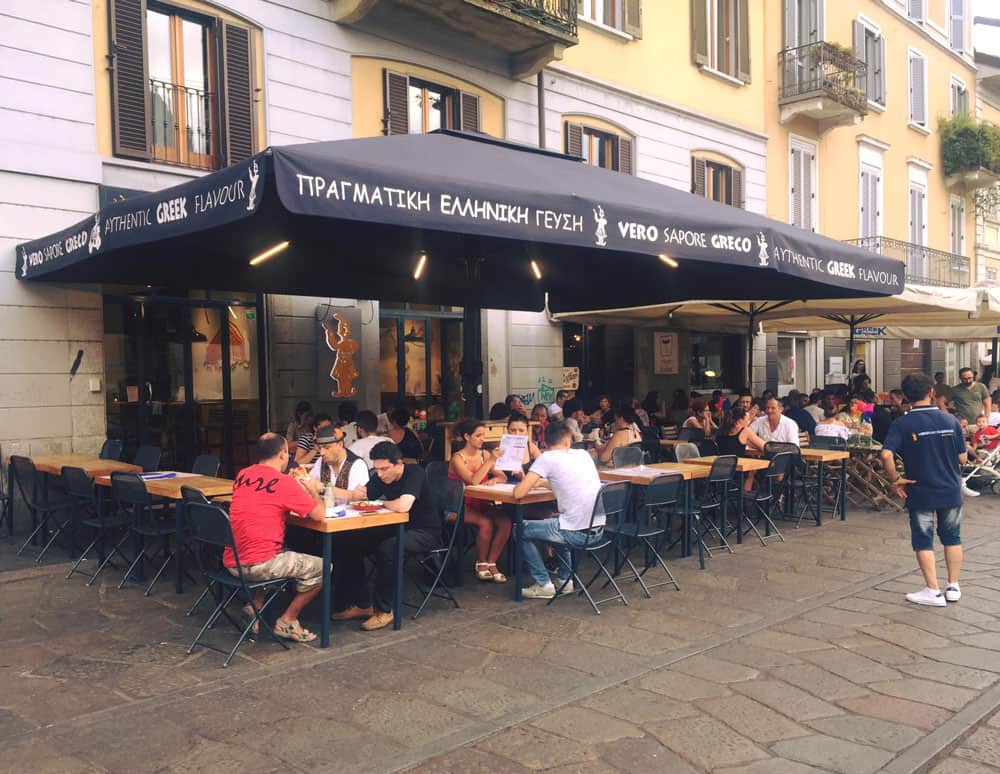 Kebabs are always great options for quick, tasty, filling, and cheap meals. There are a number of places to get a decent kebab in Milan but here are a few favorites.
Burger Spots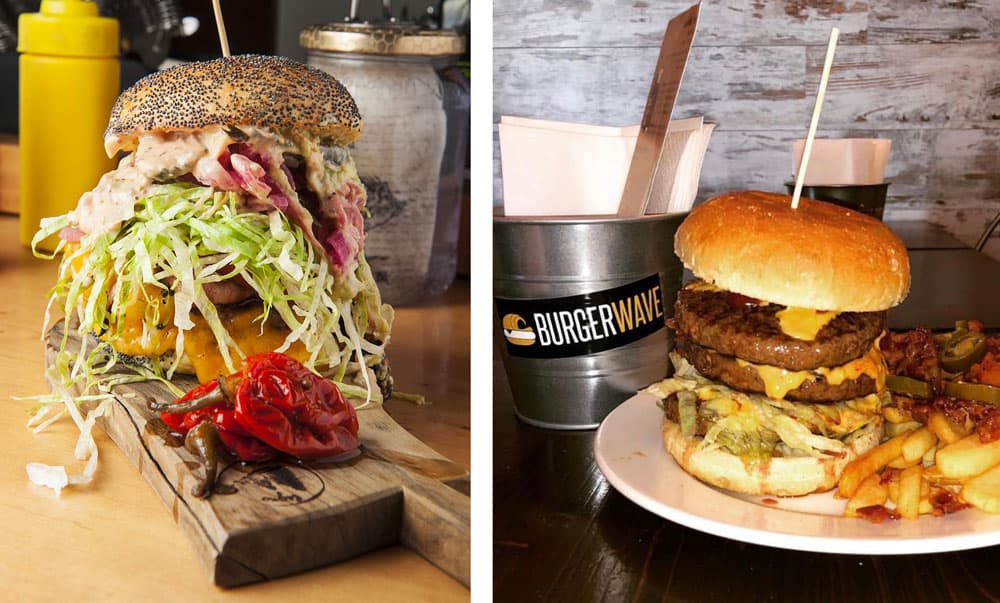 Sometimes you just want a burger so here are a few solid burger joints that you might want to check out.
Cheap Eats & Aperitivos
View this post on Instagram
One of the best ways to eat cheaply in Milan is to partake in an aperitivo — which is basically an Italian version of happy hour that typically runs from about 6pm-10pm. However, many aperitivos in Milan are accompanied by a huge free buffet meal.
So how does it work?
Basically, you order a drink (which might be slightly more expensive than normal) and then you're free to partake in free food that the bar puts out. Sometimes the food is little bites to eat but at other places it's an all-you-can-eat buffet of simple, yet tasty, food (i.e. pasta, cheese, salad, cured meats, fresh bread, desserts, etc.).
In general, the best place to enjoy an aperitivo is in the Bera or Navigli neighborhoods because there are multiple bars so its fun to do an aperitivo crawl.
Best Sweets, Desserts, & Pastries in Milan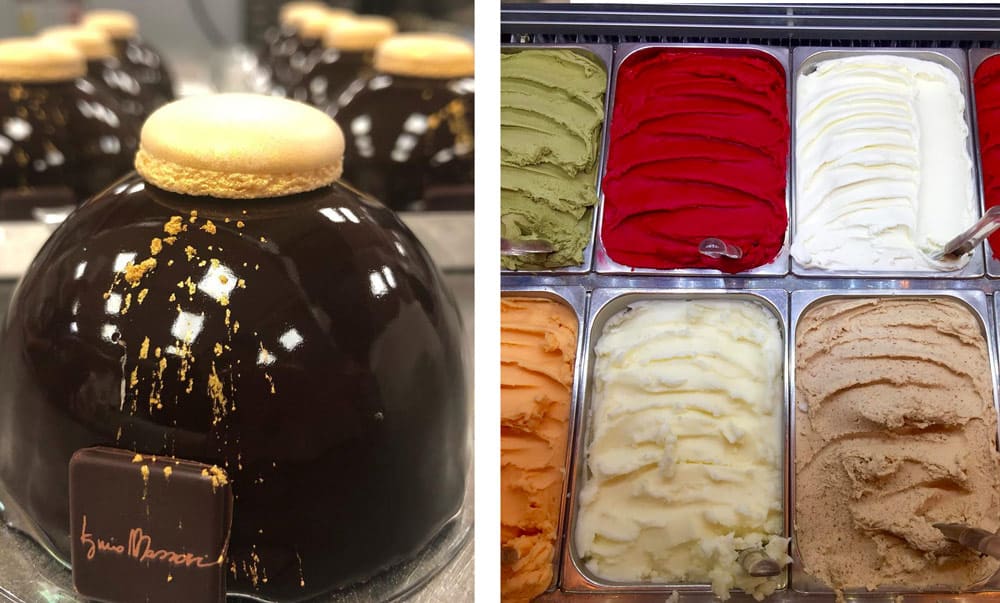 You certainly won't have trouble finding a sweet treat or tasty pastry in Milan. Below are a few of our favorite spots:
Best Coffee Shops in Milan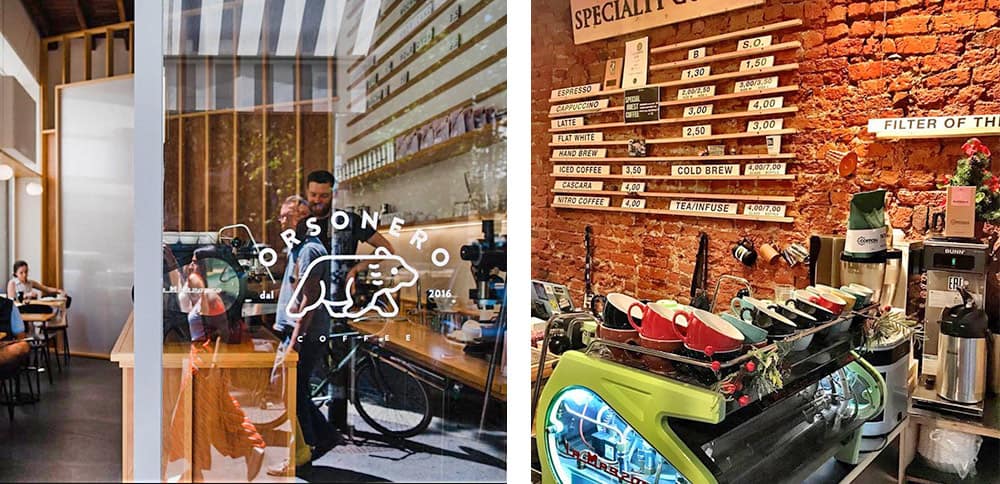 You can't visit Italy without having some a few coffees every morning. But here's the thing… you can pretty much get a good espresso at just about every bar, restaurant, or pastry shop. Tip: If you just want an espresso, order at the bar and you'll pay less.
That said, if you're looking for something a little more high-end or are a few local favorites and more specialty spots:
---
Best Hostels in Milan
Here's the deal — Milan attracts a lot of luxury and business travelers so there aren't as many hostels here than you'd find in other European cities. But, Milan does have a handful is truly great hostels (Ostello Bello is one of the best-rated hostels in the world) so that's great news. A bed in a highly-rated hotel will cost anywhere from about €20-€50/night with an average around €30/night so we'd say prices are a bit above average. Check out Hostelworld to see the city's full hostel inventory and to check current prices.
Here's a list of the best-rated hostel:
---
Getting Into and Around Milan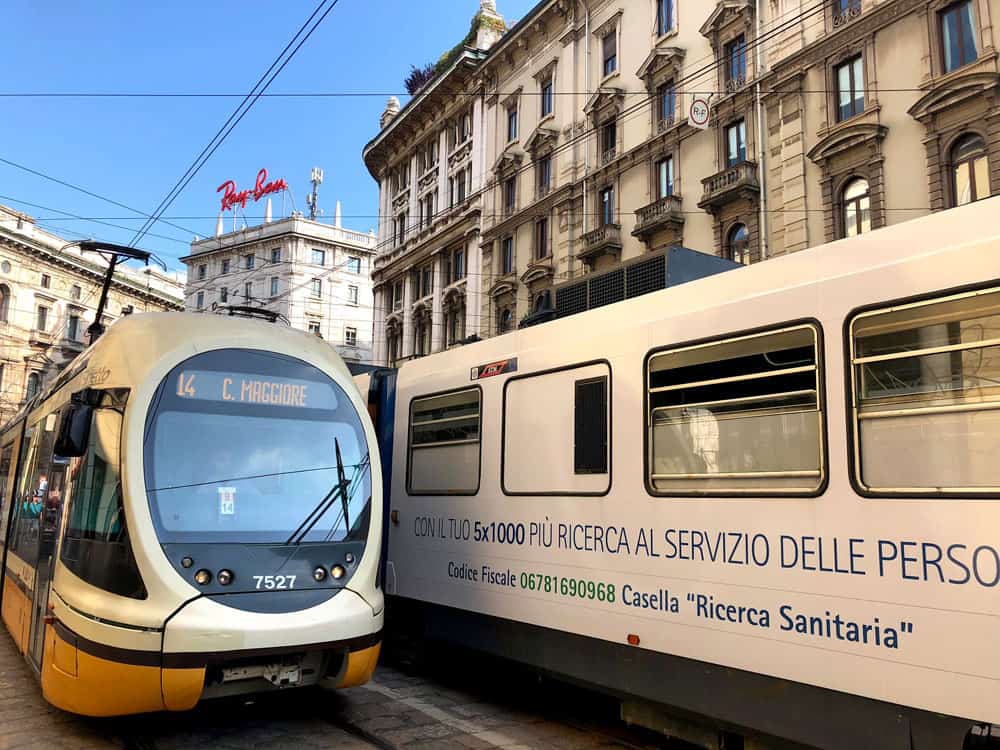 Alright, let's take a look at getting into Milan and how to travel around the city.
Airports
The main airport in Milan is Malpensa (MPX) so there is a good chance you'll arrive/depart from here. Getting from the airport to Milan is easy via the Malpensa Express Train which takes about an hour and runs between the train station and the airport. The Malpensa Express runs around every 30 minutes. Tickets cost €13 via the Official Website or you can buy them at the station.
There is also a Malpensa Shuttle Bus and the taxi has a fixed fare of €90.
The Linate Airport handles mainly domestic flights and its reachable via an Airport Bus and a City Bus which both take around 30 minutes. A Taxi will run you around €30.
Stazione Centrale Train Station
The Stazione Centrale Train Station is a sight to behold and it handles all the train traffic for Milan. It is a huge station so give yourself a little extra time to navigate your way to the train. You can buy train tickets directly from the automated machines or you can skip the hassle by buying tickets online at ItaliaRail or a third-party website like Omio or TrainLine.
The Metro & Tram
Milan isn't a huge city so if you're staying in central Madrid you might not use the Metro very often. That said, the Metro is fast, efficient, and affordable. The metro runs from about 6 am to a little past midnight. Tickets cost €1.50 each or you can buy a set of 10 for €13.80, or you can buy unlimited day passes (24-hours for €4.50 or 48-hour for €8.25).
Milan's tram network is extensive and riding it is a fun way to travel since you get a show while you ride. Tickets are the same as the Metro and the tram runs from around 4:30 am to a little after 2 am.
Tickets can be purchased via self-service machines, some newsstands, and from a handful of ATM (Azienda Trasporti Milanesi) Service Centers around the city. Visit The Official Website
Bike
Exploring the city by bike is always fun (and a little scary). Milan has a public bike share system called BikeMi (visit the official website) for cheap short-term rentals. They're even starting to offer pedal-assist bicycles to make it even easier.
There are also free floating bicycle sharing services provided by Mobike and Ofo — these services are nice because you unlike the bikes with a smartphone app and you just leave it on the sidewalk when you're done.
---
More Milan Travel Tips & Resources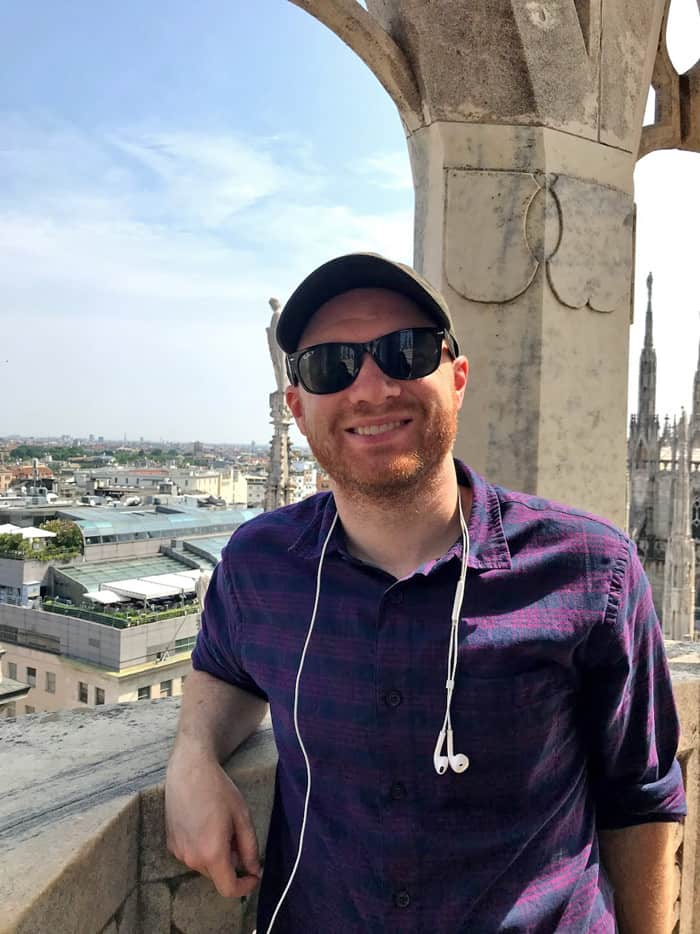 Rick Steves Free Audio Walking Tour: Rick Steves has a great free self-guided audio walking tour of the Duomo and the surrounding neighborhood. We used it when we visited and found it interesting. Check it out here.
Insure Your Trip: We're big fans of buying travel insurance in case anything goes wrong. We recommend World Nomads since they're affordable and have solid coverage.
Get A Good Guidebook: A guide book is a cheap investment for your trip — we're big fans of Lonely Planet and Rick Steves for the budget crown. These books also come with self-guided walking tours which we always find helpful.
The Best Nightlife in Milan: The best nightlife (bars, restaurants, clubs, etc) are generally found on Corso Como, Brera Neighborhood, and the Navigli Neighborhood (mainly around the canals). Of course, you can find great other places in Milan but the areas above have the highest concentration of options.
Free Museum Days: All the civic museums in Milan are free on the first Sunday of the month.
Dress To Impress In The Clubs: Milan is the fashion capital of Europe so you'll need to dress well if you want to make it past the doorman in many clubs. And expect to pay a premium. Of course, there are more casual nightlight options.
No Need to Tip: Your tip is already included in your bill so don't feel like you need to leave anything extra.
Pickpockets At the Duomo: The Duomo is the most popular tourist attraction so it's also the most popular spot for pickpockets.
---
Day Trips from Milan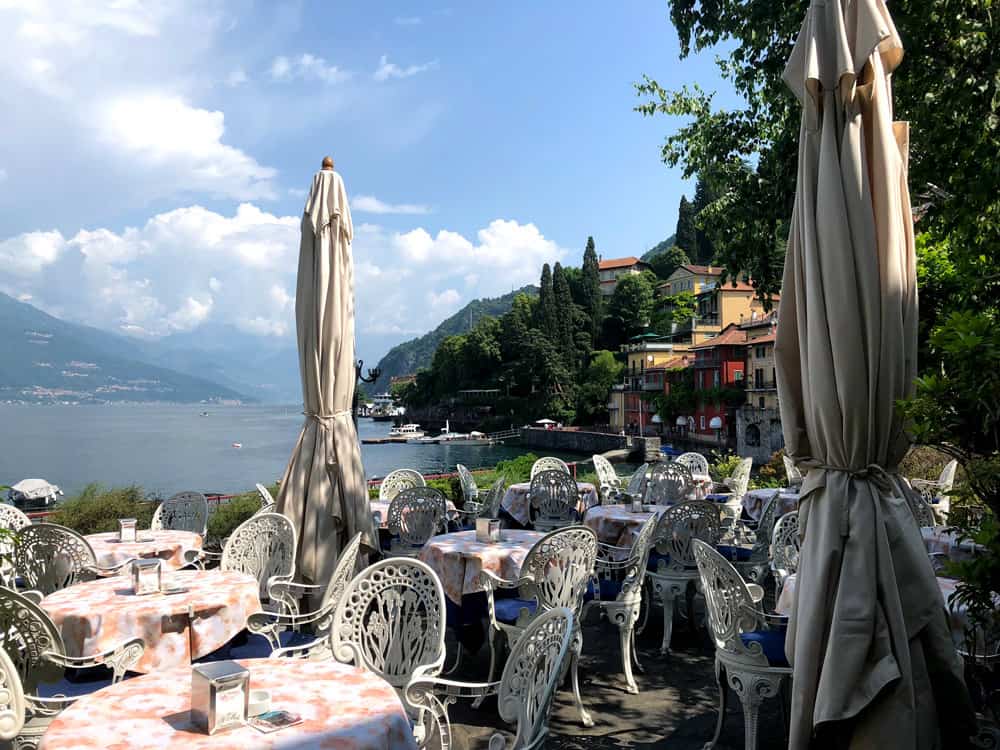 Thanks to Milan's excellent rail connections, Milan has a number of solid day trips that are within a 30 minute to around a three-hour train trip. Another great thing about Milan is that it's surrounded by natural beauty like lakes and mountains.
Travel Tip: We suggest booking your train tickets online so you can skip the ticket machines and the long ticket window lines at the train station. You can book tickets from ItaliaRail or a third-party website like Omio or TrainLine and have the e-tickets sent to your phone (so no need to print).
Lake Como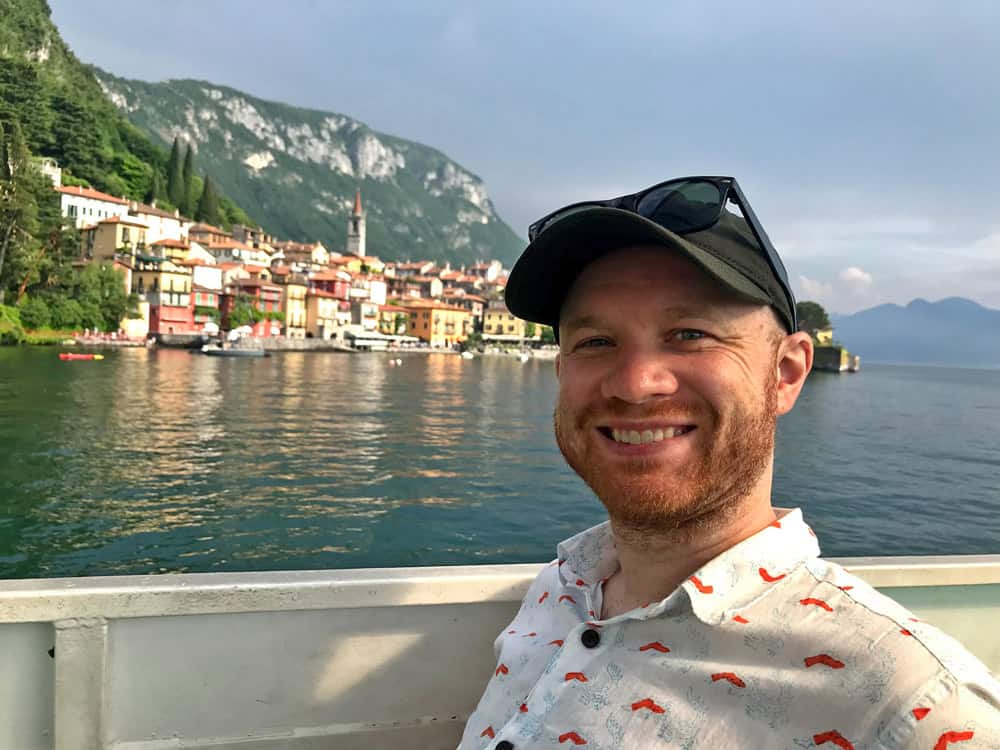 One of the most popular day trips from Milan is beautiful Lake Como (there is a reason the rich and famous have loved spending summers here for hundreds of years). This pristine lake is only about a 30-minute train ride from Milan so getting there is quick, easy, and will cost less than €15 round trip. There are a number of guided tours to Lake Como but it is pretty easy to explore on your own with minimal planning.
There are multiple towns on Lake Como (notably Varenna. Bellagio, and Como) and they're all connected by a water ferry.
This blog post from Wander Wisdom did a nice job of explaining the best way to plan your day trip, where to go, how to use the ferry, etc.
Lake Maggiore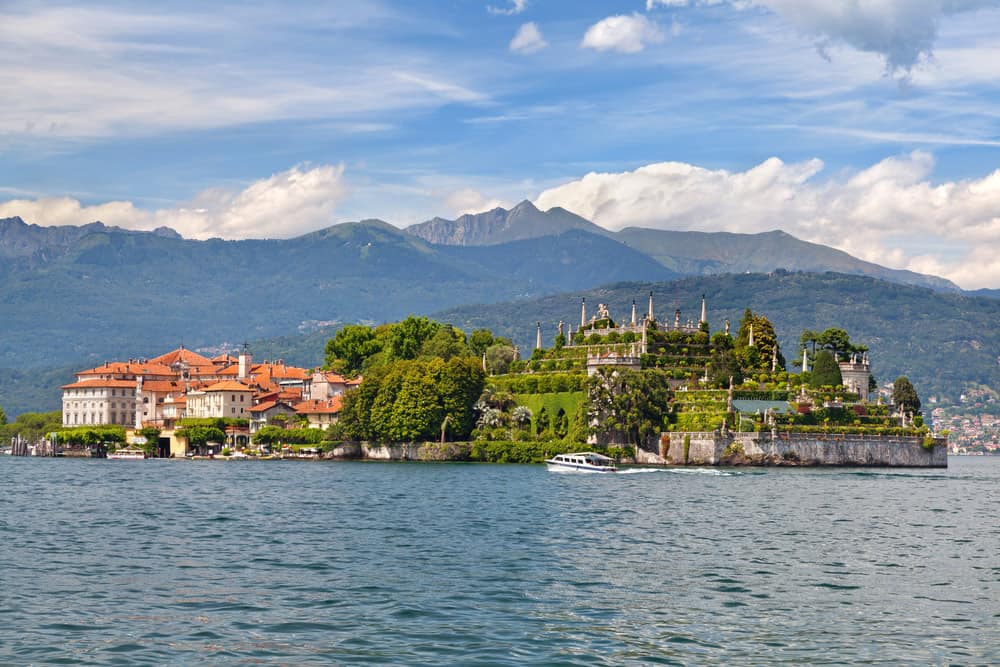 The next great lake day trip is Lake Maggiore — which is the second largest lake in Italy. On the lake, you'll find a handful of beautiful small towns and lovely islands (both of which are dotted with beautiful old villas) that are a joy to explore. Getting to Lake Maggiore is also fairly simple — just take the train to either Cadorna or Porta Garibaldi. The trip will take between 60-90 minutes and cost about €14 round trip. Once you're there, there is a water taxi that connects the small towns and islands.
Here's an excellent article from Sher She Goes about visiting Lake Maggiore.
Lake Garda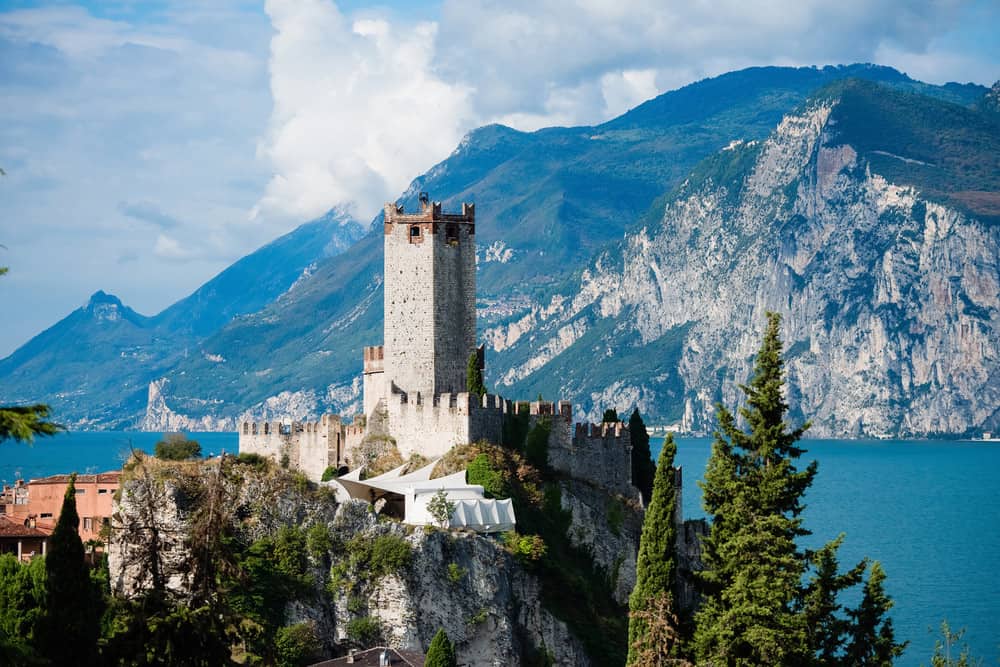 Can't get enough time of the water? Then head to Lake Garda. Admittedly, we'd probably pick Lake Como or Lake Maggiore if we were limited on time but Lake Garda still offers a lovely experience. Like the other lakes, you'll find small towns surrounding the lake — each with something to offer visitors. There are a ton of hiking and outdoors activities, a cable car that hoists you high above the lake, and even a castle to explore.
Getting to Lake Garda from Milan isn't too complicated. You simply take a train to the towns of Desenzano and Peschiera (those are the only two towns with a station) and then you can take bus or ferry to the other towns on the lake.
Here's an excellent article from The Crowded Planet about what to see and do in Lake Garda.
We recommend booking your train tickets via ItaliaRail or a third-party website like Omio or TrainLine to book your e-tickets.
Turin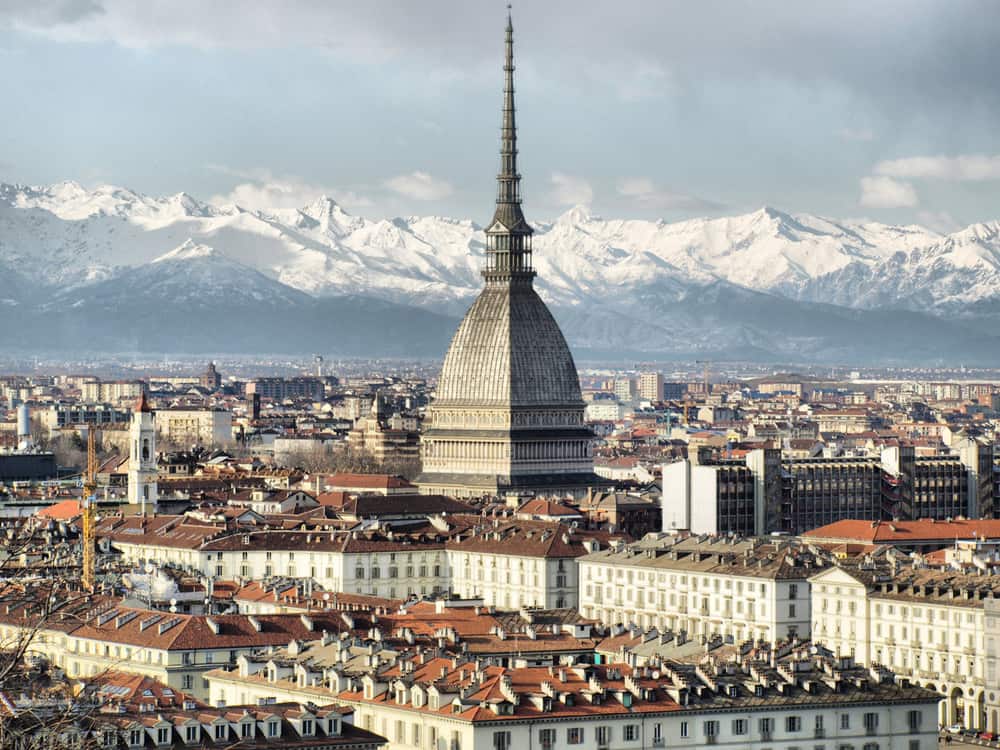 Turin is a chic and metropolitan city — in fact, it's often called the Paris of Italy thanks to its beautiful architecture. And it's only about a 60-90 minute train ride from Milan so it makes an easy day trip.
To be honest, you can easily spend a day or two in Turin. You'll love the royal palaces of Stupinigi and Venaria, the city's Art Deco and Art Nouveau architecture, grand boulevards, lots of great old-school cafes, and the city is set at the base of the Alps.
The train between Turin and Milan is a high-speed train so we recommend booking as early as possible for the best price. Check ItaliaRail or a third-party website like Omio or TrainLine to book your e-tickets.
Bologna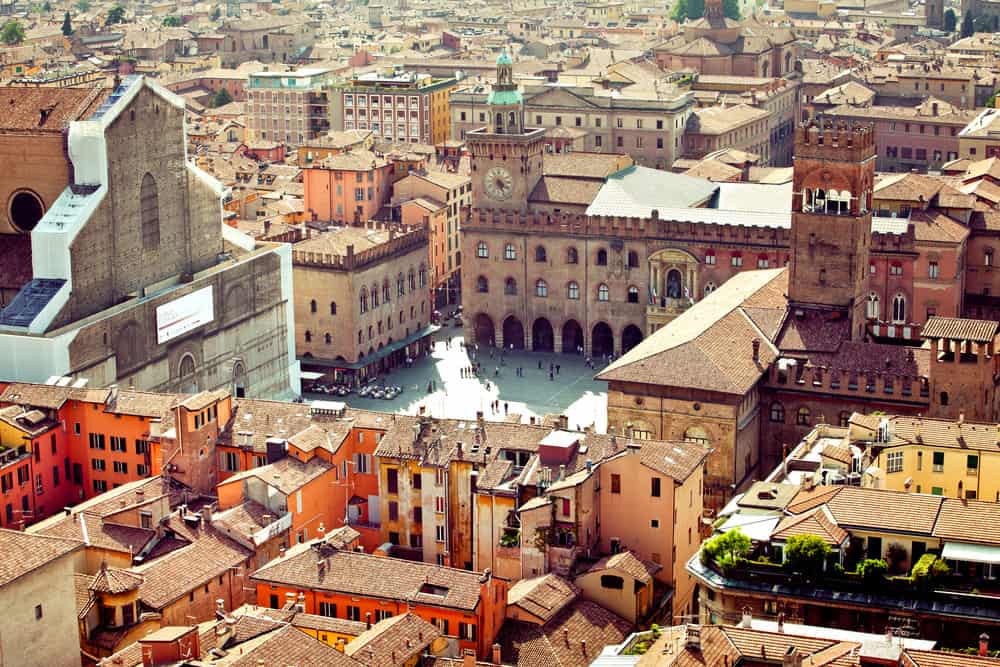 Bologna is another popular day trip that's only about an hour train ride from Milan. And, it's a fairly small town so you can see much of what it has to offer in a day. Bologna is a beautiful city to simply stroll around but you'd be really missing out if you didn't make food the main theme if your trip.
Solo Sophie has a nice guide for visiting Turin in a day if you want to learn more.
The train between Bologna and Milan is a high-speed train so we recommend booking a few days in advance for the best price. Check ItaliaRail or a third-party website like Omio or TrainLine to book your e-tickets.
Verona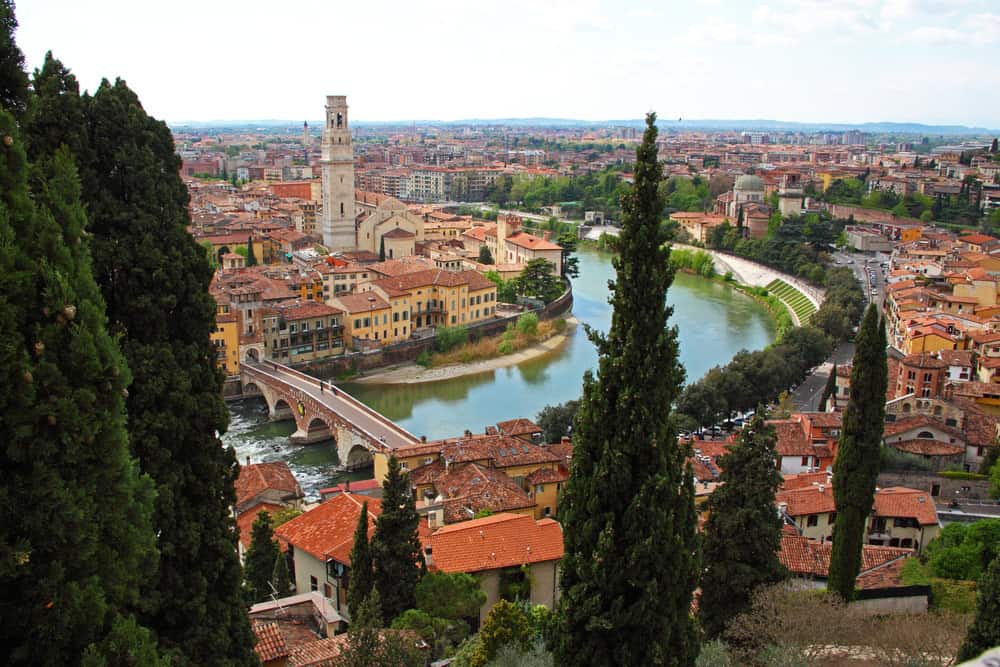 Verona, which seems to be most famous for being home of Romeo and Juliet, is a beautiful and vibrant medieval town. You'll find plenty of charm, cobblestone streets, and not a lot of tourists (well, except for at Juliet's balcony). Verona is a romantic town with plenty of old world charm and lots of nice sidewalk cafes and restaurants.
Our Sweet Adventures has a nice guide to visiting Verona that we found helpful.
The train journey from Milan to Verona takes just under 2 hours and will cost between €13-€23 each way. Check ItaliaRail or a third-party website like Omio or TrainLine to book your e-tickets.
Florence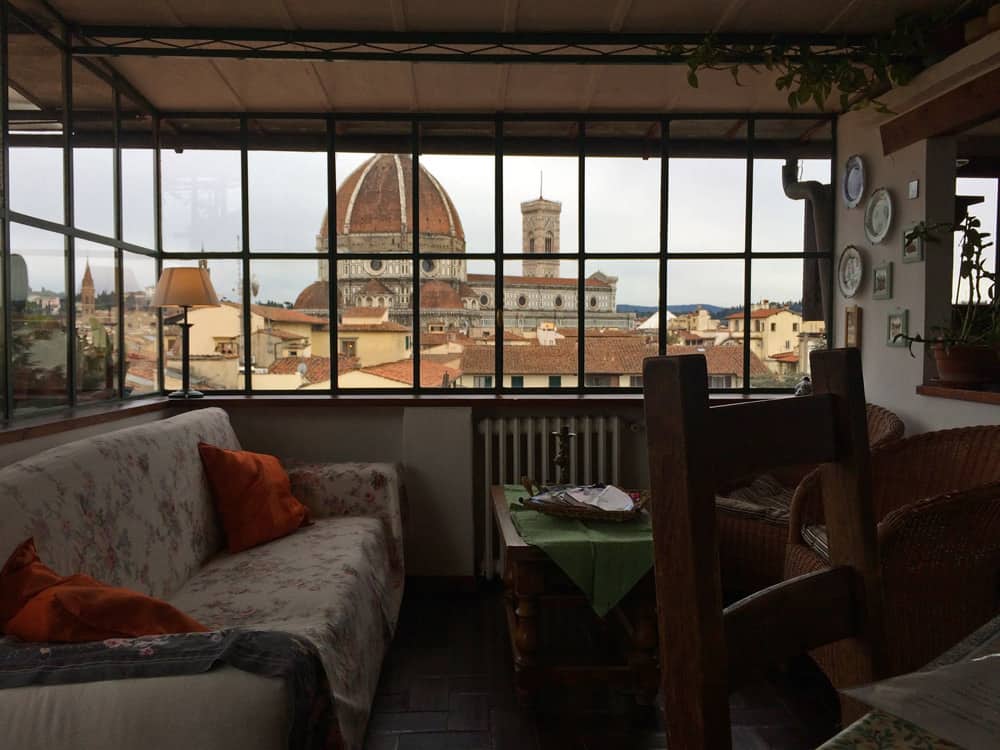 Florence needs no introduction as its one of Italy's best and most popular cities. And, to be honest, you should spend a couple of days in Florence, but it's only about a 90-minute ride from Milan so it can still be a day trip.
Florence is the birthplace of the Renaissance so there is art everywhere — both in the museum and in the streets. At the middle of the city is the Duomo cathedral but we loved simply walking through its streets. We also loved eating in Florence as we had some of our best meals here.
Here's our Florence Travel Guide if you want to learn more about what to see and where to eat in this great city.
The train between Milan and Florence is a high-speed train so you'll pay a premium if you book last minute — expect to ay €26-€54 each way depending on when you book your tickets. Check ItaliaRail or a third-party website like Omio or TrainLine to book your e-tickets early.
Bergamo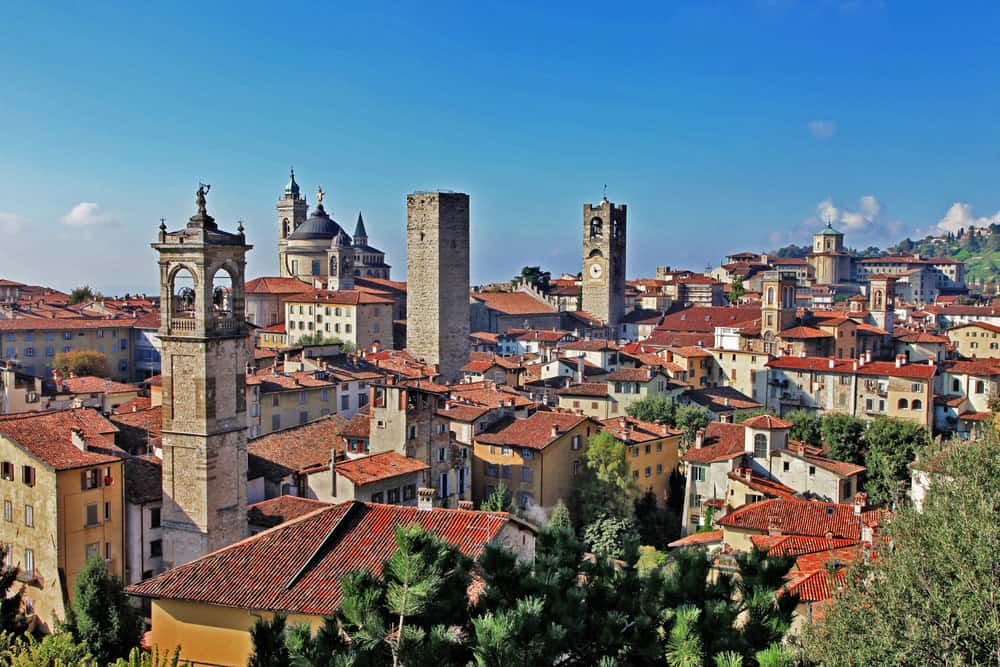 Make a quick journey to the stunning hill-town of Bergamo for its medieval charm and cobblestone streets. In fact, Bergamo is actually two cities (an upper and lower city) that are connected by a walking trail and funicular. There are also beautiful 400-year-old city walls that you can walk along. And, of course, be sure to sample some local dishes.
The train ride between Milan and Bergamo takes around an hour and will only cost around €6. Check ItaliaRail or a third-party website like Omio or TrainLine to book your e-tickets.
Venice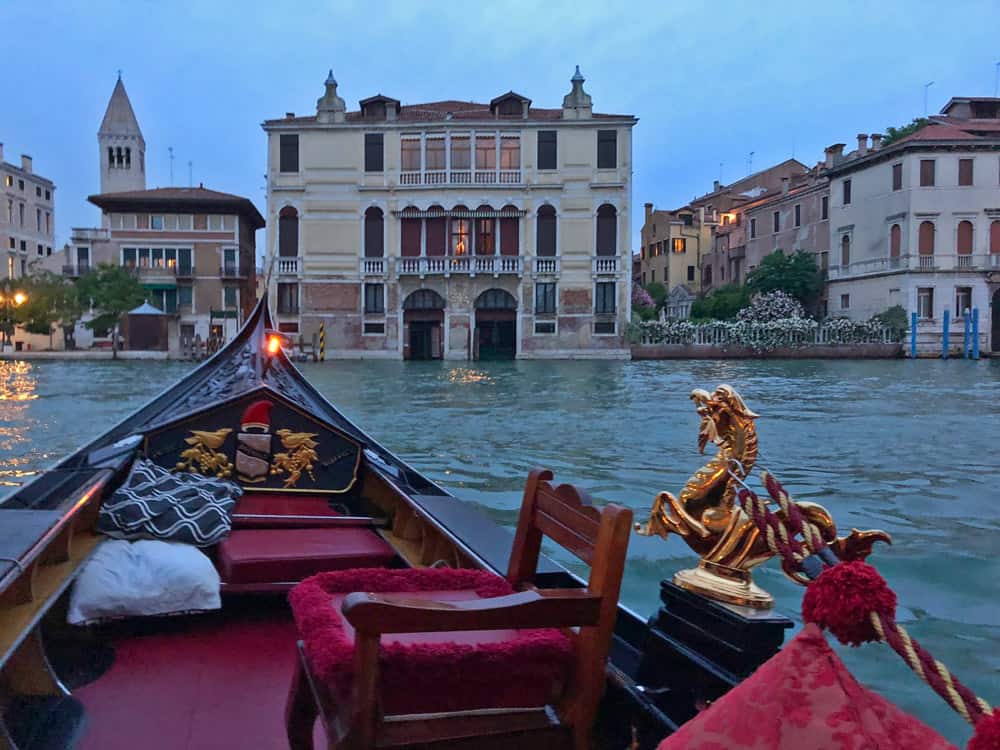 Honestly, we wouldn't recommend doing Venice as a day trip but it's certainly possible thanks to the high-speed train. The train takes about 2.5 hours and will cost you between €21-€45 each way.
As we mentioned before, Venice is best seen at night once the crowds have gone home so try staying overnight if possible. But, for all your die-hard travelers, you can see all Venice's highlights in a full day so be sure to get the early train into the city.
We recommend booking your tickets at least a few days in advance if you want to get the best price. Book them ItaliaRail or a third-party website like Omio or TrainLine.
Cinque Terre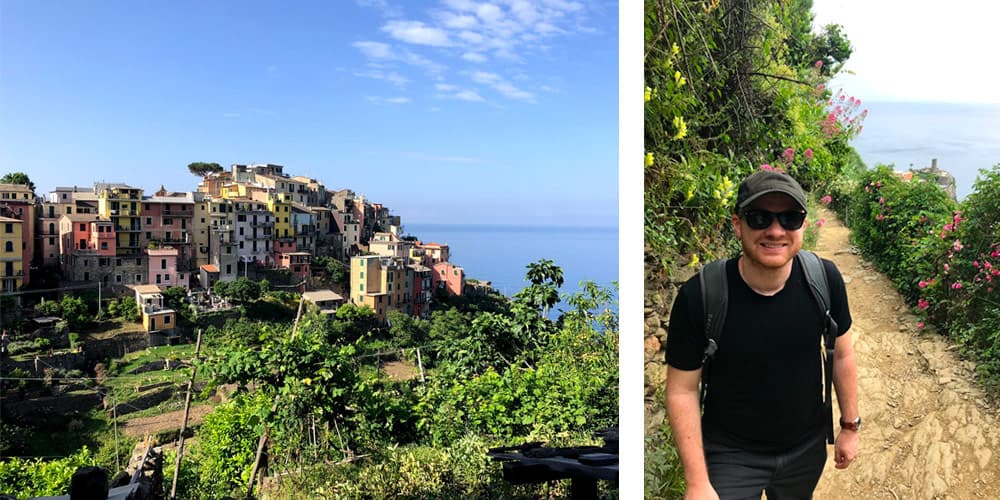 Cinque Terre is another stunning part of Italy that can be a day trip from Milan but we think it deserves at least two full days to explore. The main attraction of Cinque Terre are the five small fishing villages and the hiking trails that connect them. These towns get overrun with visitors so it's best experienced after everyone leaves around 5 pm.
The train from Milan to the five villages of Cinque Terre takes three+ hours so that also makes this a less-than-ideal day trip. Check Omio or TrainLine to see ticket prices and times.
See our Cinque Terre Travel Guide for everything you need to know about visiting this magical part of Italy.
---
More Europe Travel Tips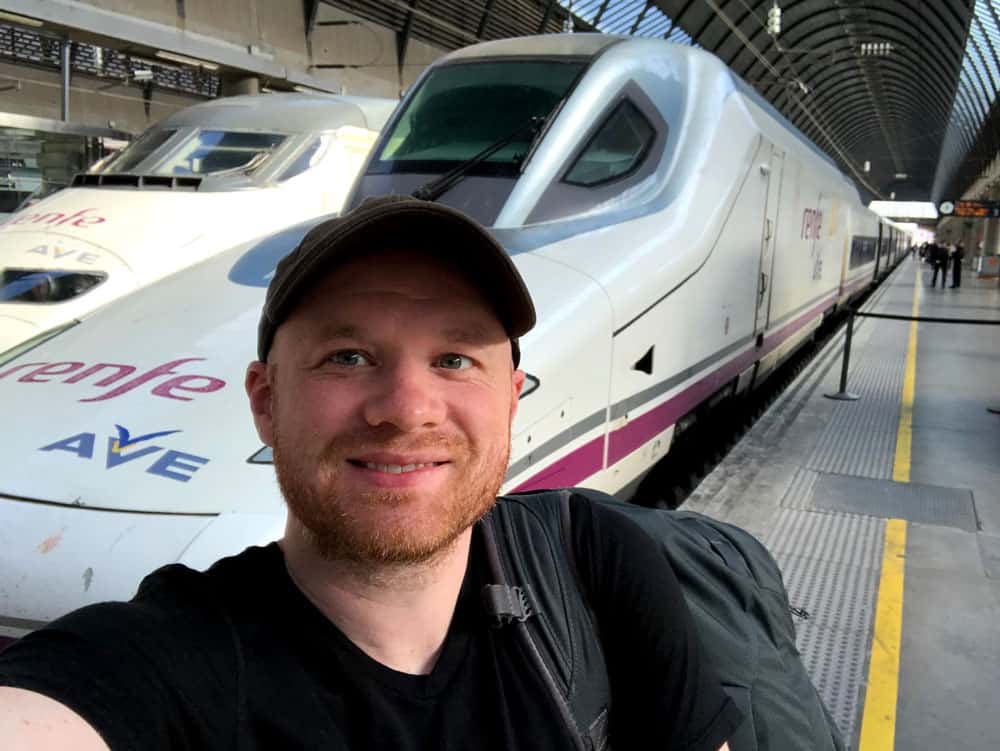 Milan is normally a quick stop on a bigger journey through Italy and beyond so here are some more articles to help your travels.