Milan remains a bit of a mystery to most outsiders who typically are much more familiar with Italy's other world-class cities. But Milan offers a different look at Italy and rewards visitors who spend the time to get to know her. So to help, we've created this guide to help you discover all the best things to do in Milan.
Related: Check out our Milan Travel Guide to learn even more about visiting Milan — including more restaurants, budgeting help, transportation tips, day trips, and more!
Things To Do In Milan: Our Top 10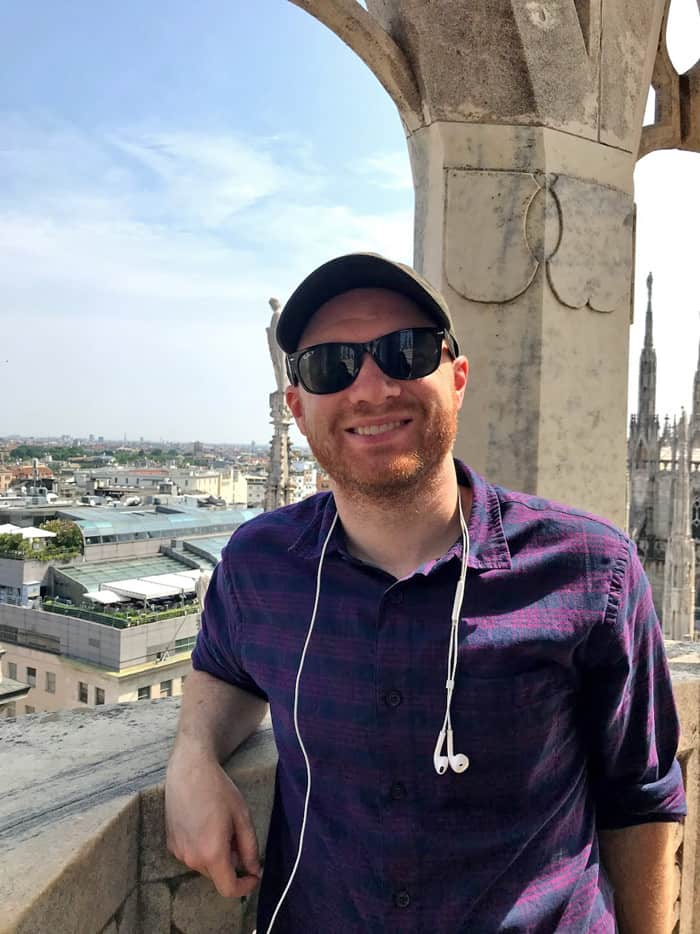 Ok, before we get started with our list, we wanted to give you our quick top picks in case you're in a hurry!
See The Duomo Cathedral & Duomo Rooftops
Get Lost In The Brera Neighborhood
Enjoy an Aperitivo on the Naviglio Grande Canal
See The Last Supper (If You Can Get A Ticket)
Eat Plenty of Traditional Milanese Cuisine & Homemade Pasta
See Italian Masterpieces at the Pinacoteca di Brera Museum
Marvel At The Massive Milan Central Train Station
Have Multiple Espressos In A Classic Milan Cafe
Take A Day Trip To Lake Como
Have A Picnic In Sempione Park
Visit The Duomo Cathedral and Soak In The City Views From The Duomo Rooftop
The Duomo Cathedral should be at the top of your Milan travel itinerary but the highlight for us was are the city views from the Duomo's rooftop.
This impressive cathedral too over 600 years to complete and it's still one of the largest in the world. This is easily the most-visited sight in Milan so a little planning will help you beat the crowds and avoid waiting hours in line.
Important Duomo Visit Information:
The most basic admission price to visit the cathedral is €3.50 but we highly suggest buying your tickets online so you can skip the crazy long ticket line
It costs extra to visit the cathedral + rooftop (€13 via the stairs or €17 via the elevator) but you can visit just the rooftop as well (€10 via stairs & €14 via lift).
You can also book special guided tours and fast-track tickets to the cathedral and rooftop.
Buy your ticket directly from the Duomo Website.
Piazza del Duomo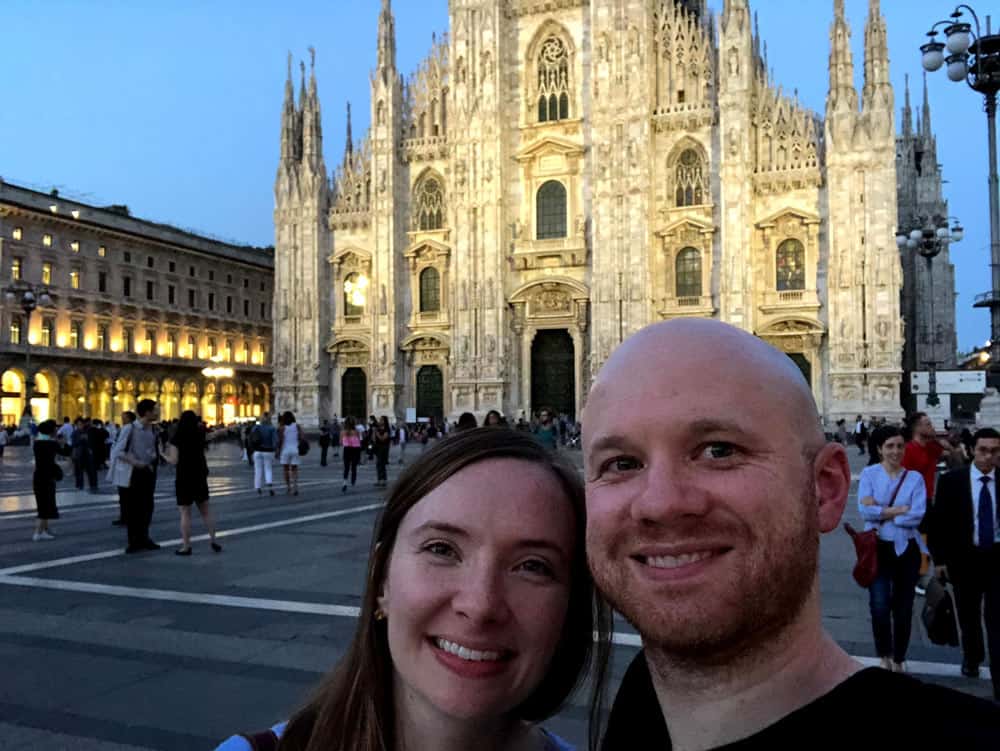 You can't visit the Duomo without spending some time wandering through the craziness of the square in front of the Duomo (Piazza del Duomo). The Piazza is surrounded by beautiful buildings (as well as overpriced restaurants and cafes.) However, this is a favorite hangout for pickpockets so be a little more vigilant than normal (read more about how to avoid pickpockets.
The Piazza del Duomo is extra beautiful a night when all the buildings and the Duomo is illuminated so don't forget to visit after nightfall as well.
Spend Your Rent At The Galleria Vittorio Emanuele Covered Shopping Center (Galleria Vittorio Emanuele II)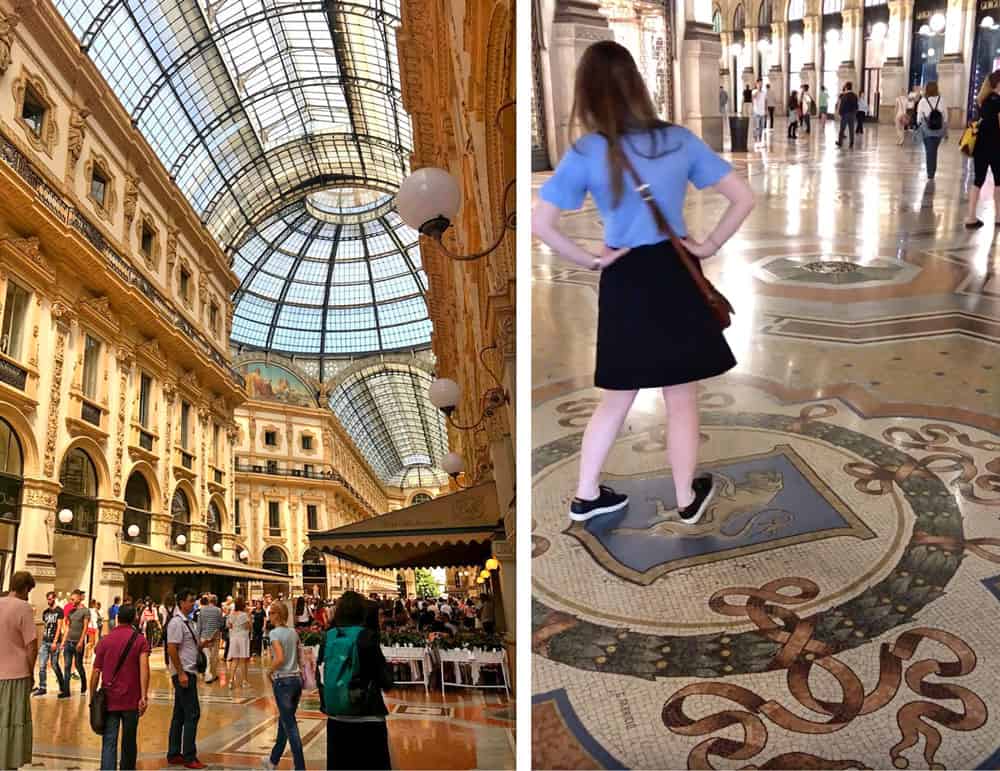 Neighboring the Piazza del Duomo is Italy's oldest and grandest shopping center called the Galleria Vittorio Emanuele II. Inside you'll find many luxury designer boutiques like Prada, Versace, and Louis Vuitton. You'll also find high-end cafes and restaurants.
Even if you're you're not a big spender, you'll still enjoy walking around and enjoying the beautiful architecture and mosaic tile floor.
Tip: Keep an eye out for a mosaic of a bull on the floor because you'll receive good luck if you put your foot on the bull's testicles and spin around. Don't worry, you can't miss it because you'll see lots of people spinning around.
Explore The Brera Neighborhood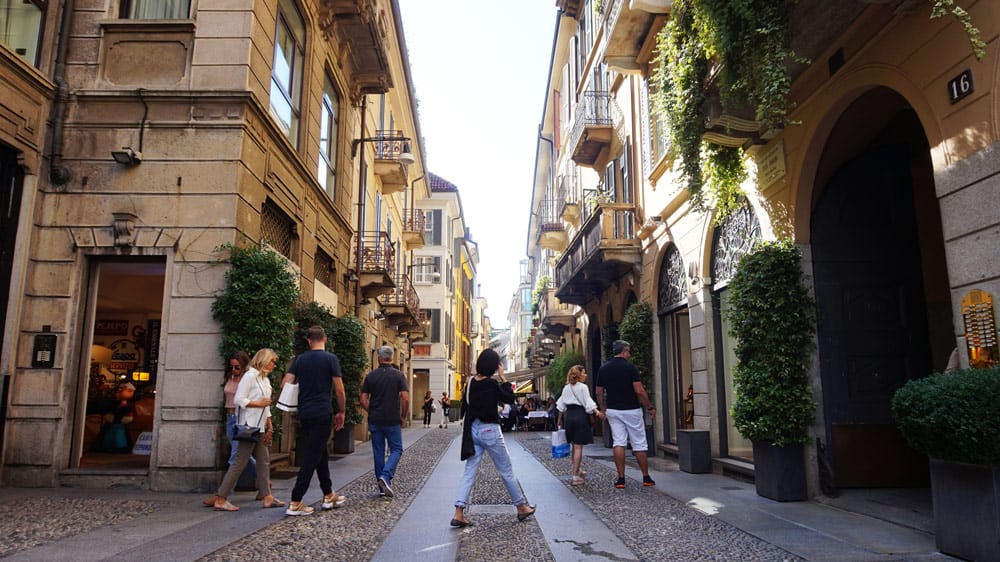 One of our favorite neighborhoods in Milan is the Brera so it's certainly worth checking out. Thanks to its old-world architecture and many pedestrian-only cobblestone streets, the Brera is simply charming and romantic. It has a great artistic vibe and you'll discover many boutiques, galleries, museums, sidewalk cafes, and bars as you wander aimlessly.
The Brera is also one of the best nightlife spots in Milan so the cafes, cars, and restaurants are buzzing until late.
That said, the Brera does tend to be a little pricy so if you want another nice nightlife neighborhood with lower prices we suggest the Navigli neighborhood (see next).
See Neighborhood On Google Maps
Nightlife On The Naviglio Grande Canal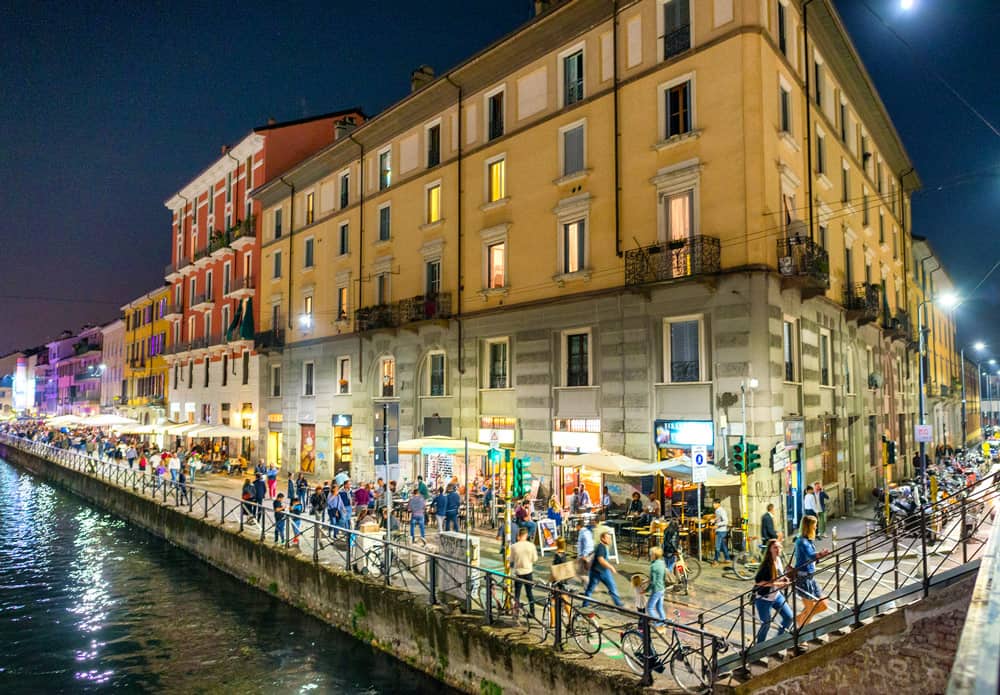 Another must-visit part of Milan is the Navigli Neighborhood. The Navigli is a more of a working-class and hipster neighborhood so you'll find a lot more budget-friendly and youthful shops, bars, restaurant, and cafes.
But the main draw of the neighborhood is its canals which are lined with dozens of bars and restaurants. Both locals and visitors flock to the canals at night so it is an excellent place to get a drink, grab some food, and people watch all night.
Budget Tip: Many bars in the Navigli have aperitivo — which is essentially a happy hour that also includes free food with the purchase of a drink. This is a great way to score a cheap meal (we'll cover more about aperitivo later in this guide).
Try Viewing Da Vinci's Last Supper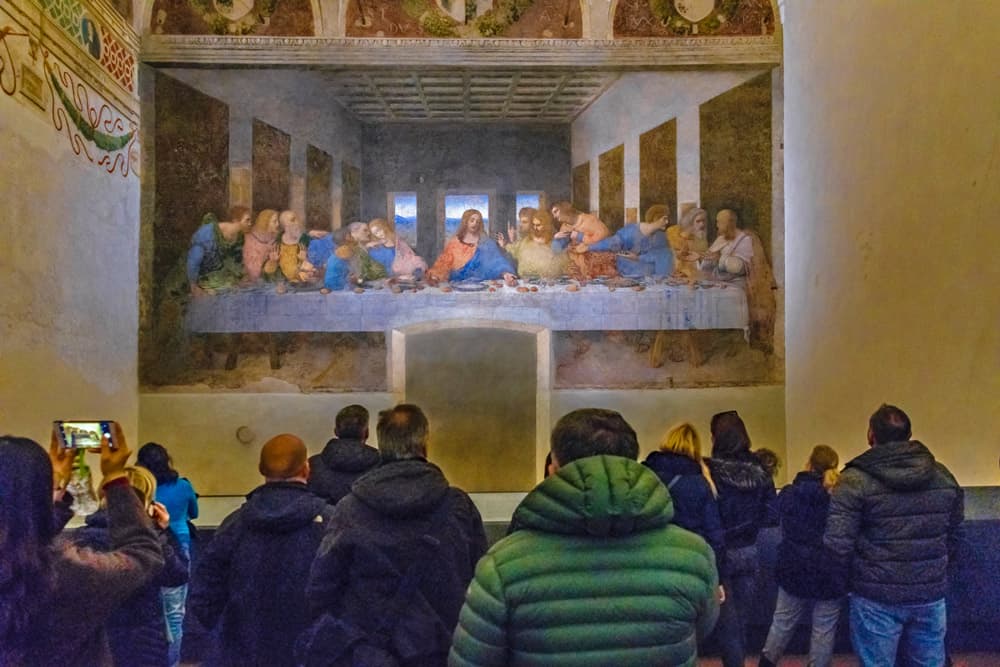 One of the hottest tickets in town is to see Da Vinci's Last Supper painting. The reason? Well, the museum only offers a limited amount of tickets each day (around 1k/day) so the tickets (which cost €12/each) are often snatched up weeks or months in advance. To make things even more difficult, many tour companies buy a good portion of the tickets.
Helpful Visit Tips
Want to score a ticket? Here are some strategies to help:
Buy Early: Tickets go on sale three months in advance. You can buy them directly from the official museum website.
Go Last-Minute: Every day a handful of tickets aren't claimed so the museum put these tickets back for sale every morning for walk-up visitors. These tend to go quickly so try getting there first thing in the morning for your best shot.
Book A Guided Tour: If you want to see the Last Supper, your best shot is by booking a guided tour through a third party tour company. This is also the most expensive option as the tours aren't cheap so expect to pay around $50. Luckily, only licensed tour guides are allowed to give tours so you'll at least get a decent tour. Check out Get Your Guide for a list of Last Supper Tours.
Take A Free or Paid Walking Tour of Milan
Free walking tours are a great and cheap way to see Milan and learn a little more about the city. Here are the free walking tour companies:
We also like paid tours as the guides are usually much better and they have more specialized knowledge if there is a specific topic that is interesting to you. Check out Get Your Guide to see which various premium tours are available.
Another fun option is a 3.5-Hour Guided Bike Tour as you can cover much more ground and exploring a city via bike is always fun.
Pinacoteca di Brera Fine Art Gallery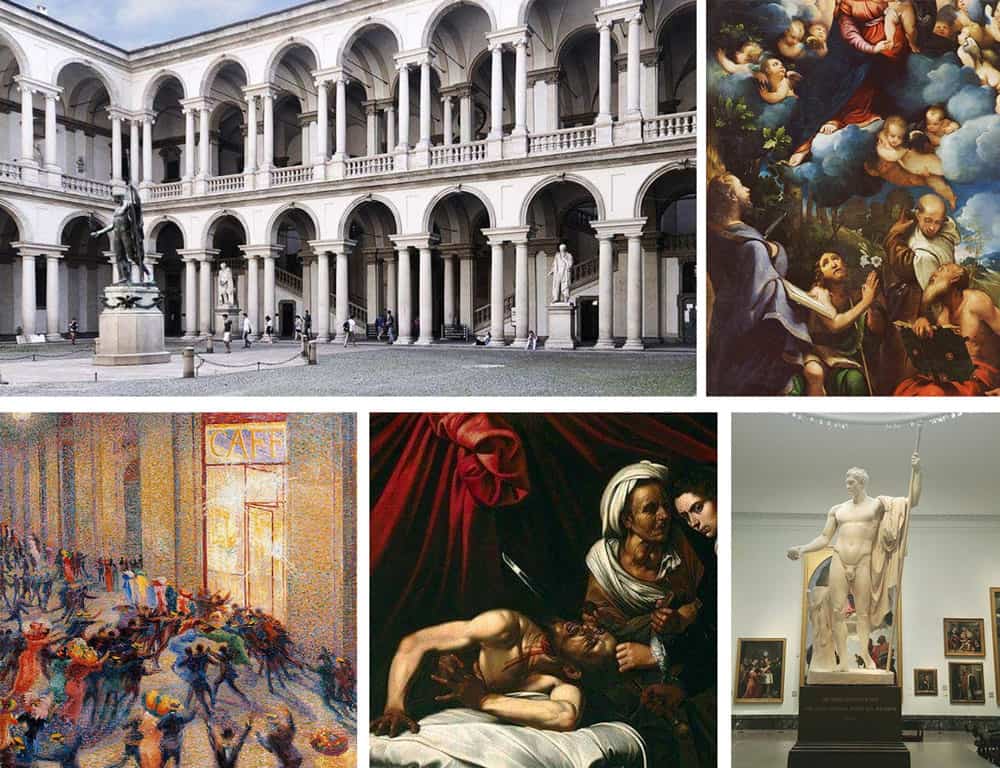 Fans of Italian paintings and sculptures will love the Pinacoteca di Brera. This beautiful museum contains nearly 40 rooms and an impressive sculpture garden. The museum also restores many old paintings and the restoration lab is open to the public so you can see experts painstakingly restoring old works.
Admission is €12
Modern Art & Duomo Views At The Museo del Novecento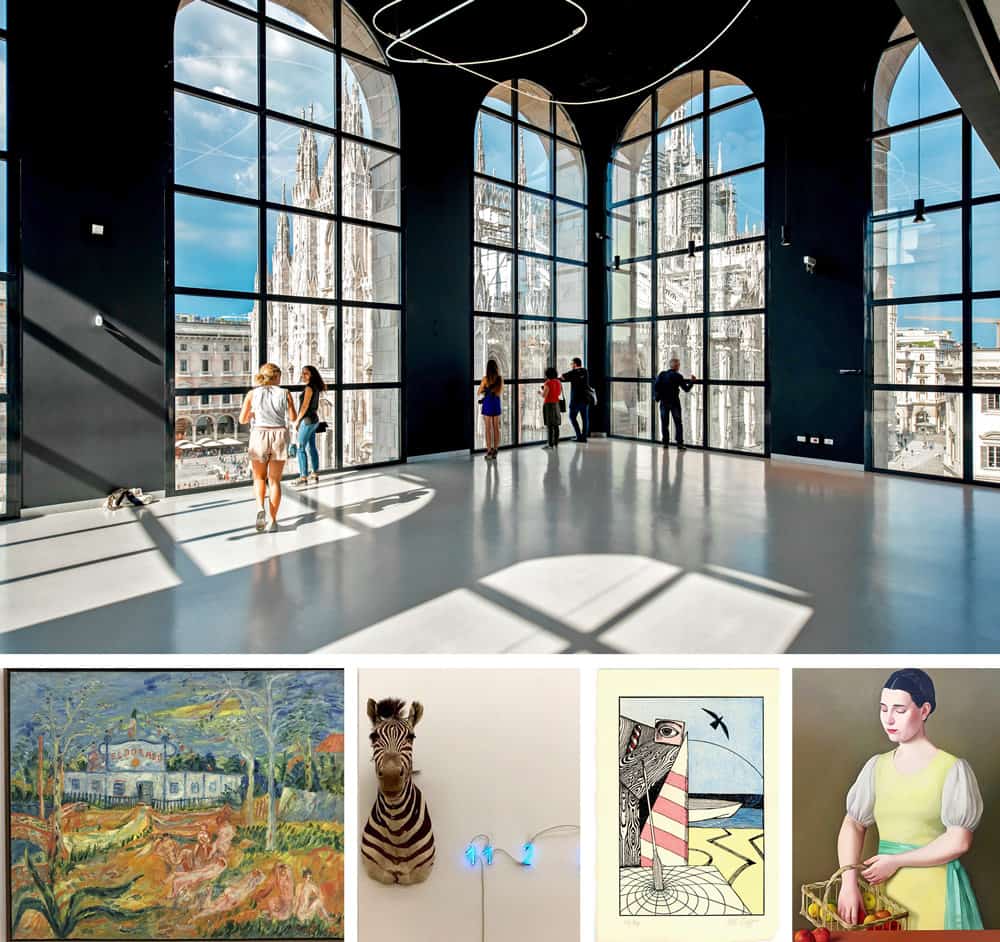 Need a break from 300-year-old paintings? Chen head to the Museo del Novecento for some cool twentieth-century art. Most of the works are by Italian artist but you'll also find some big-name international artists like Warhol and Lichtenstein.
But we also love how the museum has some of the best views of the Duomo.
Admission is €10
Chow Down on Fresh Pasta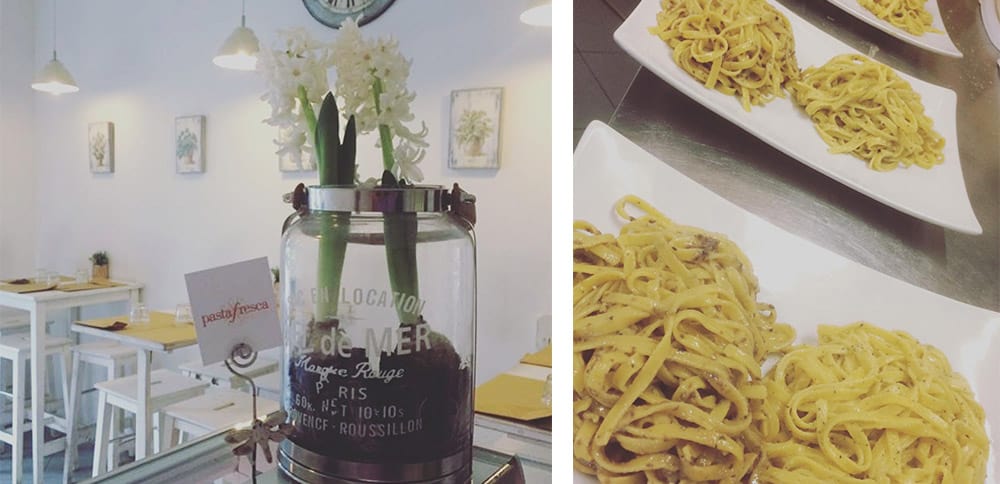 I mean, you can't come to Italy without eating a few plates of homemade pasta. This list is just the tip of the iceburg when it comes to great pasta but everything on this comes reccomended straight from the locals.
Stroll Sempione Park (Parco Sempione) & City Views From The Branca Tower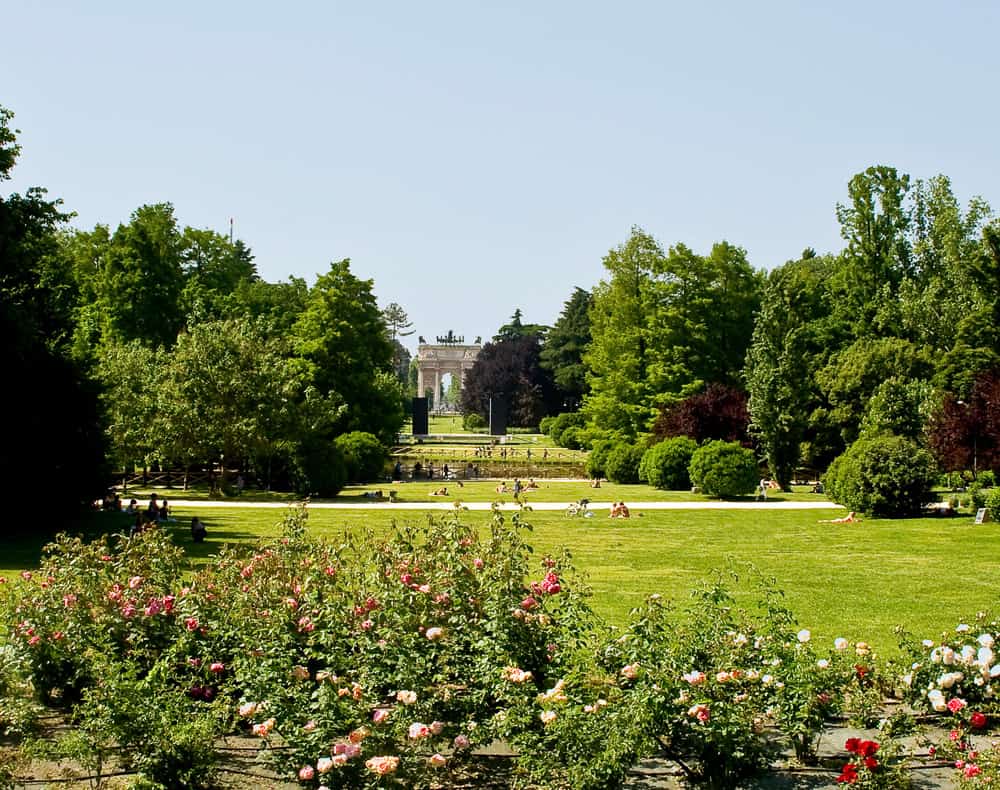 One of our favorite thing to do in Milan is visiting the Sempione Park on a nice day. It also makes an excellent spot for a picnic (here's a link to a few supermarkets near the park) as there are plenty of sunny and shady areas to relax.
Inside the park you'll also find the giant Branca Tower which gives you some nice city views for €4.
Sforza Castle (Castello Sforzesco)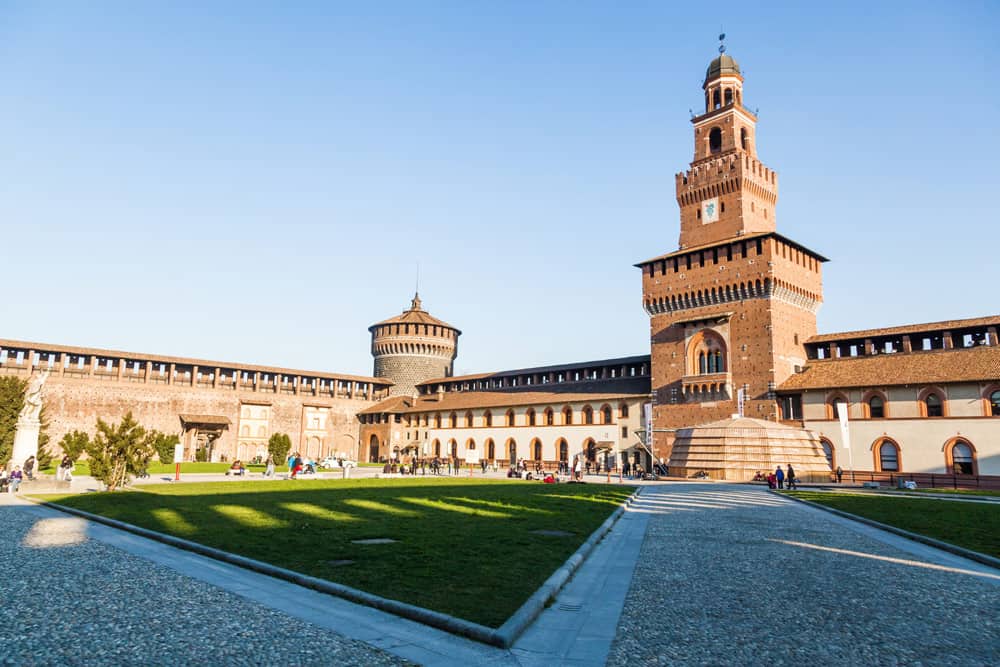 The Sforza Castle is another can't miss thing to do in Milan. The castle, which is more of a 15th-century fortress, is one of the world's largest citadels.
There is no charge to walk around the castle grounds and check out a few rooms but the castle also contains multiple smaller museums which aren't free. Admission to these optional museums is €10 but you can pay a little extra for a multi-day pass if you don't feel like cramming everything into one day.
Note: The castle is a popular spot for hucksters who tie a friendship bracelet on your wist and then ask for money. They're harmless so just ignore them.
Budget Tip: Entry is free every first and third Tuesday of the month after 2 pm.
Geek Out At The Museum of Science & Technology
Fans of science and technology will love spending a few hours at the Leonardo da Vinci National Museum of Science & Technology. This is an excellent place to visit if you have children as there are plenty of interactive exhibits.
Admission is €10
Kickstart Your Morning With An Espresso or Cappuccino
You can't mention Italy without thinking about coffee so you're making a mistake if you're not starting your day with some caffeine.
Most Italians start their day with a simple espresso so pretty much any cafe or bar will serve up a decent espresso. The locals down their espresso in a single shot so sipping it isn't really a thing.
Another popular option is cappuccino (but it's really only a breakfast drink in Italy). If espresso is too much, try a caffè lungo — which is an espresso with extra water added.
Budget Tip: Order/drink your drink at the bar for the best price. The price will double if you sit down at a table.
You'll have to seek out fancier/specialty coffee since most normal places in Milan use essentially the same industrial coffee. Here are some of our favorites:
Catch A Show At The Scala Opera House
The Scala Opera House is arguably the most famous and most important opera house in the world so give it a visit if you're an opera nut. Tickets to operas and ballets aren't cheap but you can often get 25% off last-minute tickets if you visit the box office an hour before the show starts.
They have a museum but we'd skip it if unless you're an opera fan.
Marvel At The Milan Central Train Station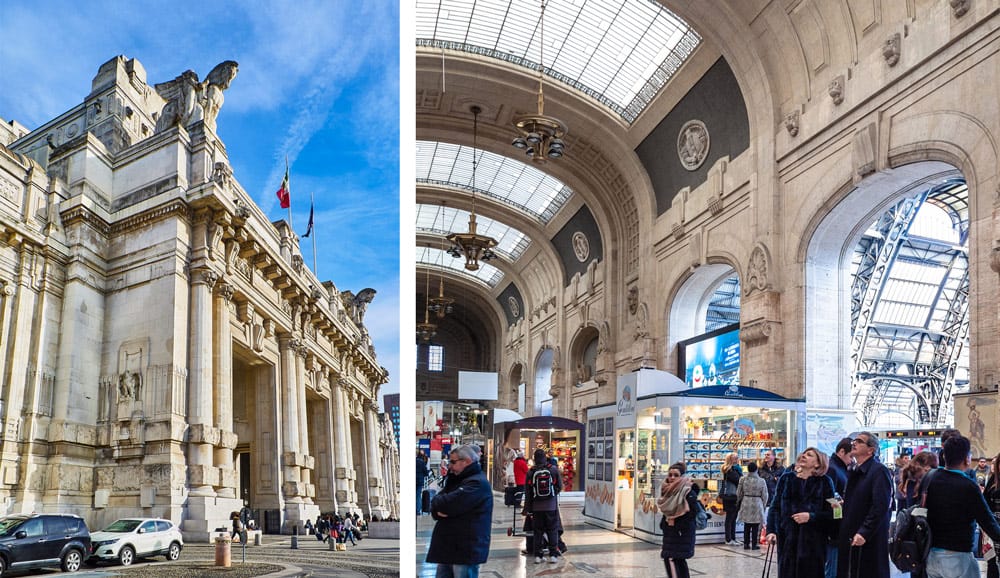 Ok, you'll probably visit the Milan train station anyways when you're coming/going from Milan but take a little extra time to marvel at this massive structure. Mussolini himself commissioned it to display his power and its still Europe's largest and busiest train stations.
Be warned that it might take you more time than you realize to find to your platform.
Catch A Match At AC Milan San Siro Stadium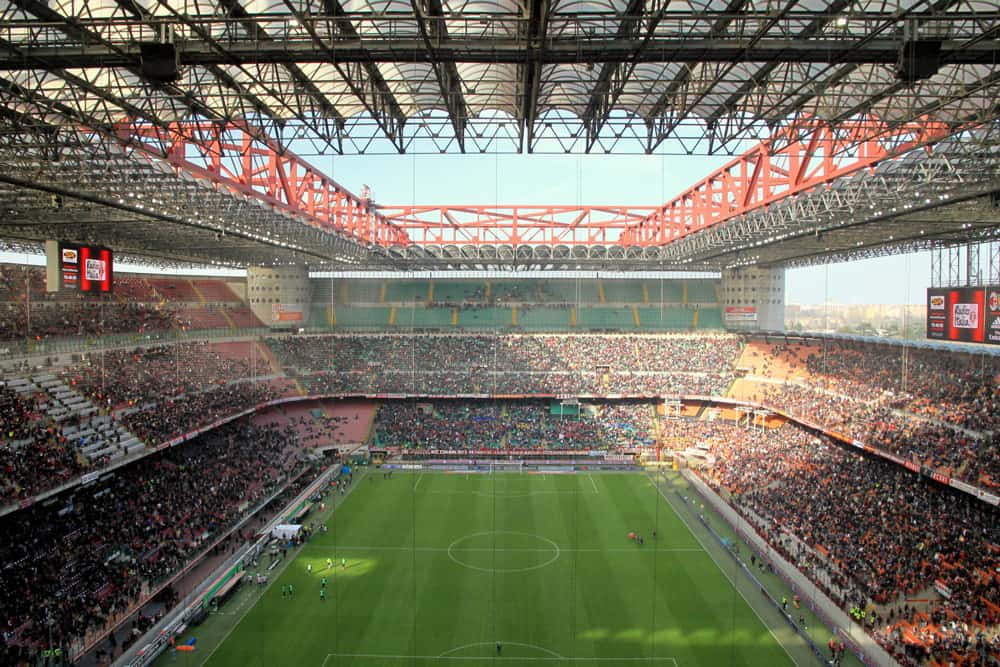 Milan has one of the most popular soccer teams in Europe so seeing a game is a really fun experience. And this stadium holds over 80k people so simply enjoying the crazy atmosphere is an unforgettable experience. You can buy tickets straight from the AC Milan website but you might need to use a third-party service if the match is sold out (just be careful of fake tickets).
See Some Bones at San Bernardino alle Ossa

One of the more bizarre things to do in Milan is seeing the wall of skulls and bones at San Bernardino alle Ossa church. This place has been creeping people out since 1210 so stop in for a few minutes. The hours are somewhat limited so it's open 7:30am-12 & 1pm-4pm on weekdays and 8am-12 on the weekend.
Try Some Local Milanese Cuisine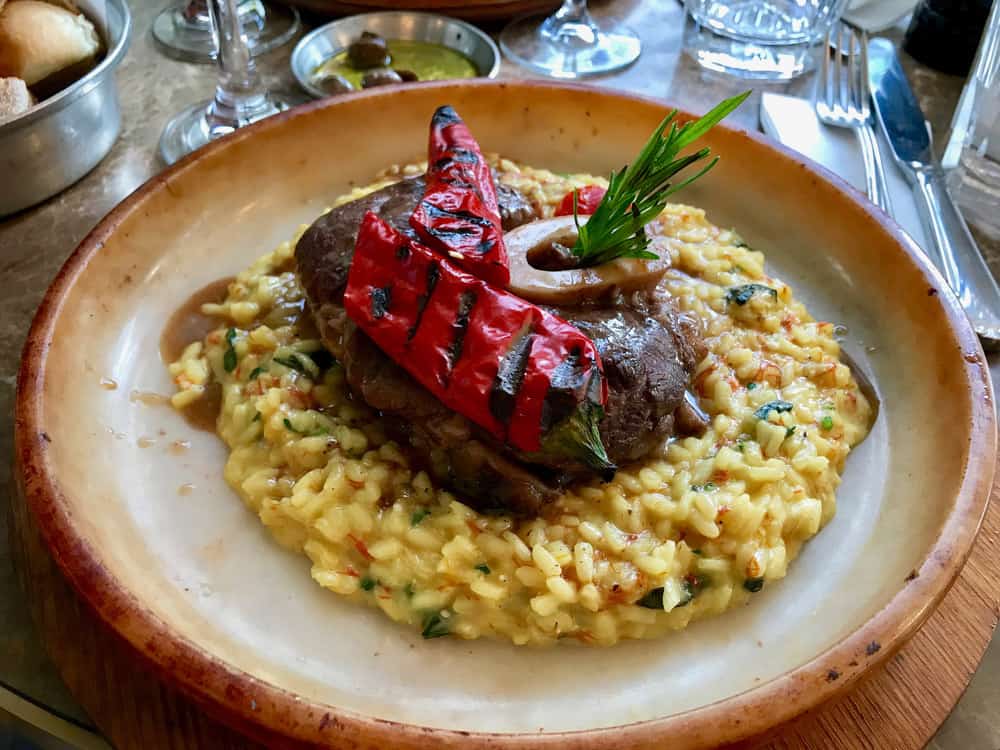 As we mentioned earlier, Milan has a different vibe than the rest of Italy so they have a few distinct local dishes that are worth ordering to get the true Milanese experience.
Negroni Sbagliato
Let's start off with a strong drink! You've probably heard of a Negroni but Milan has their own variation called the Negroni Sbagliato (which translates to Negroni Mistake). The story goes that a local bartender mistakenly used sparkling wine instead of gin and the drink become a local hit.
Risotto alla Milanese
Milan is famous for their risotto so you'll find Risotto alla Milanese on many menus of traditional restaurants throughout the city.
Ratanà, Galleria Restaurant, and El Brellin are three restaurants famous for the dish (but they're expensive).
For more affordable (but still excellent) options we suggest checking out Osteria Conchetta, Risoelatte, Ristorante Papà Francesco, and Trattoria Milanese.
Cotoletta alla Milanese
Looking for something a little more hearty? Check out Cotoletta alla Milanese — which is is basically an Italian version of German schnitzel. You can find this classic veal breaded cutlet dish at just about every traditional Italian restaurant but some local favorites are Osteria Brunello, Da Martino, Trattoria del Nuovo Macello, & Trattoria Milanese.
Ossobuco
Milan is also famous for their Ossobuco — a cross-cut veal shanks braised with vegetables, white wine, and broth. It is often served with Risotto alla Milanese.
Minestrone Milanese
Take a break from the hearty Cotoletta alla Milanese and gelato with some Minestrone Milanese (i.e. vegetable soup). Again, you can find this dish at any traditional Italian restaurant.
Take An Open Top Bus Tour
If you want to see a lot of Milan in a short amount of time then its hard to beat the classic Open Top Bus tour. Most let you hop on and off as you please so you can explore at your own pace. We suggest taking the City Sightseeing Bus Tour Company as they offer 24 and 48-hour tour options.
Shop Till You Drop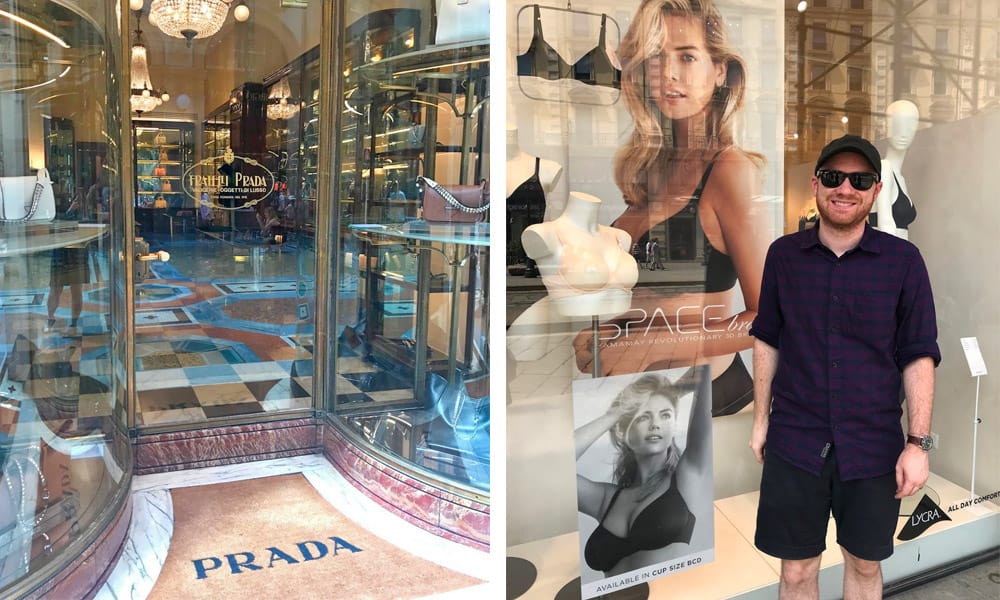 Milan is one of the top shopping cities in the world so you can find just about everything your heart desires. It's also one of the top luxury shopping destinations so it's a great place to blow your paycheck.
While there are shops just about everywhere you look, below are a few of the best spots to check out:
Make Time For Aperitivos
The locals in Milan take their happy hour (i.e. aperitivo) very seriously. But our favorite thing about aperitivo is that many bars whip up a huge free all-you-can-eat buffet for anyone who buys a drink during their happy hour. This is one of the best ways to eat cheaply in Milan.
You can also take a private Aperitivo Tour if you're looking for a more in-depth experience from a local guide.
Eat Your Weight In Pizza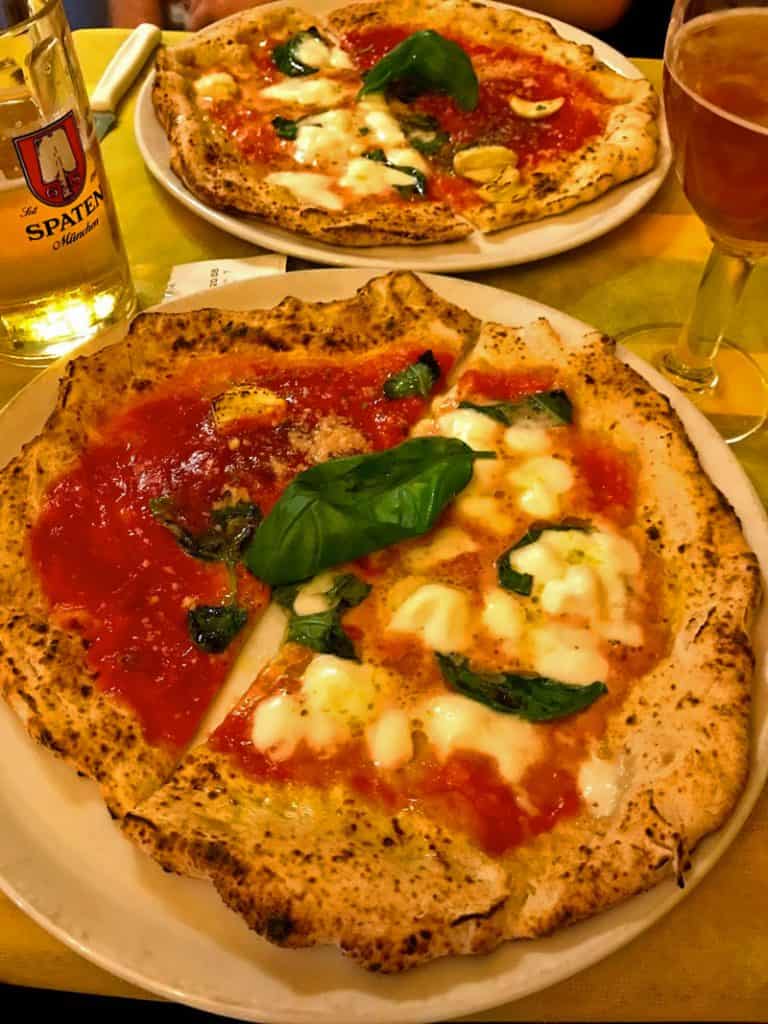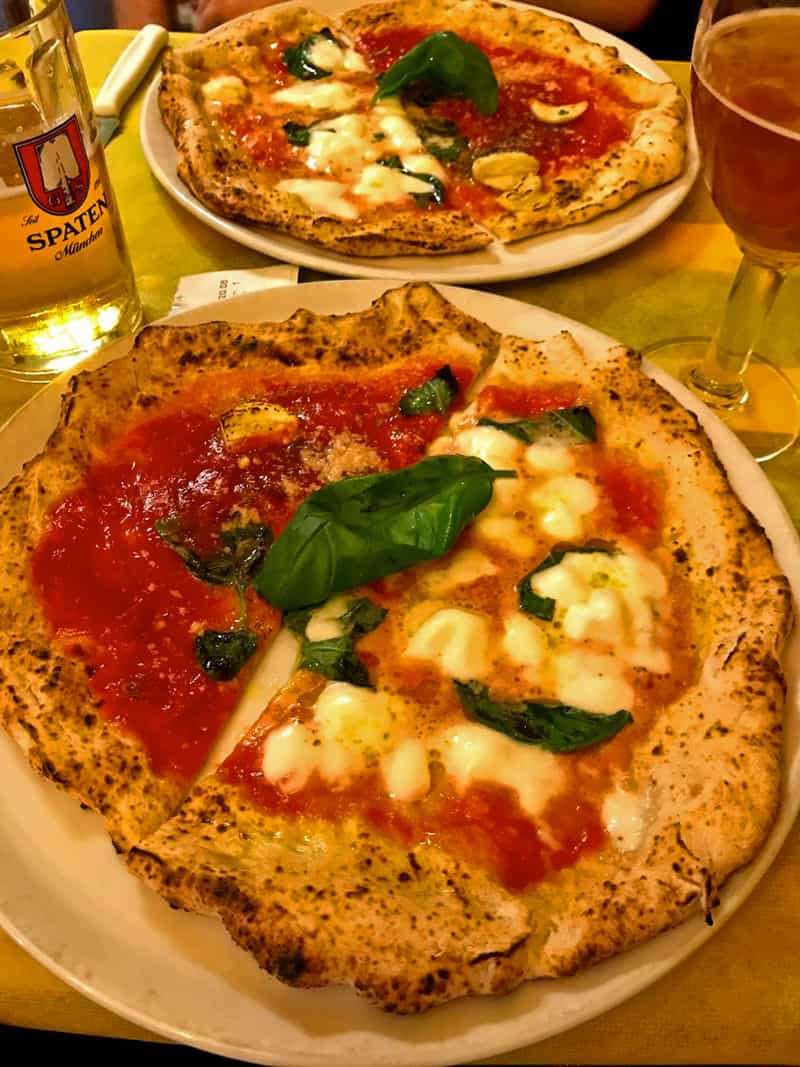 Ok, ok, ok, we know that Milan isn't well-known for pizza but you can still find some amazing Neapolitan-style pizza joints in Milan. Here are a few of our favorite spots in central Milan that won't let you down:
Indulge On Tasty Treats, Sweets, and Gelato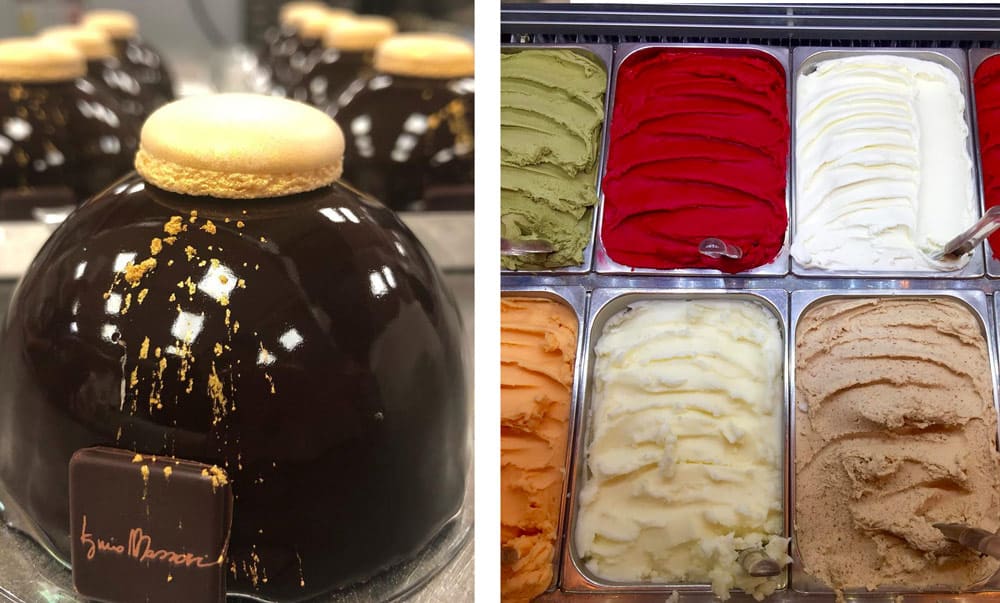 No trip to Milan is complete without a few sweet treats along the way. There is a lot to choose from in town but here are a few local favorites:
Pastries, Cakes, and Baked Goodies
Gelato
Take A Tram Ride
Milan has an extensive tram system that's a joy to ride and a great way to see the city.
For a unique view of Milan, you can take a ride on the Tram Turistico (which runs old trams dating back to the 1920s). Be sure to buy your tickets before getting on the tram as plainclothes ticket inspectors will fine you around €40 if you don't have a ticket. Ouch.
Take A Day Trip Outside Milan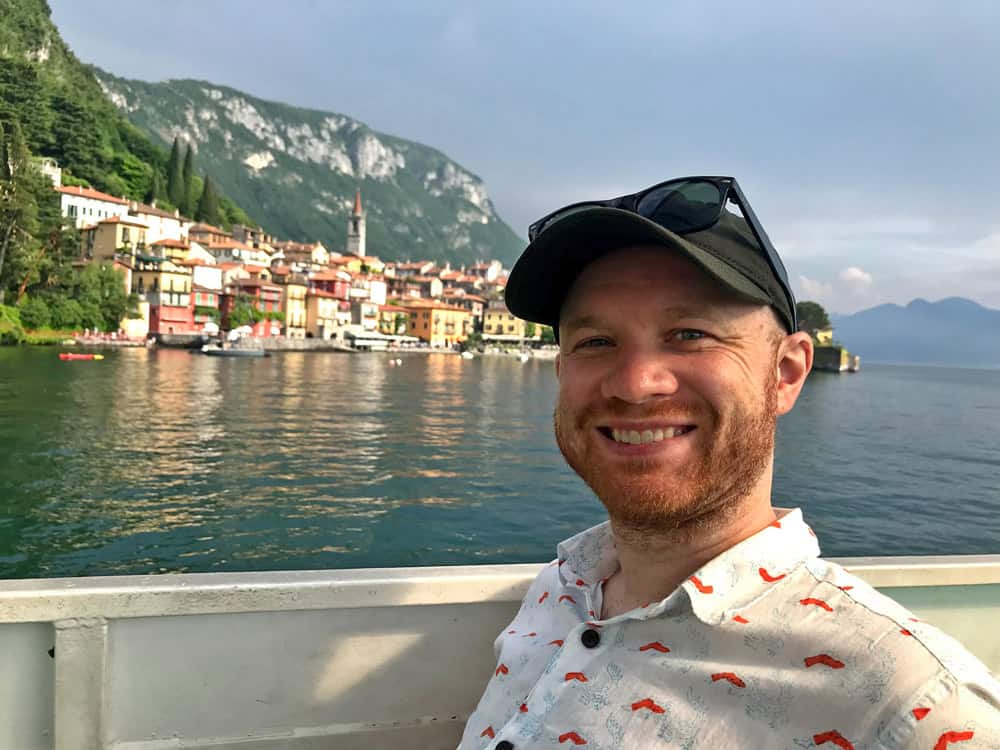 Milan is blessed by being surrounded by beautiful lakes, a handful of great small towns, and excellent high-speed rail lines — so escaping the city for a day or two is quick and easy.
The most popular day trips are:
Lake Como: A pristine lake that's only a 30-minute train ride from Milan. The lake is surrounded by a handful of quaint towns that are all connected by water fairies so getting around is quick and easy.
Lake Maggiore: Another pristine lake that's dotted with beautiful small towns and lovely islands. The train ride takes 60-90 minutes so it's a little less popular than Lake Como.
Florence: Florence deserves more than a day but it's only about a 90-minute train ride so it can be done in a day.
Turin: Often called the "Paris of Italy", Turin is a great place to simply wander around for a day.
Bologna: Bologna is a beautiful small town but it's famous for its cuisine. And it's only about an hour from Milan.
We recommend buying your train tickets via ItaliaRail or a third-party website like Omio or TrainLine because they'll send e-tickets straight to your phone.
Drive A Ferrari
Taking a Ferrari Test Drive Experience on the "Italian Autobahn" (i.e. the fastest highway in Italy) is surely something you'll never forget. True, this is expensive and you only get to drive for about 30-minutes (there are different packages for longer or shorter derives), but we're sure it will be an awesome experience.
Take A Scenic Train Tour Through The Swiss Alps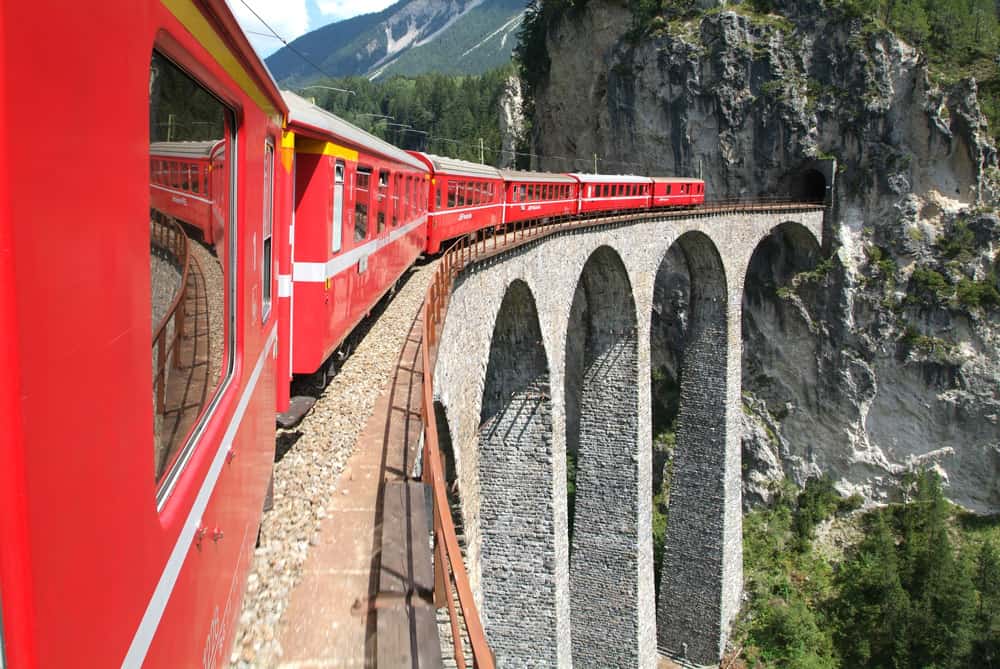 The Bernina Express Train is a scenic train that takes you through breathtaking views of the Swiss Alps — it's one of the highest railways in Europe. This Bernina Express Train & St. Moritz Full–Day Tour picks you up in Milan and takes you to the small town of Tirano where you get on the 2.5 hour Bernina Panoramic train until you end at St. Moritz.
It's a full day (about 13-hours total) and costs around $150 but it's a cool experience.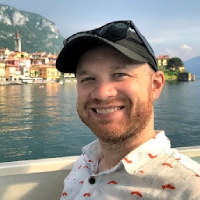 Latest posts by James Feess
(see all)
No Funny Business
The Savvy Backpacker is reader-supported. That means when you buy product/services through links on the site, I may earn an affiliate commission — it doesn't cost you anything extra and it helps support the site.
Thanks For Reading! — James
Questions? Learn more about our Strict Advertising Policy and How To Support Us.