Ernest Hemingway said, "You do not even go somewhere else, I tell you there's nothing like Munich. Everything else is a waste of time in Germany." Ok, there are plenty of other amazing places in Germany, but Munich is one of Europe's must-visit cities. It's a city of warm people, beautiful architecture, culture, museums, hardy food, great beer, and nude sunbathers.
[Check out our travel guides for Amsterdam, Barcelona, Berlin, London, Paris, Rome and multiple other cities.]
---
What You'll Find In This Munich Travel Guide:
How Much To Budget To Visit Munich
How Long To Visit Munich
The Good And Not-So-Good Things About Munich
Munich's Must-See Sights and Attractions
Cheap Eats and Drinks in Munich
Best Munich Hostels
Munich Nightlife
More Resources To Help You Plan Your Visit On A Budget
Public Transportation
And More
---
How Much To Budget To Visit Munich
Munich isn't the cheapest place to visit but it's also not quite as expensive as major cities like London or Paris. There are plenty of good deals to be had on food and alcohol if you do your research. However, during Octoberfest prices skyrocket on just about everything — especially housing.
We recommend budgeting €40-€65/day for travelers on a backpacker's budget — you can easily spend more and you might be able to spend less, but this is a good range for planning purposes. You can read our Munich Daily Price Guide for more in-depth cost details.
---
How Long To Visit Munich: 3-5+ Days
Munich is a great city with a lot going on, so it's best to give it at least three full days — but you can easily add an extra few days if you have the time or if you want to explore a few of Munich's excellent day trip options.
---
When To Visit Munich + Weather
Summers in Munich tend to be fairly mild with temperatures in the mid-70s — which is excellently for enjoying a few beers in the beer gardens. This is also the most popular time for tourists.
Spring is a great time to visit Munich because the weather is still nice but the tourist crowds are much smaller. The average high temp in April is in the upper 50s and in May it's in the mid-60s. The Fall weather in September and October is similar April and May with temperatures hovering between the mid-50s and 60s.
Winters are cold and sometimes snowy with temperatures dropping into the 30s or lower. Munich does attract a lot of people to its excellent Christmas Markets so expect large crowds and high season prices during late November and December.
---
The Good And Not-So-Good Things About Munich: A Quick Overview
Munich is a favorite destination for a reason, but even this city has positives and negatives that we wanted to share before you visit.
The Good
Beer Halls and Beer Gardens. It's hard to beat enjoying a cold beer and a soft pretzel outside on a warm day. Luckily, Munich has plenty of options for you to enjoy these simple pleasures in life.
Museums. Munich has a number of excellent museums. Into science? Munich has the best science museum in the world.
Public Transport. Getting around Munich is a breeze.
A Beautiful City. Munich is a stunning city. Plain and simple.
The Not-So-Good
Crowds. Munich draws a lot of tourists but that's to be expected in such an awesome city.
High Prices. Munich has a fairly wealthy population so that makes prices higher than normal.
Nude Sunbathing. Munich's English Garden park allows nude sunbathing. Most of those nude people are old dudes.
---
Best Things To Do in Munich
Munich has it all — history, architecture, museums, traditional Bavarian cuisine, shopping, sports, nightlife and huge mugs of beer. You'll always have something to do or see.
Deutsches Museum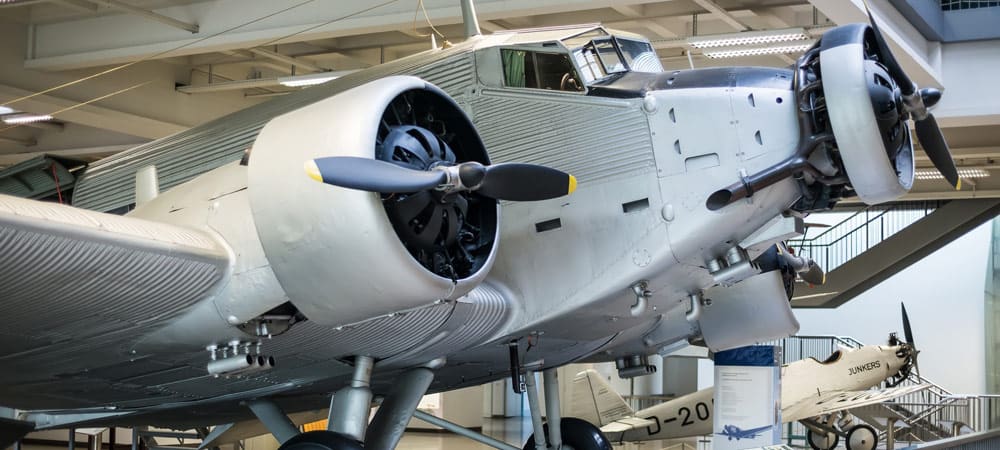 Set on an island in the middle of the Isar River, the Deutsches Museum is dedicated to making the world of science and technology fun. One of the first of its kind when it opened in 1903, this science center has gone on to become the world's largest and is great for kids of all ages. The laws of nature and scientific methods are explained with help from interactive atoms, trains, robots, flashing lights, and boats – just to name a few. Regular admission is €11. Website: deutsches-museum.de
Viktualienmarkt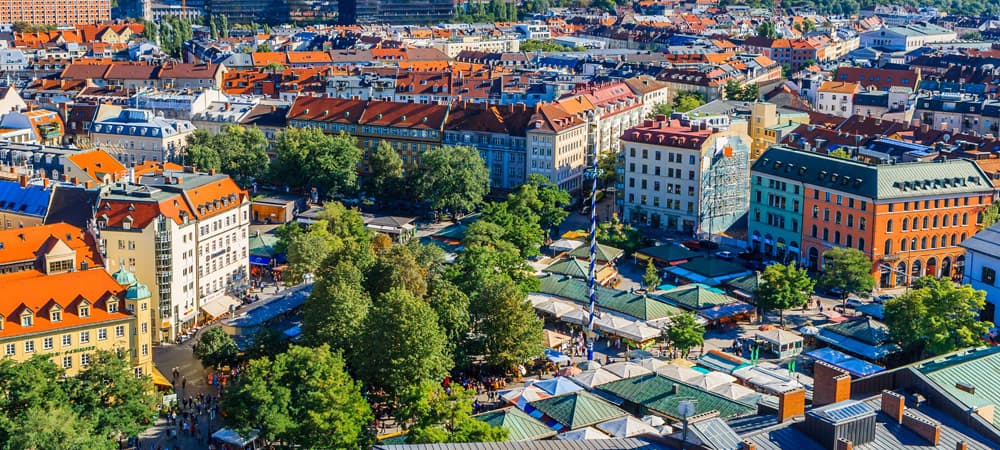 The most famous daily food market in Munich, the Viktualienmarkt is a historic and delicious stop in the center of town. A short stroll from Marienplatz (where the market used to be held before outgrowing its surrounds), Viktualienmarkt is heaven for both visiting foodies and locals grabbing lunch. Well over 100 stalls sell everything from fresh fruit and veg to fish, meat, and flowers. And if you're wondering, yes, this is a great place to grab that obligatory bratwurst and have a brew, as they even have their own beer garden.
Marienplatz and New Town Hall (Neues Rathaus)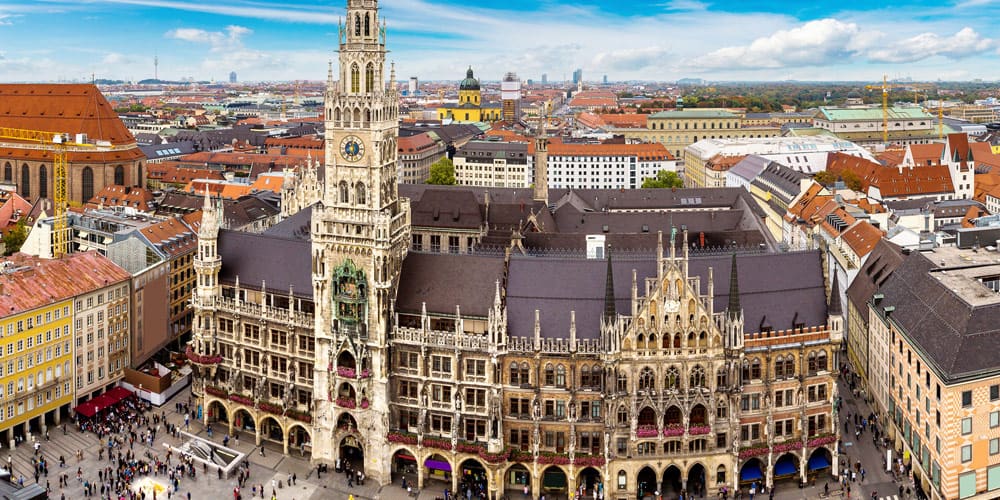 The main square of Munich, Marienplatz has been the hub of the Old Town for over 900 years. While Marienplatz may not host a market these days, the square still buzzes, as it's home to a busy U-Bahn station, is located near lots of shopping, and is the place many walking tours set off from. The Square is lined with historic sights, but the quirky Glockenspiel – a cuckoo clock-style statuette show that takes place on the facade of the New Town Hall each day – is the reason many come here.
One of the most photographed buildings in Munich, the New Town Hall (Neues Rathaus) is most famously home to the mayor of the city and the aforementioned Glockenspiel. Designed in a Neo-Gothic style, the New Town Hall was built around the turn of the 20th Century, and its ornamental touches and spires are striking. For many though, it's all about the Glockenspiel which puts on a historical show (think jousting knights, dancing coopers, and angels) using figurines every day at 11 AM.
The Residenz
Munich's grandest home, The Residenz was the resplendent residence of many of the city's leaders through the centuries and offers a look back at this era alongside an astounding collection of artwork and effects. The Residenz began life as a small castle but grew to become a sprawling gilded palace, complete with ballrooms and gorgeous gardens. The dynastic families that resided within its walls collected art as status symbols, and their collections are now on full display, with the fresco-laden Antiquarium being a real highlight. Regular admission is €7. Website: residenz-muenchen.de
Alte Pinakothek (Old Pinacotheca)
Home to a superb collection of art spanning from the 1300s to the 1700s, Alte Pinakothek is heaven for lovers of iconic European art. Home to more than 700 pieces of art from Dutch, Flemish, French, Italian, Spanish, and German Old Masters, the collection is deemed one of the world's most important. The neoclassical building it is located in is a gem as well, as it was a groundbreaking museum design for its time. Regular admission is €4. Website: pinakothek.de
Note: The Neue Pinakothek is a similar museum but with paintings from the 1800s to the early 1900s
Pinakothek der Moderne
A quartet of modern collections (20th Century art, graphics, architecture, and applied design), the Pinakothek der Moderne is Germany's largest array of contemporary works. On the art front, works by Andy Warhol, Dali, and Picasso mix with equally provocative but lesser-known names, and the applied design section shows off everything from Apple products to Volkswagens. The graphics and architecture collections are equally impressive. Regular admission is €10.
Egyptian Museum
Focused on finding quality over quantity, Munich's Egyptian Museum offers visitors one of the world's best-curated collections of ancient Egyptian artifacts. Sculptures are particularly impressive here, with relics from each and every major Egyptian era represented. The museum shoots to educate instead of just trying to blow you away with dazzling displays, and you'll walk out knowing a ton more than you did when you came in. Regular admission is €7. Website: smaek.de
English Garden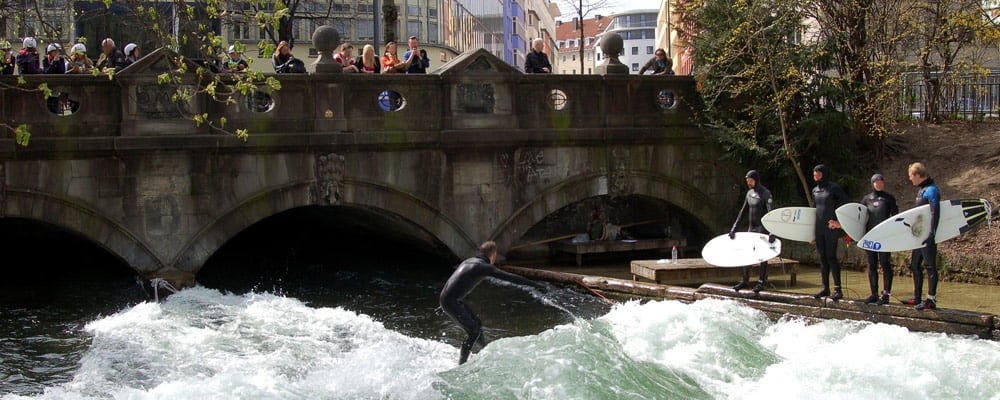 Where the city has come to relax and play outside since the 18th Century, the English Garden is Munich's Central Park. Popular activities here include sunbathing by the Isar River (be aware some areas allow for nude bathing), dog-walking, soccer playing, jogging, and visiting one of the park's many beer gardens. The park is also home to one odd spectacle you have to see to believe: a permanent man-made wave on the Isar River that allows for surfing.  
Hofbräuhaus
While there are a handful of Hofbräuhaus locations around the world nowadays, this is the original, and no trip to Munich is complete with a stop at this iconic beer hall. Not just for the beer either, as the Hofbräuhaus is home to centuries of history, too. It was founded in 1589 by the Duke of Bavaria, and is home today to a year-round Oktoberfest atmosphere featuring classic Bavarian cuisine, traditional music (think oompah bands sporting lederhosen), and fun times with a crowd full of international tourists and locals alike – some of the latter even keep a beer stein in a special locker-like device to be used when they pop in. Is it touristy? Absolutely. Is it worth visiting? Absolutely.
Nazi Documentation Center
This recently-opened museum shines a light on the rise of the Nazi party and its close connections to the city of Munich, a subject which was brushed under the rug for decades. The center brings it all out in the open through historic photographs, documents, and displays as well as modern multimedia, and also grapples with the subject of Munich's struggle acknowledging its Nazi past. It is truly a fascinating place which educates and shows all who visit why what went on then still matters today. Regular admission is €5. Website: ns-dokuzentrum-muenchen.de
Nymphenburg Palace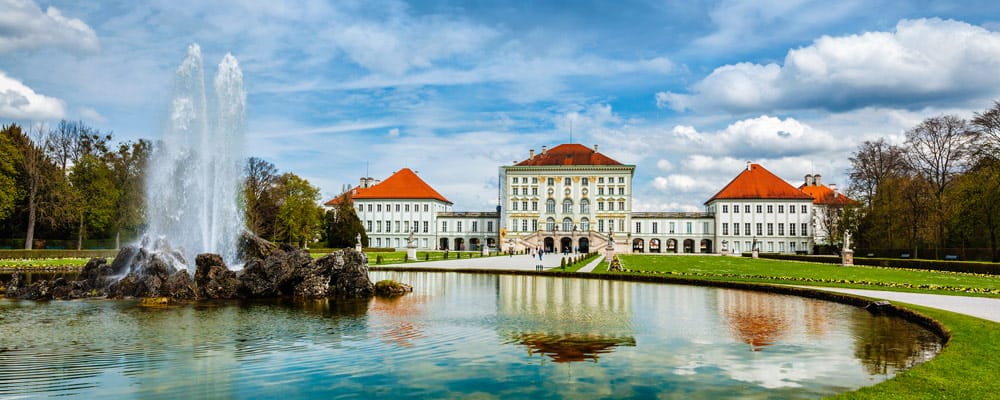 Built as a summer home for royalty, Nymphenburg Palace is located on spectacularly landscaped grounds on Munich's western fringe. The original residence was one solitary Italian villa-style mansion, but generations of residents extended the palace's facade to its current sprawling version. The palace, its gardens, and surrounding park (full of park palaces) remind many of Versailles, with touches of opulence and romance at every turn. Regular admission is €6. Website: schloss-nymphenburg.de
Frauenkirche (The Cathedral Church of Our Lady)

The most recognizable symbol of Munich, this church, and its two bulb-topped towers soar above the city's skyline. Full of grandeur yet utterly lacking flamboyance, the Frauenkirche stuns with its simplicity. Inside, you will find the relics of Holy Roman Emperor Ludwig the Bavarian and a fabled imprint on the floor called 'The Devil's Footprint'. Climbing to the top of the tower is a great way to burn off some Bavarian beer and you'll have a soaring view of the Alps to the south. Admission is free. Website: muenchner-dom.de
Asam Church
A tiny church built by brothers to be their private house of worship, Asam Church is a small but spectacular sight. The church is beautifully Baroque on the outside and almost completely blends into the surrounding buildings. Once inside, you will find only a dozen or so pews, but the church more than makes up for its lack of space with grand gilded touches and gorgeous frescoes. Admission is free.
Dachau Concentration Camp
One of the most popular – and painful – day trips from Munich, Dachau was the first Nazi concentration camp established by Hitler after becoming Chancellor of Germany.  A trip here allows visitors a sobering and informative look back to the terrible fate that awaited the hundreds of thousands who were sent here during the twelve years Dachau operated. Admission is free. Website: kz-gedenkstaette-dachau.de
Konigsplatz
A spacious square in the heart of the city's museum district, Konigsplatz was designed in a classical Greek style in the mid-1800s. King Ludwig I's idea was to make Munich a little more like Athens, and one look at the Konigsplatz's Glyptothek (a group of Roman and Greek statues) will tell you he succeeded. Sadly, the beautiful space was often used as a backdrop for Nazi displays of power, but today is back to being the perfect place for a picnic.
St. Peter's Church (Peterskirche)
The oldest church in the city, St. Peter's Church is home to a mishmash of architectural touches and magnificent views over the city. Design wise, everything from Romanesque-Gothic to Rococo is on full display here, and there's even some fascinating relics to take in, specifically St. Mundita –  dusted with gold and covered in jewels. You can climb the tower here for great views of the city. Admission is free, tower climb is €2.
Take a (Free) Walking Tour
Walking tours great ways to explore and learn more about the city you're visiting. I like to take one on my first day in a new city as I find it's an excellent way to get my bearings and it gives me an idea of where I want to revisit.
The free walking tours are great for overviews. However, you'll have to pay if you want a better quality guide or more specialized information (food tours, etc.).
Below is a list of the free walking tours:
If you're looking for a paid tour we recommend checking out Trip Advisor to find reviews.
---
Cheap Eats And Drinks in Munich
You can find a lot of solid food options in Munich — especially if you like meat. Munich is known for a tasty breakfast sausage called Weißwurst and roasted pork (Schweinsbraten). Bratwurst, Leberkässemmeln (sausage made with spiced pork, veal, and lemon) and Brezn (soft pretzels) are all other items you shouldn't pass up.
Munich is also an international city so you'll find food option from across the globe. There are also more and more vegetarian and vegan options.
The best food markets are the Viktualienmarkt in the Altstadt and the Elisabethmarkt in Schwabing.
Best Beer Halls and Beer Gardens
Munich is famous for its beer halls and beer gardens you should check a few out.
We've gathered some of our favorite online resources and food bloggers:
---
Munich Nightlife
Munich's nightlife may not be as good as Berlin, but it still offers plenty of options for everyone. Of course, there are the beer gardens but that's not all. Electronic dance music is big so you can always find clubs pumping out techno music early into the morning. Clubs not your thing? There are plenty of fancy cocktail bars and even more dive bars.
The most famous clubs are Pacha Munchen (a bit of everything), P1 Club (luxury), Atomic Café (student and alternative), Backstage (rock), and Ksar Barclub (electro). For a plethora of additional nightlife info, check out this link.
---
Munich Hostels and Accommodation
Munich doesn't have a ton of hostels so that means they tend to be more expensive than average — but quality tends to be good. Expect to spend anywhere from €30-€48/night if you want to stay near the center but I've seen some sub €20/night options.
However, during Oktoberfest prices can easily be 3x-4x more expensive and they get booked 9-12 months in advance. 
I've always used HostelWorld to book our hostels so you'll want to poke around there to find the perfect hostel. Here are a few of the best-rated hostels in Munich:
---
Traveling Around Munich
Munich is one of the most walkable cities in Europe, but it also has a subway (U-Bahn), suburban trains (S-Bahn), trams, and buses. All public transportation operates on the same ticket, so it's probably best to buy an unlimited day ticket (but singles tickets are available).
Single ticket: €2.70
Day ticket, inner zone (Single Tageskarte Innenraum): €6.20
3-day ticket, inner zone (Single 3-Tagekarte Innenraum): €15.50
Munich also has excellent transportation to most parts of Germany and much of the rest of Europe — especially via train.
---
Munich Day Trips
Munich is located in the heart of Bavaria so it's within close distance of multiple great day trips — including many great cities and castles.
Tip: There is a special train ticket called the Bayern ticket which gives you unlimited travel throughout Bavaria for groups of 2-5 people. It costs €23.00 for 1 passenger* + €5 for each additional (up to 5 people total). It's only good for regional trains but it's a great deal for groups. 
Neuschwanstein
The number one day trip from Munich is King Ludwig's Neuschwanstein Castle. Neuschwanstein looks like it's straight out of a fairytale (it was the inspiration for the Disney castle). It was one of my highlights of visiting Munich. It's about a two-hour train ride from Munich.
Salzburg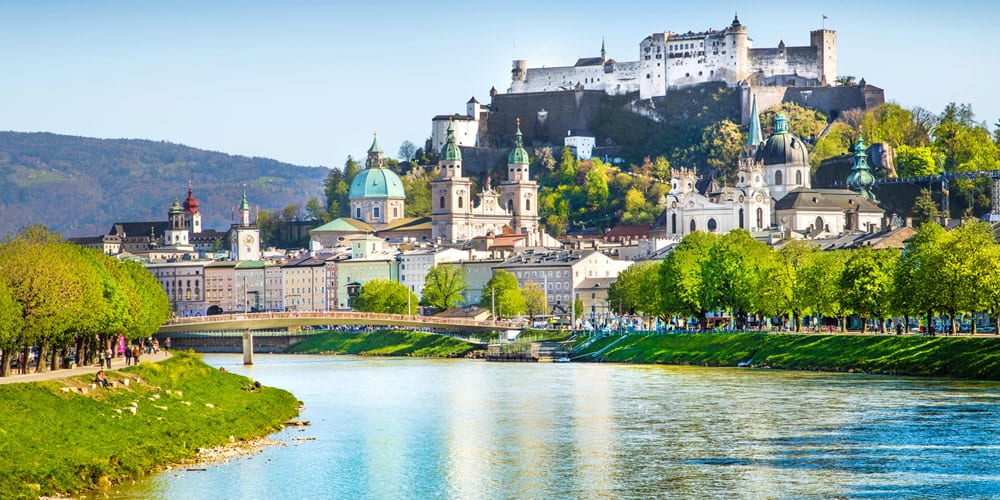 Salzburg, Austria is a short 1.5 train ride from Munich and trains run every hour, so it makes an excellent day trip. Be sure to check out the Hohensalzburg fortress that towers over the city and take some time to sample the amazing Austrian beer and food.
Andechs Monastery / Brewery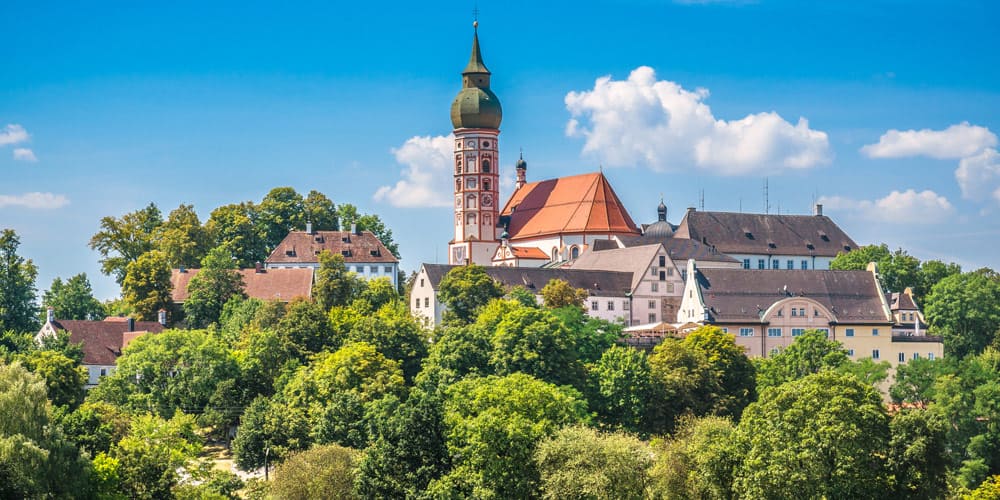 This peaceful old monastery located on the mountain of Andechs makes a great place to explore for the day, but the real treat is the Andechs Monastery brewery, beer garden, and beer hall. It takes about 1.5 hours by train.
Linderhof Palace
Our ol' friend King Ludwig II built this fairytale palace as his own personal Versailles. It's the only palace that Ludwig actually completed before he died so it's a great place to see what it was like to live like a king.
Hohenschwangau Castle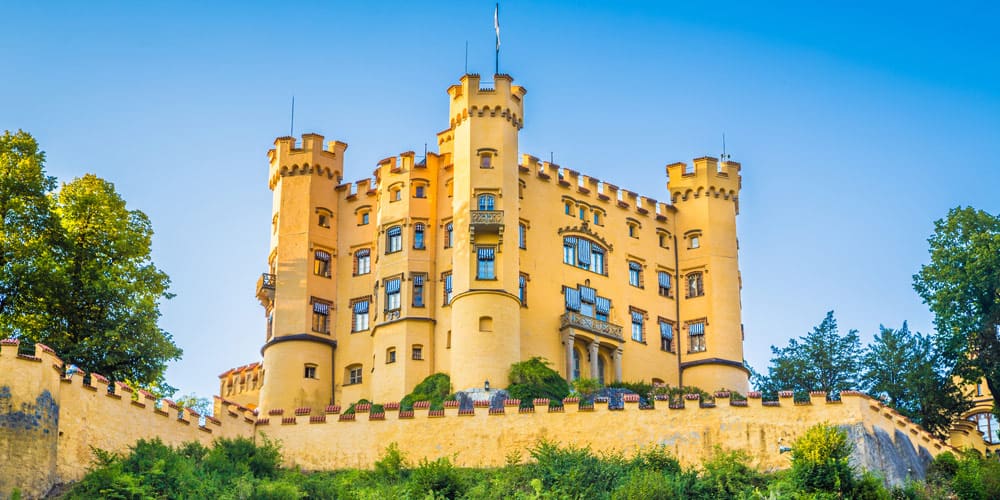 This 19th-century palace was built by King Maximillian II, father of Ludwig II, and it was used as a summer residence (not bad, huh).
Rothenburg ob der Tauber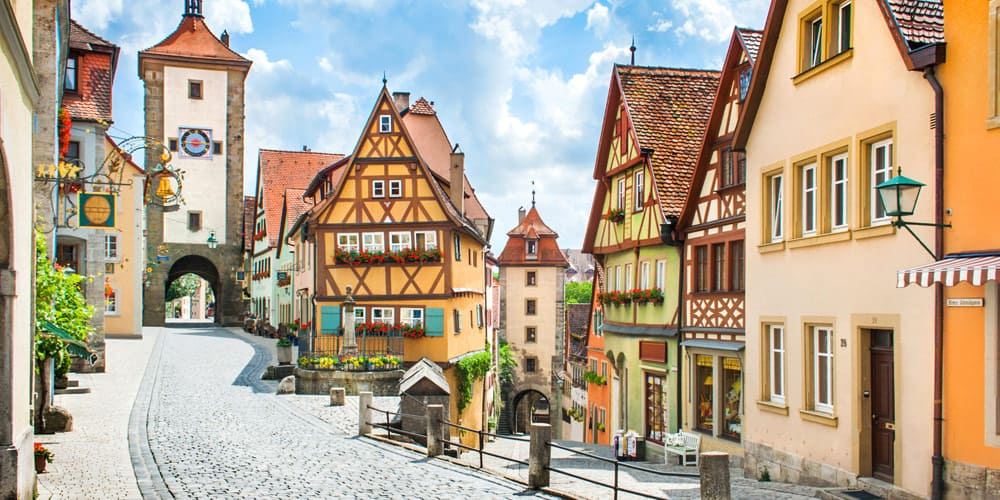 Dubbed the "most German town in Germany," Rothenburg is a charming village features half-timbered houses and cobblestone streets. It also has excellent Christmas markets and you can buy Christmas items all year long. It's about a three-hour train ride so it's a bit of a long day trip but it's worth the journey.
Regensburg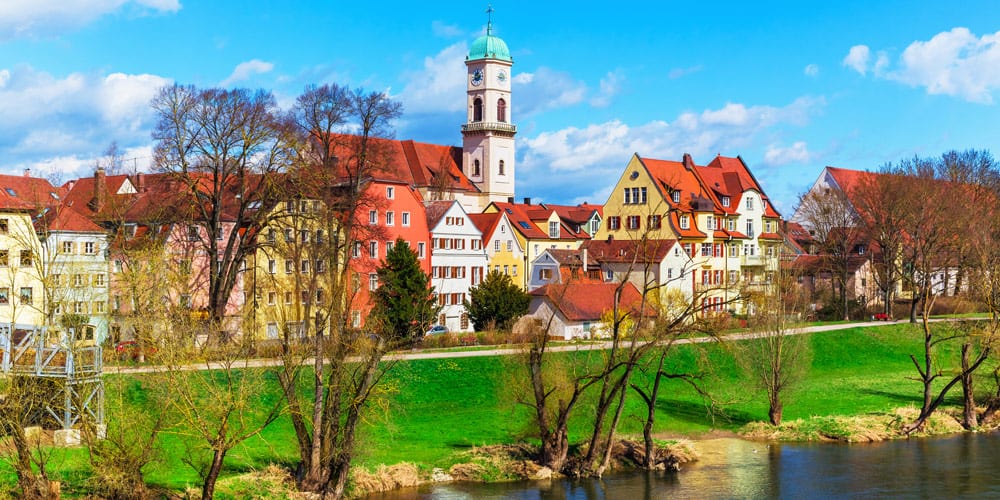 This gorgeous medieval city nestled on the river Danube is listed UNESCO World Heritage Site. It's about a 1.5-hour train ride from Munich with frequent trains.
Nuremberg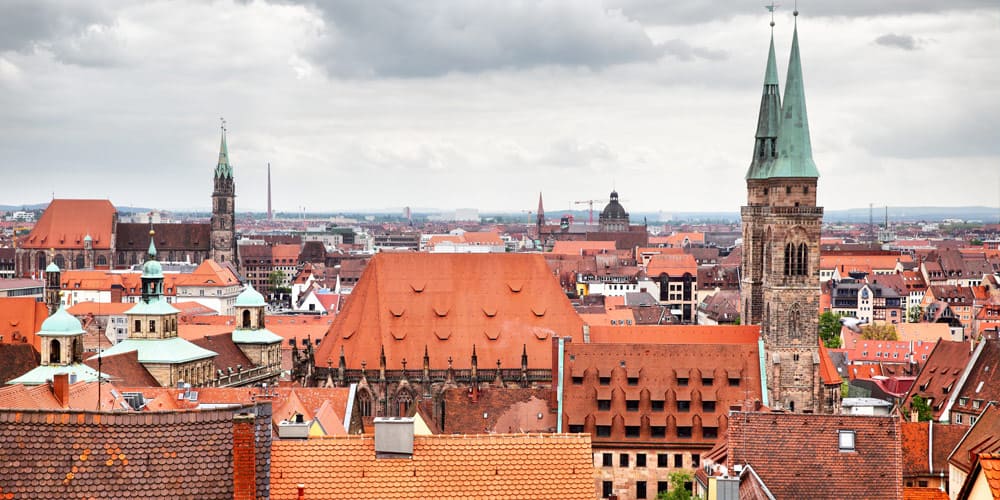 Nuremberg may be known as the Nazi rallying grounds but it's actually an amazing charming town to visit. It's full of half-timbered houses, gothic churches, medieval city walls and a most-impressive imperial castle. It takes about an hour via the ICE train or just under two hours on the regional train. 
---
Other Random Practical Travel Tips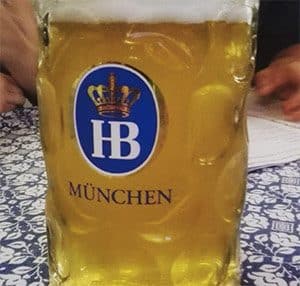 Group Travel Around Bavaria. There is a special train ticket called the Bayern ticket which gives you unlimited travel throughout Bavaria for groups of 2-5 people. It costs €23.00 for 1 passenger* + €5 for each additional (up to 5 people total). It's only good for regional trains but it's a great deal for groups.
Explore by Bike. Munich is a bike-friendly city so it's an excellent way to travel around the city. The city has a bike rental program or you can rent one from one of the many rental shops.
Oktoberfest. Visiting during Oktoberfest can be a lot of fun but it can also a headache. Hostels and hotels get booked well over 6+ months in advance and the prices are raised considerably.
---
More Resources To Help You Plan Your Budget Munich Visit
I'm still a fan of ol' fashion guidebooks as they give you a quick, easy and curated way to research your destination. If nothing else, head to the library or bookstore and spend an hour or so thumbing though a guidebook — it's worth it. We've also listed a few websites/blogs that will help with your planning.
---
Packing Help + What To Wear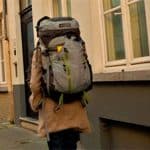 Packing your bag and knowing what clothes to bring shouldn't be a huge hassle. That's why we created our packing guides:
No Funny Business
The Savvy Backpacker is reader-supported. That means when you buy product/services through links on the site, I may earn an affiliate commission — it doesn't cost you anything extra and it helps support the site.
Thanks For Reading! — James
Questions? Learn more about our Strict Advertising Policy and How To Support Us.