Ahh, Munich — the land of warm people, beautiful architecture, culture, museums, hearty food, and great beer. Unfortunately, Munich only has a few hostels so it's not the land of reasonably priced accommodation. Just like any city, Munich's hostels range from junky to great and that's why we've compiled a list of what we consider to be the best hostels in Munich.
Average Munich Hostel Prices
A bed in a highly-rated hostel will cost anywhere from about €23-€45/night with an average of around €32/night. The cheapest hostel you'll find will cost around €18/night but the quality most likely won't be great. 
NOTE: These are "high-season" prices for the cheapest bed option — off-season prices will likely be 20% cheaper. Also, prices are often more expensive on Friday and Saturday nights than on weeknights.
Check Hostelworld to get exact prices for your dates.
Helpful Munich Hostel Facts
Cheap Beds & Good Hostels Go Early: Hostel prices are fairly standardized in Munich but the quality can vary quite a bit. The best and cheapest hostels are booked quickly — especially in the summer.
Octoberfest Pricing: Hostels dramatically raise their prices during Octoberfest — often doubling the summer rates. They also sell out quickly.
Weekend Pricing: Hostels commonly raise prices on the weekends.
Check Location: Most hostels in Munich are centrally located but there are a few located outside the city. Munich does have a nice public transportation system so getting around is easy.
Bed Configuration: Most hostels have multiple bed configurations and that affects the price. For example, a hostel could have one room with 8 beds and another with 4 beds. In general, rooms with more beds are cheaper but you also have to deal with more people in your room.
Private Rooms: Private rooms in hostels can be expensive but they can make sense for groups, families, and couples.
Weekend Rates: Expect to pay an extra on Friday and Saturday nights.
Check-In Times and Cleaning Times: Many hostels have late check-in times (around 2 pm-4 pm) but nearly all will let you store your bags if you arrive before check-in.
New To Hostels? Check out our Hostels 101 Guide to learn everything you need to know about finding the perfect hostel.
---
The Best Munich Hostels: Our Top Picks
We've stayed in so many hostels that we've lost count — so we know all the little things that separate good hostels from great hostels. Below you'll see what kinds of things we look at when we rank hostels.
Overall Quality: We take a holistic look at the hostel to see the positives and negatives. Our goal is to find amazing hostels that are still affordable.
Location: Most hostels we list will be centrally located or at least close to public transportation.
Price: We try to filter out the super expensive hostels to help find the best price to quality ratio.
Vibe/Atmosphere: Every hostel has a personality. Some are party hostels and some are quiet. We try to note the atmosphere so you can find a place to stay that matches your travel style.
Past Guest Reviews: Every guest has a different experience so we look at the good and the bad. We suggest you take a few minutes to read prior reviews.
We encourage you to check out Hostelworld to do a bit of searching for yourself.
Wombats City Hostel Munich
Wombats City Hostel Munich is the most popular and probably the best hostel in Munich. First, it's part of the Wombats family of hostels so you can count on it being clean, modern, and a solid value. This hostel is across the street from the train station so it's in a great central location.
Wombats City has a super social vibe thanks to its fun bar, common areas, and free walking tour. So we'd consider this a nice option for solo travelers or if you want a lively atmosphere.
That said, some people can get a little rowdy at the bar so it could be a little loud at night. The hostel does have a kitchen but no free breakfast (they do have a pretty nice €6 breakfast).
---
Euro Youth Hostel
Euro Youth Hostel is another excellent hostel that's located near the train station. The staff is super friendly and always willing to help — they also keep the place very clean. This hostel has charm, a great bar (with €2.50 beers during happy hour from 4:30 pm to 8:30 pm).
The hostel does have a good social vibe (thanks to the bar and the common areas) so it's a nice hostel for solo travelers or if you're looking to meet people. There isn't a kitchen so that's a bit of a bummer.
---
Jaeger's Munich Hostel
Jaeger's Munich is another popular hostel that's in a nice location near the train station and a lively atmosphere. They have a bar with €2.50 draft beer from 5 pm-8 pm so it's a fairly social hostel.
Some people complain about the bathrooms in the large dorm rooms — they even have a 40-person dorm so don't expect a lot of sleep if you stay there. There isn't a self-catering kitchen and breakfast costs €5.
---
MEININGER Munich City Center Hostel
MEININGER Munich City Center is a large hostel that has a bit of a hotel vibe. Its large size can make it a little difficult to meet other travelers but there is a bar so that helps a bit.
Overall, this isn't a place to meet travelers but it's a nice place if you want a clean and peaceful place to sleep. The hostel also has lots of nice showers, which can be rare for hostels. There is a self-catering kitchen and the all-you-can-eat breakfast buffet breakfast is €8.
The location is a bit outside the center of town so it's about a 20-minute walk into the center or a 5-minute walk to the train.
---
MEININGER Munich Olympiapark Hostel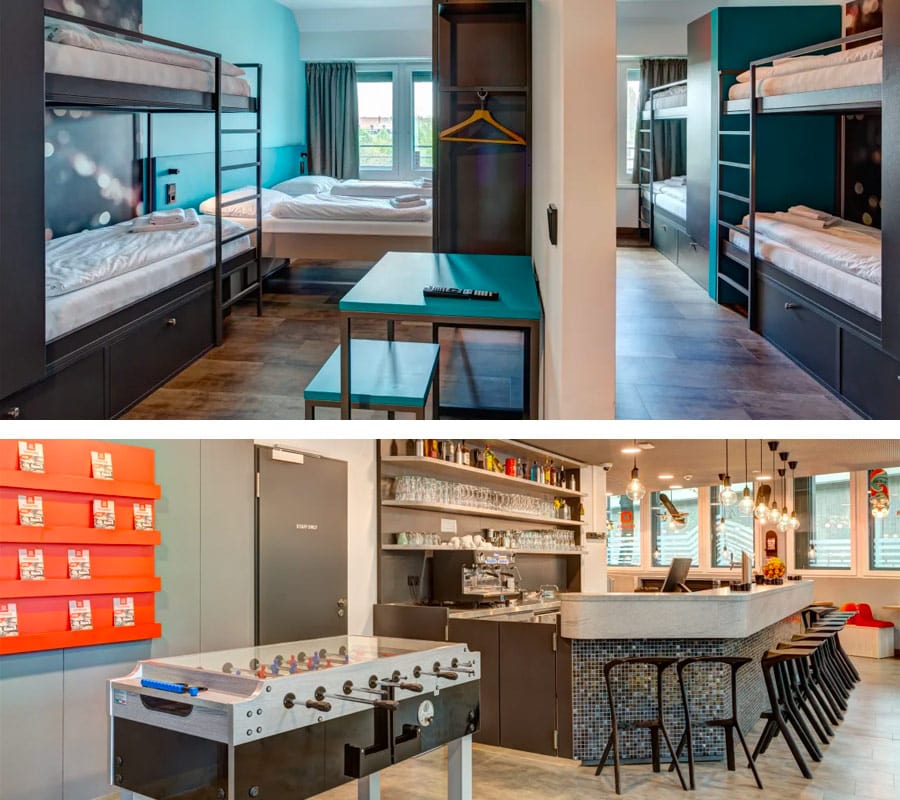 MEININGER Munich Olympiapark is a new MEININGER property in Munich that's located about a 10-min train ride outside the city center — which means cheaper prices but less convenience. Like all MEININGER properties, this hostel is clean, modern, spacious, has comfortable mattresses, and has a bit of a boutique hotel vibe.
It's also a large hostel with 172 rooms with a total of 820 beds so some guests comment that it doesn't have that traditional "cozy and social" hostel vibe. There is a bar and a small self-catering kitchen so that does help boost the social vibe.
---
Augustin Hostel
Augustin is a brand new hostel that truly has an upscale hotel vibe. It is clean, it has modern furnishing, the beds are nice, the rooms are spacious, and the place just looks cool. They don't have a self-catering kitchen but they do offer a solid free breakfast.
It's about a 10-minute train or a 25-minute walk to the center of Munich. It's not a super social hostel (it kind of feels like a hotel) but it's an excellent pick if you're looking for a clean and comfortable place to stay.
---
The Tent Munich Hostel
The Tent Munich is actually a giant 100-bed tent that's been around since 1972. It's a bit of a unique atmosphere and it's cheap. A foam mat on the floor with a blanket starts at €9 and a bed in the bed tent starts at €12.50.
This certainly isn't for everyone it's great for all you cheapskates who don't mind sleeping in a tent that's also fairly far outside Munich.
---
MORE HELPFUL Budget-TRAVEL ADVICE
Here are some helpful links to articles that we think you'll find interesting if you're staying in hostels and traveling around Europe on a budget.