Ask anyone who has visited Prague and they'll tell you it's one of the most beautiful cities in the world — you'll love meandering through the narrow, winding streets of this capital of Bohemia. Basically, it's like you've stepped inside a fairytale world. It's steeped in history, the beer is amazing, the architecture is world class, and the prices are fairly affordable. But you'll want to visit soon because prices have been slowly creeping up as more and more as people discover this amazing ancient city. It's also one of Europe's top nightlife destinations thanks to its thriving nightclub scene and large student population.
[We've also written travel guides for Amsterdam, Barcelona, Berlin, London, Paris, Rome and multiple other cities.]
---
What You'll Find In This Prague Travel Guide:
How Much To Budget To Visit Prague
How Long To Visit Prague
The Good And Not-So-Good Things About Prague
Prague's Must-See Sights and Attractions
Cheap Eats and Drinks
Best Prague Hostels
Prague Nightlife
More Resources To Help You Plan Your Visit On A Budget
Public Transportation
And More
---
How Much To Budget To Visit Prague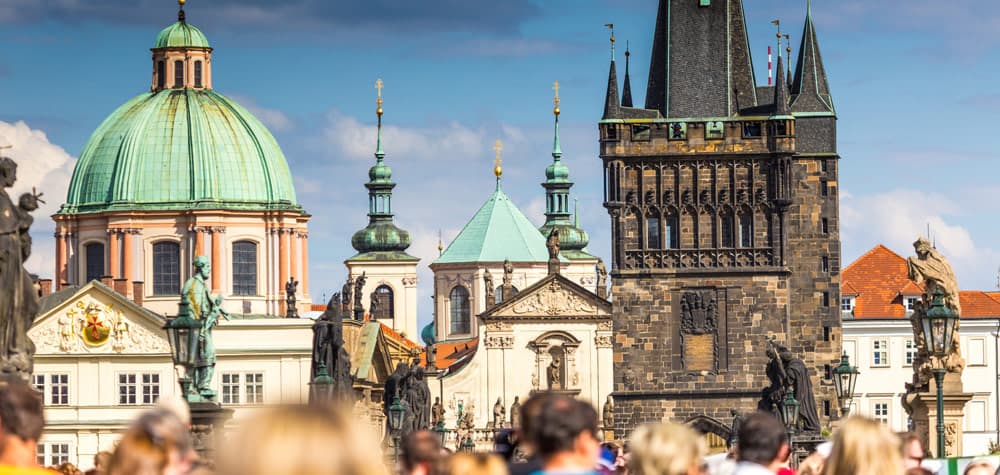 Prague is a great city and its prices make it even better. Ok, everything was a lot cheaper a few years ago but it's still much more affordable than a lot of other major cities in Europe. But don't worry, you can still find amazing super cheap beer!
We recommend budgeting $25-$50/day if you're on a backpacker's budget — you can easily spend more and you might be able to spend less, but this is a good range for planning purposes. You can view our Prague Daily Price Guide for more in-depth cost details.
---
How Long To Visit Prague: 2-4 Days
Short on time? You can see all the highlights of Prague in two full days but three or four days will allow you to have a better experience. There are a few nice day trips from Prague, notably Cesky Krumlov, so add a day or two if you that sounds interesting to you.
---
When To Visit Prague + Weather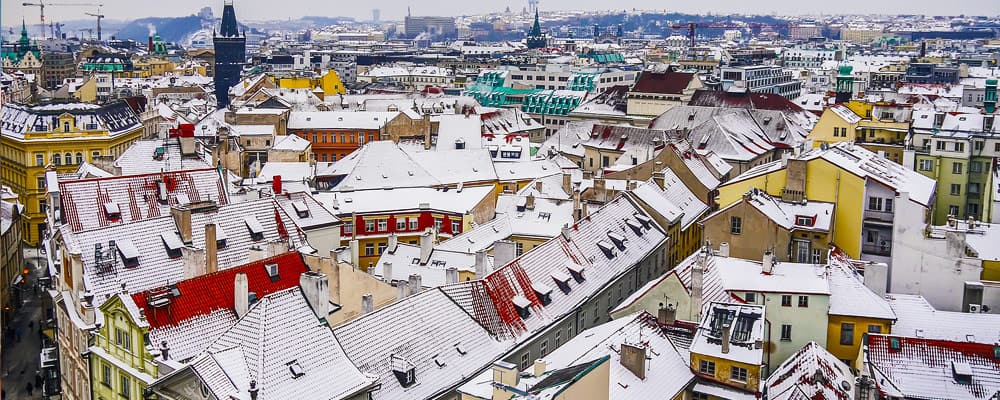 While Prague can get hot in the summer, average temperatures usually hover around the mid-70s from about mid-May through September. The crowds are at their peak from mid-June to August — so May and September are both good months to visit.
Prague's winters are generally cold so expect highs around 35°F and lows around 25°F in December. However, Christmas is a great time to visit because the city transforms into a holiday wonderland.
---
The Good And Not-So-Good Things About Prague: A Quick Overview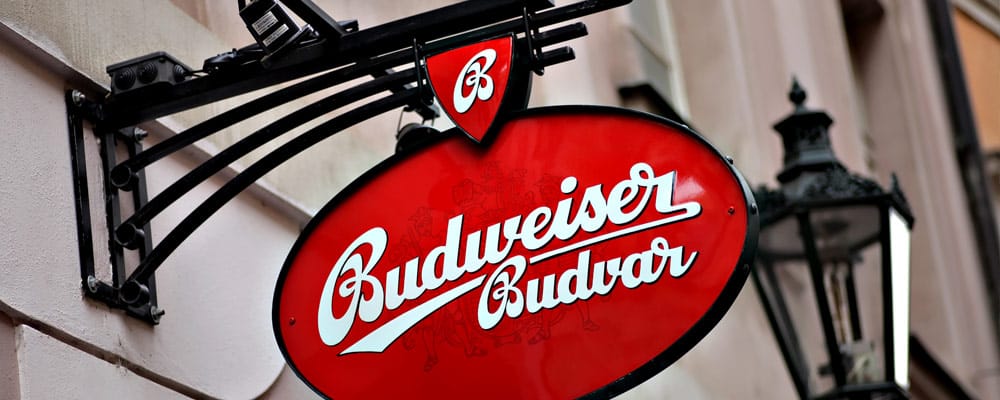 Prague is a favorite destination for a reason, but even this city has positives and negatives that we wanted to share before you visit.
The Good
Architecture. Simply walking around Prague is a joy thanks to its breathtaking architecture. It was one of the few cities untouched by WWII's bombings so everything is hundreds of years old.
St. Charles Bridge. St. Charles Bridge is arguably one of the most beautiful bridges in the world. We recommend visiting at sunset.
Beer. The world-famous pilsner beer was invented in the Czech Republic so treat yo self to a few pints. In fact, the Czech people drink the most beer per person in the world so the beer has to be good.
Food. While it may not be exactly healthy, Czech food is hardy and delicious (i.e. lots of meat and potatoes).
Nightlife. If you're looking for a party then you've come to the right place.
The Not-So-Good
Loads of Tourists. Prague is amazing so it's no surprise that people come from every corner of the earth to visit. The city center is always full of tourists — along with the expensive/low-quality restaurants and pickpockets and beggars. That said, this shouldn't deter you from visiting.
Not "Eastern Europe" Cheap. Prices in Prague are rising so don't expect things to be as cheap as places like Budapest or Krakow. Luckily, prices aren't quite at Western European levels so you can still find cheap meals, beer, and hostels.
Pickpockets and Taxi Scams. Lots of tourists mean there are probably lots of pickpockets. Also, Prague is known for its crooked taxi drivers so make sure you only use legit taxis. We recommend having a hotel call you a taxi and make sure they use the meter — although, some even have meters that still overcharge.
---
Prague's Must-See Sights And Attractions
Prague is beautiful. Seriously. Just go walk around without a plan and you're guaranteed to have a great time (Tip: walk around Prague at night as all the buildings are beautifully illuminated and there are a lot fewer tourists). Furthermore, Prague is a fairly compact city so you'll easily come across many of the cities top sights without much effort. We've listed a few of the best sights and attractions that you should definitely seek out.
OLD TOWN
Charles Bridge
Charles Bridge was built in 1357 and it may be the most beautiful bridge in the world. It's a must-visit — actually, it's the only way to cross the river from the Castle District and the Old Town so you literally can't miss it. We recommend visiting during sunset.
Old Town Square
The Old Town Square is a historic square in Prague's Old Town (duh). This gorgeous square is where you'll find a handful of Prague's most famous sights — including Astronomical Clock Tower, Old Town Hall and Church of Our Lady before Týn. There are also a number of cafes and restaurants, but the entire square is touristy so everything is expensive.
Church of Our Lady before Týn
You can't miss this church's two enormous Gothic spires that tower above the Old Town Square (as seen in the image above). Admission is free.
Astronomical Clock Tower and Old Town Hall
The 600-years-old astronomical clock is an impressive timepiece that draws thousands of gawking tourists each day — along with pickpockets. It's a fun thing to check out once and then cross off your list.
Museum of Medieval Art
Fans of Gothic art will love the Museum of Medieval Art. Visit Website
NEW TOWN
Wenceslas Square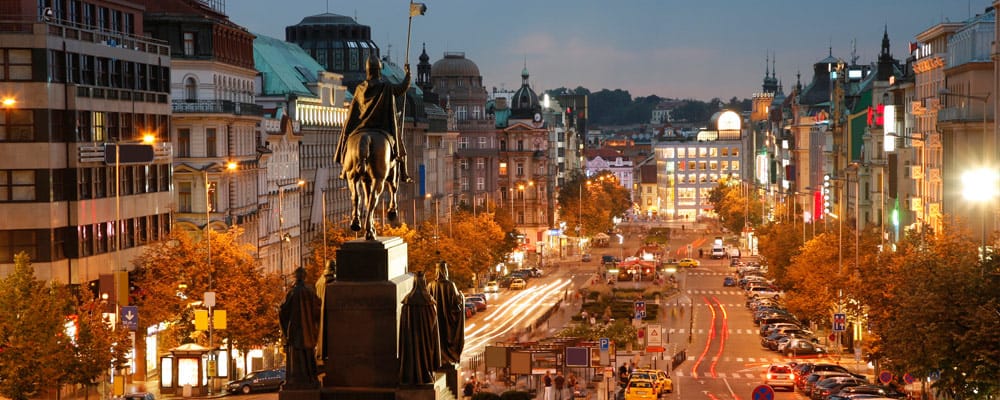 This beautiful and boulevard was once a horse market but it's now a lovely shopping area. Don't forget to check out the large statue of St. Wenceslas.
Municipal House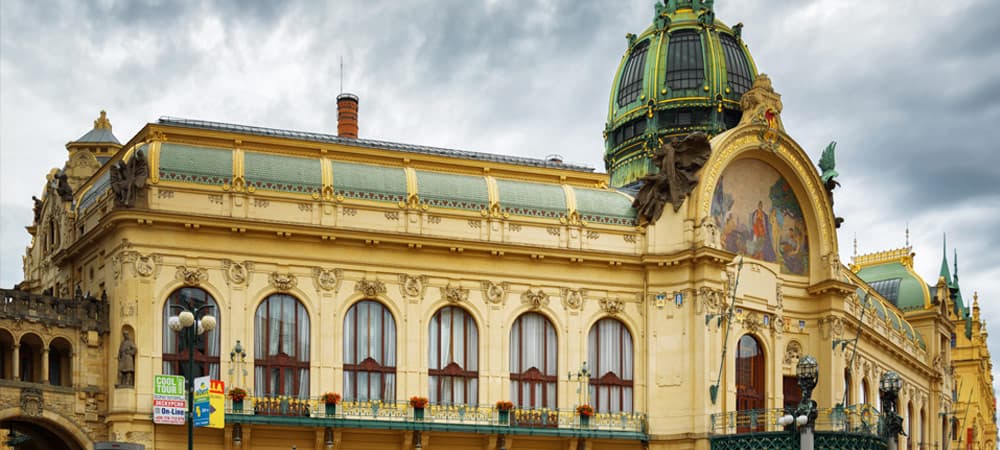 Recently restored, the Municipal House is an art nouveau masterpiece. You can admire it from the outside or you can take a guided tour of the inside for around $10. Visit Website.
Mucha Museum
Famous Art Nouveau artist Alfons Mucha is best known for creating fin-de-siècle Paris posters of French actress Sarah Bernhardt. Visit Website.
CASTLE District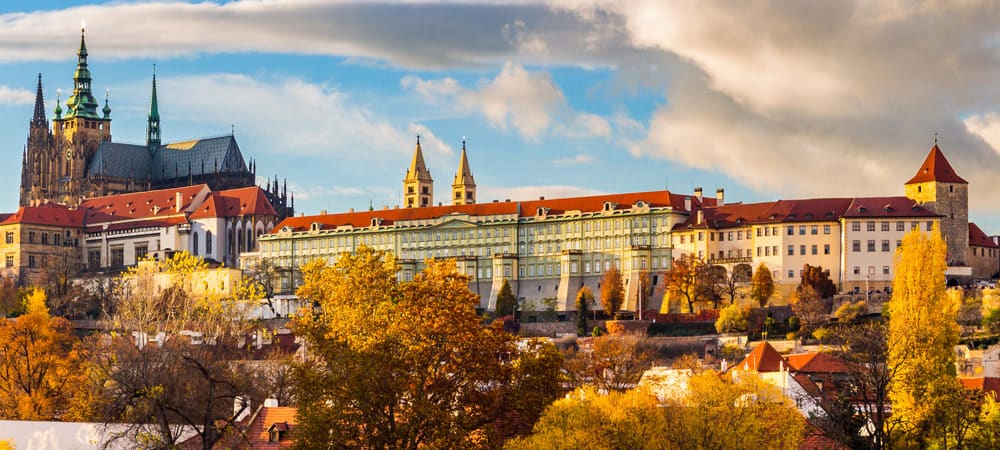 Prague Castle
Prague castle is a nearly 70,000 sq. m complex which dominates Prague's skyline — it's the biggest ancient castle in the world. Prague Castle includes Old Royal Palace, Vitus Cathedral, Basilica of St. George, and a number of other beautiful buildings. This is a must-visit site. Tickets cost 350 Kč (around $14). Visit Website.
St. Vitus Cathedral
Located within the Prague Castle complex, St. Vitus Cathedral is an architectural masterpiece that took over 600 years to finish. Admission is free with the cost of the Prague Castle ticket but you can pay a little more to visit special parts of the cathedral. Visit Website.
Lobkowicz Palace
Lobkowicz Palace is on the grounds of Prague Castle but it's a privately owned by the Lobkowicz family so it costs extra to visit (275 CZK /$11). It includes the Lobkowicz Collections and Museum (oldest and largest privately owned art collection in the Czech Rep.), the Lobkowicz Palace Café, and Midday Classic Concerts. Visit Website.
Jewish Quarter (Josefov)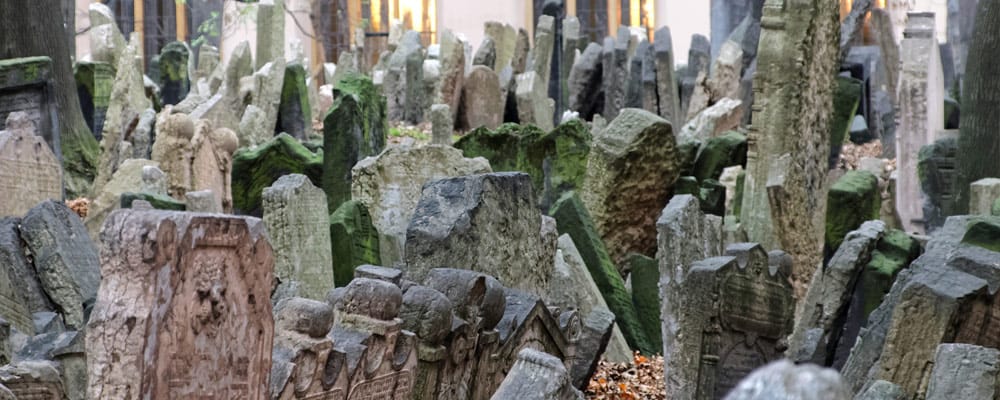 Old Jewish Cemetery
The Old Jewish Cemetary is the largest Jewish cemetery in Europe and it's shark-toothed gravestones date from the 15th century till 1786. Visit Website.
Old-New Synagogue
Old-New Synagogue is not only the oldest synagogue in Europe, it's also the oldest working synagogue outside Israel. Visit Website.
Outside The City
Vyšehrad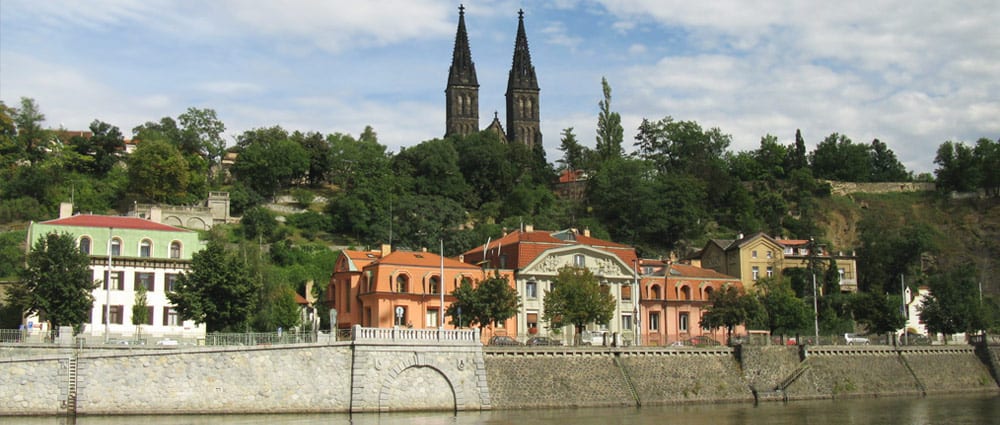 Perched on the hills outside of Prague, Vyšehrad was the royal residence of the Czech kings until 1140 (its mainly ruins now) but it has some of the best views of the city. As an added bonus, this area is one of the few parts of Prague that isn't overrun with tourists.
Take a (Free) Walking Tour
I love walking tours and bike tours. They're a great way to explore and learn more about the city you're visiting. I like to take one on my first day in a new city as I find it's an excellent way to get my bearings and it gives me an idea of where I want to revisit.
The free walking tours are great for overviews. However, you'll have to pay if you want a better quality guide or more specialized information (food tours, etc.).
Below is a list of the free walking tours:
If you're looking for a paid tour we recommend checking out Trip Advisor to find reviews.
---
Cheap Eats And Drinks in Prague
P
rague has a large student population so there are a lot of cheap restaurants for hungry and broke students. The excellent Prague food blog Taste of Prague has an excellent post about cheap restaurants in Prague. In fact, Taste of Prague is my go-to resource for all things food and drink in Prague.
Tip: Nearly every restaurant in Prague (that isn't an obvious tourist trap) will have a discounted lunch menu between 11 AM and 2 PM on weekdays. However, the menu will always be in Czech and the waitstaff may be hesitant to give you the menu. Ask for "denni menu, prosim."
Check out the beer gardens during the nice weather. The Letna Park has great views of the city and Riegrovy Sady is a cool spot frequented by locals.
There are also multiple bars in Prague and many cater to the broke student crowd. Expect to pay $1-$2 for a half-liter glass off beer in a locals/student pub. Here are a few great resources to help you get your drink on: 15 Cheap Drinks in Prague, 10 Bars for Backpackers, and Best Cocktail Bars in Prague. Into craft beer? Check out this site.
Online Resources and Food Bloggers:
---
Prague Nightlife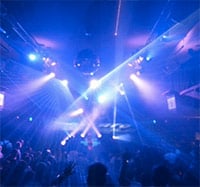 As we've mentioned previously, Prague has a world-class nightlife scene so it attracts a lot of students and partiers. That's because Prague has it all — tons of pubs, dive bars, incredible nightclubs, beer gardens, and everything in between. You can also find reasonably priced alcohol so paying under $2 for a beer is completely possible. The Hungry Partier chronologies his favorite nightlife scenes so check out his guide to Prague nightlife. In Your Pocket: Prague also has a decent guide for Prague's nightlife.
---
Prague Hostels and Accommodation
Prague has a large number of hostels and many of them are quite good. You should budget around $9-$25/night per person for a decent hostel — although many hostels raise their prices on the weekend or during holidays. Remember, these prices are for bed in a shared dorm room. If you want a private room expect to pay $40-$70.
Note: Some hostels are known for being "party" hostels — especially in Prague — so be sure to read the reviews before you book.
I've always used Hostel World to book our hostels so you'll want to poke around there to find the perfect hostel. Here are a few of the best-rated hostels:
---
Traveling Around Prague
Prague is a very walkable city so there is a good chance you'll only use public transportation a handful of times.
Prague has a very good network of trams, buses, and subways. They're all affordable but be sure to always validate your ticket because plainclothes police do check riders' tickets often. All forms of public transport use the same ticket.
30-minute ticket: $1
90-minute ticket: $1.35
24-hour pass: $4.65
3-day pass (72 hours): $13.20
Ticket (via Bus + Subway) Between Airport and City: $2.76
Taxi to Airport: $22+
---
Prague Day Trips
While Prague is easily the most popular destination for visitors of the Czech Republic, there are still a few nice day trips and other nearby cities that you may consider checking out.
Cesky Krumlov
Cesky Krumlov is a medieval castle town that is often called a pocket-sized Prague — but it doesn't share the same "touristy" feel as Prague. It's a great place to spend a day and there is enough to see if you want to stay overnight. It's about a 3-hour direct bus ride (less than $10 via Student Agency Bus) or a 2.5-3.5 hour train ride.
Kutna Hora
This medieval town is located 50 miles east of Prague and is most famous for Sedlec Ossuary —aka the Bone Church that contains the bones of over 70,000 people.
Olomouc
While Prague and Cesky Krumlov get all the tourism love, Olomouc is actually one of those hidden gems that have next to no tourists. It's also home to Czech Republic's second largest university so there are a ton of students and prices are cheap. It's not a bad place to spend a day.
Karlovy Vary
This picturesque spa town is most known for its six-century-old spas and colorful architecture.
---
Other Random Practical Travel Tips
Jaywalking is illegal in Prague and a fine will cost around $40.
There are no ticket takers on public transportation but there are uninformed or plain-clothed ticket inspectors that ride around and check tickets. The fine is around $30. If you do get approached, ask to see the inspector's badge because there are fake inspectors.
Try to avoid getting a taxi on the street — call ahead or use a taxi app like Uber or Lift Go since you'll always get a fair price and you don't have to deal with cash. If this isn't an option, try to have your hotel call you a taxi and insist on making them turn the meter on. But honestly, if you don't speak Czech then there is a 50% you'll get ripped off.
Looking for touristy souvenirs? Avoid the road that connects Charles Bridge and Old Town Square. Venture a street or two away and you'll find the same stuff for half the price.
Wenceslas Square turns seedy after night as it is full of strip clubs, prostitutes, and pimps. It's not unsafe but it does make some people feel uncomfortable.
Prague is known for opera so we suggest taking in a show. Czech Philharmonic Orchestra, National Theatre, and State Opera are three great options.
---
More Resources To Help You Plan Your Visit On A Budget
I'm still a fan of ol' fashion guidebooks as it gives you a quick and easy way to research your destination. If nothing else, head to the library or bookstore and spend an hour or so thumbing through a guidebook — it's worth it. We've also listed a few websites/blogs that will help with your planning.
---
Packing Help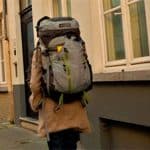 Need some packing help? Check out these helpful articles that we wrote for tips and advice for packing for your trip.
No Funny Business
The Savvy Backpacker is reader-supported. That means when you buy product/services through links on the site, I may earn an affiliate commission — it doesn't cost you anything extra and it helps support the site.
Thanks For Reading! — James
Questions? Learn more about our Strict Advertising Policy and How To Support Us.