Rome is one of Europe's true heavy hitters so there is never any shortage of things to do in Rome. It truly has it all — ancient sights, world-class museums, amazing food, lots of shopping, beautiful ambiance, and much more.
In this guide, we've listed our top picks to help you narrow down what to do in Rome during your next visit.
Marvel At The Colosseum, Roman Forum, and Palatine Hill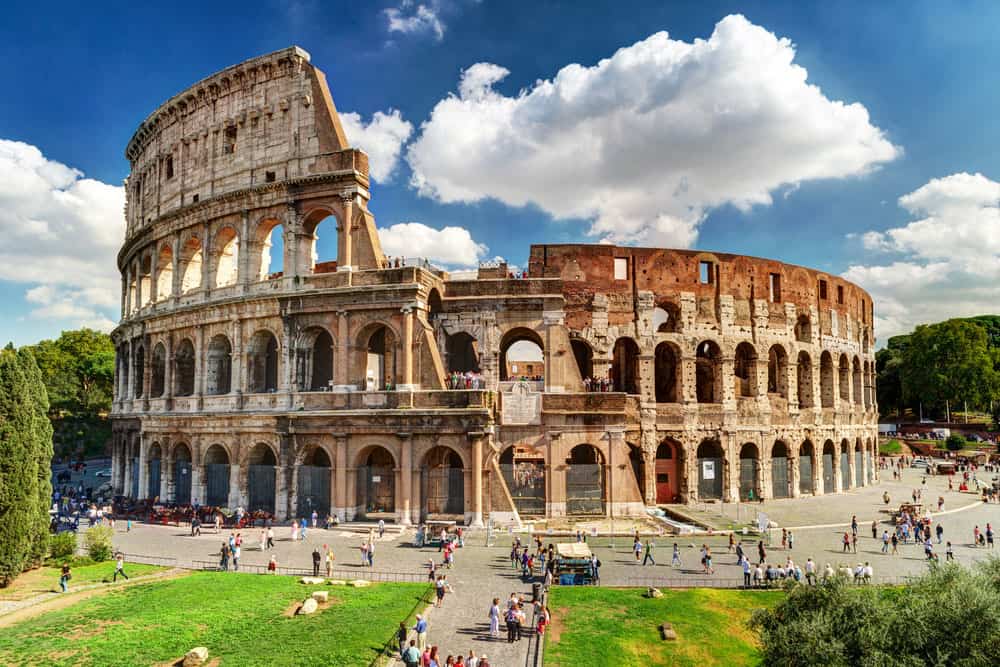 The Colosseum, Roman Forum, and Palatine Hill are three of the most iconic architectural achievements in all of mankind so everyone should see them at least once.
Each site is included in the standard €12 ticket — but you truly want to pre-book your ticket online as they do sell out often and the ticket lines get insane. Book from the official website — there are a million sketchy-looking sites trying to see you marked-up tickets so stick with the official site.
If possible, try visiting in the morning so you can beat the crowds and the mid-day sun (there is essentially no shaded areas).
St. Peter's Basilica and St. Peter's Square
St. Peter's Basilica is the largest church in the world and a world-class example of Renaissance architecture. Admission to St. Peter's is free but you can pay extra to skip the line or take a guided tour.
We also recommend visiting the dome for excellent views of Rome. Tickets are €8 for the stairs and €10 for the elevator.
And, of course, while you're there you should check out St. Peter's Square that's located in front of the basilica.
Local Tip: Visit St. Peter's in the morning as the lines are already crazy by 10 am and continue to be 1-2 hour long until mid-afternoon.
Start Your Day with An Espresso or Two
Rome runs on coffee so find yourself a nice espresso bar to kickstart your day. You can find solid espresso and other coffee drinks on just about every street but there are a few iconic espresso bars in Rome that we recommend seeking out.
Here are a few of our favorites:
Insider Tips: If you order a caffè you'll get an espresso. Cappuccinos are a very popular drink but they're only ordered during breakfast. Latte means "milk" so that's what you'll get if you order one. Most Italians drink their coffee at the bar since it's quicker and less expensive.
Save Time And Money With The Rome Sightseeing Pass
We're generally fans of the Rome Card and OMNIA Vatican Pass for a lot of travelers as it lets you skip the lines at most major attractions and it's great if you plan on seeing a lot during your visit. We've written an in-depth Rome Pass Review if you're interested in learning more.
Get Lost In The Trastevere Neighborhood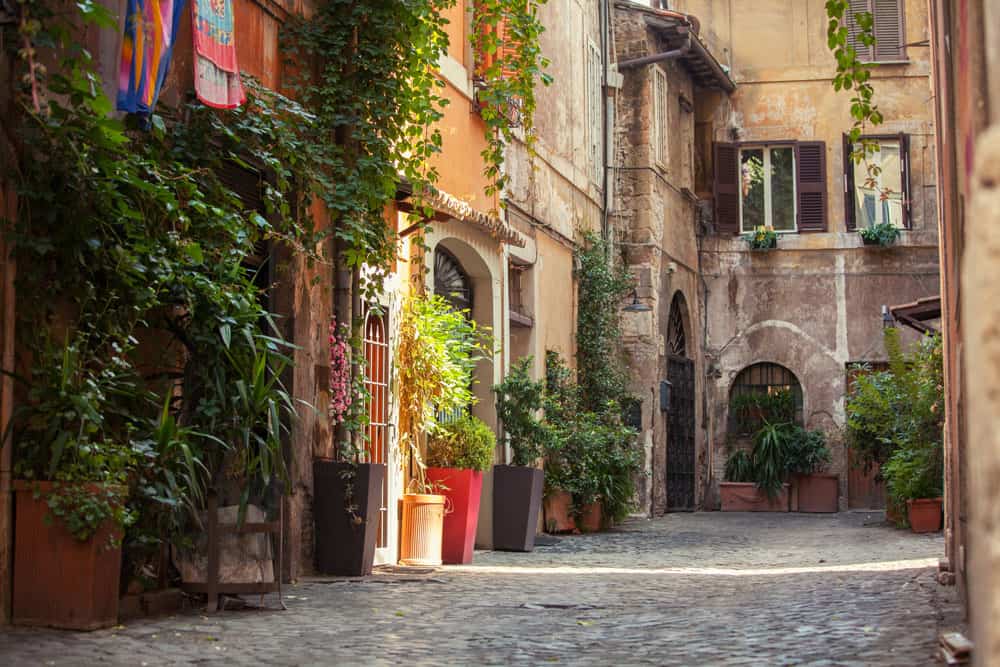 One of our favorite neighborhoods in Rome is the Trastevere — which translates to "across the Tiber" so it's unsurprisingly located across the river from the main part of Rome.
This was a working-class area for hundreds of years but it's now a bohemian neighborhood filled with great independent shops, bars, restaurants, sidewalk cafes, and loads of old-world charm. The medieval streets can get a little confusing so you'll get turned around… but that's part of the fun!
This is also a great neighborhood to stay in while visiting Rome and there are still plenty of locals here so you'll experience a nice slice of Roman life.
The Vatican Museum & The Sistine Chapel
The next thing on our list of things to do in Rome is visiting the Vatican Museum & The Sistine Chapel. The Vatican museum houses over 70,000 pieces of artwork that span multiple centuries. You then exit the museum through the always impressive Sistine Chapel — you'll want to spend a lot of time here as there are so many details contained in Michelangelo's Last Judgement fresco.
The basic ticket (which includes both attractions) is €17 but there is an extra €4 charge to book online. Book tickets from the Official Vatican Website.
Local Tip: The Vatican Museum gets very crowded because they pack in 30,000 visitors a day but it clearly can't hold that many people. There are a few 8:30 am early admission tickets available but those get snatched up quickly. Either way, pre-booking your ticket is highly suggested as it will at least let you skip the ticket line (which can sometimes be 1-2 hours long).

The crowds tend to calm down at the end of the day as most of the big groups visit in the morning.

And ignore the "tour guides" outside the Vatican — they're a rip-off.

You can also often get directly to St Peter's from the Sistine Chapel (and thus skipping the line) by being a little sneaky. There is a secret entrance that's technically reserved for group tours but it's rarely enforced.
Throw A Coin In The Trevi Fountain
Yes, the Trevi Fountain probably has more tourist per square inch than any other place in Rome but there is a reason people flock here. This impressive over-the-top baroque style fountain is simply beautiful. Be sure to visit at night as well to see it illuminated — plus the crowds tend to die down a bit after 8 pm or you can visit at like 7 am to essentially much have the fountain to yourself.
It's considered good luck to throw coins over your shoulder and into the fountain (which adds up to €3k/day and is donated to charity). Watch out for pickpockets.
Climb the Spanish Steps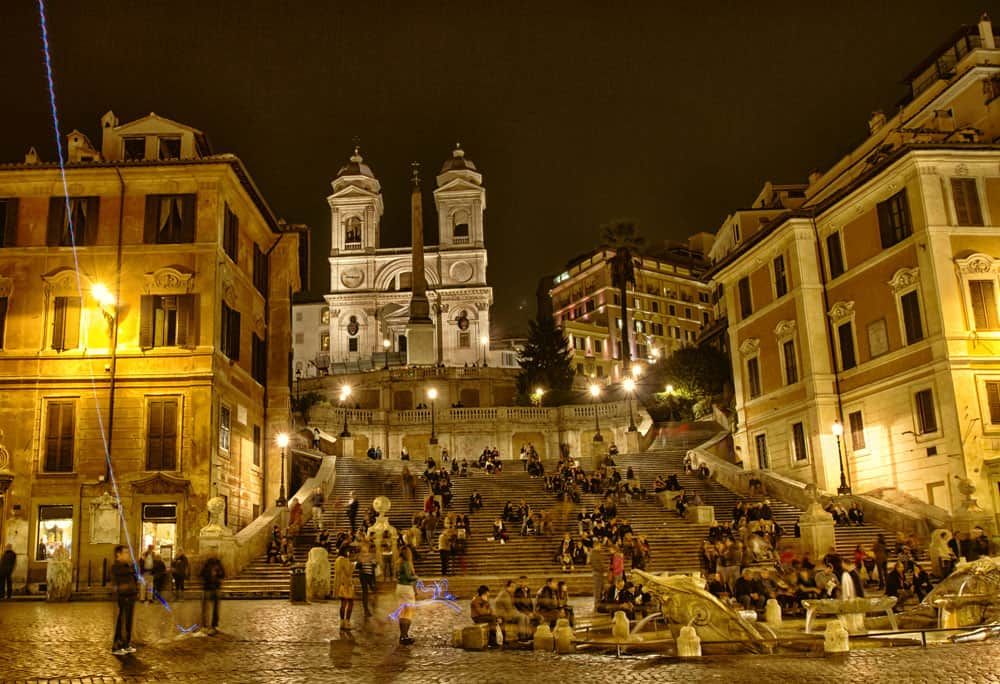 Make your way up all 135 of the Spanish Steps and be sure to stop for a bit to sit and relax. At the bottom of the steps, you'll find the beautiful and lively Piazza di Spagna. Watch out for pickpockets.
Yes, the Spanish Steps are a little overrated (and very overcrowded) but they're still worth a visit. The crowds disperse greatly in the evening so we recommend visiting then.
Fill Up on Gelato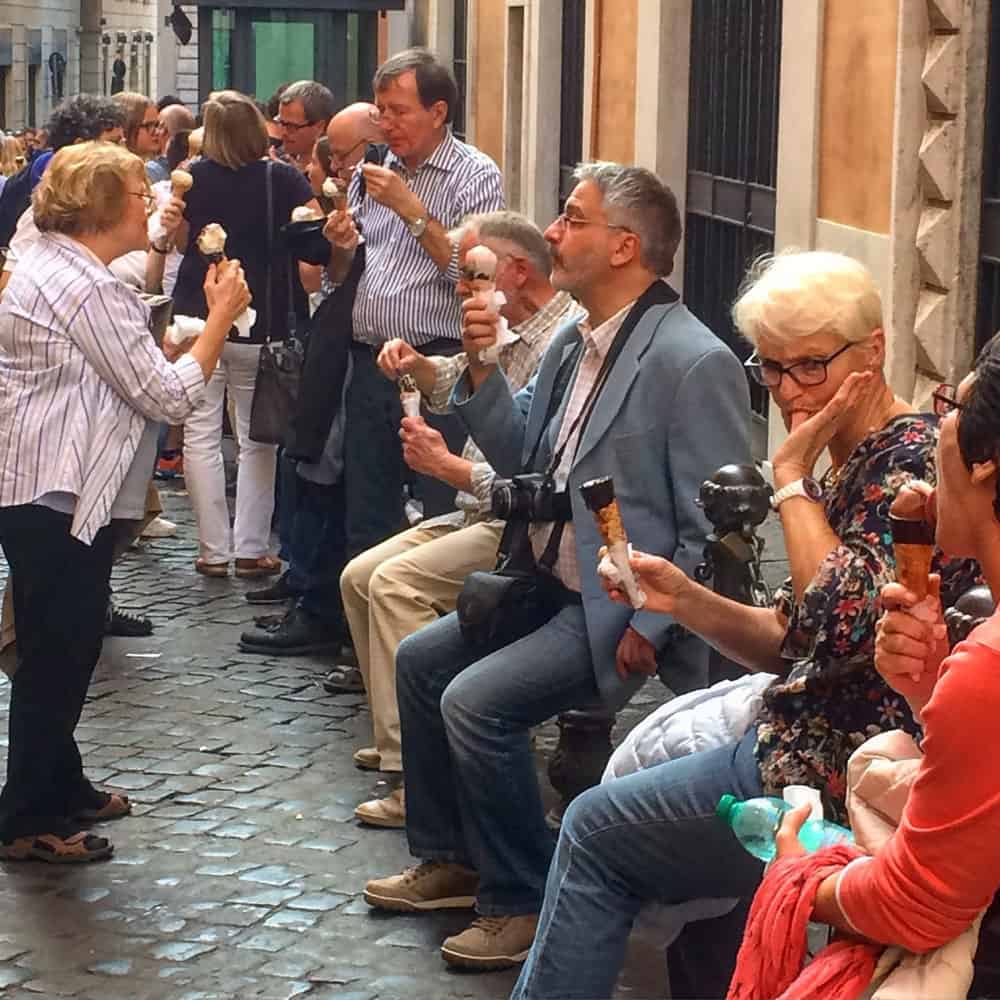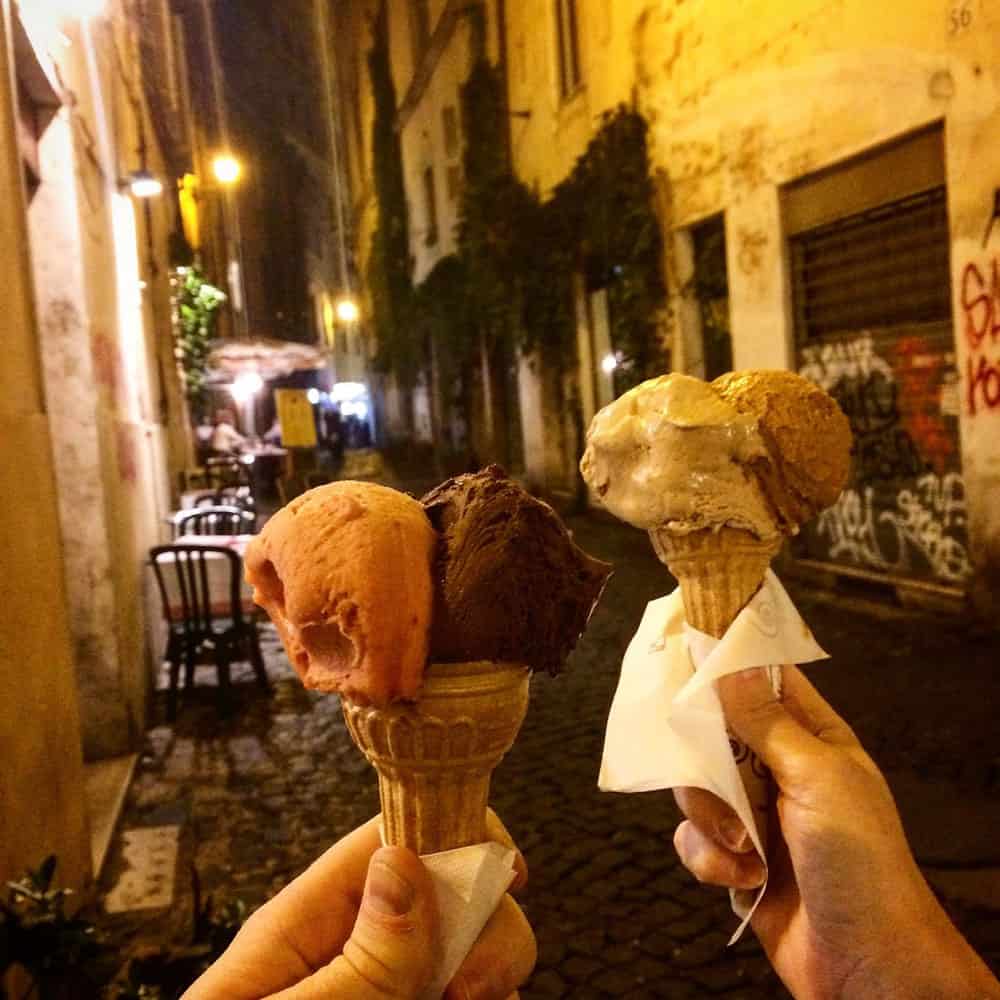 Rome is home to many excellent gelato shops but they also have about 3x as many substandard shops as well — so it pays to do some research to ensure you're not wasting your time & calories.
Here are a few of local approved gelato shops:
The Pantheon
Completed in 118 AD, the Pantheon is one of the most well-preserved Roman buildings in the world. In fact, it's often called the most architecturally perfect building in the world and it was home to the world's largest dome until modern times. The Pantheon is located in the very center of Rome and is surrounded by plenty of bars, restaurants, and city life.
The Pantheon is free to enter and Rick Steves offers a free self-guided audio tour of the Pantheon that we found worthwhile.
Fall In Love With The Centro Storico Neighborhood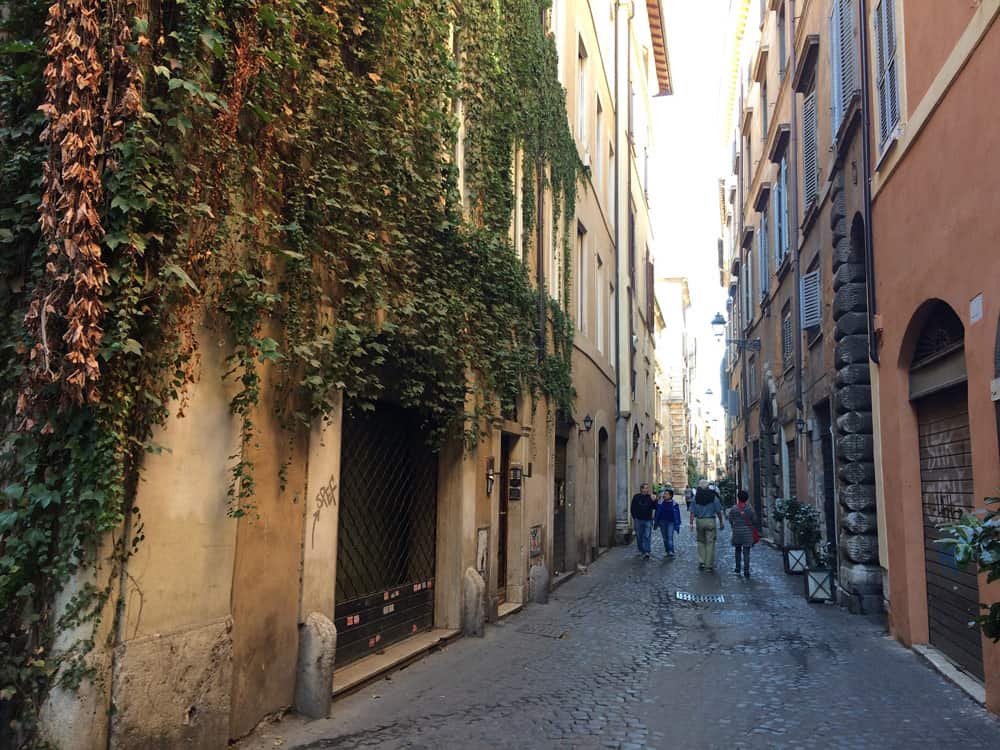 The Centro Storico (aka the city center) is essentially where you'll find most of the action in Rome. We highly suggest spending the day without any sort of plan other than simply strolling through its cobblestone streets and tasting gelato as often as possible.
Local Tip: There is a lot of bad gelato in Rome. The industrial junk usually comes in plastic tubs and the homemade gelato comes in metal containers — so pay attention.
Chill In The Piazza del Popolo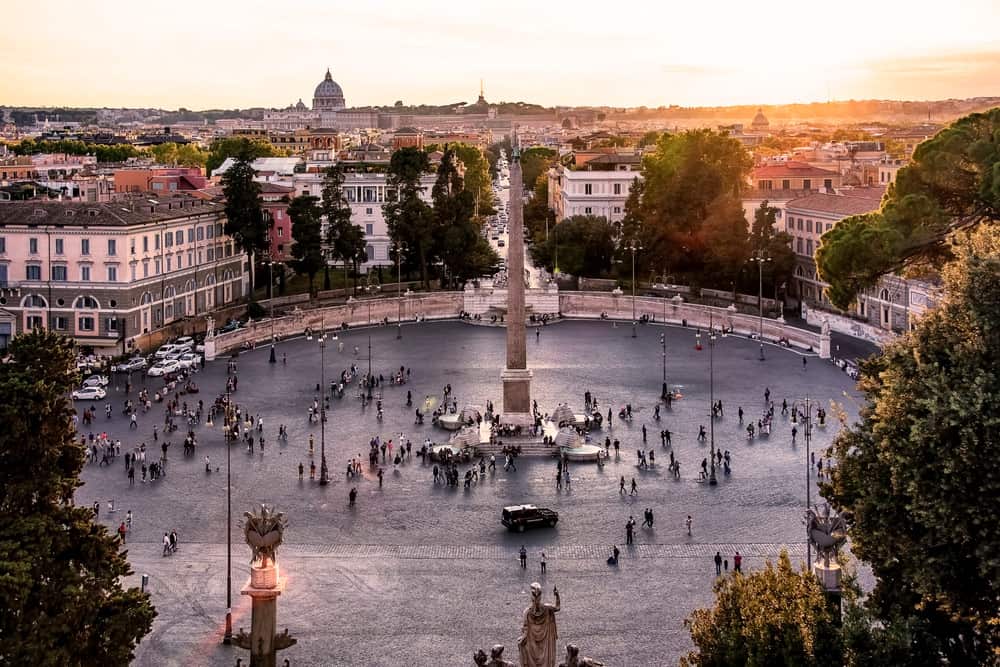 Known as the People's Square, the Piazza del Popolo is a massive city square in the center of Rome. In the center, you'll find an Egyptian monolith from 10BC. The square attracts quite a few people but it's so large that it rarely feels too crowded. It's also a great place for people watching.
Local Tip: Most of the restaurants in the area is overpriced and not very good.
Basilica di San Giovanni in Laterano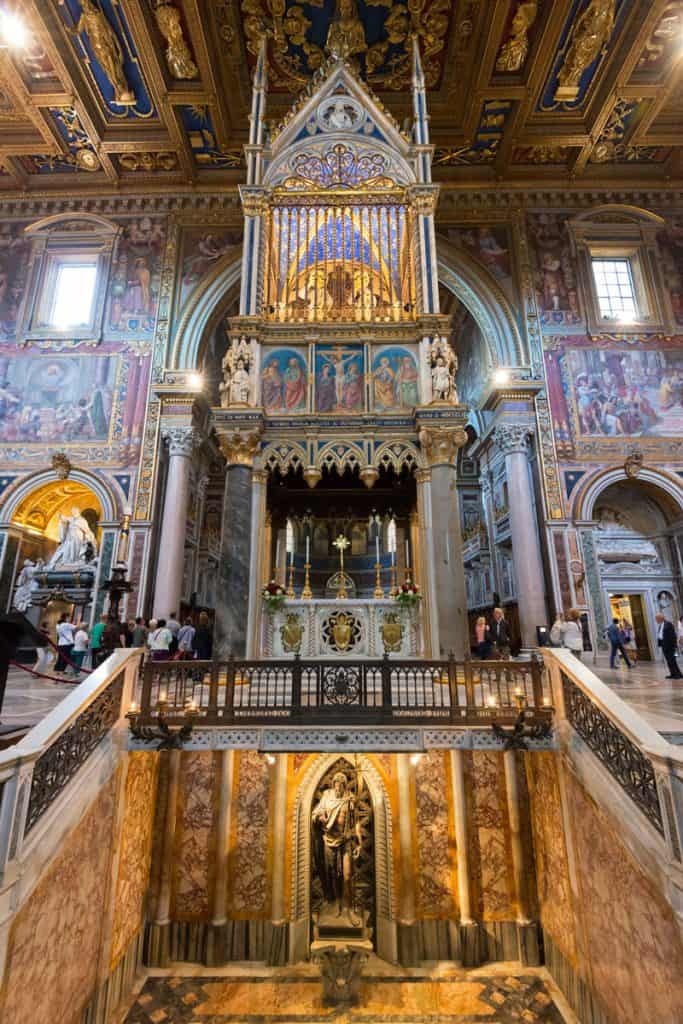 This is actually the Pope's official basilica but it isn't as famous as St. Peters — but it is nearly as lovely (and much less busy). Its decorations are incredibly opulent so you'll want to give yourself some time to admire the beautiful paintings and breathtaking statues of the apostles.
Take A Free Walking Tour
We always take a free walking tour when we visit a new city as it's an excellent and cheap way to get to know somewhere new. Below are a few free tours (the guides work on tips).
Piazza Navona and The Fontana dei Quattro Fiumi
One of the grandest, most beautiful, and most oval-shaped piazzas in Rome is the Piazza Navona. At the center of the piazza are two gorgeous fountains. The piazza is surrounding by touristy cafes and restaurants but the atmosphere is perfect for a drink so overpaying for a glass of wine isn't the worst use of money.
Eat Well In The Jewish Ghetto Neighborhood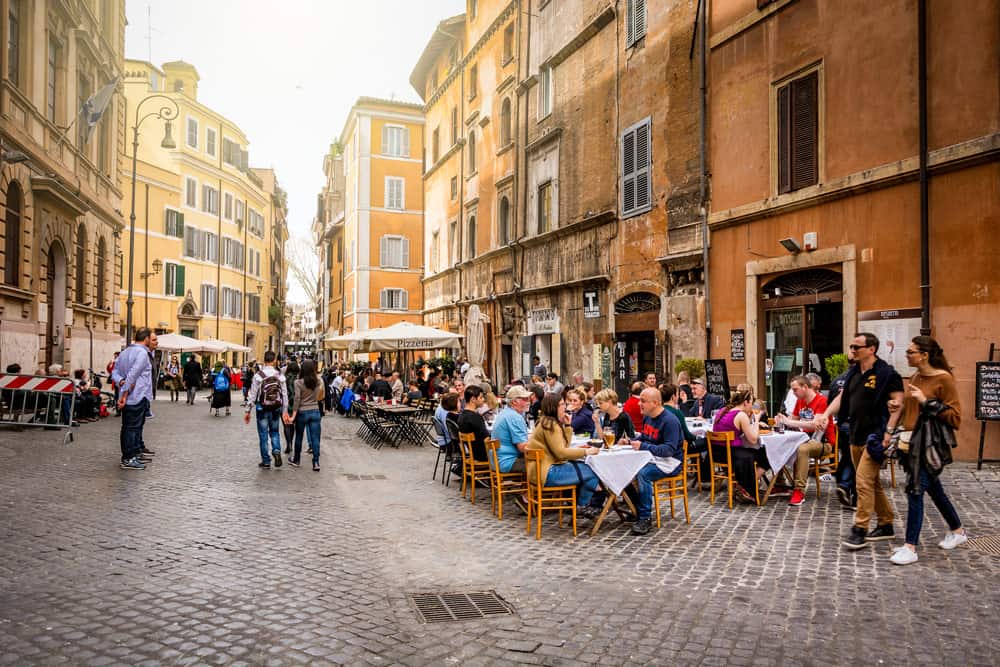 If you're looking for some solid Roman Jewish dishes head to the old Jewish Ghetto neighborhood as it's filled with excellent restaurants. Here's a nice article from Walks of Italy about the subject of Roman Jewish cuisine. Furthermore, the area is one of the most lovely parts of the city so you'll love strolling and taking in the ancient atmosphere.
Relax With an Aperitivo & Drink Classic Italian Cocktails
Aperitivo, which essentially translates to "happy hour" is an important social tradition in Italy so you should join in on the fun. In addition to having an excuse to partake in a few drinks, many bars around Rome also provide a free buffet of small snacks that accompany your drink. It's a great way to get a cheap meal if you're on a tight budget.
As far as drinks go, we recommend sampling a few local classics like an Aperol Spritz, Negroni, a local beer, or even some local wine.
Aperitivo Suggestions
Freni e Frizioni: A hip and vibrant bar that serves tasty cocktails & an excellent all you can eat buffet during aperitivo in the awesome Trastevere neighborhood. Aperitivo drinks cost around €8-10. See On Google Maps
Ai Tre Scalini: This old school wine bar has been open since 1895. Their happy hour starts around 7 pm and is quickly buzzing with hip locals. See On Google Maps
'Gusto: A solid Italian restaurant in the center of Rome that charges €10 for a drink and all you can eat buffet aperitivo. See On Google Maps
Galleria Borghese and Villa Borghese Gardens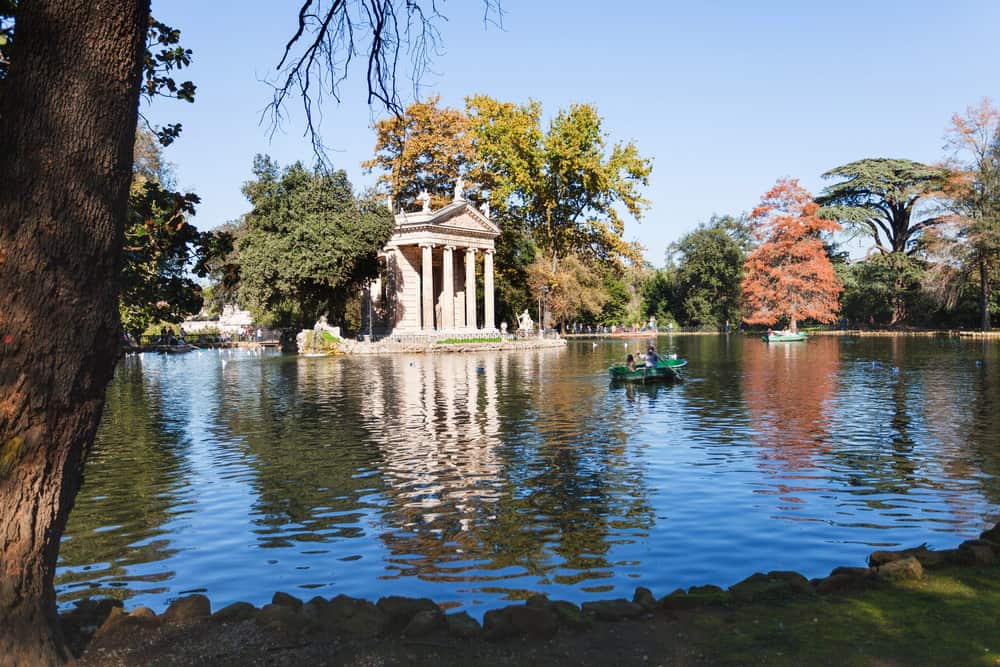 The Galleria Borghese, known for its Baroque art, is many people's favorite museum in Rome. And while the Vatican Museum packs people in like sardines, the Galleria Borghese puts a limit on visitors so that makes the experience much more enjoyable. The limited admission means tickets often sell out.
They also offer guided tours — we actually had to book a tour in Italian since all the English ones were booked and the tour was the only way to visit that day.
Be sure to also check out the beautiful 200 acres English-style Villa Borghese Gardens. It's the third-largest park in Rome and it's free to enter. You can even rent a rowboat for a few euros.
Castle Saint Angelo and Sant Angelo Bridge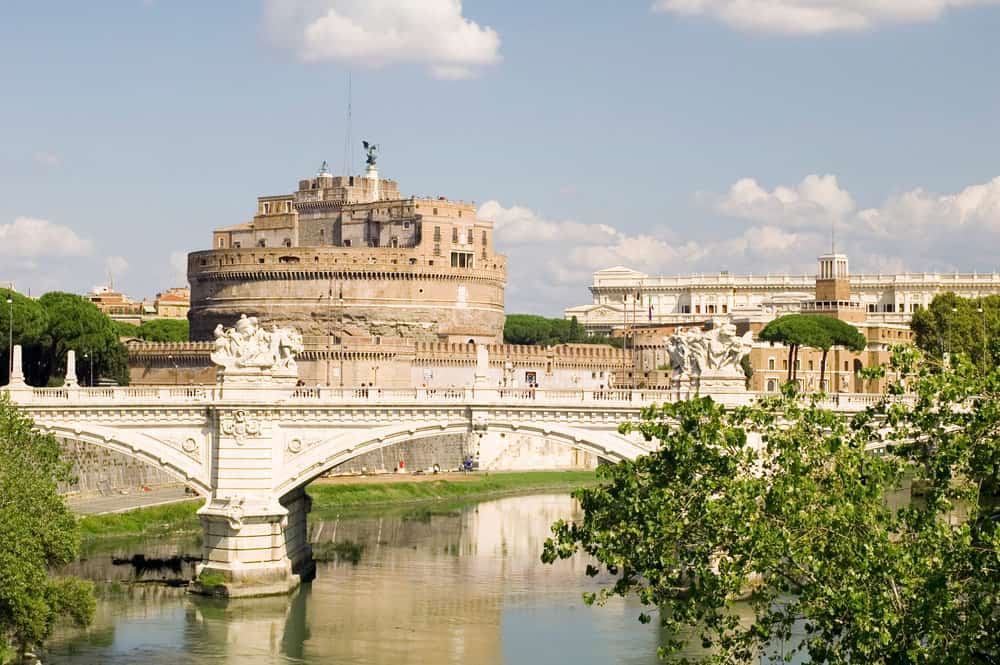 The Saint Angelo castle was originally built by the Roman Emperor Hadrian has his personal mausoleum but it was later converted to a fortress/castle for the popes. These days it's a museum and a fun place to explore for an hour or two.
In front of the castle is a beautiful pedestrian bridge constructed in 134 AD that spans the Tiber river. The bridges 10 angel statues help make it one of the best strolls in Rome.
Local Tip: There are great views of the city, the river, and the Sant Angelo Bridge from the top of the castle. The castle also has a small cafe/restaurant at the top that gives you a great little spot for a drink.
Chow Down on Roman Cuisine
Italian food is arguably the world's favorite food so you should get your fill of regional Roman dishes. Here are a few of our favorites:
Cacio e Pepe: My personal favorite dish. Cacio e Pepe translates to "cheese and pepper" — it's simple but delicious. Here is an excellent guide from Livia Hengal where she shares her favorite spots.
Carbonara: You also can't go wrong with a simple traditional carbonara made from egg, hard cheese, pork cheek, and black pepper.
Supplì: Traditionally known as street food, these little balls of fried rice are stuffed with various things like tomato, meat, or cheese. They're cheap and tasty so try a few different flavors. We recommend Supplì Roma for the most authentic experience but we also like Pizzarium and Trapizzino.
Bucatini all'Amatriciana: Here's yet another simple yet delicious pasta dish made from tomato sauce, cured pork cheek, and pecorino cheese.
Carciofi alla Giudìa: One of the most famous and delicious Roman Jewish dishes are fried artichokes. That said, artichokes are only in season during the spring so it's best to avoid this dish outside the springtime. American In Rome has an excellent guide to finding the best artichokes (both fried and non-fried) in Rome.
Eat Your Weight In Pizza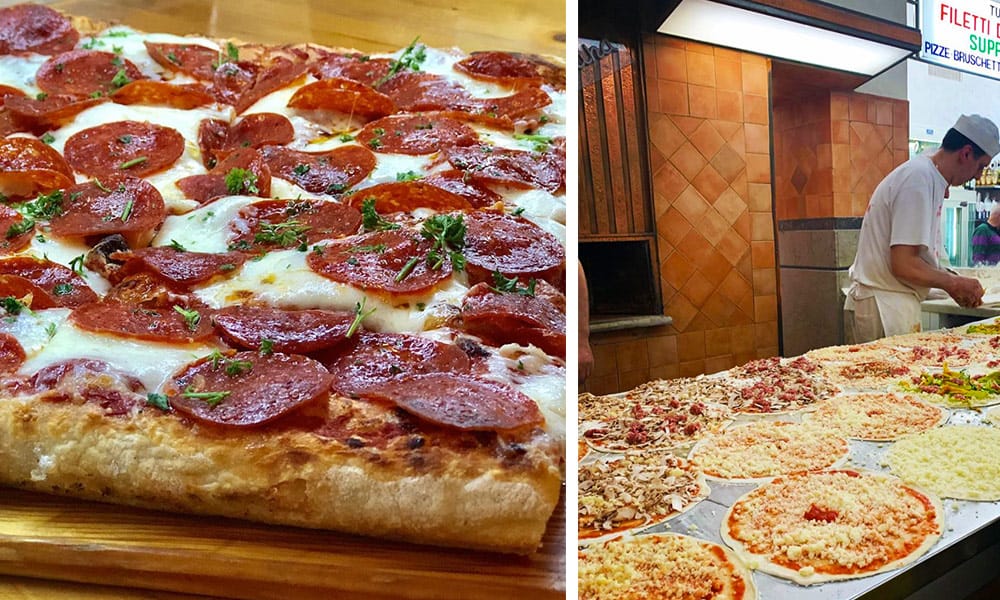 You can't think of Italian cuisine without having pizza come to mind. Rome has its own style of pizza (rectangular slices and a thicker base) so give it a try but you can also find classic Neapolitan style pizza as well.
Browse The Campo de' Fiori Farmers Market
The Campo de' Fiori is a beautiful square in the center of Rome so it's worth checking out even when the market isn't there. But we always love perusing farmers markets and picking up a few goodies as we browse. This market is open every day — the best produce goes quickly so visit in the morning for the best selection.
The Campo de' Fiori is also a very popular nightlife spot so it fills with people just about every night.
Vittorio Emanuele II Monument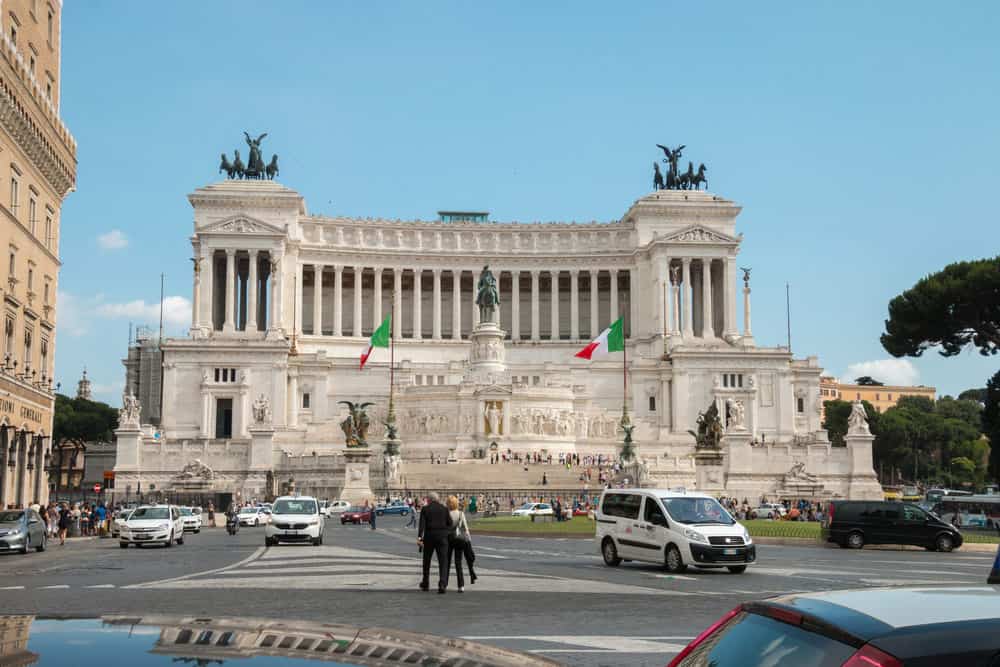 Also know as the Altar of the Fatherland, this huge white marble monument (which kind of looks like a wedding cake) was built to honor the first king of a unified Italy — Victor Emmanuel II. You can walk around the grounds for free but it costs €10 if you want to visit the observation deck for city views.
In front of the monument is the Piazza Venezia — the main traffic thoroughfare. If nothing else, it's fun to watch all the crazy scooters and cars zoom by.
Enjoy the Capitoline Museums In Peace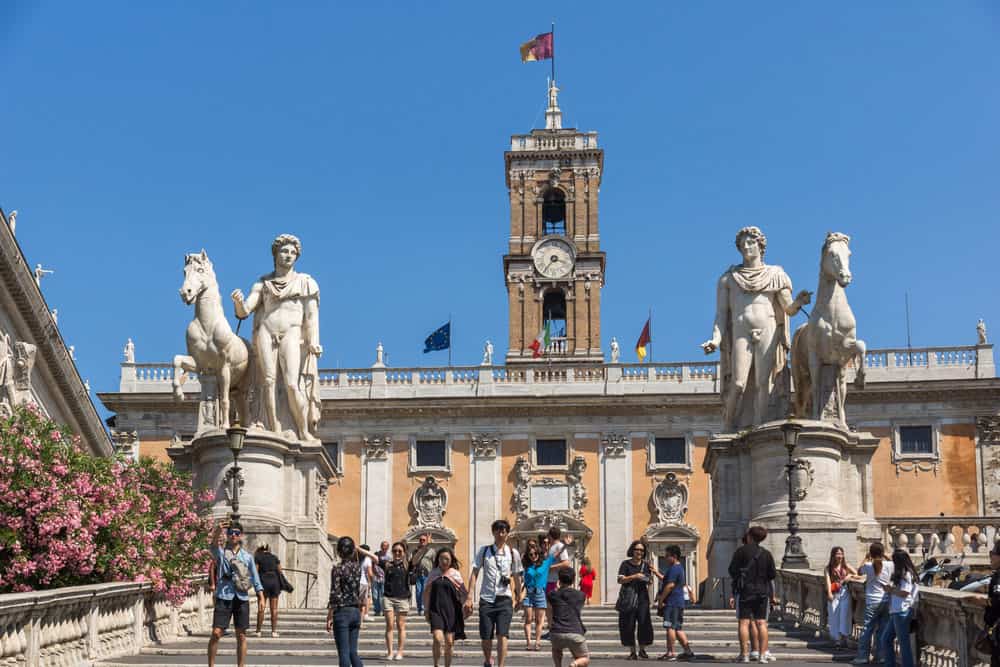 The Capitoline Museums is actually a single museum that contains two smaller museums/archeological sites (they're all accessible under one ticket). In fact, the museums on the site date back to 1471 but the Capitoline officially opened in 1734 — making it the oldest museums in the world.
A majority of the collection consists of paintings and sculpture. The Capitoline tends to get skipped by many visitors so it's much more enjoyable than the Vatican Museum when it comes to huge crowds. It also offers excellent views of the Roman Forum.
MAXXI Modern Art Museum
In a city filled with ancient history, the MAXXI Modern Art Museum offers a nice change of pace. They don't have a huge collection but admission is only €5 after 5 pm so it's worth checking out for that price if you're in the area.
Centrale Montemartini
The Centrale Montemartini is a bit of an oddball museum. Constructed in a former powerplant, this museum is filled with Greek & Roman statues alongside the old powerplant machinery — it's an interesting juxtaposition but it works. It doesn't attract much of a crowd so it's not nice escape from the hoards.
Basilica di Santa Maria Maggiore
In a city full of churches, the Basilica di Santa Maria Maggiore should be near the top of your list. Built in 435 AD, the basilica has been overhauled many times over the years so you'll find many different architectural styles. It's also free to enter so it makes a great spot to escape the summer heat.
Shop The Galleria Alberto Sordi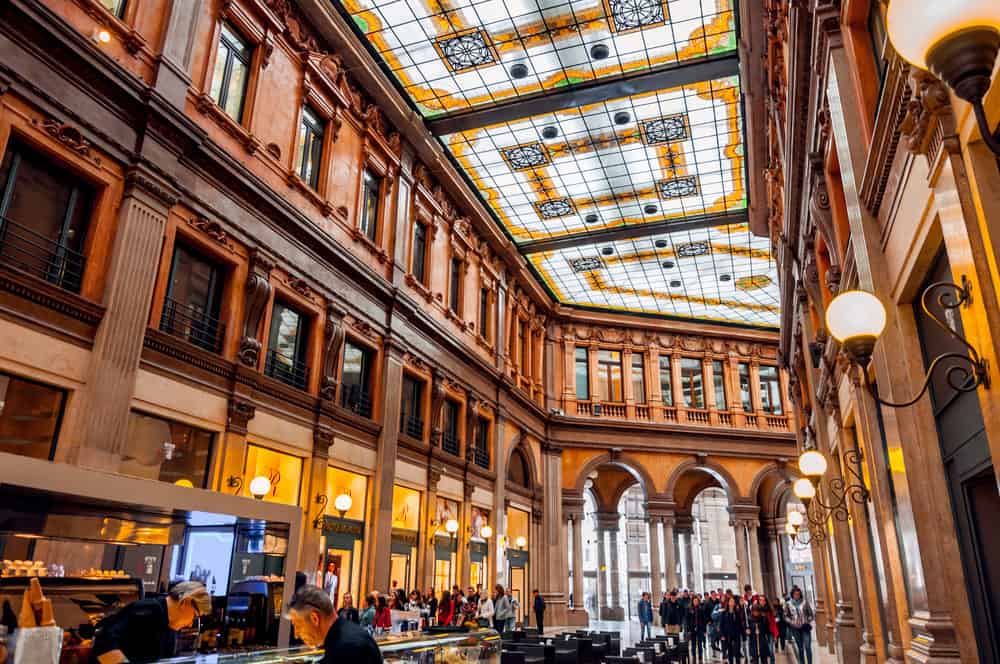 Constructed in 1922, the Galleria Alberto Sordi is a beautiful covered shopping mall/arcade. It has a modest range of shopping options and a few cafes/bars but we loved simply looking at the mosaic floors and stained glass ceilings. They also have free wifi if you need to update your Instagram.
Local Tip: There are a lot of other shopping options in the area — from international chain stores to high-end designer boutiques.
Soak In Amazing Views of Rome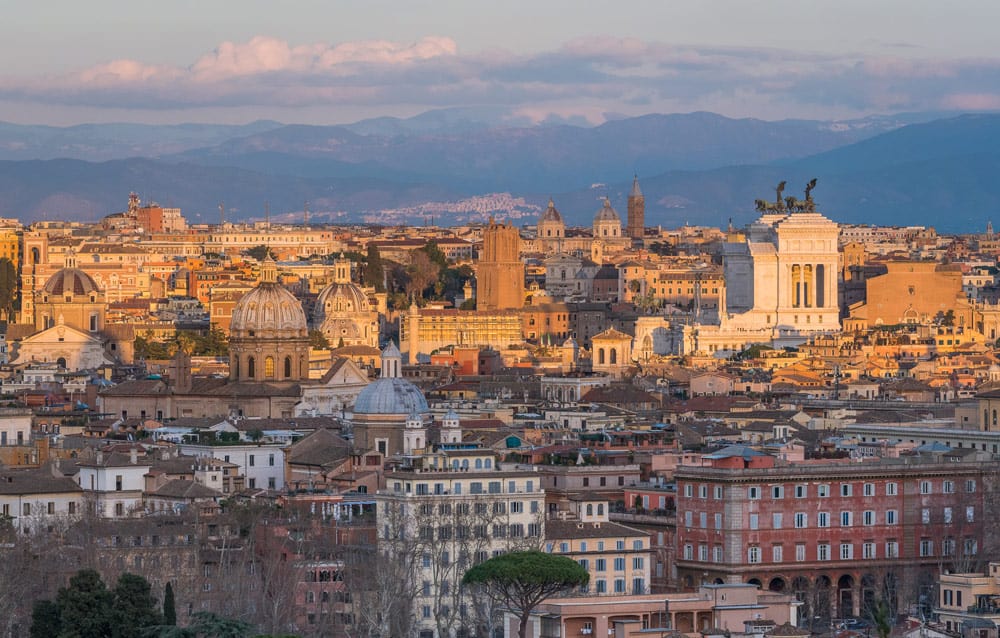 Rome is beautiful from all angles — especially from above. Here are a few of the best places to score an amazing panoramic view of Rome.
Take A Food Tour or Cooking Class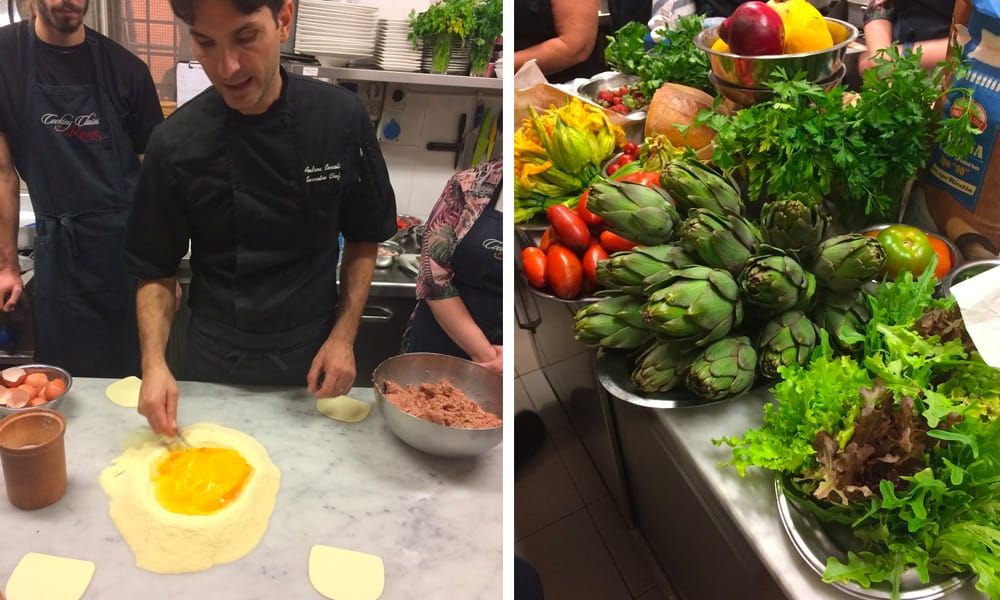 What's our favorite way to learn about a culture? Food! That's why we're huge fans of booth food tours and cooking classes — we do at least one in every new city we visit. There are dozens of food tours and cooking classes in Rome so we suggest browsing Get Your Guide to see what tours look interesting to you.
Here are a few popular options:
Take a Hop-on Hop-off Sightseeing Bus Tour
Want to see a lot in a short amount of time? Consider taking a Hop-off Sightseeing Bus Tour as it's an easy and affordable way to get a "lay of the land."
Museum Tours and Skip The Line
Short on time or really into learning? Look into taking a private museum tour. Not only will you learn more about what you're looking at, but you'll probably also get to skip the long ticket line. Check Get Your Guide to see what is available.
Insure Your Trip
I know it sounds lame but we recommend buying travel insurance as it can save you a ton of money if something goes wrong while traveling. In fact, we saw someone get hit but a scooter who ran through a crosswalk — which probably happens a lot in Rome. We recommend World Nomads as they're cheap but still offer solid coverage.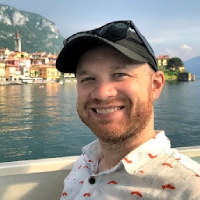 Latest posts by James Feess
(see all)
No Funny Business
The Savvy Backpacker is reader-supported. That means when you buy product/services through links on the site, I may earn an affiliate commission — it doesn't cost you anything extra and it helps support the site.
Thanks For Reading! — James
Questions? Learn more about our Strict Advertising Policy and How To Support Us.