In the past, if you wanted pants made from high-performance fabrics you were stuck with unfashionable outdoorsy hiking pants that were plagued with unflattering cuts, weird pockets, and ugly colors. But then a few companies took those same high-performance fabrics and started making travel pants that looked like… well, normal pants. Now, there are a number of both independent and mega brands making some really great pants perfect for traveling.
Naturally, being fans of finding the latest and greatest in travel clothing, we're on a mission to review as many products we can to find the best travel pants on the market.
In this guide, we'll review some of the most popular men's travel pants on the market to help you find the right pair for your next trip.
Our Travel Pants Review Criteria

Before we dive into the wonderful world of travel pants, we need to realize that every pair of pants has different features and benefits. One pair may excel in one area but may not be as great in another area. That's why there is no "best" pair — you'll have to what features are most important to you to see which option is best for your travel style/needs.
That said, here are a few features that we look for when reviewing travel pants:
Looks/Style: I don't care how advanced the fabric is — my pants have to look at least somewhat stylish. I'm not expecting haute-couture but any pair of pants I travel with should look like normal pants. Basically, I won't buy any pair that will look out of place in Paris.
Durability & Construction: I generally only travel with two pairs of pants so I need them to hold up to multiple days on the road.
Comfort & Stretch: Comfort is key because who wants to wear something that's not comfortable? Many of the pants on this list are made from stretchy fabrics to help mobility.

Types Of Stretch:

No Stretch: These fabrics have little to no stretch. No-stretch fabric is usually the most durable but comfort isn't the best.
Two-Way Stretch: Two-way stretch fabric usually stretches one-direction (usually side to side). Most performance fabric falls into this category because it provides a nice combination of movement and durability.
Four-Way Stretch: Four-way stretch basically stretches in any direction — kind of like Spandex. This offers the most flexibility and comfort but sometimes these fabrics aren't as durable so they might snag/tear more easily. Super high-end four-way stretch fabric can be durable but it's expensive.

Cuts: Travel pants come in all different cuts so you'll want to pay attention to that and maybe even try a few options to see which fits you the best.
Breathability: Different fabrics are naturally more breathable than others. For example, some synthetic fabrics can be less-breathable than natural fabrics like cotton or wool. But other synthetic fibers are specifically made to be breathable so that's something to consider — especially during the summer or if you plan on doing more vigorous activities (hiking, etc.).
Wrinkle-Resistance: One benefit to many performance fabrics is their ability to resist wrinkles — which is nice when you cram your pants into your luggage.
Quick-Drying and Durable Water Repellent (DWR): Many companies tout how their pants are "quick-drying" but to be honest… I rarely wash my pants when I travel. That said, quick-drying are nice if you get caught in the rain or if you sweat a lot. A lot of these technical fabrics are given a Durable Water Repellent (DWR) coating — which is a chemical treatment that helps repel water (kind of like Scotchgard). DWR does wear off as you wash them but it can be reapplied.
Versatility: When I travel I look for pants that look good in a variety of settings — basically something that's casual enough to look good with a t-shirt but nice enough to look fine with a button-up shirt. But they still need to perform well.
Price: You'll soon see that travel pants are expensive. The problem is twofold — 1). Most are made from expensive specialty fabrics and 2). Most travel pants are made my small, independent companies who can't crank out pants like a mega-company like Levis, the Gap, etc. This is another reason why I want travel pants that are stylish because I'll wear them year-round.
---
The Best Travel Pants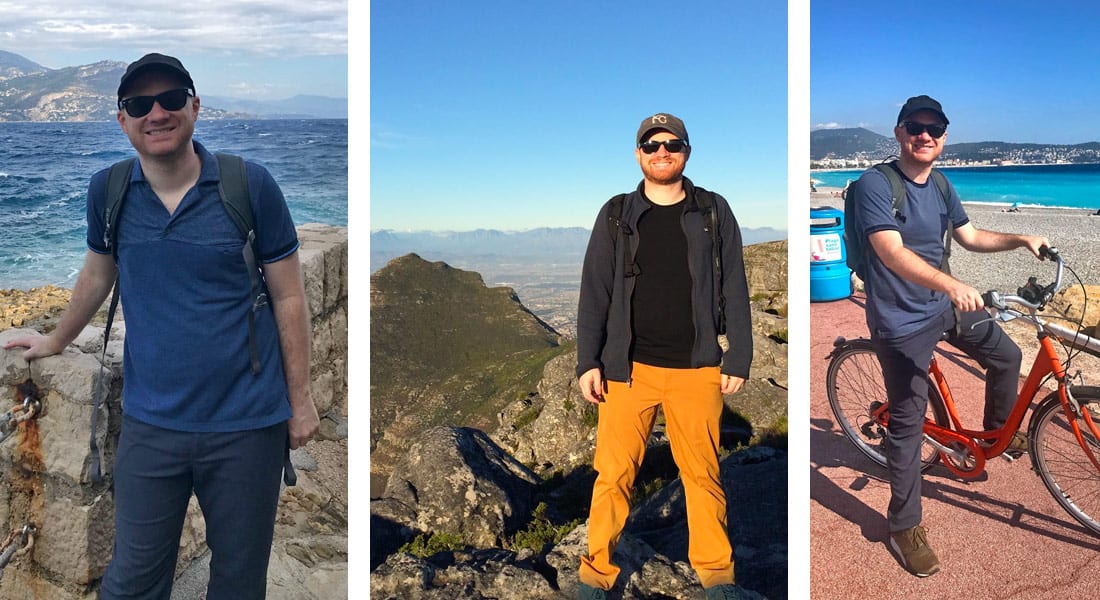 All right dudes, let's take a look at some pants you might want to wear while traveling.
Bluffworks Original Travel Pants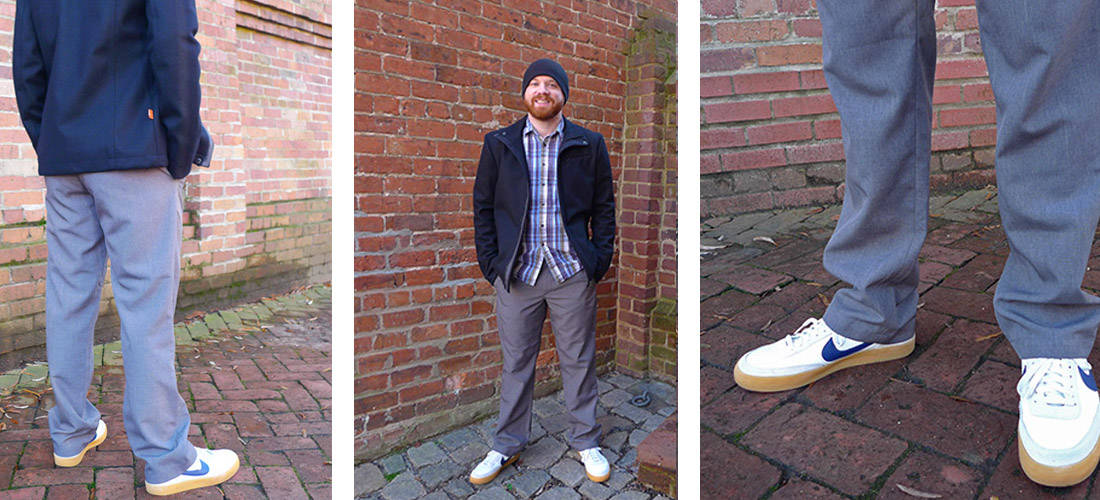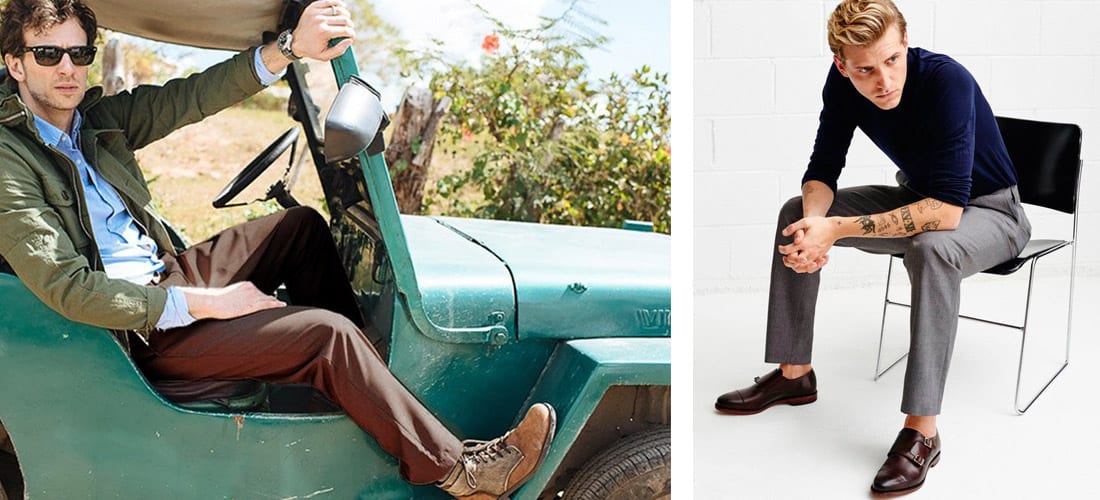 Bluffworks is a small independent clothing brand from NYC and they were one of the first companies to manufacture normal looking pants out of performance fabrics. Their Original Pants have become some of the most popular performance pants because they look similar to wool "business casual" pants/slacks but they're lightweight, crazy durable, moisture-wicking, and fairly breathable. Basically, they look good in the office but they also work well on the trail.
I've had my pair since 2014 and I'm still digging them — they look nice with a t-shirt but they can be dressed up with a button-up shirt or simple blazer. I'd say Original Pants are a bit more on the "dressy" end of the fashion spectrum (the Bluffworks Chinos are more casual).
They're made out of polyester so they have a very slight synthetic feel (although they do have a bit of texture) but they're designed to look very similar to natural fibers. Occasionally, I'll notice a bit of a "swishy" noise from the fabric but that's a minor complaint.
But overall, the Bluffworks Original Pants function as a great option for travel pants. I've literally worn mine hiking all day and then to a nice dinner later that night. They do a nice job of wicking away sweat and they have a few secret zippered pockets to help thwart pickpockets. They also come in two fits (regular and relaxed) and six colors — which is a nice touch.
The Bluffworks Original Pants retail for $98 via Bluffworks. 
Looking to get even more formal? Bluffworks also has Gramercy Pants and Travel Blazer — which is a great option if you need a travel suit made out of high-tech fabrics.
---
Bluffworks Classic Chino & Ascender Chino Travel Pants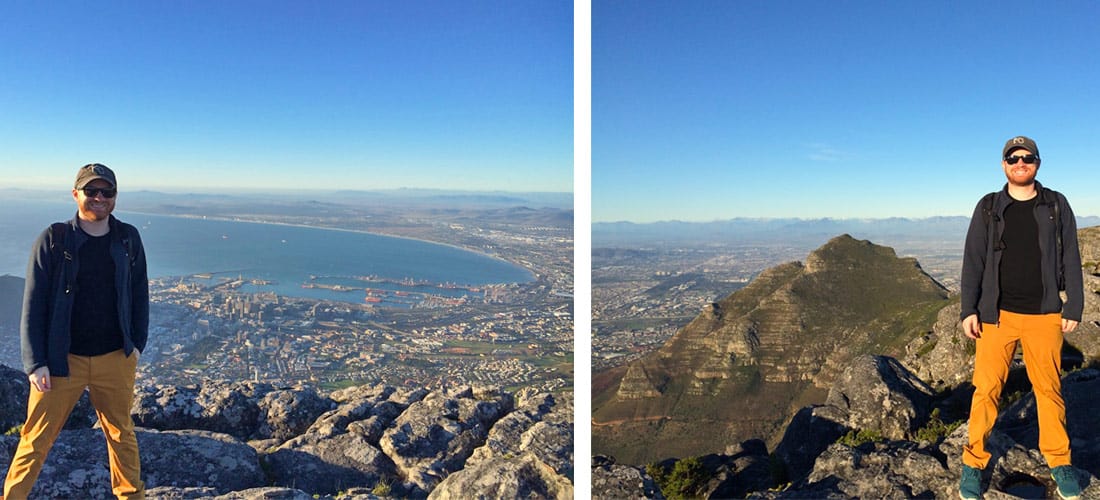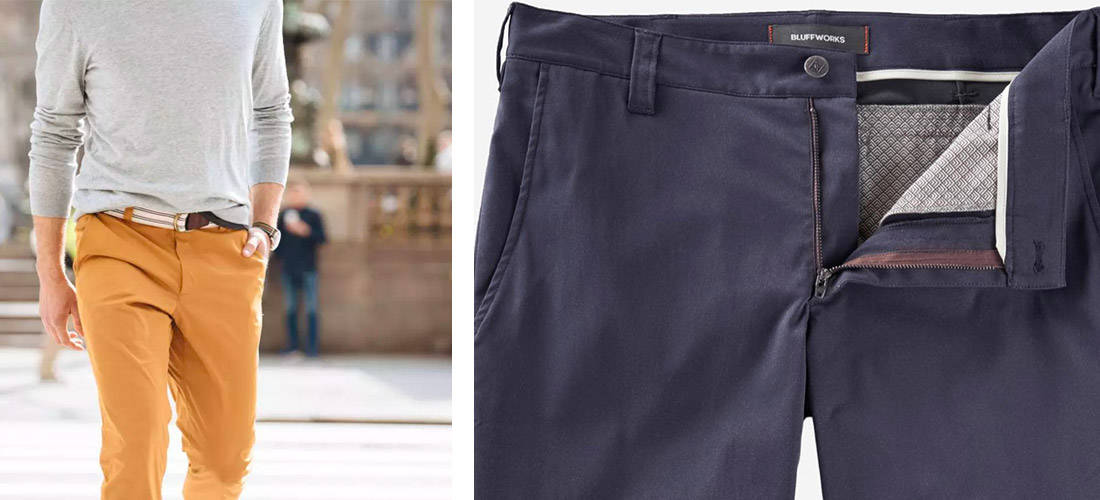 Update (5/15/2019): Bluffworks recently released their Ascender Chinos which I believe will eventually be replacing their Classic Chino. I'm currently testing them as we speak and I'll update this article once I spend a little more time in them. But they're essentially a better version of their Classic Chinos.
After the success of their Original Pants, Bluffworks released their slightly more casual looking Classic Chinos — which are also some of my favorite travel pants. The Classic Chinos have many of the same features as the Original Pants (durable, lightweight, moisture-wicking, quick-drying, zippered security pockets) but the fabric has more stretch (2-way stretch), resists wrinkles even better, and has a softer, more natural feel.
The Classic Chinos feel almost like they're made out of cotton — even though they're made out polyester (that said, there can sometimes be a slight sheen on the fabric and there is a little swishy noise when walking). The fabric is a bit more heavyweight than the Original Pants and they're a bit more casual looking.
I've had my Chinos for a few years at this point and they've gone everywhere from hiking to the top of Lion's Head Mountain in Cape Town, South Africa to the streets of Paris. I like that the Chinos come in two fits (regular and slim) and multiple colors.
If I had to pick between the Originals and the Chinos I think I would pick the Chinos — mainly because I like the more casual look/feel of the fabric. I also noticed that the fabric becomes softer and less shiny after a few washes so throw it in the washer a handful of times before your trip.
The Bluffworks Chinos retail for $125 via Bluffworks. 
Bluffworks Departure Travel Jeans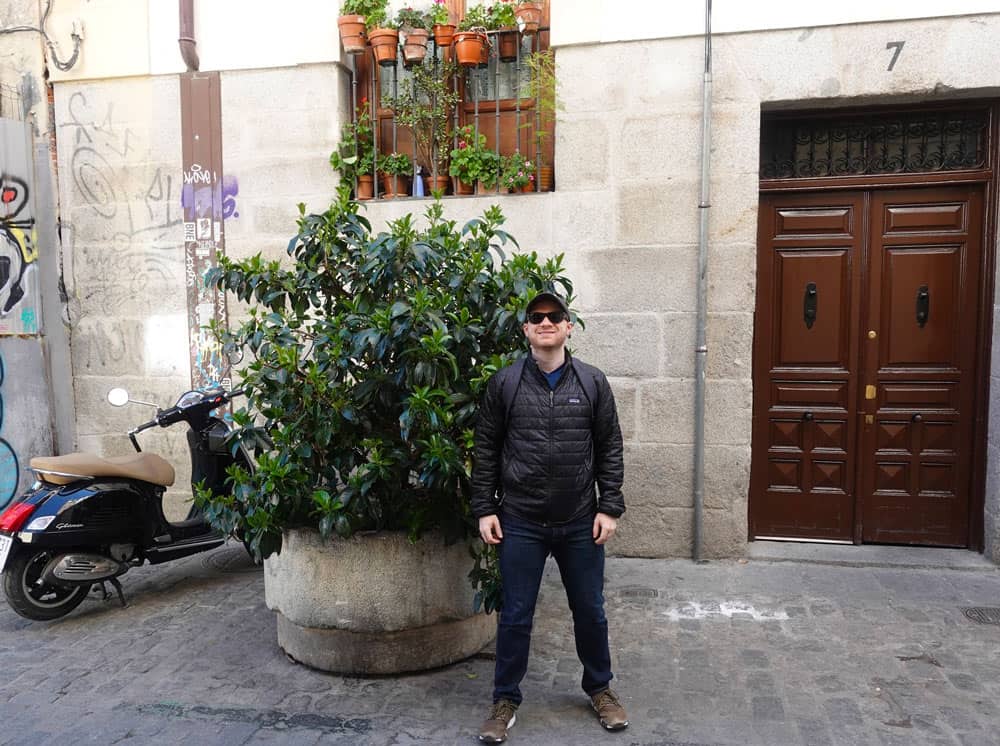 I'll be honest… I almost always pack a pair of jeans when I travel. I know they're not the most "travel-friendly" option but I still love them. That's why I was excited to try the new Departure Travel Jeans from Bluffworks.
I'm honestly really digging them. I've been wearing them nearly daily (just because they're comfortable) for a solid month and I just got back from wearing them around Spain for two weeks. I love that they're normal looking jeans with a few travel-friendly features — like super stretchy fabric that's much more lightweight than standard denim (68% Cotton, 22% COOLMAX Polyester, 9% Rayon, and 1% Spandex). And they included these two super clever hidden pockets that are designed to not interfere with the normal pockets (a super smart feature).
The Bluffworks Departure Travel Jeans retail for $125
Western Rise AT Slim Rivet Travel Pants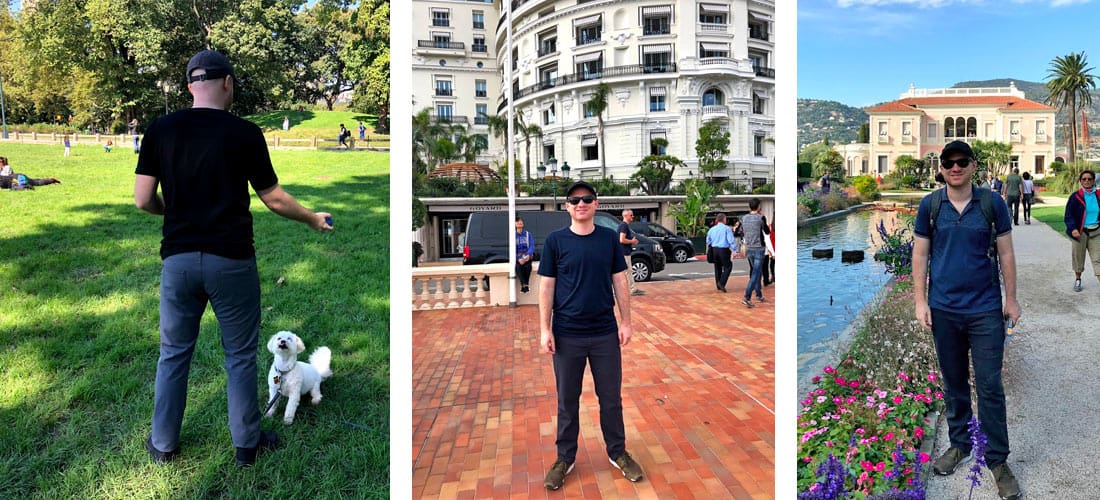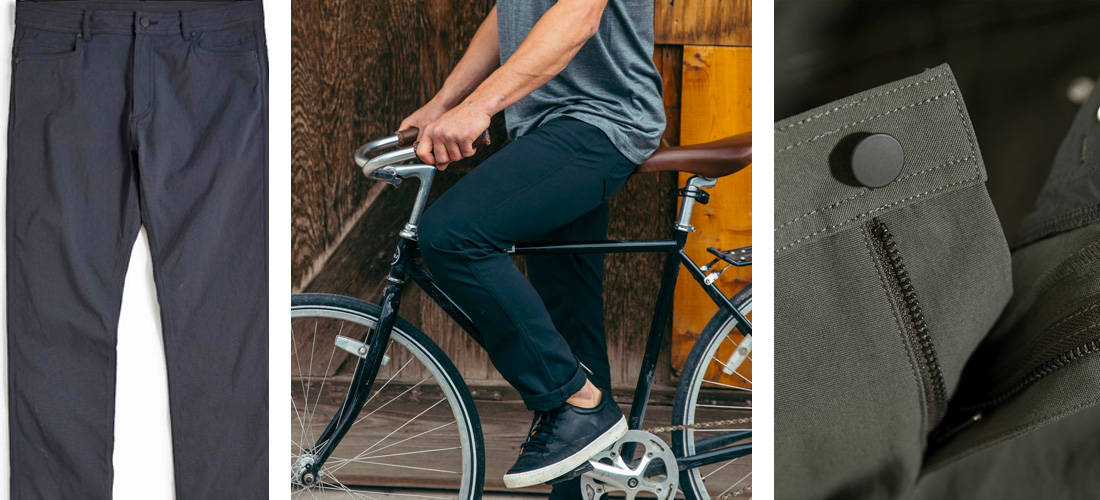 Western Rise is a performance apparel company from Telluride, Colorado that's trying to bridge the gap between can be worn while hiking the Rockies but still look good in the city. And I think the AT Slim Rivet Pants do a pretty solid job at doing just that. Plus, these are something I have no problem wearing every day — which is always a top priority of mine.
At first glance, these standard five-pocket pants look and feel very similar to denim. The fairly heavyweight fabric is made of 97% nylon, 3% spandex — which has a nice texture and feels durable. The fabric feels similar to cotton so it doesn't have that annoying synthetic fabric sheen. It also has two-way stretch fabric so I found them comfortable in day-to-day wear. The nylon does have a small amount of swishy noise when you walk but it's fairly minimal. The fabric also has a DWR coating to help repel water.
The Slim Rivet comes in a slim cut so it's not overly skinny or baggy. As of this writing, they come in three colors. Also, these come in variable sizing so the length increases as the waist size increases. So if you're really tall but skinny you might run into some issues. Conversely, shorter people with a bigger waist might have to get them hemmed.
The Western Rise AT Slim Rivet Pants retails for $128.
Outlier Slim Dungarees Travel Pants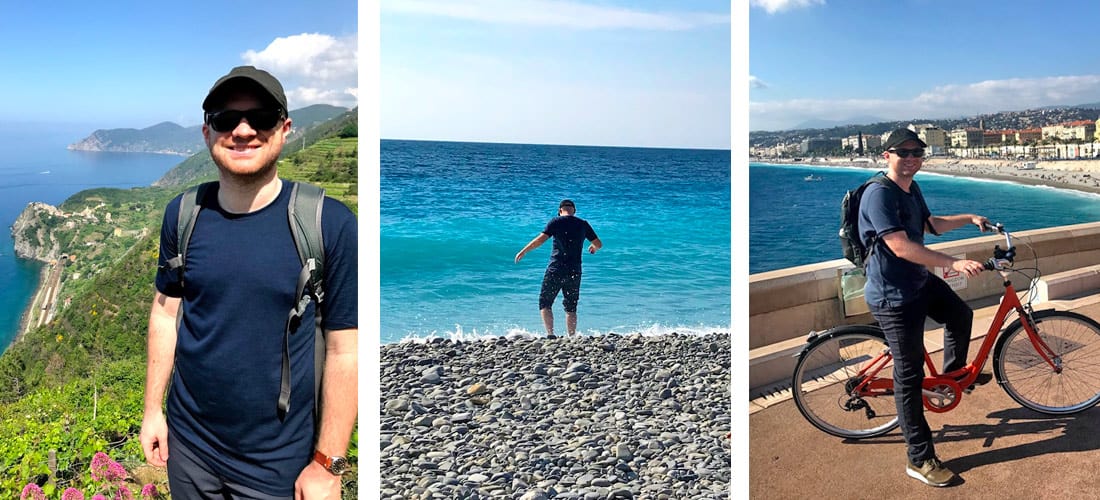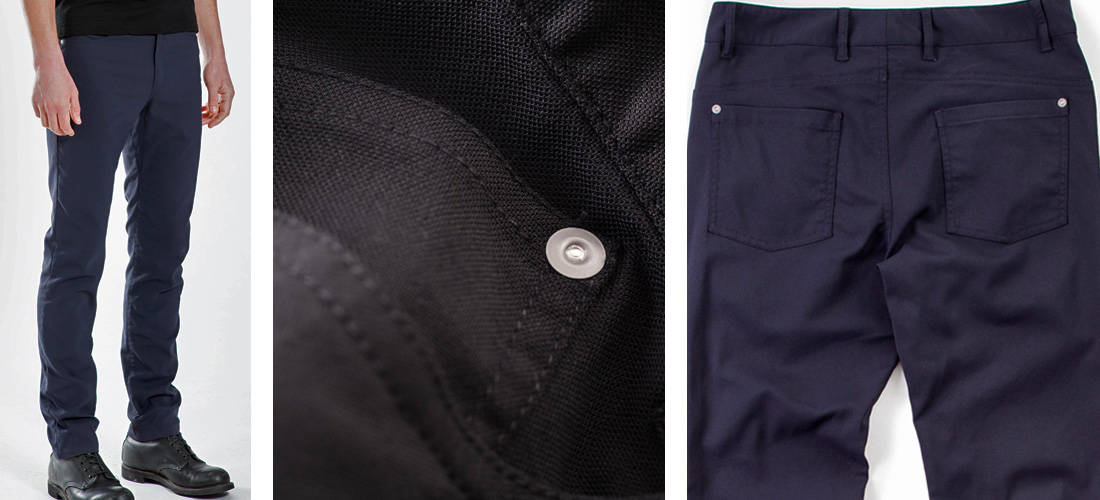 Outlier is another brand (based in NYC) that is very popular in the lightweight travel community and their Slim Dungarees are one of their signature products — which I've owned a pair since 2014. And, I must say, they are a great pair of pants. The tech fabric, the fit, the construction, the style, the comfort, the breathability… they're all top-notch and it's pretty much exactly what you want in a pair of travel pants. However, at $200/pair, they're more of a luxury than a necessity.
The Slim Dungarees are made from "Workcloth Doubleweave Canvas" — which is a blend of tough Cordura grade nylon on the exterior and a loosely woven nylon-poly blend on the inside. Basically, this is a fancy way to say the outside is super rugged the interior feels soft. The fabric features two-way stretch so that adds to the comfort as well.
Personally, I love the style of these and they're one the most fashionable of the travel pants I've reviewed. I'd still classify these as casual (they're not dressy) but they're nicer than a pair of jeans — in fact, these have largely replaced my jeans for when I travel. I also like how the material doesn't look shiny or synthetic. The fabric has a bit of structure so they don't drape funny like something synthetic fabric.
The overall performance of the Slim Dungarees is solid. They're breathable but still durable. They're slightly water-resistant (not as much as other pants on this list) but they're still quick-drying. I wore these a four-hour hike through the Cinque Terre in Italy and they did great (I also wore them to dinner that night). I have noticed that the fabric does stretch out a bit (notably in the knees) but that's a minor complaint.
My main beef with the Slim Dungarees is the price. $200 for a pair of pants is a tough pill to swallow — especially for a budget traveler like myself.
Lululemon ABC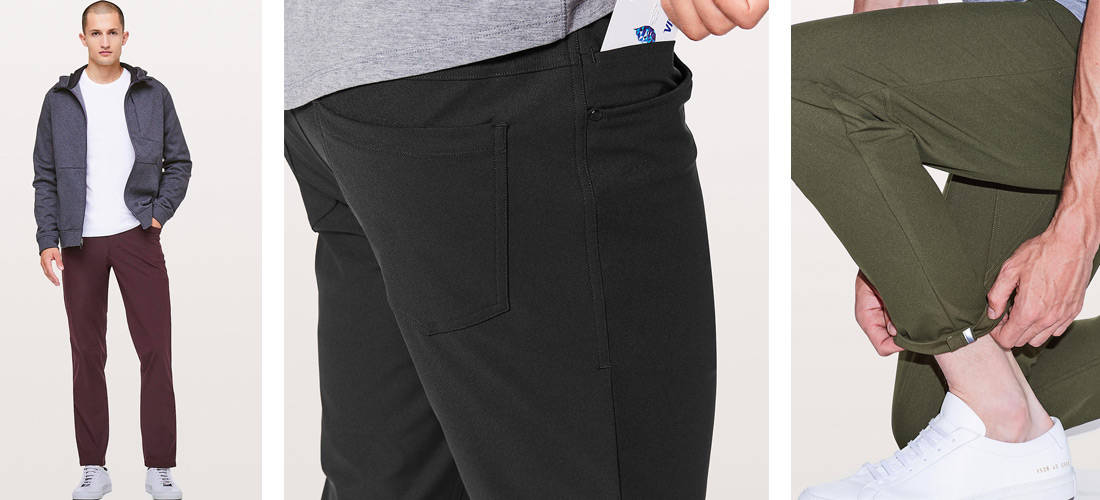 Yes, Lululemon… I can't believe it either but I kept hearing people talk about how their ABC Pants are the "most comfortable pants ever" so I wanted to take a closer look at these. They have the classic 5-pocket design, there are no visible Lululemon logos (unlike the old version of their ABC pants), and the fabric looks pretty similar to "normal" pants. There is a very slight synthetic appearance so they might not fly in a more conservative "business casual" setting but it's honestly not enough for people to notice. Personally, when paired with a cool pair of sneakers, I think they would look pretty good for everyday urban wear.
The fabric has four-way stretch so that helps make them very comfortable and Lululemon says the fabric is sweat-wicking. You could easily do a workout or go on a hike in these (after all, ABC stands for "Anti-Ball-Crushing"). The main downside to four-way stretch fabric is the overall durability — so it's more prone to snags and abrasion than a few of the other pants on this list (but these are also probably more comfortable). Note: Some reviews mention that the fabric stretches out in the knee area after extended use.
The main thing I'm not digging is a weird horizontal seam that goes across the back of the knee — it's kind of breaks the "normals pants" aesthetic. It's not terrible and it's less noticeable on the dark colors (like Navy and Black).
The Lululemon ABC Pants cost $128 (with free shipping and returns) via Lululemon.
PrAna Brion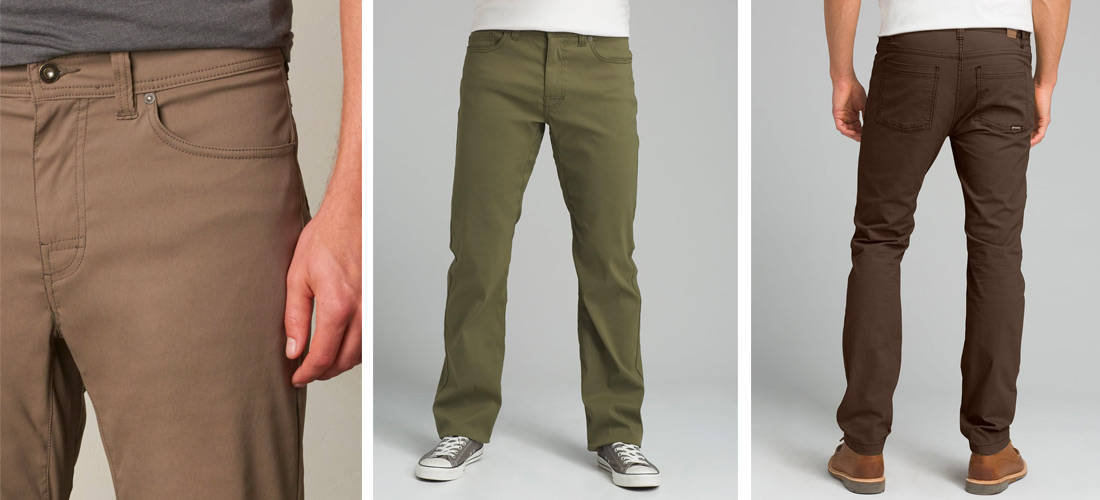 PrAna has a long history of making great hiking/climbing/outdoors clothing and their Brion Pant is one of their most-loved and best-selling pants. To be clear, these pants are designed as outdoorsy pants (people go rock climbing in them) but the styling looks more like a regular pair of jeans.
That said, these aren't super fitted and the legs are wider than I personally like — but they might work if you like a more relaxed/baggier fit. So yeah, we wouldn't call these "fashionable" but they're not ugly either.
The Brion is made from durable and quick-drying 'Zion' fabric that's actually stretchy (4-way-stretch) so provides a good amount of movement and it has a water repellent (DWR) finish. I also like that these come in multiple colors.
The PrAna Brion Pant retails for $79 via PrAna.
Uniqlo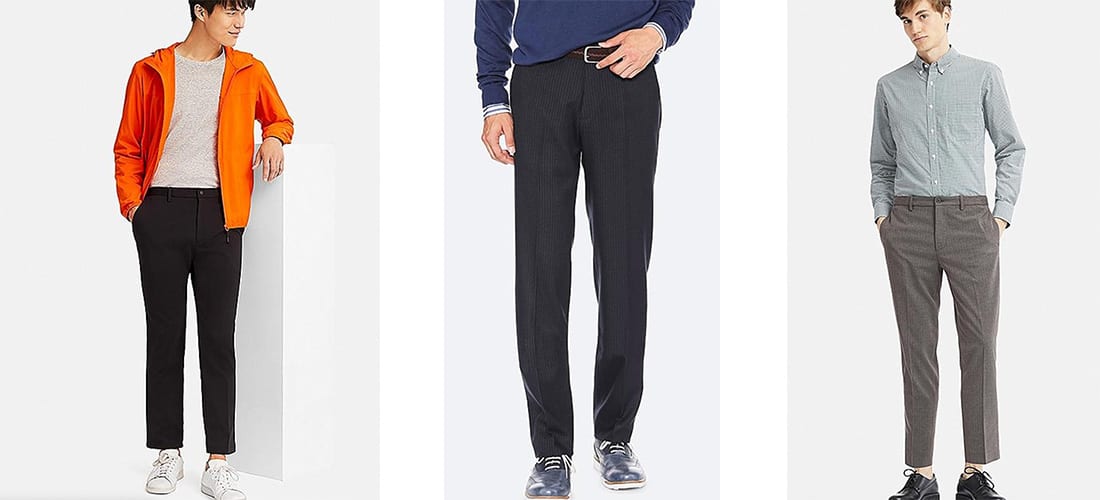 When it comes to low-budget travel clothing it's hard to beat Uniqlo. I don't have any specific recommendations because Uniqlo is always coming up with new products and retiring old ones, but they usually have one or two pairs of paints that are made from travel-friendly technical fabrics (you'll have to read the product descriptions). Naturally, the quality won't be up to the same standards as the other options on this list but it should good enough to survive your trip. Check out Uniqlo to see if something could work for you.
Olivers Passage Pants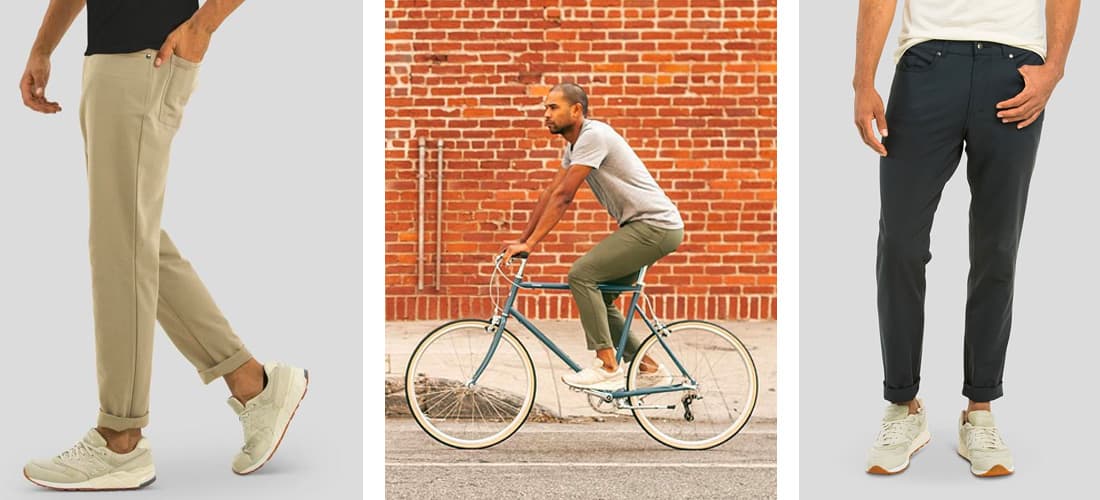 We recently picked up a pair of the Olivers Passage Pants and we're really digging them as well. They follow the same format as the Outlier Slim Dungarees and the Western Rise AT Slim Rivets — i.e. slim fit, classic 5-pocket design, high-tech materials, and they look like normal pants.
The Passage Pants have a modern/fitted look, come in multiple colors, and they look nice with sneakers and a t-shirt or they can be dressed up a bit as well. They're made out of durable CORDURA fabric that's still lightweight and breathable. The fabric also has four-way stretch so they should be a solid pair of travel pants. I also like that they're made in the USA.
The Olivers Passage Pants retail for $158 so they're a bit more expensive than other pants on this list.
Rhone Commuter City Pant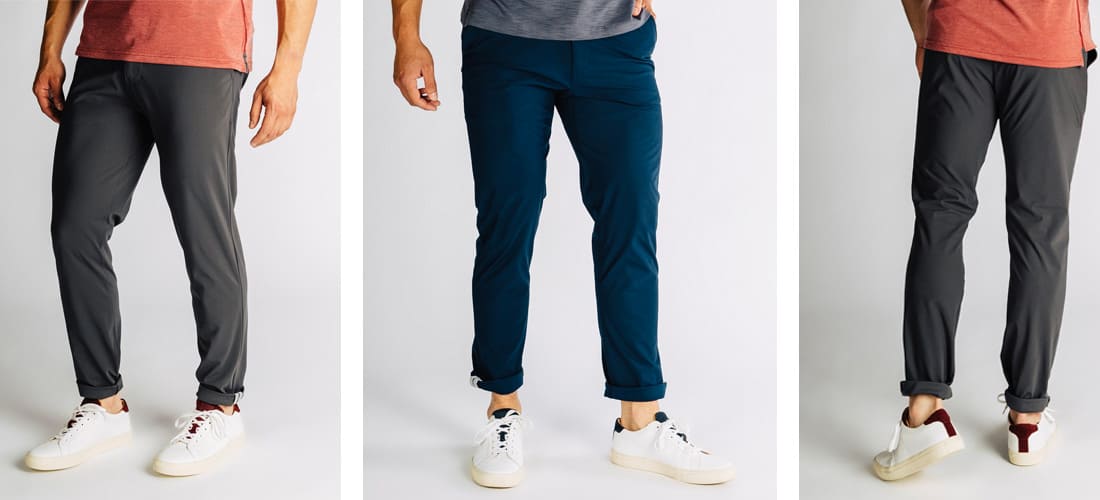 Rhone is a fairly new high-end athletic apparel company and I really like the look of their Commuter City Pant. I haven't had a chance to try these out yet but they look super promising. I really dig their modern slim-fit look and its high-tech Japanese stretch fabric seems ideal for travel. There aren't a ton of reviews out there but everything I'm starting to see more and more good things about them.
The Rhone City Commuter Pant retails for $118 and comes in six colors.
---
Even More Travel Packing Advice
Want some more advice on what to pack for your next big trip? Check out these articles:
Click here to read all our packing advice.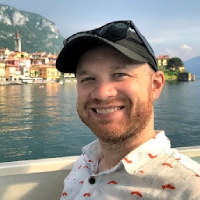 Latest posts by James Feess
(see all)
No Funny Business
The Savvy Backpacker is reader-supported. That means when you buy product/services through links on the site, I may earn an affiliate commission — it doesn't cost you anything extra and it helps support the site.
Thanks For Reading! — James
Questions? Learn more about our Strict Advertising Policy and How To Support Us.