I've been a nerd about travel clothes since my first trip to Europe back in 2006—now I have a closet full of travel pants and shirts and jackets (you get the idea). It's been refreshing to watch travel clothing evolve from hideous outdoorsy gear to stylish clothing made from high-tech fabrics.
In this guide, I've gathered some of the most popular travel clothing brands to help you find the best travel clothing so you can stay fashionable and comfortable while traveling.
The Current State Of Travel Clothes
In the old days, travel clothing used to look like this…
But now travel clothing looks like this!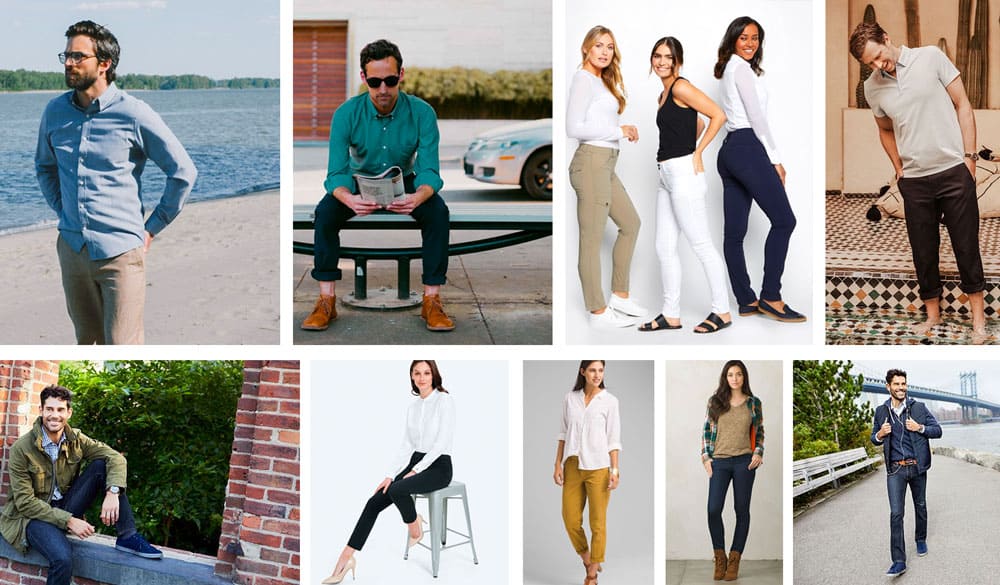 So what's the deal with travel clothes these days?
I'd argue that the "travel clothing" market hasn't changed much but the "performance clothing" market is actually what's pushing the category forward—so these days, I consider travel clothing and performance clothing essentially the same thing.
And it makes sense because many of these new high-performance fabrics offer a ton of benefits that complement both everyday wear and travel.
Even mega-brands like Levis, Gap, Dockers, Lululemon, and Uniqlo are starting to offer fashionable "travel-friendly" or "performance" clothing but small niche brands are pushing the boundaries (which I'll cover later in this article).
The Good Things About Travel Clothing
Travel clothes are finally being designed to be fashionable and stylish so you can easily wear them in Paris, Milan, or New York without looking out of place.
My #1 travel clothing rule is that I'll never wear any "travel clothing" that I wouldn't wear in my everyday life.
Second, high-tech clothes continue to evolve because more companies are developing better fabrics and competition is driving innovation.
The Bad Things About Travel Clothing
Unfortunately, high-tech travel clothing tends to be expensive.
But why?
First, many of the fabrics used are high-end so the raw materials are expensive. Second, a majority of travel clothing is made by small companies so they can't mass produce their products—which pushes prices higher.
Another negative thing about travel clothing is that there are many options for men but fewer for women. This is probably because guys tend to stick to very basic items and they nerd out on "high-tech fabrics more than women.
So what can you expect to pay for travel clothes?
Nice merino wool socks will be $10-$20/pair
A pair of travel pants will range from $70-$180+
A wool shirt will be $50-$100+
Do You NEED Travel Clothing?
Do you really "need" to shell out your hard-earned cash for these high-end garments?
I'll be the first to say that you certainly don't need clothes made out of technical fabrics when you travel. Many of these fabrics can make certain aspects of traveling easier and more comfortable… but they're more of a "nice-to-have" than a "must-have."
In my opinion, there are a few key pieces that I think deliver a ton of value and there are other items that are more optional — I'll cover both throughout this article.
---
The Benefits of Travel Clothes & Performance Wear
What's so great about travel clothing? Let's take a look…
Durability & Multi-Day Wear
One of the main benefits of travel clothing is that you can wear them multiple times without having to wash them. This means you can pack fewer items so you can travel lighter.
Odor-Resistance
Many of the fabrics used in travel clothes have anti-odor properties. Merino wool is naturally odor-resistant but some synthetic materials are manufactured in a way to reduce odor.
Quick-Drying Abilities
If you plan on washing your clothes while you're traveling it's nice to have items that can be hand-washed and air-dried quickly (i.e. washing your socks and underwear in the sink). Quick-drying fabrics can also be beneficial if you get caught in the rain.
Wrinkle-Resistance
While it's hard to completely prevent wrinkles when you're living out of a suitcase, many materials have anti-wrinkle properties. In general, synthetic materials resist wrinkles better than natural fabrics but it depends on the fabric.
Lightweight & Packability
Performance fabric tends to be lightweight so it won't weigh down your luggage as much — for example, a pair of tech pants will weigh half as much as a pair of jeans. Lightweight fabric also tends to dry quicker than something like cotton jeans which absorb water.
Moisture Wicking & Breathability
One of the most important factors in keeping comfortable is keeping dry. Moisture-wicking fabric helps pull sweat away from your skin and its breathability lets the moisture escape from the fabric.
Stretch and Comfort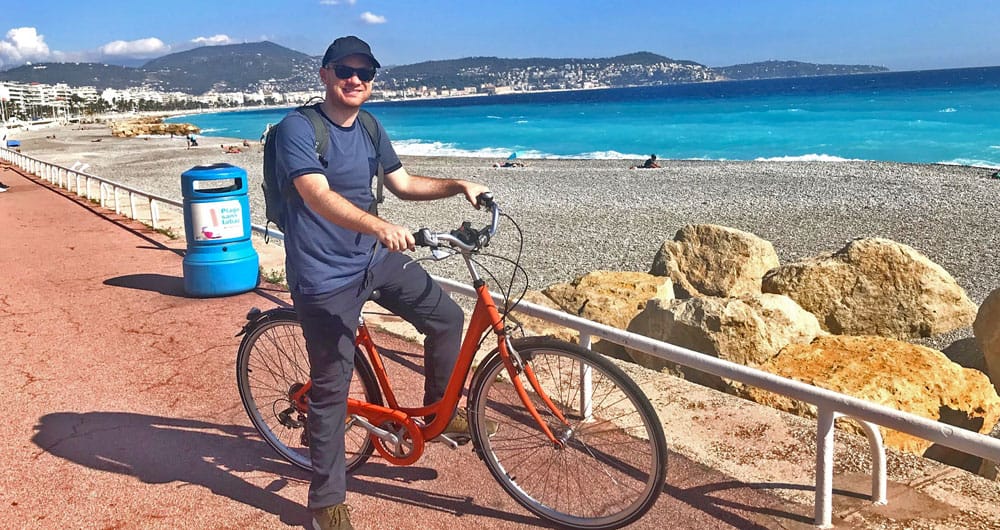 Every fabric will have a different amount of stretch. Unsurprisingly, fabric with more stretch tends to be more comfortable since it allows you to move with less restriction.
But you're always making a compromise when it comes to stretch because, in general, you sacrifice durability/water-repellency for stretchability.
Water Repellency
Certain fabrics are naturally water-repellent and others have chemical coatings which help keep water from soaking into the fabric. In my opinion, water repellency isn't super high up on my "must-have" list (unless it's a rain jacket) but it's a nice bonus.
Note: The chemical water-resistant coatings aren't permanent so they will become less effective the more the garment is washed.
---
High-Tech Performance Fabrics Explained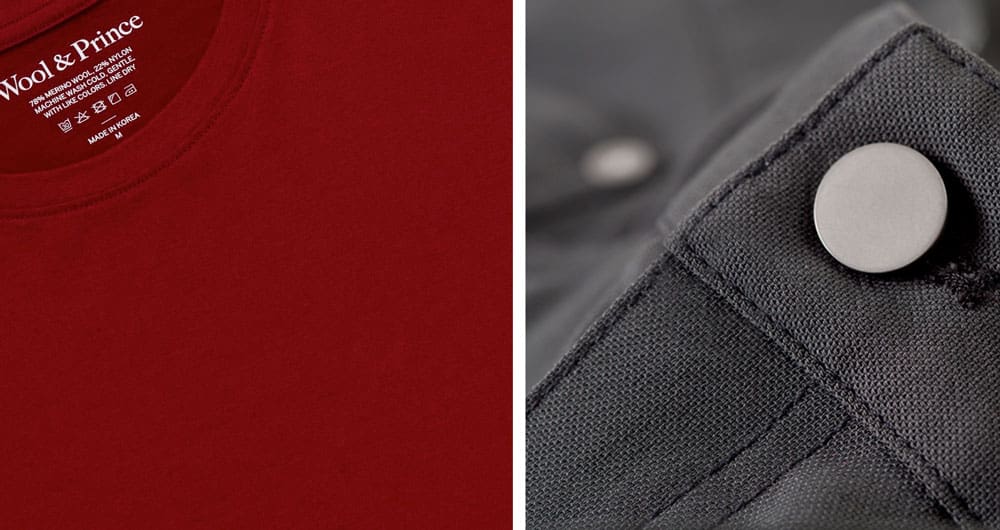 There are multiple different types of fabrics that travel clothing companies use to make their products. There is a lot of nuance and technical/marketing mumbo jumbo when it comes to each fabric but we'll start with the three main fabric categories — natural fabrics, synthetic fabrics, and natural/synthetic blends.
Natural Fabrics
There are a handful of natural fabrics but the most common are merino wool and cotton.
Merino Wool
The best kind of natural fabric is fine merino wool because it has many natural benefits. Merino wool is naturally odor-resistant, soft, fairly durable, wicks moisture well, dries quickly, and works well in both hot and cold weather.
However, merino wool does have some downsides. First, it's expensive so even a "cheap" merino wool t-shirt will cost around $50.
Second, thin wool has a tendency to develop holes much more quickly than a more robust fabric like cotton or synthetics.
And third, most wool can't go in the dryer since heat will make it shrink so it does require a little extra care.
Cotton
Most travelers highly recommend avoiding cotton when it comes to travel clothing because cotton holds moisture and doesn't dry quickly. For example, a cotton pair of socks will trap sweat which will cause odors, blisters, and sweaty feet.
That said, I'm not as militant when it comes to wearing cotton so I still wear cotton jeans and t-shirts. However, I still generally avoid cotton for socks and underwear.
Synthetic Fabrics
Things get a little more complicated when it comes to synthetic fabrics because there are dozens of different variations and each has different performance properties.
That said, synthetic fabrics are usually much cheaper to manufacture but some of the high-end technical fabrics are still expensive.
Synthetic fabrics are very durable, they can be highly water-repellent or even waterproof, many resist wrinkles, they dry very quickly, and they're lightweight. Some synthetic materials also have a lot of flex so they're comfortable to wear.
However, there are some negatives. First, synthetic fabrics can become smelly after one or two wearings. Some synthetic fabrics are treated with anti-odor chemicals so that helps.
Next, cheap synthetic fabrics have an ugly "synthetic sheen" and feel fake. Most of these cheap synthetics also make that "swish swish" sound when you walk. Advanced synthetic fabrics can look and feel very similar to natural fabrics but these fabrics are expensive — so you'll have to pay if fashion is a concern.
Some cheap synthetics also don't breathe well so they can get pretty balmy in the heat. That's why you should look for "breathable" fabrics.
Another issue with synthetics is fabric flexibility. The most durable fabrics tend to not have very little flexibility. So if you'll have to sacrifice a bit of durability for comfort in some instances.
Natural/Synthetic Blends
Travel clothing brands are starting to combine fine merino wool and synthetic fabric to give you the best of both worlds — performance and durability. I heard from someone in the wool industry that there is no performance loss as long as the blend includes at least 70% wool.
You'll usually see blends in socks, underwear, and shirts.
---
The Best Travel Clothes and Recommended Travel Clothing Brands
Okay, okay… calm down. I've broken down each type of garment (socks, underwear, pants, shirts, etc.) into its own section.
I've tried giving specific recommendations when possible (and I'll try my best to keep the recommendations up-to-date), but sometimes I can only point you towards companies that make tech-wear travel clothes.
I will also do my best to recommend options for all budgets since I know not everyone wants to drop $100 on a t-shirt.
---
Socks for Travel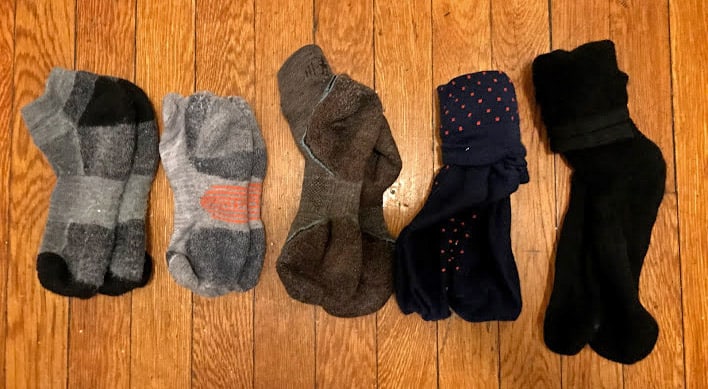 In my opinion, a few nice pairs of socks (along with comfortable shoes) are the most important travel accessory. So, if you have a limited clothing budget, spend it on socks.
Boring, I know… but it will be your best bang for the buck
Fine merino wool socks are my favorite and preferred style of socks. Merino wool socks with a bit of synthetic material also work well because the synthetic fibers help the socks keep their shape/fit.
From my experience, 100% synthetic socks aren't great but they're not terrible.
Avoid cotton socks if you can.
Obviously, you'll want to match your socks to the season — i.e. thin, no-show socks for the summer and longer/heavier socks for colder weather.
My Favorite Sock Brands:
---
Travel Underwear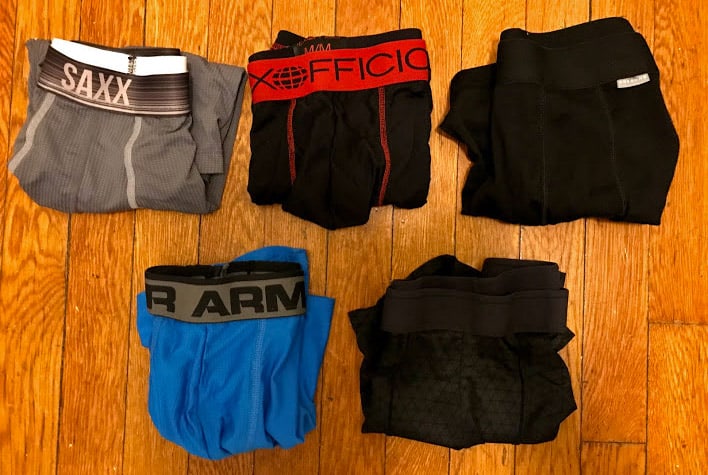 Ahh, yes. Travel underwear.
I've already written at length about the many benefits of travel underwear, but I'll briefly cover them again below:
Quick Drying: Wash them in the sink and they'll be dry by morning.
Moisture Wicking: This helps keep your skin dry.
Breathable: This helps stop you from getting all sweaty down there.
Odor Blocking: Stop the stink (or at least delay it)
Comfortable: You don't want to spend your time thinking about your uncomfortable underwear.
Synthetic Underwear
Most travel underwear is made from synthetic fabric which is designed to be soft, lightweight, and breathable. It isn't the best at controlling odor since some synthetic material holds in odor but many brands have various manufacturing processes that help combat odor.
The most popular travel underwear is made by ExOfficio (you can read our Exofficio review but these guys essentially invented travel underwear). We tend to find the best prices on Amazon and REI.
Patagonia (i.e. everyone's favorite outdoors brand) has a handful of nice underwear options for both men and women.
Another very popular option is Under Armour underwear. They get a ton of great reviews on Amazon, many people swear by them, and they're sometimes cheaper than ExOfficio.
For budget travelers, Uniqlo has their Airism line of underwear which isn't bad but I'm not a huge fan of their cuts. But they're very affordable so they're worth looking at.
If you're on a tight budget, you should check out Target and discount stores like T.J. Maxx or Marshalls because you can find "athletic" underwear for decent prices.
Merino Wool Underwear
Merino wool is actually a very solid choice for underwear — even in the summer. It's soft, it's lightweight, it breathes well, and it's the best option for resisting odor. The two main downsides are the high prices and durability.
There are a few different brands that sell quality merino wool underwear:
Allbirds: Allbirds (the company famous for their merino wool shoes) also makes quality underwear and socks for both men and women. Check them out at Allbirds.
Wool & Prince: This is our current "go-to" brand when it comes to anything merino wool. They currently only offer men's underwear. Check them out on Wool & Prince.
Icebreaker: Another popular wool brand is Icebreaker and they make everything from underwear to coats. Browse their selection on Amazon to find a cut that fits your style.
---
The Best Travel Pants and Jeans For Men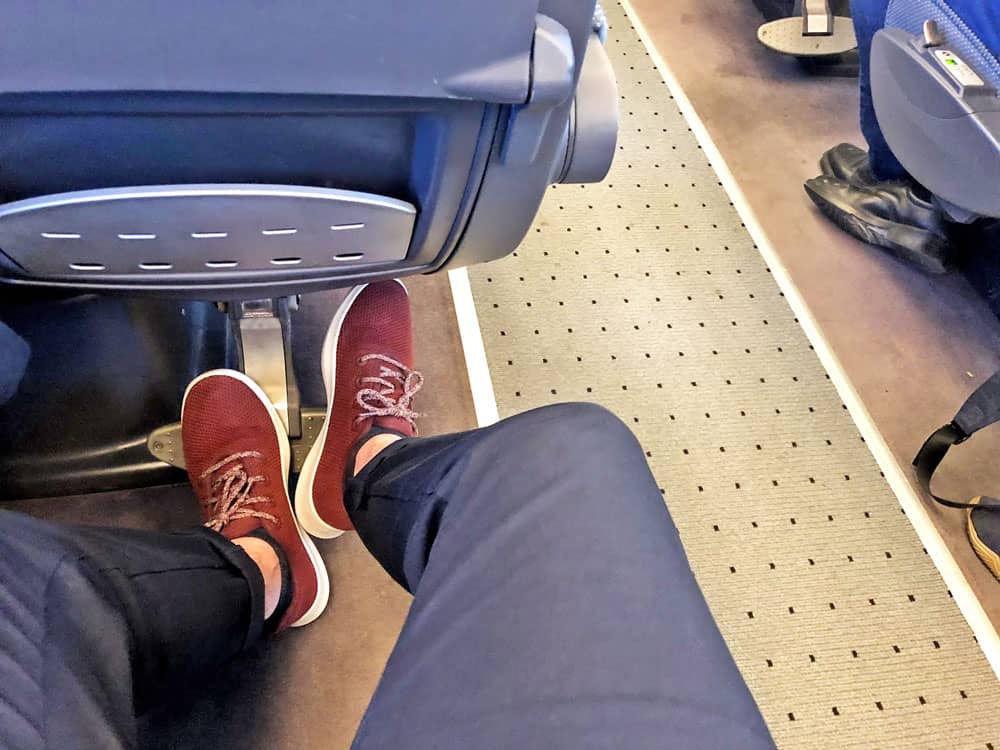 The number of companies making travel-friendly pants and jeans has exploded over the past few years. It's actually kind of overwhelming but I'll help you sort it all out.
And don't worry — all the pants we recommend are actually fashionable so you won't be looking like a mountain climber while city hopping.
The main thing to remember is that each of the pants on this list has different performance properties so that's something you'll want to match the performance to your needs.
Bluffworks Ascender Chinos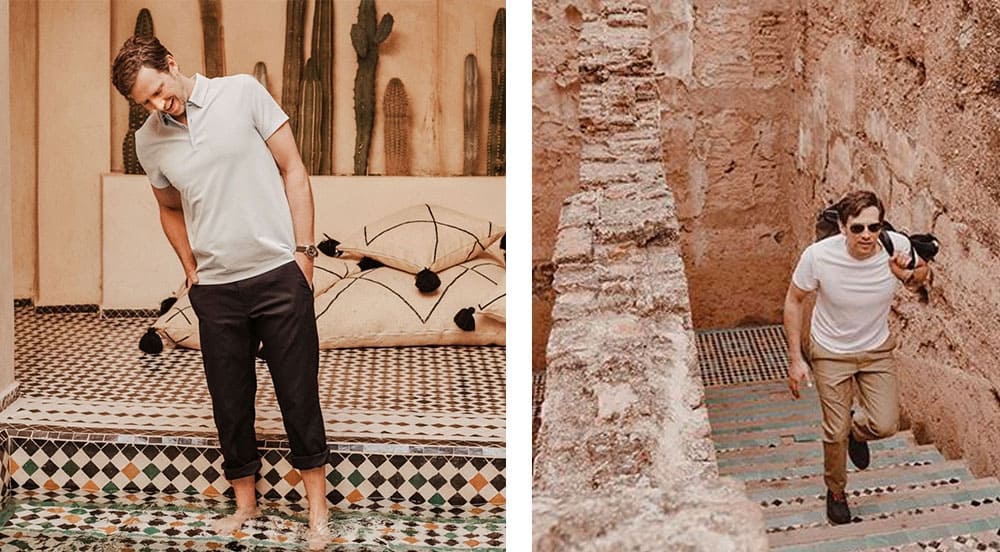 Bluffworks, which makes a range of travel garments, recently released their new Ascender Chinos. These are made with lightweight high-performance fabric. The polyester twill fabric has a nice amount of stretch and it has a minimal amount of "synthetic sheen". The fabric is lightweight so it breaths well, resists wrinkles, and has water-resistant properties.
It's also nice that these come in both a regular and tailored fit. I own the tailored fit but it certainly isn't constricting.
The Ascender Chinos have multiple security features like multiple secret zipper pockets to keep all your stuff safe (so you can throw away that terrible money belt).
The Ascender Chinos sell for $125 via Bluffworks
Bluffworks Departure Jeans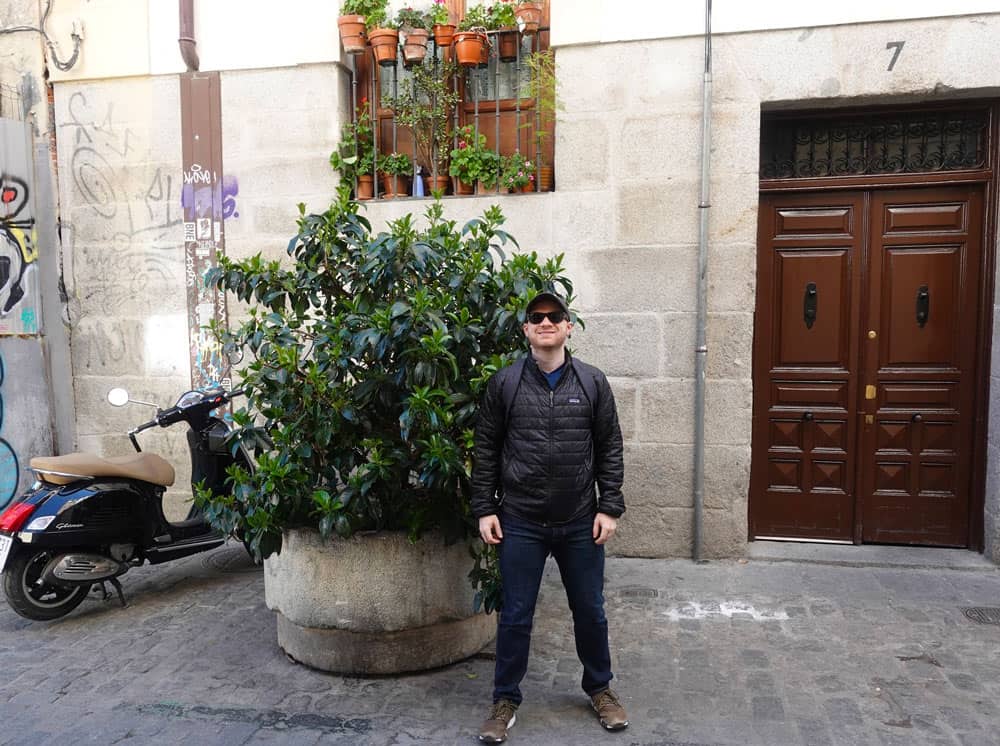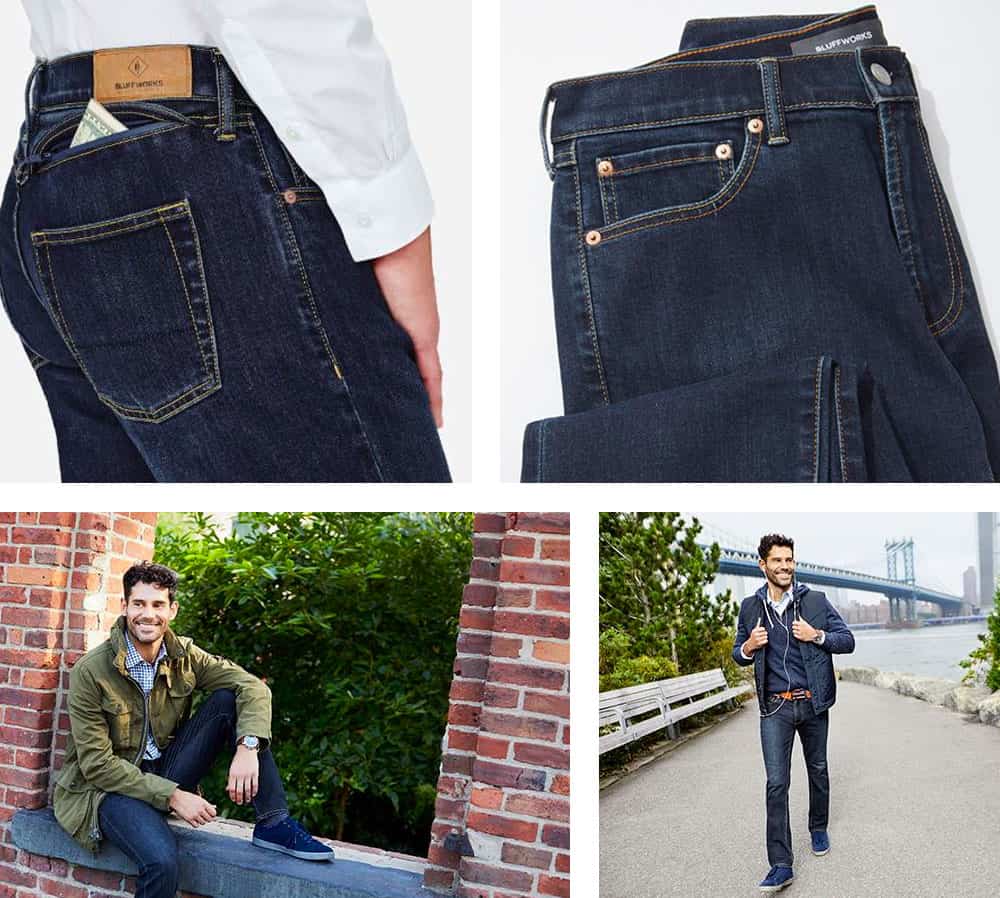 There are a lot of people who think jeans make a terrible choice when it comes to travel pants… and they kind of are (they take forever to dry, they're heavy, and can be hot). But I love traveling in jeans.
Well, Bluffworks helped address many of the "negative" things about denim with their Departure Jeans. These are made from 68% Cotton, 22% COOLMAX Polyester, 9% Rayon, and 1% Spandex so they are super stretchy and much more lightweight than normal denim.
And they included two cleverly designed hidden pockets that don't interfere with the normal pockets.
But I've saved the best for last… these look like normal jeans and they're legit comfortable. I wear them even when I'm not traveling and that's about as good an endorsement as I can give.
The Bluffworks Departure Travel Jeans retail for $98
Western Rise AT Slim Rivet Pants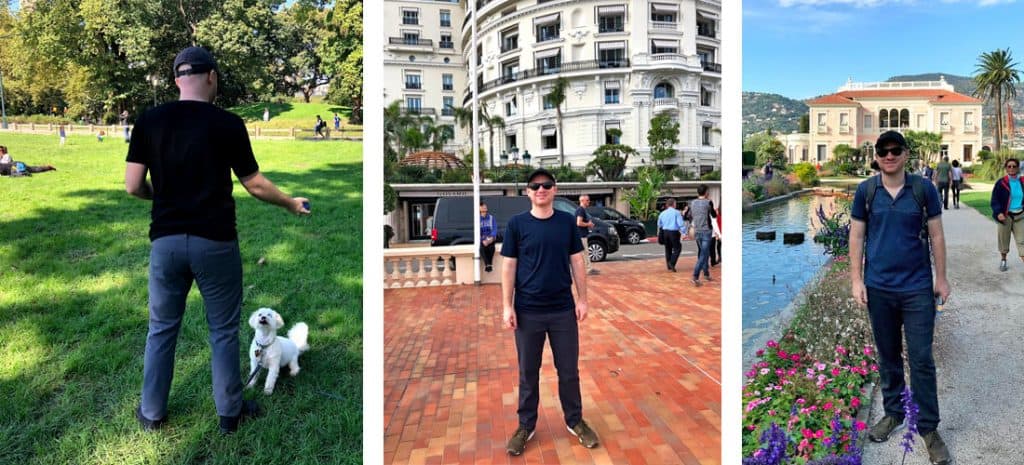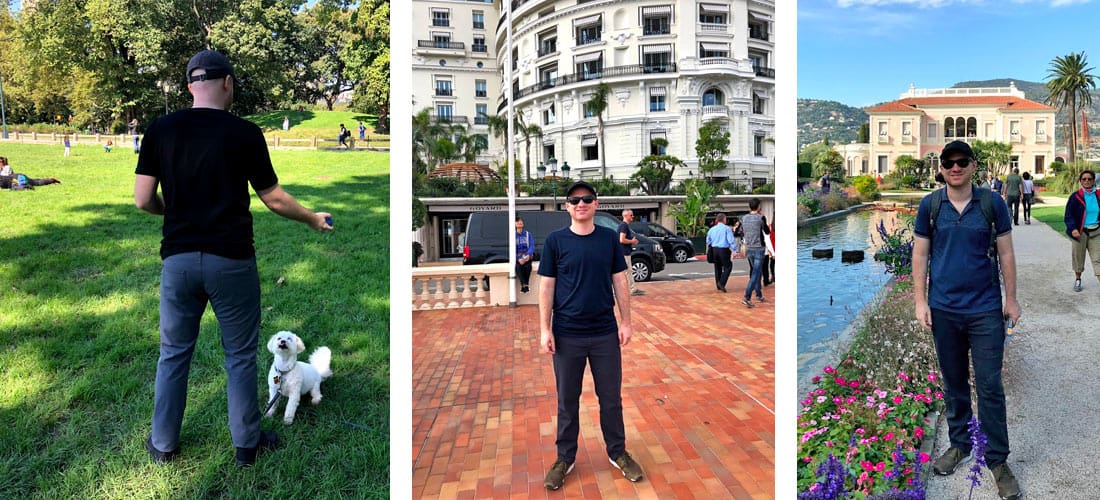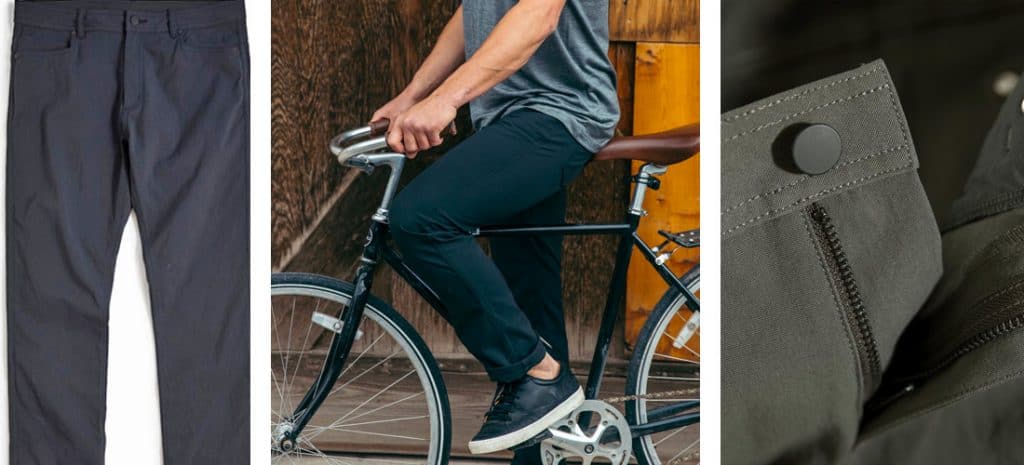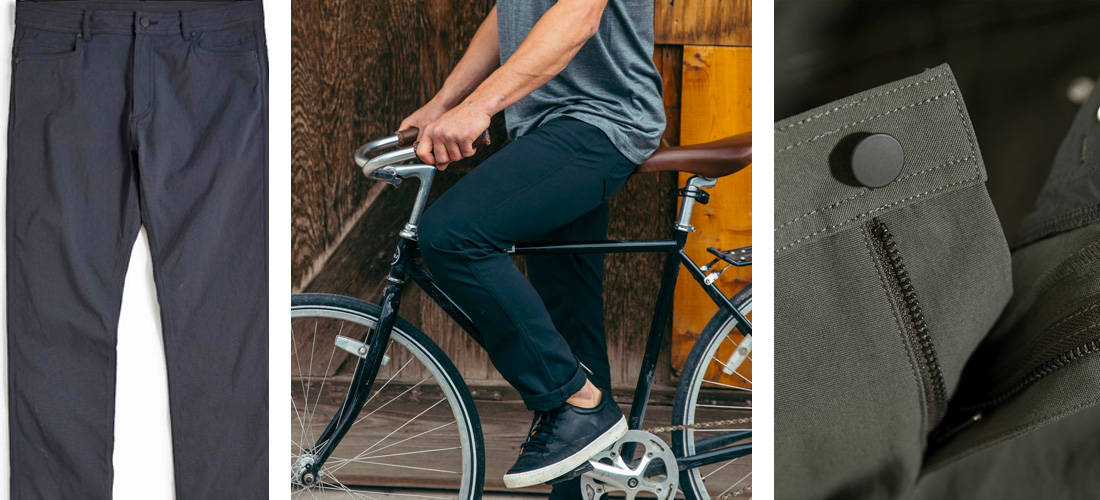 Western Rise is a small performance apparel company from Telluride, Colorado that wanted to make clothing that performed well on the trails but still looked good in town. We think the AT Slim Rivet Pants do a really nice job of walking this balance.
The AT Slim Rivet Pants look very similar to standard five-pocket pants. The fabric is durable yet fairly lightweight and breathable (97% nylon, 3% spandex). Western Rise describes the fabric as "air-texturized fibers" so while it is nylon, the fabric has a cotton feel so there really isn't any of that synthetic fabric sheen (but it does make a swishy noise).
The fabric also has a DWR coating to help repel water in case you get stuck in the rain or spill beer all over yourself. Additionally, there is a hidden zippered pocket for security.
As for the looks, these come in a slim but not skinny cut. They look like normal pants — which is a top priority. I wear my mine even when I'm not traveling.
The Western Rise AT Slim Rivet Pants retails for $128.
Outlier Slim Dungarees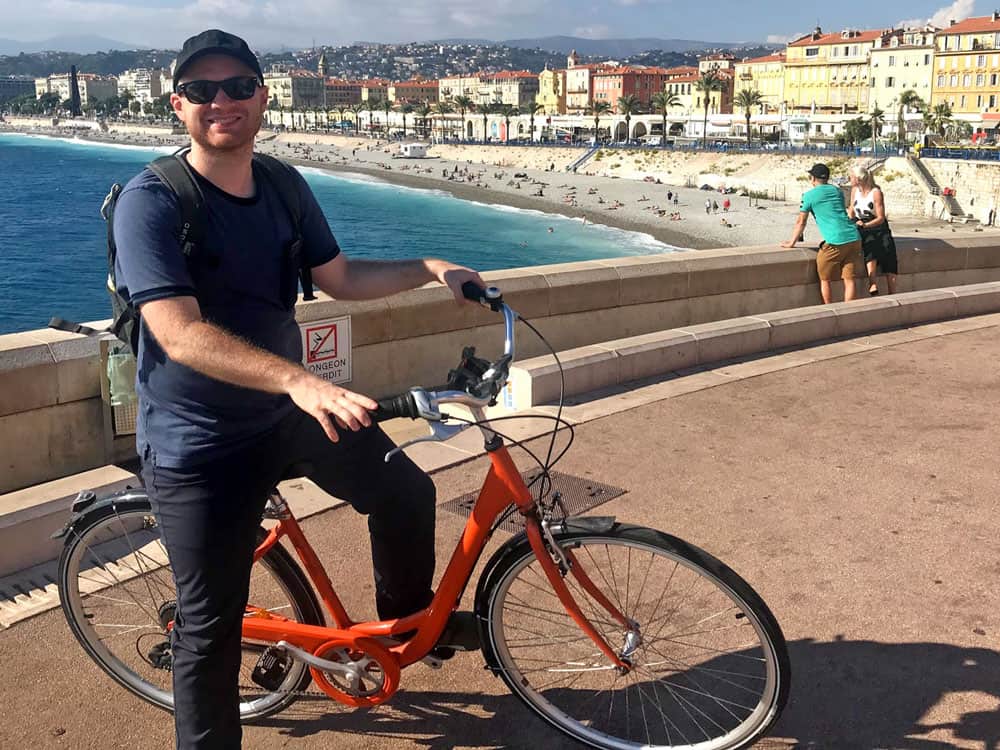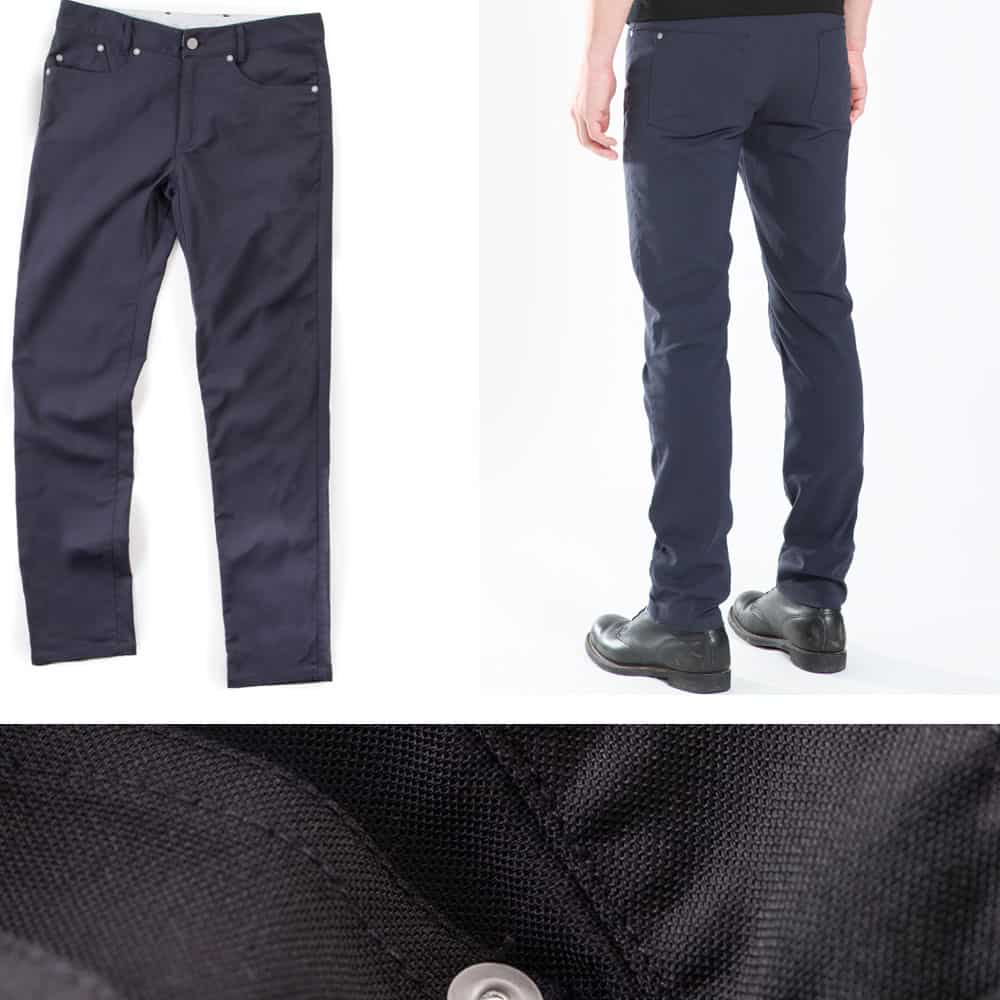 Outlier designed their Slim Dungarees as a "five-pocket pant that we could travel the world in" and they've found their way on many of our trips to Europe. These have a great look and I think they're some of the best-looking/most stylish travel pants. unfortunately, they're also some of the most expensive so that's something to keep in mind.
The Workcloth Doubleweave Canvas is both soft and lightweight yet very durable. The fabric has a nice amount of stretch and it dries very quickly. It also has a self-cleaning" NanoSphere® treatment that helps it repel water, coffee, wine, and dirt.
The Outlier Slim Dungarees sell for $198
Prana Brion Pants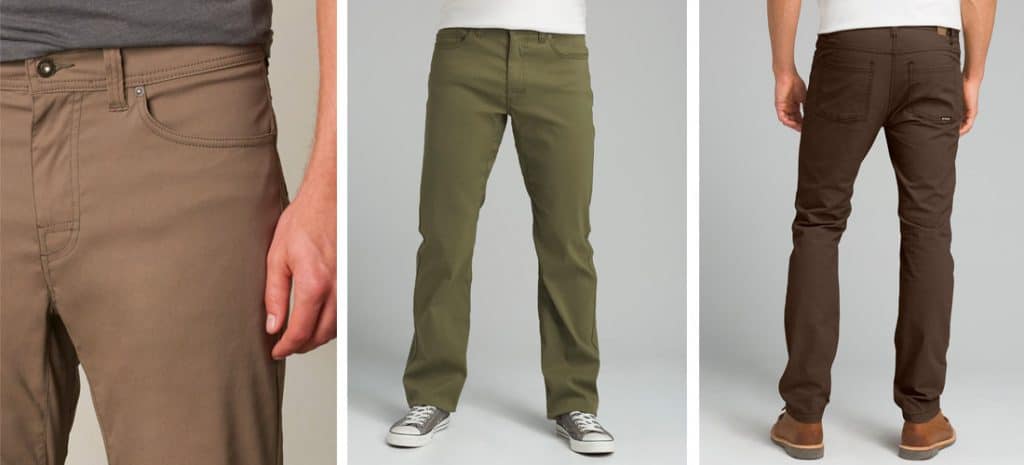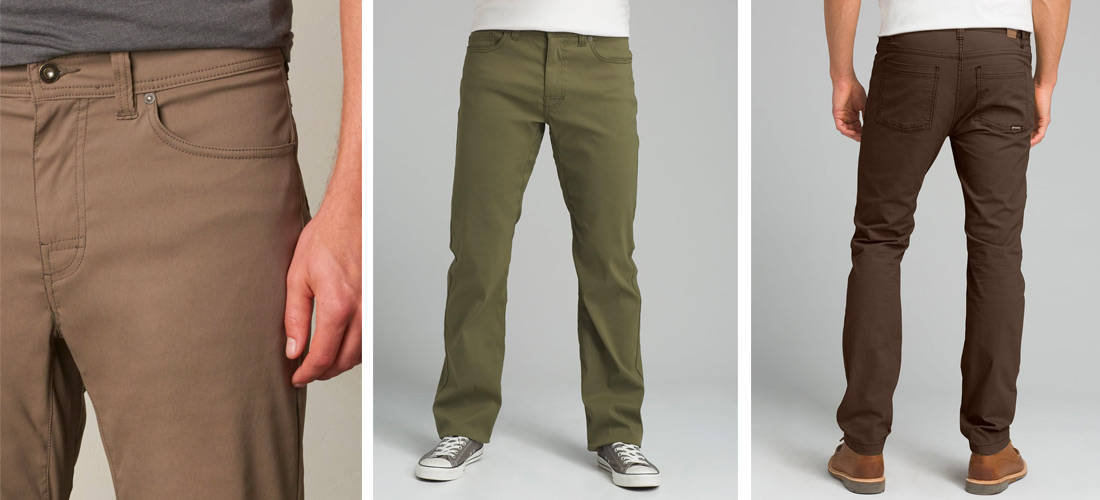 PrAna is a well-established outdoorsy company so most of their stuff is better suited for things like hiking and rock climbing. That said, their Brion Pant is one of their best-sellers thanks to its fairly modern cut and the fact that they look similar to jeans/chinos.
These are constructed from their durable and quick-drying 'Zion' fabric that's actually stretchy (4-way stretch) so provides a good amount of movement. It's also coated in a water-repellent (DWR) coating so it will withstand a little water.
So, these might not win any awards for fashion, they're a solid choice at a solid price.
The PrAna Brion Pant retails for $79 via PrAna.
Everlane Performance Chinos
Everlane recently released their Performance Chinos which I'm also really digging. I own a pair so I can attest that these are very comfortable and they're probably the most stylish pants on this list.
That said, their Performance Chinos are made from 94% Cotton, 6% Elastane so these are the least "technical" pants on this list as well. But I still think these are a nice option if you're more concerned about comfort than technical features.
The Everlane Performance Chinos cost $68 and come in four colors.
Ministry Of Supply Kinetic Dress Pants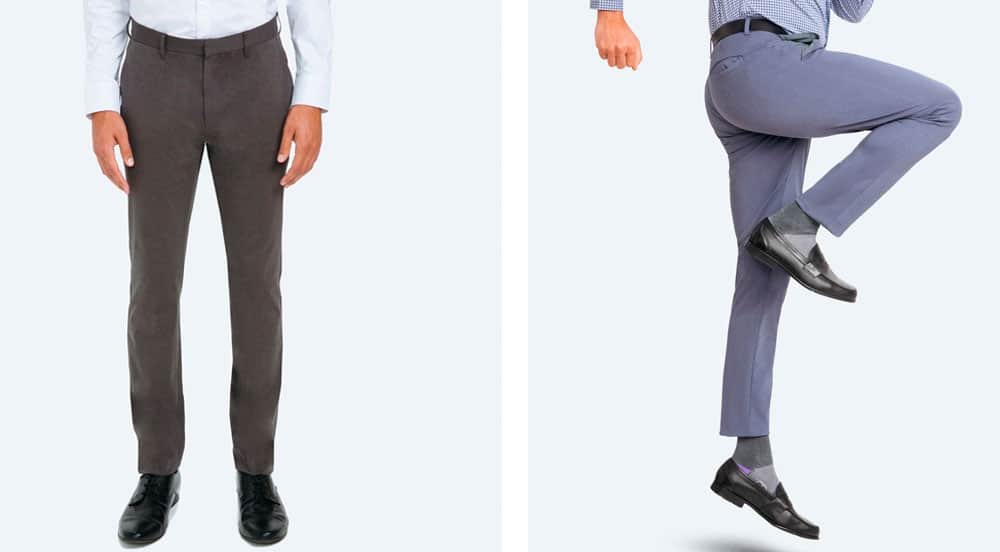 If you're looking for a formal/dressy look, but still want a ton of comfort, then look no further than Ministry of Supply Kinetic Pants. These have been described as "dress pants with the feel of sweatpants".
The Kinetic Pants are made from Japanese Primeflex polyester that has a ton of stretch, resists wrinkles, wicks moisture, and repels water.
The Ministry of Supply Kinetic Pants sell for $145
Travel Pants & Jeans For Women
As we mentioned before, there is a lack of travel pants for women but we've tried to find some of the best of the limited choices that are available. One thing to note is that most women's travel pants tend to focus more on comfort than "technical" fabrics.
Ministry of Supply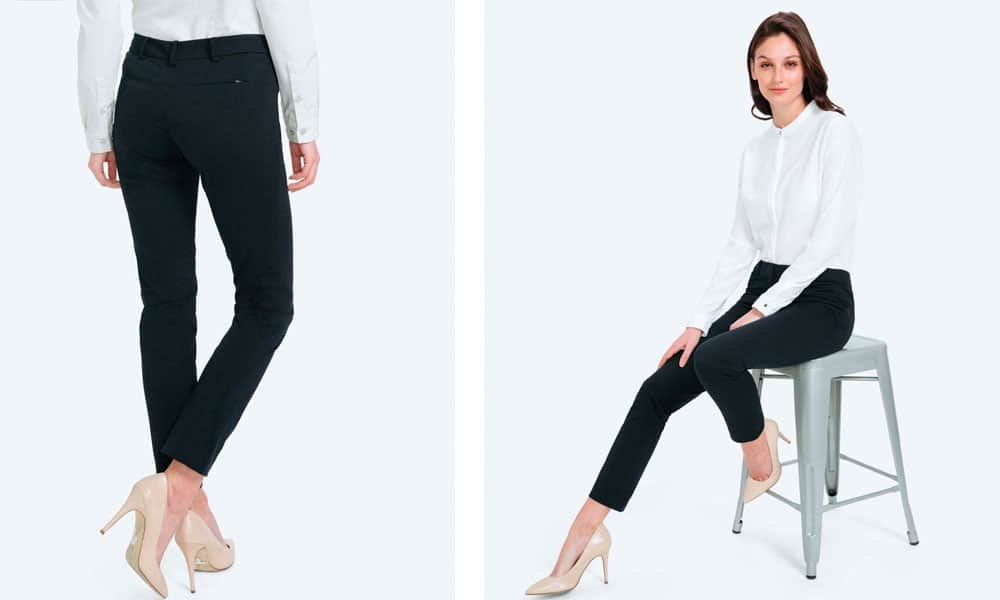 Of all the travel clothing brands, Ministry of Supply makes some of the most fashionable and best-performing clothes. Their stuff certainly isn't cheap but the prices aren't totally outrageous either.
Their flagship travel pants are their Slim Kinetic Pants which get rave reviews for looks, comfort, and performance. And they can be machine-washed and tumble-dried.
The Slim Kinetic Pants sell for $145.
Anatomie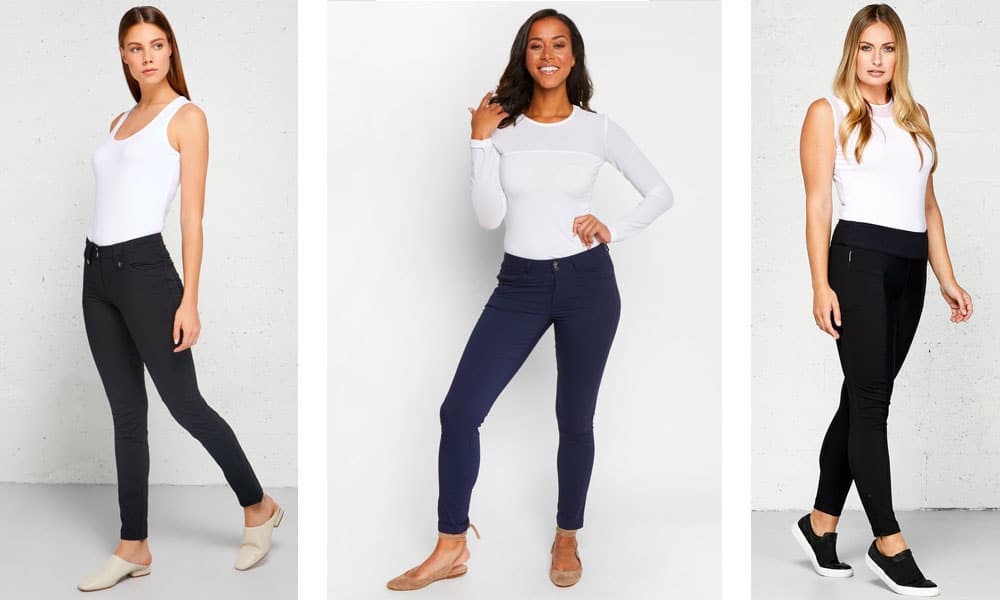 Anatomie is a high-end women's travel clothing company that's one of the few brands which puts a heavy focus on fashion. Most of their travel-friendly pants are expensive at $225+/pair but they have a ton of different styles and cuts for just about every body type.
Check out Anatomie to see their travel pants and other travel garments (shirts, shorts, dresses, jackets, etc.).
Prana Travel Pants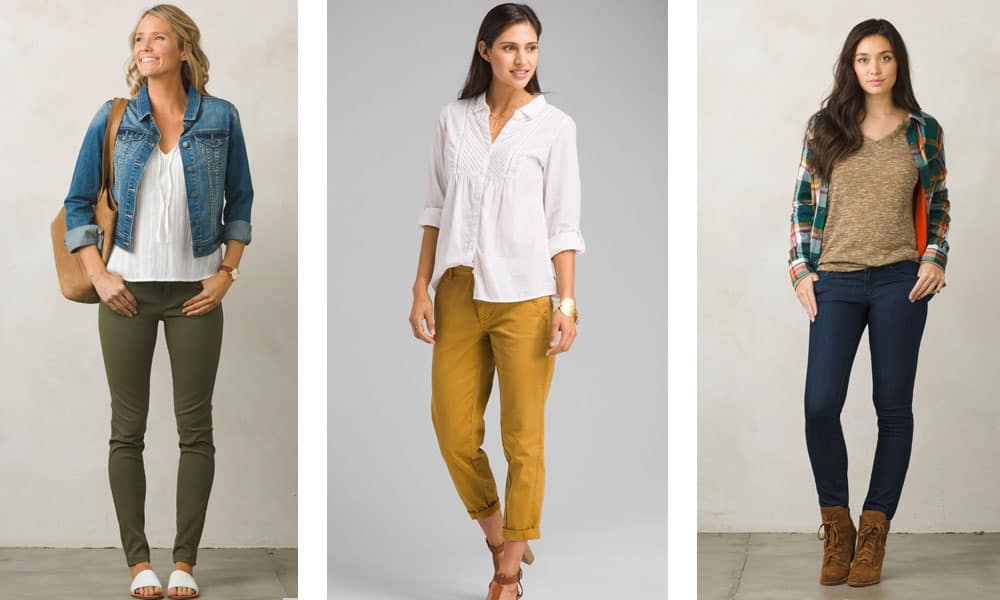 PrAna is one of the few companies that make women's pants made out of legit technical fabrics. Most of their stuff falls into the "ugly hiking pants" category but they have a few different styles of pants and jeans that are actually cute. And most of their pants are priced around $80 so they're not crazy expensive.
Check PrAna to see all their styles.
Lululemon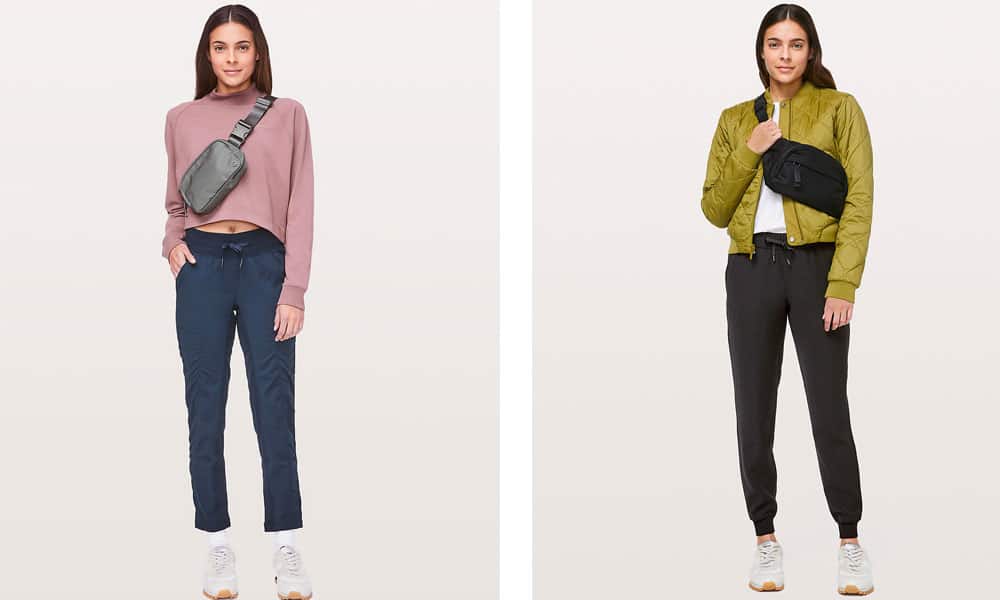 Lululemon may be known for their yoga clothing but they've also branched out to more fashion-conscious athleisure wear that works fairly well as travel pants.
Check Lululemon to see the different styles they have available.
---
The Best Shirts For Travel
Alright, moving right along to shirts made from high-performance fabrics that actually look stylish.
Wool & Prince Tees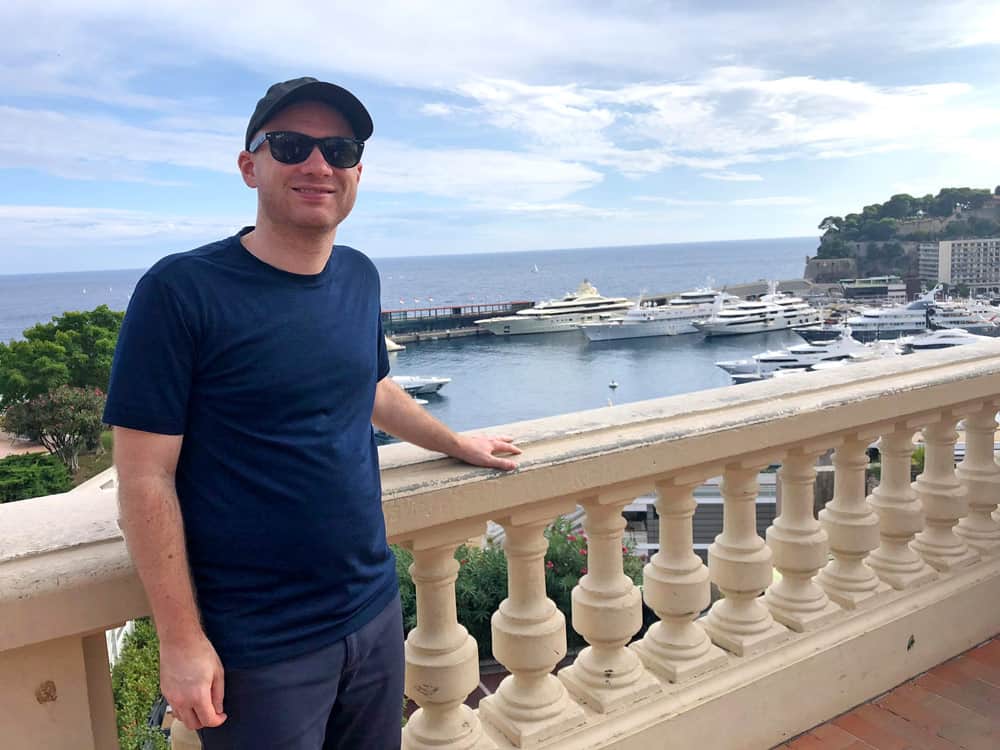 I practically live in t-shirts so a few solid-color tees are a staple of any travel wardrobe. While pricy, I love my Wool & Prince merino wool tees. These can be worn for multiple days and I don't have to worry about washing them.
They have both 100% wool tees and 78% / 22% merino nylon blends. I recommend the blend since it's cheaper, more durable, and requires less care when washing.
The Wool & Prince Tees sell from $68-$78
Bluffworks Meridian Dress Shirt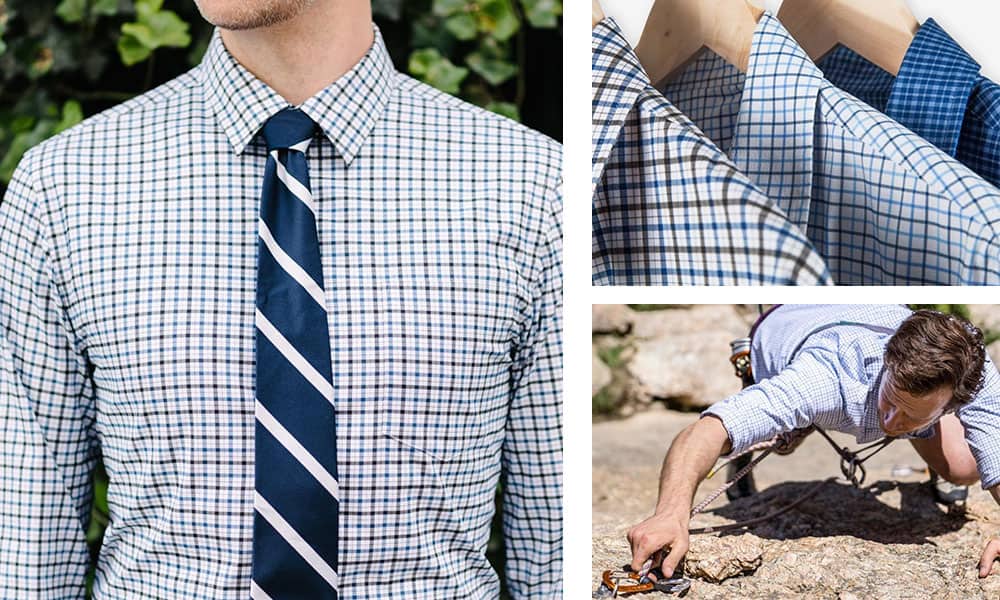 If you're looking for a sharp-looking yet no-fuss button up then look at the Meridian Dress Shirt from Bluffworks. It's made from 98% polyester and 2% spandex so it won't wrinkle and the fabric will dry very quickly. The fabric can take a beating and there aren't any special care instructions. We also like how it comes in both a classic and slim fit.
The Bluffworks Meridian Dress Shirt sells for $98
Bluffworks Piton Polo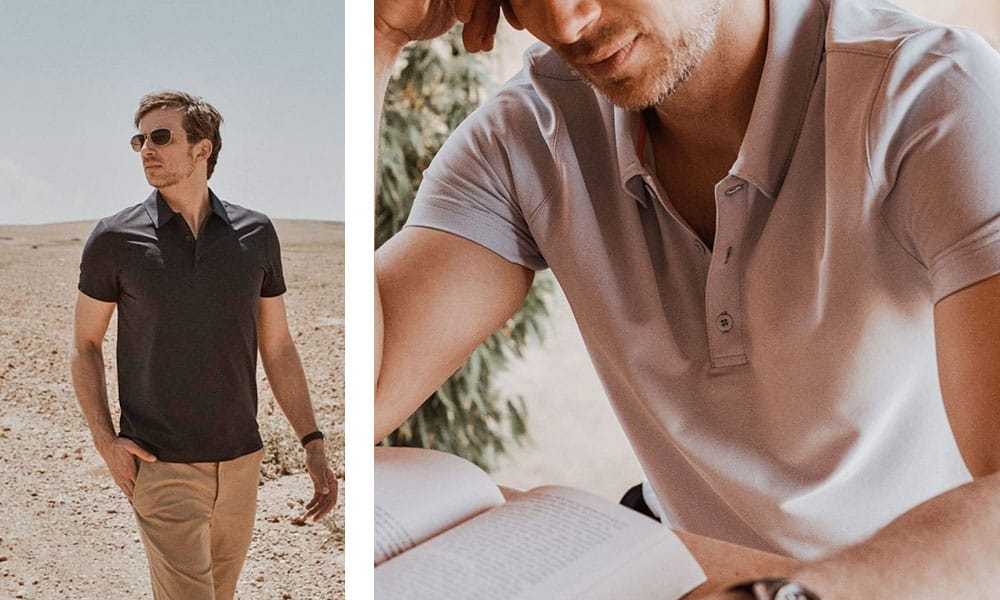 I've only had my Bluffworks Piton Polo for about a month but I'm already seeing why this is an excellent travel shirt. First, it looks great and I love how it comes in a classic and slim fit. Next, the breathable pique knit is breathable and it only has a very slightly noticeable synthetic look even though it's 100% polyester. And like all Bluffworks clothing, the fabric is tough, wrinkle-resistant, and doesn't require any special care.
The Bluffworks Piton Polo sells for $68
Wool & Prince Polo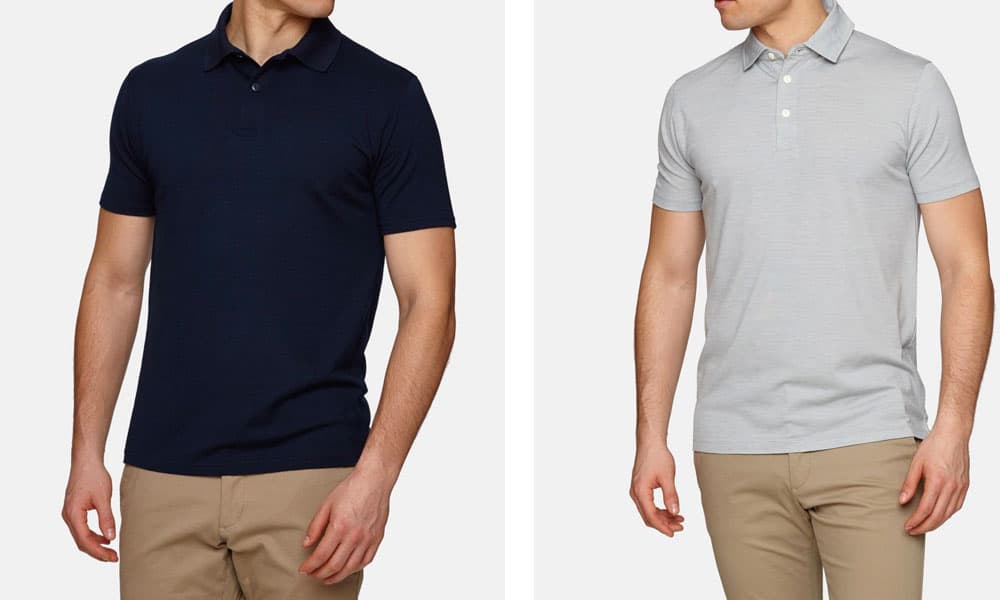 My Wool & Prince Polo always finds itself in my backpack. I love the cut and the quality is top-notch. It's a nice "dressier" change from a t-shirt while still being casual. And you get all the benefits from merino wool fabric.
Wool & Prince offers has two types of polos — a 100% merino wool version and a 78% merino wool, 22% nylon blend. I own the blend version and I love it.
The Wool & Prince Polo sells for $78-$98.
Bluffworks Threshold Performance T-Shirt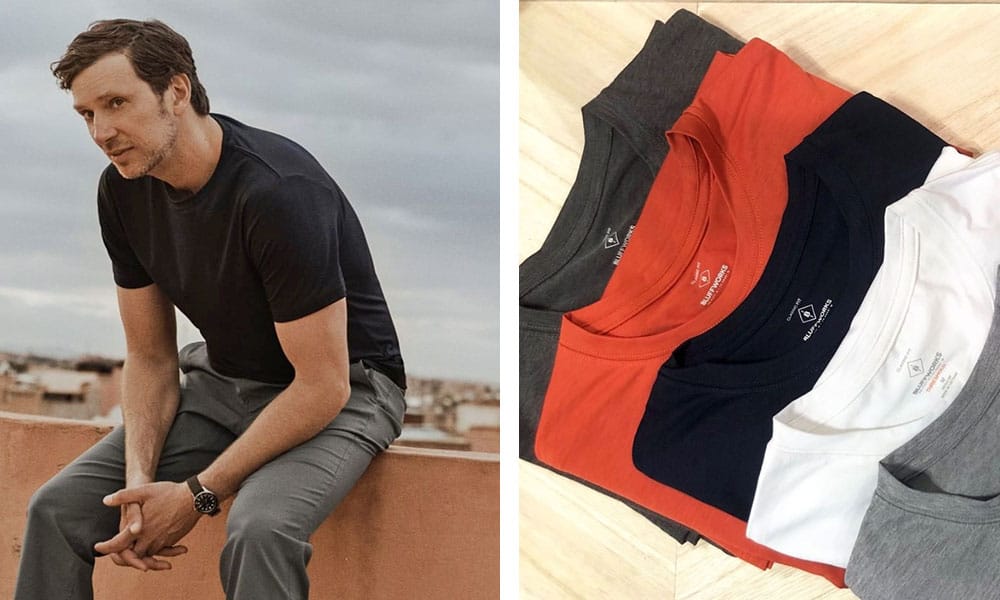 You might be seeing a pattern here… but Bluffworks is back with their Threshold Performance T-Shirt. This ultra-lightweight t-shirt is made from a blend of 66% Polyester, 29% Lyocell, and 5% Elastane so it has a ton of stretch, wicks moisture well, and is very breathable. The fabric is thin (which is why it's airy/breathable) so if you like a little more heft to your shirts then you might want to look elsewhere.
The Bluffworks Threshold Performance T-Shirt sells for $45
Wool & Prince Button-Ups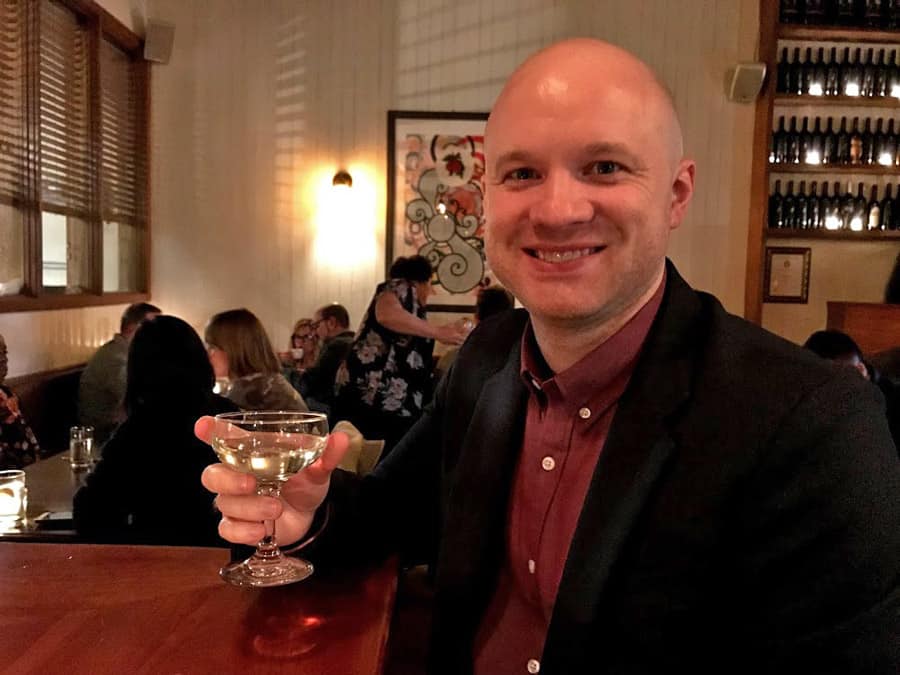 Wool & Price has a number of both short-sleeved and long-sleeve button-up shirts made from merino wool. I own one of their button-down oxford shirts and the fabric is very sturdy — I'd say it makes a nice choice for cooler weather as I can see it getting a little warm in the hot weather.
They also have a new wool/linen blend which will be more airy and breathable so these look great for warmer weather (I'll be testing these once they get back in stock).
The Wool and Prince Button-Up Shirts sell for $98-$138
Outlier Merino T-Shirt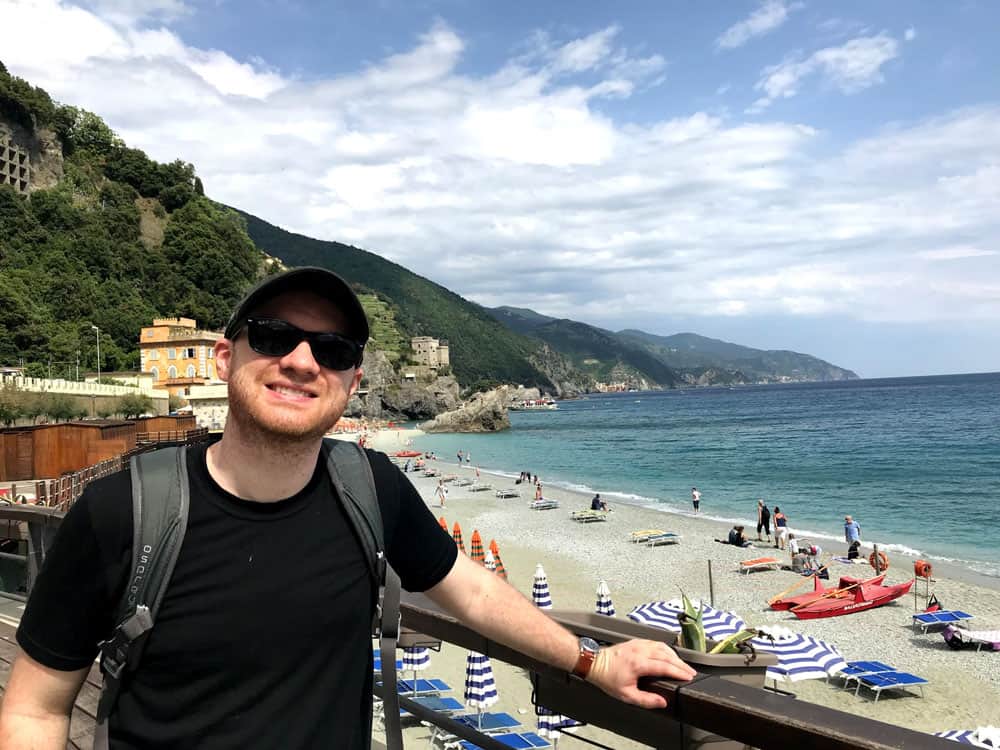 Outlier is another high-end brand that makes excellent products and one of my favorite items is their Ultrafine Merino T-shirt. It's made from 17.5, 195gsm Merino Jersey Wool so the fabric is sturdy and drapes a bit better than many other merino t-shirts. And it comes in a lot of nice colors. But like all other Outlier products, the ultra-high-quality comes at a very high price.
The Outlier Ultrafine Merino T-shirt costs $110 each or three for $295.
Unbound Merino Wool T-Shirt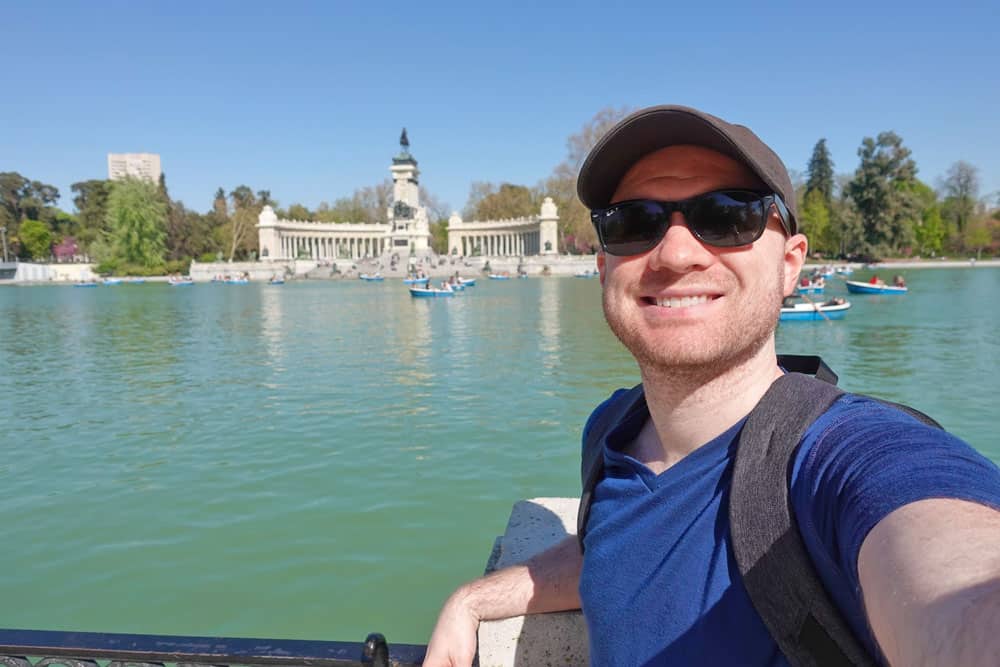 Unbound is another small company offering 100% ultra-fine 17.5 microns, 190g Merino wool shirts at affordable prices. I own a few of their shirts and while their shirts might not be quite as nice as other 100% merino shirts on our list, the price is a bit cheaper.
The Unbound Merino Wool T-Shirt sells for $65
Uniqlo Airism Shirts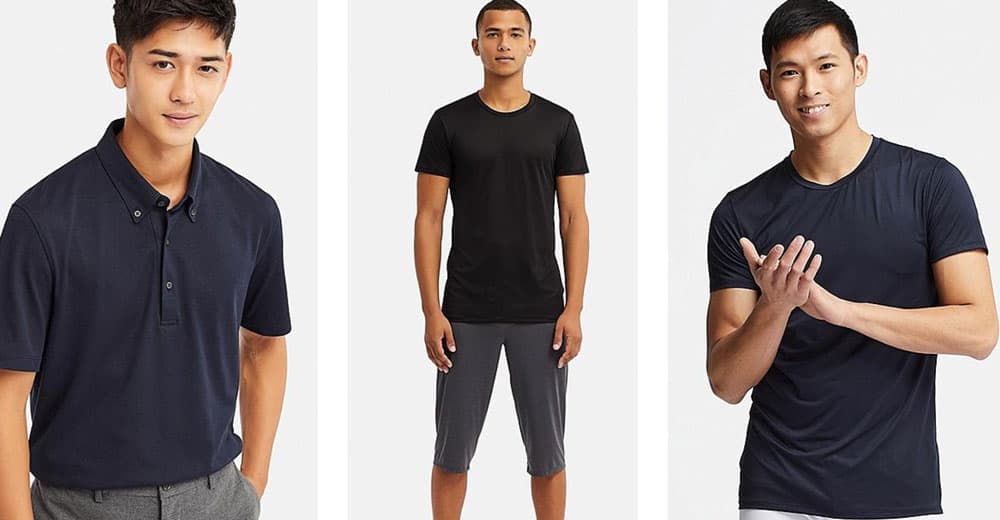 When it comes to budget basics, it's impossible to beat Uniqlo's Airism line of shirts. We own a few different Airism items and they're not terrible but they certainly aren't nearly as nice or perform as well as the other items on this list — but they're cheap.
Check Uniqlo to see what they have because always changing their stock.
Women's Travel Shirts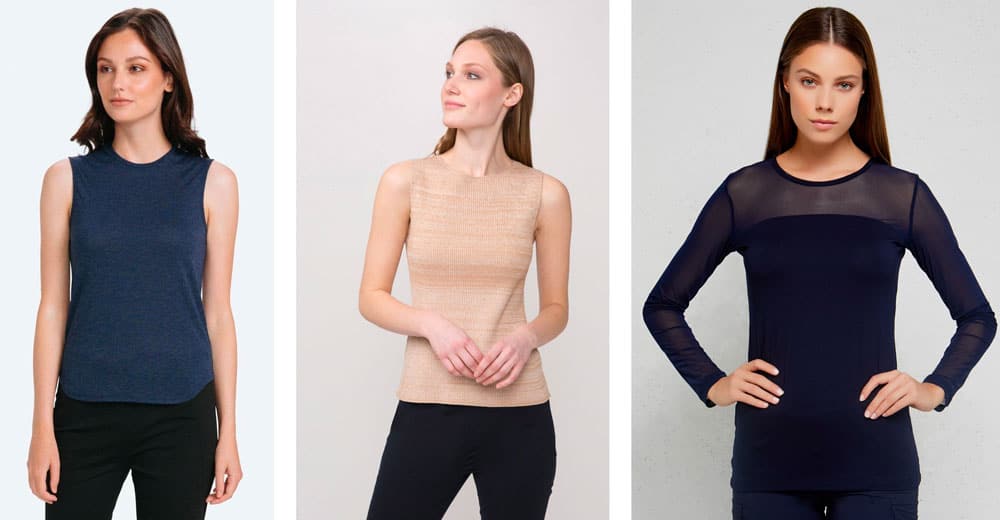 Ok, here's the deal… there aren't a ton of "performance" shirts for women that aren't ugly. But here are a few decent items we've found:
---
Cold Weather Travel Clothing
Most of the items on this list will work well in colder weather but you'll want to pair them with other items to achieve maximum warmth. The key is layering—which basically means combining a few lighter layers to achieve warmth without the bulk.
Base Layers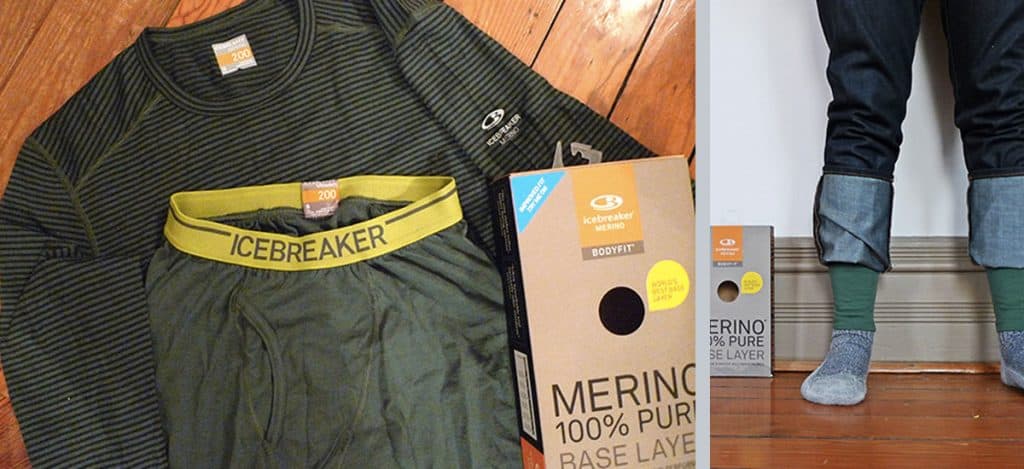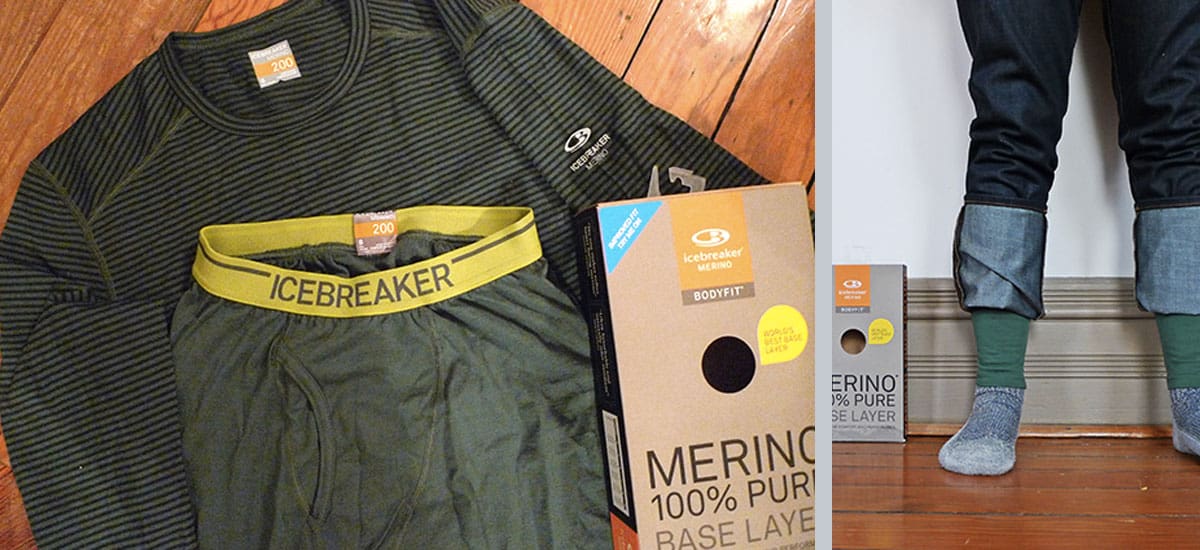 A base layer is technically anything that is worn directly on your skin. Socks and underwear fall into this category but it also includes items like shirts, undershirts, and long underwear.
In the winter we'll throw on long-sleeve merino wool or synthetic long underwear and this helps keep us warm and dry when we're outside all day.
For the best selection, I recommend checking out REI as they carry all the major long underwear brands. If you're trying to save a little money, check out Uniqlo's HeatTech line of long underwear since it is cheap.
Mid Layers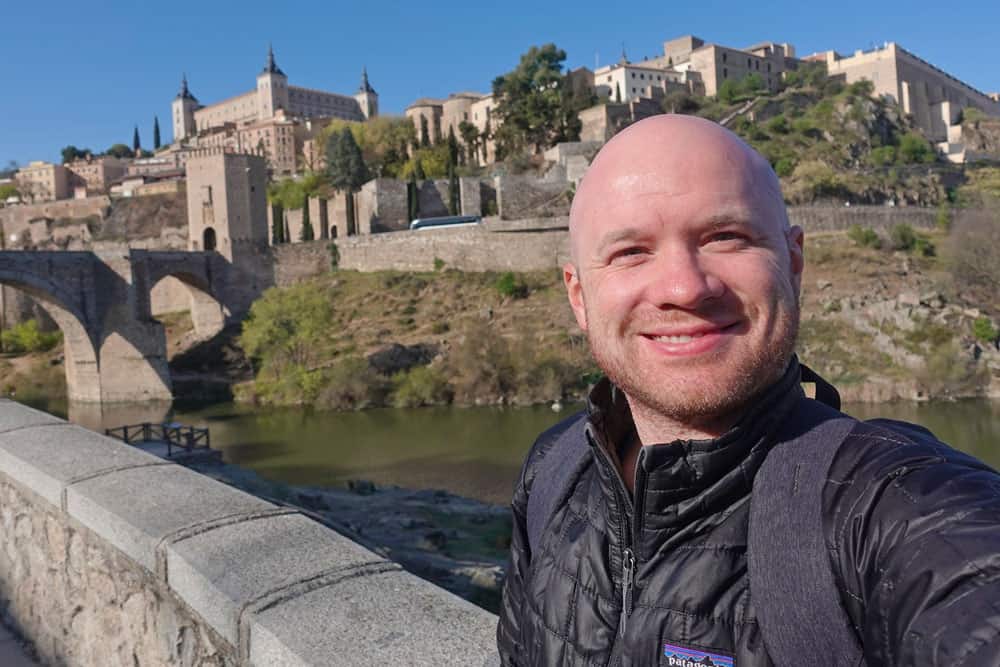 A mid-layer is anything that is worn between your base layer and your outer layer. Its main purpose is insulation and it can be a sweater, vest, down jacket, hoodie, or just about anything. Sometimes the mid-layer can act as an outer layer if the weather isn't too cold.
When it comes to tech-wear, the main pieces are Merino wool sweaters/jackets, fleece jackets, and down (or a synthetic variation) jackets. The piece just needs to allow internal moisture (sweat) to evaporate through the fabric. It's also nice if the piece is lightweight and durable.
Fleece is always a popular choice because it provides a good amount of warmth, durability, and breathability without being too bulky. There is also a variation of fleece called hard fleece — which is basically a fleece with a smoother and more durable exterior. Most hard fleece garments are also more water-resistant than normal fleece.
There are hundreds of fleece jackets available on the market at all price points, so we'd check out the selection at REI and buy whatever fits your budget.
Another popular choice is down jackets — although a lot of companies now use synthetic down (Primaloft, Coreloft, etc.) and many people prefer synthetic material to natural down. Synthetic down is incredibly lightweight, compressible, breathable, and it retains warmth even when wet.
It is crazy how compressible natural and synthetic down jackets are — some can compress to the size of a shoe. When compared to a fleece jacket, a synthetic down jacket is more water-resistant, wind resistant, packable, and lighter. 
Nearly every outdoor brand makes lightweight down/synthetic down jackets. One of the most popular and fashionable brands is Patagonia — check out both Amazon and REI for the best selection. The Patagonia Nano Puff jacket is probably the most popular lightweight puff jacket on the market so it's no wonder it's a favorite among experienced travelers (it's what we use).
---
Outerwear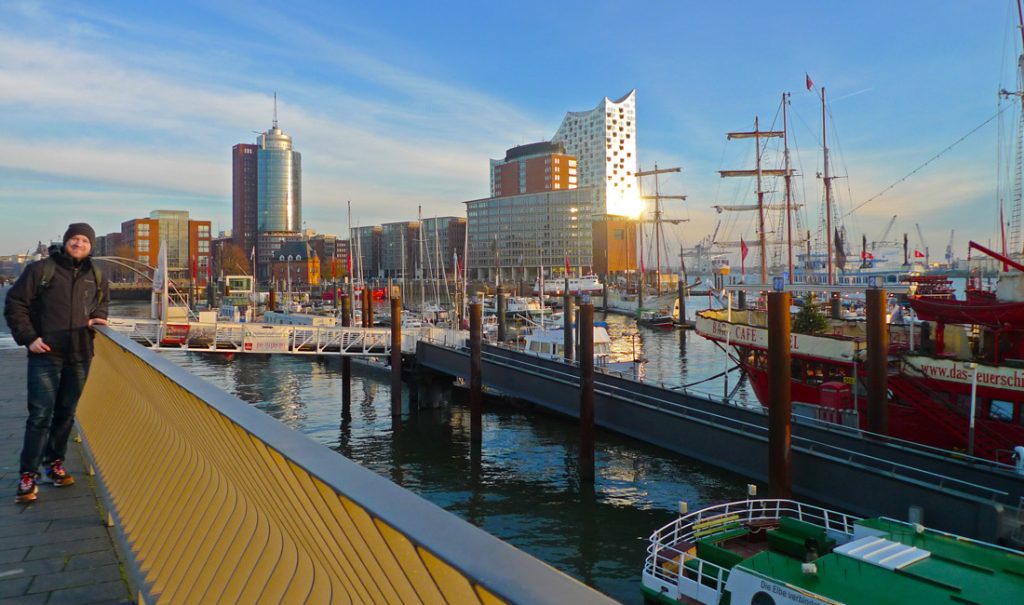 Outerwear is generally the final layer and it is what protects you from the elements (wind, rain, snow, etc.). The problem with outerwear is that it encompasses a huge range of garments that perform a huge range of functions. It can be anything from a simple waterproof jacket for summer showers, to large winter coats capable of withstanding a harsh Scandinavian winter.
I'll start off by diving into waterproof jackets since that is probably what most people are interested in learning about.
Most traditional waterproof jackets are called hard shells. These are 100% waterproof and they have that plastic-y feel and sound. If you want the ultimate protection from the elements, this is your choice.
However, being impermeable to the elements means that the material doesn't breathe — this is less than ideal because it doesn't allow your body's sweat to evaporate. Basically, it traps moisture and makes you feel all clammy.
Some high-end hardshell jackets have breathable fabric, but even those aren't as breathable as softshells (which we'll talk about later).
Unsurprisingly, most waterproof jackets are made by outdoor companies, so trying to find a stylish one isn't super easy. However, there are plenty of decent-looking options by Marmot, Patagonia, and The North Face.
However, in the summer I generally recommend that a traditional rain jacket is unnecessary — mainly because it doesn't rain a lot and most jackets are too heavy for summer travel.
However, Ultralight Rain Jackets are super lightweight (they only weigh a few ounces) and they can be packed into a pocket, so they're easy to carry around in a daypack. Ultralight rain jackets won't have very good breathability, but you'll only be wearing them in the rain, so it isn't a huge issue.
The best ultralight rain jackets are the Outdoor Research Helium II, Marmot Super Mica, and the Montane Minimus (they all weigh under 10 oz).
When it comes to breathability, it doesn't get any better than a softshell jacket. Softshell jackets aren't technically 100% waterproof, but they're essentially waterproof. They're well-suited for urban travel because they're more comfortable than a hard shell and they're more stylish.
Again, there are hundreds of softshell jackets, so I recommend visiting REI (click here for Men's and Women's) to see which ones fit your budget and style preference.
---
Heavy Coats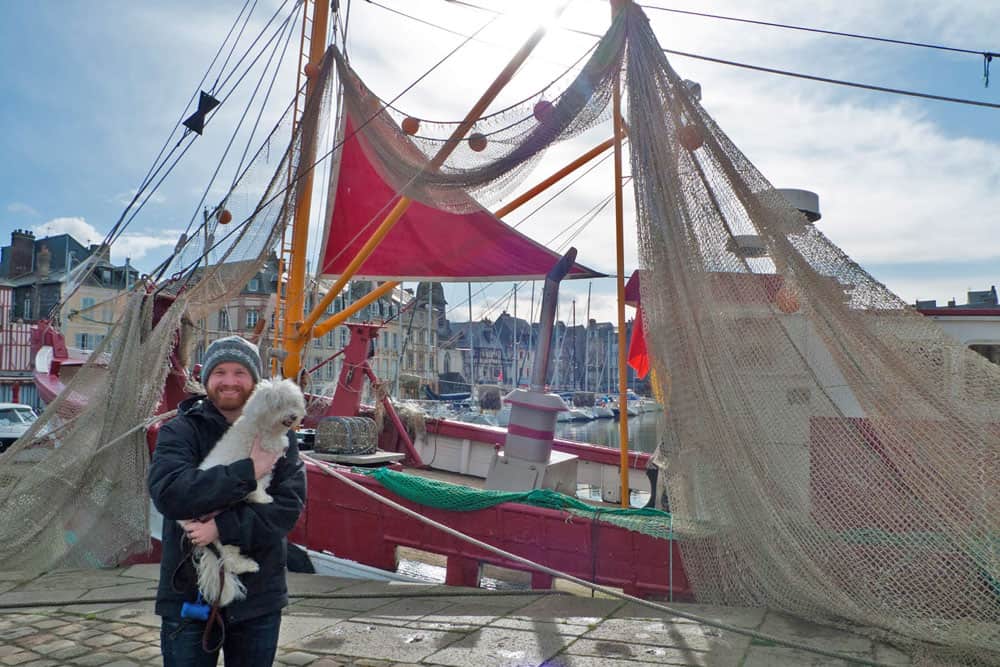 If you're traveling during the winter, you may consider bringing a heavy winter coat. In some instances, you may be completely comfortable by layering a base layer, a few mid-layers, and an outer layer. But, sometimes, you need a heavy coat — especially if you're traveling to Northern or Eastern Europe in the dead of winter.
Puffy down coats provide an amazing warmth-to-weight ratio — which is always something to consider when traveling. Combine that down coat with a base layer and a warm mid-layer, and you'll be staying toasty. Natural down is the warmest, but it becomes ineffective if it gets wet.
On the other hand, synthetic down isn't quite as warm, but it still works if it gets wet and it dries quicker. Different coats have different amounts of water-repellant, so this is something to take into consideration.
For the best selection of insulated coats, I recommend checking out REI simply because they have the best selection. Look for one that fits your personal style.
If you're looking for the ultimate protection from the elements, you'll want a standard waterproof, winter coat. A lot of coats have a 3-in-1 system that contains a waterproof outer shell and an interior insulated lining. Again, REI is a good place to start your search because they have the best selection.
---
More Travel Gear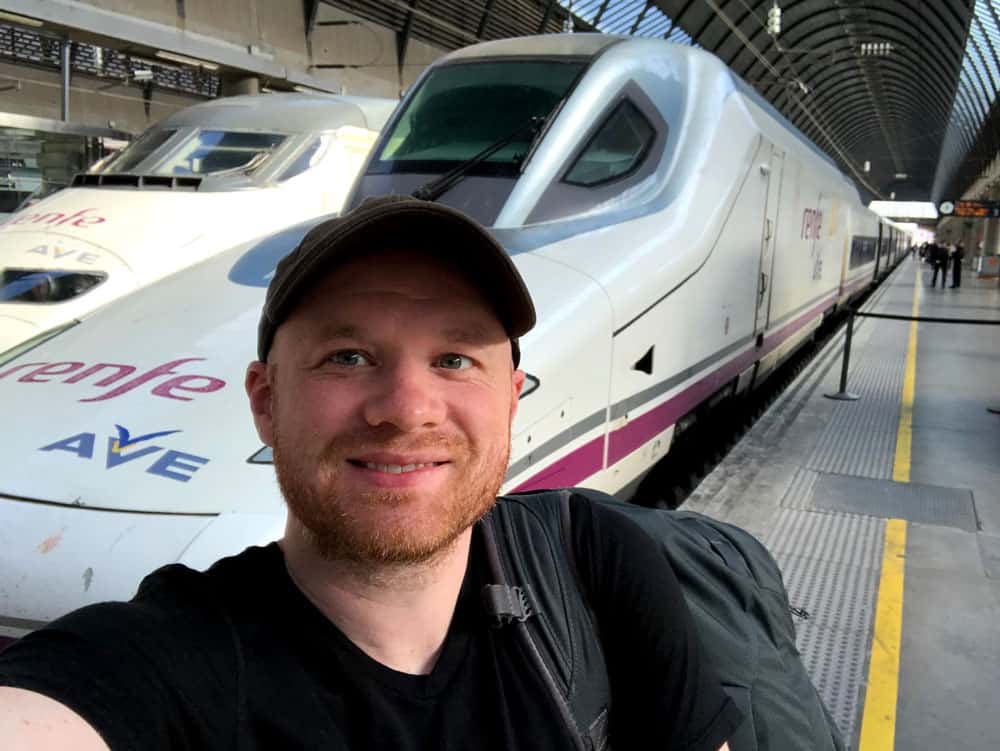 Here are some more helpful "best of" travel gear guides that we think you'll find helpful!