I talk a lot about traveling light but there are many people that take backpacking light to the next level. I call this travel "ultralight backpacking." Basically, the goal of ultralight travel is to cut as much weight as possible. Some people go to extremes (like drilling holes in their toothbrush to save fractions of an ounce) but this guide will give you practical ideas on how to take traveling light to the next level.
Luckily, it is pretty easy to find ultralight gear, but stuff tends to get more expensive as it becomes lighter. In fact, in some cases, you're going to pay a lot more, so I suggest shopping around if you want to splurge on some fancier equipment.
Note: If you haven't already, I suggest reading my ultimate packing list because the list is geared toward traveling light—by following that list you'll travel lighter than 90% of the backpackers you'll meet. This guide is for people that want to take traveling light to the next level by shaving off an extra few pounds.
Ultralight and Lightweight Backpacks
First off, don't buy a big backpack. The bigger the backpack the more stuff you'll inevitably bring. A 50L (3,050 cubic inches) backpack should be the biggest size you should buy—whether you're an ultralight backpacker or not. Anything bigger than this will probably be too large to be a carry-on. Second, the big backpacks weigh more, so a 5-8lb backpack will get extra heavy once you add all your stuff to it. Plus, many airlines limit the weight of your carry-on so you don't want a large chunk of your weight allowance to be take up by your backpack.
The hardcore ultralight travelers only take a 20-30L backpack. This means that you are forced to take only the bare minimum of stuff. Personally, I think 40-50L is just fine for ultralight travel, but a 30L pack is very possible. Just make sure you're disciplined in your packing,
If you want to travel light you should look for a "lightweight" or an "ultralight" backpack. In general, ultralight backpacks weigh under 3lbs and lightweight ones weigh under 4lbs. To save weight, manufacturers have to use less sturdy materials, so you'll notice that ultralight packs feel a little more fragile. But, unless you plan on mountain climbing, I wouldn't worry too much about this—just don't go throwing your bag around.
GoLite makes some super light packs that weigh in at a little under 2 lbs. Osprey also makes a few. If you're on a budget, REI also makes a few ultralight models. Most brands make lightweight models, so they shouldn't be too hard to find. I use an Osprey Atmos 50 and it weighs just under 3.5 lbs—I rarely saw anyone with a lighter backpack that I had.
Ultralight Clothing
A huge percentage of your gear's weight comes from your clothes. It's pretty amazing how quickly it all adds up. If you want to be an ultralight backpacker you'll have to learn to travel with only a few sets of clothing. I've heard of some travelers that literally take one pair of pants, two shirts, some underwear, and socks. They wash their clothes at night and wear everything again in the morning. I don't think going to these extremes is necessary (or practical) so I will focus on more realistic packing advice.
First, everything you bring should look good when paired with each other. And forget about multiple outfits for different occasions because it is simply impossible to bring separate outfits for daily wear, club wear, sleep, exercise, etc. You need to find items that can function in multiple environments—for example, find a shirt (or skirt or whatever) that can be worn all day and can be worn at the club/bar.
Ideally, you should look at buying "high performance" clothes that are specially made for travel. These types of garments are designed to be lightweight, durable, breathable, wrinkle-resistant, and quick drying. Unfortunately, these clothes are expensive so buying an entire wardrobe might be out of the price range of budget travelers. Traditionally, high-performance travel clothes have been pretty damn ugly, but manufacturers are starting to realize that people want to look good when they travel. I go into more detail about high-performance travel clothes in my guide to high-tech & high-performance travel clothing.
Sample Clothing Ensemble
I've created a sample ensemble of clothing that should give you a decent idea of what ultralight travel packing consists of. You should be able to travel for anywhere between 10 days and 10+ months with just these clothes. Everything in this list consists of  "technical" clothing that is designed specifically for travel. I also tried to find things that are stylish since most people that read this site don't want to look like some old dude on an African safari.
Note: This guide is mainly geared toward traveling in warm weather. Check out my guide to dressing for winter & learning how to layer if you plan on traveling in cold climates (although all these items will work well in the winter as long as you layer properly).
1.  This shirt would function well during the day and it is nice enough for a night out at the bar or club. You could buy a long sleeve shirt if you felt this was too casual or you are going to be traveling in cooler weather. This particular shirt is some type of cotton/some strange material blend that is rugged and dries quickly.
Shown: Arc'teryx Peakline Shirt
Price: $75.00
2. This shirt would function well during the day and it is nice enough for a night out at the bar or club. It is a lightweight cotton/polyester/spandex blend so it wicks moisture, breathes, and dries fast.
Shown: Arc'teryx Captive Polo Shirt
Price: $65.00
3. Another quick drying t-shirt that looks good alone or as an undershirt. It also works well as a sleep shirt.
Shown: Arc'teryx Motus Crew Shirt
Price: $59.00
4. These pants are rugged but they still look presentable in most situations. The dark color helps hide stains. These are made from synthetic materials and it will be fairly obvious that they're not cotton pants/jeans.
** Rant about jeans haters ** Most ultralight travelers hate jeans because they are heavy and take forever to dry… but I still travel with jeans. You can wear jeans for months and they won't smell—unless you are traveling in the rain forest or something. Other than formal occasions, a dark pair of jeans always looks great. This is a personal call for you to decide.
Shown: REI Endeavor Hiking Pants
Price: $79.50
5. Again, like my spiel about jeans, these pants are 100% cotton so they won't dry super fast but they will perform better than jeans.
Shown: The North Face Cliff Rock Crag Pants
Price: $55.00
6. This t-shirt is made from merino wool that is super soft and it regulates temperatures well (in both warm and cold conditions). A shirt like this would work well alone or as an undershirt. Wool also does a good job of naturally blocking odors so it can go multiple wearings without washing. Wool isn't technically "quick drying", but it will dry quicker than cotton. Look for synthetic options if you want true quick drying.
Shown: Icebreaker Tech T Lite Shirt
$60.00
7. A quality fleece is nice to have because they offer a lot of warmth in a relatively light package. I tend to shy away from North Face just because the North Face Fleece jacket is becoming the new "stereotypical American" outfit.
Shown: Patagonia R1 Full-Zip Fleece Jacket
Price: $139.00
8. Quick drying underwear is important because you'll be washing your undies a lot. People swear by their ExOfficio underwear and they say it is the best underwear they've ever worn. You can wear them for 2-3 days and they won't smell so that is also a nice feature.
Shown: ExOfficio Boxer Briefs
Price: $25.00/pair
9. Nice socks are very important. Look for merino wool and other synthetic materials—avoid cotton.  SmartWool brand socks are highly loved by travelers.
Shown: SmartWool PhD Outdoor Light Crew Socks
Price: $19.95/pair
10. I have yet to find a decent looking pair of waterproof hiking shoes. They are all ugly so your goal should be to find the least ugly pair. But, as an ultralight traveler, you should really only bring one pair of shoes, so hiking shoes are the most practical answer.
Shown: Garmont Zenith Trail GTX Hiking Shoes
Price: $134.95
11. Cheap shower sandals are essential for the hostel showers. Just buy the cheapest pair you can find.
12. Al lightweight rain jacket is a nice addition (not pictured).
Note: All the clothes mentioned above are just examples of things that I thought looked good—I don't have first-hand knowledge of the specific products, but I know the brands are high quality. Everything above can be found at REI (I think REI has about the best selection of travel stuff so I highly suggest them). Also, there are many more styles available, so I suggest taking a look around for things that match your fashion sense.
iPod Touch/iPhone/iPad/Smart Phones/Etc.
These devices replace many heavy travel essentials. They pretty much eliminate travel books and maps altogether—this is a huge weight saving because travel books tend to be really heavy. These devices can also pretty much do everything that a laptop can do and at a fraction of the weight.
For those of you on a budget, I suggest an iPod touch. I've seen used ones for under $75.
Ultralight Accessories
Compact Digital Camera: A big and bulky digital camera just isn't compatible with ultralight backpacking. Look into buying one of the many tiny digital cameras available on the market.
Silk Sleep Sheet: I never found it necessary to have a sleep sheet, but many people like them. If you decide to purchase one, I suggest a silk sheet. Silk is much lighter than cotton and it compresses really small—plus, it feels really nice to sleep in silk sheets.
Travel Towel: I've mentioned it before, but a travel towel is so much better than a standard cotton towel. They soak up much more water and dry super quickly.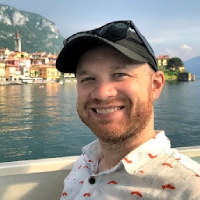 Latest posts by James Feess
(see all)
No Funny Business
The Savvy Backpacker is reader-supported. That means when you buy product/services through links on the site, I may earn an affiliate commission — it doesn't cost you anything extra and it helps support the site.
Thanks For Reading! — James
Questions? Learn more about our Strict Advertising Policy and How To Support Us.