It's no secret that we love Osprey backpacks — we've been using Osprey products since 2008. In fact, we've put more miles on our Osprey Farpoint 55 than any other backpack in our closet full of backpacks. That said, the Farpoint 55 is technically too large to be considered "carry-on size" on some budget airlines so we wanted to review our the Osprey Farpoint 40 to see if we like this travel backpack as much as its bigger brother.
Note One: The Osprey has a women's version of the Osprey Farpoint called the Osprey Fairview. It's essentially the same backpack with a few minor tweaks. The Farpoint is actually a unisex backpack so it will work for anyone. 
Note Two: We purchased the Farpoint with our own money so this is a completely unbiased review. 
Osprey Farpoint 40 Vs Osprey Farpoint 55
Before we get started, we figured we'd do a quick rundown on the difference between the Osprey Farpoint 40 vs 55 in case you were debating between the two backpacks.
First of all, the Farpoint 55 is actually a 41L backpack with a detachable 14L daypack. The Farpoint 40 is a 40L backpack (it doesn't have a daypack). Therefore, both bags are very similar in overall size but they are different in a few areas.
The Farpoint 40 is about four inches shorter than the Farpoint 55 (by the way, the Farpoint 55's height is usually what makes it too large to be considered a true carry-on but the 40 should be fine). The Farpoint 40 is an inch wider than the Farpoint 55 so this helps make up for a bit of the lost space.
The Farpoint 40 has a simple tech pocket/organizer in the front of the bag but the Farpoint 55 has its tech pocket built into the day pack.
There are a few other minor differences but overall both bags share most of the same features — including:
Front Loading (Opens Like a Suitcase)
Excellent Shoulder Harness/Straps (which also zip away)
Padded Hipbelt
Side and Top Carrying Handles
Two Size Options: S/M and M/L
Unisex and Female-Specific Version
Lockable Zippers
Durable Fabric (210-denier ripstop nylon/600-denier packcloth)
Similar Weight (40L is 3lbs 2.7 oz and 55L is 3lbs 14.4 oz)
Osprey Farpoint 40: Quick Review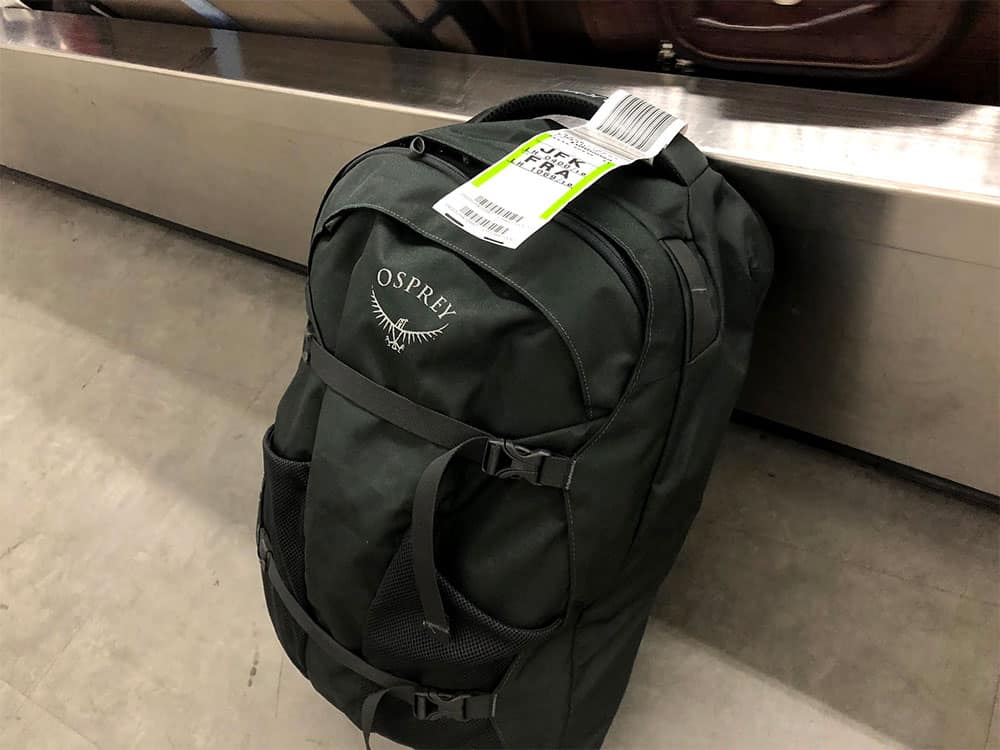 We really dig the Farpoint 40 (we've long loved the Farpoint 55, after all). In our mind, it's a great choice for people who want a true carry-on sized backpack (whether you're a one-bag traveler or you travel with a backpack + suitcase). You can actually carry a solid amount of stuff with you so a smart packer can easily use this for long-term travel. The 40L size keeps the bag fairly streamlined so you should be able to navigate busy streets and public transportation without knocking everyone over.
We also like how all the Farpoint backpacks have an excellent shoulder harness and hip belts — it's almost as comfortable as full-fledged hiking backpacks and it's certainly much better than just about every travel backpack.
The Farpoint 40 retails for $160 so it's also pretty affordable when compared to other travel backpacks.
Where to buy:
Zappos: We like how Zappos has free shipping and free super-simple returns — which comes in handy if the bag doesn't fit or you're just not digging it. See the Farpoint and Fairview at Zappos.
Amazon: You can sometimes find slightly cheaper prices but returns can be a bit more difficult and they're not always free. See the Farpoint and Fairview at Amazon.
Osprey Farpoint 40 Review: In-Depth Look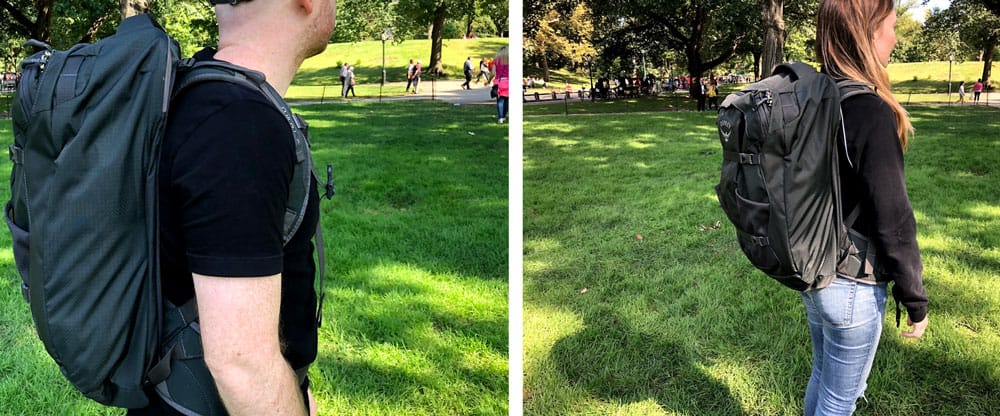 At this point we've has a good amount of time to test the Farpoint. We first took the bag to Nice, France (which included a long layover in Frankfurt that required a lot of walking) and then we took it for a weekend trip to Portland. So let's take an in-depth look at the Farpoint 40 to see what's working and what could be better on this popular travel backpack.
Overall Comfort
We've said it a million times that comfort is a huge factor when it comes to how we rate backpacks — because traveling is no fun when your back is killing you. For us, we want a backpack that's comfortable for short-distance city travel — for example, trips from the train station to the hostel/hotel or trips through the airport to the train, etc.
And when it comes to comfort, the entire Osprey Farpoint line does beautifully. That's because the Farpoint uses a suspension system (i.e. shoulder straps and hip belt) that you'd find on more advanced hiking backpacks — which is fairly rare on backpacks made for urban travel.
The Osprey website states that the Farpoint 40 is rated to comfortably carry 20lbs-40lb but we recommend keeping your load closer to 20lbs for optimal comfort.
Also, we love how the Farpoint comes in both S/M and M/L sizes. Furthermore, the female-specific Fairview comes in XS/S and S/M. That said, tall women might want to use the Farpoint because it might fit better.
So let's take a look at the individual aspects that make up the Farpoint 40's suspension system.
Shoulder Straps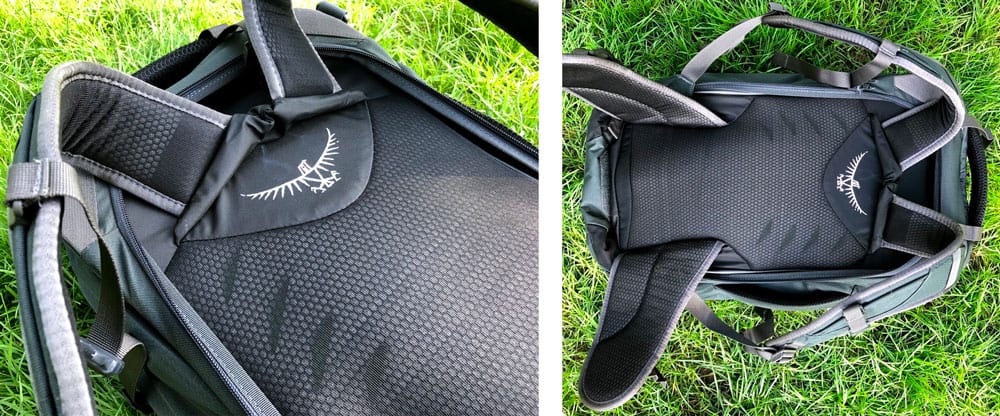 The shoulder straps on the Farpoint are comfortable and we love how they conform to our shoulders. If you look at the photos you can see how there isn't a gap between the back of the shoulder and the straps. The straps also have load lifter straps (the little straps at the very top of the shoulder straps) that let you pull the backpack closer to your back.
The padding on the shoulder straps isn't overly thick but it's plenty sufficient and the straps a good width — which helps distribute the weight of the load well. You'll also find mesh webbing along the straps to help a bit with airflow.
The shoulder straps also have an adjustable sternum/chest strap which helps take pressure off your shoulders.
Hip Belt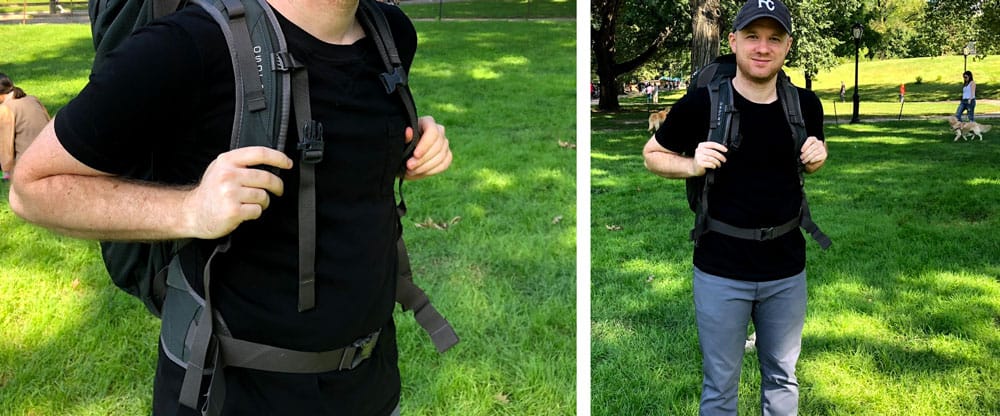 The hip belt on the Farpoint 40 isn't as robust as what you'd find on a hiking backpack but it's suitable for urban travel. In fact, giant hip belts are a little cumbersome for city travel so this Farpoint strikes a nice balance of size and function. We do kind of wish there was a small external pocket on the hip belt but that's a minor complaint.
Internal Frame and Back Padding
The Farpoint backpack has a lightweight internal frame that gives the backpack structure and this really helps distribute the weight of the load from your shoulders to your hips. The internal frame also helps keep the bag up against your back so the load doesn't slouch down and away from your back.
The Farpoint 40 has a solid amount of mesh padding on the back panel. The mesh helps encourage ventilation against your back. I still found that my back got a little sweaty but I've never found a backpack that didn't make my back at least a little sweaty.
Stowaway Straps
The shoulder strap and hip belt can be hidden away behind a zippered panel. This is handy if you need to check your bag (so your harness stays safe). We also like the ability to zip the harness away before we get on the plane so it's easier to walk through the narrow aisle and stow the bag in the overhead bin.
---
Organization and Layout
The next most important thing about a backpack is how the bag handles organization so let's take a look at all the ways the Farpoint helps keep your stuff in order.
Main Compartment
The Farpoint 40 basically has one cavernous compartment for you to fit the bulk of your stuff — it's essentially just like a suitcase in that sense and its slightly boxy shape lets you fit a good amount of stuff. As you can see, the bag also opens up like a suitcase so packing/unpacking is easy.
We recommend using packing cubes with this backpack if you want to maximize your space and make accessing your stuff much easier — here is a list of our favorite packing cubes.
On the front panel, there is a zippered mesh pocket for storing flat things. There is a bit of dimension on the mesh pocket so you can easily fit something like packing folders, a thin toiletry kit, flip flops, or just some dirty clothes.
Laptop/Tech Pocket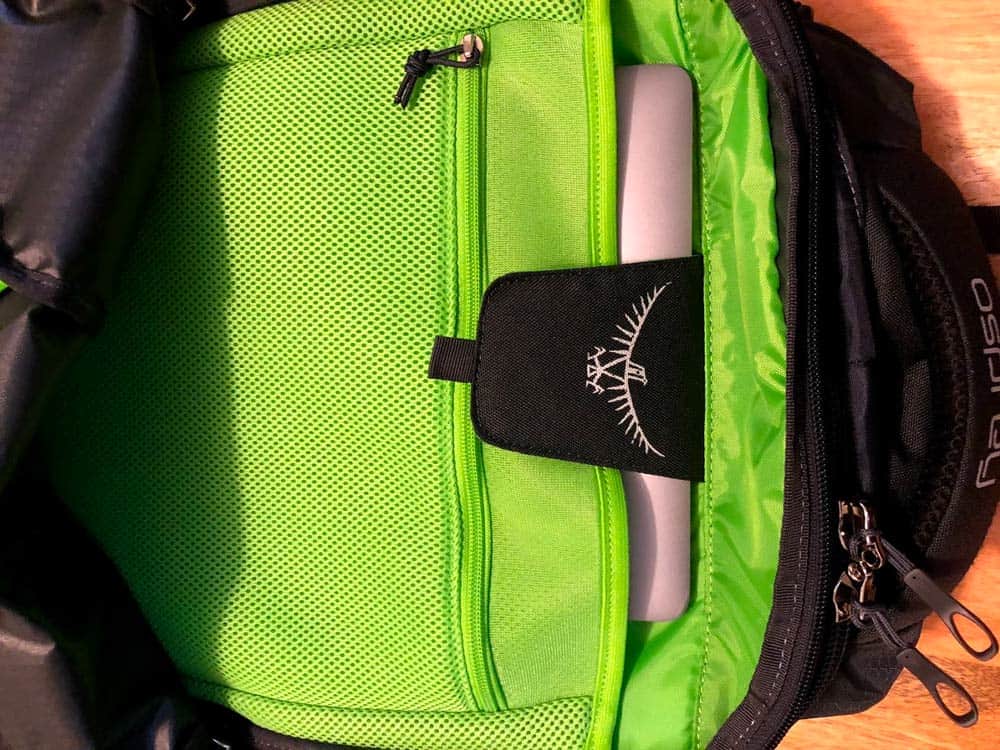 One of the downsides of having a sturdy internal frame and advanced suspension system is that you can't really put a laptop sleeve against your back. That's why the Farpoint 40's laptop/tablet compartment is located on the front of the bag. This is a bit less than ideal since you ideally want heavy items to be up against your back but it's one of the tradeoffs of having a comfortable backpack. If you have a lightweight laptop or tablet then you probably won't notice the placement but if you have a clunker laptop you might feel the weight a bit more.
The rest of the tech pocket is pretty basic with one zippered mesh pocket and one large main pocket (which can easily hold a lightweight jacket). You'll also notice the internal material is a crazy bright green — this helps you locate things inside these pockets. It's a bit ugly but we think it's actually a really smart idea.
Top Stash Pocket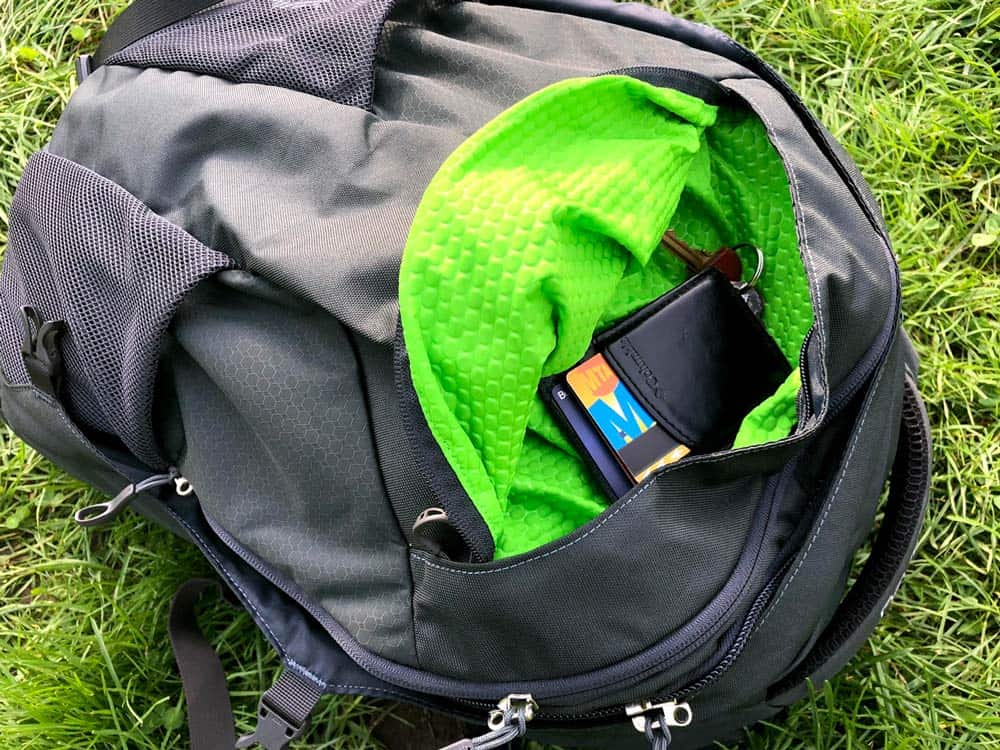 There is a small quick-access pocket on the top/front of the backpack. This is ideal for things like your phone, sunglasses, or other things you need to get frequently. You'll also notice the bright green fabric. Also, the material is supposed to be scratch free so it should be gentle on your sunglasses.
Water Bottle Pockets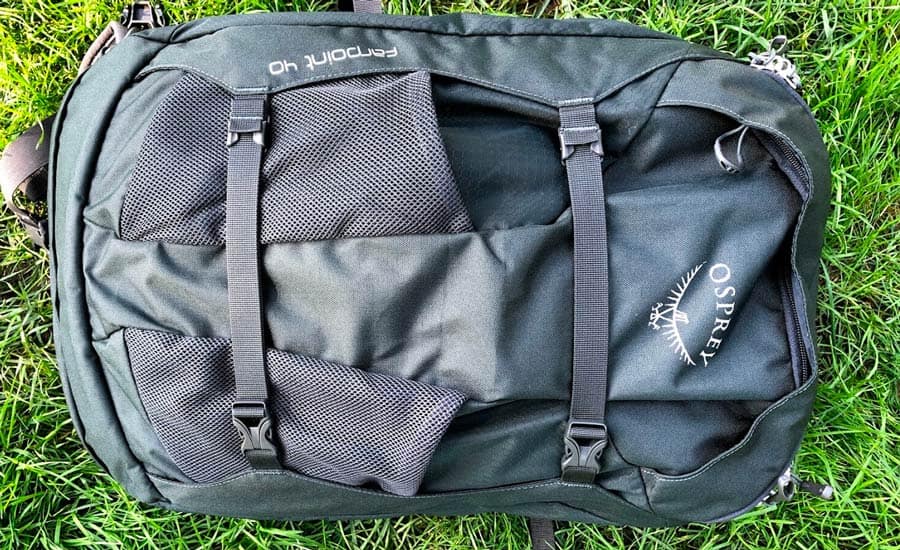 There are two water bottle pockets on the back of the backpack. Since they're on the back of the bag, you're not able to reach the bottles while you're wearing the backpack. Also, the compression strap goes right across the bag so it makes using the water bottle pocket a little awkward. So yeah, it's not a super functional water bottle solution.
---
Materials, Zippers & Quality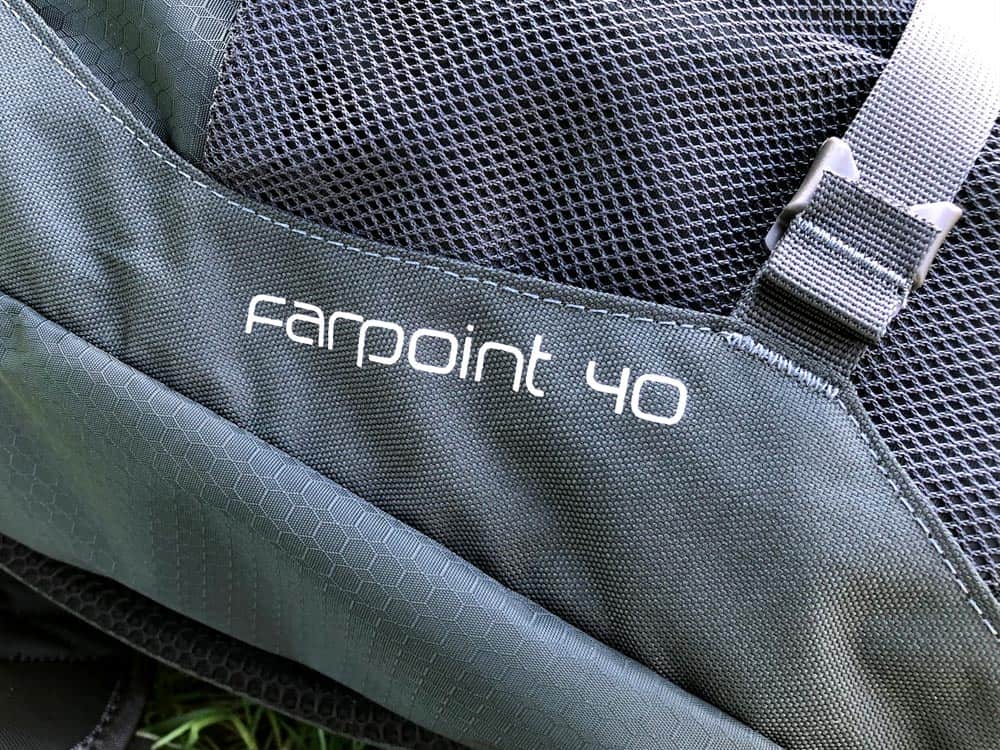 Now let's take a look at the quality and craftsmanship of the Farpoint 40 — by the way, all Osprey backpacks have a lifetime warranty so that's usually a good sign of quality.
Materials
The main fabric on the Farpoint is a 210D Nylon Mini Hex Diamond Ripstop. It feels super durable so we have no doubt it will hold up to lots of wear and tear. I checked my Farpoint 40 on my trip from Nice, France to NYC (we wanted to test its durability) and it looked good as new when we picked up the bag at JFK.
For reference, our Farpoint 55 is still going strong after 10+ international trips.
Zippers
The zippers are high-quality YKK zippers so all good there. The main compartment's zipper is beefy but smooth. All the main zippers have interlocking loops so they can be locked with a luggage lock.
There is one minor annoyance we found when using the zippers — but it's not the zippers fault. You see, the main compartments have a little fabric flap that covers the zippers so you have the fold back the flap to use the zippers easily. On the plus side, the flap helps keep water off the zippers and it makes it harder for other people to open your bag. So it's not all bad but it is a little annoying sometimes.
Overall Quality
As always with Osprey products, the overall quality of the Farpoint is excellent. You can tell a lot of thought went into designing and manufacturing these bags. The materials are all top notch.
And, as mentioned previously, Osprey has a lifetime warranty on all their backpacks.
---
Other Features
Let's take a look at a few of the other features on the Farpoint 40.
Hand Grabs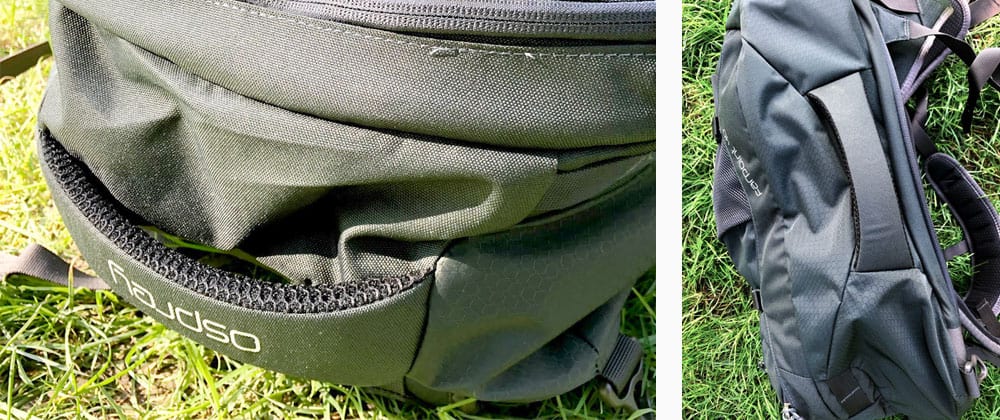 The Farpoint has excellent and well-padded hand grabs on the top and side of the bag. We know it doesn't seem like a huge deal, but having padded carry handles is great when you're loading/unloading your bag. They're also nice when you want to carry your bag around without putting it on your back.
External Compression Straps
There are two external compression straps on the bag to help cinch down the load. It's a nice feature but it does make unzipping the bag a pain because you have to first unclip the straps to access the zippers. The straps also cover the water bottle pockets so they have to be loosened/readjusted if you're carrying a bottle.
---
Overall Thoughts
Now that we've done a few trips with the Farpoint 40, we can honestly say that it's a super solid backpack. It gets two thumbs up from us.
It's comfortable, it can hold a solid amount of stuff, it's durable, and it has a lot of handy features. There are a few small areas where the bag could be improved a little but overall we love the bag. We will definitely be taking this bag on future trips.
So whether you're a hardcore one-bag traveler or you just want a carry-on sized bag to accompany your other luggage, we suggest checking out the Farpoint 40.
Reminder: We purchased the Farpoint with our own money so this is a completely unbiased review. We have no affiliation/partnership with Osprey.
---
Where to Buy
The Osprey Farpoint 40 (and the Fairview 40) retails for $160. You can sometimes find online retailers selling them for slightly less. Below are a few places to check out:
Zappos: We like how Zappos has crazy fast free shipping and free super-simple returns — which comes in handy if the bag doesn't fit or you're just not digging it. See the Farpoint and Fairview at Zappos.
Amazon: You can sometimes find slightly cheaper prices but returns can be a bit more difficult and they're not always free. See the Farpoint and Fairview at Amazon.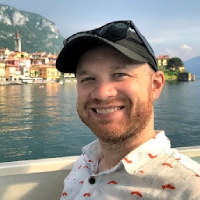 Latest posts by James Feess
(see all)
No Funny Business
The Savvy Backpacker is reader-supported. That means when you buy product/services through links on the site, I may earn an affiliate commission — it doesn't cost you anything extra and it helps support the site.
Thanks For Reading! — James
Questions? Learn more about our Strict Advertising Policy and How To Support Us.