We've been fans of Tortuga backpacks for a long time. Released in October of 2016, the Tortuga Outbreaker is the latest evolution of their main travel backpack. That's why I was excited to get my hands on the Tortuga Outbreaker so I could give it a full review.
A lot of people who travel around Europe use a hiking-style backpack. These are great, but they're designed for backcountry hiking and not city travel (check out our guide to choosing a travel backpack). These hiking-style bags not only look pretty silly when placed in the urban setting, but many of their features are simply not suited for city-to-city travel.
Like its predecessors, the Tortuga Outbreaker Backpack is different because all of its features are geared toward the urban traveler. It's much more streamlined and less conspicuous than the typical bright colored hiking bag. I can see myself wearing this in cities like London or Paris and not feeling totally out of place.
Update: We first reviewed the Tortuga Outbreaker back in November of 2016. Since then we've taken it on a handful of overseas trips (and even loaned it to a friend who took it on a two-week trip through Peru) and the bag is still holding up well with minimal visible wear.
Tortuga Outbreaker Backpack Features and Review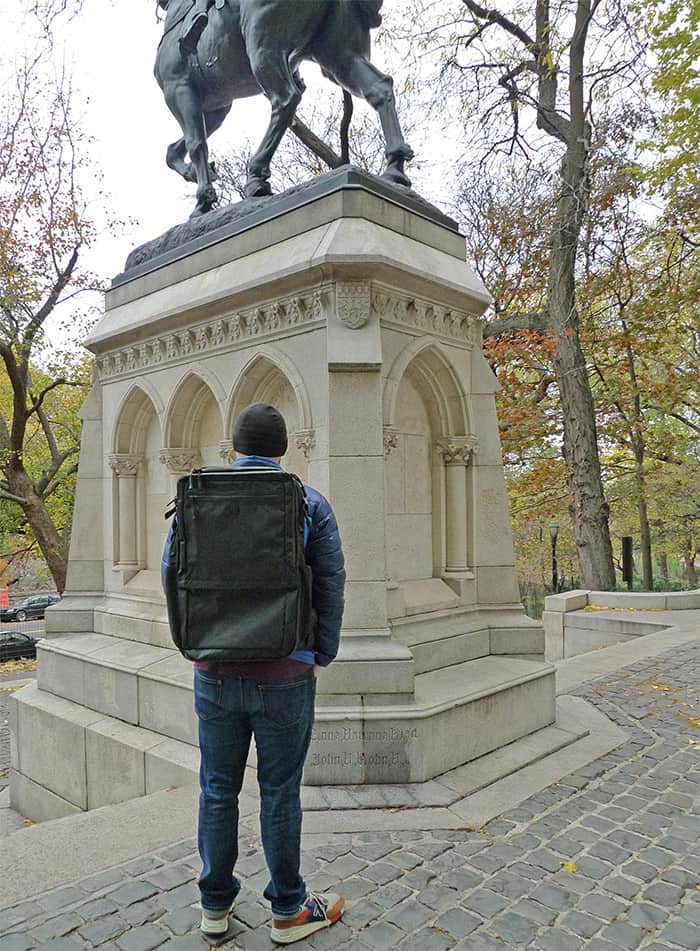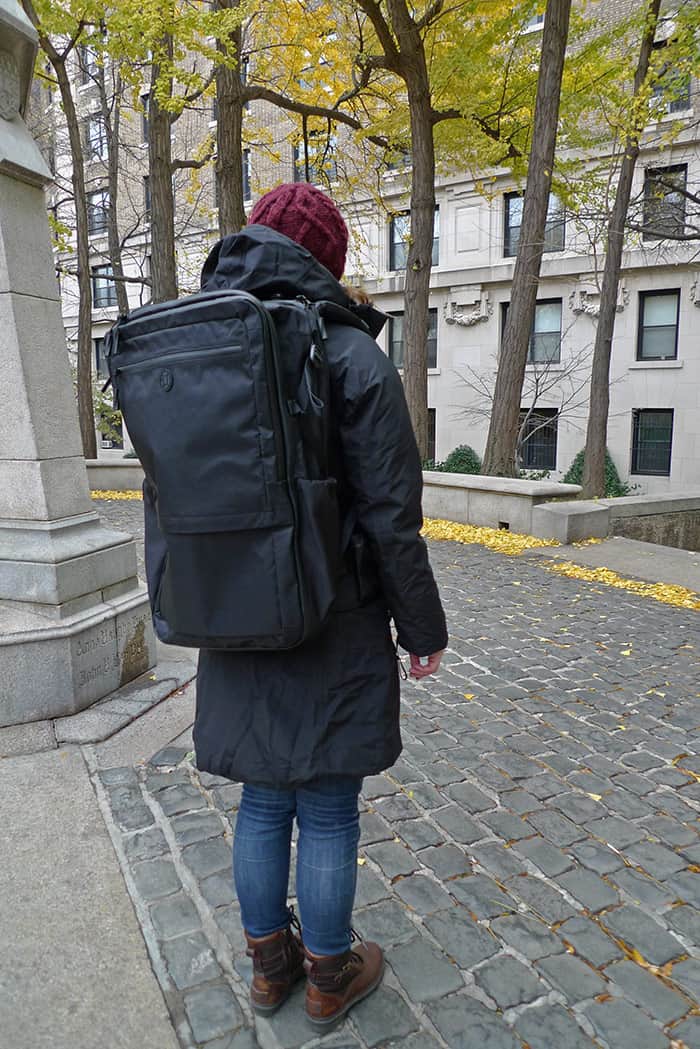 Ok, let's get started on our review for the Outbreaker 45L.
Two Models
The Outbreaker comes in two sizes — 35L and 45L.
The 35L is designed to be carry-on sized for even the strictest budget airlines (like Ryanair, etc.).
Size: 20.3 x 12.9 x 8.2″
Weight: 4.6 lbs (2.15 kg)
Laptop: Up to 15″
Tablet: Up to 13″ (iPad Pro)
Fit: 16-19″ torsos
The 45L is technically too large for some budget airlines but not others. You'll want to check with the specific airlines — not all airlines pay attention to the physical size but many will weigh the bag.
Size: 22 x 14 x 9″
Weight: 5.1 lbs (2.3 kg)
Laptop: Up to 17″
Tablet: Up to 13″ (iPad Pro)
Fit: 16-20″ torsos
So what's the big deal about having a bag that's carry-on size? First, you won't have to pay to check your bag (which often costs $20-$30+). You also don't have to worry about your bag getting lost.
Need help packing? Check out our packing list for Europe for more info on what to pack.
Front Loading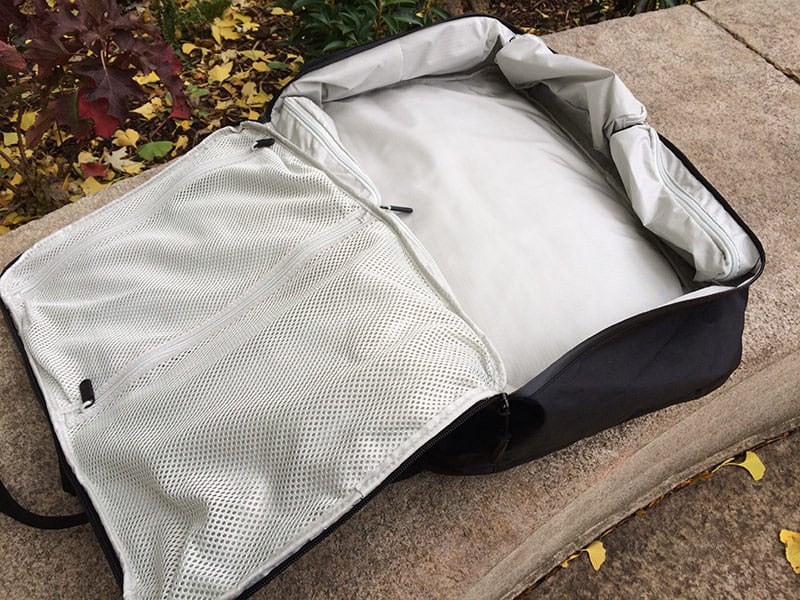 The Tortuga backpack has a large main compartment that zips open like a suitcase. This not only maximizes packing space, but it allows you to easily access the contents of your bag without having to pull everything out of it. I prefer this system to the traditional "top loading" bags that you find on traditional hiking backpacks because it is much more practical for urban travel (you can read our guide on top-loading vs front loading backpacks for more information on the subject).
Hiking-Style Shoulder Straps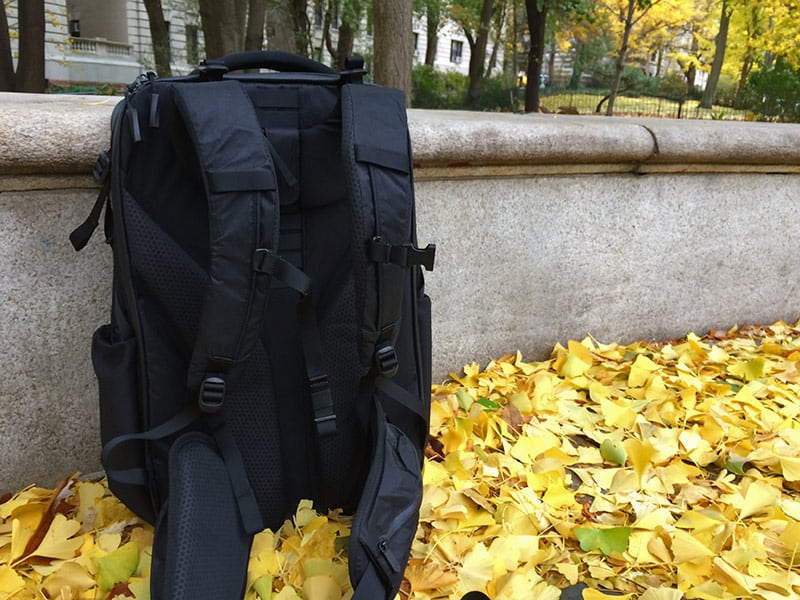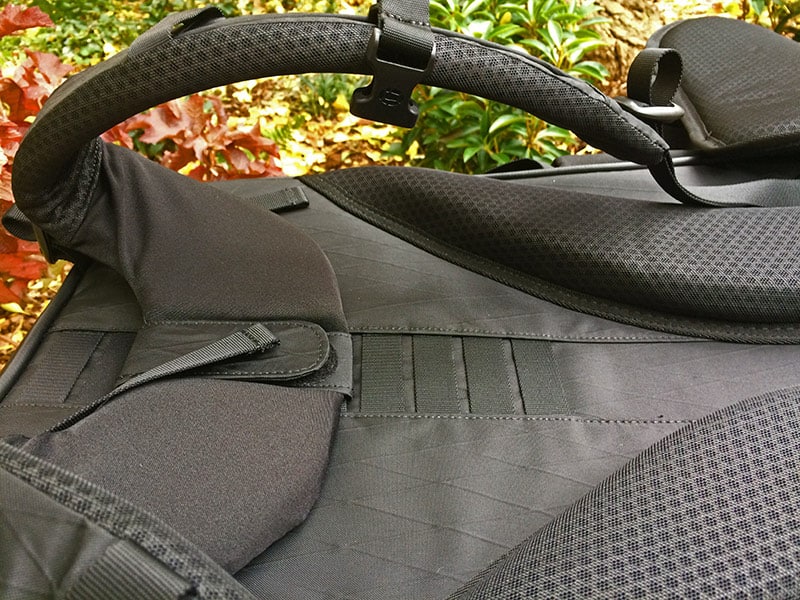 Tortuga made big strides on the shoulder straps on this new Outbreaker backpack. The shoulder straps on the previous version didn't conform to your shoulders but this new version's straps are modeled after hiking backpacks.
The suspension system is also adjustable so this can be fitted to multiple torso lengths — which is a great addition.
The shoulder straps have thick padding to help make carrying your load more comfortable.
The back of the backpack also has thick padding that will help air circulation to your back
Padded Hipbelt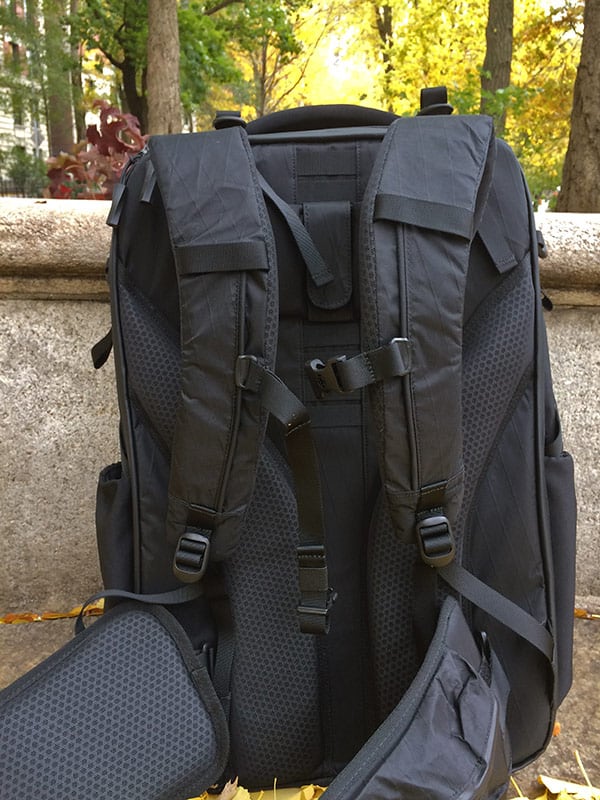 Another nice feature of the Outbreaker is the adjustable padded hip belt. The hip belt helps distribute the weight of your backpack from your shoulders to your hips. The hip belts also have zippered pockets so you can have easy access to small items (like phones, pens, notebooks, tickets, etc.) while you're on the go.
The hip belt is also removable if you want to remove it for any reason.
Streamlined Design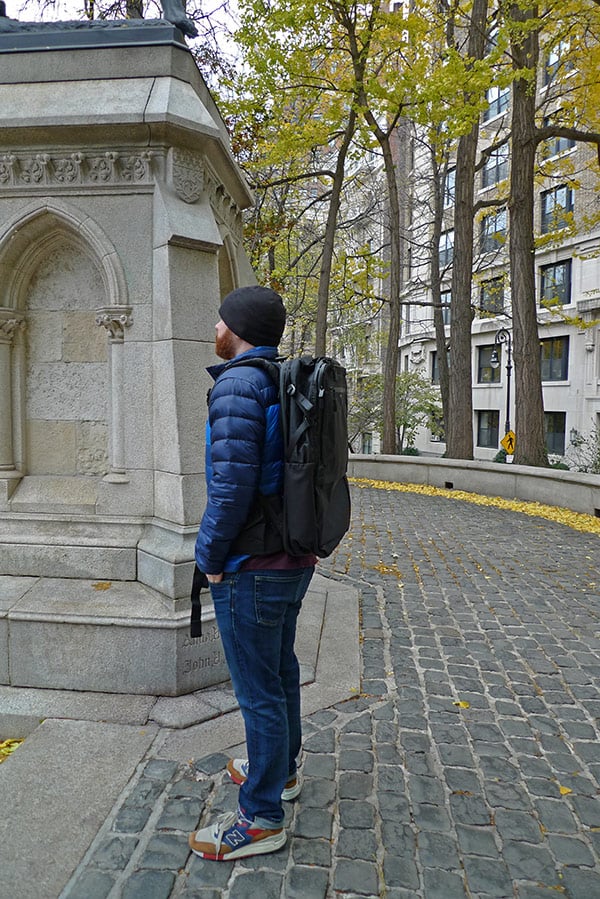 The previous version of the Tortuga backpack fairly bulky so I'm glad to see that the Outbreaker is much more streamlined. To be fair, it is still a bit bulky but that's the nature of most suitcase-style backpacks.
However, I do like the overall look of the backpack and I'm really glad the toned down the Tortuga logo.
Sturdy Handle
The bag has a sturdy and well-padded pull handle on the top of the bag. It would have been nice if there was a similar handle on the side of the bag but that's a minor issue.
Lie-Flat Laptop Compartment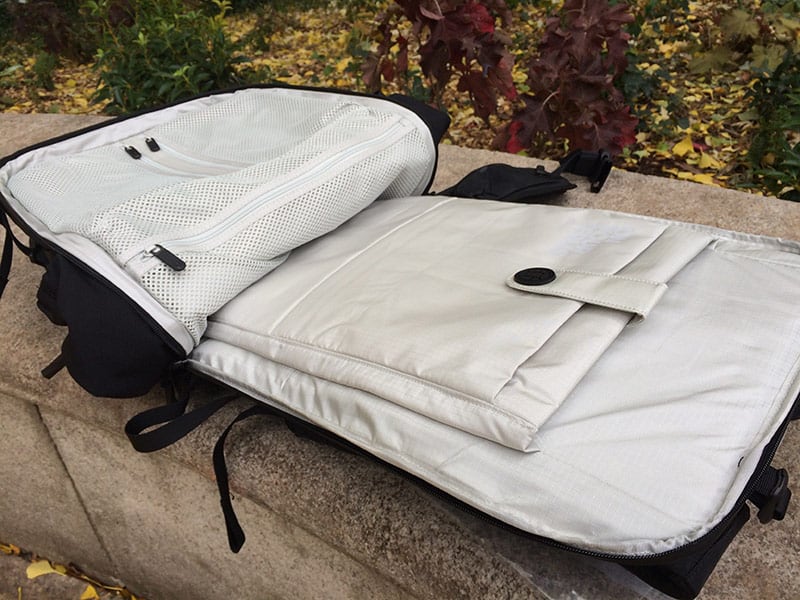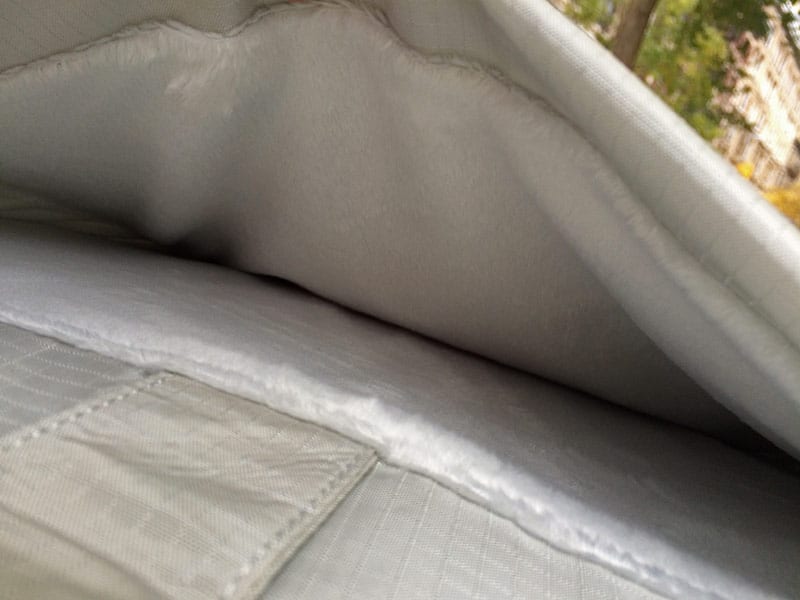 A lot of people travel with a laptop or some kind of tablet so it was nice to see a dedicated compartment for these devices. Both the laptop and tablet are lined with super soft "furry" material so it won't scratch your electronics.
The laptop compartment is separate from the main part of the backpack so you can remove your laptop/tablet without digging through your clothes — which is a huge bonus at airport security checks.
As you can see, there are three large mesh pockets opposite of the laptop sleeve for extra organization.
External Pocket w/ Organizer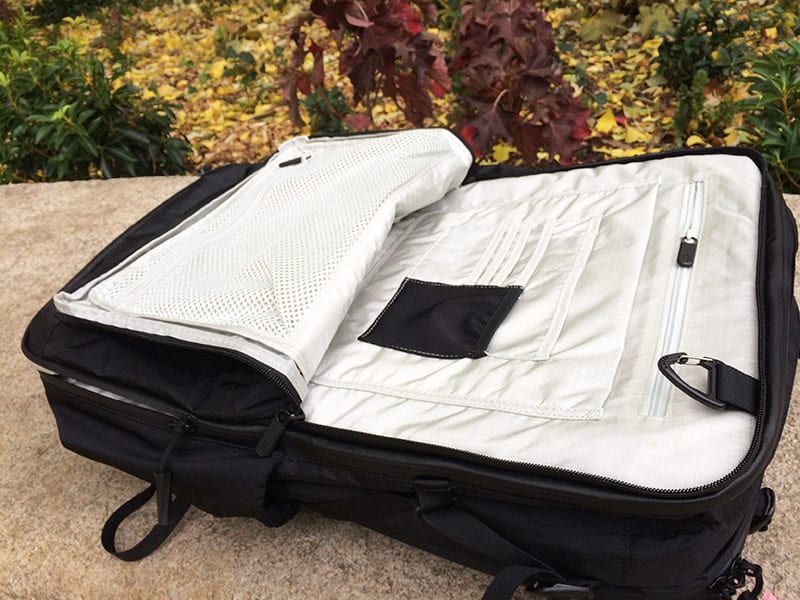 Another thing I like about the Outbreaker is all the external organization options
On the very front of the bag are two small external pockets. The top pocket is big enough for a small notebook, tickets, and other small items. The bottom pocket is slightly deeper
There is also a larger external pocket that has all kinds of compartments for pens, a tablet, papers, keys, and just about anything else you're carrying around. This external pocket also includes two zippered pockets. So yeah, lots of places to keep stuff.
Internal Organization and Pockets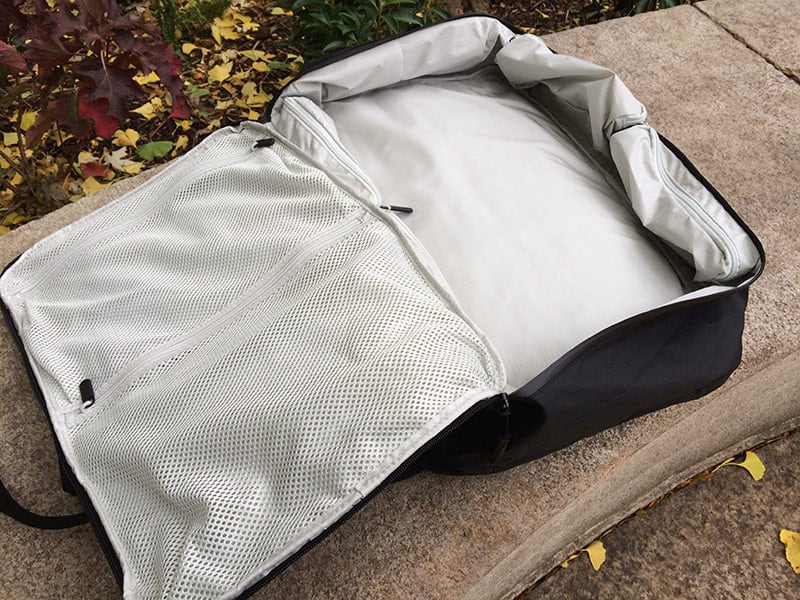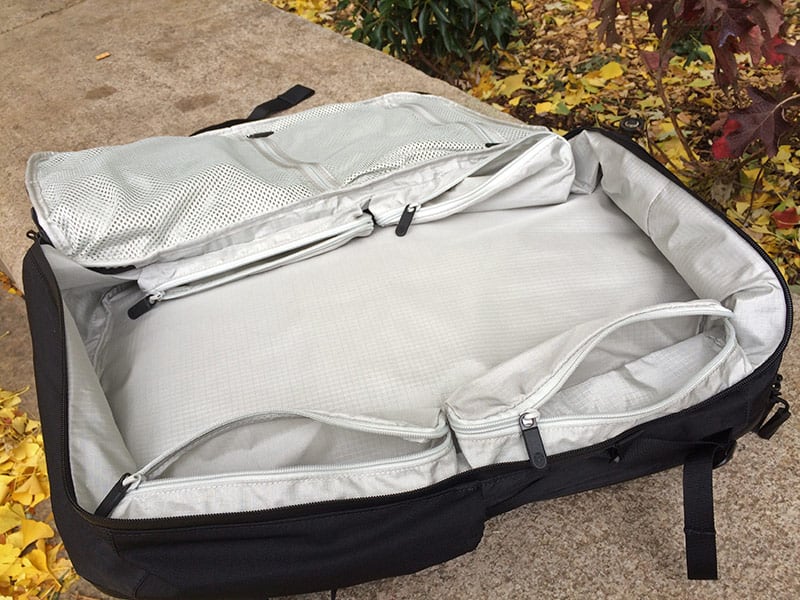 The main compartment of this backpack is similar to a suitcase so it's one large compartment.
There are four small zipper pockets around the edge of the main compartment which I assume are to hold things like socks and underwear. It's a pretty cool feature that I haven't seen on other backpacks.
The flap of the main compartment has two large mesh zippered pockets for more organization.
Sturdy Lockable Zippers
All the zipper on this backpack are YKK brand (which is the best), they're lockable, and the zippers are sealed to help prevent water from entering through the zips.
Heavy-Duty Fabric
The Outbreaker uses strong and waterproof sailcloth fabric (although the bag itself is completely waterproof) but it'll be fine in anything other than long exposure to heavy downpours).
Everything about the bag looks sturdy. The sewing looks high quality and all the plastic buckles are sturdy.
Areas That Could Use Improvement
No bag is perfect and the Tortuga is no different. The first thing is the weight. The 35L model weight 4.6 lbs (2.15 kg) and the 45L weighs 5.1 lbs (2.3 kg) — but to be fair, this bag has a lot of organization so that adds to the weight. For comparison, other similar bags weight a smidge under 4lbs so that's something to keep in mind.
The shoulder straps can't be stored away so, if you do need to check the bag, then this might not be the best option.
The Tortuga Outbreaker, priced at $224 (35L) and $249 (45L), is also pricier than other backpacks so we wish they were a bit cheaper. That said, Tortuga also have their Setout Travel Backpacks that are more affordable.
Overall Thoughts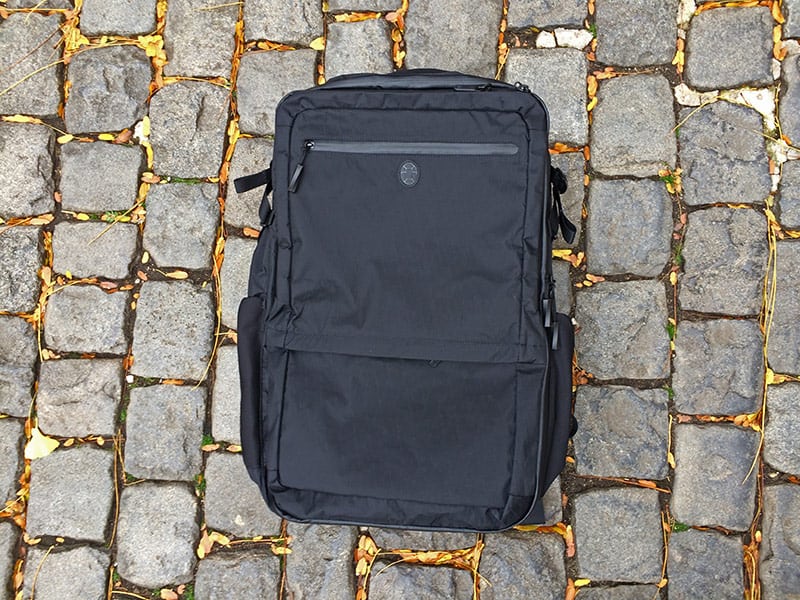 I really like the Tortuga Outbreaker travel backpack. It does a lot of things really well — it's a sleek, well-made, minimalistic, and designed specifically for urban travel. I could see myself traveling around Europe with this backpack. The backpack is heavier and priced higher than others on the market. But, overall, it is a solid bag.
The Outbreaker is available at the Tortuga Backpacks Website. Check it out!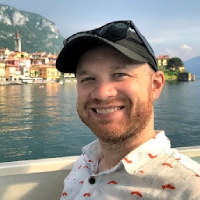 Latest posts by James Feess
(see all)
No Funny Business
The Savvy Backpacker is reader-supported. That means when you buy product/services through links on the site, I may earn an affiliate commission — it doesn't cost you anything extra and it helps support the site.
Thanks For Reading! — James
Questions? Learn more about our Strict Advertising Policy and How To Support Us.