UPDATE (4/6/2019): Tortuga has updated their backpacks again. Check out their Tortuga Outbreaker and their newly updated Tortuga Setout.

UPDATE (10/30/2016): Tortuga completely redesigned their Travel Backpack — which is now called the Tortuga Outbreaker.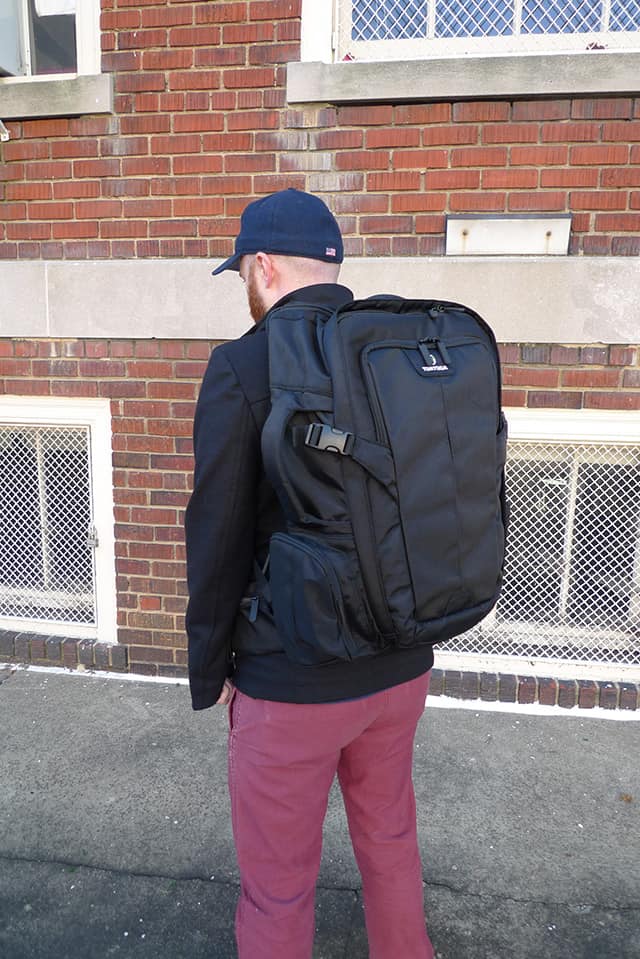 I'm always on the lookout for new backpacks designed for traveling — especially bags designed for the modern Europe traveler. That's why when I saw the Tortuga Travel Backpack, I got pretty excited because it looked to be designed specifically for urban travel. I got my hands on the Tortuga so I could do my own review of the backpack for you all.
Let me start by saying that a lot of people who backpack around Europe use a hiking-style backpack. These are great, but they're designed for backcountry hiking and not city travel (check out our guide to choosing a backpack). These hiking-style bags not only look pretty silly when placed in the urban setting, but many of their features are simply not suited for city-to-city travel.
The Tortuga Travel Backpack is different because all of its features are geared toward the urban traveler. At first glance, you'll notice that it is pretty sleek (at least compared to other travel backpacks) and it is much less conspicuous than the typical bright red/blue/orange hiking bag. That's what actually first caught my eye about this bag. I can see myself wearing this in cities like London or Paris and not feeling totally out of place. But even the best looking backpack needs to be functional. Continue reading for my thoughts on the Tortuga Travel Backpack.
Tortuga Backpack Features
Carry-On Sized

The Tortuga Backpack is carry-on sized, so you won't have to pay all those extra checked baggage fees (often $30-$60 per bag) or worry about the airline losing your luggage. Being that this bag is carry-on sized, you will have to be conscious of traveling light. This is actually a positive thing because I believe that traveling light is much more freeing and enjoyable. For those of you who might not consider traveling with a single carry-on bag, I strongly urge you to consider this option.
As you can see, I found that I could still fit a good amount of stuff in this bag. Check out our packing list for Europe for more info on what to pack.
Dimensions: 44 liters (2,685 cubic inches); 22 x 14 x 9 inches (55.88 x 35.56 x 22.86 cm).
Front Loading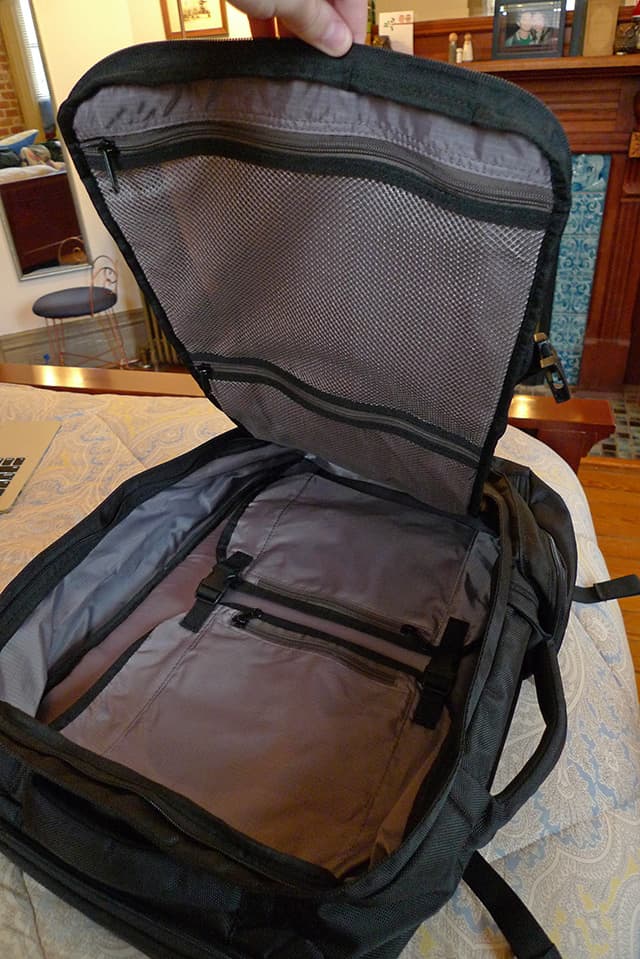 The Tortuga backpack has a large main compartment that zips open like a suitcase. This not only maximizes packing space, but it allows you to easily access the contents of your bag without having to pull everything out of it. I prefer this system to the traditional "top loading" bags because it is much more practical for urban travel (you can read our guide on top-loading vs front loading backpacks for more information on the subject).
Padded Shoulder Straps and Hip Belt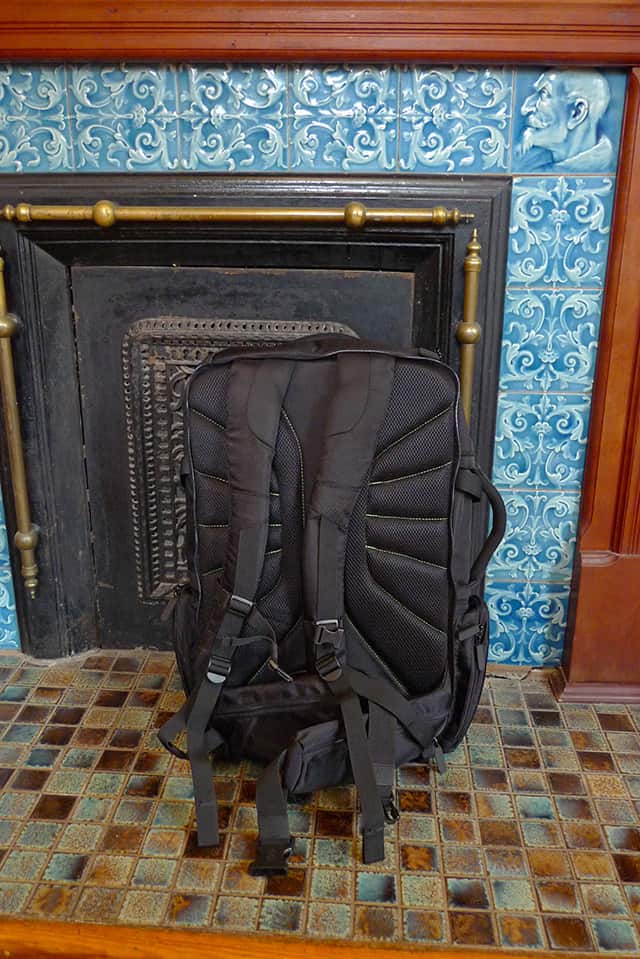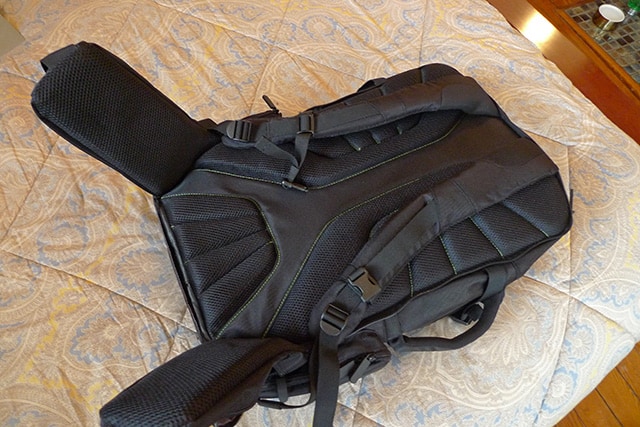 One thing to look for in a travel backpack are the padded shoulder straps and hip belt. Most will offer some padding, but some have hardly any. The Tortuga's straps and hip belt offer plenty of padding, so no worries there. The suspension system on the Tortuga isn't the most advanced I've seen, and it doesn't have load lifters that add extra comfort, but it does do a pretty good job for its intended use. If you need a bag that you can wear for a few hours at a time, you might want to get something else. If you're mainly going to be wearing your bag from the train to the hostel, you'll be fine.
Stowable Straps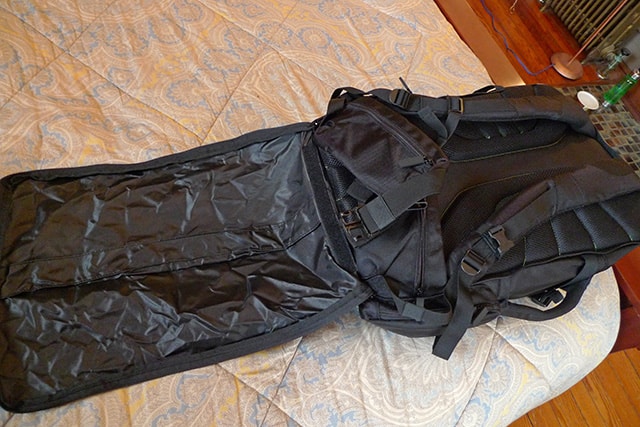 All the straps on the Tortuga can be zipped away behind a cover. This is great if you ever do find yourself having to check your backpack while flying so you don't run the risk of getting a strap ripped off from an airport conveyor belt. It is also nice if you want to carry the bag and not wear it on your back.
Streamlined
I really like how the bag is streamlined and just contains the things you'll need for urban traveling. There are no extra straps or anything else to get caught while you're on the move.
Sturdy Handles
It may not seem like a big deal now, but having two sturdy handles comes in super handy. As you can see from the photos, the bag can be carried from the top or from the side. This is important when carrying your bag through narrow plane, train, and bus aisles. This is something I wish my previous backpacks would have had.
Laptop Sleeve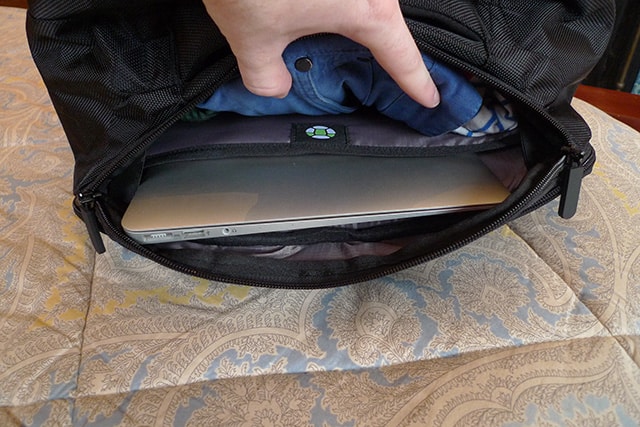 Carrying a laptop is always a bit daunting, so it's nice to see that this bag includes a place to stash your laptop. This bag can carry up to a 17″ laptop (you can see my 13″ Macbook Air in the photo above).
External Pocket and Water Bottle Pocket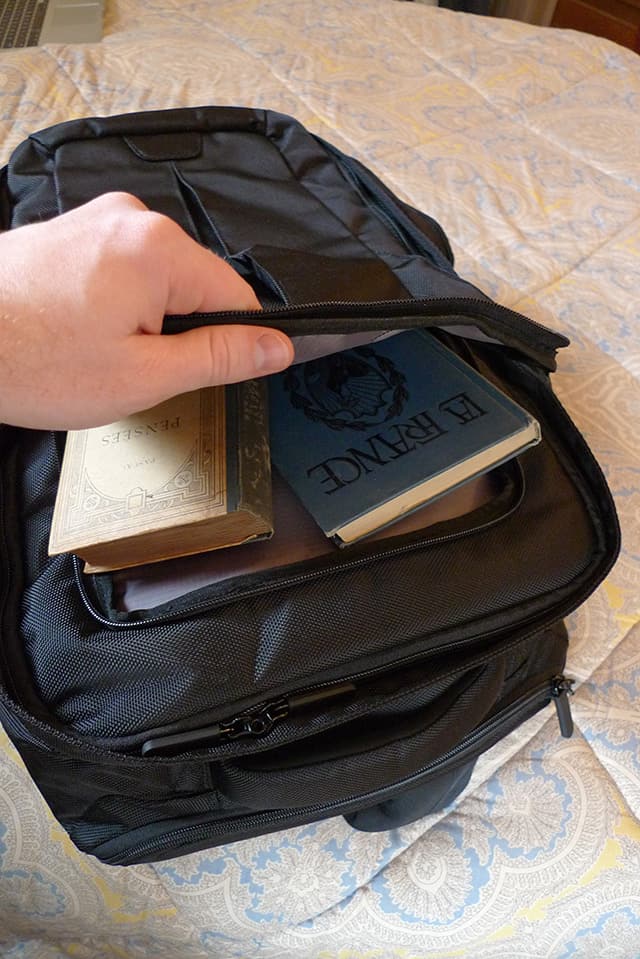 There is one external pocket, two water bottle pockets, and a pocket on each hip belt. The main external pocket is big enough to carry some books, a light jacket, and a few other odds and ends. It does expand a bit, so you can shove extra stuff in there. The water bottle pockets are actually big enough to carry a bottle of water — this isn't always a given in other bags. These pockets zip so you can store other stuff in there as well. The pockets on the hip belt are good for storing things like tickets, small pads of paper, hand wipes, Band-aids, etc.
Internal Pockets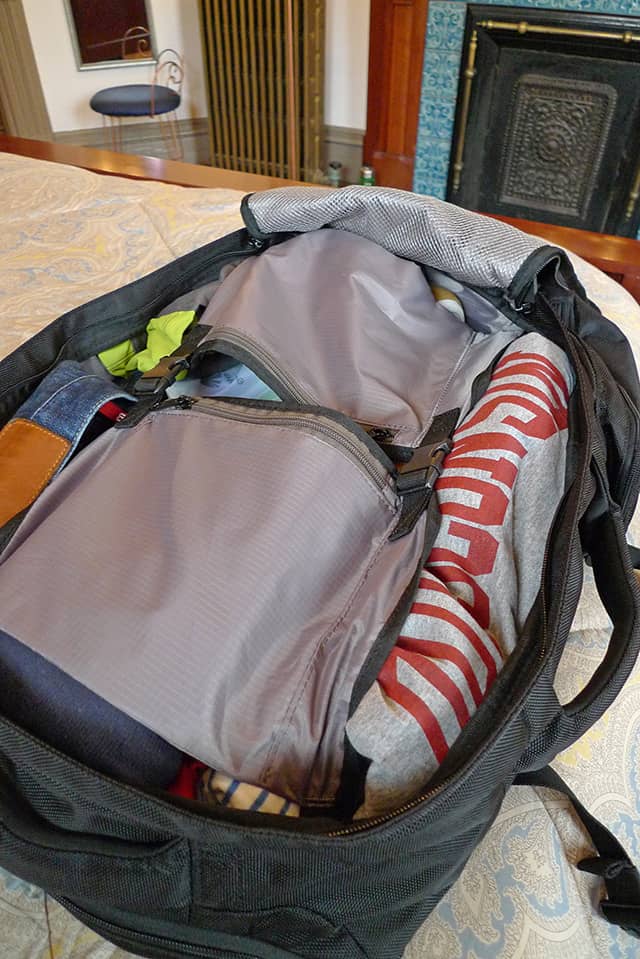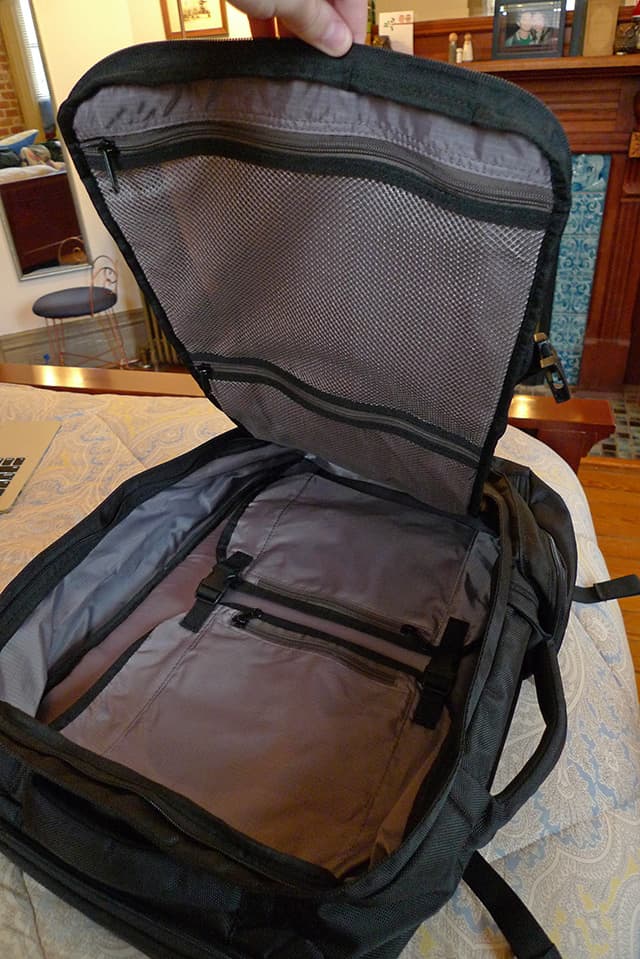 On the inside of the flap, there are two mesh pockets for storing stuff. On the inside of the case, there are two additional zippered pockets. These pockets buckle together to form a compression strap which keeps your clothes from moving around as you move.
Lockable Zippers
The zippers have little loops on them that allow you to lock them closed. It is a nice extra touch that helps keep thieves away from your things.
More Fit Photos
Here are a few photos of me wearing the bag. For reference I'm 5'6″ (168cm).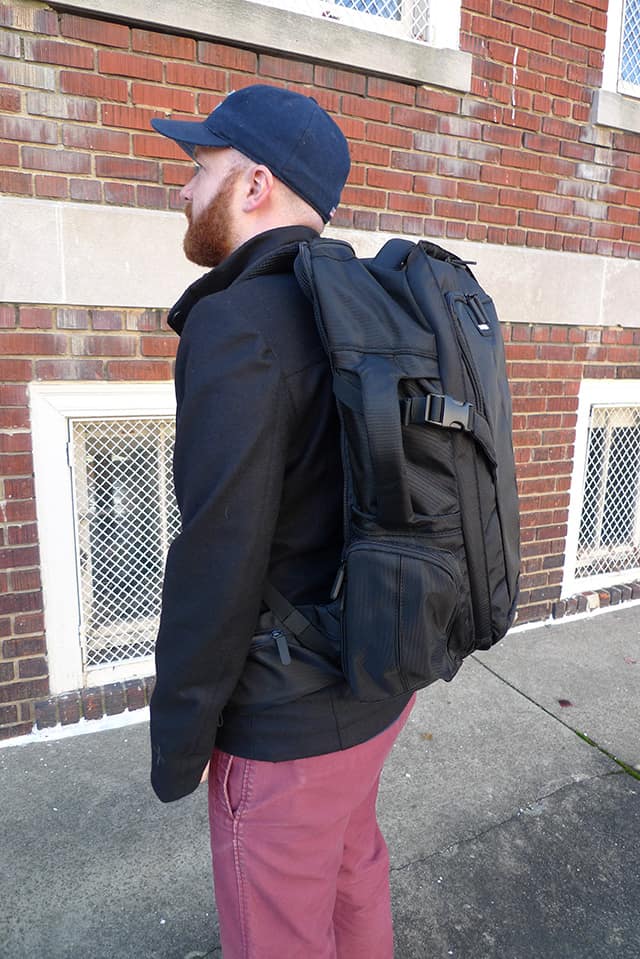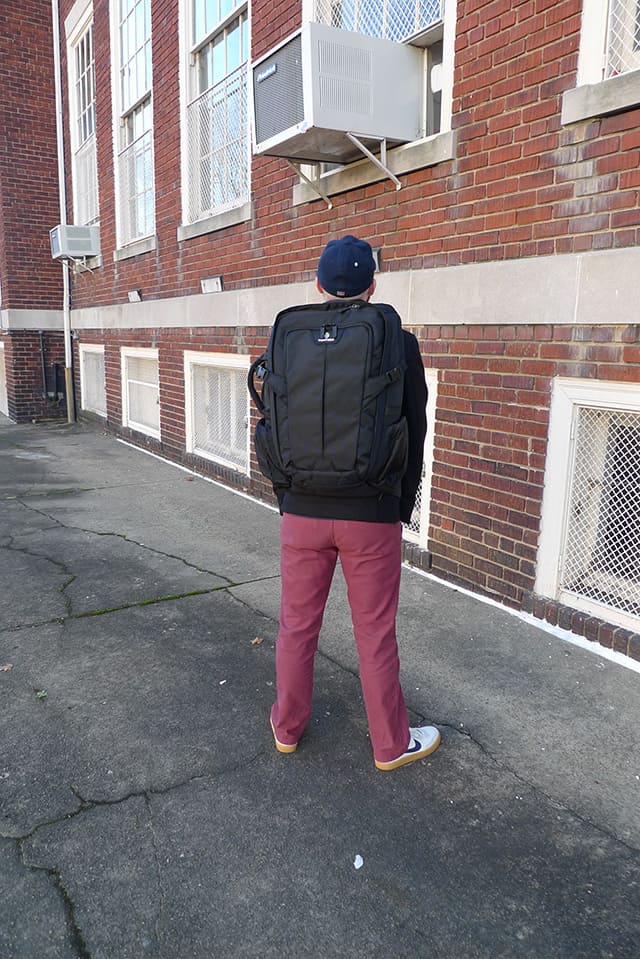 Final Thoughts
I really like this bag, and I think it would be great for traveling Europe (or anywhere else). It is sleek, well-made, minimalistic, and designed specifically for urban travel. I also like how it can be converted into a suitcase by stashing away the straps. The only thing I'm not crazy about are the shoulder straps because they lack the load lifter straps, so it's not designed to be used for long periods of time (which isn't a big issue for many city-hopping travelers visiting Europe). Therefore, overall, I think this backpack would make a good choice for just about anyone wanting to travel around Europe.
The Tortuga Travel Backpack is available directly from the Tortuga website.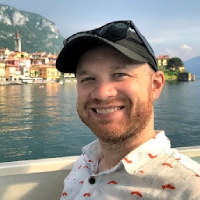 Latest posts by James Feess
(see all)
No Funny Business
The Savvy Backpacker is reader-supported. That means when you buy product/services through links on the site, I may earn an affiliate commission — it doesn't cost you anything extra and it helps support the site.
Thanks For Reading! — James
Questions? Learn more about our Strict Advertising Policy and How To Support Us.