Earlier in 2018, we reviewed the much-loved Tortuga Setout — a big ol' 45L maximum carry-on sized backpack that can fit a ton of stuff. Well, Tortuga is back with their Setout Divide — which is essentially a smaller, yet otherwise identical, version of the Setout. In short, the Setout Divide is a 26L travel backpack that can be expanded to 34L so it's a solid choice for people who want a more minimalist version of the Setout. So keep reading our Tortuga Setout Divide review to hear our thoughts.
Tortuga Setout Divide – Quick Review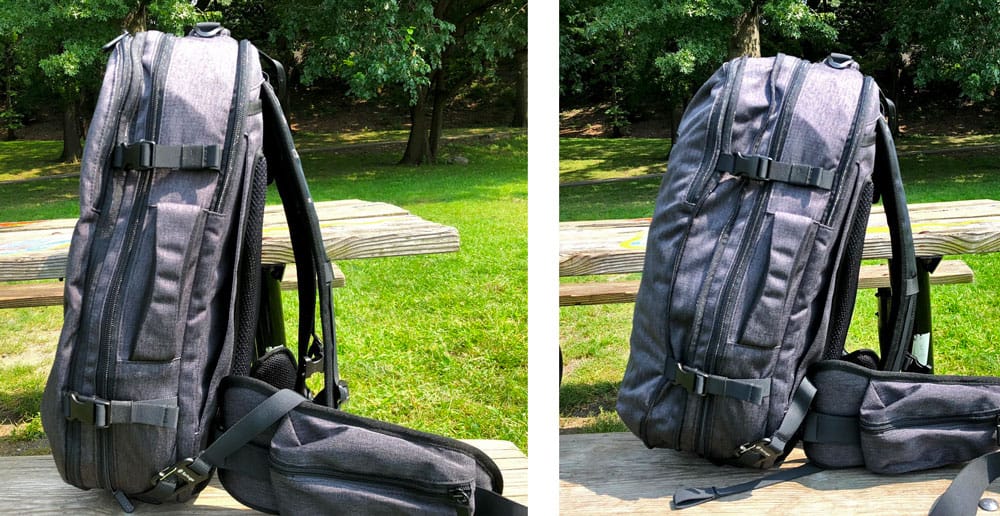 We'd classify the Divide as a mid-sized carry-on travel backpack so it will easily comply with all carry-on requirements. It's made of 900D heathered polyester fabric that's light but durable. There is plenty of padding on the shoulder straps, hip straps, and back — that said, the backpack weights 3.8 lbs so it's still fairly lightweight.
One thing that sets this backpack apart is how it expands from 26L or 34L. In our opinion, 26L is a decent size for a weekend trip or maybe a quick business trip. When it's expanded to 34L it becomes a nice size for a minimalist traveler but it might be a little too small for the average person. This is also a nice choice for people who aren't into the while "one-bag travel" thing and just want a carry-on size backpack in addition to a traditional suitcase.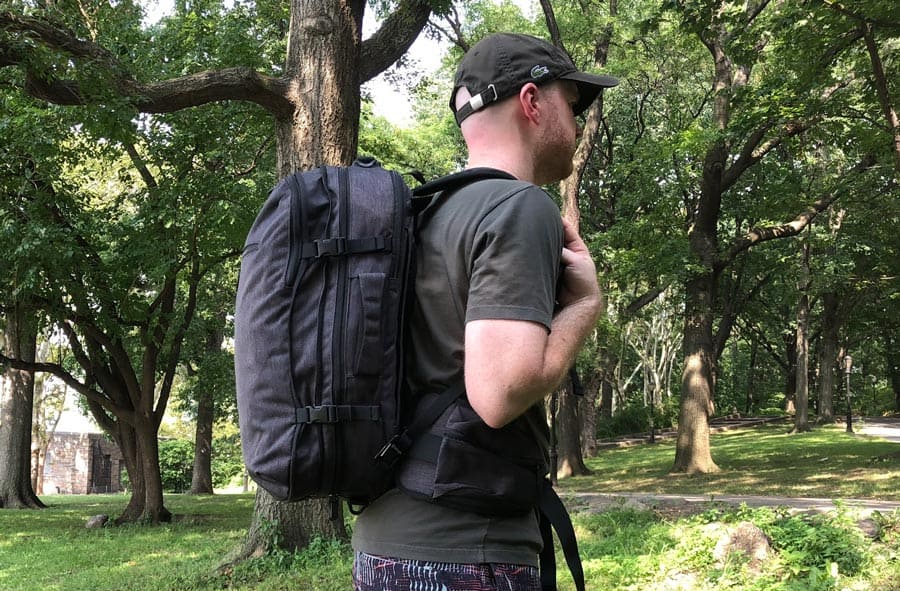 Just like its big brother, the Setout Divide is overall a comfortable backpack to wear thanks to its padded and contoured shoulder straps. The bag's smaller size also means your load is held close to your back so that helps with the comfort as well. Furthermore, there is a removable hipbelt if you're carrying a lot or walking long distances.
The Tortuga Setout Divide retails for $179 (with free shipping) and it's available via the Tortuga Website.
---
Tortuga Setout Divide – Detailed Review
All right, let's take a deep dive to learn more about the features of the Setout Divide and we'll talk about what we are and aren't digging about this travel backpack.
Overall Comfort
Comfort is key when it comes to a backpack because it doesn't matter how many bells and whistles a backpack has if it's uncomfortable to wear.
Luckily, the Setout Divide does a pretty good job in the comfort department. Its suspension system isn't as advanced as hiking style backpacks but the shoulder straps fit our shoulders well. The Divide is also a smaller backpack so it doesn't need a crazy harness to be comfortable since you're going to be carrying less weight.
So let's take a closer look at the suspension system:
Shoulder Straps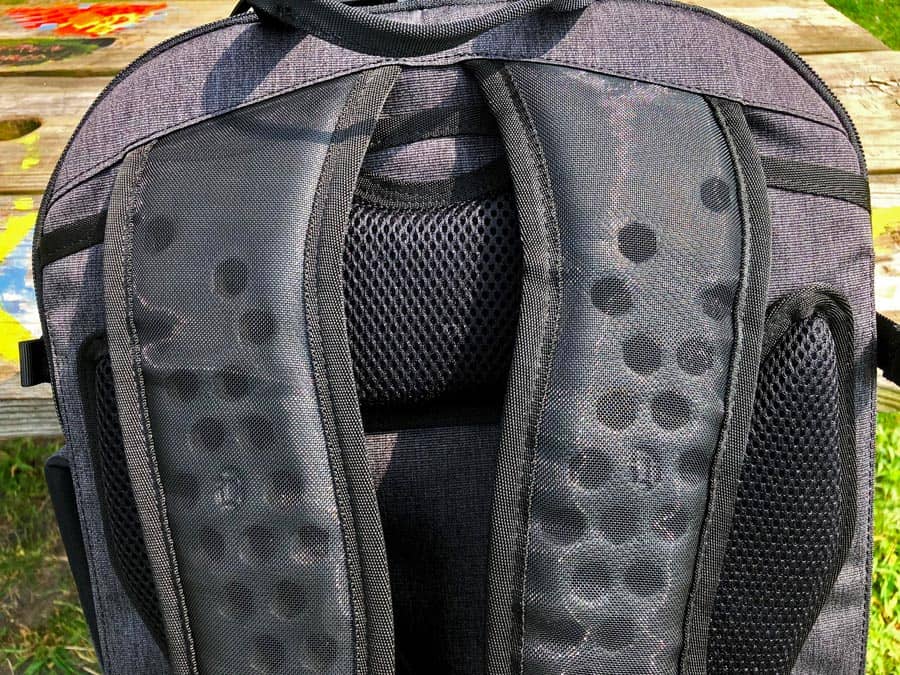 The shoulder straps have a good amount of padding but not a crazy amount — which helps keep the overall weight down. Tortuga says they use injection molded foam for their shoulder strap and after wearing the bag we found that foam needs a little time to break-in/soften up before it fully conforms to your shoulders. The straps also have holes for a bit of ventilation and weight reduction.
The straps are also contoured so we found that helped the overall comfort. The shoulder straps don't have load lifters so that's a bit of a bummer but a bag of this size probably doesn't really need them so that's a minor complaint.
By the way, the shoulder straps can be hidden away. This is a nice feature because we like tucking the straps away right before we board a flight/train so it's easier to put the bag under the seat or in the overhead compartment.
Removable Hip Belt
When this backpack isn't fully loaded it probably doesn't need a hip belt but some people might want it when the bag is expanded to 34L. That said, we do like how the belt is easily removable.
The hip belt is beefy (maybe even a bit unwieldy at times) and has handy zippered pockets on both sides.
Back Padding and Internal Frame
The Divide has an internal plastic sheet incorporated into the back of the backpack to help add rigidity and stability to the backpack. Externally, there is quite a bit of mesh padding on the back of the backpack. The padding is also designed to help promote a bit of airflow.
---
Organization and Layout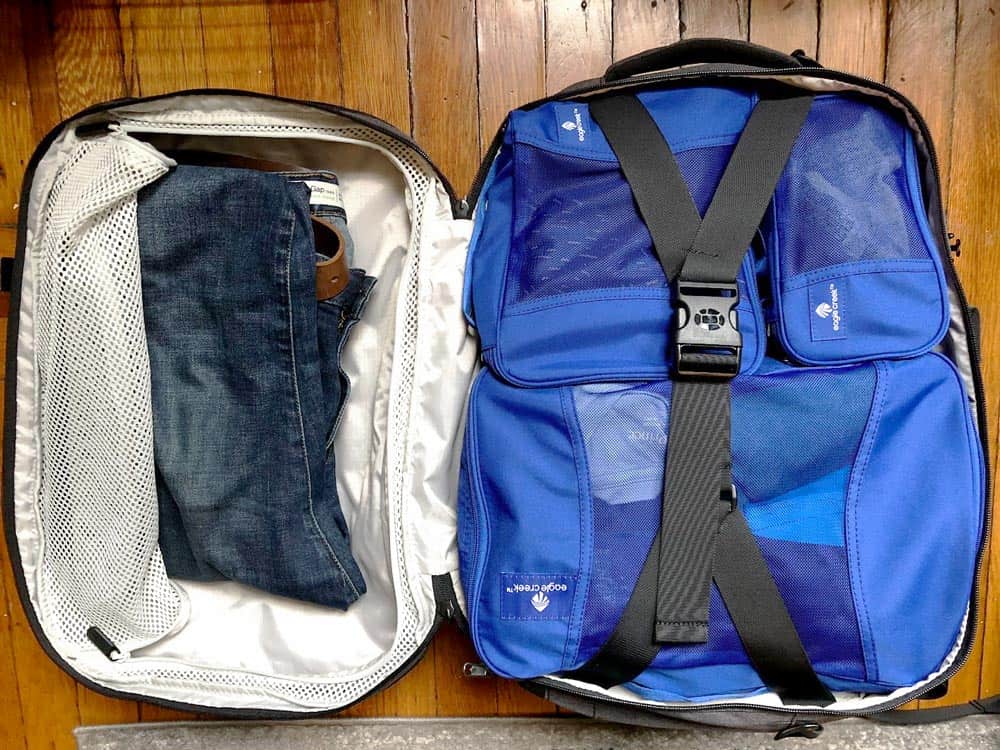 The next most important thing about a backpack is how the bag handles organization.
We've found that the Divide strikes a pretty nice balance of function and simplicity — it doesn't go crazy with pockets and organization.
Main Compartments
The backpack opens like a suitcase — which is ideal for both ease-of-use and space utilization. There is the main compartment on one half of the bag and the other half of the bag has a shallower compartment with a mesh divider. Tortuga says this is to help you keep your clean and dirty clothes separated. You could also just use these two compartments as a way to separate different kinds of clothes — for example, packing cubes in the main compartment and then pants and packing folders in the other compartment.
Note: The secondary compartment is essentially the same size as the main compartment when the bag is fully expanded to 34L.
Personally, we use packing cubes so that naturally keeps clean and dirty clothing separated but sometimes we get lazy and end up just shoving stuff into our backpack. So we do like how this bag gives you options on how you organize things.
The main compartment also has buckled compression straps to help keep all your stuff secure. We didn't find ourselves using these very often but it's a nice option to have — especially if you need to open up your bag while you're on the road. It can also help keep your stuff compressed toward your back so it's a bit easier to carry.
As you can see from the photo above, we were able to fit three Eagle Creek packing cubes in the main compartment — it was a bit of a tight fit but it fit. On the left side, I threw in a pair of jeans to give you an idea of the depth.
External Pockets
The Setout Divide has the same external pockets as the original Setout.
Front Pocket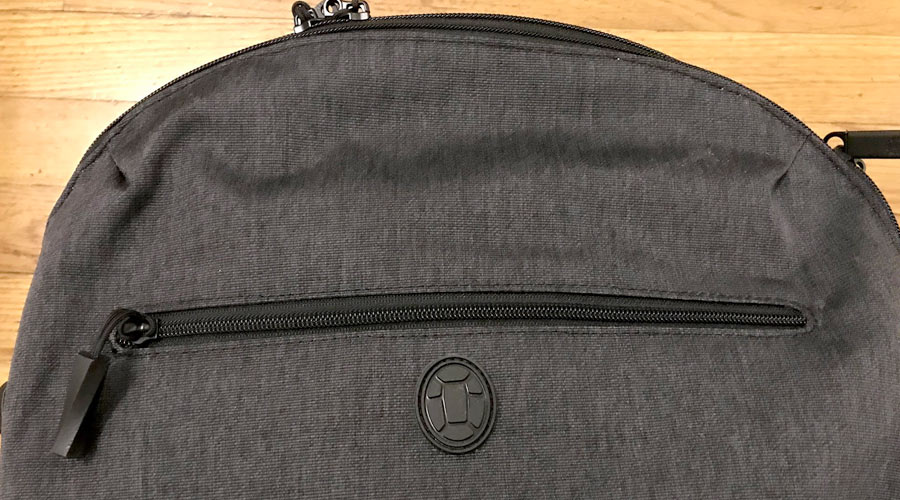 There is a pocket on the front of the backpack that's good for stuff you might need to access quickly like a phone, notebook, etc. When the backpack is totally packed out the external pocket can be a little difficult to access.
Tech Pocket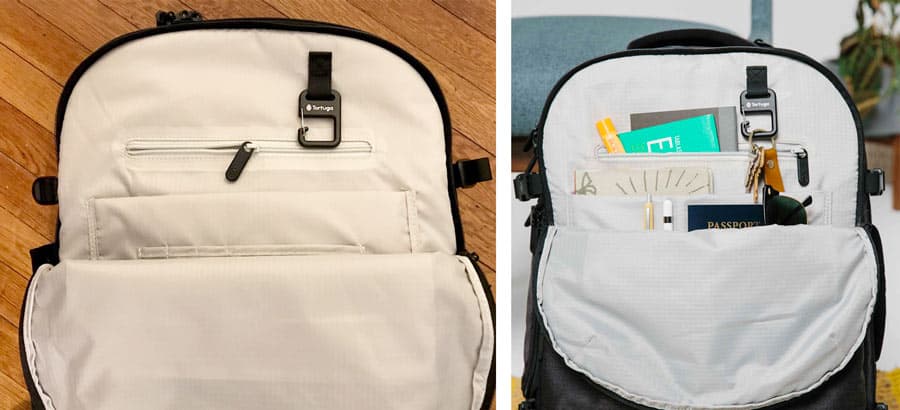 There is a large organizational pocket on the front of the backpack with multiple compartments and pockets to keep all your doodads and widgets in order. We think this backpack has enough compartments to be useful and we like how they don't go overboard (some backpacks have way too many so its hard to keep track of all your stuff).
The main tech pocket is fairly deep so it's good for storing a light rain jacket or something similar. It can sometimes be a little difficult to access things that get shoved to the bottom — especially when the backpack is fully packed. Minor complaint.
Laptop Compartment
The laptop compartment is located on the back of the backpack – which is where we think a laptop should be. There are actually two pockets — one for a 15″ laptop and a smaller one for a 9.7″ tablet. Both pockets end a few inches before the bottom of the bag and this prevents your laptop from smashing into the ground when you set your bag down.
The laptop compartment also has a lot of space for other flat objects like papers or maybe a light jacket.
Zippable Waterbottle Pockets
Personally, we've never felt the need to have a water bottle pocket on our main travel backpack simply because it's rare for us to be wearing our backpack for long periods of time. But some people love being hydrated all the time. That said, we like how Tortuga treats the water bottle pocket on the Setout Divide — basically, it zips flat when not in use but when unzipped it can hold a good size bottle.
---
Materials and Build Quality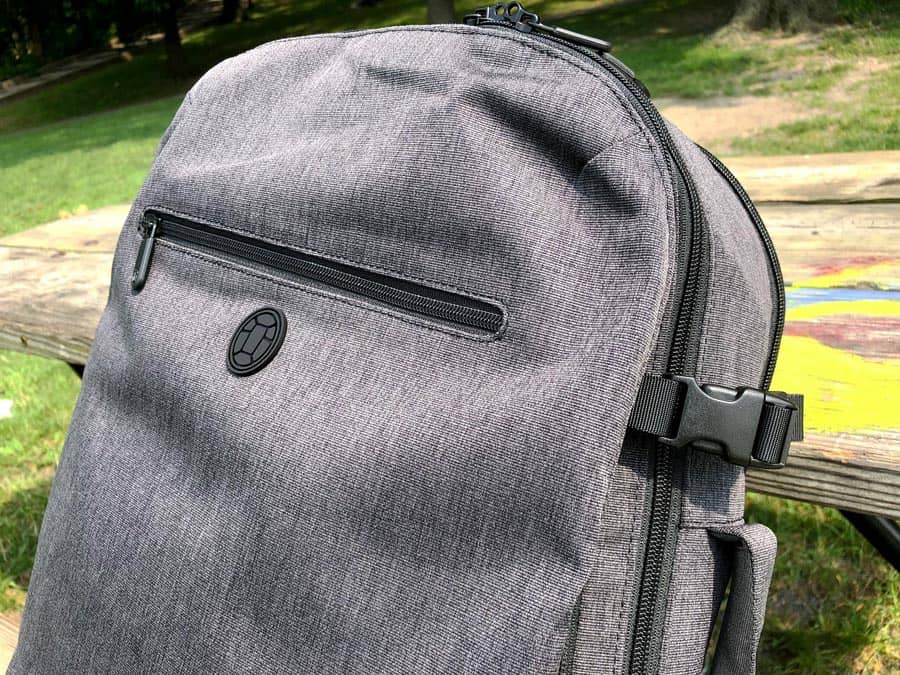 The overall construction of this bag is top notch so we don't have any complaints. It uses 900D heathered polyester which is durable and weather resistant. The material isn't fully waterproof backpack but it will easily withstand a rain shower.
Its YKK zippers are big, durable, and smooth — so no worries about them breaking if the bag is stuffed full. We do wish they would have put waterproof zippers on the laptop compartment and maybe the tech pocket (especially since this isn't exactly a cheap backpack) but that's a fairly minor complaint.
The Setout Divide uses the same materials as the Divide (which we've been using much longer) so there is no reason for us to believe this bag would hold up any differently.
---
Other Features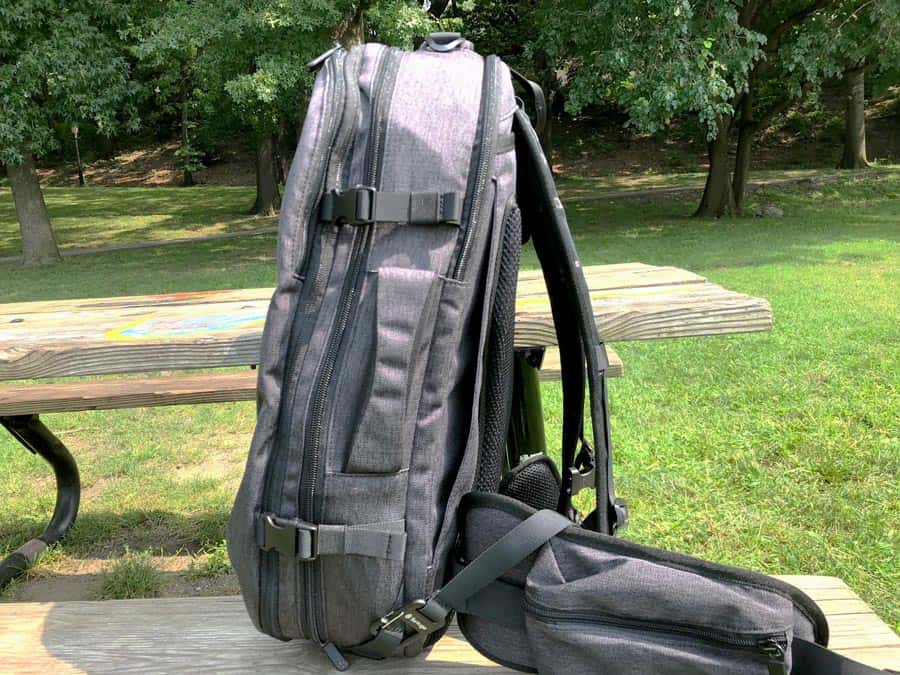 The Divide has two grab handles — one on top and one on the side. These come in handy when you're grabbing your bag from overhead bins or if you need to carry your bag by hand. There is also a hanging loop if you ever need to hang up your bag.
There are four external cinch straps to help compress the backpack — which helps keep your stuff close to your back. The only annoying thing about these is that you have to unclip them to unzip the backpack. Again, that's a minor complaint but it something we noticed when using this backpack.
---
Overall Thoughts
Overall, we think the Setout Divide is a solid backpack. The shoulder straps are comfortable but need a bit of breaking before they reach optimal comfort. If you want a bag that can carry a ton of stuff then we recommend looking at the original Tortuga Setout since the Setout Divide is quite a bit smaller. In our opinion, the Divide is much better suited for minimalist travelers, shorter trips, and for people non-one-bag travelers who want a solid carry-on travel backpack in addition to a bigger suitcase.
We think the Divide is a nice looking backpack with urban styling — so it wouldn't look too out of place in a professional environment. We do wish they would ditch the little Tortuga logo on the bag but that's a minor complaint since it's small and blends into the bag (that's just our personal aesthetical preference).
The Setout Divide sells for $179 with free shipping from the Tortuga Website.
You may also want to check out their Tortuga Outbreaker if you're looking for a large, extra-comfortable backpack (see our Tortuga Outbreaker Review).
Also, we recommend using packing cubes with this backpack — here is a list of our favorite packing cubes.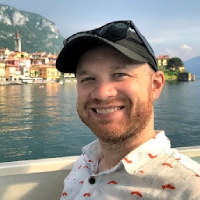 Latest posts by James Feess
(see all)
No Funny Business
The Savvy Backpacker is reader-supported. That means when you buy product/services through links on the site, I may earn an affiliate commission — it doesn't cost you anything extra and it helps support the site.
Thanks For Reading! — James
Questions? Learn more about our Strict Advertising Policy and How To Support Us.