Nearly two years ago San Francisco-based Aer released their highly popular Aer Travel Pack — a stylish and minimalist 33L carry-on travel backpack that was much-loved by urban and one-bag travelers. Well, Aer has recently made a few updates to their travel pack — which they now call the Aer Travel Pack 2. So how does this new bag perform? And is it worth upgrading if you already own the original version? We wanted to find out so keep reading our Aer Travel Pack 2 review to hear our thoughts.
AER TRAVEL PACK 2: QUICK OVERVIEW
The Aer Travel Pack 2 was designed to fit the needs of the modern one-bag urban traveler. While this bag can hold a good amount of stuff, the Travel Pack 2 isn't a huge bag. For reference, the Travel Pack 2 is a 33L backpack and the "maximum legal carry-on" size is around 45L. The Travel Pack 2 will let you zip through security lines, skip the baggage claim, and navigate busy streets.
Given its 33L size, we'd say this backpack is best for short trips or for people who want to carry a well-designed backpack in addition to their suitcase. That said, smart packers could use the Aer Travel Pack 2 as their only piece of luggage but it will force you to pack light.
But overall the Aer Travel Pack 2 has a lot of smart organizational features and stylish design choices. It's sleek, streamlined, and blends in well to an urban environment — which really fits our aesthetics. It's also made from heavy-duty 1680D Cordura ballistic nylon so it will take a beating.
Dimensions

Length: 21.5″ (55 cm)
Width: 13.5″ (34 cm)
Depth: 8.5″ (22 cm)

Volume
Weight
The Aer Travel Pack 2 costs $230 via the Aer Website so it's not a super cheap backpack but it's obviously designed to last a long time.
---
Aer Travel Pack 2 In-Depth Review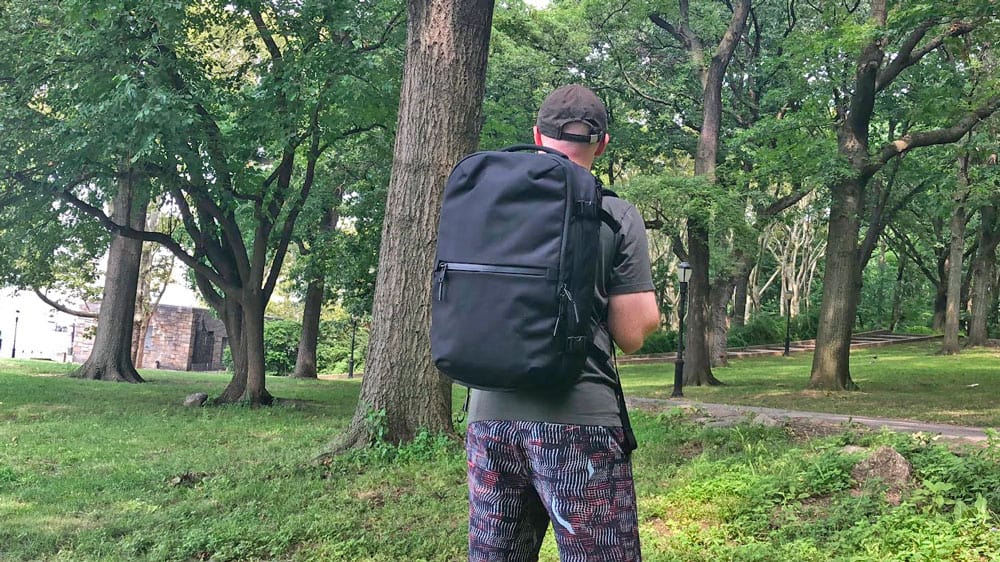 Alright, let's take a deep-dive into the Aer Travel Pack 2 to see where this bag excels and where it falls short.
Dimensions

The dimensions of the Travel Pack 2 are Length: 21.5″ (55 cm), Width: 13.5″ (34 cm), Depth: 8.5″ (22 cm). I was able to fit it under my seat on a domestic US flight without any problem. It's technically 2cm over the limit for some of the ultra-low-budget European air carriers but it's too close for anyone to care. Plus, the backpack doesn't have a rigid structure so it can easily squish to fit whatever size required.
So we can safely say the Travel Pack 2 is carry-on compatible.
As mentioned before, this is a 33L backpack so don't expect it to hold a ton of stuff. You'll have to be selective about how much you bring and your life will be easier if you can limit yourself to a single pair of shoes if you're a one-bag traveler.
Organization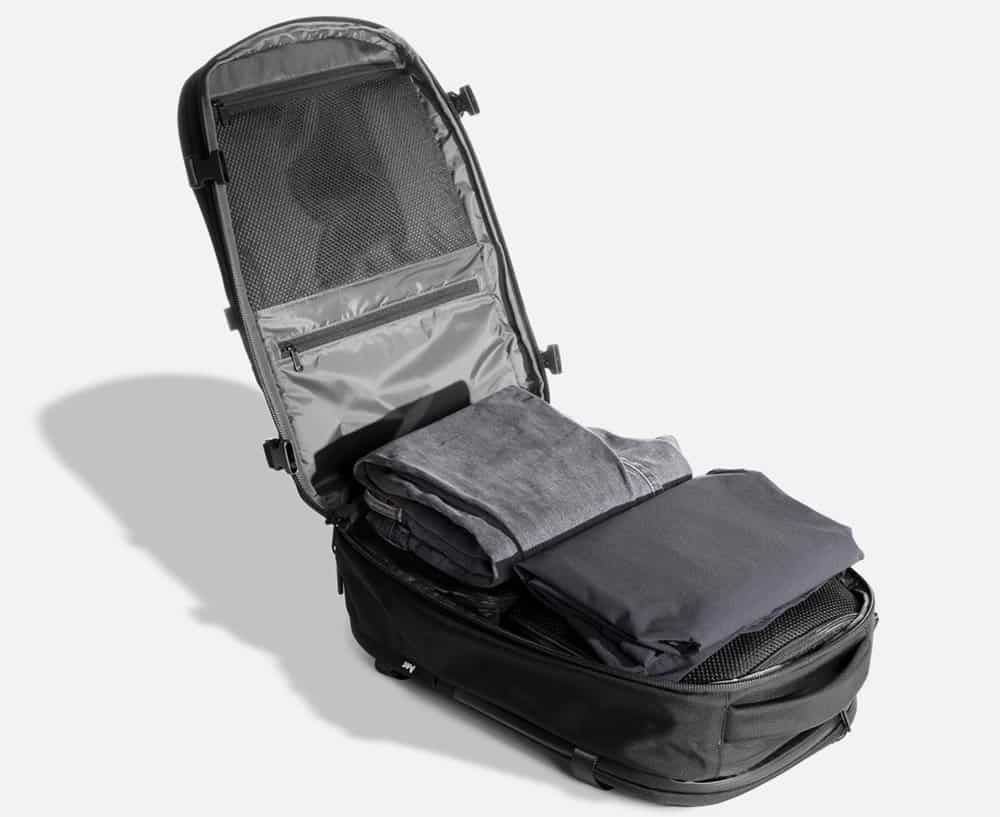 As you can see, the Travel Pack 2 opens like a suitcase so it's easy to pack. That said, we recommend using packing cubes with this backpack because they'll allow you to optimize the amount of space in the bag's main compartment. Check out our favorite packing cubes to learn more.
On the flap of the bag, you'll find a mesh compartment and a smaller compartment. There isn't a ton of space inside these pockets but it's enough to hold a few odds-and-ends. I usually throw charger cords or some dirty close in them.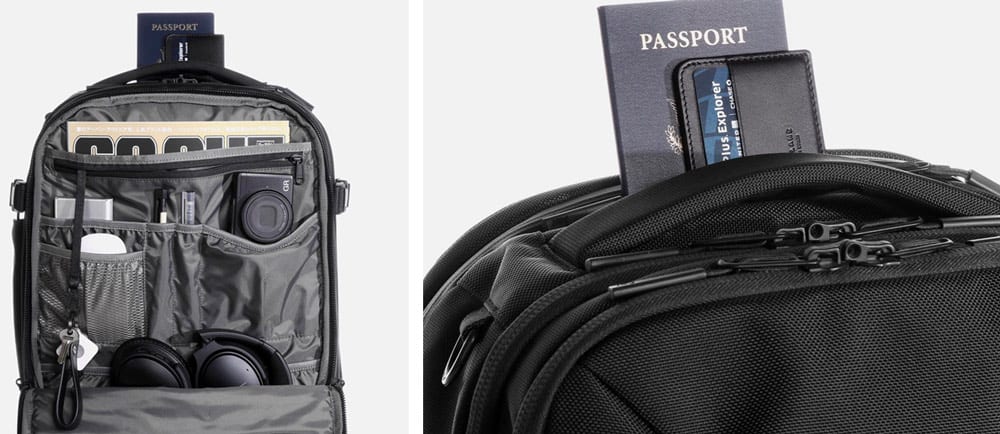 The tech pocket has been slightly tweaked on the Travel Pack 2. There are plenty of compartments and pockets to keep all your gadgets, pens, papers, and other gizmos organized. We like how they didn't go overboard with pockets — some bags have so many compartments that you can't keep track of all your stuff.
At the top of the bag, there is a handy stash pocket that's perfect for things like sunglasses and your phone. While it's a small complaint, it would have nice if this pocket was lined with a soft material to protect phone screens or sunglasses. Again, that's a small nitpick but its something we've seen from other brands.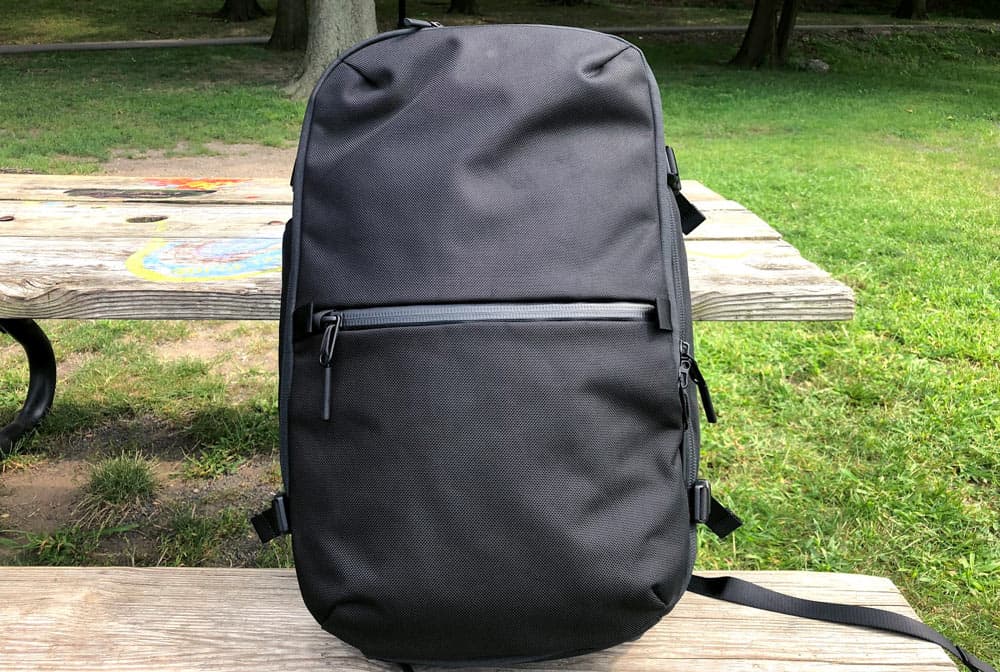 The front of the backpack has a pocket with waterproof zippers. We're not totally sure what you'd put in this front exterior pocket — maybe a small notebook, train tickets, or boarding passes.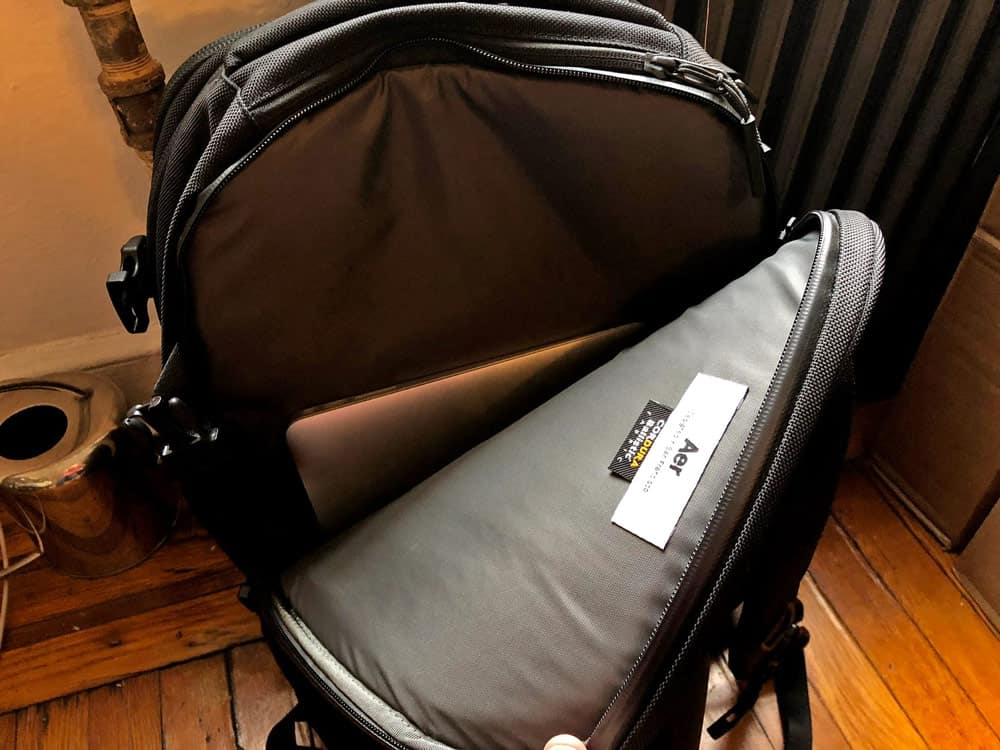 The Travel Pack 2 has a huge laptop compartment. We actually think it's too big as our 13″ Macbook Pro and Air does slide around quite a bit (but maybe people with 15″+ laptops would appreciate the extra room). And although the laptop compartment does have a nice amount of built-in padding, there isn't much padding on the bottom of the laptop compartment. This can pose a problem because there isn't much protection between your laptop and the ground if you accidentally drop your bag or set it down with much force.
Therefore, we recommend putting your laptop in a protective sleeve if you're a clumsy traveler.
On a positive note, the laptop compartment is easily accessible from the outside of the bag (which helps you breeze through airport security) and it has waterproof zippers for extra protection (a nice touch).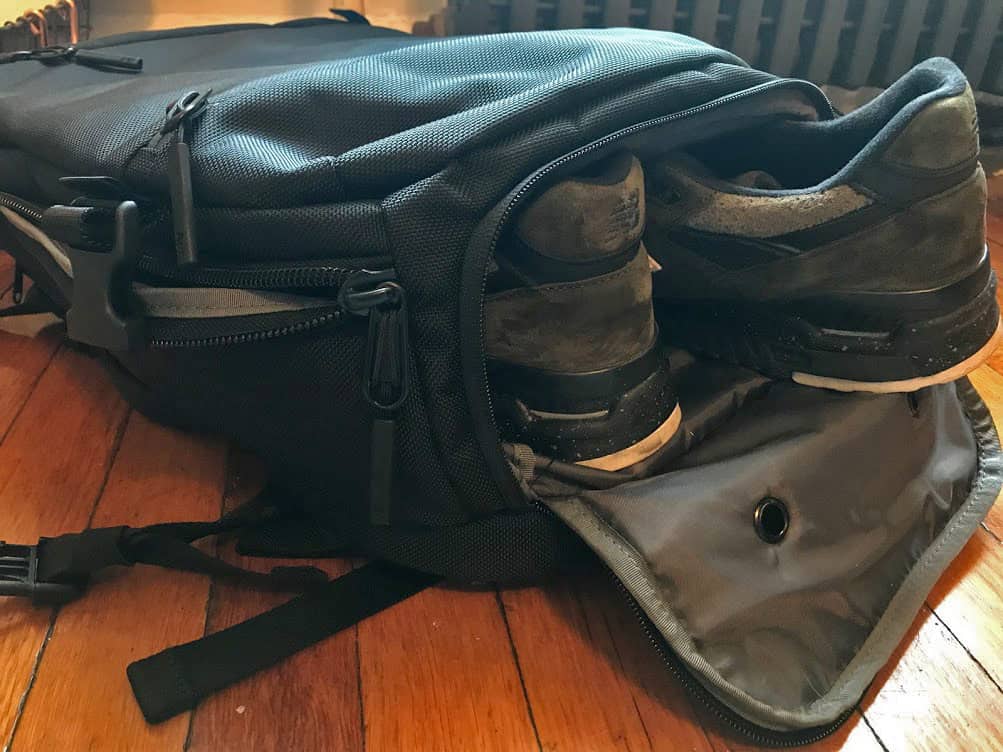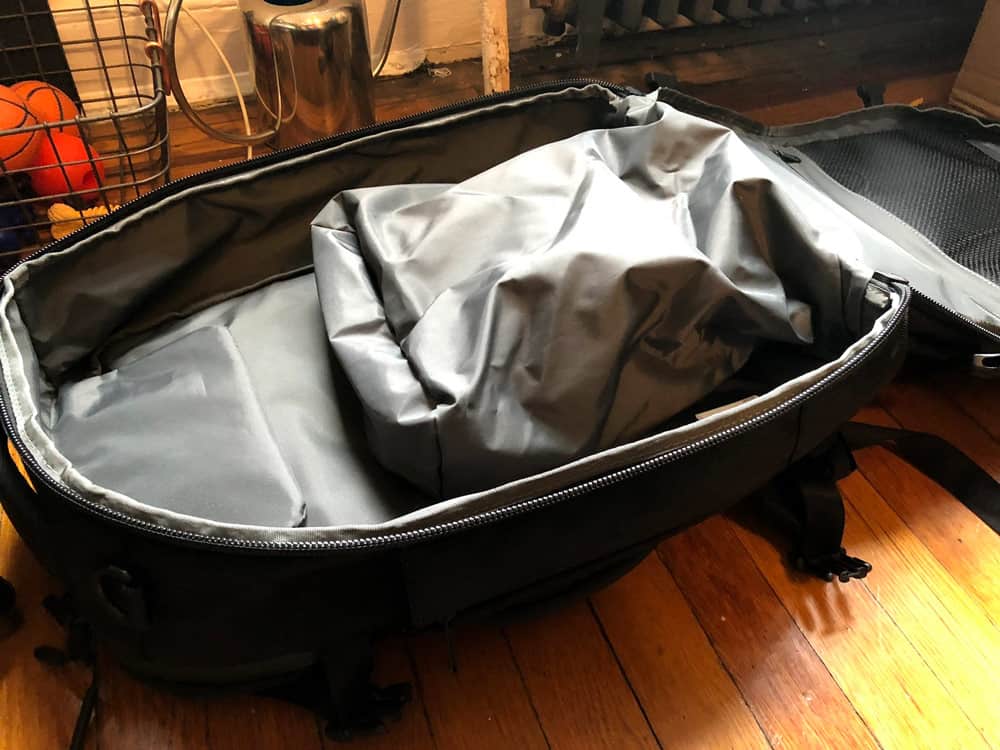 There is a separate shoe compartment at the bottom of the bag. We have mixed feelings about this pocket because, when packed with shoes, the pocket takes up a lot of valuable space inside the main compartment. Maybe it would be fine for flat shoes like sandals.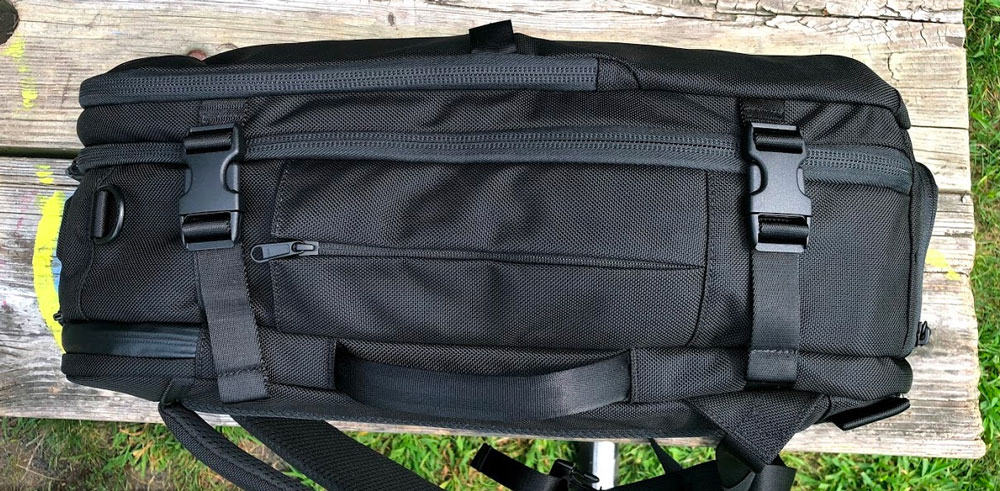 There are four compression straps on the outside of the backpack — which helps compress the backpack when not fully packed and keep your stuff from shifting around inside your bag. You can also use the strap secure a sleeping pad or jacket to the outside of the backpack.
Unfortunately, the straps prevent you from unzipping the backpack so you must unbuckle each one to access the main compartment. It's not a huge deal but it's a bit of an annoyance.
The water bottle pocket (see in the photo above) has a pretty cool design as it zips away when not in use — this helps keep a sleek profile. The pocket does have a bit of elastic and mesh so it keeps your water bottle (or small umbrella) secure.
Comfort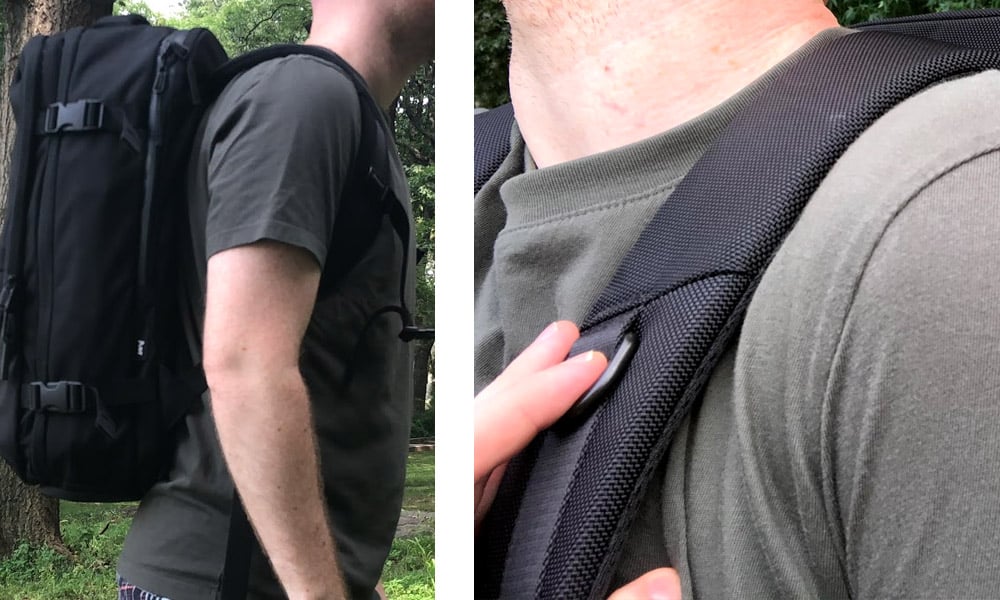 Aer made some big improvements to the shoulder straps on their Travel Pack 2. First, they added denser/thicker foam on straps and they made the straps a little wider to better distribute the weight. And second, they give the straps a more ergonomic design so it fits much better. This upgrade has made the Travel Pack 2 much more comfortable than the previous version.
Aer removed the load lifter straps (which helps keep the bag close to your back) that were found on the first version. The straps contoured to our shoulders pretty well so we didn't miss the load lifters during our testing but it might have been nice with heavy loads.
Overall, even without the load lifters, the shoulder straps are much better and more comfortable than the first version.
That said, it is important to realize that the suspension system on the Travel Pack 2 isn't super advanced so you'll feel the weight if you really pack this bag with a lot of stuff — especially if you're wearing it for extended amounts of time. This bag is designed as an urban travel backpack (i.e. going from the airport/train station to your hostel/hotel) so you shouldn't be wearing it for hours at a time.
NOTE: We didn't test the bag out with the removable hipbelt (sold separately). Most people probably won't need a hipbelt on a 33L backpack but it might add to the overall comfort if you've really packed your bag heavy.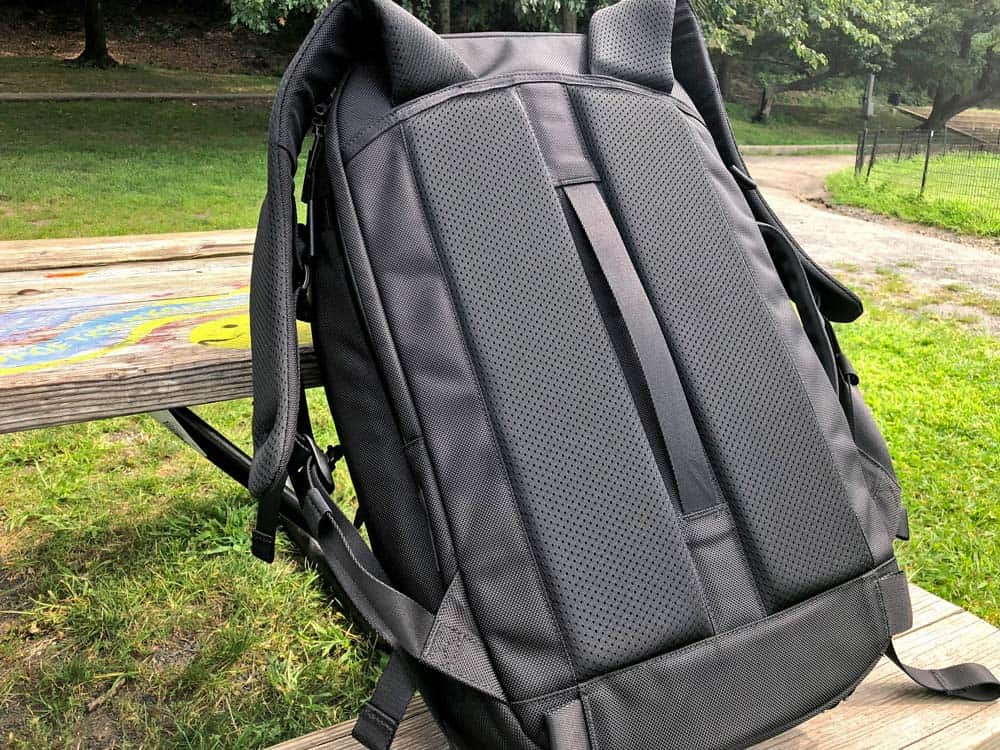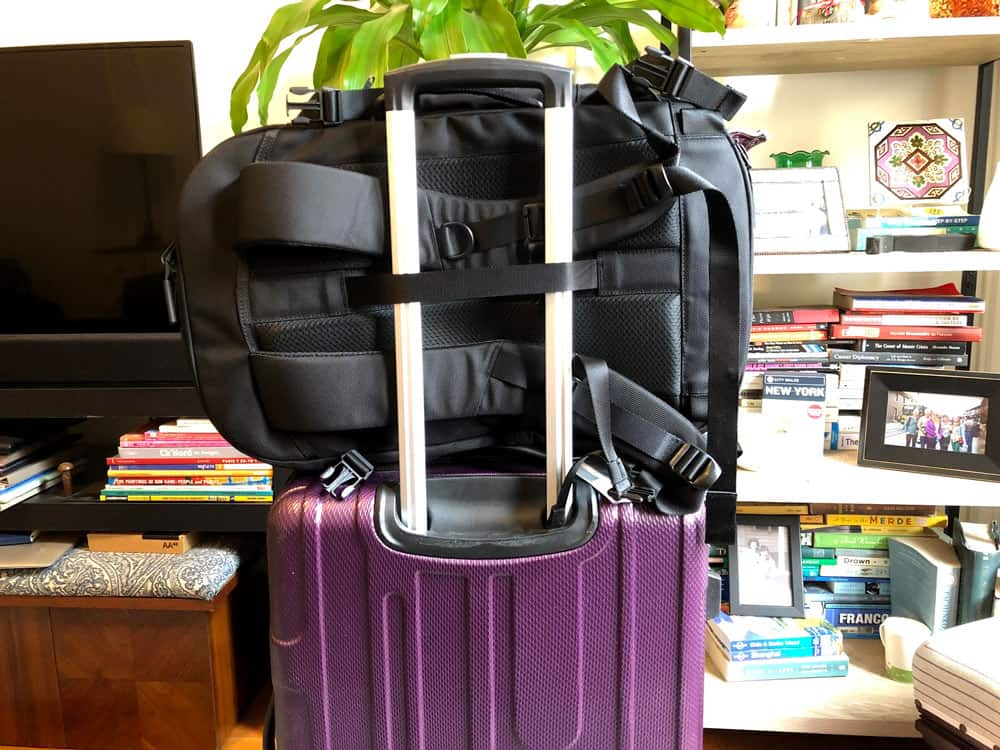 The backpack also has a bit of mesh padding along the back to add a bit of comfort and to help promote airflow. It's not a ton of padding but we found it is enough to get the job done.
There is also a luggage passthrough strap so you can attach the backpack to your luggage — it's a nice feature that not many other backpacks have.
Other Details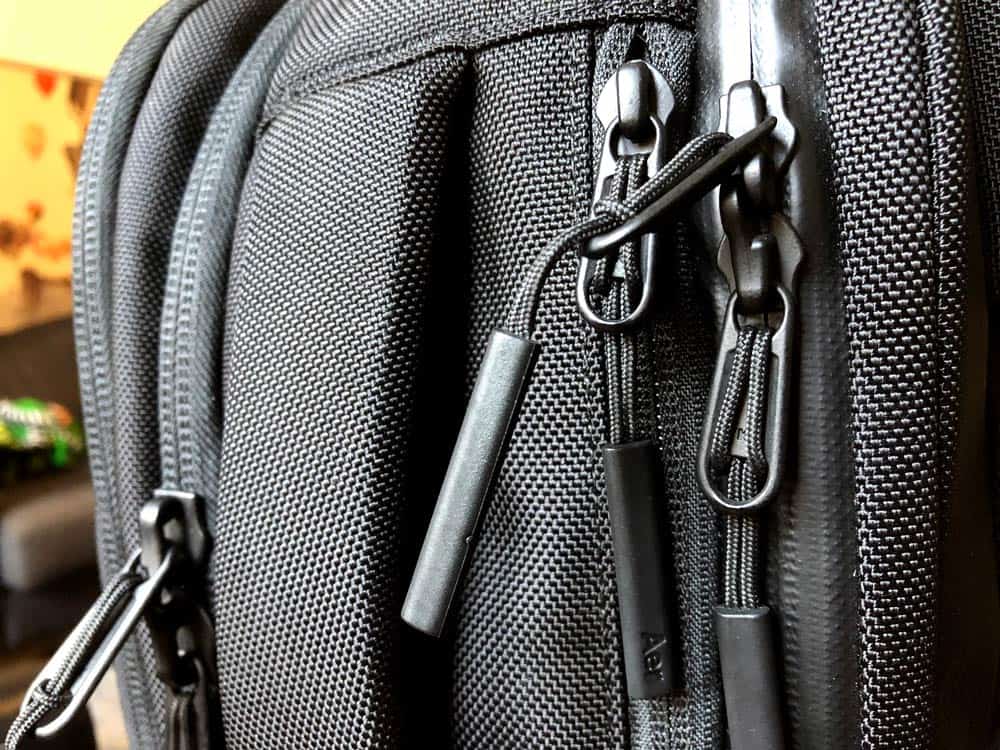 The zippers on the Aer Travel Pack 2 are great — they're all high-quality YKK brand and the laptop and front pocket have AquaGuard zippers. It would have been nice if all the zippers had AquaGuard but that's a minor complaint.
We like the zipper pulls and the fact that the main compartment and tech pocket has lockable zippers. That said, the laptop compartment doesn't have lockable zippers but it's going to be pretty much impossible to get into your laptop compartment when you're wearing the bag.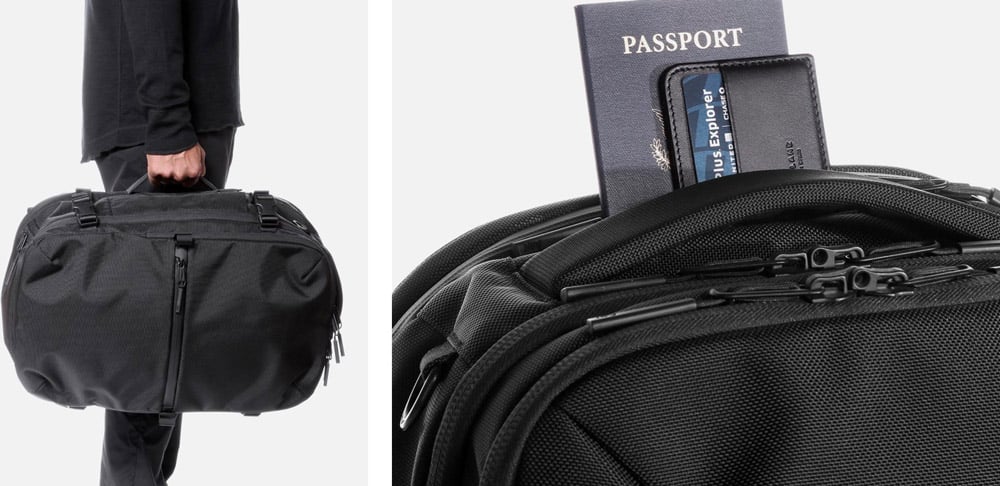 The side and top hand grabs have also been updated on the Travel Pack 2. Both have a good amount of foam so it's comfortable to carry. This is a small detail that's easy to overlook until you realize how much you'll use these handles.
Look / Aesthetic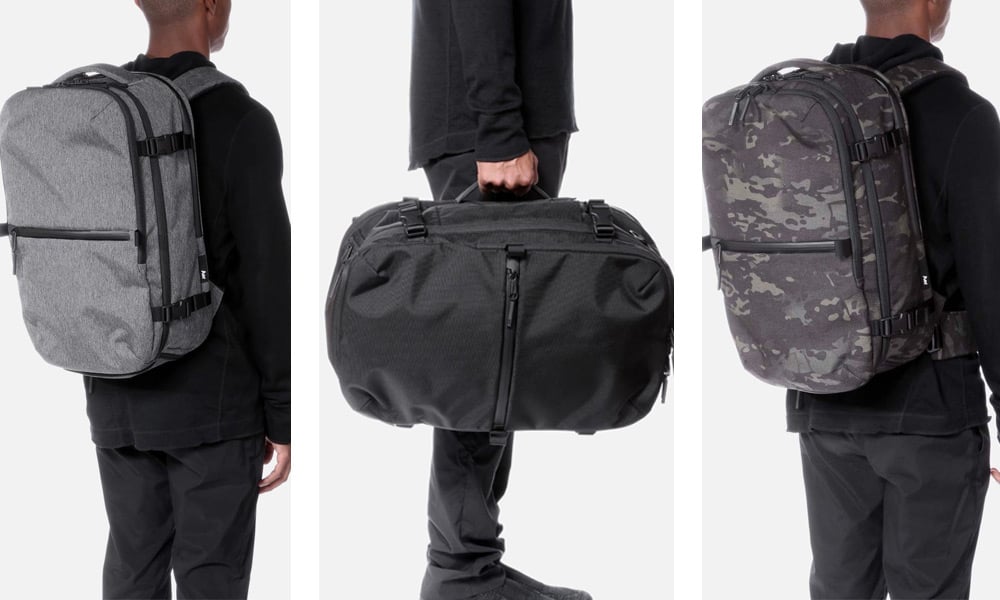 People who are drawn to the Aer are obviously drawn to its urban/minimalist/utilitarian looks — it's certainly one of the main things that caught our eyes. It's a 33L bag so it's not super bulky or unwieldy to carry around.
We can also see this bag being popular with business travelers since it has a bit of a professional look.
We also love how there is essentially no branding on this backpack — there is just a small "Aer" tag on the site. The Aer Travel Pack 2 also comes in three color options — grey, black, and camo. Personally, we're really digging the black and camo but we're not a huge fan of the grey.
---
Final Thoughts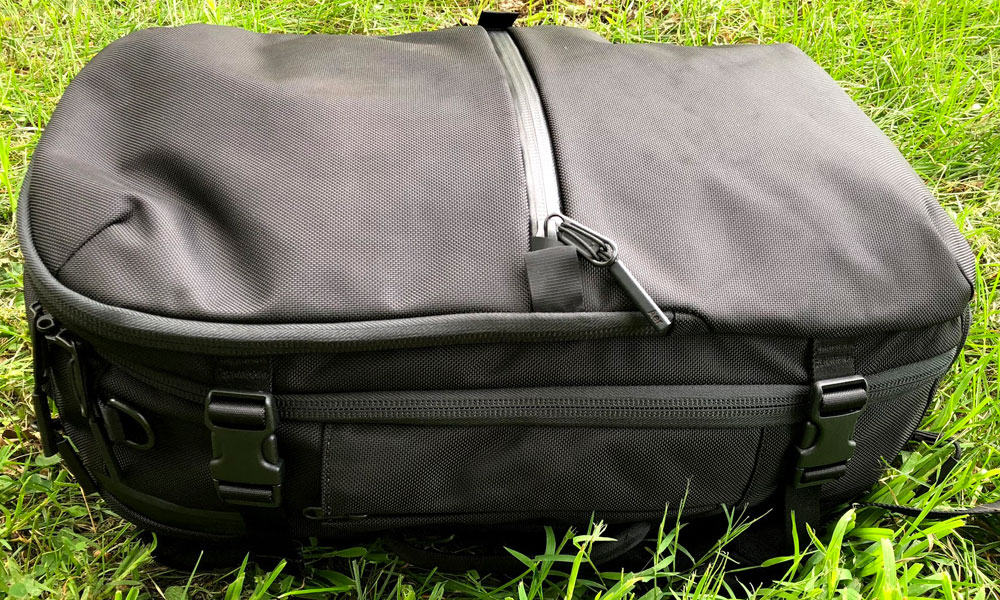 The Aer Travel Pack 2 is a nice upgrade from the already solid Aer Travel Pack. The construction is top-notch. The materials are high-quality and durable. This is a bag you know will hold up to a lot of travel. We think Aer did a nice job with the pack's organization but there are still a few areas for improvement (i.e. the laptop compartment and the fairly impractical shoe compartment).
We love the overall look of the Travel Pack 2 — it's urban aesthetic doesn't scream "tourist" when you're traveling the world.
That said, the 33L size might be a little too small for some travelers. You'll have to be strategic about what you pack if this is your only piece of luggage. For example, Susan would find it challenging to fit all her stuff into just this backpack. It would be a bit easier for me but I'd still have to be strategic. But for minimalist travelers, this is a great option. This is also a great option if you travel with a small suitcase and want a companion backpack.
The Aer Travel Pack 2 retails for $230 so it certainly isn't cheap. Luckily, the bag is well-made so it will last for a long time but not everyone will want to shell out this much cash. Learn more about the Aer Travel Pack 2 (and their other backpacks) at Aersf.com.
---
More Travel Resources
We love helping you with all your packing and travel needs so here are a few articles you might want to check out. You can find even more on our Europe Packing Tips page.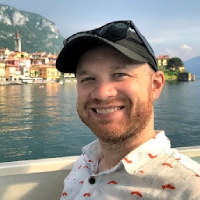 Latest posts by James Feess
(see all)
No Funny Business
The Savvy Backpacker is reader-supported. That means when you buy product/services through links on the site, I may earn an affiliate commission — it doesn't cost you anything extra and it helps support the site.
Thanks For Reading! — James
Questions? Learn more about our Strict Advertising Policy and How To Support Us.