We've been big fans of Osprey backpacks for a long time — everything they make is excellent quality and they even offer a lifetime warranty on all their bags. That's why we wanted to do an in-depth review of their popular Osprey Porter 46 backpack.
Note: We purchased this backpack with our own money to ensure an unbiased and honest review.
Osprey Porter 46 Review – Quick Look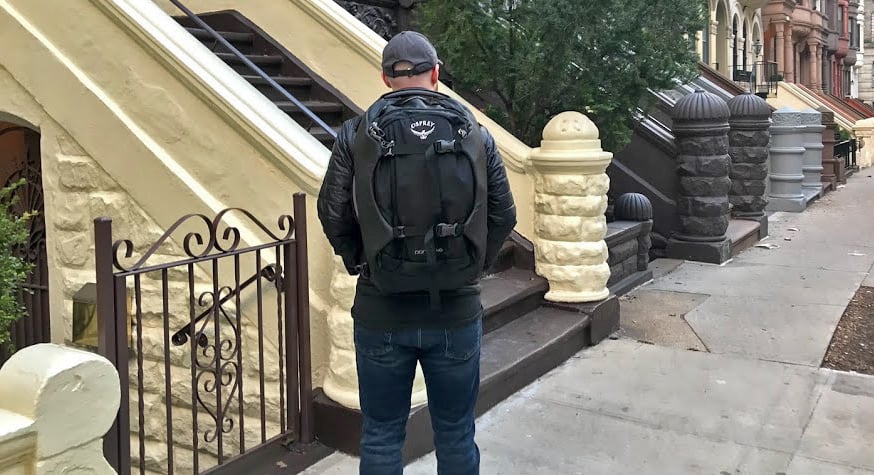 The Osprey Porter 46 is one of Osprey's best-selling travel backpacks and it's easy to see why — it's comfortable, it holds a lot of stuff, it's fairly lightweight (3.4 lbs.), it's carry-on size, and it's affordable. We also like how the shoulder straps can be stowed away and there aren't any loose straps on the bag to get tangled or caught on things.
The only thing we don't love is how the bag has a bit of a bulbous "turtle shell" look when full. However, that's a fairly minor complaint.
In short: The Porter 46 is a great all-around purpose built travel backpack.
Price: The Porter 46 is priced around $140 — check Amazon, REI, and Zappos for the latest prices.
Design Updated in Late 2017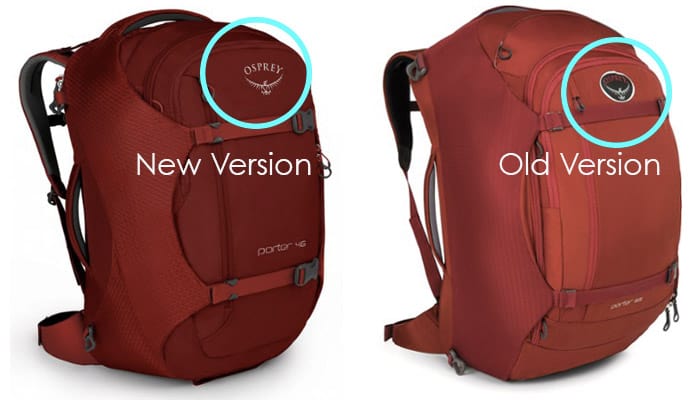 The Osprey Porter was slightly redesigned in late 2017. It's essentially the same backpack as before but the laptop compartment has been moved from the front to the back of the backpack. If you travel without a laptop or with a lightweight laptop/iPad then this update isn't a huge deal.
NOTE: The new version has the logo with no black circle background (see above). However, some 2016 models have the same non-circle logo so do a little research before buying.
In-Depth Osprey Porter 46 Review
Alright. Let's take an in-depth look at the Porter 46 to see if this is the right backpack for you.
Shoulder Straps / Suspension System
The Osprey Porter is one of the more comfortable travel backpacks we've tried. Like most travel backpacks, the Porter isn't designed to be worn for super long periods of time (i.e. wilderness hiking) but it's plenty comfortable for city-hopping travel.
The Porter has comfortable should straps and modest hip belt. The shoulder straps have load lifter straps which help keep the straps tight on your shoulders — many other backpacks don't have this feature so it's a nice touch.
The straps have an average amount of padding but they're aren't super wide — it's enough to keep you comfortable on those long walks to the train station but super heavy loads will put some strain on your back/shoulders after a while. But, all in all, this is one of the more comfortable bags we've tried.
The Porter has a fairly minimal hip-belt but it's enough to help take some of the load off your shoulders.
The shoulder straps and hip-belt can also be stowed away if you ever need to check your bag or if you want to attach a shoulder strap (sold separately) so you can carry the bag like a duffle bag.
There is no question that the full-featured Osprey Farpoint (read our Farpoint review) is a more comfortable backpack thanks to its internal frame and more advanced shoulder straps, but the Porter still does an all-around good job — especially when compared to bags from other companies. Basically, we'd be happy to travel with the Porter.
---
Organization
The Porter is a front-loading backpack that has ample amount of space. However, it's still carry-on sized for just about every budget carrier. It also has multiple compartments and pockets to keep all your things organized.
Main Compartment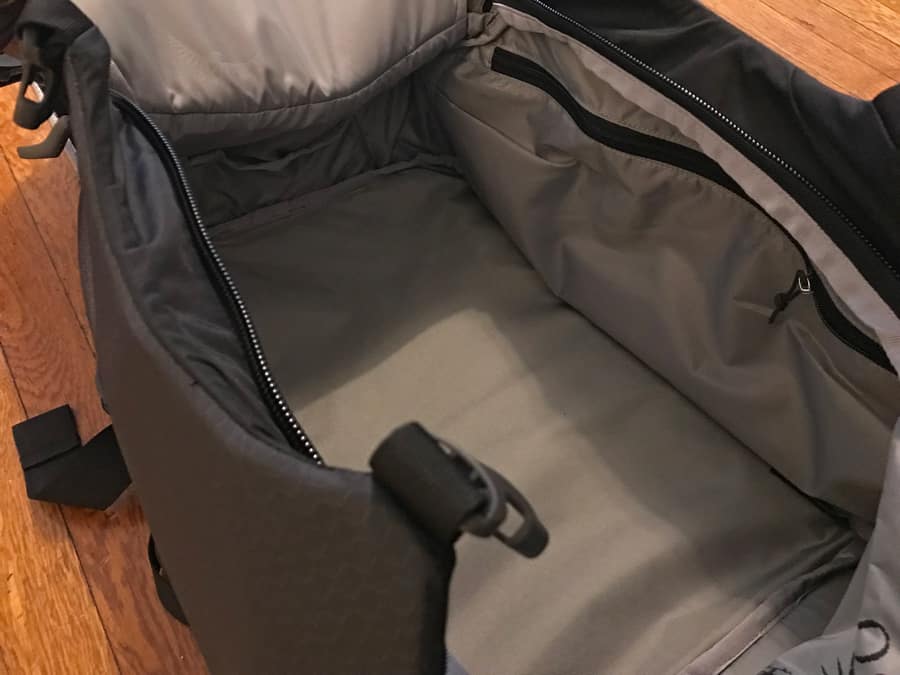 The main compartment is one big deep space so you can cram an impressive amount of stuff in there — is't basically like a duffle bag. As said previously, this is a front loading pack (as opposed to the inferior "top loading" bag) so it's easy to access all your stuff.
There are also two interior zippered pockets along the side of the main compartment for storing stuff like socks, underwear, or other random things. It's a nice touch.
Laptop Compartment
Traveling with a laptop is always a hassle (especially on flights) but the good news is that the 2017 version of the Porter has a separate laptop compartment on the back of the bag. This means you can remove the laptop without getting into the main compartment. I recently traveled with a backpack that didn't have this feature so accessing the laptop was a huge hassle.
Exterior Pockets
The Farpoint has three main external pockets. The front vertical pocket is good for things like paper or things that can be flattened easily. The next pocket has multiple organization areas for a phone, pens, and other random stuff. This area has a mesh pocket which is nice for boarding passes/tickets. The last pocket is on top of the bag. This is excellent for quickly stashing your phone, camera, or sunglasses.
---
Usability
Let's take look at how the backpack functions.
Compression Wings
The Porter has padded "StraightJacket™ compression wings" that can be cinched down to keep your load close to your back. The wings also keep the pack more compressed when the pack isn't full.
These wings are made of a thick/dense padding so it gives your bag a little extra protection.
The wings can also compress the bag to nearly flat when empty which helps stow it away when you're not traveling.
Handles
We love how the Porter has a solid padded top handle, an other solid padded side handle, and a non-padded bottom handle. These handles are a great feature as they make it easy to carry your bag when it's not on your back. I know it might not seem like it but these handles will come in super handy on planes, trains, and busses.
Size and Weight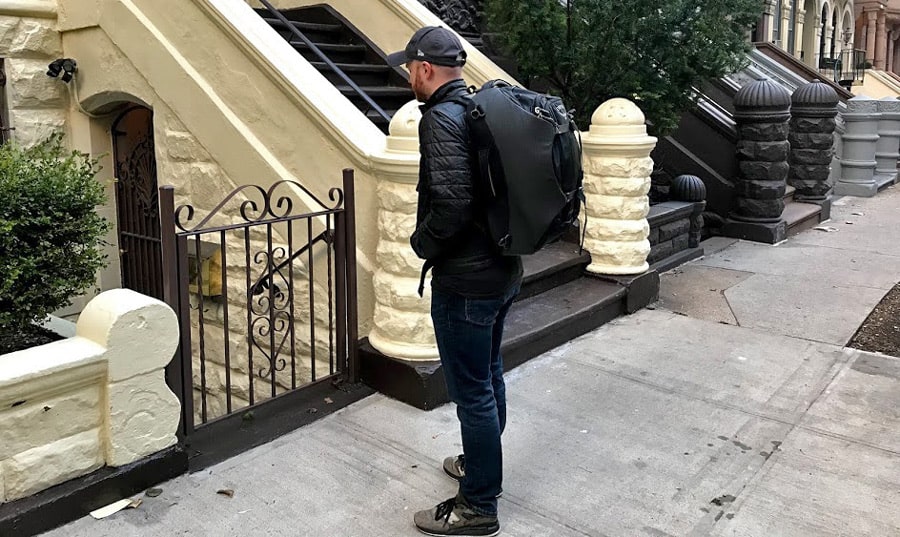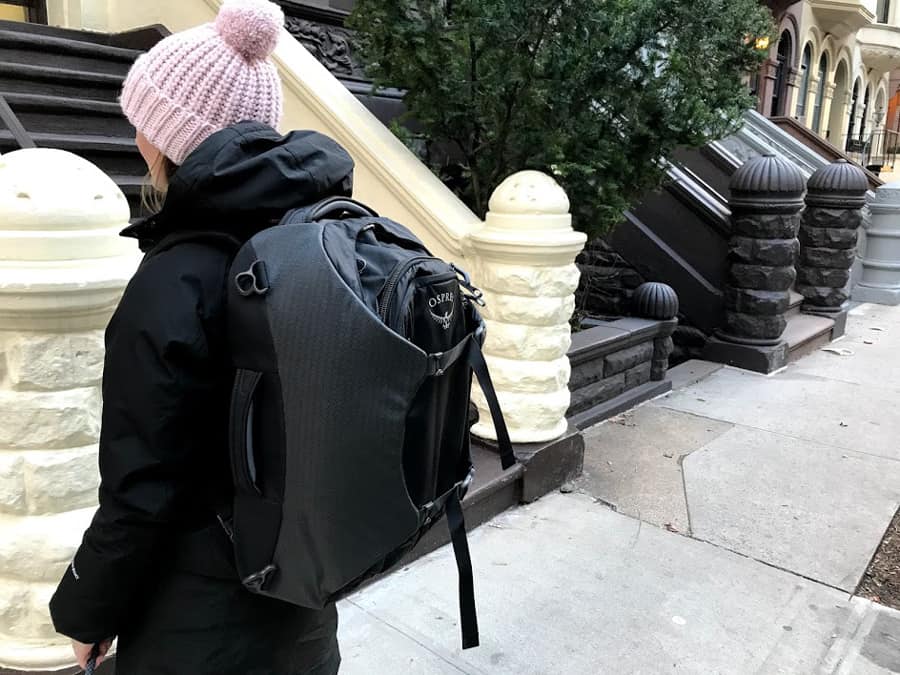 The official size specs for the backpack are 46 liters/2,807 cubic inches. The dimensions are 22 x 14 x 9 inches and it weights 3 lbs. 5 oz. It is designed to be carry-on compatible for most airlines.
The Porter has a lot of space. It's a fairly deep backpack so it can fit a lot of gear. This also makes it a fairly bulbous backpack that gives it a "turtle shell" look. The bag's compression wings do help a bit but this certainly isn't the most inconspicuous backpack.
---
Material/Construction
Like all Osprey products, the Porter is made from excellent materials. Construction is also top quality. Plus, they offer a Lifetime Warranty.
The Porter uses 420HD Nylon Packcloth which is light and durable. It will be able to take a beating. The bag isn't technically waterproof (very few are) but it will easily repel water in all but the heaviest downpours. You can buy a waterproof cover but you probably don't need it.
The YKK zippers are big, durable, and smooth — no worries about them breaking if the bag is stuffed full.
In short: the Porter will stand up to a lot of punishment.
Look/Aesthetics
The Porter isn't the sexiest backpack on the market but it's not ugly either. It's fairly sleek but it's still slightly bulbous. We recommend sticking to black as the more brightly colored packs scream "tourist".
---
Packability
You can fit a lot of stuff in a 46L backpack so you won't have any issues fitting all your stuff (if you can't fit all your stuff in this backpack then you're bringing way too much stuff). That said, they also sell a Porter 65 which is huge. We don't recommend going that big but it's an option. There is also a Porter 30 if you want to travel extra light.
As we mentioned previously, the Porter has one big compartment for all your stuff. With such a large area for packing, we recommend using packing cubes with the Porter. These will help keep all your stuff organized so you can find whatever you need quickly.
Comfort Test
So how comfortable is the Porter in the real world environment? We loaded it up with an average amount of gear and hit the streets of NYC to put it though its paces.
Initial Comfort Thoughts:
The straps fit well in the shoulders — the load-lifter straps help quite a bit. The straps are a little thin and not super padded but the bag is still comfortable when carrying a moderate load. I can see how the straps could be somewhat uncomfortable on extended journeys if carrying a really heavy load.
The hip belt is minimal but it does offer a nice amount of support.
Extended Use Comfort:
When you're traveling, the longest you'll likely wear your backpack at one time is about an hour so we tested this bag by wearing it for an hour while we walked around the city.
I was pleasantly surprised. The straps didn't dig into my shoulders/neck — which I've experienced in other bags. The Porter fit well against my back and felt secure. The hip-belt, while small, did provide a nice amount of comfort.
After about 45 minutes of continuous wear my back and shoulders felt a little sore — but it was fairly minimal. I've worn bags that were uncomfortable after only 10 minutes so the Porter is certainly a comfortable backpack.
Overall Thoughts
We think the Osprey Porter is an excellent value — especially at its price of $140. You can tell this backpack was designed with the urban traveler in mind so it has a lot of smart features that you'll appreciate. The Porter is comfortable and it's super solid so it will withstand whatever you throw at it.
The shoulder straps are comfortable when the bag is packed with a modest load. We recommend upgrading to the Osprey Farpoint (see our review) if you're looking for a more comfortable backpack that can handle heavier loads.
All in all, the Osprey Porter is a super well-rounded backpack and it's easy to see why it's one of the most popular travel backpacks.
The Porter 46 is priced around $140 — check Amazon, REI, and Zappos for the latest prices.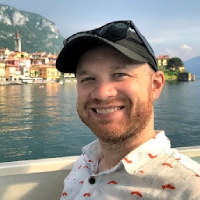 Latest posts by James Feess
(see all)
No Funny Business
The Savvy Backpacker is reader-supported. That means when you buy product/services through links on the site, I may earn an affiliate commission — it doesn't cost you anything extra and it helps support the site.
Thanks For Reading! — James
Questions? Learn more about our Strict Advertising Policy and How To Support Us.