Want to truly experience the local culture, save money, and make friends all over the world? Then you should consider CouchSurfing. The couchsurfing scene has exploded over the past few years and it is hugely popular in Europe. The experience is more than just a free place to sleep, because when you couchsurf you get the rare opportunity to change from an outsider to an insider. This site will explain what you need to know in order to become a successful couchsurfer.
What Is CouchSurfing?
"CouchSurfing is an international non-profit network that connects travelers with locals in over 230 countries and territories around the world." — Couchsurfing.org
Basically, it is a group of people who open their homes/couches/beds/floors to other travelers for free. The online community revolves around couchsurfing.org. It has grown to be the largest online hospitality community with over 2.2 million members in 237 countries and territories, averaging around 60 million daily page views.
Each member first creates a profile. Then the site allows travelers and hosts to connect up. The hosts will indicate if they have a couch available (or if they're willing to meet for drinks) and the travelers search the profiles of hosts with available couches. They email back and forth to see if the arrangement works for both parties.
CouchSurfing.org has the largest community but there is also Global Freeloaders and Hospitality Club.
What Are The Hosts Like?
The people who host couchsurfers will all vary. Some host people every week. Some host 1-10+ people at a time. Some will make you meals. I even know of some who just give you the keys to their house and leave for the weekend. Or you might have a really busy host who can only offer you a bed and nothing else.  Some hosts are older people and some are students. Most hosts tend to be open-minded individuals who genuinely want to show off their city to new visitors.
A lot of hosts will give you advice about where to go and what to see. Many times they'll take you around the city and show you good bars and restaurants.
Safety Concerns
I think it is understandable to have some concerns about safety. CouchSurfing.org says 99% of all stays are positive and all the couchsurfers that I know all had positive experiences. But you still want to be cautious.
Be sure to check references, vouching from past travelers, friends, and don't forget to read each host's profile.
The most vulnerable type of person are single women travelers. Luckily, there are plenty of female hosts (many of whom will only accept female guests). It is generally advisable to only stay with people who have a lot of references. Make sure you read all their feedback too. Always have a backup place to stay just in case something goes wrong/doesn't feel right.
Tips For Successful CouchSurfing
Complete Your Profile: You're not going to get a lot of responses from a partially completed profile. Fill it out honestly and make sure it is up-to-date.
Don't Send Mass Request: Hosts hate it when you simply send out an impersonal copy-and-pasted mass email to a bunch of  hosts. Carefully read each host's profile and send them a personalized email asking if they would be willing to host you. In fact, look for hosts with the same interest as you. It helps ensure compatibility and you're more likely to be accepted by the host. Also, give them the specific dates of when you're traveling—don't just say "I'm visiting your city in April. Can you host me?"
It Is More Than A Free Room: Couchsurfing is not a hotel service, but many new surfers make the mistake of thinking it is. It is about sharing your culture with someone else and creating a sense of community. Hosts really go out of their way for their guests and they don't appreciate people who just want a free couch. This is a big problem in large cities because hosts get inundated with requests, so make sure you're doing couchsurfing for the right reasons.
Don't Contact Host Super Early/Late: Remember that hosts have their own lives that don't revolve around you. They have to make special arrangements when they have guests so you want to give them enough time to prepare. So you shouldn't wait until last minute to contact them. Also, don't contact them months ahead of time either. I would usually try to contact them 10-21 days ahead of time.
Search Active Users: CouchSurfing.org has over a million members. Many people sign up and forget about their profile. This is why it is smart to filter people based on when they last logged onto the website. If someone hasn't signed on for 6 months there is a good chance they're not an active host.
Hosts Have Lives: Remember that the hosts have lives too and they're not doing this to cater to you. Sometimes something comes up and they have to cancel. This is a risk you take as a couchsurfer, so always have a plan B.
Bring A Gift: Don't give your host money, but it is nice if you give them a small gift. Wine and beer can be nice (if it is appropriate for their culture). Or some fruit. Maybe a little souvenir from your hometown or another small gift. Don't spend a lot of money, but get something that shows your appreciation.
Communication: Make sure you ask about the house rules. If you're looking to party, make it known when you're searching for a host. If you're upfront about it you're more likely to get a compatible host. Many hosts are young university students so they live in small apartments. You want to let them know right away how many people are in you group. If they're expecting one person and four show up it could make the host angry.
Also, find out when is the best time to arrive and stick to that schedule. Try not to be super early or really late. Always contact them if plans change so they know what is going on.
Don't Overstay Your Welcome: A lot of couchsurfers abuse their stay by staying too long. Many hosts are too nice to tell them to leave. Try to limit your stay to one or two nights.
Interact With Your Host: Make an effort to talk to your host. They bring people into their home because they like the social aspect of couchsurfing.
Clean: Always clean up after yourself. Take out the trash. Fold up your bedding and make sure you keep your bags out of the way.
Cook: Cook your own food. Many hosts are totally fine with you using their kitchen, but don't take their food. Offer the host whatever you're making. They may decline, but it is a nice gesture.
Vouch For Your Host: If everything went well be sure to leave positive feedback on the website.
If you want more information go the the couchsurfing.org resources page.
Things To Think About
CouchSurfing isn't always 100% reliable. Hosts can cancel last minute and it can often be hard to get people to respond to your requests. It takes a lot of time to find a host, especially in large cities where there are tons of other travelers.
Sometimes staying with someone you don't know might limit your freedom. They might require you to be back at a certain time or ask you to leave while they're not home. You also might not 'click' with your host and it can be awkward. If you're staying in a hostel there are many people so you're more likely to find someone you get along with.
Many hosts don't live right in the center of town because it is so expensive. Therefore, the location might be less convenient for sightseeing.  Although, this allows you to see part of the city that you probably wouldn't have ever experienced otherwise, so it isn't always a negative.
Even though its called "couchsurfing" it doesn't mean you'll always be sleeping on a couch. You could get lucky by getting a comfy bed or you might have to sleep on the ground.
Final Thoughts
I think couchsurfing is a great idea. It gives you the chance to really meet the locals and to see parts of the city that 99% of tourists never experience.  It also gives you the chance to meet people on a deeper level and hopefully you'll make life-long friends. I also don't think it is a great long-term solution for accommodation because it isn't always possible to find somewhere to stay.  I suggest a mix of hostels and couchsurfing.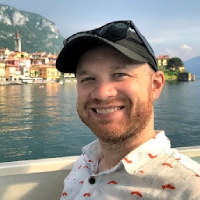 Latest posts by James Feess
(see all)
No Funny Business
The Savvy Backpacker is reader-supported. That means when you buy product/services through links on the site, I may earn an affiliate commission — it doesn't cost you anything extra and it helps support the site.
Thanks For Reading! — James
Questions? Learn more about our Strict Advertising Policy and How To Support Us.