Portugal is quickly becoming one of the hottest destinations in Europe and one of the best ways to explore its amazing cities and towns is by taking the train. In this Portugal Train Guide, I'll cover how to travel Portugal by train—including how to buy train tickets, how to find the best prices on train tickets, and other helpful tips for using Portugal's rail system.
---
How To Buy Train Tickets In Portugal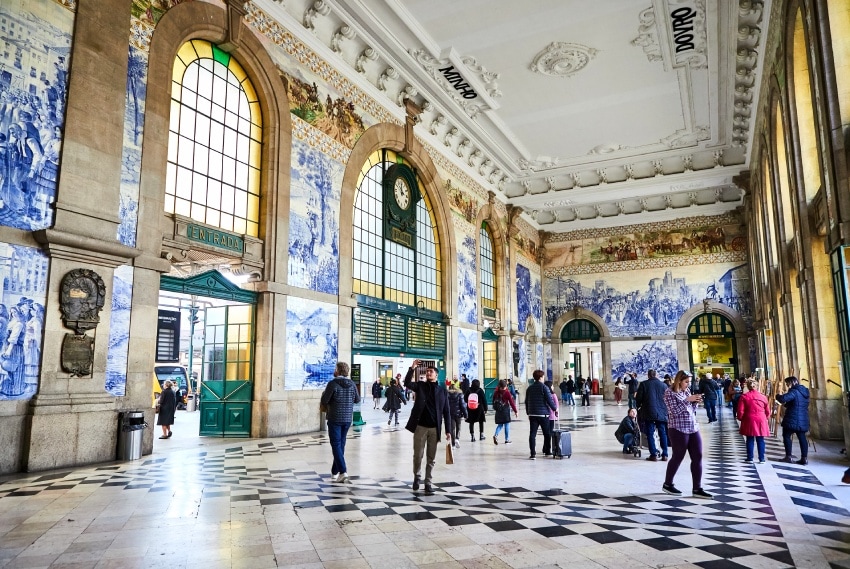 Ok, let's start with how and where to buy train tickets for trains in Portugal.
Where To Buy Train Tickets in Portugal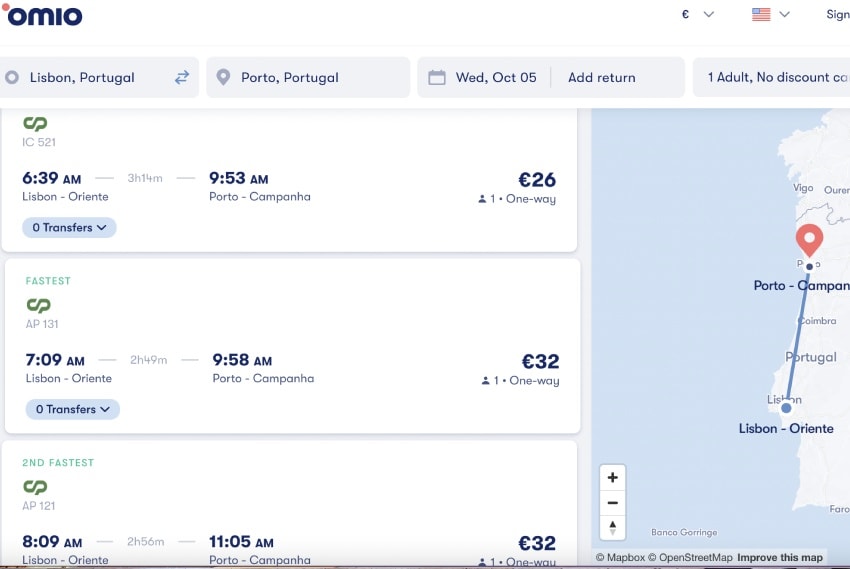 Other than buying tickets at the train station (via the ticket window or automated ticket machines), there are only two ways to pre-purchase train tickets for trains in Portugal—either from the Official Portugal Rail Website (Comboios de Portugal) or through the third-party reseller Omio.
The Comboios de Portugal website suffers from some weird translation issues and some international users might have trouble making credit card payments so I recommend sticking to Omio.
Luckily, Omio is much more user-friendly than the Comboios de Portuga website, it accepts all international credit cards, it has a nice smartphone app (where your digital train tickets will be stored), it has a way better user interface, and it's all in English. Omio sells tickets at the same price as the Comboios de Portugal website but they add a small service fee (around $2)—which I'd rather pay than deal with the Comboios de Portuga website.
Train tickets purchased via both Omio and Comboios de Portugal are digital tickets and can be accessed from their respective smartphone apps (they can also be printed at home). That's why having a phone with reliable data is important. Check out my Guide For Buying A SIM Card and Mobile Data Plan in Europe to learn how to get affordable mobile data.
When To Buy Train Tickets To Get The Best Price

Train tickets in Portugal generally are available for purchase about 60 days before departure so there is no point in trying to book super far in advance.
Tickets for the Portuguese Alfa Pendular train (their high-speed, long-distance train which connects major cities in Portugal and international routes that connect to cities in Spain) are cheapest if bought a few weeks in advance—but generally buying 5-8 days is good enough.
For example, a ticket from Lisbon to Porto is typically €16-€20 when bought a week early but sometimes they have extra cheap €10 promo fares. However, if you buy last minute, expect to pay €25-€35. Poke around Omio to see what you find to get a better idea of prices for your itinerary.
The route popularity can also have an effect on price so popular departure times are often slightly more expensive than less desirable times.
Pay Attention To Train-Type And Number of Transfers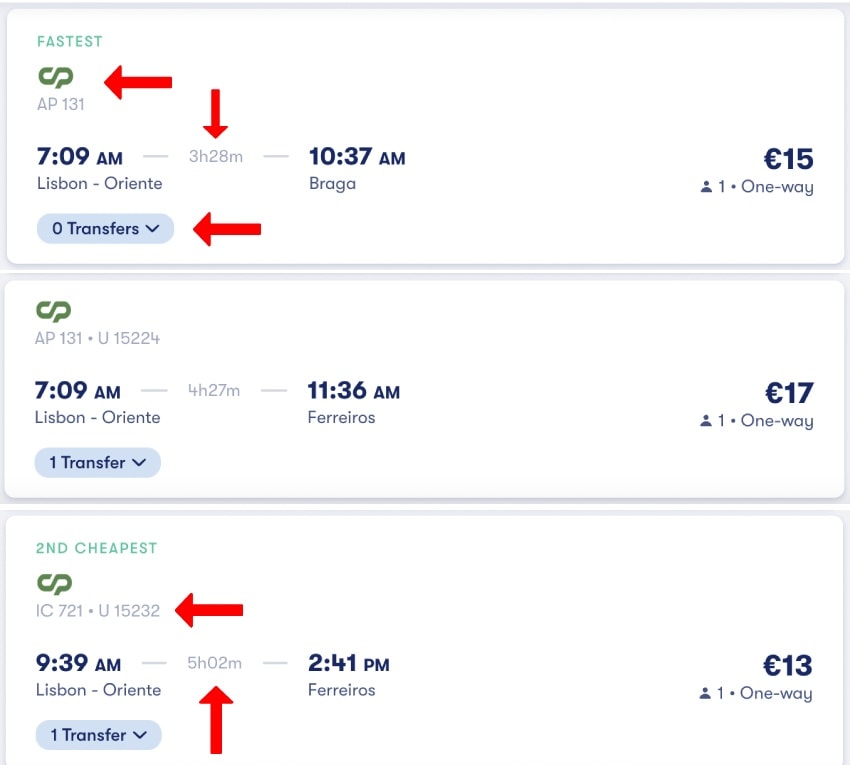 When looking at potential train tickets, it's super important to pay attention to both the type of train (AP high-speed, Intercity, local/regional, etc.) and the number of changes (direct, one change, two changes, etc.).
AP = Alfa Pendular high-speed train that goes up to 135mph. These trains generally only stop at major towns/cities.
IC = Intercity trains. These trains are still quick and hit speeds of 120mph but make more stops than the AP trains. Many IC trains will connect the same cities as AP trains but the journey will take longer.
All other trains are local/regional trains. These travel at much slower speeds and make very frequent stops as they're designed to service smaller towns and villages.
Some train routes are direct and others will have a transfer (or multiple transfers) where you'll have to change trains at a train station—these stopovers can be super quick (~10-15 minutes) but I've also seen longer 1hr+ waits. If possible, seek out direct trains since it's much easier, quicker, and you don't have to worry about missed transfers because of delays.
First-Class vs Tourist Class Train Tickets
First-class tickets on Portuguese trains generally cost 50% more than "tourist" class (i.e. second-class) tickets. The main perks are more legroom and larger seats. You can also order food but that's extra. Seats are arranged in a 2+1 configuration—one row has one seat the other row has two seats.
Otherwise, the tourist/second class is perfectly comfortable. Seats are arranged in a 2+2 configuration—both rows have two seats.
---
The Types Of Trains In Portugal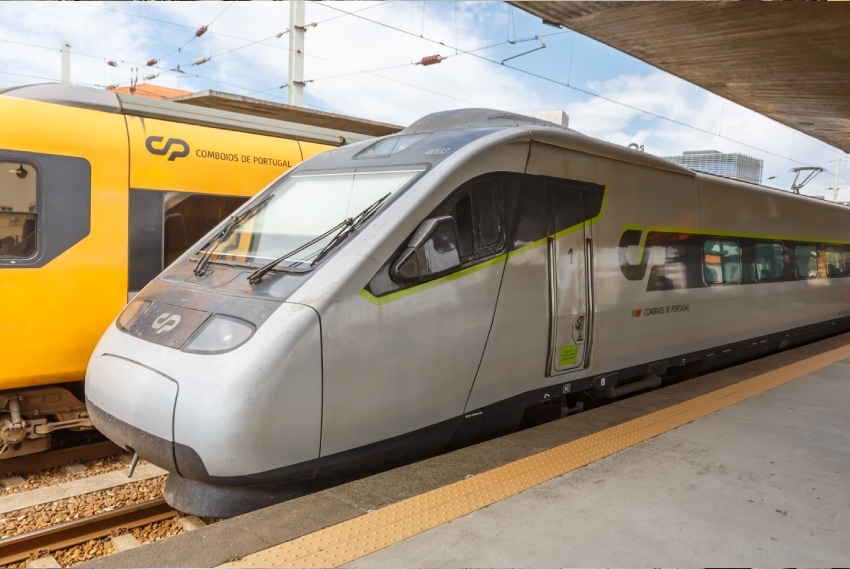 The Portuguese rail network is comprised of three main types of trains and each has its own quirks.
Alfa Pendular Train (High-Speed Train)
The Alfa Pendular Train (AP) is Portugal's high-speed train that travels at speeds up to 135mph. These trains typically connect major cities and it's also the train that connects to cities in Spain. If possible, always book these tickets because it's a faster and more enjoyable experience.
The Alfa Pendular Trains are modern, have air conditioning, and have comfortable seats. Each train has 1st & 2nd class cars as well as a cafe/bar car. There is also free WiFi & power sockets at all seats.
You'll want to book these tickets at least a week in advance for the best price but booking even earlier might result in even cheaper promo fares. Check Omio to see current prices.
Intercity Trains
Next are the Intercity Trains (IC) and these also connect main cities as well as a few smaller cities. These trains can still reach relatively fast speeds of 120 mph but they make more frequent stops so that means trips will take longer.
Again, trains are air-conditioned and have both 1st & 2nd class. Most trains also have free WiFi and a cafe/bar car. Don't expect power sockets in 2nd class but many seats in 1st should have them.
You'll also want to book these tickets at least a week in advance for the best price. Check Omio to see current prices.
Regional and Local Trains
All other trains are slower regional trains that reach out to small towns and villages.
These trains can't be booked in advance and prices are always the same, so simply buy your tickets at the train station.
NOTE: Some popular day trip routes (like Lisbon to Sintra) attract tons of tourists so the ticket lines can get very long. Arrive well before your train's departure or buy your tickets from the station a day before you travel to avoid missing the train you want.
---
Popular Train Routes in Portugal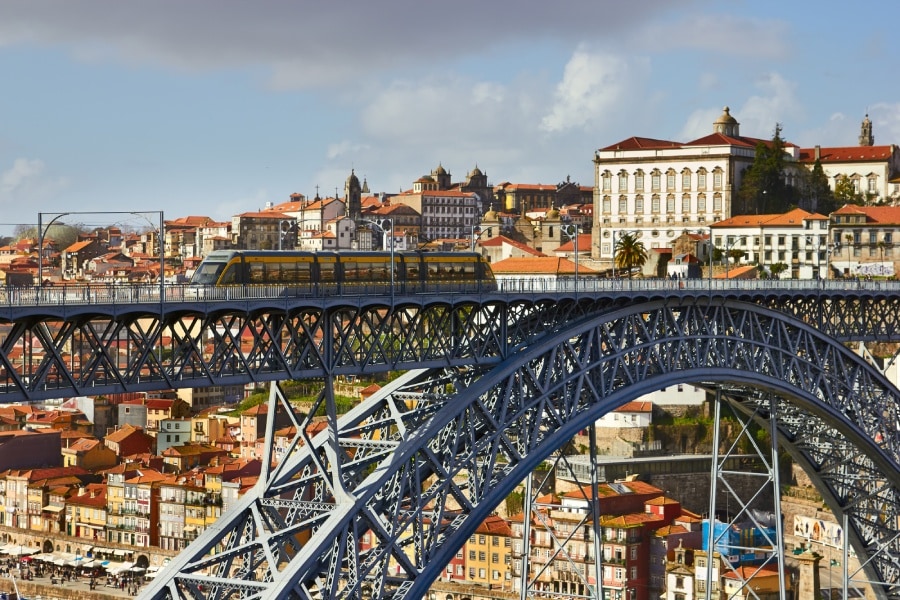 Portugal is a fairly small country so most visitors stick to a few main train routes. I've listed a few of the most popular routes and listed some helpful information for each route.
Lisbon to Porto By Train (Around 2.5h-3h)
Traveling between Lisbon (Oriente Station) and Porto (Campanhã Station) by train is easy and there are multiple direct trains daily. The Alfa Pendular high-speed train will take around 2h40min and the slightly slower Intercity train takes around 3h10min.
Single tickets start around €32 but you can save 50%+ by booking early. Check prices at Omio.
Lisbon to Sintra by Train (Around 45min-1hr)
Sintra is a very popular day trip from Lisbon. It uses a local train that takes around one hour and costs €2.30 each way. There are multiple trains every hour—sometimes as often as every 10 minutes during peak travel times.
You can only buy tickets from the station. The ticket lines can get very long during the busy season so arrive early to avoid the lines.
Lisbon to Braga by Train (Around 3hr 16min)
Braga is a city in the far north of Portugal. Braga is about 3hr15m from Lisbon via the high-speed train and 40m from Porto via the high-speed train.
There are a few direct trains between Lisbon and Braga but most require a change in Porto (which can add anywhere from a 10-minute stopover to over an hour stopover). So look for a direct train for the shortest and most convenient route.
There are multiple daily departures between Lisbon and Braga and tickets cost between €30-€40 but can get down to €12-€15 if booked early. Check prices at Omio.
Lisbon to Coimbra by Train (Around 1h30min-1hr50min)
The riverfront city of Coimbra is about halfway between Porto and Lisbon so it makes a popular trip from both cities. Direct train journeys between Lisbon and Coimbra take between 1.5-2 hours depending if you take the AP or IC train.
Standard train tickets between Lisbon and Coimbra cost around €20-€26 or €10-€15 if booked early. Check prices at Omio.
Lisbon to Faro by Train (Around 3hr 30min)
Sunny Faro is the best-known city in Portugal's famous Algarve region. The high-speed AP train takes about 3 hours and the IC train takes about 3.5 hours from Lisbon. Check prices at Omio.
---
More Portugal Train Travel Tips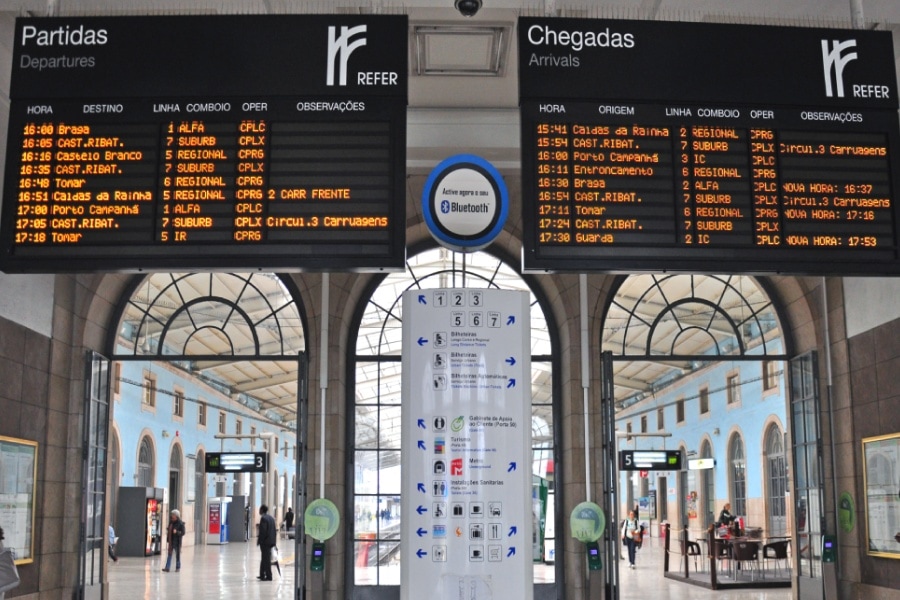 Here are some more random things to keep in mind when using Portugal's train system.
Double-Check Your Train Station Name
Many cities have multiple train stations that serve different parts of Portugal or other countries—for example, Lisbon's main stations are Rossio, Santa Apolónia, and Campolide. Don't make the mistake of going to the wrong station.
Give Yourself Time At The Station
It's generally easy to find your train once you arrive at the station but give yourself some extra time so you're not rushing through the crowded station to get to your train.
Don't Freak Out If You Don't See Your Train On The Board
You'll find your train platform via the departure board at the train station. Don't worry if you don't see your train because they often only display trains departing within the next 15-20 minutes.
Arrive Early If Buying Tickets At The Station
Ticket lines at the train station can get very long so you'll want to arrive with plenty of time so you don't miss your train. If possible, buy your tickets online so you can skip the lines but many local trains can't be bought online so doing it in person is your only option.
Self-Service Machines Are In English
Don't worry if you don't speak Portuguese because the ticket machines (and train station signs) are all in English.
Cheap Tickets Are Non-Refundable
One downside to cheap train tickets is that they're non-refundable and can't be changed.
Pack A Picnic
You're allowed to bring your own food and alcohol on trains so bring some food along for those long train rides.
For more general trips about traveling by train in Europe, check out my Complete Guide To Train Travel In Europe. Also, check out my Guide To Using Rail Passes in Europe if you're going to be taking multiple train trips as you travel.
---
More Europe Travel Tips From The Savvy Backpacker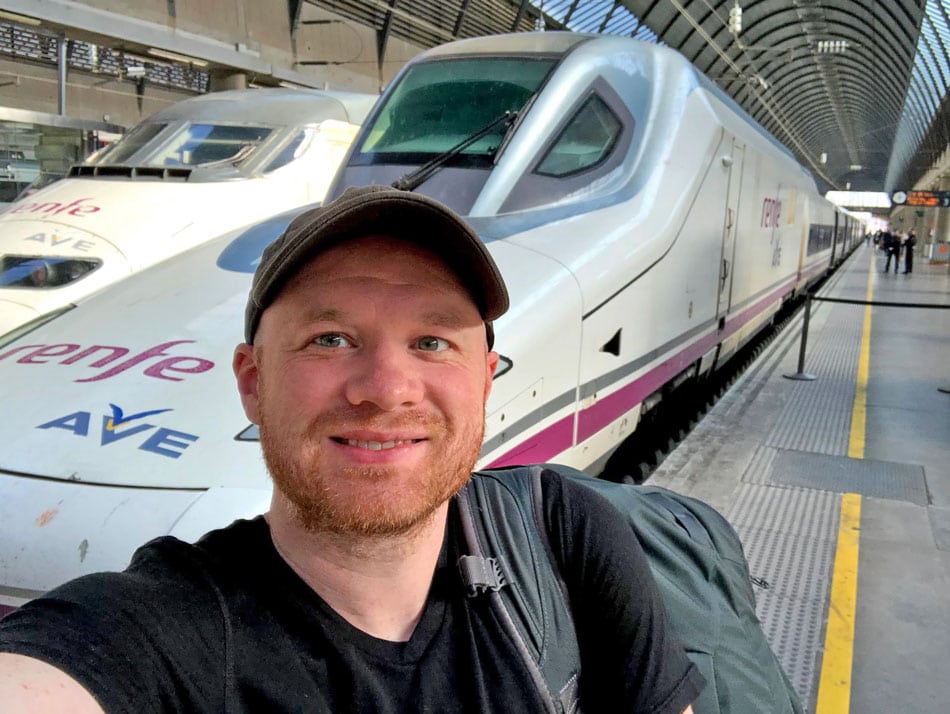 Traveling to Portugal and beyond? Here are some helpful articles to help you plan your trip.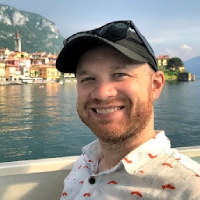 Latest posts by James Feess
(see all)
No Funny Business
The Savvy Backpacker is reader-supported. That means when you buy product/services through links on the site, I may earn an affiliate commission — it doesn't cost you anything extra and it helps support the site.
Thanks For Reading! — James
Questions? Learn more about our Strict Advertising Policy and How To Support Us.