Spain and most of its cities are well-connected by train so it's an excellent way to travel around. Luckily, Spain has rapidly modernized its train ticket buying process — but there are still a few quirks that you might run into. That's why in this guide I'll tell you everything you need to know about how to buy train tickets in Spain.
Buying Train Tickets In Spain: A Quick Guide
The official Spanish rail website is renfe.com. Anyone can buy tickets from renfe.com but the website is plagued with technical issues when using non-Spanish credit/debit cards and odd translation issues are also common. In short: I recommend avoiding renfe.com
Luckily, there are a number of third-party services that are much more user friendly: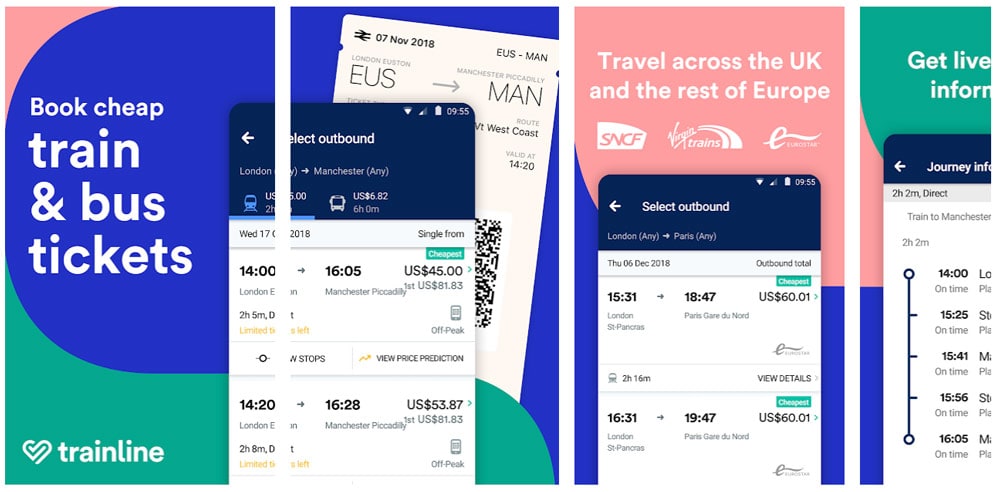 My two favorite ways to buy train tickets in Spain are through either Omio.com & Trainline.com. Both of these services connect directly with the Spain's Renfe booking system and offer the exact same routes/prices as Renfe.
In most cases, train tickets purchased through Omio & Trainline are e-tickets that are sent straight to their smartphone app or via email (i.e. no need to print, just show the e-ticket on your phone/tablet to the ticket checker). If that option isn't available, you can collect your tickets at the train station.
Both Omio & Trainline won't have any issue accepting your credit/debit card either.
You can also use Omio & Trainline to book any kind of train ticket — from high-speed to local trains.
Booking Fees:
While Omio & Trainline give you the exact same ticket prices as Renfe, they do add a small booking fee. But, honestly, the convenience makes up for the negligible cost.
Omio.com: Omio charges around €2 per ticket as their service fee.
Trainline.com: Trainline charges around 3% of the total ticket price as their service fee.
E-Tickets, Digital Tickets, & Electronic Delivery
I know I mentioned it before, but I wanted to reiterate that nearly all trains in Spain now accept e-tickets. So, when you buy your ticket online, you can have it emailed to you or it will be sent to the Omio or Trainline app. From there, simply show it to the ticket checker on the train when he/she checks tickets.
Of course, you can also print these tickets on your own printer as well if you like.
If your chosen route doesn't accept electronic tickets, you can pick up the tickets at any train station in Spain (either from the ticket window or sometimes via the automated ticket machines).
Buying Tickets At The Station
You can also buy tickets for any train station in Spain.
---
Tips For Booking Spain Train Tickets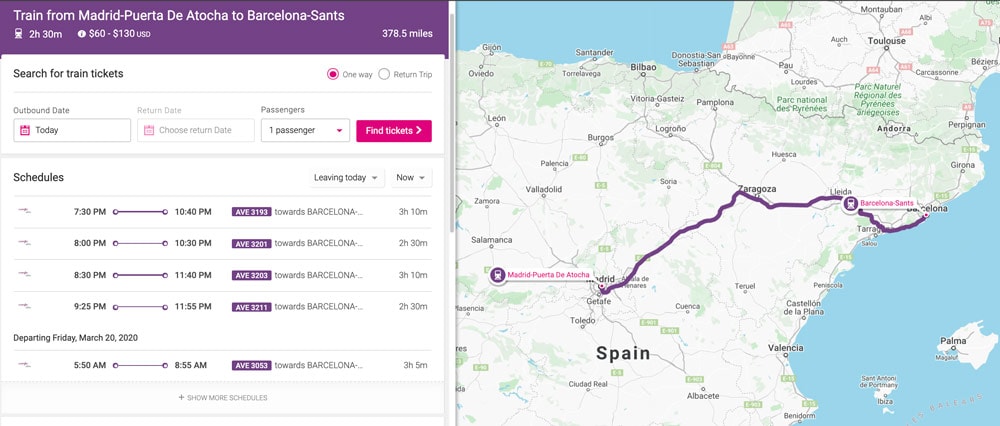 Ok, let's dive a little deeper into the ins and outs of buying train tickets in Spain.
How To Find Routes and Train Schedules
Step one is seeing the schedule of the route you're wanting to take. Luckily, all route schedules are online so that's easy. Simply plug your cities into Omio & Trainline and they'll tell you what tickets are available.
While routes between major cities don't often require changing trains (i.e. it's a non-stop journey), you should still pay attention when booking your ticket because some routes might require a change.
However, on longer routes or routes connecting smaller towns, you'll often be required to change trains in a bigger city.
Getting The Best Price For for High-Speed, Long-Distance, & Regional Trains
In Spain, the trains are roughly classified as either High-Speed, Long-Distance, & Regional trains. They each serve a different purpose and have different pricing structures.
High-Speed Trains
The high-speed trains in Spain are called AVE (Alta Velocidad Española) and they reach speeds to almost 200mph.
The major cities in Spain are connected by the high-speed AVE trains so you'll most likely ride one.
I recommend booking these tickets as soon as possible since these tickets get more expensive the closer it gets to the departure date. For example, some routes can start around €25 and then cost €80 if booked a same-day ticket.
Long-Distance Trains
Long-distance trains often connect both major and medium-sized cities. I also recommend booking these trains in advance to get the best price.
Local/Regional Trains
Local and regional trains connect small towns to big/medium cities. These tickets have a set price so there is no reason to book early.
Booking Train Tickets For Popular Day Trip Routes
Train routes between major cities and popular day trip destinations often sellout (e.g. between Madrid and Toledo) so I highly recommend using Omio or Trainline to book these tickets at least 24 hours in advance.
If nothing else, booking these tickets early will let you avoid the long ticket line at the train station.
Have A Rail Pass? You'll Need A Reservation
If you're traveling on a rail pass you'll need to pay a little extra to make a reservation for all high-speed and long-distance trains. You can make this reservation from any train station.
Spain's Train Ticket Classes
There are three different classes of tickets in Spain's high-speed trains — Preferente, Turista Plus, and Turista.
Preferente (1st Class)

Usually around 1.5x the price of 2nd class.
Nice seats
Some weekday routes have hot meals and wine included
Access to special lounges at train stations

Turista Plus (2nd Class)

Same seats as 1st class
A little more expensive than Turista

Turista (2nd Class)
Fare Versions for Spain's Train Tickets
When booking you'll notice three different fare versions — Flexible, Promo+, and Promo.
Flexible: The most expensive but can be changed for free and canceled for a small fee.
Promo+: Cheaper than flexible but can be changed for a fee.
Promo: The cheapest option but can't be changed and no refunds. That said, the price difference between Flexible and Promo is quite substantial.
Pay Attention To Train Stations
Most large cities in Spain have more than one train station so make sure you're going to the right station or you could be in for an expensive surprise.
---
Get More Spain Travel Tips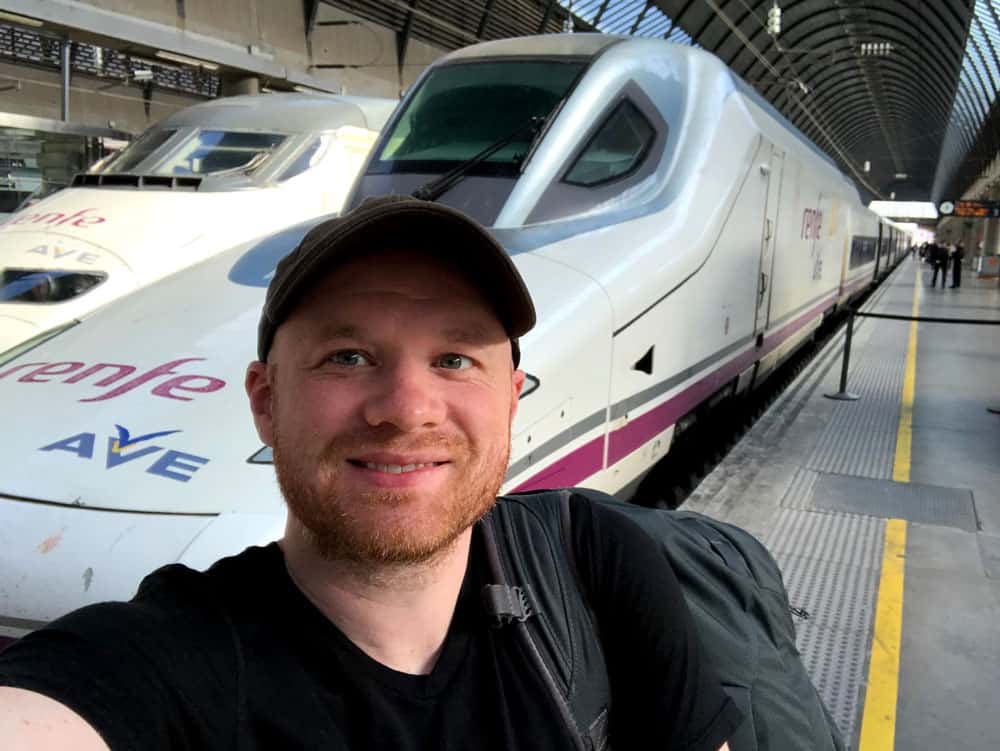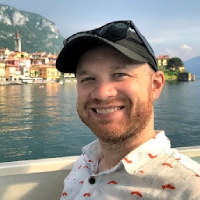 Latest posts by James Feess
(see all)
No Funny Business
The Savvy Backpacker is reader-supported. That means when you buy product/services through links on the site, I may earn an affiliate commission — it doesn't cost you anything extra and it helps support the site.
Thanks For Reading! — James
Questions? Learn more about our Strict Advertising Policy and How To Support Us.