Hopping aboard a night train is a great way to travel long distances without sacrificing precious sightseeing time. However, over the past few years the number of night trains has begun dwindling, thanks to the increase in budget airlines. But you'll still find routes between popular destinations. In this guide, we'll cover everything you need to know about taking night trains.
Free Sleeping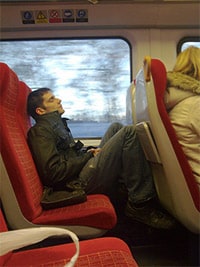 Travelers on a strict budget usually opt to save a few euros by sleeping in a normal seat because it doesn't cost anything extra. I've done this a handful of times, and it's not the most comfortable thing I've ever done — it's about as comfortable as sleeping on an airplane for 8-12 hours. But, hey, ya gotta save money.
If you're lucky, the train won't be crowded and you'll get an entire row of seats to yourself. In this case, you can fold up the armrest and lie down — just don't put your shoes on the seats because the conductors will scold you. Invest in a pair of earplugs, an eye mask, and some kind of sleep aid if you're a light sleeper.
So yeah, don't expect to get great sleep. In fact, many riders wish they would have spent a little extra for a couchette (see below) so they wouldn't feel like zombies the next day.
Couchette
If you want to sleep in an actual bed, you'll need to pay extra to reserve a couchette.
What Is A Couchette?
A couchette is a separate cabin that normally holds 4-6 bunked beds  — it's basically a mini hostel room. You'll be placed with strangers if your party doesn't fill up all the beds (assuming the train is busy). Couchettes are normally co-ed, but there are always a few female-only cabins.
Couchette cabins don't have a locking door, but there is an attendant on duty that helps with security. All reservations include a pillow, a sheet, and a blanket.
How Much Does A Couchette Cost?
It costs about €25-€30 ($28-$35) to reserve a bed in a couchette in a 6-bed compartment. The slightly roomier 4-bed couchette will cost about €45. Remember, the cost to reserve a bed is not included in the price of the train ticket (i.e., train ticket price + bed reservation fee = total cost). Rail pass users are still required to pay for booking a bed in addition to the reservation fee.
Sleeper Cars
Sleeper cars are the nicest option when it comes to sleeping on the train. They're also the most expensive.
What Is A Sleeping Car?
Sleeping cars offer more privacy and comfort. The beds are more comfortable, you get your own toilet, and in some cases you can get your own shower. Sleepers usually come with 1, 2, or 3 beds, but some come with 4. Sleeping compartments can be shared among strangers if your group doesn't fill up all the beds in the compartment. Compartments are same-sex — unless your party fills up all the beds; then, it can be co-ed.
How Much Does A Private Sleeping Car Cost?
Expect to pay about $55-$70 to reserve a bed in a 3-bed sleeping car. Remember, this price is in addition to the cost of the train ticket.
If you want a 2-bed or single room, expect to pay a lot more ($60-$150/bed) and note that many rail companies require riders to purchase a first-class ticket (which normally cost 1.5x the amount of a regular ticket).
Night Train Bookings and Reservations
Night trains, whether you're booking a bed or not, always require a reservation, which you usually make when you purchase your ticket. In many cases, you can book your bed on the train (assuming there are vacancies), but it will cost extra.
Rail pass users should be aware that they'll still have to pay extra for a reservation.
Important Information
Below is a list of tips and other helpful advice to make your overnight train journey more comfortable and successful.
Secure Your Bag
Invest in a cheap cable lock so you can secure your bag to the overhead luggage rack or to the seat while you sleep. I use this Master Lock Retractable Cable Lock because it's cheap insurance against a thief that's looking to quickly snatch your bag in the middle of the night. Theft is much more common in Eastern Europe because some trains stop in tiny towns and people run on, snatch a bag, and run off. 
Know Your Itinerary
Before you book your overnight train, be sure to study your itinerary because some routes might include train changes — and some of these changes could have long waits that will have you stuck at some tiny station in the middle of nowhere.
Get On the Right Train Car
Never assume the entire train is going to your destination. Some trains will drop a few train cars off at a station along the way and then another train will pick up those cars. If you get on the wrong car, you might find yourself in a strange city when you wake up. Every car will have its end destination marked clearly by the door, so just pay attention.
Don't Expect A Great Sleep
Train do sway a bit when moving, so light sleepers might have trouble sleeping. Additionally, the train might make stops throughout the night and it could drop off or pick up train cars along the journey.
Rail Pass Users Must Make A Reservation
While the price of a reservation is built into a regular ticket price, rail pass users will have to pay extra for a reservation. The reservation fee should be under $10 for a regular seat, but it could be around $35 for a couchette. Reservations can be made at the train station, so you can do it a few days in advance.
Flying Could Be Better For Long Distances
The sweet spot for overnight train journeys seems to be 8-12 hours. Anything longer, and it will be faster and probably cheaper to simply fly — remember, you can find a lot of cheap flights throughout Europe.
Early Arrival
Most overnight trains arrive at their destination fairly early in the morning, but most hostels and hotels won't let you check in until early afternoon. They'll let you store your luggage there, but you won't be able to shower or freshen up until you check in.
How To Purchase Train Tickets
To learn more about buying tickets, I suggest you head over to our Complete Guide To Rail Travel in Europe… but I've listed a brief overview below.
The easiest way to purchase tickets is through Rail Europe (for US and Canadians) and Rail Europe World (for everyone else). Rail Europe is super easy to use, and they have tickets for just about every journey within Europe. The main downside is that prices are higher than purchasing tickets directly from each country's national rail service website.
Then again, booking through the various national rail service websites can also pose problems when it comes to collecting your tickets. Furthermore, some of these websites seem to be plagued with bugs and other weird technical issues — but you can learn more about that on our Complete Guide To Rail Travel in Europe.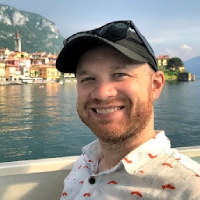 Latest posts by James Feess
(see all)
No Funny Business
The Savvy Backpacker is reader-supported. That means when you buy product/services through links on the site, I may earn an affiliate commission — it doesn't cost you anything extra and it helps support the site.
Thanks For Reading! — James
Questions? Learn more about our Strict Advertising Policy and How To Support Us.