One of your single biggest travel expenses will be your airfare so it's no surprise that you're curious about how to find cheap flights. Well, after traveling to Europe multiple times a year we've developed a lot of strategies for scoring the best airfare possible.
So what kind of deals are we talking about? Well, we've routinely booked cheap international flights between the US and Europe for $300-$500. And while we can't guarantee you'll find ultra-low price tickets, we can help you find as good a deal as possible.
To let's get started!
1. There Is No Cheap Flight Voodoo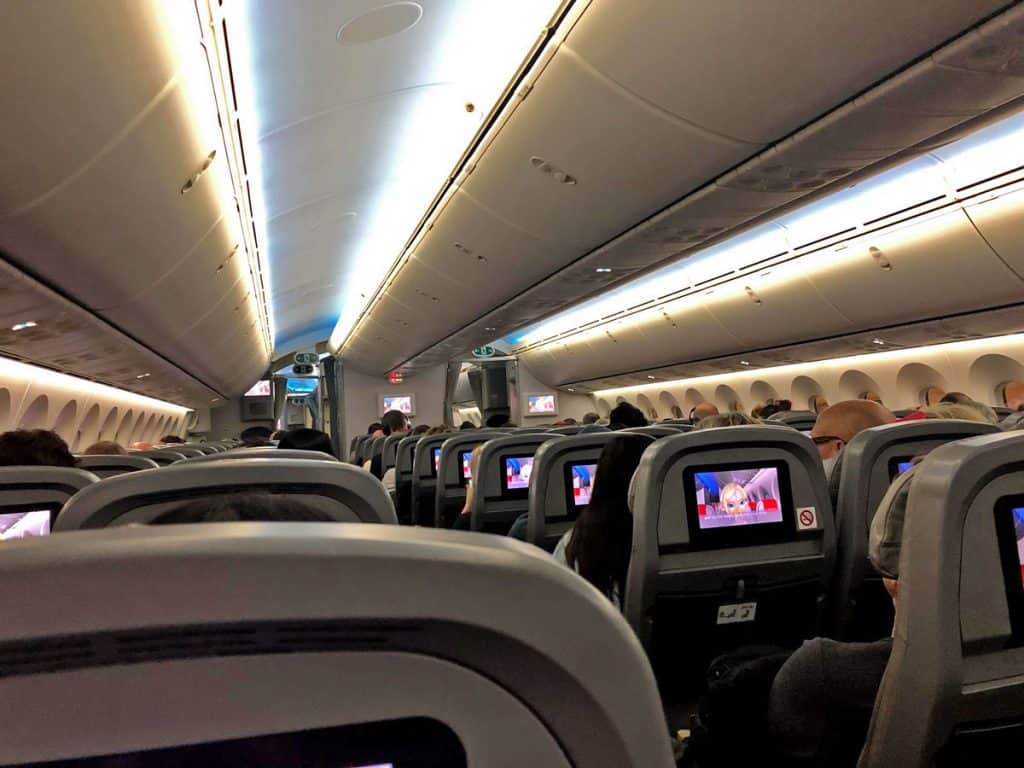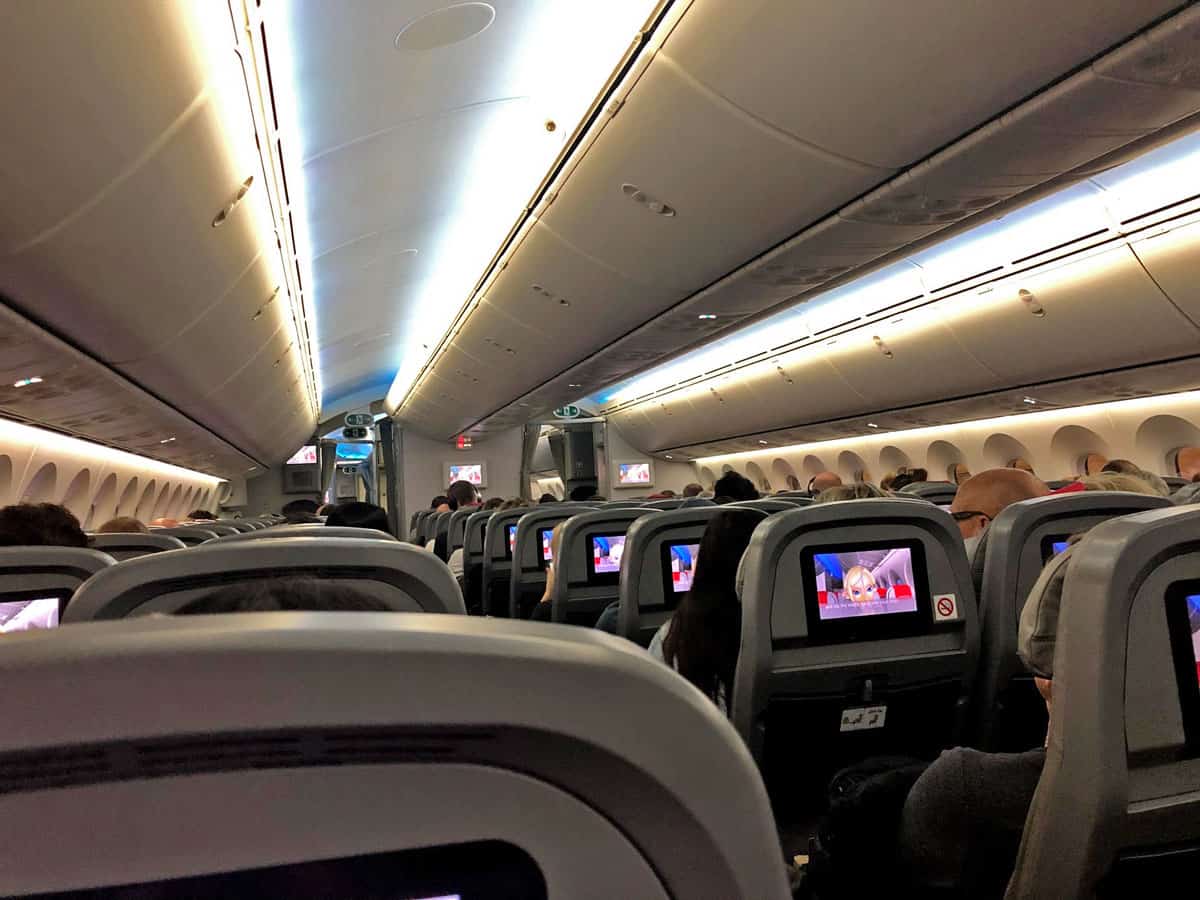 We've been writing about budget travel for nearly 10 years so we've heard every myth, rumor, and crackpot scheme for finding cheap flights.
We've heard people recommend booking after midnight, waiting until midweek to buy, switching your browser to private-mode so the booking sights can't track you, booking last-minute to scoop up that unsold seat…
Well, we hate to break it to you but all these schemes aren't true. They sound sexy so the advice gets passed around because people are always trying to "hack" the system.
But let's be real.
The airlines use incredibly advanced algorithms to squeeze as much profit out of every flight as possible. These algorithms take hundreds of data points into account when setting the prices so "booking on a Tuesday" isn't going to make a difference.
So let's take a look at the airfare booking strategies that actually will help you find a cheap flight.
2. Flexibility is Paramount For Scoring Cheap Flights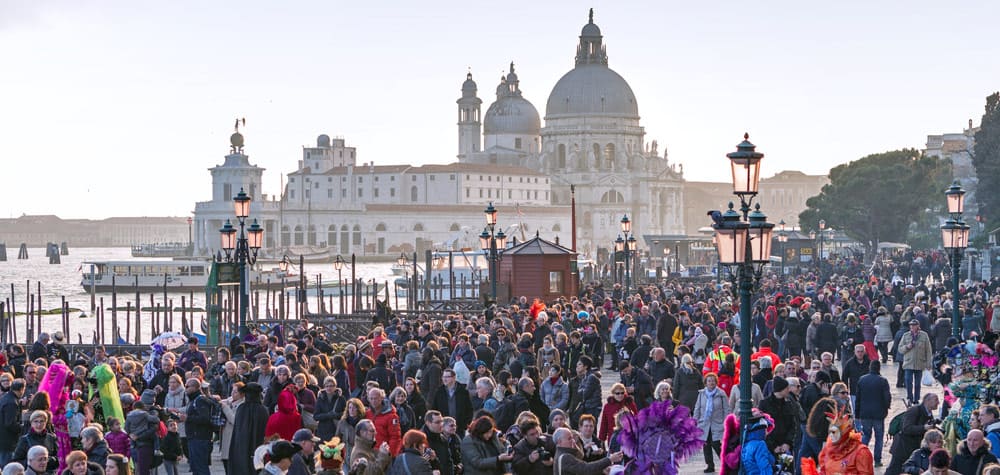 Remember those crazy advanced algorithms that we mentioned earlier? Well, it's their job to fill as many airline seats as possible while maximizing the profit per seat — which is referred to as "dynamic pricing." The algorithms look at things like:
Historical flight data
The current number of seats sold and how quickly seats are selling
Route popularity
Cultural events like sporting events, trade shows, etc.
Other airlines offering similar routes
Fuel prices
Your astrological sign
That's why changing your travel time by a day (or even by a few hours) can change prices by hundreds of dollars.
This is why flexibility is easily the biggest price factor.
Why do you think airlines love business passengers? It's because they often book last-minute and have the ability to pay 2x-4x more than most leisure travelers.
3. Travel Seasons & Airfare Prices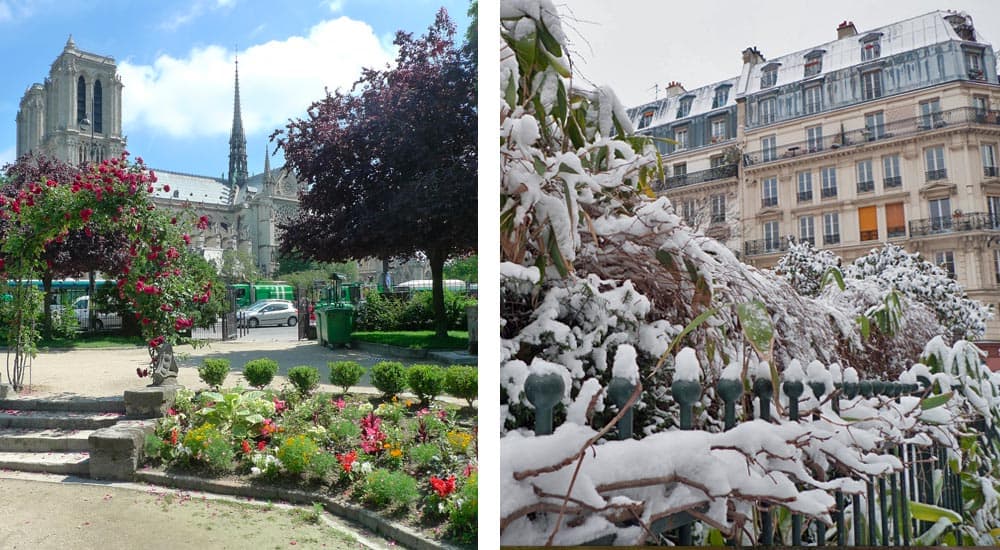 Supply and demand are in full effect when it comes to the time of year you choose to travel. For example, when it comes to traveling to Europe here are the general travel seasons:
High Season (Mid June to Early September): The most difficult time to find cheap airfare is during Europe's high season. While not impossible, it can be tough to find airfare under $1,000.
Low Season (November to Late March): This is where you'll find the cheapest tickets and we've routinely been able to find cheap flights from NYC to various European cities from around $300-$450. Of course, you'll have to deal with colder weather. NOTE: Airfare tends to be high during Christmas since more people are flying.
Shoulder Season (Mid September to Late November & Early April to Mid June): The shoulder seasons are the periods of time between the high and low seasons. You'll often find reasonable ticket prices this time of year. A lot of budget travelers pick this time to travel. Plan on finding tickets in the $500-$850 range (although I have seen tickets a little bit cheaper).
Unfortunately, most people have a fairly narrow window of when they can travel but your travel season will have a large impact on the ticket price.
NOTE: Different countries have different busy seasons. For example, southern cities like Rome, Barcelona, and Lisbon start attracting visitors much sooner in the year than colder places like Stockholm and Copenhagen.
4. Departure & Return Flexibility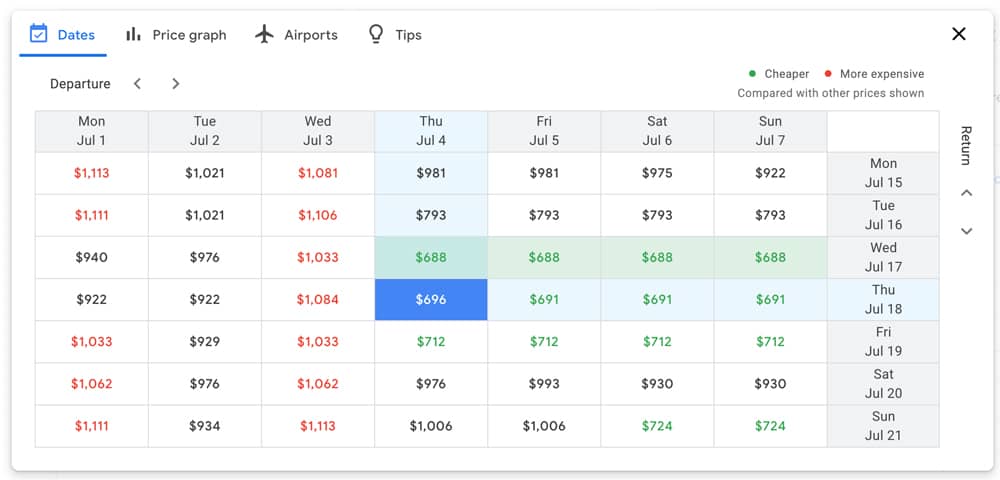 Once you know your general time period of when you're traveling, the next step is to tweak your actual travel dates. Again, changing your dates by even a day or two can make a huge impact on your ticket price.
We like using Google Flights because they give you a price matrix that lets you quickly see if changing your dates will result in a favorable price change.
Google Flights often displays the lowest price but I'll also run my search through Momondo as they sometimes return cheaper prices/different results.
Therefore, you might be able to save $100-$300+ depending on which airport you choose.
TIP: In general, midweek flights tend to be the cheapest but sometimes weekend international flights can be cheaper as well.
5. Destination Flexibility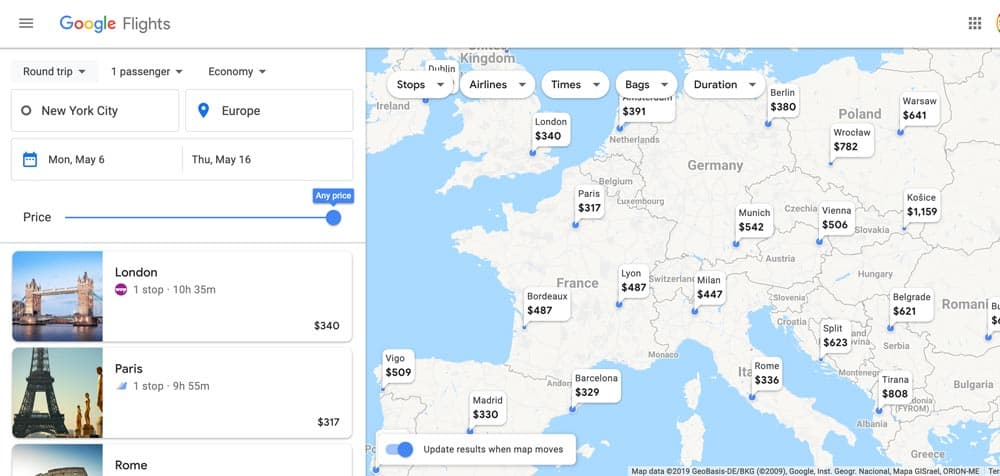 One of the benefits of traveling to Europe is that it has multiple major airports in a relatively concentrated area. For example, Paris, London, and Amsterdam all have huge airports and the cities are only a few hours apart thanks to the high-speed train.
Google Flights is an excellent resource that we use often because it quickly shows you airfare to multiple locations. From here you can tweak your dates to see find the best/cheapest flights.
And, once you're in Europe, you can often find extremely cheap flights between major cities so getting around isn't a huge hassle. That said, sometimes we'd rather spend an extra $50-$100 to get a better flight then to save $100 by having to waste a ton of extra time getting to our desired destination.
TIP: Most major cities (London, Paris, New York, and a few others) have multiple airports so be sure you include each airport in your search. Most online booking sites do this automatically but not always.
6. Annoyance Factor and No Frills Flights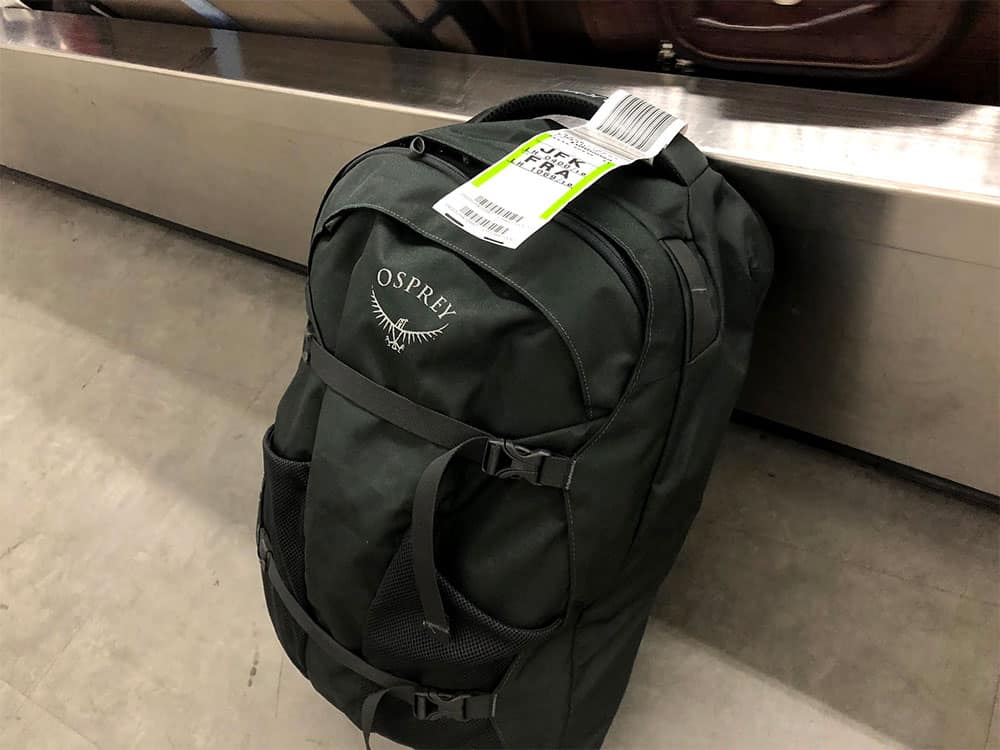 These days, the cheapest tickets are often some version of basic economy which means you literally just get the ticket — i.e. no checked bag, no meal, no drinks, no seat selection, etc. If you want to add any of thee things, you'll have to pay extra. These extra fees can quickly add up if you're not careful.
Then again, if you can forgo these extras, you can score some really cheap flights. For example, I bought a non-stop roundtrip flight from NYC to Copenhagen with Norwegian Air for around $290.
Some cheap flights will also include other annoyance factors such as weird departure times or crazy long layovers. For example, I've seen some flights with anywhere from an 8 to 20-hour layover.
Other flights will have inconvenient routes where you'll have to change planes at out-of-the-way airports. For example, a flight from New York to Paris on Aeroflot airlines might make you switch planes in Moscow (thus adding many extra hours to the flight).
7. Pick The Right Booking Window
There is a delicate balance between booking too soon and waiting too long.
On one hand, if you book very early the airlines know that you're willing to pay whatever they're asking and that you're very motivated to buy the tickets right at that moment.
But if you book last-minute, the airlines know you're desperate so they can charge a high price.
That's why we recommend that you start looking about four months in advance and continue to monitor prices over the next two months. We've seen the international ticket prices are cheapest around 10 weeks before departure but it doesn't hurt to keep an eye on things.
8. Get Creative With Your Flight Itinerary
In most cases, roundtrip tickets are cheaper than two one-way tickets but that's not always the case — so look at both scenarios.
It can also often make sense to book an open jaw ticket/multi-city ticket — which is where you arrive and depart from different airports (i.e. arrive in London and leave from Paris). The actual airfare might be a little more expensive but you'll save in other ways (transportation time/costs). Online booking portals like Google Flights and Momondo make searching Open Jaw tickets simple.
9. Stick With the Best Online Booking Websites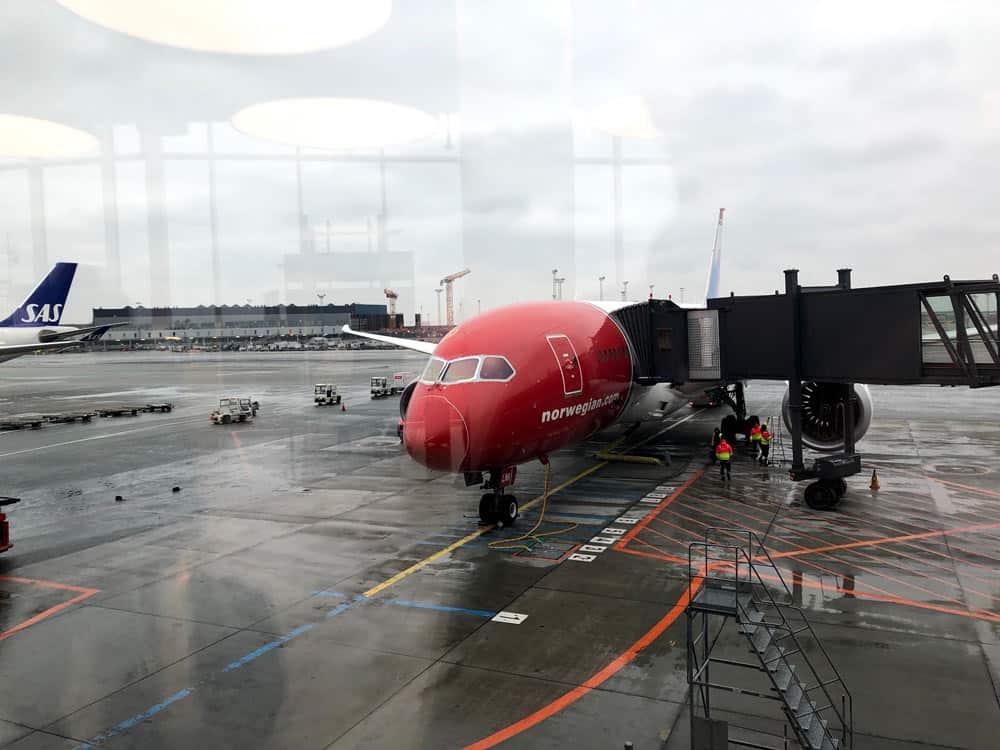 There are sooooooooooo many airfare booking websites out there and 99% of them are garbage. Ok, maybe garbage is a bit harsh but most of them aren't worth your time. Over the years we've basically relied on three or four sites seek out the cheapest flights.
Google Flights: We use Google Flights to do our initial searching as it has powerful tools for looking at multiple flights, times, and destinations — you can really drill down on the results. Once we find the flight we like, we search the same route on Momondo or Skyscanner as sometimes those return cheaper prices.
Momondo: We consistently find the best prices on Momondo. They also have a helpful "ranking" system that will display the best flight at the best price — which comes in handy. We also like Momondo because they find many of Europe's budget carriers that other search engines might miss.
Skyscanner: Skyscanner is another favorite booking website that we've used often. Skyscanner also does a great job of including Europe's budget carriers in their search results.
The Airline's Website: Whenever we find a cheap flight we always do a quick search for the same flight directly from the airline's website. The price is often higher but sometimes it's the same (and we'd rather book directly from the airline just for peace of mind).
What about the major booking websites like Expedia, Kayak, Travelocity, Priceline, and Orbitz? Honestly, we've rarely found good deals on these websites. Sometimes, you can score a decent deal if you combine your ticket with a rental car or hotel but, in general, we skip these sites.
Comparing Results From Different Booking Sights
We thought it would be interesting to do a quick comparison of the results we got from different booking websites.
Time: July 14-28th, 2019
Route: Roundtrip from NYC to Paris
Caveat: We only searched a single date range for this experiment so this isn't an in-depth analysis. To get a better comparison, we'd need to search and compare multiple dates to truly see which booking site returned the best prices.
Momondo's Results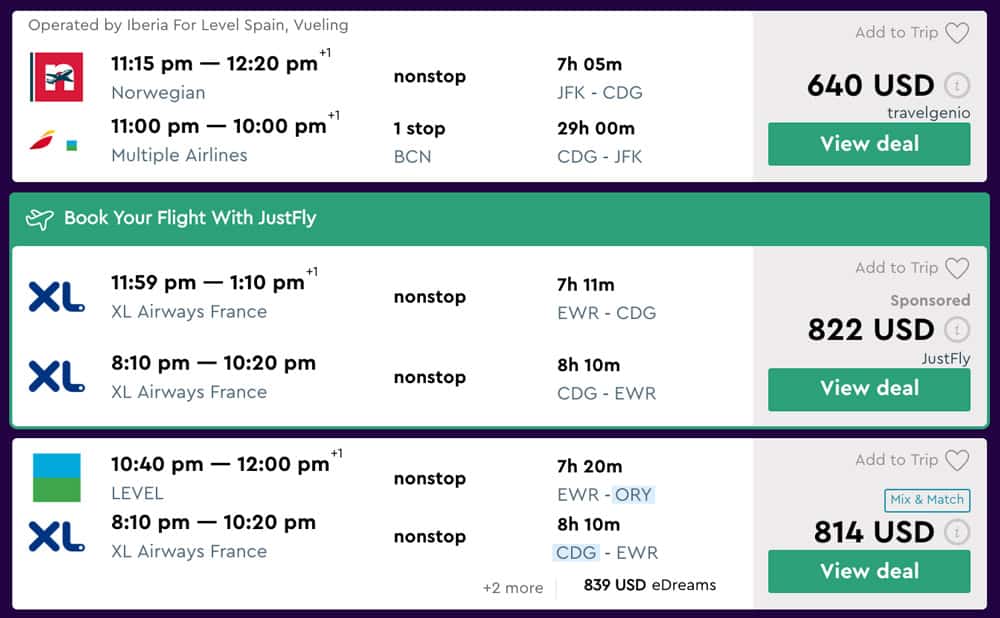 Momondo is nice because it displays both the cheapest and the best (i.e. best price for the most convenient flight) options.
For the cheapest flight, it was able to create an itinerary that included flights from multiple airlines. Of course, the return flight has a super long layover so it's not really an ideal flight but it's nice that Momondo gives you the option.
SkyScanner's Results


SkyScanner was able to find another cheap flight which was different than Momondo's cheapest option. Again, it's a long layover flight so it's not ideal.
SkyScanner did find a cheaper non-stop price than Momondo for the same flight. So that's was nice surprise.
Google Flight's Results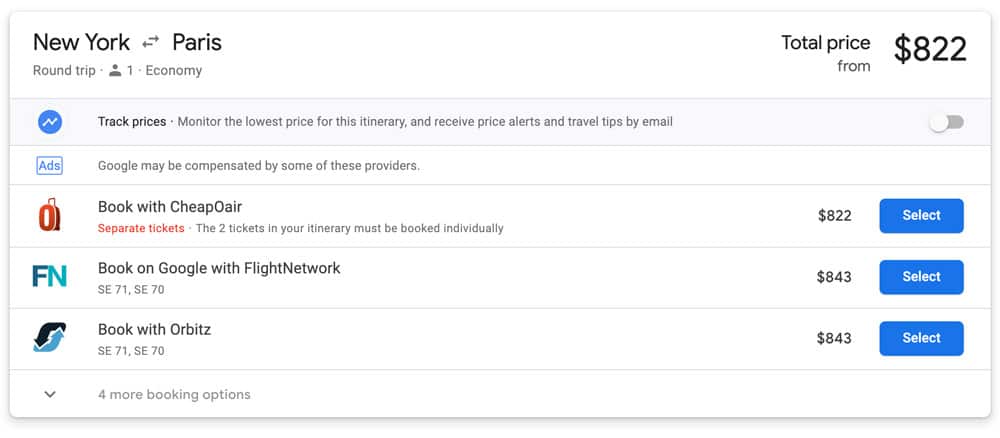 Google Flights didn't find any of the cheap flights that Momondo or Skyscanner found but it found the same cheapest non-stop flight that Momondo found.
10. Always Click Through Search Results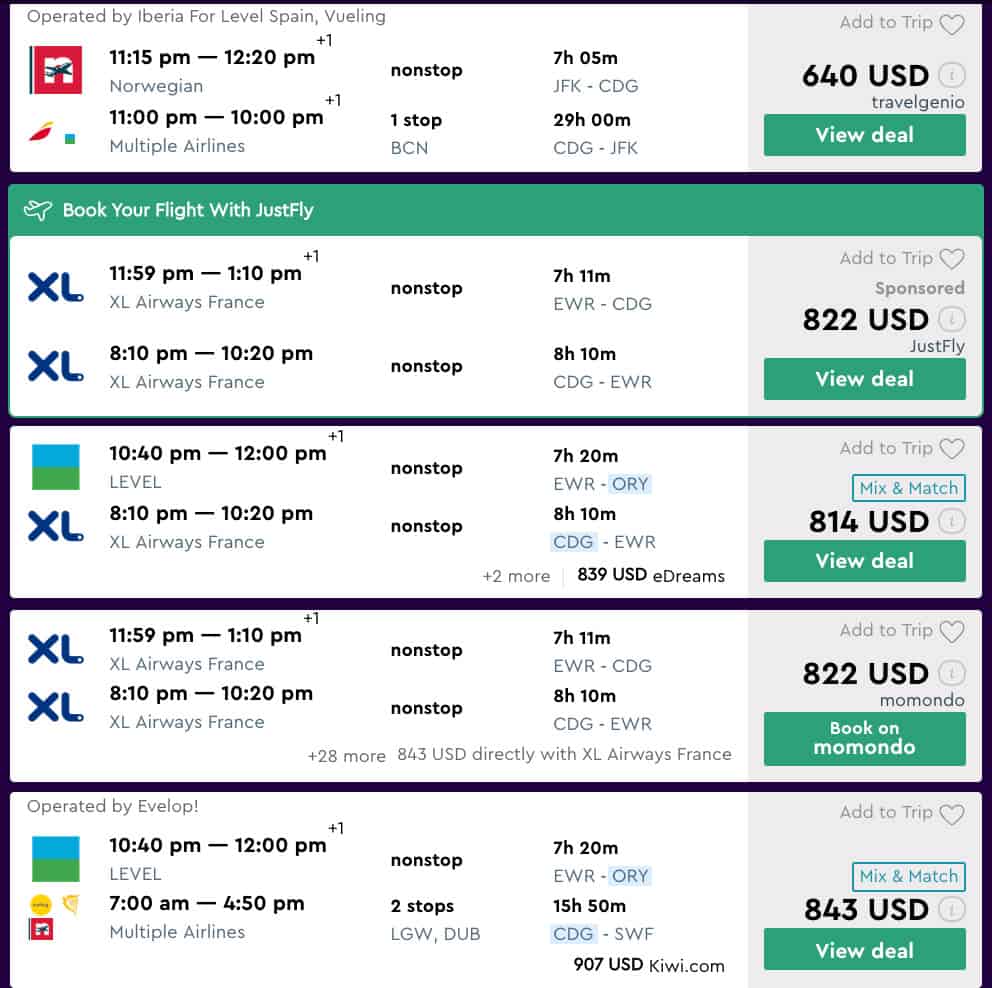 In most cases, the prices displayed on the booking engine's search results are accurate. However, sometimes the prices are out-of-date/not available so the prices displayed are no longer accurate.
So we highly suggest clicking "view deal" on the search results to see if the deal is still active. This will take you to the actual booking page where the actual price will be displayed.
I've been burned by these price glitches before so I ended up wasting a ton of time planning a trip around ticket prices that weren't accurate.
11. Signup For A Cheap Flights Email Newsletter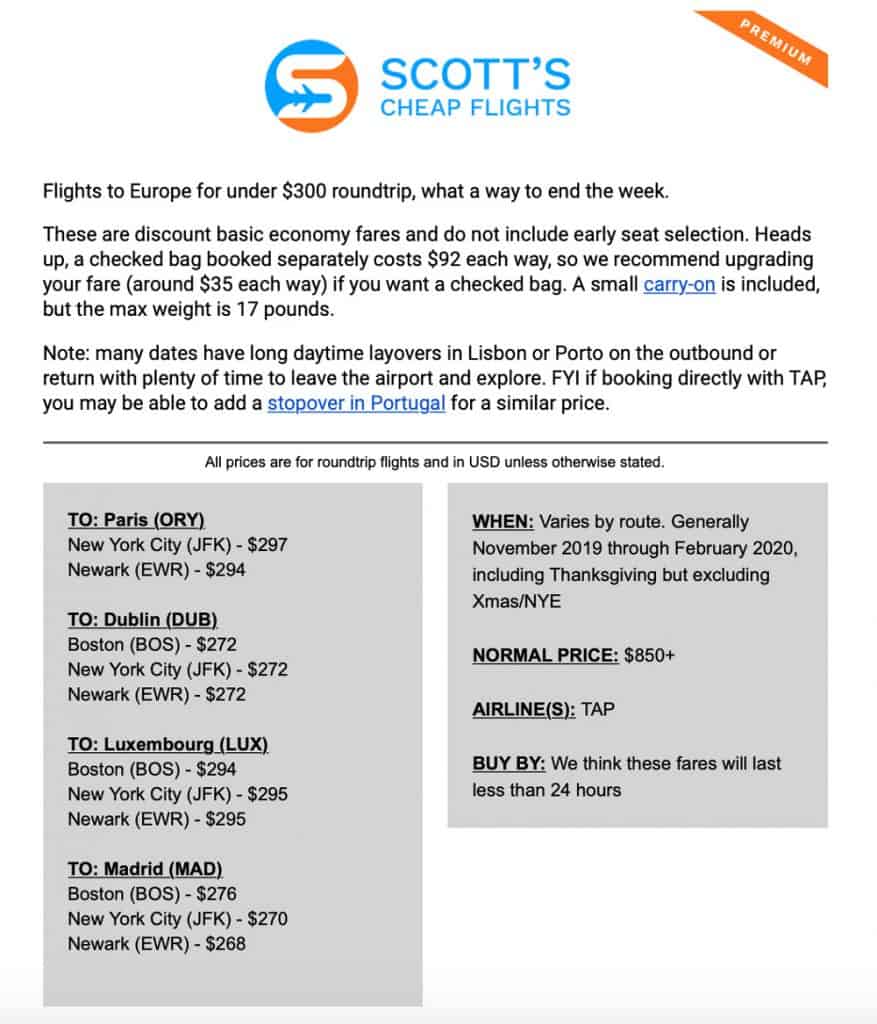 Over the past few years a handful of cheap flight email newsletters have hit the scene. These services basically scour the internet for cheap flight deals and then send out emails to the subscribers when they find cheap airfare.
We personally subscribe to Scott's Cheap Flights (we're not affiliated with them — we are just fans).
Again, flexibility is needed to take full advantage of the deals sent through these services as sometimes the deals only last for a few hours and they're also only available for certain times.
That said, if you're ready to pull the trigger then this is an excellent way to score some really cheap flights. We've used them to find a handful of international flights under $350.
12. Travel Hacking and Credit Card Points
Honestly, we've never gotten into this whole travel hacking and churning credit cards for free flights. It's complicated and you often need to spend a ton of money on the new card to get the points — which might not be fiancially possible or it might lead to spending money unnecessarily in order to get the free tickets.
That said, we know many people really get into churning credit card to score free flights. But be sure to read the fine print as these cards often have high annual fees and other stipulations.
---
Finding cheap flights isn't easy. Trust us, we've spent hours and hours searching for great deals. So relax. And realize that sometimes you're not going to be able to find an excellent deal but hopefully this guide to help you get as good a deal as possible.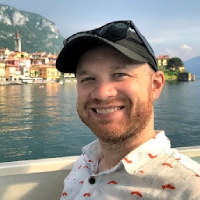 Latest posts by James Feess
(see all)
No Funny Business
The Savvy Backpacker is reader-supported. That means when you buy product/services through links on the site, I may earn an affiliate commission — it doesn't cost you anything extra and it helps support the site.
Thanks For Reading! — James
Questions? Learn more about our Strict Advertising Policy and How To Support Us.