I wrote this backpacking Europe packing list because packing for travel can often be very difficult — especially for beginners. Many first-time travelers make the mistake of bringing way too much gear so that travel quickly becomes tiresome. It can also make you a bigger target for thieves because you're not able to keep track of your belongings as well. This packing guide for Europe will help you know what type of clothes and gear you should bring, and also includes tips for packing light.
Hey Ladies! Check out our new Backpacking Europe Packing List for Women where we cover women-specific packing suggestions.
This Packing List Includes:
Quick Tips for Packing Light
Travel Clothing
Travel Accessories and Travel Backpacks
Travel Toiletries
Electronics for Travel
What Not to Bring
Where to Buy Gear
Quick Tips for Packing Light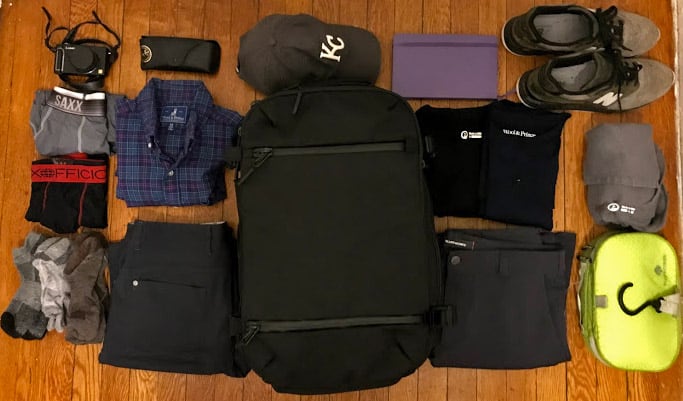 First, I suggest limiting yourself to 20-22lbs worth of gear (including your backpack). If you exceed 22lbs (10kg), you start running the risk of exceeding the carry-on weight limit for budget airlines (like Ryanair). Even if you don't plan on taking planes, I still suggest keeping your weight around 20lbs.
Cut the Clothing: Pretty much all the weight in your backpack comes from your clothes. Most inexperienced travelers bring way too much. There isn't really any difference between packing for 6 weeks and packing for 6 months because you'll do laundry just about every week.
You're only going to have a few shirts/pants, so make sure they all match each other. Choose dark and neutral colors (dark colors hide dirt/stains better than light colors). Most Europeans tend to wear more subdued clothing anyway.
If it is going to be cold, you should dress in layers. A big bulky coat isn't going to be practical (unless you're going somewhere extremely cold). A thermal base layer, long-sleeve t-shirt, sweater, and fleece jacket combo is much more practical than a big coat. You can always add/subtract layers if needed. Click here for the Savvy Backpacker guide to keeping warm in the winter.
Cut the Toiletries: Liquids/gels/etc. weigh a lot. Limit yourself to the very basics.
Lose the Bulky Guidebook: Guidebooks are great, but they can be heavy. Cut out the pages that are of interest to you. You'll lose most of the bulk this way.
Special Note – Looking Good vs. Packing Light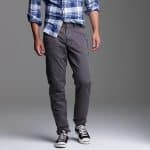 You want to look good in Europe, we understand. Europeans are known for being super fashionable and you want to be the same. It just isn't practical to wear really nice clothes as a backpacker — or even as a normal traveler. You have limited space in your bag, so it doesn't make sense to pack an outfit that will be worn only once.
Luckily, looking presentable is easy as long as you pack items that look good when worn with each other. We've put together an article with some general European fashion advice for more help with that.
Okay, on to the packing list.
---
Clothing Packing List for Backpacking Europe
Let's start with clothing since clothes will be 90% of the stuff you'll be hauling around Europe.
Travel Socks (4-5 pairs)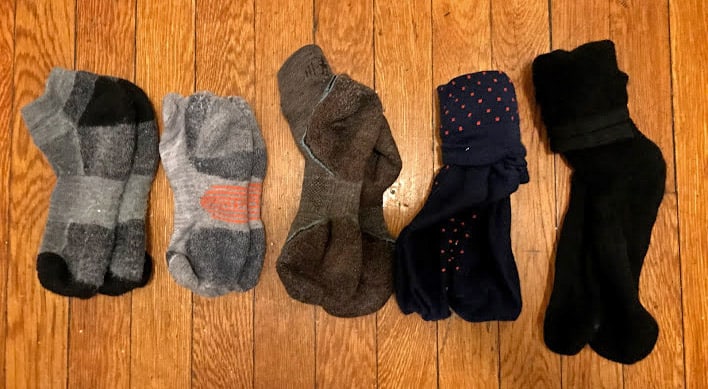 Socks and underwear are two areas that many beginner travelers don't think much about but experienced travelers know they're two of the most important travel items. If you think about it, socks and underwear are worn close to your skin so they can be the difference between being comfortable or not. I highly suggest spending a little extra money to buy quality items because you'll be much more comfortable.
High-quality socks are essential. Unfortunately, nice socks can be expensive but it is 100% worth it — plus, nice socks last for years so you can wear them for a long time.
Most experienced travelers recommend quality wool socks — you can get lightweight merino wool socks for the summer and they'll actually keep your feet cool and dry. Obviously, heavier-weight socks are better for winter travel. Trust me about nice socks — we can't even wear crappy cotton socks anymore.
Some travelers only bring two pairs of socks but we bring four or five pairs because we don't like doing laundry that often.
Quality Socks Characteristics:
Moisture-Wicking: Feet sweat and feet sweat a ton when you spend hours walking. Merino wool naturally wicks that moisture away from your feet — which assists in eliminating odor and blisters.
Fast-Drying: Quick-drying materials can be washed in your sink and dry in a couple of hours.
Odor-Blocking: Quite a few socks have anti-bacterial properties and merino wool does this naturally — even in the summer.
Cotton Is No Good: Cotton naturally absorbs moisture and holds it close to your skin — which leads to blisters and foul odors.
A quality pair of socks can be worn 2-3 times before they start to stink (although you'll want to rotate the days you wear each pair).
TIP: Switch your socks halfway through the day to keep your feet extra happy.
Recommended Sock Brands:
SmartWool Socks: We love our SmartWool socks and wear them all the time.
Darn Tough Socks: Made in Vermont, this brand of really nice socks will last for years. They get great reviews.
Wigwam Socks: Worth checking out. Not as great as merino wool but a decent budget option.
Looking for more? Check out our article about our favorite socks for travel.
Underwear (5 pairs)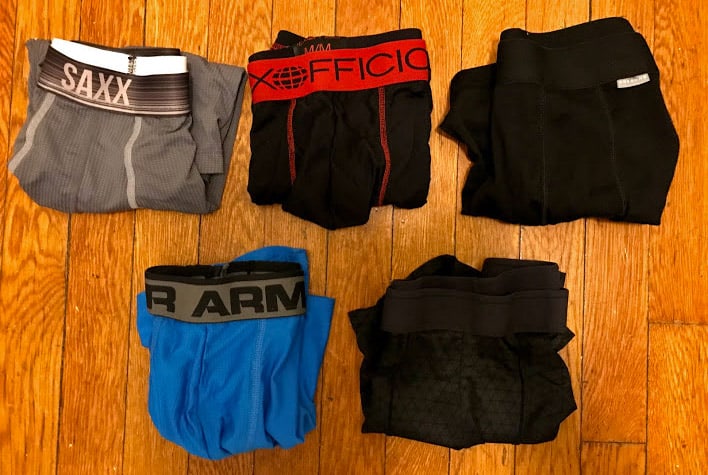 We are fans of packing four to five pairs of underwear — specifically, we are fans of underwear that are made of materials that lend themselves to being fast-drying, breathable, and odor-resistant. Here are some favorites:
For a more in-depth article about travel underwear, check out our favorite travel underwear!
Shoes

I normally recommend only packing one pair of shoes because they're bulky and take up a lot of space… but it is understandable if you want to bring two pairs. Check out my favorite travel shoes for specific recommendations.
You're going to be on your feet a lot while in Europe, so you really want a sturdy pair of comfortable shoes for sightseeing. Personally, I wear leather sneakers that are comfortable during the day and look nice enough for going out at night. Nike, New Balance, Adidas, and similar companies all make leather sneakers like this.
Some people opt for sturdier "hiking" shoes since they're usually waterproof and have an all-terrain sole. They're not super stylish but they are usually pretty comfortable. If you plan on traveling during a rainy time of year, I would suggest this option. While we're talking about hiking, I suggest leaving the hiking boots at home unless you plan on doing some hardcore winter hiking.
Don't forget a cheap pair of rubber flip-flop sandals if you're going to stay in a hostel. You'll want them for the showers. Trust me.
I highly recommend that you leave your dress shoes at home. While sneakers would probably prevent you from entering any super swanky nightclubs, I doubt most budget backpackers can afford the cover charge + drink prices at those places anyway. And a smart pair of sneakers will get you into most places anyways.
For a more in-depth guide to finding the best shoes, check out our guide to fashionable and comfortable travel shoes.
Shirts and Tops

Button-up shirts (2-4)
I think long-sleeve button-up shirts are the best option when it comes to shirts (be sure to check out my guide to fashion in Europe for a more in-depth guide on being fashionable while traveling in Europe). When looking for shirts keep the following things in mind:
Versatile: Don't bring fancy dress shirts, but a nice casual button-up will work well all day and at night. Basically, pick something that will look fine in a church/museum, in a café, and at a bar.
Non-wrinkle: It is hard to keep clothes unwrinkled while traveling, so non-wrinkle fabrics are a nice option.
Easy to wash: Stay away from things that you can't easily wash or that are high maintenance.
Dark colors: Dark colors do a better job at hiding stains. Plus, most Europeans tend to wear darker colors, so you'll blend in better with the locals.
Brands & Shirts We Like:
Bluffworks has its high-performance Meridian shirt for $125.
Uniqlo has a number of cheap but decent-quality shirts.
The Outlier NYCO Oxford ($120) fashionable and functional travel shirts.
Wool & Prince makes some of our favorite merino wool button-down shirts and polos in multiple colors for $128.
Sweaters (1 or 2)
Lightweight sweaters are nice for dressing up or for cool nights. For maximum versatility, make sure your sweaters and button-up shirts all look good together so you can layer them.
If you're traveling in the summer, it might be wise to save space by not bringing a sweater.
T-shirts (3 or 4)
While I prefer wearing mostly button-up shirts, I still like the option of wearing a t-shirt. They are good for around the hostel, sleeping, wearing under other shirts, and even wearing around town. I usually pack about four solid-color shirts since those are the most versatile.
I usually pack a couple of t-shirts made of lightweight merino wool since wool inhibits odor, resists wrinkles, and dries quickly so they can be worn a few times before needing to be washed. That said, wool t-shirts are expensive so normal cotton shirts are fine.
Brands & Shirts We Like:
Pants (2 pairs)

I normally only travel with two pairs of pants — usually a pair of dark jeans and a pair of neutral-color pants.
Dark jeans can be dressed up or completely casual — plus, they match everything. You can wear jeans for months without washing them and they still won't stink. Plus, jeans are a staple in every European's wardrobe. Some hardcore travelers don't wear jeans because they are fairly heavy and take forever to dry. While they're right, I still think jeans are perfectly fine for European travel.
Also, bring a pair of well-fitting neutral/dark color chinos (light-weight cotton). These look nice if you want to dress it up a bit.
Luckily, these days there are a handful of brands that make travel pants that look fashionable but are still durable. They were fairly expensive but they're nice to have.
Here are a few recommended travel pants:
Shorts: Traditionally, European adults don't wear shorts but it is becoming a little more common — especially in Southern Europe. Just stay away from khaki cargo shorts and athletic shorts because that's the stereotypical American tourist outfit.
Swimwear: If you go to the beach, then you'll need something to wear.
Jackets and Rainwear

Obviously, whether you take a jacket or not will depend on when and where you travel.
Fleece Jacket – A nice fleece jacket is great because has a great warmth-to-weight ratio. I suggest getting a black one because it will be the most versatile. Patagonia has a lot of amazing options.
Rain Jacket: A rain jacket is nice to have. We recommend getting a lightweight jacket that can be easily packed away.
Lightweight Puffy Jacket: We love bringing a lightweight down jacket when we travel in cool weather. Down is ultralight but still provides a lot of warmth. It's also a versatile item — it makes a nice outer layer on cool days and an excellent insulating mid-layer for cold days.

The Patagonia Nano Puff (11.9 oz) provides a lot of warmth for a light jacket. It's also more affordable at $199. Available via Amazon and REI.
The Mountain Hardware "Ghost Whisper" jacket is only 7.2 oz. It is water-resistant, has pockets, and can often be found for under $180 — so it's a bit more affordable than similar jackets. Available via Amazon and REI.
Uniqlo sells synthetic down jackets for $60-$70. Don't expect crazy features or ultra-lightweight, but it's a good budget-friendly option.
Miscellaneous Items
Sunglasses – Rayban sunglasses are a very classic choice.
Scarf – Both men and women wear scarves in the summer and winter.
Hat and Gloves
---
TRAVEL ACCESSORIES
Here are a few travel accessories you might want to bring along as you backpack through Europe.
Travel Backpack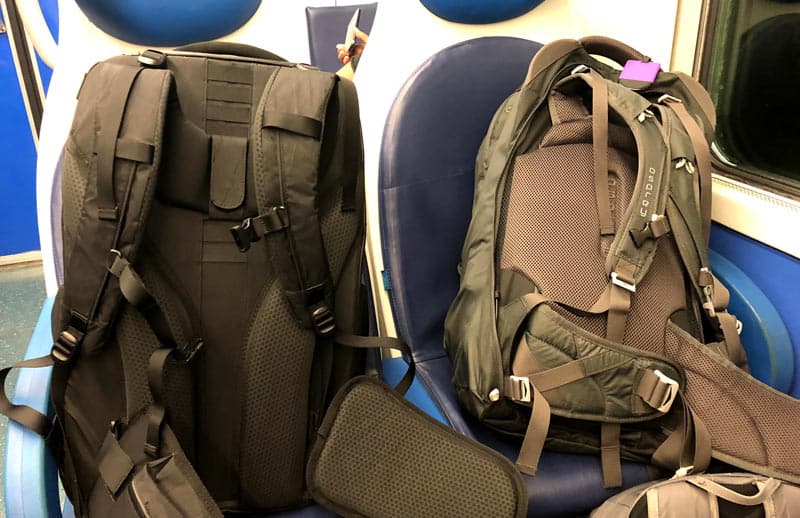 Every backpacker needs a backpack — here is a list of travel backpacks that we like.
Packing Cubes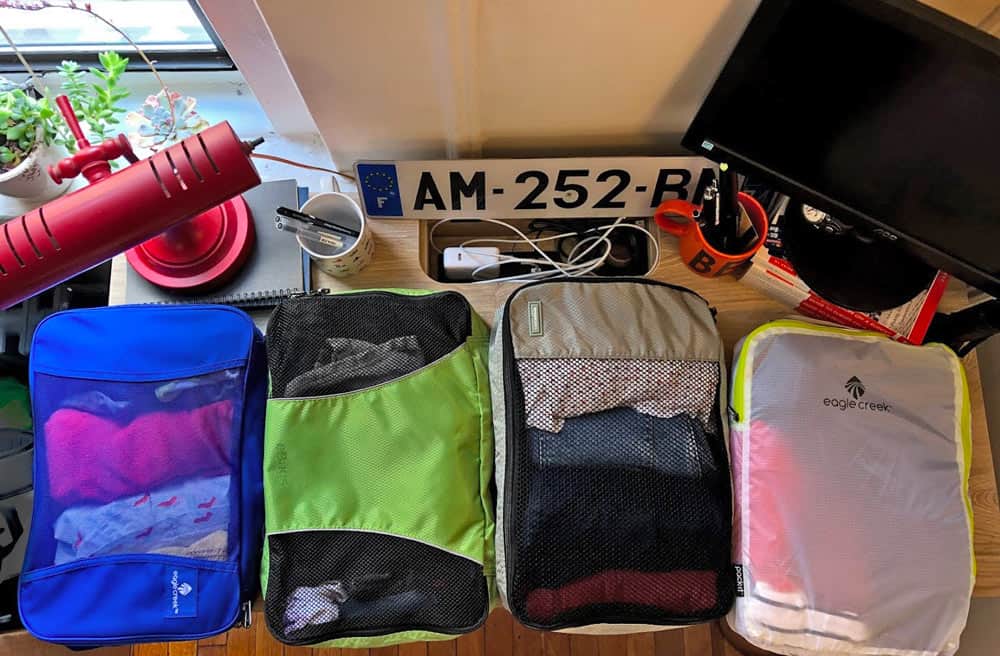 Get yourself some packing cubes because it makes living out of a backpack much easier. Packing cubes are small, lightweight bags used for packing your clothes into separate compartments. We separate items into different cubes — so we'll put socks in one, underwear in another, shirts in another, etc.
These things make it easy to access all your clothes without having to rummage through everything. They also help reduce wrinkles and they help compress your clothing so you can fit more stuff into smaller luggage.
Here are a few our of favorite packing cubes:
Read a more in-depth review of our favorite packing cubes.
TRAVEL DAYPACK
Bring a small backpack to haul around small items like your camera, rain jacket, etc. as you're out for the day. Ideally, your daypack will easily pack into your main luggage during travel days.
Here's a list of our favorite daypacks if you want to get an idea of the different kinds of daypacks that are out there.
SIM CARD FOR CHEAP MOBILE DATA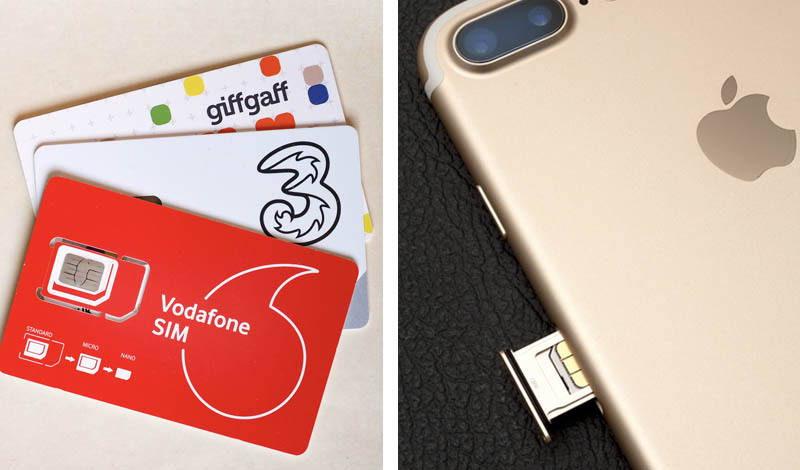 The cheapest way to get mobile data for your phone is by using a European SIM card — this is much cheaper than using your home carrier's International Mobile Data plan.
You can read about my guide to using smartphones and data plans in Europe but I recommend buying your SIM card from SimOptions.com.
TRAVEL TOWEL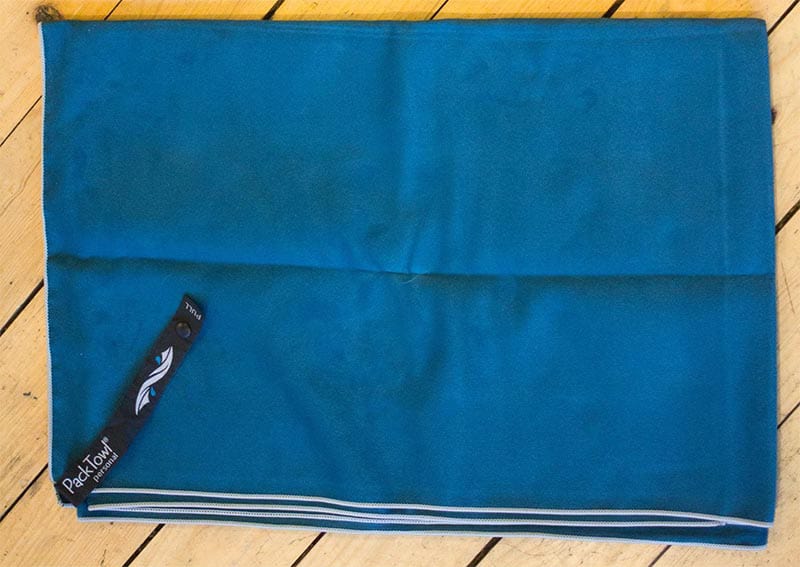 A quick-drying travel towel is a must because a normal towel takes hours to dry — which is no good when you're always on the move (i.e. a wet towel shoved into a backpack will make everything smell musty). These travel towels soak up a lot of liquid but air dry in a few hours.
Here are two travel towels we like:
SMALL FLASHLIGHT
A small keychain flashlight comes in handy in hostels so you don't wake up everyone when you need to find something in the dark. They are also nice for navigating dark streets, illuminating your luggage, etc.
Our top pick is the Streamlight 73001 Nano Light Miniature Keychain LED Flashlight — this thing is tiny while still giving off lots of light. Honestly, anything from Streamlight is going to be a solid product so check out their page on Amazon.
NOTEBOOKS

Jot down phone numbers, directions, addresses, restaurants, spending, etc. in a Moleskine Notebook, Field Notes or Rhodia notebook. It also makes a nice souvenir after the trip is over.
PADLOCK & RETRACTABLE CABLE LOCK
Keep your stuff safe when you're staying in hostels. I like the Master Lock Set-Your-Own-Combination Padlock because it allows you to set your own combo.
Retractable cable locks are nice for securing your bag to your bunk or a luggage rack.
TRAVEL SLEEP SHEET
Consider bringing a sleep sheet/sleep sack is your worried about the cleanliness of your hostel sheets. The cheapest option is a cotton Sleep Sheet. Silk Sleep Sacks are more expensive but they're lighter, less bulky, and feel great to sleep in.
EARPLUGS & EYE MASK
Sleeping on trains/planes/buses/hostels isn't always easy so consider packing an eye mask. Earplugs are nice too (especially if there is someone who snores in your room). These Mack's Pillow Soft Silicone Earplugs are comfortable for sleeping.
WATER BOTTLE

A basic water bottle works but flexible water bottles like the Platypus Soft Bottle can be rolled up when empty.
TRAVEL UTENSILS
A set of Plastic Travel Utensils is super hand for picnics since most grocery stores don't provide utensils. We thought this titanium spork was kind of funny.
TOOTHBRUSH COVER

Steripod Clip-on Toothbrush Sanitizer cover works well to keep your brush sanitized by using some voodoo science. Or you can just get a normal toothbrush cover if that's how you roll.
DIGITAL LUGGAGE SCALE
A digital luggage scale is great for avoiding those costly overweight luggage fees.
PHOTOCOPIES OF IMPORTANT DOCUMENTS
Make copies (physical and electronic) of your passport and other important documents. We email them to ourselves or save them to Google Docs.
ZIPLOC BAGS (MULTIPLE SIZES)
Separate your dirty/wet clothes with Plastic bags. It's a good idea to put our liquids in a sealable bag in case of a leak. The large 3-gallon bags are nice for keeping your dirty shoes away from your clothes.
MONEY BELT
One of the best ways to avoid becoming a pickpocketing victim is wearing a money belt (learn more about avoiding pickpockets). I don't wear one but a lot of people do.
COLLAPSIBLE UMBRELLA
A travel umbrella is good in case of rain.
LAUNDRY STUFF
LINT ROLLER
Keep your clothes lint-free with a lint roller and stop looking like a slob.
GUIDEBOOKS
Research the cities you're going to visit so check out a few guidebooks. Our favorite publishers are:
A small phrasebook is nice if you want to learn a bit of the local language.
---
ELECTRONICS PACKING LIST
Technology has changed the way we travel so here are a few gadgets to help fuel your addiction to technology.
Quick Note: Europe and North America use different voltages so some American electronics won't work in Europe. But don't worry because high-end electronics like laptops, phones, cameras, etc. will all work fine with a plug adapter (see below). We suggest reading our guide to traveling with electronics for more in-depth advice about using electronic devices while traveling.
OUTLET PLUG ADAPTERS
Pack a few outlet plug adapters. Continental Europe uses the same plug except for the UK — technically, Italy and Switzerland use a slightly different plug but the two-prong plugs (like seen above) still work. If you want to be safe you can buy specific adapters for those countries.
This simple set of adapters from Ceptics will work fine but you might want a plug adapter with USB plugs since most electronics charge via USB these days.
TRAVEL POWER STRIP

I've stayed in plenty of hostels & hotels have limited outlets so a power strip is a worthwhile investment. The Belkin Travel Power Strip with USB ports is a popular option since it has USB ports but there are plenty of other travel power strips.
PORTABLE PHONE CHARGER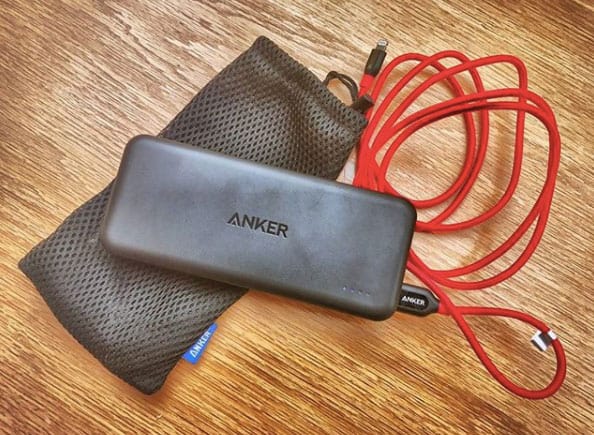 Google Maps and Instagram are going to kills your phone battery so pack a portable battery. I use Anker PowerCore 10000 because it's tiny and affordable.
DIGITAL CAMERA
Modern smartphones take amazing photos but you'll still want a nice digital camera if you want really great photos. Read our guide to the best digital cameras for travel.
Don't forget the extras:
Extra Memory Cards: Memory cards are cheap so bring a few extras.
External Hard Drive/Cloud Storage: Back up your photos often.
TABLET OR LAPTOP
I kind of hate traveling with a laptop but I'm a big fan of traveling with my iPad.
SMARTPHONE
Smartphones have changed travel forever — especially since there are many awesome apps. Here's a guide to the best travel apps if you want to know what we use on the road.
Curious about data plans and using your phone abroad? Check out our guide to using Data Plans and Smartphone Phones Abroad
E-READERS
Having a book to read on those long flights and train rides is great but lugging a heavy book around is a pain. The Amazon Kindle is great for those of you who love to read. You can even download a lot of travel guidebooks.
HEADPHONES
A pair of noise-canceling headphones are nice for flights and train rides but they're a little bulky. I really love traveling with my wireless Apple Airpods—check Amazon since they're often cheaper on sale there.
I also travel with a simple pair of in-ear headphones for airplanes. We've written about our favorite travel headphones but anything will work.
---
TRAVEL TOILETRIES
Try minimizing the number of toiletries you bring because liquids add a ton of weight. Don't forget that you can buy pretty much anything once you're in Europe. Here is a general list of things you might want:
Shampoo/Conditioner/Body Wash: I pour shampoo and body wash into these leak-proof GoToob travel-sized bottles. If I need more then I'll buy it in Europe.
Toothpaste & Toothbrush: Don't waste your money on a travel toothbrush — just bring a normal toothbrush and a toothbrush cover.
Shaving Stuff (Razors & Cream): You can find pretty much the exact same products abroad but razors do seem to be a lot more expensive in Europe.
Deodorant: Deodorant that I buy in Europe never seems to work as well so bring your own.
Chapstick w/Sunscreen
Contact Lenses/Solution/Glasses: Contact solution is actually a pain to buy because it's normally only sold in pharmacies. Plus it isn't cheap. I'd recommend bringing your own if you can.
Condoms: Some souvenirs are no fun… so it's better safe than sorry. I'd buy them before you go. Amazon has got you covered.
Travel Fabric Freshener: Your clothes will probably smell a bit funky after a while so travel-sized Febreze To Go is a good way to stay a little fresher.
Travel Toilet Paper: Play it safe and pack some travel toilet paper in your daypack.
Wet Wipes/Baby Wipes: These are a lifesaver when you actually need them. Cottonelle Fresh Flushable Wipes are individually wrapped.
Hand Sanitizer: You'll be touching so much dirty stuff all day, and you don't want to get sick as you're traveling.
Body Powder: Stop chafing caused by all that walking — especially if it is really hot. Anti Monkey Butt is our favorite.
Foot Cream: Pamper your feet with O'Keeffe's Healthy Feet Cream.
Pepto Tablets: Be sure to pack some Pepto-Bismol tablets for all that questionable street food.
Band-Aids: Heal/prevent those blisters with Band-Aids for feet.
Pain Medicine: Over-the-counter pain medicine (even basic stuff like Tylenol) is only from a pharmacy in Europe. This isn't a big problem but it's nice to have a few pills on hand.
Prescription Drugs: Ensure you have the original bottle/box in case you're asked to prove the medicine is yours. Make sure you have enough medicine to cover your entire trip since it might be hard to get any refills.
---
TRAVEL INSURANCE
Travel insurance can be a great investment if you run into any trouble on the road because it helps cover your travel gear, flights, accommodation, rail passes, medical emergencies, and more. We personally use World Nomads but here is a guide to buying travel insurance if you want to know what to look for when buying travel insurance.
---
Stuff You Don't Need
There are a lot of things geared toward travelers that you probably won't need if you're traveling through Europe.
Sleeping Bag: Sleeping bags aren't needed unless you are camping or sleeping on someone's floor.
Sleeping Pad: Again, unless you're camping or sleeping on the ground, you won't need a sleeping pad.
Water Filter: Europe has clean water so no need for a portable filter.
Books: Books are bulky and heavy. Many hostels have a collection of books, and you're normally free to swap. Travelers also swap books with each other.
Beach Towel: Normal cotton towels take forever to dry and take up a lot of room. If you do bring one, make sure it is dry before you put it in your backpack because a damp towel will make everything in your bag smell really musty. I recommend a quick-drying travel towel.
Hiking/Backpacking Food: There is no need for prepackaged travel meals. However, we throw in a couple of RX or Cliff bars just in case we get hungry while on the go.
---
WHERE TO BUY TRAVEL GEAR
There are so many places to buy all your travel gear so we wanted to put together a list of places to check out.
---
More Packing Tips
Here are some more helpful packing articles that we've written: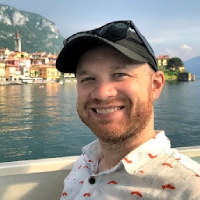 Latest posts by James Feess
(see all)
No Funny Business
The Savvy Backpacker is reader-supported. That means when you buy product/services through links on the site, I may earn an affiliate commission — it doesn't cost you anything extra and it helps support the site.
Thanks For Reading! — James
Questions? Learn more about our Strict Advertising Policy and How To Support Us.