Hostels are finally starting to wake up to the fact that not every budget traveler wants to stay in the shoddy, run-down hostel. The Bastardo Hostel Madrid is one of the growing number of upscale hostels that cater to this new group of flashpackers (i.e. budget-minded travelers who don't mind paying a little extra on creature comforts like nicer amenities, comfortable mattresses, hot water, cool design, etc.).
I'll fully admit that these days I've fully become a flashpacker. I need a nice mattress, a hot shower, and a clean place to stay. And, of course, a few extra amenities are always welcomed. That's why I was super interested when the good folks at Hostelworld and Bastado Hostel invited me to stay in the recently-opened hostel for a few nights to check out for myself.
Touring The Bastardo Hostel Madrid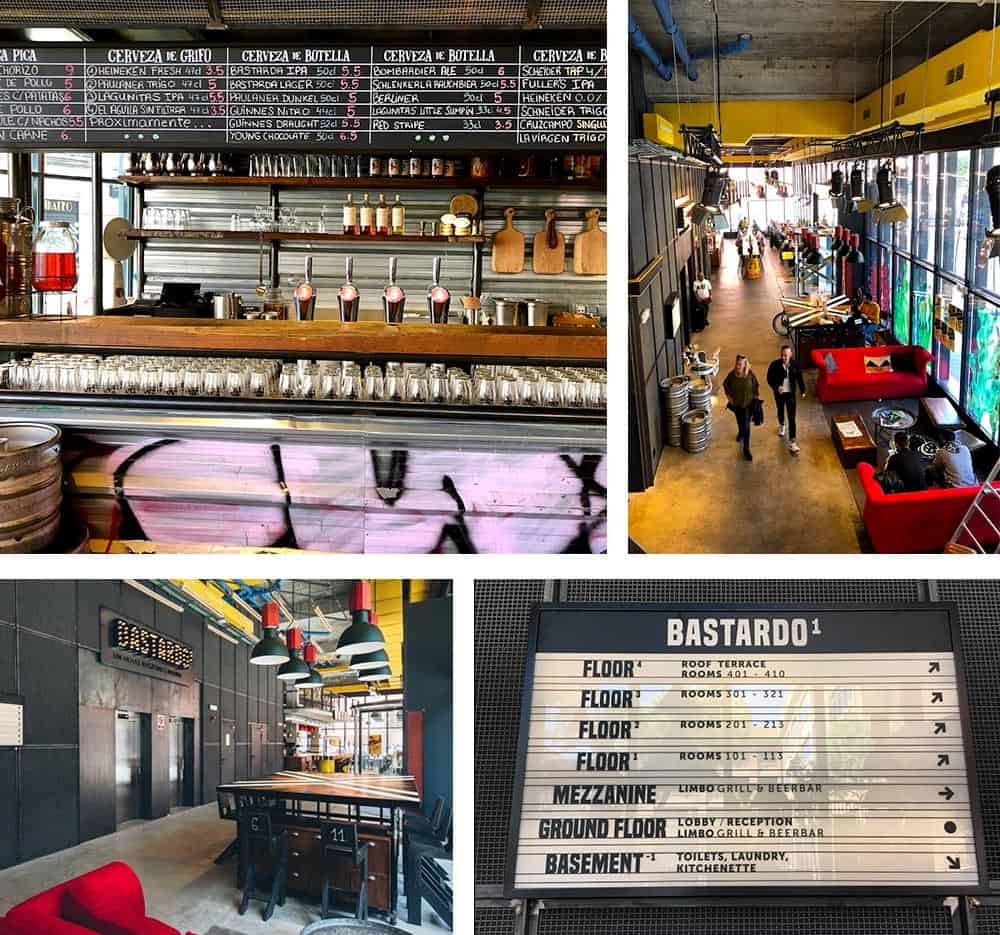 As you can see, the Bastardo Hostel has a super cool, boutique hotel vibe. Lots of natural light, cool lighting fixtures, fun colors, and plenty of chairs, tables, couches, and other places to hang out. We've cover all this stuff in a more details later in this post.
Check-In Process
Check-in was a tiny bit confusing since there isn't a traditional "check-in desk" like you usually see at hostels. But it only took me a second to realize that the receptionist was sitting at an open table near the door. After a minute of her tapping away on her iPad I was all checked in. Super simple.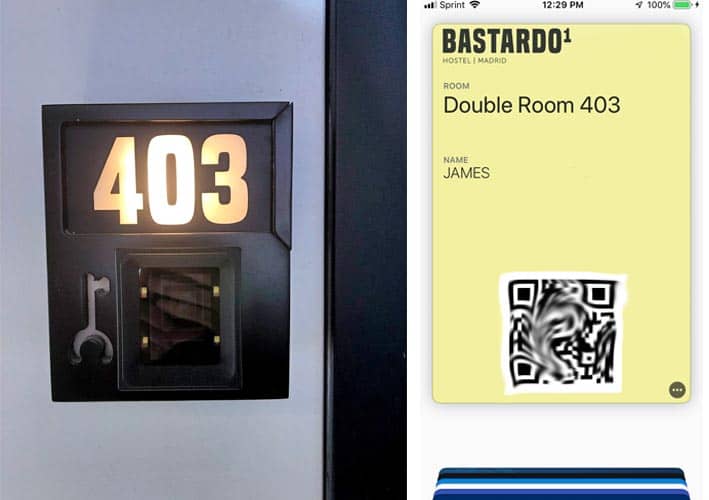 One other interesting thing about Bastardo Hostel is that they've replaced physical room keys with a QR code that's sent to your phone. So you just scan the code at your hostel door and it unlocks. It actually work really well.
Ground Floor, Bar, & Restaurant
The ground floor is divided into two main sections — a bar/chill-out area and a restaurant. Both of these areas are open to the public so you get a nice mix of locals and travelers.
The bar/chill-out area was fairly quiet during the day so it's a nice place to relax, read, or get some work done. There were plenty of couches and tables as well. By the way, the WiFi was great.
But the place really comes alive at night and it was busy every night that I was there. As mentioned before, the crowd seemed to be a mix of locals and other people staying at the hostel. The age range also varied from early 20s to people in their 40s to 50s.
At the other side of the hostel was a restaurant called Limbo. I had a nice breakfast there each morning (extra cost but a lot of options). I never had dinner there but the Limbo restaurant gets a lot of great reviews on Trip Advisor (especially for their chicken) — plus, it was super busy every night so I'm sure its a solid place to eat.
However, if you're on a budget you can probably find a ton of cheaper options in the neighborhood.
Roof Terrace, Kitchen, and Laundry
There is as cool terrace on the roof with chairs, swings, tables, and other places to hang out. In the basement you'll find washer/dryer and a small kitchen. That said, the kitchen is pretty much just a sink, fridge, and a microwave so this really isn't a place to cook your own meals.
The Rooms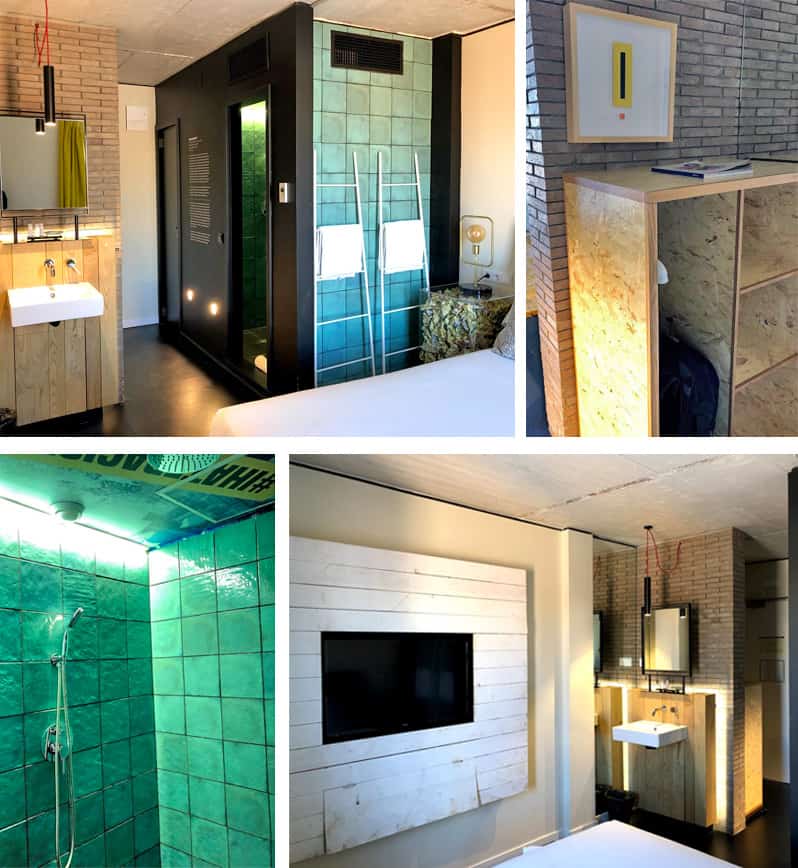 I stayed in a private double room and it was nicer than a lot of hotels I've stayed at. The bed was comfortable, there was a nice sink, a big TV, and there were a lot of cool design elements.
The shower was huge! And there was a plenty of hot water. Ohh, and they actually provide nice towels (so many places really skimp on towels).
In the entry way there were some shelves/cubbies to keep your things and to hang up a few shirts.
By the way, the hostel is located in a very lively and energetic part of Madrid the the hostel is situated on a side street that's super quiet. I don't think I ever heard street noise or people on the streets when I was in my room.
NOTE: Bastardo offers multiple kinds of private rooms (some with a private terrace) and they have private rooms with three beds for small groups or families traveling together — which is a nice touch.
While I didn't personally stay in one of their dorm rooms, they do look nice and I like that the bunks aren't the standard rickety bunks you find in a lot of hostels. All the rooms (either 6-beds or 4-beds) have an ensuite bathroom and they also have a female-only dorm rooms.
Each bunk has its own power plug/USB for charging your devices.
Hostel Vibe
The Bastardo Hostel helps organize walking tours (via Sandeman Free Walking Tours) and they also organize various other activities. This is a great way to meet other travelers.
As mentioned before, they have a popular bar and restaurant so that naturally helps keep the overall vibe lively. Quite a few locals also come to the bar so that can often take away from the "traveler camaraderie" vibe but it also gives you a chance to meet some locals. Basically, if you feel like meeting people then you shouldn't have much of an issue but you'll have to make the effort.
I also saw people of all ages staying at Bastardo — from families with kids to the typical 20-something backpacker.
The Location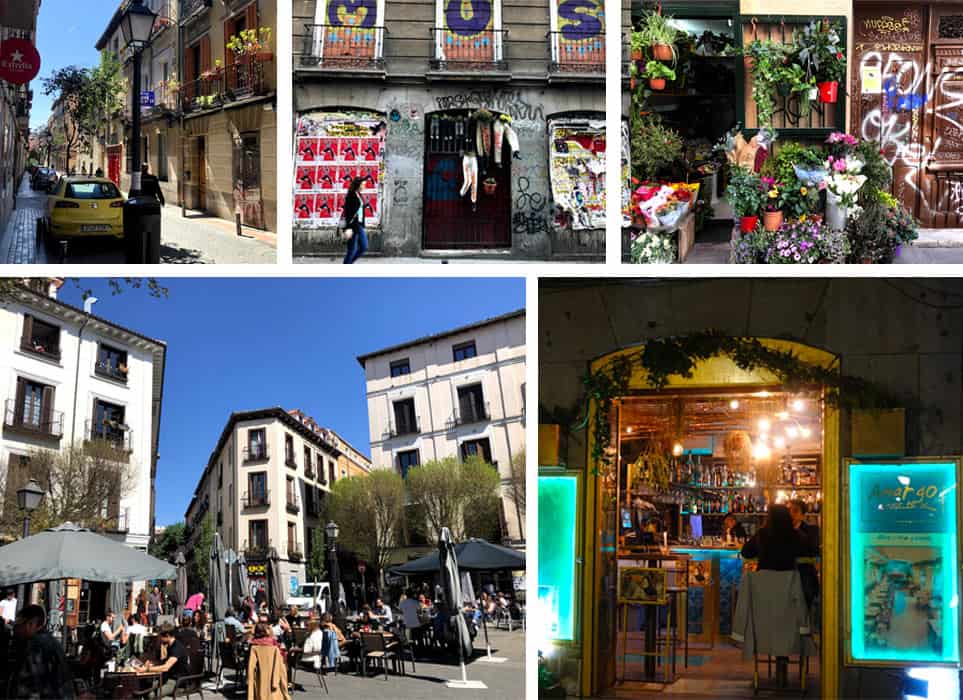 I loved the neighborhood — it's in the very cool Malasaña & Chueca neighborhood. You're literally less than a five minute walk to a ton of bars, restaurants, coffee shops, a very cool market, tons of shopping, and the metro stop is just around the corner. And you're about a 15 minute walk to the very center of Madrid. It's seriously in a great spot.
That said, the hostel is located on a quiet side street so I never heard any street noise.
Check out our Madrid Travel Guide to learn everything you need to know about exploring Madrid — including lots of places to check out in the Malasaña & Chueca neighborhood.
Overall Thoughts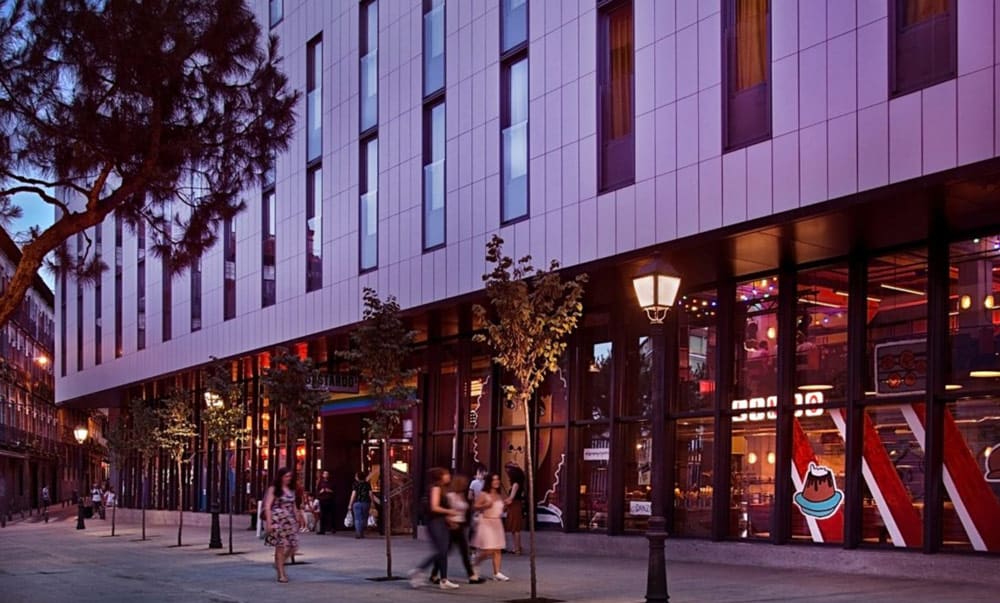 The Bastardo Hostel Madrid lives up to its "upscale hostel" reputation. It certainly has that nice boutique hotel feel with a hostel vibe. I like how they have a bar onsite (with reasonable prices) and having a quality restaurant is great if you don't want to venture out.
It isn't the most social hostel that I've stayed at but you'll meet other people if you make an effort. So be sure to go to the bar or take part in the activities if you're feeling social.
Check out other reviews from past guests on Hostelworld to get their opinion but we can't see any reason why you wouldn't have a great time at Bastardo Hostel Madrid.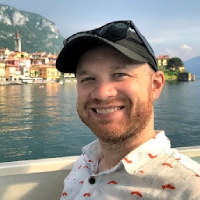 Latest posts by James Feess
(see all)
No Funny Business
The Savvy Backpacker is reader-supported. That means when you buy product/services through links on the site, I may earn an affiliate commission — it doesn't cost you anything extra and it helps support the site.
Thanks For Reading! — James
Questions? Learn more about our Strict Advertising Policy and How To Support Us.