Having a high-speed data plan while traveling Europe is almost a necessity these days — especially for navigating with Google Maps and finding restaurant recommendations. Unfortunately, using iPhones and Android smartphones in Europe can be confusing and expensive if you're not careful.
In this guide, I'll cover everything you need to know about using smartphones in Europe — including how to buy cheap high-speed data plans, how to buy SIM cards in Europe, and other strategies for using your smartphone abroad.
Will My Smartphone Work In Europe — The Basics
Virtually all modern smartphones (iPhone 7 and newer) are compatible with Europe's mobile infrastructure and every major US carrier has international data plans — so your smartphone should automatically work once you arrive in Europe because the major US carriers have partnerships with local European carriers.
However, many of these international plans are expensive so you might get hit with costly international data roaming if you're not careful and the speeds can be slow.
Your other option is to buy a European SIM card that comes with a prepaid data plan. This is a much cheaper option and you get better service, but there can sometimes be quirks and technical issues.
Both methods have pros and cons (as well as a few quirks) so keep reading as I'll try to cover all the different options below.
---
Using Your American Mobile Data Plan In Europe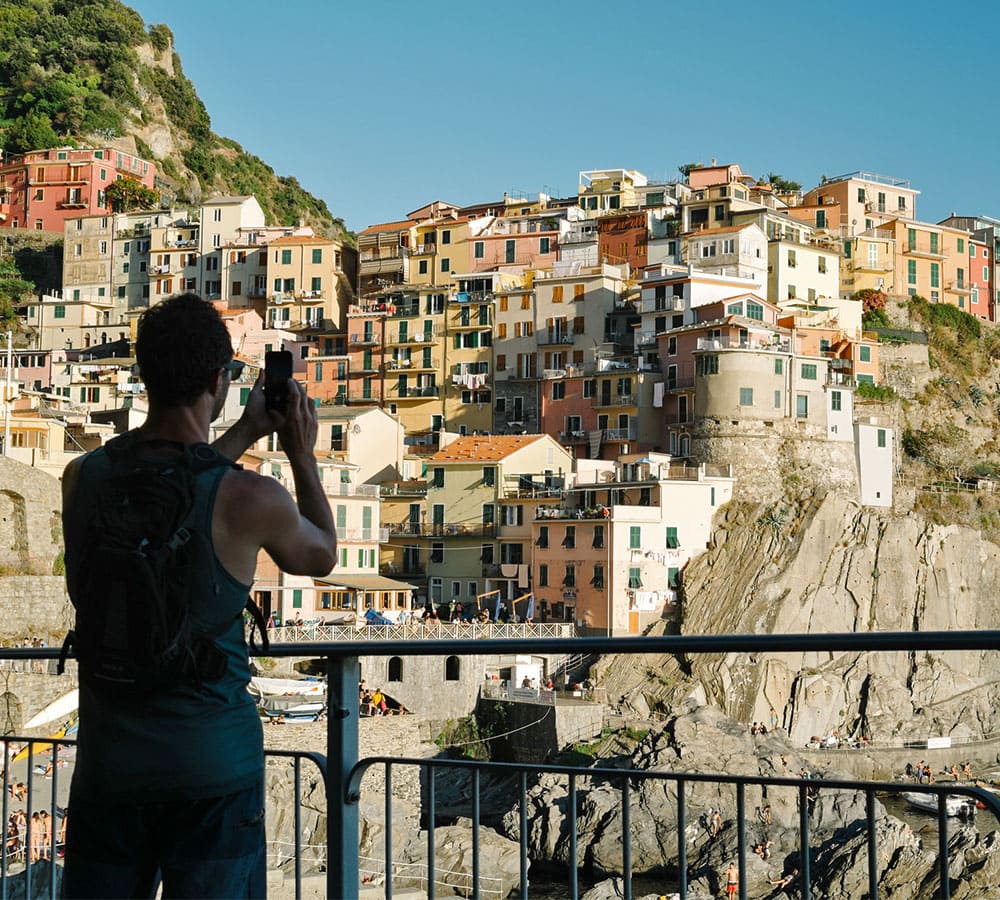 The easiest way to use your American phone in Europe is to add an international data plan to your current mobile service—every major carrier lets you do this. Simply call them up or go online and they'll gladly upgrade your account to work with European carriers they have service agreements with. In many cases, your phone will automatically connect without you needing to do anything.
The major downside is extremely high costs and not great service—you often get slow speeds and limited data. For example, some of these data plans charge you $15 a day for 100MB of data at 3G or 2G speeds. Calls are still around $1/minute and texts can cost as much as $.25 per message. So yeah, it's pretty terrible…
If you want actual high-speed data while traveling in Europe that won't cost a fortune you'll need a European prepaid data plan—don't worry, it's actually a very easy process. Click here to skip to the "How To Buy A SIM Card With High-Speed Data in Europe" section of this article.
I've listed out the international data plan details of the biggest US carriers:
NOTE: Many US carriers claim to give you 4G/LTE speeds in Europe with their International Plans but most users experience 3G or even 2G speeds (I can personally attest to this). For reference, even 3G speeds will struggle with Google maps or even simple web browsing.
Using T-Mobile In Europe
T-Mobile made headlines a few years ago when it started offering free and unlimited international data, text, and cheap international calls with most of its plans. This made T-Mobile a very popular choice for budget travelers.
Customers with Magenta and Magenta MAX plans get unlimited texting and data in 210+ countries and up to 5GB of 4G LTE data (unlimited 2G speeds thereafter). 5GB of data is plenty for web browsing, e-mail, social media, and occasional use of certain features like GPS/maps. However, I wouldn't stream video or music since that will quickly eat up your data.
If you need more data, you can add an International Pass to receive additional high-speed data.
International Pass: 512MB of high-speed data at up to LTE speeds and unlimited calling, to be used up to 24 hours, for $5/day.
5GB International Pass: 5GB of high-speed data at up to LTE speeds and unlimited calling, to be used up to 10 days, for $35.
15GB International Pass: 15GB of high-speed data at up to LTE speeds and unlimited calling, to be used up to 30 days, for $50.
As an added bonus, customers also get unlimited texting and Wi-Fi when they fly with Gogo in-flight on Alaska, Delta, and American Airlines flights to, from, and within the US.
Visit the T-Mobile website for more information.
Using Verizon In Europe
Verizon isn't great when it comes to international data travelers because their plans are expensive and you don't get much data.
TravelPass

For an extra $10/day you can basically take your normal Verizon plan and use it in Europe. You do get 4G speed on the first 500MB of data but then the speed is throttled down to 2G after that.

Monthly International Travel Pricing

Verizon's monthly international travel plan is an extra $100/month and it gives you a total of 5GB of data for the entire month. After you hit your limit your speeds are throttled down.

Pay as You Go pricing

You can also pay as you go but it's extremely expensive. Data is $2.05/MB and texts cost $.50 each.
Visit the Verizon website for more information.
Using AT&T In Europe
AT&T is decent when it comes to using their data plans in Europe but it still isn't great.
AT&T International Day Pass

For an extra $10/day you can take your existing AT&T plan and use it in Europe. Data will be drawn from your domestic plan allowance with the same data and speed restrictions so that's pretty nice if you have a good US plan. There are some other conditions so read up on those.
AT&T automatically opts you into the Internation Day Pass as soon as your phone tries to access data (many apps connect to data in the background) so make sure you don't accidentally use any data because or you'll be charged the $10/day.

AT&T Passport

The AT&T Passport is a monthly plan that comes in two options — $70/month for 2GB of data or $140/month for 6GB of data.
Note: They charge a hefty overage of $30/GB so watch your data usage.
Check out the AT&T website for more information.
---
How To Buy A SIM Card With A High-Speed Data Plan In Europe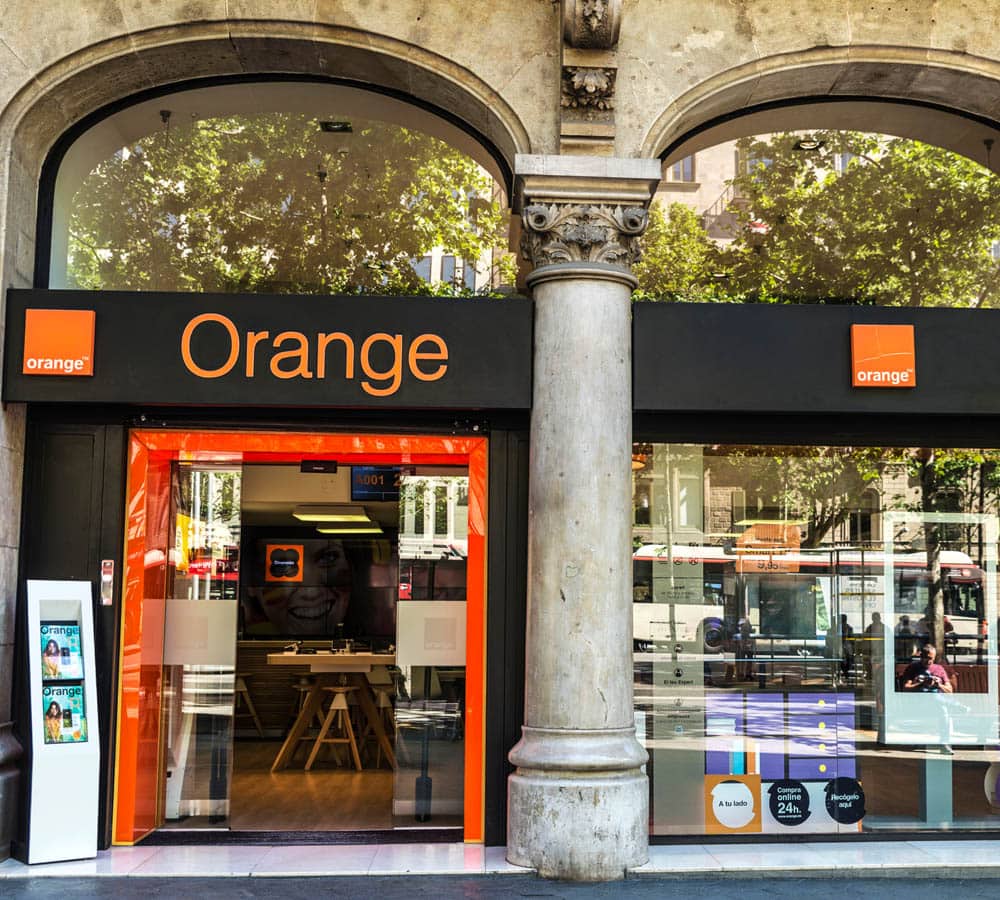 You can also use your American smartphone in Europe by replacing your phone's physical SIM card with a SIM card of a European mobile carrier so your phone will operate on a European network.
UPDATE: Most new phones are eSIM compatible—which doesn't require you to install a new physical SIM card. You simply buy the prepaid data plan, scan a QR code that's sent to your email to install the digital "card", and you're ready to go. We'll cover eSIMs later in this article or you can read our Guide To The Best eSIM Data Plans for Europe.
There are dozens of mobile phone carriers in Europe—which keeps the prices down and the service very competitive. That's why using a European mobile carrier is much cheaper, the data speeds are much faster, and you'll get much more data allowances compared to US plans.
For example, you can often find pre-paid plans that offer 20GB of high-speed data for €20/month and the service works in any EU country. Additionally, nearly every plan will also come with talk and text as part of the package.
NOTE: By law, there are no international roaming charges within the European Union so if you buy your SIM card within the EU then that service will work in any other EU country with no extra charges.
The downsides of buying a European SIM card are the hassle of buying the SIM, activating the service, and dealing with any potential tech issues (which are becoming rarer but they still happen). That said, getting your service set up is usually very straightforward and should only take a few minutes.
NOTE: Using a European SIM card will give you a European phone number so people won't be able to call your US number until you reinstall your original SIM card (unless you have a phone with two SIM Card slots). Additionally, some apps and other services sometimes use two-factor authentication that's tied to your phone number so these won't work since your phone number will be changed when the new SIM is installed. HOWEVER: This isn't the case if you use an eSIM because eSIMs let you use both your original SIM card and the eSIM at the same time.
How To Unlock Your Smartphone
Many American cell phone companies use software to "lock" their smartphones to their network so the phone won't work if you install a SIM card from another company.
However, you can unlock your phone by calling your mobile carrier and asking them to unlock it because you're going to travel abroad (you might need to go visit a store to get it unlocked).
But unlocking your smartphone can be a hassle because some carriers make you jump through hoops and they have different criteria about which customers are "eligible" to unlock their phone. So contact your carrier to see what you need to do — I recommend not waiting until the last minute in case there are issues.
What If Your Mobile Carrier Won't Unlock Your Smartphone?
Unfortunately, some mobile carriers refuse to unlock phones while they're still under contract. In this case, I recommend using an old smartphone that you don't use anymore or using the company's international data plan.
Old phones make great travel phones since it's not a huge deal if they get lost/stolen/broken. You can often find people selling factory-unlocked phones or cheap older-model smartphones online that will be perfectly caple of basic things like texting, Google Maps, and light web browsing.
Remember, you can still use your current smartphone in Europe for photos and then hop into a coffee shop to upload stuff via their WiFi.
Buying A SIM Card Before You Travel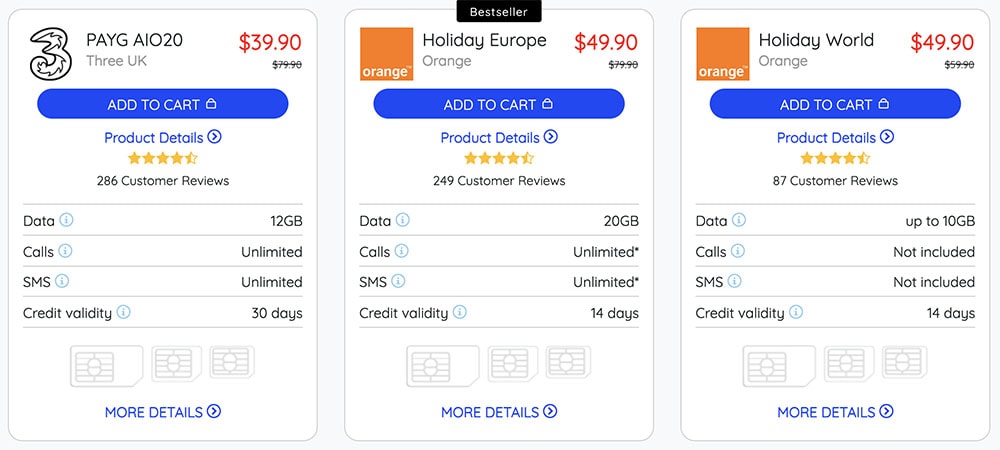 The easiest option is to buy a prepaid European SIM card before you travel and have it mailed to your home address — this way you're ready to go the second you arrive in Europe. The prices are typically a little higher than buying in Europe but it's a more convenient option.
UPDATE: If your phone is eSIM compatible, I recommend buying an eSIM instead of a physical SIM card because it's way more convenient, you get to keep your original SIM card in your phone, and delivery is instant so you don't have to pay for shipping. Check out the eSIM data plans at SimOptions for popular eSIM data plan options.
As an added bonus, many of these cards have little to no activation so the service starts the second you install the SIM card. But others might have you register them online when you get the card but it's usually pretty simple.
I'm a fan of SimOptions.com as they are an authorized reseller of multiple SIM card plans from many of Europe's largest mobile providers like Orange, Three UK, Bouygues Telecom, and 02.
ORANGE HOLIDAY EUROPE PREPAID SIM CARD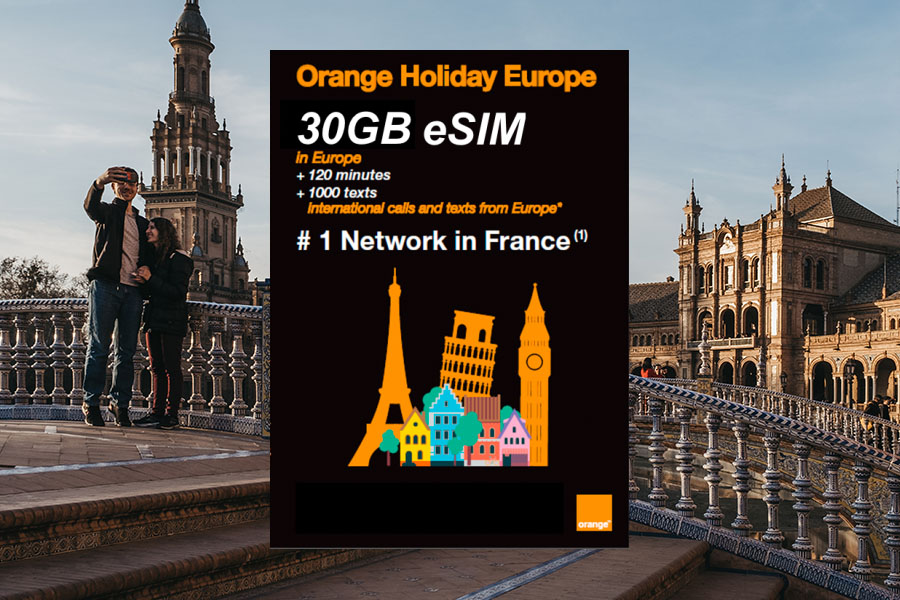 The Orange Holiday Europe Prepaid SIM Card is probably the best all-around option for SIM cards that can be purchased abroad because it offers a lot of data for a good price — and it includes a lot of worldwide calls and text.
Additionally, Orange is one of the largest mobile companies in Europe and they have great coverage throughout most of Europe (which isn't always the case with smaller European carriers).
Plan Specs:
PRICE: $50
DATA: 30GB
CALLS: Unlimted in Europe and 1200 minutes worldwide
TEXT: Unlimted in Europe and 1000 worldwide
CAN BE USED AS A MOBILE HOTSPOT?: Yes
CREDIT VALID FOR: 14 Days
The Orange Holiday Europe plan is good because it gives you a lot of mobile data for a decent price but the only possible drawback is the 14-day validity period — which doesn't matter if your trip is less than two weeks. That said, you can buy an extra 10GB of credit after the two weeks are up for around $25.
If you need less data and want to save a little money, check out the $30 Orange Holiday plan that gives you 8GB of data for 14 days.
The Orange Holiday plans are also available as an eSIM—which means you don't have to wait for delivery or pay for shipping (assuming your phone is eSIM compatible). Check out the eSIM data plans at SimOptions to get the details on both the Orange Holiday Europe eSIM and the Orange Holiday Zen eSIM plans.

Learn more about eSIM data plans and see if your phone accepts eSIM cards in my Guide to Prepaid eSIM Data Plans in Europe.
THREE UK PAYG AIO15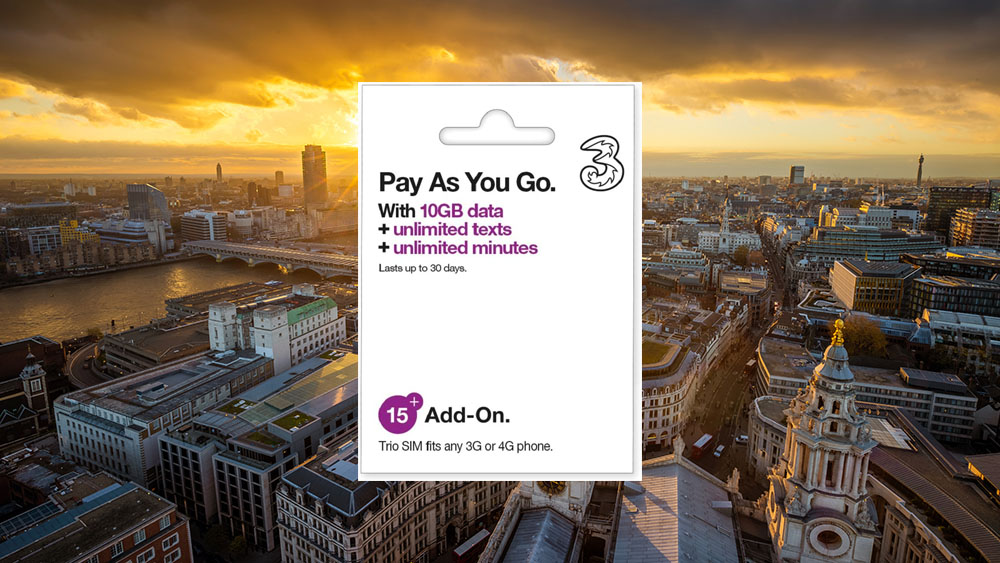 Three UK is another large European mobile carrier and their PAYG AIO15 plan is a good value for people who don't need the 20GB offered by the Orange Holiday Europe plan. I like how the plan has a validity period of 30 days so it's good for longer trips.
Plan Specs:
PRICE: $30
DATA: 10GB
CALLS: Unlimted in Europe
TEXT: Unlimted in Europe
USED AS A MOBILE HOTSPOT?: No
CREDIT VALID FOR: 30 Days
BOUYGUES TELECOM VACATION PREPAID PLAN
The Bouygues Telecom Vacation Prepaid Plan is very similar to the Orange Holiday Zen but the Bouygues plan must be activated in France — so that's a huge drawback.
PRICE: $50
DATA: 20GB
CALLS: Unlimted in Europe
TEXT: Unlimted in Europe
USED AS MOBILE HOTSPOT?: NO
CREDIT VALID FOR: 30 Days
Must be activated in France but can be used anywhere in the EU.
Note: SimOptions.com has other cards for sale but these are the best options/deals.
Holafly Unlimited Data eSIM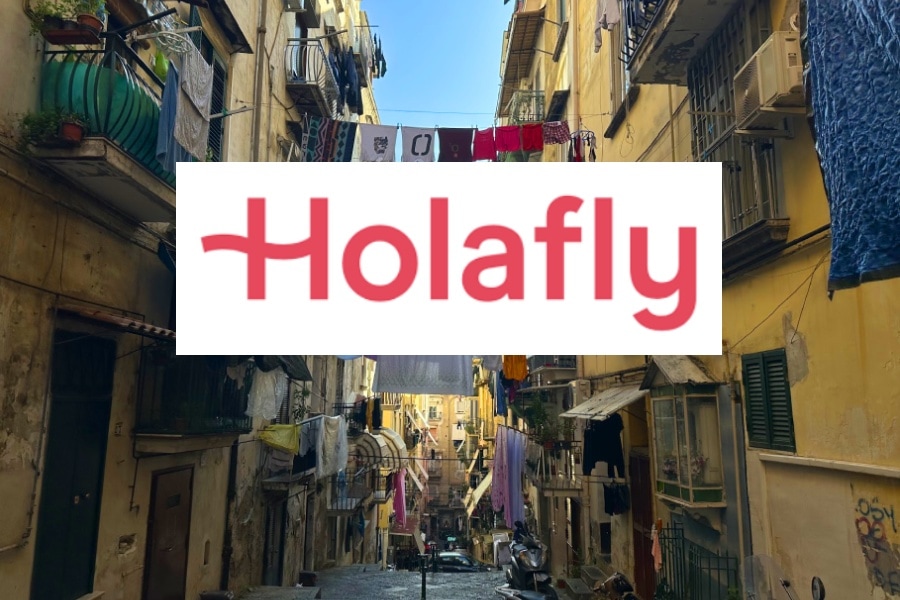 Holafly is a data-only eSIM startup I've also personally used in Europe—the service was great and I got very fast data speeds (read my Holafly eSIM Review to learn more). Unlike other companies, Holafly's plans give you unlimited data and their plans run from 5 to 90 days (they will throttle your data if you use excessive data). Some users report better speeds with Orange (since they're an actual service provider) but I have had a positive experience with Holafly.
Holafly is also data-only so you can't make/receive calls or send SMS text messages (but you can send iMessages between iPhones or use WhatsApp).
Prices For Unlimited Data (Check Holafly for details)

5 Days: $19
10 Days: $34
15 Days: $47
20 Days: $54
30 Days: $64
60 Days: $84
90 Days: $99

Service Speed: 5G/4G/LTE
Calls: None
Texts/SMS: None
Tethering: No
Where To Buy A SIM Card in Europe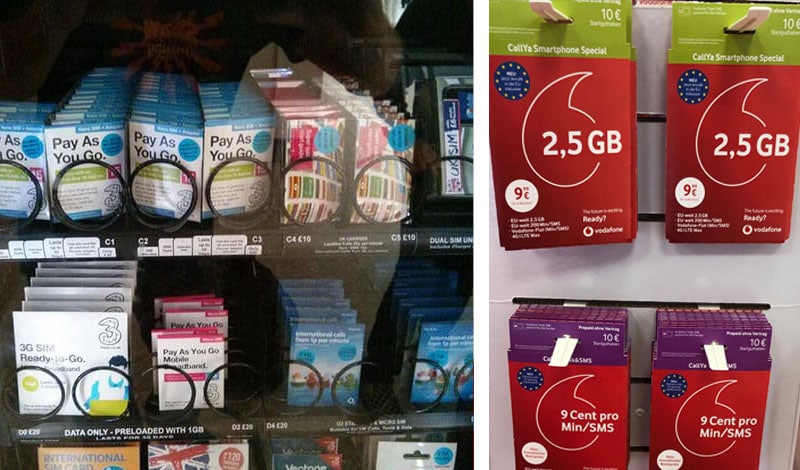 Buying a European SIM card is easy because they're sold virtually everywhere — including airports, vending machines, grocery stores, and more. If you have an eSIM, you can buy them online at sellers like SimOptions and Holafly.
Here are a few of the most popular places you'll find SIM cards:
Carrier-Specific Shops: The major mobile carriers will have their own stores where they'll help get your service set up. Most employees should speak some English but they install SIM cards all day so they'll be able to set you up without much communication needed.
Third-Party Phone Shops: There are many mobile phone shops that sell a range of phone plans from multiple companies. Employees might be able to offer some help getting set up but service probably won't be as good as carrier-specific shops.
Newsstands, Tobacco Shops, Vending Machines, etc: You can find SIM cards in multiple smaller shops at airports, train stations, and randomly throughout most cities but don't expect any customer service.
Types Of Prepaid Mobile Data Plans in Europe
There are dozens of mobile carriers and each will have multiple plans (either pay-as-you-go or bundled) so just pick one that best fits your needs — I recommend sticking with the major carriers since they're typically the most user-friendly and should give you the best speed/coverage.
Pay-As-You-Go Mobile Data
With Pay-As-You-Go plans, you buy a set amount of credit that you add to your account and then you reload more money onto your account once your credit runs out. Service with pay-as-you-go plans is more expensive but it's the cheapest option if you use your phone sparingly.
Bundle Mobile Data Plans
A Bundle Mobile plan is the best option for extremely heavy data users since you pay a lot less per gigabyte of data. Most carriers offer multiple bundle plans so just pick the one that fits you best. That said, many Bundle Plans come with a monthly contract so it doesn't make sense for the average traveler since it's geared toward residents.
How Much Do Mobile Data Plans Cost in Europe?
Mobile data plan prices in Europe vary widely based on the country, plan options, and various deals going on at the time—so it's hard to accurately predict how much you'll pay. However, here are some example prices so you can have a better idea of how much you'll potentially pay:
SFR (French) offers a €20 plan with 25 GB of mobile data that's good for 30 days or a €10 plan with 10 GB good for 8 days.
Orange Prepaid Holiday SIM Card (French) costs around €40 and it gives you 20 GB of mobile data good for 14 days (you can add more credit as you go). While it is more expensive, you can have this SIM card shipped to your US address before you leave. Good throughout the EU.
TIM (Italian) has a tourist-specific plan called Tim Tourist for €20 (+ €10 for the SIM) that included 15 GB of data in Italy and up to 6 GB in the EU for 30 days.
Vodafone (Italian) has its Dolce Vita tourists plan for €25/month which includes 30 GB in Italy (15 GB in the EU).
Orange Holidays Spain (Spain) Orange's Holidays Spain is their tourist plan that's €20/month for 30 GB of data in Spain/EU.
How To Install A SIM Card And Activate Your Service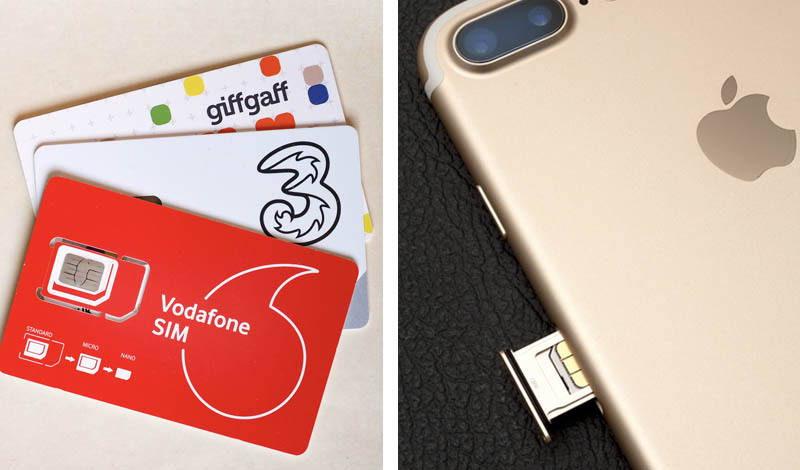 Installing a SIM card is simple and only takes a minute — all you need to do is take the old SIM out and put the new one in.
Installing SIM Card In An iPhone: On an iPhone, the SIM card is located in a little slot on the side of the phone. You pop it out with a SIM card tool or a paper clip. Simply take the old SIM out and put the new one in (put your old SIM card in a safe place).
Installing SIM Card In An Android Phone: Android phones typically have the SIM card located where the battery is located or in a slot like the iPhone. Simply take the old SIM card out and put the new one in (put your old SIM card in a safe place).
Typically the phone will recognize the new SIM card and it should automatically connect to the new carrier's network (it may prompt you to restart the phone after installing).
Your SIM card will come with instructions in English on how to finish setting up your service. Typically, you can either add credit to "pay as you go" or you can buy a pre-paid monthly plan that gives you a bundle of services (data, talk, text, etc.).
NOTE: Some countries require that you register your SIM card so you may have to show your passport and/or list a local address (you can often use your hotel or rental apartment address).
How To Top Up Your SIM Card
Once you run out of credit you'll need to "top up" your SIM card to add more credit to your account. Most companies let you top up via their website or you can buy credit at newsstands, grocery stores, etc. Typically you're given a code that you enter into your phone and that is how the credit is added.
Possible Problems Using A European SIM Card
As mentioned previously, some people have problems activating their European SIM cards/mobile service. Here are a few of the most common issues:
Needing An Address/Passport: Some countries require that all SIM cards must be registered and that usually means needing to give them a local address when you activate the service. Often you can just put in any address (like a hotel, etc.) but some places require you to show your passport as well.
Technical Trouble: For the best service, it's recommended to buy your SIM directly from a mobile company's physical store. This way they'll be able to get everything activated right there. Some cheaper companies make you phone them to activate and they might not have any English speakers. The store might not have English speakers but it's much easier to get stuff done in person.
Getting The Correct Size SIM Card: SIM cards come in different physical sizes so make sure you get the size that matches your phone's specs.
Stick With Major Carriers: Europe has a ton of smaller mobile carriers but the major players usually have the best service and speeds. You might end up paying a little more but it's probably worth the cost to avoid issues.
---
More Tips On Using Your Mobile Phone In Europe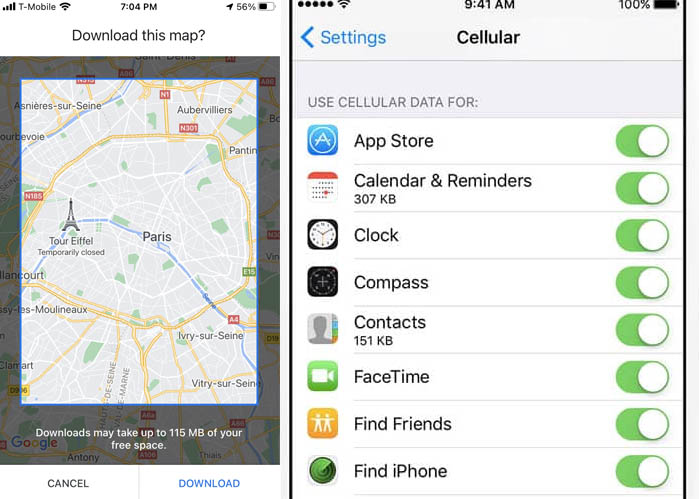 Buy A Portable Battery Charger
Using apps like Google Maps and taking photos kills your phone battery so a portable battery is a must-have. I use Anker PowerCore 10000 because it's tiny and affordable but there are multiple options.
Using Free WiFi While Traveling Europe
I think people overestimate how easy it is to find free wifi in Europe. Yes, free wifi is becoming more prevalent throughout Europe. However, it's hard to rely exclusively on free wifi since it can be a pain to actually find a free network when you actually need it.
The best places to find free wifi are McDonald's, Starbucks, cafés, coffee shops, and hostels/hotels — but getting connected is rarely super convenient, reliable, or fast.
Relying on free wifi fails when it comes to day-to-day stuff like using Google Maps, looking up restaurant reviews via Google/Trip Advisor/Yelp, using random apps, using Uber, booking e-tickets, using email, etc. because these are things you typically do spur of the moment. That's why I prefer to have the option of having mobile data because having to seek out a coffee shop every time I want to use the internet gets tiring very quickly.
How To Lower Your Mobile Data Usage
Data can be expensive and it's extremely easy to unknowingly burn through a lot of data because many apps use data in the background. Facebook, email, Instagram, Snapchat… those all constantly use data throughout the day without you knowing it. That's it's important to know how to limit your data usage.
Use Airplane Mode And Block Data to Specific Apps
I'll put my phone in Airplane Mode because that disables all data (but GPS still works in Airplane Mode). You can also go into the settings and disable data access to each individual app. I'll go in and turn every off except for things like Google Maps or others that I'll use more frequently — this way when I turn off Airplane Mode only those apps that will use data. Then I'll turn Airplane Mode back on when I'm done.
Download Offline Maps
Google Maps lets you download entire city maps so they can be used offline. As an added bonus, GPS doesn't use data so offline Google Maps works fairly well (but not all functionality works). Here is a good YouTube video that explains everything.
Make Calls Over WiFi
WhatsApp is an excellent app for free calling and text messages — I've found that many Europeans exclusively use WhatsApp to communicate (including many Airbnb hosts).
---
More Europe Travel Advice From The Savvy Backpacker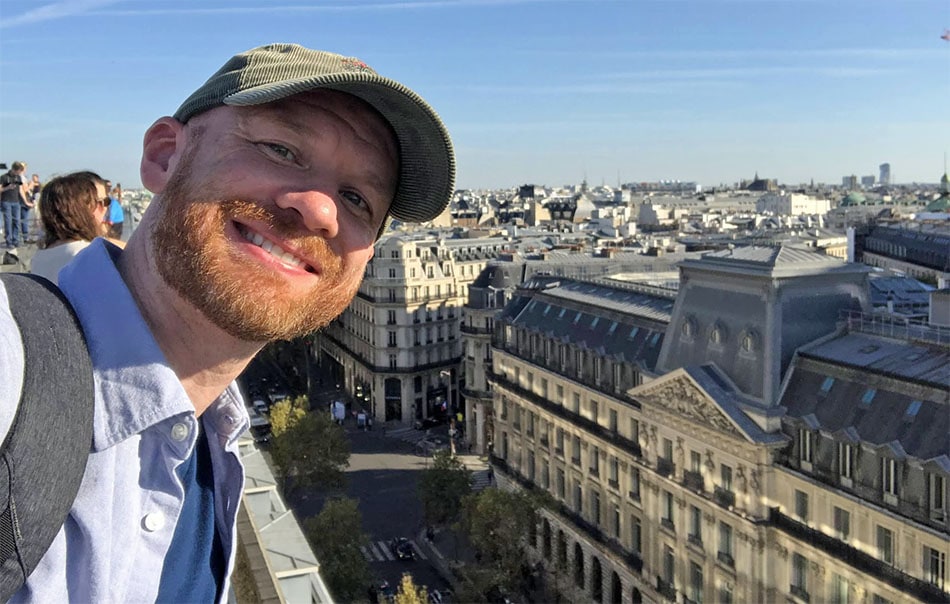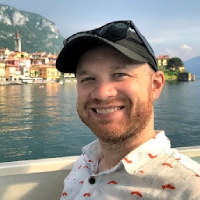 Latest posts by James Feess
(see all)
No Funny Business
The Savvy Backpacker is reader-supported. That means when you buy product/services through links on the site, I may earn an affiliate commission — it doesn't cost you anything extra and it helps support the site.
Thanks For Reading! — James
Questions? Learn more about our Strict Advertising Policy and How To Support Us.