[Updated: March 19, 2017. Originally Posted: February 2011] 
My first backpacking trip in Europe was a solo adventure. I was a little worried at first, but I soon found that traveling alone was one of the best things I'd ever done. While it did have some downsides, I still wholeheartedly endorse solo traveling to anyone (males and females). This guide will cover the positives and the negatives of traveling Europe alone and give you some practical advice on how to make the most of your travels.
Note: Looking for female-specific advice — check out our Guide To Solo Travel For Women in Europe. 
Positive Aspects of Solo Travel
Complete Control: When you travel alone you can do whatever you want. You can eat whenever, see whatever, and go wherever you want. You can't fully appreciate this freedom until you travel with other people.
Food Freedom: From my experience, choosing where to eat can cause more stress than just about anything else– especially when you're traveling with a group of people. When you travel alone you can choose exactly where to eat. Also, many restaurants in Europe won't split up the bill so paying become a huge hassle in large groups.
Choose Your Itinerary: You can do the things you want to do. You don't need to answer to anyone else. In a group, everyone has their own ideas of what to see and this can cause a lot of conflicts.
No Arguments: You're bound to get into arguments or even fights with your travel partners. Travel can be stressful and you usually take out your frustration on your travel partners. I find that I get a lot less stressed when I am alone.
Total Focus: There is no one to "distract" you. You're totally focused on whatever it is you're experiencing.
Reinvent Yourself: You can be whoever you want to be when you travel alone. This is your chance to let loose.
Meet New People: I meet a lot more people when I travel alone. Groups tend, usually unknowingly, to put up a "wall" between themselves and other travelers, so this makes groups not as approachable. You also have an instant connection with other solo travelers — yes, there are plenty of other solo travelers.
Self-Growth: You have no one but yourself to rely on when you're a solo traveler. You quickly learn to be self-reliant and I think that makes you a stronger person.
Disadvantages of Solo Backpacking 
Eating Alone: Many people feel really uncomfortable eating alone — especially in restaurants. It isn't bad for breakfast and lunch, but dinners do get a little lonely. It really isn't that bad and it isn't too hard to find other people to eat with.
Unwanted Isolation: Staying in hostels is great because there are almost always tons of other people around to hang out with. But there will be times where you'll find yourself alone.
I remember my very first night of solo traveling. I was in Dublin and the hostel was overrun by a large group of Spanish students. There must have been about 40 of them. I didn't meet any English speakers that first night so it was pretty lonely. I was also a new traveler so I was pretty timid. Luckily, occasions like this were pretty rare.
No "Buddy System": It can be nice to have a buddy to share your memories with and to help keep each other safe. Although I wouldn't worry too much about safety because I never felt unsafe in Europe. A little common sense is all you need.
How To Successfully Travel Alone
Stay In Hostels: This is the most important thing for any solo traveler. Hostels are full of like-minded adventurers and most of them are extremely willing to meet new people.
Don't Break The Unspoken Hostel Rules: Read the savvy guide to proper hostel etiquette.
Be Friendly and Outgoing: Smile and be the first person to introduce themselves. If someone new arrives at the hostel greet them. An introverted solo traveler can have a rough time meeting new people. I didn't do a very good job being outgoing my first few nights and I had a hard time meeting people. But after the third night, I forced myself to be a little more outgoing and it opened up so many doors.
Beer: Buy some cheap beer and offer it to people. You'll meet TONS of people this way. People will often do the same for you. Trust me, this will be the best €10 you can spend.
Cook Meals In The Hostel: You'll meet so many people if you hang out in the kitchen around dinner time.
Hostel Planned Activities: Many hostels plan outings like free walking tours or pub crawls.
Couchsurfing and Couchsurfing Meetups: A great way to meet locals is by CouchSurfing because it's common for hosts to take you to their favorite bars and some might even introduce you to their friends. The CouchSurfing organization also hosts regular meetups in bars/pubs in most major European cities. These are frequented by many expats, travelers, and locals so it's a great way to connect with people.
Airbnb: If you rent a room in an Airbnb apartment it's not uncommon for your hosts to take you out for a drink or to their favorite spots No all hosts do this but many do.
Safety First: Use your common sense. It probably isn't the best idea to walk around large cities at night by yourself. Actually, I've done this many times and never felt unsafe. Just be sure to stay alert. If something doesn't feel right then you shouldn't do it. Always walk with confidence and act like you've done this a million times.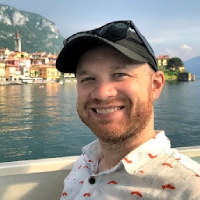 Latest posts by James Feess
(see all)
No Funny Business
The Savvy Backpacker is reader-supported. That means when you buy product/services through links on the site, I may earn an affiliate commission — it doesn't cost you anything extra and it helps support the site.
Thanks For Reading! — James
Questions? Learn more about our Strict Advertising Policy and How To Support Us.