If you're reading this, there is a good chance you're planning a trip to Europe. The trip of a lifetime, perhaps. The trip of a lifetime where you want to see and eat and experience and smell and absorb as much as humanly possible.
You've probably been thumbing through dozens of guide books, spending countless hours clicking through websites, and creating an itinerary that's about two miles long.
How do I know this? Because I get dozens of emails each week from people asking me to look over their upcoming trip. And, with the rare exception, nearly everyone has packed their trip to the gills.
Here is my advice to all travelers: SLOW DOWN.
Take time to absorb the places you visit.
Now, I 1000% understand why you'd want to visit as many places as possible. I mean, travel isn't cheap, so you want to get your money's worth. And, if you're an American, you get a laughably small amount of vacation time to travel, so you want to feel like you're making good use of your time.
I had the exact same mindset during my first trip to Europe. I spent three days in London, four days in Ireland (I visited three cities), two nights in Kraków, two nights in Budapest, two nights in Prague, two nights in Munich, two nights in Switzerland, a day trip to Salzburg, one night in Frankfurt, three nights in Amsterdam, one night in Bruges, three nights in Paris, a night in Glasgow, two nights in Edinburgh… I think you get the idea.
Looking back now (almost 10 years later… yikes!) I realize that I remember very little of my trip. And that's really depressing. I never allowed myself the time to experience each location as well as I should have.
In fact, I was moving locations so often that I could barely remember all the things I had done the week before… which brings me to my next point…
Burnout.
One of the biggest dangers of traveling at breakneck speeds is the inevitable burnout. Personally, for me, it hit somewhere between weeks two and three. I couldn't stand to see another museum, I was tired of eating out all the time, I was physically tired because hostels aren't the quietest places to sleep, and I didn't want to pack and unpack my backpack every two days. Luckily, my burnout "funk" only lasted a few days, but I know some people who aren't able to shake the funk once it sets in.
So back to my original point: SLOW DOWN.
Give yourself a chance to experience each city you visit — even if that means visiting fewer places. Because what's the point of saying, "I've visited 13 countries" if you can barely remember anything you saw. Europe isn't going anywhere. You can go back. Actually, scratch that… you WILL go back.
Another thing I've noticed after talking to people who've traveled quickly is that they have a greater number of negative experiences. For example, I know a lot of people who have hated Paris after visiting it but almost all of them only spent two or three days hurried days there. That's because Paris, and cities like it, require you to slow down to truly enjoy it. You're meant to stroll leisurely through the streets, enjoy a glass of wine at a sidewalk cafe for two hours, and let the atmosphere soak in. However, if you rush from landmark to landmark and museum to museum you're going to come away with a hurried and warped view of the city.  
Strategies for Slowing Down and Avoiding Burnout
Spend at least four nights in major cities.
Places like Paris, London, Barcelona, Berlin, etc. really deserve at least four nights to get a get a good feel for the city (but you can certainly stay even longer). Smaller cities can be experienced in two nights, but large cities need time.
Don't Underestimate Travel Time
Don't underestimate the amount of time it takes to travel between destinations. I know people who try to cram in seven cities in 12 nights, but they fail to realize they'll be stuck on a train or a plane a majority of that time. As an added bonus, traveling less means you'll spend less on transportation costs (which can get expensive).
Plan Periods of Peace
If I'm going on a long multi-city trip, I like to schedule a few peaceful destinations to "recharge" my batteries. For example, I'll schedule two or three days in mountains of Switzerland to simply enjoy the fresh air and the peaceful mountain scenery. If you can't get away to a mountain escape, spend a few hours in a park and enjoy a nice picnic with a bottle of wine.
Get Good Sleep
If you're staying in hostels, there is a good chance you'll get woken up a few times throughout the night. If it's a particularly crazy night, you might not get much sleep at all. That's why I like to either book a private room every now and then or rent an apartment on Airbnb when I feel like I need to get some quality sleep.
Get Your Own Apartment
If you can afford it, booking an apartment will help you feel more like a "local" and less like a tourist — even if only for a few days. This can do wonders for helping you slow down and relax. Plus, this gives you an opportunity to discover neighborhood restaurants, cafés, markets, and shops that you may have missed if you were staying in hostel or hotel located in a more touristy area of town.
Take the Train — Get A Railpass
One of Europe's greatest strengths is its impressive rail network — you can pretty much get anywhere via the train. It's also a relaxing and comfortable way to travel.
But one of the biggest benefits is the freedom of movement it gives you — especially when you have a railpass. The real beauty of a railpass is the luxury of being able to come and go as you please. Want to extend your time in a city? No problem. Or maybe you want to cut your time short. Easy, just hop on the next train to somewhere else.
Pick a Region
Instead of going from London, to Paris, to Barcelona, to Rome, to Athens, to Zurich, to Budapest, to Warsaw, to Berlin, to Oslo, to Dublin… (ok, you get the idea), try sticking to a smaller region. Not only will you spend less time and money traveling, you'll also get a deeper appreciation of the region you're visiting. 
In Conclusion
Do yourself a favor and slow down a bit when you travel. It's perfectly fine to create a full itinerary, but don't go overboard.
Remember, Europe will always be there. You'll go back.
Enjoy your trip!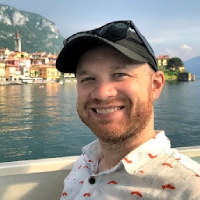 Latest posts by James Feess
(see all)
No Funny Business
The Savvy Backpacker is reader-supported. That means when you buy product/services through links on the site, I may earn an affiliate commission — it doesn't cost you anything extra and it helps support the site.
Thanks For Reading! — James
Questions? Learn more about our Strict Advertising Policy and How To Support Us.