Seville (Sevilla in Spanish) is Spain's fourth-largest city and it's no surprise why it's one of the most-loved cities in Southern Europe. There is much to explore in Seville so we teamed up with some local Sevillanos to share their favorite must-see things in this beautiful and charming Spanish city.
In this Seville Travel Guide, we'll cover what to do, what to see, local foods to try, where to eat, and just about everything else you need to know about exploring Seville for a few relaxing, sun-filled days — including plenty of insider tips.
[We've also written travel guides for Amsterdam, Barcelona, Berlin, London, Paris, Rome, and multiple other cities in Europe.]
Our Seville Travel Guide Outline
Seville Travel Costs & Budgeting
How Long to Visit Seville
When to Visit Seville
Best Hostels in Seville
The Good and Bad About Seville
Arriving Into Seville & Public Transportation
Seville Neighborhood Guide
The Top Sights and Attractions in Seville
Must-Try Foods and Drinks in Seville
Best Tapas Bars and Restaurants in Seville
Best Seville Day Trips (and Beyond)
More Seville Travel Tips
How Much To Budget For Seville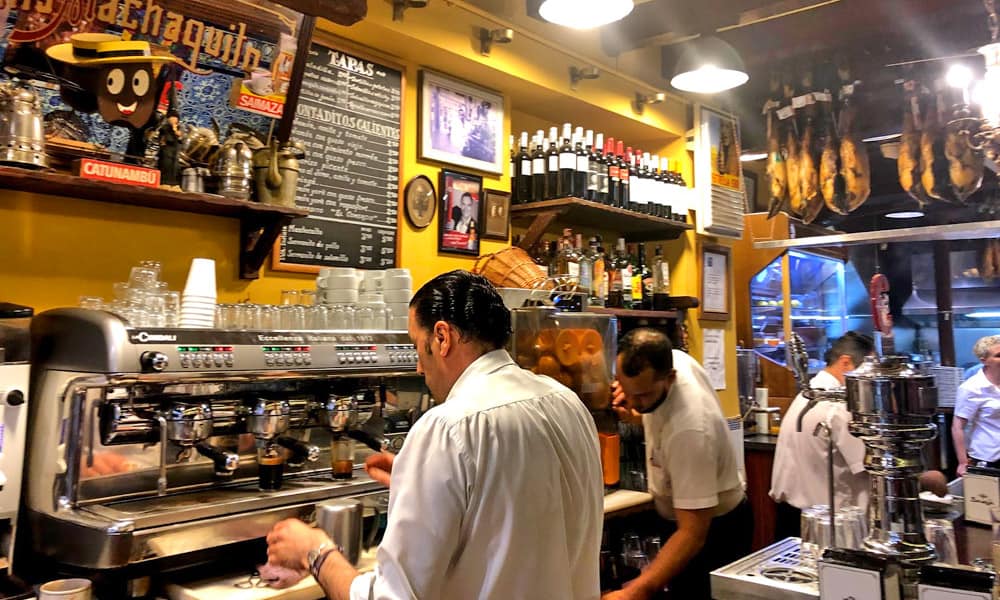 The amount you'll spend in Seville depends on your travel style. Travelers on a backpacker's budget will probably spend around €40-€65/day. You might spend a little more or a little less, but we suggest planning to spend around €50/day — which includes, your hostel (check Hostelworld), food, and some sightseeing.
Budget travelers wanting to stay in a comfortable yet basic hotel (check Booking.com) or Airbnb in the old town should budget around €90-€120/night — which includes accommodation, affordable meals, and a few sights.
However, these price estimates don't include fancy meals, tours, shopping, flamenco shows, taxis, etc. so you might want to add a little extra to your budget for those optional extras.
NOTE: We've included lots of money-saving tips throughout this guide so hopefully we'll be able to help keep your travel costs low.
How Long To Visit Seville: 2-4+ Days
Most people visit Seville as part of a larger tour around Spain. At the bare minimum, you should give yourself at least two full days/nights to see the highlights but that will be a pretty quick visit. That said, we think you'll enjoy your visit much more if you spend around four leisurely days exploring the city.
There are also a handful of nice day trips from Seville so you might want to add a few nights to your stay if those interest you.
When To Visit Seville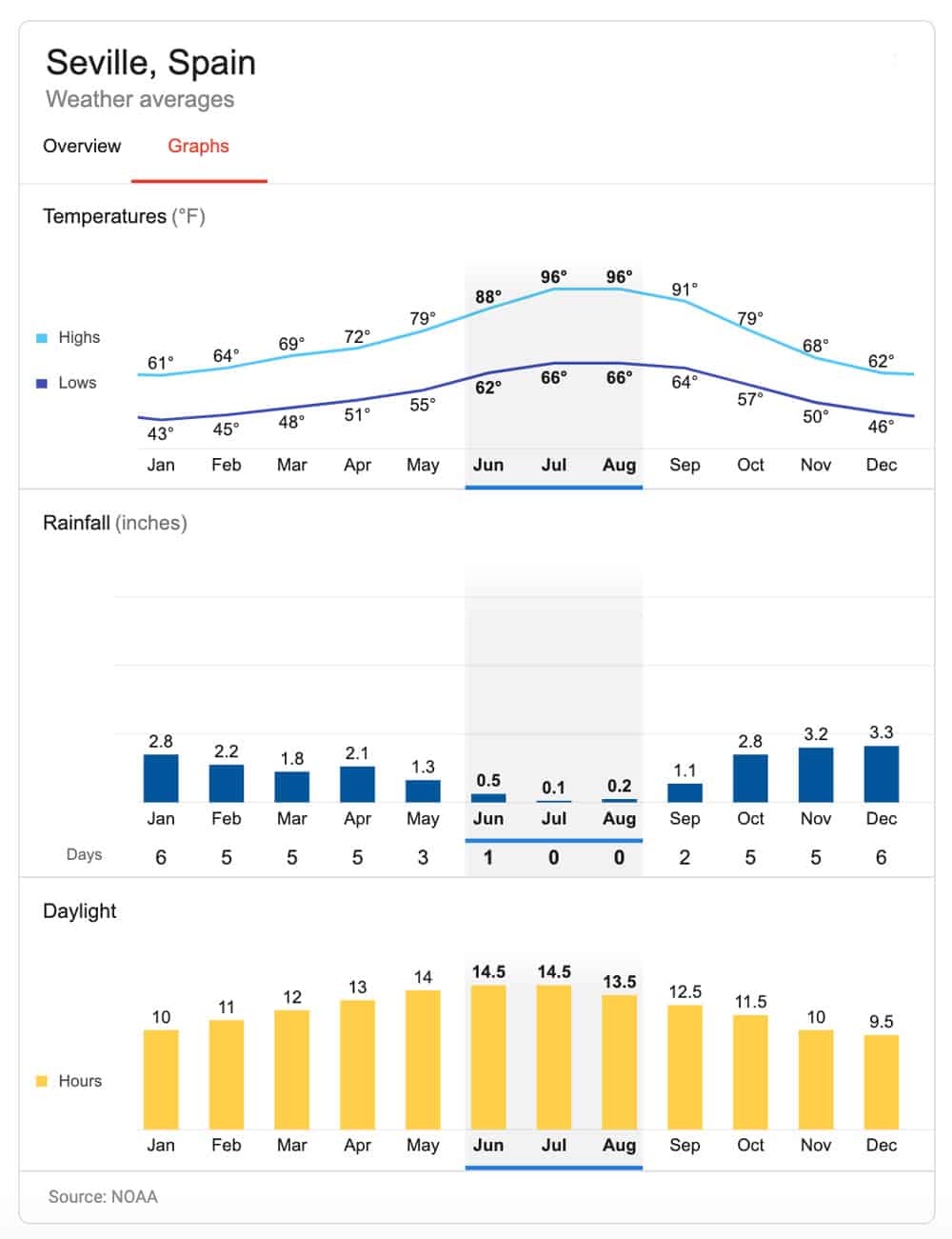 The time of year in which you visit Seville will have a major impact on your trip so here are a few things to consider when planning.
Summer In Seville
Seville has some of the hottest summers in Europe — we're talking average highs in the 90s from about mid-June to well into September. Many local businesses still shut down in the early afternoon and don't open back up for a few hours. So, if you visit in the summer, make sure your accommodation has A/C or you could be in for a hot night.
However, Seville doesn't get a ton of visitors during the dead of summer so you can find some deals on accommodation.
Spring and Fall in Seville
We recommend visiting in the spring or fall for the best weather and temperatures. If we had to pick, we'd visit in May as the flowers will be in full bloom, it won't be too hot, and the rain will be at a minimum. That said, spring is Seville's busy season so prices will be at a premium.
Seville also has two popular festivals in the spring which bring in a lot of visitors so avoid these times if you're on a budget:
Semana Santa (March 24th to April 2nd)
Feria (April 14th – 23rd)
October to December can be a bit rainy so come prepared.
Winter in Seville
While they aren't warm, winters in Seville can still be comfortable but prices do jump up around Christmas.
Best Hostels in Seville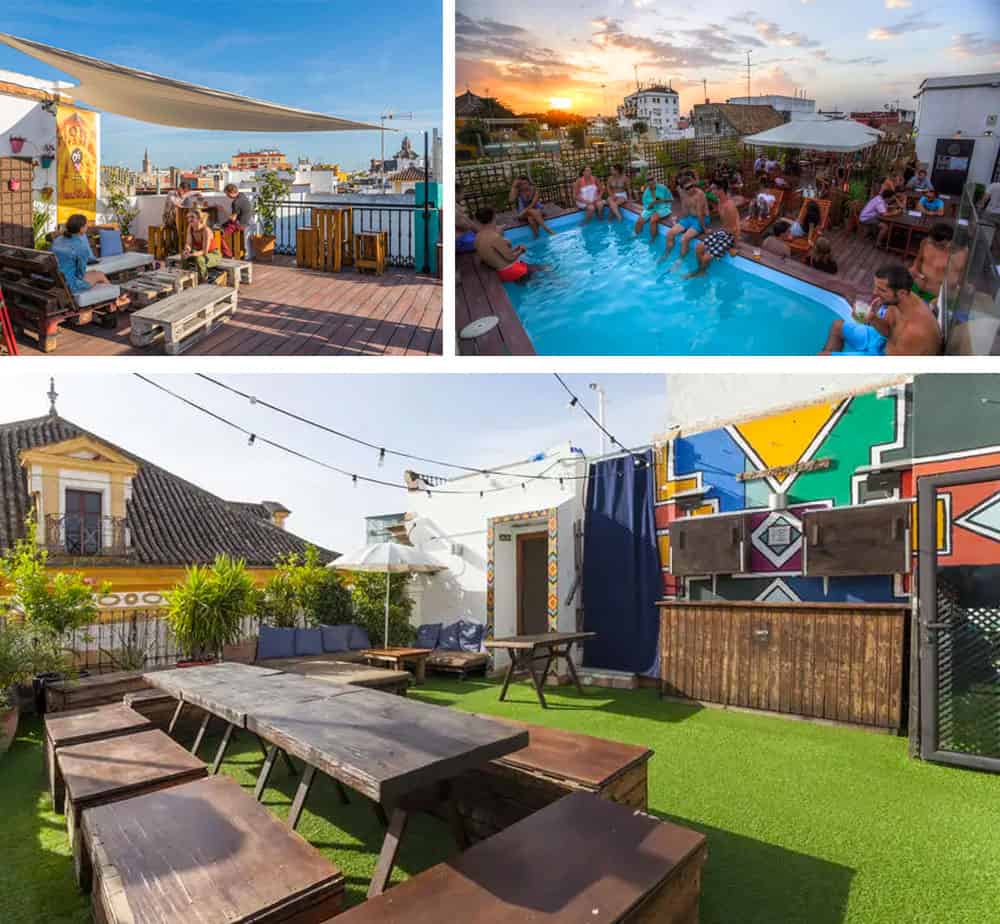 Seville has a surprisingly large amount of very well-rated hostels — many of which have rooftop pools to help you escape the summer heat. In the summer, hostel beds range from €18-€26/night (prices via Hostelworld).
Here's a list of the best-rated hostels in Seville:
Seville: The Good and The Not-So-Good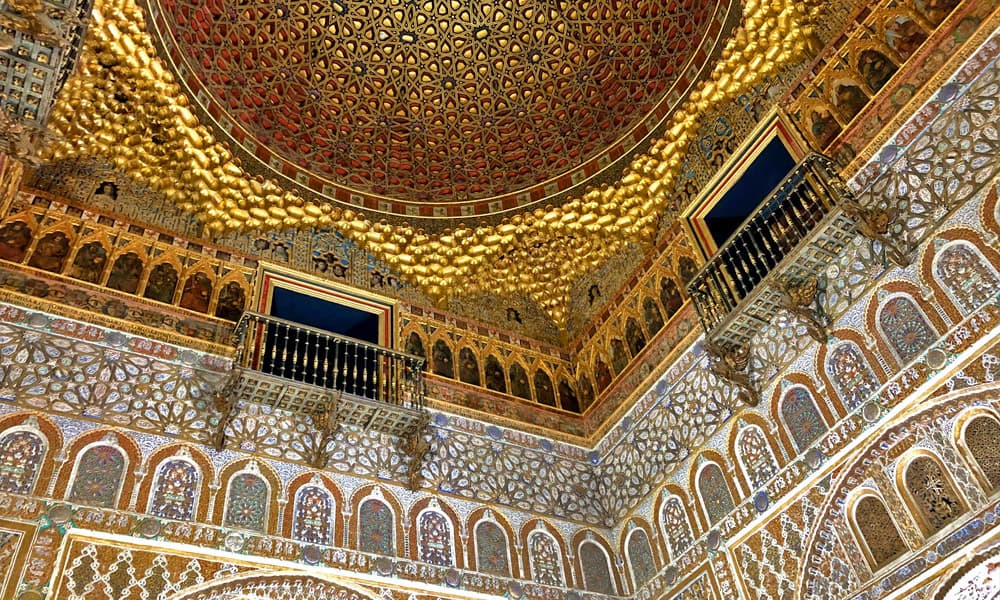 Every city has amazing things and a few things you might not love so we'll cover a few of those things in this section.
The Good
Tapas: Seville is known for having some of the best tapas bars in Spain. Don't worry, this guide has a ton of recommendations from locals.
Walkable City: Seville is compact and super walkable so you don't have to worry about public transportation.
Online Reservations: Almost all the major attractions and museums now offer online reservations so this helps cut down on having to wait in long lines.
Ice Cold Beer: The locals love their beer frosty cold so we think you'll love stopping into any bar to enjoy a cold one.
Nightlife: Most people in Spain don't go out to eat until 8-9pm so the sidewalk cafes are bustling well past 11 pm ± which means the bars are busy well past midnight. And there is a large student population in Seville so there are plenty of nightlife and clubs that cater to this crowd as well.
Romantic Atmosphere: It's hard to deny that Seville is a romantic city — especially at night when the city is illuminated and people are out in the streets enjoying life.
The Not-So-Good
The Summer Heat: Seville is the hottest city in Europe so the summers can be pretty brutal. Also, some hotels and rental apartments might not have A/C so be sure to check.
Street Noise: Seville's streets and squares fill up with people (especially on the weekends) so there tends to be a lot of street noise. Therefore, your accommodation might be a little noisy depending on where you are.
Pickpockets: Seville has a fairly high concentration of pickpockets so be aware of your stuff.
Expensive "Lesser" Sights: Some of the less popular (and less impressive) attractions like the Hospital de la Caridad, Bull Fighting, etc. are expensive and a little underwhelming.
Don't Drive Here: You absolutely don't want to have a car if you're staying anywhere in the old town. There is no parking, the streets are tiny and confusing, and there are people everywhere.
Elevated Prices: Prices in Seville are higher than what you'll find in other similar-sized cities in Spain.
Arriving Into Seville & Public Transportation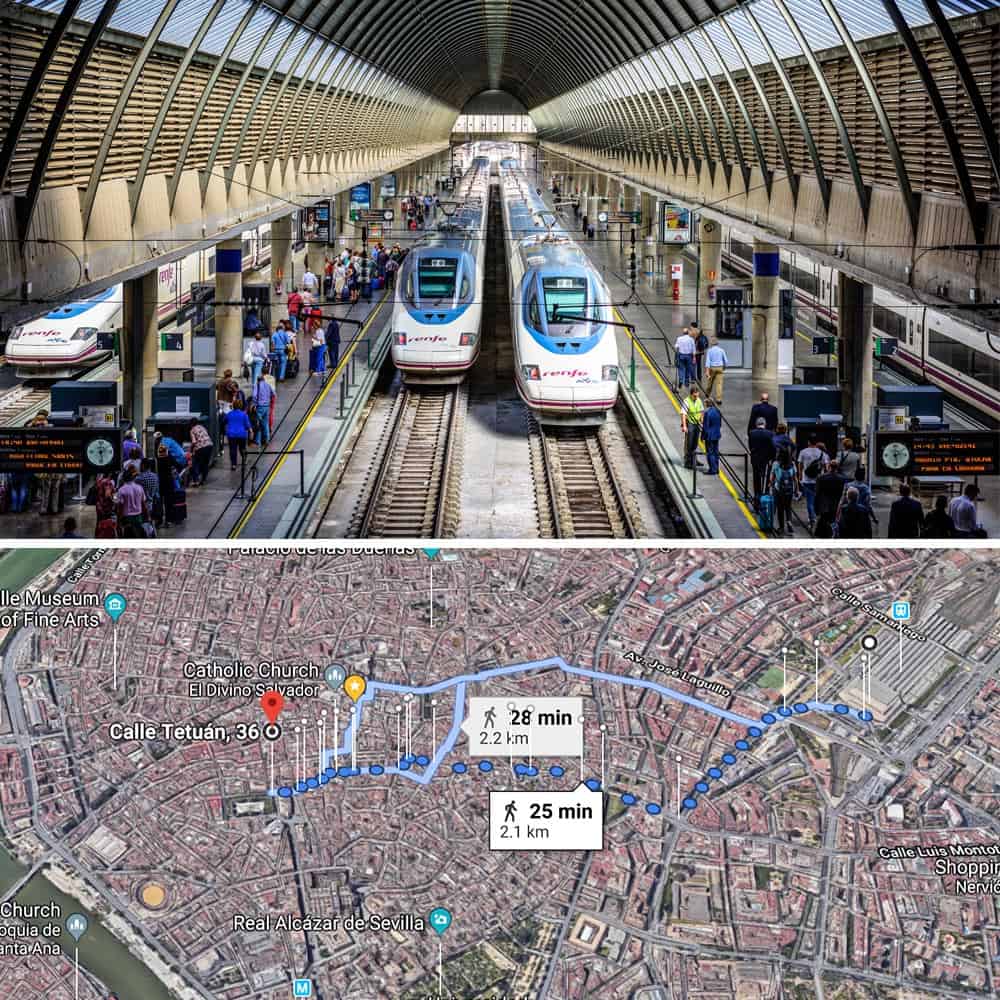 Seville is well-connected to the rest of Spain — notably via rail.
Arriving Into Seville By Train
Most people arrive in Seville via train at Sevilla-Santa Justa Train Station (See on Google Maps).
Walking: It's a leisurely 30-minute walk to the center of town if you don't have a lot of luggage.
Taxi: There are always plenty of taxis at the train station and the ride will cost around €15.
City Bus: A city bus (called the "Especial Aeropuerto" Bus) runs between the train station and takes you into the city (Sevilla Plaza de Armas) for €4/ticket. Learn more here.
Arriving Into Seville By Plane
Most flights in Spain arrive in Barcelona or Madrid so more than likely you'll still arrive via the Sevilla-Santa Justa Train Station. However, Seville Airport (SVQ) does have a handful of flights every day.
City Bus: The city bus takes around 35 minutes and arrives a the Plaza de Armas in Seville. Tickets are €4.00.
Taxi: There is a flat fare of €25 for trips into the city center.
Getting Around Seville
You absolutely don't want a car in Seville — the streets are seriously tiny and there is essentially no parking. The best way to get around is on foot (Seville's old town center is compact so you'll rarely walk more than 20-minutes to get somewhere). There is also a city-wide bike-sharing service called Sevici if you want to explore on two wheels (but you'll still have to dodge taxis and people).
There is also a city bus and tram that you probably won't use if you're staying in the city but here's a decent overview of Seville's tram and bus.
Seville Neighborhood Guide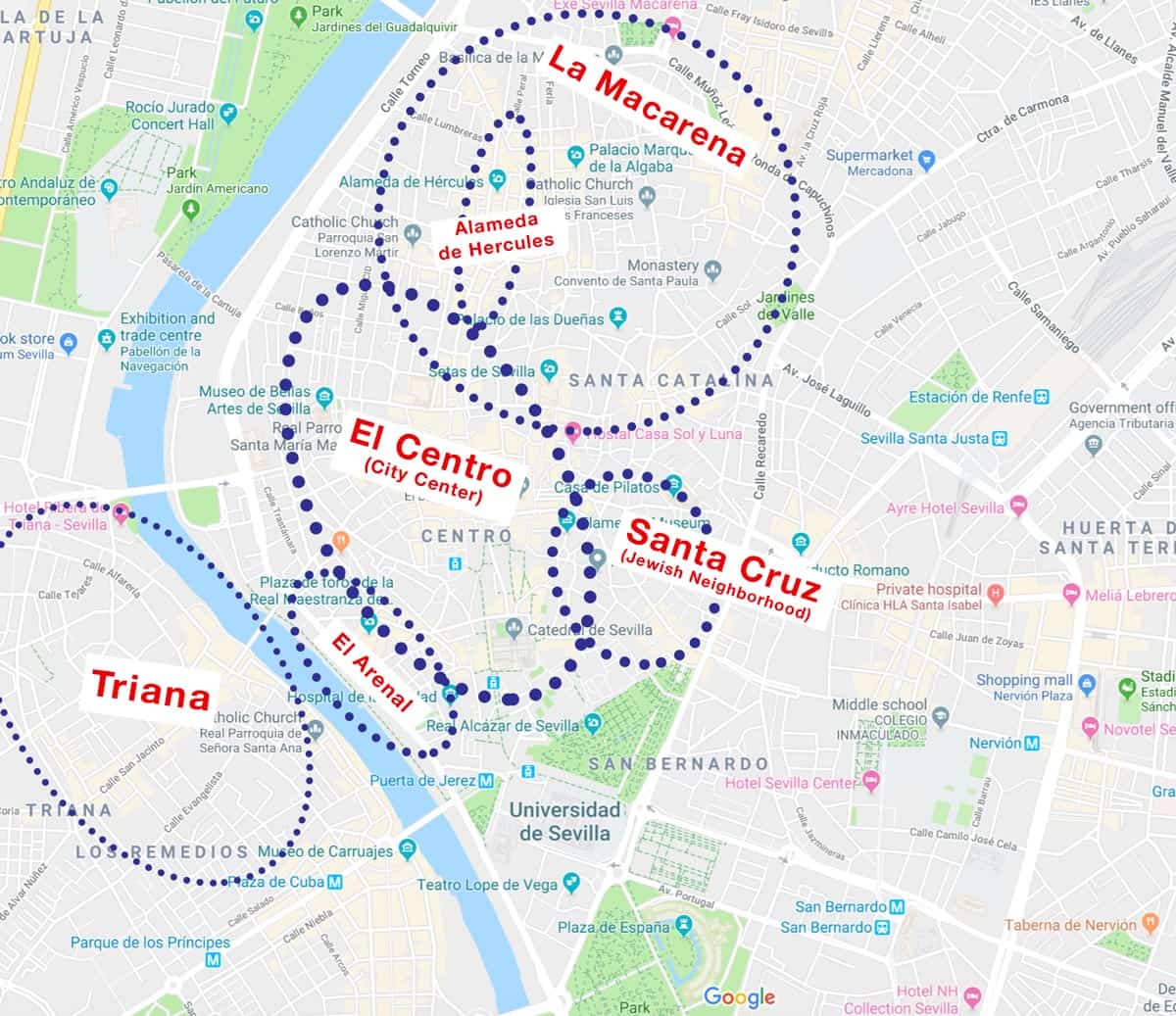 Seville is a compact city so it's not hard to explore most of it on foot in a couple of days. Furthermore, most everything in the city is within a 20-minute walk from the center.
In this section, we'll cover a few of the best neighborhoods/parts of the city that you'll want to check out.
El Centro (City Center) and El Arenal Neighborhoods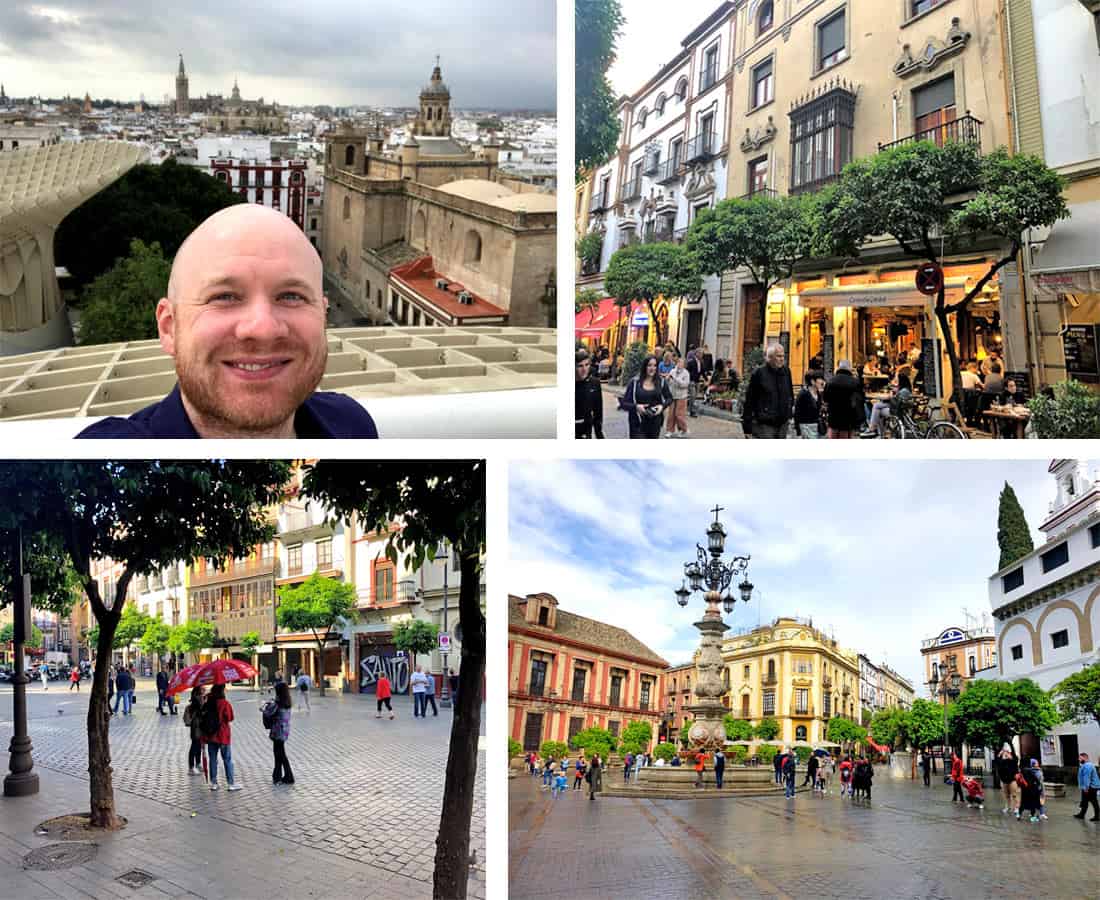 El Centro is the historic center of Seville and it's where you'll find most of the action and a majority of the city's main sights — notably the Seville Cathedral, Alcazar Royal Palace, and Metropol Parasol. This is a lively area that's packed with restaurants, tapas bars, pedestrian streets, and tons of shopping so you're in the heart of everything.
The vibe of El Arenal neighborhood is very similar to El Centro so you're still in the heart of everything.
The buildings here are tightly packed together and nights can be lively so expect quite a bit of street noise — especially if you're near a plaza.
Barrio Santa Cruz (Historic Jewish Neighborhood)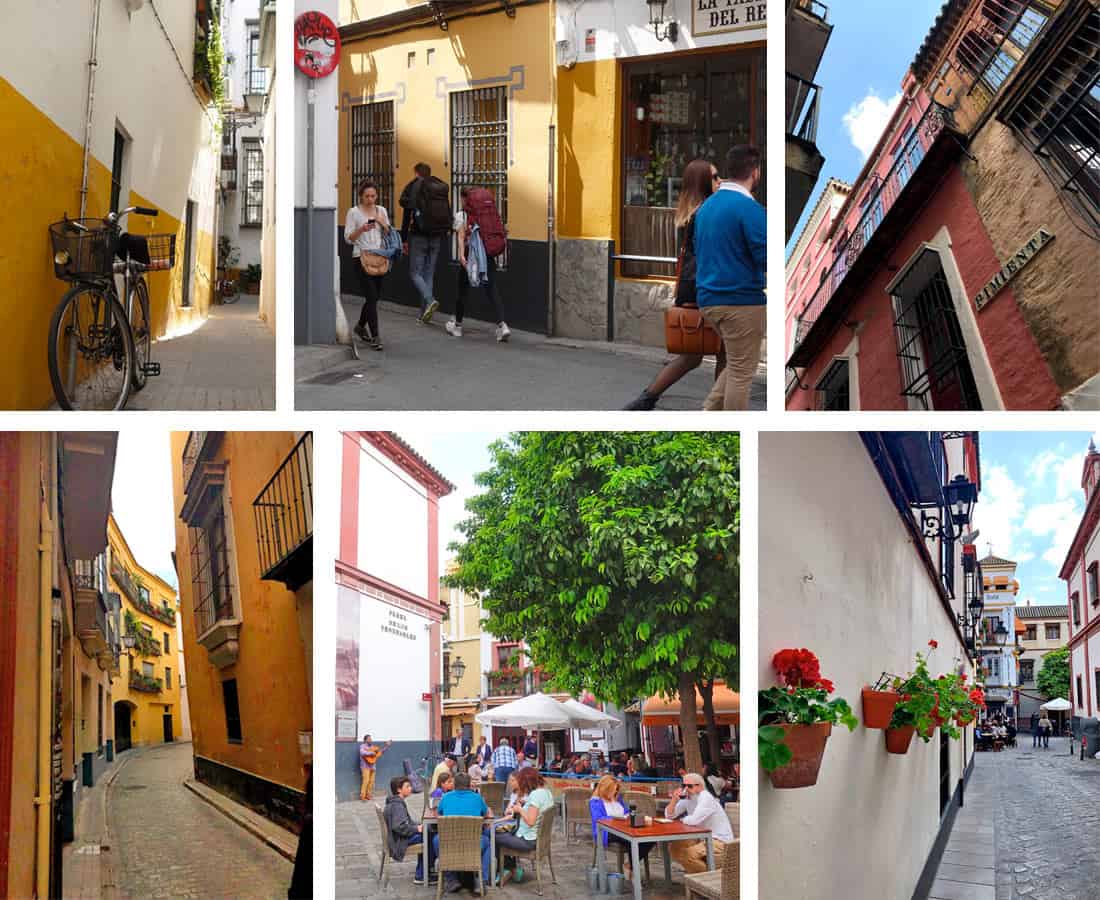 The Santa Cruz neighborhood is another beautiful neighborhood that buzzes with life. This must-visit part of Seville is famous for its maze of narrow cobblestone streets and colorful old buildings. You'll find plenty of neighborhood tapas bars, sidewalk cafes, and restaurants. You're also near most of the city's major sights.
Much like the city center, buildings in this neighborhood are tightly packed together so you might experience some street noise from people enjoying the neighborhood's nightlife. On the other hand, some streets are purely residential and near-silent.
We highly suggest spending a couple of hours wandering through this neighborhood with no real agenda. Stop into a bar that looks inviting if you want a rest/drink.
Macarena & Alameda de Hercules Neighborhood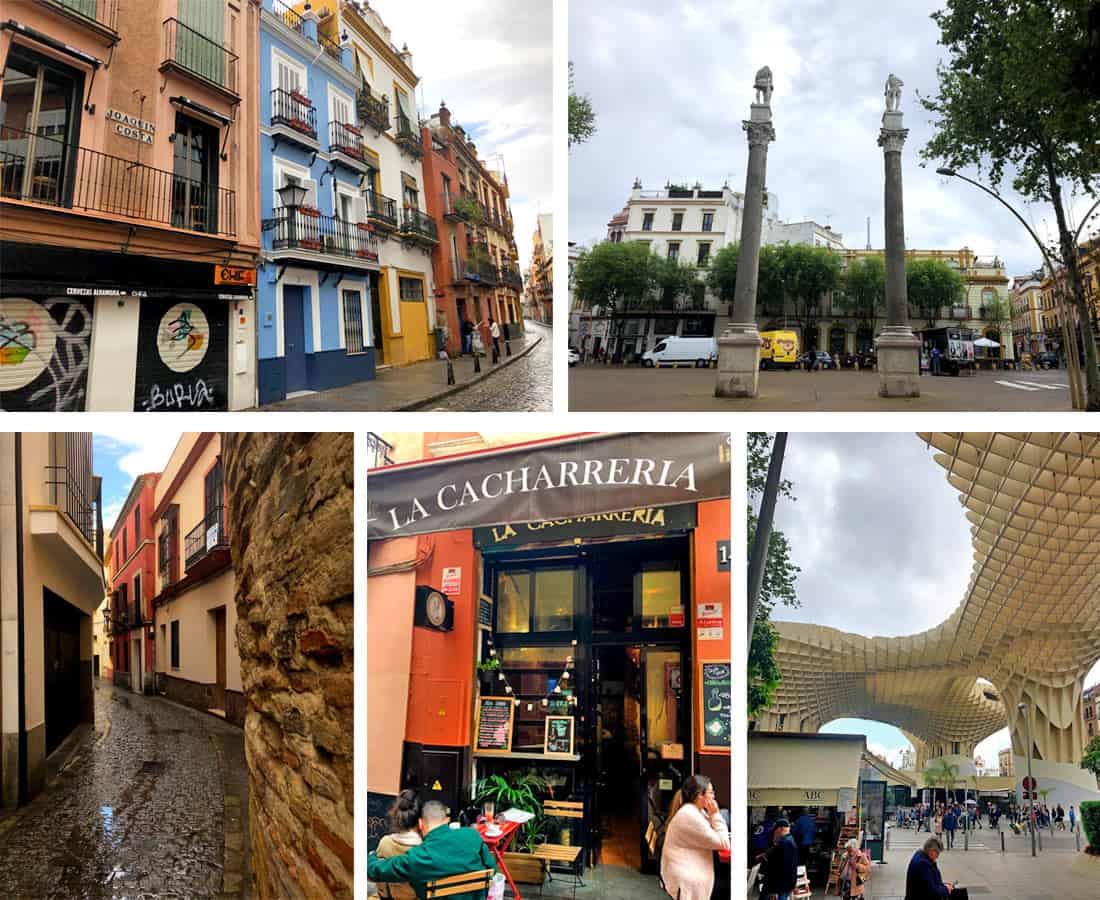 Until the early 2000s, the Macarena was a poor neighborhood troubled by prostitution and drugs but this area has gone through a transformation. The less-touristy Macarena neighborhood is now the hip and trendy part of Seville and it is filled with cool bars, clubs, and restaurants. Since this area is popular with younger people, you can find some solid budget food spots and cheap hotels/hostels. This is also an LGBT-friendly neighborhood so you'll find many gay bars and dance clubs.
The most popular part of the neighborhood is the Alameda de Hercules — which is surrounded by hip tapas bars, cocktail bars, and restaurants. The area really fills up after work and on the weekends with locals meeting up with friends for a drink and a bite to eat.
This is a great people-watching area so find a sidewalk cafe and watch the world go by.
Certain parts of the neighborhood can be quite loud at night because of the bars and clubs that are jumping well into the early morning.
Triana Neighborhood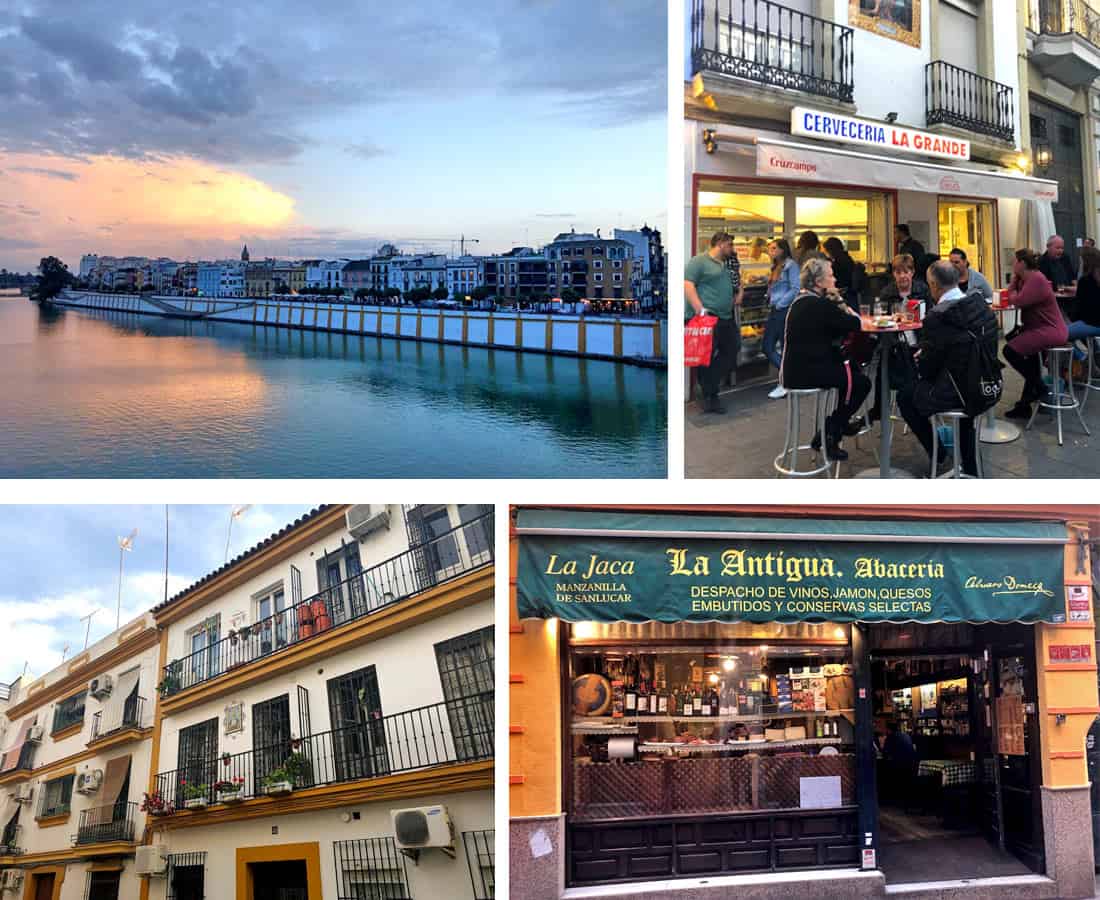 Triana is a historically working-class neighborhood located across the river from Seville's historic city center that was once home to sailors, gypsies, artists, bullfighters, and the city's poorer residents. In fact, Triana was separate from Seville for most of its history so the neighborhood has a much more authentic and less touristy feel than what you'll find on the other side of the river.
Triana is filled with traditional family-run tapas bars and restaurants — some of the best in Seville. It is also a cheaper part of town so you can find some good deals on both food and accommodation.
The Top Sights & Attractions in Seville
Seville has plenty of attractions to easily fill up a few days. Here are a few things you'll for sure what to check out.
Alcázar Royal Palace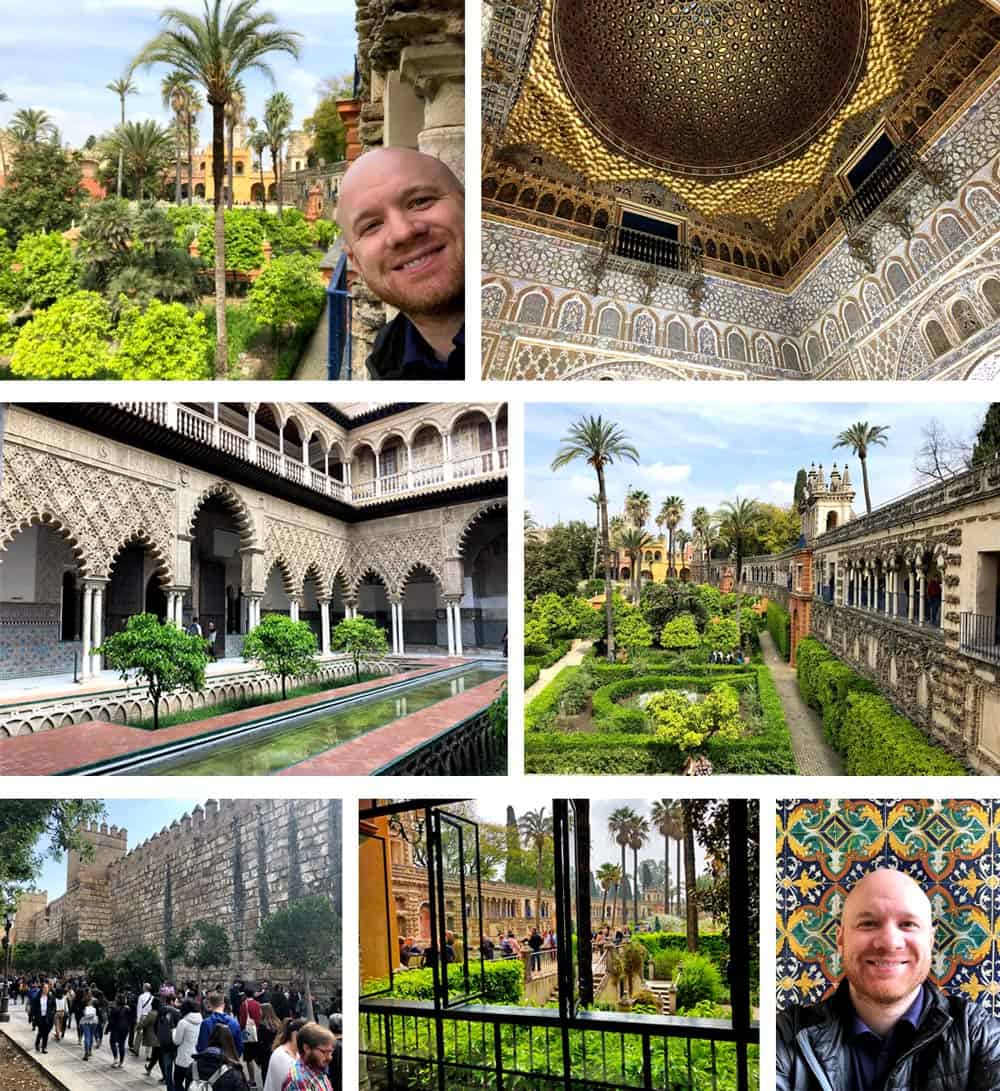 In our humble opinion, the Alcázar Royal Palace is the one must-visit attraction in Seville. The Alcázar has served many functions in its 11 centuries of existence — from a Muslim fortress in the year 913 to its current use as a functioning royal palace. And, as of recent, it has served as the setting of Dorne from Game of Thrones.
The Alcázar is full of beautiful tile work and impressive gardens. You can also visit at night when the palace is beautifully lit.
The Alcázar Royal Palace is one of the most popular sights in Seville and they only allow 750 visitors at a time so lines can get crazy. Therefore, it is STRONGLY recommended to book your tickets online or you might spend a few hours in line (the photo above shows a small portion of the line on a Saturday morning). Plus, the tickets are digital so you just have to show them your phone — super easy.
Admission: €14.50
Normal Hours:

October to March: Monday to Sunday — 09:30 to 17:00
April to September: Monday to Sunday — 09:30 to 19:00

Nocturnal Hours:

During the months of October and March, tours begin at 19:30, 20:00, 20:30, 21:00.
From 1st April to 30th September, tours begin at 21:00, 21:30, 22:00, 22:30.
TIP: If the tickets are all sold out, you can still visit by paying extra for a guided tour through a third-party tour company.
Budget Tip: There is free entry on Mondays from 18:00 to 19:00 from April to September, and from 16:00 to 17:00 from October to March (you can still book these times online for €1 to skip the line/secure your spot).
Seville Cathedral and La Giralda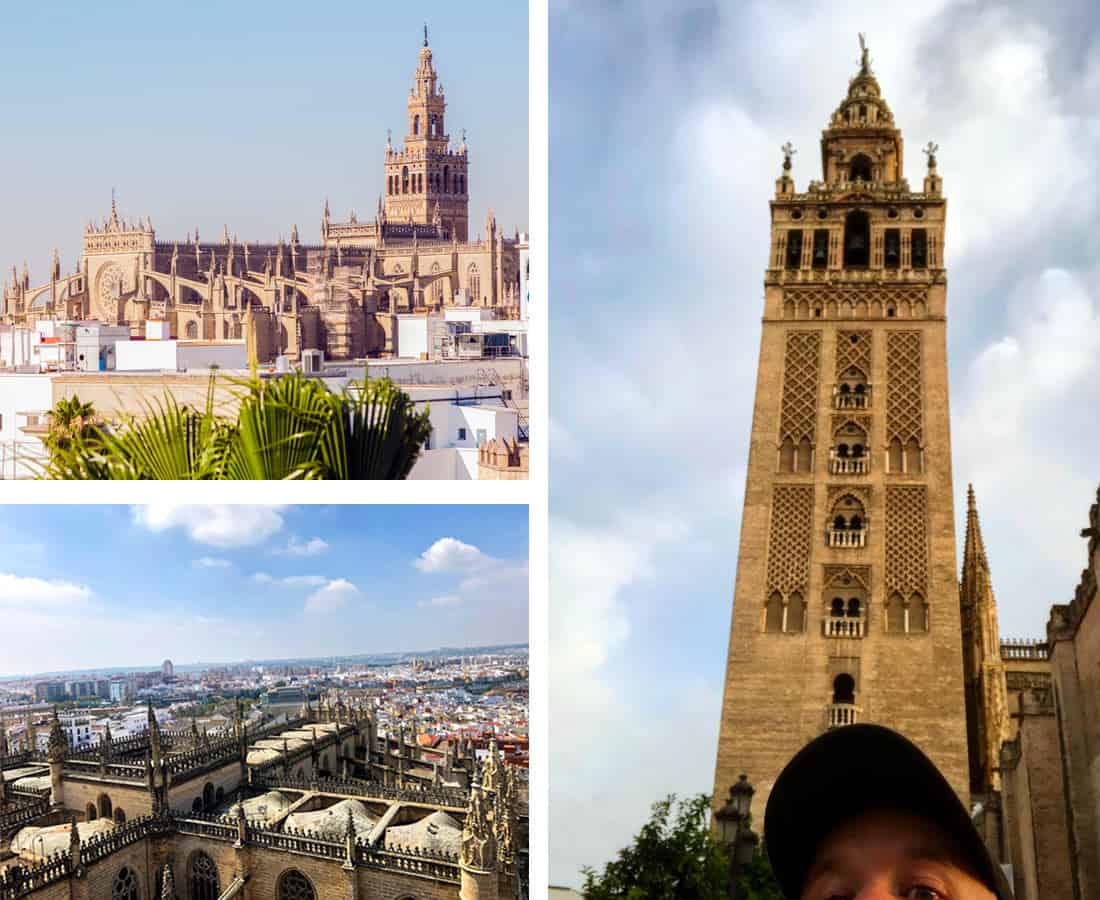 The 16th century Seville Cathedral is the third-largest church in the world so it should be at the top of your list of places to see while in Seville. It's also the final resting place of Christopher Columbus.
Attached to the Cathedral is La Giralda — a towering former minaret that was turned into the belltower of the cathedral. Yes, you can climb to the top for excellent city views (entrance to La Giralda is included in the entry fee to the Seville Cathedral).
There is also a separate tour where you can walk along the cathedral's rooftop and get an up-close look at the huge stained glass window. This tour is highly recommended and 100% worth the extra cost. There are only six rooftop tours a day (only two in English) and they sell out very quickly so book online to reserve your spot or show up at the ticket window early.
Admission: €9 (Cathedral and La Giralda Belltower) or €15 (Cathedral, La Giralda Belltower & Guided Rooftop Tour).
Hours: Monday from 11:00 to 15:30 pm, Tuesday to Saturday from 11:00 to 17:00, and Sunday from 14:30 to 18:00. However, times often change because of religious services so check the website.
Budget Tip: Free entrance on Monday from 4:30-6 pm (book online to ensure a spot).
Plaza de España & Maria Luisa Park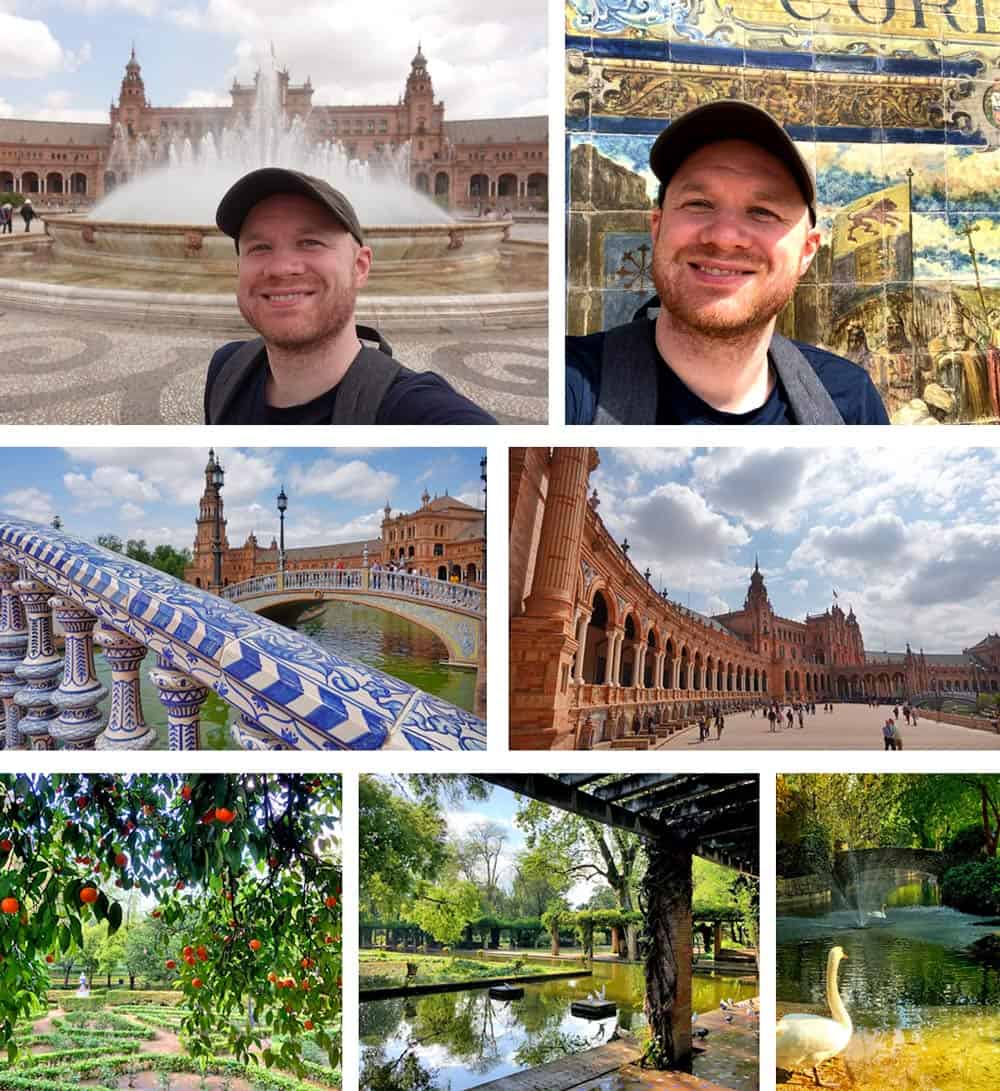 The Plaza de España is a beautiful square inside the Maria Luisa Park built for the Ibero-American Exposition of 1929. The Plaza is filled with brightly colored tiles, a water fountain, and a moat where you can rent a rowboat.
The Plaza is situated inside the impressive and lush Maria Luisa Park. The park is a great place to stroll and enjoy some relief from the Sevilla sun.
Metropol Parasol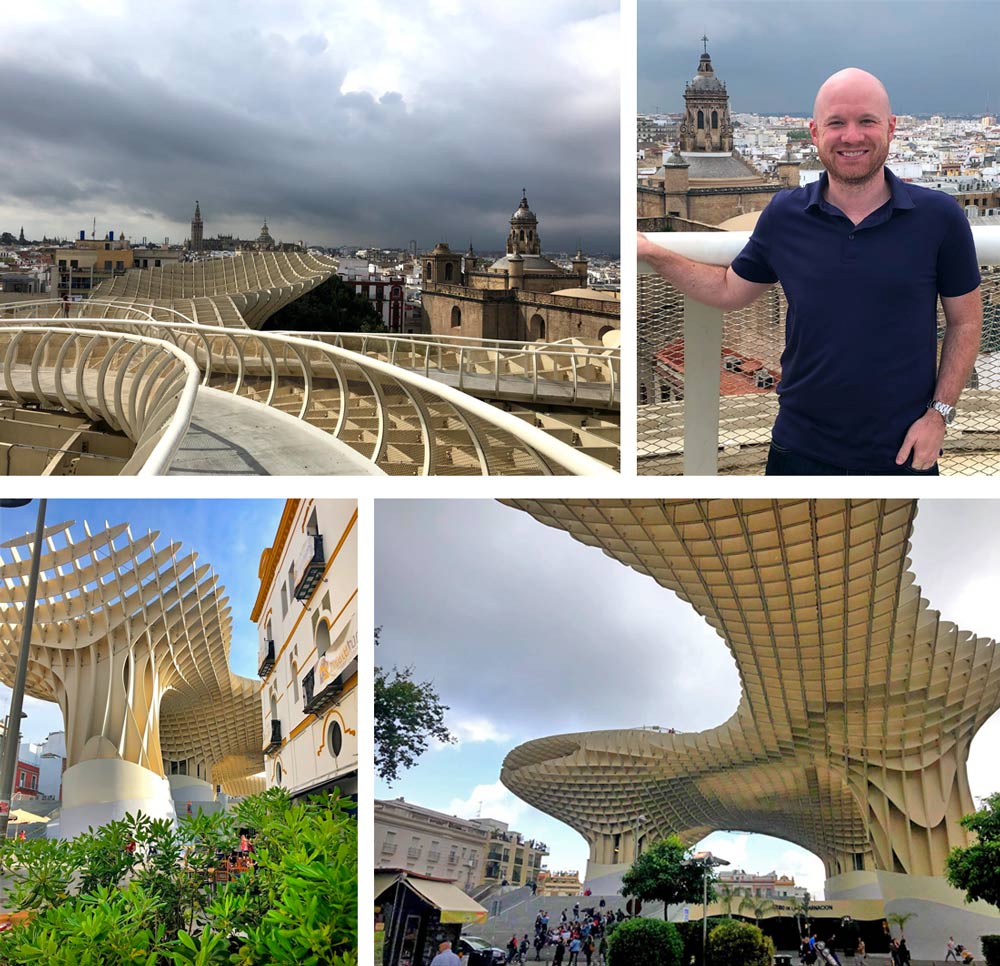 Completed in 2011, the Metropol Parasol is an impressive wooden, waffle-like structure built above the La Encarnación square in the center of Seville. This "mushroom" as the locals call it, offers shade for the square below and great views from above. It's an excellent place to view the sunset or simply get 360-degree views of Seville.
There is a small farmers market underneath and some nice restaurants/cafes/coffee shops around the square. There is also a cafe at the top but it's fairly expensive.
Admission: €5 (day)-€10(night)
Hours: 10 am to 10:30 pm/11 pm
Riverbank of the Guadalquivir River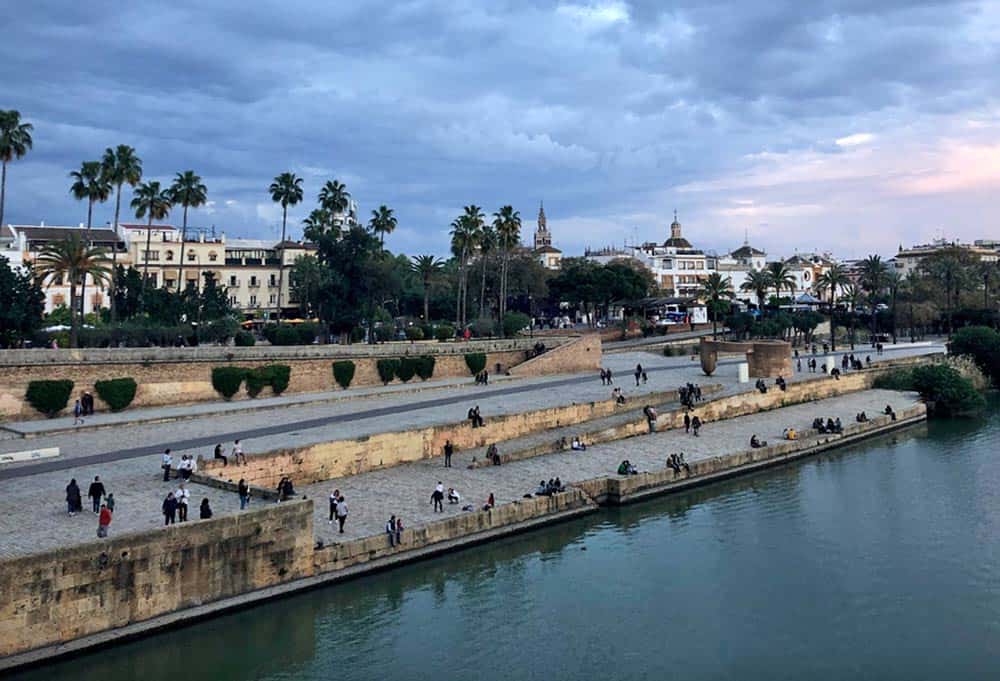 Head to the banks of the Guadalquivir River for a relaxing stroll along the water and admire the city views from the Triana Bridge. It's a nice place to enjoy a picnic and people-watching — you can even rent a canoe or kayak if you're feeling like an adventure. I saw a couple of outdoor bars on the Seville side of the river. Head over to the Triana side of the river and you'll find the entire river lined with outdoor cafes (which aren't cheap but the views are nice).
Other Museums/Sights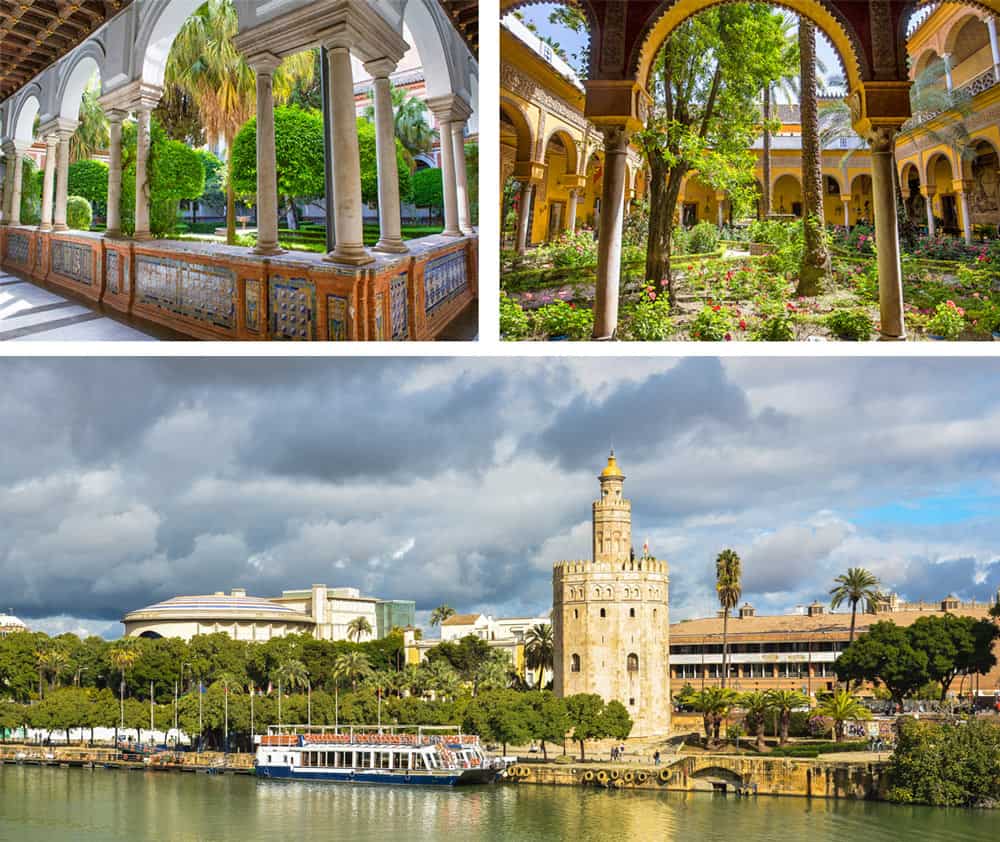 Seville has some nice museums but it doesn't have any that rival the museums in Madrid or Barcelona. Feel free to visit any that pique your interest but we suggest the other attractions on this list if you're short on time.
Museo de Bellas Artes: Fans of Spanish art shouldn't miss the Museo de Bellas Artes (Fine Arts Museum). Even if you're not crazy about Spanish art, tickets are only cost €1.50 so it's not a bad way to escape the summer heat.
Palacio de las Dueñas: Opened to the public in 2016, this privately owned 15th-century Renaissance mansion houses more than 1000 pieces of art and a famous garden. some visitors don't think it is worth the fairly steep entry fee.
The Torre del Oro: You can't miss the iconic Torre del Oro as you walk along the Guadalquivir river. You can climb to the top of the tower and you'll find a small Naval museum inside. This is another place that receives mixed reviews since there are other places to get better views of the city and the museum is fairly small.

Admission: €3 (free Monday)

Tobacco Factory: This giant 18th-century building was formally the world largest tobacco factory and it produced 75% of the cigarettes consumed in Europe. These days it's used by the University of Seville. It is free and open to the public if you want to pop in and take a look around.
More Fun Seville Experiences
There is more to do in Seville than museums, palaces, and churches! Here are a few more excellent things you might want to do when you visit Seville.
Free Walking Tour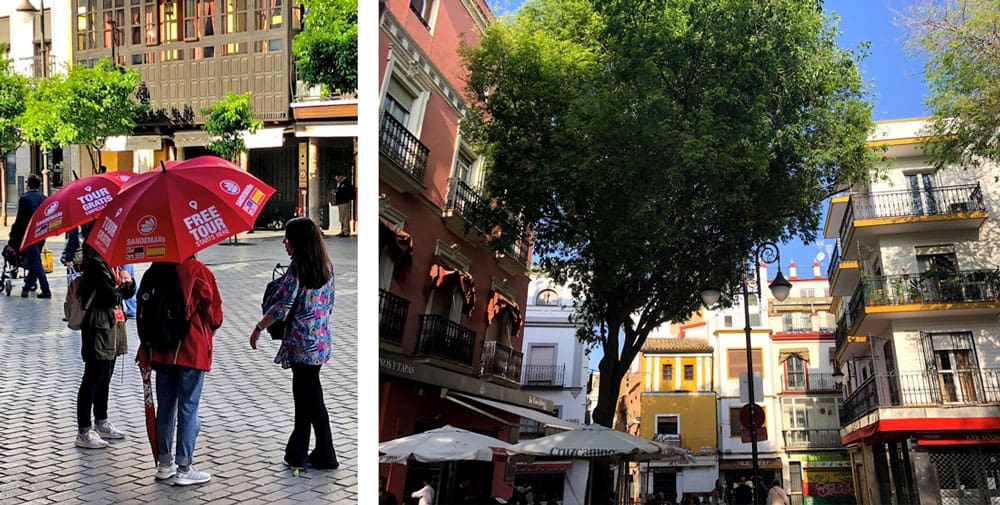 We always take a free walking tour every time we visit a city since it is a cheap and fun way to get familiar with the city. On this visit, we took a tour with SANDEMANs but there are also Pancho Tours, Discover Sevilla Tours, White Umbrella Tours, and there are probably others as well.
Free walking tours tend to last about two or three hours and do a nice job of giving you a brief overview of Seville and its history.
Most of these tour companies also have paid tours which are a little more specialized and
Flamenco Shows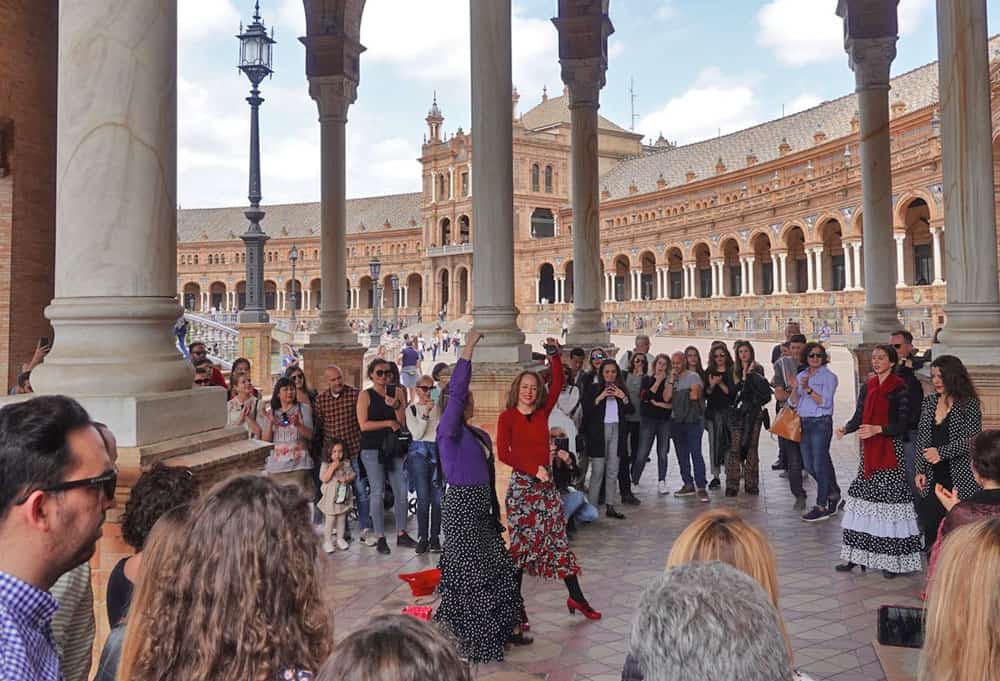 Seville is famous for being the home of Flamenco dancing and there are a handful of ways to see experience this art form — from expensive shows in large venues to intimate shows in small bars. I caught a quick performance at the Plaza de España.
Admittedly, we here at The Savvy Backpacker are not Flamenco experts but our friends over at Devour Tours recommend Casa de la Memoria and Casa del Flamenco for some of the best shows in Seville. Devour wrote up an excellent article about the best Flamenco in Seville that we highly suggest checking out (they also offer Tapas and Flamenco tours).
Tapas Bar Crawl and Food Tours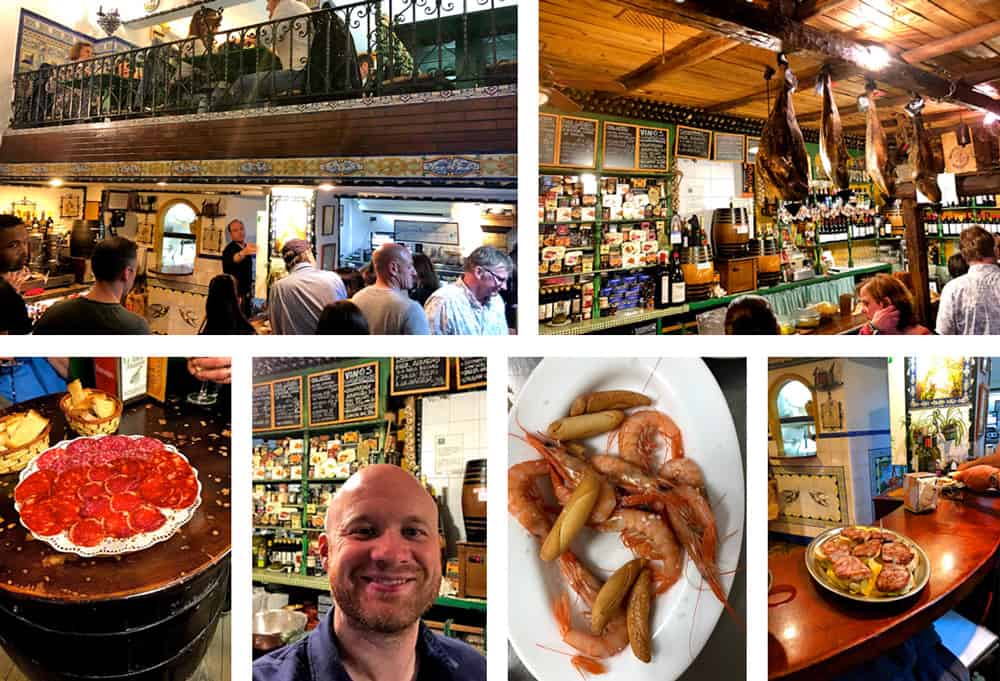 Seville is known for its tapas bars so join the locals by bouncing from tapas bar to tapas bar. We've covered a few of our favorite and tapas bars further down in this article if you want some specific recommendations.
That said, I took a Tapas Like a Local: Triana Neighborhood Tapas Tour with Devour Tours and it was a super fun way to learn more about Seville and try a few different local favorites.
The Must-Try Food & Drinks in Seville
You can't come to Seville without trying a few of the local food and drinks (we have a few of our recommended tapas bars and restaurants later in the guide).
What You Should Be Drinking in Seville
Let's start with drinks!
Beer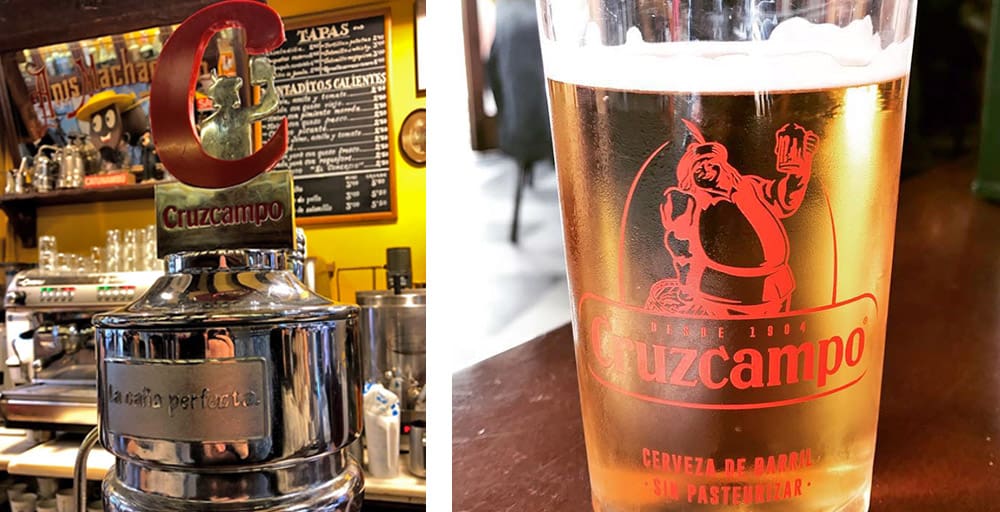 First of all, Seville is much more of a beer city than a wine city — probably because it gets so hot in the summer. Order a caña — which is the small size draft beer. Why a caña? The locals love their beer to be ice cold so they'd rather order two or three super cold small beers than have their bigger beer get warm. Genius.
The king of beers in Seville is Cruzcampo. This simple but refreshing beer has been brewed in Seville since 1904 and the locals love it (it's the biggest-selling beer in Spain) and it is cheap. A caña typically costs about €1-€1.40.
For other beer options, check out Maquila Bar (they brew their own beer on-site) and Bier Kraft (craft beers and cocktails run by two New Yorkers).
Vermuth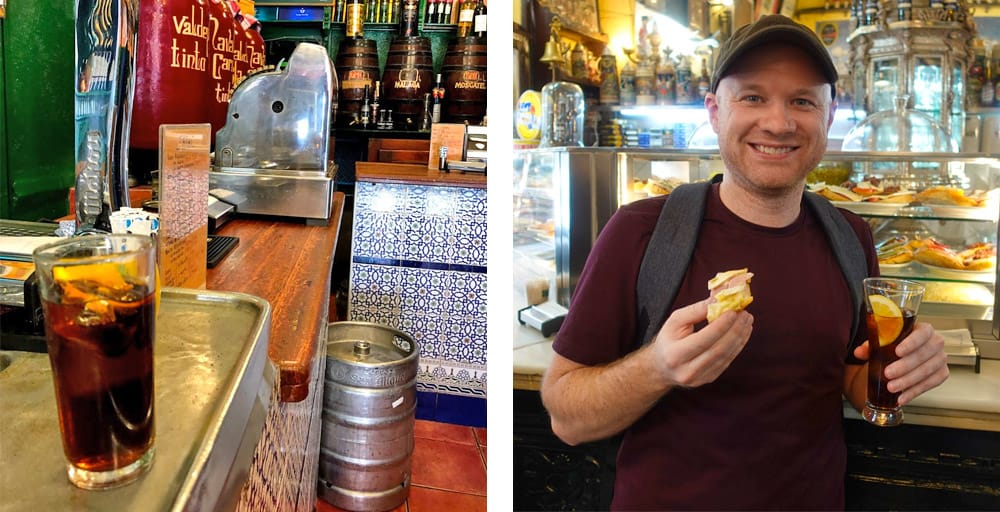 You can't visit Spain without trying some of vermut (vermouth). But the vermouth in Spain is a little different than what we're typically used to. In Spain, vermouth is a sweet white wine that's been infused with caramel and a blend of various botanicals and spices (cloves, cinnamon, cardamom, etc.). It is delicious. And many bars have their own house vermouth that they mix themselves. Some places will serve it with a bit of carbonated water but others don't.
It is typically served as an early afternoon drink or a starter to tapas. You should 100% try it. Expect to pay around €1.40 for a glass.
Want to sample multiple kinds of vermouth? La Vermutera de Sevilla is run by two super friendly and passionate locals who serve over 50 different kinds of vermouth.
Vino de Naranja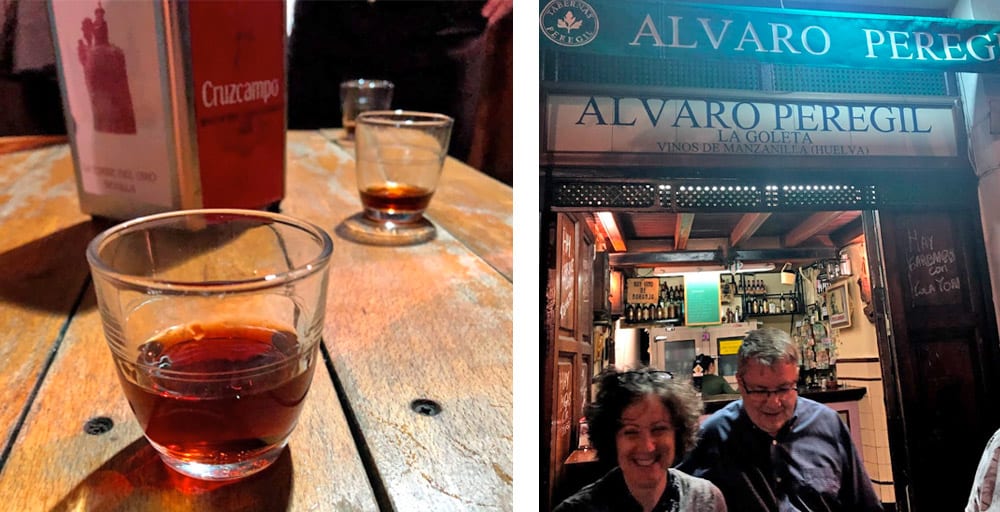 Seville is famous for its oranges (you'll see orange trees all over town) so it is no surprise that Vino de Naranj (Orange Wine) is a famous drink from Seville. This tasty aperitif is made by soaking orange peels in fortified sherry wine for multiple years. Our food tour guide directed us to Taberna Álvaro Peregil (see on Google Maps) as a great place to sample it (it's also one of the smallest bars in Seville).
Tinto de Verano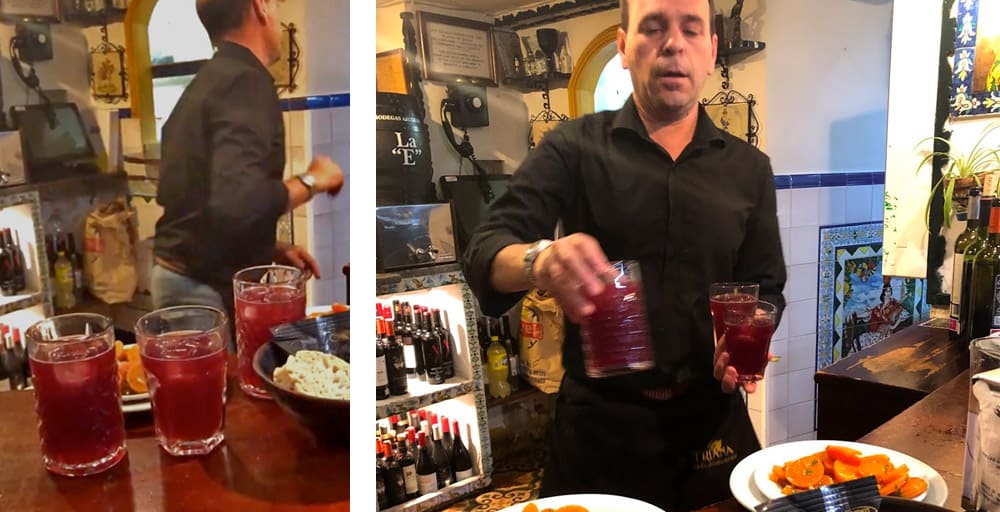 Tinto de Verano, which translates to "red wine of summer", is basically cheap red wine mixed with a local lemon-lime soda (kind of similar to Sprite). It is super tasty and it tastes extra amazing on a hot day.
Manzanilla Sherry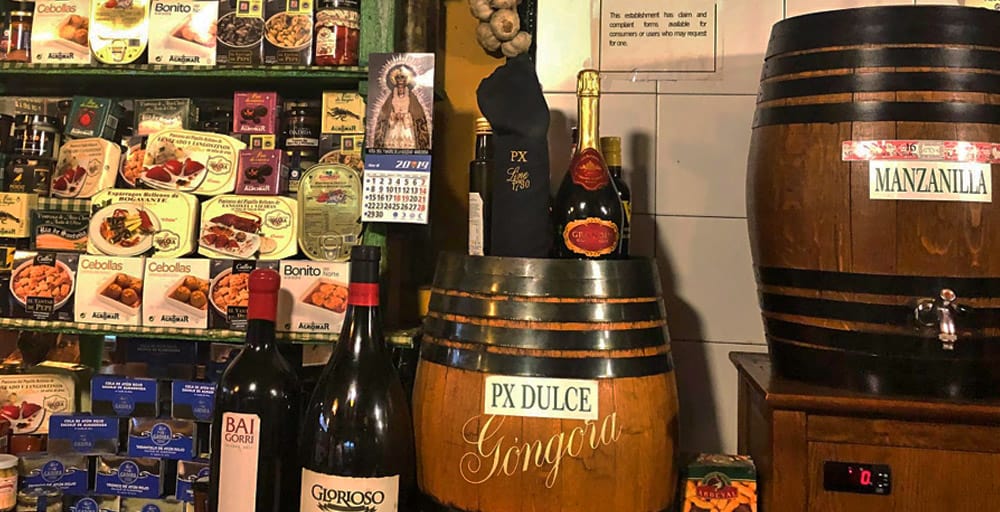 Manzanilla is a famous regional type of sherry wine but it is super dry. I had it with a plate of cured meat on our Devour Tapas Tour and I enjoyed it (I'm more of a beer fan).
Coffee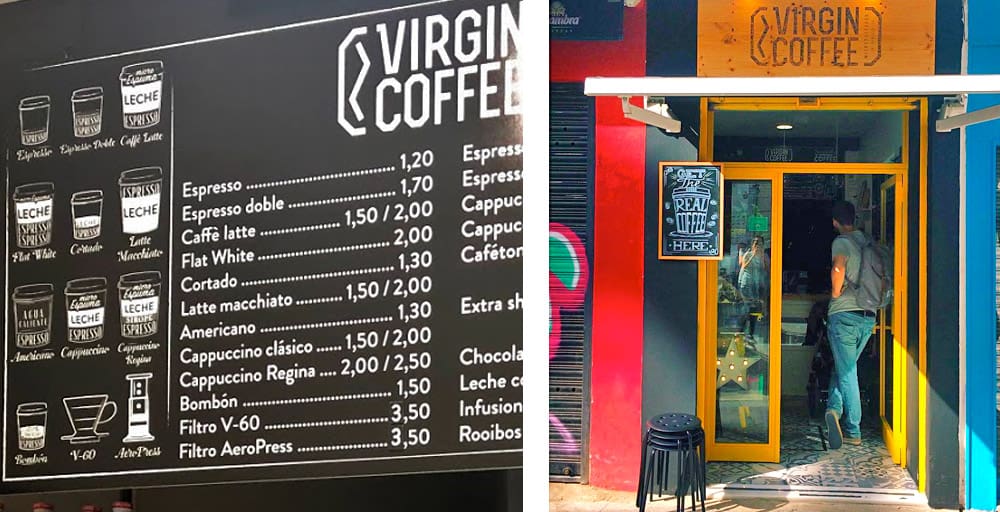 Ok, Spain isn't exactly known for its coffee but you can get a standard coffee in just about any bar. However, if you have to search a little harder to find specialty coffee in Seville.
Virgin Coffee: This tiny takeaway coffee shop not only serves up about every kind of coffee drink you can think of but they also roast their own beans on-site. They also import their beans from all across the world if you're really into your coffee. See On Google Maps.
Torch Coffee Roasters: This coffee shop has an airy, Nordic vibe and they serve up phenomenal coffee. They also have nice breakfast and brunch options. See On Google Maps.
What You Should Be Eating in Seville
There is no way we can cover all the amazing dishes you can find in Seville so we've narrowed it down to our favorite things that we recommend trying.
Jamón Ibérico (Iberian ham)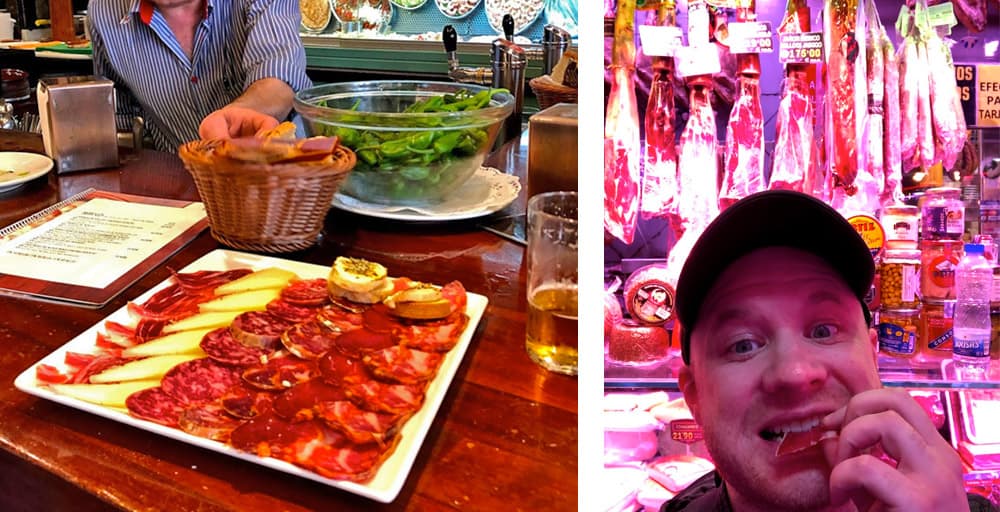 Spain is famous for its cured ham so be sure to order a plate of this paper-thin heaven. The highest grade (i.e. most expensive) is jamón ibérico so make a point to order it at least once. There are lower grades of jamón as well which are also delicious.
Secreto Ibérico (Pork Tenderloin Tapa)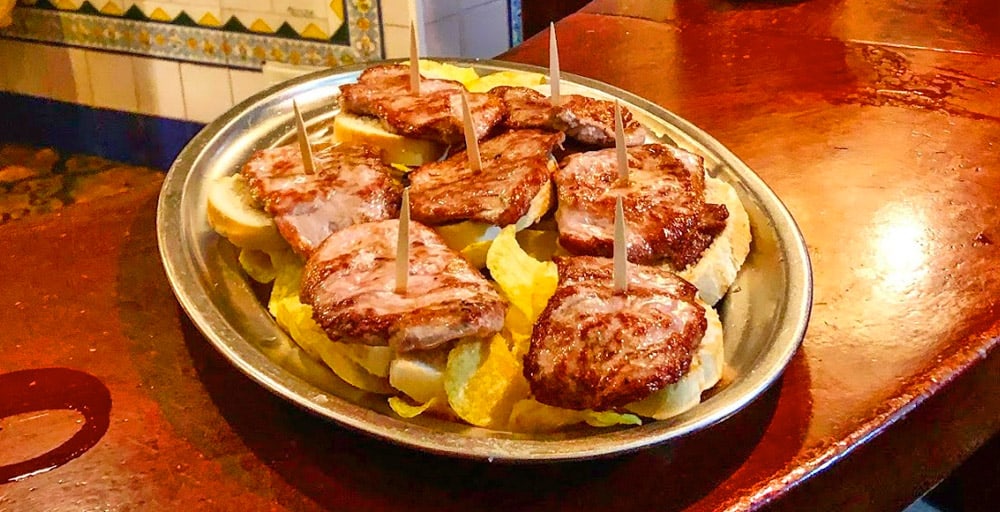 Someone online described the pork tenderloin in the Secreto Ibérico as a "delicious marriage of bacon and steak" and I think that does a pretty good job of describing how this tastes. You absolutely need to try this.
Pringá (Pulled Pork Sandwich)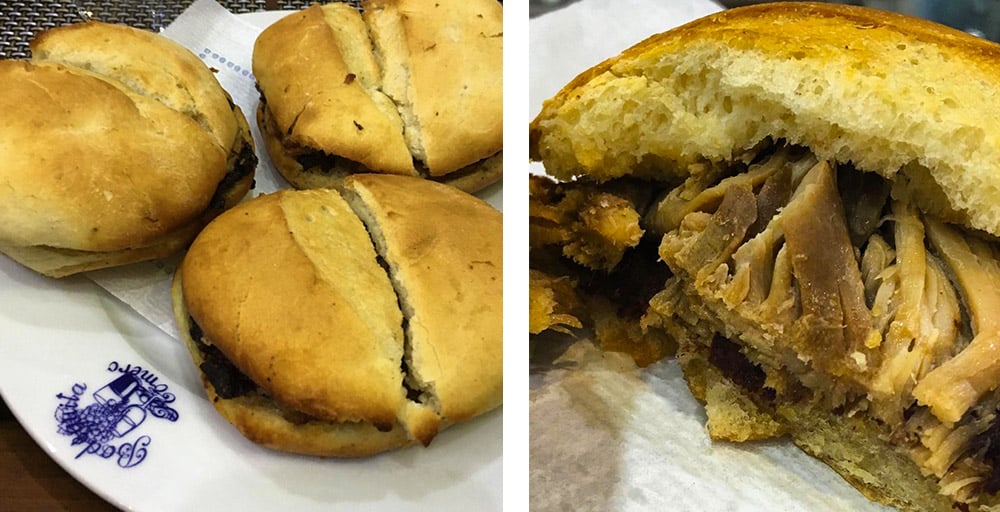 Pringá sandwich is another local favorite sandwich that's traditionally made with roast beef or pork, cured sausages such as chorizo, and beef or pork fat slow cooked for many hours until the meat falls apart easily.
Serranito de Cerdo (Pork Loin & Ham Sandwich)
Speaking of sandwiches, another must-try is the Serranito de Cerdo. This delicious sandwich has pork loin topped with Serrano ham and tomatoes. It's normally served with a side of fries.
Montaditos (Tapa-Sized Sandwiches)
Not in the mood for an entire sandwich? Check out montaditos — which are kind of like mini toasted baguette sandwiches. These usually have some kind of ham and cheese but there are multiple variations.
Fried Fish & Seafood
You can find lots of seafood in Seville — especially fried fish (and who doesn't like fried fish?).
Our favorite is fried bacalao (battered and fried cod fritters).
Local Favorite Tapas Bars & Restaurants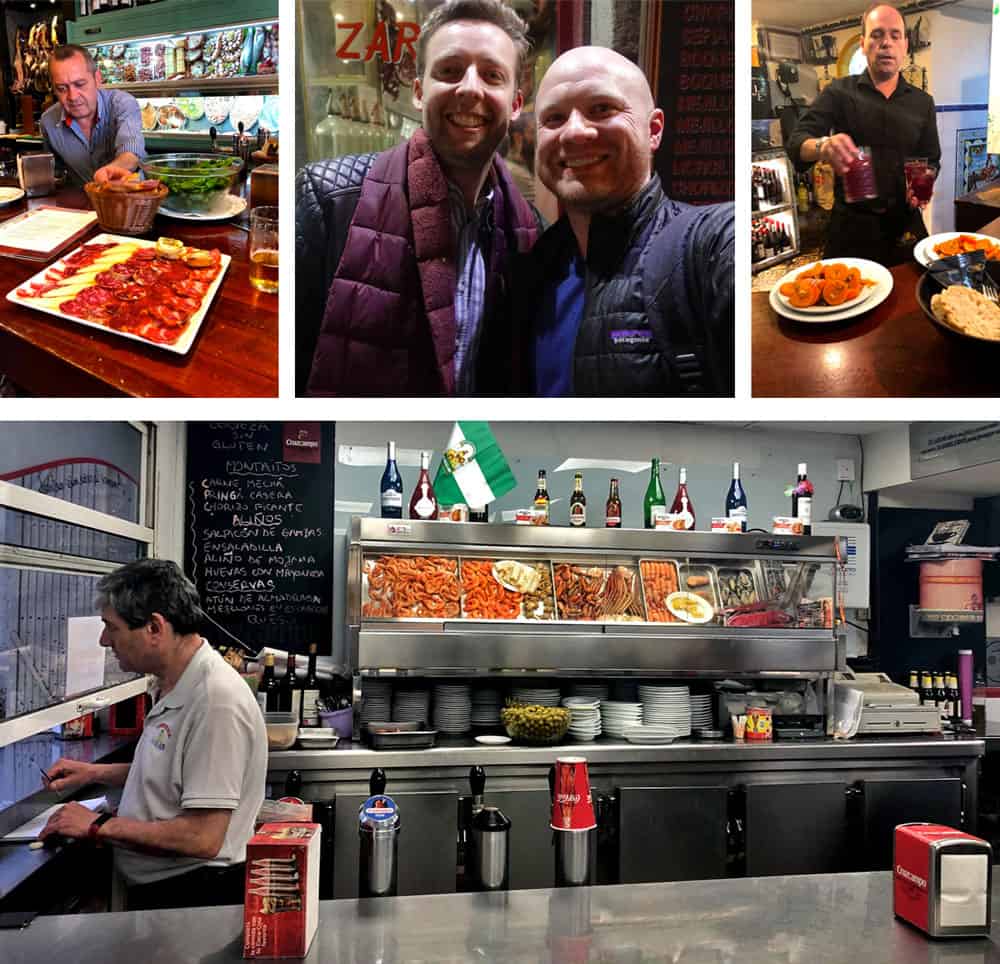 Seville is world-famous for its tapas. And who knows where to get the best tapas? The locals. That's why we partnered up with James Blick (co-founder of Devour Food Tours and owner of the excellent website Spain Revealed) and a few other locals to bring you a handful of the best and most authentic tapas bars in Seville — many of which have been family-owned for generations.
Also, be sure to check out James Blick's YouTube Channel called Spain Revealed — he has a ton of great videos on Seville.
Quick Note: Many times a tapas bar will be known for one or two specific dishes so we recommend sticking to what made the bar famous.
Casa Morales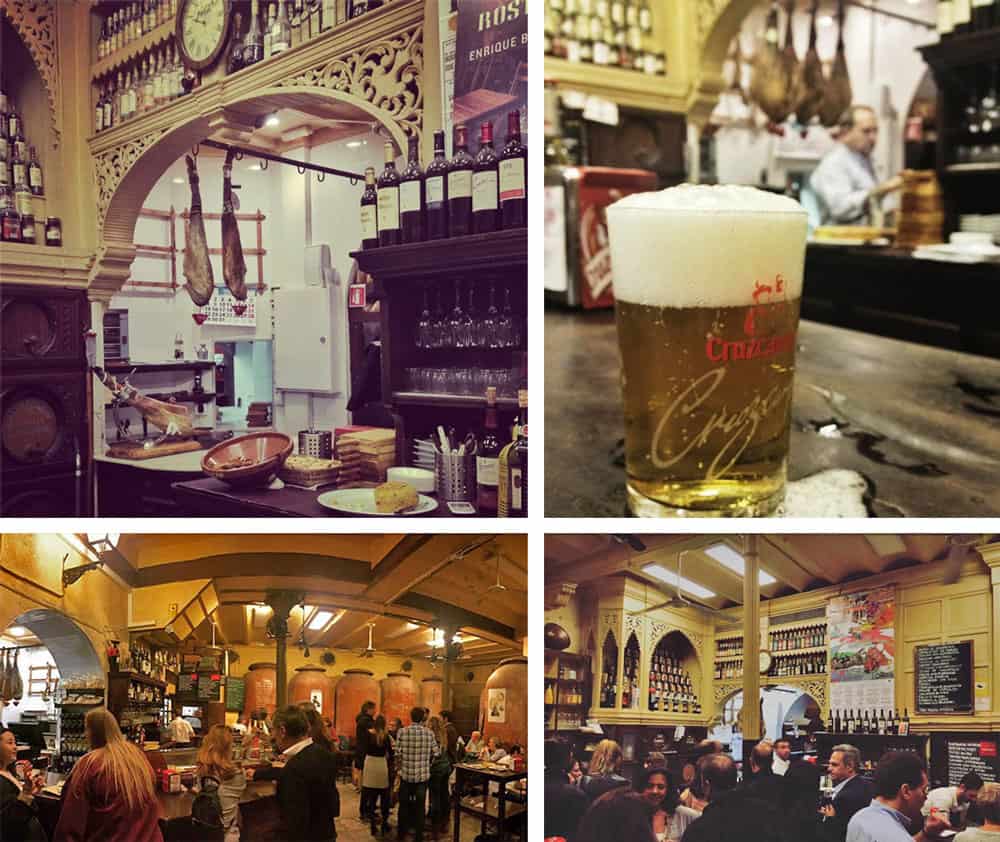 Casa Morales is an amazing old-school tavern that has been in the same family since 1850! Since this is a tavern it is recommended to stick with beer/wine and simple food like cured meats and cheese.
Bodeguita Romero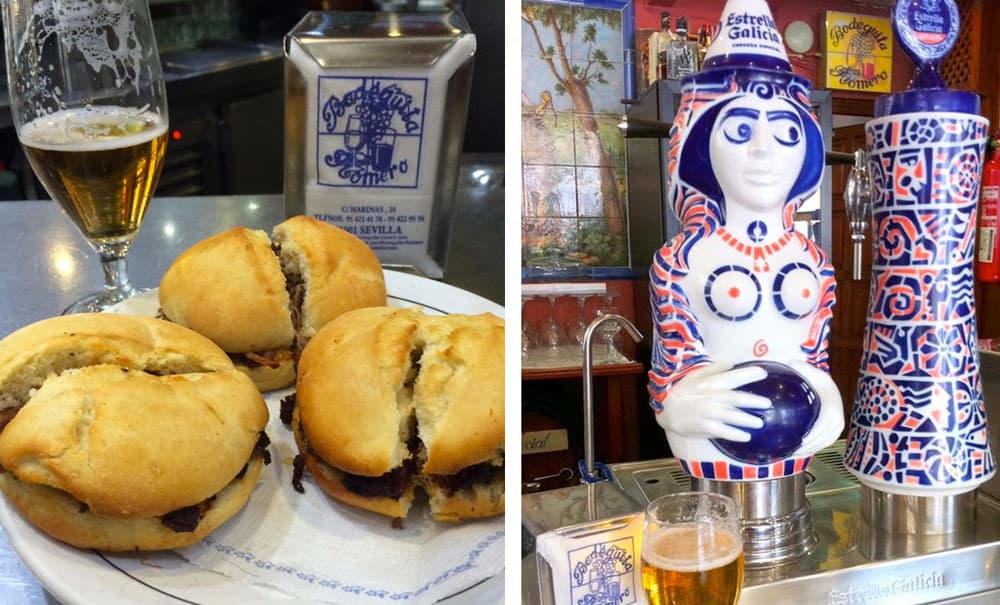 James loves this traditional tapas bar for its carrillada (stewed pork cheek) and the pringa sandwich (which looks similar to a pulled pork sandwich).
Las Golondrinas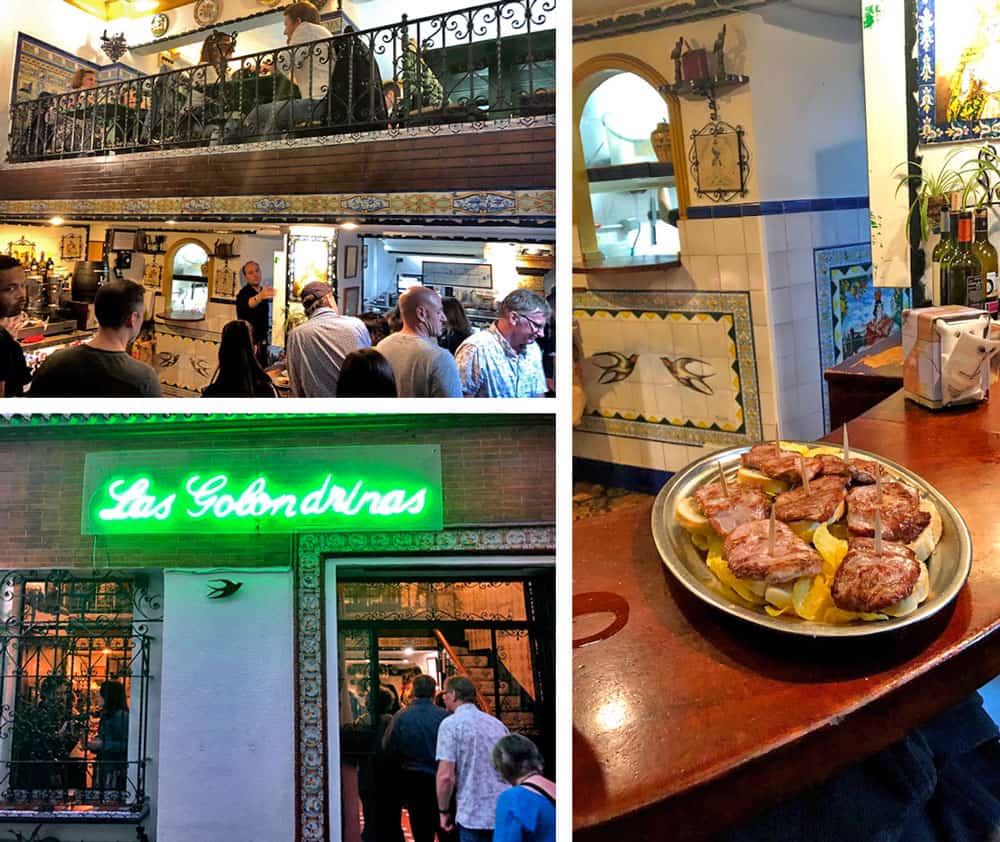 I visited this tapas bar during my Devour Tapas Tour. It was heaving with locals and everyone was ordering the Punta de Solomillo (marinated and grilled pork tenderloin served on a slice of bread and with potato chips on the side). Seriously, this might have been the best thing I ate in Spain. I could have eaten them every day. They are also well-known for their carrots, mushrooms, squid… and I'm sure plenty more.
We also tried tinto de verano (basically cheap red wine mixed with a soda similar to Sprite). This is a popular summer drink and was surprisingly delicious.
Bodega Mateo Ruiz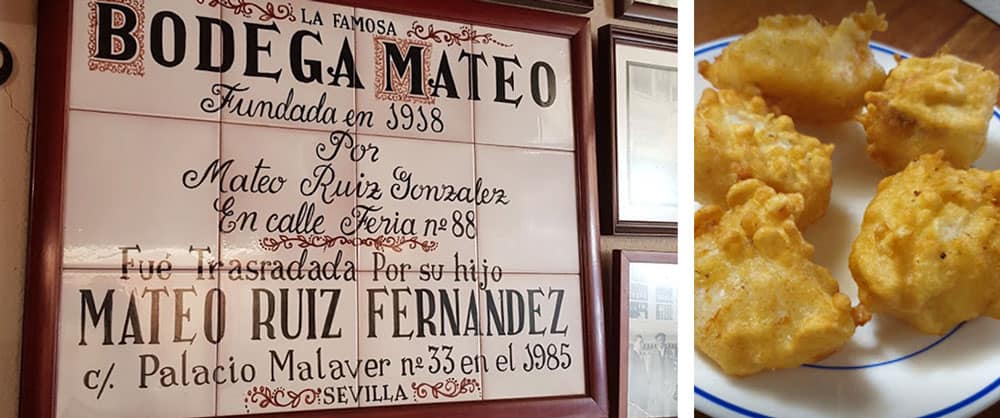 This family-run tapas bar is a local secret and is known for having the best fried bacalao (fried cod) and super cheap wine.
Bodegas Santa Cruz
A local-favorite bar that serves up delicious, authentic tapas at solid prices. It's always busy with locals and in-the-know tourists so you might have to fight for a spot (but it's worth it).
El Rinconcillo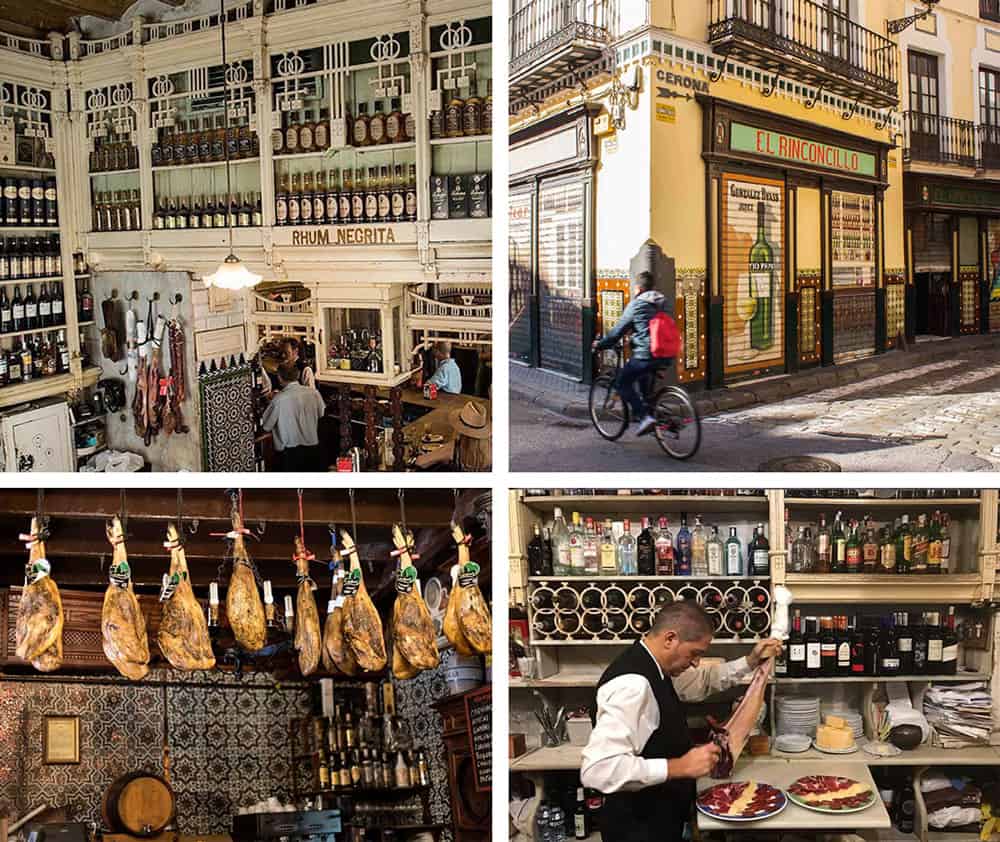 This is the epitome of a classic tapas bar — in fact, it's the oldest tavern in Spain (open since 1670). Ok, the food might not be the greatest but come here for the atmosphere.
Bodegas Dos de Mayo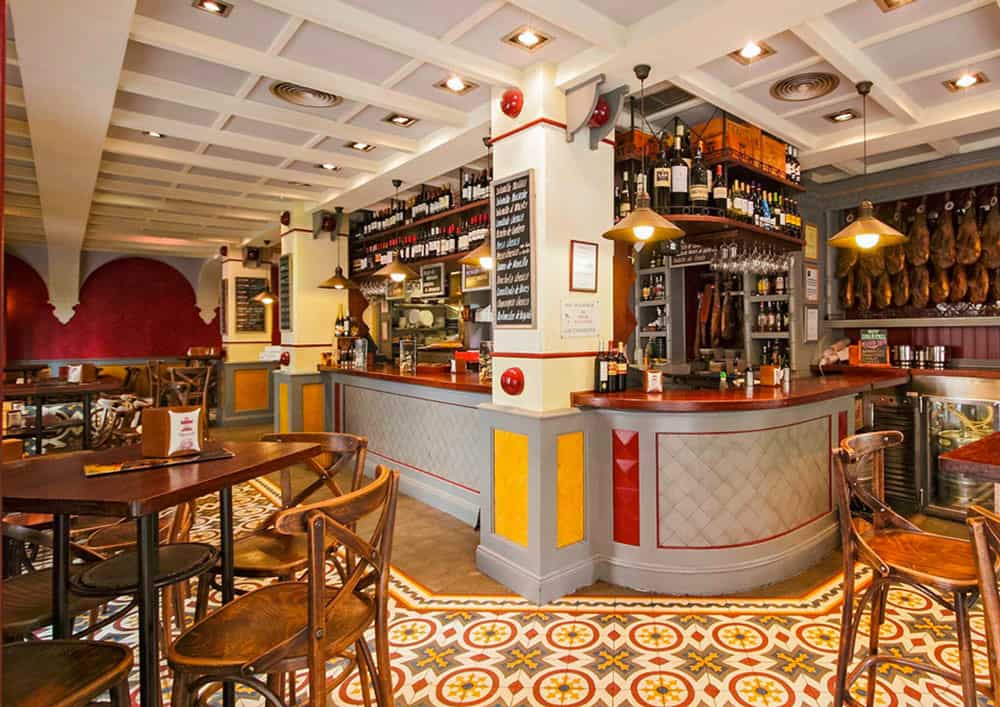 Great service and tasty tapas with an emphasis on meat and seafood. The atmosphere is casual, the prices are fair, and there is a nice mix of locals and tourists.
Los Coloniales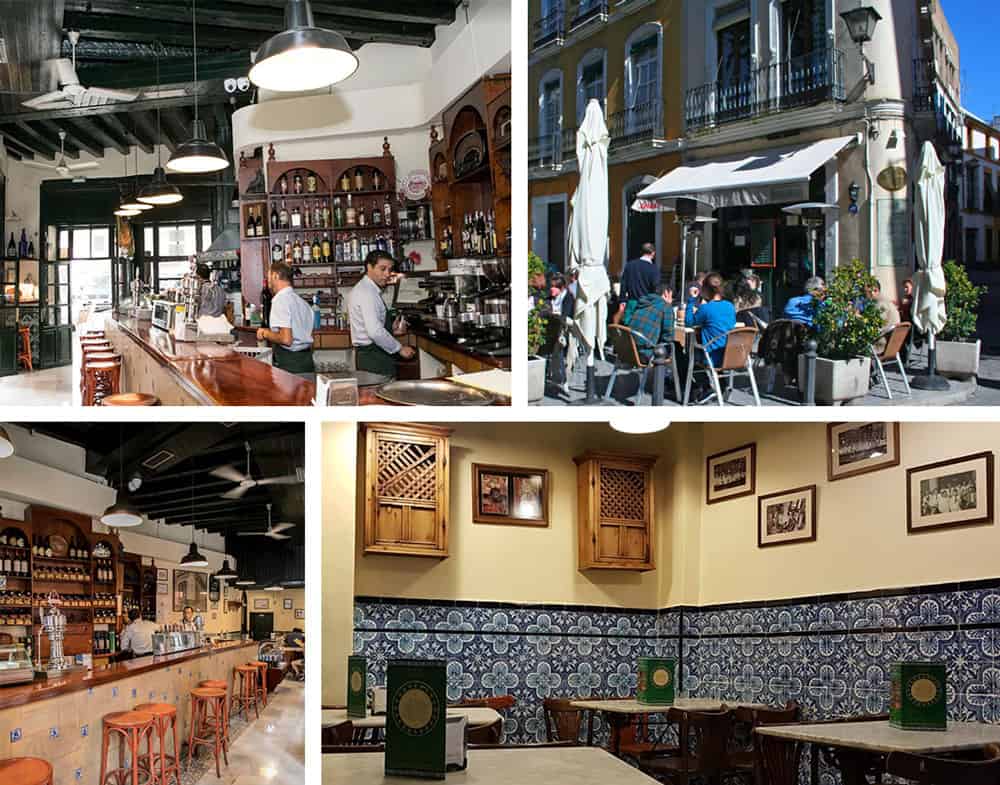 Bustling local favorite tapas bar with laid back vibes and affordable prices. This place does fill up but it's worth the wait.
Bar El Comercio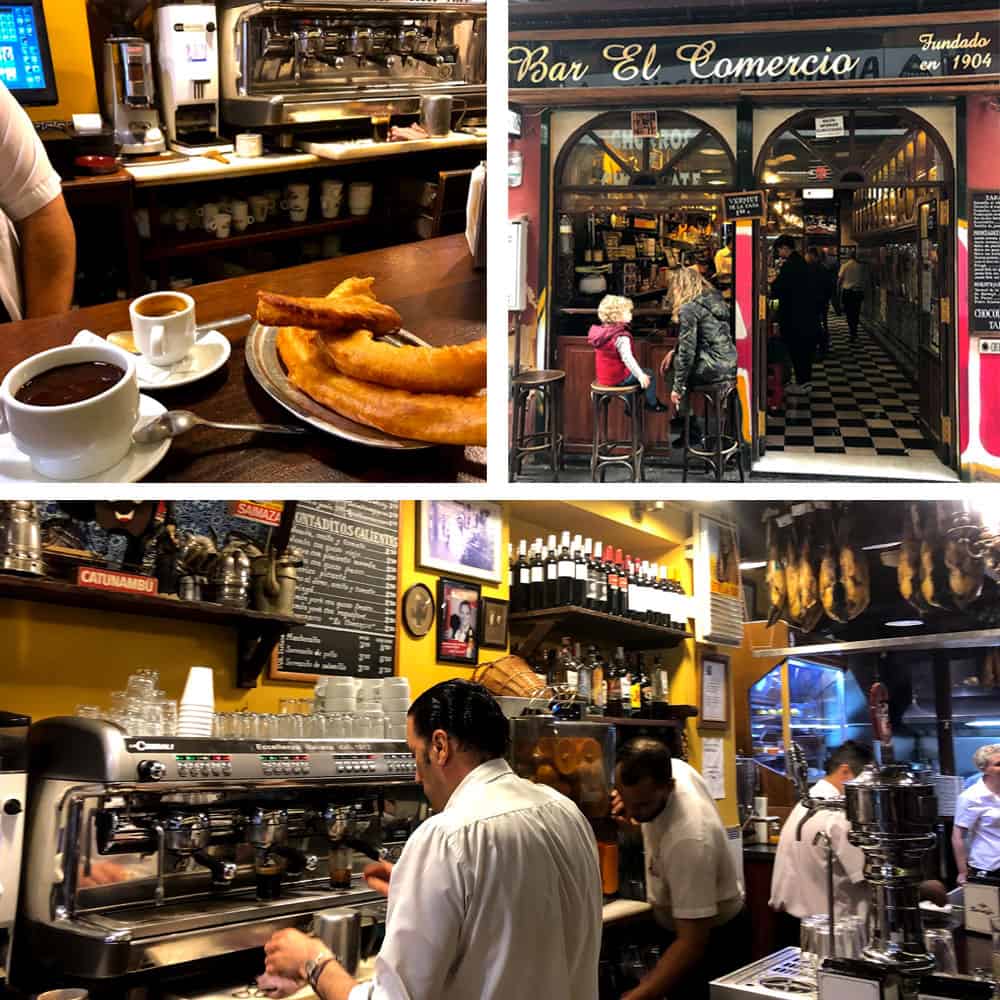 This is the place to get the best churros and hot chocolate in Seville. They also serve an excellent house vermut. If nothing else, it's fun to hang out in a bar that's been over for well over 100 years.
La Cacharreria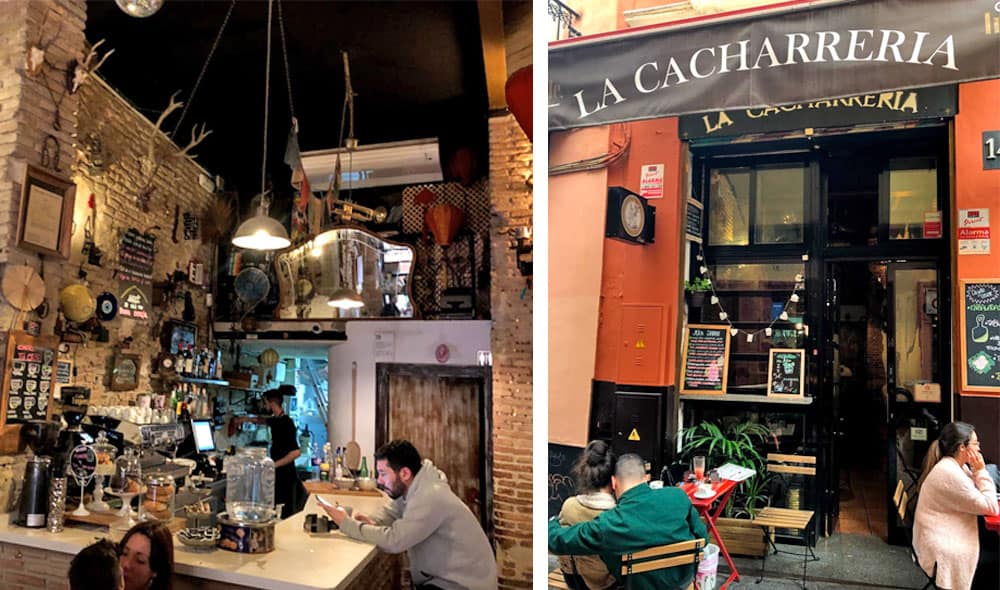 La Cacharreria is a trendy breakfast and brunch spot that seems to always be packed so you might have to wait for a table — especially with the outdoor seats. I didn't have breakfast there but I went back twice for smoothies (which were excellent and fairly priced).
Seville's Farmers Markets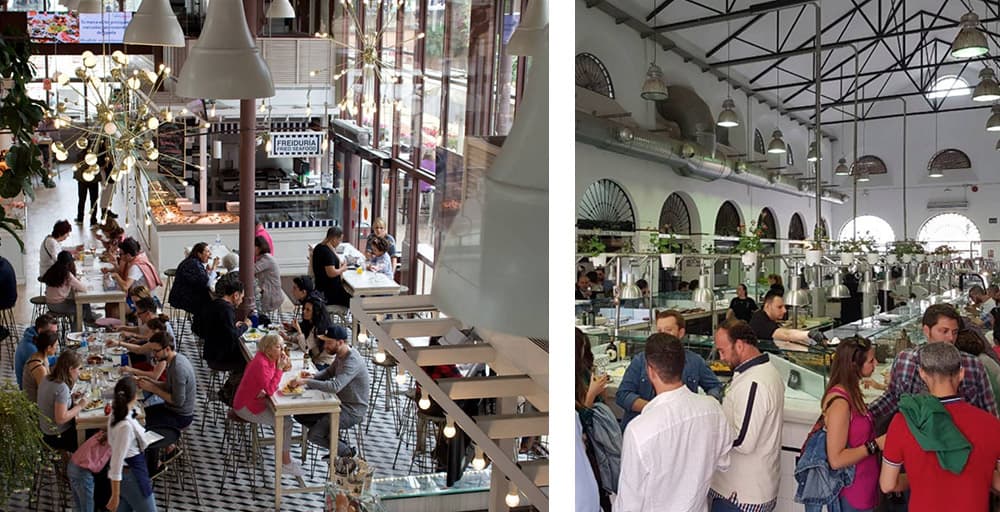 Looking for some fresh food and produce? Skip the grocery stores and go straight to the market. Seville has a few different markets and some also have food stalls where you can pick up prepared tapas and other dishes.
Ice Cream Spots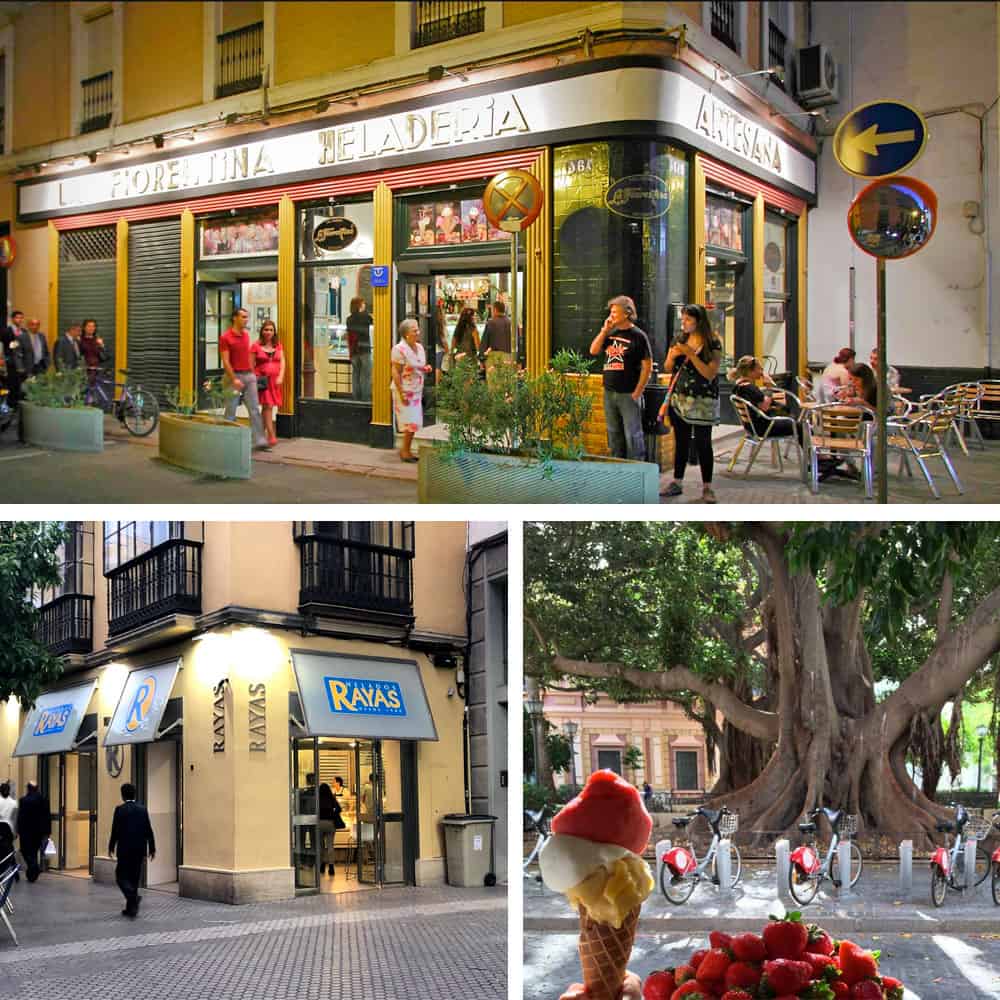 No trip to complete without ice cream and Seville has a handful of excellent ice cream spots. Here's a list of a few favorites:
Seville Day Trips & Beyond
Seville is the capital of Spain's Andalusia region so it is well-connected to the other smaller towns in the region. Here is a list of some great day trips or other cities you might want to visit after Seville.
Train Travel Tip One: The trains to these locations sell out often so we highly recommend booking ahead — even if it's just by a few hours.
Train Travel Tip Two: The ticket lines can get long and some automated ticket machines only accept contactless cards (which most Americans don't have). That's why we booked our tickets with the Omino.
Train Travel Tips Three: You'll have to go through a quick security check on most trains in Spain so give yourself an extra 10-15 minutes for that.
Córdoba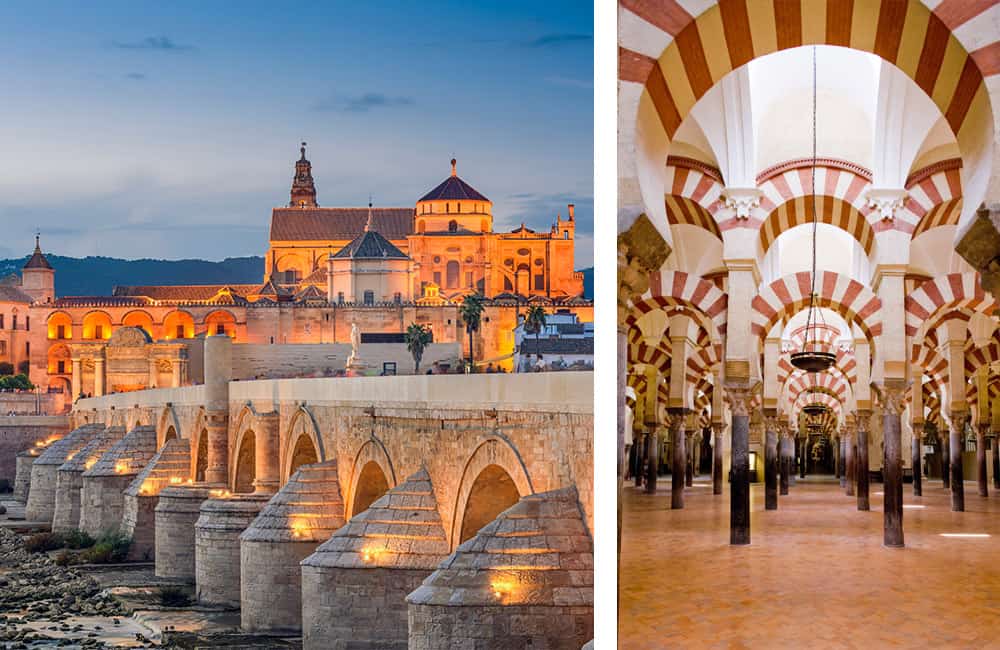 One of the best and most popular day trips from Seville is Córdoba. It is most famous for La Mezquita — a massive mosque constructed in 784 that was turned into a Catholic church in 1236. Córdoba also has an impressive Alcázar de los Reyes Cristianos, a stunning Renaissance palace, a 10th century Medina Azahara, and more.
Córdoba is only a 45-minute train ride on the high-speed train. Trains leave about every 50 minutes but we suggest booking your tickets a bit early as they can sell out. Check out ticket prices and train times at Omio or Trainline.
Granada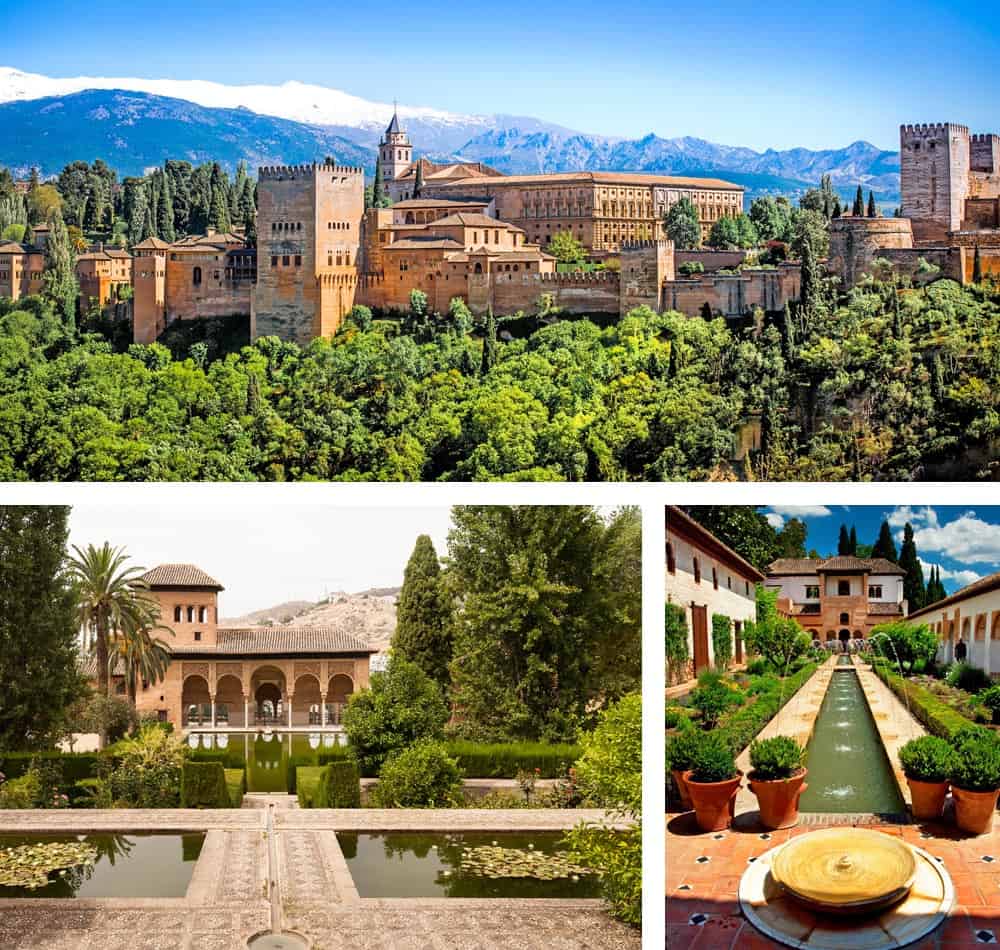 Granada truly deserves two or three days to properly visit but a lot of people do it as a day trip. The train journey between Granada and Seville takes around three hours so it will be a very full day. Check ticket prices and train times at Omio or Trainline.
The main attraction in Granada is the Alhambra Palace. This former palace and fortress is the finest monument of Islamic architecture in Spain and the oldest Muslim palace in the world. You absolutely MUST pre-book tickets because they sell often sell out days in advance and there are no same-day ticket sales at the ticket office. You can also book a guided tour if all the normal tickets are booked for your travel times.
Cadiz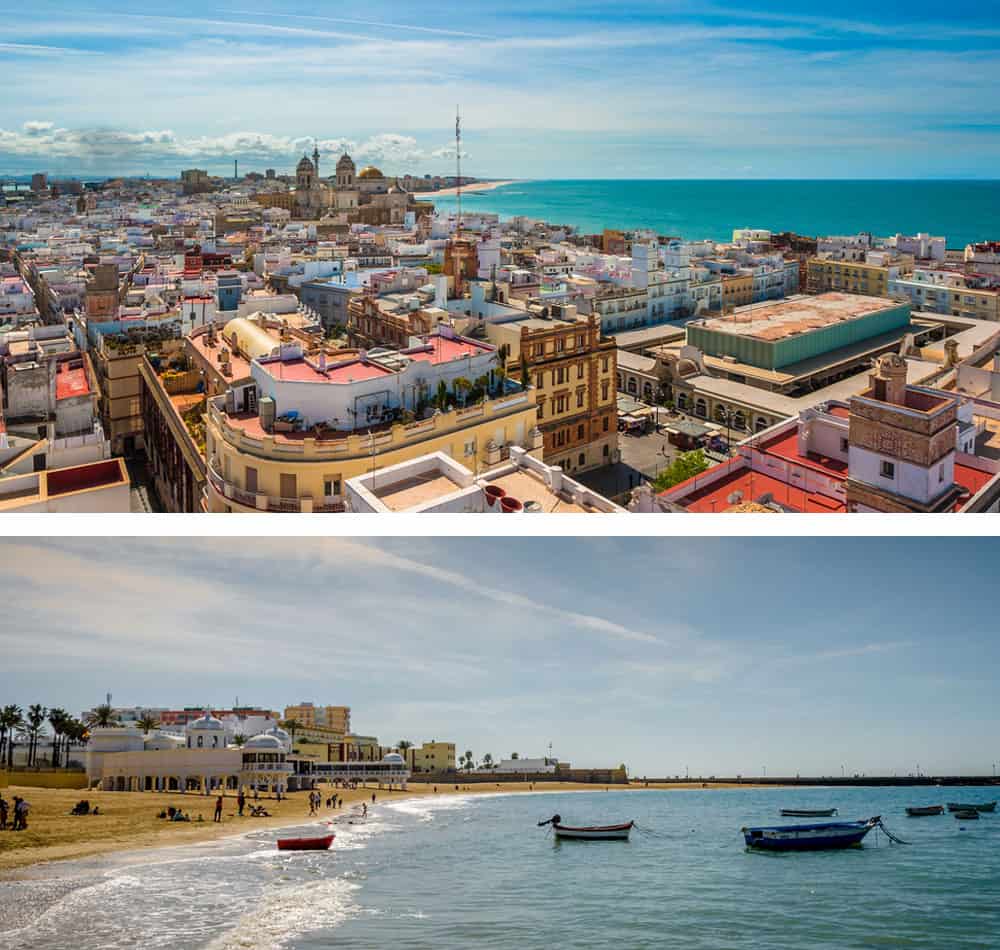 Escape Seville's heat in the ancient port city of Cadiz. But the city is famous for more than just the beach — it is actually the oldest continuously inhabited city in Western Europe. This little romantic city with its more than 100 watchtowers could easily entertain you for a few days but it still makes a nice day trip.
The train journey between Cadiz and Seville takes around 1h40 and tickets are about €30 each way. Check ticket prices and train times at Omio or Trainline.
Carmona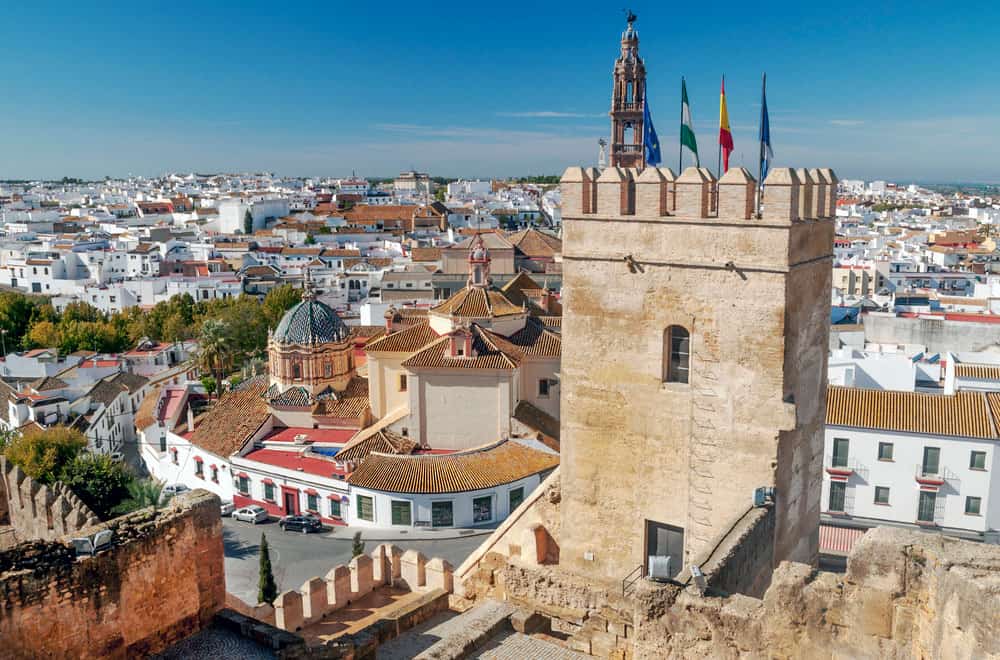 Located about 30-minutes from Seville via car or bus (but no train), Carmona is a small ancient city that can easily be seen in a day. If you can, try sticking around until nightfall to see the city illuminated. You'll love the mountain views from the top of the Alcázar del Rey Don Pedro as well as simply strolling through the city's narrow, cobblestone streets.
Jerez de la Frontera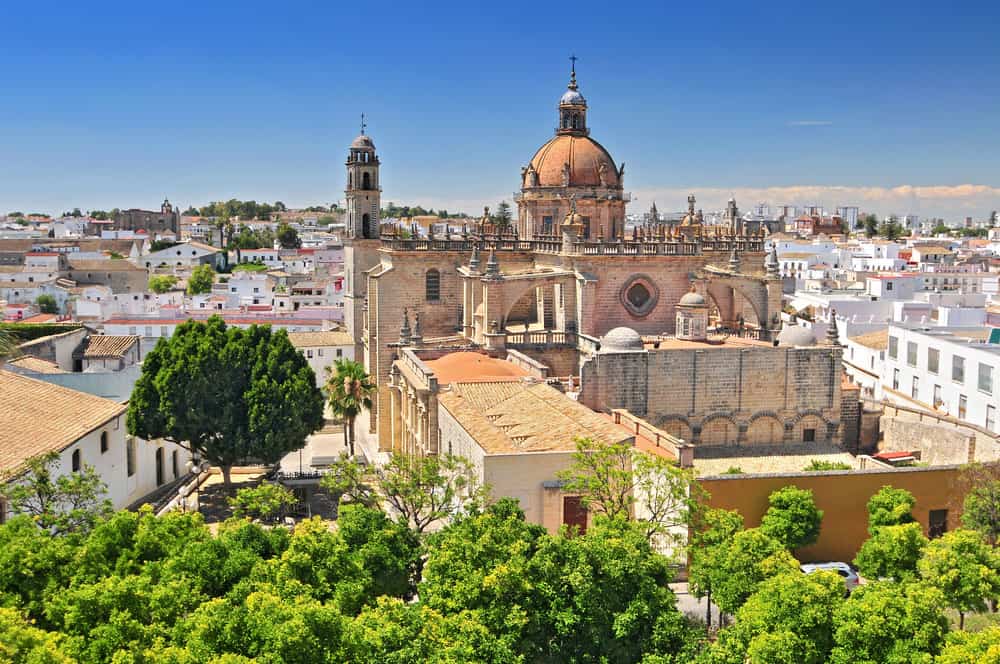 Around an hour south of Seville is the beautiful town of Jerez. We recommend booking your train tickets in advance (which cost around €20 each way) since this is a popular route from Seville — check ticket prices and train times at Omio or Trainline.
While the sights in Córdoba and Granada are more impressive, Jerez is still beautiful with its own Alcázar, Cathedral, and fewer crowds. It is also famous for its sherry and its equestrian history.
Ronda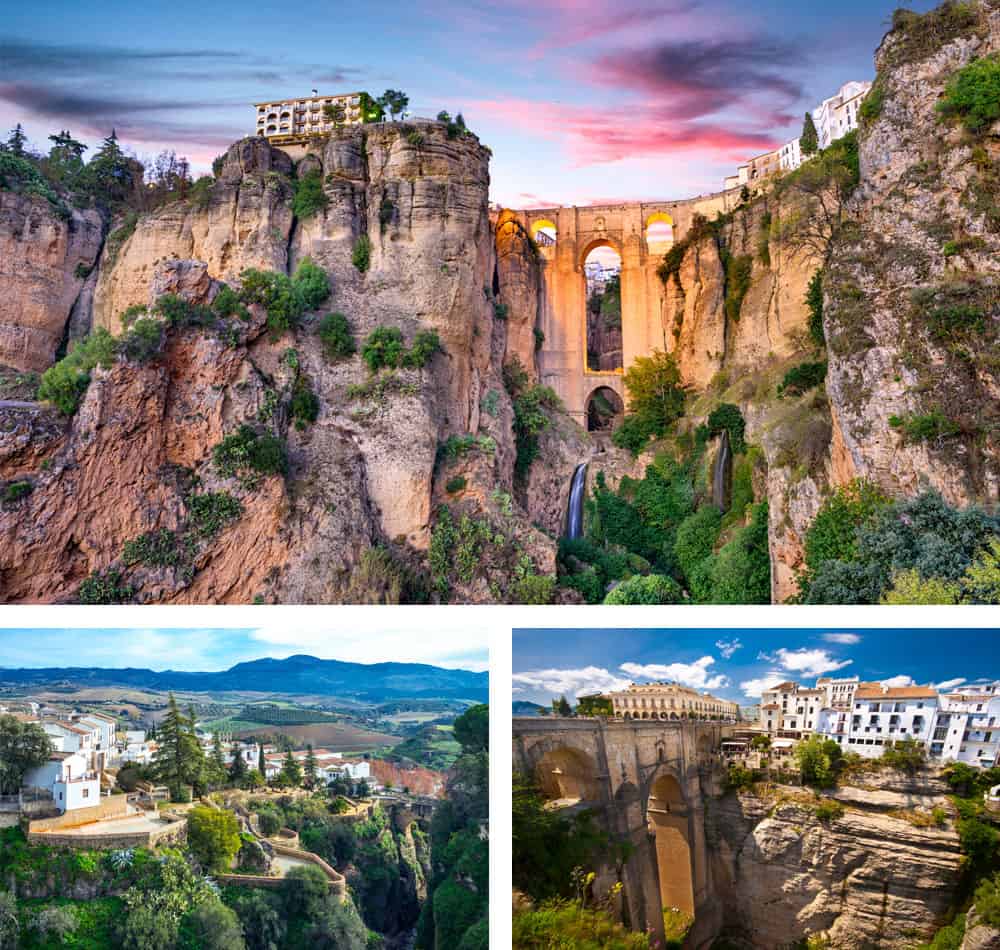 The mountaintop city of Ronda is perched high above El Tajo gorge — which splits the city into its 15th-century new town and its Moorish old-town. The two parts of the city are connected but impressive Puente Nuevo stone bridge.
Unfortunately, Ronda doesn't really make a good day trip from Seville since it takes around 2.5 hours via bus to get there but there are still a few tour companies who do tours there.
More Seville Travel Tips & Resources
Eat Sweets Made By Nuns: All throughout Spain you'll find nuns making and selling sweet treats to help fund their convents. Within Seville, you'll find a handful of convents that partake in this tradition. Many of these nuns are cloistered (i.e. they don't have contact with the public) so you have to order through a revolving door where you can't see them.
Visit A Secret Bar in a Grocery Store: When you walk into Casa Moreno you'll find yourself in an old-school grocery store (the oldest of its kind in Seville). But if you keep walking to the back you'll find a secret bar that's full of locals enjoying cold beers and simple taps.
Enjoy The View From A Rooftop Bar: Once night falls, be sure to head up to a rooftop bar for cocktails, great views, and hopefully a nice breeze. Here's a great list of Seville's best rooftop bars from Not Just A Tourist.
Catch A Soccer Game: Watching a soccer match in Europe is always a fun experience so look into watching Seville's soccer team play at Estadio Ramón Sánchez Pizjúan.
More Awesome Links About Seville: There are a ton of great articles out there about visiting Seville so we wanted to share our favorites:
Packing Tips For Seville
Packing your bag and knowing what clothes to bring shouldn't be a huge hassle. That's why we created our packing guides: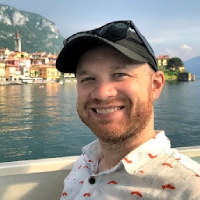 Latest posts by James Feess
(see all)
No Funny Business
The Savvy Backpacker is reader-supported. That means when you buy product/services through links on the site, I may earn an affiliate commission — it doesn't cost you anything extra and it helps support the site.
Thanks For Reading! — James
Questions? Learn more about our Strict Advertising Policy and How To Support Us.