Your plane ticket to Europe will probably be your single greatest expense. Unfortunately, after the economy collapsed, many airlines cut back on their number of international flights, so there are fewer tickets available — meaning that the days of super cheap airfare are gone. At the moment, expect to pay between $800-$1400 for a round-trip ticket (from the US).
That said, you still want to find the cheapest airfare possible and this guide will give you tips for finding cheap flights to Europe.
Looking for tips on finding cheap airfare for travel within Europe? Click here for our guide on air travel around Europe.
Things to Consider When Searching For Plane Tickets
High Season vs. Low Season vs. Shoulder Season: The time of year you travel is going to have the biggest impact on ticket prices. Click here for the savvy guide to choosing which season to travel.
High Season (Mid June-August): It is almost impossible to find tickets under $1,100 during the high season. You should expect to pay $1,000-$1,600. This is when most people travel, so the airlines hike up the prices.
Low Season (Mid November-Easter): This is where you'll find the cheapest tickets. I purchased a round trip ticket for $450. These days, I would expect to pay $550+ for low season tickets, but it is possible to find tickets at a lower price. Note: Price wise, traveling around Christmas is pretty much like flying during the high season.
Shoulder Season (Mid September-Late November & Easter-Mid June): The shoulder seasons are the periods of time between the high and low seasons. You'll often find reasonable ticket prices this time of year. A lot of budget travelers pick this time to travel. Plan on finding tickets in the $650-$850 range (although I have seen tickets a little bit cheaper).
Departure Airport: Where you fly from can have a big impact on your ticket price. Tickets always seem to be the cheapest from New York City or other major hubs. Unfortunately, you can't really change where you live, so there isn't much you can do about it. But if you live near multiple airports, you should see if there are any price differences between them.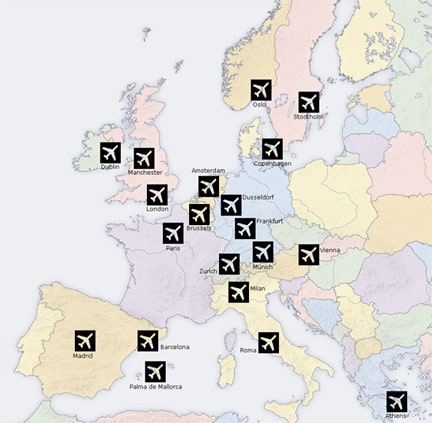 Search Multiple European Airports: The European airport you fly into can save (or cost) you an extra one or two hundred dollars. Search all the major European airports and compare prices.
London (LON: LCY, LHR, LGW, STN, LTN), Frankfurt (FRA, HHN), Paris (CDG, ORY), Madrid (MAD), and Amsterdam (AMS) are the largest airport hubs in Europe, so you're more likely to find the best price by flying into one of these airports. But search the other ones as well.
Note: The cheapest airport isn't always the best choice — it has to fit into your travel plans. For example, say you want to visit France but you find a flight into Dublin that costs $200 less than flying into Paris. You'll spend a lot of time and money getting from Dublin to France, so you'll negate any potential savings. It would make more sense to just fly into Paris.
Search Multiple Departure Dates: Plane ticket prices can vary greatly depending on when you travel. Leaving a day later or earlier could save you $20-$100. In general, traveling during mid-week will give you the best prices. I really like Student Universe's flexible travel search feature (other sites are starting to offer this feature as well). It gives you all the results for 3 days +/- of your selected travel date. This lets you find the best time to travel.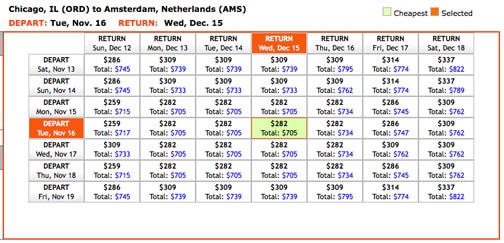 Try Open Jaw Tickets: During my last trip, I was able to save about $110 by arriving in Paris and departing from Frankfurt. This type of ticket is called an 'open jaw' ticket. A lot of times these tickets actually cost more, so your results may vary.
Buy Tickets Far In Advance: For international flights, you want to book as soon as possible. A month before is usually considered the bare minimum. Some people say you should book six months in advance for the best deal. I don't think anyone really knows. For some winter flights, you might be able to get a cheap ticket by waiting until the last minute but this is a big gamble. You could end up paying a ton more. I don't think it is worth risking it, but it is up to you.
Buy Tickets After Midnight: I have heard airlines lower their prices after midnight. I have no idea if this is actually true, but you might want to check it out.
Cheap Tickets Are Often Nonrefundable: Cheap tickets are often nonrefundable or come with a very high ticket change fee. Many companies charge something like $250 + other fees to change your original flight. Most people don't have a problem, but you should be aware of your ticket's terms.
The Best Websites To Find The Cheapest Plane Tickets To Europe
TripAdvisor has recently gotten into the airfare search engine game and I constantly find the best prices here. The airfares are pretty much exactly the same or lower than Kayak. I could see TripAdvisor becoming one of the largest search engines within the next few years. Also, TripAdvisor is also nice because the price they show you in the search results is the price you pay (all taxes and extra fees are included in the display price).
Student Universe
Student Universe is a good site for youth travelers. It is geared towards college students (anyone, regardless of age, currently enrolled in a college, even part-time) or anyone between 18-25 years old. They do check to see if you're currently a student/are the correct age, and they won't process your reservation until your status is confirmed.
STA Travel

STA is another travel website geared towards students/people under 26. They offer many of the same deals as Student Universe and their prices seem to be nearly identical. My wife used them a few times for international travel. They were super helpful when she needed to change her ticket.
Kayak
Kayak is another good site for tickets. They are worth checking out.
Vayama
Vayama is a new search engine that specializes in international travel. I have found some good prices on this website. They are worth a look.
Skyscanner
Traditionally, Skyscanner was really only used for flights inside Europe, but they've started offering flights from all over the world. It also allows you to search by country and not just cities (for example, search for flights from Seattle to Germany). This is a nice feature if you don't have a specific destination in mind. I've used them a few times and I've been happy with everything.
CheapOAir
CheapOAir is another popular mega search engine that is definitely worth a look.
Momondo
Another mega search engine that finds cheap tickets and I like how they filter results.
Google seems to be good at everything.
Expedia, Travelocity, and Priceline – These sites are well-known, but I rarely find the best prices here. You might as well check them out, but don't get your hopes up.
The Airline's Website
Don't forget to go directly to the airline's website. While rare, it is possible to find a cheap deal there.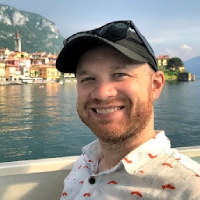 Latest posts by James Feess
(see all)
No Funny Business
The Savvy Backpacker is reader-supported. That means when you buy product/services through links on the site, I may earn an affiliate commission — it doesn't cost you anything extra and it helps support the site.
Thanks For Reading! — James
Questions? Learn more about our Strict Advertising Policy and How To Support Us.