We get asked a lot of questions about traveling Europe so thought we'd answer the most-asked questions. We've split it up into sections to help keep things organized.
Feel free to ask more questions int he comments!
Money & Budgeting
How Much Does It Cost To Travel Europe?
Budget travelers should estimate that they'll spend an average of €50-€80/day in Western Europe (Eastern Europe will be a bit cheaper). This does not include transportation between locations or your airfare to/from Europe.
However, you can easily spend more or less depending on your travel styles.
Check out our City Cost Guides and How Much To Budget For Budget Travel in Europe.
Do I Need Travel Insurance?
It's not a necessity but it's a pretty cheap way to give yourself a piece of mind — which is why we recommend it. We use World Nomads because they're geared toward budget travelers.
Learn more about choosing the best travel insurance.
Do I Need To Get Cash (Euros, Pounds, Etc.) Before I Leave?
You can get foreign currency at your local bank before your trip… however, you'll get a very poor exchange rate from your bank so it ends up being a pretty bad deal. If you want a little starter cash, then get around €100-€200 but you should get the rest of your cash from ATMs once you arrive in Europe (every airport will have ATMs).
Remember, withdrawing cash from ATMs in Europe will give you the most accurate exchange rate. Learn More About Using Money In Europe.
Read More: Using Money In Europe.
How Do I Get Cash When Traveling? What About Exchanging US Currency?
ATMs are everywhere in Europe and they give you the most accurate exchange rate — so they're the best/cheapest way to get cash. The main thing to consider is how much YOUR bank charges you to withdraw money from a foreign ATM.
Some banks will charge you a small percentage of the withdraw and/or a flat service fee. For example, some banks will charge 1-3% of the total amount withdrawn. Other banks will charge something like $2-$5 per withdraw. Some charge both. If you're lucky, your bank won't charge you anything at all.
If your bank charges you a flat fee, then it's best to withdraw larger amounts of cash so you pay fewer charges.
Exchanging US currency for Euros (or other currencies) at currency exchange businesses is expensive so it should be avoided. Stick with ATMs.
Read More: Using Money In Europe
What Is Better — ATM/Debit Card or a Credit Card?
We use both kinds of cards when we travel but they should be used in different ways.
ATM/Debit Card: ONLY use your debit card in ATMs. That's it. Don't use it to make purchases. Why? Becuase if your Debit card gets skimmed/copied (which is very common), then you'll have to cancel it… which means you won't be able to withdraw any cash from the ATM. Even worse, money stolen from your debit card will be taken from your bank account so you'll have to go through all that hassle of getting your money back (which can take weeks)
Credit Card: Use your credit card whenever you need to make purchases (or you can use cash). If your credit card gets stolen/copied then you just have to cancel it. We usually carry a few credit cards just in case.
Read More: Using Money In Europe
What About Travelers Cheques?
No one really uses them anymore. Don't bother.
Do I Have To Tip?
Each country has its own customs when it comes to tipping. In general, the tip is included in the bill already (look at the receipt) so you don't have to tip in that case (feel free to add in an extra Euro if you feel like it). In other countries, it's customary to add an extra 5%-10% if it's not included in the bill.
Are There Student Discounts?
The cut off the "youth" discounts seems to be around 26-years-old. In many cases, you need to be a student but sometimes you have to be enrolled in an EU university.
But it doesn't hurt to try asking about a student discount because sometimes the ticket sellers don't really care. So bring your student ID — even if it's old.
---
Transportation
Do I Need A Rail Pass? Are They Cheaper Than Single Train Tickets?
A rail pass is a great option if you want flexibility because they allow you to travel on a whim. Buying single tickets for high-speed trains is usually cheaper in the long run if you can buy your tickets one-three months early. If you buy your tickets the day of or just a few days in advance then a rail pass is almost always a cheaper option.
Slower regional trains are priced by distance traveled so there is no need to buy those early.
Read More: Rail Passes
Should I Buy Train Tickets Early?
Yes. Buy your high-speed train tickets as early as possible. Most go on sale a few months in advance and get more expensive as time passes. Nearly every country's national rail site lets you buy online and either print the tickets or have an e-ticket sent to your phone.
Slower regional trains are priced by distance traveled so there is no need to buy those early.
Read More: Train Travel in Europe.
Do I Need A Reservation For The Train? What If I'm Using A Railpass? 
If you're buying single tickets, and the journey requires a reservation, then the reservation will already be included in the price. On some trains reservations are optional so you might want to make one if you want a certain seat, or if you're traveling in a large group and you all want to guarantee seats together.
The general rule of thumb is that you need a reservation if you're riding on a high-speed train but not on a local/regional train.
However, rail pass users have to pay for a reservation if the train requires reservations. In general, all high-speed trains require a reservation but local/regional trains don't.
Expect to pay anywhere from €5-€30 per seat reservation.
The best way to see if your train requires a reservation is by using Germany's Deutsche Bahn website. This site is great because it lists ALL trains journeys for ALL of Europe. Simply look up your journey and see if there is an "R" on the listing — which makes it requires a reservation. Super simple.


You can make reservations anywhere from about an hour before departure to weeks or months in advance. Generally, we'll make ours a few days in advance and we'll book it directly from the train station. You can usually make multiple reservations at the station (even for routes outside the country). You can also make reservations online at Rail Europe.
Note: Some super popular train routes only allow a few rail pass holders on a train so you should consider making these reservations as early as possible — most notably are France's TVG, Eurostar (London to Paris/Brussels), Thalys (Paris to Amsterdam), and overnight trains.
What's a Better Way to Travel — Airplane or Train?
Europe's train system is excellent so it's the best option if the journey is less than around five hours. Train stations are almost always in the center of town so you go from city center to city center — which is super convenient. Trains are also comfortable, fast, and they're just fun to ride.
On longer journeys, it starts making more sense to fly because it's usually faster and cheaper. Luckily, there are a lot of budget flights in Europe so you can get most places for under $100.
Overnight trains are becoming rarer every year but they're also an option on longer journeys. They're a little more expensive but you also don't have to pay for a hotel for the night.
How To Do Find Cheap Airfare To Europe?
The general consensus is to book your tickets a few months early. We start looking for tickets about four-six months in advance and monitor prices until we think we've found a good deal.
Read More: Cheap Flights To Europe
What is Ryanair? 
Ryanair is a super low budget airline that's famous for it's no-frills, yet cheap as dirt flights. How cheap? We're talking like $15 for a one-way ticket from London to Berlin (normal prices are anywhere from about $50-$150).
So what's the catch? They're known for nickel-and-diming for everything. There is literally an extra charge for everything. But you can score some super cheap flights if you know how to follow their rules. They do get some bad reviews but we've had good experiences with them (especially for the price).
Note: There are multiple other budget carriers but Ryanair has the most strict rules.
Can I Drive In Europe?
You sure can. In fact, driving is a great way to explore the small town and countryside that most people never see. However, you should avoid driving in large cities because it's a nightmare (and parking is extra expensive).
In some cases, you'll need an international drivers license but your valid US driver's license is normally enough. Do note that automatic transmissions are much rarer in Europe so you'll pay a steep premium if you need to rent one.
Read More: Renting A Car in Europe.
---
Accommodation
What Is A Hostel?
A hostel is like a hotel except each room has anywhere from 4-20+ beds — which makes it a cheap form of accommodation. You book a bed and share the room with other travelers. Most rooms are unisex but there are some female only rooms.
Expect to pay anywhere from €15-€35/night.
Read More: Complete Guide To Hostels.
Where Do I Keep My Backpack/Suitcase During The Day?
Nearly every hostel has lockers so you keep your bag locked up there (bring your own lock). Most hostels have luggage rooms where you can store your luggage if you arrive before check-in or need to store your stuff after check-out.
Hotels will also store your luggage if you've stayed there.
Where Else Can I Store My Luggage?
Most major train stations have paid luggage lockers.
What's The Deal With Airbnb/Rental Apartments?
We love using Airbnb and we've stayed in well over 20 Airbnb apartments. It's a great way to feel like a local — and it's usually cheaper than a hotel.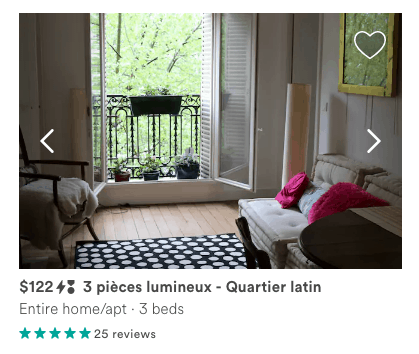 Airbnb.com is also a great option for groups because the per person price can often be cheaper than even a hostel. For example, this $122/night rental apartment in the center of Paris ends up being about $30/person if shared between four people. For comparison, hostels in Paris range from about $26-$40/night. Use this link to get a $35 credit for your first booking.
Read More: How To Find The Perfect Airbnb Rental.
---
Packing, Travel Gear, and Electronics
What/How Much Should I Pack?
We're big proponents of packing light so we try to limit ourselves to a single backpack per person — some people really struggle with this. Check out our Backpacking Europe Packing List for Men and Travel Europe Packing List for Women for more info.
How Do I Pack For Winter Travel?
The key to winter travel is waterproof shoes/books and mastering the art of layering. Our Winter Packing List for Europe will help.
What's Better — A Travel Backpack or a Suitcase? Do I Need a Backpack to "Backpack Europe"?
While a lot of people use a backpack when they travel Europe, it doesn't mean you have to use a backpack. Many people prefer suitcases. It's all comes down to personal preference.
Personally, I use a backpack but Susan uses a rolling suitcase.
What Is The Best Travel Backpack?
There is no perfect backpack but we like bags made by Osprey and Tortuga.
Read more about our Favorite Travel Backpacks.
What Backpacks Are Small Enough To Carry-On An Airplane?
There are a number of Carry-On Sized Travel Backpacks on the market — assuming you can force yourself to pack light.
What's The Best Way To Pack My Backpack/Suitcase?
Living out of a backpack or a suitcase is kind of a pain but packing well does help. We're big fans of packing cubes to help keep everything organized. Here are some tips for Properly Packing A Backpack or Suitcase.
Should I Use Guidebooks? What Are The Best?
Despite a wealth of information available on the internet, we're still fans of guidebooks because having curated information easily available comes in super handy. I still seek out other sources but spending a few hours skimming a guide book isn't time wasted. Our favorite publishers are Loney Planet and Rick Steves.
How Do I Dress To No Look Like A Tourist?
Don't worry too much about trying to "fit in". All you really need to do is avoid super casual things like sweatpants, athletic shorts, and obvious athletic shoes. You can dress up a little more than you normally would but you don't have to go crazy.
Read More:
Will My Phone Work in Europe and How Do I Use Data?
This is a tricky one. Nearly any modern phone will work in Europe so you'll be able to talk, text, and use data. The problem is the cost as many US carriers charge a lot to use your phone in Europe. You can buy a special international plan from your carrier but even those are expensive.
Luckily, T-Mobile and Sprint offer free international talk, text, and data (it is slow… but it's free) to all users.
Read More: Using Smartphones and Data Plans in Europe.
Can I Use My Electronics in Europe?
Yes (and no).
Lesson One: North America uses 110 volts and Europe uses a more powerful 220 volts.
High-end electronics (laptops, smartphones, tablets, cameras, etc.) will all work in Europe because they're designed to work on multiple voltages. All you need is a plug adaptor (like this one) so you can plug your device into the outlet.
Low-end electronics are not rated for a higher voltage so they will fry if you plug them into a European outlet. This includes things like hair dryers, curling irons, hair straighteners, some electric shavers, etc. A good rule of thumb is that anything that heats up (i.e. hair dryer) or has a motor will be damaged if you plug it in.
Read More: Using Electronics in Europe
Is It Easy To Find Free WiFi In Europe?
WiFi isn't too difficult to find in most Europen cities but it's not widespread enough that you'll be able to find a free and reliable single at any moment. That said, more and more cafes, restaurants, and coffee shops are offering wifi for customers. Plus, you can find wifi in just about every McDonalds and Starbucks.
---
Other Random Questions
How Do I Avoid Pickpockets and Scams?
Any big city that attracts a lot of tourists will have a pickpocket problem. Luckily, it's easy to avoid pickpockets by using a bit of common sense. Basically, keep your purse zipped and don't leave it on the ground while eating, keep your wallet in your front pocket or in an interior pocket, don't leave your smartphone on the table when eating at a restaurant, and be careful when you're on a busy bus/subway car.
Read More: How to avoid pickpockets and other common tourist scams.
When Is The Best Time To Visit Europe?
The most popular time to visit Europe is summer — specifically from about Mid-June to early September. It can get uncomfortably hot in Southern Europe but the rest of the continent comfortable. You will have to deal with the crowds.
Late April to Mid June and Late September to Late October are two great times to visit since the weather is generally nice (there will be a few rainy days) and the crowds are more manageable.
The rest of the year is the low season which means no lines but the weather can be cold and rainy. Bring waterproof shoes.
Is Traveling Solo Dangerous? 
We don't believe it is dangerous. In fact, thousands of men and women travel solo every year so it's actually pretty common. Still not convinced? Read our Guide To Solo Travel For Women and How To Travel Solo.
I Want To Vist X, Y, and Z (And 99 Other Places).
Don't spread yourself too thin because trying to squeeze in everything is a recipe for disaster. Major cities like Rome, Paris, and London deserve four or five days (if not longer) but many rookie travelers breeze through them in two nights. Give yourself some time to appreciate what you're seeing.
Also, hopping on a train or plane every other day will get very expensive. This Itinerary Planning Guide will help guide you to planning your trip.
Do I Need A Visa Or Any Special Travel Documents?
Nope. Americans, Canadians, and Australians only need a valid passport to visit Europe. However, you can only stay in Europe for 90 days.
However, you will ned a visa if you plan on staying in Europe for a longer than 90 days. It's actually a little more complicated than that so check out our guide to long-term travel in Europe for more details.
I Only Speak English. Do I Need To Speak Other Languages?
There is no doubt that speaking the local language helps make life easier but don't freak out if you only speak English. Most people you encounter will speak a bit of English. In some countries, nearly everyone under 40-years-old speaks English extremely well. And, if nothing else, you can point to stuff. Just relax and go with the flow.
Just relax and go with the flow. You'll be fine.
However, it is greatly appreciated if you learn a few words like "please", "thank you", "yes" and "no". It goes a long way.
How Much Do I Need To Plan Ahead?
A lot of people go to Europe with the notion that they're going to "wing it" — and that's certainly an option. We've done the same thing but I've found that a little bit of planning goes a long way.
One huge benefit of planning ahead are the money savings. Most trains and flights are much cheaper if you book far in advance but they're super expensive if you buy them last minute.
Another benefit is finding cool things that you might not have otherwise discovered — this can be anything from great restaurants and bars to other sites and excursions. Even something as simple as checking the opening times of museums can save you from visiting on a day when it's closed.
What Are The Savvy Backpacker's Favorite Online Travel Resources/Websites?
We've put together a list right here!
We Love You So Much! How Can We Help You All?
You're too kind! Click Here to learn more about supporting us.
---
That's It For Now!
Have a question? Email us or post it in the comments and we'll do our best to help!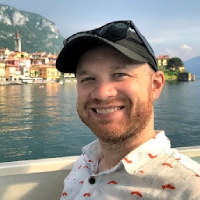 Latest posts by James Feess
(see all)
No Funny Business
The Savvy Backpacker is reader-supported. That means when you buy product/services through links on the site, I may earn an affiliate commission — it doesn't cost you anything extra and it helps support the site.
Thanks For Reading! — James
Questions? Learn more about our Strict Advertising Policy and How To Support Us.