New York City. The Big Apple. It's one of the greatest cities in the world. But with so much to do and experience, NYC is also one of the most overwhelming cities. That's why, after living here for years, we've decided to use our experience to create our NYC Travel Guide!
In this ultimate New York Guide, we'll cover the can't miss New York attractions, our favorite NYC neighborhoods, the best places to eat, how to save money, and a whole slew of NYC travel tips.
---
How Much To Budget For Visting NYC
New York is expensive. Even budget travelers have a hard time visiting on a budget. For example:
Museum entrance fees are around $25.
Food is expensive and it's hard to spend less than $10 on a simple lunch. A decent dinner (especially with alcohol) can easily run $50/person.
The Subway is $2.75 per ride. Taxi and Uber rides can get expensive — especially from the airport.
Hotels are universally expensive (and small), hostels aren't cheap, and Airbnb is largely illegal in the city (there are still a few rentals though but not a lot of choices). But you can still check out Airbnb to see what's available.

A cheap hostel bed will be $35-$85/night (via Hostelworld).
A basic 2-star hotel will be at least $150/night (via Booking.com).

Broadway shows can easily cost $120+ for a ticket.
For backpacker-style travel (i.e. cheap hostel, basic meals, minimal sightseeing, etc), we recommend budgeting around $75-$100/day. You can probably spend less but this is a good ballpark figure.
For budget travel, we recommend budgeting $100-$150/day. A lot of this will come down to your accommodation. And one big meal or a few $15 cocktails can easily blow your budget.
For average travel, we recommend budgeting $150-$250/day. Again, your food and lodging will play the biggest impact on your budget.
To get a better idea of accommodation prices for your travel dates, we recommend checking out Hostelworld for hostels and Booking.com for hotels. Check Airbnb if you're looking for an apartment.
Don't forget to buy a mobile data plan for your phone when you visit. Check out our Guide To The Best SIM Card Data Plans For the USA.
How Long to Visit NYC
Honestly, you'll never run out of things to do in NYC — you're much more likely to run out of money before you run out of things to do.
We think four days is the absolute minimum amount of time you should spend in New York. You won't be able to see much but you can see a handful of the highlights.
That said, a full week will allow you to see a few different neighborhoods and not feel like you're rushing around at 1000 miles an hour.
The Good and The Bad Of NYC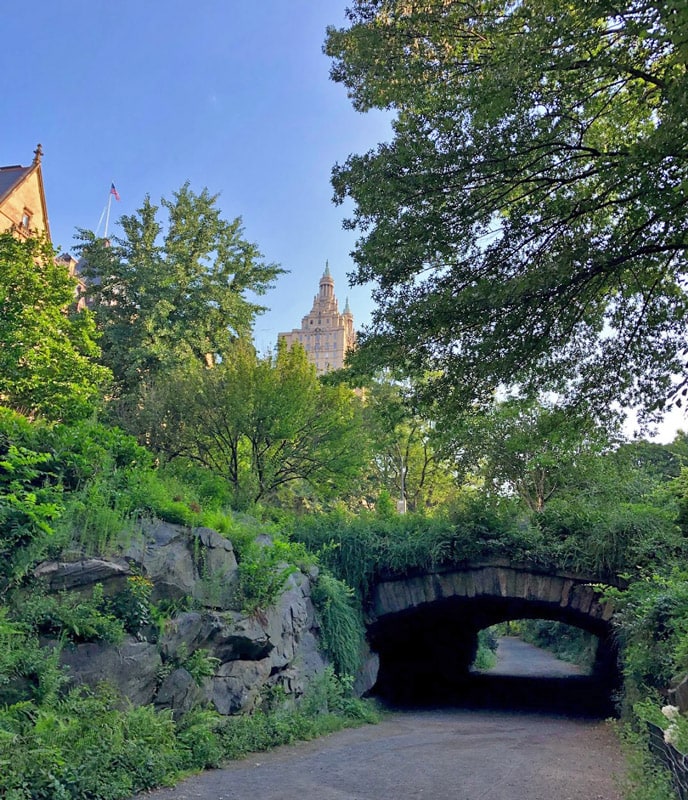 Like every city, New York has a lot of good things going for it and a few not-so-great things as well.
The Good
Non-Stop Action: There is a reason they call it the city that never sleeps.
Food: NYC is one of the best "foodie" cities in the world. You can find just about everything you're looking for.
The Sights: New York is packed with sights and attractions. You won't be able to fit everything in and you won't get bored.
Culture: Museum, shows, live music, fashion… it's all here.
The Subway: Ok… Europe's subways are generally better than New York's but it is still pretty good.
The Shopping: You want it? Someone in NYC is selling it.
Central Park: NY's massive Central Park makes escaping the insanity of the city easy.
The Bad
The Prices: NYC is expensive. The food, the drinks, the hotels, the museums… It's hard to stick to a reasonable budget.
The Number Of People: The sheer number of people in NYC gives the city energy. But it also makes everything crowded (i.e. the subway during rush hour, the shops, the streets, the train stations…). But it also makes getting a table at a popular restaurant a pain. So expect to adjust your expectations.
Lack Of Space: The hotels and restaurants are tiny so expect to be rubbing elbows with your neighbors.
Airports: They're all pretty bad and they don't make getting into the city very easy either.
---
When To Visit NYC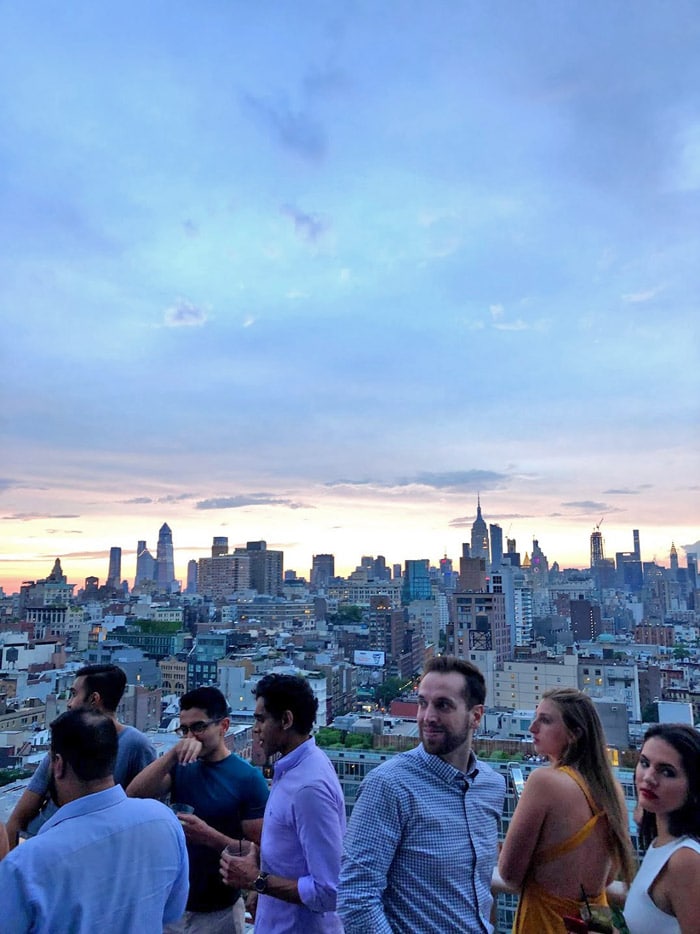 New York City is buzzing year-round so you'll never have a lack of things to do. That said, each season possesses negative and positive aspects.
Summer
New York can get quite hot in the summer so walking in the full sun or waiting on the hot subway platforms can be brutal.
That said, the city is fully alive during the summer. The parks are full, the sidewalk cafes are hopping, the people are out and about until late at night so it's still an amazing time to visit.
Spring/Fall
It's hard to beat NYC in the spring or fall — the weather is comfortable, the city has plenty of energy, and the crowds aren't too crazy. Accommodation prices aren't much different than the peak summer times so you're not really going to save much money.
Note: We also love NYC in the fall because the trees in Central Park and along the Hudson river begin to change colors. Truly beautiful.
Winter
NYC is magical around Christmas with all the fun window displays and decorations. NYC does get cold and it gets a few days of snow every year. We highly recommend a pair of waterproof boots or shoes as the snow quickly turns into massive puddles of slush and muck.
The period of time between Christmas and spring is cold and grey — but prices are at their lowest for accommodation.
Where To Stay In New York: NYC Neighborhood Guide
New York has so many amazing neighborhoods and each has its own vibe. The "best" neighborhoods are also generally the most expensive so you might have to settle for a less ideal neighborhood for budget reasons.
That said, you'll still be able to visit multiple neighborhoods thanks to a quick subway ride.
Times Square, Midtown, & Hell's Kitchen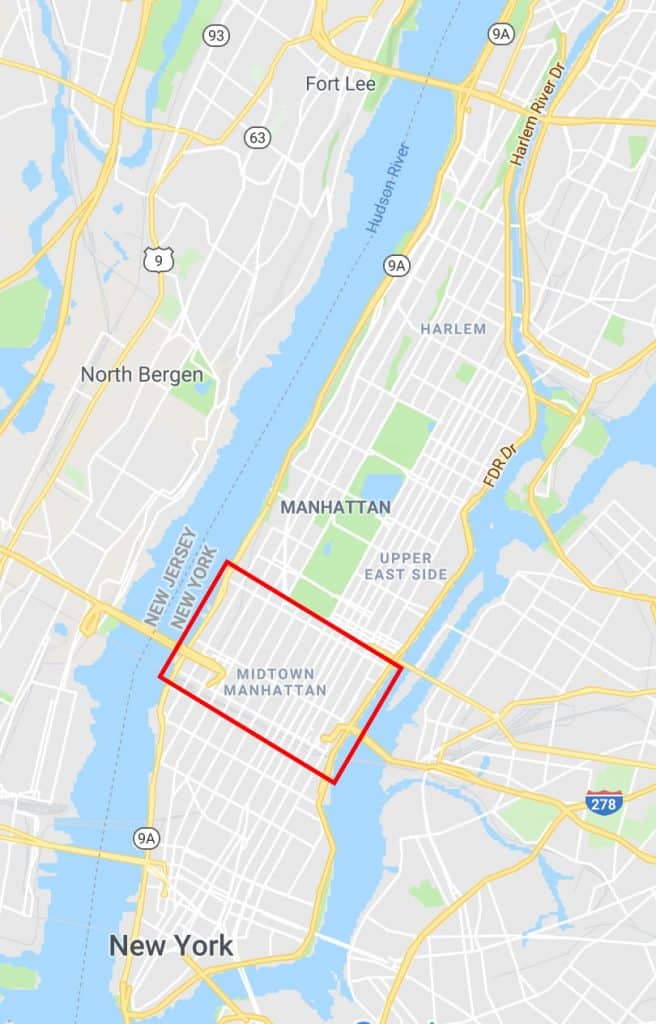 Ask any New Yorker and they'll gladly tell you about their hate of Times Square and Midtown. Why? Because Times Square is where all the tourists are and many New Yorkers work in one of Midtown's skyscrapers (so they're not a fan of being there).
It's true that this part of the city doesn't have much "soul" since it's just a bunch of tall buildings. That said, the area has a ton of hotels so this is where you'll find most of the "affordable" hotels in Manhattan.
But this area is also home to many of NYC's most iconic sights like Times Square, Broadway, The Empire State Building, Rockefeller Center, and lots of shopping.
This area is also centrally located and has excellent subway connections so you can easily visit Uptown/Central Park or head to downtown Manhattan.
Note: Directly to the west of Time's Square/Theatre District is the Hell's Kitchen neighborhood. This area has long been a hub of gay culture and there are multiple bars, restaurants, and other lively nightlife options.
Greenwich Village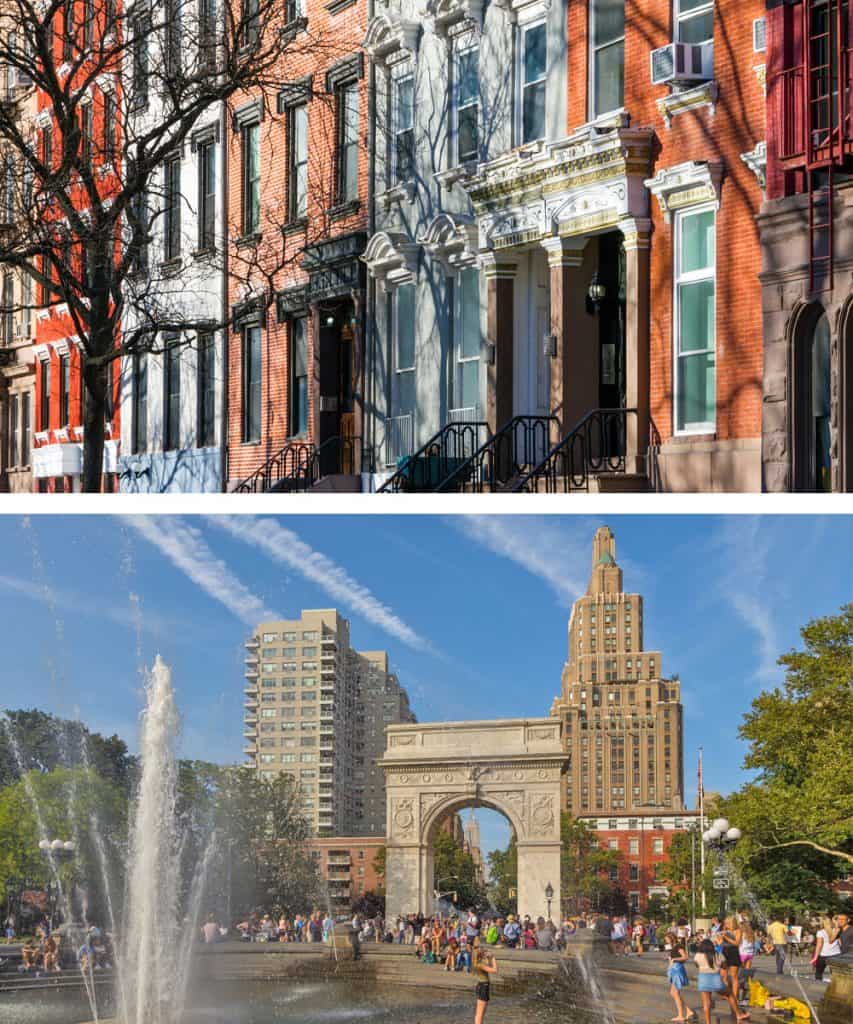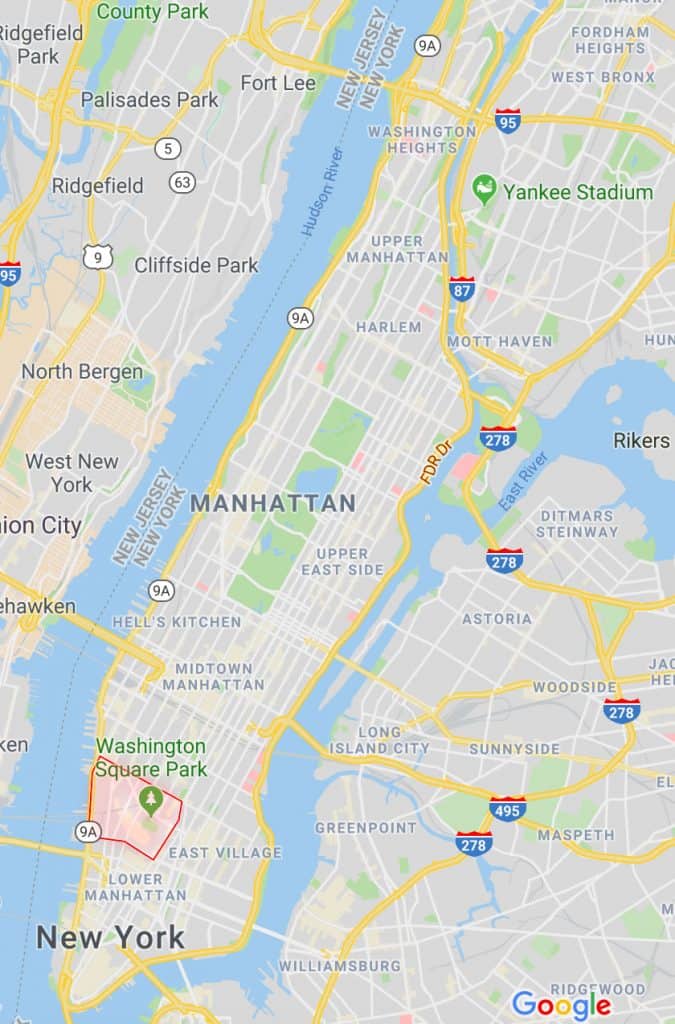 Greenwich Village is one of the most loved and most iconic parts of NYC (this is where Friends took place). It was the center of the 1960's counterculture movement. It's full of bars, restaurants, music venues, cafes, coffee shops, the iconic Washington Square Park, and peaceful tree-lined streets. The area has a youthful vibe as its home to New York University. It's an amazing place to explore.
It's also one of the most expensive parts of New York and you'll mainly find expensive boutique hotels here.
SoHo
SoHo, which stands for South Of Houston, is another lively and must-visit part of downtown NYC. SoHo is a very trendy area so you'll find plenty of trendy restaurants, bars, clubs, art galleries, and plenty of nightlife options.
SoHo is also home to the best shopping in NYC so you'll find everything from designer boutiques to international chain stores.
Don't have a ton of cash to drop? No worries! SoHo has a ton of atmosphere thanks to its cobblestone streets and cast-iron-facades. You'll love simply walking around.
There are a lot of trendy hotels in SoHo so you'll pay a premium to stay here.
Chelsea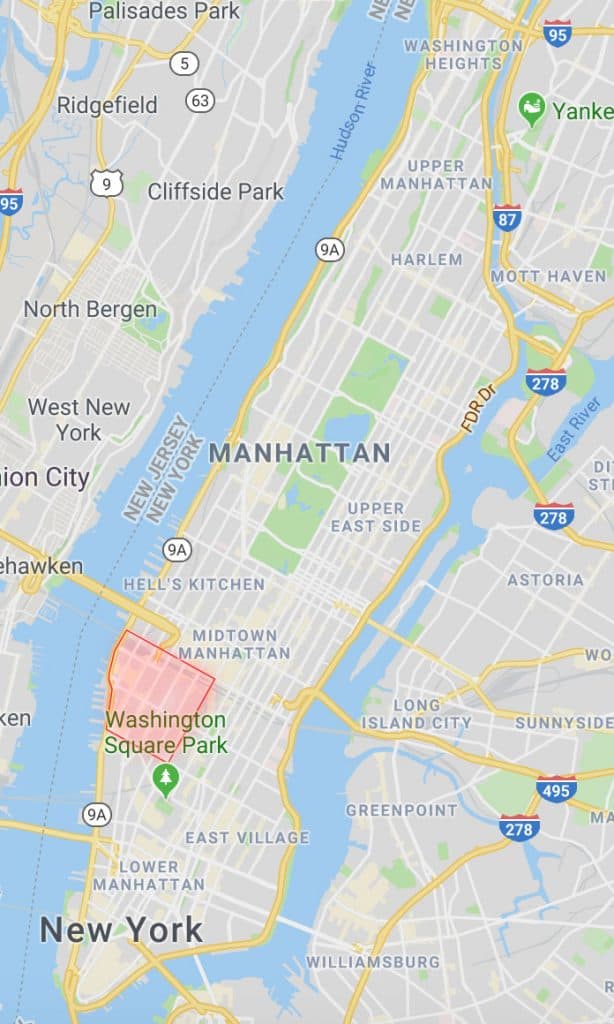 Chelsea has a mix of both midtown and downtown vibes — many people consider that "downtown" officially begins at Chelsea's southern border.
Chelsea is home to many popular sights and attractions — including Chelsea Market (a food hall with great food options), the High Line (a park/walking trail built on former railroad tracks), the iconic Flatiron Building, the new Hudson Yards, and Madison Square Garden. There is also plenty of bars, restaurants, cafes, and shopping in the area.
Chelsea has a decent amount of hotels so you can sometimes find cheaper prices here than in downtown.
TriBeCa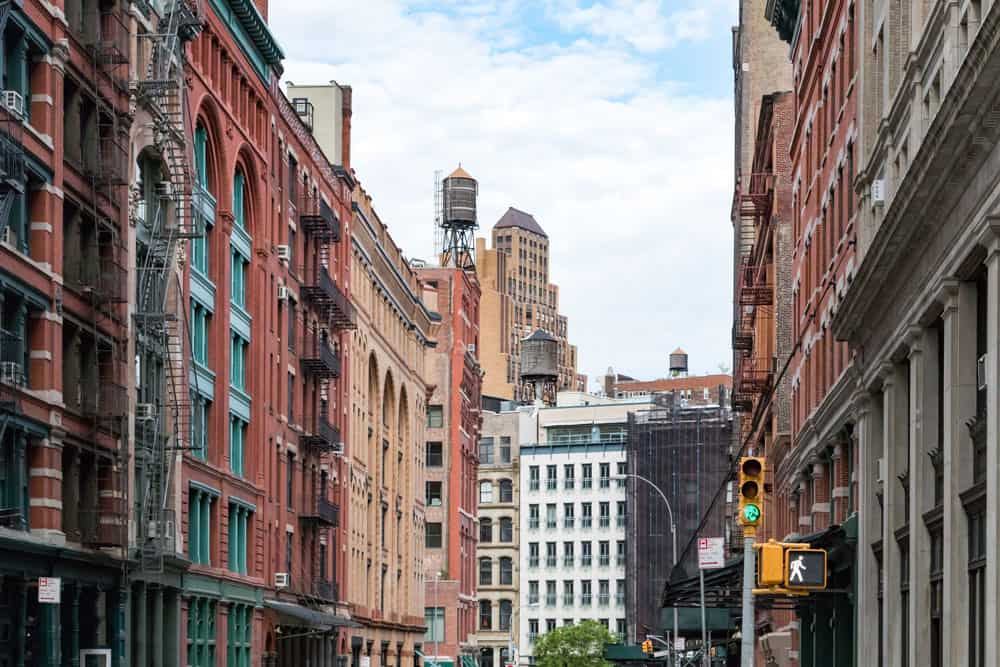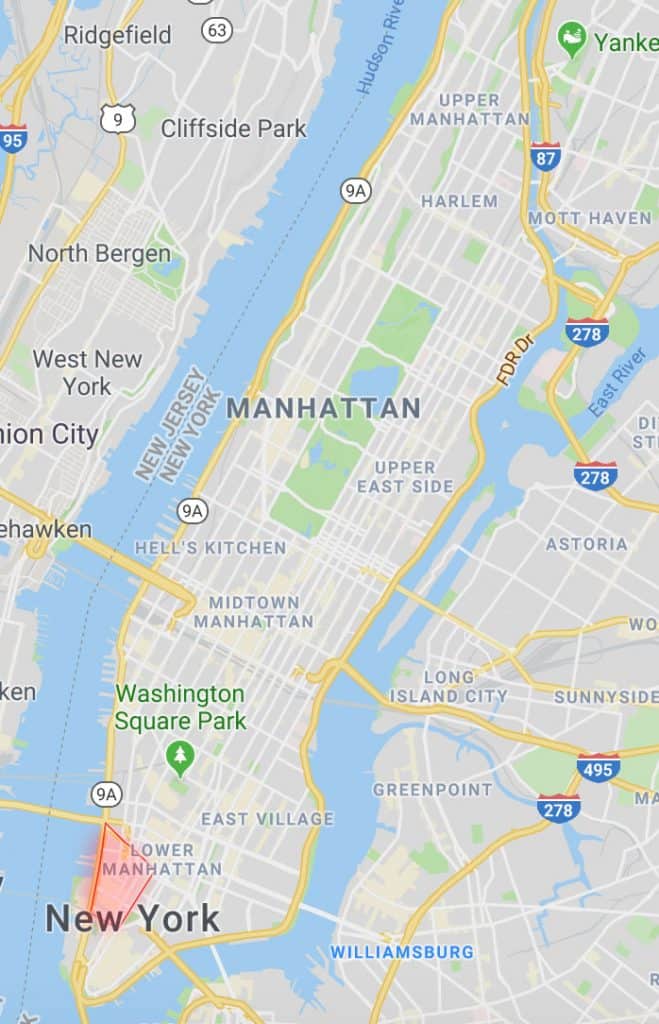 TriBeCa was once an industrial no-man's-land but all the area's industrial buildings were turned into huge ultra-expensive lofts (i.e. Taylor Swift and Beyonce live here). On that note, the neighborhood is full of very expensive bars, restaurants, and boutique shopping.
You'll mostly find luxury boutique hotels in the neighborhood.
East Village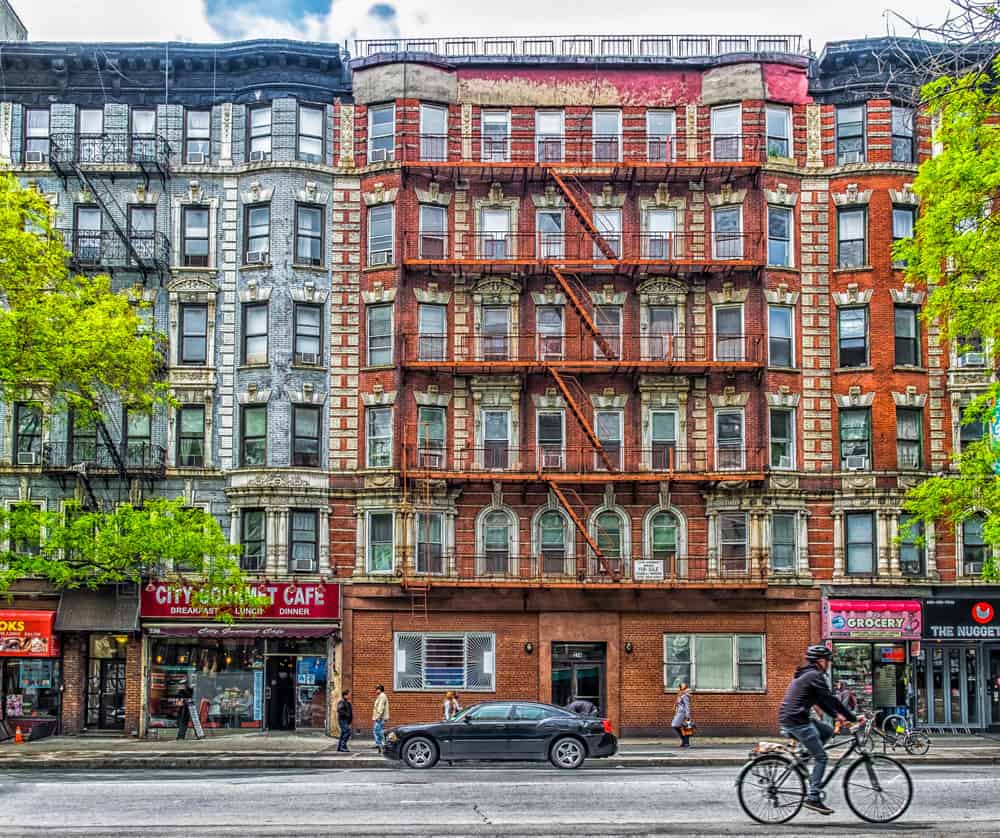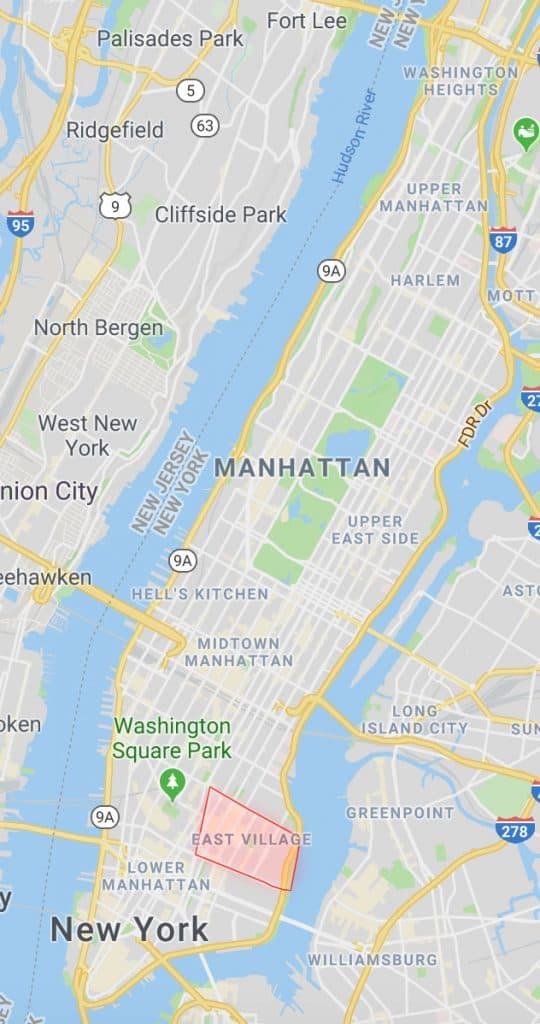 The East Village is like the West Village's less-refined, laid-back, and slightly gritty little brother. It's a popular and hip nightlife spot that skews towards the younger crowd. It's full of vintage shops, tattoo parlors, dive bars, music venues, and other trendy spots.
The East Village's nightlife means it stays loud and happening well into the early hours of the morning so this might not be the best place for light sleepers.
Lower East Side
The Lower East Side has a long history of being rough around the edges and home to NYC's tenement houses. While these days it's fully gentrified, it still has a gritty feel. The Lower East Side has a youthful vibe as its lower rent prices and tiny apartments attract many younger Manhattanites. On that note, you'll find plenty of bars, live music, and rowdy nightlife in the area.
In the 19th century, the Lower East Side was home to a massive Jewish population so, while most of them have long moved out of the neighborhood, these days you can find multiple excellent Jewish delis.
Little Italy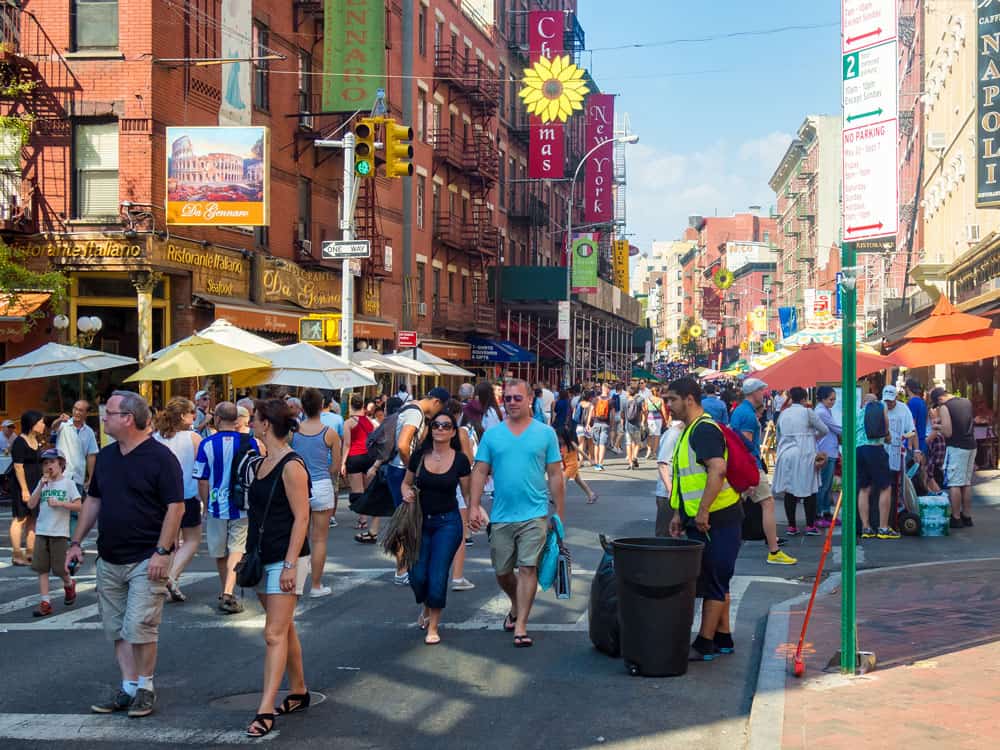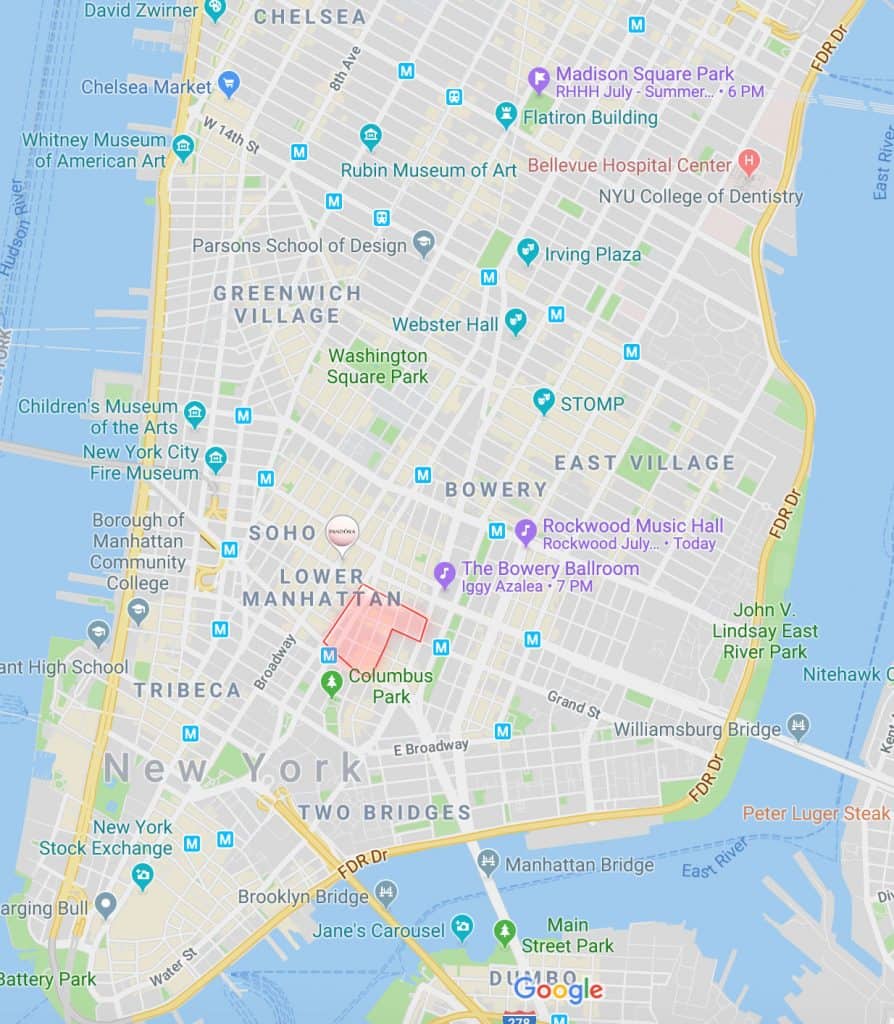 These days Little Italy keeps getting smaller as neighboring Chinatown slowing expands. That said, you can still find a handful of nice Italian restaurants and loads of ambiance in the area so it continues to be a very popular place to visit.
Chinatown
Chinatown is a densely populated neighborhood that buzzes with energy all day. It's an excellent place to visit for delicious Chinese and Southeast Asian food and, knockoff purses, and cheap souvenirs.
Chinatown is one of the cheapest areas in Manhattan and it's home to many budget hotels — but some can be a bit sketchy so read the reviews.
Financial District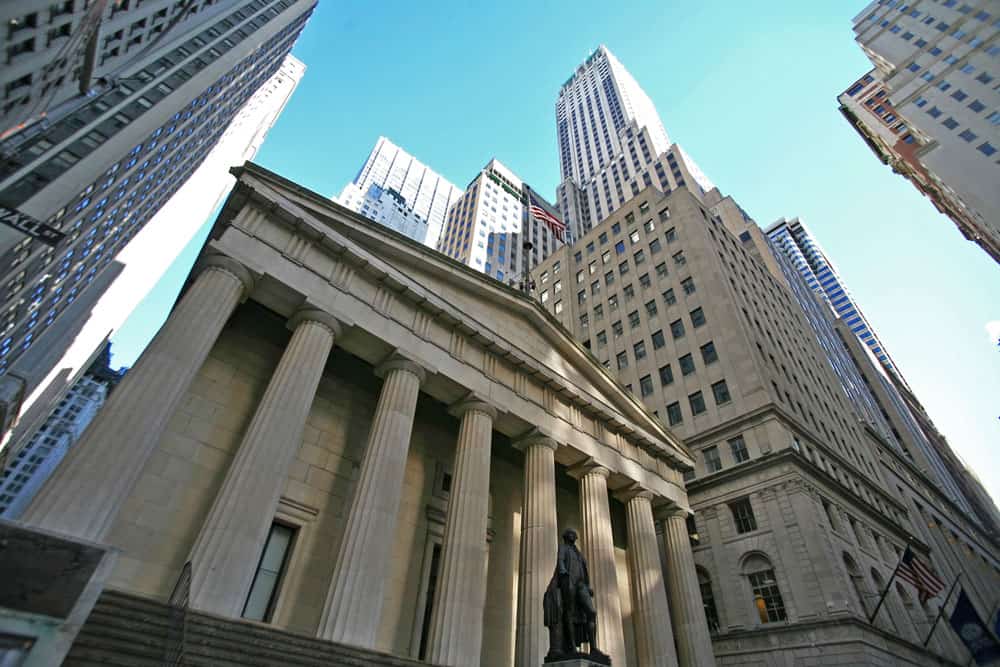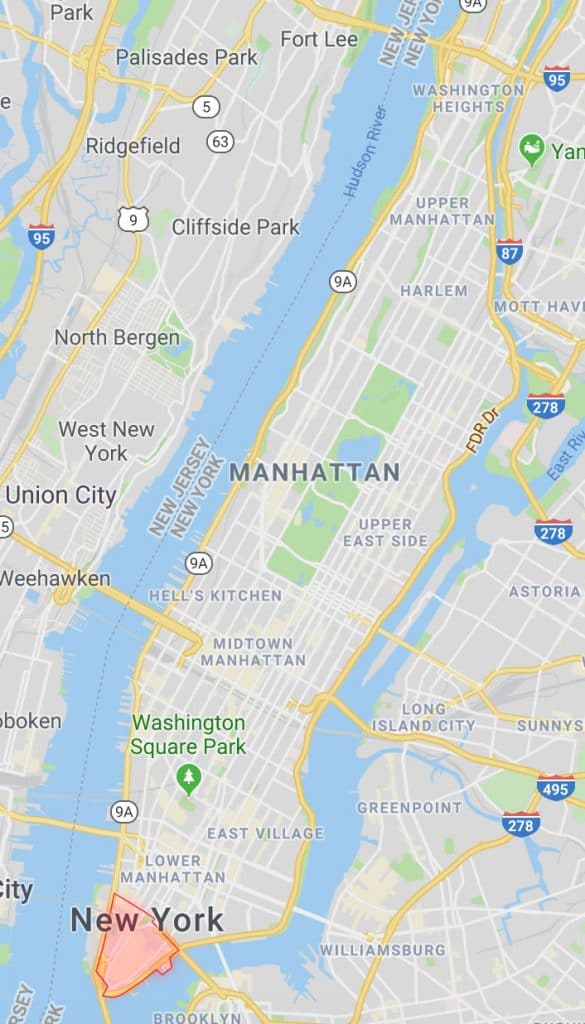 The Financial District is home to Wall Street and many of the city's largest skyscrapers. The area buzzes all day with highly paid business people and clears out at night. Many of the bars and restaurants cater to well-paid business people so it isn't a very budget-friendly place. That said, you might be able to score a decent deal on a hotel as this isn't one of the city's more "desirable" places to stay.
Upper West Side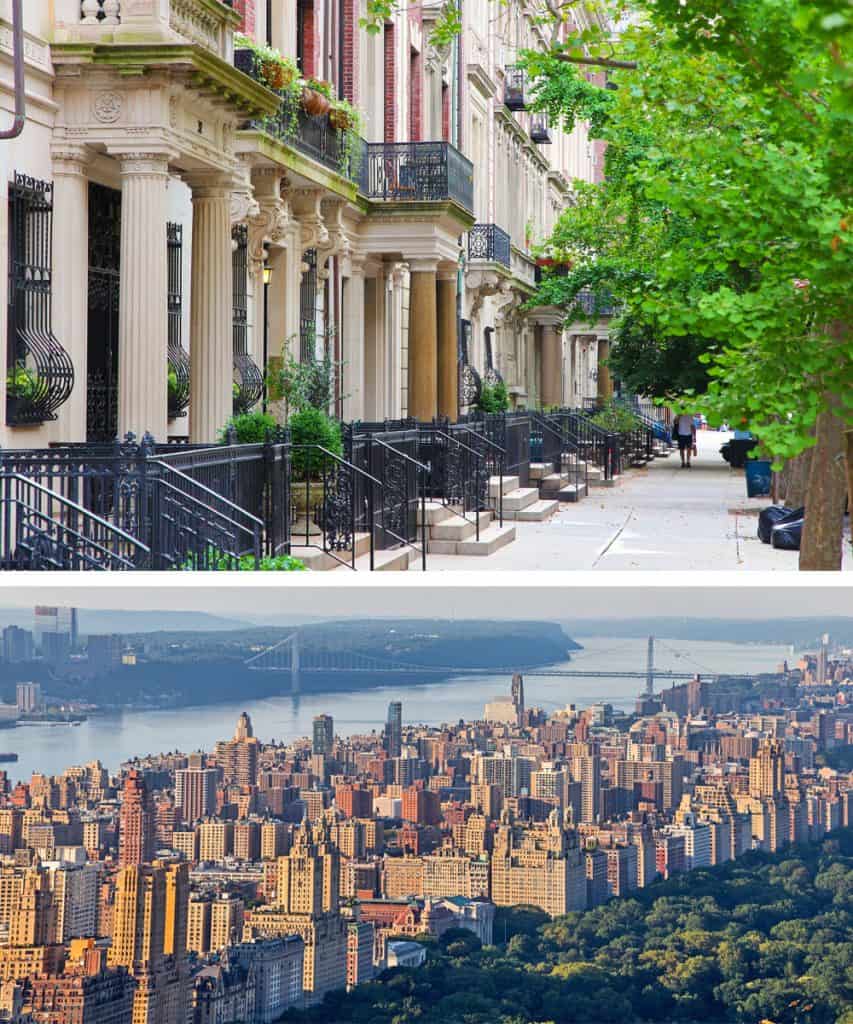 The Upper West Side is an oasis of calm compared to downtown and midtown Manhattan. It's a largely residential neighborhood and it has a lively but laid-back vibe. And you're never more than about a 10-minute walk to Central Park or the Hudson River.
Many people consider the Upper West Side to be classic New York thanks to its many beautiful brownstones on quiet side tree-lined streets. The neighborhood is also home to the American Museum of Natural History, the Metropolitan Opera and New York City Ballet.
The area doesn't have a ton of hotels but there are a handful of options.
Upper East Side
The Upper East Side is a quiet residential neighborhood where New York's "old money" resides. Many of its residents tend to be older, there aren't a ton of dining options, and there isn't much in terms of nightlife. But you'll find a lot of high-end shopping here.
The area is also home to many of the city's premier museums like the Metropolitan Museum of Art, Solomon R. Guggenheim Museum, Frick Collection, Neue Galerie, and El Museo del Barrio.
Hotel options are fairly limited except for a handful of high-end spots so not many visitors stay here.
Harlem
Harlem is a vibrant neighborhood in northern Manhattan. It's famous for tiny jazz clubs, soul food restaurants, beautiful brownstones, a diverse population, and the Apollo Theater. The neighborhood is quickly changing so more and more trendy restaurants, hip cafes, and cool coffee shops are opening every day.
Harlem hasn't historically been a popular place for visitors to stay so there aren't many hotels in the neighborhood.
New York's Best Sights & Attractions
There is never a shortage of things to do in NYC so I apologize now because this section will be extremely long.
Obviously, you can't see everything NYC has to offer so we suggest picking your favorites. Most importantly, don't worry if you can't "see" everything that's on your list because you'll run yourself ragged if you try.
Budget Tip: Consider picking up the New York City Pass if you want to see a lot in a short amount of time. You can read our New York Pass Review to see if it's right for your trip.
Note: We've listed the sights/attractions below in no particular order.
Views From the Empire State Building, Rockefeller Center, or One World Observatory
The most iconic views of NYC are found at the top of NYC's tallest buildings — notably the Empire State Building, Rockefeller Center, or One World Observatory. Tickets for all three are expensive so we suggest only visiting one if you're on a budget.
Personally, we prefer the views from Rockefeller Center because it has views of Central Park and you can views of midtown and downtown — including amazing views from the Empire State Building.
One World Observatory is the tallest building in NYC and it's located at the southern tip of Manhattan so you get a different POV than you get from Rockefeller Center or the Empire State Building.
Tickets to the observation decks start around $35-$40/each but you can pay a little extra to buy a double ticket that lets you visit during the day and at night. You have to book a timeslot so purchase online before you arrive (in most cases).
The Metropolitan Museum of Art (Met)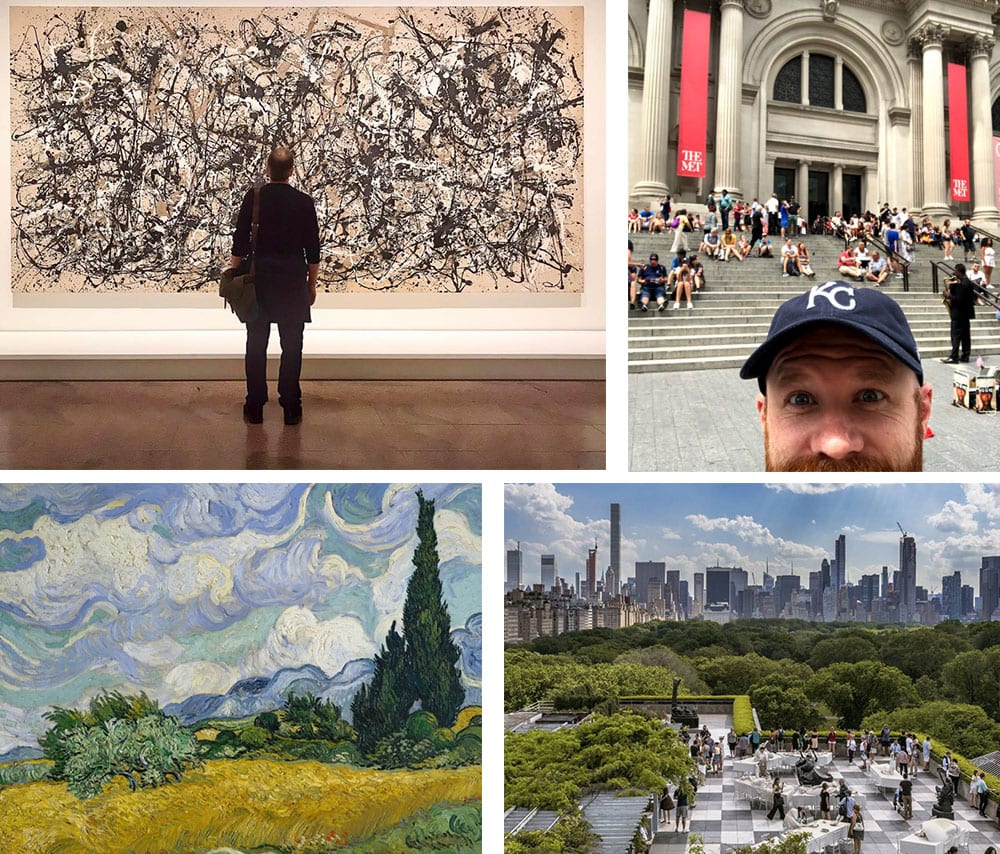 The Met is one of the greatest museums in the world and it's the largest art museum in the United States. Its collection covers more than 5000 years from across the world — from Egyptian mummies to Impressionist paintings to modern art and more.
If you're even remotely into museums then the Met is a must-visit.
Admission: $25 (it's pay-what-you-wish for NY Residents)
Local Tip: The Met has a nice rooftop garden bar that has great views of Central Park and the NYC Skyline. It's rarely crowded as most people don't know about it.
Museum Of Modern Art (MoMA)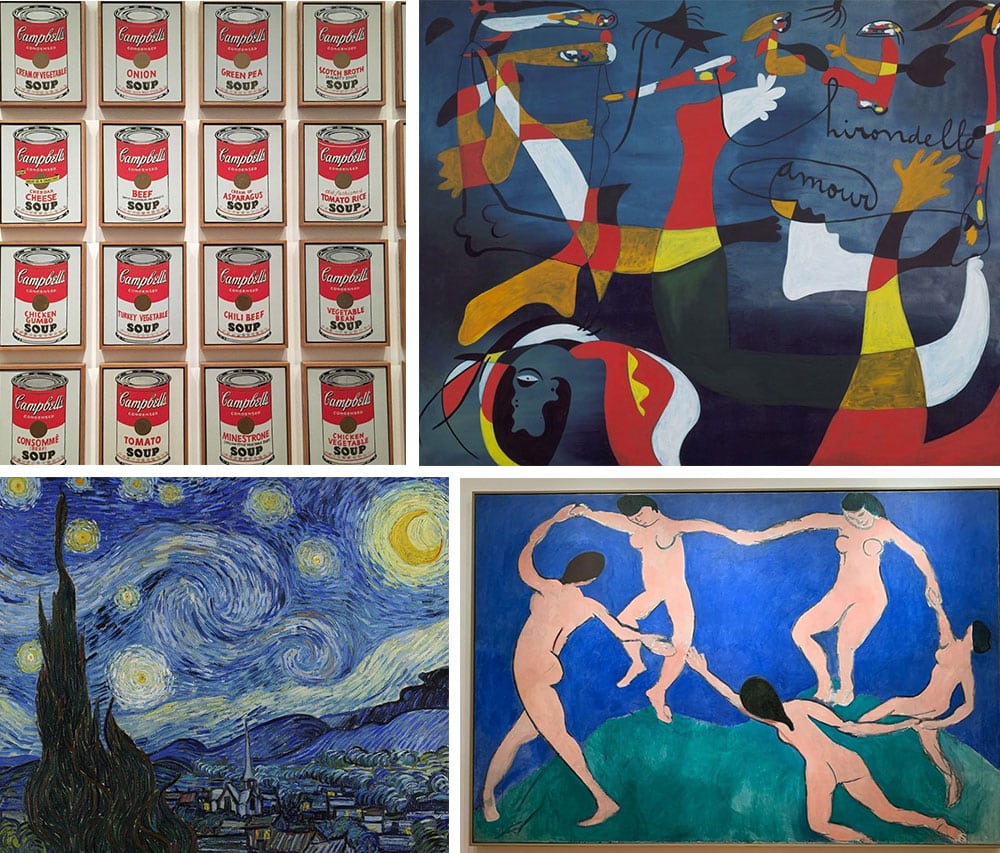 The MoMA is one of the greatest modern art museums in the world and it displays many of the world's most iconic modern and contemporary art. Some of the highlights include Monet's Water Lilies, van Gogh's The Starry Night, Picasso's Les Demoiselles d'Avignon, Matisse's Dance, and Warhol's Campbell's Soup Cans.
Admission: $25

Free entry every Friday 4-8 pm
NOTE: The MoMA is closed due to renovation until October 21, 2019
Local Tip: The MoMA has a second branch in Long Island City, Queens called MoMA PS1 which is dedicated to experimental, thought-provoking contemporary art. They hold frequent events and concerts — and these attract a very hip crowd. See Website and Upcoming Events
Central Park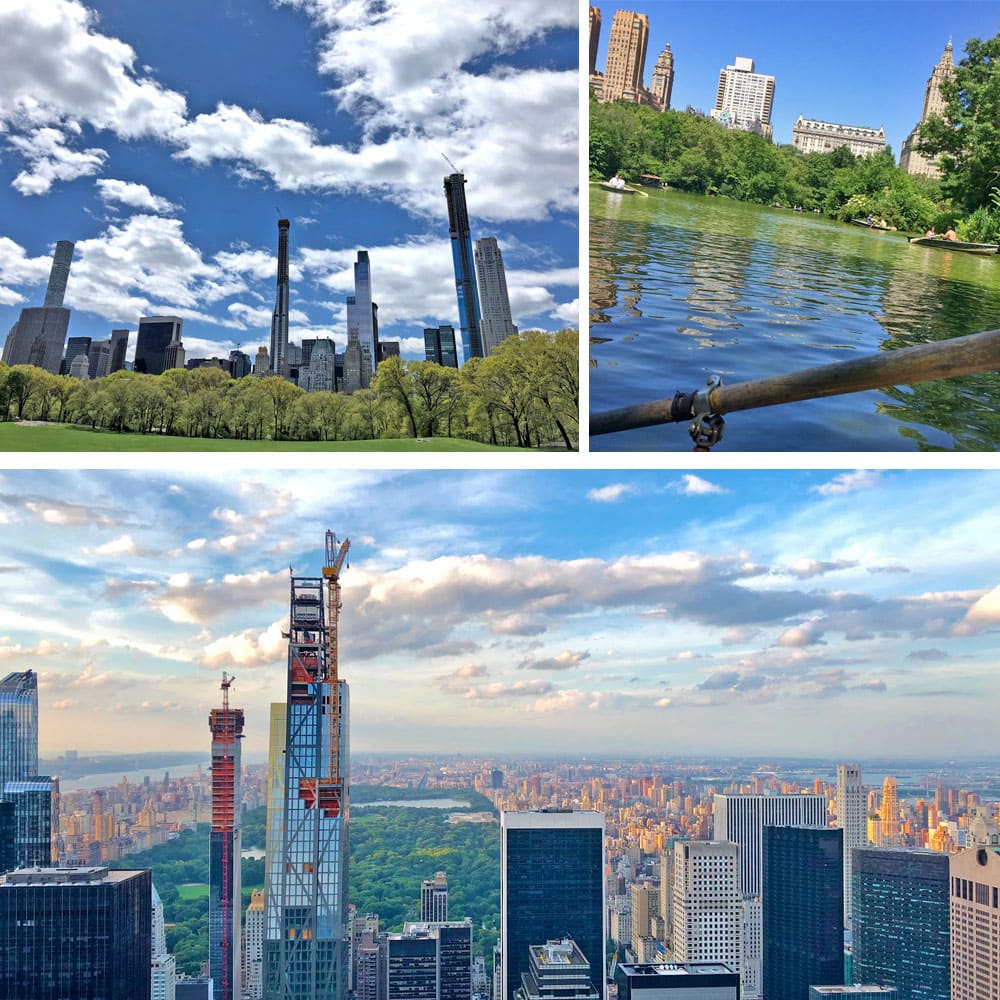 Central Park is arguably the greatest urban park in the world and it's a huge part of what makes NYC such an amazing city. The park is massive so give yourself a few hours to explore the park. In fact, we could probably wite a standalone guide just for Central Park as there is so much to see/do there.
We suggest entering Central Park around 72 Street as that puts you into the heart of the park. Alternatively, you can also simply start near the southern part of the park (@ 59th Street) and stroll north as you see fit.
Park Highlights
Picnic In The Sheep Meadow: The Sheep Meadow is a huge open field near the southern part of the park. It's a great place to relax and enjoy the NYC skyline. Tip: There is a Whole Foods at the edge of the park at Colombus Circle where you can pick up picnic stuff (See On Google Maps)
Rent A Rowboat from the Loeb Boathouse: Boats are $15 per hour (cash only), $4.00 for each additional 15 minutes with a $20 cash deposit. Visit Website
Explore By Bike: Central Park has an excellent bike path that snakes through the entire park so exploring by bike is a relaxing way to experience the park! Here is a list of the multiple bike rental companies.
See Shakespeare in the Park: Tickets are tough to get. You'll have to line-up super early to score tickets (the line is already long at 7 am) or try your luck in the online lottery. Visit Website
Get Lost: There are lots of hidden nooks and crannies throughout the park so just start wandering and see where you end up.
Central Park Zoo: Yes, there is even a small zoo in Central Park. Visit Website
Take A (Free) Walking Tour: The park even puts on free walking tours. Of course, there are plenty of other paid walking tours as well.
Walk The Brooklyn Bridge
The Brooklyn Bridge is one of New York's most iconic sights and it's a great spot to admire the NYC skyline. The bridge is just over a mile long from end to end.
Local Tip: There are a lot of salty cyclists who use the bridge and they get annoyed when tourists walk in the bike lanes so keep that in mind as you're walking.

We also suggest visiting in the morning before the tourists hoards arrive.
Walk The High Line and Chow Down at Chelsea Market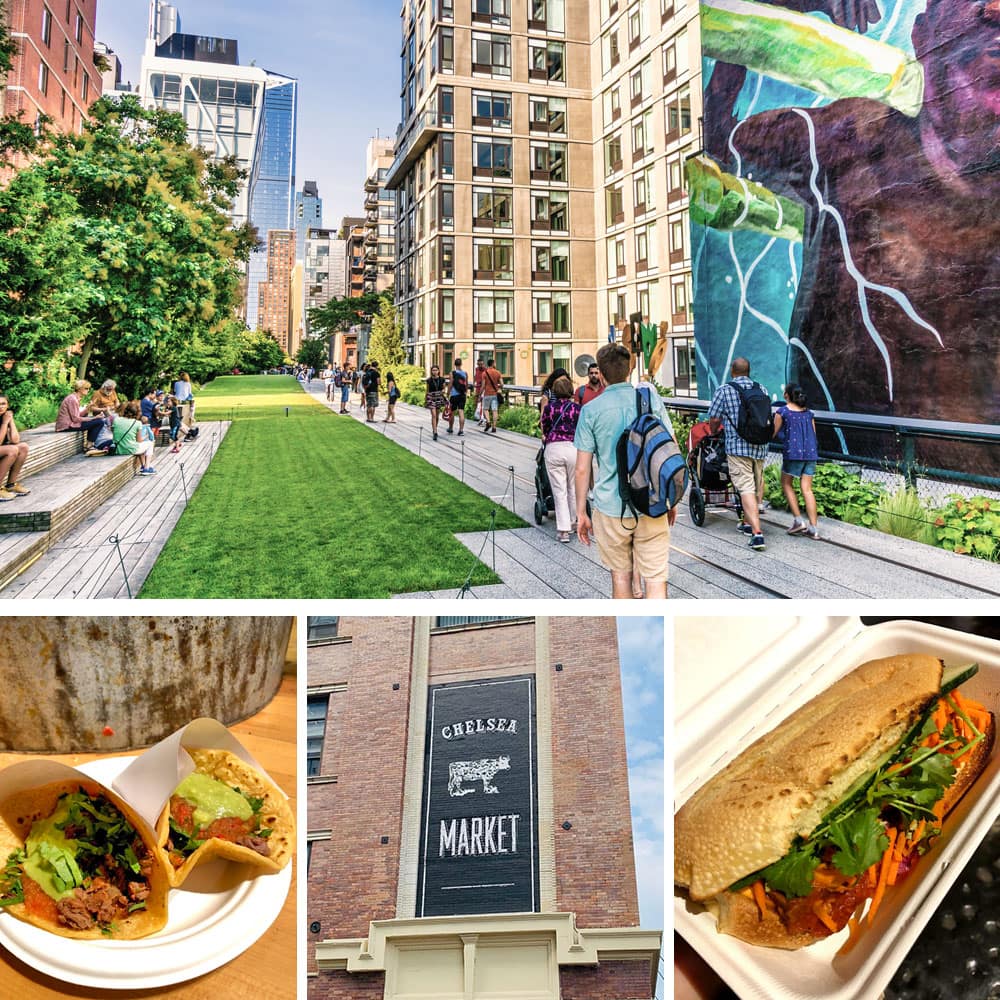 Two of NYC's most popular attractions are the High Line and Chelsea Market — they Highline passes Chelsea Market so makes sense to combine your visit.
The Highline is a 1.5-mile long urban park/walkway that was built on former elevated railroad parks.
Chelsea Market is an old industrial building that was converted into a food hall. It's an excellent place to grab a quick lunch or dinner. Do a circle to see what looks good but we highly recommend Adobada taco at Los Tacos No. 1 and Num Pang for tasty Cambodian sandwiches.
See A Broadway Play
NYC is the epicenter of theatre so there are always multiple Broadway shows worth checking out. But the tickets aren't cheap and tickets for popular shows can be hard to get.
If your schedule is flexible, we recommend checking out one of the TKTS discount booths as they sell same-day theatre tickets for up to 50% off. The lines can get long so we recommend getting there early so you don't have to wait more than an hour in line. You can also book tickets and get behind-the-scenes tours via Get Your Guide.
Grand Central Station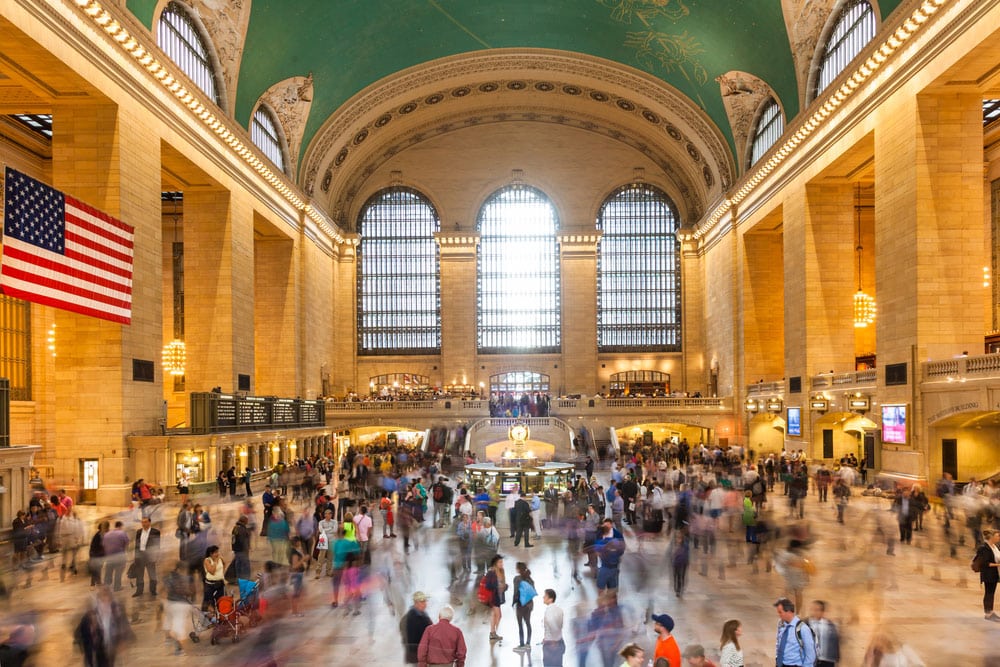 New York's main train station is Grand Central Station and it's an architectural sight to behold. It's fun to look at the building and to experience the chaos.
Tip: The lower level of GCS has a decent food court if you're hungry.
Take A Manhattan River Cruise
Manhattan is lovely from the water so a 2.5-hour river cruise can be a fun and relaxing way to spend part of your day. The cruise start around $45/person. A twilight cruise is also fun!
Take Sunset Sailboat Cruise
Sailboats are always fun so it's no surprise that taking a sunset sail around lower Manhattan would be a magical experience. Expect to pay around $45-$80/person.
9/11 Memorial and One World Trade Center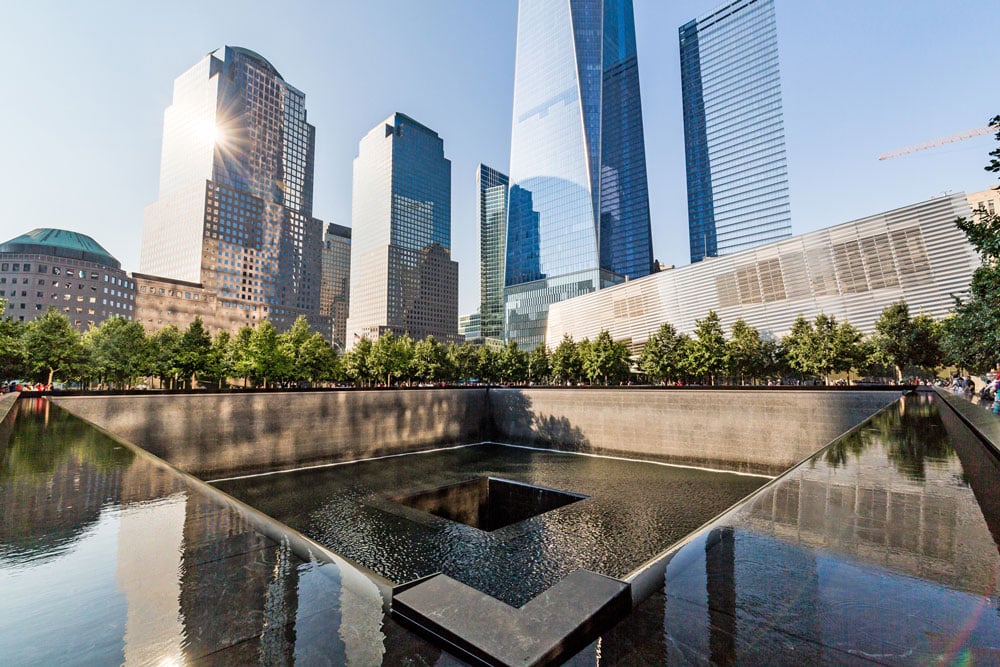 The 9/11 Memorial is an extremely sobering tribute to the tragedy of 9/11. It is an excellent museum but prepare yourself for a lot of emotions.
If you don't want to visit the museum, we still recommend seeing the Freedom Tower and ground zero.
Admission: $26 (pre-book your tickets online)
Guggenheim Museum
Designed by famed architect Frank Lloyd Wright, this building is one of the most recognizable museums in New York. While the museum has a permeate collection, the main draw is their rotating temporary exhibits — which means it can be a hit or miss as it depends what's on display.
Admission: $25

Saturday from 5–8 pm is Pay-What-You-Wish but we suggest arriving early to beat the line.
Take a Hop-On-Hop-Off Bus Tour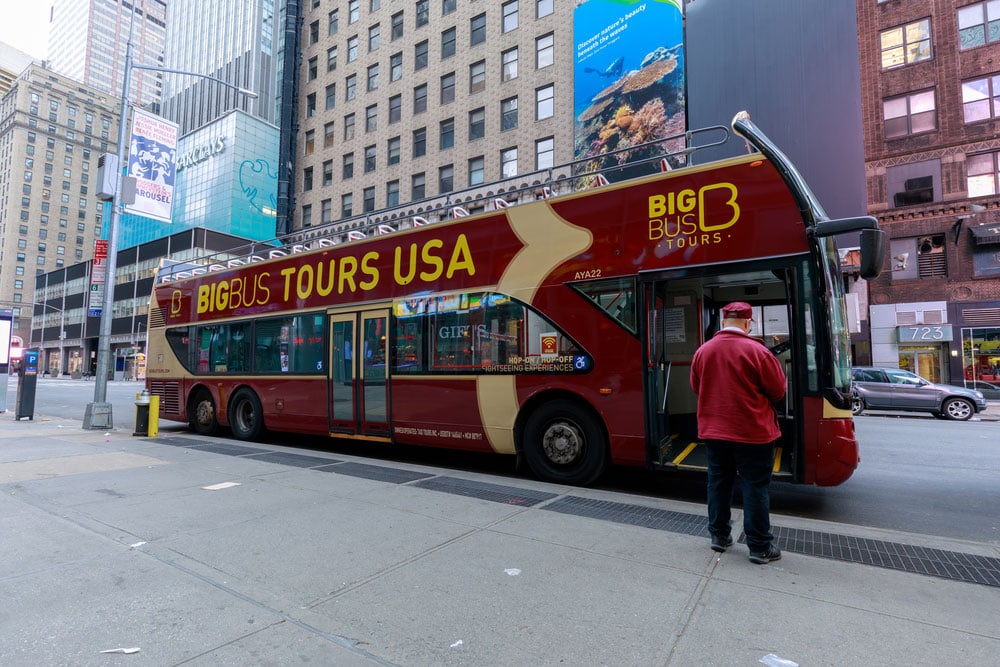 NYC is a big city so one of the best ways to see a lot in a little amount of time is via an open-top bus tour. Tickets typically cost $50 for 24-hours but you can pay a little more for 48-hour tickets. Book your tickets here.
Times Square
I may be jaded but even I think that you should see Times Square if you've never experienced it before. Should you go back? Ehh.
Anyways, there will be way fewer people if you visit late at night or early morning — the rest of the day will be packed with people. We prefer visiting after 10 pm so you get the full bright lights experience.
Local Foodie Tip: Looking for a great budget-friendly meal near Times Square? Check out Xi'an Famous Foods (See On Google Maps) for excellent counter-service Chinese food/soups and Los Tacos No.1 (See On Google Maps) for amazing tacos.
Whitney Museum of American Art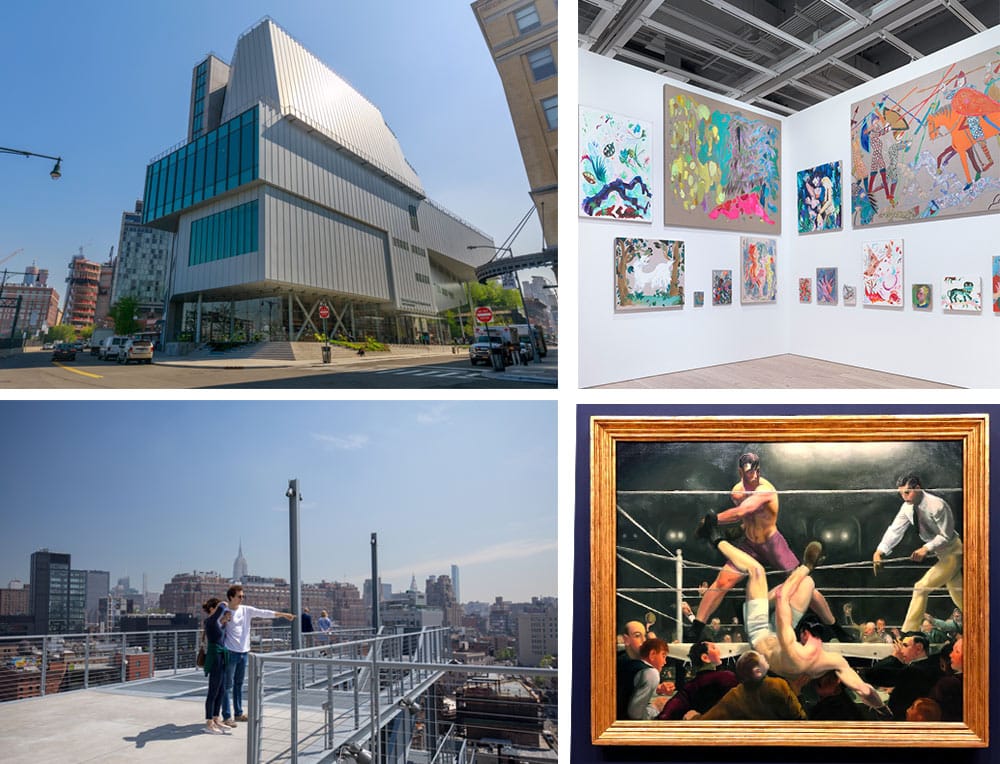 The Whitney doesn't get nearly as much attention as other museums but it's quietly one of the best museums in NYC. The Whitney focuses on 20th- and 21st-century American art and they get some really nice temporary exhibits — the last few exhibits I've seen has been very good.
Admission: $25

Pay-What-You-Wish on Fridays, 7–9:30 pm.
Local Tip: Head to the museum's rooftop cafe for exceptional views of the city's skyline and the Meatpacking District.
Tenement Museum
The Tenement Museum in the Lower East Side is another well-loved museum that not many visitors know about. The museum is housed in two former tenement buildings and it tells the story of the 15,000 people poor immigrants who moved to NYC and lived in these terrible conditions. They also offer walking tours of the neighborhood.
Take A Specialized Tour
One great way to dive deep into a city is to take a specialized tour. Below are some fun options:
Check Get Your Guide For Multiple Other Tours
See Some Comedy
There are a ton of places to catch a comedy show in NYC — from standup and sketch to everything in between. We're big fans of standup and you might even get lucky and see a major comedian working on their latest set.
Check out this guide from Time Out to see what kinds of comedy shows are going on.
Catch Some Jazz
You can still catch a lot of excellent jazz in NYC. We love Bill's Place in Harlem (a tiny jazz spot in the basement of an old brownstone with about 15 seats). Here is a guide to jazz in NYC for more info about other clubs.
Brooklyn Heights Promenade & The Brooklyn Heights Neighborhood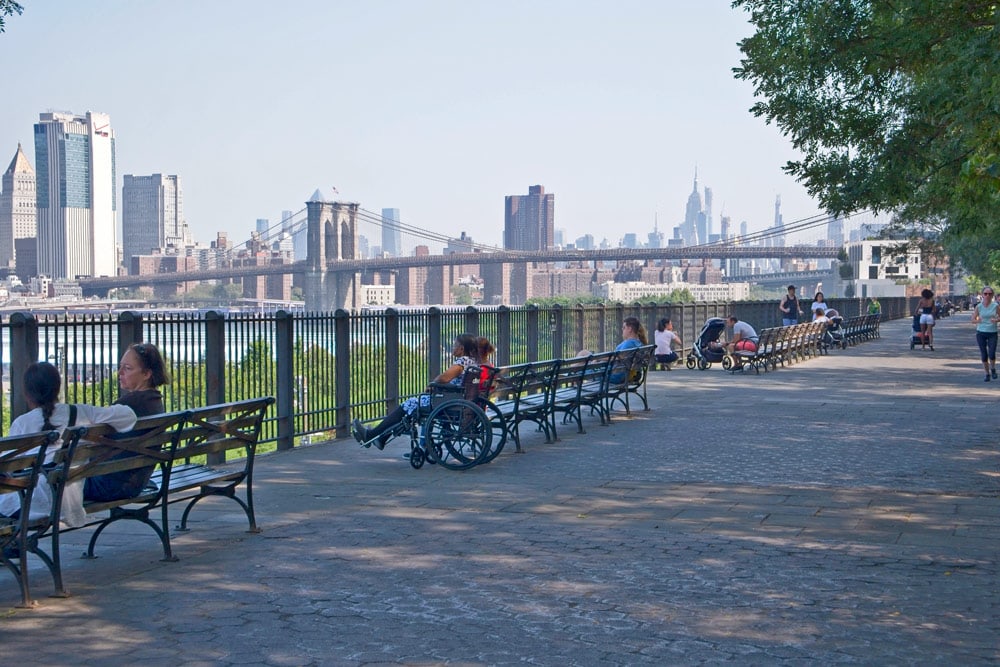 For some of the best views of the Lower Manhattan skyline and the Brooklyn Bridge, head over to the beautiful tree-lined Brooklyn Heights Promenade. This is a favorite spot to visit on a nice day and it's a great spot to catch the sunset.
Furthermore, spend some time walking around the Brooklyn Heights neighborhood as it's full of beautiful old townhouses.
The Met Cloisters and Fort Tryon Park
The Cloisters, which is part of the Met, is one of these secret places that locals take out-of-towners when they want to escape the craziness of the city. The Cloisters is an old French monastery that was disassembled, shipped over, and rebuilt in northern Manhattan. Inside you'll find European medieval architecture, sculpture and decorative arts. They also sometimes host temporary exhibits.
The Cloisters is located inside Fort Tryon Park — which is an excellent small park that has amazing views of the Hudson River and beautiful gardens.
Admission: $25 (pay-what-you-wish for NY residents)

Note: General admission tickets include exhibitions and are valid for three consecutive days at The Met Fifth Avenue, The Met Breuer, and The Met Cloisters.
Union Square
Union Square is a lively square in downtown Manhattan that hosts a long-running farmers market. There are also artists and street performers around the plaza doing their thing so it's a nice spot for people watching.
While this isn't a "must-see" destination, it's a nice place to walk around if you're in the area.
Washington Square Park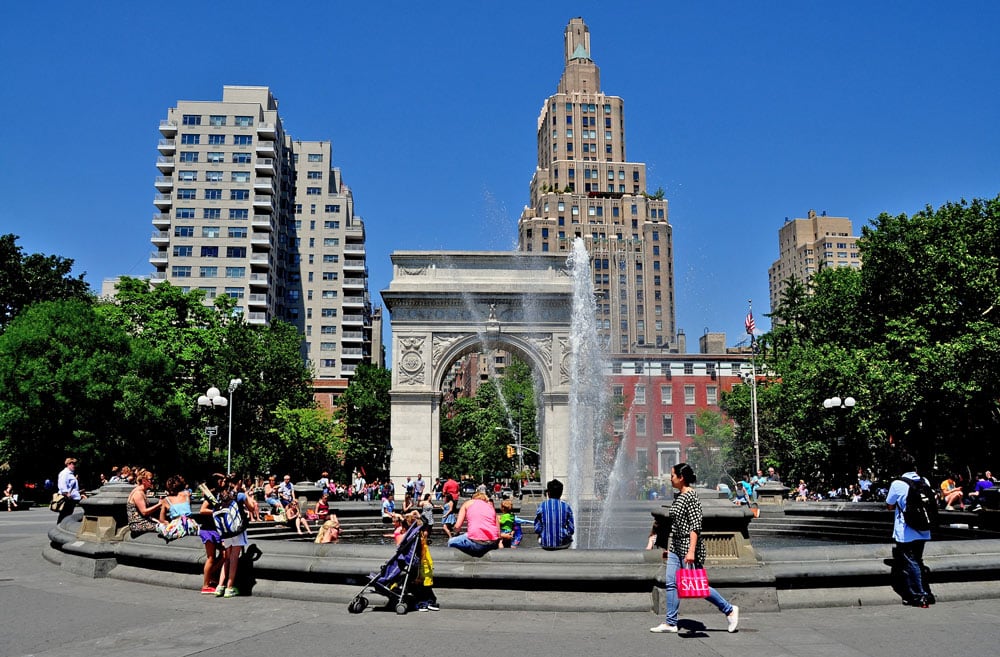 Located in Greenwich Village, Washington Square Park is one of the most iconic parks in New York. It's famous for its huge arch, fountain, and the interesting people who are drawn to the park (i.e. the people-watching is excellent).
Bronx Zoo
If you're up for the long subway ride, we suggest checking out the Bronx Zoo for a nice way to connect with nature in one of the largest zoos in the US.
Admission: Starts at $40

Free Wednesday (but it gets very busy)
Strand Bookstore
The Strand Bookstore is New York's most famous independent bookstore and they boast of having 18 miles of books — which is around 2.5 million books. So yeah, the place is huge and a pilgrimage for bookworms.
Staten Island Ferry
Another no-so-secret free thing to do in NYC is taking the Staten Island Ferry as it passes directly by the Statue of Liberty and it offers great views of the NYC skyline. It's operated by the New York City Department of Transportation and the ride is absolutely free.
The ride between lower Manhattan and Staten Island takes about 25-minutes each way so it's one of the best freebies in town. It runs 24 hours a day and there are rides about every 30-minutes (more frequently during rush hour).
Statue of Liberty
You can't think of New York without picturing the towering Statue of Liberty — which is why it's one of the most popular tourist attractions in NYC.
Note: You have to pass through "airport-style" security before boarding the ferry to the Ellis Island so expect to spend an extra 30-minutes for that.
Admission: There are multiple ticket options but the basic ticket is $18.50.

The only official ticket reseller is Statue Cruises so it is highly recommended to buy your tickets online first and pick them up onsite — otherwise, you'll wait in a huge line.
TIP: Want to visit the Crown of the Statue of Liberty? You'll need to book tickets around six-months in advance. See the Official Website for more info.
Kayak The Rivers
Free kayaking has exploded in popularity so there are now a handful of places where you can kayak in both Manhattan and Brooklyn. See this Time Out Article for more information.
Brooklyn Museum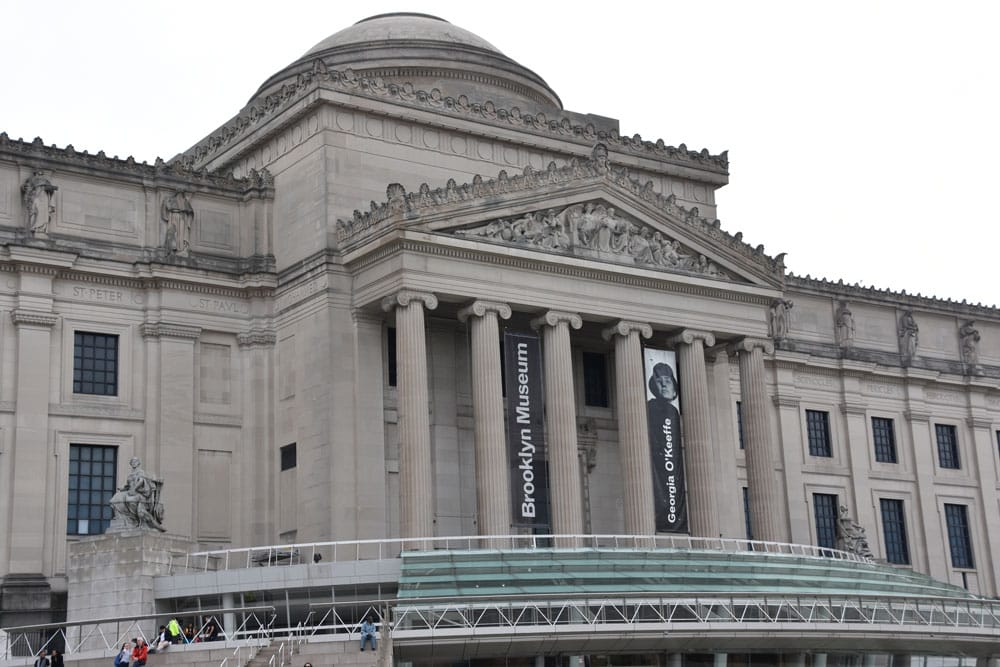 Coming in at 560,000 square feet, the Brooklyn Museum is New York City's third-largest and has a collection of nearly 1.5 million works. The museum is most notable for its ancient & modern art collections and they always have world-class temporary exhibitions.
Admission: Suggested fee is $16 but it's pay-what-you-wish. Special exhibitions are extra.

The museum is open late until 10 pm on Thursday nights and it's free.
Hudson River Park and Riverside Park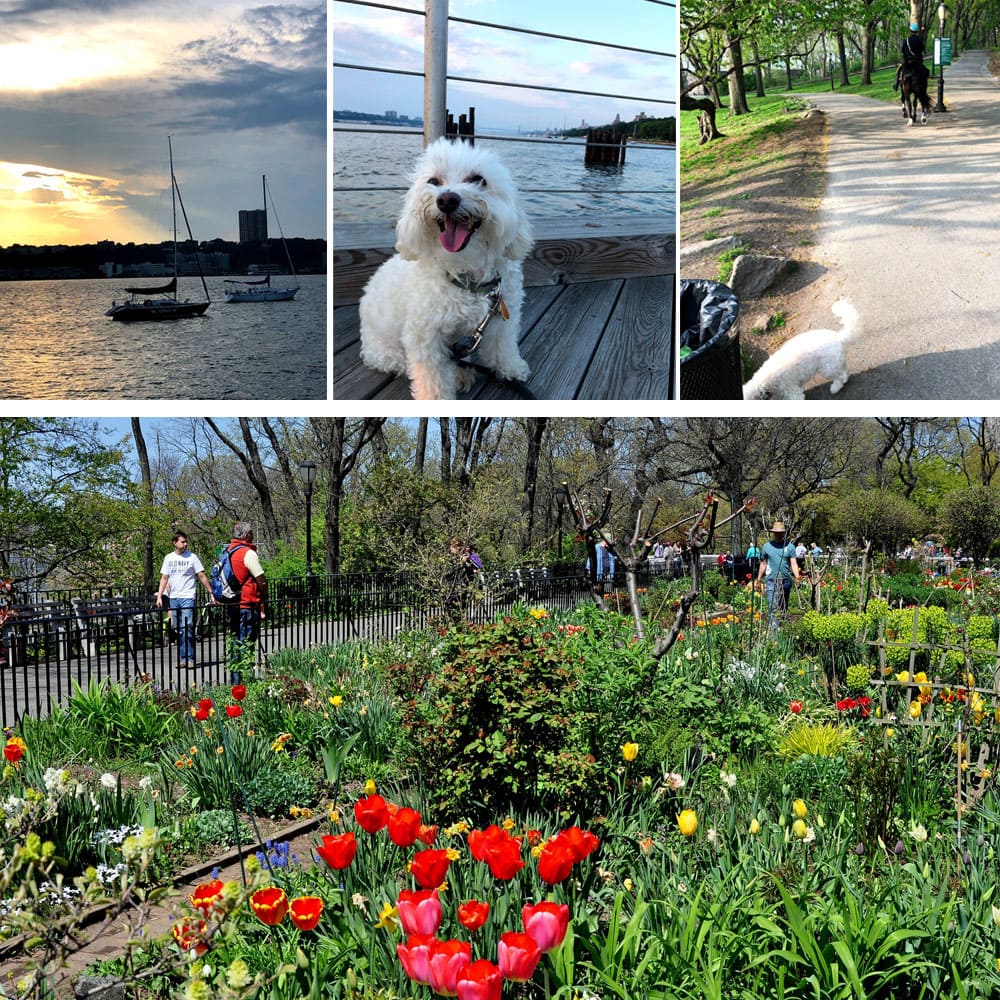 While most people visit Central Park, there are two other major parks in NYC that most visitors don't know about — Hudson River Park and Riverside Park. These two parks essentially run the length of the Hudson River.
The Hudson River Park (learn more) starts at the lower part of Manhattan at battery park and up until W 59th Street. This urban park features all kinds of leisure activities like tennis and soccer fields, batting cages, playgrounds, dog run, and more.
Riverside Park (learn more) stretches four miles from 72nd to 158th streets along the Hudson River and it's more of a traditional park with greenspace. It also has some of the best river views and a few bars alongside the water Pier i Cafe and Boat Basin Cafe).
Both parks have a nice bike/walking path that runs alongside the Hudson River.
Local Tip: There is free kayaking on Piers 96, 84, and 40 during the summer (learn more).
Flatiron Building and Madison Square Park
The Flatiron Building is one of the most recognizable buildings in NYC so it makes an excellent Instagram opportunity. While you're there, stop by Madison Square Park for a bit of relaxation.
Local Tip: There is a Shake Shack in Madison Square Park (see on Google Maps) and the giant Italian food hall Etaly is across the street (see on Google Maps).
Chrysler Building
If you're near Grand Central Station don't forget to look for this iconic Art Deco–style skyscraper. You can visit the lobby but you can't go to the top.
St. Patrick's Cathedral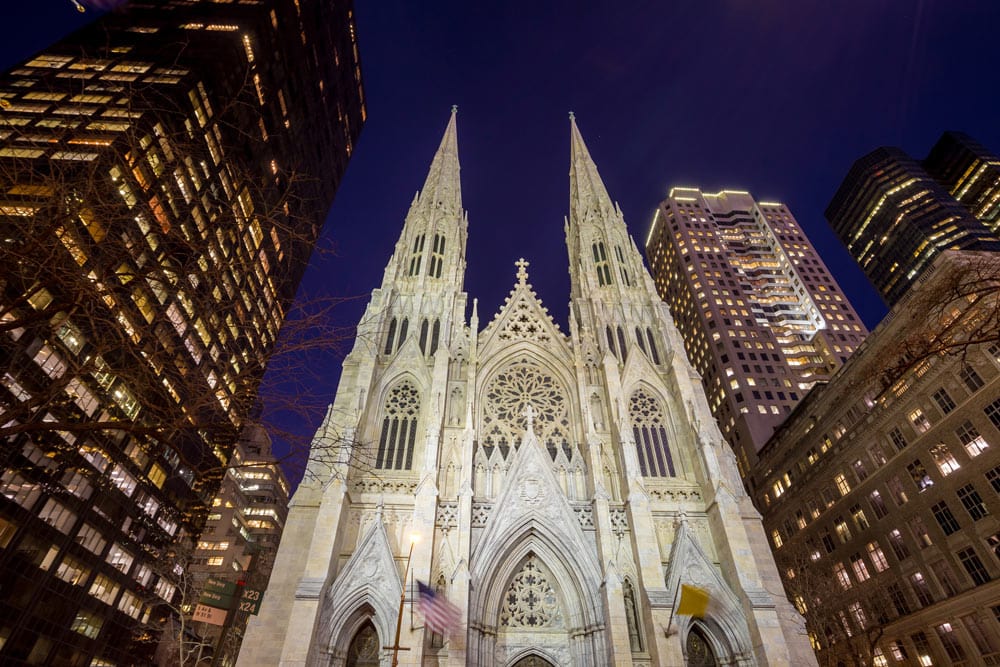 St. Patrick's Cathedral is a breathtaking Neo-Gothic-style Roman Catholic cathedral that was built in 1879 and is now situated amongst the modern buildings of midtown Manhattan. It's a peaceful place to stop in and rest your tired feet.
American Museum of Natural History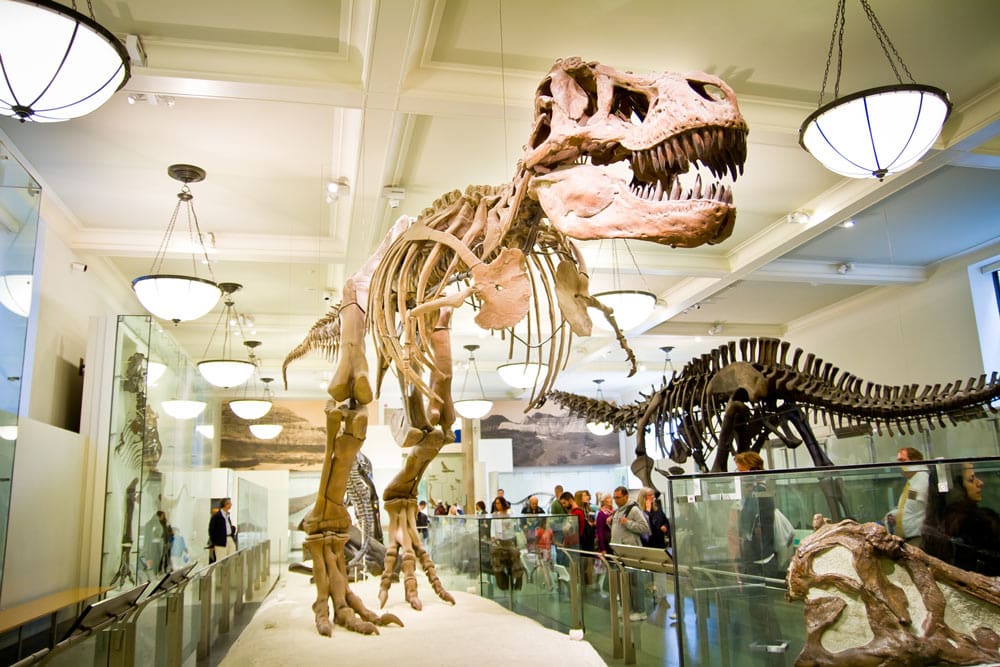 Another world-class museum in NYC is the American Museum of Natural History — in fact, it's is the largest natural history museum in the world. It has tons of animals, dinosaurs, and a Planetarium. This is an excellent place for kids as well.
Admission: $23 (pay-what-you-wish for NY residents)
Intrepid Sea, Air & Space Museum
What's cooler than exploring an old WWII aircraft carrier? The deck of the Intrepid is filled with various military aircraft, and you can head below deck to explore other parts of the carrier. The Growler submarine is docked alongside the Intrepid and it can also be explored.
Local Tip: During the summer they set up a giant moviescreen and show free movies on the deck of the Intrepid.
New York Public Library – Stephen A. Schwarzman Building
Located in Bryant Park, the New York Public Library is the third-largest public library in the world. This Beaux-Arts building is an iconic landmark that's been featured in dozens of movies. It's free to explore and its lobby is worth checking out for the architecture alone. And, if nothing else, they have air conditioning, plenty of places to charge your phone, and free restrooms! They also the first Winnie the Pooh stuffed animal on display in the basement.
---
Where & What To Eat In NYC
Not many cities in the world rival New York when it comes to food. In fact, Manhattan has over 24,000 restaurants — and that's not even counting the Bronx, Brooklyn, Queens, or Staten Island. So it's safe to say that you can find just about anything you're in the mood for.
Of course, there is no way we can list even a fraction of all the great restaurants in NYC so we're going to stick with a few of our favorite places and a few of classic NYC food you might want to check out.
P.S. Consider taking a food tour if you want to eat your want through NYC's best neighborhoods. Get Your Guide has a bunch of these tours to choose from.
Where To Get NYC's Best Pizza
Pizza just might be the most iconic NYC food so there is no shortage of places to get excellent pizza and it's impossible to pick the "best" (this topic has spawned many arguments). That said, we've listed some of the most-loved pizza spots so you can try them all!
NOTE: We've focused on pizza joints in Manhattan or within easy reach of Manhattan. There are tons of great pizza places in all the boroughs (and New Jersey) but we figured this was a good way to contain our recommendations.
Prince Street Pizza
Prince Street Pizza is a perpetual favorite and their slices are truly excellent — there's a reason that they have a constant line coming out of this pint-size pizza shop. There are only a few standing-only tables so most people eat their pizza on the street.
Mama's TOO!
I'm going to be honest here… Mama's TOO! might be the best pizza I've tried in NYC. They're most famous for their square slices but they have more "traditional" triangle slices as well.
Mama's TOO! is small so this is more of a grab-and-go spot but there are a couple of small tables.
Patsy's Pizzeria
Patsy's Pizzeria has been an NYC icon since they first started serving up thin-crust, coal-fired pizza in 1933. The original location is located in East Harlem but they have a few other locations now. Note: The Harlem location is the only location that also serves pizza by the slice.
John's of Bleecker Street
Another NYC institution that never disappoints. They've been serving up excellent brick-oven, thin-crust pizza since 1929. They only serve full pies here so go elsewhere if you're in the mood for a slice.
Rubirosa Ristorante
Rubirosa is another one of our go-to sit-down pizza spots when we're in SoHo/Little Italy. Their paper-thin crust is truly amazing. Rubirosa is small so they squeeze you in and there is almost always a wait (but it's worth it).
NY Pizza Suprema
Established in 1964, NY Pizza Suprema is a no-frills classic NYC pizza joint that's is well-loved by locals and out-of-towners. Their slices are huge but they also have full pies. Expect a line (that moves quickly) and gruff employees. Lives up to the hype. Cash only.
Joe's Pizza NYC
Joe's Pizza is classic NYC. Established in 1975, they've become famous for serving up delicious pizza to hungry NYU students and celebrities alike. The service is a bit gruff but ultra-quick. Their West Village Location is the original but they've since expanded for five locations.
Scarr's Pizza
Scarr's feels more like a dive bar than a pizza place but that doesn't stop them from making a classic New York slice made from high-quality ingredients. They have a small bar and some seating in the back but most folks eat it on the sidewalk.
Emily
Emily does two things really well — pizza and burgers. In fact, both their pizza and burgers are said to be some of the best in the city so might as well try both!. This place is always busy so make a reservation or be prepared for a long wait.
Lombardi's
Opened in 1905, Lombardi's holds the honor of being the oldest pizza joint in the United States. Do they make the best pizza in NY? Not really. But their coal-fired, thin-crust Neapolitan pizza is still extremely good. That said, the restaurant's old-school atmosphere and history make the whole experience even better.
Juliana's
The DUMBO area of Brooklyn has spawned a handful of excellent pizza spots — including Juliana's. The crust on their coal-fired pizzas is that perfect combination of not too soft and not too crispy. There is always a line but it moves pretty quickly.
Grimaldi's Pizzeria
Grimaldi's is another iconic pizza spot in DUMBO that's been serving up brick-oven pies for nearly than 30 years. There seems to be a constant argument whether Juliana's or Grimaldi's is the better DUMBO pizza spot… so you'll just have to sample both. Grimaldi's is cash-only and there is always a line.
Best Pizza
With a name like"Best Pizza" you'd expect their pizza to be mediocre but Best Pizza actually lives up to their name. This neighborhood Williamsburg spot cranks out some of the most delicious wood-fired pizza in all of NYC. This place is super hipster (it's in Williamsburg after all) and they specialize in both grandma-style slices and traditional NY-style slices.
Sal & Carmine's Pizza
Sal & Carmine's Pizza is a quietly one of the best pizza spots in NYC but it's relatively unknown outside its Upper West Side neighborhood. This no-frills joint serves up high-quality classic NY-style pizza in a grab-and-go setting (but there are a few tables). Sal & Carmine's is a few streets away from Mama TOO so might as well try both!
Kesté
This shoebox-size pizza spot is more upscale than most other spots on this list and their pies are "foodie-level" so you won't be disappointed. Additionally, they probably have the best gluten-free pizza crust in NY.
Arturo's
Arturo's may not be as famous as other classic NYC pizza spots but they've been a Greenwich Village staple since 1957. Arturo's is also famous for their live jazz so it's an excellent place to visit for coal-fired pizza and some tunes.
Lucali
Lucali has become one of the must-visit pizza places in New York. We're serious when we say that everyone in New York wants to eat there because the pizza is out of this world. It's BYOB and cash only.
But here's the deal — you have to get there before it opens to put your name on the list and even then you might have to wait 2-3+ hours for a table. Lucali opens at 5 pm but people start lining up at 3 pm to score a table.
Where To Get Amazing Bagels in New York
Is there anymore more New York than a bagel with cream cheese? Doubtful.
Here's the deal — you can find someone selling bagels on just about every street in New York but there are only a handful of truly standout bagel spots that are worth all those extra carbs. Most bagel places also have various flavors of cream cheese or you can get extra fancy by adding other things like eggs, cheese, smokes fish, etc.
For simplicity's sake, most of the bagel places we've listed here are in Manhattan.
Local Tip: Bagels aren't just for breakfast. Most places on this list also make bagel sandwiches for lunch (and sometimes dinner).
Where To Get Great Hamburgers in New York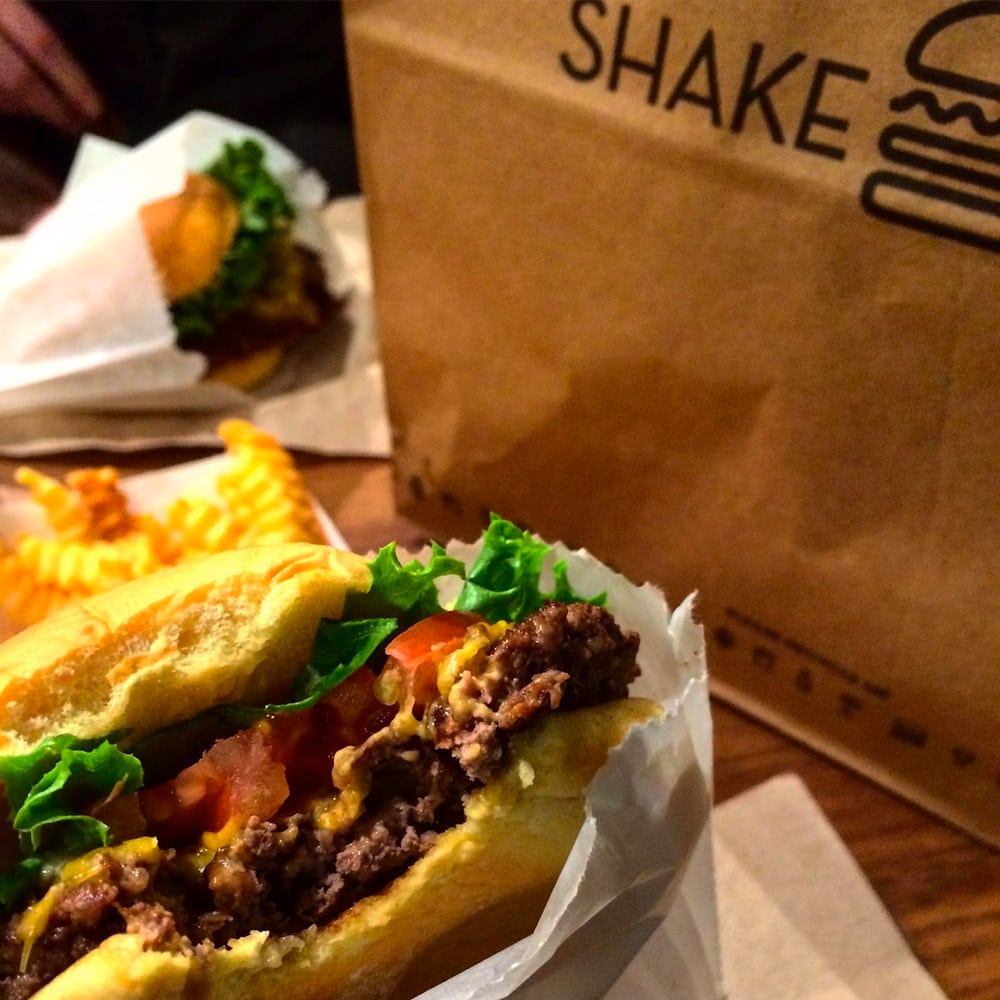 Are hamburgers the most perfect food to ever be invented? Yes. Yes, they are. Luckily, NYC is hamburger heaven so you can find everything from simple to gourmet burgers.
Note: This list only scratches the surface of NYC burger joints but you can be sure that every spot on this list is excellent. We've also tried to hit most areas of the city so you're never far for a solid burger.
Emily
Emily seems to make its way onto every "best burger in NY" list — and rightfully so! Their burger is seriously good and many people claim that it's the best burger they've ever had. So is it worth $28? Yes.
Emmy Squared
Emmy Squared is owned by the same people who own Emily so it's no surprise they also make an excellent burger here. The Emmy Squared burger is double patty burger that's comparable to a high-end Shake Shack/ In-N-Out burger. Soooo good. Not cheap. But still great.
Shake Shack
Shake Shack may be "fast food" but it's fast food done extremely well. We think it's one of the best values in the city when it comes to price to quality ratio. And their shakes are amazing. Shake Shack has 20+ locations so you're never far for a great burger.
Corner Bistro
The beauty of the Corner Bistro is its simplicity — it's essentially a dive bar that makes one of the best "no-nonsense" burgers in NYC (they're even served on paper plates). Their beef patties are thick, juicy, and well-seasoned. Furthermore, the basic burger costs around $10 so it's one of the cheaper 'high-quality' burgers in the city. Cash Only.
Burger Joint
Considering that it was featured on one of Anthony Bourdain's shows, Burger Joint is one of those not-so-secret NYC hidden gems. This no-frills, graffiti-covered, cash-only burger counter is actually located inside the upscale Le Parker Meridien hotel — it's so hidden that you have to push past a velvet curtain to get inside.
The Spotted Pig
This hip no-reservations spot is a West Village institution — you might even rub shoulders with celebrities while dining here. They're particularly known for their excellent burgers & fries, a solid bar, and long wait times at peak dinner times.
Ear Inn
Talk about old school, this New York pub has been around since 1817 and it's still a local favorite. They serve up a mean burger, great drinks, and they have live music most nights.
J.G. Melon
The original J.G. Melon has been an Upper East Side staple since 1972. This laidback old-school pub has since expanded to three locations. Their burgers are simple yet extra delicious — they have other classic bar food as well.
Bar Sardine
Bar Sardine is yet another charming West Village gastropub that serves up an excellent burger. They also have a great bar if you're in the mood for a pricy cocktail.
P.J. Clarke's
The original P. J. Clarke's has been a Midtown staple since 1884 and was a favorite of Sinatra & Jackie Kennedy. They now have three locations in Manhattan. The staff is friendly, the burgers are super tasty, and they have a nice beer selection. Expect a crowd.
David's Cafe
This French-American restaurant in the East Village makes a truly excellent burger (among other things). It has a hip rustic vibe and your burger comes with a free beer/wine during happy hour.
Boilermaker
It's hard to not fall in love with Boilermaker's kitschy retro dive bar vibe. Their burgers are super tasty and affordable. They also have fun cocktails and a nice beer selection.
Joe Juniors
Old school, no-frills, straight-out-of-the-80s NYC diner vibe. Budget-friendly. They serve just about everything but get props for their burgers. Cash only.
Where To Get Amazing Deli Sandwiches in New York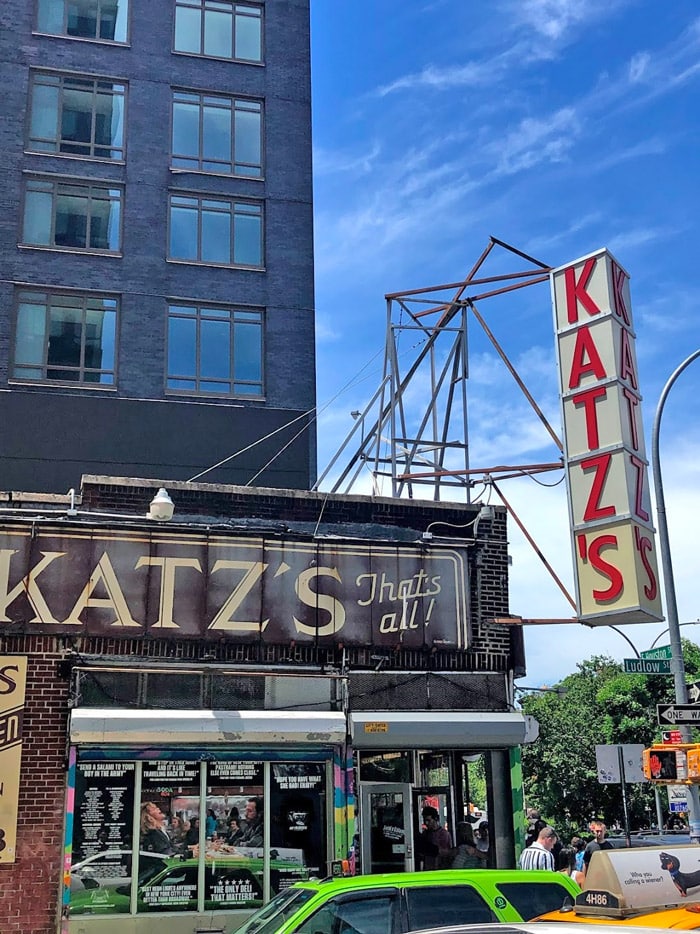 Sometimes nothing will feed your hunger better than a deli sandwich that weighs as much as a small dog. Well, we've got you covered…
Katz's Delicatessen
No-frills. Long lines. HUGE sandwiches. Cranky employees. Touristy. Expensive. Open since 1888. 100% worth it eating there at least once.
P.S. Order the pastrami Sandwich.
Sarge's Deli
Sarge's Deli is another NYC favorite Jewish deli and they've been around since 1964. Sarge's is also home to New York's largest sandwich — The Monster. They're open 24/7 in case you get a 4:30 a pastrami craving.
2nd Ave Deli
Classic deli vibe serving up authentic Jewish fare and sandwiches.
Fine & Schapiro
While not as famous as the other delis on this list, Fine & Schapiro has been serving up since Jewish cuisine since the 1920s.
Where To Get Amazing Tacos & Burritos in New York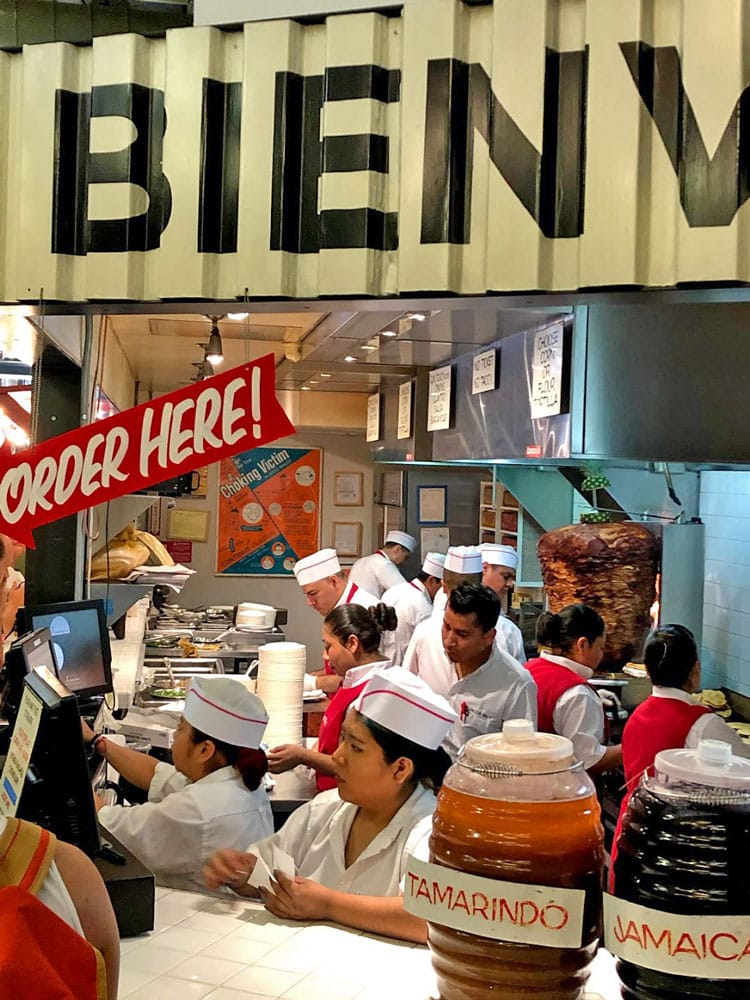 Here's the deal, NYC isn't exactly the mecca of tacos and burritos but there are still plenty of places to get your fix. Below we've listed a few of our favorite spots in Manhattan or within a quick subway ride to Queens/Brooklyn.
Taco Mix
Make your way up to East Harlem and squeeze into this hole-in-the-wall joint to chow down on what many New Yorkers consider to be the best tacos in NYC — they're most famous for their excellent al pastor tacos.
UPDATE: They've recently expanded to a Lower East Side location!
Los Tacos No.1
Los Tacos No.1 is easily the most famous and largely considered to have the best tacos in NYC. They're seriously good and this is where we direct folks who are craving tacos. They have two locations in Manhattan — one in Chelsea Market and a new location near Times Square. Both spots are always busy and have very little/no seating so this is a stand-and-eat kinda taco joint.
Tacombi
Another popular spot with tasty tacos and a hip/kitschy atmosphere is Tacombi. They've expanded to multiple locations throughout NYC but each is meant to make you feel like you're eating on a Yucatan beach — some locations even serve you from a VW bus.
La Esquina
While their tacos are solid, part of the fun of La Esquina is the experience. At their SoHo location, you enter through a non-descript service entrance of a smaller restaurant (The Corner Deli), pass through a kitchen, and into a cool bar/restaurant. Reservations are recommended.
You can also get takeaway tacos from The Corner Deli you don't want to head downstairs.
Dorado Tacos
Head to this tiny counter-service joint for Baja-style fare – including tasty fish tacos.
El Paso Taqueria
A bit of a hidden gem on the border of the Upper East Side and Spanish Harlem. This cozy cantina serves up authentic Mexican dishes and it's a nice option if you're looking for a peaceful sit-down restaurant.
Tulcingo Del Valle
This small Mexican diner that serves up authentic Mexican fare. No frills spot but the prices are solid.
The Little Taco House
There aren't many affordable places to eat in the West Village but The Little Taco House is a rare exception. It's a hole-in-the-wall so there isn't much seating but it's a solid grab-n-go option.
Zaragoza
Zaragoza is a bit of a hidden gem. It's actually a tiny family-owned & operated Mexican grocery store but they also make delicious take-out food at solid prices.
Benny's Burritos
Big ol' burritos and other Mexican food. Solid margaritas and prices are reasonable.
Downtown Bakery
Don't let the name fool you, this no-frills counter-service Mexican joint serves up tasty tacos and burritos & tacos. They have great breakfast burritos (served all day) as well.
El Diablito Taqueria
A solid neighborhood spot that serves up classic Mexican dishes at fair prices. It's a small restaurant so there are only a couple of tables but you can always do takeaway.
Where To Get Great Chinese in NYC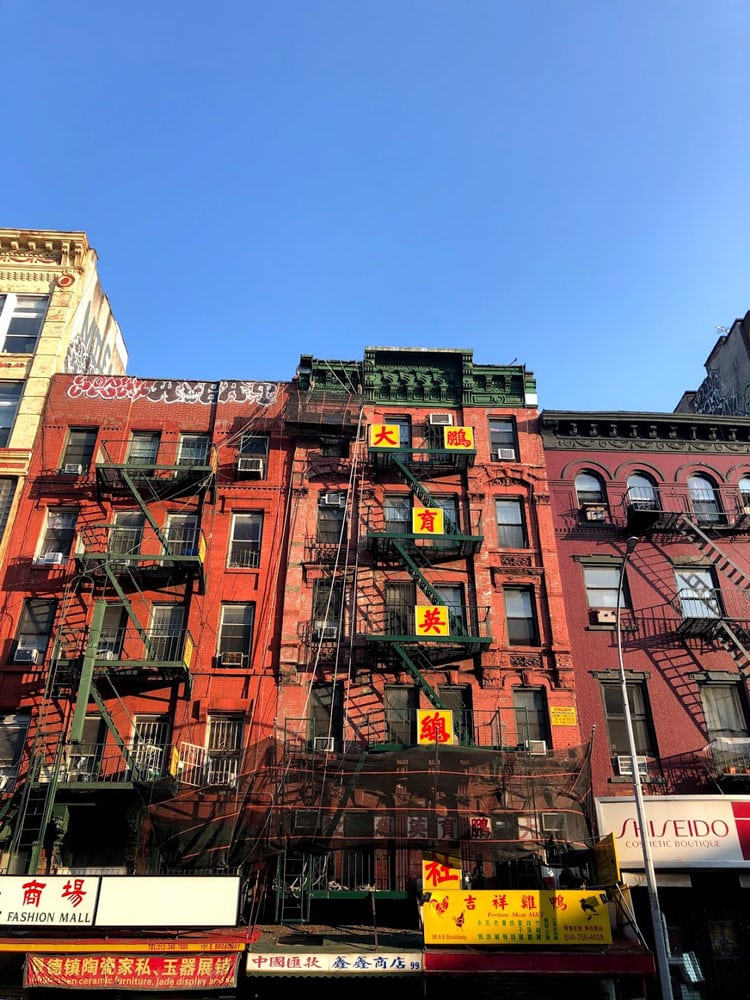 NYC has a huge number of great Chinese and Southeast Asian restaurants — notably in Chinatown. Below are a few of the most well-known and best places to chow down on dumplings, pork buns, hand-pulled noodles, and more.
Note: We mainly chose places in/near Chinatown but there are plenty of other places throughout New York. Flushing, Queens is home to many Chinese immigrants so its another spot to get authentic Chinese food.

Note Two: Many Chinese restaurants in Chinatown are cash only.
Vanessa's Dumpling House
Vanessa's is an NYC budget-foodie institution. They're a no-frills joins that's always busy thanks to their amazing fried or steamed dumpling that am made fresh right in front of your eyes.
Joe's Shanghai
Cash only, sparse decore, super fast service, affordable prices, and amazing soup dumplings (among other Shanghai dishes) — everything you could want in a great Chinese restaurant.
Shanghai 21
Another no-frills joint with a huge menu of Chinese dishes — their soup dumplings get a lot of love. Portions are generous and prices are solid. Cash only.
Great NY Noodletown
Great NY Noodletown is known for their handmade noodles and their roast pork & duck. They're also open until 4 am for all you night owls.
Xi'an Famous Foods
Xi'an Famous Foods is one of our favorite Chinese restaurants — they're most famous for their excellent hand-pulled noodles. They've become so popular that they've expanded to 15+ different locations all across New York. The service is fast so it's a very popular lunch spot for hungry New Yorkers.
Nom Wah Tea Parlor
Nom Wah Tea Parlor is the oldest dumpling restaurant in New York that dates back to 1920. They're always busy but service is fast and efficient.
Real Kung Fu Little Steamed Buns Ramen
Real Kung Fu Little Steamed Buns Ramen is a funny name but this place is always hopping with Chinese people so that's always a great sign. Plus, they're located in Midtown/Hell's Kitchen so you don't have to travel all the way down to Chinatown for some excellent food.
Wo Hop
Another well-established no-frills Chinese restaurant located in the heart of Chinatown. Everything they make is solid. They're also open until 4:30 am.
Big Wong
Big Wong is another popular Chinese joint that specializes in Cantonese dishes. Their BBQ pork is well-loved. No frills. Cash only.
Wah Fung Fast Food
Wah Fung Fast Food makes tasty street-style Chinese food but they're most famous for their roast pork.
Café China
Café China serves up traditional Sichuan dishes from a Michelin rated chef and a series of solid cocktails. Slightly more upscale than you're typical "no-frills" Chinese restaurant.
Tasty Hand Pulled Noodle
Not surprising, they serve up tasty hand-pulled noodles and other Chinese comfort foods. Very affordable.
Wok to Walk
Ok… Wok to Walk is an international chain that started in Amsterdam so it's not exactly "authentic" but it's still a great budget-friendly grab-n-go option if you're in Midtown Manhattan. The food is made fresh in front of you and it's tasty. So, while it's not a "destination" kind of restaurant but it's not a bad place to eat if you're in the area.
Red Farm
Red Farm is a modern, up-scale Chinese-fusion restaurant with two locations. It's very trendy and the food is great but it's not cheap.
Even More Of Our Favorite Restaurants in NYC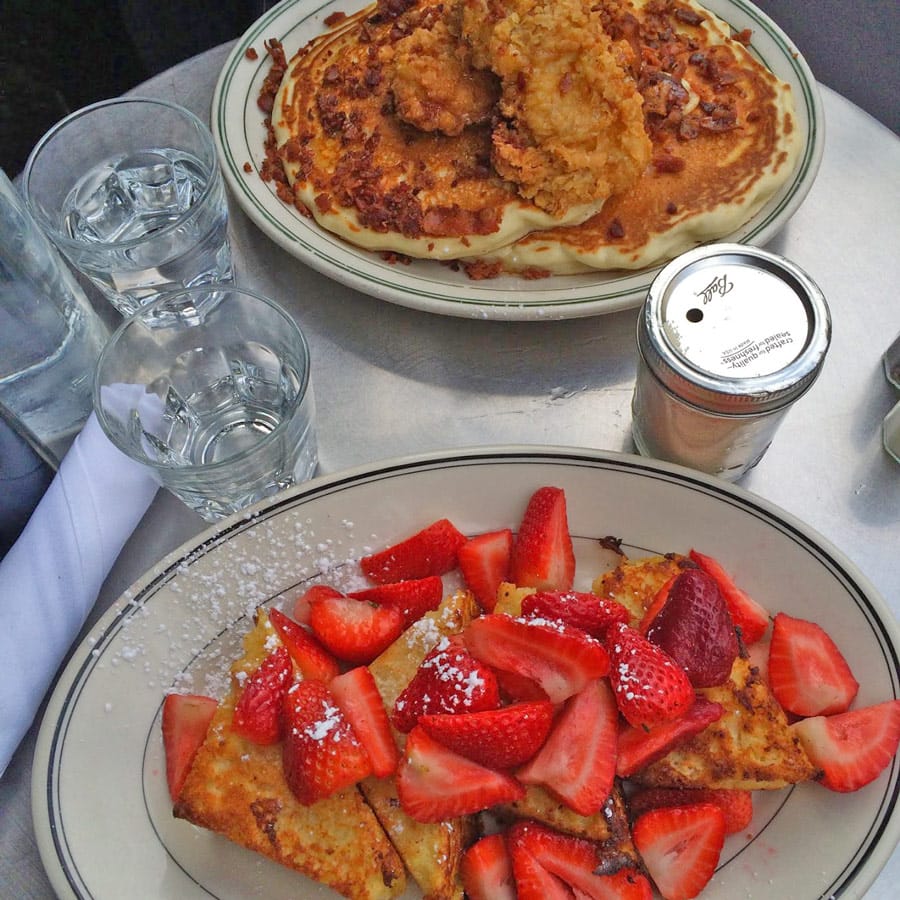 Ahhh! It's so hard to list all the places we love to eat in NYC because the list seems to never end (which is why we continue to add more restaurants to this list as we discover new favorites).
Anyways, below is our always-growing list of amazing places to eat.
Thursday Kitchen
I think we must take every out of town visitor to Thursday Kitchen. It's basically Korean fusion with French & Spanish influences. Sounds weird but it's delicious. And they have alcoholic Capri Sun drinks with light-up ice cubes. Super cool and trendy. Just go.
Ippudo Ramen
Ippudo Ramen makes AMAZING ramen and world-class pork buns. Seriously, you need to eat here. There is always a fairly long wait during the busy times but service is quick. They have three locations in NYC.
Totto Ramen
A cozy little spot that makes flavorful ramen and pork buns. They do fill up quickly at night/on the weekend but that's to be expected with such great food. Cash only.
miss KOREA BBQ
Make your way to Koreatown in Midtown for miss Korea BBQ. This 24-hour joint serves up great Korean BBQ, hot pots, and other fried meats.
Malatesta Trattoria
This casual Italian is one of our favorites because their homemade pasta is delicious but it's actually affordable (which is rare in NYC — especially in the Village). The restaurant is super cute and always busy. Cash Only.
Veselka
Borscht, pierogi, and other authentic Ukrainian/Polish dishes served 24-hours a day? Yes please! The prices are very affordable and the service is friendly. They've been around since 1954 so they've been a local favorite for a long time.
Amy Ruth's
Classic soul food in the heart of Harlem. They're famous for their chicken and waffles. So good!
Sylvia's
Established in 1962, Sylvia's is a Harlem institution that serves up huge helpings of down-home Southern comfort food. Expect a wait as it's always busy.
Red Rooster
There is no shortage of soul food in Harlem but Red Rooster is one of the standouts. It's run by celebrity chef Marcus Samuelsson so that adds to the hype (aka expect to wait for a table). But the food is excellent, it has a super hip vibe, and they have frequent jazz nights.
Jacob's Pickles
This happening Upper West Side restaurant made a name for itself thanks to their huge portions of American soul food — notably fried chicken biscuit sandwiches, housemade pickles & beers. It's a hot brunch spot as well (with long waits to match).
The Halal Guys
What started as a popular food truck in Midtown has now turned into a multi-location gyro restaurant. The food is delicious and affordable. It's a great place for a quick and filling meal.
Gray's Papaya
Skip those street vendor hotdogs and head to Gray's Papaya. This is colorful and no-frills joint serves up one of the cheapest meals in the city. They're open 24-hours.
Cafe Mogador
This much loved Moroccan restaurant has become one of the most loved brunch spots in the East Village.
Clinton St. Baking Co.
It's all about brunch, pancakes, and waffles at Clinton St. Baking Co.
Buvette
Super cute and casual French spot with excellent breakfast, lunch, and dinner. The food is top-notch but portions are a bit small and not cheap. That said, we still love this place.
Num Pang
Num Pang is a Cambodian sandwich shop that currently has six locations in the city. We love this place. I used to work next to one and it was always a favorite lunch spot. This is mainly a takeaway spot of some of their locations have a few seats.
Where To Get Excellent Baked Goods, Sweets, Desserts, & Other Goodies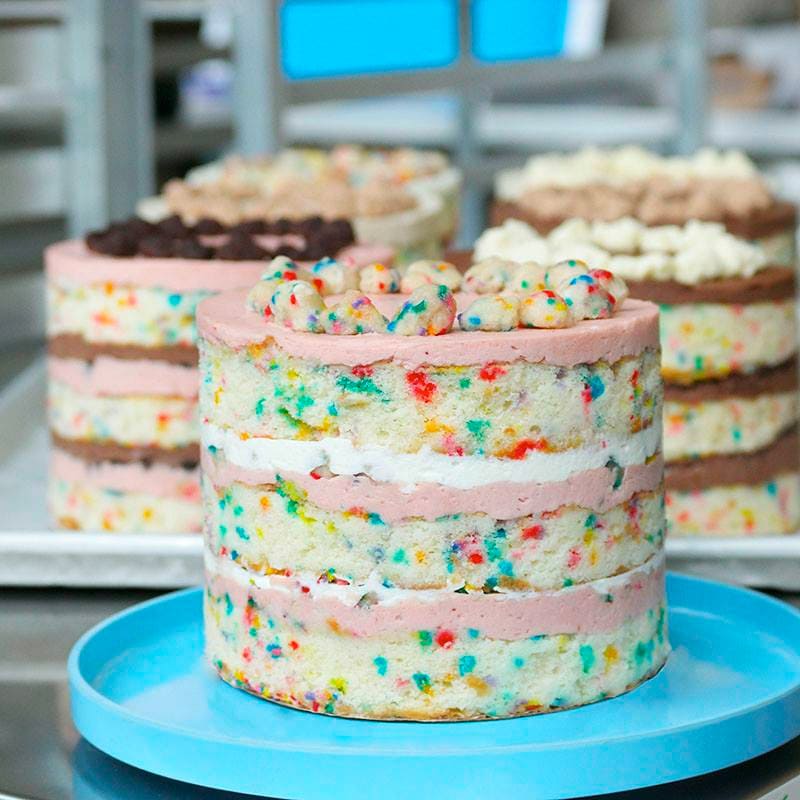 There is no shortage of places to get a sweet treat in NYC. Here are a few f our favorite desserts and other goodies:
Levain Bakery
The BEST cookies in the world. Skip everything else at Levain and just get their cookies.
City Bakery
The City Bakery makes a lot of goodies but we recommend their super-rich hot chocolate.
Magnolia Bakery
Magnolia Bakery became famous for their cupcakes (which we think are a little overrated) but we absolutely love their banana pudding.
Milk Bar
Bon Appetit magazine called Milk Bar "one of the most exciting bakeries in the country" and they've become famous for their cereal milk ice cream, interesting cookies, truffles, and colorful cakes.
Big Gay Ice Cream
Delicious soft serve ice cream with funny names and great flavors. Super fun (and colorful) vibe.
M'O Il Gelato
You might be in NYC but you'll be transported to Italy when you try the gelato from M'O Il Gelato. The Italian chef whips up artisanal and traditionally-made gelato in multiple flavors.
Dominique Ansel Bakery
Dominique Ansel took NYC by storm in 2013 when he debuted his Cronut — a croissant-doughnut. The lines were seriously two hours long but these days you'll only have to wait around 30 minutes during the busy times to get your hands on the infamous Cronut. They also have lots of other delicious goodies there.
Serendipity 3
Frozen hot chocolate. Let that sink in for a while. Yes, it is mind-blowing and delicious.
Junior's
Junior's started as a diner in Brooklyn and quickly become known for its excellent cheesecake. They're a bit touristy these days (aka Times Square location) but their cheesecake is awesome. They also serve up a full diner-style menu.
Doughnut Plant
These dudes have been making handmade doughnuts using all-natural ingredients since 1994. Tons of interesting flavors. All amazing.
Sweet Chick: Rustic-chic eatery with American comfort food, such as chicken & waffles, plus cocktails & brunch.
Food Halls and Markets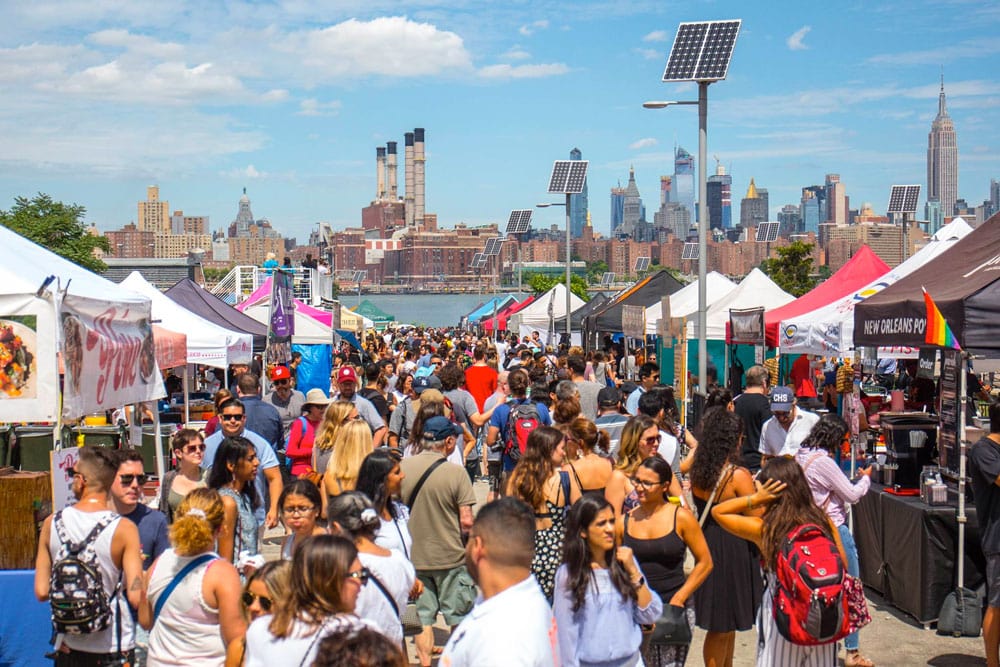 Not sure what to eat? Head to one of NYC's many food halls and food markets to peruse multiple food vendors in one spot.
Chelsea Market
We've mentioned Chelsea Market a lot in this guide because it's where you'll find multiple solid food vendors. You can visit their website for a list of what's available but we guarantee you'll find something you'll like.
Chelsea Market is a very popular tourist spot so it does get very crowded around lunchtime. That said, the vendors are used to serving lots of people so the lines move fairly quickly.
Smorgasburg
Smorgasburg has become insanely popular over the past few years and has expanded to multiple locations in NYC. In fact, Smorgasburg is the largest weekly open-air food market in America, attracting 20,000-30,000 people to Brooklyn each weekend to eat from 100 local vendors.
Smorgasburg currently runs April through November:
Smorgasburg Williamsburg: Saturday from 11am-6pm (100+ Vendors)
Smorgasburg Prospect Park: Sunday 11am-6pm (100+ Vendors)
Smorgasburg WTC: Fridays 11am-7pm (30 Vendors)
Smorgasburg Hudson Yards: Tuesday & Wednesday 11am-7pm (6 Vendors )
Check the Smorgasburg Website for more information.
Queens Night Market
Head to Queens for the sprawling Queens International Night Market. They have around 100 independent vendors selling everything from food to arts and crafts. It generally runs every Saturday from late April to late October.
Visit the Queens Night Market Website for more details. See On Google Maps
Time Out Market
Opened in May of 2019, the Time Out Market is an indoor food hall in Dumbo, Brooklyn. It brings together multiple restaurants and bars from across the city under one roof. It's open daily from 8 a.m. to 11 p.m (midnight on Friday and Saturday).
Urban Space
Urban Space is a smaller indoors food hall with two locations in Midtown East. Each location has around 20 vendors — all the of food stalls are excellent. It does get busy at peak eating times as it's a popular spot for New Yorkers on their lunch & dinner break.
Mercado Little Spain at Hudson Yards
Mercado Little Spain is a new Spanish-themed indoor market at the northern tip of the Highline. You can find all your favorite Spanish dishes from Jamón ibérico and churros to vermut and croquettes. Prices aren't cheap but it's a fun experience.
Local Craft Beer & Breweries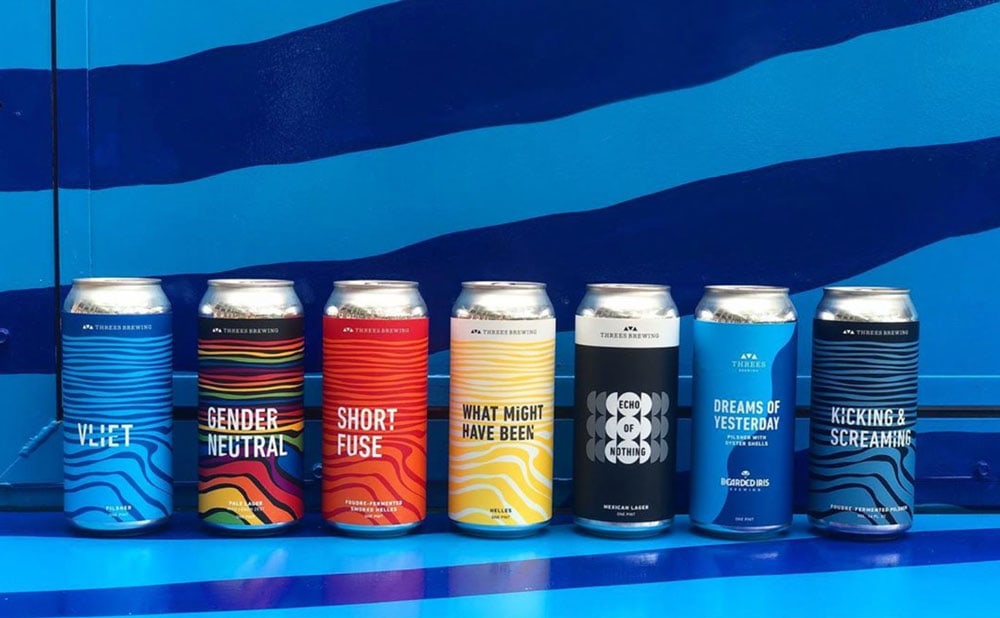 You can get just about any kind of beer from across the globe in NYC but we suggest trying a few of the beers brewed in the city's five boroughs (NY State also has multiple excellent breweries). Note: Many of these breweries offer tours and have on-site taprooms.
Below are some of the most popular local/craft breweries in NYC:
Birreria (Manhattan)
Ok, Birreria really isn't a brewery. It's actually the rooftop restaurant of Eataly and they've partnered with Dogfish Head and Baladin breweries to make a few beers specifically for Birreria. See On Google Maps
Bronx Brewery (Bronx)
A small brewery with an on-site taproom and a cool "backyard" where they hold events. Visit Website
Gun Hill Brewing Company (Bronx)
The Bronx's oldest microbrewery and they have a small on-site taproom with a revolving selection of beer. Visit Website
Brooklyn Brewery (Brooklyn)
You can find a number of beers from Brooklyn Brewery in just about every store/bar in NYC (and many outside New York). However, they also have a few options that are only available at their on-site taproom. Visit Website
Sixpoint Brewery (Brooklyn)
You'll also find Sixpoint beer at most bars and shops in NYC. They don't currently have a taproom (but they're working on it). Visit Website
Coney Island Brewing Company (Brooklyn)
Another one of the more popular breweries in NYC is Coney Island Brewing Company. While not as readily available as Brooklyn Brewery, most bars and stores will have one or two Coney Island options. They have a taproom and offer tours. Visit Website
Other Half Brewing (Brooklyn)
Other Half is a small up-and-coming craft brewery in Brooklyn. They brew a handful of nice beer and they do collaborations with other breweries from time-to-time. Stop by to visit the taproom or fill up your growler. They also have really cool looking labels. Visit Website
Threes Brewing (Brooklyn)
Threes is a craft brewery/brewpub that brews multiple kinds of beer. They also serve up some solid food options (along with cocktails) so this is a good place to hang out and have a drink. Visit Website
Mikkeller (Queens)
Ok, Mikkeller is technically a Danish brewery but they collaborate with other breweries around the world (including some NY breweries) to create unique, limited-time brews. They have a taproom at Citi Field (where the NY Mets play) in Queens and you can find their beer in bars and specialty beer shops across NYC. Visit Website
Fifth Hammer Brewing (Queens)
Fifth Hammer Brewing is a 15-barrel brewery located in the heart of Long Island City. Their taproom is a large space that's open every day so it's a really nice place to hang out. Visit Website
LIC Beer Project (Queens)
A small brewery with around 10 beers on tap in their taproom. Very laid back vibe. Visit Website
Singlecut Beersmiths (Queens)
Located in an old industrial area of Queens, Singlecut has a large buzzing taproom with outdoor seating and frequent live music. Visit Website
Transmitter Brewing (Queens)
Transmitter Brewing is a small brewery specializing in Belgian and French Farmhouse style ales as well as barrel-aged sour beers. Visit Website
---
Getting In and Around NYC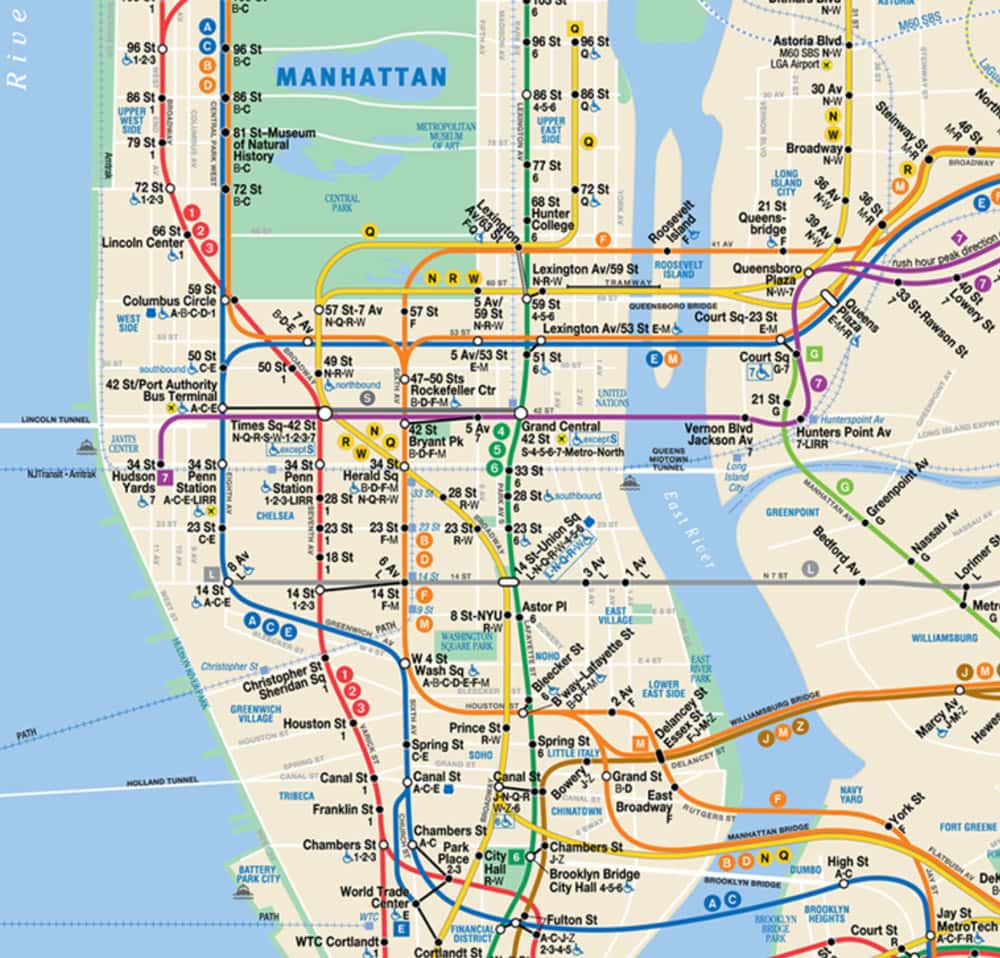 NYC has a very robust public transportation system. It's not perfect, and there is frequent weekend construction work, but it's pretty good.
Getting Into NYC From The Airports
JFK: A taxi between Manhattan and JFK is a flat fare of $52 (slightly higher during peak times) — not including tolls and tips. You can also take the AirTrain to the subway to get into the city (the trip takes around an hour).
Laguardia: A taxi between LGA and Manhattan will cost around $35-$50 — not including tolls, tip, and any applicable surcharges. You can take a city bus to upper Manhattan and then switch to the subway if you're feeling adventurous.
Newark: There is a New Jersey Transit train that easily connects Newark and NY's Penn Station. A taxi will run you $75+.
Note: Always take an official taxi at the airport since many "private" cars will charge you a fortune.
Using The NY Subway & Buses
The subway and city buses run 24/7 but service is much less frequent at night. The subway can get very packed during rush-hour (8-9:30 am and 5-6:30 pm) so take that into consideration — especially if you have luggage.
A single subway and bus ride is $2.75 and it includes unlimited transfers. An unlimited 7-day pass is $33. Read More About The NYC Subway Fares.
We highly recommend downloading an NYC Subway app — it will make navigating the subway much easier. Paper maps (which are free at most subway stations) are nice but there are frequent route changes because of construction/track maintenance. The apps have live train data so they can keep up with changes.
Our Favorite Subway Apps:
Citi Bike
While NYC isn't the most bike-friendly city in the world, there are a number of dedicated bike lanes so traveling by bike is certainly possible. NYC has a city-wide bike share program called CitiBike that is cheap to use. Visit the Citi Bike Website.
---
The Best Hostels In New York

A bed in a good hostel will cost anywhere from about $40-$70/night with an average of around $55/night. The cheapest hostel you'll find will cost around $35/night but the quality most-likely won't be great.
Check HostelWorld to get exact prices for your dates as prices fluctuate.
Below are are our recommended hostels:
---
More Great NYC Travel Planning Resources
There is a wealth of travel knowledge out there. Here are a few of our favorite resources:
Lonely Planet Guide Books: We're huge fans of Lonely Planet and we've used their books extensively. Check them out on Amazon.
The Infatuation (NYC): The Infatuation is a great guide to NYC's food scene.
Time Out New York: Want to know what's going on in the city? Check out Time Out.
Yelp & Trip Advisor: Yes, we still use Yelp and Trip Advisor quite often to find places to eat.
OpenTable: Most restaurants in NYC can be booked via OpenTable so we use it all the time.
NYC GO: The official NYC tourism website — which is actually pretty solid.
Here Be Barr: One of my favorite NYC travel youtube accounts. Check them out.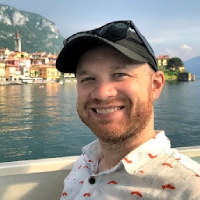 Latest posts by James Feess
(see all)
No Funny Business
The Savvy Backpacker is reader-supported. That means when you buy product/services through links on the site, I may earn an affiliate commission — it doesn't cost you anything extra and it helps support the site.
Thanks For Reading! — James
Questions? Learn more about our Strict Advertising Policy and How To Support Us.