Budget backpacking and cheap travel can be difficult in Europe. Many travelers end up spending a lot more money than they need to—especially on day-to-day things—simply because they're unaware of money-saving strategies. I've compiled a list of simple money-saving tips to help stretch your travel euros.
Note: These tips are focused on how to save money on day-to-day activities. Check out the rest of this site for other money-saving advice on rail travel, plane tickets, etc.
Tips For Eating on a Budget in Europe
Lunch Specials: Europe is known for great food. Many European restaurants offer discounted lunch menus so you can taste the local cuisine without breaking the bank. Eat a large lunch and then take it easy at dinner.

Grocery Stores: Buying food at the grocery store will save a lot of money. A picnic in the park can be really nice.
Alcohol: Buying alcohol at the grocery store and drinking at the hostel (or in the park/on the street) is always a fine option. Pre-partying at the hostel is a popular option if you still want to go party.
Snacks: Buy some fruit or other snacks at the grocery store and carry it with you during the day.
Farmer's Markets: Check out the local farmer's markets. You can get some high quality food at a good price.
Cook Your Own Meals: Cook in the hostel's kitchen. Get a bunch of people together and make a big meal. This is a great way to make friends.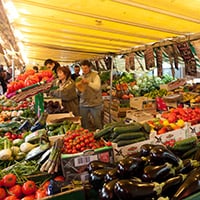 Don't Get Too Hungry: Find a place to eat before you're really hungry. If you wait until you're about to pass out from starvation, you're very likely to eat at the first place you see—which is probably expensive.
Do A Little Research: Go online and find cheap restaurants.
Eat the Free Breakfast: Many hostels have free breakfast — eat it. It is usually pretty bland, but whatever. Go back for seconds if you can.
Find the Cheap Bars: Many hostels have pub crawls and they know the cheapest bars in town. You can also ask the hostel workers where to find cheap alcohol.
Street Food/Fast Food: No, not McDonalds. Doner kebabs are a favorite throughout Europe. They're cheap and really tasty. You can also find cheap baguette sandwiches in France.
Leave the Tourist Area: You're going to pay a premium on food and alcohol in the touristy areas. Find where the locals go and the prices magically drop.
Ask For Table Water: If you ask for water at a restaurant, they will always bring you an expensive bottle of water. Table water (a pitcher of water) is free, but you have to specifically ask for it.
Drinks at The Bar: Drink your drink (coffee, tea, beer, wine, hot chocolate, etc.) at the bar and it will be cheaper than if you sit at a table.
Eating On The Patio Is Expensive: Eating on the patio of the restaurant is great for people watching (a national sport in Europe), but it can sometimes lead to a larger bill.
Soda is Expensive: Soda is really expensive at restaurants and you get a tiny bottle. Ohh, and don't expect ice.
Don't Tip: Tipping isn't required in most European countries.
Prix-Fixe: These are fixed-price meals. They usually come with a starter, main dish, maybe a dessert and drink for a set price. These can be a good deal.
Accommodation Money Saving Tips For Backpacking
Book Directly With Hostel: You might be able to save a few euros if you try to book directly with the hostel. In the low season, you might be able to haggle a bit.
Learn Hostel's Cancellation Rules: Be careful about canceling your hostel because you could get charged for the first night if you don't show up. Most hostels will cancel your reservation without a penalty if you call ahead of time. 
Split A Hotel: If you're in a group of 3+ people, you might be able to save a little money by splitting a hotel room. It will be crowded and not very comfortable, but you could save a little money.
Couchsurf: Couchsurfing is free and a great way to meet locals. Highly recommended.
Overnight Trains: For long journeys, consider taking an overnight train. You will have to pay extra for a bed, but you also don't have to pay for a hostel that night.
Camping: There are plenty of camp sites in Europe, but you'll need a tent (which is a lot of extra weight to carry around). Camp sites are also located outside the cities, so they might be difficult to get to.
Sleep in Airport/Train Station: This isn't a good long term plan, but it can work in a pinch. I slept in a train station once and it was terrible. Sleeping in an airport wasn't as bad, but it also wasn't enjoyable.
Miscellaneous Budget Backpacking Tips
Student Discounts: Many museums and attractions offer student/youth discounts.
Count Your Change: Some dishonest cashiers will shortchange you. This is more prevalent in Eastern Europe where the money is so foreign to Westerners.
Internet Cafés: Hostels often charge a lot to use their Internet. I've seen $10/hr. There are many internet cafes that charge about 1€-2€/hr.
NEVER Use Credit Cards In A Pay Phone: NEVER! Many European pay phones allow you to pay for calls with your credit card. Unless you like paying $50/minute, you should avoid this at all costs. I know someone who racked up a $150 bill from three calls that never even went through.
Free Days: Some museums have free days. I think almost every national museum in Paris is free one Sunday each month.
Avoid Taxis: Taxis are extremely expensive. Always look for public transportation alternatives. Many Eastern European taxis are notorious for ripping off tourists so beware.
Research Museum Passes: Many cities offer museum passes that give you access to multiple museums for one price. These could be a good deal or they could be wasteful. Make sure you know the terms of the pass. I would advise against visiting more than one museum a day or you'll burn out quickly.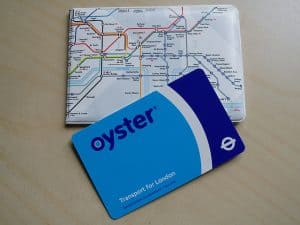 Research Public Transportation Passes: Many cities offer multi-day passes for the bus/subway/tram. These can save you a lot of money when compared to buying many single passes.
Bike: Most cities in Europe have a cheap public bike system or businesses that rent bikes. This is a cheap way to see the city.
Regional Focus: Transportation from one city to another is very expensive. Consider sticking to a region of Europe to minimize expensive long-distance travel.
Coupons: Look online for special passes and coupons. Check free magazines/newspapers that can be found in most cities.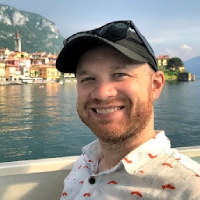 Latest posts by James Feess
(see all)
No Funny Business
The Savvy Backpacker is reader-supported. That means when you buy product/services through links on the site, I may earn an affiliate commission — it doesn't cost you anything extra and it helps support the site.
Thanks For Reading! — James
Questions? Learn more about our Strict Advertising Policy and How To Support Us.