Food and alcohol are two things that can quickly wreak havoc on your travel budget if you're not careful. But that doesn't mean you should live off ramen noodles and hobo beer while you travel. In fact, in many cultures, the food and alcohol is just as important as the art, language, and traditions, so it would be a shame to totally avoid it. Luckily, there are plenty of options for the cash-strapped backpacker to eat well on a budget, and we've outlined these strategies in this guide.
Grocery Stores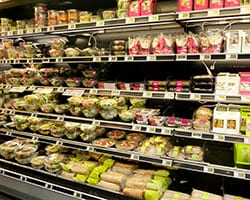 It's no surprise that fixing your own meals will be your cheapest option. I actually enjoy grocery shopping when I travel because it's a cultural experience and I think it's fun looking at the different foods on the shelves.
For the most part, you'll find much of the same food in European grocery stores as you can back home. Space is at a premium in Europe, so expect smaller stores and less variety than what you're accustomed to finding. Also be aware that most grocery stores close around 8:00pm and many are closed all day, or close around noon, on Sundays. Only small convenience stores will be open late, but their prices are higher.
If you're staying at a hostel that has a kitchen, remember that you're still limited in the types of meals you can prepare since you won't have a lot of storage/fridge space for your food. Try purchasing just enough ingredients to make a meal or two. It does take a little extra time and planning, but the cost savings can be worth the effort.
Another good option is to gather a bunch of people together at the hostel and make a big meal. This is a great way to make friends and the price per person is really low if you get a lot of people to chip in for the meal.
If you're on the go or don't feel like cooking a meal, you'll be able to buy prepared sandwiches, wraps, and salads that range from about $5-$9 at most grocery stores. Some shops have special deals where you can get a sandwich or salad with a dessert/fruit and drink for around $8-$12.
Farmers' Markets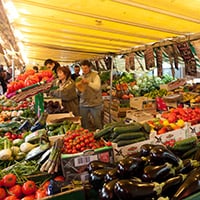 No trip to Europe is complete without a stop at a farmers' market. Not only is it a great way to find high-quality food at a reasonable price, it's also an exciting cultural experience. Additionally, the quality of food you'll find there will be light-years ahead of the stuff in the grocery store.
You'll be able to find a farmers' market somewhere in any city just about every day of the week. However, most markets are only open once or twice a week, so don't count on being able to hop down to your neighborhood's market whenever you want — you'll need to plan ahead a bit. Additionally, most markets close by early afternoon, so don't wait too long.
A money saving trick is to wait until the market is starting to close because some stalls will discount their goods. Some of the stalls might be picked over, but there will nearly always be more than enough since you won't be purchasing too much anyway. You should also shop around because different vendors will have different prices.
Greengrocers
Another great place to find high-quality, fresh produce is at greengrocers. You'll find these shops scattered throughout the city and they'll be open most days of the week — and they'll hold regular hours. Watch the locals as they shop because some shops are self-serve and at others, the clerk will pick the food for you.
Street Food and Budget Takeout Restaurants
Getting a meal from a street food vendor or budget takeout restaurant is a great way to get a filling, warm meal for a fair price. Each country or region has its own street food specialty — France has crêpes, Berlin has currywurst, Belgium has fries with a million types of sauce, pizza slices in Italy, fish and chips in the UK, etc.
The most popular budget meal in Europe would be the Doner Kebab (it's sometimes called shawarma or gyro). While each country has its own slight variation, a kebab is basically thinly shaved meat (lamb, beef, chicken, or turkey) served in pita bread and topped with lettuce, tomatoes, onions, and a variety of sauces. It's usually served with a side of fries. Kebabs are delicious, greasy, very filling, and only cost around $4-$6. Additionally, shops that sell kebabs also sell other grilled or fried foods that are equally affordable.
To find the best quality food, you should venture away from the city center and into the working-class immigrant neighborhoods — eat where the locals eat!
Another great option for quality affordable food are bakeries. During lunch and dinner, you'll find freshly prepared sandwiches, salads, pizza, quiches, and other items at reasonable prices. For example, in Paris, my favorite bakery has a lunch special that includes a large baguette sandwich, small dessert, and a soda/water for about $8.
Budget Friendly Restaurants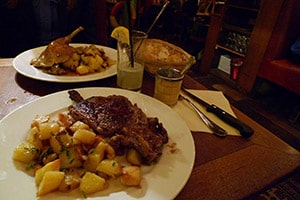 You're probably not going to eat many restaurant meals, but when you do, be sure to seek out the best quality for the best price possible. The first step is to follow the locals. The best clue is the menu — if it's written in multiple languages, you know it's a place for tourists. You'll most likely need to venture a few blocks away from the tourist sights or into the residential neighborhoods before you'll start finding the places where locals eat. With a little bit of searching, you'll be able to find a lot of local gems — it's totally possible to have a quality meal for around $16 (without drinks).
Another obvious option is to eat at ethnic restaurants (Chinese, Indian, Thai, etc.) as these tend to be very affordable (assuming you're out of the tourist areas).
I'm always a little wary about using guidebooks to find restaurant recommendations because the information is already a year or two old by the time you're reading it. Plus, sometimes the restaurants raise prices and lower the quality because of their newfound fame — of course this isn't always the case, but it's something to think about. That is why I tend to research restaurants online. Sites like TripAdvisor and Yelp are two of the best places to look for reviews.
I also like to tap into the local expat community. Nearly every city will have a few websites written by expats that are dedicated to finding quality restaurants. Additionally, a quick Google search will bring up hundreds of blog posts and articles about people's favorite places to eat.
Other Tips for Eating on the Cheap
Lunch Specials
Restaurants across Europe cut their prices during lunch to attract business people on their lunch break. Normally, they'll have a set menu with a few different choices that include a starter, main dish, and dessert. The meals are the same quality as dinner, so this is a great way to have good food without paying a lot.
Share Meals and Get Creative
Street food, like kebabs, can be hearty enough to be split between two people. Buy some fruit and a drink from a grocery store, and you can easily feed two people for around $6 per person.
Do a Little Research
As an outsider, it's hard to know exactly where to eat as you travel. Go online and spend 30 minutes writing down a list of cheap restaurants or grocery stores near the areas that you'll be exploring for the day. This way, you'll have a few options of where to eat and you won't waste a lot of time trying to figure out where to go. Trying to do this on the fly via a smartphone is also an option, but I always find it easier to already have options ready.
Eat Before You're Too Hungry
Find a place to eat before you're really hungry. If you wait until you're about to pass out from starvation, you're very likely to eat at the first place you see —which is probably expensive and/or poor quality. This is another reason to carry some snacks with you as you travel. Additionally, people tend to get cranky when they're hungry, and this just leads to more conflict if you're traveling with other people.
Ask for Tap Water
If you ask for water at a restaurant, they will nearly always bring you an expensive bottle of water. Tap water is free, but you have to specifically ask for it. And yes, it is safe to drink the water.
Plan A Picnic
It's hard to beat a picnic on a nice summer day, so take full advantage of the nice weather and the great parks. You can easily find fruit, yogurt, bread, cheese, and deli meat at any store. However, always be cautious of the cheapest deli meat because from my experience it can be pretty gross. Spending the extra $1 is worth the price.
You can drink alcohol in most parks in Europe, so don't forget to get a cheap bottle of wine or a few bottles of beer.
Drinks at The Bar
Drink your drink (coffee, tea, beer, wine, hot chocolate, etc.) at the bar and it will usually be cheaper than if you sit at a table.
Drinks Are Expensive
Visitors are surprised how much soda and bottled water cost in restaurants. And they don't do free refills on soda. Sometimes it's cheaper to have beer or wine.
Learn the Tipping Culture
The tipping customs in Europe are different in each country. However, in general, the tip is already included in your bill. If you want to include a little extra, that's fine but you're probably wasting money if you tip 15%.
Eating Outside Comes at a Premium
Cozying up in a chair on a sidewalk café and people watching is a national sport in Europe, but you'll sometimes pay a little extra for the experience.
Eat the Free Breakfast
Many hostels include a free breakfast — eat it. It is usually bland, but whatever. Go back for seconds if you can.
Get Your Drink On
A big night out drinking on the town can quickly bust your budget if you're not careful. The key is finding the best places to go and maybe having a little self-restraint.
Drink in Public
Europe has fairly lax laws (or at least lax enforcement) about drinking in public. This doesn't mean you can walk around the street chugging a beer, but it is often perfectly acceptable to enjoy a beer or a bottle of wine in a park or other spaces. The police won't bother you if you're respectable and don't make a scene.
Ask Hostel Workers For The Best Deals
The people working at the hostel will usually have their favorite bars, pubs, and cafés, so it makes sense to ask them. Find out where they go after work.
Many hostels organize pub-crawls. However, it would be naive to think that a lot of these hostel workers aren't getting kickbacks from these bars. It may not always be true, but keep in mind that you could find better deals elsewhere.
Grocery Stores
It's no surprise that the cheapest alcohol is found at the grocery store. Nearly every store will have a wide selection of wine (especially in regions that make a lot of the stuff), and a variety of beer will also be available. If you want a greater beer selection, you will probably have to go smaller specialty shops. Also, it is fairly rare to find cold beer in grocery stores, but smaller convenience stores will sell individual bottles that have been chilled.
Student Areas
European students enjoy drinking cheaply just as much as you do, so find out where the local students hang out. Almost any major city will have websites dedicated to finding the best drink deals in town — which are often the places that students frequent.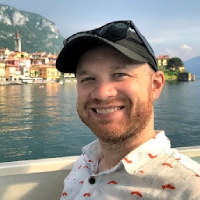 Latest posts by James Feess
(see all)
No Funny Business
The Savvy Backpacker is reader-supported. That means when you buy product/services through links on the site, I may earn an affiliate commission — it doesn't cost you anything extra and it helps support the site.
Thanks For Reading! — James
Questions? Learn more about our Strict Advertising Policy and How To Support Us.