New York City has over 26,000 restaurants so finding something to eat isn't hard. However, eating well without spending a lot of money can be a challenge since food is expensive. That's why I've put together a list of my favorite cheap and budget-friendly restaurants in NYC.
A few caveats before we get started:
For NYC, I generally consider "budget" to be around $10-$15 for a meal — not including drinks/alcohol. Most of the places in this guide will be in that general price range.
Most of my recommendations are located in Manhattan. You can find cheaper options as you move farther into NYC's other boroughs but most visitors tend to stick to Manhattan.
I try to walk that delicate balance between quality and price because the cheapest option isn't always a great value. For example, I'd rather spend $2 on a world-class bagel than $1 on a worthless mass-produced bagel.
Many budget restaurants are no-frills so there might be limited or no seating. That said, I'll try to recommend both sit-down and takeaway restaurants.
---
Quick Tips For Eating Cheaply in New York City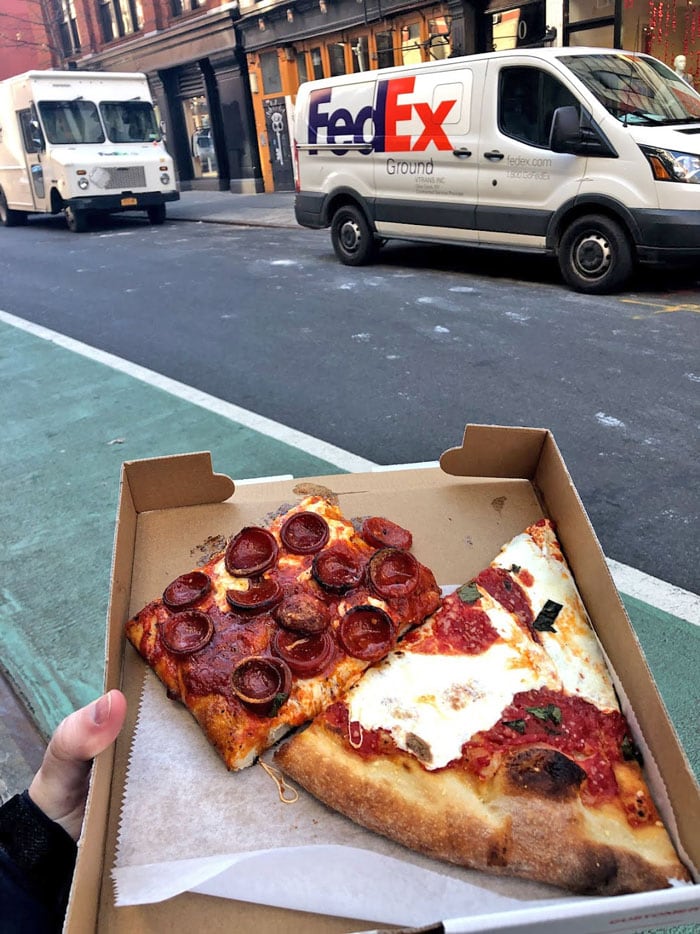 Bring Cash: Many cheap restaurants in NYC tend to only accept cash or have a minimum order for credit cards — so it doesn't hurt to carry cash just in case.
Expect A Crowd: Good deals in NYC are increasingly rare so anywhere serving up quality food at a good price will be popular.
Expect No Frills: Cheap restaurants tend to focus on quantity so they're wanting to get people in and out as quickly as possible. That's why a lot of cheap places have no seating or standing service.
Alcohol Is A Budget Killer: The fastest way to double the price of your meal is by ordering a drink.
Don't Expect Gourmet: You can certainly eat-well in NYC without spending a lot of money but don't expect anything too fancy.
Quick-Service Lunch Spots: New Yorkers are notoriously busy and end up eating lunch at their desks — which is why you'll find plenty of takeaway place selling simple things like build-your-own salads, sandwiches, soups, and other similar items. These spots are fairly "cookie-cutter" and soulless but they've everywhere. The quality is decent and the prices aren't terrible.
---
Best Budget Restaurants in NYC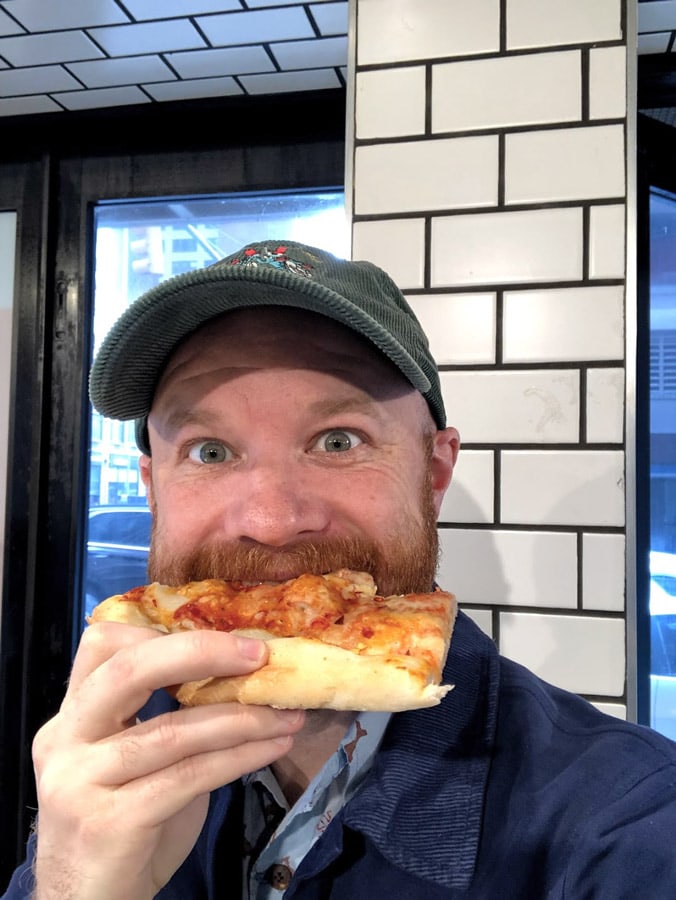 Here's my list of the best cheap food in NYC. I've tried to group restaurants by category (i.e pizza, Chinese, Italian, burgers, etc.) for your convenience.
Also, these restaurants are listed in no particular order.
Joe's Pizza [Pizza]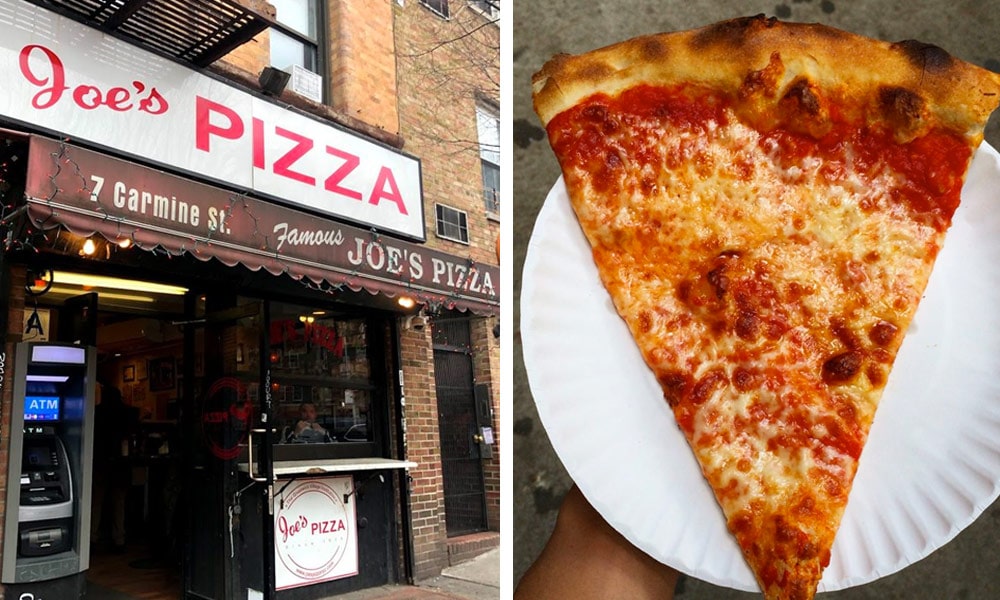 Joe's Pizza has been serving up affordable and delicious slices of pizza to hungry NYU students since 1975. Their West Village Location is the original but they've since expanded for five locations.
A cheese slice is $3 and a single topping slice is $4.
---
Prince Street Pizza [Pizza]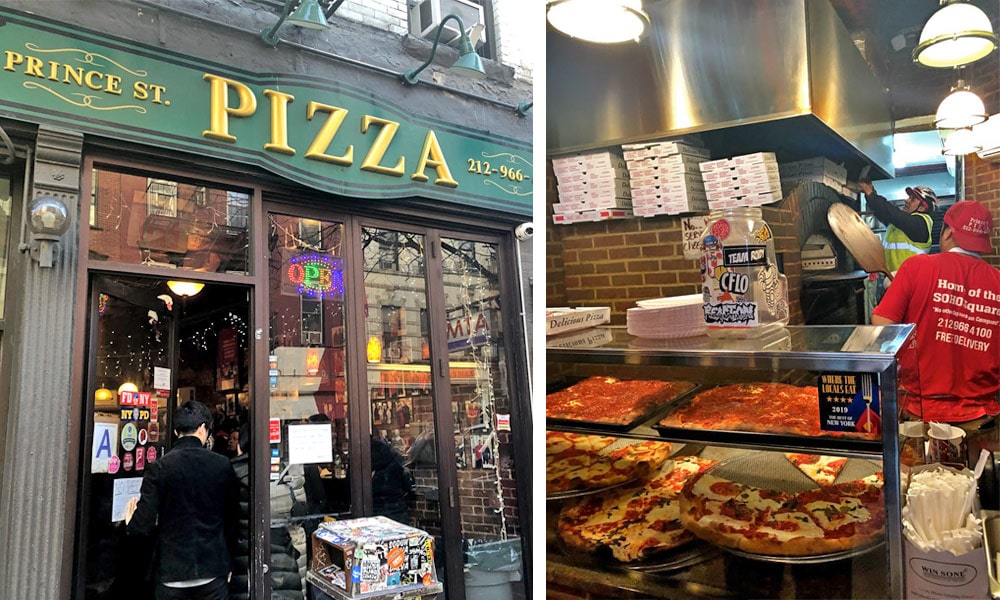 This is some of my absolute favorite pizza in NYC. Great crust, great dough, great toppings, great sauce. This place is always busy and there seems to be a constant line of 30 people out of the door… but it tends to go quickly. There is no seating here other than a tiny standing table.
Slices are around $3-$5/each so it's not the cheapest place but the quality is great.
---
Mama's TOO! [Pizza]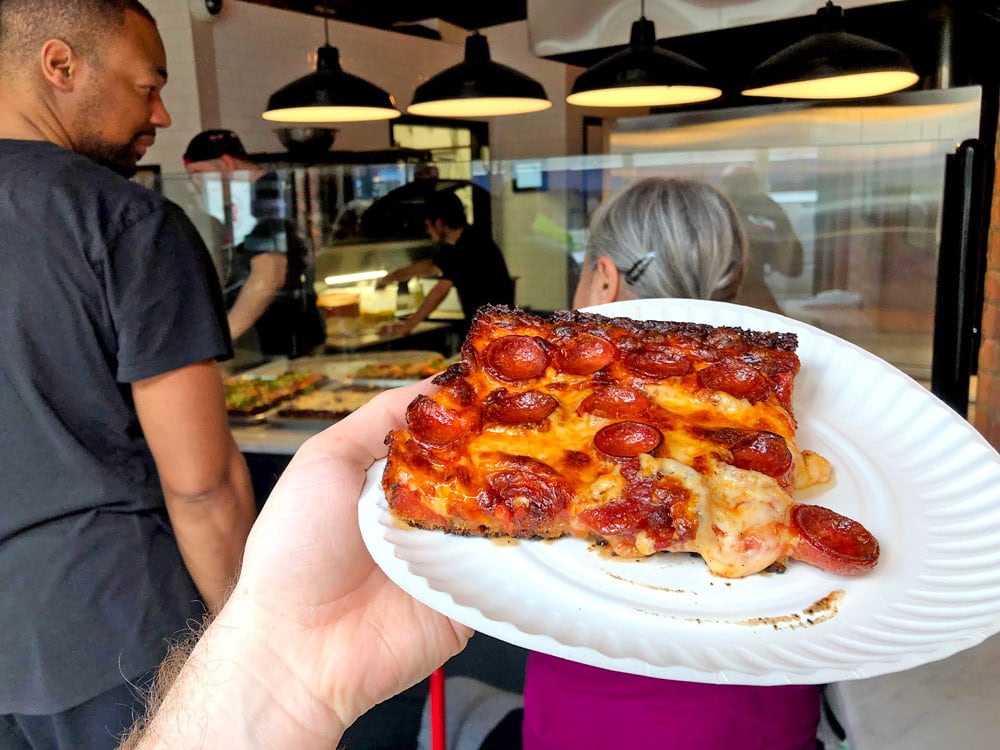 I'm a HUGE fan of this new fairly new addition to the NYC pizza scene. Their popularity blew up when the NY Times gave them a glowing review. They're most famous for their square slices but they have more "traditional" triangle slices as well.
Mama's TOO! is small so it's a grab-and-go spot, but there are a couple of small tables. It's located on the Upper West Side so it's a solid trek if you're not in the neighborhood but many people say its worth the journey.
Their slices cost $4-$5/each but two should fill you up — especially their square slices.
---
Scarr's Pizza [Pizza]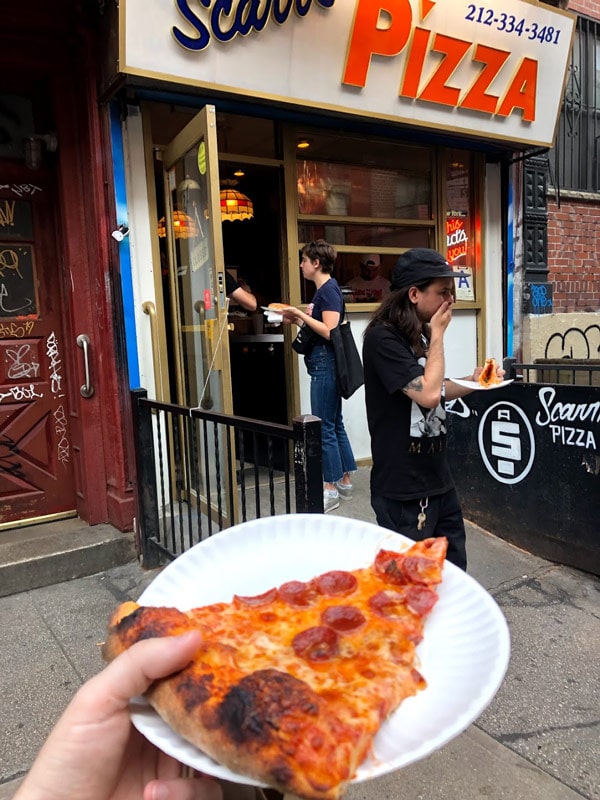 Scarr's Pizza feels more like an old-school dive bar (complete with 70s wood paneling) than a pizza place but that doesn't stop them from making a classic New York slice made from high-quality ingredients. They have a small bar and some seating in the back but most folks eat it on the sidewalk.
Slices are around $4 each.
---
2 Bros Pizza [Pizza]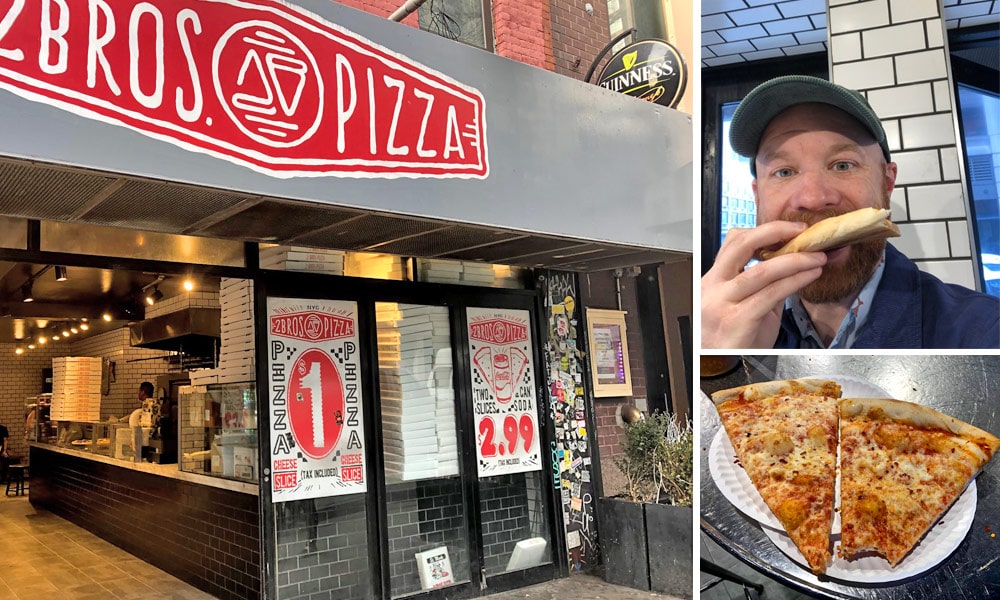 If there is something that hasn't changed in NYC for years it would be the trusty $1 pizza slice. Of course, you shouldn't expect amazing pizza for $1 (they go light on the sauce and cheese) but 2 Bros is the best of the $1 slice bunch. And, let's face it, the only thing better than a slice of excellent pizza is a whole lotta pretty good pizza.
They have multiple locations throughout NYC but they're mainly in midtown.
---
NY Dosas [Indian Food Cart]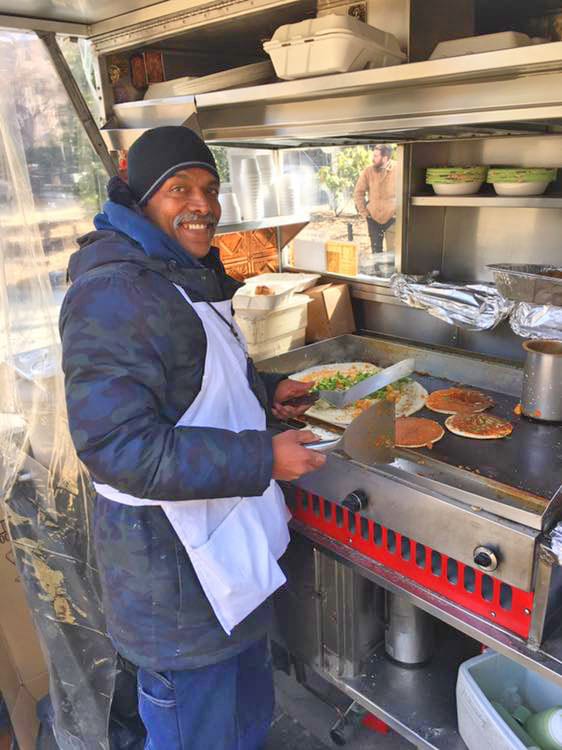 NY Dosas is a food cart that specializes in vegan dosas (Indian crepes) & Indian snacks. This guy has been written up by just about every NYC magazine and newspaper so he's always busy.
Dosas are $8-$9/each.
---
Lil Zeus Lunch Box [Greek Food Truck]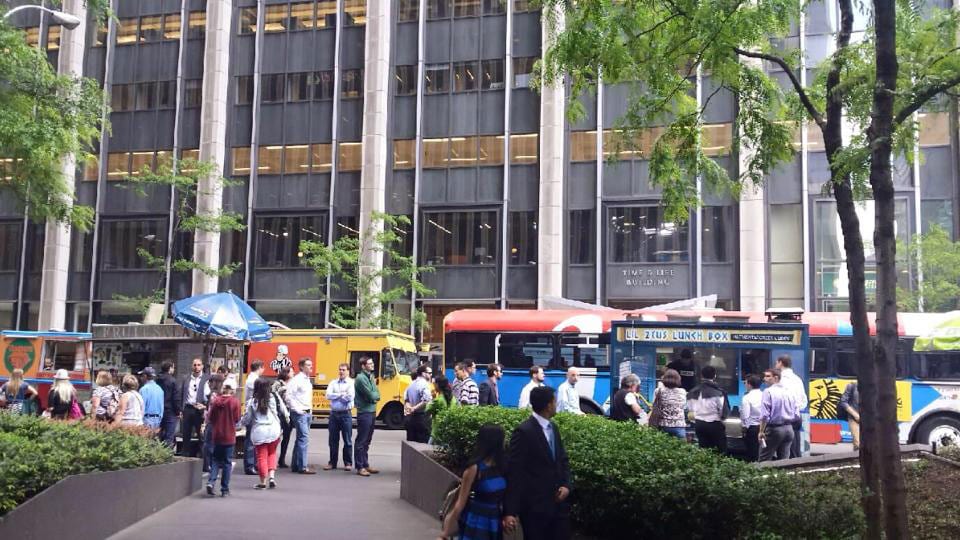 Lil Zeus is an incredibly popular food truck in Midtown Manhattan — don't be surprised to find a bunch of office workers lined up during the lunch rush. Everything is delicious but the gyros and platters are the most popular.
Most platters are around $9-$11.
---
Halal Guys [Middle Eastern/Gyros]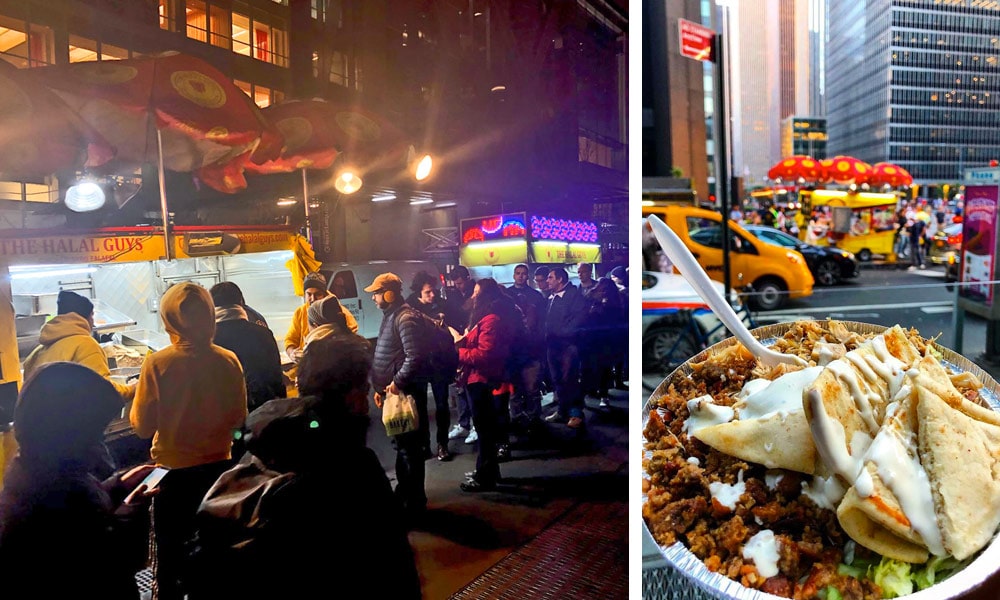 In a sea of food carts in Midtown Manhattan, Halal Guys is one of the most famous (and most delicious) and it's a great value. Even on a chilly January night, you'll find a long line of people waiting to get their hands on their tasty gyro platter.
Luckily, they've expanded to two other storefronts so you don't have to eat on the street. A regular gyro platter is about $9. It's plenty filling, delicious, and a local favorite.
---
Sammy's Halal Food [Middle Eastern/Gyros]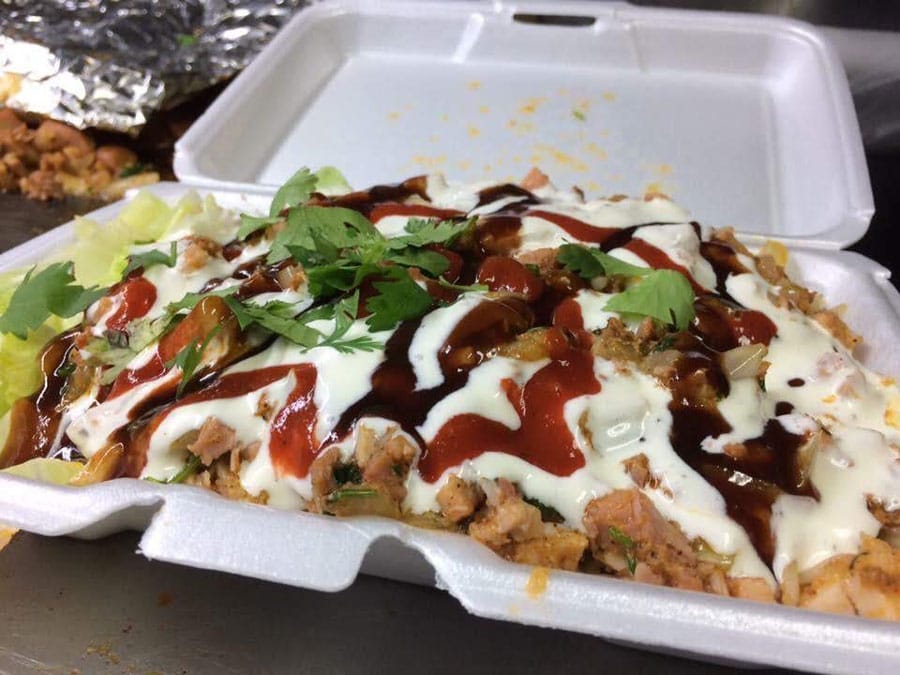 The Halal Guys are more famous but Sammy's Halal Food is just as excellent. They have a small counter-service joint in Midtown and a food cart in Greenwich Village.
Their chicken or lamb sandwich is around $5 and bigger platters will set you back around $8.
---
Num Pang [Cambodian Sandwiches]
I used to work next to a Num Pang and it was a favorite spot to grab a quick lunch. They specialize in Cambodian sandwiches ($9-$12/each) but they have a few other things like soups and salads. Get a sandwich. Trust me. They're excellent. They have multiple locations.
---
Bánh Mì Saigon [Vietnamese Sandwiches]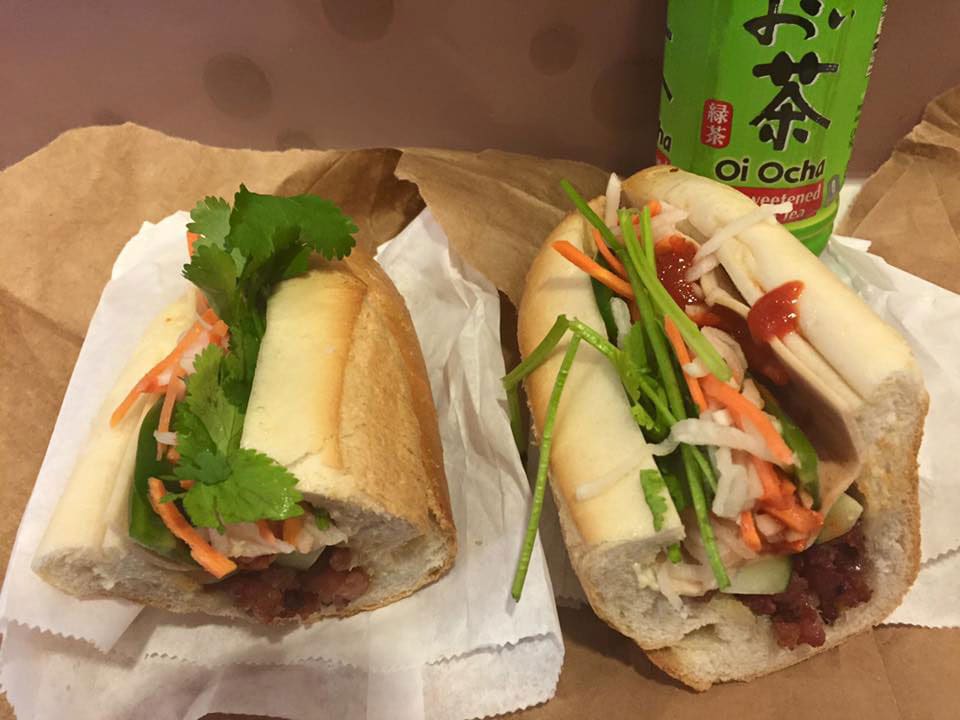 Bánh Mì Saigon is a tiny, bare-bones takeaway joint that serves up classic Vietnamese banh mi sandwiches priced around $6-$8. They've been around since 1989 so they're a neighborhood favorite. Cash only.
---
Shake Shack [Burgers]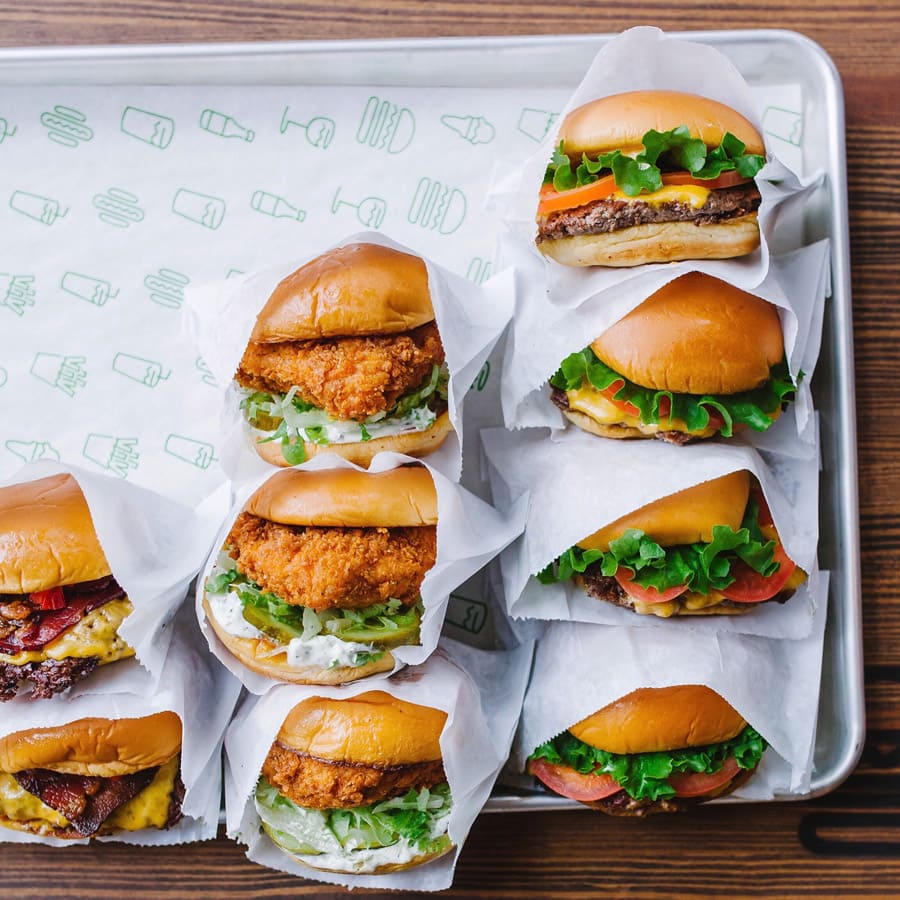 Ahh, yes. The famous Shake Shack. This is my favorite fast-food burger restaurant in NYC.
A ShackBurger and an order of their famous fries will set you back about $10-$12. They also have a great chicken sandwich. And their shakes are excellent. There are 20+ locations in NYC so they're easy to find (but always busy).
---
Gray's Papaya [Hotdogs]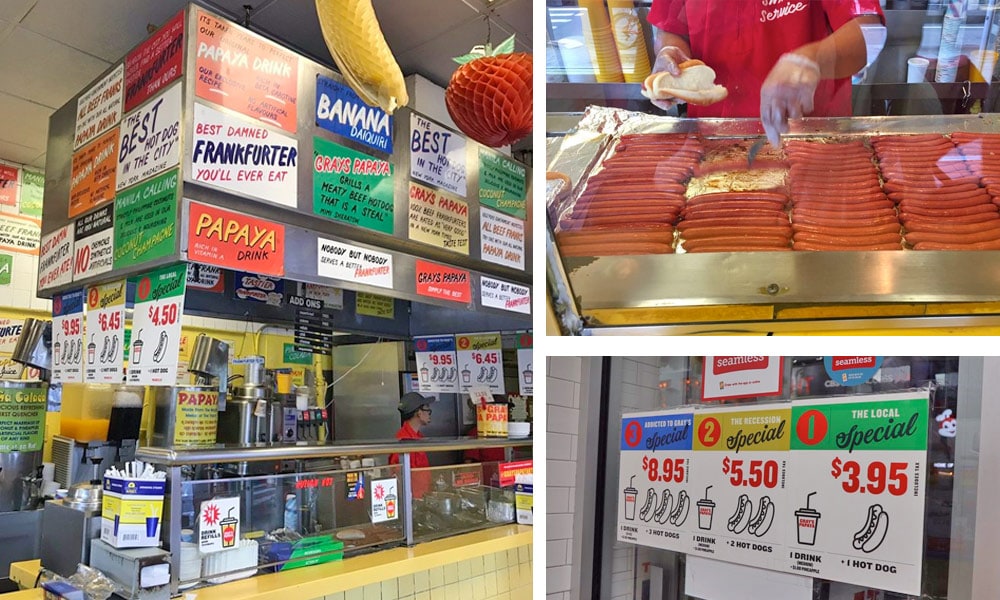 What's more classic NYC than a hot dog? Granted, you can get a famous "dirty water dog" from street vendors on just about every street but I prefer getting my cheap hotdogs from Gray's Papaya (they've been around for years).
Gray's Papaya is proudly no-frills but it's cheap — around $7 for two hot dogs + a drink.
---
Crif Dogs [Hotdogs]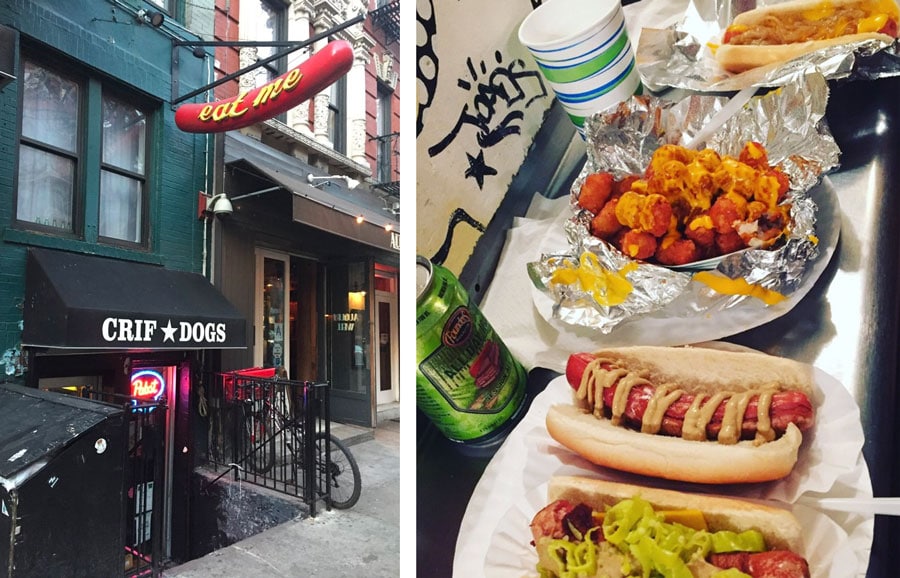 Crif Dogs serves up a crazy variety of hotdogs with tons of topping options. They also have burgers, tater tots, and a few other options.
The dogs range from $4-$7 depending on the toppings.
---
Xi'an Famous Foods [Chinese/Noodles]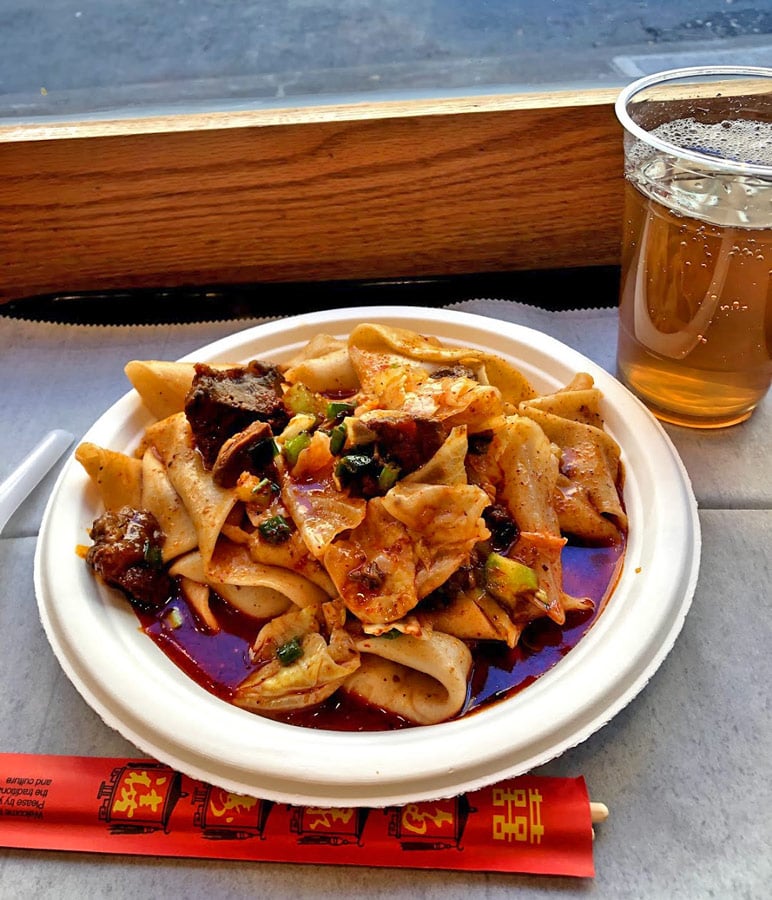 I love the hand-pulled noodles at this northwestern Chinese restaurant. These guys started in a humble 200 square foot basement stall in Flushing, NY but have exploded in popularity and now have 15 locations in NYC.
Most of their noodle dishes are around $10-$12. Their tea is also tasty.
---
Vanessa's Dumpling House [Chinese Dumplings]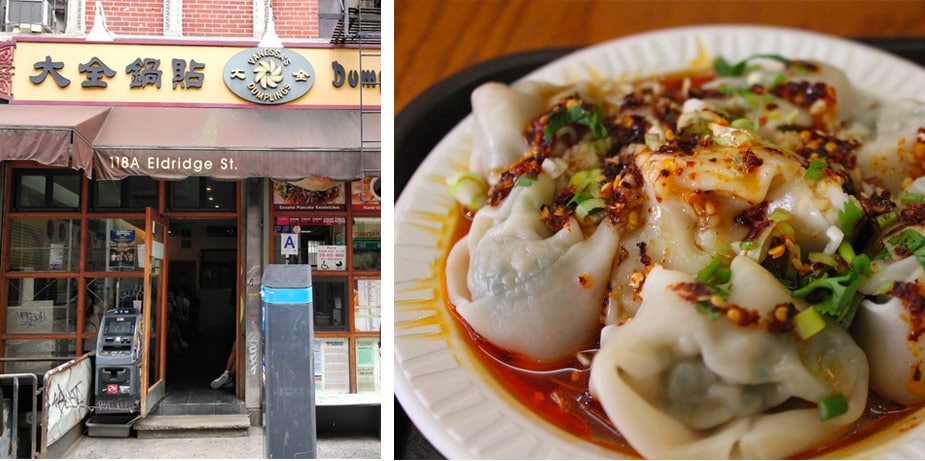 Vanessa's is the queen of NYC's vast dumpling world — they constantly make the "best dumplings in NYC" list so they're a local favorite. And they're very affordable.
Vanessa's is no-frills but you'll walk out stuffed for well under $15.
---
Wah Fung Fast Food [Chinese Street Food]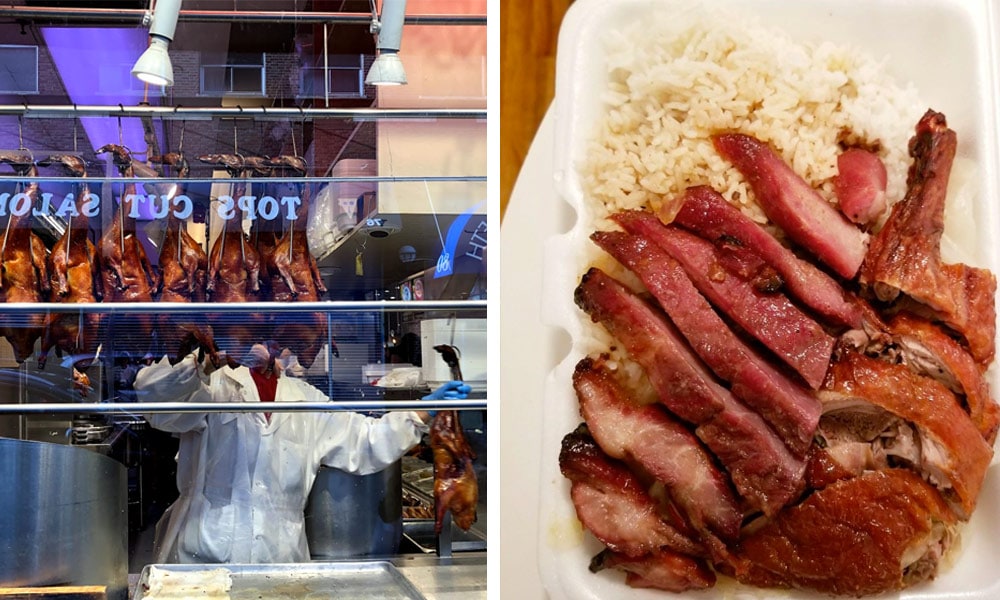 Looking for something on the go? Check out Wah Fung Fast Food. This no-frills hole in the wall has a constant, yet fast-moving, line.
Wah Fung is most famous for their roast pork over rice — which will set you back about $3.75. You can get a bigger portion of food for $5-$6.
---
Nom Wah Tea Parlor [Chinese Dim Sum]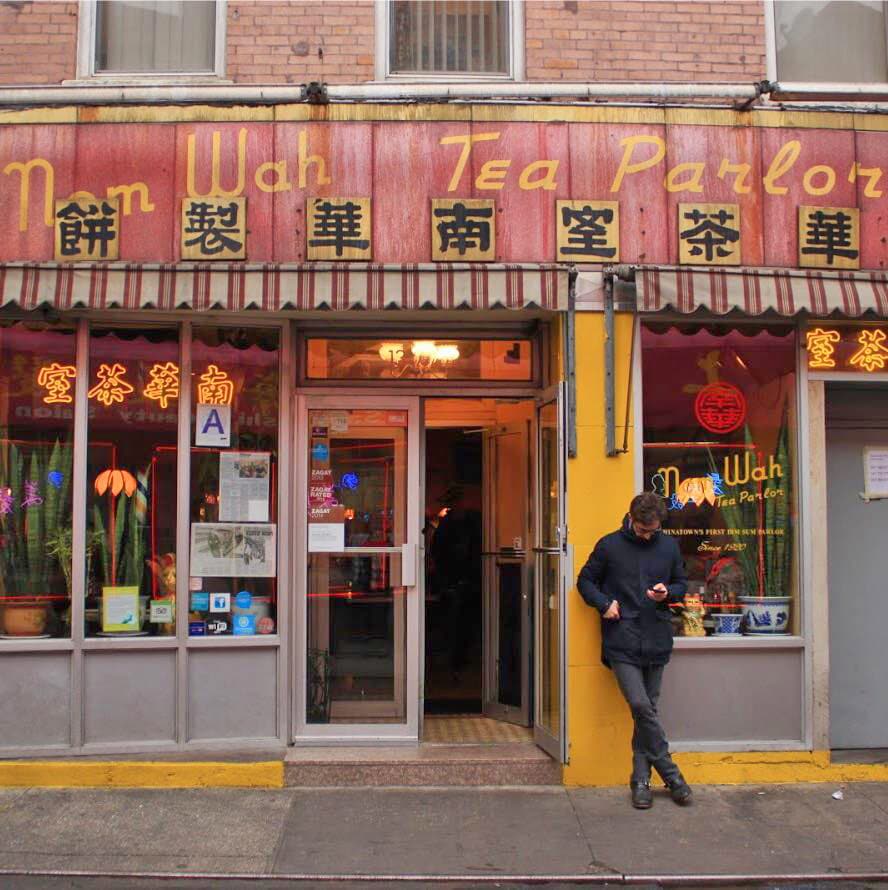 Nom Wah Tea Parlor is one of the oldest Chinese restaurants — it dates back to 1902 and looks the part. The food is certainly good but part of the appeal is the ambiance. Nom Wah still draws a big crowd so expect a wait.
Their Dim Sum offerings are between $4-$6/each.
---
SHANGHAI 21 [Chinese]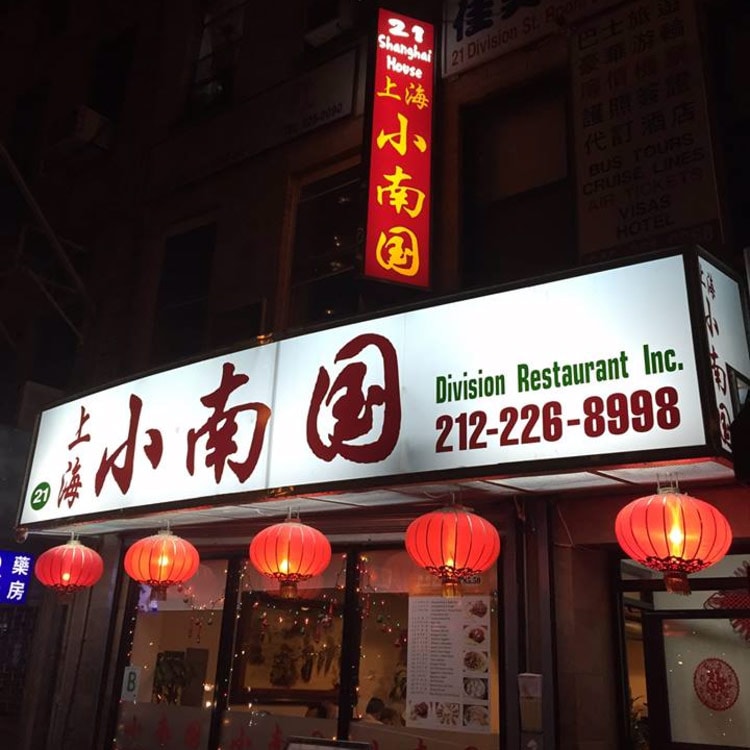 Another no-frills joint with a huge menu of Chinese dishes — their soup dumplings and dim sum get a lot of love. Portions are generous and prices are solid. Cash only.
---
JOE'S SHANGHAI [Chinese]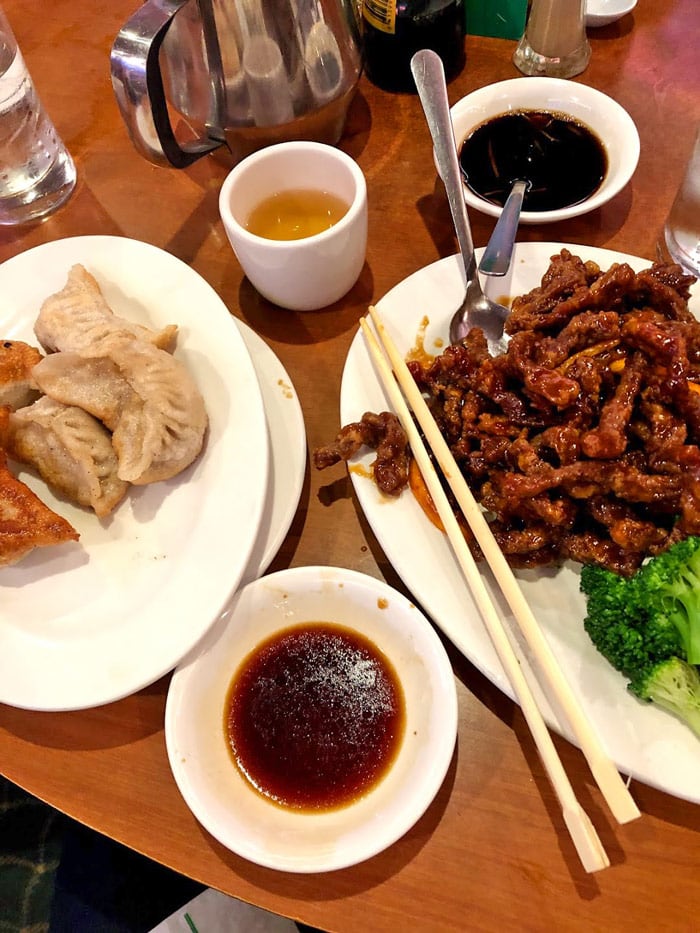 The Chinese food hits just keep on coming! Next up is the ever-popular Joe's Shanghai. This cash-only joint may be sparse when it comes to the decore, but the service is lightning quick, and the prices are affordable. They're known for their amazing soup dumplings but have a large selection of among other traditional Shanghai dishes.
The Pork Fried or Boiled Dumplings are 8 for $4.95. A more filling dish is $10-$18.
---
Real Kung Fu Little Steamed Buns Ramen [Chinese]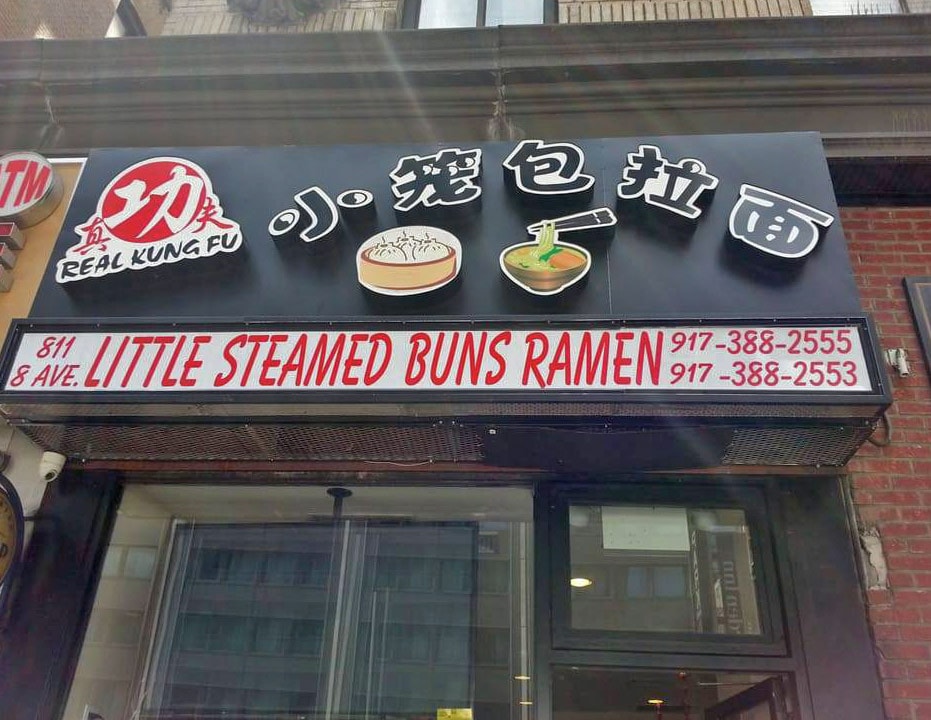 Yes, the name is funny but that doesn't mean the food isn't excellent at this hidden gem of a Chinese restaurant. You'll find lots of Chinese people eating here so that's always a good sign. Additionally, Real Kung Fu is located in Midtown/Hell's Kitchen so it's one of the best budget-friendly Chinese food restaurants outside of Chinatown.
Most main dishes at Real Kung Fu are priced between $10-$14.
---
King Dumplings [Chinese Dumplings]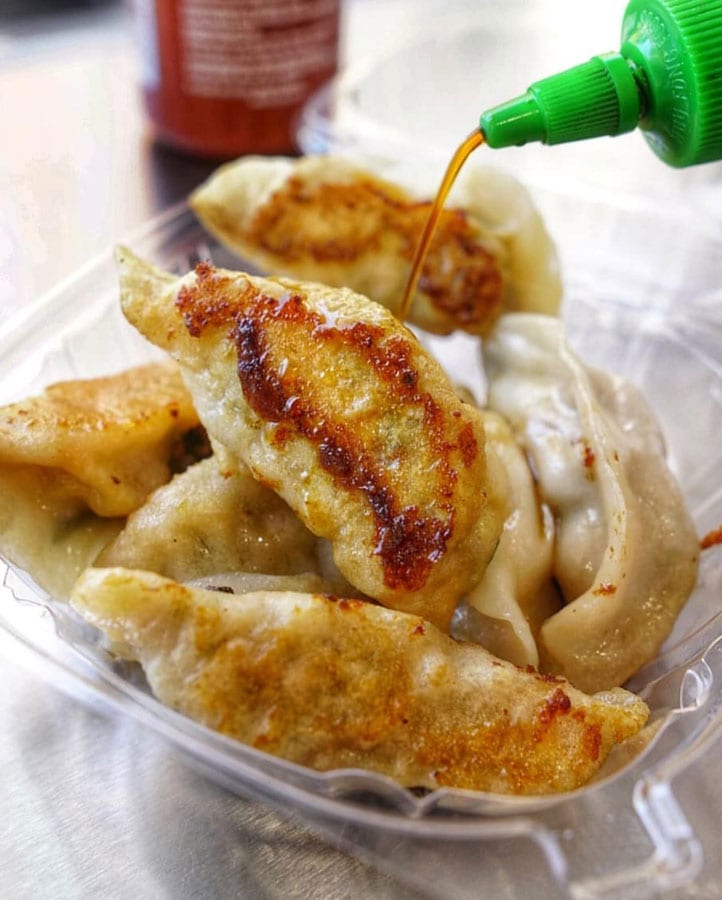 King Dumplings serves up fresh hand-made dumplings at super cheap prices.
A serving of 10 boiled pork dumplings will only set you back $4 and a serving of 4 fried dumplings is $1.50.
---
Los Tacos No.1 [Tacos]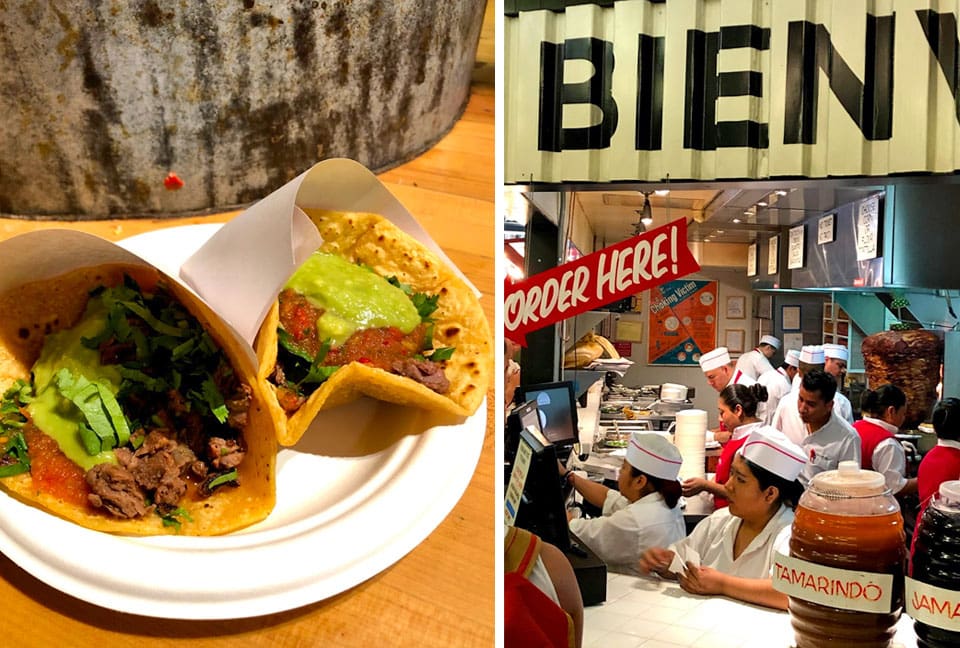 Los Tacos No.1 is considered to have the best tacos in NYC. They're seriously good and it's where I direct folks who are craving tacos. They have two locations in Manhattan — one in Chelsea Market and a new location near Times Square. Both spots are always busy and have very little/no seating so this is a stand-and-eat kinda taco joint.
Their tacos aren't super cheap (around $3.50 each), but I think they're worth the price.
---
Los Mariscos [Fish Tacos]
The owners of Los Tacos No.1 also own Los Mariscos — an excellent fish taco joint. It's also located in Chelsea Market but has somehow managed to fly under the radar more than Los Tacos No.1.
Their fish and shrimp tacos are around $4 each.
---
Taco Mix [Tacos]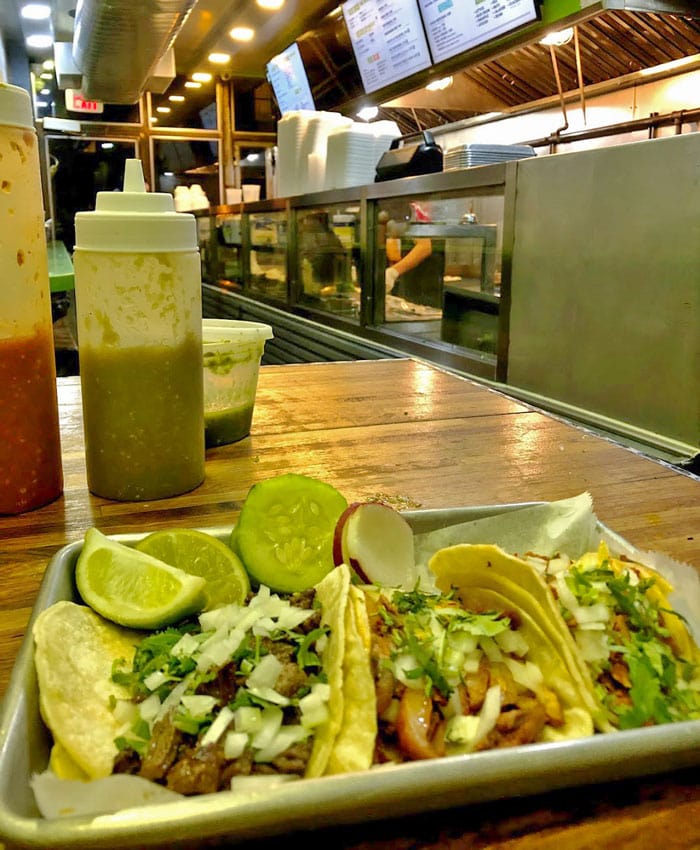 Make your way up to East Harlem and squeeze into this hole-in-the-wall joint to chow down on what many New Yorkers consider to be the best tacos in NYC — they're most famous for their excellent al pastor tacos. They've recently opened a slightly bigger location on the Lower East Side.
Their tacos are $3.25 each.
---
ZARAGOZA [Mexican]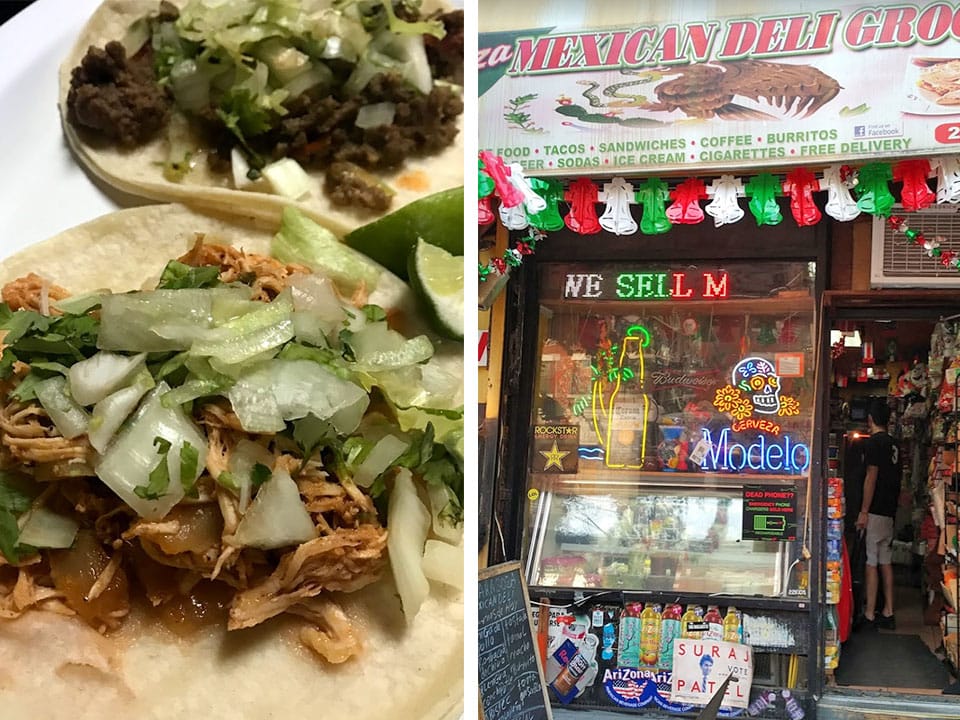 Zaragoza is another hidden gem. It's actually a tiny family-owned & operated Mexican grocery store/bodega but they also make delicious take-out food at solid prices. Many consider it to have the best home-style Pueblan food in NYC.
Expect to pay around $2.50 per taco.
---
Downtown Bakery Cocina Mexicana [Mexican]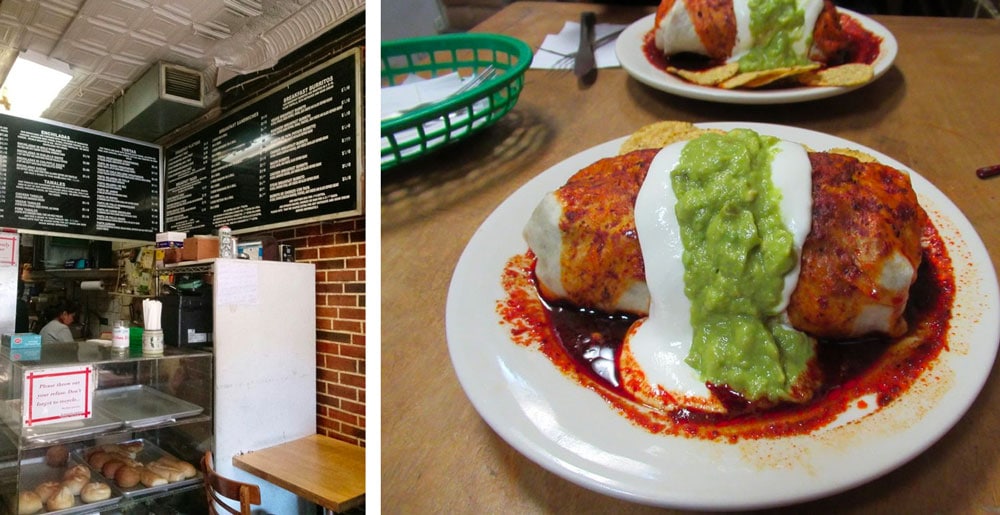 Don't let the name fool you, this no-frills counter-service Mexican joint serves up tasty tacos and burritos & tacos. It's another one of those NYC neighborhood gems. They have great breakfast burritos (served all day) as well.
Most platters are priced around $10-$14 and their sandwiches are $8-$9.
---
Taqueria Diana [Tacos and Burritos]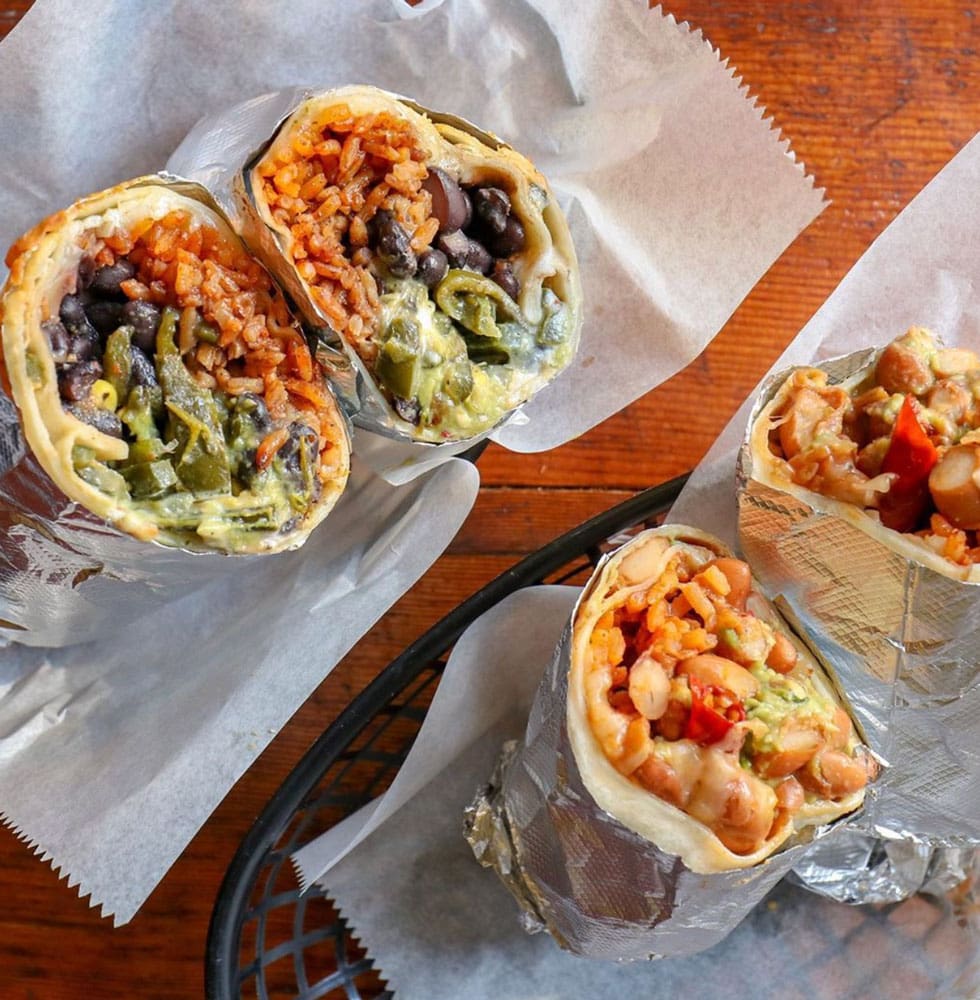 This much loved Mexican restaurant has plenty to choose from (including hand-pressed tortillas) but I recommend their burrito — it's about $10 and will fill you up.
---
Blue Ribbon Fried Chicken [Comfort Food]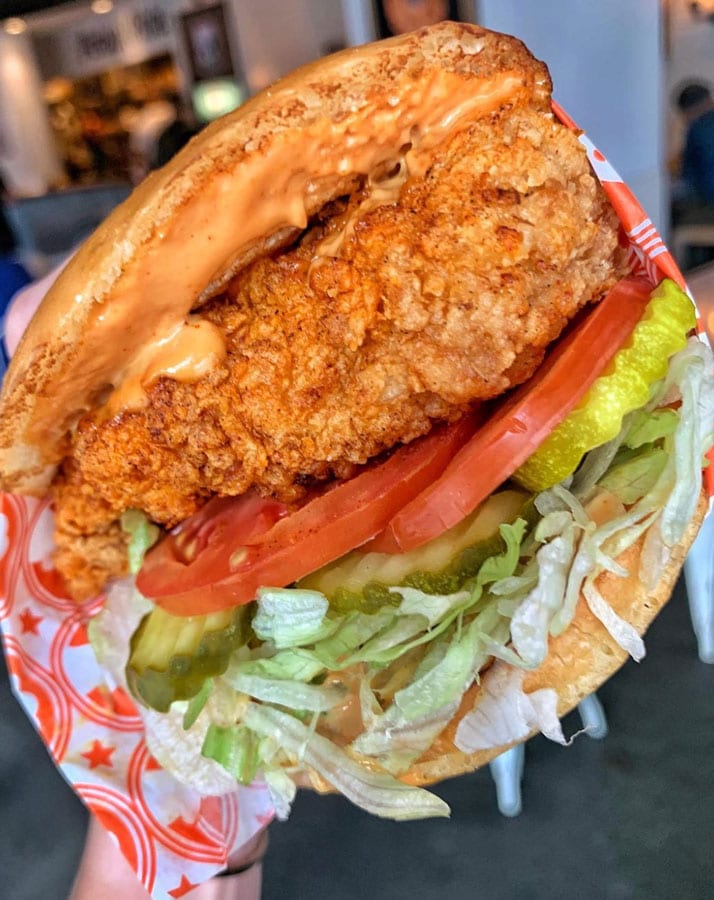 This counter-service serves up fried chicken by the piece but I'm a big fan of their excellent chicken sandwiches (which cost around $9.50).
---
Charles Country Pan-Fried Chicken [Soul Food]
Budget travelers should head up to Harlem for filling and authentic soul food for affordable prices.
At the no-frills Charles County (which is also a James Beard Award finalist), you'll get two pieces of chicken, two 2 sides, and cornbread for about $12.
---
Manna's Soulfood [Soul Food Buffet]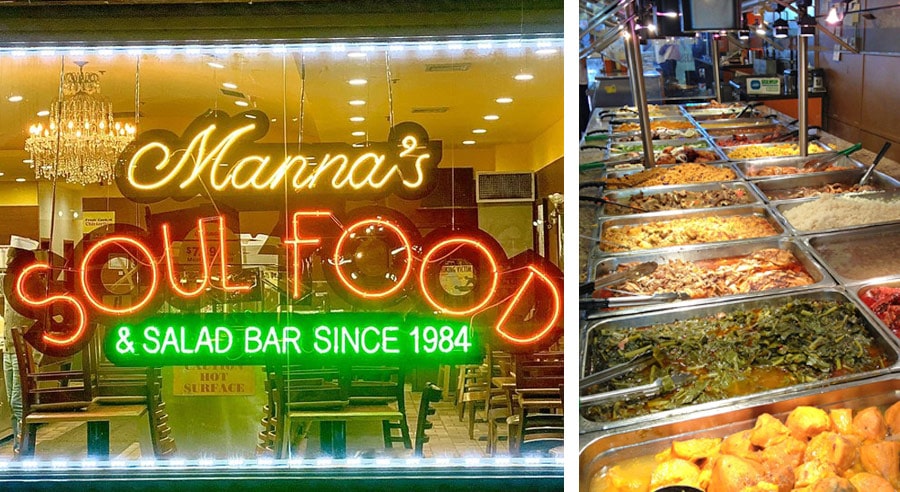 Manna's Soulfood is the place to go for home-cooked soul food at affordable prices. It's basically a buffet where you're charged by weight (around $7.50/lb). They've been around for more than 30 years so they're obviously doing something right. They have two locations in Harlem and one in Brooklyn.
---
Corner Bistro [Burgers]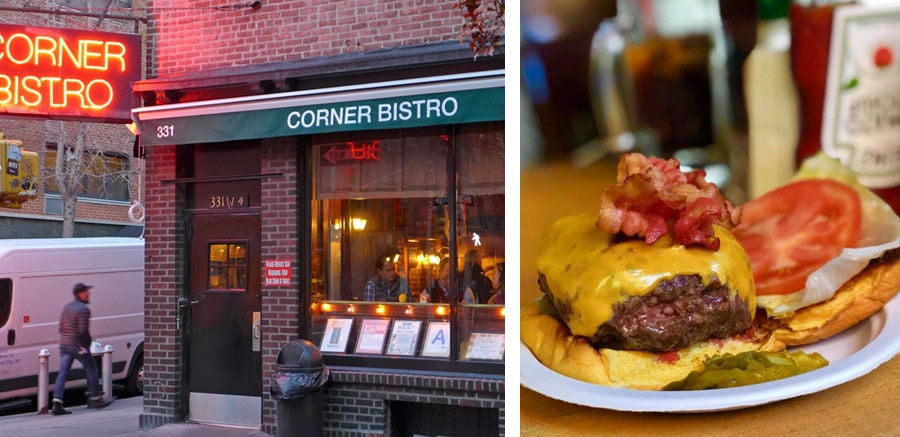 The beauty of the Corner Bistro is its simplicity — it's essentially a quasi-dive bar that makes one of the best "no-nonsense" burgers in NYC (they're even served on paper plates). Their beef patties are thick, juicy, and well-seasoned.
The basic burger costs around $10 so it's one of the cheaper 'high-quality' burgers in the city. It's one of the best deals in the very pricy West Village. Cash Only.
---
Burger Joint [Burgers]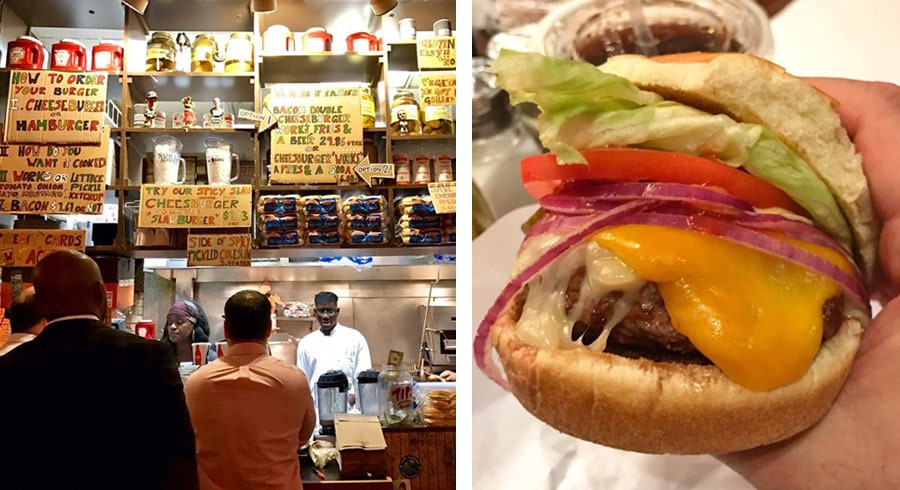 Considering that Burger Joint was featured on one of Anthony Bourdain's shows, this not-so-secret hidden burger restaurant is still worth checking out. This no-frills, graffiti-covered, cash-only burger counter is actually located inside the upscale Le Parker Meridien hotel. To find it, push past a velvet curtain in the back of the lobby.
The cheeseburger is about $10.
---
Boilermaker [Burgers]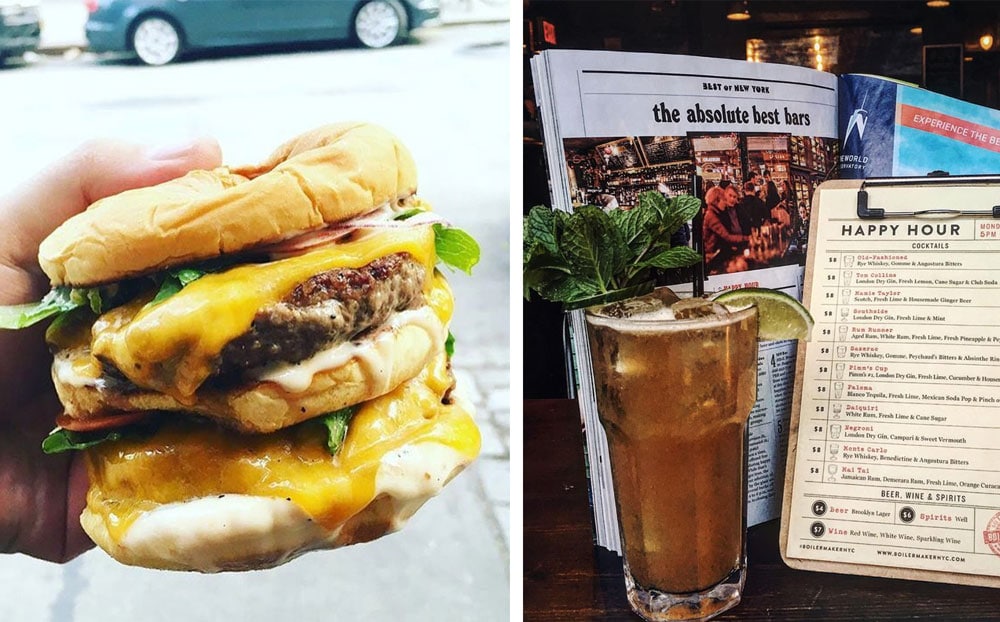 Boilermaker's burger was voted one of the best in NYC and it's affordable as well — the single burger is $8 and the double is $11. They also have $8 cocktails during happy hour on Mon-Fri (5-8 pm). I'm also a big fan of their kitschy retro tiki dive bar vibe.
---
Joe Jr [Burgers]
An old school, no-frills, straight-out-of-the-80s NYC diner. It's budget-friendly and they serve just about everything, but Joe's gets props for their burgers. Cash only.
---
Mamoun's [Falafel and Kebabs]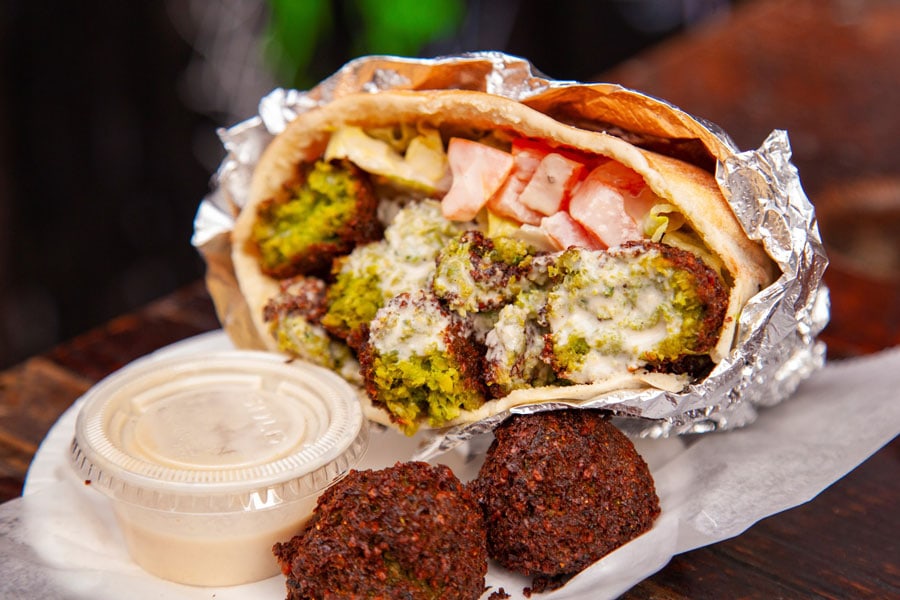 This local favorite Middle Eastern chain has been serving falafel, shawarma, kebabs & more for very affordable prices since 1971.
Sandwiches are $6-$8 and a combo plate is around $10-12. They now have multiple locations.
---
Veselka [Ukrainian/Polish Comfort Food]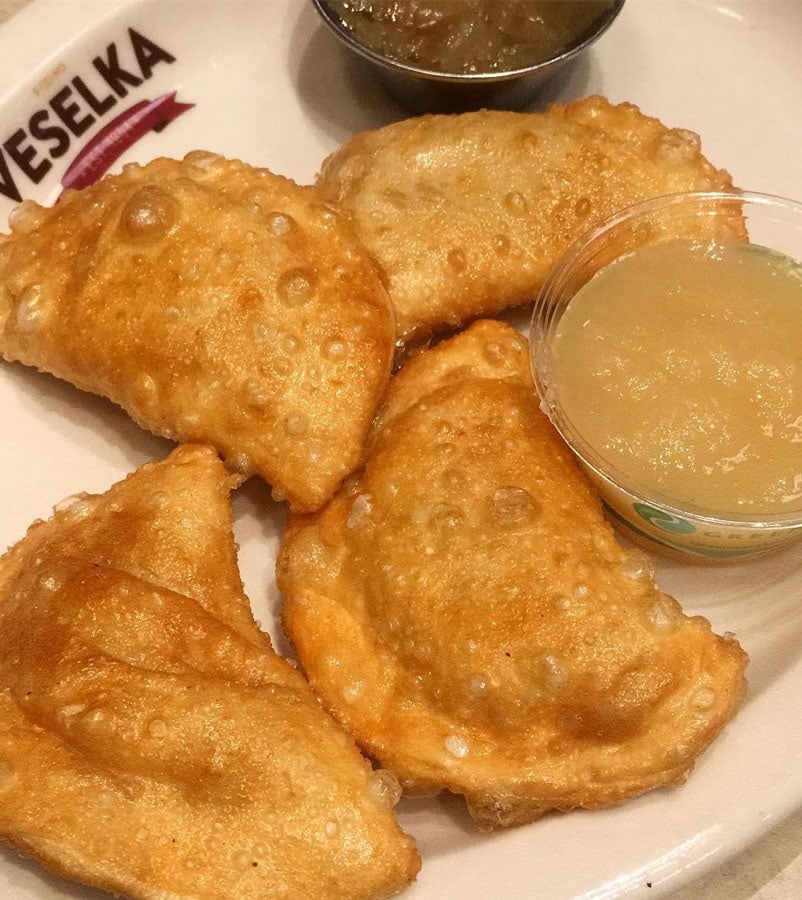 This is one of the most popular places to get borscht, pierogi, and other authentic Ukrainian/Polish dishes — and they're open 24-hours a day.
The prices are affordable — an order of 8 pierogi is $12. These guys have been around since 1954 so they've been a local favorite for ages. Expect a wait.
---
Malatesta Trattoria [Italian]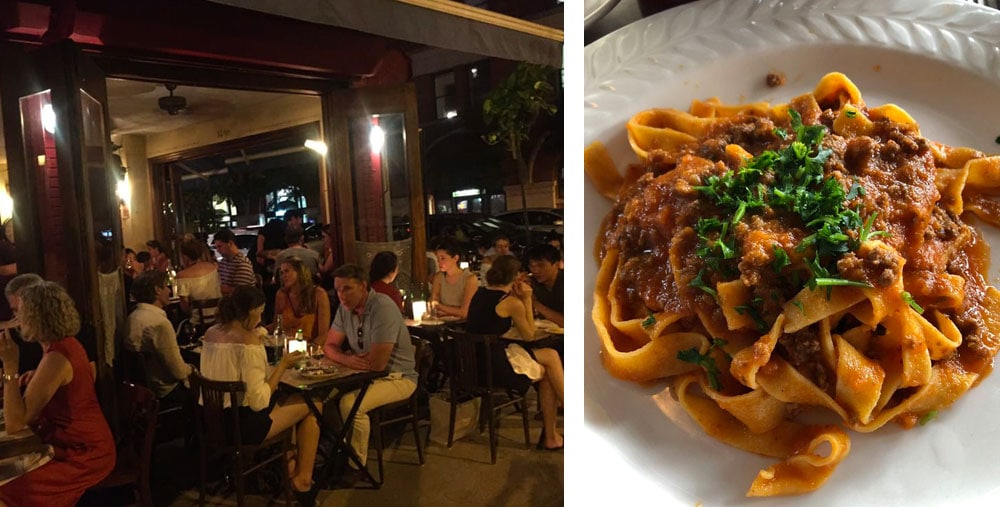 Malatesta is a charming little cash-only Italian joint in the West Village that serves up tasty homemade pasta at fair prices — especially given the hip neighborhood. They're always bustling (plus they have outside seating in the summer) so reservations are recommended.
A pasta dish costs $12-$16.
---
Maestro Pasta [Italian/Pasta]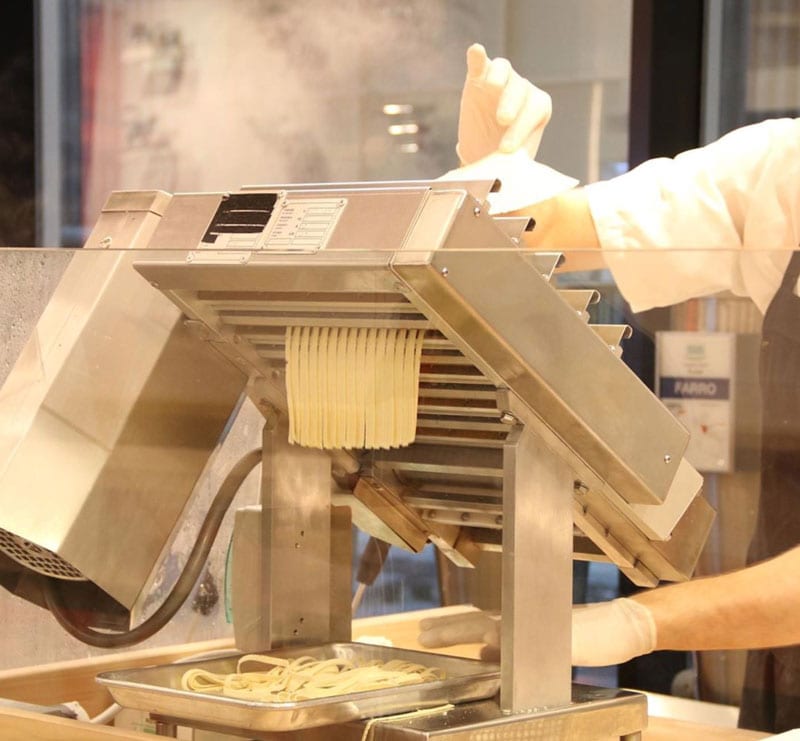 Maestro Pasta is a much loved fast-casual joint that serves up fresh, made-to-order pasta. You literally watch your pasta being made right in front of you. There aren't many seats here so it's more of a grab-n-go spot.
A serving of pasta will run you $10-$14 depending on the sauce you choose.
---
Gaia Italian Cafe [Italian]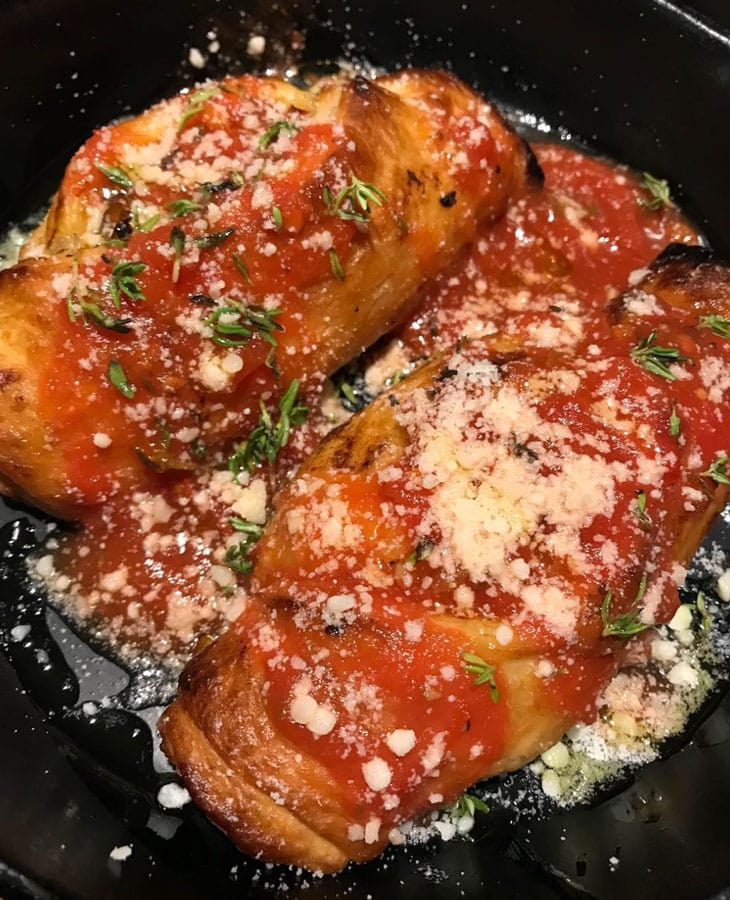 Gaia Italian Cafe serves up excellent homemade Italian food for very affordable prices. They're always busy and they have a semi-complicated way of taking reservations — you should read their website to get all the details if you want to snag a table. But it's worth the hassle! A hidden gem with a slightly gruff/passionate owner.
Most dishes are around $10.
---
Café Habana [Cuban-Mexican]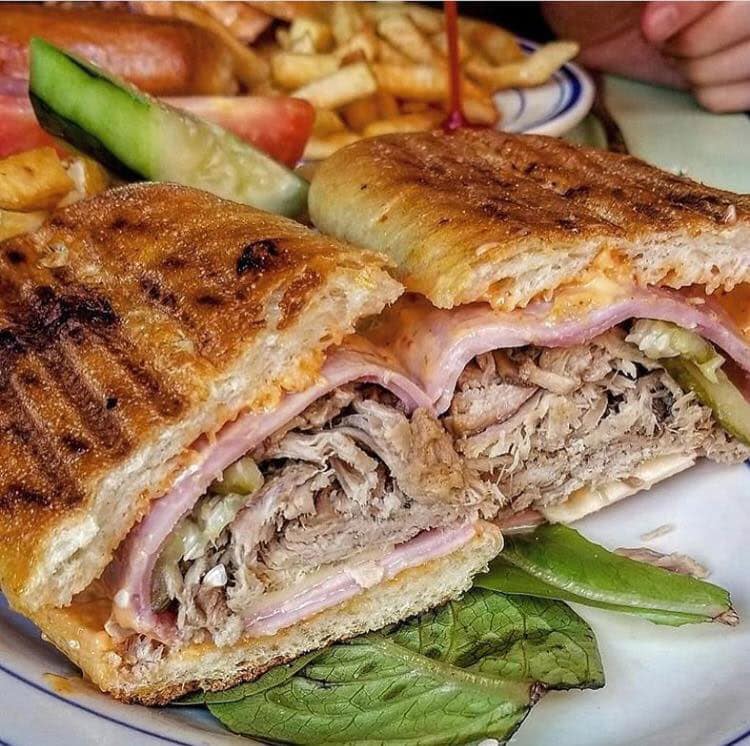 A pint-sized Cuban restaurant where you'll sit elbow-to-elbow with your neighbors — but the food is tasty and affordable.
They make a mean Cuban Sandwich for $16 but there are cheaper alternatives if your budget is tight. Expect a wait.
---
My Favorite Bagel Spots
You can get a bagel anywhere in NYC but there are only a handful of truly great bagel spots in the city. So, instead of listing out each one individually, I will just combine them here. Expect to pay $1.5-$3 for a bagel and then add extra for cream cheese, butter, etc.
Most bagel joints also make filling bagel sandwiches for breakfast and lunch/dinner. A bagel sandwich will typically cost between $5-$12.
---
My Favorite Pho & Ramen Places in NYC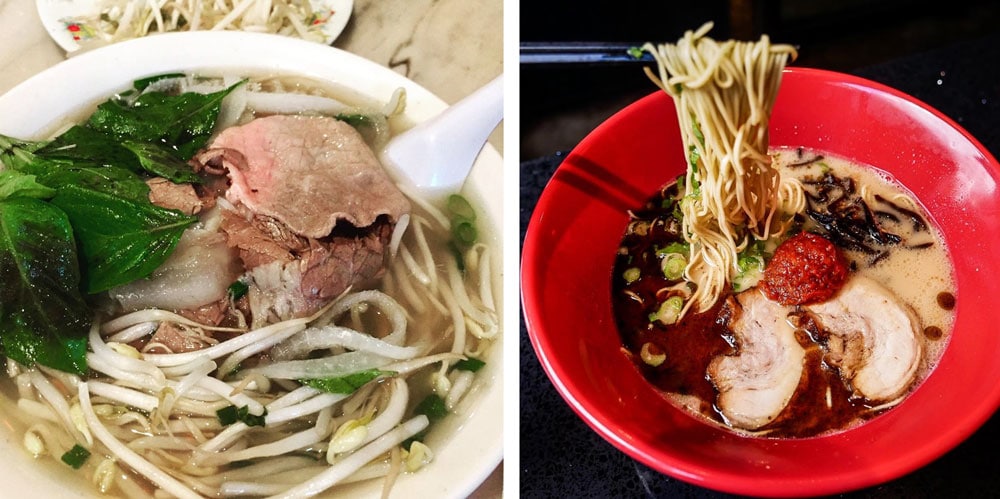 One of my favorite budget-friendly meals in NYC is ramen and pho — luckily this city has plenty of places that serve up excellent variations of both. A great bowl of ramen is around $11-$17 and a large bowl of pho is normally $8-$10.
Note: Most ramen and pho restaurants are located in Chinatown, Lower East Side, or Midtown.
My Top Ramen Picks
My Top Pho Picks
---
More NYC Budget Travel Tips
Looking for more things to do and see in NYC? Here are some other articles we've written about visiting New York City (including plenty of money-saving tips).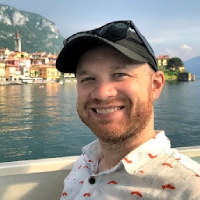 Latest posts by James Feess
(see all)
No Funny Business
The Savvy Backpacker is reader-supported. That means when you buy product/services through links on the site, I may earn an affiliate commission — it doesn't cost you anything extra and it helps support the site.
Thanks For Reading! — James
Questions? Learn more about our Strict Advertising Policy and How To Support Us.