We love traveling light.
But ultralight travel takes it to the next level by limiting yourself packing everything into a small carry-on size backpack. It requires discipline. It forces you to be smart about what you pack. But it's also one of the most freeing ways to travel.
In this guide, we'll tell you everything you need to know about truly traveling light and we'll talk about our favorite clothing and gear that's perfectly suited for one bag travel.
---
Ultralight Travel Guidelines
One Bag: You only need one carry-on sized backpack. 45L is the max size that most budget airlines will allow but experienced one-baggers opt for around 22L-40L.
Keep Weight Down: 22lbs (10kg) is the max carry-on weight for most budget airlines. However, 22lbs is kind of heavy for a small backpack so we suggest keeping your load to around 15lbs.
Be Picky: Everything you bring should be used multiple times. If you think you might use something then you probably don't need it.
Neutral Color Clothes: Every piece of clothing should look good when paired with any other piece of clothing. Essentially, you should be able to get dressed in the dark.
High Tech Fabrics: High-tech fabrics (both natural and synthetic) let you wear your clothes longer without needing to be washed. This is essential for ultralight travel.
Backpack Size Does NOT Equal Trip Size: Remember, you can wash your clothes as you travel. So packing for five days is really no different than packing for 30.
Fewer Better Items: Quality over quantity is the name of the game. Choose fewer high-quality items over multiple cheap things.
---
Backpacks
The golden rule of ultralight travel is only using one backpack. And we're not talking a huge hiking backpack. We're talking a small backpack that's carry-on size.
The maximum carry-on sized backpack seems to about 45L — but we're talking about ultralight travel so we'll focus on traveling with 20L-35L backpacks.
Remember, the smaller the bag the more you force yourself to pack light.
What we love about small backpacks:
Never pay checked luggage fees.
Never worry about airlines losing your luggage.
Never have to wait for your bags at baggage claim.
Easily navigate train, bus, and plane aisles.
Easily walk through crowded streets and busy train stations.
Easily store your bags above your seat on trains (so you don't lose sight of them).
Handsfree travel.
Fast and nimble travel so you can hit the ground running
Navigate stairs with ease.
You don't look like a tourist (well, you at least blend in better)
Less weight = happy back.
Backpacks We Recommend
One bag travel has exploded over the past few years so there are now a handful of great travel backpacks built specifically for ultralight urban travel. We've listed the best backpacks below (in no particular order) — each has its own pros and cons so take a little time researching which features are most important to you.
Tortuga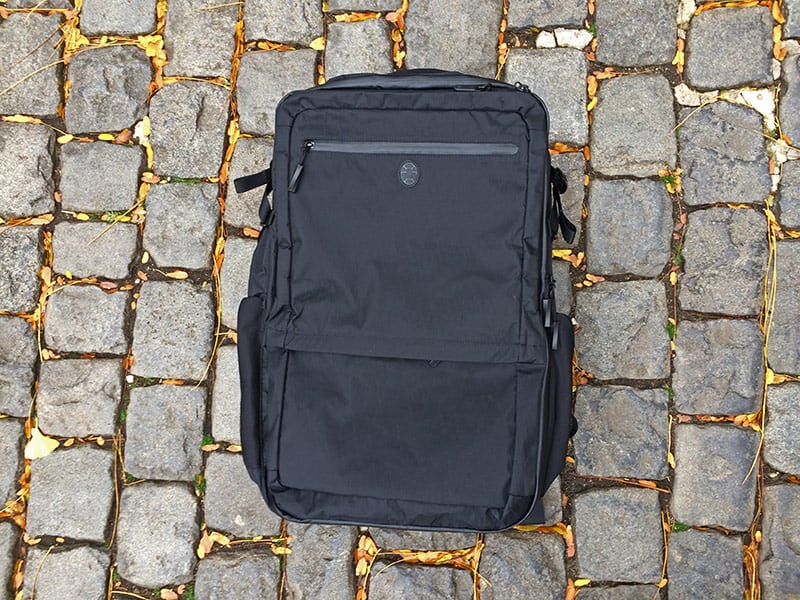 Tortuga has two backpacks we really like — the Outbreaker 35L ($269) and the Setout 45L ($199).
The Outbreaker 35L is a heavy-duty and full-featured bag with plenty of storage/organization options. It's a little boxy but it's sleek-ish and has minimal branding. It has thick padded shoulder straps and a hip belt so it's comfortable to wear. The material is also waterproof. But all these features add to the weight (4.6lbs.) and it's a little expensive ($269).
Note: See our Outbreaker Review
The Setout 45L is a bit bigger than the Outbreaker and it's designed as a "maximum-sized carry on for city travelers" — which means it's as big as possible without going over the carry-on size limit. It's basically a more scaled-back version of the Outbreaker so it has thinner shoulder and hip belt padding, fewer organization pockets, and fewer features. It's also lighter at 3.3lbs and less expensive ($199).
Available from the Tortuga website.
AER Travel Backpack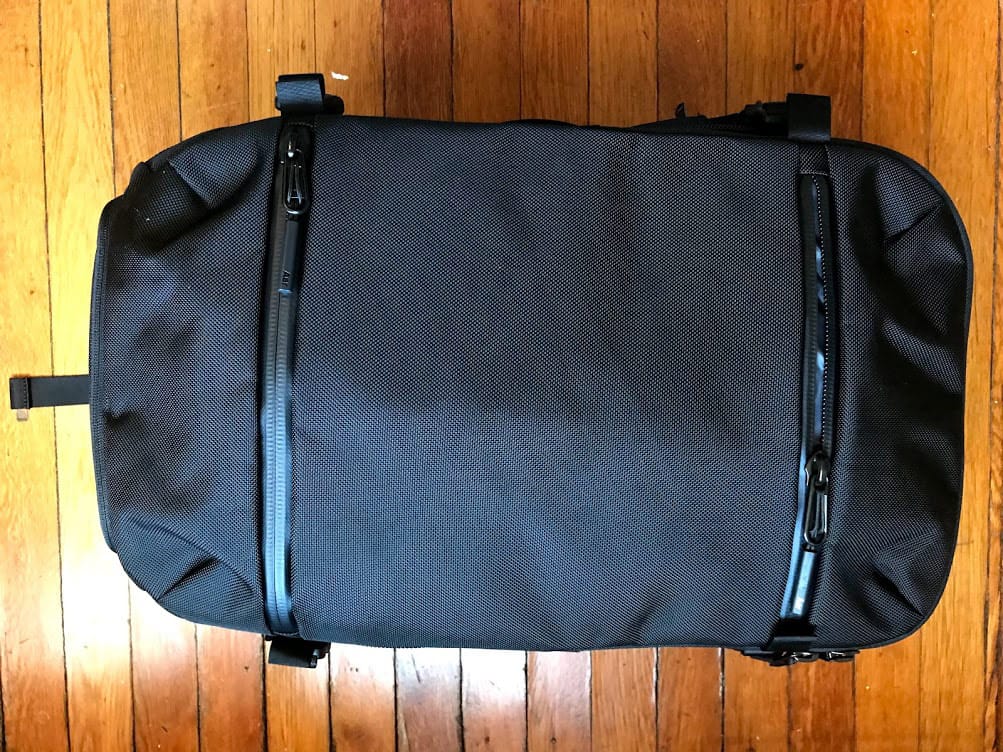 The Aer Travel Backpack is another great option that gets a lot of love from the ultralight travel community. This 33L bag weighs in at 3.7 lbs so it's big enough to carry your stuff while not being too heavy or bulky. There is a decent amount of padding on the shoulder straps, plenty of pockets to keep your stuff organized, and the bag is made really well.
We also think the bag looks nice and doesn't immediately scream "tourist!"
Note: See our Aer Travel Backpack Review
The Aer Travel Backpack is $220 from the Aer Website.
Osprey
Osprey has been making excellent hiking backpacks for over 40 years and they currently make a few great travel backpacks — namely the Porter and the Farpoint.
The Osprey Porter 30L is a full-featured backpack that weighs in at only 2.8lbs. The shoulder straps have a decent amount of padding and there is a modest hipbelt. It is one of the smaller bags on our list but they also have a 46L version (which is a little large). We like how the Porter doesn't have any loose straps but it does have a bit of turtle shell shape so it's not the most "stylish" backpacks (it's not too bad though).
The Porter 30 costs around $100-$120. Check latest prices on Amazon and Zappos.
The Osprey Farpoint 40L is Osprey's more robust travel backpack. The shoulder straps and hip belt are comfortable and there is plenty of space for your stuff. Again, the bag isn't the most stylish but it's not too bad — especially the black color. The Farpoint 40 weighs 3.1lbs so it's fairly lightweight. Ohh, and it comes in S/M and M/L sizes so that's a nice feature.
Note: See our Farpoint 55 Review
The Farpoint 40 costs around $120-$160. Check the latest prices on Amazon and Zappos.
Minaal Carry-On 2.0
The Minaal Carry-On 2.0 is a sleek and sexy backpack. The material feels really nice and the overall bag is well designed and smartly laid out. In our opinion, it's the best looking backpack but it's also expensive at $300.
We'd say that the Minaal is truly geared toward ultralight travelers. Minaal doesn't list its liter size but its dimensions are LxWxH: 55cm x 35cm x 20cm (fully packed) / 21.6in x 13.7in x 7.87in. Basically, you're forced to be picky about what you pack (but that's the whole point about ultralight travel).
The straps have modest padding but they're comfortable. Plus, the shoulder straps have load-lifters, which is rare in smaller backpacks. There isn't a hipbelt but you don't need it since you're forced to pack light. It has a separate laptop compartment which is super helpful at airport security. The Minaal Carry-On 2.0 only weights 3.12lbs so it's one of the lightest bags on our list.
Available from the Minaal website
GORUCK
GORUCK backpacks have created a cult following — and rightfully so. Their bags are built in the USA and they're crazy tough… like literally battle-tested by the US Special Forces tough. It's basically a backpack that should last forever (it even has a lifetime warranty). On the other hand, they're also expensive and relatively heavy.
First, we have the GR1 — which comes in 21L and 26L versions. They both cost $295. The 21L bag weighs in at 3.2lbs. We love the minimalist/military/industrial/badass look. Again, this is a compact big bag so you'll need to fully subscribe to the ultralight travel philosophy.
The GR2 is a bigger version of the GR1 and it comes in a 34L and 40L version. Personally, we think the 34L is just about the perfect size for ultralight travel (the 40L is too bulky and heavy unless you're a really tall dude/lady). The GR2 has plenty of pockets and it's big enough to carry whatever you have. The 34L version is 4.35lbs and costs $395 (whew).
Available from the GORUCK website
---
Clothing Packing List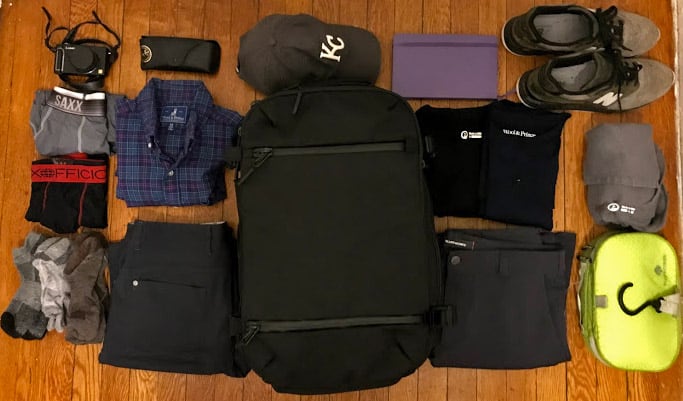 The key to packing light is limiting the amount of clothing you bring — which means you need to be smart about what kinds of clothing you choose. That's why ultralight travelers tend to buy clothes that are specifically designed for travel.
It's All About The Fabric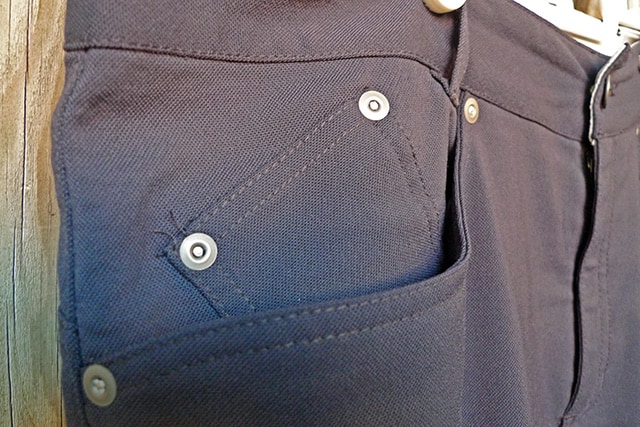 Here's the deal: you need to limit the number of clothes you bring so that means you have to wear things multiple times before washing — which is why you need fabrics that won't smell.
The two best fabrics for multi-day wear are merino wool and synthetic high-tech performance fabrics.
Merino Wool naturally blocks odor, dries quickly, moisture-wicking, and is breathable — which makes it an excellent option for underwear, socks, shirts, and base layers. Yes, lightweight merino works well in the summer, and no, it isn't itchy.
But there are some downsides… Merino Wool is expensive, it requires special washing (washed in cool water and air dry), and it's not always super durable.
High-tech synthetic performance fabrics are very durable, breathable/moisture-wicking, and they're usually more affordable. However, many synthetic fabrics hold on to smells. Luckily, most high-end fabrics have anti-bacterial coatings — which helps prevent smells.
These days you'll see a lot of Merino Wool/Synthetic blends — which gives the fabric characteristics of both materials.
Quick Note About Travel Clothing
These days there are a number of companies making amazing travel clothing that is both fashionable and functional. These use high tech fabrics (either natural or synthetic) that are durable, have stretch which gives you a greater range of motion, resist odors, dry quickly, resist wrinkles, and some even repel stains and liquids.
However, these clothes tend to be expensive — partially because of the quality fabrics used and partially because most of these companies are small businesses.
That said, we'll do our best to include more budget-friendly options in this guide because we realize not everyone wants to drop a lot of money on new clothes.
Our Travel Clothing Criteria
We look for a few characteristics when choosing the ideal travel clothes:
Fashionable: We only buy travel clothes that we'd actually wear anytime — this is mandatory. Cargo pockets? Weird zip-off legs? Plastic feeling? Unflattering cuts? NOPE! Save that for the mountain. We only wear things that would look perfectly normal on the streets of Paris.
Durable: You're going to be wearing your clothes a lot so they need to withstand some abuse.
Odor Resistant: It's easy to work up a sweat but it's not always easy to find the time to wash your clothes — which is why odor-resistant fabrics are a must.
Comfortable: You want to be comfortable while traveling so we look for clothes that are breathable and flexible.
Quick Drying: You might find yourself washing your clothes in your sink so you want fabrics that will air-dry overnight.
Neutral Colors: If all your clothes are neutral then everything will match. Plus, dark colors help hide stains.
Underwear: 3-4 Pairs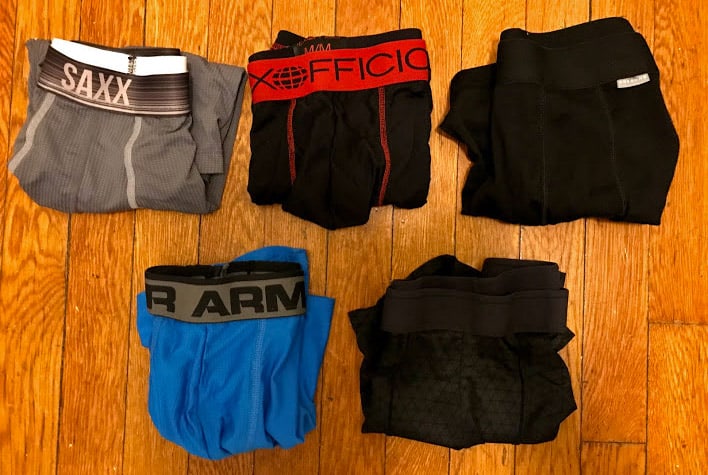 We like to bring three or four pairs of underwear. You can probably get away with two pairs by washing one pair while wearing the other… but underwear takes up virtually no space so we bring a few pairs. You can read more about why we love travel underwear but basically, we love them because they're quick-drying, moisture-wicking, breathable, odor-blocking, lightweight, and comfortable.
The best travel underwear is either made from special synthetic materials or lightweight merino wool (well, it's usually a merino/synthetic blend). Synthetic is usually cheaper and more durable but merino has better odor protection but is more expensive.
Our Favorite Travel Underwear
Socks: 4-5 Pairs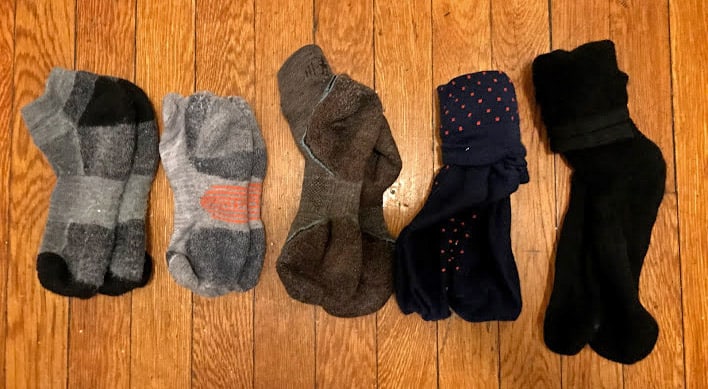 Socks are other things we don't like to skimp on. Just like underwear, the best socks are either made from special synthetic materials or lightweight merino wool (well, it's usually a merino/synthetic blend). Synthetic is usually cheaper and more durable but merino has better odor protection but is more expensive. Avoid cotton.
You could probably get away with around three pairs, but we prefer four or five pairs so we don't have to worry about wearing dirty socks. Then again, I know people who wear a pair for about a week before washing (alternating days between wears).
Pro tip: carry an extra pair of socks during the day and switch them out if your feet start to get sweaty — it's a great feeling.
Our Favorite Sock Brands
When it comes to socks we tend to stick to a few brands. From there, you pick which weight and cut best fits your travel style. Here is an extensive guide to our favorite travel socks.
Here are some brands to check out:
Darn Tough Vermont: We love Darn Tough socks (and so do many travelers) — especially since they offer a lifetime warranty. Almost all DT socks are merino/synthetic blend.
Smartwool: Smartwool is one of the most popular brands of merino wool blend socks. They make a ton of different styles so take a look at the various options.
Outlier: Outlier makes a pair of really nice merino wool socks (47% Merino) that use super high-quality wool. They are fairly expensive at $25/pair.
Wigwam: Wigwam is a good quality budget option. Most of their socks are a wool/synthetic blend.
Thorlo: Thorlo makes quality synthetic blend socks that are very affordable.
Balega: Balega gets a lot of love — especially because they make quality no-show socks (which is kinda rare). All their socks are synthetic and they're affordable.
Pants: 1-2 Pairs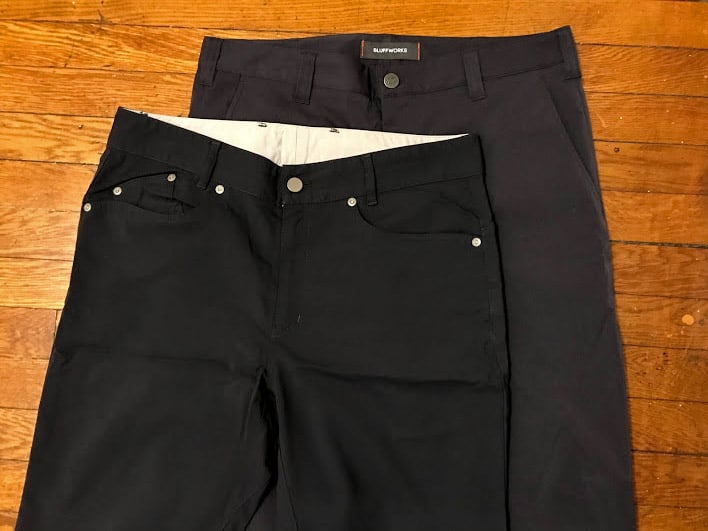 There are plenty of travelers who only bring a single pair of pants. Truth is, you can wear the same pair multiple times and they're not going to smell. That said, two pairs should be your max.
A high-quality pair of travel pants is a good investment because you want something that is comfortable, stylish, and durable enough to put up with everything you throw at it. Plus, we only buy travel clothes that we'll also wear after the trip is over so they have to look good.
Synthetic materials are really the only option because they're light, durable, and dry quickly. Luckily, there are a lot of really solid options when it comes to travel pants… unfortunately, the best ones are expensive.
What's the difference between expensive and less expensive travel pants? Basically, the top-of-the-line pants look and feel just like normal everyday pants but perform like technical pants. Cheaper pants start looking a lot more "technical" so they're a lot less fashionable.
Outlier
Outlier has really nailed it with their Slim Dungarees — some even say they're the perfect travel pant. The material is stretchy so it's comfortable but it's also super rugged and tough. They're also breathable, moisture-wicking, quick-drying, and they even have a coating to help them repel liquid. You can basically wear these things for months without needing to wash (plus, they can be machine washed and dried). Ohh, and the fabric feels and looks like normal pants — which is great because everything we wear must pass the "would this look good in Paris" test… and these pass with flying color.
The main downside is the cost — $198 per pair. But, I guess that's the price you pay for made in USA clothing constructed from high-performance Swiss fabric. And, to be honest, I would have no qualms about packing these as my single pair of pants.
Bluffworks
Bluffworks is the other go-to travel clothing company that many travelers really love. They have two main travel pants — the Original ($98) and the Chino ($125). Both pants are super tough, breathable, moisture-wicking, resist wrinkles, and they're lightweight. The Originals are the most lightweight but the fabric doesn't stretch and looks a bit more synthetic. The Chinos use a more stretchy fabric that's softer, more casual, and looks/feels like cotton. Available at Bluffworks
Western Rise
Western Rise is an outdoor-inspired clothing company that makes functional and fashionable clothes that we would describe as "outdoor-chic." We're really digging the AT Slim Rivet Pant (available in men's and women's). They look like normal slim-fitting pants but they have the benefits of technical fabric. The fabric has a nice structure, texture, durability, and stretch but it does have a slightly synthetic feel (which is virtually unavoidable).
AT Slim Rivet Pant retails for $129 and is available from Western Rise. Click here to get $20 off your first purchase.
Ministry of Supply
Ministry of Supply makes the most dressy travel clothing we've ever seen. Their pants basically look like dress slacks and chinos but the high-performance fabric has stretch, is wrinkle-resistant, wicks moisture, and repels water. These clothes are a little too dressy for our travel style but this is a great option if you need to look extra snazzy.
They offer a few different styles and cuts but they're all priced around $145. Available at Ministry of Supply.
Uniqlo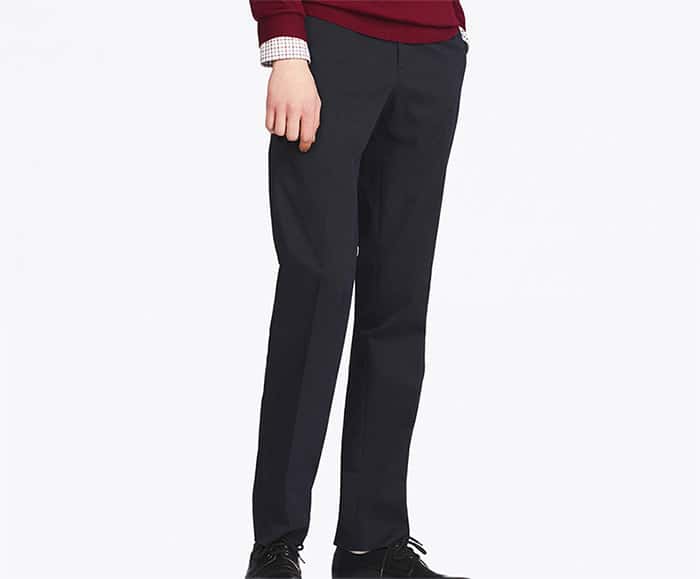 Uniqlo is your go-to place for cheap clothes that are made from high-tech fabrics. Of course, you're not going to get the same quality from Uniqlo as you will from other brands on this list but we suggest checking out their offerings if you're on a really tight budget. We also suggest trying on their clothes before buying as we've found that sizing can be a little inconsistent.
Prana
Prana is one of the more fashionable "outdoor" brands and their Brion pants are their most popular item. The fabric is durable, soft, has 4-way stretch, dries quickly, and repels water. Personally, we think the pants are cut a little too wide/loose so they still give off a slight outdoorsy/techy vibe… but you can always get them tailored for $20-$30. They retail at $75 but you can often find them on sale. Available at Prana.
Rohan
We're not the biggest fans of jeans for ultralight travel but we still love the look of denim. These Newton Jeans from Rohan are made with a blend of cotton and quick-drying Coolmax polyester. They won't dry as quickly as other pants on this list but they do dry 30% quicker than normal cotton jeans.
Button Up Shirts: 1-2 Shirts
Most ultralight travelers only pack one or possible two long-sleeve button-up shirts. The key is versatility so you want something that looks presentable at a restaurant but is also casual for everyday wear. Button-ups are also nice because you can roll up the sleeves when it's hot or roll them down when you need more warmth or a more polished look.
Stick with dark fabrics because those hide stains better and wrinkle-resistant fabrics are a big plus. You're also going to wear your shirt multiple times before washing so merino wool and high-tech synthetic fabrics come in handy here.
Wool & Prince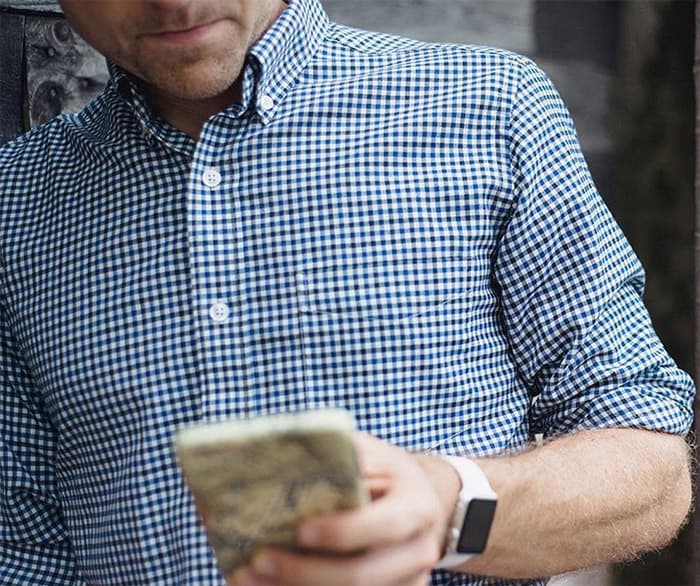 Wool & Prince makes excellent merino wool button-down shirts in multiple colors. As you can see, these are great looking shirts. The fabric feels nice, looks great, is durable, and is fairly soft. I own two and have worn them for multiple days and never had any issues with any odor. In fact, the owner wore his shirt for 100 days without ever cleaning or ironing so you could easily wear this shirt every day of your travels. The only real care instruction is that it can't be machine dried.
The main downside is the price. Each shirt is $128. But, they should last for years with proper care. Available at Wool & Prince.
Outlier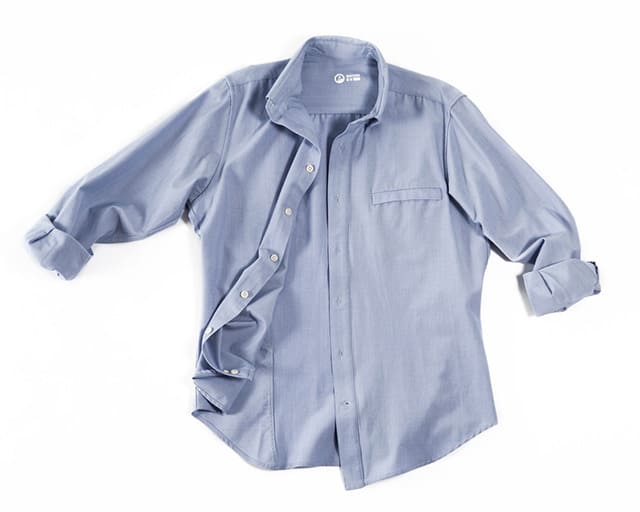 Outlier is our other top choice when it comes to fashionable and functional travel shirts — especially their NYCO Oxford ($120). The NYCO Oxford is 76% cotton, 24% nylon so it breaks our "avoid cotton" rule but I still really like this shirt. It uses a special weave and a special coating that helps repel water surprising well. Like all Outlier gear, it ain't cheap… but the quality is top-notch. Available at Outlier.
Ministry of Supply
Ministry of Supply is your go-to brand for high-tech dressy travel clothes. Their Apollo 3 Dress Shirt is super breathable and flexible (the fabric was developed by NASA). Plus, the wrinkles fall out after you wear it for about 10 minutes and the shirt is machine washable. Their Aero Button Down is similar but it's a bit more casual but it's still certainly "dressy" looking. Both shirts are $115. Available at Ministry of Supply.
Bluffworks
Bluffworks makes a nice looking high-performance shirt that's super lightweight and breathable. It's made of two-way stretch synthetic fabric that doesn't wrinkle and has antibacterial properties. It comes in three different colors and we also like how it comes in both classic and slim fit. We also like how it can be dressed up or worn more casually. Their Meridian shirt costs $125. Available via Bluffworks
T-Shirts: 2-4 Shirts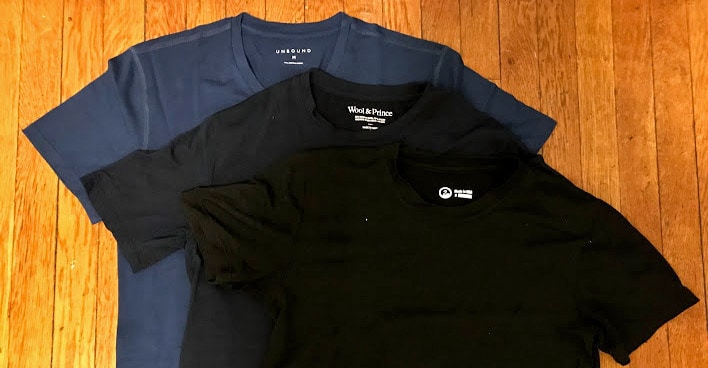 We always travel with a few neutral color t-shirts. You can certainly get by with as little as two t-shirts but we personally prefer to pack three of four. Our top choice is merino wool (or a wool/synthetic blend) because it tends to look a little nicer than synthetic shirts and they last longer before smelling. Plus, it makes a nice base layer in colder temperatures.
The main downside to merino, other than the cost, is the durability. Merino wool tends to be a bit more fragile when it's lightweight but higher-quality merino tends to be thicker so it holds up better. Adding in a bit of synthetic material really helps with the durability — which is why you'll see many companies offering a blend.
Again, merino wool shirts are expensive. Many budget travelers will pick up one nice shirt and then bring a few cheaper synthetic options for when they want to give the merino a break.
Also, synthetic isn't necessarily bad. It dries quickly, can be super breathable (which is amazing during the middle of summer), is durable, and wicks moisture well. Most synthetic fabrics tend to look "synthetic" so they're not always fashionable but we'll try to list a few good options. One note: cheap synthetics will hold on to odor (sometimes even after you wash them) and may require a special detergent to get the stink out.
Outlier
I own two Outlier Ultrafine Merino Wool T-shirts ($110) and they always make it into my backpack when I'm on the road. It's a nice weight, soft, and constructed really well (mine are three years old and they're still holding up well). Outlier also has a long-sleeve version ($125). There is also a more lightweight version called the Runweight Merino ($88) that's s a merino/polyester blend — this is probably better for travel in the dead of summer. But, like everything from Outlier, these are expensive. Available at Outlier.
Wool & Prince
The Wool & Prince Crew Neck is another solid wool/nylon blend t-shirt that we love. Their tees get a lot of praise from the travel community because they're well-made and they come in a ton of different colors. The short sleeve shirts are $68 and the long sleeve shirts are $84. Available at Wool & Prince.
Olivers
Olivers Convey Tee ($68) is another 100% merino wool option that is popular in the ultralight travel light community. There is also the Olivers Terminal Tech Tee ($68) which is 54% merino, 46% polyester so it's a little more durable and dries a little quicker. Available at Olivers.
Unbound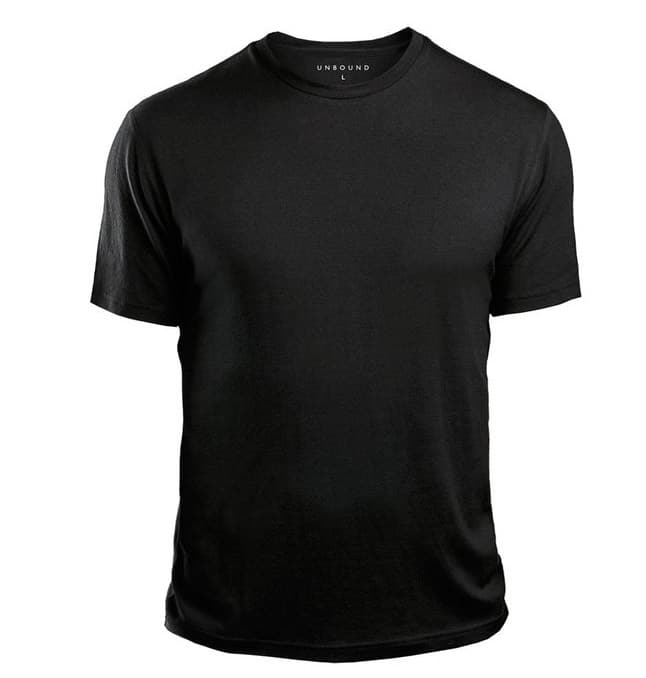 Unbound is another company that makes 100% merino t-shirts. We like that these are just simple, well-made shirts with no branding and they come in black, grey, and navy. Priced at $65 each, it's a solid merino t-shirt for the price. Available at Unbound.
Duckworth Vapor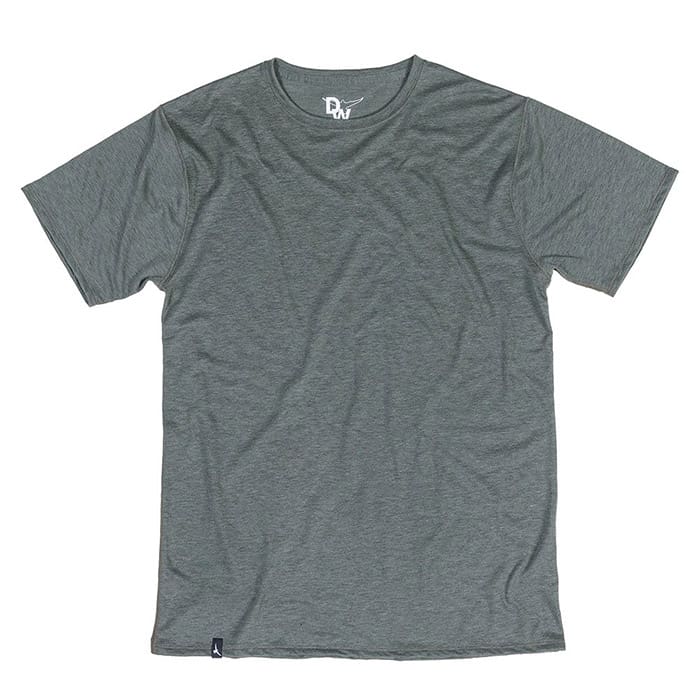 Duckworth is a small company based in Montana that grows its own sheep on their own ranch and the shirts are made on site (which we think is pretty cool). Their Vapor t-shirt is top-notch. It's made from 38% fine merino, 50% recycled Polyester, and 12% Modal. The Vapor is super soft, naturally odor-resistant, durable, and breathable. They sell for $68 each and come in multiple colors.
Uniqlo
Uniqlo makes a handful of synthetic and synthetic/wool blend shirts that are super cheap. Their AIRISM shirts are crazy lightweight, wick sweat, and dry super quickly (their HEATTECH is designed for cold temperatures as a base layer but I find they work in the summer as well). They do have a synthetic look but it's not too bad. They also have poly/cotton blends that look closer to a standard t-shirt. Uniqlo's construction isn't amazing and sizing can be a little inconsistent but their t-shirts only cost $6 to $15 so it doesn't hurt to give them a try. Available at Uniqlo.
Shorts: 0-2 Pairs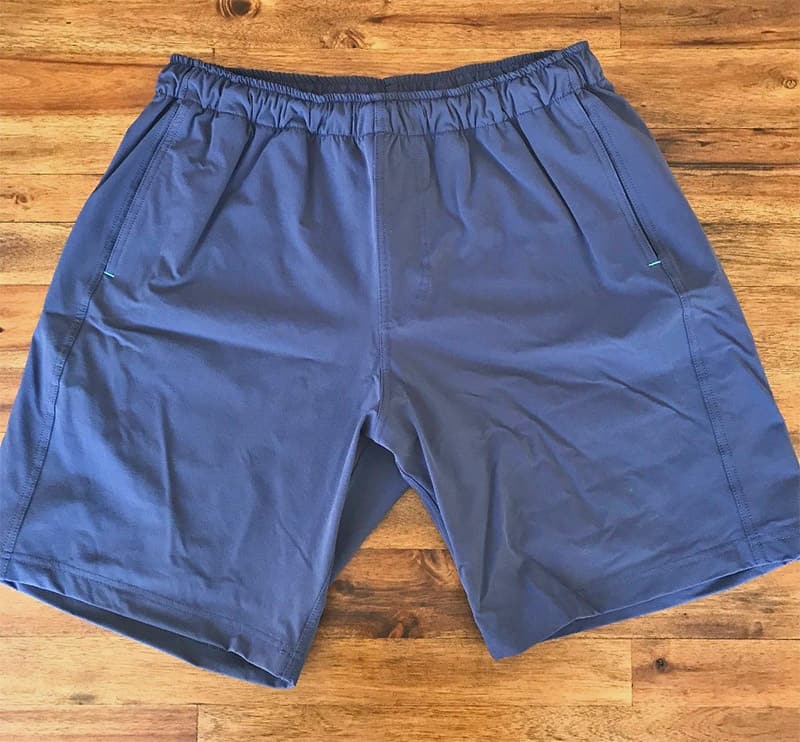 We tend to not wear shorts unless we're traveling in Southern Europe but more and more Europeans are wearing shorts during the summer so you won't really "stand out" if you have shorts on. That said, we suggest a nice looking pair that is a little more fitted if you want to blend in — i.e. don't wear gym shorts or anything with cargo pockets.
Outlier
Outlier makes two nice looking and high performing technical shorts — OG Free Ways ($175) and the New Way (comes in long for $130 and short for $120). These are both great shorts but they're expensive. But, if you have the cash then go for it. Available at Outlier.
PrAna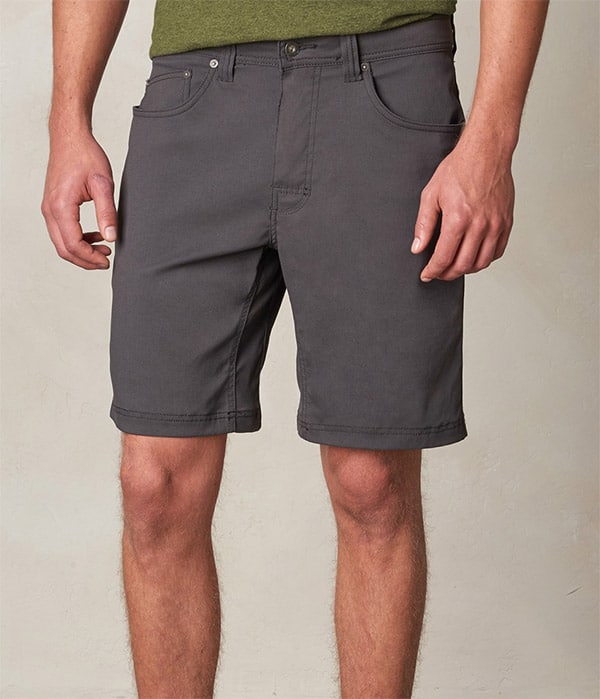 The Hybridizer Short is a nice looking pair of 96% Polyester / 4% Spandex shorts that are moisture-wicking and quick drying. I wish they were an inch or two shorter but you can always roll them up. They cost $75.
Another great option is the Brion Short. We think they look nice and they're 97% Nylon / 3% Spandex so they're dry quickly. They normally cost $65. Available at Prana.
Myles Apparel
The Myles Everyday Shorts are the most "athletic" of the shorts we recommend but they still manage to look like normal shorts. We love the four-way stretch and their ability to repel water as well. Available for $58 at Myles Apparel.
Uniqlo
We don't have any specific recommendations because Uniqlo changes up their offerings each season but they should have a few options.
Golf Shorts
Multiple athletic brands make golf shorts that use performance fabrics. Try a few on to see if any work for you.
Footwear: 1 Pair (Maybe 2 pairs)
The goal of ultralight travel is only bringing one pair of shoes. Of course, that's easier said than done.
For us, we tend to wear comfortable sneakers. "Fashion" sneakers are popular in Europe so don't feel like you'll look out of place by not wearing fancy Italian leather shoes. Cool Nikes, New Balance, Adidas, Allbirds, etc. will all work
Waterproof footwear comes in handy if you're traveling in the spring, fall, or winter. Consider a sturdy pair of boots in the winter.
If you do bring more than one pair, make sure it's a lightweight pair because you're not going to have much room in your backpack.
Need more tips for buying shoes? Check our guide to the best travel shoes.
Rain Jacket (Optional)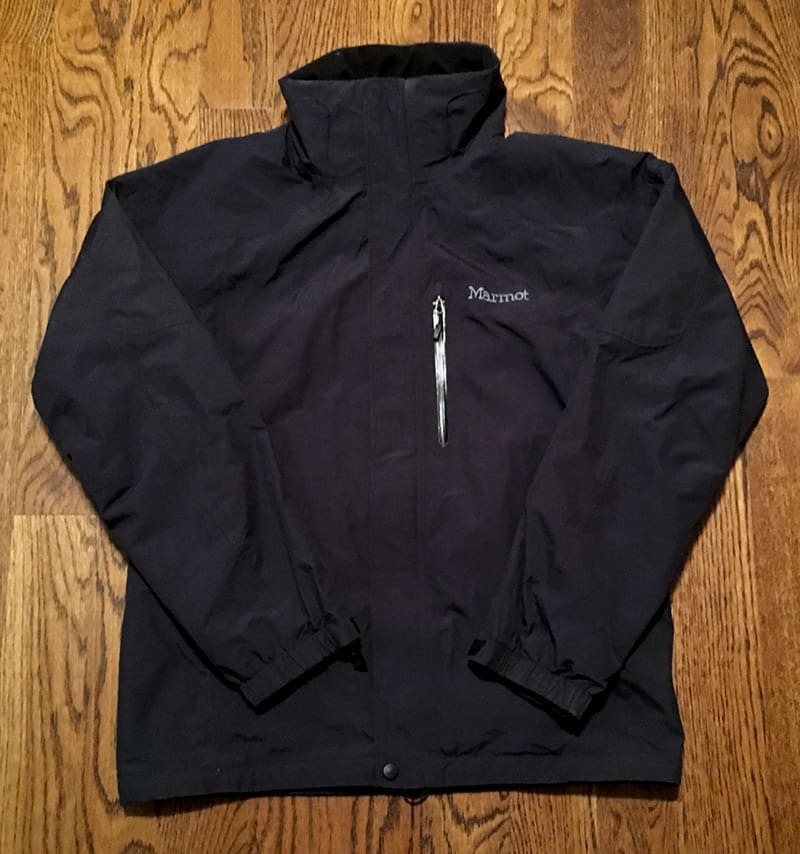 You can probably get away with not bringing a rain jacket in the summer but it's wise to bring one in the fall/spring/winter. The key is finding one that's super lightweight and packs away into a tiny ball when not being used. We've listed our favorites below.
Patagonia Houdini
The Houdini jacket is crazy light at 3.6oz (that's basically a deck of cards). And, of course, it packs down into a tiny ball. It's a great option because you can throw it in your bag and forget about it until you need it. Plus, we also dig the simple styling. However, this jacket isn't designed for sustained heavy downpours — but it's great for city travel since you probably won't be walking for hours at a time in the rain. It's a solid summer jacket. The Houdini usually costs around $99. Available via REI and Amazon
Outdoor Research Helium II
The Outdoor Research Helium II gets a ton of love because it's insanely lightweight at around 6oz and it packs down to the size of an apple. It's a great summer jacket. It usually sells for $140-$170 so it's a little pricey. Available via REI and Amazon.
Outdoor Research Helium HD Rain Jacket
The Helium HD Rain Jacket is similar to the Helium II but it's a little heavier at 9oz (which is still crazy lightweight). It does have a few extra features like front pockets and pit zips. It's also expensive at around $200. Available via Amazon.
Marmot PreCip Jacket
I've owned the PreCip Jacket for about a year and it's gotten me through rainy days in Rome, Barcelona, Florence, and NYC. Sure, it's not the lightest jacket on the list (it weights respectable 11oz) but it's still plenty light and it feels durable. The PreCip usually sells for about $100. Available via REI and Amazon.
Patagonia Torrentshell
The Torrentshell weighs in at 12.1 oz so it's a little more robust than other jackets on this list but it's still very lightweight. It's a true rain jacket and will keep you dry all day. It's priced around $130. Available via REI and Amazon.
Uniqlo
It doesn't hurt to check Uniqlo's offerings because they usually have a few cheap jackets. They're definitely not going to be as light or high-quality the other jackets on this list but they'll be a lot cheaper (usually $40-$50).
Packable Puffy Jacket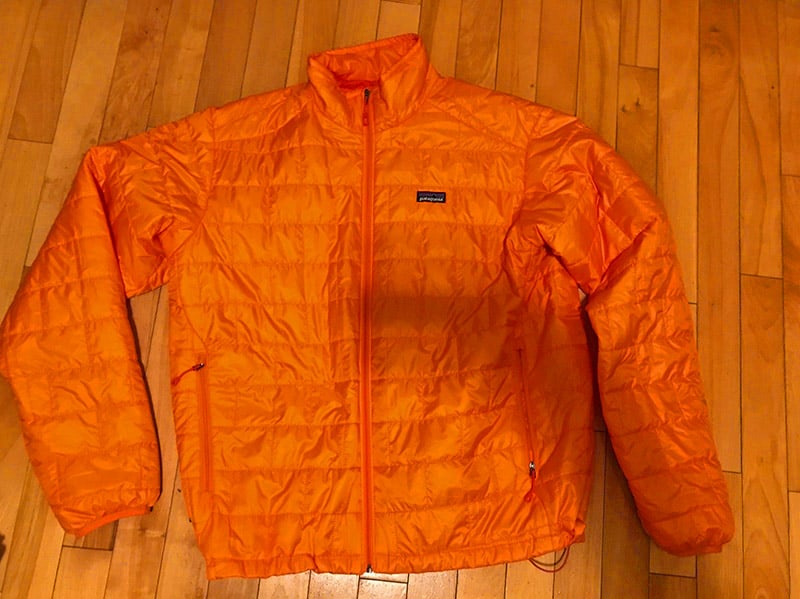 A light down jacket is impossible to beat for cool/cold weather travel. Down is crazy lightweight but it provides a ton of warmth. On cool days down jackets work well as an outer layer and on really cold days it makes an excellent insulating layer when paired with a heavy coat.
It can also be compressed super well so you can smush your jacket down to the size of a shoe so it's easy to pack away.
One thing to consider is whether you want a hood. We prefer no hood if you're using it as a mid-layer or not in really cold weather because the hood adds a little extra bulk.
However, there are a few downsides to lightweight down jackets. First, they can be expensive. And second, the fabric can be fragile so it can tear if you get it snagged on something sharp.
NOTE: Down is made from duck or geese feathers. Some cheaper brands source their down feathers from inhumane suppliers who force-feed and live-pluck their birds. We urge you to buy brands who get their down from humane and sustainable sources (like Patagonia). Or you can choose a jacket that uses synthetic down.
Patagonia Down Sweater
The Patagonia Down Sweater Hoody isn't the most lightweight jacket on our list (it's still really light at 13.1 oz) but it's a great looking jacket that will keep you toasty. There is also a hoody version if you want a hood. Priced at $229 — via Amazon and REI.
Montbell Plasma 1000 Down Jacket
The Plasma 1000 is insanely light at only 4.8 oz. (it's the lightest we've ever seen) Yet, it uses 1000 fill down which helps provide a lot of warmth (considering how light it is). This jacket is truly ultra-minimalist so it has no extra features (i.e. pockets or hood). This is an expensive jacket so expect to pay around $330 for this bad boy.
Montbell also sells the Ex Light which is slightly "heavier" at 6.2 oz. and it's a little "cheaper" at $270. Available at Montbell
Patagonia Micro Puff
The Micro Puff is really light at only 9.3 oz and it provides a surprising amount of warmth for its weight. It is pricey at $299. Available via Amazon and REI.
Patagonia Nano Puff
The Nano Puff (11.9 oz) is a bit heavier than the Micro Puff but it provides a little more warmth. It's also more affordable at $199. Available via Amazon and REI.
Mountain Hardwear Ghost Whisperer Down Jacket
With a name like "Ghost Whisper" this jacket has to be light. And at only 7.2 oz they're not lying. This jacket gets a lot of love because it is water-resistant and has pockets. The Ghost Whisper can often be found for under $180 so it's slightly more affordable than other jackets. Available via Amazon and REI.
Uniqlo
Uniqlo always has a few synthetic down jackets available for very reasonable prices — usually around $60-$70. Don't expect crazy feature or ultra-lightweight but it's a good budget-friendly option.
---
Packing Cubes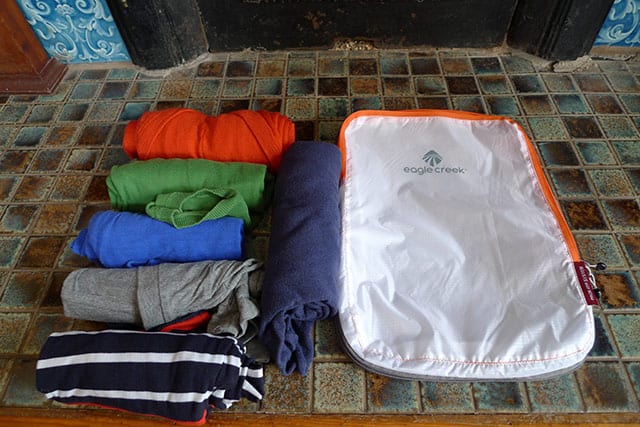 Traveling with a small backpack poses a little more difficulty with it comes to packing all your clothing — which is why packing cubes come in handy. They make it easy to separate all your clothing so you know exactly where to find things. It also makes packing and unpacking your backpack easier since everything is contained in its own space.
Almost all packing cubes are fairly lightweight so one brand isn't that much different than the other. But if you really want to cut the weight then the Eagle Creek Specter system of packing cubes is the most lightweight cubes we've come across. We use them and they're crazy light and water-resistant. Check out Amazon for packing cubes — there are multiple brands and they largely function the same so read the reviews.
---
Toiletries / Personal Care Items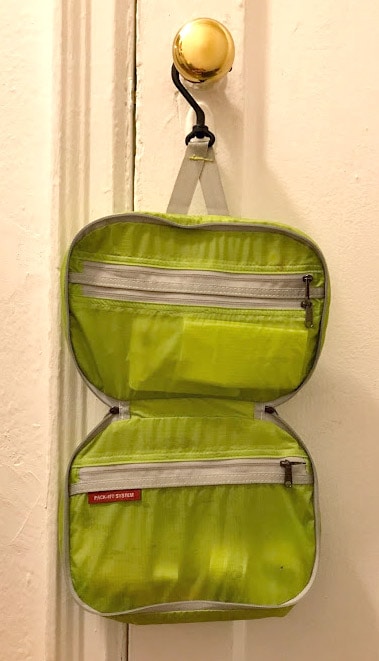 Alright, let's dive into toiletries. It's important to limit what you bring since liquids, gels, creams, etc. are super heavy.
Toiletry Bags
First, you need a toiletry bag. Some people just use a plastic Ziploc bag (makes going through airport security easy) but we prefer a small, lightweight toiletry bag — ideally one with a hook (European bathrooms are tiny) and water-resistant.
The Sea to Summit Travelling Light Hanging Toiletry Bag is great because it's compact, lightweight, and had a hook — buts its kind of expensive at around $35 (via Amazon)
The Eagle Creek Pack-It Specter Quick Trip Toiletry Bag is small, super lightweight, and affordable but doesn't have a hook (via Amazon for around $20).
The NeatPack Compact Hanging Toiletry Bag has a hook and it's affordable but might be a little big for hardcore ultralight travelers (around $18 at Amazon)
The Osprey UltraLight Zip Organizer is another option that's light and has a hook (via Amazon for around $35).
We use the Eagle Creek Pack-It Specter Wallaby but it's often unavailable… maybe it's being discontinued, not sure. You might be able to find it at REI for around $30.
Toiletries
First, you need something to hold your liquids. The Humangear GoToob line of travel containers are the best because they don't leak — shampoo-covered clothing is never fun. Check Amazon to see the full Humangear line but we suggest the GoToob 3-Pack – Large.
We pack pretty minimally when it comes to personal care items. Here is what we use:
Travel-size toothpaste
Travel-size sunscreen (we buy more upon arrival)
SPF-30 lip balm
Dr. Bronner's for handwashing laundry (in a 100ml Gotoob) — if there is no washing machine.
Bodywash (in a 100ml Gotoob)
Shampoo/Conditioner (in a 100ml Gotoob)
Moisturizer (in a 100ml Gotoob)
Normal deodorant (we don't bother with travel-sized)
Normal toothbrush with Steripod Clip-on Protector (helps keep the brush clean)
Floss
Shaving supplies (razors and cream/foam)
Basic makeup products (stick with the essentials as this can add a lot of weight)
Cologne/perfume samples
Bandages
Pain medicine
Of course, your needs might be a little different but you can always buy stuff when you arrive.
Travel Towel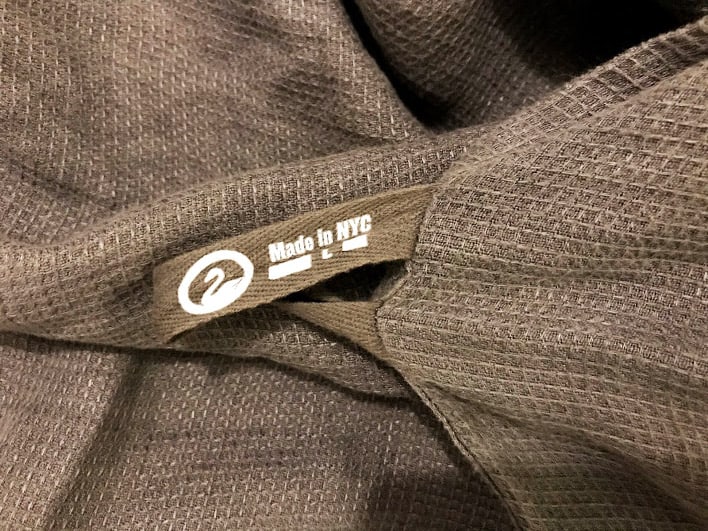 We recommend packing a travel towel if you're staying in hostels. That said, some hostels will provide towels but many don't or they'll charge extra for them.
What's the difference between a travel towel and a normal towel? Simple: Travel towels are lightweight, highly absorbent, dry within a few hours so you don't have to worry about packing a wet towel — which will smell musty and make all your clothes smell bad. Normal towels take multiple hours to dry and are very bulky.
Travel towels come either synthetic microfiber and natural linen. Most towels are made from microfiber but some people get really irked by the feel of microfiber — especially the cheap stuff. If that's you, check out linen. Linen doesn't quite perform as well but it does feel a lot better on your skin.
Packtowl Personal Packtowl is a microfiber towel that's a favorite among travelers. It absorbs 4x its weight in water, dries quickly, and it's affordable. It's also pretty soft. It's usually around $25 at Amazon.
Rainleaf Microfiber Towel is a great budget option that costs around $15 at Amazon.
The Outlier Grid Linen Towel is a personal favorite. This 100% linen towel is made from quality fabric and we've used it multiple time. That said, it's also expensive and It doesn't perform as well as the Packowl — but it "feels" nicer. The large costs $59 and the extra-large is $88.
---
Daypack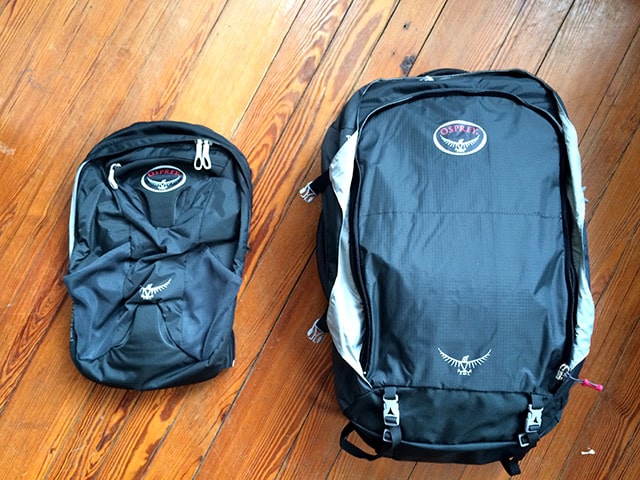 We usually carry a small, lightweight backpack during the day. You just want something big enough to carry a small notebook, a few pens, some snacks, an extra pair of socks, a camera, and maybe a super light rain jacket. You also want the daypack to be small enough to pack away into your main backpack for when you're traveling.
Note: these ultralight daypacks aren't designed to hold much weight. Most don't have much (if any) structure and very little padding — overloading will result in back pain.
---
Electronics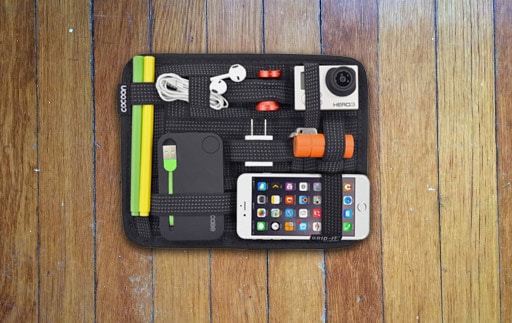 Everyone travelers with electronics these days. For the ultralight traveler, the key is to be smart about what you bring.
Smartphone
A smartphone is the must-have travel gadget. Even if you don't have data you can still find plenty of free WIFI so you can book tickets, do research sights, and scope out places to eat. Plus, any modern smartphone takes amazing photos. Check out our guide to using smartphones and data plans in Europe.
Don't forget a portable charger! We love the lip-stick sized Anker PowerCore+ charger ($20 via Amazon). Fully charged, it has enough juice to charge your iPhone two times. If you need more energy, Anker has multiple options.
Tablet/Laptop
If you're truly traveling light then we suggest skipping the laptop. Instead, we recommend an iPad. Serious users can pair their iPad with a slim Bluetooth keyboard and you're set.
Compact Camera
A high-end compact camera is perfect if you want really nice photos — big DSLR cameras are out of the question for ultralight travel. Most average users are happy with photos from their smartphones. We've written a guide about our favorite travel cameras but here are our top picks:
Don't forget memory cards!
TRAVEL POWER STRIP
Power outlets are a hot commodity in Europe. We've stayed in hostels that only had two outlets in a room with 10 people. And many hotels and rental apartments aren't much better. The Belkin Travel Power Strip with USB ports is a great compact option that also has USB — which is essential these days (Note: you'll need a plug adaptor as well – see below).
OUTLET PLUG ADAPTER
You'll need a few plug adapters. We like the Ceptics USA to Europe Travel Adapter Dual USB because it will fit about any European plug and it has USB. These Ceptics Ultra Compact adaptors are smaller but don't have USB.
Note: voltage adapters are heavy and bulky and they're generally not needed (plus, they often malfunction). Read our guide for traveling with electronics to find out more information about using electronics in Europe.
---
Travel Accessories
Here are a few random things that will come in handy as you're traveling.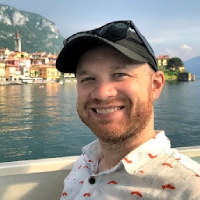 Latest posts by James Feess
(see all)
No Funny Business
The Savvy Backpacker is reader-supported. That means when you buy product/services through links on the site, I may earn an affiliate commission — it doesn't cost you anything extra and it helps support the site.
Thanks For Reading! — James
Questions? Learn more about our Strict Advertising Policy and How To Support Us.