The underground train network in Paris is called the Metro (which is short for Métropolitain de Paris). The Metro has 380 stations so it is an excellent way to get around to any part of the city. In fact, you're never more than a few minutes walk from a station.
Furthermore, the Metro is very affordable, easy to navigate once you use it a few times, and it's been voted the best public transportation in the world.
Note: The Metro has a lot of stairs and very few elevators. If you have a lot of luggage or other mobility issues you may want to find alternate transportation.
Quick Facts
Single Ticket: €1.90
Book of 10 Single Tickets: €14.50 (this is usually the best deal)
Tickets Sold: Ticket are sold inside all stations but some entrances don't have ticket a window (look for signs at the entrance). Ticket windows should also have free metro maps.
Open: 05:30am – 01:15am (02:15am on Friday and Saturday nights).
Keep Your Ticket: Don't discard your ticket until you leave the station — there are frequent ticket checks and you'll face a €25-€50 fine if you don't have a ticket.
Caution: There are lot of stairs and long walkways, so carrying a lot of luggage can be difficult.
---
Finding A Metro Station

As previously stated, the Paris metro system is massive so you're rarely more than a few minutes away from a station. Each station is well-marked with either a decorative art nouveau "Metropolitan" sign or a red "Metro" sign.
---
About The Tickets
Paris still uses small cardboard tickets that you feed through the turnstiles. A single ticket will get you anywhere in the Metro network — whether it's a single stop or 30 stops with multiple line changes.
In fact, the metro, bus, and tram all use the exact same ticket. It also works on the RER trains that run within the city (however, they won't work on the RER if you travel outside the city).
Ticket Prices and Options
There are a handful of different ticket options — which can be a little overwhelming if you're trying to find the best deal. But don't worry, it's actually easier than it seems.
A single ticket costs €1.90. These are technically called "Ticket t+".
However, it's almost always best to buy a carnet — which is a pack of 10 single "Ticket t+" tickets. A carnet costs €14.50 (a 20% discount compared to single tickets). This equals to €1.45 per ride.
The Ticket Mobilis is an unlimited day ticket could be worth the price if you plan on using the Metro a lot. For travel within Paris (what most people use) it will cost € 7.30 (which equals about five single tickets).
If you want to go outside of the city center (zones 1-2) to visit places like La Défense, Versailles, Disney, Fontainebleau, etc. then you'll need to buy tickets that reach those zones — those tickets will cost between €9.70-€17.30.
Note: Ticket Mobilis isn't valid on transport to the airports.
There is also the Paris Visite pass. The Unlimited Day Passes and Multi-Day Passes are aimed at tourists. They offer a few discounts on other attractions the discounts are nothing special.
1-Day – €11.65
2-Day – €18.95
3-Day – €25.85
5-Day – €37.25
For most people, it's best to buy a carnet over a Paris Visite pass because you'd have to ride the Metro around six times a day before the unlimited ticket pays for itself.
There are also Paris City Passes, which include entrance to many attractions and unlimited public transportation. Read more about those here.
If you're visiting for an extended period of time there are week-passes (which has to start on a Monday), month-passes, and year-passes.
Where To Buy Tickets and Passes
You can buy tickets and passes from just about any Metro station. Almost every station should have a ticket window or automated ticket vending machines.
Note: Some stations have smaller auxiliary entrances that may not have a ticket window or machines. If this is the case, you'll need to find the main entrance to the station.
The machines are all in English. All will take coins. Most all will take American Chip-n-Pin debit cards. Some will take paper money. The worker at the ticket window may not speak English, but they can take cash, credit/debit (even without the Chip), and coins.
---
How To Use The Metro
The Metro has 380 stations, 16 lines, and over 130 miles of track, so it's safe to say that the city revolves around the Metro. This is why you'll want to learn how to use it during your visit to Paris.
Luckily, the Metro is fairly straightforward and it's easy to navigate once you've used it a few times.
Hours and Frequency
The Metro opens at 5:30 am and the last trains depart the station around 12:40 am Sunday through Thursday and until 2:15 am on Friday and Saturday.
Trains are frequent so you should rarely have to wait more than four or five minutes. However, trains are less frequent late at night so waits can be closer to 10 minutes.
Get a Map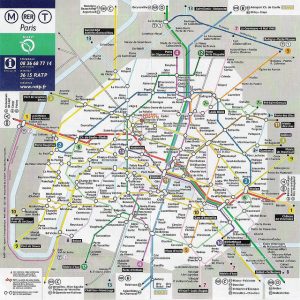 We recommend picking up a Metro map. There are free maps at the ticket window of most stations. You can also download Metro maps to your smartphone — but I prefer maps as they're easier to use.
Each station will have a large map of the entire Metro but it's best to have a map.
The Turnstile and Your Ticket
Enter your ticket with the magnetic strip facedown into the ticket slot at the turnstile. It will take the ticket and then spit it back out at you.
Keep your ticket because workers randomly check tickets (they hide around the corner). If you don't have a ticket they'll fine you between €25-€50.
You can basically ride the Metro as much as you want and transfer as much as you want on a single ticket. However, once you leave the exit turnstiles you'll need a new ticket to get back in.
Navigating The Metro
The Metro has very good signage so just keep following the signs to find your train.
Each Metro line is named with a number (1 through 14) and a color.
The direction the train is traveling is indicated by the final stop (Termini) on that line. For example, the two ends of Line Two are Porte Dauphine and Nation. On one platform the train is traveling in the direction of Porte Dauphine station and on the opposite side of the track, the train is traveling in the direction of Nation station.
There are printed signs at each station that show all the stops along the line. Also, there are electronic monitors at the platform that show when the next train is due to arrive.
Don't worry if you get on a train traveling in the wrong direction because you can get off at the next stop and go back.
---
Metro Safety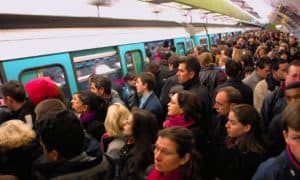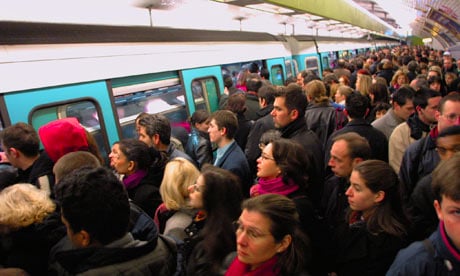 The only thing you need to worry about on the Metro is pickpockets. They are fairly active (just as in any large city) so be vigilant — wear your bag/purse on your front on crowded trains and make sure it's zipped or secured. Pickpockets are also very active in the trains stations and they like to target people with lots of luggage since they're already distracted by all their bags.
Pickpockets (they always work in groups of 2-6+) like to shove themselves onto overcrowded metro cars at the last minute. This creates a distraction. Sometimes they jump out of the car before the doors close — leaving the victim stuck inside.
Another hot item is smartphones. It's a good idea to keep the phone hidden away whenever the doors are open because thieves will grab your phone right as the doors are about to close. Also, don't walk through the metro with your phone out — again, a bunch of kids might come up to you, grab your phone, and all run off. It happens all the time — to tourists and locals alike.
---
More Tips For Using The Metro
Paris is best experienced on foot so only use the Metro if you're short on time or traveling long distances.
The older trains don't have automatic doors so you'll have to open them manually.
New trains have electronic route displays so you know exactly what stop is next. Older trains just have a printed route so pay a little more attention.
During rush hour and at super popular tourist stops, the train can get extremely crowded. If the train is jam-packed, you might want to wait for the next train since it's probably coming in two minutes.
The Metro does get very crowded during rush hour. It's best to avoid these times if you have luggage.
Stand to the right on escalators. Walk on the left.
Stations that serve as connecting hubs for multiple lines like Châtelet–Les Halles—which has 5 Metro lines and 3 RER lines—can get very chaotic.
Be vigilant late at night — especially in large stations. Travel in groups for added safety.
No Funny Business
The Savvy Backpacker is reader-supported. That means when you buy product/services through links on the site, I may earn an affiliate commission — it doesn't cost you anything extra and it helps support the site.
Thanks For Reading! — James
Questions? Learn more about our Strict Advertising Policy and How To Support Us.