Welcome to our Paris Like A Local Series — where we interview local residents like tour guides, bloggers, and small businesses to get their insider tips about their favorite restaurants, bars, dessert places, and other must-see things in their city. Because, after all, no one knows a Paris better than the people who live and work there.
In this guide, we interview the nice folks at Sight Seeker's Delight walking tours.
WHAT ARE YOUR FAVORITE RESTAURANTS IN PARIS?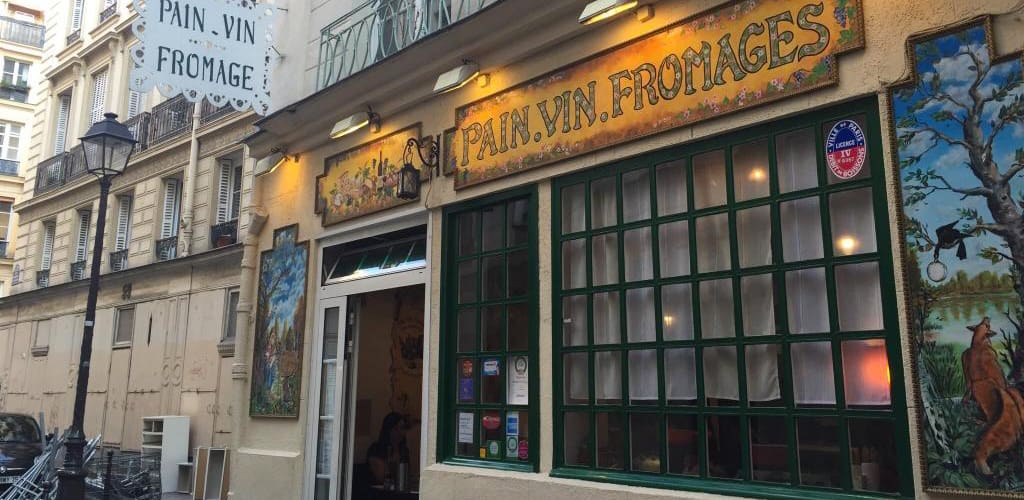 Paris is a city where 30 euros will get you a truly excellent, gastronomic meal, time and time again (if you know where to look). A couple of our favorite restaurants in this price range are:
Au Bougnat (Near Notre Dame) This is a lovely little upscale bistro we love, and it's only a few minutes' walk from Notre Dame (one of the rare exceptions to the 'get out of touristy areas for good eats' rule!). Traditional French dishes are all made completely in-house, and the menu daily depending on what the chef gets at the market. A 2-course meal for 27 euros. Website
Address: 26 rue Chanoinesse 75004
Open: Non-stop service every day 12pm-10pm. Open all summer.
01 43 54 50 74
Pain Vin Fromages (Marais) Simply, in our opinion, the best fondue and raclette in the city! Raclette is a traditional wintertime dish of boiled potatoes, melted cheese, and ham (you melt the cheese yourself with your own personal broiler!). And of course you know what fondue is… this place really does the 'savoyarde' just right. About 30 euros per person. Website
Address: 3 rue Geoffroy-l'Angevin 75004
Open: Every day from 7 – 11:30 pm. Closed July 15- August 16
Le Miroir (Montmartre) Very homey French cuisine, one of our favorites on the Butte Montmartre. Le Miroir is a modern bistro with quality food and a great wine list (they have a wine cave just across the street). This close to the touristy part of Montmartre, a better price-quality deal is hard to find. 20-40 euros per person depending on the meal.
Address: 94 Rue des Martyrs 75018
Open: T-Sa 12 – 2.30pm and 7:30pm – 11pm. Closed Sunday and Monday. Closed Jul 27- Aug 20
Breizh Cafe (Marais) A crepe cafe where they do delicious savory and sweet crepes originating from the Brittany area of France! Perfect for a light lunch or dinner. Anywhere from 16-35 euros per person depending on how much you choose to order. Reservations a MUST on weekends. Website.
Address: 109 rue Vieille du Temple 75004
Open: Every day except M & Tu from 12 noon – 10 pm. Closed Aug 5-27
FAVORITE DESSERT PLACES
Ladurée: Probably the most well-known macaroons in the world! And for a good reason… French macaroons are not those simple little coconut cookies – they are French dessert making at its finest. Two flavored, soft meringue cookies sandwiched delicately together by a flavored crème. There are normal flavors, like vanilla, chocolate, and raspberry… but Ladurée is known for its sometimes more bizarre flavors (try the rose petal or lavender). Each season they create a new flavor in homage to the founder. There are many delicious pastry options here as well. Website.
Address: There are many addresses, but we like this flagship tea-room… head upstairs for a relaxing and luxurious experience. 75 avenue des Champs-Elysees 75008 (Open: Monday-Friday 7:30am – 11:30pm / Saturday 7:30am – midnight / Sunday 7:30am – 10:00pm)
Pierre Hermé: The best macaroons in Paris? There's a big debate over whether Ladurée or Pierre Hermé make better macarons. It's up to you to decide! Pierre Hermé also makes divine chocolates as well (if you're souvenir shopping, chocolate is a great idea). Website.
Address: There are many addresses, but we like this one in the Marais: 18 rue Sainte-Croix-de-la- Bretonnerie, 75004
Angelina: (near Tuileries) If you have a sweet tooth, I must tell you about this world famous cake shop/café – people come here JUST to try their world famous hot chocolate, and their delicate cakes and pastries are just as amazing! You can also eat lunch here; they have a small but quite delicious menu. Website.
Address: 226 rue de Rivoli, 75001
Open: Every day until 7:00pm. Closed holidays, open all summer. 01 42 60 82 00
Patisserie des Reves: Literally translated as the Pastry shop of Dreams, this specialty show delivers on that promise! The store is fun and beautifully displayed. Just try not to let your eyes be bigger than your stomach (in this place… it is kind of unavoidable. Everything looks amazing!). Website.
Address: 93 rue du Bac, 75007
Open: Tu-Sa 10am-8:30pm, Su 8am-2pm 01 42 84 00 82
WHAT FOOD IS PARIS FAMOUS FOR?
Pastries are a no-brainer. Paris is one of the best places in the world to get dessert! Some must-try pastries include the Mille Feuille (flavored pastry cream between layers of crunchy puff pastry), the Opera (decadent chocolate cake and mousse), Saint-Honoré (choux pastry puffs, fresh whipped cream, caramel), and of course the macaron.
Savory dishes that you must try upon visiting Paris. Fondue is one of the better-known traditional French meals (it's a winter dish). However other classics to look for at restaurants include confit de canard (duck confit), the ever-classic cheese plate (often with 3-5 different cheeses included Comté, Camembert, Roquefort, Chèvre…), croque monsieur (the 'French grilled cheese' and much better than the version you know!), crepes (savory crepes, with fillings like cheese, egg, mushrooms, ham…), or even escargot (snails cooked in garlic butter).
WHAT ARE YOUR FAVORITE BARS, COFFEE SHOPS, ETC.?
There is something for everyone in Paris, so where you go simply depends on your style.
If you like quality coffee and small sourced coffee beans, head to Café Lomi (3 ter Rue Marcadet, 75018) or Coutume Café (47 Rue de Babylone, 75007).
If you need your wine, there are countless 'cave a vin' in Paris where you can have a glass or two. Try Le Barav (6 Rue Charles-François Dupuis, 75003), Vingt Heures Vin (15-17 Rue Joseph de Maistre, 75018), or Au Passage (1bis Passage Saint-Sébastien, 75011).
For a great view while you sip your coffee or (expensive) cocktail, go to La Terrasse Hotel (12-14 Rue Joseph de Maistre, 75018) and head to the rooftop café on the 7th floor. It has a great view over Paris (outside is open April-September but there's an interior portion as well).
If you're a beer fanatic, head to La Fine Mousse (4 bis Avenue Jean Aicard, 75011) or for a more hole-in-the-wall locals-only spot you should try Le Supercoin (3 Rue Baudelique, 75018).
WHAT NEIGHBORHOOD SHOULD VISITORS STAY IN?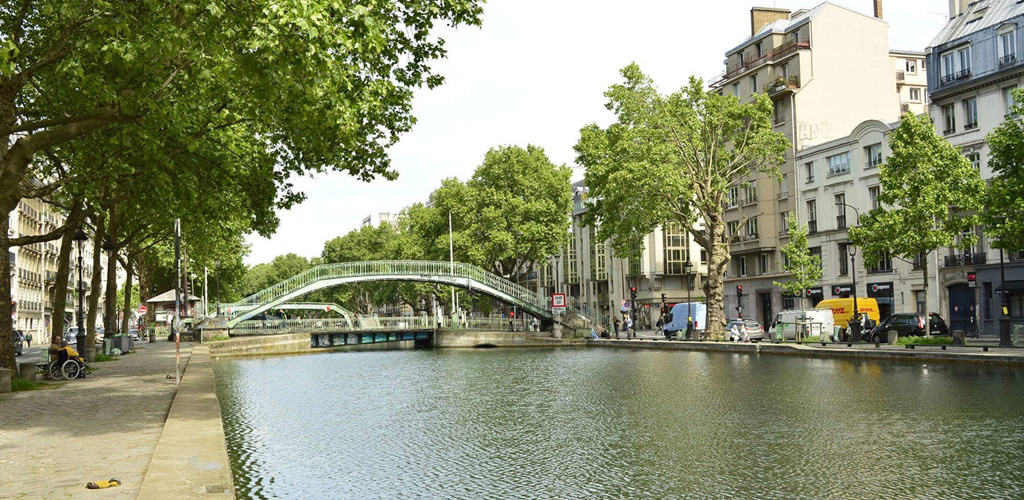 Lively up-and-coming neighborhoods are great fun to stay in! We recommend around Canal St- Martin or Canal de L'Ourcq. Another great neighborhood is South Pigalle (the area just south of the Pigalle metro).
WHAT'RE YOUR FAVORITE NON-TOURISTY THINGS TO CHECK-OUT?
There are some great non-touristy neighborhoods in the city that are wonderful to walk around, shop, eat, drink, and explore. For example, visit the Batignolles neighborhood, especially right around and to the east of Square des Batignolles. While there don't forget to head to the Martin Luther King Park, one of the newest in Paris.
Also consider visiting the South Pigalle area, notably around rue des Martyrs and avenue Trudaine. Shopping, eating, and playing!
Check out Butte Aux Cailles, as well, for a charming neighborhood feel of 'old' Paris.
TIPS FOR GETTING THE MOST OUT OF A VISIT TO PARIS
The metro system will take you absolutely anywhere you need to go. Familiarize yourself with it early on in your trip!
If you'll be visiting the Louvre, go during their Nocturnes (late night openings). Try for Wednesday or Friday from about 4-5pm. The museum is open until 9:45 pm. Same with Orsay and Thursday evening Nocturnes!
Be sure you have the best apps on your phone for your Paris trip. From Citymapper to Larousse, here's a list of what you need: http://sightseekersdelight.com/2017-complete-guide-to-useful-apps-for-paris/
Do your best to avoid tourist trap restaurants – there's so much good food here and you have better things to spend your money on than a bad meal! Here are some very easy tips: http://sightseekersdelight.com/9-surprisingly-easy-ways-to-avoid-tourist-trap-restaurants-in-paris/
Tell us about Sight Seeker's Delight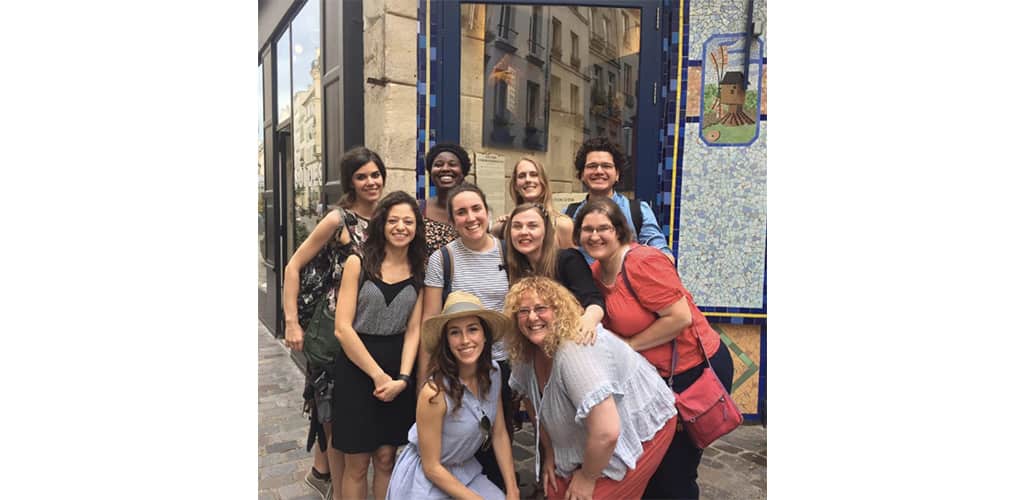 WE'LL ENTERTAIN YOU LIKE NO HISTORY TEACHER EVER COULD.
Over the years Karen and the Sight Seeker's Delight team have researched French history and found the best places to enjoy unique Paris and now, you can see it through our eyes. We are always reading and researching, improving, and adding new fascinating stories to our walking tours. That way they are in constant evolution, and you're getting the kinds of stories other tour companies don't tell you.
Unlike other boring walking tours which simply list dates and facts in monotone, our engaging, enthusiastic, and performance-focused guides have the sense of humor and passion for Paris to bring the stories to life and ensure you will have a great time.
Sight Seeker's Delight also provides custom-tailored Paris vacation planning.
---
Sight Seeker's Delight offers multiple tour options — from Paris highlights to specialty tours that focus subjects like food, Jewish history, Pere Lachaise Cemetary, and more. Their tours start at €30/person. :: Website :: Facebook :: Trip Advisor ::
No Funny Business
The Savvy Backpacker is reader-supported. That means when you buy product/services through links on the site, I may earn an affiliate commission — it doesn't cost you anything extra and it helps support the site.
Thanks For Reading! — James
Questions? Learn more about our Strict Advertising Policy and How To Support Us.